teamLab Brings "Resonating Trees" Permanent Digital Art Exhibition to Tokushimaken Bunkanomori Total Park
teamLab will set up their Resonating Trees exhibition as a permanent display at Tokushimaken Bunkanomori Total Park on April 29th. This digital art space transforms and alters with lights, sounds and tech when people are present.
teamLab is an 'artist collaborative, interdisciplinary creative group' made up of specialists including programmers, engineers, CG animators, mathematicians, architects – the list goes on. They work to blur together the art, science, technology and creative industries.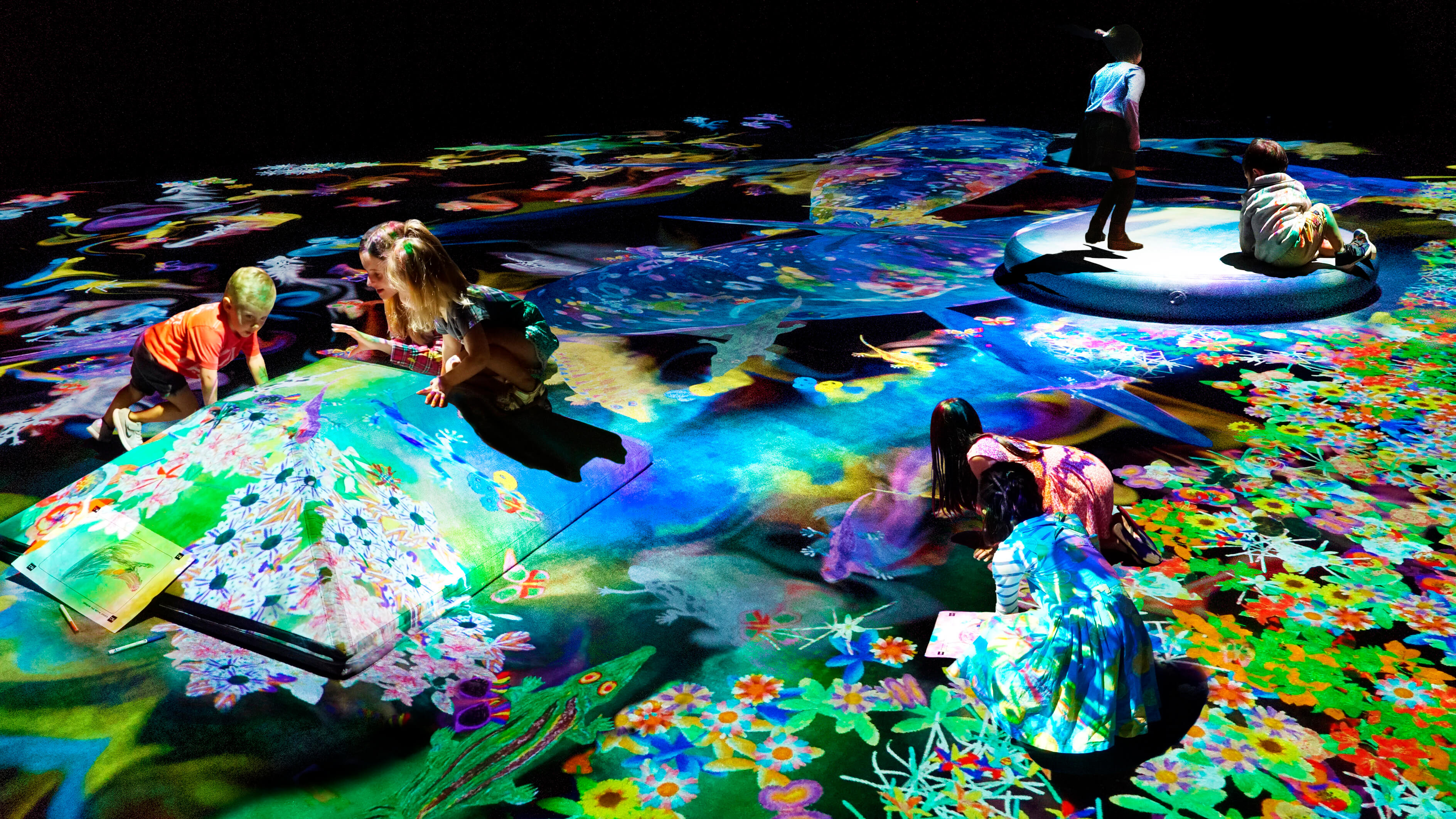 The exhibition set to hit Tokushimaken Bunkanomori Total Park is titled 'Resonating Trees' and is one of the team's Digitized Nature art projects. Rows and rows of trees will illuminate the area. Each of the tree lights is automatic so will resonate gently as they glow on with dazzling light before fading away. When passersby and animals pass through the trees, the colour of the lights will change and different sounds will play. Each trees' lights will diffuse one after the other.
Experience digital art like you've never seen it before with teamLab.
■Information
Resonating Trees
Open: April 29, 2018 (*Permanent Exhibition)
Location: Tokushimaken Bunkanomori Total Park
Address: Mukōterayama-1 Hachimanchō, Tokushima-shi, Tokushima Prefecture
Time: 19:00-21:00
Days: Tuesday–Sunday
Closed: Mondays (In the case that a Monday falls on a national holiday, it will close on Tuesday)
Entry: Free
Website: https://www.teamlab.art/jp/e/resonatingtrees_bunkanomori
RELATED ENTRIES
Machida City Museum Hosts Looking at Prints: Techniques, Expressions and Histories Exhibition

The Machida City Museum of Graphic Arts in Machida, Tokyo, is currently holding the Looking at Prints: Techniques, Expressions, and History exhibition until December 5, 2021. Featuring over 130 prints created with a large variety of techniques, guests can take a deep dive into how each piece of art was made. 

An Up-to-Date Parody of the Four Classes – Utagawa Kunisada. 1857. Letterpress, wood, multi-color printing. 

Artists featured in the exhibition have used many different techniques to create their masterpieces, including woodblocks, copper plates, lithographs, and stencils. The main exhibit introduces famous printmakers such as Albrecht Durer, Pablo Picasso, and Shiko Munakata, but also a number of lesser-known artists who utilized less traditional techniques. All explanations are in an easy-to-understand manner, so why not come learn about art in Tokyo? 

Information

Looking at Prints: Techniques, Expressions, and Histories

Running: Until December 5, 2021 (Closed Mondays)

*Contents will undergo partial changes throughout the exhibition. 

Hours: 

Weekdays – 10:00 AM until 5:00 PM

Weekends/Holidays – 10:00 AM until 5:30 PM

*Last admission 30 minutes before closing. 

Address: Machida City Museum of Graphic Arts (4-28-1 Haramachida, Machida, Tokyo)

Official Site: http://hanga-museum.jp/

Contemporary Art Festival ART@FUKUOKA Opens at Daimaru Fukuoka Tenjin

Department store Daimaru Fukuoka Tenjin will host the contemporary art festival ART@FUKUOKA for the first time, from October 13 until October 25, 2021. 

The art market is growing year by year, with more and more people curious about incorporating unique works into their interior design, or purchase pieces as assets. In particular, the contemporary art market has become the focus of a large movement and continues to elevate a number of new personalities. The ART@FUKUOKA festival will feature 300 works by promising young artists from both Japan and abroad. This is a great chance for those unfamiliar with the contemporary art world to get a feel for what it represents!

Main Building 8F Works at a Glance

Banksy「Golf Sale」

Sadamasa Motonaga – Untitled

©Motonaga Data Research Office

Nick Walker – Vandalism

DOLK – Winner blue dolk

ONEMIZER – Bicause Pipi

ART ~New Expressions~ (Main Building Antenna Plus 1F) Works at a Glance

The contemporary art movement is gaining more popularity worldwide. Each year, expressions become more and more diverse, and more unique creators spring onto the scene. The ART ~New Expressions~ section focuses on artists with the potential to lead the next generation. 

Syoichi Mukai 

 BABYTECTOR [PRISM]. 2021. 

Takakura Kazuki

  Emoji_Alligator_Emoji (Output. ver). 2021. 

KENZ


  BREAK DANCE. 2021. 

Wakaba Higuchi

  Panther and Phoenix. 2021. 

Information

ART@FUKUOKA

Running: October 13 – October 25, 2021

Entry Free

Address: Daimaru Fukuoka Tenjin

Venue 1/Main Building, 8F: 10:00-6:00 *Closes at 5 PM on October 25

Venue 2/Antenna Plus, Main Building 1F: 10:00-8:00

Official Site: https://www.daimaru.co.jp/fukuoka/

10 Locations in Japan and Beyond Participating in Naked's DANDELION PROJECT

The DANDELION PROJECT has a powerful message: we're all connected, even during these isolating times. Naked's interactive art project began in Tokyo, Singapore, and other cities last year, and given their success, locations are now set to open at Heian Shrine in Kyoto and Kumamoto Castle this fall.

The original idea for the project came from artist Ryotaro Muramatsu, who decided to plant (or install) dandelion art pieces worldwide and bring people together to help them bloom. Those participating in the installations are able to send their wishes for world peace on digital dandelion fluff to other locations where DANDELIONs are planted around the world, and these messages are delivered in real-time. Even those unable to attend one of these installations can participate from home on the official website. 

With new DANDELION PROJECT locations set to open around Japan, places with historical significance are happy to participate, including Kamigamo Shrine and Ninna-ji Temple in Kyoto, Kumamoto Castle, and Kochi Castle. There are plans to hold more events around the world in the near future. 

DANDELION PROJECT Locations

Tokyo – Tokyo Tower Main Deck

Tokyo – TBS drama series Japan Sinks: People of Hope Collaboration, Akasaka

Kyoto – Kamigamo Shrine (World Heritage Site)

Kyoto – Ninna-ji Temple (National Treasure/World Heritage Site)

Kyoto – Heian Shrine (Important Cultural Property)

Kyoto – Kosho-ji

Aichi – Kochi Castle (Important Cultural Property) 

Saga – Saga Prefectural Observation Hall 

Kumamoto – Kumamoto Castle (Important Cultural Property)

Korea – Seoul 

Worlds Largest "Washi" Print Exhibition 'Awagami International Mini Print Exhibition 2021' to be Held in Tokushima Prefecture

The Awa Washi Traditional Industry Center, a foundation which strives to inform and preserve the Awa Washi paper's 1,300 years of history, will be holding the 'International Mini Print Exhibition 2021' between October 9 and November 7. The event will exhibit over 1,800 prints from 58 countries. 

This international print exhibition will be displaying works from both domestic and overseas artists, all printed on A4 Wagami, or Japanese Paper. The exhibition is being held to increase the amount of artists displaying their works, while allowing local residents to feel an international connection through Awa Washi culture. This is the fifth instalment of the exhibition, which is held once every two years. Due to the Covid-19 crisis, the organizers experienced some troubles such as shipping delays, but despite this, a total of 1,375 domestic and international artists applied to display their works. Each print has been carefully created by the artist, and will be displayed in one place to encourage not only those familiar with Awa Washi, but also introducing the culture to general art fans.

Why not immerse yourself amongst Japanese and International artwork at this unique paper event?

Information

Awa Gami International Mini Print Exhibition 2021

Duration: October 9 ~ November 7 2021

Opening Hours: 9:00 ~ 17:00

Venue 1 General Incorporated Foundation Awa Washi Traditional Industry Center (141 Kawahigashi, Yamakawa-cho, Yoshinogawa-shi, Tokushima)

Admission Fees: Regular: ¥300 Student: ¥200 Elementary-Middle School: ¥150

Details: http://miniprint.awagami.jp/index_jp.html 

Official Site: http://miniprint.awagami.jp/ 

Matsuya Ginza to Hold Largest-ever Exhibition of Drawings from Chihayafuru Manga

Yuki Suetsugu's manga series Chihayafuru continues to be a massively popular series in Japan and abroad since its start in 2007. Now, the largest-ever collection of the artist's original drawings will be on display at Matsuya Ginza from December 27, 2021, until January 17, 2022. 

Chihayafuru tells the story of Chihaya, a girl aiming to become the greatest competitive karuta player in Japan. Karuta is a Japanese card game, requiring players to memorize a collection of 100 classical poems in order to play. The Chihayafuru manga series has greatly boosted the popularity of competitive karuta in Japan. Generations of readers have been sucked in by the inspiring and romantic tale, and the series has grown to include an anime adaptation and a live-action film. With the series approaching completion, the three main characters, Chihaya, Arata, and Taichi, will take center stage at this expansive exhibition. 

With more than 500 items on display, guests are invited to take a look back at the story's origins. Some pieces were created for the exhibition, while others will be shown in color for the first time. While the drawings may be the main focus, the exhibition will also include notes, setting materials, and behind-the-scenes footage. 

©末次由紀/講談社 

Information

Chihayafuru Exhibition

Running: December 27, 2021 – January 17, 2022 (Closed January 1) 

Address: Matsuya Ginza 8F Event Space

Advanced Tickets will be available from Lawson Ticket until December 26, 2021

Tickets/Details: https://chihayafuru.exhibit.jp

Official Site: https://www.matsuya.com/ginza/

Miniature Photographer Tanaka Tatsuya to Hold Second Exhibition, Opening in Hiroshima for Limited Time

Miniature photographer Tanaka Tatsuya, who has garnered attention from all across the world, will be holding the 'MINIATURE LIFE 2 ~ Tanaka Tetsuya's Lifelike World~' exhibition between November 26 and December 13 in the Sougo Hiroshima 9F exhibition hall.

Event Limited Goods

Tote Bag

Mousepad

The popular "MINIATURE LIFE Exhibition" which captured the hearts of 1.5 million people within Japan and overseas, has returned with even more power than before. You'll find a sushi roll train rolling along the tracks, a clip becoming a waiting room chair, and a hot-air balloon lettuce floating in the sky… Tanaka Tatsuya is a miniature photographer living in Kagoshima, who crafts a tiny and funny world by transforming everyday items.

 

Their unique and creative works will make you laugh and groan, transcending borders and attracting over 3.2 million followers on Instagram! Tanaka is spreading the joy of miniature art from Kagoshima to the world.

In this long-awaited second exhibition, around 170 works will be displayed, including some brand new pieces. Venue-limited merchandise and miniature dolls that feature in the artworks can be purchased at the event, so don't miss out!

 

 Be sure to check out the 'MINIATURE LIFE 2 ~ Tanaka Tetsuya's Lifelike World~' exhibition, where your everyday life will be transformed into a wonderful new world!

Baccarat Crystal Commissions YOSHIKI to Design Piece for 180th Anniversary

X JAPAN leader YOSHIKI was one of eleven designers chosen to submit an original design for Baccarat, commemorating the 180th anniversary of the crystal manufacturer's Harcourt glass. The work was unveiled at Paris Fashion Week in Fall 2021. 

Baccarat is a manufacturer of fine crystal founded in 1764 in the Lorraine region of France. The company's iconic Harcourt glass features a hexagonal base with three-button feet and is known as a timeless and iconic symbol of the brand.

This year marks the 180th anniversary of the glass, which was first created during the time of Louis Philippe I. It's hard to believe that these pieces have been on the tables of royalty for almost two centuries!

YOSHIKIMONO, the kimono brand created by YOSHIKI, has been featured at Tokyo Fashion Week multiple times. In 2020, his works were shown at the Victoria and Albert Museum in the UK, along with the Tokyo National Museum.

Known for his blend of rock and classical music, YOSHIKI continues to express his individuality in both his sound and fashion taste. From the front, the glass looks to be on fire, while from the top, there is a sense that a poisonous flower is taking bloom. The work is a one-of-a-kind blend of east and west and was a new challenge for the performer.

Comment from YOSHIKI

"I am honored to have been chosen as a designer for the 180th anniversary of Baccarat's Harcourt glass. I'd like everyone to also keep an eye out for some new music coming soon. Thank you to all of the fans who continue supporting me in everything I do."

'Marubeni Gallery' to Exhibit Marubeni Collection Pieces under Variety of Themes

Marubeni Corporation will be opening the Marubeni Gallery at their head office building on November 11 2021. 

Marubeni has been collecting and preserving textile-related businesses since 1858, preserving dyed woven products from the Edo period (kimono, obi, fukura etc) and curating the Marubeni Collection, a collection of Western paintings collected from art businesses in 1970-1980, along with modern Japanese paintings which have been collected from artists and their circles, and a selection of weaved designs.

From the left:"Crimped Fiber Tasuki Chrysanthemum & Seigaiha Print Furisode" (Designated as an item of cultural importance in 2020) / "Iso Tsuzure Go" by Takeuchi Seihou / "La Bella Simonetta" by Botticelli (late 15th century).





The Marubeni Collection will be displayed at the Marubeni Gallery, exhibiting a variety of themes under the concept of "a space where the beauty of the East and West resonates." 

There are plans for special exhibitions to be held three times a year, and the Autumn 2022 event will be showcasing Botticelli's "La Bella Simonetta," the representative work of the Marubeni Collection.

Be sure to visit the Marubeni Gallery, where the beautiful of the East and West join together beautifully.

Exhibition Featuring Famed Silk Fabrics from Tsuruoka in Yamagata Prefecture Now Open

Tsuruoka, Yamagata prefecture is known throughout Japan and the world for its silk production. Beginning on September 18, a new exhibition is inviting guests to see some of the incredibly beautiful fabrics to come out of the area, particularly highlighting Reiko Sudo, an innovative cloth-maker living in the area. These stunning pieces are being displayed at the Matsugaoka Reclamation Site, celebrating 150 years of history in 2021 and known as the birthplace of Tsuruoka silk. In particular, Sudo's own Kibiso fabrics, created with the intent of blending long-held traditions with modern technologies, will be making an appearance! Kibiso refers to the first silk that comes off the cocoons in industrial silk spinning. 

Kibiso Stripes & Streaks: 2018 Photo Sue McNab

Kibiso Zori: Photo Keiko Matsubara

Swinging Cherries: 2021 Photo Keiko Matsubara

An exhibit featuring the production process, original design sketches, and prototypes

Kibiso – Ogarami Choshi Sheets: 2018 Photo Keiko Matsubara

Ogarami Choshi, the byproduct of the silk mill: Photo Keiko Matsubara

The First Cultivation of the Matsugaoka Reclamation Site 






Tsuruoka City is the only region in Japan where the entire silk-making process–from caring for silkworms to dying and wearing–is completed in a single place. Silk production began in 1872 when the former Shonai clam's samurai warriors began cultivating new lands around the Matsugaoka area. During the Meiji period, a local inventor named Saito Toichi invented the automatic weaving machine, making the production of silk fabrics much quicker and easier. The new fabrics were exported around the country to be used in dresses, and silk production quickly became the area's main industry. 

Kibiso, a type of thread made from the first silk discharged from a silkworm, has been in production since 2007 and is breathing new life into the area's industry. The thread is hard and thick, making it very difficult to work with–but once these works are completed, the textile is extremely durable. It holds moisture well, has antibacterial properties, and will help protect the wearer from UV rays. Combining new designs with functionality, Kibiso also cuts down on waste, and museums in the United States and the United Kingdom currently have some of these creations on display, with more requesting installations. 

At the current exhibition, 29 unique textiles, mainly Kibiso, are hung from the ceiling. Visitors are allowed to touch each of these pieces, and can also view the entire creative process from sketches and prototypes to the final product. All pieces were created together with the members of NUNO, a textile design studio directed by Sudo. The designs were decided on through conversations with craftsmen throughout Japan. By reviewing traditional processes and helping them evolve to suit modern needs, Kibiso was born and is helping to revitalize the silk industry in Tsuruoka. 

A highlight of the exhibition is ogarami choshi, a byproduct of silk production often caught in the thin metal tubes of silk mills. These can be torn into sheets and used for new creations, and by doing so, helps reduce waste. 

Information

Circular Design -Kibiso Continues- 

Running: September 18 – October 17, 2021 (Planned to be extended until the end of 2021) 

Hours: 9:00-16:00 (Closed on Wednesdays)

Address: Matsugaoka Reclamation Site, Silkwork-Raising Room 2F (29 Haguromachi Matsugaoka, Tsuruoka, Yamagata)

teamLab Installation, Future Park Coming to Shenzhen in Summer 2022

Art collective teamLab has announced a massive new interactive art space coming to C Future City in Shenzhen, China! Set to open in the summer of 2022, the facility will also house a permanent installation of teamLab Future Park, an educational virtual 'amusement park' inviting kids and adults to create things together.

Universe of Water Particles and People Create Vortices
teamLab, 2021 

teamLab Future Park

C Future City will permanently house four gigantic interactive public artworks that will be forever changing and shifting, influenced by people's behavior. Art by teamLab is always inspired by how people connect with one another, so the installation completely relies on those who come to experience it. 

This so-called 'amusement park of the future' project was born out of the idea that co-creativity could transform people and cities. Rather than being an individualistic endeavor, teamLabs wants people to come together to bring new ideas and pieces to life. 

Look forward to teamLab's new installation in Shenzhen in Summer 2022!

#GucciGardenArchetypes Exhibition Held for Brands 100th Anniversary, Explores Brands' Archetypes and Vision

To celebrate the brand's 100th anniversary, Gucci will be hosting the 'Gucci Garden Archetypes' exhibition in Tennozu, Tokyo, between September 23 and October 31. The exhibition reflects the vision, aesthetics, and inclusive philosophies of creative director Alessandro Michele, as shown through advertising campaigns throughout his years in the position.

  

An Archetype refers to something that many things have been based on, and Gucci's advertisement campaigns are exactly that – the Archetype to Gucci's world.

The exhibition features astronauts, aliens, horses, angels, and more motifs that were featured in venues throughout the world, from Tokyo to Los Angeles, and even Paris' May Revolution in 1968. Visitors are whisked away on a spectacular journey through Alessandro Michele's kaleidoscopic vision. You will also discover the music, art, journeys, and pop culture that inspired Gucci's campaigns.

 

Exhibition director Alessandro Michele spoke, saying "I thought it would be interesting to invite people to join me on this six year journey, experiencing a dazzling world of fantasy and surprises. From there, I decided to create an immersive world that people could jump into through the advertisement campaigns. After all, it is the campaigns that best represent my vision." 

The exhibition is made up of multiple spaces built using cutting-edge technology, sophisticated craftsmen, and innovative interior design. The studio was designed by Archivio Personale, who has transformed Alessandro Michele's vision into a narrative space. 

As you enter the venue, you'll discover a control room, seemingly behind the scenes of the first exhibition as photos of Michele's campaigns are projected onto screens. Each room is based on a different theme, connected by aisle to recreate the diverse and wonderful world of Gucci's campaigns.

The Gucci Beauty room is full of screens at different angles, each showing footage from a lipstick collection campaign with the phrase "for the bold, the bright, and the beautiful." The room dazzles those entering with the smile of punk singer Dani Miller, which is said to have overturned beautify standards in the cosmetics industry.

 The Gucci Bloom room is a floral paradise with its rich, floral scent. This campaign featured actress Dakota Johnson, feminist artist and photographer Petra Collins, and Hari Nef, a transgender actress and model, as the protagonists, each hiding away in an imaginary hidden garden. The three charismatic and unconventional women perfectly reflect Michele's vision of modern femininity.

The 2018 pre-fall collection campaign paid homage to the young people who participated in Paris' May 68 movement to mark the 50th anniversary of the event, using graffiti to add depth to the atmosphere. 

The room featuring the 2018 Spring/Summer campaign features visuals by Ignashi Monreal, who is known for his elaborate and expressive artwork, covering the walls and ceiling with a giant mural.

The room for the 2016 Fall/Winter collection takes you to Tokyo, using thousands of sequins across the walls to recreate Tokyo, a city that shines even at night. Meanwhile, the 2017 Fall/Winter room will take you all the way to space, with otherworldly creatures, aliens, and astronauts, all introduced in a Natural History Museum inspired diorama style.

The 2018 Fall/Winter room reflects the world of an eccentric collector, with shelves covering the walls from floor to ceiling. There are countless collectors items, with cases of butterflies, cuckoo clocks, colorful plushies, and even a number of Gucci GG Marmont bags. There are even set spaces, such as the  2016 Spring/Summer campaign which was set in the toilets of a 1980's club in Berlin and the luxurious modern villa from the "Party of a Lifetime" cruise collection campaign in 2020. Head behind the scenes and traverse deeper into this maze-like space, riding the Los Angeles subway to return to Alessandro Michele's very first campaign in 2015 Fall/Winter.

Lose yourself in the world of Gucci's advertising campaigns with this immersive space!

Images Courtesy of Gucci

Information

GUCCI GARDEN ARCHETYPES

Address: B&C HALL・E HALL 2-1-3, Higashi Shinagawa, Shinagawa-ku, Tokyo

Duration:  September 23 ~ October 31

Opening Hours: 11:00 ~ 20:00 (21:00 on Fri, Sat.) ※Last admissions are 30 minutes before closing.

Entry: Free, reservation required. Reservations can be made via the Official Gucci LINE account.

Official Site: www.gucci.com

Is the Order a Rabbit? Series 10th Anniversary Exhibition Coming to Tokyo and Osaka

The popular four-panel manga series Is the Order a Rabbit? premiered in 2011. Written and illustrated by Koi, the series has been serialized in Manga Time Kirara Max for the past decade and is still ongoing, while three seasons of the anime have been aired starting in 2014. To commemorate the series' ongoing success, a new exhibition is scheduled to open in both Tokyo and Osaka in October and November. 

Mini-Panels Drawn by Koi (7 varieties)

Tickets for the Tokyo event will go on sale starting at 5:00 PM on October 15. Remember, these tickets are first-come, first-served, and each will feature a specific date and time, so don't miss out! As a special gift, those buying tickets will receive a random original mini-panel drawn by the series creator upon entry. Head to the official Twitter page to take part in a new campaign to win tickets to the Tokyo exhibition!

(C) Koi/芳文社

Information

Is the Order a Rabbit? Exhibition Café Lumière Tokyo

Running: October 29 – November 7, 2021

Address: Hulic Hall 2F (1-22-16 Asakusabashi, Taito-ku, Tokyo)

Hours: 10:00-20:00 (Last admission at 19:30)

*Exhibition will close at 18:00 on November 7, last entry at 17:30

Ticket Information (Tokyo)

General Admission: ¥1,800 (Advance tickets) / ¥2,000 (Day-of tickets)

Tickets on sale starting October 15, 17:00

Where to Buy: 

Lawson Ticket

Online: https://l-tike.com/gochiusa-exhibition

In-store sales: Available directly from Loppi at Lawson and Ministop stores. 

Is the Order a Rabbit? Exhibition Café Lumière Osaka

Running: November 18 – November 30, 2021

Address: Daimaru Umeda 13F (3-1-1 Umeda, Kita-ku, Osaka)

Hours: 10:00-20:00 (Last admission at 19:30)

*Exhibition will close at 18:00 on November 30, last entry at 17:30

**Hours of operation are subject to change. 

Official Twitter: https://twitter.com/GochiusaT (@GochiusaT)

Official Site: https://gochiusa-exhibition.com