Cat Hand Towels with Traditional Japanese Designs Released from Felissimo Neko-bu
Felissimo Neko-bu opened pre-orders for a series of hand towels illustrated by manga artist Rinrin Yamano drawn in a traditional Japanese style on March 22nd. Hand towels are a commonly used everyday item in Japan, and this fun line-up features cats in various poses and scenarios.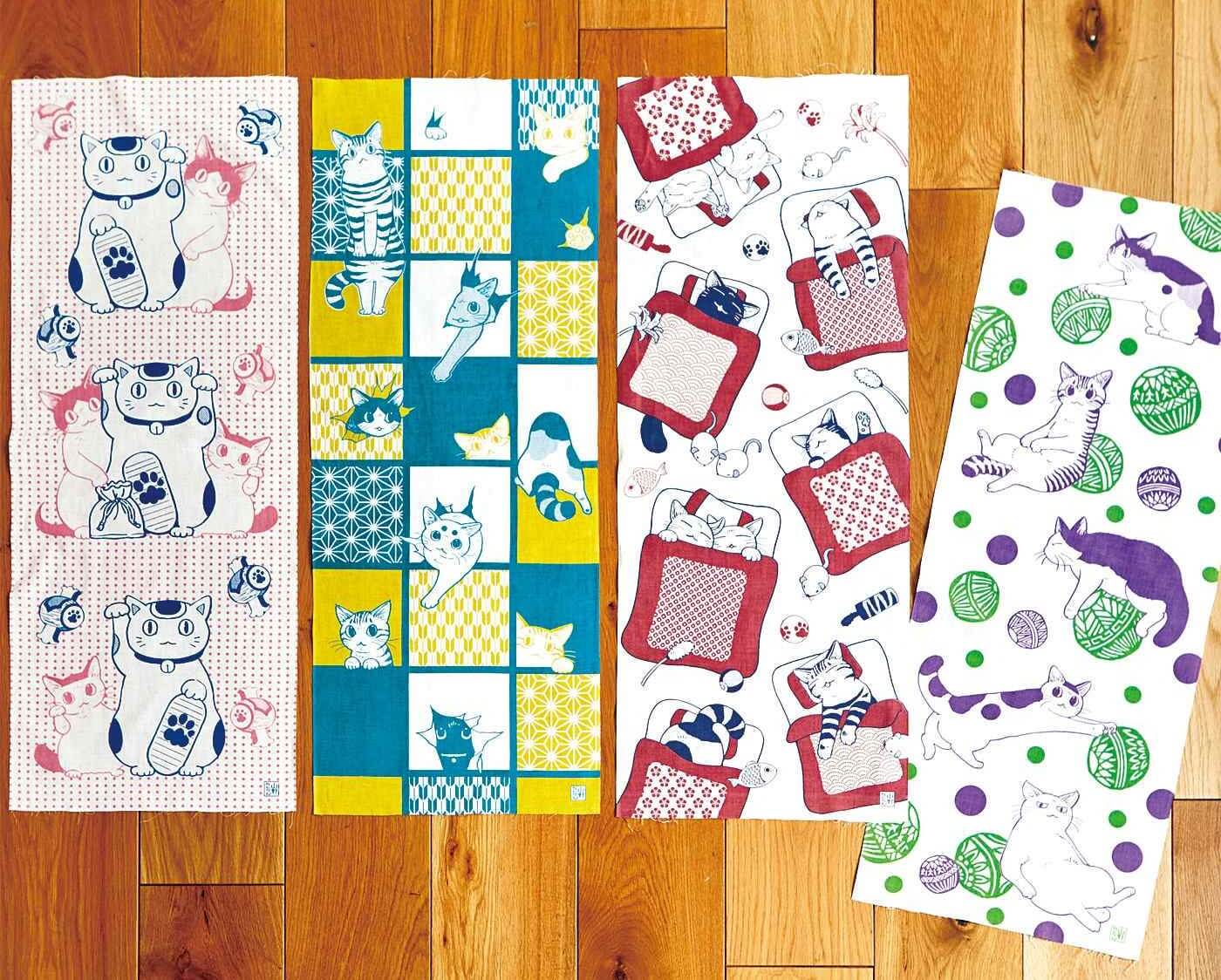 The illustrations include cats interacting with traditional Japanese motifs such as paper sliding doors and temari balls, all drawn by Rinrin Yamano.
 When hung up they can always be used as noren curtains and tapestries. There are four designs: Shoji, Futon, Maneki Neko, and Temari. They are perfect for your own personal use as well as gifts for cat lovers!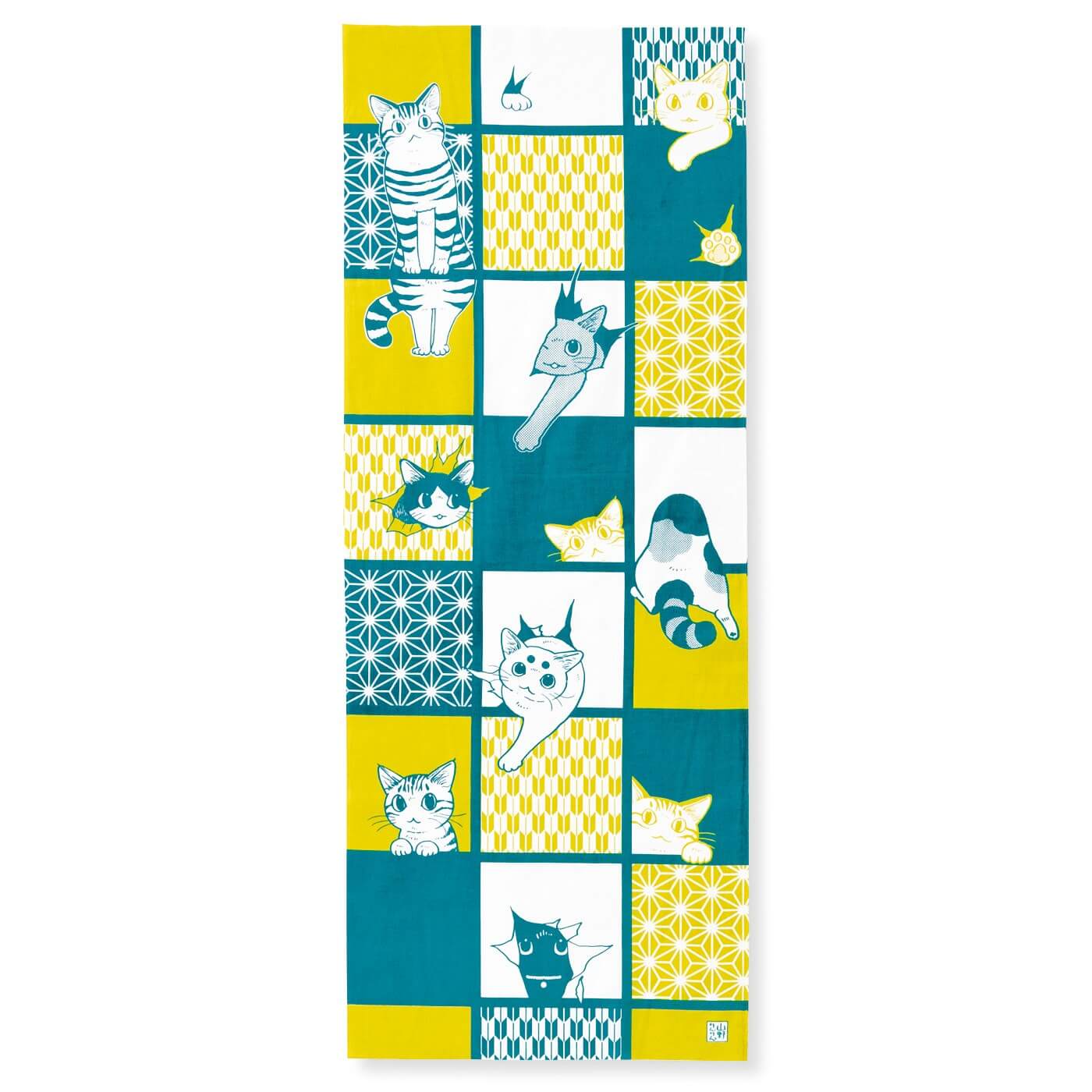 Shoji: A design that showcases lively cats in a Japanese room tearing through and climbing up paper sliding doors
Futon: The cats are sleeping soundly in an old-fashioned Japanese futon – they look just like students on a school trip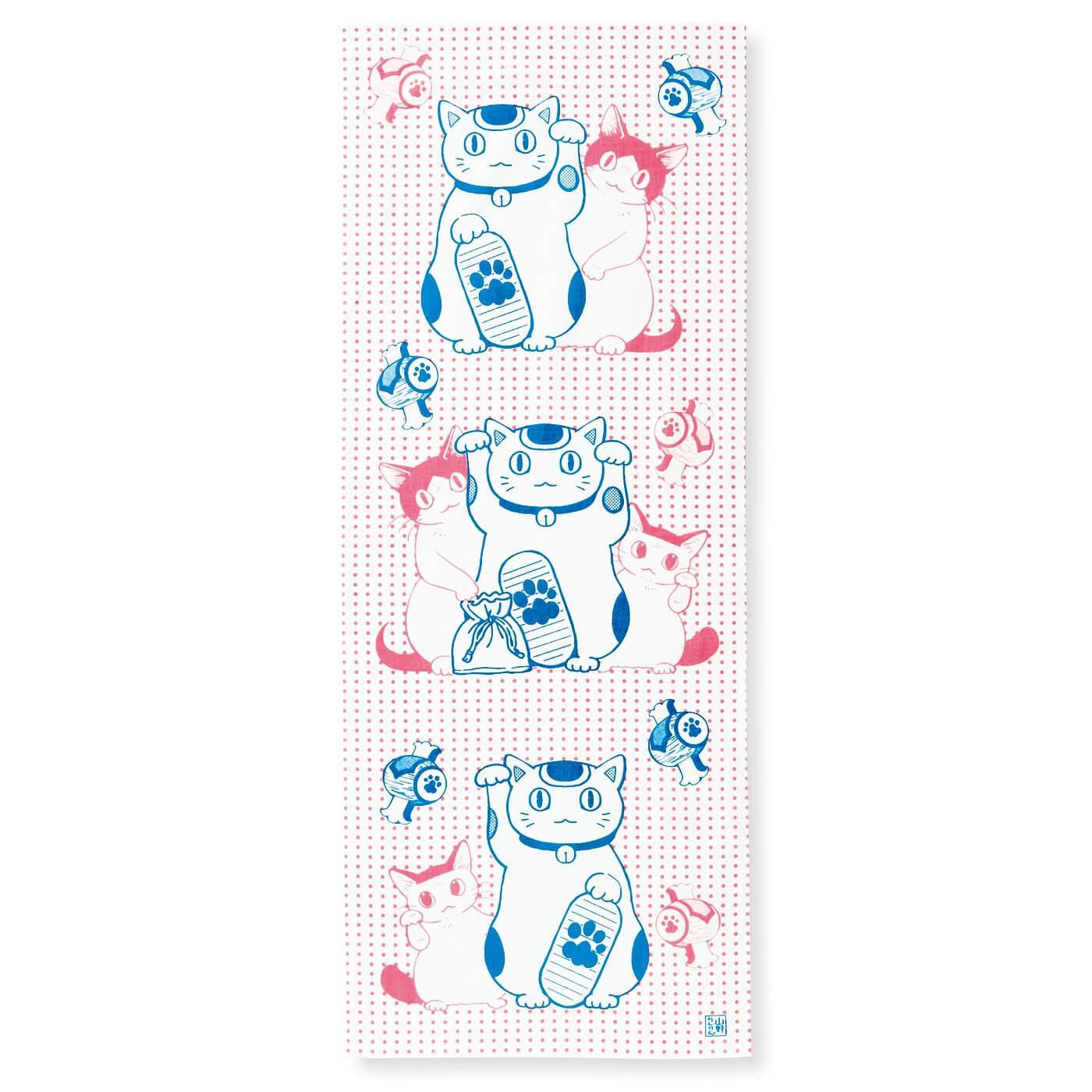 Maneki Neko: A design featuring a plump and cute waving cat and the 'Uchide-no-Kozuchi' (Mallet of Luck)
Temari: This cute polkadot pop design features cats having fun with temari balls.
As always with Felissimo Neko-bu products, part of the price of these hand towels go towards numerous causes including shelter for animals with no owners and for helping find them owners, as well as aiding towards getting stray cats off the street to avoid overpopulation, and for protecting animals during times of disaster.
Get your hands on one of these amusing, Japanese-style hand towels.
■Information
Rinrin Yamano Cat Hand Towels
Price: ¥850(+8% ¥916)
→¥25 of the money will go towards the "Felissimo Cat Foundation". (The money donated is tax exempt)・
Material: 100% cotton (*Can be hand-washed)
・Size: 90cm x 34cm
*Due to the hand towel having been made using old-fashioned techniques, both ends have been left cut. The material may become frayed when first used.
・One of four designs released each month. (Product will discontinue once all are released.)
Product Details: https://www.feli.jp/s/pr180404/2/
RELATED ENTRIES
Kyoto Neko Neko: Cat Shaped Desserts and Pastries Served at Kyoto's New Bakery

ALL HEARTS COMPANY, a Japanese company that develops bakeries and patisseries across Japan, opened its new bakery and confectionery shop Kyoto Neko Neko in Shijo, Kyoto on June 1, 2020. There, they are serving cat-shaped pastries and desserts including Kyoto-exclusive products from their Neko Neko Bread brand and Neko Neko Cheesecake shop.

Kyoto Neko Neko Danish Bread: ¥1,200 (Before Tax)

This butter-loaded Danish pastry is folded into a braid shape and baked which keeps the pastry moist. It's topped with a sprinkling of sugar, leaving it glistening. It's recommended that you first try the pastry as it is—soft and moist. You can then try lighting toasting it which gives it a crispy texture and brings out the delicious aroma of the butter.

Products are packaged in a cute box making them a great gift idea.


Kyoto Neko Neko Cheesecake (On sale from mid-June 2020)

This cheesecake is made with Brie de Meaux cheese and is laced with black cocoa. The luxurious cheese combined with black soy beans and brown sugar syrup jelly makes for a marriage between Japanese and Western flavours. You get an extra layer of deliciousness too with a dusting of soy flour.

Kyoto Neko Neko Bread (Plain): ¥550 (Before Tax)

This Kyoto version of the Neko Neko Bread is still made without water, but rather than using only milk, Kyoto Neko Neko has added soy milk made using soy beans from a tofu shop in Kyoto, lending a smooth and rich flavour to the bread. And instead of mascarpone cheese, Kyoto Neko Neko uses soybean cream, and instead of dairy butter a soy cream butter.

Kyoto Neko Neko Bread (Houjicha): ¥680 (Before Tax)

Kyoto Neko Neko Bread (Matcha): ¥680 (Before Tax)

There's also a houjicha flavour made with houjicha tea and white chocolate, as well as a matcha flacvour combined with black soybean.

Information

Kyoto Neko Neko Shioji
Address: 578 Obiyamachi, Tachiuri Nakanocho, Shimogyo Ward, Kyoto
Grand Opening: June 1, 2020
Opening Hours: 10:30-18:00
No Fixed Holidays (Closed: New Year's Holidays)
TEL: 075-221-1001

Official Website: https://nekoshoku.jp/

Buy These Face Masks and Help Save Japan's Cats in the Process

Neco Republic launched online pre-orders of its new face masks, called "SAVE THE CAT MASK," via its website on May 6, 2020. Neco Republic is a company who pours efforts into helping save cats in Japan; they manage various businesses including the cat cafe Neco Republic which takes in rescue cats, NECOREPA/ which sells a variety of products and items with all proceeds going towards their efforts to taking in stray cats, Neco Ichi Neco Za which is a rescue cat event held in Japan, and more.

The "SAVE THE CAT MASK" series was launched for cat lovers and as a way to help cats in the process. The previous batch of these masks sold out in just two days.

High quality materials and skilful sewing, all made in Japan

SAVE THE CAT MASK – ¥1,980 for one / ¥9,900 for five

The masks are made from high quality natural cotton with all manufacturing carried out in Japan. They are sewed using a Japanese sewing method known as ayaori which ensures elasticity and makes it harder for the masks to wrinkle. The masks can also be washed repeatedly. Maintaining hygiene is of utmost important when it comes to face masks, and so these face masks are made so you can hand wash them lightly with detergent as well as put them in a net before putting them in the washing machine.

The masks are all sewn in Gifu Prefecture which is where Neco Republic is based.

Cute designs inspired by cats

There are five design variations of the masks each inspired by a different cat breed including calico, Russian Blue, tuxedo, white, and black. They are also shaped subtly like a cat which most likely won't be noticed by other people meaning you can express you love of cats secretly.

Save cats during the process

The masks aren't only for us humansーthey benefit our cats too. All proceeds from the masks will go towards Neco Republic's rescue cat cafe as well as be used for the company's efforts for helping rescue cats.

Information

Neco Republic's SAVE THE CAT MASK

Colourful Yukata and Jinbei Collaboration Launches by Subikiawa and Felissimo

Felissimo has joined hands with popular Kyoto-based store Subikiawa to launch a new collaborative series of items. They are now available to purchase via Felissimo's official website.

Who are Subikiawa?

Subikiawa is a tableware store known to all in Kyoto that's open around three days a month. "Tabletop Circus" is the theme of their hand drawn tableware series which is mainly centred around glassware. Subikiawa first began their collaboration series with Felissimo back in 2016. Since then, they have teamed up to make yukata, jinbei, pyjamas, clothes, and moreーall with Subikiawa's cute illustrative designs.

The new yukata and jinbei they have developed for this summer features a colourful underwater theme with various fishes, pebbles, and water plants.


Kyoto Subikiawa Shokki to Tsukutta Suichu Dance Yukata – ¥5,500 (Before Tax)

Kyoto Subikiawa Shokki to Tsukutta Suichu Dance Yukata (Women's) – ¥7,300 (Before Tax)

The collection features yukata and jinbei made with designs so that parents and kids can dress up together. The clothes are made from 100% slub cotton yarn, giving them a nice feeling against the skin. The waist is also fitted with string so that even beginners to yukata can tie them easily.


Kyoto Subikiawa Shokki to Tsukutta Nail Seals (1 Set) – ¥1,400 (Before Tax)

Kyoto Subikiawa Shokki to Tsukutta Suichu Dance Bib Kit (1 Set) – ¥2,800 (Before Tax)

The new collection also includes nail seals to make your fingertips bright and beautiful, as well as an embroidery kit to make your own cute bibーthis is part of Felissimo's brand Couturier. The bib is soft and made using 100% Banshu-ori cotton fabric. Banshu-ori is a fabric from Hyogo Prefecture. The cotton is also dyed before being woven so the colour won't fade as quickly when washed.

Beautiful Jellyfish Umbrellas Designed by Kamo Aquarium Will Keep You Dry

YOU+MORE!, a brand of humorous merchandise and accessories developed by Felissimo, has teamed up with the famous Kamo Aquarium to release a series of jellyfish umbrellas.

The intricate umbrella designs were developed in cooperation with the staff at Kamo Aquarium's Jellyfish Dream House. Three different kinds of jellyfish were used as inspiration for the umbrellas.

Moon Jelly Umbrella

YOU+MORE! Moon Jelly Umbrella – ¥1,600

Moon jellyfish are perhaps one of the most popular kinds of jellyfish out there. What may be the most striking part of this umbrella is the colour gradation which gives it a transparent effect. The edges of the umbrella are also curved, giving it a delicate silhouette and making it look even more like the real things.

The umbrella's frames are built strong, and the material of the umbrella itself is a white glass fibre which serves not only to mimic the colour of a moon jelly, but so that you can still see through it too. (As a side note, all three of the umbrella designs are made from glass fibre.)

Northern Sea Nettle Umbrella

YOU+MORE! Northern Sea Nettle Umbrella – ¥1,600

Like the northern sea nettle itself, this umbrella features a dome shape and incorporates a stripe design. A northern sea nettle has 16 stripes, and so that many were added to the umbrella. The jellyfish staff at the aquarium praised this one as the most realistic.

Spotted Jelly

YOU+MORE! Spotted Jelly Umbrella – ¥1,600

Like the northern sea nettle, the spotted jelly too as a cute dome-shaped body. If someone who has never seen one of these jellyfish umbrellas before sees this design, they'll think of it as just having cute spotted design. However, a jellyfish enthusiast is sure to get excited as the sight of this one with its details like its orange colour and the dots around the edges.

Kamo Aquarium will begin selling limited edition versions from the end of June this year which come with an ephyra charmーthat's the name for a baby jellyfish. The aquarium is currently closed until May 6 due to the coronavirus. The latest updates can be found on their official website.

Tadanori Yokoo Releases Art Book Collection of His Late Beloved Cat Tama

Since his cat Tama passed away in 2014, Japanese graphic designer and illustrator Tadanori Yokoo has drawn 91 pieces of his beloved feline companion. Those pieces have been compiled into a new art book entitled Tama, Kaetteoide ("Come Home, Tama").

Tama was a famous cat amongst fans of Tadanori Yokoo, who would feature him on his Twitter page and blog from time to time. Yokoo's love for Tama was also well-known amongst his followers. Tama was a stray cat and appeared in Yokoo's garden. In the 15 years Yokoo took care of him, Tama's affection warmed the hearts of both the artist and his family of fans.

The 91 pieces that Yokoo created of Tama since his passing were originally never going to be seen by anyone. But this year, on the seventh anniversary of Tama's death, Yokoo has decided to publish them.

Tama, Kaetteoide – ¥2,200 (Before Tax)

The collection features not only art pieces, but diary and written entries too that Yokoo occasionally wrote about Tama. Yokoo's Twitter page become a diary for the artist, where he expressed his sadness and loneliness after losing his cat, which has received much attention with his followers. The book includes the diary entries from when Tama was alive to his death and up to 2018.

Editor's Comment

When Yokoo met with Yoko Ono, he said of his work, "I didn't draw this as artーI drew it as a love letter to my cat," to which she responded, "And that's exactly why it's art." I too believe that if a piece of art moves a person's heart, then that in itself makes it art. Featured in this book are many of Yokoo's diary and written entries about his beloved Tama. But it also begs the question to people what is love, what is life, and what is death? It's a treasured illustrated collection for people, and above all one you can't help adoring. I believe this book will add something to the lives of every art fan, of every cat lover, and every person who kindly buys themselves a copy."


An exhibition showcasing all of the illustrations in the book is set to take place at Nishimura Gallery in the near future. The exhibition has been postponed as a result of the coronavirus outbreak, but you can check the gallery's official website for when the event will next be rescheduled.

Cat-Shaped Bread Shop Neko Neko Shokupan Re-Releases Neko Neko Packs Due to High Demand

Due to high demand from customersーselling out their previous limited stock in February in this yearーNeko Neko Shokupan re-released its popular "Neko Neko Packs" once more on March 20, again with limited stock.

What's inside the Neko Neko Pack?


Neko Neko Pack A & B – ¥1,000 Each (Before Tax) / Available: From March 20, 2020 while supplies last


Neko Neko Pack is available in two versions, A and B. Both contain one piece of cat-shaped bread, jam, and an original folder.

The texture of the jams differ between both versions: 'A' is smooth sweet bean paste while 'B' is mashed sweet bean paste. The specific bread that is included in the pack is not sold separatelyーyou need to buy yourself a full Neko Neko Pack.

Quality flavour guaranteed at Neko Neko Shokupan


The shop's "shokupan," a style of bread loaf, is made with 100% milk, giving it rich and milky flavour and moist, chewy flavour. No water is used for baking this bread, only milk, which is sourced from Hokkaido. It also contains honey, fresh cream, and butter to give it a sweet, melt-in-the-mouth taste.

Their cute arrangements of the bread are super popular

Kids and adults alike can enjoy eating at Neko Neko Shokupan with the many variations the bread can be served in, like face decorations with a chocolate pen. You can see lots of different original arrangements on Japanese social media like Instagram.

Neko Neko Shokupan's kawaii, high-quality bread is a must-try, so be sure to visit your closest branch when visiting Japan.

Information

Neko Neko Pack

Release Date: March 20, 2020 (while supplies last)

Available: Most Neko Neko Shokupan branches in Japan

Official Website: https://nekoshoku.jp/

Cute New Doraemon Merchandise From Felissimo Can Be Enjoyed By Adults Too

Felissimo launched online pre-orders for its new line of 12 Doraemon themed items on February 20, 2020. Doraemon is a symbol of Japanーa national treasure that continues to be be adored by kids and adults alike around the country.

The collection is centred around everyday practical items that can even be enjoyed nonchalantly by grown-ups.

Doraemon Laundry Net Set – ¥1,400 (Before Tax)

There are four in this collection of laundry nets, big and small. Designs include "Mini Doraemon," "Memory Bread," "Anywhere Door," and "Dress-Up Camera."

Doraemon & Nobita-kun Slippers – ¥2,100 (Before Tax)

 Doraemon and Nobita-kun features on this collection of slippers. There are four designs, with the tops being made from corduroy, and all with beautiful colours.

Doraemon Pull Pass Case – ¥2,300 (Before Tax)

These three pass cases all have Doraemon designs and come with a pullable elastic string. Each has its own classy one tone colour. Perfect for storing small items and heading out.

Doraemon Smartphone Cases – ¥2,900 (Before Tax)

The three cute smartphone cases come in chic colours and designs, with an additional colour inside for the four card pockets.

Doraemon Plastic Bottle Towels – ¥950 (Before Tax)

Decorate your drinking bottle with one of these four cute Doraemon bottle towels, all with a cute tail. They can be used for other things like deodorant too.

Doraemon Zipper Bag Set – ¥800 (Before Tax)

Keep your food stored and safe in an adorable Doraemon zipper bag, whether it be snacks or ingredients. They're perfect for giving gifts in too.

Doraemon Nail Seals <Basic> – ¥1,450 (Before Tax)

Glam up with some cute Doraemon nail seals, ranging from natural colours to gold leaf and more, which can cater to a variety of different situations.

Doraemon Embroidered Pouches – ¥3,000 (Before Tax)

These kits embroidery equipment to make your own Doraemon-design pouch. Make the pouch, attach the fastener, and you've got yourself a place to store your items.

Capy Neko Cafe: Japan's First Cat and Capybara Cafe Opens in Tokyo

Capy Neko Cafe is the newest animal cafe to hit Tokyo. Located in the neighbourhood of Kichijoji, right by the station, customers are able to interact with both cats and capybara at the same time.

Japan is famous for its host of animal cafes, from the ubiquitous cat cafes to more unique ones like the owl cafe. But Capy Neko Cafe stands out from the rest as being the first cafe in Japan to combine cats and capybara.

You might wonder whether it's actually safe to pet a capybara. They may be the largest rodent in the world, but they in fact loved to be pet by people. They are gentle creatures that get on with and can live alongside cats. At the cafe, you can take photos of the capybara who are sure to be chilling on the sofas as well as feed them. The comfy environment also means that they'll feel like your very own pet capybara at home.

▶︎Tawashi (Male)

Tawashi is a sensitive, affectionate, and gentle guy. He loves snacks, and he's sure to flop down if you start petting him on the butt. Part of his daily routine is having an afternoon nap on the sofa together with the cats.

▶︎Dan (Male)

The vice store manager of Capy Neko Cafe. He adores humans. He's the kind of guy who'll probably jump up onto you if you cover your lap with a blanket and sit on the sofa.

▶︎Emma (Female)

Another member with a soft spot for humans, Emma is reserved kitty who lets everybody eat their food first. She's a needy and spoiled girlーif she's on your lap, you're not getting up. She's siblings with Dan.

▶︎Cream (Male)

Cream is everybody's idol. He's unapologetically spoiled and a handsome guy with perfectly round black pupils.

This list is just a small taste of the many cute residents to meet at Capy Neko Cafe. The cafe is also active in finding families for their rescued cats. The number of people who want to own a cat in Japan are looking to rescues now instead of pet shops. At Capy Neko Cafe, you get the best of both worlds: you can meet and interact with a cat and see if they're a good match for you.

If you're interested in visiting Capy Neko Cafe, keep in mind that priority goes to those who have booked in advance. This can be done via their official website, so book first and look forward to kicking back and enjoying a cup of tea, coffee or soft drink before interacting with the cats and capybara!

Information

Capy Neko Cafe

Address: PLATANO Floor 2F, 1-5-10 Kichijōji Minamichō, Musashino, Tokyo

Business Hours: 12:00-18:00

Closed: Wednesdays

Official Website: https://capyneko.cafe/

Adorable Shiba Inu Slippers and Handkerchiefs Released by Felissimo

Felissimo released a new line of shiba inu slippers and handkerchiefs from their humorous brand YOU+MORE! on their website on November 26.

The slippers feature various shiba inu pulling adorable faces, with the sole parts made to look like their fluffy bellies. The handkerchiefs are made using appliqué needlework to stitch a variety of different pups onto them. The prints are so realistic you'll find yourself wanting to stroke them.

The slippers come in three designs: Black Fur, Red Fur, and White Fur, all with loving faces looking up at you as you walk around the house.

The insoles are made with long and comfy boa fabric to create the fluffy underbelly of the dogs.

The gauze handkerchiefs come in six designs: Pomeranian, White Shiba, French Bulldog, Red Shiba, Golden Retriever, and Corgi.

The embroidered doggy designs are 3D textured, making you want to poke and stroke them all the time you're holding them. The front part is made from gauze and the back from pile. One of each of the six designs will be released monthly over a period of six months.

If you love shiba inu, or know someone that does, this is the perfect gift!

Rilakkuma Umbrella by Felissimo Can Be Used in Clear or Rainy Weather

Felissimo released a new Rilakkuma-inspired beige-pink umbrella on their website on June 10.

The umbrella's design is subtle and sophisticated. The outer rim is lined with a brown coloured lace reminiscent of Rilakkuma. It also has a handle made from high quality wood carved into Rilakkuma's face. The umbrella also cuts 98% of UV rays meaning it can be used in both clear and rainy weather.

Its beige pink colour with brown lacing gives it a sophisticated feminine design.

Rilakkuma's facial features on the handle were made using laser cutting and together with the frilly cotton rope tied to it give it a polished and refined look.

There is also a name tag on the umbrella with a nonchalant Rilakkuma logo printed on it.

There is also a separate bag you can purchase to put your umbrella in after it rains so you don't get the floor wet if you go inside anywhere.

©San-X

GOODGLAS double-walled animal-themed glasses at Tokyu Department store!

Double-walled glass pioneer GOODGLAS will be selling cute animal-themed glasses at four Tokyu Department stores for a limited time only starting from 30th May 2019. The four limited stores are Shibuya main store, Shibuya station Toyoko store, Kichijoji store and Tama Plaza Kanagawa store. 

Bear: ¥3,200 + tax

Labrador: ¥3,200 + tax

The double-walled glasses will come in the following designs: Dog, cat, duck, bear, labrador, wild boar, grape, and cherry blossom.

Shiba Inu dog: ¥3,200 + tax

Bunny: 3,500 + tax

Cat: ¥3,500 + tax

From 8th June, more mug designs will be added to the series shown above! The Shiba Inu dog mug, which was fully sold out soon after it was launched for sale back in April, is making a comeback! There will also be two more brand new designs: the bunny and the cat! The Shiba Inu, bunny and cat mugs will be sold at Tokyu Department store in advance. They will be available for general sale from 14th June.

You won't be able to stop drinking from these cute mugs so get your hands on some!

Information

GOODGLAS

Release date: 30/05/2019

Available at:Four Tokyu Department stores

 

Store information

Tokyu Department store Shibuya main store (6th floor) Kitchen/ tableware section

(2 Chome-24-1 Shibuya, Shibuya City,)

Tokyu Department store Shibuya station, Toyoko store (Minamikan 8th floor) Kitchen/ tableware section

(2 Chome-24-1 Shibuya, Shibuya)

Tokyu Department store Kichijoji (6th floor) Kitchen/ tableware section

(2 Chome-3-1 Kichijoji Honcho, Musashino, Tokyo)

Tokyu Department store Tama Plaza (4th floor)  Japanese/western-style tableware section

(1 Chome-7 Utsukushigaoka, Aoba Ward, Yokohama, Kanagawa)

 

For more information on GOODGLAS double-walled glasses, please check GOODGLAS JAPAN's website: https://www.r-kj.com/

Felissimo's Cute Rabbit Item Collection―New Rabbit Themed Products Every Month

Felissimo dropped its new rabbit product collection on February 22 from its YOU+MORE! brand. All the items in this miscellaneous collection are drawn by rabbit illustrator Shirato Akiko. The collection will run for an entire year during which a new product will be released each month.

From a tote bag to a purse and more, all of these Felissimo-originals can be incorporated into your daily life

Canvas Tote Bag

Made from canvas fabric and featuring a relaxed chestnut colour, this tote bag has a natural taste to it. Its A4 size makes it convenient for popping out to the shops or as an additional bag for work.

Pouch

The perfect choice for on trips or if you need a place for your bits and bobs. It features an illustration of a cute grey Dutch rabbit with twinkling eyes.

 

Die Cut Cushion

This adorable orange rabbit cushion is on the small side, is soft to touch, and will have you picking it up without even thinking about it.

Coin Purse

Carry these three floppy bunnies and your coins with you everyday with this coin purse. It's also the perfect size for storing small makeup items.

Cup With Lid

Perfect for the winter season and cold weather for keeping your tea or coffee warm. The lid can also be used as a place to put sweets, snacks or biscuits while you drink too.

There are many more products to come too, so if you love rabbits or know a rabbit lover then don't miss out!

Information

YOU+MORE! Shirato Akiko's Rabbit Collection
Price: ¥1,500 (+8% tax = ¥1,620) *1 new product every month
・Details: One product illustrated by Shirato Akiko
・Materials: Different for each product
・Sizes: : Different for each product
・One product to be sold every month over the period of 12 months.
Product Details: https://feli.jp/s/pr190308/2/