Cat Hand Towels with Traditional Japanese Designs Released from Felissimo Neko-bu
Felissimo Neko-bu opened pre-orders for a series of hand towels illustrated by manga artist Rinrin Yamano drawn in a traditional Japanese style on March 22nd. Hand towels are a commonly used everyday item in Japan, and this fun line-up features cats in various poses and scenarios.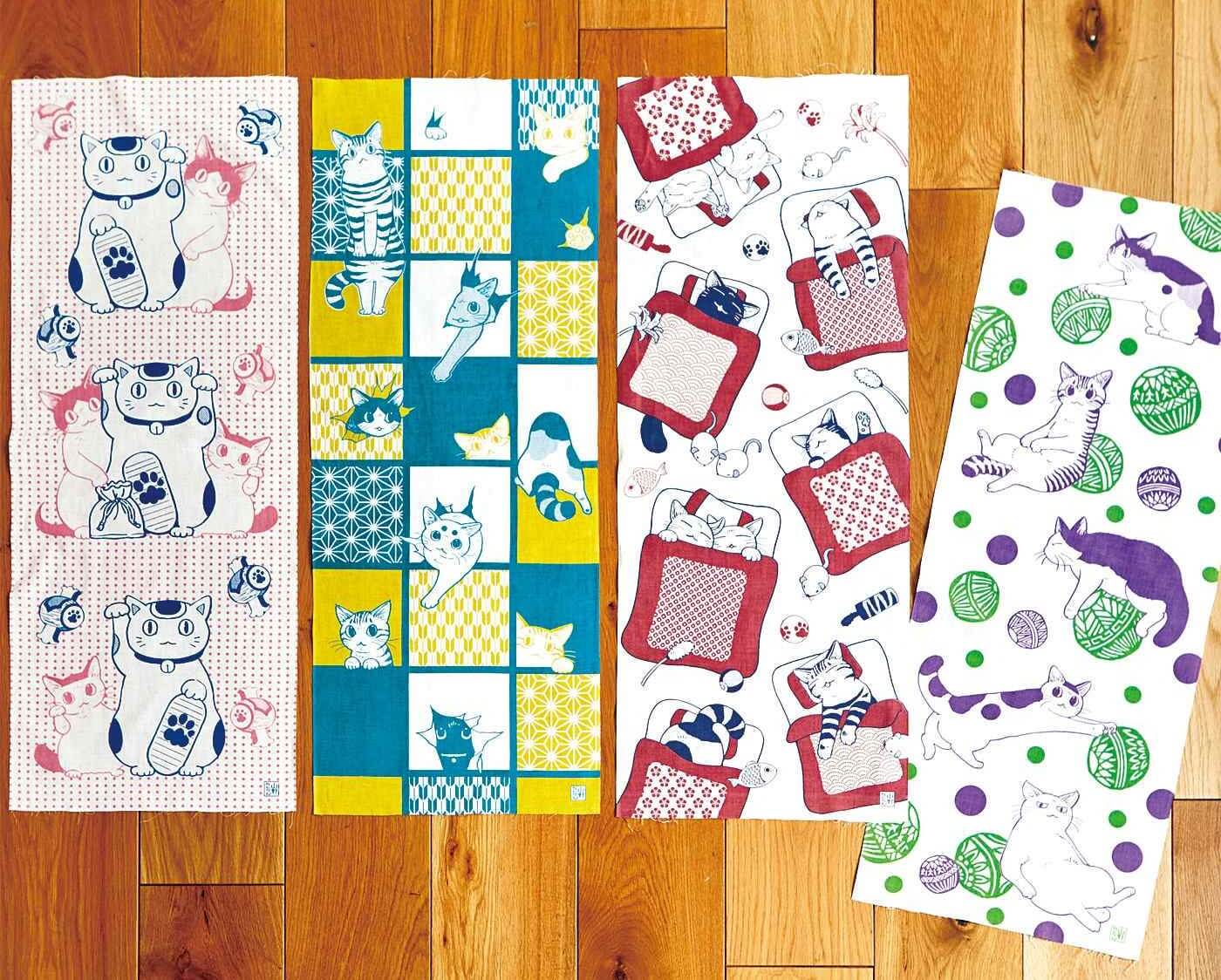 The illustrations include cats interacting with traditional Japanese motifs such as paper sliding doors and temari balls, all drawn by Rinrin Yamano.
 When hung up they can always be used as noren curtains and tapestries. There are four designs: Shoji, Futon, Maneki Neko, and Temari. They are perfect for your own personal use as well as gifts for cat lovers!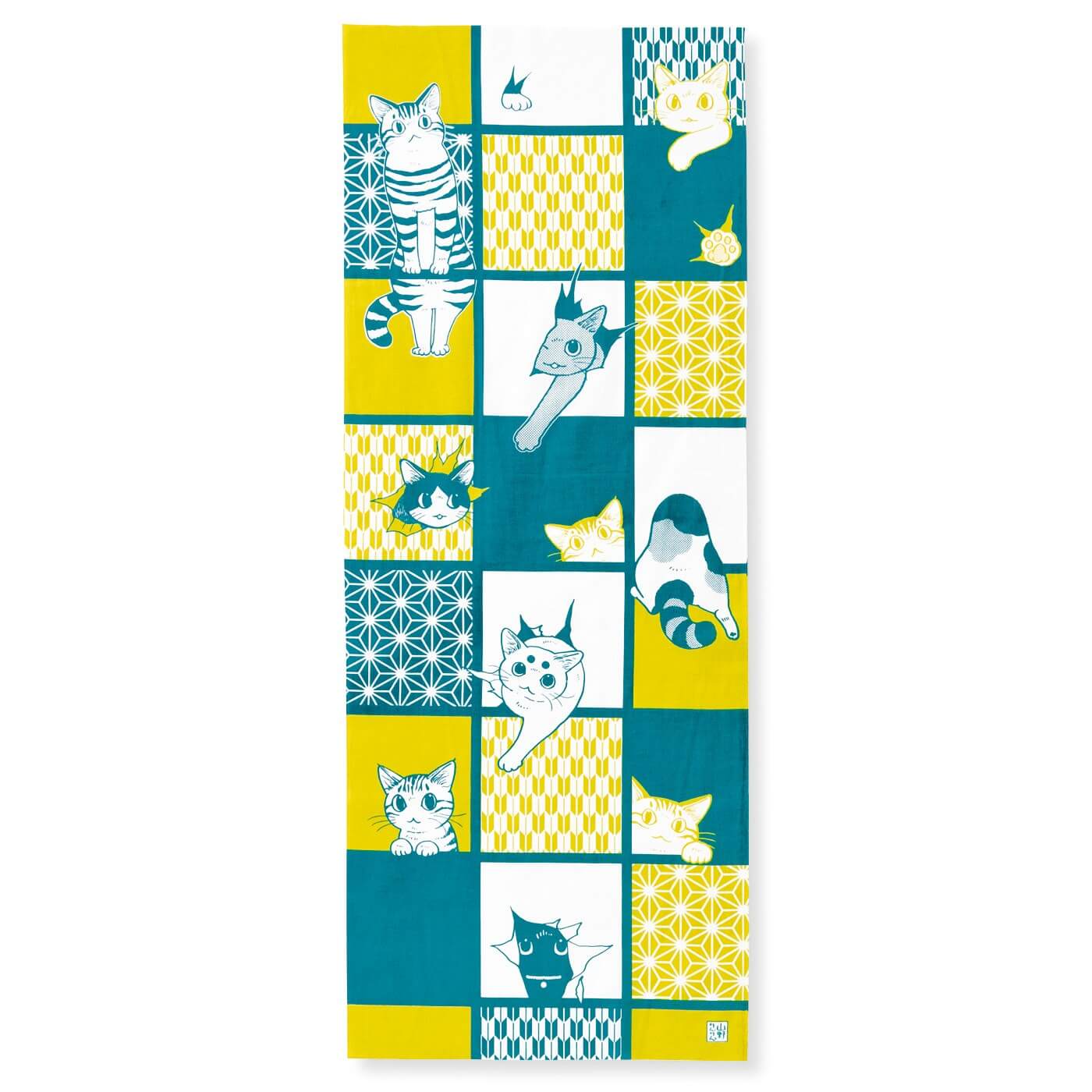 Shoji: A design that showcases lively cats in a Japanese room tearing through and climbing up paper sliding doors
Futon: The cats are sleeping soundly in an old-fashioned Japanese futon – they look just like students on a school trip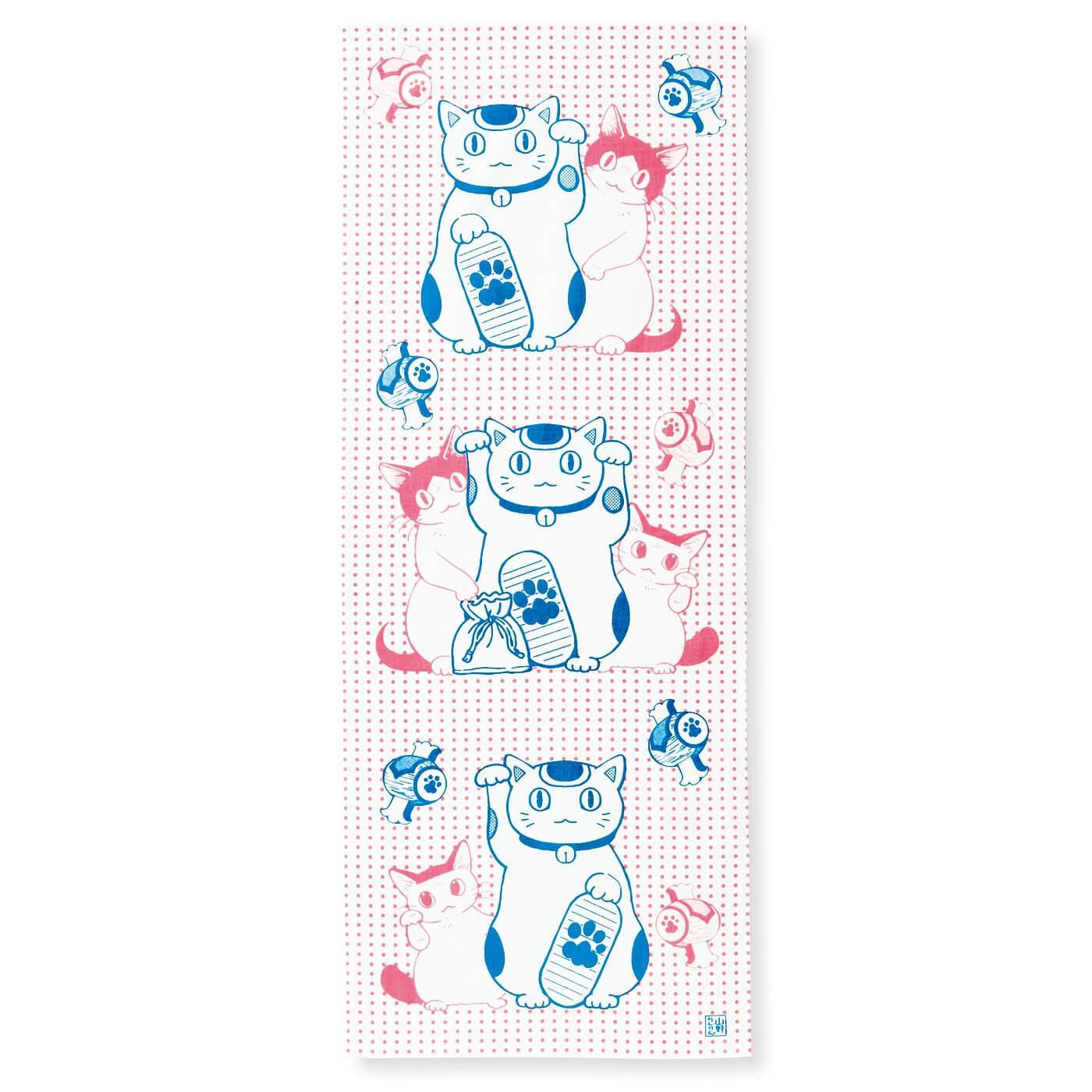 Maneki Neko: A design featuring a plump and cute waving cat and the 'Uchide-no-Kozuchi' (Mallet of Luck)
Temari: This cute polkadot pop design features cats having fun with temari balls.
As always with Felissimo Neko-bu products, part of the price of these hand towels go towards numerous causes including shelter for animals with no owners and for helping find them owners, as well as aiding towards getting stray cats off the street to avoid overpopulation, and for protecting animals during times of disaster.
Get your hands on one of these amusing, Japanese-style hand towels.
■Information
Rinrin Yamano Cat Hand Towels
Price: ¥850(+8% ¥916)
→¥25 of the money will go towards the "Felissimo Cat Foundation". (The money donated is tax exempt)・
Material: 100% cotton (*Can be hand-washed)
・Size: 90cm x 34cm
*Due to the hand towel having been made using old-fashioned techniques, both ends have been left cut. The material may become frayed when first used.
・One of four designs released each month. (Product will discontinue once all are released.)
Product Details: https://www.feli.jp/s/pr180404/2/
RELATED ENTRIES
Wildly In-Demand Neko Neko Tiramisu Returns in Limited Quantities

Neko Neko Cheesecake, a sweets shop specializing in cat-shaped treats, is adding the massively popular Neko Neko Tiramisu back to the menu for a limited time only, from September 10 until September 30, 2021.

※Until supplies last. 


Originally sold as a limited-edition release for Father's Day, 800 of these cat-shaped treats sold out instantly. Brought back as a result of constant consumer requests, the Tiramisu will only be available in very limited quantities.

The Neko Neko Tiramisu is filled with soft sponge cake soaked with coffee syrup, with a layer of mascarpone cheese mousse layered on top. Finished with cocoa and coffee powder, it's the perfect mix of bittersweet and rich flavors.

The Tiramisu will also be available at the online store All Hearts Mall, making it easy to send to friends and family. As the pandemic continues to keep people apart, this adorable sweet is a great way to surprise loved ones far away.

What do you think about this Neko Neko Tiramisu? It might be too cute to eat.

Kyoto Sweets Cafe eXcafe Gion-Shinbashi Restarts Popular Breakfast Menu for Weekends

The calm Machiya sweet shop eXcafe Gion-Shinbashi will be restarting the popular eXcafe Breakfast (Calico) menu on weekends from September 4 2021. This is the perfect spot to start your Gion adventure, packed full of ancient city charm and history. 

 

eXcafe currently has three store locations in Kyoto: Kyoto-Arashiyama, Gion-Shinbashi, and the newly opened Gion Yasaka.

eXcafe Gion Shinbashi is located in an area where you can appreciate the beauty of Gion, with the ever changing scenery fully reflecting the four seasons. Even on sunny weekends, the area isn't overly busy and the sky is beautifully clear, making it the perfect spot for commemorative photos.

 

The returning breakfast menu is the eXcafe Breakfast (Calico), made up of charcoal-grilled toast with a calico cat motif. The fluffy bread is thickly cut and can be completed with your favorite topping: Bean paste, butter, whipped cream, or fruits. The breakfast set also includes a drink and Mitarashi dango dessert, making it the perfect way to spend a relaxing moment at the beginning of your trip, or as a break from your early-morning sightseeing.

Morning walks in Gion are particularly refreshing at this time of year, making a perfect break from the intense Summer heat. It is also ideal for visiting the Yasaka Shrine.

You'll feel even cooler as you listen to the flowing Shira River, the water gently bubbling under the cobblestones of the famous Tatsumi Bridge. Although it is located in a trendy area, the eXcafe Gion-Shinbashi is a welcome break from the bustle of the city, surrounded by cobblestone alleys and wooden townhouses.

 

Cat Cafe and Shelter Necorepublic Opens Massive Complex in Osaka

Necorepublic, which operates a shelter cat cafe and accompanying apparel brand 'NECOREPA/', held the grand opening of NecorepaLand in Kumatori, Osaka on July 22, 2021. This is the first 'NECOREPA/' flagship store in Kansai.

All 'NECOREPA/' Items

Adorable socks and cat-shaped masks


Restaurant specializing in Japanese Spiced Curry.


Spiced Keema Curry with Bonito stock.


Green Curry.

Lemonade and fragrant Tsujimoto Coffee.


The cat cafe, where guests can relax with 9 shelter cats.


Cats enjoy playing with the hammock hanging from the ceiling.


NecorepaLand is one of the largest Necorepublic complexes, and was created to support the brand's shelter activities, with proceeds from dining and shopping being used to help cats in need. The 'NECOREPA/' store is heaven for cat lovers, featuring cat-themed goods, including bags, wallets, socks, and other accessories. 

The complex also houses a specialty Japanese spiced curry restaurant, with three unique flavors available. Guests can wash it down with some lemonade or Tsujimoto coffee, and gaze out the large windows overlooking the terrace. A separate cat cafe located in the back of the building houses 9 shelter cats ready to play with visitors, and each cat is adoptable!

With all sales going to a good cause, NecorepaLand is sure to bring some positive change to the Kansai area. 

Sebastian Masuda and Felissimo Release Kawaii Multicoloured Miwa Soumen Noodles

Felissimo and Sebastian Masuda's cute and happy KAWAII COMPANY project released a new collection of multicoloured soumen noodles at Senjutei Somen Chaya on July 11 which are available for a limited time until August 31. The colours of the noodles are naturally-derived.

KAWAII COMPANY 5 Kawaii Soumen Noodles | 1 Set = ¥2,420 (Tax Included)

Digital Catalogue

The cute Miwa soumen noodles are made by Ikeri, a long-standing shop that was established in Nara over 170 years ago. Each noodle colour signifies a different colour: Japanese purple sweet potato, plum, kabosu citrus, beefsteak, and plain. The noodles are packaged in a wooden box featuring KAWAII COMPANY's key visual designed by Sebastian Masuda along with golf leaf.

The noodles aren't designed just to look cute – they are authentic in flavour and in how they are made with traditional Japanese techniques.

eXcafe Gion, a cafe in Gion, Kyoto is now open for business on weekdays again.

eXcafe Gion

Cat-shaped bread by Neko Neko Shokupan

The cafe is located near Tatsumihashi

eXcafe's famous Hoku Hoku Dango Set

eXcafe Gion opened in November 2019 following the opening of the popular eXcafe Arashiyama. Gion is a major sightseeing spot of Kyoto for its fusion of traditional and contemporary Kyoto culture. One of its longest and most quintessential traditions of that of Chayamachi, also called Hanamachi, where maiko and geisha live and work.

eXcafe Gion is situated near Tatsumihashi where the relaxing sounds of the Shirakawa River can be heard. The cafe incorporates elements of a traditional Japanese teahouse with tatami flooring and wooden structures, ready to welcome guests with open arms who have been strolling around to see the historical architecture of the local area.

The summer season sees locals and sightseers dressed in yukata, the sound of geta shoes clacking on the floor. Summertime is also when the cafe serves their famous Hoku Hoku Dango, a must-try if visiting Gion.

Cute Cat-Shaped Mango Cheesecake Arrives at Neko Neko Cheesecake

Neko Neko Cheesecake released its new seasonal 'Neko Neko W Cheesecake Mango' on Tuesday. Neko Neko Cheesecake is a sister brand of Neko Neko Shokupan by the same company, ALL HEARTS COMPANY, which serves cat-shaped bread.

Neko Neko W Cheesecake Mango | ¥2,430 (Tax Included)


The cute cheesecake is packed full of seasonal mango in the form of a mango and passion fruit sauce layered on top of the biscuit base. The cake is topped with fresh mango, lending a juicy and refreshing flavour to the sweet and tangy cake.

This tropical mango delight is one of many delicious cakes by Neko Neko Cheesecake. Be sure to check out our other coverages on the shop.

Tokyo Mew Mew New Anime Cast Music Group Smewthie Performs Live

In promotion of the upcoming new anime series adaptation of Tokyo Mew Mew New, which is releasing in 2022, the cast hosted an event titled '2nd MEW♡ting' on Saturday May 22 where they read their lines aloud to fans.

The event was held on the same date as Masaya Aoyama's birthday – the male love interest of the series protagonist Ichigo Momomiya. There was a section of the event where Ichigo spoke about the cake she made for Aoyama the day before.

This was Smewthie's first event with a live audience. They performed full versions of bitter sweet darling and Resolution of colors for the first time, amongst other fun things such as a segment similar to a Japanese variety show.

'bitter sweet darling' was the group's first single

Smewthie「bitter sweet darling」Music Video


Smewthie「bitter sweet darling」Dance Performance Video


bitter sweet darling: Track Download ¥250 / Full Single Download ¥1,350 / His-Res Track Download ¥400 / Hi-Res Full Single Download ¥1,800

bitter sweet darling is available on music streaming and download services.

Will you be watching Tokyo Mew Mew New when it airs next year?

©征海美亜・吉田玲子・講談社/「東京ミュウミュウにゅ~」製作委員会
©征海美亜・吉田玲子/講談社

Neko Neko Shokupan x Samansa Mos2 Clothing Collaboration Released

Fashion brand Samansa Mos2 joined paws with the cat-themed bread and pastry store Neko Neko Shokupan to release their first collection together at Samansa Mos2 stores and the online store CAN ONLINE SHOP on May 14.

The Line-Up

Half-Sleeve Photo Print T-Shirts
Colours: Off-White/Unbleached/Beige
Price: ¥3,190 (Tax Included)

Half-Sleeve Monogram Print T-Shirts
Colours: Off-White/Yellow/Brown
Price: ¥3,190 (Tax Included)

Half-Sleeve Back Print T-Shirts
Colours: Off-White/Yellow/Brown
Price: ¥3,190 (Tax Included)

Back print tee design

Shokupan Print Hoodie
Colours: Beige/Khaki
Price: ¥4,290 (Tax Included)


Kid's Line

Photo Print T-Shirt
Colours: Off-White/Yellow
Price: ¥2,530 (Tax Included)

French Flare T-Shirts
Colours: Beige/Khaki
Price: ¥2,530 (Tax Included)

Miscellaneous

Embroidered Canvas Tote Bag
Colours: Unbleached/Beige
Price: ¥3,850 (Tax Included)

Handkerchief
Colours: Beige/Purple
Price: ¥660 (Tax Included)

Reversible Shoulder Pouch
Colours: Beige/Khaki
Price: ¥3,190 (Tax Included)

Bottle Holder
Colours: Beige/Khaki
Price: ¥2,750 (Tax Included)

Mobile Ring Holder
Colours: Beige/Grey
Price: ¥1,650 (Tax Included)

Neko Neko Shokupan are known for their rich and milky cat-shaped bread which uses milk and zero water. They're a hugely popular bakery brand who often find themselves across social media pages including Instagram. This marks their first collaboration with Samansa Mos2 who celebrate their 35th anniversary this year.





The collection features key visuals taken from the Neko Neko Shokupan brand. Items include a variety of tees and hoodies as well as other miscellaneous must-grabs like tote bags, handkerchiefs, bottle holders, and more. There's even a children's line-up as part of Samansa Mos2's kid brand Samansa Mos2 Lagom so parents and their children can coordinate cute matching outfits.





Look felinely-fashionable this summer with the Samana Mos2 x Neko Neko Shokupan collection.

 

Neko Neko Shokupan, a Japanese company that makes cat-shaped bread, is releasing a new limited-time blueberry flavour for the entire month of June at all branches.

Neko Neko Shokupan Blueberry | Single Slice ¥842 (Tax Included)

Their bread arrangements are super popular

The June-exclusive blueberry bread uses blueberry jam in the dough. One bite fills your taste buds with sweet and fruity ecstasy. It can be enjoyed as it is, or made even more delicious by toasting and adding a spread of butter which elevates the sweetness of the blueberry even more.

The cat-shaped bread, which is made with milk, can be decorated with chocolate pens and other decorations to create a unique and original design. Their bread arrangements are super popular on social media. Perfect as a sweet treat to yourself or a gift to someone.

If you're in Japan this June, don't miss out!

Information

Neko Neko Shokupan Blueberry

Price: Single Slice ¥842 (Tax Included)

Available: At all Neko Neko Shokupan branches

Official Website: https://nekoshoku.allhearts.company

Felissimo's Summer 2021 Hair Turbans Are Made Using Traditional Japanese Banshu-Ori Weaving

As part of Felissimo's "Japanese Craftsman Project," the fashion retailer released a new collection of jacquard hair turbans in collaboration with POLS, a textile brand based in Nishiwaki, Hyogo.

Green x Brown – Pink x Brown – Light Grey x Orange – Sky Blue x Yellow | ¥4,800 Each (Before Tax)

The hair turbans are made using a traditional Japanese weaving technique called banshu-ori whereby threads are dyed before they are woven, allowing for items to maintain their colour for much longer.

POLS is a textile company that uses a jacquard loom to create designs brimming with originality. The hair turban collection features colours that aren't over the top so can be enjoyed by anyone and everyone. They are also a great item for doing your hair and makeup while working remotely and add a little something to your look if you're in a situation when you need to wear a mask.

Neko Neko Cheesecake Releases New Cat-Shaped Mikan Orange Flavoured Cake

Neko Neko Cheesecake is set to open pre-sales for its new Nyan Cheese Mikan cheesecake at Pastel branches of Neko Neko Cheesecake on April 22 before rolling it out at all Neko Neko Cheesecake branches.

Neko Neko Cheesecake is a sister brand of Neko Neko Kuu Pan from the same company which serves cat-shaped bread.

Nyan Cheese Mikan | Single Slice: ¥237 (Tax Included)

Nyan Cheese Mikan | Box of 4: ¥1,080 (Tax Included)

The cheesecake is made with Brie de Meaux, aka the king of cheeses, and cooked at a high temperature to add a gorgeous browned surface. They contain rich juice from mandarin oranges to give them a refreshing kick perfect for the spring season. A perfect snack or post-dinner dessert.

Cat Themed Beauty Tool Series 'Nyarming' Releases in Japan With Cute Feline Designs

Kai Corporation released its new cat-themed beauty tool series Nyarming in Japan on Monday (March 15) at drugstores, home centres, and elsewhere.

Cat-lovers' beauty routines are about to get even more exciting

The collection comes as the next rendition of Nyammy, a cookware brand by Kai Corporation in February 2017 with cat designs. The series has sold over 900,000 units since its release. Nyarming is the newest entry to Kai's cat line-up with nine cute beauty tools that any cat lover will go feline-feral for.

 

The Nyarming Collection

 

Cat Eyelash Curler | ¥715 (Tax Included)

A cute eyelash curler featuring a round body and cat ears, paying respect to our beloved kitties without being too obvious about it. But these cat ears aren't just for show – they help put your eyelids up so you can catch the hairs from the eyelash hairline properly. The curler is a compact size, just 7cm.

 

Cat Fringe Clip | ¥400 (Tax Included)

Tie your fringe up with this adorable cat paw clip. Perfect for when you're doing your makeup, working at the desk, and pretty much any situation.

Cat Hairbrush | ¥660

This cat paw hairbrush features a soft paw-like cushion lined with brush bristles which stimulate the hair and scalp. Great for when you need to brush your hair before shampooing or if you're going to blow dry or style it.

Cat Makeup Brush | ¥1,210 (Tax Included)

A cute cat paw makeup brush for applying foundation and blush. The paw takes on the colour of the product you use, making it look even cuter.

 

Cat Hair Turban | ¥1,045 (Tax Included)

A simple but high quality hair turban that can be conveniently used for applying makeup, washing your face, or relaxing at home.

This is just a select look at a long list of products available in the new Nyarming series – check out Kai's official website for more info.