Eat Local Purin from Around Japan at Purin Festival 2018
To celebrate 6 years since DiverCity Tokyo Plaza opened its doors, the Gotochi Purin Fes is returning bigger and better this year and will run from April 26 to May 6. The event was held last year and was a massive success, bringing in lots and lots of people hungry for purin.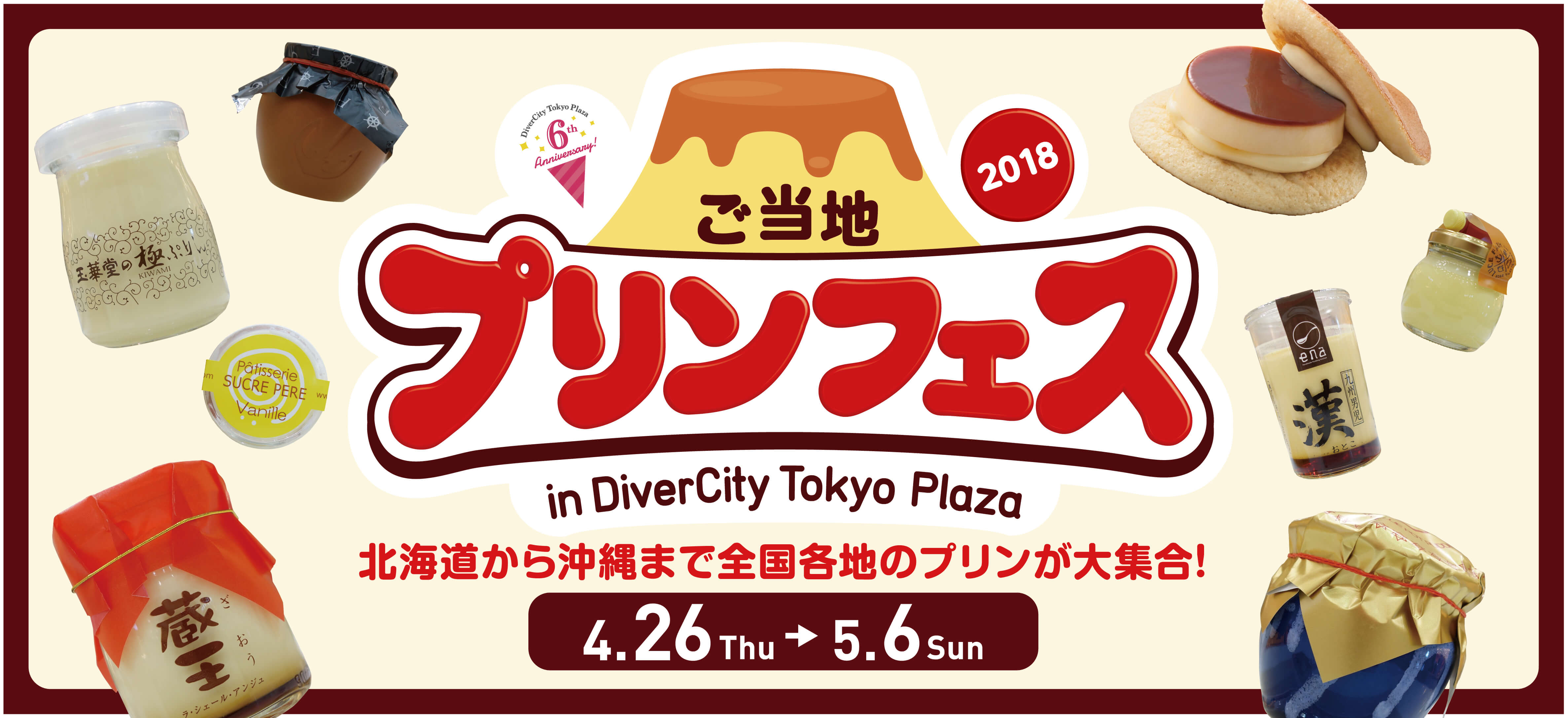 Last year's purin festival proved more popular than expected, with a whopping 30,000+ purin sold. This year marks the 2nd run of the event and will house over 50 varities of pudding all the way from Hokkaido up in the north down to Okinawa.
The products on sale have been carefully selected by the Japan Gourmet Entertainment Company who have tried well over 2,000 individual purin to date and are constantly on the lookout for the best purin across each region of Japan. High quality purin that aren't even sold at department stores or events will also make an appearance. If you're a purin lover, you won't be able to resist this event.
A collaborative campaign is also being held with Niku Fes ('Meat Festival') and will take place at an allocated area in Odaiba from April 27 to May 6. Those who present their receipts totalling over ¥2,000 (including tax) at the general information desk on the third floor of DiverCity Tokyo will receive an exchange voucher for rice at Niku Fes. 100 vouchers are available each day on a first-come, first-served basis. In addition, a 6-year anniversary present campaign will take place from April 21 to May 6. Those who spend ¥1,000 or more (including tax) at a shop will receive 1 stamp. Collect 5 stamps to enter a raffle draw to win a ¥100,000 travel ticket. 5 stamps gets you one turn in the raffle.
Head to DiverCity Tokyo this weekend and tuck into some seriously special purin!
■Information
DiverCity Tokyo Plaza
Address: 1-1-10 Aomi, Koto, Tokyo, 135-0064
Opening Hours
【Goods】10:00-21:00 【Food Court】10:00-22:00
【Dining】11:00-23:00 
*Some shops are not participating.
*Times will change between April 28th―May 5th. See below.
【Goods】10:00-21:30 【Food Court】10:00-22:30
TEL: 03-6380-7800 (Reception – 10:00-18:00)
Website: https://mitsui-shopping-park.com/divercity-tokyo/
RELATED ENTRIES
Evolutionary Japanese Sweets That Combines the Essence of Ohagi and Western Confectionary

Niigata prefecture is known for being a treasure trove of gastronomy, specializing in rice and sake products. Locals will be familiar with the long running Japanese sweet stores in the area, most of which incorporate the areas speciality rice and sake into their products.

"We want to let people know about Niigata's amazing sweets and spread the word about our local produce." 

With this in mind, a new "evolutionary" style of Japanese confectionary (Wagashi) was created, combining the traditional taste of Japan with the essence of the modern era to invoke both newness and nostalgia.

Mandai Bean Paste is the signature treat from the new Evolutionary Wagashi selection, made with the ever-popular Ohagi in mind. The mochi is made in partnership with a long-established Niigata confectionary store with over 200 years of experience in the prefecture.

The mochi is made using Shinnosuke, a new Niigata-based rice brand known for it's rich taste, while the Bandai-an bean paste filling is created by a long-standing local Anko store.

Each Ohagi is hand wrapped in store, with 12 delicious flavors available, including some seasonal fruits.

Unlike any normal Ohagi, this Evolutionary Wagashi is combined with seasonal fruits, nuts, and mascarpone cheese, adding an essence of Western flavoring to the traditional Japanese confectionary.

 The new store will be opening in the center of Niigata city, with a concept of "Long-established modern."

Just like their modern twist on timeless Japanese sweets, Bandai-an has created a fitting space that combines the dignified image of a traditional store with modern sensibilities.

These modern sweets can be enjoyed in all kinds of settings, so why not try them for yourself?

Information

Niigata Anko Bandai-an

Location: 2-2-9, Higashi Ōdoori, Chuo-ku, Niigata City, Niigata Prefecture

Opening Hours: 10:00~ 18:00

Official Site : http://bandaian.com

Long-Standing Kyoto Tea Wholesaler Yamamasa Koyamaen Opens Cafe in Tokyo

TZEN, a company dedicated to promoting traditional Japanese culture around the world, has teamed up with Yamamasa Koyamaen, a tea wholesaler in business since the Edo period, to open a new matcha cafe in Tokyo!

ATELIER MATCHA, a quick walk from Ningyocho station, is harnessing the concept of 'the third wave of matcha,' serving up premium matcha in a cozy atmosphere. 

MATCHA Cookies & Cream Shake: ¥748 (Tax Included) 

MATCHA with Warabimochi and Red Bean Topping: ¥748 (Tax Included)

MATCHA Jelly Cider: ¥660 (Tax Included)

MATCHA Granola and Yogurt Latte: ¥715 (Tax Included)

MATCHA Cotton Candy Milkshake: ¥748 (Tax Included)

MATCHA Affogato: ¥660 (Tax Included)

MATCHA Shot (Espresso Style): ¥220 (Tax Included) / MATCHA Water: ¥275 (Tax Included) / MATCHA Green Tea: ¥330 (Tax Included)

Supreme MATCHA Terrine: ¥660 (Tax Included)

(This is a partial menu, all prices are for those dining in.)

Matcha is becoming popular around the world. ATELIER MATCHA was created to offer customers a unique experience which showcases the true taste and culture of this beloved tea grown in Japan. 

Yamamasa Koyamaen is a Kyoto institution, cultivating and grinding matcha tea leaves for 160 years. Over 1,000 tea retailers, department stores, domestic and international trading companies and hotels stock their high-grade matcha, gyokuro, sencha, and other specialty teas, making them one of the most recognized and respected names in this traditional Japanese art. The company even prefers to call themselves a 'studio' rather than a 'factory', using the 800-year history of tea cultivation in Uji, Kyoto as a starting point to create their masterpieces. 

ATELIER MATCHA is Yamamasa Koyamaen's first cafe, and also the company's first experience selling directly to consumers. 

Blending the highest-grade matcha with locally made sweets, the cafe hopes customers will enjoy these original creations while surrounded by the relaxing aroma of tea. 

The matcha used in the cafe includes signature Yamamasa Koyamaen blends, including Ogurayama and Tennozan, both varieties often used in tea ceremonies. For a limited time, the cafe is offering a single-origin blend with one rare variety of matcha, as well as a beverage made with tencha, which are the leaves used to make matcha before being ground down in a stone mortar. Visitors can also enjoy gyokuro and hojicha teas, made from carefully selected leaves. 

Pulling recipes from Yamamasa Koyamaen's book 'Kyoto Uji-Koyamaen: Simple Matcha Drinks to Enjoy at Home,' the menu features refreshing drinks blending the traditional with the modern, with unexpected combinations of soda, fruit and yogurt. Seasonal drinks will also be making an appearance, including shaved ice in summer and chocolate drinks in winter. 

The name MATCHA SHOT packs a punch, using matcha instead of espresso for a needed pick-me-up. MATCHA WATER, a refreshing cup of watered-down tea, offers a way to fully enjoy the fullness and more hidden flavors of this popular Japanese tea. 

As expected, ATELIER MATCHA also has a sweets menu set to impress: these sweet treats feature only the best, created with the top 0.03% of total national matcha production. This insanely high-quality matcha is a part of Yamamasa Koyamaen's ultimate matcha experience project, titled "ALL FOR ONE," which provides these rare leaves to some of the country's top professionals in various fields. 

At opening, only limited qualities of the Supreme MATCHA Terrine, made by well-known pâtissier Toshi Yoroizuka, will be available. 

These authentic matcha creations are perfect for a hot summer's day, or as a gift for a friend. When in Tokyo, don't miss it!

Information

ATELIER MATCHA 

Address: 1-5-8 Nihonbashi Ningyocho, Chuo Ward, Tokyo 103-0013, Japan

Access: 30-second walk from Ningyocho Station/5-minute walk from Suitengumae Station

Open Date: August 2, 8:00

Hours of Operation: 8:00-19:00 (Last order 18:30)

Closed on Tuesdays (Open daily throughout August) 

Phone Number: 03-3667-7277

Official Site: https://ateliermatcha.com/

Love Live! Nijigasaki High School Idol Club x Oedo Onsen Monogatari Event Announced

The Tokyo-based bathhouse Oedo Onsen Monogatari is set to collaborate with the anime series Love Live! Nijigasaki High School Idol Club with a special event titled 'Tokimeki Onsen Monogatari' from July 30 to September 5. This will mark the site's final collaboration with an anime series as the bathhouse is closing on September 5.


For the collaboration, panels and decorations featuring original artwork of the Nijigaku members is featured around the bathhouse. There's also a special photospot featuring a backdrop of a scene taken the anime's second episode.

A lottery draw will take place where you can pay ¥550 for a chance to win a cushion, illustrated print, or bromide. There are also 10 collab drinks as well as three pasta dishes to pick from. Fans can also get their hands on exclusive merch such as keyrings, tees, tapestries, and more.

Jambuka Pancakes Get Tossed and Loaded With Fresh Cream and Fruits in Osaka

Jambuka Abeno Q's Mall is the only place in Osaka where locals can enjoy the incredible pancakes created by the fresh cream desserts specialist shop MILK. This summer, they are now serving a new seasonal treat: the 'Sweet Summer Mikan & Lemon Pancakes.'

Sweet Summer Mikan & Lemon Pancakes | ¥1,089 (Tax Included)

Fresh Cream Milk Pancakes | ¥858 (Tax Included)

Fresh Cream Strawberry Milk Pancakes | ¥1,089 (Tax Included)

Fresh Cream Chocolate Banana Milk Pancakes | ¥979 (Tax Included)

All pancakes are made-to-order and are covered in a rich, creamy sauce made from fresh cream from Hokkaido. Enjoy them plain or topped with fresh fruit.

Information

Sweet Summer Mikan & Lemon Pancakes

Running: July 15, 2021 – August 31, 2021

Location: Jambuka Abeno Q's Mall
Address: Abeno Q's Mall Floor 4F, 1-6-1 Abenosuji, Abeno Ward, Osaka, 545-0052, Japan
Opening Hours: 11:00-21:00
TEL: 06-6636-0555
Official Instagram: https://www.instagram.com/jambuka_abeno/

Milkshake Shaved Ice and Milk Frozen Desserts Served Up at Motosue in Hyogo

The new Motosue Hanare has opened next to Motosue Kurakuen in Hyogo where they are selling a range of desserts including the Milkshake Shaved Ice and Milk Frozen.

Milkshake Shaved Ice Pudding | ¥1,290 (Tax Included)

Milkshake Shaved Ice Sweet Potato | ¥1,350 (Tax Included)

Milkshake Shaved Ice Matcha Adzuki | ¥1,200 (Tax Included)

Milk Frozen Chocolate Banana | ¥650 (Tax Included)

Milk Frozen Strawberry | ¥720 (Tax Included)

Eggy Bread | ¥750 (Tax Included)

Using milkshake as the base ingredients, the shave ice line-up gets its super fluffy texture from free range eggs. There are three flavours to enjoy, such as the pudding one which is topped with a whole Japanese pudding, adding a smooth and velvety texture to the fluffy shaved ice. Each is a perfect pick for cooling down during the summer season.

The 'Milk Frozen' desserts use frozen milk for the base and are topped with fruit. Each is made carefully handmade one by one, and they are even more refreshing than the shave ices. The eggy breads also come in a range of flavours including plain and custard.

Information

Motosue Hanare

Japanese Shop Name: 本巣ヱ 離れ

Address: 1-28 Kikutanichō, Nishinomiya, Hyogo 662-0078, Japan

Access: 3-minutes from Kurakuenguchi Station

Opening Hours: 10:00-19:00 (Last Orders 18:30)

Closed: Every 2nd and 4th Tuesdays of the month

Official Website: https://supertamago.com/

McDonald's Japan Releases Strawberry and Banana Frappes at McCafe by Barista®

McDonald's Japan released its new Strawberry & Condensed Milk Frappe and Banana Caramel Frappe beverages at McCafe by Barista® branches up and down the country on July 14. The fruity frappes and the perfect choice for the hot summer season.

Strawberry & Condensed Milk Frappe | Regular: ¥490


The strawberry frappe is made with a sweet and tangy strawberry sauce that has fresh strawberry pieces in it as well as juice taken from amaou strawberries grown in Fukuoka which are known for their fresh and sweet taste. Added to the cup is rich condensed milk along with a squirt of whipped cream for a milky and velvety finish.

Banana Caramel Frappe | Regular: ¥490


The banana frappe is filled with a banana puree sauce, banana syrup, and a crème brûlée syrup. It's topped with smooth whipped cream and a drizzle of caramel sauce. The banana and caramel make for a delicious combination.

Kaori's Easy Recipe: Learn to Make a Rilakkuma Banana Cake

With just a small bit of ingenuity, turn everyday food into something cute using Kaori's Easy Recipe! With a few simple ideas, an ordinary recipe magically transforms into a cute dish.

In this recipe, I'll show you how to make a delicious banana cake that is tasty even if refrigerated!

Ingredients

Makes a 18cm pound cake

2 ripe bananas

100g unsalted butter

50g granulated sugar

2 eggs

100g weak flour

1

Bring the butter to room temperature and mix it with the sugar until it becomes white. I used unsalted margarine for this.

2

Gradually add both the egg whites and yolks and pour slowly into the mixture while mixing. Mash the banana with a fork, add to the bowl, and mix.

3

Sieve in the flour and mix lightly.

4

Bake at 160℃ for 40-45 minutes and it's ready! I used a 15cm pound cake tin and muffin tin to make mine. If using a muffin tin, bake for 30 minutes.

Leave to cool and use the edge of the pound cake tin to cut ears. Finish by using a chocolate pen to draw on Rilakkuma's face.

Kaori invites you into her world of character-themed food dishes in her recipe series. Be sure to check out her Instagram where she has uploaded many pictures of her character dishes!

Kaori Kubota (@kaopan27)

I live in Hokkaido and I love to make character themed foods, desserts and pastries♡

I want to see my family smile, so I enjoy putting in a bit of effort to make character foods and changing food into something cute♡

You can see more of my character foods and character bento boxes on my Instagram page → @kaopan72

Toy Story Inspired Ice Cream Cakes Release at Baskin-Robbins Japan

Baskin Robbins released a new collection of ice cream cakes inspired by the characters from the Pixar film Toy Story. There are 15 delicious flavours to enjoy, so let's take a look.

Buzz Lightyear

Popping Candy / Chocolate Chips / Strawberry / White Sponge

Ham 

Love Potion / Chocolate / Chocolate Sponge
 

Rex

Matcha Cookie / Vanilla / Chocolate Sponge

Ducky & Bunny

Very Berry Strawberry / Chocolate Chips / White Sponge

Forky

Dark Chocolate / Chocolate Bits / Milk Chocolate / Chocolate Sponge

Little Green Men

Popping Candy / Melon / White Sponge

Bo Peep

Strawberry Cheesecake / Strawberry / White Sponge

Woody

Caramel Ribbon / Chopped Chocolate / Chocolate Sponge

Pick

Mat

The ice cream cakes include designs based on everyone's favourite toys such as Woody and Buzz, as well as their new friends Forky, Ducky, and Bunny.

Information

Baskin-Robbins Japan's Toy Story/Palette 8

Released: July 9, 2021 (Available all year)

Price: ¥4,200 (Tax Included)

*Price different by branch

Size: 18.5cm x 5cm

Baskin-Robbins Japan Official Website: https://www.31ice.co.jp/

Mister Donut x BAKE Release Crispy Cream Puffs

BAKE CHEESE TART has teamed up with Mister Donut to release CROQUANTCHOU ZAKUZAKU, a crispy cream puff by BAKE CHEESE TART's sister company of the same name. They are being served from July 2 to August 1.

CROQUANTCHOU ZAKUZAKU is a crispy cream puff with a custard cream filling made from Hokkaido milk. It was first produced in Hokkaido. They are stick shaped and covered in almond crunch and 'ZAKUZAKU,' a coating combination of egg white and sugar.

Don't miss the chance to enjoy both BAKE CHEESE TART and CROQUANTCHOU ZAKUZAKU's tasty treats at the same time.

Information

CROQUANTCHOU ZAKUZAKU

Price: ¥250 Each (Tax Included)

Serving: July 2, 2021 – August 1, 2021 (Fridays, Weekends, Public Holidays Only)

Where: 17 branches of BAKE CHEESE TART in Japan

*Available while supplies last

More Details: https://cheesetart.com/news/zaku2021/

Lotte's Craft Sake Chocolate brand YOIYO Releases Yakushima Flavour

YOIYO is a chocolate brand created by confectionery company that fuses chocolate with sake. Online pre-orders for its second release opened on June 6, and it's scheduled to release on June 13. This chocolate is made with Single Malt Komagatake Yakushima Aging, a whisky made at the Shinshu Mars Distillery in Miyada, Nagano.

YOIYO YAKUSHIMA NEW

YOIYO KOMAGATAKE 

限定TASING SET KOMAGATAKE×YAKUSHIMA


YOIYO uses specially-selected sake from across Japan and infuses it with the brand's own smooth and tasty milk chocolate. One bites makes it feel as if you have visited the region in which the sake is produced thanks to the combination of pure water, ingredients rooted in the land, and the use of traditional techniques. The brand's name YOIYO is Japanese for 'good evening' as Lotte wants people to enjoy indulging in the chocolate at dusk or after dinner.

Single Malt Komagatake Yakushima Aging is a whisky that is aged for 5+ years, and Lotte picks only from the best barrels. A bite into the chocolate first invites the full flavour of the whisky before the sweet and rich beckon of the chocolate arrives.


Lotte is also releasing a limited-edition tasting set which includes a bar of their first YOIYO release so chocoholic and sake-lovers out there can enjoy taste testing both.

Vegetable Shaved Ice Arrives On Honjitsuno's Menu For Summer

Honjitsuno is a cafe based in Takeyacho, Kyoto, which introduced its new vegetable shaved ice desserts to the menu on July 1. Every month will see a different vegetable used.

Strawberry & Fruit Tomato | ¥1,600 (Tax Included)

Made with strawberry sauce, fruit tomato jam, and milk pudding. Hidden inside is soft cheesecake.

Peach & Corn | ¥1,600 (Tax Included)

Made with peach sauce, sweetcorn, custard cream, and caramel sauce. You can really taste the original sweet taste of the corn.

Matcha & Edamame | ¥1,600 (Tax Included)

Made with Mashed green soybeans, seaweed salted red bean paste, mango, and matcha sauce.

All of the sauces and jams are homemade. Combining vegetables with fruits on shaved ice creates a whole new delicious eating experience.

Information

Honjitsuno
Address: 371 Sashimonoyachō, Nakagyo Ward, Kyoto, 604-0095, Japan

Opening Hours: 9:00-18:00 (Currently operating on reduced hours)

No Fixed Holidays

TEL: 075-746-2995
Official Website: http://www.bread-espresso.jp/

Matcha Republic Takes Kyoto's Uji Matcha to Tokyo For the First Time

Uji-based matcha tea shop Matcha Republic is taking their menu to Tokyo for the first time with a pop-up shop inside Shibuya Hikarie which will run from July 15-28.

Matcha Ink Hikarie Exclusive Version Premium Matcha Latte | ¥681 (Tax Included)

Original Clear Shopping Bag

Matcha Republic's ink bottle matcha lattes are super popular on Japanese social media. For their Tokyo pop-up shop, their premium matcha latte arrives in an exclusive design. The dirnk is made from only the best picked matcha leaves to make a smooth, milky beverage. The bottle is also sold in an original shopping bag.

Matcha Panna Cotta Hikarie Exclusive Version | ¥681 (Tax Included)

The brand's popular panna cotta set also arrives in a Hikarie exclusive design. The delicious dessert is made with fragrant Uji matcha.

PREMIUM GOLDEN UJI MATCHA CASTELLA | ¥2,381 (Tax Included)

Matcha Republic's moist matcha castella is sprinkled delicately with gold leaf, creating a luxurious dessert.

Information

Matcha Kyowakoku

Location: Shibuya Hikarie ShinQs B2 Food Stage

Running: July 15, 2021 – July 28, 2021

Opening Hours: 11:00-20:00

Official Website: https://www.matcha-republic.com