Eir Aoi will release her new 12th single "Accentier" on March 2nd, 2016. The song will be used as the main theme for the upcoming Playstation Vita game "Digimon World: Next Order". It will also be Eir Aoi's first ever fight song.
Details on the new single, as well as the promotional photo and CD jacket, have been released!!
The music video features an appearance by Japanese professional basketball player Kei Igarashi (Current: Mitsubishi Diamond Dolphins NAGOYA). Eir Aoi herself has experience with playing basketball and has declared she is a big fan of the sport, and her passionate wish for this music video to be made has been realised.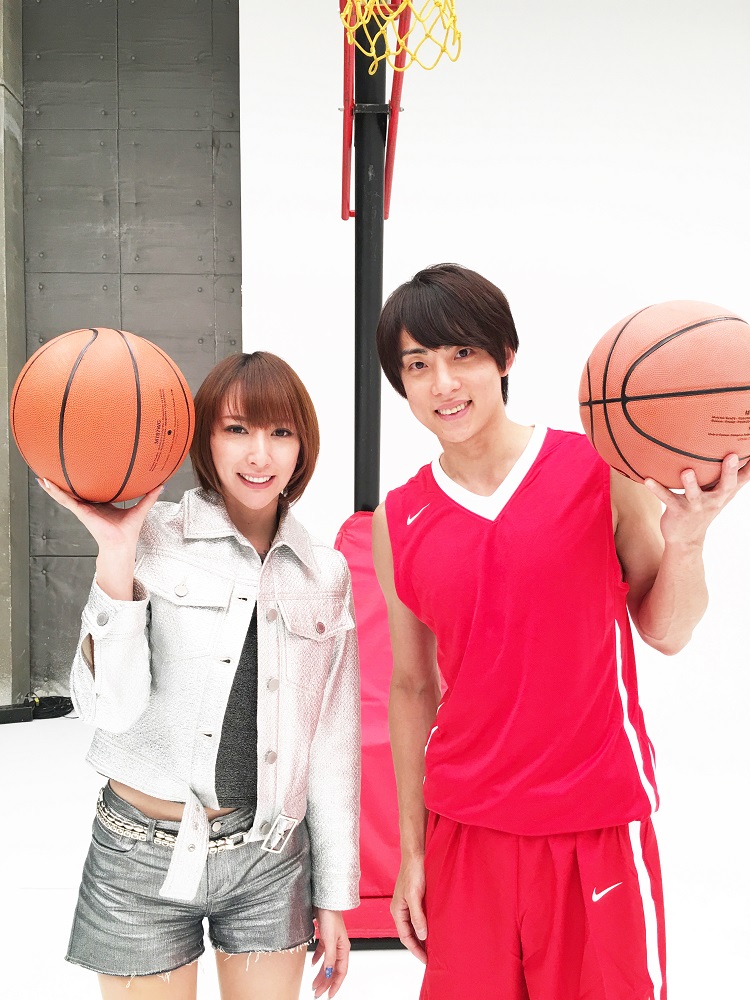 On the day of filming the music video, a nervous Eir Aoi met with Kei Igarashi. While exchanging their first greetings he told her, "Wear these basketball shoes so that you don't injure yourself". Anxious, she put on her new shoes given to her by Kei Igarashi. The atmosphere continued this way during the filming: calm and quiet.
Eir Aoi asked Kei Igarashi what "Accentier" means to him. He answered "There is nothing basketball related in my house. My life is divided between touching the basketball and not touching it. These are the different 'accents' I live my life by."
The term refers to the methods by which people colour their every day life.
<Comment by Kei Igarashi>
I was quite surprised during filming, because Eir Aoi's usual strong voice this time was more gentle. I really like the fusion of music and basketball. Even though this was my first time appearing in a music video, it was really fresh to be able to play ball outside the court.
▼Click here for the "Accentier" MV.
▼Click here for the "Accentier" lyric video.
▼For information on Digimon World: Next Order, see the link below.
3. Haru
~

spring

~ ※

Hysteric Blue (cover)
4. Accentier
(

Instrumental

)
■

Eir Aoi Official Website
RELATED ENTRIES
Eir Aoi Just Dropped The Music Video For Granbelm Anime Opening Tsuki wo Ou Mayonaka

Eir Aoi's LIVE TOUR 2019 Fragment oF took her on a journey across the country, performing at eight different locations to approximately 10,000 wild fans. She saw her final tour performance at Kanagawa Kenmin Hall on July 15.  

The overpowering digital rock song UNLIMITED sent an instant surge of energy through the crowd. Her heart-throbbing setlist included a range of big hits that were used as theme songs for the anime Sword Art Online including Iris, INNOCENCE, Cynthia no Hikari, Ryusei and IGNITE . Her strong vocals and the passion etched onto her face enthralled the crowd. 

For the encore, she performed Tsuki wo Ou Mayonaka, which is the new opening theme song for the anime Granbelm. The urgent beat of the song energised the audience, who were dancing and singing as one. For the last song, she performed AURORA, which she especially prepared for this day only. 

"There are times that I just cannot sing this song, but seeing the encouraging and excited faces of my fans gave me the support I needed to sing," she said.

Eir Aoi: Tsuki wo Ou Mayonaka Music Video

After the encore was over, there was a surprise for the fans. The music video for Tsuki wo Ou Mayonaka, the new theme song for the anime Granbelm, was played before the crowd. Fans could not contain their wild joy at being the first people to watch the video. The music video was just released on July 16 at 8pm, so please check it out. 

New Visual Released For Granbelm OP Theme by Eir Aoi

Eir Aoi's new song Tsuki o Ou Mayonaka was released digitally today ahead of the CD's release which is set for August 28. A new visual along with the CD cover have also been revealed.

The song is used as the main theme for the TV anime series Granbelm which premiered yesterday.

Speaking about the song and series, Eir Aoi commented: "My new song Tsuki o Ou Mayonaka is speedy and uptempo. The lyrics talk about the many memories you share with the important people in your life that can't be severed by anyone. The song title is a metaphor and means that even if painful or sad things (midnight) approach us, the moon (the memories we share with those important to us) won't darken and will continue shining on. I was surprised and pained by the human nature of the characters in Granbelm, but each of them are unique and have their own appeals. I can't discuss too much because of spoilers, but I think this series will really touch the heart of those who see it."

Information

Tsuki o Ou Mayonaka

Digital Release Date: July 6, 2019

CD Release Date: August 28, 2019

First Press Limited Edition (CD+DVD+Photobook): ¥1,800 (Before Tax) [VVCL-1480~81]

Regular Edition (CD): ¥1,300 (Before Tax) [VVCL-1482]

Anime Edition (CD+DVD): ¥1,600 (Before Tax) [VVCL-1483~84]

*When bought at select stores fans will receive bonus items. Full details on Eir Aoi's official website.

TV Anime Granbelm

Initial Broadcast: July 5, 2019

Granbelm Official Website:  http://granbelm.com

TV Anime Granbelm Opening Theme 'Tsuki o Ou Mayonaka' by Eir Aoi Release Date Announced

It has been revealed that Eir Aoi's 16th single Tsuki o Ou Mayonaka ("Midnight Chases the Moon") will be released in Japan on August 28, 2019.

TV Anime "Granbelm" Promotional Trailer 1

The song will be used for the upcoming TV anime series Granbelm produced by Nexus which will begin airing on July 5. The ending theme Negai will be performed will be by Uru.

Eir Aoi is embarked on her nationwide "Fragment oF" tour on May 31. Fans who purchase her new single from any of the venues on the tour will receive a signed A2 poster of Eir Aoi.

Speaking about her new single, Aoi commented the following: "Tsuki o Ou Mayonaka is a fast-paced, up-tempo song. The lyrics talk about the many precious memories we shared with those important to us that cannot be broken by anybody. The song title is metaphorical and means that even if painful or sad things (midnight) approach us, the moon (the memories we share with those important to us) won't darken and will continue shining on. I was surprised, pained and more by the human nature of the characters in Granbelm, but all of them are very unique and have their own appeals. I can't discuss too much because of spoilers, but I think this series will really pierce the heart of those who watch it."

Information

Tsuki o Ou Mayonaka

Release Date: August 28, 2019

First Press Limited Edition (CD+DVD+Photobook): ¥1,800 (Before Tax) [VVCL-1480~81]

Regular Edition (CD): ¥1,300 (Before Tax) [VVCL-1482]

Anime Edition (CD+DVD): ¥1,600 (Before Tax) [VVCL-1483~84]

*When bought at select stores fans will receive bonus items. Full details on Eir Aoi's official website.

Fragment oF Tour Website: https://www.aoieir.com/special/fragment_of/

Eir Aoi Official Website: http://www.aoieir.com/

TV Anime Granbelm

Initial Broadcast: July 5, 2019

Granbelm Official Website:  http://granbelm.com

Concert Review: LiSA, GARNiDELiA, ReoNa & More Perform at SACRA MUSIC's Music Festival

SACRA MUSIC―a music label under Sony Music Labels―held a music event entitled SACRA MUSIC FES.2019 -NEW GENERATION- at Makuhari Messe in Chiba on Saturday May 18 and Sunday May 19. This non-stop live show housed a 360° stage in the centre of the venue on which artists signed to the label dazzled a total of 12,000 fans across the weekend.

This was the first live event of its kind by SACRA MUSIC. The show's subtitle "New Generation" refers to artists both signed to the label and the new generation of artists leading the music scene into the future. The line-up feature a diverse array of talent and genres spanning voice actors to rock bands, idols, virtual YouTubers and more.

The line-up for both days included ASCA, Ayano Mashiro, =LOVE, Luna Kaguya, GARNiDELiA, ClariS, Soma Saito, SawanoHiroyuki[nZk], Sangatsu no Phantasia, Spira Spica, TrySail, halca, PENGUIN RESEARCH, and ReoNa. A live band of skilled musicians dubbed the "SACRA BAND" also took to the stage to aid in performing various hits songs and anime songs. Virtual YouTuber Luna Kaguya performed as an opener, and EGOIST also made a surprise performance on screen, fusing the 2D world with the 3D world.

Several special collaborations also took place throughout the festival where artists banded together to perform covers as well as perform each others' songs. This included ClariS x TrySail, Mikiha (Spira Spica) x halca, Soma Saito x Yoji Ikuta & Shota Horie (PENGUIN RESEARCH), GARNiDELiA x Ayano Mashiro, and ASCA x ReoNa.

At the end of the first night, Eir Aoi appeared as a secret guest to perform three songs including her first single Ryuusei. At the end of the second night, LiSA was the secret guest, who performed several songs including her latest number Gurenge. The two also came together to sing each of their respective hits IGNITE and Rising Hope.

A teaser video was also shown for two new SACRA MUSIC projects titled BATON=RELAY and Tenka Soul. The concerts are only set to continue growing bigger and better.

Eir Aoi's new song Following the Moon in the Middle of the Night becomes opening theme for anime Granbelm!

Eir Aoi's new song "Tsuki o Ou Mayonaka" (Following the Moon in the Middle of the Night) will be the opening theme song for the anime Granbelm.

Granbelm is big in the news as an upcoming anime which willl have its debut release on 5th July 2019 on the TV programming block Animeism on MBS, TBS and BS-TBS. Ahead of the anime release, a 10-minute opening video was released on YouTube which obtained more than 100,000 views, raising excitement for the anime even more.

The release of the latest anime trailer features the opening theme song; Aoi's new song Tsuki o Ou Mayonaka. This is the the first ever opportunity anyone has ever got to listen to this song! The girls face conflict as they awaken the magical dolls known as Armanox to enter battle! Watch this trailer and let the unmissable action unfold!

Further information about the release of the song will be announced in the future on Aoi's official website. Don't forget to check out her Japan hall tour that starts from 31st May either!

Aoi's statement

My new song Tsuki o Ou Mayonaka is an upbeat song which reminds us of the times we have been frantically persuing something. The theme of the song is tying ourselves close to the people whom are precious to us and the belief that our precious memories will not be destroyed by anyone or anything. The title of the song is a metaphor to show that no matter how far deep we fall into a dark place, the people precious to us will always act as a shining beacon of light to guide us out. You will be so shocked at the level of inhumanity of some of these characters! Watching the series made my heart ache but each character is so unique you won't be able to help but watch. I am afraid of giving away spoilers so I won't talk too much but I am sure that if you watch it then your heart will be pierced too!

Eir Aoi just dropped her 4th studio album FRAGMENT on April 17 which is themed around "fragments of everyday life." It's a personal and real record that gives insight into Aoi as a person.


The tracklist includes her hit single Ryuusei as well as Ima written and composed by Yoshiki Mizuno of Ikimono-gakari, Puzzle Telepathy written and composed by up-and-coming singer-songwriter KanoeRana, and more. The title track Fragment was written and composed by Eir Aoi herself. The lyrics paints a picture of everyday life as the song begins with the person having overslept.

Grow Up features lyrics also written by Aoi and centres around going through a rebellious phase. The song is a mix of lyrical content we have never seen before from Aoi and a rock sound.

Be sure to check out the music video for yourself in which we are shown the characteristic elements of a rebellious phase: the initial conflict and the regretful aftermath.

SACRA MUSIC to Release Live Footage of LiSA, Eir Aoi & TrySail

SACRA MUSIC is a music label under Sony Music Group that is known for managing a multitude of hit artists who have had tie-ins with many different anime series.

Eir Aoi

LiSA, Eir Aoi and TrySail are three artists under SACRA MUSIC. The label has announced that from April 17 it will make available live footage of the three artists digitally across a period of 4 weeks.

LiSA

Footage includes solo shows at huge venues such as Nippon Budokan and Pacifico Yokohama. All three of the artists have been praised highly for their live performances.

TrySail

New footage will be released at midnight (JST) every week on the following dates: April 17, April 24, May 1 and May 8.

Look forward to hearing over 80 live songs over the next 4 weeks!

After announcing her comeback last year in February, singer Eir Aoi is now releasing a new hit album. Her most recent release before FRAGMENT was her original album "D'AZUR", which was released approximately 3 years ago. Her fourth new original album "FRAGMENT" will be released on 17th April. This album is inspired by the different "fragments" of feelings we experience on a day to day basis. 

The album includes a large variety of songs. Her feelings of gratitude following her long-awaited return can be felt through the words of the ballad  "Yakusoku". "Ryusei", which is a rock song that ranked 16th place on streaming services, and Iris, which is a ballad filled with feelings of sorrow and grief are just some of the tracks on the album. Having a natural taste for digital rock, Aoi also included the track UNLIMITED on her new album.

From 31st May, she will be embarking on a Japan tour to celebrate the release of FRAGMENT. From here on out, she will be engaging a lot in her music career, so please keep on the lookout for more information!

Information

FRAGMENT
Release date:Wednesday 17th April 2019
First-run edition A:CD+BluRay + Photobook ¥4,000-(¥3,704 + tax)
First-run edition B:CD+DVD+Photobook ¥3,700-(¥3,426 + tax)
Regular edition:CD ¥3,000-(¥2,778-+ tax)
Complete limited edition:CD + BluRay + Photobook + T-Shirt ¥8,000(¥7,407- + tax)

 Eir Aoi "FRAGMENT"

To purchase or to find out more about bonus goods you could receive along with a purchase, follow the link below:
http://fc.aoieir.com/fccd_fragment/
※ Please acknowledge that there is only a limited number of bonus goods available and customers will no longer be able to receive them once stocks run short.


 Eir Aoi LIVE TOUR 2019
Price:All seats designated at booking. ¥6,600 (tax)  Children under 3 years old enter free.
※ One person can apply to up to four tickets.

31st May(Fri)Aichi/Nippon Tokushu Tougyou Shimin Kaikan Village Hall
1st June(Sat)Tokyo/ Tokyo Dome City Hall

9th June(Sun)  Hokkaido/ Sapporo Education and Culture Hall
15th June(Sat)  Osaka/ Umeda Arts Theater Main Hall
16th June(Sun)  Hiroshima/ Hiroshimashi Minami-Kumin Bunka Center
28th June(Fri)  Fukuoka/ Momochi Palace
6th July(Sat)  Sendai/ Talk net Hall Sendai (Sendai city center)
15th July(Mon/ national holiday)  Kanagawa Kenmin Hall


Eir Aoi's official website: www.aoieir.com

VR Mystery Game 'Tokyo Chronos' OP Theme to be Performed by Eir Aoi

Tokyo Chronos is an upcoming VR mystery visual novel developed by MyDearest for PlayStation 4 and PC and set for release in February 2019.

It has been announced that Japanese singer Eir Aoi will perform the game's opening theme song UNLIMITED. A second trailer just dropped for the game which features a snippet of the song.

'Tokyo Chronos' 2nd Trailer

Comment: Eir Aoi

"I am very thankful to have the opportunity to sing an opening theme song like this. 'UNLIMITED' has a digital vibe to it with a melancholic melody line. I'm really looking forward to seeing what visuals they play alongside it during the opening [sequence] of the game. Each character in Tokyo Chronos is very fascinating and unique. I want people to enjoy themselves too and lose themselves in the world of Tokyo Chronos to see how the main characters tie in with the story."

Information

UNLIMITED

Eir Aoi Official Website: www.aoieir.com

Tokyo Chronos

Release Date: Microsoft Windows (Steam) – February 2019 / PlayStation VR – May 2019 (Subject to Change)

Languages: Japanese / English / Chinese

Tokyo Chronos Official Website: https://tokyochronos.com/index.html

2018-2019 MyDearest Inc. All Rights Reserved.

Eir Aoi Drops Surprise Digital Release of New Song 'Iris'

Eir Aoi's new song Iris―which is used as the ending theme song for the ongoing anime series Sword Art Online: Alicization―is set for physical release on October 24, but the singer surprised fans by dropping the song digitally one day prior without any announcements which sparked a huge reaction on social media.

The song is already charting high across digital music platforms. The singer had the following to say: "The plant Iris in the language of flowers means 'hope.' The kind of hope always given to you by a very special person. I thought it would be good to return that hope to that important person you respect. That's what this song is about. I hope it's a relevant song for someone.―Eir."

Information

Iris

Release Date: October 24, 2018

First Press Limited Edition (CD+DVD+Photobook): ¥1,800 (+Tax) *DVD features 'Iris' music video. This edition includes a photo book and comes in a slip case.

Regular Edition (CD): ¥1,200 (+Tax)

Limited Pressing Edition (CD): ¥1,300 (+Tax) *Comes in digipak packaging. Includes mini animeposter.

"Iris" In-Store Purchase Bonus Details: http://www.aoieir.com/news/archive/?499386

"Iris" Digital Download: https://EirAoi.lnk.to/iris

"Iris" Music Video: https://www.youtube.com/watch?v=7UYsuka3gLU

LIVE Blu-ray & DVD: "Eir Aoi Special Live 2018 ~RE BLUE~ at Nippon Budokan"
Release Date: December 5, 2018

First Press Limited Edition Blu-ray (Blu-ray + Live CD): ¥9,800 (Tax Included)

First Press Regular Edition Blu-ray (Blu-ray): ¥7,000 (Tax Included)

First Press Limited Edition DVD (DVD + Live CD): ¥9,800 (Tax Included)

First Press Regular Edition DVD (DVD): ¥7,000 (Tax Included)

Fan Club "Eir Aoi" Members-Only Box Edition

Order-Only Limited Pressing (Blu-ray + Live CD): ¥15,000 (Tax Included)

*Bonus: 2 Live DVDs (same footage as blu-ray)

Bonus: Calendar Set (Photo Stand + 12 Cards)

Bonus: Original 3D Writing Mat -RE BLUE ver.-

Bonus: Special Box Packaging

*Will be shipped to fans who have ordered by October 20, 2018, but may not be shippable to those who order after this date depending on stock.

Eir Land Fan Club: http://fc.aoieir.com/

Sword Art Online: Alicization's Ending Theme Song 'Iris' to be Performed by Eir Aoi

Eir Aoi's last single Ryuusei / Yakusoku was released on June 22, topping 17 separate digital charts and peaking at number 8 on the Oricon charts. She performed a special live concert at Nippon Budokan on August 16. Tickets sold out on the day of release.

It has been announced that her new song Iris will be used as the ending theme song for the upcoming anime series Sword Art Online: Alicization which begins in October.

This will be the singer's 15th single and will be released on October 24.

■Information

"Iris"

On Sale: October 24, 2018

Ending theme song for 'Sword Art Online: Alicization'.

First Press Limited Edition: CD+DVD – ¥1,800 (+Tax)

*DVD features 'Iris' music video. This edition includes a photo book and comes in a slip case.

Regular Edition: CD – ¥1,200 (+Tax)

Limited Pressing Edition: CD – ¥1,300 (+Tax)

*Comes in digipak packaging. Includes mini animeposter.

Early pre-orders with poster now being taken at Sony Music Shop:

https://www.sonymusicshop.jp/m/arti/artiShw.php?cd=70006748

Eir Aoi Official Website: www.aoieir.com

Limited period sneaky peak of the music video for Eir Aoi's new cover of 'Haru Spring' originally by Hysteric Blue!

Eir Aoi's cover of  Hysteric Blue's 'Haru Spring' makes a fitting song to represent Japan's first fresh steps into Spring. A limited preview of the music video is available now!

On 2nd March, Eir Aoi released her new single 'Accentier', and if you ever pick up a PS Vita game controller to play the brand new game 'Digimon World: Next Order', you will hear this new single used as the theme song for the game! Compiled onto the same single CD, Eir Aoi 's new cover of 'Haru Spring' will be included, the music video for which is available for a sneaky preview on GYAO! for a limited period only!

Being a large fan of 'Haru Spring' herself, Eir Aoi has written about the production of this piece on her official blog (http://lineblog.me/eir_ruru/archives/55926632.html ). Eir Aoi transformed this masterpiece into a rock themed cover, and begun to explore new tastes in music to show fans a new realm of musical themes.

As the original songwriter of this song, and having experience as Eir Aoi's live support member, Takuya Kusunose, the original drummer of Hysteric Blue's appearance in the video must not be missed!

Please check out the links at the end of this article!

■ Eir Aoi 'Haru spring' Music video(Available for a limited period on GYAO!)

http://gyao.yahoo.co.jp/player/00100/v10181/v0993900000000548051/

 

■ Eir Aoi homepage: http://www.aoieir.com/