Colourful Hydrangea to Decorate Huis Ten Bosch in Nagasaki for Ajisai Matsuri
Ajisai Matsuri ('Hydrangea Festival') will take place at Huis Ten Bosch in Nagasaki from June 2 to July 1, showcasing 1,250 varieties of hydrangea.
In addition to popular outdoor spots like the Hydrangea Road, the Hydrangea Wall will also be set up where the wall of a room will be covered in vibrant hydrangeas. Here, you can take your time admire the gorgeous flowers. There'll also be a market where you can buy varieties of plans you're interested in, as well as a tour by a hydrangea expert, a hydrangea light-up show at night, and more.
Hydrangea Wall / Huis Ten Bosch Palace
The giant Ajisai Wall will tower 2 meters upward and 10 meters across, laced with brilliant hydrangeas of light blues, pinks and more. In the Hydrangea Herbarium, hydrangeas will be lit up in the water, and 700 hydrangeas will float in the palace rooms.
Location: Huis Ten Bosch Palace
Price: ¥500 (Passport Ticket) / ¥700 (Walking Ticket)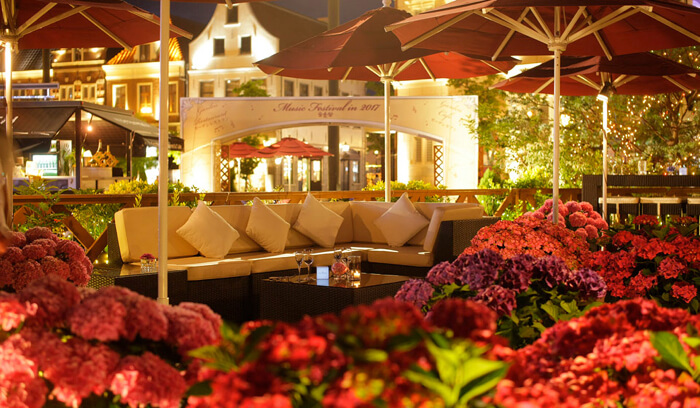 Hydrangeas & Music
While being enveloped in the radiant rainbow hues of hydrangeas, you can enjoy the flowers together with music in the garden.
Location: Amsterdam Square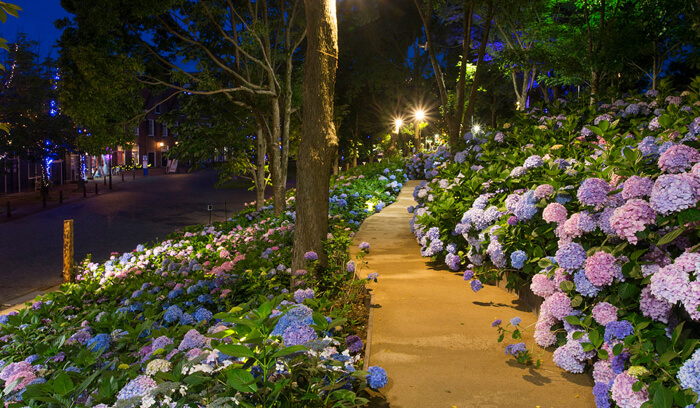 Hydrangea Road
1,250 types of hydrangeas will line the palace. Japan's longest 800m pathway will also be in full bloom, making it a popular spot to take photos.
Location: Huis Ten Bosch Palace
Hydrangea Hotel
The hotel lobby will also be filled with hydrangea colours. You will be greeted with concert timbres and beautiful hydrangeas.
Location: Hotel Europe
Price: Entry permitted with just a Hotel Restaurant Ticket (¥1,000). You do not have to pay to stay at the hotel to enter.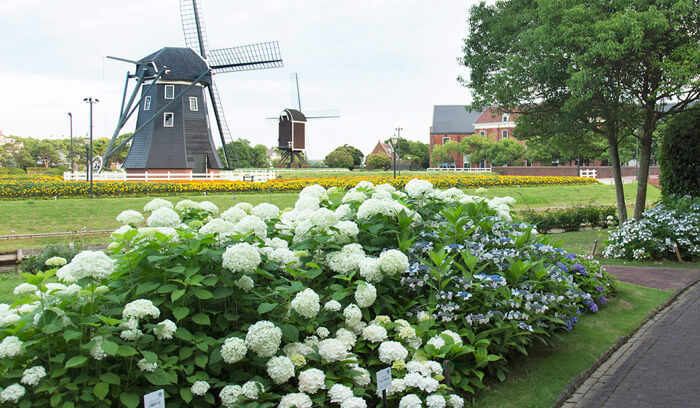 White Hydrangea Road
In the area near the welcome gate, you will be graced by white hydrangeas. Enjoy them together with the windmill and canal.
Location: Adventure Park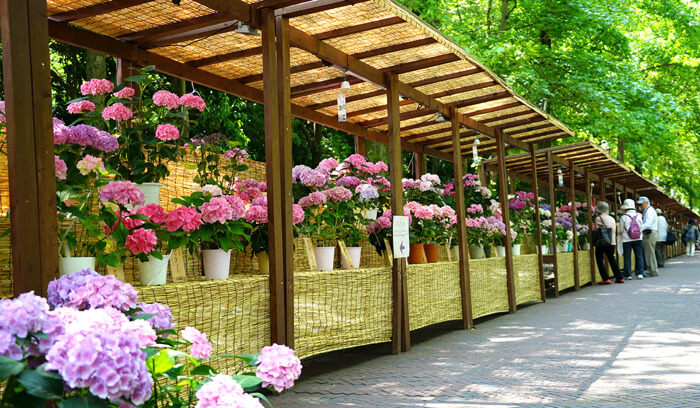 Hydrangea Market
Lining the multitude of flowers will be a fantastic market. Not only can you admire an array of different hydrangeas, there will also be tours held every day by an expert who will guide you on the different varieties of plans, as well as a sale to pick and take home your own hydrangeas.
Location: Location: Huis Ten Bosch Palace
Get up close and personal with the beauty of hydrangeas at Huis Ten Bosch!
■Information
Huis Ten Bosch Nagasaki
Address: Huis Ten Bosch-cho, Sasebo, Nagasaki Prefecture
Opening Hours: 9:00-22:00 (*May differ depending on the season and day)
No Fixed Holidays.
TEL: 0570-064-110
URL:
https://www.huistenbosch.co.jp/
RELATED ENTRIES
Colorful and Cute Halloween Menu Now Available at Huis Ten Bosch in Nagasaki

Nagasaki's Huis Ten Bosch is now offering up some tasty and colorful autumn sweets! Visitors can enjoy the feel of an authentic European Halloween at the Netherlands-inspired theme park for a limited time only. 

Forest Fantasia Cafe's Sorciere Sweet Potato au Lait

Cafe Deli Plus's Halloween Party Parfait

Madame Chocolat's Special Halloween Parfait at the Former Residence of Madame Chocolat

Chestnut Witch Hat at Bikken Bikken

Akanbe Burger at Bikken Bikken

The Exciting Halloween Burger with Colorful Veggies and Pumpkin at dam

Jack-o'-lantern Shrimp Cheese Fondue at Gokuu

Halloween Lunch and Dessert Buffet at Anchors Lounge

Ghostly Forest Carnival Pasta at Pinoccio

Halloween Ghost Curry at Tottotto

This Halloween menu features a wide variety of seasonal ingredients. Why not enjoy the autumn season to the fullest by having your fill?

Kyary Pamyu Pamyu Collaborates with Nagasaki's Famous 'Hamburger Shop Hikari'

Kyary Pamyu Pamyu has made waves around the world since performing at Coachella, one of the world's largest music festivals, in April. 

Currently embarking on the second half of her 10th anniversary 31-show nationwide tour, the singer is gaining momentum as she aims for her solo concert at Nippon Budokan in October. As part of her tour, the singer has continued to energize Japan through the appeal of regional towns and cities with the LOCAL POWER JAPAN Project. At each tour location, the artist collaborates with a local company, creating special collaboration logos and products that have become the talk of social media. Details of Kyary's collab project in Nagasaki have been revealed after the artist performed in the prefecture on July 18.

In Nagasaki, the artist will collaborate with Hamburger Shop Hikari, a beloved local restaurant that originally opened in 1951. Sasebo burgers are well known in Japan, and all ingredients are sourced from Sasebo City in Nagasaki. These burgers are much larger than the burgers you may be used to and have become a local delicacy throughout the country.

After the war, a U.S. military base was established in Sasebo. The recipe for the Sasebo burger is said to have originated from a recipe found on this base in the 1950s. The collaboration with Hamburger Shop Hikari, known as the origin of these famous burgers, pays tribute to Kyary's new single Maybe Baby. The adorable visual shows a waitress at the shop delivering tasty burgers in a hurry.

A collaborative T-shirt is also on sale featuring the new logo and the singer's 10th-anniversary logo. The shirt is available on the LOCAL POWER JAPAN Project website for two weeks only starting July 17, so grab one while you can.

Information

Nagasaki's Hamburger Shop Hikari x LOCAL POWER JAPAN Project

Collaboration T-shirt

Price: ¥3,300 (Tax Included)

Where to Buy:

LOCAL POWER JAPAN Project Online Shop (https://store-localpowerjapan.com/)

Sales Period: July 17 – July 30, 2022
https://store-localpowerjapan.com/
Official Site: https://localpowerjapan.com

Minatomirai Yokohama Opens 'Purplish Flower Garden' Summer Event Inspired by Hydrangea

Anniversaire Cafe Minatomirai Yokohama has opened a limited-time fair inspired by beautiful hydrangea! The 'Purplish Flower Garden' event is currently inviting guests to enjoy gorgeous sweets and drinks inspired by these spring and summer blooms until July 10, 2022.

Purplish Flower Plate

Purplish Flower Pain Perdu

Matcha Mont Blanc

Purplish Soda / Rainy Peach

Purplish Flower Stand Afternoon Tea

Purplish Flower Plate Afternoon Tea

Petits Fleur

The menu includes three desserts, two beverages, two afternoon tea plans, and one take-out dessert perfect for enjoying beside the sea. Come enjoy an elegant moment at the 'Purplish Flower Garden' event if you can!

Hydrangea Parfait Featuring Local Matcha Available at Itohkyuemon in Kyoto

Located in Uji, Kyoto, matcha shop Itohkyuemon was founded in the late Edo period. Three cozy locations have just launched a Hydrangea Parfait, perfect for spring.

Hydrangea Parfait

Hydrangea Coaster

The shop's main location is headquartered in Uji, which is also home to Mimuroto Temple, known for its hydrangeas. The flowery location attracts thousands of tourists during the rainy season. 

The Hydrangea Parfait has been offered since 2013, now celebrating its 10th year. The popular seasonal treat features matcha hydrangea mashed sweet potatoes, hydrangea-colored jelly, leaf-shaped matcha cookies, and blueberries. Those ordering a parfait will also receive a hydrangea coaster as a gift, so why not enjoy the rainy season with something sweet to lift your spirits?

Hydrangea Afternoon Tea Available at Art Grace Wedding Hills in Kyoto for a Limited Time

Art Grace Wedding Hills, a wedding venue in Kyoto, will offer a hydrangea-themed afternoon tea service from May 1 until June 24, 2022. Guests can enjoy this dreamy event each Friday, Saturday, and Sunday.

Top Tier

Middle Tier

Bottom Tier

Welcome Drink

Hydrangea Parfait

Come taste these delectable dishes to welcome the summer season.

Global Creators to Screen Films for Peace at Huis Ten Bosch Theme Park in Nagasaki

Huis Ten Bosch, a theme park in Nagasaki, will be screening 'ENLIGHTENMENT,' a film series for world peace from April 1 until April 28, 2022.


The event is taking place as a way to show support for the people of Ukraine and to pray for world peace by blending together short videos expressing love and compassion from video creators around the world. These videos are being projected on buildings and signage in countries around the world amidst the concerning current situation in Ukraine. 

The film has already been shown in more than 16 countries around the world and is now coming to Huis Ten Bosch, which boasts the world's largest illumination event with 13 million light bulbs.

Information

ENLIGHTENMENT

Running: April 1 – April 28, 2022

Screening Times: Twice a day at 20:00 and 21:00
Location: Jardim da Arte 'Waterfall of Light'

Nordisk Village Goto Islands Glamping Facility to Offer Tent Saunas

The Nordisk Village Goto Islands glamping facility has started offering tent saunas to further heighten the guest experience. 

This is the first time a tent sauna has been offered in a lodging facility in the Goto Islands. The main body of the sauna tent is made by MORZH, and sauna enthusiasts will appreciate the well-researched specifications and execution.


A wood-burning stove is used in the sauna, and guests can adjust the temperature while enjoying the view of the dancing flames. The facility also offers an original aroma oil scented with Camellia and herbs, perfect for relaxation.

Zero gravity chairs are also available for outdoor air bathing, and visitors can enjoy lounging under the starry sky and swaying trees. Why not travel to these islands in Nagasaki Prefecture for your next getaway?

Survival Camping Trips Open on Japan's Deserted Tsumaga Island

Job Live, who run the Unpopulated Island Project, opened bookings for the next location of their Survival Plan last month which places people on Tsumaga Island – an island home to not a single human being. This is the second island to make the project following Jino Island in Wakayama Prefecture.

Tsumaga Island is enveloped by the gorgeous blue ocean

The pier where guests are dropped off at Tsumaga Island

Shota Gima is challenging people to 30 days survival as part of the project

The island is only accessible via charter boat

You'll have to catch and prepare your own food

There are traces of people who used to live here

There's also a private beach available to one group per day

Tsumaga Island is part of the city of Iki in Nagasaki and can be reached in as little as 5-minutes from Indoji Port. It was formerly used for rice cultivation and people lived there peacefully, but in 2002, its final permanent resident left the island.  The island is in a region where the Sea of Japan and Tsushima Current meet. The area is rich with sea life, home to many species of fish and abundant with plankton. It has long been known as something of a holy grounds for fishing amongst Japanese fishers. Campers on the island will catch and prepare their very own fresh fish.

30 Days Survival on a Deserted Island

The 30-day survival camping plan hopes to revitalise the city of Iki by using its unpopulated island. Shota Gima, a man from Okinawa, desired to be a part of this project and decided to move to Iki Island. He too is currently on a mission to survive on the island for 30 days and has been since May 13. He hopes to make it until June 30, and hopes that his efforts will spark people's interest in getting involved.

Campers will arrive on the island and will need to prepare their own food, use bamboo to cook rice, and everything else that goes into surviving on an unmanned island. You can check Shota's progress on the official Tsumaga Island social media pages below.

Hydrangea Matcha Parfait Gets Served For Spring at Kyoto Tea Shop

Japanese Uji tea shop Itohkyuemon broughr back its seasonal Hydrangea Parfait to the menu at three of its stores last Monday.

Hydrangea Parfait

Hydrangea Tea Party

Kyoto's city of Uji, where Itohkyuemon's main branch is based, is home to Mimuroto Temple which is famous for its hydrangea flowers. The temple always bustles during the springtime rainy season. It's around this time that people can be waiting up to 3 hours for a seat at Itohkyuemon. Their Hydrangea Parfait is their most popular parfait, never failing to create a buzz on Japanese social media. It contains hydrangea-flavoured mashed sweet potato, hydrangea jelly, leaf-shaped matcha cookies, blueberries, and more, all capturing the swaying hydrangeas during the downpour of the rainy season. They are limited in stock and are not re-added to the menu until the following year once they run out.

Customers can order the parfait on its own, with a cup of tea, or with both tea and warabimochi. The tea set and tea party versions come with a free hydrangea coaster.

Experience Japan's Rainy Season Hydrangea With This Special Hotel Plan

Hoshino Resorts KAI Hakone has announced a special hydrangea-themed hotel plan for Japan's rainy season which will run from June 12 to July 4.

Hydrangeas bloom before guest room benches

At KAI Hakone, there is a special guest room with an outdoor bench seating area which looks out into the green forest. Hydrangeas will bloom, providing a gorgeous backdrop as guests enjoy the sounds of the Sukumogawa River.

Hydrangea accessory kit

Guests will be given an accessory kit in their rooms to make their own flower accessories from hydrangea leaves and wooden mosaics. These accessories can be fitted to yukata, used as piercings, and more to serve a Japanese summer vibe.

Enjoy hydrangea sweets and shaved iced

Guests can turn their rooms into a little tearoom with the wooden mosaic plaques provided on which they can tuck into a range of hydrangea-flavoured sweets and desserts along with a cup of matcha. The shaved ice is a KAI Hakone-original made with jelly and syrup coloured purple with hydrangea.

The hydrangea is perhaps the most celebrated flower in all of Hakone, arriving in early summer. It's hailed in a variety of ways, one of the most popular being the Hydrangea Train, a nickname given to the train that runs from Odawara Station to Gora Station. Passangers are treated to an incredible view out the train window as their vision is filled with vivid hydrangea flowers.

This year marks the second that KAI Hakone is offering its seasonal hydrangea plan. If you're able to visit during this time, don't miss out.

Stay at Nagasaki's Hirado Castle as it Opens as a Hotel Site

Hirado Castle in Nagasaki comes as the first castle in Japan to open as a permanent accommodation site. The service launched on April 1, 2021, at the ancient castle, which was listed as one of the 100 Fine Castles of Japan by the Japan Castle Foundation in 2006.

The Guest Rooms

A breathtaking art piece by Takahide Komatsu decorates the living and dining room

A jewel-inspired design in the living and dining room

Takahide Komatsu's cherry blossom wall art blooms up the stairs leading to the guest rooms

Hirado Castle was built in 1559 by Matsura Shigenobu, a lord of the Hirado Clan. However, Matsura burned down the castle in 1613 to show his loyalty to the Tokugawa shogunate. The castle was rebuilt in 1718. Its gorgeous decor and incredible surrounding natural environment draw tourists and sightseers every year.

Guests at Hirado Castle will stay on the second floor which was rebuilt in 1977 after being formerly used as a storehouse. The decor is a fusion of the traditional and the modern, expressing not only the Japanese aesthetic but embodying Hirado. With this castle stay, guests can enjoy the cuisine of Hirado, get in touch with the local nature with spots like Hirado Bridge and Hirado Island, enjoy traditional music at the tea ceremony, and much more.

Information

Hirado Castle – Castle Stay

Rooms: 1
Capacity: One group of up to 5 people

Address: 1446 Iwanouecho, Hirado, Nagasaki 859-5121

Official Website: https://www.castlestay.jp/en/

Nagasaki's 112 Year Old Hotel Nampuro Opens Terraces With Panoramic Ocean and Sky Views

The 112-year-old Hotel Nampuro in Nagasaki is set to open the new Sky Terrace and Ocean Terrace this month. These vistas offer breathtaking, unbroken views of the sea and sky that make it feel as if you're floating on the ocean with rolling skies ahead that stretch to the horizon.

Observation Terrace (1)

Observation Terrace (2)

Infinity Pool-Style Open-Air Bath

Silky Bath

Beautifying Bubble Baths

Jacuzzi Bath (Male Only)

Children's Bath

Hinoki Sauna & Steam Sauna

Iyashi Onsen Cafe

Rental Open-Air Bath

The observation terrace offers an incredible panoramic view of the great Ariake Sea that offers a picturesque spectacle at all times of the day. Guests can enjoy seeing the morning, noon, and night skies which merge together with the ocean for an unbeatable result. There's also a "no talking" rule on the terrace so guests can fully soak up what's in front of them as they take a luxirous soak in the warm baths.

The infinity pool-style open-air bath offers a refreshing view while making it seem as if you are part of the ocean. The silky bath uses delicate micro bubbles which become an air cushion and promote good blood circulation using massage. The jacuzzi bath relaxes the entire body with stimulating bubbles, while the children's bath allows kids to get in on the fun too. Both saunas are a change to unwind fatigue and the tired body. The steam sauna is set at a lower temperature than your usual high-temperature dry sauna which ensures it doesn't have as much strain on the body so guests can sweat it out comfortably. The freshly-brewed coffee available at the hot spring is also exclusive to the hotel's Onsen Cafe.