'Norikura Star & Moon Restaurant' to Open in Nagano – Experience Shinshu with Eco-Glamping
The Norikura Star & Moon Restaurant by Alps Sangakukyo EV Tourism will open for a limited time only from May 21, 2018 to October 31, 2018. Reservations open on April 16.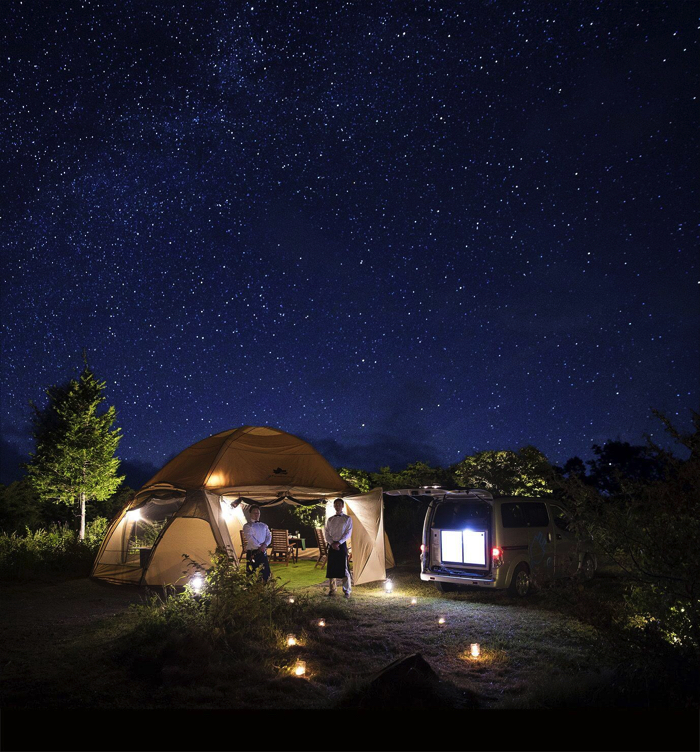 It will mark the restaurant's second run and is mainly targeted at people who work stressful jobs in the city as well as inbound foreigners who want a full experience of Japanese nature. The theme of the restaurant is to 'heal amongst nature.' This year, the popular program will return once more to offer high quality healing and rest that will tie to one's strength needed for tomorrow.
Norikura Star & Moon Restaurant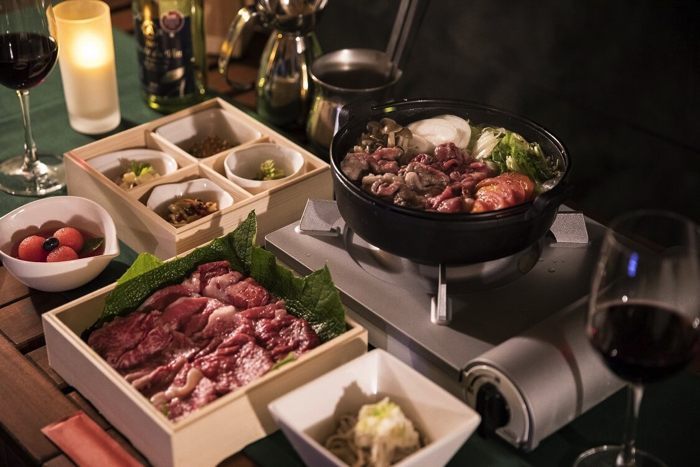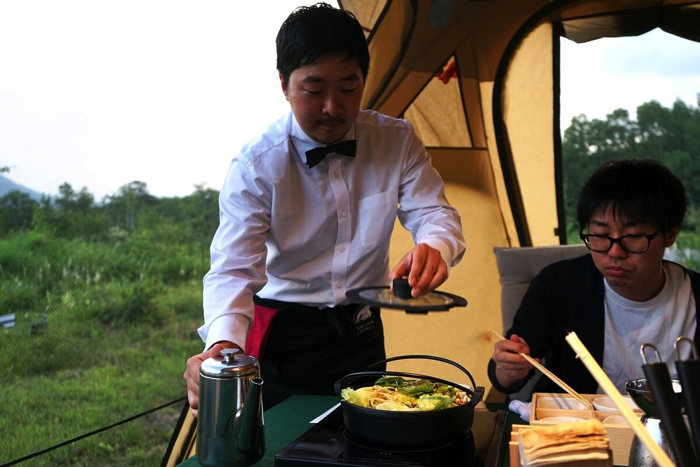 The Star & Moon Restaurant places people in the middle of Norikura's nature expanse and serves up delicious sake from Shinshu (the old name for Nagano Prefecture) that was born from the blessing of nature together with food made with plenty of local ingredients. Enjoy a premium outdoor dinner with hospitable and warm reception from local concierges who have lived together with nature.
All the electricity needed for the lights and cookware in the restaurant is powered with electric motors meaning you can enjoy your meal in a luxurious, quiet space in nature without electricity.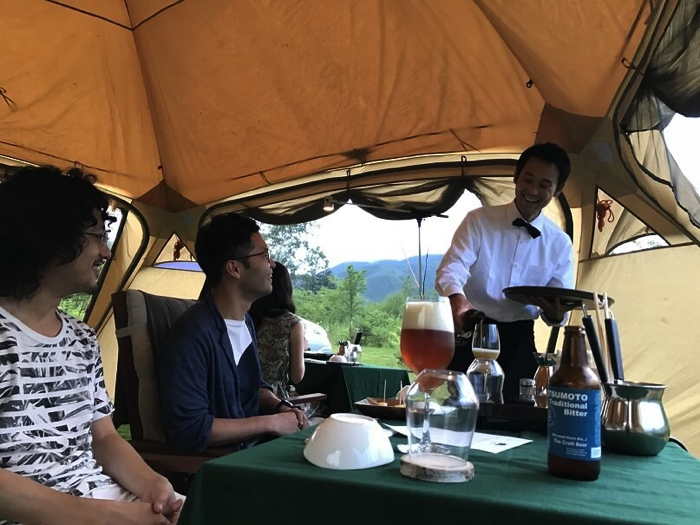 The dinner, which is eaten in an open atmosphere, will ease everyday fatigue, and enable you to experience eco-glamping in a place you'd never get to in the city and remind you of nature's awe.
■Information
Norikura Star & Moon Restaurant
Running: Every day from April 21, 2018–October 31, 2018 (*Reservations must be made 3 days in advance)
Reservations: Begin April 16, 2018
Price: 1 Adult \25,000 (tax included)
*Price includes beer, wine and soft drinks.
*Those aged below 12 are not permitted.
*This program is limited to guests staying at Shirahone Hot Spring in Norikura.
*Fee charged for certain alcohols (card payments only).
RELATED ENTRIES
SOAK: Tokyo's New Entertainment Restaurant & Bar Opens Bookings

Japanese creative company BAKERU has opened bookings for the new entertainment restaurant and bar SOAK which is set to open on November 13, 2020 on the top floor of MIYASHITA PARK's new brand hotel "sequence MIYASHITA PARK" in Shibuya, Tokyo. The restaurant will served up a 'Japanese innovative' menu made by Takeshi Nagashima of Nishiazabu 81 and Hideaki Nagaya of L'Effervescence.

An otherworldly restaurant and bar serving Japanese innovative cuisine

"BUILD NEO TOKYO" is the theme of SOAK. SOAK welcomes by Takeshi Nagashima of Nishiazabu 81 which delivers performance style-entertainment to customes, and Hideaki Nagaya of L'Effervescence, who was chosen for "JAPANESE CUSINE TOP 5 CHEF IN HONG KONG." Bartending will be Takashi Goto who has worked as the main bartender at Sake Bar DECIBEL in New York and Shampoo in Shinjuku Golden Gai.

An event and party space which can hold up to 100 people

Located just a 3-minute walk from Shibuya Station, SOAK can be used as a party and event space with a maximum capacity of 100 people whether it be a wedding reception or a gathering of friends, family, or business, as well as for events, catering to any and every need. The space was designed by Noiz, a leading interior designer in Japan. The monuments were designed by contemporary artist Akira Yoshida, while the audio design is by Acoustic Engineering and the music is selected by Hirokazu Yamasaki from the post-rock and instrumental band Toe.

OYU: The rooftop terrace offering a panoramic view of Shibuya

Take in a panoramic view of Shibuya atop the rooftop terrace, and enjoy the pool either in the sunlight or shrouded luxuriously in the night with gorgeous illuminations and a glass in hand.

The pre-opening is set for November 13, 2020, but this is subject to change depending on the state of the pandemic.

Information

SOAK

Pre-Opening: November 13, 2020

Address: MIYASHITA PARK North Floor 18F, 6-20-10 Jingumae, Shibuya, Tokyo

Opening Hours: 17:00-24:00 (Last Orders 23:30)

Closed: Mondays

TEL: 03-6427-9989 (17:00-22:00)

Official Website: https://soaks.tokyo/

The North Face and ANA Holiday Inn Resort Shinano-omachi Kuroyon to Co-Develop Mountain Resort

The North Face is set to collaborate with ANA Holiday Inn Resort Shinano-omachi Kuroyon, which opened in Nagano's city of Omachi in July, to develop a new mountain resort where guests can enjoy outdoor activities. The first part of the collaboration will see activities offered which have been made under the supervision of athletes contracted to The North Face. The activities will make full use of Omachi's gorgeous natural environment which is surrounded by stunning mountains.

The North Face has had a high affiliation with this region for a long time. The brand created an original uniform for the staff that work along Tateyama Kurobe Alpine Route, a 37km mountain sightseeing route. It also opened the outdoor clothing and equipment shop The North Face Gravity in Hakuba.

ANA Holiday Inn Resort Shinano-omachi Kuroyon, too, embraces the outdoors of this region as it sits embedded within the lush natural landscape of Omachi. It hails as one of Japan's best mountain resorts which offers guests the chance a sojourn amongst nature. One of the brand's concepts is cultivating real human communication which it offers through its hospitable service, aiming to increase the number of smiles to those who visit.

The North Face x ANA Holiday Inn Resort Shinano-omachi Kuroyon

The collaboration will see the two companies coming together to serve up a plethora of outdoor activities throughout the year to encourage more families to spend time outside. The hotel will offer equipment that can be used for the activities, and there'll also be workshops for people to create their own items that can also be used. They will also work to increase sustainability with local businesses and groups in Omachi in an effort to revitalise the local region.

Workation Plan

The hotel is also offering a workation plan for guests to get away from the hustle and bustle of the busy city to work somewhere more quiet and peaceful. The plan takes into account well-being and is a way for people to up their creativity and motivation. Guests can work and relax at the same time with Wi-Fi and electrical outlets available as well as off-work treats like the open-air baths, spa, gym, and more. The hotel will also offer other plans this winter which include snow biking, family skiing, and more.

Sip Sparkling Wine and Other Drinks Among Tokyo's Nightscape With Sarabeth's HIGH TEA TERRACE NIGHT

The Tokyo branch of New York-based restaurant chain Sarabeth's has announced a special autumn event that goes by the name 'HIGH TEA TERRACE NIGHT.' Set to run from September 23 to October 31, customers will be able to sit on a rooftop terrace in the evening with Tokyo's towering cityscape surrounding them while drinking sparkling wine and other all-you-can-drink free-flow alcoholic beverages—high tea style.


High tea refers to post-dinner evening tea time. At Sarabeth's, customers can look forward to dining on a special set menu for grown-ups with alcohol and other treats.


High Tea Style Set Menu With Free Drink | ¥5,000 (Before Tax)

Served on an afternoon tea stand, tuck into six different appetisers, meatball sliders, and truffle flavoured French fries. For the main dish, there's steak made in a red wine sauce and boletus mushrooms. Free drinks include sparkling wine, red and white wine, beer, high balls, cocktails, soft drinks, and more.

Feel the evening breeze of autumn while indulging in a special high tea experience in Tokyo.

Information

Sarabeth's Tokyo – HIGH TEA TERRACE NIGHT

Running: September 23, 2020 – October 31, 2020

Location: Sarabeth's Tokyo

Address: 1-8-2 Marunouchi, Chiyoda-ku, Tokyo

Serving Hours: 17:00-20:30
TEL: 03-6206-3551
*Free -flow drinks are all-you-can-drink for 90 minutes

*Reservations required by 16:00

Official Website: http://www.sarabethsrestaurants.jp/

Harajuku's New Carbonara Restaurant Serves Pasta Japanese Style

A new spaghetti carbonara restaurant by the name of Nama Carbonara opened in Harajuku, Tokyo on September 17, 2020.

The restaurant opened in the same building as Harajuku's popular fresh cream shop MILK and bubble tea shop Mot Tram. The restaurant makes its own fresh flat pasta everyday and uses fresh, rich cream sourced from Hokkaido.

The current menu lineup consists of six dishes, from classic carbonara to Japanese twists. Let's take a look at some of them.

Classic Carbonara | ¥790

Walleye Pollack Roe Japanese Carbonara | ¥1,090

Freshly Grated Cheese & Bacon Carbonara | ¥1,090

Seafood, Avocado & Basil Carbonara | ¥1,190

Discover a brand new world of carbonara like never before at Nama Carbonara in Harajuku.

Information

Nama Carbonara (生カルボナーラ専門店 原宿店)

Grand Opening: September 17, 2020

Address: THE SHARE 1F, 3-25-18 Jingumae, Shibuya, Tokyo

Opening Hours: 11:00-19:00 (Last Orders 18:30)

TEL: 03-5772-8858

Official Website: http://www.opefac.com/

The Best Place to Gaze On Japan's Night Sky: Sky Paradise Sea of Clouds Harbor in Nagano

This autumn, the Star Village Association in Achi, Nagano is hosting the special limited-time event "Sky Paradise Sea of Clouds Harbour" from October 25 to November 23 which offers one of the best views of Japan's starry sky and the sea of clouds of the far-off southern alps.

The site is located at Ropeway Heavens Sonohara in Fujimidai Highland, surrounded by the bountiful nature of Nagano Prefecture. The 15-minute gondola ride is 2,500 meters long and takes you up to the observation deck 1,600m above sea level. Your prize is a view of the sea of clouds which stretches to the distant southern alps of Japan – truly is a sky paradise.

The other prize is the starry night sky. This spot placed first in the Ministry of the Environment's list of the best places to see Japan's night sky. From here, one can watch the sky of twinkling lights change to warm morning light. During October, the trees and verdure below are dyed in the colours of autumn, and when November rolls around you can spot the snow-capped peaks of the southern alps.

Information

Sky Paradise Sea of Clouds Harbor (Japanese Name: 天空の楽園 雲海Harbor)

Running: October 25, 2020 – November 23, 2020

Gondola: Ascension 5:30-7:00 / Descent until 16:30

Observation Deck Lift Operating Times: 5:45-16:00

Location: Ropeway Heavens Sonohara in Fujimidai Highland

Address: 3731-4 Chisato, Achi, Shimoina-gun, Nagano

Price: Adults ¥3,600 / Children ¥1,800 / Infants – Free

Official Website: http://sva.jp

Ra Casta Natural Healing Garden: Heal Your Mind, Body and Soul in Nagano While Staying Safe From COVID-19

Ra Casta Natural Healing Garden in Omachi, Nagano, is open for business throughout Japan's Obon season and is taking mandatory bookings to ensure visitors' protection from COVID-19 while following precautions against the Three Cs as laid out by the World Health Organization—crowded places, close-contact settings, and confined and enclosed spaces.

Ra Casta Natural Healing Garden is exactly what it says on the tin. It's a place that embraces beauty and healing while incorporating La CASTA's brand concept of "the life force of plants and healing." Guests are invited to use all five of their senses to relish the natural wonder of the garden, with its abundance of plants and trees and natural waterfall which flows from the northern alps.

The garden has its own "Healing Cafe" too which is an open-style cafe, allowing diners to enjoy the gift of nature throughout the seasons while enjoying a drink or dessert. A must-try during summer is their "Herb Cordial Lime & Lemongrass," a refreshing herb soda that enjoy the sour citrus flavour of lime and the taste of lemongrass. There's also the "Chamomile Milk" gelato ice cream.

The garden also has its own aromatherapy workshop inside the La CASTA Factory where visitors can make their own blends of oils using different products and scents.

What better way to de-stress during these turbulent times than getting close with nature in a safe, protected environment?

Information

Ra Casta Natural Healing Garden
Address: 9729-2 Tokiwa, Omachi, Nagano
Opening Hours: 10:00-17:00 (Until 16:00 in October and November)
Closed: Wednesdays

Official site: http://www.alpenrose.co.jp/garden

Dine at Harajuku's New Tarako Spaghetti Restaurant Tokyo Tarako Spaghetti

Tokyo Tarako Spaghetti opened its all-new, second branch in Harajuku Omotesando on July 31, 2020. The restaurant opened its first branch back in January this year.

To commemorate the opening of the new restaurant, it is serving up two brand new tarako (cod roe) spaghetti dishes made with Japanese dashi.

Tarako & Kombu Umami With Dashi Spaghetti | ¥990 (Before Tax)

The first new dish is a combination of tarako, kombu, and dashi spaghetti. This dish adds a Japanese flair to it by combining tarako spaghetti with tarako boiled in soy. The full flavour of the kombu is extracted when the dashi is poured over, creating an irresistible flavour.

Three Fish Egg Tarako Spaghetti | ¥1,390 (Before Tax)

The second new dish on the menu is the "Three Fish Egg Tarako Spaghetti" which combines lots of tarako with toppings of salted salmon roe and flying fish roe. There's a whopping 100g of fish eggs on there, so you won't be going hungry with this filling, colourful serving of spaghetti.

Discover new kinds of tarako spaghetti dishes at Tokyo Tarako Spaghetti Harajuku Omotesando.

Information

Tokyo Tarako Spaghetti Harajuku Omotesando

Address: MS Bldg. 2F, 6-7-16 Jingumae, Shibuya, Tokyo

Opening Hours: 11:00-23:00 (Last Orders 22:00)
TEL 03-6803-8688

Official Website: https://www.tokyotarako.com

Tokyo's Famous Blue Note Tokyo Jazz Club Creators Launch Online Dinner Service

BLUE NOTE JAPAN Co., Ltd. launched an online store called "STAR TABLE" on August 5 which gives lets customers enjoy the same dinner experience as the company's restaurants from the comfort of their own home. BLUE NOTE JAPAN operates the entertainment business, restaurant business and bridal business of live restaurants such as the famous Blue Note Tokyo, a jazz cafe in Aoyama.

The first menu line-up on the website is "Home Dinner Course vol.1."

Weekend Dinner Course vol.1 | Serving: August 2020 – October 2020
Dishes: 5 | Price: ¥8,400 (Tax Included/Shipping Fee Separate) | Serves: 1

Home Dinner Course vol.1 is a full dinner course with a French taste which customers can warm up and arrange at their home, resulting in a meal so tasty they will feel like pro chefs themselves. This is the perfect way for busy people working remotely or people who aren't good at cooking to treat themselves from the comfort of their own home. The meal can also be cooked for get-together dinners with family.

The "Weekend Dinner Course" is the umbrella name for this service which will introduce a new course every three months. The next course, "vol.2," will be served in November. BLUE NOTE JAPAN is planning to introduce desserts and other items to the line-up.

Blue Note Tokyo is also live streaming music performances from the restaurant from fantastic artists so that customers can enjoy the full Blue Note experience.

With social distancing measures and other restrictions in place, this is a great service for people to enjoy a dining experience while staying safe.

THE AOYAMA GRAND HOTEL to Open on the Former Aoyama Bell Commons Grounds This Summer

THE AOYAMA GRAND HOTEL in Aoyama, Tokyo will officially open on August 5, 2020. Set to be a new landmark of Tokyo as "a hotel where you have fun," the establishment will house 42 rooms and a restaurant which serves everything from food around the world to authentic Japanese cuisine. Table bookings for the restaurant opened on July 1, 2020.

THE AOYAMA GRAND HOTEL is opening on the former Aoyama Bells Commons building which is just a 3-minute walk from Gaiemmae Station. The hotel is managed by Plan・Do・See who also manage 6th by ORIENTAL HOTEL (Yurakucho), ORIENTAL HOTEL (Kobe)< WITH THE STYLE (Fukuoka), THE LUIGANS (Fukuoka), and more.

Gaiemmae in Aoyama is a hub for fashion and culture in Japan which is visited by people all over the world. THE AOYAMA GRAND HOTEL will slot nicely into place in the area, serving a timeless experience with its polished and relaxing atmosphere and incredible restaurant.

ROOM

All guest rooms are fitted with a unique mid-century modern style design that maintains both the welcoming vibe of the region and brings a contemporary feel. Rooms are made to offer an experience akin to living there, where guests can look forward to indulging all their senses.

The bathroom amenities offered are provided by Oltana, making this the first hotel in Japan to stock the company's products. The items were developed specially for THE AOYAMA GRAND HOTEL and blend essential oils with Japanese fermentation methods. Everything from the raw materials to the finish product is made in Japan, and all are made sustainably and ethically.

RESTAURANT

Welcoming guests at the hotel entrance is THE BELCOMO on the fourth floor which offers a delicious casual dining experience whether it be for lunch, dinner, coffee, or an evening drink.

On the same floor is SHIKAKU, a counter-style restaurant serving authentic and seasonal Japanese food that is prepared before guests' eyes with fresh ingredients.

And hidden on the 19th floor where the guest rooms are located is Aoyama Sushi Kanesaka, a sushi bar that serves exquisite sushi courses made with artisanal care and the utmost care.

Opening on the hotel's top floor this autumn too is TRATTORIA ANDREA ROSSI, a classic Italian restaurant which will serve simple yet delicious dishes, wines, and desserts prepared in front of customers. On the same floor, a rooftop bar called THE TOP will also open where you can enjoy seasonal original cocktails, specially-selected wines, champagnes, and more.

Information

THE AOYAMA GRAND HOTEL

Address: 2-14-4 Kita-Aoyama, Minato-ku, Tokyo

Rooms: 42

Price: ¥60,000-¥120,000 (2 people for 1 room)

Check In From 15:00 / Check Out By 13:00

Official Website: https://aoyamagrand.com/en/

Tateshina Bamboo Grass Garden Opens 20,000m² Sasarikyu Garden For Free

Tateshina Bamboo Grass Garden has is opening the Sasarikyu area of its gardens for free from June 5 to October 31 this year. The area spans almost 20,000m² and is home to an arbour and over 120 varieties of bamboo grass.

Opening the gardens in June means that visitors will get to see the bamboo grass at its most beautiful. Tateshina Bamboo Grass Garden wants more people to enjoy the gorgeous scenery, and so decided to make it a free experience for visitors.

It's an opportunity to see the vivid green leaves of the bamboo free which, on a clear day, glistens brightly at the shine of the early summer sun. On a rainy day during the rainy season, it offers a completely different spectacle: the twinkle of the leaves as a result of the dew. In addition to the bamboo grass, rows of hydrangeas also blossom in the garden at the start of summer, and in autumn, the area takes on gorgeous red and yellow hues.

Another charm of Sasarikyu is the tea ceremony arbour that sits amongst the verdure. This arbour, which was designed by Japanese architect Kiyoshi Yasui, continues the tradition of sukiya style of building known as sukiya-zukuri which was first established in Kyoto.

Sasarikyu

The Tateshina Plateau sits enveloped by the Yatsugatake, a collection of towering inactive volcanoes. In this expanse lies Sasarikyu, a botanical garden of kuma bamboo grass with over 120 varieties from both Japan and overseas. It is the only bamboo grass garden of its kind in the world and aims to contribute to the region's culture by drawing out the unknown when it comes to bamboo grass.

Bamboo grass area (13,200m²)

Sasarikyu is not just a botanical garden. It is also home to the world's largest tsukubai basin called Zuigetsusen, as well as an azekura-zukuri style statue of the god of wealth, Hashiri Daigoku. It also has Jōmonka, a style of building from the middle of the Jōmon period in Japanese history which has bamboo grass-thatched roofs.

Sukiya Arbour Garden Area (6,600m²)

The sukiya arbour was designed by Kiyoshi Yasui who helped carry out major renovations to the Katsura Imperial Villa, as well as helped dismantle and reconstruct two national treasures of Japan: the Joan and Taian tea houses.

Another highlight of the gardens is an area where medicinal herbs area grown. The herbs there are ones mostly seen in Nagano Prefecture. It not only serves as an area with specimens of such herbs, but also offers gorgeous scenery too when the flowers bloom through the seasons.

Information

Sasarikyu Free Opening

Running: June 5, 2020 – October 31, 2020 (Subject to change depending on season and weather)

Address: 1017-11400 Tamakawa Azaharayama, Chino, Nagano (Japanese Address: 場所:笹離宮 長野県茅野市玉川字原山11400番地1017)

Opening Hours: 10:00-17:00 (Last Entries 16:00)

Closed: Tuesday/Wednesday/Thursday

Access:

①15 minutes by car from Suwa-minami Interchange

②30 minutes by car from Suwa Interchange

③20 minutes by car from Chino Station

Official Website: https://tateshina-sasa.com/sasarikyu/

NoMad Grill Lounge: Gaze Across Tokyo's Nightscape at Akasaka's Rooftop Beer Garden

Steak house NoMad Grill Lounge has opened its beer garden atop its rooftop terrace which offers an unbroken view of Tokyo's nighttime scenery.

The terrace spans 330m² across and is equipped with a roof in case of rain. There, customers can enjoy a delicious meal with a great drink, making it a perfect spot for dates, dinners, or simple get-togethers. The modern and stylish food is made using ingredients from Japan, such as their exquisite wagyu steak which is fried New York style and can be paired with a delicious glass of wine specially selected by the restaurant's sommeliers.

¥8000 Meal Plan

¥15,000 Meal Plan

NoMad Grill Lounge's beer garden plans are popular every year. All plans come as a set with the restaurant's super popular mini burgers. There are four plans to choose from, each with varying prices.

¥5,500 Lunch Beer Garden Plan

The lunchtime-exclusive beer garden plan is a new introduction to the restaurant.

Enjoy a great meal and drink while gazing out across Tokyo's nighttime view.

Information

NoMad Grill Lounge
Address: Tokyo Garden Terrace Kioicho 4F, 1-3 Kiochoi, Chiyoda Ward, Tokyo
TEL: 03-5226-1129
Official Website: http://nomad-grill-lounge.com

Blue Bottle Coffee to Open New Cafe in Tokyo's Hiroo District

Blue Bottle Coffee Japan is set to open a new cafe inside "THE RESTAURANT," a speciality restaurant hall in Hiroo, Tokyo, on June 11, 2020.

THE RESTAURANT is a two-floor fusion of food and wellness that caters to work culture and business people. The food hall is a collection of master chefs spearheading 17 popular restaurants known both throughout Japan and abroad. It offers great food in a casual business setting.

THE RESTAURANT's grand opening is set for July 20, 2020, but Blue Bottle Coffee Hiroo Cafe will open before that on June 11, 2020. They will of course serve delicious cups of hand drip speciality coffees, as well as the first ever "Blue Bottle Coffee Pale Ale" which was co-developed by Blue Bottle and Ise Kadoya Brewery from Mie Prefecture.

COFFEE PALE ALE: ¥750

The unique "COFFEE PALE ALE" steeps Blue Bottle's "Three Africas" coffee beans in Ise Kadoya Brewery's famous pale ale which has won many awards in beer contests around the world. When yyou take a sip, you get a fresh citrus aroma combined with a bitter combination of the coffee roast and sharp beer, making for a delightfully refreshing summertime beverage. The pale ale, served draft, goes well with the cafe's tartine sandwiches.

Blue Bottle Coffee Hiroo Cafe will also sell limited edition eco bags, exquisite chocolate, and more. The cafe is a great option for brunch or a takeout latte, so be sure to pay it a visit when going to Hiroo.

Information

Blue Bottle Coffee Hiroo Cafe
Address: THE RESTAURANT 1F, 5-4-16 Hiroo, Shibuya, Tokyo

Opening Hours: 8:00–22:00

Access: 1-minute on foot from Hiroo Station's 2nd exit

BLUE BOTTLE COFFEE Official Website: https://bluebottlecoffee.jp
BLUE BOTTLE COFFEE Official Online Shop: https://store.bluebottlecoffee.jp/