Standing Style Japanese Sake Bar Junmaishu YATA to Open in Chubu Centrair International Airport
Tachinomi is a type of Japanese bar that focuses on standing and drinking rather than sitting down. The new branch of Junmaishu YATA is one of these, and will open in Chubu Centrair International Airport on April 25, 2018 as the first branch from the company to open inside an airport.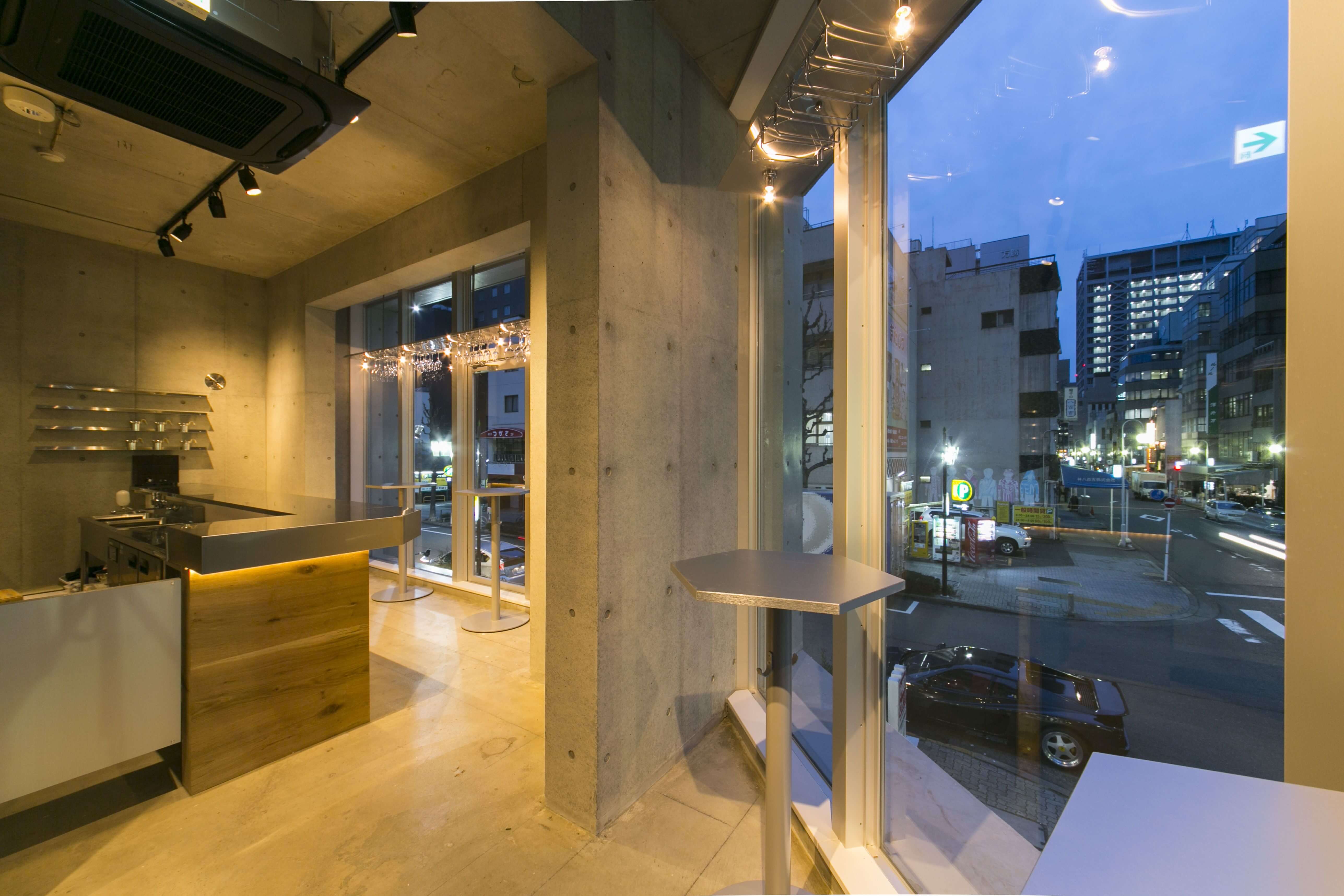 The idea behind the new store is that rather than branching out overseas, they wanted to set up shop at Chubu Centrair International Airport where both Japanese and those from overseas gather to offer seriously delicious sake for everybody to enjoy.
YATA is a standing-style bar where customers can casually and easily enjoy Japanese sake. All the drinks on their menu are junmaishu, which is sake made from just rice and rice malt with no added. There's no menu display. Instead, you can converse with the staff while choosing a drink of your course.
The bar is thoroughly particular about the ingredients, brands, chasers and so on of the drinks served there. There's even an all-you-can-drink option.  It's great for how simple it is, as well as the reasonable prices.
Despite the current climate of strict regulations, YATA has overcome various hurdles and will successfully open in Chubu Centrair International Airport. Head on in if you're passing through and experience their passion for yourself.
■Information
Junmaishu YATA Centrair
Address: Chubu Centrair International Airport Passenger Terminal Building 4F, 1-1 Centrair, Tokoname-shi, Aichi Prefecture
Day of Opening: April 25, 2018
Opening Hours: 8:00-21:00 (Weekdays, Weekends & Holidays)
No Fixed Holidays.
Access: 28-minutes from Meitetsu Nagoya Station (If using μ-SKY)
TEL: 0569-89-2225
Website: https://junmaishu.net
RELATED ENTRIES
Detective Conan Escape Games Open in Japan

In promotion of SCRAP's new Detective Conan themed escape game Escape From the Scarlet Investigation (Blood Task Force), five of the company's past escape games made in collaboration with the anime series are being revived for a temporary period.

Escape From the Orient Express

Escape From the Magical Castle

Escape From the Black Assassin

Escape From the Final Public Examination

Escape From the Navy Blue Art Museum

Here's what it's like to play..

SCRAP's escape games are made in collaboration with many different series and see players become a character in the story where they must solve puzzles and riddles to find a way out. They have collaborated with Detective Conan since 2013 during which over 1.3 million people have played. The newest entry to the series is Escape From the Scarlet Investigation (Blood Task Force).


Five previous escape games make a return this year including Escape From the Orient Express (2014), Escape From the Magical Castle (2015), Escape From the Black Assassin (2016), Escape From the Final Public Examination (2018), and Escape From the Navy Blue Art Museum (2019). Each features a completely original story set in the world of Detective Conan.

©青山剛昌/小学館・読売テレビ・TMS 1996
©青山剛昌/小学館

Information

Escape From the Scarlet Investigation (Blood Task Force)

Japanese Title:「緋色の捜査網からの脱出」

Release Date: 2021

Details:  https://realdgame.jp/conan2020/

Escape From the Orient Express

Japanese Title:「オリエント急行からの脱出」

Tokyo
Venue: Tokyo Mystery Circus
Running: August 4, 2021 – September 12, 2021
Details: https://mysterycircus.jp/events/8933

Aichi
Venue: Real Dasshutsu Game Nagoya (formerly Nazo Complete Nagoya)

Running: September 2, 2021 – September 20, 2021
Details: https://www.scrapmagazine.com/nazocomplex/events/orient_express2021/
 

Escape From the Magical Castle

Japanese Title:「奇術城からの脱出」

Tokyo
Venue: Real Dasshutsu Game Kichijoji
Running: August 19, 2021 – September 5, 2021
Details: https://www.scrapmagazine.com/nazobldg_kichijoji/events/2021conan3/
 

Escape From the Black Assassin

Japanese Title:「黒き暗殺者からの脱出」

Aichi
Venue: Real Dasshutsu Game Nagoya (formerly Nazo Complete Nagoya)

Running: July 29, 2021 – August 29, 2021
Details: https://www.scrapmagazine.com/nazocomplex/events/assassin2021/

Tokyo
Venue: Real Dasshutsu Game Kichijoji

Running: September 15, 2021 – October 24, 2021
Details: https://mysterycircus.jp/events/8934
 

Escape From the Final Public Examination

Japanese Title:「公安最終試験からの脱出」

Aichi
Venue: Real Dasshutsu Game Nagoya (formerly Nazo Complete Nagoya)

Running: August 26, 2021 – September 26, 2021
Details: https://www.scrapmagazine.com/nazocomplex/events/project_zero2021/
 

Escape From the Navy Blue Art Museum

Japanese Title: 「紺青の美術館からの脱出」

Tokyo
Venue: Real Dasshutsu Game Kichijoji

Running: September 9, 2021 – September 26, 2021
Details: https://www.scrapmagazine.com/nazobldg_kichijoji/events/2021conan7/

This Luxurious Shaved Ice is Made With Figs From Aichi Prefecture's City of Anjo

TEA HOUSE ANJO, a cafe in Aichi Prefecture, released a new shaved ice dessert to its menu last Friday which is made with seasonal figs.

Fig Shaved Ice | ¥1,080 (Tax Included)

Taste isn't the only luxury of this dessert: it's also made with appearance in mind. It's crafted with whole fresh figs grown in Anjo that are in-season right now and is drizzled in a sauce made from fig juice. Perfectly refreshing for summer, the shaved ice also hides other tasty secrets too including homemade fig pudding and rich caramel pudding which mix deliciously with the sweet and juicy figs. The fig sauce and fig puddings that are used in this dessert will also be available to buy separately in Japan online at Oyatsu on July 12. Of course, this isn't the only delight on the menu at TEA HOUSE ANJO, but you'll have to pay the cafe a visit to see all the other treats they have to offer.

Information

Fig Shaved Ice

Released: June 25, 2021

Location: TEA HOUSE ANJO

Address: Ryūta-86-5 Sasamechō, Anjo, Aichi 446-0073, Japan

Oyatsu Online Shop: https://oyatsu-lacasa.stores.jp

Supporting Japanese Sake Breweries During the Pandemic With the WAX&WANE Project

WAX&WANE is the name of a new project that has launched in an effort to support ARCADE TOKYO, an 'online shopping arcade' stocking countless must-grab products from Tokyo, due to the impact COVID-19 has had on participating businesses having to close down, resulting in a drastic decrease in shipping and consumption.

12 breweries pour 12 unique sake beverages

Pair your drinks with foods outside Japanese cuisine to change things up

Bottle clothes with designs showcasing each sakes' personality

The project was launched on June 10 via the crowdfunding website CAMPFIRE as a way to pay back thanks to 12 sake breweries in Japan who produce sake you can't get anywhere else. It aims to spread the word of Japan's sake culture the world to preserve its future and create even more brands, thereby adding new value to sake.

As part of the project, tie dye creator YUKIDYE, who has worked with many different street brands, has produced a collection of tie dye cloths which take inspiration from each of the 12 sake flavours and the characteristics of each brand.


VTuber Yukihana Lamy Releases Her Own Sake Called 'Yuki-Yo-Zuki'

Yukihana Lamy, a Virtual YouTuber associated with hololive, launched her own Japanese sake project in February to bring her dream to life of making her very own sake by hand. That sake has now been released by the name of Yuki-Yo-Zuki, a premium brand daiginjo sake.

The sake was created in collaboration with Meiri Shurui, a Japanese sake brewery which has been around since the Edo Period. Every single ingredient in the drink was considered from scratch including the type of rice, the ratios, yeast, alcohol content, and so on. The sake is made by hand in a brewery located in Mito, Ibaraki.

Yuki-Yo-Zuki uses Fukushogun Daiginjo as its base, a sake that won Gold in the Sake category at IWC2020. It's made with a combination of Yamada Nishiki and Biyama Nishiki rice as well as ginjoka, the highest quality daiginjo, known for its light spicy kick and fruity notes. The bottle features an illustration of Yukihana Lamy drawn by Abara Heiki, an artist Lamy likes, with a fusion of black and silver inspired by the meaning of drink's name: 'Snowy Evening Moon.'

haccoba Craft Sake Brewery Re-Releases Limited Edition Hanauta Drops Sake

haccoba launched its new sake brewery, haccoba -Craft Sake Brewery-, in February. It released its first product last Monday: a limited restock of Hanauta Drops, a sake that uses unrefined sake brewing methods which first originated in the Tohoku region.

Hanauta Drops

©︎ Puddle Inc.

Humulus lupulus hop

The sake crafted by haccoba uses the same techniques found in traditional Japanese sake brewing, including the rice and yeast used, but throws in a variety of fruits and herbs during the fermentation process. This upholds the traditional culture of Japanese brewery which was formerly carried out in homes while adding some fun flair. The brand plans to make its main product a fusion of hops used in beer making and classic Japanese crafting methods.

The secret ingredient that was so enjoyed in Japanese homes in the past when making sake is the humulus lupulus, a type of hop that makes this brewing process to making beer. Hanauta Drops uses the very same technique. It also enjoys a blend of yellow koji mold which has a sweetness similar to refined Japanese sugar found in rice, and white koji mold for a lemony tang. The result is a refreshing experience with every sip thanks to the bubbles that occur naturally during fermentation.

Premium Japanese Sake Lounge Opens Inside JR Chiba Station

After the success of the hit Ikkon-Fugetsu event held at Perie Chiba Ekiue Hiroba last autumn, a permanent nihonshu Japanese sake lounge is set to open at JR Chiba Station on April 28, offering the same kind of atmosphere as inside a luxury airport lounge.

CHIBASAKE.COM SHOP with PERIE Onliine SHOP

A sake shop will also open at the same time at the lounge where customers can scroll through different drinks they'd like to purchase using their smartphone or tablet. You can purchase sake that you enjoyed drinking in the lounge as well as pick up exclusive and original beverages available online only at CHIBASAKE, sake from different regions across Japan, and more.

That's not all for customers' sake experience however. Umami is a big part of Japanese food culture, and so in order that all who visit can enjoy their drink to the fullest, Japanese wineglass makers RIEDEL, who have been in the business for 260 years, have provided their special junmaishu glasses which were developed over a period of eight years. Food will also be on the menu made with ingredients local to Chiba Prefecture, and more.

Information

Ikkon-Fugetsu

Grand Opening: April 28, 2021 @ 17:00

Address: Perie Chiba Floor 3F, 1-1-1 Shinchiba, Chuo-ku, Chiba-shi, Chiba

Opening Hours: [Weekdays] 17:00-22:00 / [Weekends & Holidays] 12:00-22:00

Official Website: https://ikkon-fugetsu.com/

Tokyo's Pixar Exhibition 'PIXAR! PIXAR! PIXAR!' to Open in Spring 2021

A Japan-original Pixar exhibition by the name of PIXAR! PIXAR! PIXAR! is set to run from April 8-19 at Seibu Ikebukuro in Tokyo. The exhibition is a celebration of all things Pixar Animation Studio and Walt Disney Japan where fans will have the opportunity to glimpse never-before-seen concept art, learn about the secrets of the studio's office building, hear interviews with Japanese staff who work at the animation studio, and much more.

Pixar fanatics can expect to see all their favourite characters from the filmography such as Monsters Inc., Toy Story, Wall-E, Coco, Finding Nemo, and more. There will be plenty of merchandise to add to the collection too—around 200 pieces in fact—including items with official artwork that has never been made into merch before.

New official artwork illustrated by Pixar Animation Studios for 'PIXAR! PIXAR! PIXAR!'

 

The artists at Pixar Animation Studios have created an original collection of artwork for the exhibition which will be displayed around the site itself as well as on merchandise sold there. There will also be a behind-the-scenes video showing at the exhibition where you can see the staff drawing the pieces.

                                               

A historical lookback at Pixar's filmography

The exhibition will pay homage to everything Pixar has to offer, from their roots of animation shorts to their critically acclaimed full length animated features. If you have a favourite from any of these, you're sure to find merchandise of it at the exhibition.

Feel like you've been invited to Pixar Animation Studios

The exhibition will have an area decorated with a gallery of posters, the famous Pixar lamp and ball, Woody and Buzz statues made from Lego, and more, as well as a photo gallery from pictures taken inside the studio.

Learn all there is to know about Pixar

Learn all the trivia about Pixar from what kind of Japanese people work at the studio, what characters are hidden throughout their films, and more.

Original Merchandise                                     

Fans can sift through around 200 pieces of original merchandise.

Movie Poster Collection

The posters released for each of Pixar's films have been shrunk down into a collection of postcards.

Final frame merchandise

A line-up of merchandise featuring the final frames taken from all 23 of Pixar's feature length animations.

Early concept art

The exhibition will sell an array of merchandise featuring artwork that has never been turned into merch before, such as early concept art.

Easter eggs

There will also be merchandise featuring fun Easter eggs hidden throughout Pixar's films.

 

Pixar Animation Studios

A line-up of merchandise that makes you feel like you're part of the Pixar office.

Bonus Items                              

Visitors that spend over ¥3,000 (tax included) on merchandise at the exhibition will receive one of 8 possible pins. These are available on a first-come, first-served basis. Additionally, spending over ¥6,000 will get fans an original bottle too.

The exhibition will also be moving around Japan after its Tokyo run. Check the locations below.

©DISNEY/PIXAR All rights reserved. No reproduction or republication without written permission.

Information

PIXAR! PIXAR! PIXAR!

Running: April 4, 2021 – April 19, 2021

Opening Hours: 10:00-20:00 

Where: Seibu Ikebukuro Annex Bldg. Floor 2F

Price: General ¥800 / Children ¥500

Kyoto Exhibition

Running: April 21, 2021 – May 5, 2021

Where: Daimaru Kyoto Museum Floor 6F

Entry: Free

Aichi Exhibition

Running: July 21, 2021 – August 12, 2021

Where: Matsuzakaya Nagoya Floor 7F

Entry: Free

Shizuoka Exhibition

Running: December 29, 2021 – January 16, 2021

Where: Matsuzakaya Shizuoka Floor 8F

Entry: Free

POP-UP SHOP

Where: Fukuoka PARCO Floor 5F

Running: April 17, 2021 – May 9, 2021

Entry: Free

Official Website: https://www.ntvs.co.jp/ppp-official/

Demon Slayer: Kimetsu no Yaiba x Lagunasia Theme Park Collaboration Event Begins in March

Lagunasia, a theme park managed by Laguna Ten Bosch, has announced an event in collaboration with the TV anime series Demon Slayer: Kimetsu no Yaiba which will run from March 6 to June 5.

©Koyoharu Gotouge / Shueisha・Aniplex・ufotable

©Koyoharu Gotouge / Shueisha・Aniplex・ufotable

The event will feature an immersive attraction called "Trial of Recollection: Tanjiro's Journey" as well as a rally event to hunt down all the stickers around the theme park, a Demon Slayer themed menu line-up, exclusive merchandise, and more.

Further details will be announced in the coming months.

Attack on Titan The Final Season Themed Cafe to Open in Ikebukuro

Two branches of Animate Cafe, Animate Cafe Ikebukuro 3 and Animated Cafe Nagoya 2, are set to collaborate with Attack on Titan from November 25 in promotion of the anime's upcoming final season which will begin airing on December 7. This marks Animate Cafe's fourth collaboration with the anime.

Menu

Animate Cafe held a poll amongst customers who dined at the previous Attack on Titan collaboration cafes to find out what the most popular dishes were. These have been chosen to go on the menu for this collaboration.

5 Years Colossal Hamburger & Mother's Handmade Stew | ¥1,000


Eren Meringue & Bertholdt Tart | ¥750


Hange's Experiment Drink | ¥600


Eren's Death Wish Drink | ¥600

New additions to the menu include Hange's Experiment Drink and Eren's Death Wish Drink.


The Final Season Special Rose Cake | ¥750


Gorgeous Champagne Jelly | ¥600

Original merchandise


Big Acrylic Stands (4 Designs) | ¥1,600


Trading Pins (A Group: 6 Designs/B Group: 7 Designs/C Group: 4 Designs) | ¥400 Each


Print Cookies | ¥1,000 Each (Comes with 1 illustration card)

©️Hajime Isayama・Kodansha / Attack on Titan The Final Season Production Committee

Information

Animate Cafe x Attack on Titan The Final Season
Running: November 25, 2020 – December 14, 2020

Locations: Animate Cafe Ikebukuro 3 / Animated Cafe Nagoya

*On November 25, November 27, and weekends, customers must sign up to dine at the cafes – those who sign up will be selected randomly. On all other days, it's free-entry where you don't have to book, but keep in mind that the cafe may still be busy on these days.
Official Website:  https://cafe.animate.co.jp/event/shingeki2011/

Demon Slayer Merchandise Collaboration With Onigawara Demon Decorative Tile Makers Announced

Sanshu Onigawara Kogeihen, a traditional crafts company in Takahama, Aichi, which is known for making 'onigawara'—a type of decorative tile in Japan (kawara) traditionally bearing the face of a demon—has announced a collaboration with the hit TV anime series Demon Slayer: Kimetsu no Yaiba which will begin in the city of Takahama on October 30, 2020.

The tiles are made by artisans called Onishi and are used for warding away evil spirits and evil in general. For the collaboration, Demon Slayer fans can get their hands on a selection of original kawara tiles, get involved in an Onishi workshop, and more.

Original Kawara Merchandise

Demon Slayer x Kawara

Crafted by a real Onishi, the kawara line-up includes paperweights, magnets, card stands, and other items all with Demon Slayer designs. They can be purchased at the ONI-House tourist information centre, Takahamashi Yakimononosatokawara Museum shop, Sanshu Onigawara Kogeihen's online shop, and elsewhere.

Onishi Workshop (Reservations Required)

A special workshop will be held by a real Onishi where people can learn to make their own paperweights featuring characters from Demon Slayer. All participants will also receive a free original pin badge and folder. Bookings for December workshops will open at the end of this month (October) and January workshop bookings open in November.


Other Merchandise

A monument to the 14 Taishi from the Demon Slayer: Kimetsu no Yaiba series will be put up in front of Takahama City Hall for a limited time. A selection of exclusive merchandise will also be sold at the city's tourist information centre and museum shop too.

There is lots planned for this collaboration which is set to run until January 29, 2021. More details can be found on Takahama City's official website.

©Koyoharu Gotouge/Shueisha・Aniplex・ufotable

Information

Onishi x Demon Slayer: Kimetsu no Yaiba Collaboration
Running: October 30, 2020 – January 29, 2021

Location: Takahama, Aichi
Takahama City Official Website: https://www.city.takahama.lg.jp/
*Event subject to cancellation or postponement depending on the situation of COVID-19

Ojamajo Doremi Cafe 2020 ~FRUITS PARLOR~ to Open in Tokyo, Osaka & Aichi

Japanese company LEGS has announced the opening of the limited-time Ojamajo Doremi Cafe 2020 ~FRUITS PARLOR~. The themed cafes will open in Tokyo on October 29, Osaka on October 30, and Aichi on October 23.

Ojamajo Doremi is an original magical girl created by Toei Animation that ran from February 1999 to January 2003. To celebrate the series's 20th anniversary last year, LEGS opened a different Ojamajo Doremi limited-time themed cafe in collaboration with Cafe&Kitchen which welcomed lots of magical girl fans.

This year once again welcomes Etoile et Griotte as the art director for the fruit parlor-inspired cafe.

Ojamajo Doremi Cafe 2020 ~FRUITS PARLOR~ celebrates the 20th anniversary of Ojamajo Doremi Sharp is the second series in the Ojamajo Doremi series. Fans will be able to get their hands on a range of exclusive magical merchandise as well as tuck into pastel coloured fruity food.

FOOD

Doremi's Cheese Steak Doria in Cherry Sauce | ¥1,699


Steak is Doremi-chan's favourite food, so it was a must-have on the menu. The cream cheese is coloured like Doremi, and there's a cute musical note topping too. It comes with a cute lunch mat that looks like Doremi's skirt.

Hazuki's Omurice in Porcino & Orange Cream Sauce | ¥1,399


The omelette is made to look like Hazuki's yellow skirt. Enjoy together with the delicious porcino sauce and orange combination.

Onpu's Waffles With Crepe & Mascarpone | ¥1,299

Blueberry sauce-drizzled and mascarpone-topped waffles served with a mashed potato skirt. The sweet and sour mix is to die for.

DESSERT

Aiko's Blueberry Float | ¥999

A fresh blueberry float inspired by Ai-chan. Mix everything together to create a different flavour.

Momoko's Lemon Cheesecake Parfait | ¥1,399

A fresh lemon cheesecake packed parfait with lots of enjoyable flavours and textures.

Rhythm Tap Tart | ¥1,300


Inspired by the Rhythm Taps seen in the series, the tart imagines Doremi's transformation scene in Ojamajo Doremi Sharp.

DRINK

Onpu Melody Drink (5 Flavours) | ¥1,099


A rainbow line-up of colourful Onpu drinks available for takeout.

Movie Theater Menu

Girls Meet Sushi | ¥1,299


Inspired by the meat sushi that Sora and the gang eat in the animated film Majo Minarai wo Sagashite. Comes with an original postcard.

Exclusive Merchandise

Acrylic Keyrings (6 Designs) – ¥600 Each

Letter Set (1 Design) – ¥1,200 | Folder Set (2 Designs) – ¥700

A selection of super kawaii cafe-original merchandise is available for fans to grab.

Bonus Items


Those who book a table in advance, order a drink, or spend more than ¥2,000 at the cafe will receive one of six possible A5 folders.

Become a magical girl like Doremi at the Ojamajo Doremi Cafe 2020.

©Toei Animation


Information

Ojamajo Doremi Cafe 2020
Tokyo Cafe
Running: October 29, 2020 – December 6, 2020
Location: SHIBUYA BOX cafe&space
Address: Shibuya LOFT 2F, 21-1 Udagawacho, Shibuya, Tokyo

Osaka Cafe
Running: October 30, 2020 – November 23, 2020
Location: Abeno Q's Mall 4F
Address: Abeno Contact, 1-6-1 Abenosuji, Abeno Ward, Osaka

Aichi Cafe
Running: October 23, 2020 – November 23, 2020
Location: NAGOYA BOX cafe&space
Address: LACHIC B1F, 3-6-1 Sakae, Naka-ku, Nagoya, Aichi

Studio Ghibli Exhibition to be Held in Aichi Prefecture This Summer

Aichi Prefecture and Chunichi Shimbun have revealed that they are to hold a Studio Ghibli exhibition at Aichi Prefectural Museum of Art from July 22, 2020 – September 3, 2020.

Yubaba wearing a Mask ©TS ©Studio Ghibli

The exhibition, called Ghibli no "Dai Janai" Hakurankai (Ghibli's "Not So Big" Exhibition), will be taking all necessary safety measures against COVID-19 to ensure people's safety.

Never before seen Ghibli material a must-see for fans

Ghibli Park's "Seishun no Oka" (Hill of Youth) Area ©Studio Ghibli

The exhibition will look back at Studio Ghibli's past as well as into the studio's future. Fans will be able to look at construction materials and sketches of Ghibli Park, a new Studi Ghibli themed facility set to open at Aichi Expo Memorial Park in autumn 2022, as well as dolls of the characters from the upcoming animated film Earwig and the Witch which is being written by Hayao Miyazaki and directed by his son Goro. The film was originally scheduled to premiere at the 2020 Cannes Film Festival before the event was cancelled due to COVID-19 and will now be aired by NHK this winter.

The Cat Bus from the Studio Ghibli Museum will also be showcased at the event; stills taken from Studio Ghibli's films such as Laputa: Castle in the Sky, Porco Rosso, Howl's Moving Castle, Princess Kaguya and more will be displayed; there will be a photo spot for taking photos, and much more.

Fans of Spirited Away will also be able to get their own omikuji fortunes from the giant Zeniba and Yubaba faces.

Information

Ghibli no "Dai Janai" Hakurankai (Japanese Name: ジブリの"大じゃない"博覧会)
Running: July 22, 2020 – September 3, 2020
Location: Aichi Prefectural Museum of Art Galleries A/B/H/I
Address: 1-13-2 Higashisakura, Higashi-ku, Nagoya, Aichi
Opening Hours: 10:00-16:00 (until 20:00 on Fridays) *Last entries 30 mins before closure
Closed: Mondays

Official Website: https://www.ghibli-daijanaiexpo.jp/