Yokohama"Hekkeijima Sea Paradise" will hold a program where you can swim with dolphins!
"Yokohama Hakkeijima Sea Paradise" will reach its 25th anniversary on May 2018! The aquarium has been offering quality experiences to their customers under the theme words of "thrill, healing, petting and nature. "
This time, they will hold special exhibitions and experience-based programs under the concept of "creating Japan's most stimulating aquarium" from the 21st of April 2018 (Sat.). They are also planning to hold an original fireworks show during the Golden Week commemorating their 25th anniversary.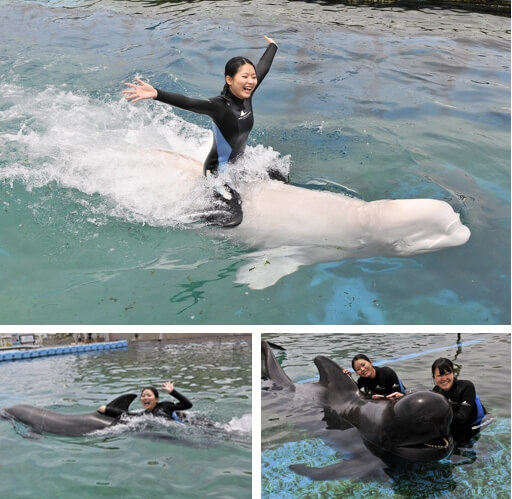 Let's swim with belugas, dolphins and whales
"Fureai Lagoon" is a spot where you can play with many kinds of fish and sea animals and they are currently holding a communication program where you can swim with 3 kinds of dolphins named "Shiro Iruka (belugas), Iruka, Kujira (whales) to Oyogo (let's swim)." There is nowhere else where you can swim with belugas, dolphins and short-finned pilots!
New programs are added in commemoration of the aquarium's 25th anniversary
New programs where you can swim alongside belugas by holding on to their fins and where you can ride piggyback on a beluga have been added. The program where dolphins jump out of hoops and perform dynamic skills and jumping will be held too.
Let's spend a wonderful time at Hakkeijima Sea Paradise♪
■Information
Yokohama/Hakkeijima Sea Paradise
Address: Hakkeijima, Kanazawaku, Yokohamashi, Kanagawa Prefecture
Business hours: weekdays – 8:30 to 21:30
Saturday and Sunday – 8:30 to 22:00
TEL:045-788-8888
Website:http://www.seaparadise.co.jp
RELATED ENTRIES
Ikebukuro's Sunshine Aquarium to Open Magical New Jellyfish Area

Sunshine Aquarium in Ikebukuro, Tokyo is set to open its brand new jellyfish area as part of the aquarium's third major renovation on July 9, 2020.

Jellyfish Panorama Tank

Two tanks will grace this area: the magnificent moon jellyfish will dance across the 14-meter wide "Jellyfish Panorama" tank, while sea nettle jellyfish, which are known for their long tentacles, will swim in the "Jellyfish Screen."


The jellyfish exhibit already in Sunshine Aquarium is also being renovated, with gorgeous new flooring and walls being put in place. Six tanks will be housed here, including the 360° "Jellyfish Tunnel," "Jellyfish Loop," "Jellyfish Drop," and "Jellyfish Dream."

A Spectacular Performance of Music, Smells, and Lighting

The new jellyfish area will feature original sounds newly recorded to capture the vibe of the jellyfish's movements. There will also be special fragrances you can smell, as well as beautiful lighting that twinkles like the swaying of the water. All of this serves to make visitors feel calm and relaxed.

Exclusive Tully's Coffee Beverage

T's Splash Nata de Coco in Oasis: Have-In ¥649 / Takeout ¥637

This refreshing carbonated drink is inspired by jellyfish filled with lemon flavoured nata de coco coconut jelly. Exclusive to Sunshine Aquarium, the drink comes with one of four possible special jellyfish straw flags.

Grand Opening Commemoration Products

High Grade Jellyfish Confection: ¥400

Limited in stock, this confection was made in collaboration with Ikebukuro's long-stand confectionery shop Ikebukuro Miharado and also under the guidance of the aquarium's jellyfish staff.

Jellyfish Konjac: ¥972

Konjac shaped just like real jellyfish.

Grand Opening Commemoration Menu

Jellyfish Cold Greens: ¥1,100 / CHUKA SHUNSAI RYOURI・HINABE SHU (Alpa Floor 3F)


Blue Hawaii Tiny Aquarium & Jellyfish Jelly: ¥495 AGIO (Alpa Floor 3F) *15 served per day

Select restaurants in Sunshine City Alpa will also serve up some limited-time jellyfish-inspired dishes and drinks from July 9 to celebrate the opening of Sunshine Aquarium.

Information

Sunshine Aquarium
Address: Sunshine City World Import Mart Bldg. Rooftop, 3-1 Higashiikebukuro, Toshima Ward, Tokyo
Opening Hours: 9:30-21:00 (until September 10) / 10:00-18:00 (from September 11)

Entry Price

General (High School Students and Older) ¥2,200 (¥2,400 from July 9)

Children (Elementary & Junior High School Students) ¥1,200

Infants (Aged 4+ Years): ¥700

Official Website: https://sunshinecity.jp/

*Photos are for illustrative purposes only. All listed prices are tax-inclusive.

Kawasaki Aquarium to Open Inside Kawasaki Le FRONT This Summer

Aqua Live Investment is set to open Kawasaki Aquarium, which will also be known as Kawa Sui for short, on floors 9F and 10F of Kawasaki Le FRONT, a shopping centre in front of Kawasaki Station, on July 17, 2020.


In the lead up to its grand opening, Kawasaki Aquarium launched its own official app, as well as opened purchases of Annual Passports to the aquarium, on June 17.

What is Kawasaki Aquarium all about?

The theme of Kawasaki Aquarium is "The World's Beautiful Waters." It will showcase creatures and living things from around the world—from the waters of Tama River which flows through Kawasaki to Asia, Africa, and the Amazon in South America—using the latest technology combining lighting, sound, and visuals.

Annaul Passports

There are three kinds of Annual Passports to choose from which let you access Kawasaki Aquarium as many times as you want throughout the year. They are valid for an entire year and let you bypass the ticket counter so you don't have to line up. These passports can be bought via the aquarium's official app before its grand opening. After that they can be bought either on the app or directly at the aquarium at the Passport counter.

Those who purchase an Annual Passport between June 17, 2020 and July 16, 2020 will receive an extra free two months on top of their guaranteed 12 months.

3 Annual Passport Types

Dual Passport: Daytime & Nighttime
Allowed Entry Times: [Day] 10:00-17:00 (Last Entries 16:00) / [Night] 18:00-22:00 (Last Entries 21:00)
Prices (Tax Included): Adults ¥6,000 / High School Students ¥4,500 / Elementary & Junior High School Students ¥3,600 / Children (4+ Years) ¥1,800

Daytime Passport: Daytime Only
Allowed Entry Times: [Day] 10:00-17:00 (Last Entries 16:00)
Prices (Tax Included): Adults ¥4,000 / High School Students ¥3,000 / Elementary & Junior High School Students ¥2,400 / Children (4+ Years) ¥1,200

Nighttime Passport: Nighttime Only
Allowed Entry Times: [Night] 18:00-22:00 (Last Entries 21:00)
Prices (Tax Included): Adults ¥4,000 / High School Students ¥3,000 / Elementary & Junior High School Students ¥2,400 / Children (4+ Years) ¥1,200

Experience the aquarium at night

Kawasaki Aquarium is open everyday until 22:00. Visiting the aquarium at this time offers a completely different experience as warm lights set the mood and different sounds play from daytime hours. It's also a chance to see nocturnal creatures that only come out at night. Plus, the aquarium serves alcohol and bar food in the evenings.

Download the app

The Kawasaki Aquarium app is free to download and lets guests enjoy coupons with their Annual Passport, gives them the latest news about upcoming events, lets them access the online shop, and more.

Information

Kawasaki Aquarium (Kawa Sui)

Address: Kawasaki Le FRONT (Floors 9F-10F), 1-11 Nisshinchō, Kawasaki-ku, Kawasaki, Kanagawa

Opening Hours: [Day] 10:00-17:00 (Last Entries 16:00) / [Night] 18:00-22:00 (Last Entries 21:00)

Official Website: https://kawa-sui.com

*No refunds are given on Annual Passports

*Student ID required for students

*Free entry for those aged 3-years and below

*Those aged 12-years and below must be accompanied by a parent or guardian aged 16+

Help Rescue Sumida Aquarium's Spotted Garden Eels by Showing Your Face Online

Something unprecedented is happening over at Sumida Aquarium. The living creatures at the aquarium are starting to forget about humans as a result of the building's closure in response to the COVID-19 outbreak, save for the aquarium staff who are looking after them. In the case of their spotted garden eels, the eels are now hiding in the sand, even when the aquarium staff check in on them.

What exactly is happening with the spotted garden eels?

Spotted garden eels by nature are extremely fragile and alert creatures, and so are prone to diving under the sand to hide themselves. Around 300 of these eels live in a single tank at Sumida Aquarium, and since they are used to people being in the aquarium all the time, they rarely bury themselves even when people get close. However, since the closure of Sumida Aquarium on March 1, 2020, a change has been seen in the spotted garden eels.


Humans not being around is the new norm for the eels. It's as if they have forgotten about the existence of humans, and now hide themselves away when the staff come through. With the eels no longer showing themselves to the staff, it has becoming difficult to run daily checks to see if the eels are unwell, famished, and so on. The change of environment may even lead to stress of the eels fighting. It has become a serious problem for the staff to ensure they are living an adequate quality of life.

That is where Sumida Aquarium's "Spotted Garden Eel Face Reveal Festival" comes into play. The aquarium has called for emergency measures for people to video call in to show their faces to the eels so they don't forget about humans and so they no longer feel afraid of people being around.

Spotted Garden Eel Face Reveal Festival

The festival is a chance for people to meet the spotted garden eels from their own home by using an iPhone, iPad or computer to call in using video chat. As long as you can video call, anyone is free to join. Two sessions will be held per day where people can see the eels pop their heads out of the sand, feed, and so on.

This is the first time Sumida Aquarium has held such a project, and it may or may not work, but they won't know unless they try. Check the dates below and see if you can get involved.

Scheduke
May 3rd @ 10:30-14:00 (JST)
May 4th @ 10:30-14:00 (JST)
May 5th @ 10:30-14:00 (JST)

How to Participate
Use an iPhone or an iPad to FaceTime any of the Gmail addresses below.i
helpchin001@gmail.com
helpchin002@gmail.com
helpchin003@gmail.com
helpchin004@gmail.com
helpchin005@gmail.com

1)Open the FaceTime app and enter any of the Gmail addresses. Select video call.

2)Screens will be placed in front of the water tanks with the spotted garden eels live. Once the call starts, show your face, wave your hand, and call out to them. Please note that talking loudly is strictly prohibited.

3)5 screens was the limit of what could be set up. They ask for you to call for only 5 minutes so that many different people can show their face so it feels like lots of people at a festival.

*The aquarium apologies if the eels don't show themselves

*The aquarium apologies in the case that anything goes wrong with the call

*Only iOS can be used at this time and not Android OS

Beautiful Jellyfish Umbrellas Designed by Kamo Aquarium Will Keep You Dry

YOU+MORE!, a brand of humorous merchandise and accessories developed by Felissimo, has teamed up with the famous Kamo Aquarium to release a series of jellyfish umbrellas.

The intricate umbrella designs were developed in cooperation with the staff at Kamo Aquarium's Jellyfish Dream House. Three different kinds of jellyfish were used as inspiration for the umbrellas.

Moon Jelly Umbrella

YOU+MORE! Moon Jelly Umbrella – ¥1,600

Moon jellyfish are perhaps one of the most popular kinds of jellyfish out there. What may be the most striking part of this umbrella is the colour gradation which gives it a transparent effect. The edges of the umbrella are also curved, giving it a delicate silhouette and making it look even more like the real things.

The umbrella's frames are built strong, and the material of the umbrella itself is a white glass fibre which serves not only to mimic the colour of a moon jelly, but so that you can still see through it too. (As a side note, all three of the umbrella designs are made from glass fibre.)

Northern Sea Nettle Umbrella

YOU+MORE! Northern Sea Nettle Umbrella – ¥1,600

Like the northern sea nettle itself, this umbrella features a dome shape and incorporates a stripe design. A northern sea nettle has 16 stripes, and so that many were added to the umbrella. The jellyfish staff at the aquarium praised this one as the most realistic.

Spotted Jelly

YOU+MORE! Spotted Jelly Umbrella – ¥1,600

Like the northern sea nettle, the spotted jelly too as a cute dome-shaped body. If someone who has never seen one of these jellyfish umbrellas before sees this design, they'll think of it as just having cute spotted design. However, a jellyfish enthusiast is sure to get excited as the sight of this one with its details like its orange colour and the dots around the edges.

Kamo Aquarium will begin selling limited edition versions from the end of June this year which come with an ephyra charmーthat's the name for a baby jellyfish. The aquarium is currently closed until May 6 due to the coronavirus. The latest updates can be found on their official website.

Pompompurin Celebrates 24th Anniversary With Birthday Menu at the Pompompurin Cafe

Sanrio's popular character Pompompurin is celebrating his 24th anniversary at three branches of the Pompompurin Cafe in Harajuku, Yokohama, and Umeda with a special birthday menu that will be served for the whole month of April.

A special celebratory menu for the floppy-eared golden retriever

The official date for Pompompurin's birthday is April 16. The birthday menu line-up includes two food items, a drink made in collaboration with popular Japanese picture book author Yukako Ohde, and some novelty gifts.

Birthday Menu

Happy Birthday Flower Bouquet Bisque – ¥1,590 (Before Tax)

This cute bisque soup has Pompompurin and Muffin holding a colourful boquet made from broccoli and mashed potatoes made to look like roses. It has a rich but mild flavour, and is both adorable and filling.

Happy Birthday Strawberry Mousse – ¥790 (Before Tax)

The strawberry mousse has a fluffy texture and refreshing, sweet taste. It can be eaten as it is or drizzled with the accompanying raspberry sauce.

Yukako Ohde x Pompompurin Lemonade – ¥550 (Before Tax)

Take a sip from this delicious lemonade from a straw adorned with a cute, warm illustration of Pompompurin by Yukako Ohde.

Exclusive Anniversary Novelty Gifts

Lunch Mat Design

Customers who dine at any of the three cafes during the anniversary celebration will receive a free lunch mat.

Coaster Designs

And those who order the lemonade will receive a coaster with designs illustrated by Yukako Ohde. The designs are different at each branch of the Pompompurin Cafe. You can also receive another special coaster if you spend over ¥1,000 each (tax included) at Pompompurin Cafe Umeda and KIDDY LAND Osaka Umeda. Simply show your receipts at the cafe.

©1996,2020 SANRIO CO., LTD. APPROVAL NO.S605291

Information

■Pompompurin Cafe Harajuku

Address: CUTE CUBE HARAJUKU 3F, 1-7-1 Jingumae, Shibuya, Tokyo

Opening Hours: 11:00-21:00 (Food Last Orders 20:00 / Drinks Last Orders 20:30)

Access: 3-minutes on foot from the Takeshita Exit at Harajuku Station

TEL: 03-5786-0770

■Pompompurin Cafe Yokohama

Address: Yokohama Sotetsu Square, 2-1-5 Minamisaiwai, Nishi-ku, Yokohama-shi

Opening Hours: 10:00-21:00 (Last Orders 20:30)

Access: 5-minutes on foot from West Exit at Yokohama Station via JR Line

TEL: 045-311-6750

■Pompompurin Cafe Umeda
Address: Hankyu Sanbangai South Wing B2F, 1-1-3 Shibata, Kita-ku, Osaka-shi
Opening Hours: Weekdays 11:00-22:00 (Last Orders 21:30) / Weekends & Holidays 10:00-22:00 (Last Orders 21:30)
Access: 3-minutes from Osaka Station via JR Line
TEL: 06-6292-7140

Pompompurin Cafe

Official Website: http://pompom.createrestaurants.com

Must-Visit Spots in Kagawa Prefecture in 2020: Cherry Blossoms, Dolphins, Bonsai & More

Appreciation for the Seto Inland Sea in Japan is on the rise: American company Discovery named Shikoku one of its Top 10 must-visit rising locations around the world for 2020, and the city of Setouchi in Okayama has featured as a recommended travel destination in Western media. One particular location, Kagawa Prefecture, has been featured on many international travel sites as a must-visit place, including on Booking.com, Skyscanner, and REMOTE LANDS, with places such as Takamatsu, Teshima, and Shōdo Island being picked up.

Takamatsu is known as the doorstep that brings together the many islands of Seto Inland Sea. It's a port city with great fresh food, highly convenient for travellers wanting to visit lots of different islands, and a popular region that brings together elements of Japanese culture.

Today, we take a look at some must-visit locations around Takamatsu, including a new facility opening, must-visit spots for spring to early summer, food, and more.

Shikoku Aquarium – The largest aquarium in Shikoku

Shikoku Aquarium is set to be the largest across Shikoku when it opens its doors to the public on March 20, 2020. It's located inside Utazu Seaside Park in the town of Utazu where it will exhibit the creatures that live in Shikoku and feature the many different seaside landscapes located there. But the aquarium won't just stop at showcasing animals, it will also be a cultural facility where you can learn about the history, culture, and natural environment of Shikoku, and there'll be artwork perfect for the Setouchi Triennale contemporary art festival which is held around Seto Inland Sea every three years.

Shikoku Aquarium

Address: Utazu Rinkaikoen, 4-1 Utazu, Ayauta District, Kagawa

Opening Hours:

[March 20, 2020 – September 30, 2020] 9:00-18:00

[October 1, 2020 – March 19, 2021] 10:00-18:00

[Golden Week/Summer Break] 9:00-21:00

No Fixed Holidays

Price: General (16+ Years & High School Students) ¥2,200 / Children (Elementary School Students) ¥1,200 / Toddlers (3+ Years) ¥60

Official Website: http://shikoku-aquarium.jp/

Well-Known & Little-Known-Good Cherry Blossom Spots

Kagawa Prefecture is home to many spots that offer beautiful sounds and sights throughout the four seasons. Cherry blossom season is right around the corner in Japan, so let's take a look at some must-visit spots, both popular and little-known good ones.

■Well-Known Spots

Ritsurin Garden (Takamatsu)

One of the most famous historical gardens in Japan, Ritsurin Garden is home to around 320 Yoshino cherry trees, whose pink colour reflects beautifully off the lake together with the 1,000 green pine trees.

Marugame Castle (Marugame)

Marugame Castle is one of only 12 castle in Japan to have an original wooden tenshu, or castle tower, built. From the great height of the castle's stone wall, which is the tallest in Japan, one can gaze down at 1,000 cherry blossom trees in bloom.

■Little-Known-Good Spots

Megijima (Takamatsu)

Around 3,000 cherry trees bloom on t he island, including Yoshino cherries, yama-zakura, and yae-zakura, which roll from the port to the lighthouse.

Asahiyama Forest Park (Mitoyo)

Asahiyama Forest Park is located on the peak of Mt. Asahi, up 238 meters high. There, you can witness 2,000 vibrant cherry blossom trees bloom in spring, including Yoshino cherries. The park's observation deck is popular too, offering a 360° panoramic view.

Experience the world of bonsai in Kagawa, the only place in Japan which produces pine bonsai trees

Interest in bonsai trees continues to grow every year not just in Japan but overseas too. The number of people incorporating them into their lives as interior decoration is on the rise. Kagawa Prefecture is the only place in Japan which produces pine bonsai trees, the largest places being Kinashi and Kokubunji in Takamatsu. There are around 60 bonsai makers in both of these towns, so you are sure to spot some if you walk through them.

Official Website: https://takamatsu-bonsai.com/en/

The new Takamatsu Bonsai no Sato is also set to open on April 17, which will include an information centre providing information on bonsai culture in Takamatsu, and there will be workshops too. Whether you're new to bonsai or a pro, there's something for everyone to enjoy.

Takamatsu Bonsai no Sato

Grand Opening: April 17, 2020

Address: 353-1 Kokubunjichō Kokubu, Takamatsu, Kagawa

Travel to Kagawa this spring to enjoy the cherry blossoms and pay a visit to the new Shikoku Aquarium.

Kyoto Aquarium to House 20 Types of Jellyfish With New 'Jellyfish Wonder' Area

Kyoto Aquarium is currently undergoing a large-scale renovation and is set to reopen on April 29, 2020.

When it reopens, visitors will be able to visit the new jellyfish area, called "Kurage Wonder" (Jellyfish Wonder), which will span 350㎡ in width and 40 meters in length. It will house the largest number of different species in western Japanーup to 20ーwith around 5,000 individual jellyfish to see, like the northern sea nettle and pacific sea nettle.

The area begins at 10 individual water tanks where you can see how moon jellyfish change and grow. It then moves onto the 6.5 meter circumference "GURURI" panorama tank which offers a 360° view of 1,500 moon jellyfish.

This tank is entered through an arch, which once you pass through leads you under the tank where your vision is filled with the sight of countless moon jellyfish.

The new "Kyoto Jellyfish Research Lab" has also been built where guests can observe the staff breeding and researching jellyfish on a day-to-day basis. Enjoy hearing how the jellyfish are cared for behind the scenes while chatting together with the staff. Various other activities you can participate in will be introduced in the future too.

Discover the wonderful world of jellyfish at the newly-renovated Kyoto Aquarium.

Information

Kyoto Aquarium

Address: 35-1 Kankijicho, Shimogyo Ward, Kyoto

Reopening: April 29, 2020

Access: 15-minutes on foot west from Kyoto Station's Central Exit / 7-minutes on foot from Umekōji-Kyōtonishi Station via the JR San'in Main Line

Official Website: https://www.kyoto-aquarium.com/en/

NAKED SAKURA AQUARIUM: Cherry Blossoms and the Sea Come Together at Tokyo's Maxell Aqua Park

Maxell Aqua Park Shinagawa has announced the holding of a new exhibition entitled "NAKED SAKURA AQUARIUM" which will run at the Tokyo-based aquarium from March 1, 2020 to April 19, 2020.

Offering "cutting-edge Tokyo entertainment," the exhibition is combined music, lighting, and visuals with living beings. Using the latest in leading edge tech, visitors will be treated to a visual treat of animals living harmoniously with the season. The exhibition promises you will notice something new with each visit. Enter a world of spring like never before as cherry blossoms and the ocean come together through digital art.

Cherry Blossom Tayori

The entrance to the aquarium will be in full bloom with cherry blossoms. The water tanks in the centre will be perfectly pink and house madai snapper, a type of fish also nicknamed "sakura-dai" around this season.

Spilling Cherry Blossoms

This area will be like an atrium, with water tanks and showcases lined up beautifully next to each other and decorated with cherry blossom art flowers. The water tanks, which bring to mind the image of a "banquet," will house sakura-dai, sea goldie, and other fishes.

Dancing Cherry Blossom Garden

In the immersive Patterns area, you can see the "possibilities" of the four seasons as digital art works to combine a seasonal landscape with the sea creatures on display.

Also in the Dancing Cherry Blossom Garden will be Cape penguins who will put on a performance using their physical abilities. The performance, which is split into two parts, will make use of projection mapping. The first part will see the bloom of yaezakura cherry trees, while the second part will have jacaranda, also called the "purple cherry blossom," a flower that blooms in South Africa where Cape penguins originate.

Dolphin Performance Day Version – Cherry Blossom Dance

The daytime dolphin performance sees visitors gathering in the amphitheatre. This interactive performance is inspired by springtime banquets and Hanami flower-viewing. Enjoy seeing the dolphins dance high-speed to the rhythm of Japanese rock music.

Dolphin Performance Night Version – Cherry Blossom Story

The nighttime dolphin performance uses the water, lighting, visuals, and music to celebrate cherry blossoms in the evening. Enjoy a more delicate, but powerful performance from the dolphins, and see the flowers in all their beauty.

Jewellery Fish Rumble

The ceiling and walls of the spacious Jewellery Fish Rumble area all have reflective mirror surfaces. Countless pink and blue illuminations light up this evening cherry blossom-themed area, where you can enjoy a digital Hanami experience together with the jellyfish.

Katou Flower Lantern

The NAKED SAKURA AQUARIUM cafe and bar is adorned with a cylindrical water tank with illuminated coral. The cafe/bar is inspired by Katou, which is when the evening light feels like it is being lit up by fully bloomed cherry blossom flowers. The menu includes a selection of cherry blossom and matcha drinks, as well as a selection of sweet treats perfect for the Hanami season.

3 Dango & Mini Taiyaki – ¥500 (Red Bean Paste/Cream)

Sakura Mizu-warabi Rice Cake – ¥500

Enjoy a completely different kind of Hanami experience at Maxwell Aqua Park.

*Photos are for illustrative purposes only

Information

NAKED SAKURA AQUARIUM at Maxell Aqua Park Shinagawa

Running: March 1, 2020 – April 19, 2020
Address: Shinagawa Prince Hotel, 4-10-30 Takanawa, Minato Ward, Tokyo
Opening Hours: 10:00-22:00
Prices: General (High School Students and Older) ¥2,300 / Elementary-Middle School Students ¥1,200 / Children (4+ Years) ¥700
Exhibition Page: http://www.aqua-park.jp/special/snowaquarium2019/en_index.html

Maxell Aqua Park Shinagawa Official Website: http://www.aqua-park.jp/aqua/en/

Haikyu!! Season 4 To The Top Fair to be Held at Animate Stores Across Japan

Animateーa chain of anime and manga related merchandise storesーhas announced that it will hold a fair to promote season four of the ongoing TV anime series Haikyu!! from February 15.

Haikyu!! is a popular manga series written and illustrated by Haruichi Furudate and serialised in Weekly Shonen Jump. The series has spawned an anime series and stage adaptation. The fourth season of the anime series began airing on January 10 this year.

The event will be held at Animate stores from February 15 to March 8 where fans of the series can get their hands on exclusive merchandise. Those who purchase or pre-order items will receive one of 8 possible postcards as pictured above featuring the cast of characters.

A special pop-up shop at the Sendai and Yokohama Vivre branches of Animate will also be open from February 15 to March 1, which will include not only merchandise, but a chance for fans to deepen their love of the series even more. Those who purchase any of the items at those shops will receive one of the above-pictured postcards. Exclusive big-size badges will also be sold in Sendai and Yokohama, so don't miss out.

©Haruichi Furudate/Shueisha・"Haikyu!!" Production Committee・MBS

Information

Haikyu!! TO THE TOP Promotional Fair

Running: February 15, 2020 – March 8, 2020

Location: Animate stores in Japan

Notes: If you purchase Haikyu!! related merchandise or pre-order the season 4 DVD or Blu-ray during the fair you will receive one of 8 possible postcards. For every ¥1,000 spent on the manga, books, or character merchandise, for every CD, DVD or Blu-ray bought, and for every DVD or Blu-ray pre-ordered (collectively over ¥1,000), you'll receive a present.

Haikyu!! TO THE TOP Animate Only Shop

Running: February 15, 2020 – March 1, 2020

Location: Animate Sendai / Animate Yokohama Vivre

Notes: If you purchase Haikyu!! related merchandise you'll receive one of 12 possible postcards. For every piece of character merchandise bought, and for every CD, DVD or Blu-ray bought, you'll receive a present.

Fair Website: https://www.animate-onlineshop.jp/contents/fair_event/detail.php?id=103322

Animate Only Shop Webpage: https://www.animate.co.jp/onlyshop/302652/

The World's First Living Siren Displayed at Ikebukuro's Sunshine Aquarium to Spook Visitors

From January 23 to March 8, 2020, the family-friendly Sunshine Aquarium is getting a horror makeover by haunted house producer Hirofumi Gomi. From sight to sound, the aquarium's unique characteristics have been transformed to trigger your senses. The aquarium will even display a legendary siren.

The horror aquarium debuted in 2016 as the Noroi no Mizugushi (Curse of the water comb). Following its great response, it returned in 2017 as Ayakashi no Ningyo (Ghost Mermaid) and again in 2018 as Shichinin Misaki (Themed on the legendary seven ghosts spotted in lakes and oceans). The horror aquarium has raked in a total of 65,000 visitors. This year's Siren is bound to bring as much of a scare as its predecessors.

A siren is a creature that takes on the appearance of a beautiful woman. Known to lurk in the depths of the sea, they lure in sailors with their beautiful singing to sink their ships. Stories of sirens have been told throughout the years in countries all over the world. The seductive and simultaneously deadly creature has aroused our curiosity for decades, leading to Sunshine Aquarium actually capturing one to display to the public. This one is particularly terrifying. Nobody knows what it is capable of.

Note: Sirens are not real creatures and the displayed siren is not real either.

What was once a relaxing and soothing atmosphere has taken a complete turn. Goosebumps will raise on your skin as you delve deeper into the unknown depths of the aquarium with family and friends.

Information

Horror Aquarium: Umi no Yōjo "Siren"- Ikiteiru Kyōfu-

Running: January 23 ー March 8, 2020

Opening Hours: 18:30 – 21:00
*Closes at 22:00 on Fridays, Weekends and National Holidays (Last Entry: 30 mins before closing time)

*Sunshine Aquarium's usual exhibition period runs until 18:00. (Last Entry at 17:00)

Venue: Sunshine Aquarium (3-1, Higashiikebukuro, Toshima, Tokyo
Price: Two Adults (Above High-School-Age): ¥3,500/ One Adult: ¥2,200/ Child (Middle School/ Elementary School-Age): ¥1,200/ Infant ( 4-years-old and over): ¥700
*Young children must be accompanied by an adult or a carer of at least high-school-age. Those under 4-years-old can only enter with the consent of their accompanying carer or adult.

Advanced tickets are currently being sold as of December 19, 2019. Please visit the aquarium's official website for more information on tickets and year-long passport memberships.

Sunshine Aquarium Official Website: https://sunshinecity.jp/en/

Artist FUKI Collaborates with LINE MUSIC to Make Romantic Bubble Tea at Tai Parfait Cafe

LINE MUSIC-Bu is LINE MUSIC's research team that studies popular music trends among teen girls. LINE MUSIC-Bu teamed up with love song-writer FUKI, who is releasing one love per month for 12 months, in order to produce a new bubble tea drink and tapioca dessert especially for couples. The drink and dessert is being sold at Tai Parfait Cafe, Yokohama World Porters. FUKI will also perform at a free live gig at Yokohama World Porters on December 25, which is the last day of collaboration drink and tapioca dessert sales. 

The collaboration pair-tapi contains two different drinks in a twin split cup. One side of the cup is filled with cafe au lait and the other with a strawberry-flavoured drink. Both sides are stuffed with yummy tapioca pearls and are topped with a mountain of cream. This cute drink sees the perfect opportunity to get closer to your partner. 

The second collaboration treat is the Tai Parfait Tapi which is stuffed with strawberries and tapioca pearls. The adorable tai fish is made from sweet dough – and it has cute eyelashes too. The fish's enormously wide mouth can be seen chomping down on the delicious dessert. 

Enjoy a romantic bubble tea and make sure to check out FUKI's love song LOVE and CRY, which is based on a true story. The song is currently available on a number of digital music services. 

Teen girls full of love problems find FUKI'S songs highly relatable. As Yokohama World Porters will be lit up for Christmas, you just can't miss FUKI's performance on December 25.

Information

LOVE and CRY / FUKI

Digital Release: November 11, 2019

Link: https://jvcmusic.lnk.to/loveandcry

Tai Parfait Cafe

Selling Until: December 25, 2020

Location: Tai Parfait Cafe, Yokohama World Porters (Floor 5) 

Address:  2 Chome-2-1 Shinko, Naka Ward, Yokohama, Kanagawa 

Opening Hours: 11:00 ー 22:00

Christmas Free Live Gig

Event Name: FANTASTIC CHRISTMAS

Dates: November 8 ー December 25

FUKI's Performance Date: December 25

Times: 14:00 ー 14:30 and 16:00 ー 16:30 (Stage 2)

Location:Yokohama World Porters Kishamichi Promenade, 2nd Floor Stage 

Price: Free

Pompompurin Cafe Reveals Christmas Menu For Harajuku, Yokohama & Umeda Branches

The Harajuku, Yokohama and Umeda branches of the Pompompurin Cafeーthe cafe chain centred on Sanrio's popular character Pompompurinーis serving up two cute Christmas menu items this year from December 1 to 25.

*Food names below are translated from Japanese

Hurry Up Santa – Pompompurin Cheese Keema Curry – ¥1,290 (Before Tax)

This rich and spicy keema curry is made with Parmesan cheese, cheddar cheese, and natural cheese. The colourful stars are made from carrot and paprika, while the spiralled Christmas cheese is a combination of spinach and mashed potato. Purin is made of rice and is waiting in anticipation for Santa to deliver his present. You'll see he's holding a stocking which is a made from bread and walleye pollack mayo. A hearty dish that is both delicious and adorable

Snowman Pompompurin – Snow Covered Chocolate Tart ¥1,190 (Before Tax)

Pompompurin has turned into a vanilla ice cream snowman and is standing next to a pistachio cream Christmas tree. They are both atop a rich chocolate tart. This cute dessert is like a Christmas garden straight out of a children's picture book.

If you decide you want to spend your Christmas with Pompompurin this year, then you'll receive a free lunch mat when you order food and a free coaster when you get a drink. These are both limited in quantity, so don't miss out!

©1996, 2019 SANRIO CO., LTD. APPROVAL NO.S603310

Information

■Pompompurin Cafe Harajuku

Address: CUTE CUBE HARAJUKU 3F, 1-7-1 Jingumae, Shibuya, Tokyo

Opening Hours: 11:00-21:00 (Food Last Orders 20:00 / Drinks Last Orders 20:30)

Access: 3-minutes on foot from the Takeshita Exit at Harajuku Station

TEL: 03-5786-0770

■Pompompurin Cafe Yokohama

Address: Yokohama Sotetsu Square, 2-1-5 Minamisaiwai, Nishi-ku, Yokohama-shi

Opening Hours: 10:00-21:00 (Last Orders 20:30)

Access: 5-minutes on foot from West Exit at Yokohama Station via JR

TEL: 045-311-6750

■Pompompurin Cafe Umeda
Address: Hankyu Sanbangai South Wing B2F, 1-1-3 Shibata, Kita-ku, Osaka-shi
Opening Hours: Weekdays 11:00-22:00 (Last Orders 21:30) / Weekends & Holidays 10:00-22:00 (Last Orders 21:30)
Access: 3-minutes from Osaka Station via JR
TEL: 06-6292-7140

Pompompurin Cafe

Official Website: http://pompom.createrestaurants.com