Fresh Cream Dessert Store "Milk" to Open in Shibuya Marui on April 29
Milk is a popular store in Japan selling products filled with fresh cream. If you've come across it, you'll have seen the lines of people waiting to get their fingers into some tasty treats.
Doors to a new branch of the store are opening at Shibuya Marui on April 29.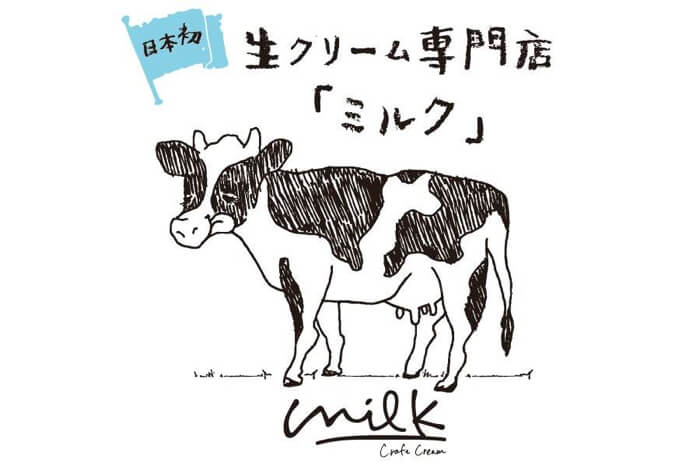 The centrepiece of the desserts sold here – the fresh cream – is made with milk from Hokkaido. It uses an original blend that gives it a full-bodied but refreshing aftertaste.
Air is also delicately beaten into the cream to make it smooth and fluffy so it melts in your mouth.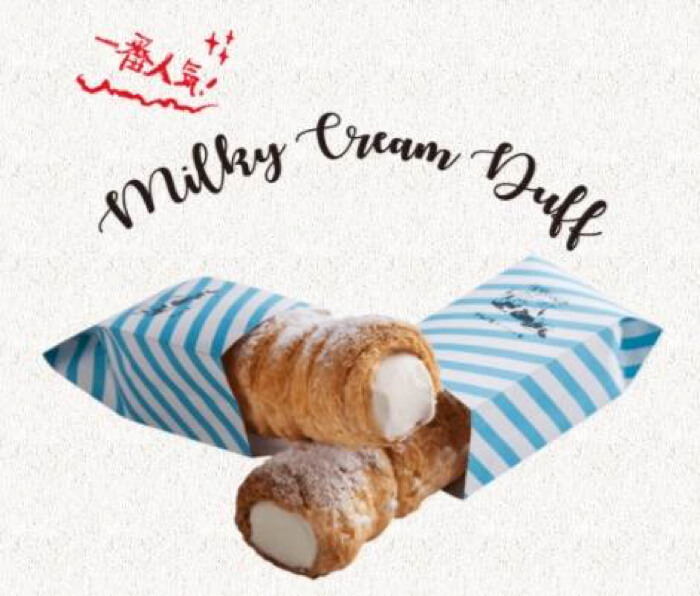 Milky Cream Puff
Price: ¥350 each (pre-tax)
The menu has plenty to offer, all packed with the store's special fresh cream. Enjoy the Milky Cream Puff sticks which are crunchy on the outside, or the Milky Soft Parfait which comes which lets you taste tapioca, milk purin, fresh cream and soft serve all at once.
Fuwatoro Chiffon Cake
Price: ¥780 (pre-tax)
Soft Cream Shake
Price: ¥680 (pre-tax)
The menu also includes Fuwatoro Chiffon Cake and as well as the Sofr Cream Shake, aka the soft cream you can drink. Lovers of fresh cream won't be able to resist this line-up!
Why not stop by Milk to indulge in the trust deliciousness that fresh cream has to offer?
■Information
Milk
Address: Shibuya Marui, 1-22-6 Jinnan, Shibuya, Tokyo
Opening: April 29, 2018
TEL: 03-3464-0101
Milk Official Homepage:
Shibuya Marui Official Homepage:
RELATED ENTRIES
Grab Tokyo Souvenirs at Roppongi Hills' New Food & Gift Area

The new "Food & Gift Area" at Roppongi Hills is set to open in the North Tower on Floor B1F on April 10 where you can get your hands on a huge range of exclusive gifts and souvenirs, as well as quick and delicious food. It will house a total of 19 stores; that's 12 shops selling Japanese confections and other picks perfect as gifts to yourself or someone else, and 7 eateries offering takeout and eat-in options.

In the gift area, 12 storesーa mix of new establishments as well as well-known businesses setting up shop in Tokyo for the first timeーwill open their doors, such as the New Style Ginza Sembikiya cafe, Kashi no Kirokujo which sells exquisite cakes that are hard to get your hands on, and more. And there's a whole range of Roppongi Hills exclusives too, like artistic yokan sweet bean jelly inspired by Tokyo's streets, castella with the Roppongi Hills logo on it, senbei rice crackers, assorted sliced mochiーthe list goes on.

Gift Area – Roppongi Hill Exclusives

Tokyo Enbo – ¥4,320 (Tax Included) @ Wagashi Yui

Recreated are the landmarks of Tokyo in the morning sun, with the beautiful silhouettes of the city's skyrise buildings formed into sweet bean jelly. Try and find Roppongi Hills in this picturesque perfection.

Ukeian Castella Wasanbon – ¥2,160 (Tax Included) @ Ukeian

This castella cake is made rich and moist thanks to the eggs laid by specially-bred chickens. It's made with wasanbon fine-grained Japanese sugar,  which gives it a tantalizing smell. The logo stands out too, giving it a beautiful appearance in addition to the delicious flavour.

Roppongi Hills Sanmaido (5 Included) – ¥702 (Tax Included) @ Ginza Matsuzaki Senbei

The senbei rice crackers have a gentle flavour, handcrafted one by one by the shop's master chefsーincluding the Roppongi Hills logo design of these tile-shaped rice crackersーby adding eggs and sugar to wheat flour.

Kinanomiya Sando (Exclusive Packaging/3 Included) – ¥540 (Tax Included) @ KISSHOKARYO

KISSHOKARYO Japan Premium "Miyabi" – ¥1,870 (Tax Included) @ KISSHOKARYO

Munch down on these delicious chocolate cookies made with high quality soy flour, almonds, and oat milk.

They're also serving a special Japanese parfait for eating-in, made with specially-selected Uji matcha from Kyoto and homemade soy flour.

Sankaku Box Sando – ¥1,080 (Tax Included) @ New Style Ginza Sembikiya

Roppongi Hills Exclusive Melon Parfait – ¥2,700 (Tax Included) @ New Style Ginza Sembikiya

Added to the thick and fluffy bread is fresh fruit and subtly sweet cream to make a refreshing sandwich. The chocolate sandwich in the left of the picture is exclusive to Roppongi Hills.

The must-try is the melon parfait, which is made with melons grown in Shizuoka that have been specially selected by the shop.

Cake Shop Miracle Collaboration Set – ¥3,456 (Tax Included) @ Kashi no Kirokujo

This set is an assortment made by four long-standing cake makers: Akasaka Kakiyama, Obusedo, Ganyudo, and Nanohana.

Roppongi Lingotto – ¥3,240 (Tax Included) @ Bicerin

Caffe mocha al Bicerin – ¥660 (Tax Included) @ Bicerin

Served in a limited-edition Roppongi Hills box, the "Roppongi Lingotto" bears the shopping complex's logo, and is a popular gift that was even served to members of the Japanese government at the G7 Ise-Shima and G20 Osaka summits.

When dining in, you can order a rich bicerin which is a mix of espresso, milk, and chocolate sauce topped with whipped cream that's shaped to look like a hill.

Raw Pound Cake Assortment – ¥1,700 (Tax Included) @ Pavlov

Choose from seven adorable small-size cakes, including cream vanille, pistachio fruits rouges, chocolate orange, very berry, Kyoto matcha, caramel nuts, and mont blanc.

Roppongi Exclusive GIFT – ¥918 (Tax Included) @ Jiichiro

Wrapped in special Roppongi Hills packaging, this box contains an assortment of Jiichiro treats from their popular baumkuchen to rusk, gateau chocolat, and more.

In the Food Area, seven restaurants will open serving quick, authentic food. A number of popular restaurants are also making an appearance, like Kyu Yamutei which is famous for its Osaka spice curry, as well as THAI STREET FOOD by KRUNG SIAM. The menu line-ups will include dishes exclusive to Roppongi Hills.

Food Area – Roppongi Hill Exclusives

Curry-Gear MAX – ¥1,650 (Tax Included) @ Kyu Yamutei

This curry combines unique ingredients and spices. The ingredients and roux are switched up every month, and you can pick from one to four rouxs.

Khao Soi No-Broth Mazemen Noodle Curry – ¥1,200 (Tax Included) @ THAI STREET FOOD by KRUNG SIAM

This mazemen noodle curry is a spin on the hugely popular khao soi Chiang Mai ramen, made without any broth. It has the full-bodied aroma and spiciness that comes with Thai-style curry. Change up the flavour with a topping of homemade pepper.

Fisherman's Seafood Spaghetti alla Pescatora – ¥1,848 (Tax Included) @ Pasta & Pizza Uota

Piled with plenty of seafood, this luxurious and specially-made tomato pasta wastes no flavour of the fish used for its rich sauce.

Brioche Vendée N – ¥864 (Tax Included) @ Boulangerie Bonheur

A traditional brioche from Vendée in France. It's combined with orange flower water and contains raisins soaked in Kirsch. The center is moist and just melts in your mouth.

Seafood & Eel Dashi Chazuke – ¥1,320 (Tax Included) @ Dashi Chazuke En

Another exclusive to Roppongi Hills is this chazuke, filled with all the flavours and sea like tuna, porgy, eel, and more. Try it as it is first and then pour over the broth.

Spring Vegetables & Fried Fish Lunch Box – ¥900 (Tax Included) @ Dexee Deli

A set of seasonal vegetables like edible chrysanthemums, asparagus, and cabbage, combined with fried fish, rice, and bamboo shoots.

Find a whole world of food, desserts and gifts at Roppongi Hills' new Food & Gift Area.

Information

Roppongi Hills Food & Gift Area

Address: 6-10-1 Roppongi, Minato Ward, Tokyo

Grand Opening: April 10, 2020

Official Website: https://www.roppongihills.com/

5 Must-Eat Cherry Blossom Foods & Desserts at Hotels in Tokyo

We're keeping the cherry blossom theme running here on MOSHI MOSHI NIPPON as we approach spring. Today, we're showcasing something for those planning a trip to Tokyo for the cherry blossom and Hanami season: 5 must-try cherry blossom foods and desserts served at hotels across Tokyo.

Sakura Strawberry Afternoon Tea at InterContinental Tokyo Strings


Sakura Strawberry Afternoon Tea – ¥4,800

The fraisier is a strawberry cake said to represent the coming of spring in France. At Rhythmos, a cafe and bar at InterContinental Tokyo Strings, it's served in a glass so you can see all the delicious insides, from the round-sliced strawberries to the beautiful green pistachio mousseline cream. The pure white crémet d'Anjou has a fluffy texture and is mixed with refreshing and sour strawberry and raspberry sauce which elevates the flavour of the fromage blanc.

Other treats to pick from include the cherry blossom ganache tart which has a faint cherry blossom fragrance, cherry blossom and strawberry cream-stuffed macarons, strawberry daifuku, and more―all with spring flavours and colours.

The savoury line-up too offers some elegant and unique items. There's the sandwich wraps which include cherry blossom leaf-topped grilled chicken with a lining of shredded dried plum, strawberry ceviche with grilled scallops, and much more.

▶︎Sakura Strawberry Afternoon Tea

Running: March 1, 2020 to April 30, 2020

Location: Rhythmos Café and Bar (InterContinental Tokyo Strings)

Time: 14:00-18:00 (Last Orders 16:30)

Price: ¥4,800 per person

Official Website: https://intercontinental-strings.jp/?updatelang=yes

InterContinental Tokyo Strings

Address: 2-16-1 Konan, Minato Ward, Tokyo

Official Website: https://intercontinental-strings.jp/?updatelang=yes

For more details, check out our previous article here: Cherry Blossom Themed Menu to be Served at InterContinental Tokyo Strings in Spring 2020

Cherry Blossom Afternoon Tea at Hotel Chinzaso Tokyo


Cherry Blossom Afternoon Tea

On the top plate is a collection of four pink and white desserts. This includes some tempting macarons which are filled with a cherry blossom ganache. The macarons themselves are vanilla flavoured, packed with cherry blossom cream, and have prints of delicate cherry blossom flowers on them.

On the lower tier are crunchy pie sandwiches filled with a cream cheese that is laced with cherry blossom leaves, while the bottom tier is an assortment that includes refreshing shrimp, grapefruit and asparagus sandwiches, and more.

▼Cherry Blossom Afternoon Tea

Running: February 17, 2020 – April 12, 2020
Time: 12:00-18:00
*On weekdays between January 6, 2020 to February 28, 2020, the afternoon tea will be served from 14:30-18:00 due to the holding of the sweets buffet
Location: Le Jardin at Hotel Chinzaso Tokyo
Prices: Cherry Blossom Afternoon Tea ¥4,000 / With Welcome Drink ¥4,500

Hotel Chinzaso Tokyo

Address: 2-10-8 Sekiguchi, Bunkyo Ward, Tokyo

Official Website (English): https://www.hotel-chinzanso-tokyo.com/

For more details, check out our previous article here: Cherry Blossom Afternoon Tea in Japan: Hotel Chinzaso Tokyo's Beautiful Floral Menu

Sakura Picnic Basket at Grand Hyatt Tokyo's Steak House "The Oak Door"


Sakura Picnic Basket – ¥5,500

The Oak Door is noted for its use of high quality ingredients prepared in a dynamic way. This spring, they have the perfect pick to give you that feeling that the Japanese Hanami season is here with a cherry blossom picnic basket. This stylish selection has the lot: food, dessert, glasses, and cutlery. The burgers bear pink buns which are stuffed with prime beef patties, pastrami beef, and veg. They also have skewered vegetables too like radishes. Seeking that springtime sensation? Then order your very own Sakura Picnic Basket!

▼Sakura Picnic Basket at Grand Hyatt Tokyo's Steak House "The Oak Door"

Running: March 1, 2020 – Mid April 2020
Time: 9:00〜22:00

Price: ¥5,500

Location: The Oak Door (Grand Hyatt Tokyo Floor 6F)

Grand Hyatt Tokyo

Address: 6-10-3 Roppongi, Minato, Tokyo

Official Website (English): https://www.hyatt.com/en-US/hotel/japan/grand-hyatt-tokyo/tyogh/offers

Gorgeous Springtime Cherry Blossom Set at Keio Plaza Hotel

At eight of Keio Plaza Hotel's restaurantsーwhose menus span traditional Japanese dishes, French food, Chinese cuisineーthey are cooking up their own unique cherry blossom servings.


"Kadode" Lunch & Dinner – ¥15,500 @ Soujuan

A traditional kaiseki-style Japanese course consisting of a bounty of luxury ingredients like Japanese Black wagyu beef, caviar, and more.


"contente" French Lunch – ¥9,000 @ Duo Fourchettes

You need only look at the dishes served at Duo Fourchettes to understand the level of quality and beauty that goes into their dishes. This French lunch line-up is packed with plenty of seasonal spring ingredients, and there's even a succulent strawberry-packed dessert to indulge in.

▼Gorgeous Springtime Cherry Blossom Set at Keio Plaza Hotel

Running: March 1, 2020 – April 30, 2020
Prices:
"Kadode" Lunch & Dinner – ¥15,500 @ Soujuan
"contente" French Lunch – ¥9,000 @ Duo Fourchettes

Keio Plaza Hotel
Address: 2-2-1 Nishi-Shinjuku, Shinjuku, Tokyo

Official Website (English): https://www.keioplaza.com/

Spring Sakura Sweets & Pastries at Grand Nikko Tokyo Daiba

At the "Bakery & Pastry Shop," which is managed directly by the hotel, they have a beautiful choice of desserts perfect for Hanami flower-viewing.


Sakura Opera – ¥610

This three-layered cake is made up of matcha joconde biscuit, adzuki and cherry blossom butter cream, and strawberry jelly. It's also topped with white chocolate by French premium chocolate company Valrhona.


Spring Milk Cream – ¥320

The pastry of these eclairs are made with plenty of milk and are filled with a homemade cherry blossom milk cream. The cherry blossom petals on top are pickled in salt to give a slight salty bite, contrasting deliciously with the sweetness of the cream.

▼Spring Sakura Sweets & Pastries at Grand Nikko Tokyo Daiba

Running: March 1, 2020 – April 30, 2020
Time: 10:00-20:00
Location: Bakery & Pastry Shop at Grand Nikko Tokyo Daiba
Prices:
Sakura Opera – ¥610
Spring Milk Cream – ¥320

Grand Nikko Tokyo Daiba
Address: 2-6-1 Daiba, Minato Ward, Tokyo
Official Website (English): https://www.tokyo.grandnikko.com/eng/

Which of these picks has your mouth watering the most? If you're travelling to Tokyo for the springtime cherry blossoms, why not book at one of these hotels and start your trip with a delicious sakura treat?

Garrett Popcorn Reveals Cherry Blossom Pink Strawberry & White Chocolate Popcorn Flavour

American gourmet popcorn brand Garrett Popcorn Shops® has revealed its new cherry blossom pink coloured, strawberry and white chocolate flavoured popcorn "Very Berry White Chocolate," along with the new "Garrett Sakura Tin"ーboth of which will be released tomorrow on February 15 in limited quantities.

Very Berry White Chocolate: Small ¥580/Medium ¥1,030/Large ¥1,670/Jumbo ¥3,300/Quarter Tin ¥1,700/1 Gallon Tin ¥4,300/2 Gallon Tin ¥8,250

Also released for spring last year to overwhelming popularity, the "Very Berry White Chocolate" popcorn takes Garrett Popcorn's fruity, sweet and sour "Strawberry Caramel Crisp™" flavour, coats it in sweet white chocolate, and sprinkles it with strawberry flakes to create a truly succulent strawberry treat, which is made even more delicious with the milk white chocolate. Its pink colour also brings to mind images of Japan's cherry blossoms.

Garrett Sakura Tin/Quarter Tin: From ¥1,130

The Garrett Sakura Tin has been sold every spring since 2014, and makes a return once again for 2020, covered in beautiful cherry blossoms in full bloom.

The pink-on-pink combination is a great Valentine's Day present, for a springtime movie nightーwhatever takes your fancy!

Information

Garrett Sakura Tin

Running: February 15, 2020 – April 15, 2020 (Available while supplies last)

Available: At all Garrett Popcorn Shops® branches in Japan

*Limited quantities sold per day. Available while supplies last.

*Jumbo and 2 Gallon sizes available at Shisui Premium Outlets and LaLaport Expo City branches only.

Official Website: http://jpgarrettpopcorn.com/

Tokyo's GINZA SIX Reveals Colourful Spring Dessert Line-Up

GINZA SIXーthe largest shopping complex in Ginzaーhas unveiled some of the incredible desserts arriving for this spring only.

Ginza is famous for its host of restaurants which serve up gorgeously gourmet food throughout the four seasons, and so you can expect GINZA SIX's line-up to be something special. Let's take a look.

Strawberry Sweet Afternoon Tea – ¥4,200 (Before Tax) @ THE GRAND GINZA

"Shun'un" pecial Make Maruto Parfait – ¥2,300 (Before Tax) @ Nakamura Tokichi Honten Ginza

Strawberry Mix Candy – ¥593 (Before Tax) @ Candy Art Museum by PAPABUBBLE

The line-up of delectable treats at GINZA SIX won't just satisfy your sweet tooth, but your eyes too due to their delightful appearanceーlike the strawberry and roses littered afternoon tea, or the strawberry candy which is made using only the best available strawberries. The shops and restaurants at GINZA SIX have ensured to prepare sweets that will bring spring to mind Japanese springtime and the pink cherry blossoms.

Matcha Ganache – ¥1,800 (Before Tax) @ Tsujiri

Matcha & Tamba Azuki Bean Cake – ¥2,600 (Before Tax) @ Marlowe

Kurozu Vinegar Raw Chocolate – ¥1,500 (Before Tax) @ Shoubunsu Vinegar Brewery

Other tantalising treats include more Japanese-tasting selections, like cookies injected with a rich matcha ganache, raw chocolate doused with kurozu vinegar, gluten-free pound cake made with freshly-made Uji matcha, and more.

Of course, since this is a spring line-up, there are flowery fusions to find too, like candy topped with edible flowers and rose flavoured frozen fruit bars.

Rose & Raspberry – ¥520 (Before Tax) @ PALETAS

Spring Edible Flower Lollipops – ¥555 (Before Tax) @ Candy Art Museum by PAPABUBBLE

Aya Farm Saku Mango Selection – ¥3,800 (Before Tax) @ Aya Farm

If you're in Tokyo for spring, the cherry blossoms and hanami, then be sure to stop by GINZA SIX to indulge yourself this season.

Information

GINZA SIX

Address: 6-10-1 Ginza, Chuo Ward, Tokyo

Opening Hours: Shops/Cafes (B2F-5F) 10:30-20:30 / Restaurants (6F, 13F) 11:00-23:00

*Business hours differ from shop to shop.

No Fixed Holidays (But shops and restaurants will be closed on January 1, 2020)

Access: Directly connected to Ginza Station via the Tokyo Metro Ginza Line, Marunouchi Line and Hibiya Line.

TEL: 03-6891-3390

Official Website: http://ginza6.tokyo/

Krispy Kreme Doughnuts Unveil Fruity Barbapapa Doughnut Line-Up

Krispy Kreme Doughnuts Japan has announced its second doughnut collaboration with internationally popular French character Barbapapa, which is celebrating its 50th anniversary this year. Three new doughnuts are being released as part of the "Fruity Barbapapa" series on February 26.

Barbapapa x Strawberry: ¥290

The shape-shifting Barbapapa comes in a strawberry flavour. The fluffy doughnut is coated in a sweet and sour strawberry chocolate and is filled with fresh strawberry pieces.

Barbapapa x Apple: ¥290

Barbabravo is one of Barbapapa's sons, and he comes in a bright-red apple flavour.  He's coated with caramel and is filled with a tangy apple nappage and smooth, rich apple cream.

Barbazoo x Mango: ¥290

The nature-loving Barbazoo, another one of Barbapapa's sons, comes in a bright yellow colour and is mango flavoured. It's made from delicious alphonso mango and filled with a rich cream puree for a tropical treat.

Recommended Dozen (12 Included): ¥2,000

Recommended Half Dozen (6 Included): ¥1,250

Recommended Box (3 Included): ¥840

Get them in a box of three, six, or twelve, and enjoy the cute and wonderful world of Barbapapa in doughnut form!3

*Limited-edition box available while supplies last. Mercedes me Tokyo HANEDA branch of Krispy Kreme Doughnuts not participating.

Japan's First Muslim Eyelash Extension Salon 'Crazy Beauty' Opens in Shibuya

Japanese eyelash extension salon Crazy Beauty has announced its efforts to strengthen its services to cater towards its increasing number of Muslim customers. The salon released a new list of policies in English including using no pork-derived ingredients in its glue, a comment about the alcohol level of its glue, and more.

"Muslim Welcome" is the name of this new initiative launched by Crazy Beauty with support from the Made in Japan Halal Support Committee.

Prayer Space

Crazy Beauty provides prayer mats and has a space for its Muslim clients to pray.

Consideration For Muslim Customers

Since Muslims are not able to use products with alcohol in them, Crazy Beauty provides Halal-certified Clean Shu! Shu! Neo, which has alkali ions in it that kills bacteria, and it also cleans and smells since. Crazy Beauty also uses MOMA Water, officially recognised by JAKIM in Malaysia. Customers can also enjoy Halal-certified tea after their session.

Muslim Welcome Eyelash Policies

・Our salon uses medical grade glue that does not contain pork-derived ingredients.

・The medical-grade glue used in our salon contains a small amount of alcohol.

・A spare space can be used for prayer purposes.

・Prayer mats are available upon request.

Source: https://crazybeauty.jp/en

If you're a Muslim and looking to experience Japan's beauty scene, then be sure to check out Crazy Beauty to see everything they have to offer.

Information

Crazy Beauty

Address: 906 Dogenzaka Square, 5-18 Maruyamacho, Shibuya, Tokyo

Reception Times: Last Phone Booking 21:00 (Until 19:00 on Sundays and Public Holidays)

No Fixed Holidays (Open during festival seasons)

TEL: 03-6416-1726

Official Website: https://crazybeauty.jp/en

5 Must Try Strawberry Desserts in Fukuoka – MOSHI MOSHI NIPPON

If you thought we hadn't covered enough desserts and food from Fukuoka already here on MOSHI MOSHI NIPPON, never fearーwe've got you covered with another tasty line-up for you. This time we're looking at a list of 5 must-try strawberry desserts from Kyushu's northern island, and we're joined by Instagrammer moe who has provided us with some mouth-watering photos of each pick.

COFFEE COUNTY | Kurume

COFFEE COUNTY is a famous coffee shop in the city of Kurume. It has a chill and relaxing atmosphere which is wrapped with the delicious smell of freshly-brewed coffee and desserts. Their strawberry pie, which is made with amaou strawberries from Fukuoka, blends together harmoniously the sourness of the strawberries with the sweetness of the cake.

Also, if you love coffee and happen to buy some coffee beans from the cafe, you'll receive a free cup of coffeeーwhich goes great with the pie.

▼COFFEE COUNTY

Address: 1-21-21 Takasago, Chuo Ward, Fukuoka, Fukuoka Prefecture

Opening Hours: 11:00-19:00

Closed: Wednesdays

Kurasukoto | Hirao

Kurasukoto is another relaxing cafe, decked out with wooden tables and shelves. They also sell a range of miscellaneous items in addition to the food menu too, like clothes and accessories. Their strawberry parfait was incredibly popular last year, and is back again this year. It's loaded with handmade fresh cream and custard which sits on a pile juicy jam made from fresh strawberries. The top layer is subtly sweet while the bottom is sweet and sour. Combined, they make the ultimate balance of flavours.

▼Kurasukoto

Address: 1-11-21 Hirao, Chuo Ward, Fukuoka, Fukuoka Prefecture

Opening Hours: 11:30-18:00

Closed: Mondays & Sundays

DAIMYO SOFT CREAM | Hakata

Strawberry x Strawberry Ice Cream

DAIMYO SOFT CREAM is an incredibly popular ice cream shop which sells around 10,000 ice creams a day. During the daytime, there are lines of people waiting outside for a scoop. It's close to Hakata Station so is easy to get to.

Their ice cream is really soft and rich, and the flavours change with each passing season. They have an eat-in space too if you want to sit and relax to enjoy your cone.

▼DAIMYO SOFT CREAM

Address: 1-11-4 Daimyo, Chuo Ward, Fukuoka, Fukuoka Prefecture

Opening Hours: 11:00-22:00

Pinsirio | Kuromon

Pinsirio's parfaits get you excited by just looking at them. Their parfaits are made with fresh in-season fruits. The cafe has an open kitchen, so you can enjoy watching your parfait being made.

The "Strawberry Forest" is served in a glass and absolutely overflows with strawberries. Every mouthful down to the last bite is strawberry flavoured. The rich taste of the salted butter sable cookies and the light sourness of the cheesecake are to die for too.

▼Pinsirio

Address: 8-15 Kuromon, Chuo Ward, Fukuoka, Fukuoka Prefecture

Opening Hours: 11:00-18:00

Closed: Tuesdays

yorimichi | Kasuya

Shrimp & Egg / Strawberry Chocolate Chip

yorimichi is famous for being a bakery with a unique custom where customers must take their shoes off to enter. It's customary in Japan to take your shoes off when entering someone's home, as well as in certain restaurants and izakaya, but it's pretty much unheard of for a bakery.

The bakery makes a limited batch of 600 breads a day, meaning that most of the time they sell out their stock by evening time. The strawberry chocolate chip bread is filled with a homemade chocolate chip cream which is a match made in heaven when paired with the sweet strawberries. Try eating it together with one of the savoury sandwiches for a real treat.

▼yorimichi

Address: 1-10-43 Chōjabaruhigashi, Kasuya District, Fukuoka Prefecture

Opening Hours: 7:30-15:00

Closed: Tuesdays

Did you enjoy this list? If you're in need of more cafe recommendations in Fukuoka, then be sure to follow moe on Instagram.

Original Text & Photos: moe

Translation: Joshua Kitosi-Isanga

*Information written in this article is correct at the time of publishing. For more details on each shop, please visit their official websites and social media pages.

Cherry Blossom Afternoon Tea in Japan: Hotel Chinzaso Tokyo's Beautiful Floral Menu

Spring is set to blossom early at Hotel Chinzaso Tokyo, where they will begin serving their "Cherry Blossom Afternoon Tea" at Le Jardin, a lobby lounge, from February 17. Three new cherry blossom sweets will also be sold for the spring season only from March 1 at the hotel's Pastry & Cheese Shop, which bakes up fresh bread, cheese, desserts, and more.

Cherry Blossom Afternoon Tea

The Cherry Blossom Afternoon Tea returns to Hotel Chizanso Tokyo after its huge reception last year. This cute pink assortment is stacked high with cherry blossom flavours and seasonal ingredients.

On the top plate is a collection of four pink and white desserts. This includes some tempting macarons which are filled with a cherry blossom ganache. The macarons themselves are vanilla flavoured, packed with cherry blossom cream, and have prints of delicate cherry blossom flowers on them.

On the middle tier are crunchy pie sandwiches filled with a cream cheese that is laced with cherry blossom leaves, while the bottom tier is an assortment that includes refreshing shrimp, grapefruit and asparagus sandwiches, and more.

Cherry Blossom Roll Cake

Baked fresh in the Pastry & Cheese Shop are these incredible cherry blossom roll cakes that look almost ornamental. They are part of the "Seasonal Cake ~SAKURA~" series of three desserts being sold at the shop for a limited time. The roll cakes are stuffed with fresh cream which is filled with black beans and cherry blossom paste. They are also finished with a little salt. This is an absolute must-eat during spring in Japan this year, a treat that reminds one of the cherry blossoms during the Hanami (flower-viewing) season.

Cherry Blossom Cube

The second dessert is the cute checked Cherry Blossom Cube, a pink and white sponge laced with strawberry and cherry blossom syrup. The butter cream is also made with cherry blossom, and the whole thing is topped with almond and white chocolate.

Cherry Blossom & Pistachio Panna Cotta

Finally, we have the white vanilla and cherry blossom panna cotta which is made with a rich pistachio bavarois and cherry blossom jelly. It's topped with a pickled cherry blossom bud, and the bavarois has sliced strawberries on it made to look like petals.

But that's not all for springtime at  Hotel Chinzaso Tokyo. A walk through their gardens gifts your eyes to a variety of different cherry trees, like the kawazu-zakura and Taiwan cherry, which bloom early, as well as the Yoko cherry, miyabi-zakura, and Yoshino cherry, which blossom between February and April. There are 120 trees to see spanning 20 types of cherry blossom; enjoy them during the early hours when they are basked in the morning light, or at night when they are lit up with beautiful illuminations. And don't forget the row of cherry trees that line Kandagawa from Edogawabashi Stationーthe closest station to the hotel.

Information

Cherry Blossom Afternoon Tea

Running: February 17, 2020 – April 12, 2020
Time: 12:00-18:00
*On weekdays between January 6, 2020 to February 28, 2020, the afternoon tea will be served from 14:30-18:00 due to the holding of the sweets buffet
Location: Le Jardin at Hotel Chinzaso Tokyo
Prices: Cherry Blossom Afternoon Tea ¥4,000 / With Welcome Drink ¥4,500

Seasonal Cake ~SAKURA~

Running: March 1, 2020 – April 12, 2020
Time: 18:00-20:00
Location: Pastry & Cheese Shop at Hotel Chinzaso Tokyo
Prices: Cherry Blossom Roll Cake ¥3,200 / Cherry Blossom & Pistachio Panna Cotta ¥620 / Cherry Blossom Cube ¥650

Hotel Chinzaso Tokyo

Address: 2-10-8 Sekiguchi, Bunkyo Ward, Tokyo

Official Website (English): https://www.hotel-chinzanso-tokyo.com/

Stay at Miyazaki Prefecture's Phoenix Seagaia Resort For the Ultimate Springtime Experience

Spring is the season for relaxationーa time for kicking back and letting your mind and body chill in its cool embrace. If you're looking for the ultimate relaxation this spring, say, to be treated like a princess, then look no further than Phoenix Seagaia Resort.

Located in Japan's Miyazaki Prefecture, this resort offers the perfect springtime experience, with an all-you-can-eat dessert buffet, a walk through the flower-filled garden, massages, a bath with an ocean view, and much more.

All-you-can-eat dessert buffet with 50 different treats – Available Spring Only

The pastry chefs at Sheraton have poured their hearts and souls into this ambrosial line-up. Fifty beautifully colourful delights make up this all-you-can-eat dessert buffet, which features a bountiful of berries such as strawberries, raspberries, and blueberries. The line-up will change for the second month of this limited-time service to introduce a different fifty items. That makes 100 options over the course of two months. Even better, all the soft drinks are all-you-can-drink too.

Sheraton Sweets Buffet" Very Very Berry"

Running: March 1, 2020 – April 30, 2020 (Except March 22, 2020)

Time: 14:00-15:30

Location: "Pine Terrace" Garden Buffet at Sheraton Grande Ocean Resort (Floor 1F)

Price: Ages 13+ ¥2,500 / Ages 4-12 ¥1,250

Information Page: https://seagaia.co.jp/article/641

*Members of the Segaia Premium Members Club receive a discount: Ages 13+ ¥2,300 / Ages 4-12 ¥1,150

*Those looking to eat lunch at the Sheraton restaurant can pay the following price on the day only: Ages 13+ ¥1,000 / Ages 4-12 ¥625

Drink tea and feel like a princess around the pool

"THE LIVING GARDEN" is a garden area attached to Sheraton Grande Ocean Resort, where guests can enjoy a "springtime garden party" in a gorgeous, Instagrammable-looking space. Purchase a "Picnic Basket" set for takeout and enjoy some well-deserved princess teatime either on one of the sofas surrounding the pool or in a gazebo, the latter of which you can rent.

FLOWER LIVING ~Spring Garden Party~
Running: February 21, 2020 – May 24, 2020
Price: Free (For Sheatron guests only)
Information Page: https://seagaia.co.jp/article/641

Hog that breathtaking ocean view all to yourself

Sheraton Grande Ocean Resort's favourable location places it by the sea, meaning all rooms guests stay in enjoy an ocean view. There are also two very special rooms called "Corner Suites" which boast a panoramic view of the Pacific Ocean from the bathtub. The blue sea and sky can be enjoyed from every part of the room too, not just the bath, meaning everyone can enjoy their own private little resort experience without being intruded upon by anyone else.

Special Club Suite – Grand View Bath

Location: Sheraton Grande Ocean Resort – Club Floor (Floors 39/41) 109㎡

No. of People: 2

Information Page: https://seagaia.co.jp/hotel/sgor/club-floor/20

Unwind at the spa

Experience true luxury at the Banyan Tree Spa, a pioneering Asian spa brand that was established in Phuket, Thailand. Enjoy nature and beauty come together in your treatment with quiet music, natural light from the towering windows, and the scent of original essential oils.

Banyan Tree Spa

Location: Sheraton Grande Ocean Resort (Floor 39)

Opening Hours: 10:00-20:00 (Reservation Only)

Information Page: https://seagaia.co.jp/hss/254

Eye-catching artisanal cocktails to complete your spring evenings

Left: Berry Rose Bouquet / Right: Cherry Blossom Tonic

The KURO BAR offers an unbroken view of the lit-up garden area. Sip on one of their delicious and expensive-looking cocktails, like the "Berry Rose Bouquet," a full-bodied beverage made with a tea liqueur, rose syrup and cranberry juice. Or you can order the "Cherry Blossom Sonic" at Pacifica, a cocktail lounge with live music. This drink is fragrant with cherry blossom and mixes together cherry blossom liqueur and gin.

Flower Cocktails

Available: March 1, 2020 – April 30, 2020

Prices: Berry Rose Bouquet ¥1,300 / Cherry Blossom Tonic ¥1,600

Taste the flavours of a Miyazaki Prefecture spring

At the resort's main restaurant, Pine Terrace, they are serving a buffet-style menu with seasonal springtime ingredients. Enjoy a line-up of typical Miyazaki flavours, like shimaura sea bream and steamed kumquat white wine, spring cabbage and sakura shrimp spaghetti aglio e olio, tempura, and more.

Pine Terrace's Spring Dinner Buffet

Available: March 1, 2020 – April 30, 2020

Time: 17:30-22:00 (Last Orders 21:30)

Prices: Ages 13+ ¥4,500 / Ages 4-12 ¥2,250

*Prices for the dinner buffet will change from the start of April to: Ages 13+ ¥4,600 / Ages 4-12 ¥2,300

Information Page: https://seagaia.co.jp/article/641#paragraph_1557

Make some springtime memories this year at the incredible Seagaiaシーガイアで春の楽しい思い出を作ろう!

*Listed prices include tax. Photos are for illustrative purposes only.

Information

Phoenix Seagaia Resort

Address: Hamayama Yamasakicho, Miyazaki, Miyazaki Prefecture

Official Website: https://seagaia.co.jp/

9 Must Try Desserts and Sweets in Hokkaido & at New Chitose Airport – MOSHI MOSHI NIPPON

We at MOSHI MOSHI NIPPON know our readers love desserts and sweets as much as we do, and that's why we make sure to never go too long without writing about the latest must-try treats in Japan, like our recent article on

matcha desserts in Sapporo

.

We return to you once more with the 9 must-try delectable delights at New Chitose Airport in Hokkaido, and at various locations across Hokkaido. If you're heading to Japan's northernmost prefecture, and are using this airport, or are travelling throughout Hokkaido, then you can't miss out on these irresistible picks.

Today, we are joined by Kei, a Japanese Instagrammer who posts enticing pictures of the delicious desserts and drinks he has tried at cafes around Hokkaido. He has kindly provided us with his incredible pictures along with a descriptions, which we have translated into English. Enjoy!

GINRYU・BonBon BERRY | New Chitose Airport

GINRYU・BonBon BERRY is a revamp of the original shop, GINRYU. Located on the second floor of New Chitose Airport Terminal, the new shop has teamed up with BonBonBERRY, another store right next to Atami Station in Shizuoka Prefecture.

The shop specialises in Tokachi Ginryu strawberries, a variety of strawberry produced in the town of Otofuke. They have a distinct appearance and taste, with their beautiful white inside, low acidity, and high sugar content.

Omocchiizu Strawberry Skewer – ¥432

This skewered dessert is made up of strawberries, cheese-filled sticky rice cake, and strawberry baumkuchen. This is the ultimate strawberry indulgence!

Strawberry Bavarois – ¥740

The Strawberry Bavarois and soft serve ice cream look super cute too. The high sugar content of the Ginryu strawberry makes them perfect for any kind of dessert.

The shop is stocked full of other great sweet treats too, so be sure to check out their strawberry range.

▼GINRYU・BonBon BERRY

Address: New Chitose Airport Terminal – Floor 2F

Opening Hours: 8:00-20:00

No Fixed Holidays

Enquiries: 0123-29-4480

Chocolatier Masale | New Chitose Airport

Chocolatier Masale is a standout name in Hokkaido. This leading chocolate company have multiple branches – in addition to the Sapporo shops, they have sites in both the lobby and gate lounge of New Chitose Airport.

Mousse Glacee White Chocolate & Hokkaido Milk – ¥410

Exclusive to the departure lobby branch of Chocolatier Malase, this chocolatey dessert is an ensemble of ice cream made from mousse-packed Hokkaido milk and covered in chocolate. It's finished with cracked freeze-dried strawberries which give a fruity kick to the smooth taste of the ice cream and delightful chocolate.

▼Chocolatier Masale – New Chitose Airport Departure Lobby (ショコラティエマサール 新千歳空港出発ロビー店)


Address: New Chitose Airport Terminal – Floor 2F

Opening Hours: 8:00-20:00

No Fixed Holidays

Enquiries: 0123-29-4115

siretoco sky sweets | New Chitose Airport

siretoco doughnuts were created in the town of Nakashibetsu in Hokkaido. The New Chitose Airport Terminal branch is immensely popular for its cute mini animal doughnuts which are steamed instead of being dropped into hot oil, making them a healthier doughnut option.

Happy New Year Lucky Rat – ¥420 / Rich★Cream Cheese – ¥390

The doughnut on the left celebrates 2020 and the Year of the Rat in the Chinese Zodiac. It's white chocolate and strawberry chocolate flavoured. It's also not too sweet and has a soft and fluffy texture. The cheese doughnut has a very cheesy flavour indeed. All the animal faces are also made by hand, so each and every one is unique. Both are really cute looking.

▼siretoco sky sweets (シレトコ スカイ スイーツ)

Address: New Chitose Airport Terminal – Floor 2F

Opening Hours: 8:00-20:00

No Fixed Holidays

Enquiries: 0123-46-2109

Cafe Owl | Lake Shikotsu

Handmade Baked Purin – ¥500

Cafe Owl is situated in Shikotsuko Onsen, a popular tourist spot about a 55-minute transit bus ride from New Chitose Airport. It has a warm atmosphere to it with its log house-like appearance. Their food menu has just two things on it: pizza and purin (Japanese custard pudding). I ordered a purin and cup of coffee as a set.

The photo doesn't show how big the purin actually is – it's like a cake slice. It has a refreshing taste and isn't overly-sweet so can be chowed down easily.

▼Cafe Owl (カフェアウル)

Address: Shikotsuko Onsen, Chitose, Hokkaido

Opening Hours: 9:00-17:00

Closed: Wednesdays

Enquiries: 0123-25-2590

Pennennolde | Lake Shikotsu

Atsuma Honeysuckle Rare Cheese & Cocoa – ¥380 / Walnut Chocolate Ganache – ¥380

This cafe is also located in Shikotsuko Onsen. Their main meal is muffins, which are served warm inside their very relaxed space. The honeysuckle cheese muffin is thick and sticky, and doesn't have an unpleasant smell from the cheese. It's simply delicious. The chocolate ganache too is melted which only adds to the nice texture of the walnuts.

The muffins can be ordered for takeout too, so you can take them with you to enjoy the local sights.

▼Pennennolde (ペンネンノルデ)

Address: Bangaichi, Shikotsuko Onsen, Chitose, Hokkaido

Opening Hours: 10:00-17:00

No Fixed Holidays

Enquiries: 0123-25-4115

Kita no Umaimonten Hekisui | Lake Shikotsu

Raspberry Chocolate Soft Cream – ¥500

This cafe is close to Lake Shikotsu. They sell soft serve ice cream from the famous Iwase Farm located in the city of Sunagawa. This flavour is made with rich chocolate ice cream and is topped with freeze-dried raspberries, creating a great balance between the two.

This small place has its own eat-in area too, so you can kick back and relax while you enjoy the taste of some Hokkaido soft serve ice cream.

▼Kita no Umaimonten Hekisui (北のうまいもん店碧水)

Address: Shikotsuko Onsen, Chitose, Hokkaido

Opening Hours: Not known

Closed Days: Not known

Enquiries: 0123-25-4115

Official Website: Not known

Doremo LeTAO | Chitose

Chocolate Noisette Berry – ¥1,540

Doremo LeTAO is just a 15-minute walk from Chitose Station. Their "Chocolate Noisette Berry" is packed fully of rich chocolate, nuts, and berries.

Berry Mascarpone – ¥1,650

The "Berry Mascarpone" comes with four pancakes drizzled in berry sauce, mascarpone, custard, strawberries, and vanilla ice cream. The pancakes have soft meringue inside them, but are still light to eat, so you can rest assured you won't have a heavy stomach afterwards.

▼Doremo LeTAO (ドレモルタオ)

Address: 6-1-1 Asahinochi, Chitose, Hokkaido

Opening Hours: 11:00-18:00

No Fixed Holidays

Enquiries: 050-5570-2975

Mirtillo | Osatsu

Mirtillo is a gelato shop on the outskirts of Osatsu in Chitose. It's a tricky place to reach without a car, but it still stands as an incredibly popular gelato store. They have 16 flavours of gelato including several limited-time options.

I tried their "Waffle Parfait," which lets you pick from two gelato of your choice along with toppings. The combination of the crunchy waffles with the gelato is delicious. Added together with the blueberry sauce and fruits, you get a variety of tastes and textures.

The blueberries are actually all grown on site.

▼Mirtillo (ミルティーロ)

Address: 2 Osatsu, Chitose, Hokkaido

Opening Hours: 11:00-18:00

No Fixed Holidays

Enquiries: 0123-23-5323

Donut Chaya Honwaka | Eniwa

Honwaka Cocoa – ¥140 / Autumn Chestnut – ¥220

Honwaka is a doughnut shop about 1.5km from Eniwa Station. I got to try some of their seasonal autumn flavours: the fluffy and flavourful "Honwaka Cocoa," and the chestnut and chestnut cream-loaded "Autumn Chestnut." The chestnut cream is just the right amount of sweetness and has a really delightful chestnut flavour.

The store offers limited-time seasonal flavours with each passing season, so be sure to check out my Instagram to see more.

▼Donut Chaya Honwaka (ドーナツ茶屋 ほんわか)

Address: 7-18-4 Koganeminami, Eniwa, Hokkaido

Opening Hours: 11:00-17:00

No Fixed Holidays

Enquiries: 0123-25-5346

Did you enjoy these dessert picks? We hope you get to try some of them, and if you want even more dessert recommendations from Hokkaido, be sure to follow

Kei

on Instagram.

Photos & Original Text: Kei / 敬 (@607keih)

Translation: Joshua Kitosi-Isanga

*Information written in this article is correct at the time of publishing. For more details on each shop, please visit their official websites and social media pages.

*Food names are translated from Japanese into English where appropriate.

Creamy Bread Filled With Sweet Amaou Strawberries Appear at Hattendo Cafe in Japan

Hattendo is released a new flavour in its popular "Cream Bread" series last week that is served with Japanese Amaou strawberries. You'll find them at the following Hattendo branches: ekimo Umeda, ekimo Tennoji, JR Sannomiya Station, Aeon Mall Okayama, and Sun Station Okayama.

The breads are made from a combination of custard cream which is cooked up everyday in-store, and a simple fresh cream, creating a smooth texture that just melts in your mouth. They come in five flavours: Custard, Fresh Cream & Custard, Chocolate, Matcha, and Adzuki.

Unlike regular Japanese cream bread, where the bread is baked after inserting the cream, the cream of this cream bread is injected inside after the bread is cooked like a cream puff dessert. It's also left to set in the refrigerator to make the cream even more melt-in-the-mouth and to firm up the bread. The best way to describe it is to say that it's like you're eating cream, rather than eating bread. From the first bite, the cream fills your mouth with its refreshing taste and velvety texture.

The bread is also filled with sweet and sour a jam made from sweet Amaou strawberries, a brand from Fukuoka Prefecture, which mixes deliciously with the soft cream. The jam is made by Hattendo and has a very juicy and refreshing strawberry flavour.

Information

Amaou Strawberry Cream Bread

Release Date: February 1, 2020

Price: ¥280 Each

Participating Hattendo Branches: ekimo Umeda, ekimo Tennoji, JR Sannomiya Station, Aeon Mall Okayama, and Sun Station Okayama

Official Website:  http://hattendo.jp/

Valentine's Day 2020 Gift Recommendations: Chocolates and Treats at Tokyo Station

If you're in Tokyo in the run up to Valentine's Day, and are in in need of some ideas to bestow your loved one, then you'll want to head to Tokyo Station City where they are never short of great ideas when the season of love rolls around.

From little gifts under ¥500 to more indulgent delights over ¥1,000, Tokyo Station has it all. We've picked out some recommendations ranging from chocolates to sweets and other great ideas for those without a sweet tooth.

【Under ¥500】Little gifts to hand out

Heart de Katsu Burger – ¥237 @ Tonkatsu Maisen (GRANSTA) *Available until February 14, 2020

For a limited time only, Tonkatsu Maisen's popular katsu burgers are being served in the shape of a heart up right now until Valentine's Day. If you're with your loved one in Tokyo until then, then how about enjoying one of these together?

Heart Senbei (3 Included) @ Fujimido (GRANSTA) *Available until February 14, 2020

Senbei are Japanese rick crackers, and these heart-shaped ones come as a set in black pepper, tuna mayo, and ume katsu (plum pulp and bonito flakes) flavours. Perfect for those who don't like sweet things, and great with a cup of Japanese sake.

Shizuko Chocolate (1 Included) – ¥378 @ Naruto Kintoki Honpo Kurio (GRANSTA) *Available until February 14, 2020

Kurio's potato sweet bean jelly is made from the store's sweet potato bean paste which is set and thus has the original flavour maintained. It's mixed with dark chocolate for that luxury feel as well as sweet potato skin.

Coffee Bean Chocolates (50g) – ¥432 @ Marche du Chocolat (GRANSTA)

For those with more of an adult flavour palate, these coffee beans are coated in milk chocolate. A must-have for all coffee lovers out there!

[¥500-¥1,000] Show your love with prices too good to overlook

Jelly in Puree Chocolatey in Sachinoka Strawberry & Dark Chocolate (24g) – ¥500 @ Hitotsubu Kanro (GRANSTA) *Available until March 14, 2020

Part of Hitotsubu Kanro's popular "Jelly in Puree Chocolatey" series, this limited edition flavour is made with sachinoka strawberries. Pick from four different designs.

Orangette (1 Box) – ¥680 @ Fairycake Fair (GRANSTA) *Available until February 14, 2020

Those who love a mix of chocolate and fruit will want a box of these orangettes, which exquisitely combine the bitterness of orange peel with chocolate. Exclusive to GRANSTA.

Hazelnuts & Puffs (1 Box) – ¥680 @ Fairycake Fair (GRANSTA) *Available until February 14, 2020

Two types of chocolate, hazelnut and puff, fill up a box of these treats, each with their own crunchy textures. Also exclusive to GRANSTA.

USHIO CHOCOLATL (1 Included) – ¥810-¥864 @ SHARED TOKYO (GRANSTA)

These chocolates are made simply from cocoa beans and salt. The packaging is super stylish too making them a great gift. They are limited in stock, so if you like the look of them, you'd best get in there quick.

[Over ¥1,000] High quality and luxurious indulgence

Cher Milieu – ¥1,404 @ le billet (Ecute Tokyo)

Made with rich Belgian sweet chocolate, sharp and bitter dark chocolate, and orange-flavoured sake, these raw chocolates are a welcome melt-in-the-mouth experience for Valentine's Day.

Raw Chocolate (9 Included) – ¥1,500 @ Quatre (Ecute Keiyo Street)

Each and every one of these raw chocolates is handmade with the chef's specially-selected chocolate and lots of fresh cream from Hokkaido. Every bite is a trip to chocolate paradise.

Dassai Matcha Truffles (4 Included) – ¥1,620 @ Waraku Beniya (Ecute Tokyo)

Waraku Beniya's Dassai Matcha Truffles are made with high quality Uji matcha from Kyoto, an original blend of white chocolate, and a special brand of Japanese sake.

Tokyo Station is the place to go this Valentine's Day, and there's plenty more to see in addition to what's on this list. Now is the time to give back to your loved one with a Valentine's treat.

*All listed prices include tax