Naruto Kabuki Play to Feature Song by Wagakki Band
A kabuki adaptation of Naruto is slated for August later this year at the Shinbashi Enbujō theatre in Ginza.
It has been unveiled that Wagakki Band will provide a song for the production.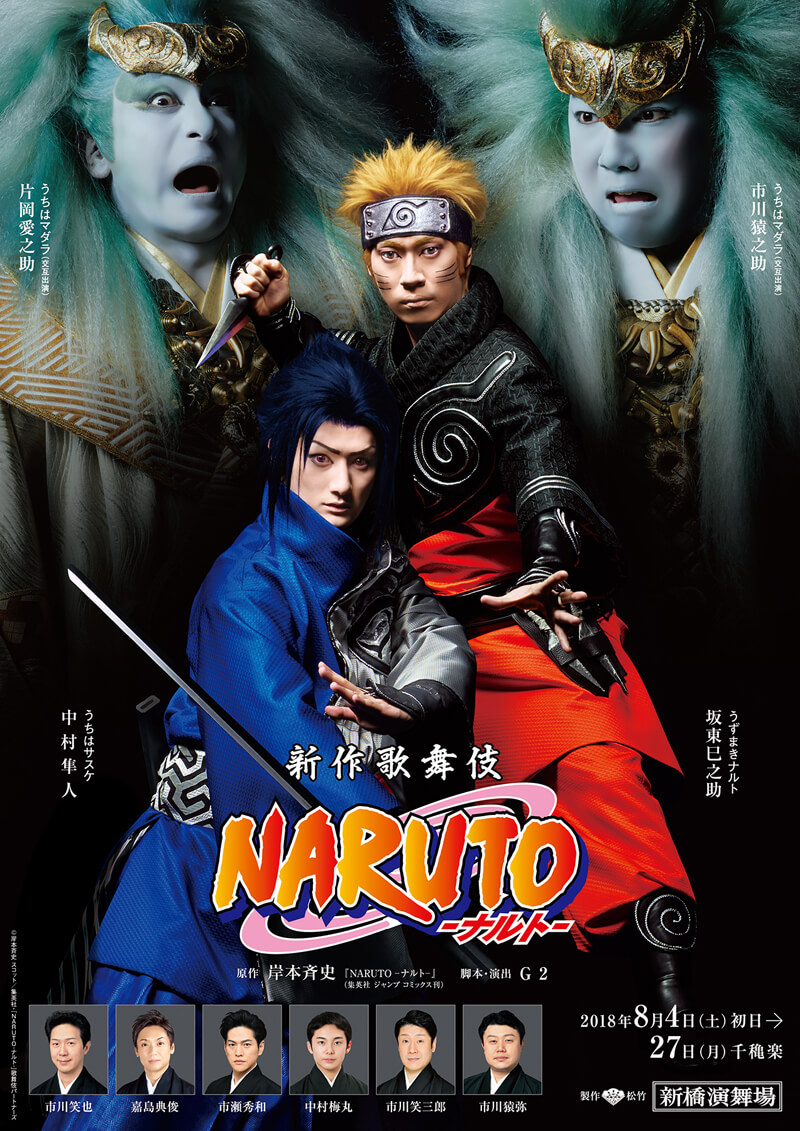 Naruto was first serialised in Weekly Shonen Jump in 1999 and tells the story of Naruto Uzumaki, a young ninja who trains in the art of ninjitsu, who must take out his enemies, and who ultimately aspires to be Hokage, the leader of the village. The series has brought in fans across the globe, with well over 220 million copies sold in over 40 countries outside Japan. Kabuki actors Bandou Minosuke and Hayato Nakamura will appear in the new kabuki adaptation where they will play the roles of Naruto Uzumaki and Sasuke Uchiha respectively.9
Comment by Bandou Minosuke (Naruto Uzumaki):
"On this occasion we will be borrowing the power of Wagakki Band. It's very encouraging! No other music is better to combine the unique perspective of the original Naruto work which has spanned all ages and nationalities, and the purely Japanese image of kabuki!"
Comment by Hayato Nakamura (Sasuke Uchiha):
"I am so happy for Wagakki Band to be kindly providing a song for the new Naruto kabuki play. Wagakki Band's sound, which combines traditional Japanese instruments and Western instruments, though new, has a sense of nostalgia within it, so I'm very much looking forward to seeing how that ties in with the kabuki."
Comment by Yuko Suzuhana (Wagakki Band):
"I really wanted to do a kabuki collaboration, so I am humbly honoured for my voice to have been heard. That Wagakki Band's sound was said to be a necessary element has realised our mutual love. We have felt the overwhelming popularity of Naruto when we have been overseas, so to be associated with such a representative piece of work from Japan through music has all of us, who have been fans of Naruto since long ago, very excited."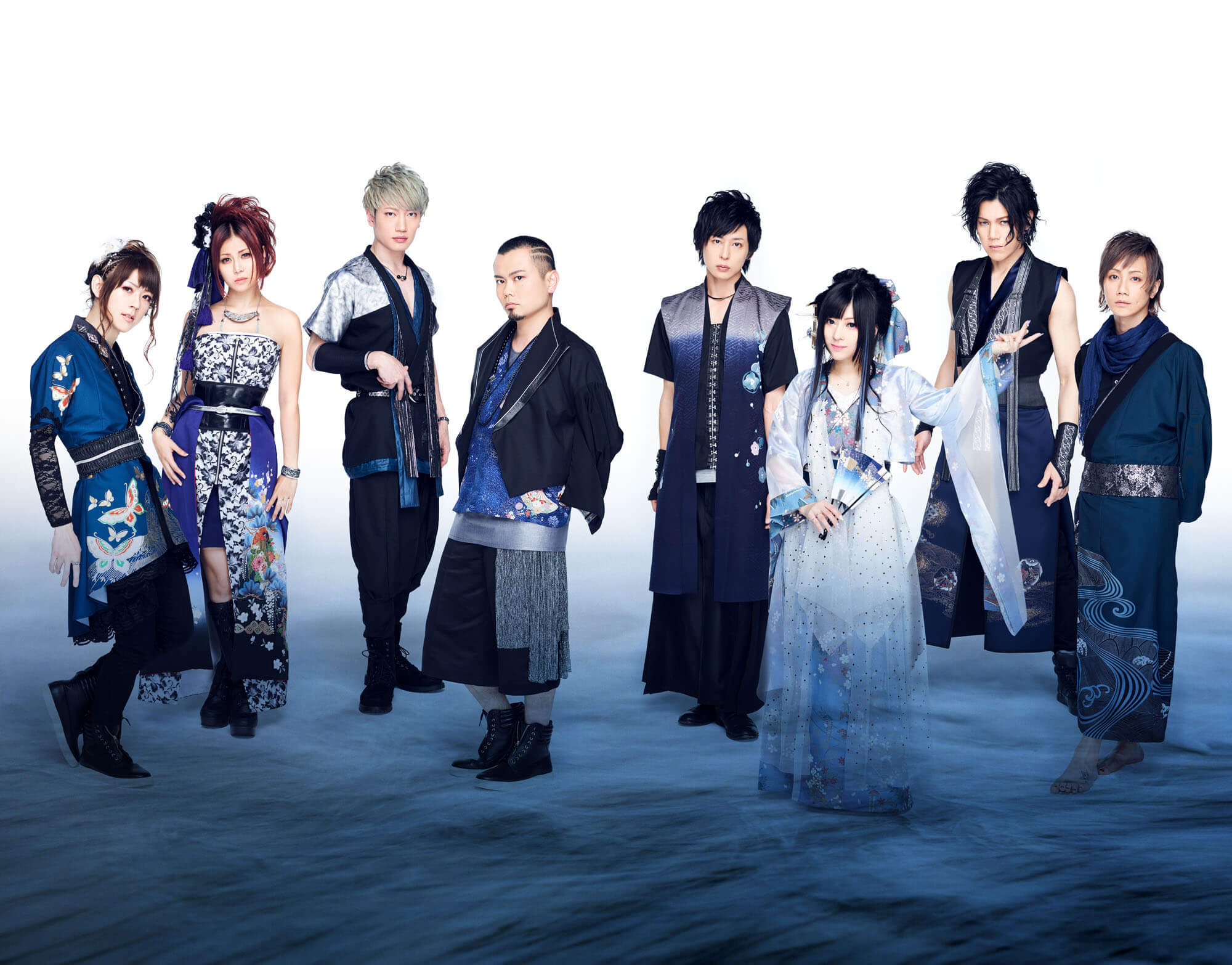 The chemistry between the world created by the new Naruto kabuki play and Wagakki Band is something to very much look forward to.
■Information
Naruto Kabuki
Location: Shinbashi Enbujō, Tokyo
Running: August 4, 2018―August 27, 2018
Official Homepage: http://naruto-kabuki.com/
RELATED ENTRIES
Anime Theme Park Nijigen no Mori to Hold Second Kakashi & Obito-themed Escape Game

A special event is coming to the Naruto-themed area of Nijigen no Mori, an anime theme park located on Awaji Island in Hyogo prefecture! The Naruto Shippuden x Escape Game: #009 Kakashi & Obito event is taking place from August 21 to October 10!

A look at NARUTO & BORUTO Shinobizato

A look at the game

Participation bonus: 4 special wooden phone straps with new illustrations

The first escape game in the series was held in 2020 to positive feedback. It was first held to celebrate Kakashi's birthday, which is September 15, and all visuals of both him and Obito are completely new and made for the event. 

Guests can also write their celebratory messages on special 'petal stickers' and place them on the character panel of their choice!

Would you like to come celebrate Kakashi's birthday? 

©Masashi Kishimoto /Shueisha・TV Tokyo・Pierrot

Information

Naruto Shippuden x Escape Game: #009 Kakashi & Obito

Running: August 21-October 10, 2021

Opening Hours: 10:00-20:00

Estimated Play Time: 30 minutes

Nijigen no Mori

Address: 2425-2 Kusumoto, Awaji, Hyogo

Official Website: https://nijigennomori.com/

Naruto and Boruto Summer Event Begins at Nijigen no Mori

Nijigen no Mori, an amusement park located on Awaji Island in Hyogo, began a summer event at its Naruto and Boruto-themed zone on July 22 which is set to run until September 30.

Event-exclusive stickers

The event includes a huge water gun event where 25 litres of water will be sprayed to cool down guests during the hot summer event. With themed character panels displayed around the park, join Naruto and the gang, including Zabuza and Haku, for some summer fun. All guests receive a free original sticker too.

© 岸本斉史 スコット/集英社・テレビ東京・ぴえろ

Information

NARUTO&BORUTO SHINOBI-ZATO
Running: July 22, 2021 – September 30, 2021

Location: Nijigen no Mori

Opening Hours: 10:00-18:00
Price: Free (But park entry payment required)
Official Website: https://nijigennomori.com/naruto_shinobizato/

Celebrate Sasuke Uchiha's Birthday at Fuji-Q Highland's Naruto x Boruto Summer Event

Fuji-Q Highland began its 'NARUTO x BORUTO Fuji Hidden Leaf Village' event on Wednesday which is set to run throughout summer until August 29. The event is taking place to celebrate the birthday of the popular character Sasuke Uchiha from the Naruto franchise.

During the event, a keyword rally will take place, and a special menu will be served up.

Keyword Rally

Guests must play and ride six Naruto-themed attractions at the park where they will be able to collect keywords related to the Uchiha family. Those who manage to answer all the questions correctly will receive one of two free exclusive pins. The Sasuke & Itachi design will be available from June 9 to July 22 and the Uchiha Family design from July 23 to August 29. Check out the designs below, both of which are must-grabs for fans of Sasuke and the Uchihas.

Pin Design 1: Sasuke & Itachi (Uchiha Brothers) | Available: June 9, 2021 – July 22, 2021 

Pin Design 2: Sasuke & Sakura & Sarada (Uchiha Family) | Available: July 23, 2021 – August 29, 2021

Special Menu

Guests will also be able to enjoy a special menu line-up including a ramen dish served at Ichiraku, the ramen bar at Fuji-Q Highland which is themed on the same eatery of the same name in Naruto, and two cakes at Fuji-Q Highland's official hotel resort and spa.

Uchiha Brother's Spicy Ramen | ¥1,500 (Tax Included)

Uchiha Brother's Print Cake

Uchiha Family's Print Cake


ⓒ岸本斉史 スコット/集英社・テレビ東京・ぴえろ

Information

Uchiha's Summer
Running: June 9, 2021 – August 29, 2021

Where: Fuji-Q Highland

Official Website: https://www.fujiq.jp/

LIBERE x Naruto Anime Capsule Collection Released

Japanese high-end street brand LIBERE has teamed up with the Naruto anime series to release a capsule collection. Pre-orders opened on April 22 at the fashion brand's official online store and branches.

LIBERE FOR NARUTO

"LIBERE FOR NARUTO" is the theme of the collection which sees Naruto, Sasuke, Sakura, Kakashi, Shikamaru, and Itachi all serving a street-ninja style by wearing the items in the line-up. Each also incorporates family crests and colours that represent the cast. It includes tees, long-sleeved shirts, hoodies, bags, caps, and more, all of which have details like straps, pockets, and zippers, and all of which come with special tags, plastic bags, and dust bags that were specially made for this collection.

Pierrot, the animation studio who animated Naruto and Naruto: Shippuden, also created a look-book for the release which combines the anime with real life. A special poster will be included in all purchases.

(C)岸本斉史 スコット/集英社・テレビ東京・ぴえろ&LIBERE(R)

Naruto Shippuden's Gaara Gets G.E.M. Series Complete Figure

Fans of Naruto: Shippuden's Gaara Kazekaga won't want to miss out on the new G.E.M. Series Complete Figure now available for pre-order worldwide on AmiAmi.

Potential spoilers ahead for the Naruto: Shippuden story.

G.E.M. Series NARUTO Shippuden Gaara Kazekage Complete Figure | ¥13,530 (Tax Included)

The Fifth Kazekage maintains his cool and collected personality in this detailed figure as he utilises his sand powers.

©岸本斉史 スコット/集英社・テレビ東京・ぴえろ

Fuji-Q Highland's Hidden Leaf Village Theme Park Area Adds New Photo Spots

Fuji-Q Highland, an amusement park in Yamanashi, Japan, added new photo spots to its popular Naruto x Boruto Fuji Hidden Leaf Village area on Friday (December 4).

The new spots

New statues of Jiraiya, Tsunade, Gaara, and Itachi have been placed around the park, making the perfect for a photo opportunity and to make guests feel even more like they're in the world of Naruto.

A new Gaara-inspired ramen dish

¥1,180 (Tax Included)

The area is home to Ramen Ichiraku which is inspired by the ramen bar seen in the Naruto series. There, they have cooked up a new ramen dish inspired by Gaara which comes with a boiled egg with the kanji for 'love' (愛) that's written on the character's forehead.

Naruto themed hotel rooms at Highland Resort Hotel & Spa

Fuji-Q Highland's official hotel, Highland Resort Hotel & Spa, has its own special Naruto-themed rooms with references to shinobi and the Hidden Leaf Village dotted everywhere. A new batch of amenities are also set to roll out for guests from February 1, 2021 which will include yukata that dress you like Naruto and Sasuke, face towels with Naruto and Sasuke on them during their final battle, and more.

If you've always wanted to feel like you're in the world of Naruto, look no further than Fuji-Q Highland.

ⓒ岸本斉史 スコット/集英社・テレビ東京・ぴえろ

Information

Fuji-Q Highland Naruto x Boruto Hidden Leaf Village
Opening Hours: 10:00-17:00
Closed: [2020] December 10th / [2021] January 7th, 14th, 21st, 28th
Official Website: https://www.fujiq.jp/

Shinobi Japanese Ninja Suite Room NARUTO
Capacity: 4 People (¥6,000 for each additional person up to 6 people)
Book: https://www.highlandresort.co.jp/
*Booking comes with amenities

Celebrate Naruto's Birthday at Fuji-Q Highland's Hidden Leaf Village Theme Park Area

Naruto Uzumaki's birthday falls on October 10, so to celebrate, Fuji-Q Highland, an amusement park in Yamanashi, Japan, is holding a birthday festival for the titular character of the popular anime series. The event will be held at the park's Naruto x Boruto Fuji Hidden Leaf Village area.

Naruto Ramen | ¥1,280 | Available: October 10, 2020 and October 11, 2020

Customers who order the special ramen dish from the ramen bar at the park, which is called Ramen Ichiraku after Naruto's favourite eatery in the series, will get a huge topping of naruto, a type of Japanese steamed fish-paste cake. Only 100 of these hearty dishes will be served a day.

The park is also holding a social media campaign. If they can reach 7,610 followers—a number which can be read as "na-ru-to" in Japanese—this year, then they'll hold a lottery for fans to win a special prize.

Naruto Print Cake / Naruto Team 7 Print Cake

Fuji-Q Highland will also serve up two cakes, one with just Naruto and the other with Naruto and the rest of Team 7 including Sasuke, Sakura, and Kakashi.


Jiraiya / Tsunade / Gaara / Itachi

Lastly, from the end of November, life-sized portraits of Jiraiya, Tsunade, Gaara, and Itachi will be set up at the park for fans to take photos with.

ⓒMasashi Kishimoto Scott / Shueisha・TV Tokyo・Pierrot

Information

Naruto Uzumaki Birthday Festival 2020 – Naruto x Boruto Fuji Hidden Leaf Village
Fuji-Q Highland Official Website (English): https://www.fujiq.jp/en/

Anime Theme Park Nijigen no Mori Announces New Naruto & Boruto Event

NARUTO & BORUTO SHINOBIZATO is an area of Nijigen no Mori—an anime theme park located on Awaji Island in Hyogo Prefecture—with attractions and more based on Naruto and his son Boruto. The park has released information on an upcoming new event in the Naruto and Boruto themed area.

The event in question will celebrate the character Kakashi Hatake's birthday with a special Kakashi and Obito themed escape game. The game will have park guests running around the park looking for panels with hints on how to progress through the game. Just 30 minutes are needed to complete it, and it's not too difficult, so anyone can join in.

Guests who buy a ticket will receive one of four limited-edition mini acrylic stands (pictured above) chosen randomly. Exclusive merchandise will also be sold for the event, and there will be photo spots where Naruto and Boruto fans can take a photo next to Kakashi and Obito panels.

Information

Naruto Shippuden x Escape Game: #004 Kakashi & Obito
Running: August 29, 2020 – October 4, 2020
Opening Hours: 10:00-22:00 (Last Entries 20:00)
Price: ¥1,500 (Tax Included)
*Separate fee to enter Nijigen no Mori charged

Nijigen no Mori
Address: 2425-2 Kusumoto, Awaji, Hyogo

Official Website: https://nijigennomori.com/

Awaji Island's Anime Theme Park Nijigen no Mori Announces NARUTO & BORUTO SHINOBIZATO Summer Events

NARUTO & BORUTO SHINOBIZATO is an area of Nijigen no Mori—an anime theme park located on Awaji Island in Hyogo Prefecture—with attractions and more based on Naruto and his son Boruto. The park's website has posted information about the ninja themed arena's summer events.

Naruto Shippuden Puzzle Solving Game

To celebrate the birthdays of Sasuke Uchiha and Itachi Uchiha, which fall on July 23 and June 9 respectively, a Sasuke and Itachi themed puzzle solving game will be held at NARUTO & BORUTO SHINOBIZATO.


The 30-minute game has guests running around the area to find hints written on panels. There are lots of words and illustrations related to Sasuke and Itachi for the game, so it's a must-experience for fans. Additionally, fans who purchase a ticket will receive one of four possible mini acrylic stands. These are available while supplies last.

Running: July 4, 2020 – August 31, 2020
Opening Hours: 10:00-22:00 (Reception closes 20:00)
Price: ¥1,500 (Tax Included)
*Separate ticket to enter the park required

Boruto's Ennichi

An Ennichi festival will be held themed on Boruto: Naruto Next Generations. There will be six Japanese festival-style yatai carts, traditional Japanese festival games like hitting the target and fishing for water balloons, a workshop to make your own Boruto uchiwa fan, lots of booths for friends and families to have fun, and more. Each booth also is giving out its own unique character stick to visitors. Those who buy a ticket to the event will also receive a Boruto sun visor.

Running: July 23, 2020 – September 30, 2020

Business Hours: 10:00-20:00 (Reception closes 20:00)

Price: ¥500 for 1 turn / ¥1,200 for 3 turns / ¥1,800 for 6 turns (Tax Included)

*Separate ticket to enter the park required

If you're in Japan this summer, why not spend your time together with the characters from Naruto and Boruto at Nijigen no Mori?

©Masashi Kishimoto Scott / Shueisha・TV Tokyo・Pierrot

Jump Force Deluxe Edition Arrives On Nintendo Switch This August

The Deluxe Edition of Spike Chunsoft's fighting game Jump Force published by Bandai Namco Entertainment is set to hit Nintendo Switch on August 27, 2020.

Jump Force is a fighting game that brings together a roster of over 50 characters from popular series the manga magazine Weekly Shonen Jump such as One Piece, Naruto, Dragon Ball, and many more. The game pits the characters in real world locations like New York and Matterhorn and has players battle it out.

The new trailer showcases some of the unique gameplay features which Nintendo Switch players will be able to enjoy, such as being able to play six-player local multiplayer games. The Nintendo Switch edition is packaged with the full game plus Character Pass 1 which introduces nine new characters into the long roster.

Those who pre-order the physical edition of the game will receive three One Piece, Dragon Ball, and Naruto avatar costumes and Frieza's pod as pictured below.

©JUMP 50th Anniversary
©BANDAI NAMCO Entertainment Inc. ©2017 Nintendo

Information

JUMP FORCE DELUXE EDITION Nintendo Switch™
Release Date: August 27, 2020
Platform: Nintendo Switch™
Official Website: https://www.bandainamcoent.com/games/jump-force

*Nintendo Switch and the Nintendo Switch logo are trademarks of Nintendo.

*YouTube is a trademark Google LLC.

Japan's Anime Theme Park Nijigen no Mori Has Naruto, Boruto & Other Exciting Events This June

Nijigen no Mori is an anime theme park located on Awaji Island in Hyogo Prefecture. Here's a list of the latest events running at the park in June.

NARUTO & BORUTO SHINOBIZATO

NARUTO & BORUTO SHINOBIZATO is an area of Nijigen no Mori with attractions and more based on Naruto and his son Boruto. The area celebrated its 1st anniversary on April 20, 2020. The park is currently selling anniversary merchandise as well as other exclusive items. Guests who buy a ticket to the park online will receive a free 1st anniversary postcard.

Opening Hours: 10:00-22:00 (Reception Closes 20:00)

Price: Adults ¥1,800 / High & Junior High School Students ¥1,800 / Children (Elementary School Students & Younger) ¥500
*Free entry for those aged 3 and below

Price: ¥1,280 Each (Before Tax) *6 flavours

There are also beverages inspired by characters from the series.

Price: ¥1,050 (Before Tax)

There is also a special ramen dish you can order inspired by the Akatsuki, the biggest threat to the Hidden Leaf Village.

GRAND CHARIOT Hokutoshichisei 135°, a hotel and glamping facility located in the area, also opened its new Naruto-themed room on June 1, 2020.

The room, called "Hokage no Bessou" (Hokage's Villa), is renovated from one of the resort's buildings, and aims to plunge guests into the world of ninjas. The room takes inspiration from the Hidden Leaf Village and its characters, with references to the series and recreated scenes littered throughout. It also offers exclusive amenities for guests to enjoy.

Guests who stay in the Naruto room receive a free ticket to NARUTO & BORUTO SHINOBIZATO at Nijigen no Mori.

ⒸMasashi Kishimoto Scott / Shuiehsa・TV Tokyo・Pierrot

Crayon Shin-chan Adventure Park

Over at the Crayon Shin-chan shop in Nijigen no Mori, they're selling limited quantities of a "Happy Bag" full of Shin-chan merchandise, from picnic cushions to towels and more for a total of six items.


And for the summer season, the last entries to all attractions at Crayon Shin-chan Adventure Park have been extended. It's a chance to work your body while enjoying the green outdoors.

Opening Hours: 10:00-20:00 (Last Entries 19:30)
Price: Adults ¥4,480 / High & Junior High School Students ¥2,880 / Children (Elementary School Students & Younger) ¥1,180 / Seniors ¥1,440
*Free entry for those aged 4 and below. Please check the official website for weekend and national holiday prices.

Phoenix Night Walk

June 21 is Father's Day, and to celebrate Nijigen no Mori is holding an event on the day based on Osamu Tezuka's manga Phoenix. Dads can attend the event for free. The park is holding a birthday campaign for June for those whose birthdays were in March, April, and May since they were unable to go out due to isolation, as well as for those whose birthdays are in June.

Date: June 21, 2020

Time: 19:30-20:30

Price: General ¥3,300 (Junior High School Students & Older) / Children ¥1,200 (Aged 5-12)2020年6月21日(日)
営業時間:19:30~20:30(季節により異なる)
*Free entry for those aged 3 and below.

Naruto Themed Hotel Room Opens at GRAND CHARIOT Hokutoshichisei 135° in Japan

GRAND CHARIOT Hokutoshichisei 135°, a hotel and glamping facility located in Awaji, Hyogo, opened its new Naruto-themed room on June 1, 2020.

The room, called "Hokage no Bessou" (Hokage's Villa), is renovated from one of the resort's buildings, and aims to plunge guests into the world of ninjas.

The room takes inspiration from the Hidden Leaf Village and its characters, with references to the series and recreated scenes littered throughout. It also offers exclusive amenities for guests to enjoy.

Guests who stay in the Naruto room will receive a free ticket to the popular "Naruto & Boruto Shinobi Zato" attraction at the anime theme park Nijigen no Mori on Awaji Island where the hotel is located.

ⒸMasashi Kishimoto Scott / Shuiehsa・TV Tokyo・Pierrot

Information

Naruto Collaboration Room "Hokage no Bessou"

Grand Opening: June 1, 2020

Time: Check In 15:00-18:30 / Check Out 11:00

Capacity: 5 people

Price: From ¥93,000 (Before Tax/Service Charge Charged Separately)

Official Website: https://awaji-grandchariot.com/