Let's go to Fellisimo "YOU+MORE's"limited-time-offer shops!
The small-goods brand Felissimo named "YOU+MORE!" will open limited-time-offer shops from May throughout Japan.
They are going to sell humorous and cute goods using the motifs of animals such as rabbit, dog, panda, squirrel and hedgehog and photogenic items.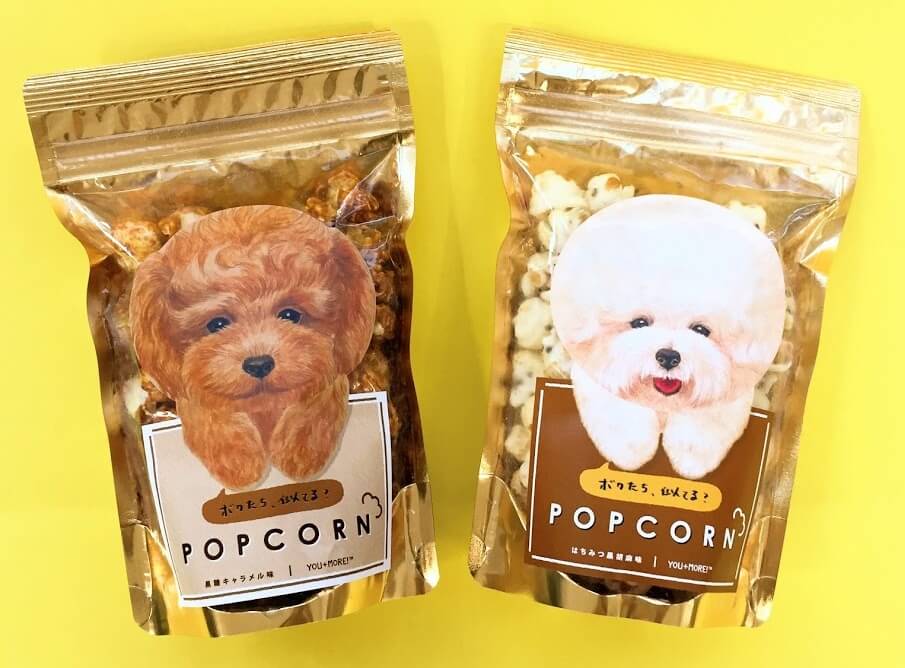 Also, "Toy Poodle Popcorn" and "Bichon Frise Popcorn" will sell their limited items at Tokyo MITASU Store, ecute Ueno Store, and LUMINE Tachikawa Store.
Let's get their cute and humorous items!
RELATED ENTRIES
Colourful Yukata and Jinbei Collaboration Launches by Subikiawa and Felissimo

Felissimo has joined hands with popular Kyoto-based store Subikiawa to launch a new collaborative series of items. They are now available to purchase via Felissimo's official website.

Who are Subikiawa?

Subikiawa is a tableware store known to all in Kyoto that's open around three days a month. "Tabletop Circus" is the theme of their hand drawn tableware series which is mainly centred around glassware. Subikiawa first began their collaboration series with Felissimo back in 2016. Since then, they have teamed up to make yukata, jinbei, pyjamas, clothes, and moreーall with Subikiawa's cute illustrative designs.

The new yukata and jinbei they have developed for this summer features a colourful underwater theme with various fishes, pebbles, and water plants.


Kyoto Subikiawa Shokki to Tsukutta Suichu Dance Yukata – ¥5,500 (Before Tax)

Kyoto Subikiawa Shokki to Tsukutta Suichu Dance Yukata (Women's) – ¥7,300 (Before Tax)

The collection features yukata and jinbei made with designs so that parents and kids can dress up together. The clothes are made from 100% slub cotton yarn, giving them a nice feeling against the skin. The waist is also fitted with string so that even beginners to yukata can tie them easily.


Kyoto Subikiawa Shokki to Tsukutta Nail Seals (1 Set) – ¥1,400 (Before Tax)

Kyoto Subikiawa Shokki to Tsukutta Suichu Dance Bib Kit (1 Set) – ¥2,800 (Before Tax)

The new collection also includes nail seals to make your fingertips bright and beautiful, as well as an embroidery kit to make your own cute bibーthis is part of Felissimo's brand Couturier. The bib is soft and made using 100% Banshu-ori cotton fabric. Banshu-ori is a fabric from Hyogo Prefecture. The cotton is also dyed before being woven so the colour won't fade as quickly when washed.

Beautiful Jellyfish Umbrellas Designed by Kamo Aquarium Will Keep You Dry

YOU+MORE!, a brand of humorous merchandise and accessories developed by Felissimo, has teamed up with the famous Kamo Aquarium to release a series of jellyfish umbrellas.

The intricate umbrella designs were developed in cooperation with the staff at Kamo Aquarium's Jellyfish Dream House. Three different kinds of jellyfish were used as inspiration for the umbrellas.

Moon Jelly Umbrella

YOU+MORE! Moon Jelly Umbrella – ¥1,600

Moon jellyfish are perhaps one of the most popular kinds of jellyfish out there. What may be the most striking part of this umbrella is the colour gradation which gives it a transparent effect. The edges of the umbrella are also curved, giving it a delicate silhouette and making it look even more like the real things.

The umbrella's frames are built strong, and the material of the umbrella itself is a white glass fibre which serves not only to mimic the colour of a moon jelly, but so that you can still see through it too. (As a side note, all three of the umbrella designs are made from glass fibre.)

Northern Sea Nettle Umbrella

YOU+MORE! Northern Sea Nettle Umbrella – ¥1,600

Like the northern sea nettle itself, this umbrella features a dome shape and incorporates a stripe design. A northern sea nettle has 16 stripes, and so that many were added to the umbrella. The jellyfish staff at the aquarium praised this one as the most realistic.

Spotted Jelly

YOU+MORE! Spotted Jelly Umbrella – ¥1,600

Like the northern sea nettle, the spotted jelly too as a cute dome-shaped body. If someone who has never seen one of these jellyfish umbrellas before sees this design, they'll think of it as just having cute spotted design. However, a jellyfish enthusiast is sure to get excited as the sight of this one with its details like its orange colour and the dots around the edges.

Kamo Aquarium will begin selling limited edition versions from the end of June this year which come with an ephyra charmーthat's the name for a baby jellyfish. The aquarium is currently closed until May 6 due to the coronavirus. The latest updates can be found on their official website.

Stylish Textile Face Masks Made in Japan to be Released by Q-pot.

Q-pot. released a new collection of textile style face masks from its "Made in Japan" apparel line Q-pot.Dress via its online shop on April 22, 2020.

The masks arrive in response to the serious shortage of masks in Japan for those who need them the most. The masks can also be washed repeatedly, and feature the same textile design seen in Q-pot.Dress's attire collections. The inside is made from cotton double gauze which feels comfortable on the skin.

Cloth Face Mask – ¥2,200 (Before Tax)

There are four designs in total: "Strawberry Field" with its nostalgic aesthetic, "Chocolate College" which features sweet and tempting chocolate across the whole front, "Honey Lemon" which gives sunshine vibes of early bring, and the green and girly "Patisserie Q-pot. Morning."

These masks can of course be used as a preventative measure against coronavirus, as well as for hay fever and for fashion too.

Information

Q-pot.Dress Cloth Masks

Order Window: Available from April 22, 2020 until stock sells out

Purchase:

Q-pot ONLINE SHOP (Available from 12:00pm, JST)

Q-pot. INTERNATIONAL ONLINE SHOP

お届け日:2020年5月中旬頃予定

*各デザイン、お一人様1点までとさせていただきます。

*生産の都合上、お届け時期は変更になる場合がございます。

*マスクは科学的に感染の予防効果は認められてはおりません。「感染(侵入)を完全に予防するものではない」という点を十分にご理解いただいた上で購入をご検討下さいますよう、宜しくお願いいたします。

Stay Home: 6 Fun Character Dessert Recipes to Try During the Lockdown

Here at MOSHI MOSHI NIPPON, we post news and information about Japan in six languages. Our aim is to deliver a variety of content related to Japan for those who love and enjoy Japanese culture.

Right now, people across the globe are in self-isolation as a result of the coronavirus pandemic. The same goes for Japan too, so we've taken this opportunity to create a new series on the website to show how we're spending time at home here in Japan.

The future is yet uncertain, and we hope for normality to return for all of us soon. We created a new articles series called Stay Home with which we hope to take your mind off the situation, even for just a little bit, to help you feel calmer. It might give you some tips on what you can do while spending time at home.

We have picked 6 character recipes from our popular Kaori's Easy Recipe series where Kaori shows us how to turn delicious desserts into cute characters.

1: Disney Tsum Tsum Chocolate Covered Cookies

Ingredients:

・Silicone cupcake case (6cm size used for this recipe)・White chocolate・Matcha chocolate・Marble chocolate・Chocolate plastic (also called "modelling chocolate")・Chocolate pen・Oreo cookies・Pink, yellow, blue and green food colouring

This is a super simple recipe which requires you to melt chocolate, put it in a cupcake case, let is set, and decorateーthat's it! This is a fun one to do together with your kids.

Full Recipe: https://www.moshimoshi-nippon.jp/215213

2: Pompompurin Pumpkin Tarts

Ingredients:

・12 Tart shells・150g Pumpkin (deseeded, skin taken off and made soft)・50ml Fresh cream (In this recipe I used soy milk)・20-30g Sugar (Depending on the sweetness of the pumpkin)・1 Egg yolk (small egg)・Sliced Chocolate・Tinned yellow peach

Soften some pumpkin in the microwave and add sugar, fresh cream, and egg yolk. Place into some store-bought tart shells, draw on faces, and you have yourself some adorable Pompompurin tarts.

Full Recipe: https://www.moshimoshi-nippon.jp/107177

3: Korilakkuma Coffee Jelly Parfait

Ingredients:

・Coffee Jelly・Chocolate Pens・Milk・Ice Cream

A super simple parfait made using store-bought coffee jelly. There's a bit of technical work that goes into making Korilakkuma's face, but Kaori shows you how to do it nice and easy.

Full Recipe: https://www.moshimoshi-nippon.jp/118421

4: Hello Kitty Fruit Sandwich

Ingredients:

・Sliced bread・Strawberries・Fresh cream・Sliced cheddar cheese・Chocolate sheets・Cutter

You'll never want to slice your bread any other way after following this recipe. Hello Kitty is topped with freshly sliced strawberries, fresh cream, and other delights.

Full Recipe: https://www.moshimoshi-nippon.jp/38348

5: Totoro Black Sesame Seed Pudding

Ingredients
・Black Sesame Purin Mix (purchased from Daiso)・Milk・Pura Chocolate (Swiss chocolate also fine)・Transparent Jar (Weck jar used)・Almonds・Fresh Cream・Fruits of your choice

Totoro's features are made with little chocolates and chocolate pens. Those are added to turn the entire glass into a cute Totoro pudding dessert♡

Full Recipe: https://www.moshimoshi-nippon.jp/120542

6: Mickey & Minnie Mouse Cookie Cupcakes

Ingredients (Makes 6 cupcakes measured 7cm):
・2 medium eggs (40g egg yolk/60g egg white)・60g granulated sugar・2tsp vegetable oil・1-2tsp lemon juice・45g weak flour

The recipe shows you how to make the actual cupcake, but store-bought ones work too. The Mickey and Minnie decorations are made from Oreos and marble chocolate.

Full Recipe: https://www.moshimoshi-nippon.jp/292614

Bring the cafe experience to your own home with one of Kaori's easy recipes. See more of her recipes here: Kaori's Easy Recipe

Kaori Kubota (@kaopan27)
I live in Hokkaido and I love to make character themed foods, desserts and pastries♡

I want to see my family smile, so I enjoy putting in a bit of effort to make character foods and changing food into something cute♡

You can see more of my character foods and character bento boxes on my Instagram page→@kaopan27

These Breathtaking Doughnuts Will Turn Your Home Into an Authentic Cafe Experience

With most of us cooped up indoors, that desire to go and relax in a cafe with some coffee and cake just keeps on growing. "gmgm," a doughnut shop in Koenji, Tokyo that specialises in "flower doughnuts," is very aware of this, and so they opened an online shop on Saturday to allow for people to enjoy that authentic cafe experience from their own home.

gmgm, the flower doughnut shop

Nana Yui, an artist of dried flower art, opened gmgm in June 2019 as the sister store to HANABAR, a bar in Ikebukuro, Tokyo where drinks are served topped with beautiful dried flower art. At gmgm, the beautiful flower art combines harmoniously with the antique furniture and decor. It's a popular doughnut shop whose doughnuts are beautiful enough to be given as gifts.

Earl Grey x Rose: ¥500

Cream Cheese Strawberry x Safflower: ¥500

The doughnuts gmgm is offering to ship out on their website include their five regular doughnut flavours and some limited-time flavours, all of which are nothing short of cute works of art.

Customers who order on the shop by April 30 will also receive a free dried flower and a tea turns blue. Those who order more than 8 will receive that plus a pressed viola flower you can eat.

You can also make ice cubes with flowers in them and set your table like in the cafe's photos for a really luxurious tea time!

Information

gmgm

Address: 3-60-10 Koenjiminami, Suginami, Tokyo

Opening Hours: [Weekdays] 14:00-20:00 / [Weekends & Public Holidays] 12:00-20:00

Closed: Mondays
TEL: 03-6877-0537

Official Website: https://www.gmgm.info

Cute New Doraemon Merchandise From Felissimo Can Be Enjoyed By Adults Too

Felissimo launched online pre-orders for its new line of 12 Doraemon themed items on February 20, 2020. Doraemon is a symbol of Japanーa national treasure that continues to be be adored by kids and adults alike around the country.

The collection is centred around everyday practical items that can even be enjoyed nonchalantly by grown-ups.

Doraemon Laundry Net Set – ¥1,400 (Before Tax)

There are four in this collection of laundry nets, big and small. Designs include "Mini Doraemon," "Memory Bread," "Anywhere Door," and "Dress-Up Camera."

Doraemon & Nobita-kun Slippers – ¥2,100 (Before Tax)

 Doraemon and Nobita-kun features on this collection of slippers. There are four designs, with the tops being made from corduroy, and all with beautiful colours.

Doraemon Pull Pass Case – ¥2,300 (Before Tax)

These three pass cases all have Doraemon designs and come with a pullable elastic string. Each has its own classy one tone colour. Perfect for storing small items and heading out.

Doraemon Smartphone Cases – ¥2,900 (Before Tax)

The three cute smartphone cases come in chic colours and designs, with an additional colour inside for the four card pockets.

Doraemon Plastic Bottle Towels – ¥950 (Before Tax)

Decorate your drinking bottle with one of these four cute Doraemon bottle towels, all with a cute tail. They can be used for other things like deodorant too.

Doraemon Zipper Bag Set – ¥800 (Before Tax)

Keep your food stored and safe in an adorable Doraemon zipper bag, whether it be snacks or ingredients. They're perfect for giving gifts in too.

Doraemon Nail Seals <Basic> – ¥1,450 (Before Tax)

Glam up with some cute Doraemon nail seals, ranging from natural colours to gold leaf and more, which can cater to a variety of different situations.

Doraemon Embroidered Pouches – ¥3,000 (Before Tax)

These kits embroidery equipment to make your own Doraemon-design pouch. Make the pouch, attach the fastener, and you've got yourself a place to store your items.

Adorable Shiba Inu Slippers and Handkerchiefs Released by Felissimo

Felissimo released a new line of shiba inu slippers and handkerchiefs from their humorous brand YOU+MORE! on their website on November 26.

The slippers feature various shiba inu pulling adorable faces, with the sole parts made to look like their fluffy bellies. The handkerchiefs are made using appliqué needlework to stitch a variety of different pups onto them. The prints are so realistic you'll find yourself wanting to stroke them.

The slippers come in three designs: Black Fur, Red Fur, and White Fur, all with loving faces looking up at you as you walk around the house.

The insoles are made with long and comfy boa fabric to create the fluffy underbelly of the dogs.

The gauze handkerchiefs come in six designs: Pomeranian, White Shiba, French Bulldog, Red Shiba, Golden Retriever, and Corgi.

The embroidered doggy designs are 3D textured, making you want to poke and stroke them all the time you're holding them. The front part is made from gauze and the back from pile. One of each of the six designs will be released monthly over a period of six months.

If you love shiba inu, or know someone that does, this is the perfect gift!

Introducing the Kawaii Girls of the World | Kawaii Fashion Snap #4: Pink Paradise

Welcome to Episode 4 of Kawaii Fashion Snap where we get to know all about the kawaii girls of the world and their fashion. Each girl in this series has incorporated Japanese-like fashion into their wardrobe and turned it into something of their own.

Today, we'll be taking a look at outfits that make use of the colour pink♡

Currently residing in Tokyo, Molly leaves a huge impression with her T-shirt that reads "ANTI WAR" in both English and Japanese. Her stylish use of cute pastel colours throughout accentuates this fashionable look, and her pink and purple hair combined with the thick sole trainers is a match made in heaven.

Molly is a big fan of the Japanese idol group CY8ER and has even gotten a photo with the group―as well as several chekki photos with Rinahamu, one of the members. Be sure to check out her Instagram @pink_morii

The Pinkmilkteahime has us wanting to dye our own hair blue because hers looks so cute. This co-ord may look simple at first with the single big pink t-shirt, but in fact the rest of her outfit and all of her accessories are uniformly blue, which makes her hair look even more beautiful. Even the blue and pink artwork in the background is in tune with her look.

On her Instagram, she posts not only more beautiful looks, but pictures of her latest purchases too―from snacks to stationery. Follow her on Instagram @pinkmilkteahime

Brodie's baby pink jumper skirt co-ord is kawaii supreme. She is serving us regalia princess with her frilly blouse and jumper skirt which has sweet patterns on it. And if you look closely, her white phone case has a cute flower pattern design♡

If you're look for some girly styles then we highly recommend following Brodie @vanillabwunny

Everything about the composition of this shot of Mimi Usagi can be described as cute. She has a cute character t-shirt on, and everything from her innerwear to her skirt is perfectly pink.

Her pink cheek makeup adds a glimmering allure and helps flaunt her clearly innate kawaii. We want to try shooting a look like she has in this photo too! Be sure to follow her @usagimimichu

Alexandra has gone for a sexy style here: her simple pink one piece is stunning and laces together flatteringly with those glittery shoes. And all of the items and accessories she has with her are pink, from the chekki camera in her hand to her shoulder bag♡

Alexandra's Instagram feed is a treasure trove of exquisite and artistic looks. If fantasy takes your fancy, then make sure you follow her @sasha786x

If you'd like to feature in the next Kawaii Fashion Snap or know somebody that would, then follow us on Instagram and post at us with the hashtag #moshimoshiphoto. We hope you look forward to the next entry!

Rilakkuma Umbrella by Felissimo Can Be Used in Clear or Rainy Weather

Felissimo released a new Rilakkuma-inspired beige-pink umbrella on their website on June 10.

The umbrella's design is subtle and sophisticated. The outer rim is lined with a brown coloured lace reminiscent of Rilakkuma. It also has a handle made from high quality wood carved into Rilakkuma's face. The umbrella also cuts 98% of UV rays meaning it can be used in both clear and rainy weather.

Its beige pink colour with brown lacing gives it a sophisticated feminine design.

Rilakkuma's facial features on the handle were made using laser cutting and together with the frilly cotton rope tied to it give it a polished and refined look.

There is also a name tag on the umbrella with a nonchalant Rilakkuma logo printed on it.

There is also a separate bag you can purchase to put your umbrella in after it rains so you don't get the floor wet if you go inside anywhere.

©San-X

SHIBUYA109's Purikura Photo Booth Shop moreru mignon Undergoes Rennovation

moreru mignon is a shop located in the department store SHIBUYA109 in Tokyo. It specialises in 'purikura,' a unique type of photo booth which lets you decorate your photos before printing them out. The shop just reopened on May 22 with all-new decor and has been moved to floor B2F of SHIBUYA109.

GIRLS'TREND Kenkyuusho of Japanese entertainment company FuRyu produced the new design of the shop. It is inspired by the bedroom of a girl who loves style and is just a smidgen selfish. The wall is plastered with pictures of cats based on female models, and poking out of the clothe-filled closet is a huge cat's tail with a ribbon tied around it.

There is also a huge Instagrammable sofa bed and a display of food, milk and more.

For a limited time only, the purikura machine designs have cats posing as models on the side of them. Customers can also get their hands on a cute new shop card. The shop itself serves up all the "kawaii" a girl could need with its photogenic interior. It can be enjoyed for some simple purikura shots, for taking commemorative photos, and for just getting together with your girl friends.

And to celebrate the reopening, limited copies of a free magazine titled Nyaaruzu Trend ("Girly Cat Trends") will be available at the shop from May 31. It includes a bonus copy of GIRLS'TREND, a free magazine published by FuRyu.

If you're in Tokyo and in need of taking some kawaii photos then be sure to head to moreru mignon.

Information

moreru mignon SHIBUYA109
Address: SHIBUYA109 Floor B2F (2-19-1 Dogenzaka, Shibuya, Tokyo)
Business Hours: 10:00-21:00

*In line with the renovations, the name of the floor which this shop is on will change to "MOG MOG STAND" on June 28, 2019.

SHIBUYA109 Official Website: https://www.shibuya109.jp/ladies/

Felissimo's Cute Rabbit Item Collection―New Rabbit Themed Products Every Month

Felissimo dropped its new rabbit product collection on February 22 from its YOU+MORE! brand. All the items in this miscellaneous collection are drawn by rabbit illustrator Shirato Akiko. The collection will run for an entire year during which a new product will be released each month.

From a tote bag to a purse and more, all of these Felissimo-originals can be incorporated into your daily life

Canvas Tote Bag

Made from canvas fabric and featuring a relaxed chestnut colour, this tote bag has a natural taste to it. Its A4 size makes it convenient for popping out to the shops or as an additional bag for work.

Pouch

The perfect choice for on trips or if you need a place for your bits and bobs. It features an illustration of a cute grey Dutch rabbit with twinkling eyes.

 

Die Cut Cushion

This adorable orange rabbit cushion is on the small side, is soft to touch, and will have you picking it up without even thinking about it.

Coin Purse

Carry these three floppy bunnies and your coins with you everyday with this coin purse. It's also the perfect size for storing small makeup items.

Cup With Lid

Perfect for the winter season and cold weather for keeping your tea or coffee warm. The lid can also be used as a place to put sweets, snacks or biscuits while you drink too.

There are many more products to come too, so if you love rabbits or know a rabbit lover then don't miss out!

Information

YOU+MORE! Shirato Akiko's Rabbit Collection
Price: ¥1,500 (+8% tax = ¥1,620) *1 new product every month
・Details: One product illustrated by Shirato Akiko
・Materials: Different for each product
・Sizes: : Different for each product
・One product to be sold every month over the period of 12 months.
Product Details: https://feli.jp/s/pr190308/2/

Squidgy Cat Paw Phone Cases Released by Felissimo Neko-bu

Felissimo Neko-bu™ recently released a new line of cute cat paw phone cases so squidgy and fluffy you'll want to poke them every time you pick up your phone.


Made almost as real as the real thing, these 3D phone case designs also come with an adhesive sheet to stick  your phone to so you can just pop it right in there.


While in place your phone can slide up and down making for a smooth transition to photo mode. They didn't forget the handy card pocket either to keep those important cards safe.


There are three designs to choose from and can add even more relaxation to your phone break.

As always with Felissimo Neko-bu products, part of the price of these phone cases. goes towards numerous causes including shelter for animals with no owners and for helping find them owners, as well as aiding towards getting stray cats off the street to avoid overpopulation, and for protecting animals during times of disaster.

Information

Cat Paw Phone Cases
Released: January 29, 2019
Price: ¥2,909 (1 design per month)
→¥81 of the money will go towards the "Felissimo Cat Foundation". (The money donated is tax exempt)
・1 design will be sold per month from the date of release. Once each has been sold sales will stop.
Product Page: https://feli.jp/s/pr19021302/2/