Time Out's English version of "101 THINGS TO DO IN SHIBUYA" was published.
The renewed version of the popular guide map "101 THINGS TO DO IN SHIBUYA"
 -English version was published on the 27th of April 2018 (Fri.). The guide map introduces "101 things to do" in Shibuya including information about restaurants, bars, shopping areas, entertaining areas, cultural activities and nightlife activities with a unique point of view.
Time Out  is a city guide map which was first published in London in 1968. The guide map has been published in 108 cities (39 countries) centering around London, Moscow, Shanghai and Sydney and was used as the official guide map of the Summer Olympics/Paralympics held in 2012.
Time Out Tokyo was first published in 2009 and they have been introducing various topics and information about art events, restaurants, music festivals and events using many kinds of guide maps like "101 THINGS TO DO IN ROPPONGI" and "101 THINGS TO DO IN SHIJUKU."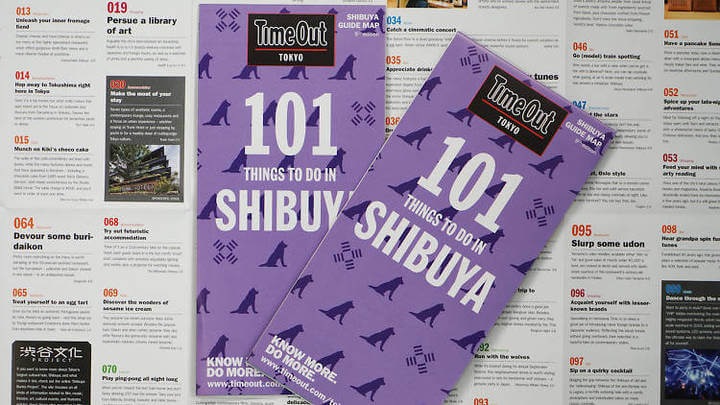 Shibuya is one of the most popular areas introduced in Time Out Tokyo.  The guide map (9th version) introduces new accommodations such as "Turn Table" in  Shinsencho, "Hotel Koe Tokyo" which was opened in February and a capsule hotel named "THE MILLENNIALS."
They also introduce a unique restaurant "Daitokai," "IGAO," a dining bar and "NADiff a/p/a/r/t" located in the Ebisu Area which is  popular among fashionable young people.
The guide map is distributed in stations, sightseeing information centers and major hotels, so feel free to take a look at it!
■Information
101 THINGS TO DO IN SHIBUYA-English version (9th edition)
RELATED ENTRIES
Enter Virtual Shibuya: The New Ghost in the Shell Digital Platform

Shibuya 5G Entertainment Project launched its new digital platform "Virtual Shibuya" with an opening event on May 19. The event Virtual Shibuya helped promote release of Ghost in the Shell: SAC_2045 with talks and performances from SEKAI NO OWARI's DJ LOVE, virtual YouTuber and member of Nijisanji Ange Katrina, Chinatsu Wakatsuki of Future Design Shibuya, and Naohiro Ukawa of S/U/P/E/R DOMMUNE—all of whom are fans of Ghost in the Shell.

Officially recognised by Shibuya City, Virtual Shibuya comes in response to the effects of the novel coronavirus (COVID-19) which has brought tight restrictions to the economy and people's way of life. It will enable people to continue enjoying entertainment from the comfort of their homes by participating in a whole host of virtual events and activities. The project aims to deliver content from Shibuya with live performances from artists, art exhibitions, talks, and more. The use of 5G and the latest cutting edge technology will connect the real Shibuya to a virtual space, combining the realms of the digital and real world.

The guests joined over 50,000 users for the first event which went down a storm. Chinatsu Wakatsuki said: "I was amazed how much it looked like Shibuya! I can't go to Shibuya right now, so it felt like I got to visit home again after so long."

Shibuya was fully recreated a virtual space for people to visit

Lots of Ghost in the Shell fans gathered in the city

Everybody in this virtual world jumped into their avatar skins, including the diverse range of guests who probably would never have come together had it not been for the Ghost in the Shell theme, as well as DJ LOVE, Katrina, Chinatsu Wakatsuki, and Naohiro Ukawa.

The real world and the world of Ghost in the Shell collide

The four performers, who were coming face to face with each other for the first time, talked to guests about what they love about Ghost in the Shell while strolling around Virtual Shibuya and having fun with fans on equal terms.

Comments from the performers

・Chinatsu Wakatsuki (Future Design Shibuya)
"I was amazed how much it looked like Shibuya! Shibuya is a place I hold near and dear to my heart. There were a lot of 'firsts' for me, like my first time using an avatar, and meeting new people for the first time, so I thought it was going to be difficult at first, but I found myself not nervous at all and had fun with everyone in there using this futuristic entertainment. Looking forward, au 5G will grow and the number of things we can do will as well. I hope to challenge myself as a tarento and a mum in many different things and have fun with this Virtual Shibuya!"

・"DJ LOVE" (SEKAI NO OWARI)
"It felt like I had dived right into the world of Ghost in the Shell, my favourite series. It was a wonderfully fun event which expanded on my dreams. I'm looking forward to seeing it evolve and I hope to perform live there at some point. I want to make stuff that people who haven't been physically able to go to venues up to now can enjoy. I think it would be fun to communicate with people who participated."

・Ange Katrina
"The streets of Shibuya I know were completely transformed into the world of Ghost in the Shell, and my favourite Tachikoma made an appearance too. For a Ghost in the Shell fan like myself it was a whale of a time! Right now we have to battle with staying indoors. Me having disappeared has caused a bit of trouble, but the thrill of this virtual event has lifted my nerves. I had a lot of fun."

You can check out footage from the event in the video below which was posted on Shibuya 5G Entertainment Project's official YouTube channel.

The world of Ghost in the ShellVirtual Shibuya in can be experienced until May 31, 2020, so sign up while you still can.

Shibuya 5G Entertainment Project to Launch Virtual Shibuya Platform

Shibuya 5G Entertainment Project is set to launch its new digital platform "Virtual Shibuya" on May 19, 2020. The platform is officially recognised by Shibuya City.

Virtual Shibuya comes in response to the effects of the novel coronavirus (COVID-19) which has brought tight restrictions to the economy and people's way of life. It will enable people to continue enjoying entertainment from the comfort of their homes by participating in a whole host of virtual events and activities.

The project aims to deliver content from Shibuya with live performances from artists, art exhibitions, talks, and more. The use of 5G and the latest cutting edge technology will connect the real Shibuya to a virtual space, combining the realms of the digital and real world.

1: Online Events

A variety of online events will be held inside the virtual event space. People tune into Virtual Shibuya while at home by connecting with their smartphones, PCs or VR devices. They will have their own avatar and be able to traverse the area together with other people who are connected while participating in different interactive online events. The events will also be streamed on video streaming services.

2: XR Art

Experience XR (cross reality) content which will connect both Virtual Shibuya to the real Shibuya. Those in either Shibuya will be able to experience the same content and entertainment.

The opening event for the grand opening of Virtual Shibuya will promote the release of Ghost in the Shell: SAC_2045 with talks and performances from SEKAI NO OWARI's DJ LOVE, who is a fan of Ghost in the Shell, as well as virtual YouTuber and member of Nijisanji Ange Katrina, Chinatsu Wakatsuki of Future Design Shibuya, and Naohiro Ukawa of S/U/P/E/R DOMMUNE.

Information

Ghost in the Shell Night by au 5G

Date: May 19, 2020

Time: 19:00-19:45

How to Participate

Virtual Shibuya can be accessed using a VR device, smartphone, or PC/Mac. To participate, you must create a (free) Cluster account and install the Cluster app on your device. This event will also be streamed live on YouTube Live and the official Twitter page of Shibuya 5G Entertainment Project.

Join Here: https://cluster.mu/e/bee95acc-5c7f-4ebb-b08a-606348747487

Shibuya 5G Entertainment Project Official Twitter: https://twitter.com/shibuya5g

Japan Coronavirus: Room for Rescue Project Provides Free Accommodation to Foreigners Who Can't Get Home

With flights cancelled around the world, it is becoming increasingly harder for foreigners to return home from Japan, resulting in them being forced to change their plans, extend their stay, and live every day in stress and uncertainty. To lend a helping hand to foreign travellers in this stressful time, three accommodation companies Slacktide Co., Ltd, Shared Value Co.,Ltd. and Life Bonds, LLC, who manage Kaname Inn Tatemachi, Sakura Cross Hotel and BONDS HOUSE respectively, have launched a joint accommodation project called "Room for Rescue" which provides free accommodation to international visitors who cannot return home as a result of the current travel restrictions.

This collaborative project was launched to ensure that foreign travellers don't feel like their trip to Japan was a bad experience, which could be a reason to avoid visiting Japan again in the future and heavily impact the tourism industry.

Tokyo:BONDS HOUSE

Tokyo:Sakura Cross Hotel

Kanazawa: KANAME INN

Currently, three accommodations in Tokyo and one in Kanazawa have opened their doors to stranded foreigners.

Room for Rescue: Request a Room

https://kaname-inn.com/room-for-rescue/

To apply for a room, you need a valid visa and a cancelled flight ticket which meets Room for Rescue's criteria. For more information, please refer to the application page. The Room for Rescue project is also looking for more accommodations to join the fight against coronavirus and open their doors to stranded foreigners. If you own an accommodation in Japan and want to help foreign travellers, please apply using the link below.

Become Part of Room for Rescue (for accommodation owners)
https://kaname-inn.com/room-for-rescue/contact/


If you are an individual who wants to support this project, please consider donating via their crowdfunding page mentioned in the information section below.

Kyo no Ondokoro Marutamachi: Rent An Entire Kyoto Townhouse to Yourself

Kyo no Ondokoro Marutamachi is set to open in the Goshominami area of Kyoto on April 25, 2020. The single-accommodation hotel is a complete renovation of a traditional Kyoto-style townhouse.

Kyo no Ondokoro Marutamachi comes as the 7th branch of hotels from Kyo no Ondokoro. It's a single building to rent for up to 4 people, who can enjoy taking a soak in the man-made carbonated spring bath which is kind to the skin and hair, using the soft water shower, and getting ready in the spacious makeup corner. It's the perfect getaway for girl groups travelling together.

The hotel is in a convenient location for sightseeing in the ancient capital of Kyoto. The building has been completely renovated to adapt to modern lifestyle while still retaining those traditional elements of a Kyoto townhouse that was built during the Meiji Periodーand in an area that's rich in traditional scenery.

The lounge space sofa seats are inspired by Japanese rock gardens

The lounge space, which connects the second-floor bedrooms and the washitsu Japanese-style room, are furnished with unique round sofas. All the rooms open up to each other so guests can enjoy the company of each other during their travel stay.

Hinoki cypress artificial carbonated spring bath

Amenities

The round bath is made from hinoki cypress, and the carbonated water lets you stay glowing and nice and warm after you step out of it. The bathroom is also stocked full of amenities like shampoo courtesy of popular brand THREE.

Up to four people can apply their makeup together in the makeup corner

The makeup corner is big enough to sit four people so they can get ready for their day or night out together while chatting.

Colourful art pieces also adorn the walls of the makeup room, Japanese-style room and elsewhere to add a touch of beauty to them.

If you're planning a trip to Kyoto with the girls then why not book at Kyo no Ondokoro Marutamachi when it opens on April 25?

Information

Kyo no Ondokoro Marutamachi

Address: 341-2 Shōshōiotabichō, Nakagyō-ku, Kyoto, 604-0873

Grand Opening: April 25, 2020

Price: ¥30,000 per night

Bookings: Opened on March 27, 2020

Offcial Website: https://www.kyo-ondokoro.kyoto/en/

Pan Am to Release Travel Inspired Clothing Collection in Collaboration with MIZUNO

Japanese sportswear brand Mizuno is collaborating with Pan American World Airways (Pan Am) to release a clothing collection called "52 Collaboration with PAN AM" in their "Go to by mizuno" series of lifestyle attire for active adults at the end of March. It will be available in Mizuno stores, Mizuno's official online shop, and pop-up shops in Japan.

Travel is the theme of the collection, and is the first co-developed line-up from "Go to by mizuno." It incorporates the functionality of sportswear while promoting the fun and excitement of travel.

What is Pan Am?

Pan American World Airways, commonly known as Pan Am, was at the forefront of the airline industry during its 64-year run. It was the first company to adopt the Boeing 707 when it ordered 20 of them for commercial use in 1955. It became the world leading airline in both name and reality in the 1960s. In 1972, Idlewild Airport (now John F. Kennedy International Airport) became a hub for Pan Am, and they also set up a company building in Manhattan. The airline is still fondly remembered today, and is sure to be a name mentioned by those who have travelled around the world.

Collaboration Items

The clothing line-up of 38 itemsーspanning T-shirts, caps, socks, travel bags, and moreーfeatures the Pan Am logo and is made from waterproof and stretchy sports clothing that can be used for everyday wear.

Information

52 Collaboration with PAN AM

Sold at:
17 Mizuno stores (including MIZUNO TOKYO and MIZUNO OSAKA CHAYAMACHI)
Mizuno online shop
Department Stores (Kawanishi Hankyu, Nishinomiya Hankyu, Kintetsu Department Store, Nara, Kashihara, Moriguchi Keihan Department Store, Kobe Hankyu, Kawagoe, Fukudaya Department Store, Utsunomiya)
*Pop-up shops from late March to early May (check official website for shop list)
*Shonan Tsutaya pop-up exhibition (March 20-April 27)

Official Website: https://www.mizuno.jp/52goto/

Gluten-Free Vietnamese Bánh Mi Baguettes Sold at the New Bánh mi Tokyo

In Vietnamese cuisine, a Bánh mi is a baguette stuffed with various ingredients and served as a sandwich. It's a popular meal in Vietnam, and in recent years has seen an appearance in Japan.

Bánh mi Tokyo opened in Gaiemmae, Tokyo on March 16, 2020. They serve bánh mi with a Japanese taste, and their bread is made from 100% rice flour with no artificial flavourings or purified sugar.

Bánh mi are generally made with lard or margarine, but at Bánh mi Tokyo, they are made with with ingredients with good-quality oil content like rice koji sweet sake and nuts, which give them a richness and creaminess and remove things like trans-fats that are a burden on the body. This also greatly cuts calories and other fats too.

Mackerel Curry Bánh Mi

All bánh mi overflow with original flavours, from the chicken-filled "Standard Bánh Mi" to the "Mackerel Curry Bánh Mi" which is made with curry flavoured grilled mackerel, "Five Spice Char Siu Bánh Mi" stuffed with juicy pork belly, and more.

Bánh mi Tokyo also serves high-quality original coffees which are a must-try together with your bánh mi

Information

Bánh mi Tokyo

Address: 1F, 3-1-25 Jingumae, Shibuya, Tokyo)

Opening Hours

[Weekdays] Morning 8:30-9:30 / Lunch 11:00-15:00 (Last Orders 14:30) / Cafe 15:00-17:30 (Last Orders 17:00)

[Weekends & Holidays] Lunch 11:00-15:00 (Last Orders 14:30) / Cafe 15:00-18:30 (Last Orders 18:00)

*Please note that opening hours are subject to change as a result of the coronavirus. Check the cafe's official website for the latest information.

TEL: 070-4142-0868

Official Website: https://banhmi-tokyo.com/

World's Largest Athletic Tower Banpaku BEAST to Open at Expo '70 Commemorative Park in Osaka

Banpaku BEAST is set to open as the largest athletic tower in the world at Expo '70 Commemorative Park on March 15, 2020, standing 24 meters tall.

The hexagonal tower was created by German-based amusement park attraction developers KristallTurm. It has four floors, each of which is its own "athletic area," as well as an observation deck. It is a comprehensive workout tower, offering 120 different kinds of athletic activities such as climbing and slacklining, meaning the fun will never end in a single day, and will have you wanting to go back for more.

The tower makes use of its full height; expect to use your entire body during your ascension, ride barrels, bikes, and more. Safety is guaranteed while still offering a heart-racing experience for those thrill-seekers. The facility can be used by both kids and adults alike who want to test themselves and feel refreshed after a good workout.


See Banpaku BEAST in action in the official video above.

Information

Banpaku BEAST

Location: Expo '70 Commemorative Park, Suita, Osaka

Time: Reception 9:30-15:00 / Open 10:00-16:30

Price: General ¥3,500 / Elementary school children and below ¥3,000
*Separate fee charged for entry to Expo '70 Commemorative Park's Natural and Cultural Gardens (General ¥260/ Elementary school children and below ¥80)
Access: 5-minutes from Expo Memorial Park Station via Osaka Monorail

Official Website: https://www.se-amuse.jp/bampakubeast/

MOSHI MOSHI ROOMS Opens Sentō Bathhouse and Sumō-Themed Fusion Accommodation Called 'DOSUKOI'

MOSHI MOSHI ROOMS is located in the heart of Harajuku's tourism welcomes travellers from all over the world to immerse in Japanese culture in a way they've never experienced before. The cherry blossom-themed accommodation SAKURA is a blooming success throughout the year and ORIGAMI's mesmerizing and clever designs never fail to make tourists crease their necks in amusement. 

The third Japanese culture accommodation has stomped into MOSHI MOSHI ROOMS as a fusion of sumō wrestling and sentō bathhouse culture called 'DOSUKOI'. The word dosukoi is phrase that sumo wrestlers shout out to get hyped up – perfectly summing up your excitement as you explore this spectacular fusion world from corner to corner. From a giant sumō hand to a historical sentō bathtub with a magnificent mural artwork scenery, the entrance, living room and sentō-style bathing area is overflowing with originality.

Living Room

The entrance to the living room is themed around a sentō bath. The tiled roof and traditional entranceway noren fabric dividers will be the first thing to welcome tired travellers. 

A giant sumō hand overshadows the light on the ceiling, representing the tsuppari striking technique used by sumō wrestlers. The furniture, including the soft sofa, rug and chairs, is white and beige to represent the colour of the sumō ring. 

The relaxing room is punctuated with powerful illustrations of sumō wrestlers that cover the wallpaper. 

Bathroom


The round bathtub is made from Japanese cypress wood and is large enough to fit 3-4 people – perfect to soak off your tiredness with friends and family. A large wall painting (mural)  of a grand ocean view dominated by Mount. Fuji stretches across the wall. A purple curtain is suspended above the circular bath, representing the mizuhikimaku curtain which hangs above a sumō ring. 

The dressing area is equipped with a fridge and chair like a traditional bathhouse. DOSUKOI guests will also find complimentary bath salts which are a gift.

The grand mural is an original piece by Kiyoto Maruyama – one of Japan's three remaining sentō mural artists. This graceful painting was created using a large and smaller brush. As you admire the bold colours and fine details of this rare art, which is fading away as society progresses, you will be sent on a journey back through time. 

Bedroom

The spacious sleeping area consists of two levels, each of which has enough room for two people to sleep. The room also has another bed in storage, meaning that up to five guests can stay. 

Sink and Toilet

The separate sink area is equipped with a hair dryer. There is also a Japanese Washlet toilet with multiple functions. 

Amenities and Extras

The kitchen is fully equipped with cooking utensils, a microwave, refrigerator and all the daily essentials. 

After a long, relaxing hot soak, put on a light yokozuna yukata robe and you'll feel just like a sumō champion. There are also many amenities and items that fit with the DOSUKOI theme. 

MOSHI MOSHI ROOMS isn't just a hotel but is also the perfect party space for you and your friends to get together. As the cold days are still with us, how about warming up in a toasty sentō-style bathtub with your friends?

Kyoto Aquarium to House 20 Types of Jellyfish With New 'Jellyfish Wonder' Area

Kyoto Aquarium is currently undergoing a large-scale renovation and is set to reopen on April 29, 2020.

When it reopens, visitors will be able to visit the new jellyfish area, called "Kurage Wonder" (Jellyfish Wonder), which will span 350㎡ in width and 40 meters in length. It will house the largest number of different species in western Japanーup to 20ーwith around 5,000 individual jellyfish to see, like the northern sea nettle and pacific sea nettle.

The area begins at 10 individual water tanks where you can see how moon jellyfish change and grow. It then moves onto the 6.5 meter circumference "GURURI" panorama tank which offers a 360° view of 1,500 moon jellyfish.

This tank is entered through an arch, which once you pass through leads you under the tank where your vision is filled with the sight of countless moon jellyfish.

The new "Kyoto Jellyfish Research Lab" has also been built where guests can observe the staff breeding and researching jellyfish on a day-to-day basis. Enjoy hearing how the jellyfish are cared for behind the scenes while chatting together with the staff. Various other activities you can participate in will be introduced in the future too.

Discover the wonderful world of jellyfish at the newly-renovated Kyoto Aquarium.

Information

Kyoto Aquarium

Address: 35-1 Kankijicho, Shimogyo Ward, Kyoto

Reopening: April 29, 2020

Access: 15-minutes on foot west from Kyoto Station's Central Exit / 7-minutes on foot from Umekōji-Kyōtonishi Station via the JR San'in Main Line

Official Website: https://www.kyoto-aquarium.com/en/

Tokyo Tokyo Official Souvenir Shop Opens in Haneda Airport

Tokyo Toyko, a website that provides information on things to do in Japan's capital, opened its own souvenir shop, called Tokyo Tokyo Official Souvenir Shop, in EDO KOJI on February 22, 2020, which is located on the fourth floor of Haneda Airport International Passenger Terminal.

As part of an effort to promote the appeals of Tokyo to the world, Tokyo Metropolis is carrying our PR work and branding with the catchphrase "Tokyo Tokyo Old meets New."

Happy Daruma / Mamehapi

Edo Kimekomi Waving Cat

The "Tokyo Omiyage Seisaku Project" aims to develop products in collaboration with Tokyo Metropolis and local businesses with the "Tokyo Tokyo" brand. To date, 50 products (excluding colour variations) have been produced, from traditional crafts to stationery, food, and moreーall embodying the spirit of Tokyo.

The shop design features illustrations of Asakusa and Shibuya, two a symbols of Tokyo that have been around since the Edo Period and are and hub of traditional and contemporary Japanese culture respectively. The shop is also planning to hold workshops, where you can learn to make your own daruma and origami.

If you're travelling to or from Haneda Airport, then be sure to pay a visit to Tokyo Tokyo Official Souvenir Shop where you can pick up souvenirs that combine traditional and contemporary culture.

Information

Tokyo Tokyo Official Souvenir Shop

Location: EDO KOJI – Haneda Airport International Passenger Terminal (Floor 4F)

Address: 2-6-5 Hanedakuko, Ota Ward, Tokyo

Opening Hours: 8:00-21:00 (Open all year round)

Raise Your Own Sky Lantern at New Greenpia Tsunan in Niigata

New Greenpia Tsunan, a resort facility in Tsunan, Niigata, is holding an exciting sky lantern event every day until March 31, 2020.

 

The sky lantern event is held every winter at New Greenpia Tsunan, and has returned again for 2020. It began in 2012 as a means of showing respect for and praying for the revival of disaster-stricken areas, such as the areas affected by the 2011 Tohoku earthquake, the Nagano and Niigata earthquake, and so on. Every year, couples and families come together to put their prayers and wishes into the lanterns before letting them go into the night sky. The countless lanterns raised at once soar up high and light up the black cloak of the night like burning stars.

For 2020, the event will also sell lantern t-shirts, handkerchiefs, hand towels, cookies, and other themed items.

 

If you're travelling in or around Niigata in Japan this year, then don't miss New Greenpia Tsunan's very special winter event.

Information

Sky Lantern Event

Running: Everyday until March 31, 2020 (Except select days where the site is closed or booked)

Location: New Greenpia Tsunan (12300 Akinari, Tsunan, Nakauonuma-gun, Niigata)

Time: Weekdays – From 18:00 / Saturdays & Days Before Public Holiday – From 18:00 & 20:00 / March Onward – From 18:30

Booking: Bookings available until 17:00 on the day at New Greenpia Tsunan

Price: ¥1,500 (1 lantern)

Official Website: https://new-greenpia.com/

*In the case of stormy weather, the event will not proceed on that day

ART LAB KYOTO: The New Shop Opening at Kyoto City Kyocera Museum of Art

ART LAB KYOTO is the new museum shop set to open at Kyocera Museum of Art on March 21, 2020 in line with the revamp currently undergoing at the museum, with design work being co-created by Japanese architects Jun Aoki and Tezzo Nishizawa.

Kyoto is known as a hub of Japanese culture, managing to maintain traditions while constantly evolving. ART LAB KYOTO will embody everything about this idea when it opens after the museum's revamp. The spacious shop will not only sell merchandise related to the exhibitions, but books and goods related to art from Kyoto both traditional and contemporary, items in collaboration with external artists, original and exclusive sweets, and more. ART LAB KYOTO will also host events promoting the diversity of art and culture in Kyoto.

Information

ART LAB KYOTO

Address: Kyoto City Kyocera Museum of Art Floor B1F (124 Okazaki Enshojicho, Sakyo Ward, Kyoto)

Grand Opening: March 21, 2020

Closures: Open every day until April 30, 2020 except March 23. The schedule commencing May will be posted at a later date on the official website.
Opening  Hours: 10:00-19:00

Official Website (English): https://kyotocity-kyocera.museum/en/