Internationally active dance and vocal trio w-inds. wrapped up their fan club live tour on April 30 at Pacifico Yokohama's National Convention Hall.
The group performed 15 songs at the finale, including their latest single Dirty Talk which was released in March. During the show's encore, the guys announced and they will release their 13th album on July 4 and subsequently embark on a nationwide tour from July 13.
​The title of the album is 100. The name comes from the members' combined ages this year which equals one hundred. Upon becoming aware of that, group vocalist Keita Tachibana thought, "Right! Let's make an album right away!"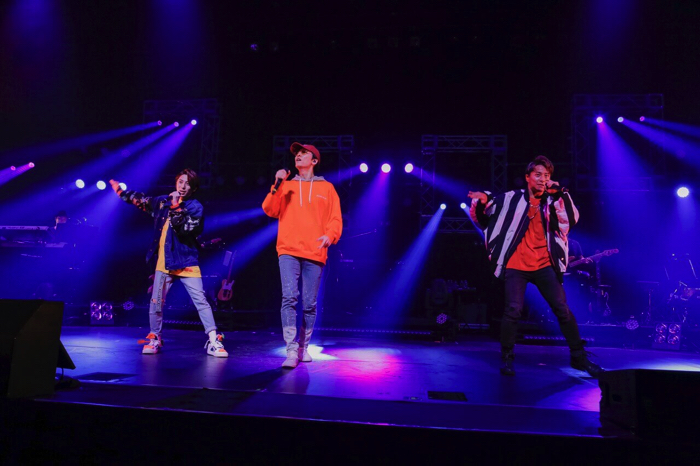 The album will include Dirty Talk and Time Has Gone which were released as singles. Additionally, the first press edition of the album which comes with a Blu-ray disc not only features both music videos for these songs, but a music video for a new song featured on this album too, as well as bonus footage filmed specially for this release. Further details will be released on the group's official website.
​After the album hits shelves, w-inds. will head on a tour across Japan from July 13. The title of the tour is w-inds. LIVE TOUR 2018 "100". They will also at Space Shower TV's event TOKUFUKU LIVE Connect! Vol.3 together with Taiiku Okazaki on June 21. The group will also hold their outdoor music festival w-inds. Fes ADSR 2018 -Attitude Dance Sing Rhythm- to 10,000 people on July 7 in Odaiba.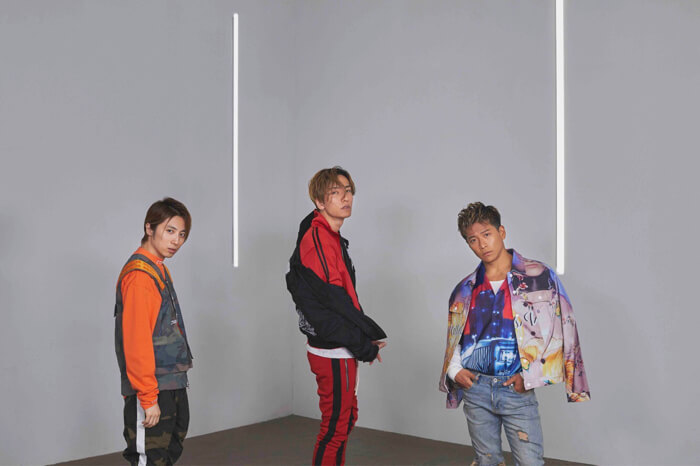 Expectations are high for w-inds. this summer. Be sure to stay up to date.
■Information
New Album – "100"
On Sale July 4, 2018
First Press Edition: ¥4,630 (+Tax)
*First Press Bonus: Ticket to a signing event to receive a signing from one member. You must apply for which member beforehand.
Regular Edition: ¥2,778 (+Tax)
Tour Information
http://www.w-inds.tv/information/live/
Tickets:
Fan club ticket pre-sale begins May 1.
General ticket sales begins June 23.
Price: ¥7,500 (All Seats Reserved. Tax Included.)
TOKUFUKU LIVE Connect! Vol.3
Address: Zepp Tokyo, 1-3-11 Aomi, Koto, Tokyo
Date: June 21, 2018
Time: DOORS 18:00 / START 19:00
Price: 1F Standing ¥5,200 / 2F Reserved Seating ¥5,700
http://sstv.jp/tokufuku_connect
w-inds. Fes ADSR 2018 -Attitude Dance Sing Rhythm-
Location: Odaiba J Section
Date: 7 July 2018
Enquiries: 050-3532-5600
Website: http://w-inds-fes.com/
w-inds. Official Website
RELATED ENTRIES
w-inds Releases Original Album '20XX "We are," First Album in Three Years

Dance vocal group w-inds. released their 14th original album '20XX "We are" on November 24, 2021. This is the group's first full album in three years, their last being '100.' It's also the first original album for the new two-member w-inds.

The new album includes the song Beautiful Now, released in December 2020, along with ten other tracks all composed by lead vocalist Keita Tachibana. Produced during the pandemic, this release marks the group's 20th anniversary and conveys the incredibly deep emotion related to both this happy occasion and the painful state of the current world. 

Check out an interview with w-inds. Below, where they already hint at another album in the works. 

w-inds. Official Interview About '20XX "We are" with Shoichi Miyake

'20XX "We are" ranked 4th on the Oricon Daily Album Ranking on November 23. Even after 20 years, the group still makes a splash each time new music is released!

The official music video for The Christmas Song (feat. DA PUMP & Lead) is premiering soon as well, so don't miss it!

The Christmas Song (feat. DA PUMP & Lead) / w-inds.(Official Music Video)*Video will premiere on November 27, 20:00

 

On December 29, the duo will hold an online show nine months after their last stream. 

Information

20XX "We are" 

Limited Edition [CD+Blu-ray]: ¥4,400 (Tax Included) 

Limited Edition [CD+DVD]: ¥4,000 (Tax Included) 

Regular Edition [CD Only): ¥2,750 (Tax Included)

Special Box [CD+Blu-ray+Photobook+ '2022 "THE BEST" Instrumental CD]: ¥8,800 (Tax Included)

Pony Canyon Special Sales Site: https://ps.ponycanyon.co.jp/w-inds/20xxweare/

Official Site: https://www.w-inds.tv/

DA PUMP & Lead Collaborate with w-inds. on 'The Christmas Song,' Track Now Streaming

Dance vocal group w-inds. has released a new song perfect for the holiday season! The Christmas Song (feat. DA PUMP & Lead) is now available to stream. The track is from the group's upcoming original album 20XX "We are,' scheduled to be released on November 24, 2021. 

 

The release has already become a trending topic in Japan. This year w-inds. is celebrating 20 years since their debut. Their first time serving as opening act was at a DA PUMP's concert, while Lead performed as the opening act for the first time at a w-inds.'s concert. The three groups are, as expected, very close friends at this point, and this Christmas track is filled with good vibes only. The jacket artwork was designed by U-YEAH from DA PUMP, and each singer wrote lyrics for their respective parts. 

The music video for the song will premiere on November 27 at 20:00, after the release of the album 20XX "We are." 

The Christmas Song (feat. DA PUMP & Lead) / w-inds.(Official Music Video)
https://youtu.be/3uE9FhIv-dU  *Video will premiere on November 27, 20:00

 

On December 29, the w-inds. Online Show 20XX "We are" will be held, marking nine months since the duo's last online show. 

Dance vocal group w-inds has released the cover art for their upcoming 14th original album, titled 20XX "We are." The album will be released on November 24, 2021. 

The photo features the two performers in front of a building that looks distinctly not Japanese. After 20 years in the business, it captures the refined elegance and dignity of w-inds and makes us more excited to hear what this album will bring to the table. 

This will be the first album released by the group in three years and the first original album for the group as a duo, after Ryuichi Ogata's departure in June 2020. 20XX "We are" will include 10 songs, including Beautiful Now, with all tracks being produced by Keita Tachibana. 

 

On September 24, a new music video appeared on the official w-inds YouTube channel. 






Pony Canyon's special site has also opened preorders for the Special Box edition of 20XX "We are," which includes an 80-page photo book and an instrumental version of the album. These are made-to-order, and preorders will be open until October 8, 2021. 

w-inds Releases First New Album in 3 Years, Celebrate 20 Year Anniversary

Japanese pop boy band w-inds will release their 14th original album on November 24. The release comes as the two members celebrate their 20-year milestone. w-inds initially hit the Japanese music scene in 2001 with their first single Forever Memories. 

The album is titled 20XX "We are," and is the pair's first original album in 3 years. It will include the song Beautiful Now, released in December 2020, along with ten other tracks. Lead vocalist Keita Tachibana composed all songs on the album. 

Preorders have begun on Pony Canyon's special product site, with various limited edition and special box edition releases available. Certain packages will include photobooks and instrumental versions of the album, along with Blu-ray or DVD releases. The larger special box editions are made to order, and can be preordered until 23:59 on October 8. 

Information

20XX "We are" 

Limited First Edition [CD+Blu-ray] PCCA.06083: ¥4,400 (Tax Included)

Limited First Edition [CD+DVD] PCCA.06084: ¥4,000 (Tax Included) 

Normal Edition [CD only] PCCA.06085: ¥2,750 (Tax Included)

Special Box Edition [CD+Blu-ray+Photobook+20XX "THE BEST INSTRUMENTAL" CD] SCCA.00122: ¥8,800 (Tax Included)

Special Box Edition [CD+DVD+Photobook+20XX "THE BEST INSTRUMENTAL" CD] SCCA.00123: ¥7,700 (Tax Included)

*Available from the Pony Canyon special product site (Preorders open until October 8, 2021)

Pony Canyon special product site: https://ps.ponycanyon.co.jp/w-inds/14thAL/

Official site: https://www.w-inds.tv/

Japanese pop boy band w-inds. released their new song Beautiful Now on December 2, 2020, which comes as the first track to be released by the band since Ryuichi Ogata left earlier this year on June 1. The band also a the music video for the song on their official YouTube channel.

The music video was directed by Hideaki Sunaga who is working with w-inds. for the first time. It features members Ryohei Chiba and Keita Tachibana as they embrace the new formation of w-inds.. The choreography was created by Sota and kooouya of GANMI. Chiba and Tachibana are joined by six dancers in the video, which features beautiful drone shots and scenery.

w-inds. – "Beautiful Now" (Music Video)



w-inds. will release a greatest hits album promoting their 20th anniversary on March 14, 2021. This also falls on the date that w-inds. first formed 20 years ago. The band launched a 20th anniversary website last week and have also launched a project where fans can vote for which of their favourite tracks they want to see on the album. The band also shared their own playlist of 20 songs via their anniversary website.

To find out more about the 20th anniversary celebrations of w-inds., click here.

w-inds. Celebrate 20th Anniversary With Greatest Hits Album Announcement

Japanese pop boy band w-inds. will mark hit their 20th anniversary milestone since their debut on March 14, 2021. Thursday (November 26) also marked exactly 20 years since the band's first street performance at Yoyogi Park. To commemorate the occasion, the band members, Ryohei Chiba Keita Tachibana, posted a new artist photo of themselves.

The band also recently launched their official 20th anniversary website, "w-inds. Beautiful 20th," where they have announced the release of a greatest hits album to celebrate their 20th anniversary. It will be released on March 14, 2021.

w-inds. have launched a project where fans can vote for which of their favourite tracks they want to see on the album. The band also shared their own playlist of 20 songs via their anniversary website.

But it doesn't stop there, as w-inds. also opened official TikTok and Instagram accounts, and will release the new song Beautiful Now digitally on December 2, 2020.

Information

20th Anniversary Album – Title TBA

Release Date: March 14, 2021

*The album title, track list, price, and so on will be announced at a later date

w-inds. Beautiful 20th Special Site: https://w-inds.jp/beautiful20th/

w-inds Official Website: https://www.w-inds.tv/

w-inds.' Keita Tachibana Drops 2nd Single in 12-Month Song Series

Keita Tachibana, the vocalist of dance and vocal pop boy band w-inds. has release his new digital single Live For Yourself, the second in a series of twelve consecutive release coming out over a period of 12 months.

KEITA announced the return of his solo project on January 18 after almost 3 years and made headlines when he announced he would release new singles digitally every month for 12 months.

The singer stated that Live For Yourself pushed him to try new challenges. The song has a 'floating' sound that rocks the listener to and fro coupled with straight lyrics. Once again, the track was completed entirely by KEITA himself including the singing, music and mastering.

Information

Live For Yourself

Released: February 18, 2018

Available: iTunes, Apple Music, Spotify, LINE MUSIC, AWA, Google Play Music, Recochoku, mora, d Hits, and elsewhere

Download: https://lnk.to/keita-officialWE

KEITA Official Website & Mobile Website: https://keita-official.tv/

*All produced by KEITA

w-inds. Member Keita Tachibana Restarts His Solo Career After 3 Years

Keita Tachibana, a member of the Japanese dance and vocal unit w-inds., has announced that he is restarting his solo music career under the name KEITA once again after over 3 years. His last solo released was the album FRAGMENTS which hit shelves back on December 16, 2015.

KEITA will carry out everything on his own – from the vocals to the composition and mastering. He plans to release a series of digital singles for 12 consecutive months.

It begins with Don't Leave Me Alone which was released on January 18. The song was also posted on the artist's official YouTube channel. Check it out below.

Look forward to the continuation of KEITA's music throughout 2019.

w-inds. Conclude 2018 Tour in Hong Kong & Release Two Songs From Live DVD/Blu-ray

Japanese pop boy band and dance unit w-inds. concluded their LIVE TOUR 2018 "100" on December 8 with a final show at KowLoon Bay KITEC-Star Hall in Hong Kong.

The tour began in July and has seen the trio perform 14 concerts across Japan before hitting up Hong Kong in a finale that featured a huge set list of 27 songs. w-inds. boasts immense popularity across the region of Asia and even rank as the first J-pop artist to receive a commendation for their diplomatic establishments abroad. The Hong Kong concert marked their 10th performance there, the first being back in 2007.

A tapestry was raised by local fans at the venue which read "w-inds. & Hong Kong, An Irreplaceable 10 Years." Ryuichi Ogata from the group acknowledged the messaged and gave his heartfelt thanks, saying "Same here, thank you for an irreplaceable ten years!"

Ryohei Chiba thrilled the crowd by talking in Cantonese about their stay in Hong Kong. At the end of the show, Keita Tachibana wrapped up their 2018 tour with his final comments: "This is the end of our tour this year, but of course we will be writing new stuff next year and aim to return to Hong Kong. Will you come again if you're able to next year? Let's definitely meet again, Hong Kong!"

This concert is being used to commemorate "日本秋祭IN香港", an ongoing event that has been held since October to promote Japanese culture in Hong Kong. The Consulate-General of Japan in Hong Kong who planned this event praised the three members: "The accumulation of ten years is extraordinary event for a Japanese artist. We will continue to support them with all our might from next year onward."

「Celebration」from「w-inds. LIVE TOUR 2018 "100"」DVD/Blu-ray

「Long Road」from「w-inds. LIVE TOUR 2018 "100"」DVD/Blu-ray

w-inds. have also released two live videos of Celebration and Long Road from the upcoming DVD/Blu-ray release of their w-inds. LIVE TOUR 2018 "100" which hit shelves on December 12. Fans who purchase both the first press limited edition of the DVD along with either the regular edition DVD or Blu-ray and sign up within the specified period will receive a tour towel. Full details can be found on their official website.

Information

w-inds. LIVE TOUR 2018 "100"
Release Date: December 12, 2018
First Press Limited Edition DVD (2 Discs + 2 CDs): ¥5,926 (+Tax)
Regular Edition Blu-ray (1 Disc): ¥5,926 (+Tax)
Regular Edition DVD (2 Discs): ¥4,907  (+Tax)

w-inds. Official Website: www.w-inds.tv/

Boy band w-inds. wrap up tour finale announcing their 10th live in Hong Kong to follow!

08.September.2018 | MUSIC

Dancing pop boy band trio "w-inds." performed the finale of their tour "w-inds. LIVE TOUR 2018 "100" at Hall A, Tokyo International Forum.

The boys also announced the release of the LIVE DVD/Blu-ray of their tour, which fans can purchase from Wednesday 12th December. They have also announced their 10th solo live performance which will take place in Hong Kong – this finale has been packed with fun announcements for their fans!

Updates on all their future action will gradually follow overtime!

On Saturday 18th August, 100 fans were invited to "w-inds. New Album "100! Premium Live from YouTube Space Tokyo" to witness the band before their very eyes at YouTube Space Tokyo. The performance was live streamed on w-inds.' official YouTube channel.

Join the boys' worldwide fan base and plunge into the excitement of the band's performance on the 29th floor at Roppongi Hills' stage!

■Information

DVD/Blu-ray

w-inds. LIVE TOUR 2018 "100"

Release date:12th December 2018

First-run DVD (2 discs) +2 CDs Luxury digipack

PCBP.53254 / ¥5,926 + tax

【Bonus footage】Documentary of w-inds. LIVE TOUR 2018 "100": Side A (provisional name)

【Bonus CD】07.09.2018 Tokyo International Forum Tour Final Performance

Standard edition Blu-ray (1 CD)

PCXP.50589 / ¥5,926 + tax

Standard edition DVD (2 CDs)

PCBP.53255 / ¥4,907+ tax

【Bonus footage】 Documentary of w-inds. LIVE TOUR 2018 "100": Side B(仮)

※ Further information will be released in the future.

W-inds. LIVE TOUR 2018 "100" in Hong Kong

Date:Saturday 8th December

Venue:Kitec-Star Hall Kowloonbay International Trade & Exhibition Centre – Star Hall

Doors open:19:15 /Start time: 20:15

Ticket prices:HK$1380 HK$880

Standard ticket:To be confirmed

Queries: Hong Kong Ticketing

TEL:(852)31‐288‐288

For further information, visit this site: https://premier.hkticketing.com

Concert Review: w-inds. Hold Their Premium Live Show at YouTube Space Tokyo

Dance and vocal trio w-inds. held a premium live performance at YouTube Space Tokyo which is located on the 29th floor of Roppongi Hills.

The show was held to celebrate the release of their new album 100 now on sale. In line with record's title, this premium concert was limited to 100 invitations.

The members stepped onto the stage donning a chic jacket style, the Tokyo nightscape serving as their backdrop.

"It's Saturday night. I bet it's been a busy week for you all. I wonder how you're all living your lives these days? This weekend… with our music…" Ryuichi whispered to the audience.

Keita butted in, saying, "Shouldn't we be a bit a bit cooler? (laughs)."

Ryohei followed this up too. "Right? I mean, the night is beautiful."

The atmosphere of the room turned peaceful at their chatter.

The performance began with the summer tune Bring back the summer, the first song on their new album. This was followed by a new arrangement of one of their early hits SUPER LOVER ~I need you tonight~.

Keita has started posting gaming videos on YouTube recently. During an interval, he made the audience laugh, saying: "I was told that once I get 10,000 subscribers, it'd be cool if I played games here [YouTube Space Tokyo], so I've decided it'll be games the next time we come here."

Moving onto the second half of the concert, the band performed We Don't Need To Talk Anymore, a song self-produced by Keita. They then performed a string of tracks from 100 including Temporary, We Gotta go, and Dirty Talk which was released early as a single. The group put on a thrilling performance of fantastic dancing and singing backed up by a skilled live band as well as entertained the crowd with conversation.

The concert was streamed live on YouTube which saw lots of messages from fans overseas too who had tuned in for the premium experience.

w-inds. are currently on a nationwide tour in Japan to promote 100. If you're in Japan then you've got to experience seeing them live for yourself. Details can be found on their official website.

■Information

New Album – "100"

Now On Sale.

First Press Edition: Special packaging, CD, Blu-ray, Special Photo Booklet (76 pg.) – ¥4,630 (w/ tax ¥5,000) [PCCA- 04682]

*Blu-ray includes "Time Has Gone," "Dirty Talk" and "Temporary" music videos and "100 – Behind The Scenes"

Regular Edition: CD-only – ¥2,778 (w/ tax ¥3,000) [PCCA-04683]

w-inds. Official Homepage: http://www.w-inds.tv/

w-inds.' New Album '100' Release Event at YouTube Space Tokyo to be Streamed Live

Male trio dance and vocal group w-inds. have announced a special event to commemorate the release of their new album 100 which was released on July 4.

The event will take place at YouTube Space Tokyo located on the 29th floor of Roppongi Hills. The group will perform a special live show on the day.

The entire show will also be live streamed on YouTube via their official channel, meaning those unable to make it won't miss out on the fun.

Additionally, 90 lucky people will be randomly selected to be invited to the event via the group's official fan club "w-inds.day" and on C CHANNEL, Japan's biggest video streaming site aimed at women.

Full details on how to apply for the event can be found on the official w-inds. website.

■Information

w-inds. New Album「100」Premium Live from YouTube Space Tokyo

Date: August 18, 2018

Time: Open 6:00pm / Start 7:00pm / Finish 8:00pm (subject to change)

Location: YouTube Space Tokyo (Roppongi Hills 29F, 6-10-1 Roppongi, Minato-ku, Tokyo)

Stream Link: https://www.youtube.com/watch?v=gnGkLq5iETU

w-inds. Official Homepage & Mobile Site: http://www.w-inds.tv/

■C CHANNEL Applications

40 people to be randomly selected via the C CHANEL app for invitation to the event.

Application: https://goo.gl/PcEWqL

New Album – "100"

Now On Sale.

First Press Edition: Special packaging, CD, Blu-ray, Special Photo Booklet (76 pg.) – ¥4,630 (w/ tax ¥5,000) [PCCA- 04682]

*Blu-ray includes "Time Has Gone," "Dirty Talk" and "Temporary" music videos and "100 – Behind The Scenes"

Regular Edition: CD-only – ¥2,778 (w/ tax ¥3,000) [PCCA-04683]