Rental Go Kart Service BOSO KART Opens in Minamiboso, Chiba Prefecture
BOSO KART offers the chance to climb into a go kart and go riding around the streets of Minamiboso in Chiba. They have just launched a new set of courses for tourists. The kart at the front will act as a navigator, so even first-timers to go karting can get involved with the fun.
The Minamibososhi Sight Seeing Information Center started up this new set of courses in responses to the large amount of foreigners using rental karts in the city.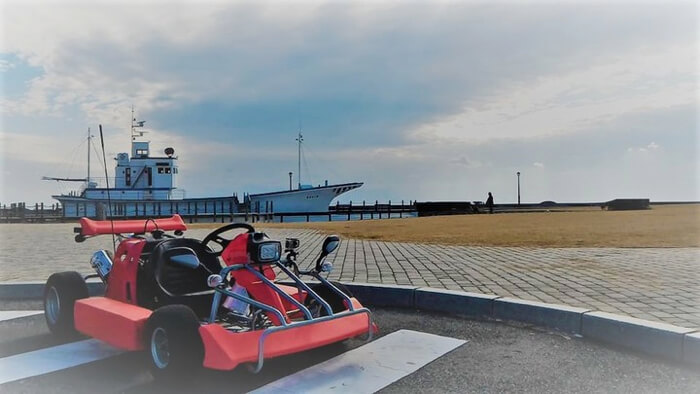 Go karting around the city is especially popular with foreigners there. But this go karting experience is a little different, instead serving as a tour where you can enjoy following the lead car up front to showcase places of scenic beauty.
There are three courses in total, one of which begins with the Chikura Shiokazeokoku as the starting point. The only requirements to ride are a either a driver's licence, ordinary motor vehicle license, or international driving permit.
The service also operates on weekdays, with the starting point at Chikura Shiokazeokoku. You can also buy tickets in advance via Lawson Tickets.
Experiencing riding around Minamiboso on a go kart while checking out the sights with a tour guide!
■Information
BOSO KART
No Fixed Holidays. (From Golden Week it will be closed every Wednesday, the same as Chikura Shiokazeokoku)
Opening Hours: 10:00-15:00
Departure Times: 10:00 / 12:00 / 14:00
Reception: Designated booth at Chikura Shiokazeokoku
Starting Point: Chikura Shiokazeokoku
Lawson Tickets: http://l-tike.com/sports/bosokart/
Courses
Izu Islands & Ocean View Course (Approximately 2 hours) – ¥6,500
'Southernmost' Drive Course (Approximately 1 hour) – ¥4,500
Nostalgia Course (Approximately 40 minutes) – ¥3,500
RELATED ENTRIES
WASHOKU: Asakusa's Newest Restaurant For Experiencing Japanese-Style Cuisine

Asakusaーone of the hottest spots in Tokyo for sightseeing, ever-bustling with Japanese and foreign tourists and travellers alike. This ancient district is famous not only for its sights, like Sensō-ji (the oldest temple in Tokyo) and the Nakamise-dōri shopping street leading up to it, but for its bountiful offering of gourmet restaurants.

Today, we're taking a look at Taikenkei Dining -WASHOKU-, a restaurant which opened in Asakusa on November 19 this year. If you're looking for the full package when it comes to experiencing Japanese food culture, WASHOKU has customers covered. Not only do they serve food, like traditional Kyoto obanzai, but they offer cultural experience plans too where you can learn to make sushi or dress up in a kimono and walk the old streets of Asakusa.

WASHOKU's concept when it comes to both lunch and dinner centres around enjoying Japanese-style food that is colourful. And that rings tantalisingly true with their kaleidoscopic obanzai, which is formed of 12 vivid bite-sized delights. Obanzai is a traditional style of Japanese cuisine that comes from Kyoto, made up of mostly seafood and vegetables. The obanzai served at WASHOKU was conceived under the guidance of nutritionists, and so is packed full of healthy nutrients for the body. Not only that, the ingredients selected are all domestic to Japan, and are of a very high quality.


The obanzai I ate included fried beni haruka sweet potato which is sourced from Ishida Farmsーa sweet potato growerーin Katori, Chiba. It had a moist texture and rich sweetness. When I sank my teeth into it, I was flushed with feelings of the fall season.

Other foods in the assortment included sashimi, scallop and yuzu, saikyo-yaki Kyoto-style grilled fish, and more. Each mouthful of the selection offered its own distinct and unique flavours.

The obanzai is served with miso soup too with which you get to choose a miso ball from a variety of flavours to put into your bowl. I went for the sesame seed miso ball.

The miso ball is made from miso paste and various ingredients. Once placed into the hot water, it melts and turns into miso soup. The sweet light-brown miso was perfect for warming up my chilly self.

Dinner also features a dessert menu, as well as courses with an all-you-can-drink option, so I recommend these options for people who want to relax and take their time with their dining experience.

As I mentioned earlier, WASHOKU also offers a variety of experience-based plans. This includes a sushi class where you can learn to make your own hand-rolled sushi.

There are two types of "temari" hand rolled sushi you can make: the regular type, which makes use of tuna, salmon and other classic sushi toppings, and the high quality type, which uses more high-end ingredients like uni sea urchin eggs, caviar, gold leaf, and more. And for foreign customers, the restaurant has prepared a handout detailing the history of Asakusa and recipes, as well as souvenirs for them to take home.

The MMN team of course had to have a go at making our own sushi, but it proved quite difficult. You have to get the right amount of sushi rice to roll, then actually roll it perfectly into a ball before topping with your ingredients. But the sushi I made was actually really delicious! To attend this class you have to book in advance, so if you've never tried making your own sushi before or have an need some guidance, then we can't recommend it enough.

As well as food-related experiences, WASHOKU provides customers with three different plans to experience Japanese culture. The first of these is the rickshaw ride, where you board a rickshaw pulled by a runner and are taken around the various sites of Asakusa. The 'Excursion Around Asakusa Course' takes you to the most popular spots around Kaminarimon, while the 'Sky Tree Course' takes you all the way to the Sumida River, and you also get to see Tokyo Skytree and various other attractions in Asakusa.

The Edo Kiriko plan gives you the opportunity to cut your own Japanese glass to drink from. You can drink from your glass if you reserve the plan with lunch or dinner.

Finally, you can rent a kimono. Select your favourite from the shop and have a professional dresser get you readyーwith both your kimono and your hair. After you're dolled up, you can take a stroll around Asakusa to get a real feel for Japanese culture.

All three of these plans are just ¥3,500 per person, and all require reservations which you can book online.

So, if you're looking for a taste of Japanese food and culture, why not take a trip to WASHOKU when visiting Asakusa for an all-in-one experience?

Information

Taikenkei Dining -WASHOKU-

Address: 2113 Kaminarimon Bldg. Floors 5F-6F, 2 Kaminarimon, Taito Ward, Tokyo

Opening Hours: Lunch 11:00-15:00 / Dinner 15:00-17:00

No Fixed Holidays

Access: 1-minute on foot from Exit 4 of Asakusa Station via the Tokyo Metro Ginza Line / 2-minutes on foot from Exit A3 of Asakusa Station via the Toei Asakusa Line

Official Website (English): https://washoku.site/en/

IOC and Airbnb Announce Global Olympic Partnership & Olympian Experiences

The International Olympic Committee (IOC) and Airbnb have announced a major long-term partnership to support the Olympic Movement which will run from 2020-2028. During this period, Airbnb will offer unique accommodation and experiences, and experience tours hosted by Olympians and athletes will also take place.

The partnership will create hundreds of thousands of new Airbnb hosts over the the nine-year period from July next year, allowing for visitors to enjoy longer stays, accommodating families, and more. This will enable community residents to generate extra income while accommodating overseas visitors and proving them with local experiences. In turn, it means those visiting from overseas will be able to engage more with the local culture and community. Both occupied and vacant homes will be utilised.

The IOC and Airbnb will also launch Airbnb Olympian Experiences which will provide direct earning opportunities for athletes by promoting sports, allowing for people to train together with elite athletes and Olympians.

At the press conference for the announcement of the partnership, gold medalist Saori Yoshida said: "A lot of athletes today devote themselves completely to the games, so a lot of them struggle to find their next career after retiring. These Athlete Experiences will widen the activities of all athletes; not only retired competitors, but those who weren't able to make it as far as the Olympics too. I'm very thankful for that. I believe it will raise the standard of the games for kids, and will serve to brighten and bring excitement to the whole of Japan. I hope that these efforts bring a tremendous boost to the sports world and will have everyone taking an interest in sports."

Tokyo 2020 will officially launch next summer, and with this partnership, people may just be able to enjoy the Olympic Games together with the athletes themselves, allowing for fans to feel closer to the games and the Olympians.

Airbnb's involvement also gives visitors from overseas to enjoy Japan and the Olympics in an unprecedented way. If you're travelling to Japan for Tokyo 2020, be sure to book with Airbnb.

Sleep With the Orca Whales With Kamogawa Sea World's Night Stay Program

Kamogawa Sea World is offering a different kind of aquatic experience later this year with its new "Adult Night Stay" program which will run for 5 set days between December 7, 2019 and January 18, 2020 for those aged 18+.

The program offers a chance to take a photo with the beluga whales as well as watch a special performance from the orcas, which is available to those participating in the night stay as well as guests staying at Kamogawa Sea World Hotel. The aquarium also has some other night-time plans in store which you can't experience during daytime hours.

During dinner, you'll get to watch the orcas swim from the window while dining and chatting with the feeder and trainer of the orcas. The semi-course dinner was conceived by head chef Yamamoto and is made with seasonal ingredient.

After food, enjoy gazing at the giant "Endless Ocean" tank.

Below is the schedule for the two days.

Day 1

・Tropical island behind-the-scenes study

・Pet the beluga whales (includes photo)

・Special orca performance

・Semi-course dinner with feeder and trainer

・Night adventure

・Bathe (At Kumogawa Sea World Hotel or neighbouring facility)

・Stay in front of endless ocean tank

Day 2

・Watch the dolphins

・Breakfast at the Ocean restaurant

・Free roam of the aquarium

Information

Adult Night Stay

Running: December 7, 2019 / December 14, 2019 / January 11, 2020 / January 12, 2020 / January 18, 2020

Age: 18+ years

Capacity: 35 people per day (First-come, first-served)

*Sign-up will run until 10 days before each set day

*If there are less than 20 people for a set day the program will not run

Price: ¥16,500 (Tax Included) *Includes rental of orca design sleeping bag rental

Accommodation: Sleeping in front of the Endless Ocean tank (except December 7 where it will be on the Rocky World floor)

Food: Includes dinner and breakfast

*Dinner includes course dinner and one drink

Sign-Up: Phone bookings open from October 26, 2019 at 10:00 (first-come, first-served)

TEL: Kamogawa Sea World – 04-7093-4803 (10:00-16:00)

Details: http://www.kamogawa-seaworld.jp/aquarium/program/night.html

Kamogawa Sea World

Address: 1464-18 Higashichō, Kamogawa, Chiba

Official Website: http://www.kamogawa-seaworld.jp

Stroll the Edo Streets as an Elegant Samurai and Make Tea in the Feudal Lord's Residence

Sakura, Chiba is home to important cultural heritage and even what is also known as the "Samurai Town". Now you can stroll around the beautiful old streets of Sakura dressed as a Samurai, attend a relaxing zen session and even take part in a tea ceremony as part of a limited period tourist plan. The Samurai tour is mainly aimed at foreigners, however Japanese people who are curious about samurai culture are also more than welcome to join. 

Sakura Castle Samurai Stroll

In 2016, Sakura became one of the four cities of the Hokuso region to be designated as a Heritage site under the title "An Edo Travelogue through Four Hokuso Cities" for its preservation of the old Edo culture. Old buildings full of secrets can be spotted all over the town, creating the old atmosphere of the Edo period. Embrace the elegant remnants of the Edo period with a relaxing stroll in Samurai clothing. Who knows what you might discover.

Your relaxing stroll will be led by a tour guide who knows a lot about the history of Sakura. This is a wonderful opportunity to take beautiful pictures of the historical Samurai house (Bukeyashiki). Your tour guide will also show you Hiyodorizaka, which is a natural path lined with a dense forest of tall bamboo trees where Samurai are said to have often pass by. Every year, the bamboo and wooden sword martial arts sessions in the program are also very popular. 

◇ Running:

October 26

 November 9, 23

 December 14, 21

January 11, 25

February 8, 22

March 12, 28

April 9, 25

May 9, 16

◇ Times: 9:30 ー 12:30

 *The program will still run in bad weather excluding stormy or severe weather.

◇ Prices:

¥6,500 per person (Includes lunch voucher and entry to the samurai house)

* ¥6,000 per person when you purchase tickets as a group of 3 or more.

◇ Tickets

Reservation Website: https://www.govoyagin.com/ja

Apply Directly to Sakura City Tourism Association

TEL: 043-486-6000

Email: sakurashi-kankou@catv296.ne.jp

* Phone calls will be answered in Japanese only.

Zen Meditation and Tea Ceremony in the House of a Feudal Lord

There are also guided zen meditation and tea ceremony sessions which are available for a limited period only. These guided zen meditation and tea ceremonies will take place in the Kyuhottatei ー one of Japan's most preserved traditional-style feudal lord residences. This luxurious Edo-style mansion was built 130 years ago and is classified as an Important Cultural Property.  

◇ Running:

October 16,

November 7, 19

December 6, 18

◇ Times: 9:00 ー 12:30

 *The program will still run in bad weather excluding stormy or severe weather.

◇ Prices:

¥10,000 per person (Includes lunch voucher, entry to the Kyuhottatei and tea ceremony participation fee.)

◇ Tickets

Please enquire directly to the Sakura City Tourism Association

TEL:  043-486-6000

Email Address: sakurashi-kankou@catv296.ne.jp

* Phone calls will be answered in Japanese only.

If you are curious about Edo Samurai culture, you won't be disappointed by this program.

Tokyo Disney Resort to Unlock A Whole New World in 2020: New Area, New Attractions, New Adventures

Tokyo Disney Resort will be telling the guards to open up the gates to an enormous number of brand new attractions, events and much more all at once on April 15, 2020. Over the course of the year, there will be so many exciting events and programs all over the resort that you will be wanting to waltz into Disney Resort® every day. This is the perfect chance to experience your perfect Happily Ever After. 

In short, Alongside the numerous seasonal programs and events, Tokyo Disneyland will be expanding Fantasyland. A new area will be built inside it called New Fantasyland, which is dedicated to the Disney film Beauty and the Beast. There will even be a new attraction called 'Enchanted Tale of Beauty and the Beast', an indoor theatre called 'Fantasyland Forest Theatre', and much more. Along with the new Fantasyland developments, Tomorrowland will be home to the new ride 'The Happy Ride with Baymax' and Toontown is getting an attraction called Minnie's Style Studio. 

New Disneyland Attractions to Open on April 15, 2020

New Attraction: Enchanted Tale of Beauty and the Beast

There will be a brand new large-scale attraction dedicated to the Disney classic Beauty and the Beast. Enter the picturesque village of medieval France where Belle resides. Embark on a journey through the film in a dancing teacup and become part of famous scenes as the nostalgic movie music embraces you. You will want this beautiful moment to last forever.

 New Indoor Theatre: Fantasyland Forest Theatre

This is the first ever full-scale indoor theatre to ever be built at Disneyland and it will reside in Fantasyland. The theme of the theatre is travelling the wonderful world of music with your favourite Disney characters. The live performances to take place on the stage will be undoubtedly dynamic and intense. 

Minnie Mouse Meet and Greet Facility: Minnie's Style Studio

For the first time in forever, Tokyo Disneyland is setting up a greeting facility for Minnie Mouse to greet guests. Head to Toontown to meet fashion designer Minnie Mouse in her beautiful costumes. Make sure to get a picture with her! 

*Toontown, where Minnie's Style Studio is located, will be presented by Kodansha Ltd.

The Happy Ride with Baymax

If you're a fan of Big Hero 6 then this ride is for you. Your favourite personal medical healthcare companion Baymax will pull you along on a thrilling and rather unpredictable journey. 

* The Happy Ride with Baymax is presented by Daihatsu Motor Co., Ltd.

Seasonal Events

Tokyo DisneySea 'Disney Easter' Special Event

March 27- June 12, 2020

Tokyo DisneySea has some incredibly exciting news: The Usapiyo chicks are due to hatch in time for Easter! These mysterious chicks with bunny ears are sure to have your heart hopping with happiness. They will be taking part in a show held at the Mediterranean Harbor. The Usapiyo will be joining Mickey Mouse and the gang to celebrate spring and fill your heart with excitement and fun. 

 

Tokyo Disneyland Special Program: 'Happy Fair with Baymax'

June 4 – November 1, 2020

This program will take place in Tomorrowland and will see the park filled with decorations, photo spots, merchandise and menu items themed on Big Hero 6. Your excitement levels are bound to inflate dramatically!

These are just a few exciting events that 2020 holds in store. Be Prepared for some fun!

*All images in this article are illustrations. 

©Disney

Taste Different Japanese Teas in Wine Glasses in Fukuoka

Neworld has teamed up with Asakura, Fukuoka-based tea manufacturing company Seichajo Yamashina to offer an all-new tea-tasting course. Reservations opened on September 25 and can be made via telephone call.

Yamashina Tea Stall first opened its doors to the public back in 1947 in the city of Asakura, Fukuoka. This long-standing tea shop oversees every aspect of their original blends, from the tea leaf selection to the roasting.

The shop's representative, Koya Yamashina, is a tea professional, having worked as an instructor on Japanese tea as well as an established Japanese tea critic. He has travelled up and down Kyushu―one of the five main islands of Japan where Fukuoka sits―which has enabled him to select only the best tea for the shop, considering the taste, smell, season, place of production, and growers themselves.

Yamashina Tea Stall promises a fun and authentic experience when it comes to Japanese tea, for the very fact that it has had its hands on so many different types. That's where their new program comes in to play, where they will pair different Japanese teas into different wine glasses―provided by Tokyo glass makers Kimura Glass―for tasters to get the best out of the tea, including the flavours and fragrance.

Let's take a look at the course.

Piccolo 6oz Flute & Yama no Asatsume

This brand of tea is called Chiran Yama no Asatsume and it comes from Kagoshima Prefecture. It's grown in Ushirodake, an area in Kagoshima with a high altitude, the only place it can be grown. It has a distinct fresh and sweet fragrance. The tea is served in a 6oz Piccolo glass which is a popular glass for champagne. Its delicate rim and form makes it the perfect shape to enjoy the full taste of the tea.

Garson 3oz Grappa & Yame Gyokuro

Yame Gyokuro is known as one of the most luxury teas in Japan. Served in a Garson glass, it has a thin, long shape, making it ideal for smelling the gentle aromas of the gyokuro tea and for enjoying its smooth, sweet taste.

Pivo Orthodox 63224-210 & Sun Rouge

Sun Rouge is an extremely rare variety of tea grown on the distant island of Tokunoshima which is south of Kagoshima. It is served in a classic champagne glass, much different from the flute-type champagne glasses. The liquid is allowed to spread over a wider surface, letting you take in the distinct beautiful purple colour of the tea while enabling the fragrance to dance around the elegant glass.

This is just a snapshot of the many drinks this course has to offer. If you're looking to experience Japanese tea in style, then why not try out this course? They even sell sets of glasses and tea so you can take them home with you!

Information

Yamashina Tea Stall

Address: 1635 Amagi, Asakura, Fukuoka

Opening Hours: 10:00-18:00

Course Name: CRAFT STORE x Seichajo Yamashina Japanese Tea Course (5 Types)

Price: ¥1,800

Reservations: Telephone (Limited number of places, please enquire ASAP)

TEL: 0120-177-515

Homepage: https://www.e-ochaya.net/

Gamers! Rally Your Teammates For A New Quest: TOKYO GAME SHOW

The TOKYO GAME SHOW is in a league of its own. It is a mecca for gamers who cannot get enough of Japanese games and entertainment. This is where Japan's major game publishers from all kinds of platforms unite to put on an enormous exhibition. 

This includes the opportunity to explore games that are yet to be released as well as hear new announcements about the direction developers are steering the future of gaming. There's no lagging behind. This is a major event for the gaming industry, raking in leagues of heroes every year. 

On August 28, a total of 2,417 game booths were announced, which is the largest number the event has ever seen in its history. This event is home to games on a range of platforms including for console, smartphone and PC. The enormous variety of genres includes the most cutting-edge and latest trends including Esports, VR and much more.

For those of you who love cosplay, this event is your chance to finally meet your fantasy. The outside area of Hall 9 will have a Cosplaying Area Stage where two events will take place: a cosplay fashion show and a gathering. 

On Saturday 14th, Hall 1 event stage will hold the Cosplay Collection Night@2019 event where participants and event staff will take over the stage in game character cosplay. Spectating is free, so feel free to watch as each cosplayer dominates the entire stage, showing off their excellent craftsmanship and skills as they walk the runway and strike a pose definitely worth saving in your highlights! 

On Sunday 15th at 2:30 pm, cosplayers will take to the stage in units of two or more to put on a dance or combat show that you just cannot critically miss out on. 

Schedule:

September 14 (Sat)  From 12:00 ー Cosplay Runway  From 15:30 ー Cosplay Runway

September 15 (Sun) From 13:30 ー Cosplay Runway From 14:30 ー Cosplay Dance and Combat Shows From 15:30 ー Cosplay Runway

The Gathering is where cosplayers can interact with one another and have photos taken ー the perfect opportunity to send those friend requests. On September 14, a gathering dedicated to the Final Fantasy Tales Series will take place on the Cosplay Area Stage. On September 15, there will be gatherings for the Dynasty Warriors and Samurai Warriors series.

Schedule:

September 14  13:00-13:30 Final Fantasy Series Gathering  14:00-15:00 Final Fantasy Tales Series Gathering 

September 15 12:30-13:00 Dynasty Warriors and Samurai Warriors Series Gathering

More information on the exhibitions, booths and events will be announced on the morning of September 12 so please check it out. 

There is no better way to multi kill your time than to spend the entire day at TOKYO GAME SHOW 2019 ー get your tickets and GLHF!

Information

TOKYO GAME SHOW 2019

Event Information

Business Days*: September 12 & 13, 2019 (10:00~17:00)

*Business Days are open to industry and press only.

Public Entry*: September 14 & 15, 2019  (10:00~17:00)

*Doors may open at 9:30 am according to conditions on the day.  

Venue: Makuhari Messe (Mihama Ward, Chiba)

Exhibition Halls 1-11/ Event Hall/ International Conference Hall

Entry Fee: Advanced tickets: ¥1,500 (after tax)

On The Door: ¥2,000 (after tax)

Those under Elementary School age can enter for free (public entry days only)

Official Website: https://expo.nikkeibp.co.jp/tgs/2019/en/

Tokyo Disney Resort Reveals Its Spooky Halloween Programme and Character Costumes

Get ready for some spooky fun as Tokyo Disney Resort® transforms for the 52-day-long horrifically exciting Disney Halloween from September 10 to October 31. Head to DisneySea to be captivated by the new harbor show Festival of Mystique, or get spooked out of your skin at the Spooky "Boo!" Parade at Disneyland. Today, we will be revealing the spooky looks of both parks.

Tokyo DisneySea Festival of Mystique Costumes

Working with the main theme of a medieval European halloween, inspiration has been taken from the living creatures and waves at the port town Porto Paradiso. 

Mickey Mouse's costume inspiration comes from the the bones and scaly body of a sea creature. He will also be seen wearing a broach decorated with beautiful jewels. 

Minnie Mouse's costume resembles that of a medieval princess. You will see her in a fancy hat that bears beautiful pearls. Her costume is covered in scales on the chest and on the back which really suits her.

Tokyo Disneyland's Spooky Boo! Parade Costumes

Disney friends have joined forces with a group of spooky spirits. You just can't miss out on this rare chance to see your favourite Disney characters disguised as ghosts and skeletons. The strange and unusual atmosphere is sure to send a chilling shiver down your spine. 

Mickey and Minnie will be completely refreshing their colourful look. Mickey's necktie and Minnie's skirt are very mysterious and particularly intriguing.  Please come check them out!

Enjoy the beautiful costumes and the fun range of events this Halloween at Tokyo Disney Resort.

©️Disney

Celebrate Hello Kitty's 45th Anniversary at the Hello Kitty Collection Exhibition in Chiba

Lovers of Sanrio and all things Hello Kitty won't want to miss the 45th Anniversary Hello Kitty Collection Exhibition currently being held at Sogo Chiba until August 15.

The event look backs at the kawaii history of Hello Kitty with a huge range of old and new merchandise. There's also photo spots for taking cute photos, a wall of Hello Kitty plush toys, touch interactive digital videos, and much more.

If you're looking to stock up on your collection of Hello Kitty merch then you have around 850 items to choose from including goodies exclusive to the event, pre-sales of items to be released at a later date, and more. There's even a pottery workshop as well as a chance to take your photo with the real Hello Kitty.

Kawaii Chronicles: Hello Kitty Design Museum

Get ready to witness a wide selection of Hello Kitty goods from across generations, including rare and vintage items no longer manufactured. Witness the history of Hello Kitty's kawaii world and how things changed through the years to fit each generation.

Digital Content & Plush Toy Wall

Get interactive with Hello Kitty with the wall mapping – touch the wall and see the visuals change. There's also another wall completely full of Hello Kitty toys which makes for a really cute photo opportunity.

Photo With Hello Kitty

Hello Kitty will be present on August 12 in a beautiful kimono ready to have her picture taken with you! Tickets will be handed out 30 minutes before each session. Spaces are limited so make sure you're on time!

Date: August 12, 2019 at 11:00/13:00/15:00

Location: Floor 6F Event Hall

No. of People: 20 per shoot

Workshop

Paint your very own ceramic Hello Kitty ornament. You colouring it means that yours will be unique and the only one in the world♡

Running: August 7, 2019 – August 15, 2019

Time: 11:00-16:00

No. of People: 30 per day

Price: ¥1,296

Hello Kitty Kawaii Market
Get your hands one one of 850 pieces of Hello Kitty merchandise from plush toys to stationery, interior items and more. Many of these items are exclusive to the exhibition.

Mascot Holder – ¥1,728 (400 Available – 1 Per Person) / Acrylic Key Ring – ¥648 / Mug – ¥1,080 / Hand Towel – ¥756

Replica Classical doll – ¥17,280 / Mini Mascot Brooch (20 Designs) – ¥1,080 Each (1 Per Person) / A4 Folders (Includes 2) – ¥486

Enter the adorable world of Hello Kitty this summer and help her celebrate her 45th anniversary.

Information

45th Anniversary Hello Kitty Collection Exhibition

Running: August 7, 2019 – August 15, 2019

Time: 10:00-20:00 (Until 17:00 on August 15) *Last entries are 30-minutes before closing time

Location: Sogo Chiba Floor 6F Event Hall (1000 Shinmachi, Chuo Ward, Chiba, Chiba Prefecture)

Price: Adults & University Students ¥500 (High School Students & Younger – Free)

*Those with a disability certificate can enter the exhibition for free (including one guardian)

Sogo Chiba Official Website: https://www.sogo-seibu.jp/chiba/

Keio Plaza Hotel Tokyo Offers Luxurious Accommodation Plan & Tea Ceremony Experience For Families

Keio Plaza Hotel Tokyo, a highly prestigious and magnificent 4-star hotel located in Shinjuku, is now serving an all-new "luxurious" family package which includes a tea ceremony experience and much more. It is currently running from July 20 to September 1.

The rooms offered in the accommodation plan are the hotel's popular Wide Twin Rooms located on the Premier Grand club floor. Use of the Club Lounge is included in the package. The Wide Twin Rooms include two roomy queen-size beds which span 1.53 meters wide which allow parents to sleep comfortably with their children. Rooms also feature their own bathroom facilities.

The package also includes a check-in simulation for children aged 6-12 years where they can get a feel for what it's like to check-in. They will fill in their own check-in cards with parents and receive a ticket for the tea ceremony experience. They will be able to take their card home with them and take a commemorative photo.

The tea ceremony experience will be held on the hotel's 10th floor in the "Shofuan," an authentic tearoom that has been in the hotel since it opened in 1971. Parents and children will receive proper instruction from the tea ceremony teacher before pouring their own tea, allowing them to learn about traditional Japanese culture and etiquette. They will receive a special certificate of completion at the end.

If you're travelling to Japan as a family this summer then enjoy it in luxury at Hotel Keio Plaza Tokyo.

Information

Tea Ceremony Experience and Luxurious Accommodations for Families

Running: July 20, 2019 – September 1, 2019
Price: ¥18,450 per person for the Wide Twin Rooms on the Premiere Grand Club Floor *Usage for 2-4 people (Includes use of the Club Lounge, breakfast, and includes service charge and tax)

Package Includes:

①Tea Ceremony experience for overnight guests (1.5 hours required, children of preschool age or younger cannot participate but are welcome to watch)

②Simulated Club Lounge check-in experience for children and special commemorative photographs available between 2:00p.m. to 5:00p.m.

③Amenity items for mother use (skin care products etc.)

④Commemorative certificates of stays and tea ceremony completion, and photographs presented to guests

⑤Complimentary late check-out at 12:00p.m. (Normal check-out time is 11:00a.m.)

⑥Complimentary use of Sky Pool facilities

Enquiries & Reservations: +81-35322-8000

Keio Plaza Official Website: https://www.keioplaza.com/

Explore The Hidden Beauty, Culture And Local Cuisine Of Hida Takayama In A Yukata

Shimocho is one of the districts of Hida Takayama and is overflowing with traditional culture that you absolutely must experience. To make the most of your trip, there is a summer yukata-wearing programme running from July 20th which is the perfect opportunity to wear cooling and refreshing Japanese clothes while strolling and exploring the streets. 

This year will be the 7th time the programme has been run. The Hida Takayama de Nippon no Natsu Yasumi programme allows visitors to dress in a comfortable and cooling yukata, stroll, explore, try different foods and enjoy the culture of the area. This year's theme is "romance and yukatas" and gives visitors the opportunity to enjoy programme-limited desserts and the rich culture of the district.  

Discover Hidden Beauty with the Stroll Map

Visitors will be given a map packed with wonderful spots of the area. The map will also include the destinations of 31 shops where you can enjoy special experiences, meals and desserts that are limited to those who take part in the yukata programme. Recommended spots to visit are also drawn on the map in a very cute handwriting-like style, so you can stop by these places easily while enjoying your walk. There are even many places on the map that only a local would know about. 

Some of the special benefits of the programme allow you to enjoy the best regional cuisine that Hida has to offer, including the wonderful experience of restaurants that have been loved by the locals for generations, a beef delicacy restaurant, and much more. Besides food, the programme also gives you the opportunity to witness the beautiful festival floats used during the Takayama festival at the Takayama Matsuri Yatai Kaikan. You can also enjoy experiencing baking your own senbei crackers and gold panning.  

The programme includes a wide range of experiences for you to enjoy from local shops to food to culture to some new experiences. 

 An old-style café called Sabou Usagi is particularly popular with the locals. Here, the coffee is made using a vacuum coffee maker. With the summer programme, you can enjoy the delicious heart Tiramisù served here.

The stroll map includes a variety of locations such as the Takayama Tourist Information Centre, Hida Takayama Tourism Convention Association, Hida Takayama Travel Hotel Association and much more. The map also includes some of the accommodations available around Takayama, some important train stations and much more. You can easily download this map from the official website. (Japanese only )  

Stroll the Streets in an Elegant Yukata

Change into a traditional Yukata that matches the beautiful surrounding townscape. There are four shops Yukata rental shops available to pick up your favourite Yukata, so there is no need to worry if you did not come prepared. There are also some accommodations that allow for yukata rental. 

If you decide to join the Hida Takayama Nippon Natsu Yasumi programme, make sure to share your beautiful memories on Instagram with the hashtag #Hidasummer 

Information

Hida Takayama de Nippon no Natsu Yasumi Programme

Running: July 20 ー September 8, 2019 

Location: Shimocho, Takayama (in the general area of Sakurayama Hachimangu Shrine, Kamiichinomachi, Takayama, Gifu)

Official Website:  https://hida-natsu.jp/

Tokyo Stroll: Shopping & Sightseeing with Mozuku-kun the Dog #5 – Uzumako Ceramic Art School

It's been a minute since we last ventured out with Japanese model Yuna Yabe and her beloved pet pup Mozuku. If you're new to this feature, Yuna Yabe takes her trusty partner Mozuku to various hot spots in Japan that you can enjoy with your pet dog. Their relationship continues to deepen in this priceless experience.

Today, Yuna and Mozuku head to Uzumako Ceramic Art School which is close to Shiba Park. You can get a good view of TokyoTower from this famous park.

What's unique about this art school is that visitors are allowed to take their pets with them. So this means you can take your dog with you to do some ceramics!

Yuna has always had an interest in ceramics. And what better way to experience creating something than with her partner in crime Mozuku! With him tottering beside her, she headed through the entrance curtain with a spring in her step.

When you enter the classroom, there are lots of examples of pottery ware lining the shelves. The room has that smell of craftsmanship which lingers as you begin the class with a demonstration by the teacher. Once you have your apron on and are fired up to begin, it's time to start.

The work begins with kneading the clay to make its firmness uniform. This step helps prevent air bubbles from forming.

Yuna asked the teacher many different questions as she enjoyed kneading her clay. "Where does ceramic work originate from?" "What kind of things to other dog owners make when they come here?"

"What's Yuna up to?" Mozuku's puzzled face seemed to imply as he listened to Yuna and the teacher talk.

Yuna turned to Mozuku and said to him, "I'm going to make you a food bowl!" It seemed like the message got through as his face read, "Looks like my owner is making something just for me."

Yuna wet her hands with some water and began forming a hole in the centre of her clay bundle. The hole forms and gets bigger as the pottery wheel spins.

Next, she used both of her hands to ensure the thickness of the bowl was even all the way around.

"Amazing! The shape of the clay changes in an instant!"

By adding a little bit of pressure the pile of clay can change shape rapidly. It's like a living thing.

"It's like the clay is my own child. I wanna wrap it up!"

Once the shape is formed, Yuna cut around the edges. She is a skilled individual, she got the hang of it straight away.

Mozuku sat right beside Yuna, quiet and curious.

"Is it my turn yet?"

He seemed itching to have a go at making something himself too.

He watched over Yuna's work from atop the table.

"I wanna try spinning the wheel too!"

Mozuku in fact had the most important job of all. Yuna popped a wooden mould onto his paw and stamped a paw print into thebottom of the bowl.

"There we go!" said Yuna

Mozuku mustered all of his strength to make his mark, his facial expression unusually serious as he carried out his big task.

Time to check if the print was done properly!

Here's the final product―Mozuku did a great job!

Their teamwork paid off as they were able to create a really cute dog bowl. The tiny footprint is packed with pet love. The art school actually sells a lot of different cute and stylish pet items but the owner making their own makes it unique―the only one in the world.

If that love is able to get through to your pup, the food they eat from the bowl is sure to be even more delicious.

Thanks for your help, Mozuku.

"I can't wait to fire it!" Yuna's excitement was peak from start to finish. She was very satisfied after the class finished.

After two weeks of waiting, the bowl was completely finished.

Why not try creating something unique special for your own pet―together with them?

Model: Yuna Yabe/Mozuku @yunaaay1030

Text: Ai Watanabe

Photographer: Kayo Sekiguchi

Translator: Joshua Kitosi-Isanga

Information

Uzumako Ceramic Art School
Address: Sekisui House Floor 1F, 3-29-11 Shiba, Minato Ward, Tokyo

Business Hours: 10:00-19:00

Access: https://www.uzumakotougei.com/en/access.html

TEL: 03-6809-6363

Official Website: https://www.uzumakotougei.com/en/index.html

*The course Yuna took with Mozuku was the "Pet Ceramics Plan" where you can make 2-4 ceramic items and fire them. For your first try the staff will carve and glaze the final product to completion. This can be picked up one to one-and-a-half months after your course for ¥4,500. Please check the website for more details.

*Obedient dogs permitted. Please note that there are other participants so dogs who bark a lot or cannot relax are not permitted.

TALENT PROFILE

Yuna Yabe

Yuna Yabe won the grand prix prize at the "Zipper×ASOBISYSTEM Model Auditions" at the age of 15. She is an expert not only in fashion but make-up and video editing too. She's an influential figure to the people in her generation. Recently, her work has expanded greatly, such as appearing in music videos. Her activity continues to grow and looks to be very promising indeed.