Rental Go Kart Service BOSO KART Opens in Minamiboso, Chiba Prefecture
BOSO KART offers the chance to climb into a go kart and go riding around the streets of Minamiboso in Chiba. They have just launched a new set of courses for tourists. The kart at the front will act as a navigator, so even first-timers to go karting can get involved with the fun.
The Minamibososhi Sight Seeing Information Center started up this new set of courses in responses to the large amount of foreigners using rental karts in the city.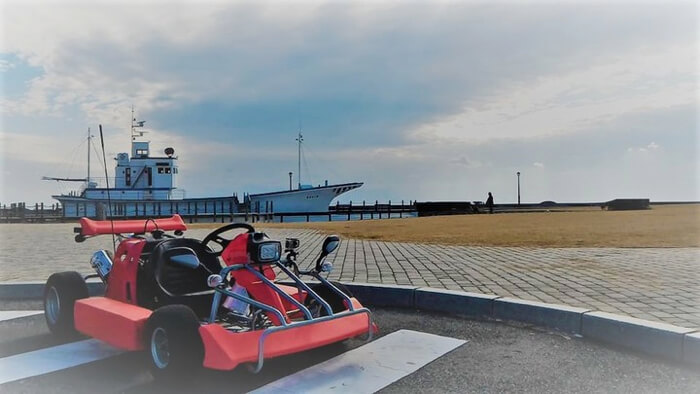 Go karting around the city is especially popular with foreigners there. But this go karting experience is a little different, instead serving as a tour where you can enjoy following the lead car up front to showcase places of scenic beauty.
There are three courses in total, one of which begins with the Chikura Shiokazeokoku as the starting point. The only requirements to ride are a either a driver's licence, ordinary motor vehicle license, or international driving permit.
The service also operates on weekdays, with the starting point at Chikura Shiokazeokoku. You can also buy tickets in advance via Lawson Tickets.
Experiencing riding around Minamiboso on a go kart while checking out the sights with a tour guide!
■Information
BOSO KART
No Fixed Holidays. (From Golden Week it will be closed every Wednesday, the same as Chikura Shiokazeokoku)
Opening Hours: 10:00-15:00
Departure Times: 10:00 / 12:00 / 14:00
Reception: Designated booth at Chikura Shiokazeokoku
Starting Point: Chikura Shiokazeokoku
Lawson Tickets: http://l-tike.com/sports/bosokart/
Courses
Izu Islands & Ocean View Course (Approximately 2 hours) – ¥6,500
'Southernmost' Drive Course (Approximately 1 hour) – ¥4,500
Nostalgia Course (Approximately 40 minutes) – ¥3,500
RELATED ENTRIES
Japan's Elephant Zoo Ichihara Elephant Kingdom to Receive Revamp For Spring 2021

Ichihara Elephant Kingdom is the home to the largest number of elephants in Japan. The zoo has announced major renovations set for completion next spring which will allow for the elephants to live an even more enjoyable life.

Ichihara Elephant Kingdom is located in central Chiba and is home to 12 elephants. It's also home to around 80 other species of animals like red pandas, beavers, capybaras, hippos, and more. The zoo also has a variety of attractions, like the Elephant Ride which sits behinds where the elephants live, and the Elephant Lift where you can ride up and down an elephant trunk. The Head of  Ichihara Elephant Kingdom, Sayuri Sakamoto, served as the writer for the 2005 Japanese drama film Shining Boy & Little Randy. One of the zoo's Asian elephants, Randy, was also a model for the film.

The renovations will introduce a new home for the elephants as the current one is seeing wear over time, as well as a new large-scale pond for the elephants to play in, a playground, and more. The zoo has always ensured a safe distance between visitors and the elephants so people can enjoy watching them will making sure the elephants stay happy. It is now creating new spaces to continue that service.

The water pond the zoo is building for the elephants is called Elephant Splash, and they are launching a crowdfunder on October 27, 2020 to ask for people's help with funding the project. It will allow a new space for the elephants to play which visitors are sure to enjoy too, like seeing the 1- and 2-year-old Ramu and Momoka splashing around.

The crowdfunding project has nine different tiers including tickets to an evening cherry blossom party at the park, a chance to ride the elephants, and more. The campaign will end on January 15, 2021, the same date as Ramu's birthday.

Information

Ichihara Elephant Kingdom

Opening Hours: 10:00-16:00 (Last Entries 15:00)

Access

Car:
About 5 minutes from Ichihara-Tsurumai interchange of Ken-O Expressway

Highway-Bus:
About 65 minutes from Tokyo station,
About 80 minutes from Yokohama station,
About 35 minutes from Haneda airport
to Ichihara-Tsurumai Bus Terminal.
About 5 minutes by our free shuttle bus from Ichihara-Tsurumai Bus Terminal.

Train:
About 10 minutes from Takataki station of Kominato railway by the zoo's free shuttle bus.

Official Website: http://www.zounokuni.com/english/

Review: Tokyo Disneyland's New Big Hero 6 Attraction and Minnie's Style Studio

Tokyo Disneyland® is set to open its all-new Beauty and the Beast area of the park tomorrow on September 28, 2020. It's opening in line with the new Big Hero 6 attraction, Minnie Mouse area where guests can meet Minnie, and the park's new popcorn shop.

MOSHI MOSHI NIPPON was granted early access to the news areas, so here's our review!

Check out our review of the new Beauty and the Beast area too here: https://www.moshimoshi-nippon.jp/362152

The Happy Ride with Baymax: The world's first Big Hero 6 attraction

The Happy Ride with Baymax ride has guests joining one of the personal healthcare companion robots on an exciting cart ride.

The park is limiting the number of people allowed on the attraction at once due to the pandemic. To board the attraction, guests need to download the app after entering the park.

Big Pop: Tokyo Disneyland's first popcorn shop

Tokyo Disneyland's first permanent popcorn shop opens in Tomorrowland.

This space-themed shop serves up a whole range of flavours like cookie cream, caramel and cheese, and strawberry milk. There's also four different popcorn baskets to choose form, including Big Hero 6 and Beauty and the Beast designs.

Minnie's Style Studio: Meet Minnie Mouse

This studio imagines Minnie Mouse as an international fashion designer who designs outfits, shoots photos, and more. Guests can meet Minnie Mouse at her studio if they book in advance.

©Disney

Review: Tokyo Disneyland's New Beauty and the Beast Area

Tokyo Disneyland® is set to open its all-new Beauty and the Beast area of the park tomorrow on September 28, 2020. It's opening in line with the new Big Hero 6 attraction, Minnie Mouse area where guests can meet Minnie, and the park's new popcorn shop.

MOSHI MOSHI NIPPON was granted early access to the Beauty and the Beast area – here's our review!

Check out our review of the new Big Hero 6 attraction and Minnie's Style Studio too here: https://www.moshimoshi-nippon.jp/362221

The world of Beauty and the Beast brought to life

The area connects Belle's village to Beast's castle by way of the forest. At the entrance to the village, guests will immediately spot the cottage of Maurine, Belle's father and the vilage inventor. Beyond that is Gaston's water fountain as well as a restaurant inspired by Gaston's bar. There are also other shops that Belle visits in the film, such as the bookshop. It's like stepping into the magical world itself.

When you leave the village and head through the forest, you are met by the spectacle that is Beast's castle, coloured in a cute pink. There's a large-scale attraction inside called "Enchanted Tale of Beauty and the Beast."

The Tokyo Disneyland-original attraction "Enchanted Tale of Beauty and the Beast"

The attraction, located inside the towering 30m-tall castle, features magical cups that guests board. The cups dance in rhythm to music from the film as they take guests through iconic moments seen in the Disney classic.

There are many surprises and discoveries to be found inside the castle.

The park is limiting the number of people allowed on the attraction at once due to the pandemic. To board the attraction, guests need to download the app after entering the park.

Village shops based on the movie

The Village Shops area features a line of shops inspired by those seen in Belle's town, each of which sells various items from clothing to accessories and souvenirs.

There are around 100 pieces of merchandise for fans to sift through.

The shops are also carrying out measures against COVID-19, showcasing the items in a display only so they cannot be touched when entering the store. Guests must use the sign-up system on the app beforehand if they want to enter the shop.

La Taverne de Gaston

All the little details have been captured to recreate Gaston's bar, making it like a snippet right out of the film.

Big Bite Croissant

 

Very Cheers

Sweet Gaston

The menu features a line-up dishes, drinks, and desserts, like sausage croissants with, French toasted cheese sandwiches, soft drinks made to look like beer, and more. The bar also requires booking on the app prior to visiting.

Le Fou's Churros (Apple Caramel)

Le Fou's is located next to La Taverne de Gaston where you can get your fingers on snacks like apple caramel churros.

And don't miss up on visiting the new popcorn wagon either which serves popcorn in a Beauty and the Beast bucket.

The new Beauty and the Beast area is a must-visit for any fan of the film, or for people who want to feel like a Disney princess.

©Disney

Narita Airport Opens Limited Space Online Tour Service

Greenport Agency, a group managed by Narita International Airport Corporation (NAA), opened a new online service titled "Narita Airport Kengaku Tour" on August 5 which offers a range of digital content to users, including a detailed tour of the airport with commentary by members of the Museum of Aeronautical Sciences, and more.

Limited spaces are available for the online tour. To apply, users need to apply through Ouchi Soku Tabi, an online travel service operated by Orange Inc. The service was made in tandem with NAA, the Museum of Aeronautical Sciences, and areas surrounding the airport. It was launched to give people a chance to feel like they're on holiday abroad during the COVID-19 pandemic in a time when remote work and working from home is the new norm.

Hello Kitty Cafe to Open in Narita Airport's Anime Deck This July

KADOKAWA is set to open a Hello Kitty themed cafe on the Narita Anime Deck—which is located on the Main Building second floor of Narita International Airport Terminal 2—for a limited time from July 3, 2020 to October 2, 2020.

The Narita Anime Deck

The Narita Anime Deck opened inside Narita International Airport Terminal 2 in November 2019. It's an entertainment facility where travellers from around the world can experience and enjoy Japanese anime culture in various forms such as with character merchandise, food, events, and a variety of photo spots.

Hello Kitty Cafe

The facility has collaborated with numerous anime series to open up limited-time cafes since it opened. This time around it is joining paws with Hello Kitty, a face known to all across the globe. As well as themed food, drinks and merchandise, customers can take a Hello Kitty quiz, learn the history behind Hello Kitty, and more.

An Original Food Menu


Hello Kitty's Lovely♡ Pink Curry: ¥1,500


Hello Kitty's Gurakoro Burger: ¥1,500


Hello Kitty's Strawberry Pancake: ¥1,400


Hello Kitty's Strawberry Parfait: ¥1,200

An Original Drinks Menu

The incredible drinks menu is diverse, including lattes where you can get 46 different latte art designs of Hello Kitty from 1974-2019. It could be fun to pick your birth year, or a year where you have fond memories.

Hello Kitty's Colourful Tapioca Drinks (Matcha Milk/Strawberry Milk/Milk Tea): ¥720 Each

 
Hello Kitty's Marshmallow Coffee: ¥800


Hello Kitty's Latte (46 Designs): ¥720 Each

Novelties

For every item you order from the collaboration menu, you can also receive one of 46 possible original coasters once again featuring a different design of Hello Kitty between the years 1974-2019.

1st Line-Up: July 3, 2020 – August 2, 2020


2nd Line-Up: August 3, 2020 – September 2, 2020


3rd Line-Up: September 3, 2020 – October 2, 2020

If you're travelling through Narita Airport anytime this year up to October, then be sure to head on up to the Narita Anime Deck to dine at the Hello Kitty Cafe.

© 1976, 2020 SANRIO CO., LTD. APPROVAL NO. L611439

Spring's Arrived Early in Chiba as the Strawberry Picking Season Begins

Chiba Prefecture is one of the leading places in Japan for growing strawberries. Thanks to its warm climate, the prefecture enjoys hearty a strawberry harvest, which it celebrates with strawberry-picking events and markets across the prefecture. The true fun in strawberry picking in Chiba is that you get to taste a variety of different types, all ripe, there and then, so you can compare flavours.

To further promote the wonderful world of its succulent strawberries, Chiba Prefecture has set up a special website, and is also hosting a photo campaign entitled "Chiba Strawberry Fair 2020." This is also the season to try an original type of strawberry grown in Chiba Prefecture called the "Chi-Ba Berry."

Check out Strawberry Fields Chiba's special website

The Strawberry Fields Chiba website has a wealth of information on strawberry varietiesーincluding the "Chi-Ba Berry"ーas well as places to pick strawberries in the prefecture, places selling strawberries, and more. If you're interested in finding out more about strawberries in Chiba, then check out their website below.

Strawberry Fields Chiba Official Website: https://chiba-ichigo.jp

Chiba Strawberry Fair 2020

People who post a photo on Instagram of their time in Chiba enjoying the strawberries with the hashtag #ちばいちごフェア2020 ("Chiba Strawberry Fair 2020") have the chance to win the above-pictured Chi-Ba Berry-kun plush toy. The campaign is running until February 29, 2020.

Strawberry picking season in Chiba runs until May, so if you're planning a trip there this year, make sure you don't leave without trying the prefecture's famous strawberries.

5 Must-Visit Beautiful and Romantic Lantern Festivals in Japan | 2020 Edition

The season for Japan's enchanting and romantic lantern events has finally arrived, and the line-up this year is diverse, from events where lanterns are the main attraction to lantern-lined festivals and Japanese matsuri festivals.

Hankyu Travel International compiled a list of these events , and we've pulled out some of the best ones for you.

Hanamaki Hoshi Meguri no Yoru | Iwate Prefecture

This year marks the third run of "Hanamaki Hoshi Meguri no Yoru," an event held during winter for guests staying at Hanamaki Onsen. The event is comprised of many elements, including fireworks, folk entertainment, and more. People will also write wishes and messages or draw pictures on their lanterns before sending them up into the winter night sky. Afterwards, they can enjoy a dip in the hot springs at Hanamaki Onsen to warm themselves up and unwind from the day.

Running: January 26, 2020/February 22, 2020/February 11, 2020/February 16, 2020/February 24, 2020

Location: Namari Ski Center
Address: Nakadaira-36-1 Namari, Hanamaki, Iwate

▼Hanamaki Hoshi Meguri no Yoru Tour
https://www.hankyu-travel.com/kokunai/keyword/%E3%81%AF%E3%81%AA%E3%81%BE%E3%81%8D%E6%98%9F%E3%82%81%E3%81%90%E3%82%8A%E3%81%AE%E5%A4%9C/?p_baitai=9599

China Lantern Festival | Chiba Prefecture

Tokyo German Village is hosting its second China Lantern Festival, inspired by the typical traditional festivals held in China during spring. A selection of 30 lantern installations of varying sizes made by the world's biggest lantern maker Lantern Group have been set up in the 50,000 square meter area. Pieces include lanterns over 10 meters long and high, lanterns floating on the water, moving lanterns, and more.

Running: November 23, 2019 – April 5, 2020

Location: Tokyo German Village

Address: 419 Nagayoshi, Sodegaura, Chiba

▼Tokyo German Village Tour
https://www.hankyu-travel.com/kokunai/keyword/%E6%9D%B1%E4%BA%AC%E3%83%89%E3%82%A4%E3%83%84%E6%9D%91/?p_baitai=9599

Tsunan Yuki Matsuri | Niigata Prefecture

Since 2012, the people of Tsunan in Niigata have raised sky lanterns into the sky to pray for the revival from the disaster that the Tohoku earthquake brought in 2011. It is a two-day festival, with the first day of the event taking place at night, and the second being the main day of the festival. The festival is so popular that tickets never fail to sell out quickly every year. It brings with it a host of events, from the lanterns to the snowboard straight jumping tournament, the hanging of snow lanterns, snowmobile rides, and more.

Running: March 14, 2020 (There will also be a lantern event the night before on March 13, 2020)

Location: New Greenpia Tsunan

Address: 12300 Akinari, Tsunan, Nakauonuma-gun, Niigata

▼Niigata Tsunan Sky Lantern Festival Tour
https://www.hankyu-travel.com/chubu-hokuriku/niigata/lantern/?p_baitai=9599

Nagasaki Lantern Festival | Nagasaki Prefecture

This festival was originally held during the Chinese New year by the people of Nagasaki Chinatown, but in 1994 it was given the name "Nagasaki Lantern Festival." To date, it has been attended by over 1 million people. This year, around 15,000 lanterns of varying sizes are set to light the streets. Taking place across several areas, some standout pieces include the peach-coloured lanterns at Nagasaki Chinatown, the ceiling lanterns at Hamanomachi Arcade, the water lanterns at Nagashimagawa Park, and more. On weekends, there are also parades, traditional Chinese performance, and other exciting events. And if you head to Nagasaki Confucian Shrine (also known as Koshi-byo), you can offer a love lantern to pray for happiness in your relationship.

Running: January 24, 2020 – February 9, 2020
Locations: Nagasaki Chinatown/Central Park/Tojin Yashiki/and elsewhere
Address: Various places throughout the city of Nagasaki

▼Nagasaki Lantern Festival

Hankyu Travel International Tour: Hankyu Travel International

Nagasaki Tourism Page: https://travel.at-nagasaki.jp/en/what-to-see/62/

Ryukyu Lantern Festival 2019-2020 | Okinawa Prefecture

Murasaki Mura Ryukyu Kingdom Theme Park is known for having originally been used as the set for several historical drama series, and was subsequently turned into a theme park after filming was finished. The Ryukyu Lantern Festival welcomes a variety of different lanterns, including Chinese lanterns, paper lanterns, various Asian lanterns, and more, each of which bring a completely different atmosphere depending on the area you are in. This year sees the welcome return of the annual lantern contest where 45 individual lantern pieces are exhibited. There are also different street performances every day on the Night Lantern Stage, as well as projection mapping displays, the Night Lantern Cafe, and more.

Running: December 1, 2019 – March 31, 2020

Location: Murasaki Mura Ryukyu Kingdom Theme Park

Address: 1020-1 Takashiho, Yomitan, Nakagami-gun, Okinawa

Murasaki Mura Official Website: https://murasakimura.com/

Be part of one of Japan's many beautiful lantern festivals this year and witness some seriously breathtaking night scenes.

Sai Sai Jaran Jaran #8: SILENT SIREN's Ainyan Becomes a Wine Connoisseur at Fukagawa Winery Tokyo in Monzennakacho

Sai Sai Jaran Jaran is a featured series here on MOSHI MOSHI NIPPON from the members of the all-female band SILEN SIREN (aka Sai Sai) who visit various hot spots in Japan and experience different things, the Sai Sai way.

Band bassist Ainyan enjoys a beer or cocktail, but she wants to step into the world of wine, so we will join her on her journey today as she goes to learn all about wine from the very basics.

It's a clear sky today. Great weather for going for a drink during the day, am I right?

We visited Fukagawa Winery Tokyo in Monzennakacho, an area located in Shitamachi, Tokyo. We were looking forward to going there because it offers the full wine experience, allowing visitors to see wine brewing up close to learn all about it.

This experience is offered twice a day on weekends and national holidays at 14:00 and 16:00.

Fukagawa Winery Tokyo opened in Tokyo in 2016 as a winery where the ordinary person could go and see wine being made to fully understand its process. It has expanded its circulation in recent years and is now able to take in grapes from across Japan, including Tokyo, to craft many different wines.

On the day we visited we saw the staff bottling up the wine. On average, the winery ships out around 30,000 bottles a year.

The corks have illustrations of "Wine Man" on them, a character created by Fukagawa Winery Tokyo. Ainyan was fairly fond of him!

Time to see how the winery works!

When you step inside, the scent of grapes is the first thing to hit your senses.

The one in charge of Fukagawa Winery Tokyo is Kousuke Ueno, who was kind of enough to show us around. He taught us the process of wine making, as well as what types of grapes and tools they use.

"This machine separates the grapes and stalks using the propellers. This method has been used for 150 years," explained Ueno.

There are periods when visitors can observe this machine being used to separate the grapes. It takes place between mid-August to November, so follow Fukagawa Winery Tokyo's social media for announcements and details.

"Wow! It smells so good!" said Ainyan. We got to see a bucket where Cabernet Sauvignon was being made. They put in whole grapes with the skin on and add natural yeast for the fermentation process. The sweet smell of the grapes fills the air and makes you want to have a glass.

Now for what Ainyan has been waiting for: taste-testing time! She learned everything about the wine making process, so it was time to taste and compare some different wines.

The winery allows taste-testing until 17:00. You can try 3 types for ¥700. And of course, if there's one you tried that you really liked, you can buy it there and then. So sip, scrutinise, and select!

"Please try this one first. It is wine, but it's like a lemon sour," explained Ueno, recommending that Ainyan first try the Yamanashi  Delaware Sparkling.

Soak up all the notes of the drink by having a good smell first before taking a small sip. "Smells really good. This sourness really is like a lemon sour! I wonder why?" said Ainyan.

This wine uses premature grapes which gives the wine a sour taste. The sourness of this wine can play the part of lemons, so it's best paired with fried foods or meals with chicken in them.

The second drink was the Yamagata Delaware Muroka. It's an unfiltered wine made from completely ripened Yamagata Delaware grapes.

Unfiltered means that the filtration process to take out visible solids and such is not used. This gives it a slightly cloudy appearance and an exquisite taste that's somewhere between wine and juice.

Left: Unfiltered Yamagata Delaware / Right: Filtered Yamagata Delaware

For the third glass, Ainyan ordered the filtered Yamagata Delaware to test the difference between it and the unfiltered version.

"The filtered one has a good balance of flavours and is refreshing. The unfiltered one has a smooth juiciness to it. They're both delicious, but I like the unfiltered one more!" said Ainyan.

Her fourth glass was an unfiltered red wine: the East Bay Assemblage Red B.

The grapes used are a combination from Hokkaido, Nagano, and Aomori. It really is an assemblage!

"The red wine has such a different taste and colour depending on the type too! This dark red wine is close to what I usually drink!" said Ainyan with a happy smile.

At the end of the session, Ainyan had tried 10 wines and bought two bottles! She was delighted with her experience, saying: "I was surprised how different each and every one of the wines I tried at Fukagawa Winery Tokyo were. I think I'm getting hooked on the appeal of unfiltered, natural wines."

With Christmas and New Year around the corner, now is the season to indulge in wine. If you're in Tokyo this December, pay a visit to Fukagawa Winery Tokyo for a full wine experience.

Writer:Yuki Yokoo

Photographer:Kayo Sekiguchi

SILENT SIREN

SILENT SIREN is a four-member all-female band consisting of vocalist & guitarist Sumire "Suu" Yoshida, drummer Hinako "Hinanchu" Umemura, bassist Aina "Ainyan" Yamauchi, keyboardist Yukako "Yukarun" Kurosaka.

The band made their major debut in November 2012 with their single Sweet Pop! The band is known to fans by their nickname "Sai Sai." They are especially popular with middle school girls in Harajuku and have over 540,000 follows on their official LINE account.

In 2015, they performed their first solo concert at Nippon Budokan, making them the fastest Japanese all-female band in history to perform there after their major debut. In 2016, they performed a headline show at Yokohama Arena, and embarked on a world tour consisting of 6 shows in 5 countries.

At the end of 2016, they changed label to Universal Music and revamped their band logo and how they write their band name. In 2017, they wrapped up their 5th anniversary tour with their first two-day concert series at Nippon Budokan.

In 2018, they embarked on their biggest Japan tour to date "Tenkaippin presents SILENT SIREN LIVE TOUR 2018 ~"Girls will be Bears" TOUR~ consisting of 33 shows. They also performed at big music festivals and at countless events, as well as performed their annual New Year's solo concert at Yokohama Cultural Gymnasium.

In 2019, they began celebrations of 7 years since their debut and 10 years as a band. They released their final album of the Heisei era and 6th album in total 31313 on March 13 ,2019 and promoted it on their tour SILEN SIREN LIVE TOUR 2019 "31313" ~Sai Sai 10th Anniversary~ supported by Tenkaippin. They also performed at numerous summer festivals and events.

On December 30, 2019, they will performed their annual New Year's concert "SILENT SIREN Nenmatsu Special Live 2019 HERO" at Yokohama Cultural Gymnasium.

In 2020, they will celebrate 10 years since forming the band with a show at Yamanakako Communication Plaza Kirara on September 20, 2020.

SILENT SIREN Official Website: https://silent-siren.com/

Information

Fukagawa Winery Tokyo

TEL: 03-5809-8058

Address: Takahata Bldg. 1F, 1-4-10 Furuishiba, Koto Ward, Tokyo

Opening Hours: Weekdays 15:00-22:00 / Weekends & Public Holidays 12:00-22:00

Closed: Tuesdays

Winery Observations: Weekends & Public Holidays at 14:00 and 16:00 for 20 minutes each. Must book in advance.

Official Website: https://www.fukagawine.tokyo/

WASHOKU: Asakusa's Newest Restaurant For Experiencing Japanese-Style Cuisine

Asakusaーone of the hottest spots in Tokyo for sightseeing, ever-bustling with Japanese and foreign tourists and travellers alike. This ancient district is famous not only for its sights, like Sensō-ji (the oldest temple in Tokyo) and the Nakamise-dōri shopping street leading up to it, but for its bountiful offering of gourmet restaurants.

Today, we're taking a look at Taikenkei Dining -WASHOKU-, a restaurant which opened in Asakusa on November 19 this year. If you're looking for the full package when it comes to experiencing Japanese food culture, WASHOKU has customers covered. Not only do they serve food, like traditional Kyoto obanzai, but they offer cultural experience plans too where you can learn to make sushi or dress up in a kimono and walk the old streets of Asakusa.

WASHOKU's concept when it comes to both lunch and dinner centres around enjoying Japanese-style food that is colourful. And that rings tantalisingly true with their kaleidoscopic obanzai, which is formed of 12 vivid bite-sized delights. Obanzai is a traditional style of Japanese cuisine that comes from Kyoto, made up of mostly seafood and vegetables. The obanzai served at WASHOKU was conceived under the guidance of nutritionists, and so is packed full of healthy nutrients for the body. Not only that, the ingredients selected are all domestic to Japan, and are of a very high quality.


The obanzai I ate included fried beni haruka sweet potato which is sourced from Ishida Farmsーa sweet potato growerーin Katori, Chiba. It had a moist texture and rich sweetness. When I sank my teeth into it, I was flushed with feelings of the fall season.

Other foods in the assortment included sashimi, scallop and yuzu, saikyo-yaki Kyoto-style grilled fish, and more. Each mouthful of the selection offered its own distinct and unique flavours.

The obanzai is served with miso soup too with which you get to choose a miso ball from a variety of flavours to put into your bowl. I went for the sesame seed miso ball.

The miso ball is made from miso paste and various ingredients. Once placed into the hot water, it melts and turns into miso soup. The sweet light-brown miso was perfect for warming up my chilly self.

Dinner also features a dessert menu, as well as courses with an all-you-can-drink option, so I recommend these options for people who want to relax and take their time with their dining experience.

As I mentioned earlier, WASHOKU also offers a variety of experience-based plans. This includes a sushi class where you can learn to make your own hand-rolled sushi.

There are two types of "temari" hand rolled sushi you can make: the regular type, which makes use of tuna, salmon and other classic sushi toppings, and the high quality type, which uses more high-end ingredients like uni sea urchin eggs, caviar, gold leaf, and more. And for foreign customers, the restaurant has prepared a handout detailing the history of Asakusa and recipes, as well as souvenirs for them to take home.

The MMN team of course had to have a go at making our own sushi, but it proved quite difficult. You have to get the right amount of sushi rice to roll, then actually roll it perfectly into a ball before topping with your ingredients. But the sushi I made was actually really delicious! To attend this class you have to book in advance, so if you've never tried making your own sushi before or have an need some guidance, then we can't recommend it enough.

As well as food-related experiences, WASHOKU provides customers with three different plans to experience Japanese culture. The first of these is the rickshaw ride, where you board a rickshaw pulled by a runner and are taken around the various sites of Asakusa. The 'Excursion Around Asakusa Course' takes you to the most popular spots around Kaminarimon, while the 'Sky Tree Course' takes you all the way to the Sumida River, and you also get to see Tokyo Skytree and various other attractions in Asakusa.

The Edo Kiriko plan gives you the opportunity to cut your own Japanese glass to drink from. You can drink from your glass if you reserve the plan with lunch or dinner.

Finally, you can rent a kimono. Select your favourite from the shop and have a professional dresser get you readyーwith both your kimono and your hair. After you're dolled up, you can take a stroll around Asakusa to get a real feel for Japanese culture.

All three of these plans are just ¥3,500 per person, and all require reservations which you can book online.

So, if you're looking for a taste of Japanese food and culture, why not take a trip to WASHOKU when visiting Asakusa for an all-in-one experience?

Information

Taikenkei Dining -WASHOKU-

Address: 2113 Kaminarimon Bldg. Floors 5F-6F, 2 Kaminarimon, Taito Ward, Tokyo

Opening Hours: Lunch 11:00-15:00 / Dinner 15:00-17:00

No Fixed Holidays

Access: 1-minute on foot from Exit 4 of Asakusa Station via the Tokyo Metro Ginza Line / 2-minutes on foot from Exit A3 of Asakusa Station via the Toei Asakusa Line

Official Website (English): https://washoku.site/en/

IOC and Airbnb Announce Global Olympic Partnership & Olympian Experiences

The International Olympic Committee (IOC) and Airbnb have announced a major long-term partnership to support the Olympic Movement which will run from 2020-2028. During this period, Airbnb will offer unique accommodation and experiences, and experience tours hosted by Olympians and athletes will also take place.

The partnership will create hundreds of thousands of new Airbnb hosts over the the nine-year period from July next year, allowing for visitors to enjoy longer stays, accommodating families, and more. This will enable community residents to generate extra income while accommodating overseas visitors and proving them with local experiences. In turn, it means those visiting from overseas will be able to engage more with the local culture and community. Both occupied and vacant homes will be utilised.

The IOC and Airbnb will also launch Airbnb Olympian Experiences which will provide direct earning opportunities for athletes by promoting sports, allowing for people to train together with elite athletes and Olympians.

At the press conference for the announcement of the partnership, gold medalist Saori Yoshida said: "A lot of athletes today devote themselves completely to the games, so a lot of them struggle to find their next career after retiring. These Athlete Experiences will widen the activities of all athletes; not only retired competitors, but those who weren't able to make it as far as the Olympics too. I'm very thankful for that. I believe it will raise the standard of the games for kids, and will serve to brighten and bring excitement to the whole of Japan. I hope that these efforts bring a tremendous boost to the sports world and will have everyone taking an interest in sports."

Tokyo 2020 will officially launch next summer, and with this partnership, people may just be able to enjoy the Olympic Games together with the athletes themselves, allowing for fans to feel closer to the games and the Olympians.

Airbnb's involvement also gives visitors from overseas to enjoy Japan and the Olympics in an unprecedented way. If you're travelling to Japan for Tokyo 2020, be sure to book with Airbnb.

Sleep With the Orca Whales With Kamogawa Sea World's Night Stay Program

Kamogawa Sea World is offering a different kind of aquatic experience later this year with its new "Adult Night Stay" program which will run for 5 set days between December 7, 2019 and January 18, 2020 for those aged 18+.

The program offers a chance to take a photo with the beluga whales as well as watch a special performance from the orcas, which is available to those participating in the night stay as well as guests staying at Kamogawa Sea World Hotel. The aquarium also has some other night-time plans in store which you can't experience during daytime hours.

During dinner, you'll get to watch the orcas swim from the window while dining and chatting with the feeder and trainer of the orcas. The semi-course dinner was conceived by head chef Yamamoto and is made with seasonal ingredient.

After food, enjoy gazing at the giant "Endless Ocean" tank.

Below is the schedule for the two days.

Day 1

・Tropical island behind-the-scenes study

・Pet the beluga whales (includes photo)

・Special orca performance

・Semi-course dinner with feeder and trainer

・Night adventure

・Bathe (At Kumogawa Sea World Hotel or neighbouring facility)

・Stay in front of endless ocean tank

Day 2

・Watch the dolphins

・Breakfast at the Ocean restaurant

・Free roam of the aquarium

Information

Adult Night Stay

Running: December 7, 2019 / December 14, 2019 / January 11, 2020 / January 12, 2020 / January 18, 2020

Age: 18+ years

Capacity: 35 people per day (First-come, first-served)

*Sign-up will run until 10 days before each set day

*If there are less than 20 people for a set day the program will not run

Price: ¥16,500 (Tax Included) *Includes rental of orca design sleeping bag rental

Accommodation: Sleeping in front of the Endless Ocean tank (except December 7 where it will be on the Rocky World floor)

Food: Includes dinner and breakfast

*Dinner includes course dinner and one drink

Sign-Up: Phone bookings open from October 26, 2019 at 10:00 (first-come, first-served)

TEL: Kamogawa Sea World – 04-7093-4803 (10:00-16:00)

Details: http://www.kamogawa-seaworld.jp/aquarium/program/night.html

Kamogawa Sea World

Address: 1464-18 Higashichō, Kamogawa, Chiba

Official Website: http://www.kamogawa-seaworld.jp

Stroll the Edo Streets as an Elegant Samurai and Make Tea in the Feudal Lord's Residence

Sakura, Chiba is home to important cultural heritage and even what is also known as the "Samurai Town". Now you can stroll around the beautiful old streets of Sakura dressed as a Samurai, attend a relaxing zen session and even take part in a tea ceremony as part of a limited period tourist plan. The Samurai tour is mainly aimed at foreigners, however Japanese people who are curious about samurai culture are also more than welcome to join. 

Sakura Castle Samurai Stroll

In 2016, Sakura became one of the four cities of the Hokuso region to be designated as a Heritage site under the title "An Edo Travelogue through Four Hokuso Cities" for its preservation of the old Edo culture. Old buildings full of secrets can be spotted all over the town, creating the old atmosphere of the Edo period. Embrace the elegant remnants of the Edo period with a relaxing stroll in Samurai clothing. Who knows what you might discover.

Your relaxing stroll will be led by a tour guide who knows a lot about the history of Sakura. This is a wonderful opportunity to take beautiful pictures of the historical Samurai house (Bukeyashiki). Your tour guide will also show you Hiyodorizaka, which is a natural path lined with a dense forest of tall bamboo trees where Samurai are said to have often pass by. Every year, the bamboo and wooden sword martial arts sessions in the program are also very popular. 

◇ Running:

October 26

 November 9, 23

 December 14, 21

January 11, 25

February 8, 22

March 12, 28

April 9, 25

May 9, 16

◇ Times: 9:30 ー 12:30

 *The program will still run in bad weather excluding stormy or severe weather.

◇ Prices:

¥6,500 per person (Includes lunch voucher and entry to the samurai house)

* ¥6,000 per person when you purchase tickets as a group of 3 or more.

◇ Tickets

Reservation Website: https://www.govoyagin.com/ja

Apply Directly to Sakura City Tourism Association

TEL: 043-486-6000

Email: sakurashi-kankou@catv296.ne.jp

* Phone calls will be answered in Japanese only.

Zen Meditation and Tea Ceremony in the House of a Feudal Lord

There are also guided zen meditation and tea ceremony sessions which are available for a limited period only. These guided zen meditation and tea ceremonies will take place in the Kyuhottatei ー one of Japan's most preserved traditional-style feudal lord residences. This luxurious Edo-style mansion was built 130 years ago and is classified as an Important Cultural Property.  

◇ Running:

October 16,

November 7, 19

December 6, 18

◇ Times: 9:00 ー 12:30

 *The program will still run in bad weather excluding stormy or severe weather.

◇ Prices:

¥10,000 per person (Includes lunch voucher, entry to the Kyuhottatei and tea ceremony participation fee.)

◇ Tickets

Please enquire directly to the Sakura City Tourism Association

TEL:  043-486-6000

Email Address: sakurashi-kankou@catv296.ne.jp

* Phone calls will be answered in Japanese only.

If you are curious about Edo Samurai culture, you won't be disappointed by this program.