Ride the Xiang Xiang Panda Bus for Free in Ueno
In accordance with Ueno Museum Week which is running from May 5 to May 20, the new Panda Bus is being introduced at Ueno no Renkai, Ueno Marui and Matsuzakaya Ueno and can be ridden for free.
Since the birth of Xiang Xiang, the giant panda living at Ueno Zoo, there has been panda fever in Ueno. Keeping with the excitement, the new panda bus will now ride around the town.
Sitting inside the bus will be plushies of Daimaru and Matsuzakaya's original character Sakura Panda along with black and white panda plushies.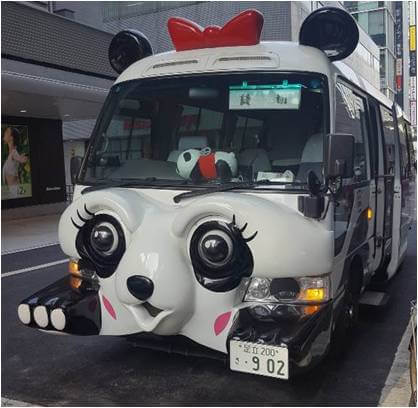 The seat covers also have panda ears on them. If you're a panda lover then be sure to look out for the Panda Bus and climb aboard!
■Information
Panda Bus – Departure Times
9:00-12:00 / 13:00-18:00
*Not running at 12:00-13:00
Departure Points & Timetable
Matsuzakaya Ueno: Every 30 minutes on the hour (xx:00) and half past (xx:30)
Tokyo National Museum: Every 30 minutes at quarter-past (xx:15) and quarter-to (xx:45)
Ueno Marui: Every 30 minutes at twenty-five-past (xx:25) and five-to (xx:55)
*Depending on unpredictable circumstances the bus may arrive late.
*The bus seats 23 passengers, so there may be a chance you cannot board.
Website: http://www.pandabus.net
RELATED ENTRIES
Cow Brand Soap x BEAMS Japan Take Over Kotobukiyu Bath House in Tokyo

BEAMS Japan and Cow Brand Soap have teamed up to an event titled Sento no Susume 2021 which began on April 23. As part of the event, the two brands have come together at the popular Tokyo-based bath house Kotobukiyu where illustrations for the collaboration drawn by manga artist Mari Yamazaki (Thermae Romae, Olympia Kyklos) has been put up on the outside, inside, and along the walls.

See the illustrations being plastered in the video below.

At the bath house entrance, along the walls, and everywhere else

Fashion shoots are being held at the bath house

Limited-edition merchandise for Sento no Susume 2021

For many years, sento public bath houses have been big part of Japanese culture and are located up and down the country. They are places people go to unwind, relax, and destress. However, with times changing, they are because less part of people's lives, and the facilities themselves are seeing significant wear and tear as well as not having successors to take over the businesses. Sento no Susume aims to revitalise sento and raise their cultural value once again by showing how they can be enjoyed. The first event was held in January and February in 2019.



This year will be the second hosting of the event and invites manga artist Mari Yamazaki on board who has given Kotobukiyu a makeover with her iconic artwork themed on exercise and bathing. Six sports are featured in her drawings for the bath house including basketball, climbing, javelin, surfing, judo, and volleyball.

Have you experienced a Japanese sento before?

Enjoy a Picnic Under Okinawa's Starry Night Sky on Taketomi Island

HOSHINOYA Taketomi Island, a hotel resort in Okinawa, is bringing back its night time picnic plan this year where guests can sit on sofas by the beachside with the gorgeous starry sky overhead. The plan is called "Hoshi Furu Yoru no Teingaara Picnic" (Starry Night Milky Way Picnic). Teingaara (てぃんがーら) is Okinawan for the Japanese word for Milky Way (Ama no Gawa, 天の川). It will run from June 1 to August 31.

Gaze at the Milky Way beside the tranquil seaside

Aiyaru Beach is just a five-minute walk from HOSHINOYA Taketomi Island, and it's here where guests can enjoy a breathtaking view of the Milky Away. The beach is situated away from any hustle and bustle, and not many people visit at night, allowing for a chance to enjoy the sound of the waves. Plus, there aren't many days when people have picnics when the moon is out, meaning guests can enjoy a more quiet and private picnic under the moonlight on a comfy sofa.

A fancy picnic inspired by the Milky Way

Tuck into a very special picnic based on the Milky Way made with Taketomi Island's famous Japanese leek, papaya, purple yam, and other delicious veggies as well as island tofu cream and miso. The set comes with a sparkling wine which captures the deep hues of the night sky.

A conversation with the stars

An expert on the Ishigaki Island and the stars will take guests on a journey through the stars, offering commentary on the island's beauty and culture.

In March 2018, the Yaeyama Islands, which includes Taketomi Island, were recognised by the non-profit organisation International Dark‑Sky Association as Japan's first International Dark Sky Park for its distinguished quality of starry nights. The Yaeyama Islands have a lower latitude than Tokyo meaning many more stars can be seen in the sky. Summertime is the best season for enjoying its stars too.

Information

Hoshi Furu Yoru no Teingaara Picnic"

Japanese Plan Name: 星降る夜のてぃんがーらピクニック

Running: June 1, 2021 – August 31, 2021

Closed: June 20-25, July 19,-24, August 7-22.

Times: 20:00-21:30

Price: ¥30,000 per group (does not include tax, service charge, or accommodation fees)

Capacity: 1 group of two people per day
Bookings: https://hoshinoya.com/taketomijima/

*Bookings must be made 14 days in advance

*Picnic will not run if the weather is bad

*Picnic ingredients subject to change depending on stock

Stay in a Penguin Themed Hotel Room at Hoshino Resorts OMO7 Asahikawa

Hoshino Resorts OMO7 Asahikawa opened its Penguin Room on April 6, a single new guest room themed around penguins designed in collaboration with Asahikawa Zoo.

Penguin Room Feature ①

Guests are immediately greeted with penguins galore as the enter their room, with penguin plushies by the bedside, on the ceiling, and pretty much everywhere else. It will be like staying with a family of penguins for the duration of their stay.

Penguin Room Feature ②

After a visit to Asahikawa Zoo, guests can head back to their hotel room where a variety of fun penguin-related items are stocked including games, all of which will remind them of their time at the zoo.

Penguin Room Feature ③

The room is also decorated with boards featuring photos and information of animals at Asahikawa Zoo. The boards are handwritten by the zoo staff, something they do every spring season.

Hoshino Resorts OMO7 Asahikawa previously collaborated with Asahikawa Zoo when a polar bear themed room. Now, penguin lovers can have their dream come true as they spend their time surrounded by penguin decorations in their room. The hotel is just a 30-minute car ride from Asahikawa Zoo, so why not make a plan to experience both if you're visiting Hokkaido this spring?

Rurouni Kenshin x Hello Kitty Collaboration Launching to Promote Manga's Upcoming Live-Action Films

In promotion of the forthcoming live-action films Rurouni Kenshin: The Final and Rurouni Kenshin: The Beginning, both of which will be released on April 23 and June 4 respectively this year, the series is rolling out a collaboration with Sanrio's globally-beloved character Hello Kitty on April 14.

Original Merchandise

Rurouni Kenshin x Hello Kitty Plush Toys (2 Designs) | ¥3,850 Each (Tax Included)

Rurouni Kenshin x Hello Kitty Plush Toys (4 Designs) | ¥2,750 Each (Tax Included)

Rurouni Kenshin x Hello Kitty A4 Folder Set | ¥495 (Tax Included)

Rurouni Kenshin x Hello Kitty Bottle | ¥1,540 (Tax Included)

Rurouni Kenshin x Hello Kitty Tote Bag | ¥2,200 (Tax Included)

Rurouni Kenshin x Hello Kitty Ballpoint Pens & Mechanical Pencils (2 Designs) | ¥770 Each (Tax Included)

Rurouni Kenshin x Hello Kitty Hand Towels | ¥1,430 (Tax Included)

Rurouni Kenshin x Hello Kitty Pins (6 Designs) | ¥330 Each (Tax Included)

Rurouni Kenshin x Hello Kitty Acrylic Stands (8 Designs) | ¥715 Each (Tax Included)

Rurouni Kenshin x Hello Kitty Sweets Paradise Collaboration Cafe

Menu Excerpt

Kenshin Hello Kitty Beef Bowl / Battousai Hello Kitty Omurice

Enishi Hello Kitty Orange Crepe / Tomoe Hello Kitty Anmisu / Kaoru Hello Kitty Strawberry Pancake

Acrylic Mascot Key Rings

10 Designs

Plush Toys

This marks the second collaboration between Rurouni Kenshin and Hello Kitty, the first taking place back in 2014 in promotion of Rurouni Kenshin: The Legend Ends. Fans can get their hands on a collection of cute merchandise with Hello Kitty dressed as various characters from the series, as well as tuck into a themed menu which will first be served at Sweets Paradise Ueno ABAB from April 22 before rolling out to six more Sweets Paradise branches in Japan.

©和月伸宏/集英社 ©2020 映画「るろうに剣心 最終章 The Final/The Beginning 」製作委員会

GUNDAM FACTORY YOKOHAMA x my route Launch Collaborative Campaign

Japanese company @YOKOHAMA is helping to promote the regional development of Yokohama by collaborating with GUNDAM FACTORY YOKOHAMA using the multimodal mobility service app "my route" with the launch of a campaign.

The campaign is taking place for residents of Yokohama, running from February 8 to 28. All people need to do is download and open the app and fill out the form. Fifty lucky people will have the chance to win a free ticket to GUNDAM FACTORY YOKOHAMA, an amusement park themed on the popular Gundam franchise.

my route is an app that lets users search for the most affordable way to travel as well as letting them book and buy tickets. @YOKOHAMA's portal site is also now linked to the app, offering information about local stores, events, and other information regarding Yokohama.

Information

GUNDAM FACTORY YOKOHAMA Collaboration Download Campaign
Running: February 8 – 28 2021

GUNDAM FACTORY YOKOHAMA
Open: December 19, 2020 – March 31, 2022
Location: Yokohama, Yamashita Futo
Address: 279-25, Yamashitacho, Naka Ward, Yokohama, Kanagawa

Access: Minato Mirai Line

7-minute walk from Motomachi-Chukagai Station (Minatomirai Line)
Yokohama BAYSIDE BLUE Bus: 3-minute walk from Yamashitafuto Bus Stop

GUNDAM FACTORY YOKOHAMA Official Website: https://gundam-factory.net/

Special Edition Website: https://www.at-yokohama.net/topics/article20210208_02.html

Made in OME: Japan's Millennials Promote Micro Tourism Project For Ome in Tokyo

Ome—a city located in western Tokyo that's about an hour's train ride from the populous Shinjuku. It's a place enjoyed by many for its hiking and river swimming locales, as well as its architecture, in which one can still feel the influences of Japan's Edo period, and kindness of the locals.

MATINOEKI OUME, an Ome-based company, recently launched its "Made in OME" project which aims to revitalise the city. The project will create a new kind of Ome through the eyes of the millennial generation. Its goal is to polish and refine the appealing aspects of Ome to offer up new tourism opportunities while bringing in new fans to the city.

Made in OME's first step towards that is teaming up with DJ and YouTuber Yuna Yabe and illustrator and streamer MIOCHIN, two models signed to ASOBISYSTEM who will represent the millennial generation as the navigators of this journey as they participate in workshops with local producers and manufacturers, developing a variety of products such as sweets made with ingredients from Ome, like baumkuchen and chocolate rolls, and more.

You can catch their activity live over on MIOCHIN's official Instagram page. Visit Made in OME's official website below for more details.

Yuna Yabe


MIOCHIN

The two of them will host a free 'monitor tour' on February 21, 2021. These monitor tours aim to have people developing a strong relationship with new products from Ome. Participants will learn about the history and culture of Ome via local producers and manufacturers with products such as sake and indigo dyeing. Made in OME plants to expand their range of tourist monitor tours in the future.

Local Ome residents will also be invited to the tour in the evening of the same day. Learn all there is to know about Ome at Made in OME's website which is available in English, Japanese, and Chinese.

Information

Made in OME
Instagram: made_in_ome
Official Website (English): http://madeinome.com/en/

MATINOEKI OUME opened in November 2016. Its focus is on livening up the city of Ome and getting more people to learn about its wonders by offering information on famous tourist spots, stocking a bounty of local products, and more.

MATINOEKI OUME Official Website: https://www.matinoeki-oume.com/

FANCL Ginza Square Opens Onsen Hot Spring That You Can Walk Into Wearing Your Clothes

FANCL has brought the hot spring experience to its flagship site FANCL Ginza Square for a limited time with a variety of content that makes visitors feel like they've come to a Japanese onsen. The experience, named Tabi Suru Square Yu, is running until February 11, 2021.

Café au Lait / Fruit au Lait / Soy Milk Aojiru – ¥300 Each

Reiwa Honzen (FANCL Ginza Square Floor 9F)

Lunch Sana Winter Seafood Bento | ¥3,500

Winter Dinner Seafood Course | From ¥9,000

FANCL BROWN RICE MEALS (FANCL Ginza Square Floor B1F)

Hiroshima Oyster & Spinach Risotto Parmesan Cheese Galette Lunch Set | ¥1,850

Tomato Cream Pasta Lunch Set ¥1,850

Original Hand Towel

FANCL Ginza Square Onsen Essentials Set | ¥3,668

Breathing exercises at SUU-HAKU

At Tabi Suru Square Yu, visitors can enter a room that fully recreates the experience of being in a hot spring. The room is set at the same temperature, is filled with the same aromas, and is decorated in the same way. Visitors sit on one of the relaxation sheets to soak up the experience – effectively getting into a hot spring without having to change their clothes.

A variety of classic drinks and dishes sold at hot springs in Japan will also be sold, and visitors can get involved in the breathing exercises on offer.

YOKOHAMA AIR CABIN: Japan's First Permanent Inner-City Cable Car Opens in April

Japan is set to get its first ever permanent city cable car in Yokohama on April 22 called the YOKOHAMA AIR CABIN.

The YOKOHAMA AIR CABIN is a cable car system that will offer locals and tourists a chance to enjoy Yokohama from a new perspective whether during the hot summers or during the cool evenings when the city lights wake up.

The system will be connected directly to Sakuragichō Station and Shinko Pier for easy, quick access to enjoy Yokohama Minato Mirai from up high.

If you're planning a trip to Yokohama at some point, be sure to take a ride on YOKOHAMA AIR CABIN, officially opening on April 22, 2021.

Information

YOKOHAMA AIR CABIN
Opening: April 22, 2021
Operating Hours: 10:00-22:00
Duration: 5-minutes
Price: General ¥1,000 / Children ¥500

Hoshino Resorts BANTA CAFE Releases Video of Magical Beachside Illuminations

The incredible beachside Hoshino Resorts BANTA CAFE, which offers guests a breathtaking ocean view along the Okinawan coast, released a video on the official Hoshino Resorts YouTube page showcasing the cafe's ongoing illumination event, "Illumi Banta," which is running until February 28, 2021. Guests can enjoy some limited-time menu options and then take a romantic stroll along the beach with a warm lantern in hand.

Okinawa is known for its warm climate, rarely dipping below 15°C in the chilly season of winter. There are many celebratory days enjoyed every year around Christmas and New Years, and so BANTA CAFE decided to get in on the action with Illumi Banta, which has been running since December 1 last year—while following the necessary precautions against COVID-19 to ensure everyone stays safe. The spacious cafe is mostly outdoors so visitors can enjoy their time without worry.

A seat at the cafe in on a clear evening guarantees a front row seat to a beautiful orange sunset that sinks into the horizon. Normally, the cafe closes as sunset arrives, but for this event, opening hour have been extended into the night.

BANTA CAFE is located in the village of Yomitan where the beautiful ocean is surrounded by coral reef, enormous rocks, and a rich natural environment. It's a must-visit if travelling to Okinawa.

Information

Illumi Banta
Running: December 1, 2020 – February 28, 2021 (Except February 1st-5th)
Time: 18:00-22:00 (Last Orders 21:00)

BANTA CAFE
Address: 560 Gima, Yomitan, Nakagami District, Okinawa
TEL: 098-921-6810
Opening Hours: 10:00 to one hour after sunset (from 08:00 on weekends and holidays)
Official Website: https://banta-cafe.com/en/

Nagasaki's 112 Year Old Hotel Nampuro Opens Terraces With Panoramic Ocean and Sky Views

The 112-year-old Hotel Nampuro in Nagasaki is set to open the new Sky Terrace and Ocean Terrace this month. These vistas offer breathtaking, unbroken views of the sea and sky that make it feel as if you're floating on the ocean with rolling skies ahead that stretch to the horizon.

Observation Terrace (1)

Observation Terrace (2)

Infinity Pool-Style Open-Air Bath

Silky Bath

Beautifying Bubble Baths

Jacuzzi Bath (Male Only)

Children's Bath

Hinoki Sauna & Steam Sauna

Iyashi Onsen Cafe

Rental Open-Air Bath

The observation terrace offers an incredible panoramic view of the great Ariake Sea that offers a picturesque spectacle at all times of the day. Guests can enjoy seeing the morning, noon, and night skies which merge together with the ocean for an unbeatable result. There's also a "no talking" rule on the terrace so guests can fully soak up what's in front of them as they take a luxirous soak in the warm baths.

The infinity pool-style open-air bath offers a refreshing view while making it seem as if you are part of the ocean. The silky bath uses delicate micro bubbles which become an air cushion and promote good blood circulation using massage. The jacuzzi bath relaxes the entire body with stimulating bubbles, while the children's bath allows kids to get in on the fun too. Both saunas are a change to unwind fatigue and the tired body. The steam sauna is set at a lower temperature than your usual high-temperature dry sauna which ensures it doesn't have as much strain on the body so guests can sweat it out comfortably. The freshly-brewed coffee available at the hot spring is also exclusive to the hotel's Onsen Cafe.

Universal Studios Japan Announces Easter Universal Celebration 2021

Universal Studios Japan is set to spring into Easter starting on March 12 with the announcement of Universal Easter Celebration 2021. This year, which marks the 20th anniversary since USJ opened, will see the park's cute and iconic characters once again lull guests into an unforgettable Easter dream at Universal Wonderland and Minion Park.

Universal Easter Celebration

USJ will see colourful pastel decorations cover the Universal Wonderland and Minion Park areas, and the characters too will be dressed in their seasonal Easter costumes. A special Easter rendition of the Wonderland Seasons Joy show will also take place to commemorate the park's 20th anniversary with song and dance.

Wonderland Seasons Joy ~Easter Ver.~

Minion Park Easter

The park will also introduced a special egg hunt after Elmo and the Minions dropped some of their eggs. If you manage to find them all you get a limited-edition gold medal. USJ is also taking the Easter festivities online too with a special celebratory live stream called Let's Cooking! Kawaii Easter Party

WIZARDING WORLD and all related trademarks, characters, names, and indicia are © & ™ Warner Bros. Entertainment Inc. Publishing Rights © JKR. (s21)
Minions and all related elements and indicia TM & © 2021 Universal Studios. All rights reserved.
TM & © 2021 Sesame Workshop
© 2021 Peanuts Worldwide LLC TM & © Universal Studios & Amblin Entertainment
Universal Studios Japan TM & © Universal Studios. All rights reserved.

© Nintendo

Information

Universal Easter Celebration
Running: March 12, 2021 – June 27, 2021
Location: Universal Studios Japan
Official Website: https://www.usj.co.jp/web/en/us

200 Varieties of Japanese Iris to Bloom at Odawara Flower Garden

The plum blossoms of Odawara Flower Garden, which is located in Odawara, Kanagawa, are at the height of their blossom right now. The park's Keiryu no Baien ("Mountain Stream Plum Garden") area boasts the largest collection of plum blossoms in Japan's Kanto region, with 480 trees spanning 200 species.

480 individual Japanese ayame plum blossoms of 200 varieties will adorn the garden once again this year. The event has a different theme each year, with this year's focusing on the interweaving of red and white coloured flowers on each tree branch.

Visitors will be able to see the beautiful colour combination from many different iris varieties such as the murui-shibori which sometimes sees red safflowers come to life, the wachigai which witnesses wonderful variegated flowering, the impeccably beautiful maki-tateyama, and more.

2021 Keiryu no Baien
Running: January 23, 2021 – March 7, 2021
Location: Odawara Flower Garden
Address: 3798-5 Kuno, Odawara, Kanagawa
Entry: Free
Parking: Free
Opening Hours: 9:00-17:00

*No holidays for the duration of the event – open every day

Keiryu no Baien Guide Tour

Takayuki Otsubo, the president of the garden, is also an advisor on the management of its plants. He will be offering a detailed tour for the event.

Date: February 21, 2021
Times: 10:30 / 13:30 (1 hour each)
Participation: Free
Capacity: 30 per slot (first-come, first-served)

*Tour will be held seated indoors if it rains

Keiryu no Baien Flowers and Kimono Girls

A kimono rental and fitting service will be available at the event so visitors can take photo next to the gorgeous flowers while adorned in traditional Japanese dress.

Date: February 13, 2021
Time: 9:30-16:00 (Bookable slots)
Price: ¥3,000 (Tax/Rental/Fitting included)
No. of People: 15 (Booking required)
Bookings: By phone call by February 7, 2021
TEL: 0465-34-2814

*Must be at least 140m tall
*Visitors are asked to do their own makeup
*Male kimono are available in limited quantities

Plum Menu

The Odawara Flower Garden cafe, Cafe Hibiscus, is serving a selection of plum blossom themed meals and drinks for the festival. This includes the above-pictured new soba noodle dish, which is topped with plum pulp grown in Odawara as well as kamaboko fish cake, shrimp fritters, and spring onion. The broth in particular is worth of note which the staff went to great lengths to create. There's also plum blossom ice cream too made with nanko plums, as well as other delicious bites.

Plum Blossom Festival Soba Noodles – ¥600 (Tax Included) / With Drink ¥700 (Tax Included)

Plum Ice Cream – ¥380 (Tax Included)

Location: Cafe Hibiscus
Opening Hours: 10:00-16:00 (Last Orders 15:30)
*No holidays for the duration of the event – open every day

Plum Blossom Souvenirs


A selection of plum blossom-themed souvenirs will be available like umeboshi dried plum, plum jelly, and more.

Available: From early January 2021
Location: Entrance souvenir corner
Opening Hours: 9:00-17:00