MOS Burger Releases Ebi Tempura Rice Burger
MOS Burger branches across Japan are introducing two new items to their menu for a limited period: the MOS Rice Burger Ebi Tempura (¥450) and MOS Rice Burger Yokubari Ebi Tempura & Kakiage (¥480).
The 'rice burger' was first developed by MOS Burger in 1987 to boost the consumption of rice. Burger buns are instead replaced with cooked rice that is hardened and shaped to fit the burger.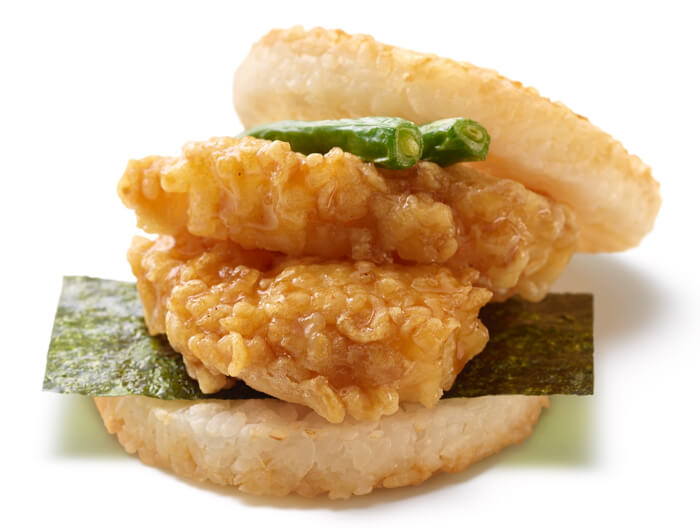 The two new items coming to the restaurant's menu use tempura, something which first came to be realised during the Edo Period as casual food sold at food carts.
Both burgers use whiteleg shrimp for the tempura and let you enjoy the true maintained flavour and texture of the shrimp.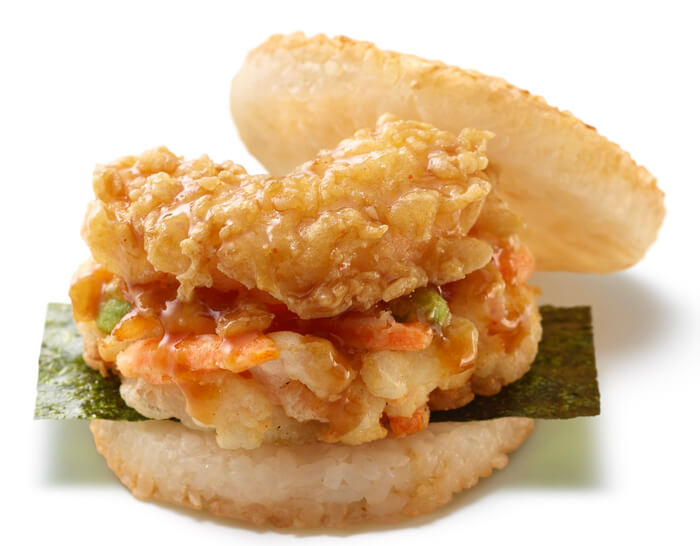 Each piece of tempura is hand fried one by one, and retains a crunchy texture even after being seeped in dipping sauce when eating.
The MOS Rice Burger Ebi Tempura contains two tempura shrimp. The deep fried beans and citrus flavour elevate the burger, and the overall flavour is refreshing and not too heavy.
The MOS Rice Burger Yokubari Ebi Tempura & Kakiage has one tempura shrimp in addition to a seafood kakiage. The kakiage contains squid, shrimp, onion, carrot, and edamame.
If you love shrimp tempura, then you won't be able to resist the new food items at MOS Burger. Be sure to check them out.
■Information
MOS Rice Burger Ebi Tempura (¥450)
MOS Rice Burger Yokubari Ebi Tempura & Kakiage (¥480)
Available: May 24, 2018 to mid-July
Website: mos.jp
RELATED ENTRIES
Experience a Cherry Blossom Burger in Kyoto's Famous Cherry Blossom Tourist Spot Arashiyama

This March, a restaurant in Arashiyama, Kyoto, that goes by the name CROSS Burger&Beer/Coffee, has announced it will release its new "Sakura Burger" (Cherry Blossom Burger) for the spring season.

CROSS Burger&Beer/Coffee is a restaurant known for its burgers made with pitch black buns – a result from combining the mixture with bamboo charcoal – which are served on afternoon tea stands. All of their patties are made with 100% domestic wagyu, specifically hiragyu from the town of Tanba in Kyoto. To ensure the meat maintains its high quality texture, it is minced together with shoulder and shank, which also creates great flavour.

The new cherry blossom burger uses a pink bun like that of the springtime flower. It has a chewy texture, and the surface is charred so that the outside is crispy and the inside soft. It also means that the meat juice permeates the bun better, and without making it go soggy. The patty is uses the same hiragyu meat, which is breaded and deep-fried to create what is known as menchi-katsu in Japanese. By doing this, it locks in the characteristic and unique flavour of the meat, as well its juice.

Drizzled over the patty is a homemade tartar sauce with Kyoto-style chopped vegetables pickled in salt as the base. The restaurant chops up the vegetables randomly to leave texture in the sauce, which has a refreshing taste thanks to them, creating a flavour you'll enjoy until the last bite. The burger is also stuffed with a sunny-side up egg and purple cabbage, the latter of which has a slightly bitter bite to it, resulting in an amalgamation of mouth-watering flavours.

Order together with a cocktail or soda float to create an Instagrammable photo.

If you're heading to Japan to visit Kyoto this cherry blossom season, head to Arashiyama to enjoy the sights and a delicious Sakura Burger.

Information

CROSS Burger&Beer/Coffee
Address: 48 Arashiyama Kamikaidōchō, Nishikyō Ward, Kyoto, Kyoto Prefecture

Opening Hours: Lunch 11:00-16:00 / Dinner 16:00-23:00

Official Website: https://cross.grandwest.kyoto/

Japan's Top 100 Burger Joints Ranked by Tabelog

Tabelog, a website which lets you search for the best restaurants in Japan through rankings and reviews, has announced the Top 100 burger joints in the country as ranked by users.

The restaurants chosen accepted the Tabelog Gourmet Award whose concept is "If I was to dine somewhere delicious right now it would be here."

This year, 61 restaurants from Tokyo made the list, as well as 6 from Aichi Prefecture and 5 from Nagasaki Prefecture. 80 of the restaurants have made the Top 100 list three years in a row, while 14 have ranked for the very first time. Of these new rankings, five are in Tokyo, including ALDEBARAN which opened in Roppongi in June 2018, and Shogun Burger Shinjuku which opened in October 2018.

New ranking restaurants from Nagasaki, which is famous for the Sasebo Burger, is Hikari which was established in 1951 and serves "jumbo size" burgers, and a branch of Log Kit Burger at Sasebo Station which has been listed three years in a row. There is also THE BURGER HEARTS in Iwate Prefecture which is popular for its burgers made with scallops from Ofunato.

If you fancy a juicy burger while in Japan then you have 100 delicious choices to pick from!

You Will Need All 10 Fingers to Challenge These American Style Burgers

Burgers are becoming a big sensation in Japan. In the country's current burger boom, some very unique burgers have been whipped up. From the atmosphere to the wallpaper, at TEN FINGERS BURGER in Sangenjaya, you will feel like you are in an American Diner.  

If that isn't enough to excite you, then the menu sure will. The burgers come in three different sizes: 10 Fingers, 8 Fingers and 6 Fingers to represent how many fingers you will need to hold the burger.

We all love a filling burger, but TEN FINGERS BURGER has taken this to a whole new level, commemorating their one-year anniversary in June with the release of a seriously huge burger which stirred a drooling sensation. 

We recommend you demolish this burger with a cream soda to enjoy a wonderful flavour combination. 

Inviting your friends to challenge this burger with you surely would be fun. And afterwards, you can all treat yourselves to this tempting and colourful banana split.

This burger is not only huge, but also delicious. Come challenge your 10 fingers (and possibly toes) to this impossibly massive burger!

Information

TEN FINGERS BURGER, Sangenjaya

Address: 23-11 GEMS, Taishido, Setagaya City, Tokyo

Access: 2-minute walk from Sangenjaya Station (Tokyu Den-en-toshi Line, Tokyu Setagaya Line)

Opening Hours: 11:00 ー 23:00(Last orders: 22:30)

*Lunch sets are served until 3pm on weekdays

Open all year round except for the New Year's period.

Website: https://www.tenfingersburger.com/

Stone Oven Cooked Burgers Served at New Ishigamaya GOKU BURGER in Omotesando

Stone oven hamburger chain Ishigamaya Hamburg has opened its first global flagship branch Ishigamaya GOKU BURGER in Omotesando. The restaurant will be open for a limited-period of 2 years.

The classic hamburger is made from 100% ground beef, but at Ishigayama Hamburg they serve what is known as the "Hamburg Steak," a mix of onions, spices, breadcrumbs, milk and other ingredients in the patty. It's a popular dish in Japan alongside ramen and tonkatsu.

We visited Ishigamaya GOKU BURGER to see what a hamburger tastes like at a place that specialises in juicy, stone oven cooked Hamburg Steak.

The restaurant faces Omotesando Hills. It's in the same building as Heiroku Sushi on the second floor. It's very easy to spot with its big sign that reads "GOKU BURGER."

The cosy burger joint has a casual atmosphere to it, lit up by its many variations of lamps.

From the big windows you can look down onto the the streets of Omotesando.

From your table you can see the large stone ovens which cook the famous Hamburg Steak. The smell is incredible.

I ordered the ¥1,450 Avocado Cheeseburger. It looks really cool with the knife stuck through it. You can choose from three different sauces to coat your burger: Original, Teriyaki and the Chef's Special. I went with Original.

Time to tuck in! But before that, you've got to put on the gloves provided by the restaurant which come with every burger. So what explains why the sauce is served in a separate tray! The fact you get your own gloves is a great idea since it means it'll keep your hands nice and clean so you won't get grease all over them.。

The meat is succulent and extremely juicy. The burger juices and sauce blend together to make a really delicious flavour which make you just keep on dipping.

The hamburgers are made with red meat that has only a little fat content, with each burger formed by hand individually. And by cooking them in a stone oven it means the burger will cook evenly and all at once, sealing the flavours and juices in even more compared to infrared cookers. The buns too have an amazing taste and are nice and fluffy.

The potato fries are round rather than long and thin. They don't go soggy and go amazingly with the sauce too.

The ¥1,580 BLT Burger looks tasty too, it's packed full of colourful ingredients.

When you order the ¥1,380 Premium Hamburg Steak Regular Set they pour the sauce over for you, so I had to take a photo. The thick steak is crispy on the outside and soft on the inside so it maintains its juiciness.

If you love burgers then you'll definitely want to pay a visit to Ishigamaya GOKU BURGER to try a burger like no other.

Japanese Food Served American Style at J.S. BURGERS CAFE

All twelve branches of the American-style hamburger restaurant J.S. BURGERS CAFE in Japan began holding the "Edo x American Fair" from April 17.

The fair takes Japanese food connected to Edo like sukiyaki, sushi and tempura and turns them into classic American-style food like hamburgers, sandwiches, popcorn shrimp and more.

"Sukiyaki" Bacon Cheeseburger: ¥1,380

The burger is made with an original patty of soft and melt-in-the-mouth sliced beef rib which is covered in a sweet and spicy soy sauce that brings out the full flavour of the beef. It's topped with sauteed edible chrysanthemums, grilled spring onion and other ingredients that give it that sukiyaki appearance. But it also comes with smoked bacon and Gouda cheese to make it that collaboration between Japanese and American flavours.

Roast Beef "Sushi" Sandwich: ¥1,280

This sandwich takes soft and fatty roast beef and makes it look like meat-topped sushi. It's covered in an aioli sauce that's made with shredded dried plum and beefsteak as well as wasabi for a refreshing kick. Many flavours and textures can be enjoyed with this sandwich, from the beefsteak plant to the seaweed butter. It also comes with a side of fries seasoned with black sesame seed pepper.

"Tempura" Shrimp Fritter w/ Honey & Plum Dressing: ¥780

A delicious plate of fried shrimp in a special coating that comes with a mayo dip laced with sweet honey and sour shredded dried plum.

"Miso" Clam Chowder: ¥350

Clam chowder is an American classic, but this one is infused with secret Japanese flavours. The spring onions and ginger give it a flavoursome kick.

Pink Burger & Other Springtime Food Served at GINZA SIX

The Grand Ginza's Grand Lounge, located at the top of GINZA SIX, will begin selling its "Pink Menu" next month. Themed on the colour of springtime cherry blossoms, the menu consists of an afternoon tea set and a limited edition burger.

Strawberry Afternoon Tea: ¥4,200 (Tax Included/Separate Service Charge) – Available: April 1 to June 30

This strawberry packed afternoon tea set is a mix of seven foods and desserts including a strawberry and foie gras terrine, strawberry and shrimp Macedonian salad and more. There are also 11 varieties of tea, coffee and lattes to cheese from.

Spring Burger Set: ¥1,800 (Tax Included/Separate Service Charge) – Available: April 1 to April 30

The spring pink coloured burger is flavoured with red wine and berries and comes tapas that goes well with champagne or beer. This set is limited to 15 servings per day.

Enjoy a spring-themed menu at GINZA SIX.

Information

THE GRAND LOUNGE

Address: GINZA SIX Floor 13F, 6-10-1 Ginza, Chuo Ward, Tokyo
Opening Hours: 11:00-23:00 (Last Orders 22:00)
TEL: 03-6263-9740
Website: https://www.grandginza.com/

Super Junior Burgers Releasing at SMT TOKYO

SMT TOKYO is bringing back the SJ Burgers for a limited time beginning on March 2.

The SJ Burgers are a combination of the Super Junior members' favourite flavours. It was first released in November last year and was so popular that reservations ended up being completely booked up. The 100% beef burger has been made even tastier and makes a return with last year's hugely popular kimchi and gochujang red chili paste sauce.

As well as the burger an original blue cocktail will also be served, the same colour associated with the group.

The first of the burgers to be released focuses on group member Yesung who began his Japan tour on February 20. He is nicknamed Niisan ("Older Brother") by his Japanese fans. Ni and san also mean "2" and "3" respectively in Japanese, which ties in with the date on which this burger will be released: March 2. Only twenty burgers will be sold each day and they will only be served during cafe time. Those who manage to get the burger will receive a postcard and can participate in the "Yesung wo Sagase!" social media campaign.

Super Junior Burger Set w/ French Fries & Drink: ¥2,200 (Tax Included)

SMT TOKYO will also be decorated with a mini Yesung photo display and select tour merchandise will be available to purchase. Don't miss out!

Information

Super Junior x SMT Tokyo

Location: SMT Tokyo (Akasaka Biz Tower Floor 1F, 5-3-1 Akasaka, Minato Ward, Tokyo)

Running: March 2, 2019 – April 30, 2019

Serving: Everyday from 15:00-18:00

TEL: 03-6441-3724

"Yesung wo Sagase!" Social Media Campaign

Five lucky people have the chance to win exclusive Yesung signed merchandise. To enter, you must order the burger set and post on your social media with the hashtags listed below. Winners will be picked randomly. They will also receive an additional original badge if they include in their post a picture of the Yesung acrylic stand hidden somewhere in the restaurant.

*Please show your social media post to the staff when paying at the till. You will be handed an application ticket for the campaign.

*The original badges are available in a limited quantity.

Hashtags:

#SMT_TOKYO #SUPERJUNIOR #YESUNG  #ys_story

Super Junior Official Website (Japan): https://superjunior-jp.net/

Super Junior Official Website: http://superjunior.smtown.com/

Conveyor Belt Sushi Chain Kura Sushi Unveils 'KURA BURGER'

Japanese sushi chain Revolving Sushi Bar Kurasushi has revealed two new delicious burger items it is adding to its conveyor belt line-up at all branches from March 1: the KURA BURGER Fish (an industry first) and the KURA BURGER Meat.

The KURA BURGER Fish contains fish caught in the waters of Japan. The patty is juicy and complemented by the delicious taste of fish, spices and sauce.

The KURA BURGER Meat is a classic yet scrumptious beef burger served with ketchup.

The burger buns are made from rice flour, giving them a tantalisingly chewy texture, and also contain black vinegar to make them fluffier and add a touch of sweetness.

Each burger s also topped with spring onion tempura which are crunchy on the outside and juicy in the middle. This combination of Japanese ingredients into a burger make for a matchless experience for your taste buds. Head to Kura Sushi to try them yourself.

Information

KURA BURGER Fish & KURA BURGER Meat

Price: ¥270 Each (Tax Included)

Location: Revolving Sushi Bar Kurasushi branches in Japan

Website: http://www.kura-corpo.co.jp/en/

MOS Burger to Sell Hamburgers Using Local Ingredients from Hyogo & Shizuoka

MOS Burger has announced that it will sell two new burgers from September 13 to mid-November at most branches across Japan using ingredients from Hyogo and Shizuoka prefecture.

There is the Demi-Glace Beef Katsu Burger (¥410) created by the Hyogo office of MOS Burger and the Sakura Shrimp Croquette Burger (¥430) by the Shizuoka office.

MOS Burger is a Japanese hamburger chain that has striven to use local ingredients from around Japan for customers to enjoy. This is the 4th year the chain has been introducing food using ingredients from around Japan. The campaign began in 2015 with staff brainstorming ideas for food with 'local specialities' as the keywords.

The company gathered ideas from staff around the country this time with the condition being "food using buns." 2,651 members of staff chipped in which is an increase from last year. From their ideas came these two new burgers.

The demi-glace burger is made using 'katsumeshi,' a local specialty of the city of Kakogawa in Hyogo. Katsumeshi is considered a soul food in Kakogawa and comes in the form of a plate of rice topped with beef katsu, demi-glace sauce and boiled cabbage. The other burger uses sakura shrimp caught in Suruga bay in Shizuoka.

Demi-Glace Beef Katsu Burger (¥410)

This burger is stuffed with beef katsu and shredded cabbage that's topped with a rich and MOS Burger original demi-glace sauce, a sauce that's very familiar to the people of Hyogo. It's also crowned with a dab of American mustard to add accent to the flavour. The demi-glace sauce is a mix 5 different sauces including demi-glace, tomato ketchup, noukou sauce, Worcester sauce and chuno sauce, all of which is complemented by a fruity combination of fruit chutney and apple paste. And to make the sauce a little more familiar to Japanese people there's also a dash of soy sauce and red wine. The demi-glace is a perfect match to the beef katsu.

Sakura Shrimp Croquette Burger (¥430)

This burger contains a croquette made with sakura shrimp caught in the Oikawa Port and Yui Port of Suruga Bay in Shizuoka Prefecture. The croquette is sits on top of bed of lettuce, and on top of the crunchy croquette is shredded cabbage and a creamy shrimp sauce. In Japan, sakura shrimp can only be caught in Suruga Bay, and only twice a year – spring from March to June and autumn from October to December – making it a very rare product. The shrimp is boiled raw and stuffed into the croquette with potatoes and onions. The creamy shrimp sauce uses cream sauce as a base and adds the deliciousness of sakura shrimp to draw out a richer flavour.

They are also now selling bargain packs for lots of people to share in their side menu, including the popular 'Variety Pack' which comes with French fries, onion fries and other treats. And for Halloween they are introducing the Family Nugget pack alongside others as pictured above. Packages come in special Halloween designs.

If you're looking for authentic local Japanese ingredients but also want something a little more familiar then MOS Burger is the place to go!

■Information

Demi-Glace Beef Katsu Burger

Price: ¥410

Sakura Shrimp Croquette Burger

Price: ¥430

Sales Period: August 13, 2018 to mid-November 2018

Available: At most MOS Burger branches

Family Nugget Pack

Price: ¥850 (*Sauce sold separately)

Sales Period: August 13, 2018 to February 2019

Available: At most MOS Burger branches

WEbsite: https://www.mos.jp

Cafe Hohokam – A Hamburger Shop Recommended by the Harajuku Tourist Information Center Staff

Hi, everyone! I'm Midori Blackmore and I work at MOSHI MOSHI BOX, the Harajuku Tourist Information Center.

Today, I went to Cafe Hohokam with fellow MOSHI MOSHI BOX colleague Ellie, so I wanted to share my experience with you all.

Hohokam is located behind MOSHI MOSHI BOX and can be found up the staircase past FABIUS Cafe.

Head up these stairs to find the entrance.

Hohokam is decorated to look like a motel you would see in Arizona. I've never been outside Japan before so I had to look up what exactly they're like. Arizona is a state in the southwestern region of the US. It's bordered by Mexico to the south, is very hot, and is home to the Grand Canyon. It also has the largest Native American population.

*We have blurred the faces of the people inside to protect their identities.

'I see,' I said to myself and looked around. So that's the atmosphere they're going for. It's very stylish but also feels incomparable to anything else.

We both ordered an orange cream soda with a Hohokam burger and French toast that comes topped with Nutella, bananas and whipped cream.

How amazing does this look? It looks like the cream soda you only see in manga. I was really surprised. It's tall and the colour is gorgeous. Really just the best. This must be the proper way to make it in the cream soda industry. When you drink your cream soda, don't you think to yourself, 'Summer has arrived,' too?

It's strange when you first take a sip because although it's blue it has an orange flavour. The soft serve cream on top is also sweet and really delicious!

There's four cream soda flavours to choose from: melon, raspberry, lemon and orange, and they're all supposed to be colourful and taste good. It might be a fun idea to order different coloured drinks with your friends.

Next up is the Hohokam burger! The menu said it has chili beans, cheese and a jalapeno patty.

Tada!

The flag on top is cute, isn't it? You can wrap the burger with the napkins provided on the table before biting into it, but we both shared it.

This is how it looks cut in half. The red part is the chili beans. It's spicy when you take a bite, but it's not overly spicy at all! For me I thought it was a refreshing kind of spiciness like that of Mexican cuisine. I'm no good with spice and even I could eat it.

The meat inside was made very well. It was just the kind of hamburger you'd expect at a hamburger shop.

There's a bunch of other burgers to choose from too, like the mozzarella burger, barbeque burger, cheeseburger and more.

Last up is the French toast with Nutella & Banana & Whip cream!

Something looking like this has got to be delicious.

The burgers at Hohokam are of course delicious, but I personally want to give the nod to their desserts. They're seriously something else!

The fluffy French toast is topped with sweet Nutella and whipped cream, but it's not heavy at all. We were already quite full but we were able to lap it up easily.

They also have a terrace smoking area. The atmosphere there was fairly nice too! Dining outside can make eating your food taste good too, can't it?

Another great thing is that everything at Hohokam can be ordered for takeout! We recommend getting a delicious burger and having a picnic in Yoyogi Park!

So, do you like the sound of Cafe Hohokam? It's great for lunch or dinner, and we also recommend using it as a café to stop by when you're out shopping.

If you're in Harajuku and have an empty stomach, or you're in need of a dessert, then please try Cafe Hohokam for yourself.

■Information

Café Hohokam

Address: 2F, 3-22-14 Jingumae, Shibuya, Tokyo

Opening Hours: 11:30-23:00(L.O. 22:30)

TEL: 03-5755-5708

Website: http://www.cafe-hohokam.com/

Healthy Hamburger Shop 'Jiyugaoka Burger' Opens in Aoyama

Healthy hamburger chain Jiyugaoka Burger opened its third branch in Aoyama on June 6.

The restaurant's belief is that safe food that's healthy for your body equals in a delicious meal. All of their burgers are handmade one by one. They make their own original patties and buns and strive to use as many fresh and organic domestic products as they can. The burgers shine through in their flavour which makes full use of the ingredients used.

Their original patties are handmade every morning out of 3 parts each with different coarseness. They ride on the strength of each part, and by altering the roughness, create a patty with a chewy texture that locks in the flavour of the meat and juice.

They are particular about their buns too. They have a winning texture that is irresistible even when you're eating it with meat and veg between one. The restaurant uses no eggs or dairy products*, so those with allergies can rest assured you'll be safe.

*The buns are made in a factory where there is bread made with eggs and dairy products.

The company is very much focused on the producing area of its vegetables and their quality. They used thick sliced sweet onions grown by Awaji Island producer Narui. Their organic potatoes are from Hokkaido Niseko Farm and are cooked with the skin on.

The new Aoyama branch of Jiyugaoka Burger has a white woodwork interior and the ceilings are high giving it a sense of space and comfort. There's a large table in the middle which accommodates up to 12 people and can be used alone or for parties at night. There's also 4-person tables for groups or business meetings. There's also terrace seats that looks out onto Gaien-Nishi Dori, also known as Platinum Street.

Check out their healthy hamburgers for yourself!

■Information

Jiyugaoka Burger Aoyama

Address: Passage Aoyama 1F, 2-27-18 Minamiaoyama, Minato, Tokyo

Opened: June 6, 2018

Opening Hours: 11:00-22:00 (Last Orders – Food 21:00 / Drinks 21:30)

Closed: New Year's Holiday

Access: 2-minutes on foot from Exit 1A of Gaiemmae Station via Tokyo Metro Ginza Line

TEL / FAX: 03-6459-2994

Website: https://jiyugaoka-burger.com/

7 Filling Burger Joints in Harajuku for Lunch & Dinner

Hi, everyone! I'm Ellie, and I work over at the MOSHI MOSHI BOX Harajuku Tourist Information Center.

Have you ever had it when you're hungry and the only thing you want to pig out on is hamburgers? Did you know, there's actually a bunch of hamburger shops in Harajuku that not many people know about yet? The burger there are really filling, so they're great for either lunch or dinner.

Let's take a look at some of these Harajuku hamburger shops.

Cafe Hohokam

This hamburger shop is located just behind the MOSHI MOSHI BOX Harajuku Tourist Information Center. They have open half-terrace seats where the sun shines in, and the stylish, relaxed interior is a characteristic feature. The buns are specially made using natural yeast. Their flavour is so rich you could even eat them without any ingredients. The chewy meat patty that sits between the fluffy bun is simply irresistible.

THE GREAT BURGER


  It goes without saying that this is a famous hamburger shop. Even in the big city, it stands out as one of the best, bustling with customers every single day. They are praised for the perfect compatibility between the seriously juicy patty and the buns, which are specially made from natural yeast. They are recognised for their stylishly arranged American-style store, and of course the flavour of their burgers.  

E・A・T

CNN, the biggest television channel in the US, chose E・A・T as one of the best new restaurants in Tokyo in 2010. It offers authentic Californian dining, made possible by French chef Michi, who was selected as one of the top 10 chefs in Los Angeles twice between 1997-2008. The burgers at plump and fat but don't sit heavy on your stomach, so you'll make short work of them in no time at all.

ZipZap


ZipZap is one for adults, designed around the concept of 'resort & relax'. You can expect to enjoy a relaxing time here, allow you to break away from the tumult of the busy city. You won't tire of the flavour of their New York style hamburgers, no matter how many times you go to eat them. And if you go during dinner time, you can stuff your cheeks with a burger in one hand and alcohol in the other.  

Teddy's Bigger Burgers – Omotesando Branch

Countless TV programs have covered this hugely popular burger chain. It has been voted Hawaii's best burger since 2001. The owner is particular about every ingredient on the menu, and you'll be able to tell once you sink your teeth into a burger there. The restaurant is spacious, giving a sense of liberation, and the interior decor is styled in a Hawaiian fashion. When you enter, you'll think you've just stepped into Hawaii.

GOLDEN BROWN


  GOLDEN BROWN classic-style burgers that can be enjoyed in a vintage environment. The outside is reminiscent of 1950s America, and the soft orange lights, together with the relaxing wooden decor, offers a comfortable atmosphere. The burgers are loved for having that authentic New York taste.  

San Francisco Peaks

San Francisco Peaks is famous as being like Ura-Harajuku's west coast. It's a modern shop that serves mainly pancakes and hamburgers, complete with retro furniture and chic walls that present a calm ambiance. I recommend this one for people that want to enjoy a hamburger in peace at lunchtime on their day off. Their buns are made from specially made natural yeast and are cooked brown. They're to die for!

Are you feeling hungry now from this reading list? Make use of it and master all the burger shops in Harajuku!