Virtual YouTuber Kizuna AI Collaborates with Animate Cafe in Shinjuku
Animate Cafe is known for collaborating with many anime series and game franchises. This time, they're teaming up with internet's biggest virtual YouTuber, Kizuna AI.

Kizuna AI is the world's first virtual YouTuber and claims to be artificial intelligence. Her YouTube Channel A.I.Channel went online on December 1, 2016. Since then, she's posted pretty much every day on a variety of topics and raked in 1 million subscribers in less than a year. As of May 2018, she currently has over 1.8 million subscribers. She has gained rapid attention not only in Japan but overseas too.
Maid Cafe Kizuna AI Angel Omurice-Style Crepe
Price: ¥750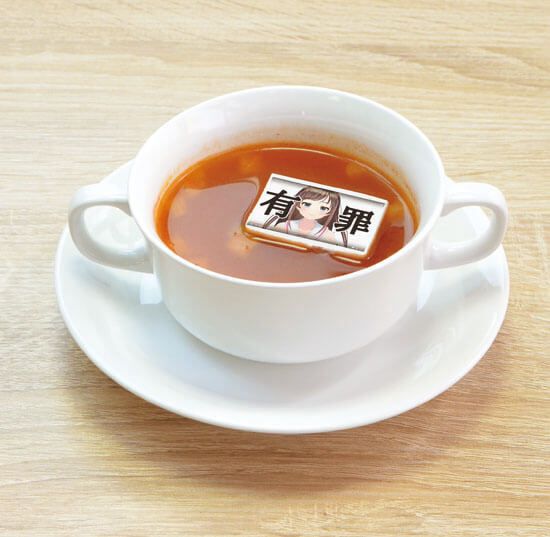 [Guilty] Kizuna AI Trial Minestrone [Not Guilty]
Price: ¥600
*There are two types available: Guilty and Innocent. Guilty is spicy and packs a punch!
All of the items on the menu at the cafe are references to videos on Kizuna AI's YouTube Channel. They will sell the legendary Soda Bath drink as seen in her video, as well as a minestrone based on her trials, an omurice-style crepe, and more. All of the items are references to videos on Kizuna AI's YouTube channel.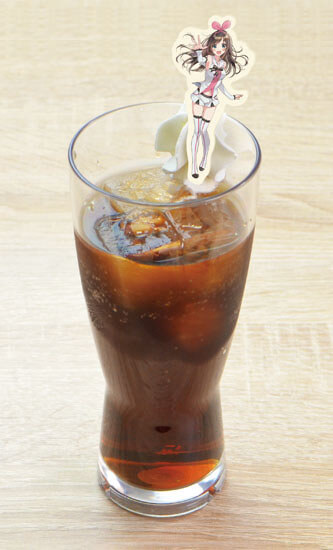 A.I.Channel Soda Bath
Price: ¥600
*All prices listed include tax.
For every item you order from the menu, you will receive one coaster randomly selected from a possible six. There'll be plenty of Kizuna AI merchandise on sale at the Animate Cafe too that you can't get anywhere else.
Full details regarding the merchandise will be announced at a later date, so look forward to updates!
■Information
A.I.Channel×Animate Cafe
Location: Animate Cafe Shop Shinjuku
Running: May 29, 2018―June 26, 2018
Entry: First-come, first-served each day.
Animate Cafe Homepage: https://cafe.animate.co.jp/event/kizuna-ai1805/
*For details on how to attend please check the Animate Cafe homepage.
*The opening times and dates as well as entry methods may be subject to change.
Click here to go to Kizuna AI's official YouTube channel.
RELATED ENTRIES
Sound! Euphonium Collaboration Cafe Opens at Kyoto's Hotel Keihan

Fans of the Sound! Euphonium anime will want to visit Hotel Keihan Kyoto Grande from September 23 until November 20, 2022! The second-floor restaurant Octava will be holding a special collaboration cafe with the series in conjunction with the Keihan Electric Railway. The project is part of the collaboration between the series and the local railway that began in August, and fans will be able to order food and drink items inspired by their favorite characters.

Collaboration Menu

Kumiko's Omurice

Reina's Pasta with Sweet and Spicy Tomato Sauce

Hazuki's Matcha Ice Cream & Sapphire's Macarons

Mr. Taki's Spicy Curry Pizza

Sound! Tuba-kun's Fruit Cake

Drink Menu

Kumiko's Strawberry Milk

Reina's Butterfly Pea

Hazuki's Blue Soda

Sapphire's Orange Juice

Band President & Vice President's Matcha au Lait

Straw Tags

Bonuses

Bonus for Dining In-store: Lunch Mat

Drink Order Bonus: Coaster (5 varieties, 1 secret)

*Coasters will be given at random.

Life-size Panels

From omurice and pasta to fruit cake and spicy curry pizza, there is certainly a dish perfect for everyone at the cafe. Guests can also enjoy five different types of drinks, and a coaster will be handed out at random for each order. Those dining at the cafe will enjoy their meal on a special lunch mat, and life-size character panels will be perfect for snapping some photos for social media. Music from the series will be played on-site, so come enjoy while you can!

Information

Keihan Electric Railway x Sound! Euphonium 2022

Running: September 23 – November 20, 2022

Lunch: 11:30-14:30 (Last order at 14:00)

Dinner: 17:30-22:00 (Last order at 21:30)

*From 2:30 to 5:30, only items from the take-out drink menu are available.

Reservations Now Open

Reservations: https://bit.ly/3RFPf4i   

Venue: Hotel Keihan Kyoto Grande, 2F Restaurant Octavar
https://www.hotelkeihan.co.jp/kyoto/restaurant/

Fist of the North Star: LEGENDS ReVIVE Inspires Collaboration Cafe in Kichijoji

The smartphone game Fist of the North Star: LEGENDS ReVIVE has been downloaded over 2 million times. To celebrate, a collaboration cafe will open at CAFEZENON & ZENON SAKABA in Kichijoji, Tokyo from September 20 until October 3, 2022. 

Menu

Trial of the Fist! Super Spicy Soup

Zako's Rice & Kalbi

Giant Hag's Bavarian Cream

Mohawk's Drink

Giant Hag's Strange Water

Fans of the game and the long-running series can enjoy a variety of menu items inspired by characters from the series. From Super Spicy Soup to Rice and Kalbi, there's something for everyone to enjoy!

 

An original Giant Hag sticker will be given away with each order, so why not get yours while you have the chance?

©武論尊・原哲夫/コアミックス 1983 版権許諾証GC-218 ©SEGA

Information

Fist of the North Star: LEGENDS ReVIVE Collaboration Cafe
End of the Century Bar ~Giant Hag's Bar~

Running: September 20 – October 3, 2022
Venue: CAFEZENON & ZENON SAKABA
(2-11-1 Kichijoji Minami-cho, Musashino, Tokyo)
Hours: 11:30-23:00

Romantic Killer Anime Series to Air on Netflix This October

The anime adaptation of the Romantic Killer manga series will begin streaming on Netflix worldwide on October 27, 2022. The series follows Anzu Hoshino, played by Rie Takahashi, a high school girl who just wants to play video games and who doesn't care about fashion or love. A wizard named Riri, played by Mikako Komatsu, suddenly appears to force Anzu to fall in love. 

Anzu then meets three handsome guys: Tsukasa Kazuki, the most handsome guy at school, Junta Hayami, a baseball ace and Anzu's childhood friend, and Hijiri Koganei, a rich dreamboat. Check out the trailer for the upcoming series below.




 


Official Goods

In the new trailer, we see the three men approaching Anzu, who declares her lack of interest in dating and romance. At first glance, the series seems like a simple genderswap of typical shojo tropes, but Romantic Killer offers more than that, with more hilarious secrets in store for viewers. Will Anzu be able to regain her lazy life, or will she really find herself smitten by one of these suitable bachelors?

When Riri tries to force Anzu into a romantic relationship, things don't go smoothly. The first person Anzu meets is Tsukasa, played by Yuichiro Umehara, who is fed up with love after being pursued by countless girls since he was young.

Next, she meets Junta Hayami, a star baseball ace and childhood friend played by Gakuto Kajiwara.

Finally, Anzu meets Hijiri Koganei, a wealthy scion who thinks that every woman is in love with him. Fans will recognize his voice actor as Natsuki Hanae, who previously played Tanjiro Kamado in Demon Slayer.


Other voice talents appearing in the series include Kenjiro Tsuda as Tsuchiya, Hijiri's butler, Manaka Iwami as Saki, Anzu's best friend, and Hiro Shimono as Manato, Tsukasa's closest buddy.

The ending theme is titled Romantic Love ~Won't You Fall in Love?☆~, and is performed by Riri's voice actress Mikako Komatsu.

Be sure to tune in to this slapstick romantic comedy next month!

(C) 百世渡/集英社 (C)Netflix

YouTuber Idol Group UNI Mello to Release First Original Song

In March 2022, UNI MELLO, a virtual YouTuber idol group, made its debut. A joint venture by Pony Canyon and Hello, the group will release its first original song Find out SHANGRI-LA on streaming services on September 28, 2022.

 

UNI Mello consists of seven members: Kaede, Sekai, You, Amane, Tomoka, Shirafuji, and Shun. Each has a unique hobby and skillset, and the members have continued to grow over the past six months. On the UNI Mello YouTube channel, the members have continuously posted singing videos, as well as daily streams. The group's first original song was announced at the September 18th event Uni Mello's First Offline Meeting, and the audience was beyond thrilled.

 

Find out SHANGRI-LA is a song filled with the member's dreams and hopes, and listeners are sure to want to embark on a new journey. The track is filled with solo parts, allowing each member to shine, as well as harmonies highlighting the cohesiveness of the seven members.

More original music is planned to be released in the future, so look forward to it!

(C)UNI Mello

Japan's Largest Sake Event TOKYO SAKE FESTIVAL to be Held in Shinjuku in October

Japan's largest sake event, TOKYO SAKE FESTIVAL 2022, will run from October 4 until October 6 at the Shinjuku Sumitomo Building's Triangle Square.

The event's aim is to make sake more mainstream around the world, with the first festival taking place in 2020. Tokyo Sake Festival blends sake with entertainment, showing off the very best of Japanese culture to those who may be new to craft sake. For the third year, former NMB48 member Yui Takano will serve as ambassador. Takano is known for leaving her idol career to manage the sake specialty store Yui Sake Shop. 

Tokyo Sake Festival 2022 is bringing together forty carefully selected sake breweries from around Japan, including Inoue Seikichi, winner of the Champion Sake award at IWC 2022. Tonoike Sake Brewery, winner of Kura Master 2022's President's Award, will also be in attendance. The full lineup can be found on the official website.

Popular influencers and artists from Raphael to BOYS AND MEN and Ukon Takafuji will take the stage during the event, so be sure to swing by if you're a fan of Japanese spirits!

Information

TOKYO SAKE FESTIVAL 2022

Dates: 

October 4: Part 1 13:30-16:30 / Part 2 18:00-21:00
October 5: Part 1 13:30-16:30 / Part 2 18:00-21:00
October 6: 16:00-19:00
Venue: Shinjuku Sumitomo Building Triangle Square
(2-6-1 Nishishinjuku, Shinjuku-ku, Tokyo)

Buy Tickets/Details: https://tokyosakefestival.bitfan.id/

Tower Records Cafe to Collaborate with Tokyo Revengers for Special Menu

Tokyo Records Cafe will hold a special Tokyo Revengers cafe in three cities around Japan–Tokyo, Osaka, and Nagoya. Fans of the series won't want to miss this special collaboration menu inspired by popular characters from the series!

Menu

Collaboration Menu

Phase 1 (Top): Takemichi and Chifuyu's Omurice / Tokyo Manji Gang Team Pasta

Phase 2 (Bottom): Chifuyu's Tonkotsu Rice Bowl / Tokyo Manji vs. Black Dragon Sandwich

Collaboration Desserts

Phase 1 (Top): Inui's Cocoa Pancakes / Hina's Apple Pie

Phase 2 (Bottom): Holy Night Cake / Mitsuya and Hakkai's Sweets Plate

Collaboration Drinks


 Tokyo Revengers Latte

Collaboration Drinks (Phase 1)

Collaboration Drinks (Phase 2)

Exclusive Happy Birthday Sweets

Take-Out Menu

Tokyo Revengers Original Take-out Bottle (Phase 1/Phase 2)

Cafe Reservation Bonus: Sticker (Phase 1)

Cafe Reservation Bonus: Sticker (Phase 2)

Menu Order Bonus: Postcard (Phase 1)

Menu Order Bonus: Postcard (Phase 2)

Bonus for Customers Spending ¥4,000 or more: Name Card (Phase 1)

Bonus for Customers Spending ¥4,000 or more: Name Card (Phase 2)

The collaboration menu is inspired by the story and characters of the globally-popular anime and manga series. Guests can enjoy special offers, exclusive goods, and illustrations drawn exclusively for this event. Who is your favorite?


Information

Tower Records Cafe x Tokyo Revengers

Tower Records Cafe Omotesando
Address: Imon Harajuku Building 2F (6-3-9 Jingumae, Shibuya-ku, Tokyo)
Running: October 7 – October 31, 2022
Phase 1: October 7 – October 19, 2022
Phase 2: October 20 – October 31, 2022
Take-out Drinks are available from 13:00-18:40
Twitter: https://twitter.com/trc_omotesando
◇Omotesando Time Schedule
① 11:00-12:20 ② 12:50-14:10 ③ 14:40-16:00 ④ 16:30-17:50 ⑤ 18:20-19:40

Tower Records Cafe Nagoya Sakae Skyle
Address: SKYLE 9F (3-4-5 Sakae, Naka-ku, Nagoya)
Running: October 22 – November 14, 2022
Phase 1: October 22 – November 2, 2022
Phase 2: November 3 – November 14, 2022
Take-out Drinks are available from 13:00-18:40
Twitter  : https://twitter.com/trc_nagoya
◇Nagoya Sakae Skyle Time Schedule
① 11:00-12:20 ② 12:50-14:10 ③ 14:40-16:00 ④ 16:30-17:50 ⑤ 18:20-19:40
 
Tower Records Cafe Umeda NU Chayamachi
Address: NU Chayamachi 6F (10-12 Chayamachi, Kita-ku, Osaka)
Running: October 7 – November 6, 2022
Phase 1: October 7 – October 21, 2022
Phase 2: October 22 – November 6, 2022
Take-out Drinks are available from 13:20-19:00
Twitter  : https://twitter.com/TRC_NUchaya
◇Umeda NU Chayamachi Time Schedule
① 11:20-12:40 ② 13:10-14:30 ③ 15:00-16:20 ④ 16:50-18:10 ⑤ 18:40-20:00
 

Buy Collaboration Goods: https://tower.jp/revengers-goods

Details:  https://tower.jp/revengers-cafe2

Mecha-Ude Animation Project Gets Full Anime and Manga Series

Sae Okamoto's Mecha-Ude project has attracted worldwide attention, and now, a full anime and manga series have been announced! Okamoto's up-and-coming anime production company TriF Studio, located in Fukuoka, will work on the series, which follows Hikaru, a normal student, and Alma, a Mecha-Ude wielder who can be activated when he bonds with a human. 

Yoshino Koyoka has also started publishing a manga adaptation of the series on LINE Manga and other ebookjapan services. Three free chapters were published on September 15, and the series will run bi-weekly. TriF Studio will supervise and provide the story.

A documentary video teasing the anime series and giving more information about TriF Studio has also been uploaded to YouTube. The video shows that the pilot's theme song was written by Eve with a music video produced by Masayoshi Oishi. Hiroshi Matsuyama, the CEO of CyberConnect2, serves as the general supervisor of the series. Terumi Nishii, the chief animation director for the popular series Jujutsu Kaisen, worked on character designs for Mecha-Ude. 

The average staff age at TriF is 25, which is incredibly young for an animation studio. What can we expect from such a unique collection of creators? 

Be sure to keep an eye on this new anime and manga project!

(C)TriF/「メカウデ」製作委員会

Voice Actor Music Hero Project PRELUDERS Releases Music Video for 'Horizon Climber'

On August 31, 2022, the voice actor, hero, and music project PRELUDERS released the album By Your Side. Now, the music video for the song Horizon Climber by High Five has been released, and it's absolutely gorgeous!

High Five is a group led by Asuka Morito (Junya Enoki), and Horizon Climber is a song filled with hope. Young people are encouraged to listen to imagine the kind of hero they'd like to become!

Horizon Climber Music Video

The music video for Horizon Climber depicts the fifth and final chapter of the voice drama Koubou (Beam of Light), in which the members of High Five and S-quad finally confront the two members of Vice Versa, voiced by Atsushi Tamaru and Shintaro Asanuma. The battle is ready to start, with Asuka (Junya Enoki) and Ko Kujikami (Yuma Uchida) taking on those who would threaten their friends. Be sure to keep an eye out for more from this exciting project!

 

Be sure to give this gorgeous video a watch!

(C)PRELUDERS

Netflix Anime Series 'Exception' Unveils Cast, Composer

The new Netflix anime series Exception is scheduled to air worldwide on October 13, 2022. The space horror is based on a new story by novelist and film director Hirotaka Adachi (Otsuichi), with character designs by Yoshitaka Amano, known for his work on the Final Fantasy series.

The score for the anime will be composed by Ryuichi Sakamoto, while the cast includes Chikahiro Kobayashi, Takahiro Sakurai, Yuko Kaida, Takanori Hoshino, and Atsumi Tanezaki. The trailer and key visuals promise plenty of mystery and terror, and viewers can expect a one-of-a-kind story and curious worldview.

The story takes place in the far future. Humans have been driven from Earth, forced to move to another galaxy. Members of an advanced scouting team are sent to search for a planet suitable for terraforming. This team is created through a biological 3D printer, while their original counterparts are kept in cryo-sleep.

The series will follow these copies as they seek to complete their mission, but the darkness of space promises some terrifying moments. A glitch in the system causes one of the crew members, Lewis (Chikahiro Kobayashi), to be printed in a deformed state.

The four other members of the team–Mac (Takahiro Sakurai), Nina (Yuko Kaida), Oscar (Takanori Hoshino), and Patty (Atsumi Tanezaki) are attacked by this monster, and the countdown to the end of the mission begins. Where is there to run in space?

The trailer shows a terrifying copy of Lewis running through the ship attacking the crew, though also shows a glimpse of his mentality leaking through as he utters the word "misprint." This won't be a series to watch alone in the dark.

Some humans are ruthless, claiming that the copy isn't at all human and killing it is the only option. Others say that killing isn't the right thing to do and that there must be a way to help the misprinted being. 


Is this deformed version of Lewis human? What does it mean to be alive? What is a human being? This anime series asks some seriously heavy questions, and you won't want to miss it.

Composer Ryuichi Sakamoto shared his thoughts on how he came to work on the series. "I chose to participate after reading the script. I love sci-fi, and I knew I wanted to see this come to life. In today's world, cloning and genetic manipulation technology continue to advance, but that leads to questions about the meaning of life and what it means to be human. This series deals with those questions head-on."


"I wanted the main theme to be symphonic like you'd hear in other sci-fi films like Star Wars," he said. "As a whole, I tried to make the soundtrack more dark and ambient. Not scene by scene, but as one giant piece. That said, I did include some intense sounds for the battle scenes. This is a soundtrack I truly love."

Yuzo Sato (Transformers: Titans Return) is directing the series, while Bakken Record and 5 Inc. are producing the series.

Featuring a star-studded cast and incredible direction, screenwriting, character design, and music, this space horror anime series isn't one to miss.

Photo by zakkubalan (C) 2020 Kab Inc.

Home Cooking Themed Yowamushi Pedal LIMIT BREAK Collaboration Cafe to Open in Shibuya

Fans of Yowamushi Pedal won't want to miss this special collaboration! Chugai Grace Cafe, located on the seventh floor of Shibuya MODI, will be running the Yowamushi Pedal LIMIT BREAK cafe from September 22 until October 17, 2022.

Collaboration Menu

Sakamichi Onoda and Sangaku Manami's Udon & Onigiri Plate 


Yasutomo Arikita and Kuroda Yukinari's Hamburger & Salad Plate

Hayato Shinkai's Chocolate & Banana Mini Parfait

Sohoku High School Mango Whipped Cream & Calpis Drink

Hakone Academy Mint Whipped Cream & Calpis Drink

Goods

Pin (Random Holographic included, 9 varieties)

Acrylic Figure Stand (9 varieties)

Pin, Mini Character Ver. (Random Holographic included, 16 varieties)

Acrylic Stand (16 varieties)

Table Plate (9 varieties)

Shoulder Bag

Menu Order Bonus / Online Preorder Bonus

Coaster (1st Half): September 22 – October 4, 2022

Coaster (2nd Half): October 5 – October 17, 2022

The collaboration cafe focuses on dishes you may find at home, such as udon, onigiri, and even a chocolate banana mini parfait as a dessert. New original goods with exclusive illustrations will also be available for purchase!

©渡辺航(週刊少年チャンピオン)/弱虫ペダル05製作委員会

Cure Maid Cafe in Akihabara Starts Collab with Anime Series 'Luminous Witches'

Gee! Store, a popular series of shops specializing in anime character goods, has announced a collaboration with the series Luminous Witches! From September 9 until September 19, Cure Maid Cafe in Akihabara will be serving up tasty treats inspired by characters from the series. 

Collaboration Menu

Exclusive Collaboration Character Cards (9 varieties)

Preorder Goods

The cafe will offer a number of snacks and drinks, including Eggplant Cheese Pasta, Aira & Eleonore's Curry, and Moffy's Parfait. A special drink will be available to order by posting with a special hashtag on social media, so be sure to check back for more information!

©2021 島田フミカネ・KADOKAWA/連盟空軍航空魔法音楽隊
©TABLIER MARKETING INC., ALL RIGHTS RESERVED.

Information

Luminous Witches Cafe

Running: September 9 – September 19, 2022

Venue: Cure Maid Cafe (Gee! Store 4F, Onoden Main Store, Akihabara)

Dev-c Group from VTuber Project VEE Debuts with Huge Ad in Shinjuku

To celebrate the debut of Dev-c, the new VTuber unit from VEE, a giant ad has appeared in Shinjuku Station! Fans should head to the Promenade connecting Shinjuku Station to Shinjuku 3-come from September 5 until September 11 to catch a glimpse of these new talents!

The ad shows Uriyone, Anew Uparu, Cotonoha, Luminous Sweet, and Aomiya Yozuri strolling down a Tokyo street.

 

Spread out behind them are images of the members of Dev-a and Dev-b, who previously debuted.

 

VEE has managed to bring together some incredible talents so far. On the right side, fans will see Dev-c's key visual and a message from VEE to fans, so if you're near Shinjuku, be sure to check it out!

Information

Dev-c Billboard Celebrating the Group's Debut

On Display: September 5 – September 11, 2022
Location: Tokyo Metro Shinjuku Station – Promenade Area
Official Site: https://vee-official.jp/


*To prevent the spread of COVID-19, try to social distance and enjoy responsibly.
*Please do not contact station staff regarding the billboard.