Tsujiri Ginza Releasing Bottled Cold Tea & Shincha New Tea
Tsujiri Ginza is onto two new products for its shelves: the bottled Tsujiri Cold Tea arrived back in April, and the Tsujiri New Tea will be released on May 18 for a limited period.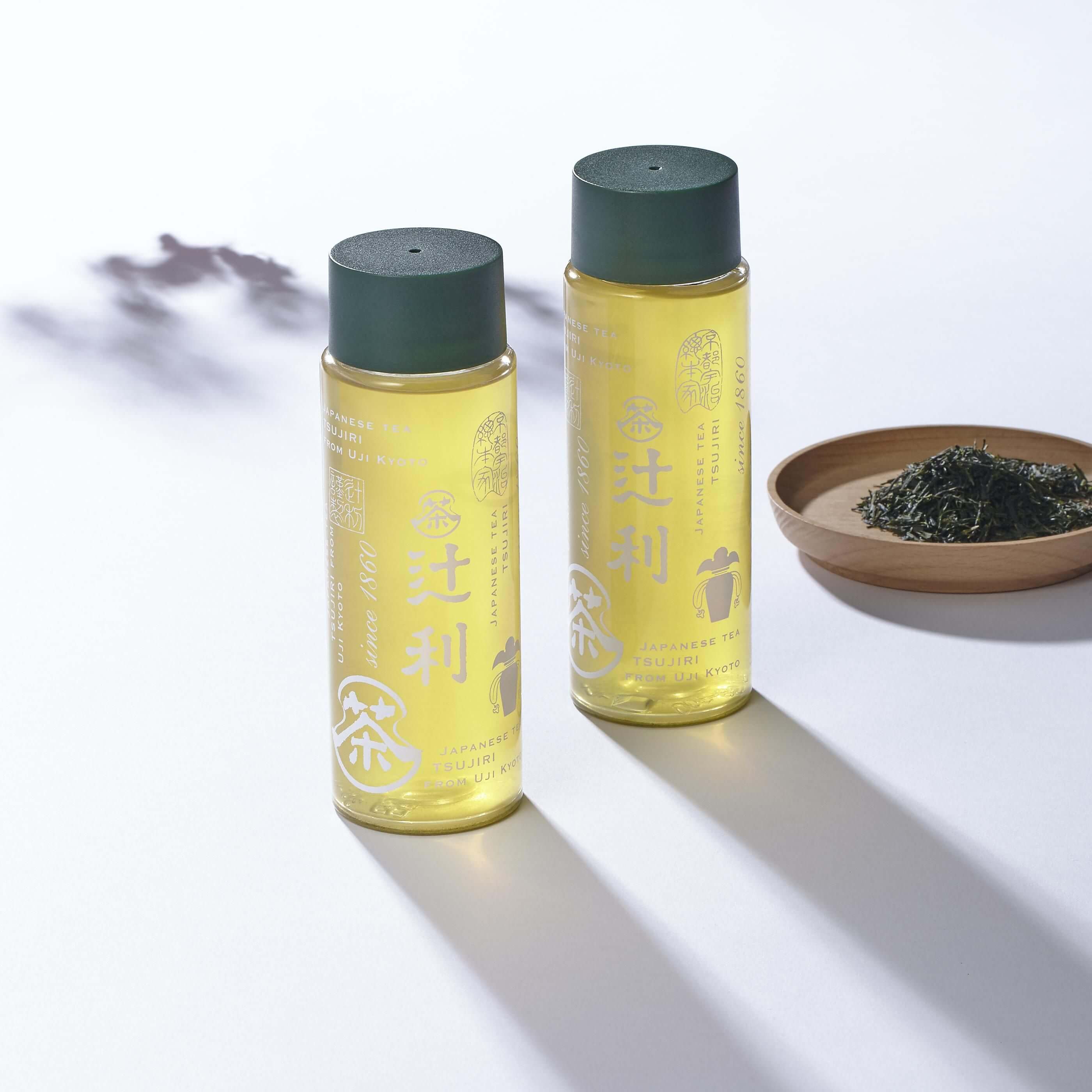 The Tsujiri Cold Tea takes Tsujiri's high quality sencha tea leaves which are brewed carefully over a long period of time at the low temperature of 40℃. The characteristic of this carefully poured tea is its mellow flavour which is packed together with the tea's innate flavourful essence. The golden tea is poured into an original Tsujiri bottle which bears the company's design. The bottles are available in-store only.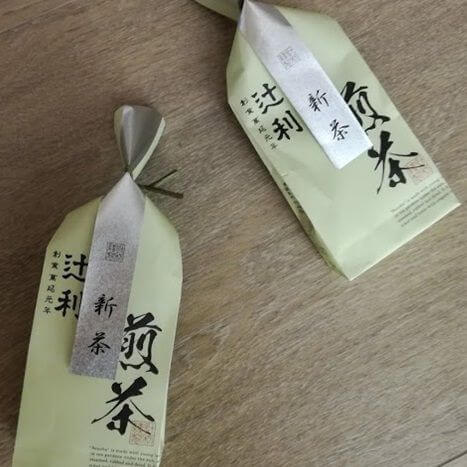 The Tsujiri New Tea uses fresh shincha tea leaves which are harvested at the beginning of May. The leaves are soft, have a fresh fragrance and a subtle sweetness. The fresh buds are picked from tea plantations in Uji and are available during this season only.
Why not enjoy the heavenly taste of Japanese green tea while on your trip to Japan?
■Information
Bottled Tsujiri Cold Tea
Available Branches: Ginza, Uji, Kyoto, Kyoto Tower Sando
Quantity: 300ml
Price: ¥417 (w/tax ¥450)
Tsujiri New Tea
Available Branches: Ginza, Uji, Kyoto, Kyoto Tower Sando, Kiyomizu-zaka, Arde Shin-Osaka
On Sale: May 18, 2018
Quantity: 50g
Price: ¥1,000 (w/tax ¥1,080)
Tsujiri Homepage: http://www.tsujiri.jp/
RELATED ENTRIES
This Irresistible Tart is Made From Rare and Delicious Heart-Shaped Grapes

 Fruit tart specialist shop Qu'il fait bon will be selling a brand new kind of lovable tart which is made using a rare species of grape sourced from Yamanashi prefecture. The tart is currently selling at Grand Maison, Ginza and Hamamatsu. These will be available for a limited period only. 


The tart is covered with incredibly rare "My Heart" grapes, which were developed by the grape research institute Shimura Budou Kenkyusho. Growing and cultivating these grapes was no easy task and took an incredible amount of time. There was only a short window of time available to harvest the produce and even then the harvest was small, so stocking up was very difficult. Despite the challenges, these tongue-tantalizing tarts are being sold this year, however, they are in limited supply. 

Shine muscat grapes and loubell muscat grapes were crossbred to create this new kind of grape. The marvellous flavour of both parent grapes can be tasted. The new grapes have a high sugar content, a wonderful scent and the skin is wonderfully crunchy.  

Take a bite into the special Yamanashi Grape My Heart Tart and you will be filled with a sophisticated fruity flavour. The adorable heart-shaped grapes are layered perfectly on top of a bed of white wine custard. You just have to try this delicious and beautiful tart!

Explore Japanese Hojicha Tea-Flavoured Desserts in Kyoto

Kyoto is the homeland of Japan's tea. Tea shop Itohkyuemon was first established in Kyoto towards the end of the Edo period of Japan in 1832. It has since become a well-established tea shop that has gained popularity for its high quality tea and tea-based desserts. The shop will be holding a special event called Itohkyuemon X Uji Hojicha Tea Fair from September 2, 2019. This is the perfect opportunity to explore the wonderful flavours of Japan's famous hojicha tea from the homeland of Japan's tea. 

Hojicha tea is deeply rooted in Kyoto's daily culture. At Itohkyuemon, the tea leaves are roasted at a high temperature, creating a wonderful and comforting aroma. The fair will see the release of a wide range of hojicha-infused desserts such as parfaits, a dessert plate, ice cream, chocolate, daifuku, cheesecake, kitkats, chocolate cake, tiramisu and much more.  This is the perfect opportunity to immerse yourself in a range of sweet hojicha flavours. 

The brand new Uji Hojicha Parfait consists of homemade hojicha jelly layered with refreshing hojicha ice cream. This is garnished with a hochicha senbei wafer and drizzled with hojicha syrup. This parfait allows you to taste the variety of wonders of hojicha all in one glass.

Want to tantalize your tongue with more tea? The Hojicha Tea Ceremony set comes with a hojicha daifuku and a drink to complete your parfait experience. 

The Uji Hojicha Chocolate Cake which was previously sold at the Gion-Shijo store has now returned. However, this is in limited supply. The Uji Hoji Dessert Plate includes a slice of Uji Hojicha Chocolate Cake, a Hojicha Mini Parfait, Hojicha Chocolate Ganache, a slice of Hojicha Cheesecake and a Hojicha Daifuku. This is the perfect way to explore hojicha in a variety of dessert forms. 

This is the perfect opportunity to explore the wonderful flavours of one of Japan's most beloved teas. 

Information

Itohkyuemon X Uji Hojicha Fair 2019 

Running: September 2 ー 30, 2019

Available at: Uji Main Store, JR Uji Ekimae Store (in front of Uji Station), Gion Shijo Store, Byodoin Store, Kyoto Ekimae Store (in front of Kyoto Station), Online Shop.

*The desserts sold can differ from shop to shop. 

Website: https://www.itohkyuemon.co.jp/site/houjicha/ (scheduled to open on September 2) 

Uji Hojicha Parfait

Available from: September 2, 2019 

Price: ¥1,080 (on its own, after tax)

¥1,480  (drink set included, after tax) 

Hojicha Tea Ceremony: ¥1,780 (after tax)  

Uji Hojicha Dessert Plate

Available from: September 2, 2019 

Price: ¥1,680 (on its own, after tax)

¥1,980 (drink set included, after tax)

Halloween Treats, Wagashi, Drinkable Potato Desserts & More at GINZA SIX This Autumn

This autumn, Ginza's biggest shopping complex GINZA SIX is serving up a sumptuous selection of seasonal sweets and desserts. Their main components this year are apples and potatoes. Expect to enjoy potato in an entirely new way, and get ready for the spooky season with a line-up of Halloween treats that everyone can enjoy.

Let's take a look at just some of the gourmet delights arriving for the autumn season, some of which are already on sale.

Potato Desserts

Drinkable Potatoes (Purple Sweet Potato/Ripe Potato/Potato Leaf) – ¥600 Each @ Minamikaze Noukasha Dessert House (Available: October 1 – October 31)

We're at a point in time now where not only can we eat potatoes―we can drink them too! These potato dessert drinks come in three flavours: fruity Purple Sweet Potato, rich Ripe Potato, and Potato Leaf. The potatoes used to make all of the drinks were farmed from Minamikaze Noukasha's 160 potato farms.

Set of 5 Native Potato Pies (Oiran Potato/Genji Potato/White Potato/Hayato Potato/Tanegashima Purple Sweet Potato) – ¥2,500 @ Minamikaze Noukasha Dessert House (Available: October 1 until all sold)

Methods to make potato cultivation even easier were introduced almost 400 years ago in Japan. Cultivating original varieties of potatoes is difficult―it's mostly not done today. These pies are proudly made with those rare native potato varieties.

Potato Parfait – ¥2,000 @ JOTARO SAITO (Quantity: Only 10 served per day)

This gorgeous parfait is made with a purple sweet potato and sweet potato cream and is layered with agar-agar, rice flour dumplings, and ice cream. Inspired by the form of an affogato, it's topped with potato ice cream drizzled in a warm rice sauce.

Halloween Goodies For Grown-Ups

Halloween Party Pumpkin Purin – ¥4,800 @ Marlowe (Available: October 1 – October 31) *Must order within 3 days

This party-sized Halloween-exclusive rich pumpkin custard pudding contains cinnamon and nutmeg. It's even topped up with a jack-o-lantern face.

Glowing Lollipop Candy – ¥833-¥1,111 @ Candy Art Museum by PAPABUBBLE (Available: September 21 – October 31)

These lollipops come on sticks with LED lights that make the candy glow a ghoulish light, making them a great Halloween treat.

Halloween Afternoon Tea Set – ¥4,200 @ THE GRAND GINZA (Available September 1 – October 31)

Feast on an exquisite Halloween afternoon tea set made up of an exquisite selection of drinks and desserts.

Apple Desserts

Apple Gummy – ¥2,777 / Apple Gummy Candy – ¥1,666 @ Candy Art Museum by PAPABUBBLE (Available: August 27 – November 4)

The apple gummy is about the size of a Jonathan apple. If you're wondering what flavour it is, you'll have to wait until you bite into it to find out! The apple gummy candy set takes on flavours of different apple varieties.

Pom Caramel – ¥800 Each @ PHILIPPE CONTICINI (Available: August 27 – November 4)

These cute and round vanilla flavoured apple mousses are filled with an apple compote, which has a hint of star anise, and cream caramel. They're packed full of apple-y goodness and maintain PHILIPPE CONTICINI's refined flavours.

This Year's Must-Try Autumn Treats

Bessei Maruto Parfait "Shubo" – ¥2,300 @ Nakamura Tokichi Honten (Available: October 1 – November 30)

Exclusive to the Ginza branch of Nakamura Tokichi is this specially made parfait, layered with autumn-time ingredients including Japanese chestnut matcha cream, fig, chestnut sherbet, and bean paste. You can really taste the rich matcha notes in this beautiful dessert.

Kyoto Koicha Terrine Inori no Kajitsu – ¥2,000 @ Tsujiru (Available from September 1)

A great little gift is this terrine chocolat, made with chestnut, black soybeans, fig, and cranberries.

Did you enjoy this list? All of these items are autumn-exclusives and some are very limited in stock. Be sure to enjoy all the flavours of autumn this year in Japan.

*All listed prices include tax

Information

GINZA SIX

Address: 6-10-1 Ginza, Chuo Ward, Tokyo

Opening Hours: Shops/Cafes (B2F-5F) 10:30-20:30 / Restaurants (6F, 13F) 11:00-23:00

*Business hours differ from shop to shop.

No Fixed Holidays (But shops and restaurants will be closed on August 26, 2019)

Access: Directly connected to Ginza Station via the Tokyo Metro Ginza Line, Marunouchi Line and Hibiya Line.

TEL: 03-6891-3390
Website: http://ginza6.tokyo/

Try This Mino Traditional Culture and Tea Tasting Experience Hotel Plan in Gifu

The Mino region of Gifu is famous for its traditional pottery called Mino Ware, its Gifu lanterns, and much more. Recently, an empty building located in front of Minokamo station in Gifu prefecture was renovated by a company called IDENTITY, who transformed it into a community building called MINGLE. MINGLE is now home to the Japanese tea shop Minokamo Chapo. This tea shop proudly represents the culture of tea and pottery that still remains in the Mino region. In order to share this wonderful culture, they are now offering a new accommodation plan to provide guests with the chance to experience the world of Japanese tea and the rich culture of Mino.

You can also experience tasting and comparing different Japanese teas that are offered by Minokamo Chapo. During your stay, you will also encounter lots of Mino Ware, and be surrounded by a traditional Mino interior decorated with Mino washi paper.

1st floor: Café and Bar

You can order the Japanese tea tasting selection at the counter. This space is used as the Minokamo Chapo tea shop from 11 am to 4 pm on weekends and national holidays.

2nd floor: Rooms


The rooms are approximately 22m2. On top of this space, there is also a shower room and toilet in their own separate rooms.

3rd floor: Lounge

This is an area of free space for the guests. There are future plans to decorate this space with paintings and pottery according to the season.

The interior of the guest rooms are also packed with the wonders of the Mino region, so we are going to introduce you to a few of its special features. 

Upon entering your room, you will be greeted by the warm light of an Akari lantern. This is a kind of lantern which is recognized as a traditional craft of Gifu prefecture. This lantern design was created by famous artist Isasmu Noguchi, who named it Akari which means "light".

In the bathroom, you will spot a few stylish mugs which belong to the brand "3rd-ceramics".  

 The rooms are affixed with paper sliding doors (shoji) and bear beautiful Mino washi paper that is a traditional turquoise-blue colour. 

This is the perfect place to enjoy a traditional experience like no other. 

Information

Accommodation Plan:

MINGLE Address: 2689-14, Otemachi, Minokamo, Gifu

【Standard Prices】

ーGeneral Reservationsー

3 Guests ¥13,890(¥4,630 per guest)

2 Guests ¥11,260(¥5,630/ per guest)

ーReservations Made a month in advanceー

3 Guests ¥11,190(¥3,730/ per guest)

2 Guests ¥9,460(¥4,730/ per guest)

※ The fee for 1 guest is the same as that of 2 guests.

◆Reservation Website:

Booking.com (English also available): https://www.booking.com/hotel/jp/mingle-minokamo.ja.html

Instagram: https://www.instagram.com/minocamo_mingle/

Phone Number: 080-4210-7117 

MinoKamo Chapo: https://mchaho.com/

Haneda Airport Releases First Bubble Tea Which Passengers Can Enjoy as They Fly

XFLAG STORE + HANEDA is a small branch of XFLAG STORE and is located in Terminal 1 of Haneda Airport. On August 13th, they released three energising bubble tea flavours served in a bottle that you can take on board with you when travelling along domestic air routes. The three bubble tea flavours are; MILK TEA, HOJICHA (a type of green tea) and MATCHA. 

These bubble tea flavours are limited to XFLAG STORE + HANEDA and were created with the intention of providing a splash of energizing fun to tiresome travels. 

As long as you screw the lid on properly, you can store your delicious drink in your bag and even carry it onto your flight so you can enjoy it whilst soaring through the clouds. This is the first time a shop at Haneda airport has ever sold a bubble tea drink with the intention of flight passengers taking it on board with them.

*Drinks and liquids are usually permitted on domestic flights in Japan. Please check the specific rules of your flight by referring to the official website of your airline. 

To commemorate the release of the new bubble teas, XFLAG STORE + HANEDA has launched an Instagram campaign with the chance to win an Amazon gift card worth ¥10,000 (approx. 80GBP/95USD). 

To take part in the Instagram campaign for the chance to win a ¥10,000 Amazon gift card, be sure to take a photo with your XFLAG STORE + HANEDA bubble tea drink and then post the picture on Instagram with the following three hashtags:

#旅タピ #タピオカ #空の上で飲めるタピオカドリンク

Four winners will be selected.

Get your summer holidays off to a soaring start with a beautiful bottle of bubble tea. 

Information

MILK, HOJICHA, MATCHA Bubble Teas

Price: ¥650 (before tax)

Release Date: August 13, 2019 

Available at: XFLAG STORE + HANEDA 

Address: Haneda Airport Terminal 1 South Wing, floor 3 (3-3-2 Haneda Airport, Ota Ward, Tokyo)

*Bubble teas sold may differ in appearance to the images in this article. 

* The MILK Bubble Tea (cup) is also available at XFLAG STORE SHINSAIBASHI. Both the HOJICHA and MATCHA Bubble Tea flavours are limited to XFLAG STORE + HANEDA.

XFLAG STORE Portal Website: https://xfl.ag/soratapi

Irresistible Midsummer Parfait Fair Tantalises at Shiseido Parlour in Ginza

Get ready to dine on desserts in style as Shiseido Parlour announces its second-ever Midsummer Parfait Fair at its Salon de Cafe in Ginza which will be held from August 1 to 25.

Four incredible summery parfaits make the fair's lineup, each centred around local and seasonal fruits. This year sees the return of the popular mango, fig and strawberry flavours, and for the first time ever, a melon flavour made with melons from the city of Furano in Hokkaido.

Hokkaido Prefecture Furano Melon Parfait – ¥1,980 (Tax Included)

Made with sweet and fragrant Furano melons grown in Hokkaido's city of Furano, this angelic delight of a parfait is made with classic silky vanilla ice cream, refreshing hibiscus jelly, and for added accent, a squeeze of cranberry sauce. The fresh melon piece toppings are packed full of mouth-watering melon juice. The melon is served in several different ways for textural enjoyment including skinless slices, a slice with the skin on, and melon balls.

Wakayama Prefecture Kinokawa Fig Parfait – ¥2,160 (Tax Included)

The seasonal figs in this parfait have been grown and nurtured laboriously. The figs are plucked in Wakayama prefecture and are served fresh on your dessert. Tucked under the hearty serving of figs is a red wine-laced compote, sauce and sherbet while placed gracefully on top is a baked tuile. There is also a fig and apple jelly for that cheek-sucking sweet kick.

Okinawa Prefecture Apple Mango Parfait – ¥2,580 (Tax Included)

If you love mangoes, then you're in for a treat with this parfait which is prepared with mangoes from Okinawa which have been cut up into different shapes and sizes. The dessert contains a midsummer medley of ingredients including a tropical homemade mango sherbet, an exotic sauce, milk flavoured ice cream, and cranberry sauce. Savour the succulent taste, smooth texture and sweet aroma of the elusive Keats mango, the richest and most delicious of all mangoes, and one which has only a limited production in Okinawa from mid-August onward.

Nagano Prefecture Hatake Kobo Koihime Strawberry Parfait – ¥1,890 (Tax Included)

Finally, this tempting parfait is made with strawberries from Hatake Kobo in Nagano. Because of the regional climate of Nagano, these gorgeous strawberries are delicious from summer through fall. They are served with classic vanilla ice cream for the absolute perfect pairing.

Which of these do you want to try the most?♡

Information

Salon de Cafe – Shiseido Parlour

Address: Tokyo Ginza Shiseido Building 3F, 8-8-3 Ginza, Chuo, Tokyo
Opening Hours: [Tuesday-Saturday] 11:30-21:00 (Last Orders 20:30) / [Sunday & Holidays] 11:30-20:00 (Last Orders 19:30)

Closed: Mondays (Unless it falls on a national holiday)

*Closed August 26, 2019 – October 31, 2019 for renovations

Official Website: https://parlour.shiseido.co.jp/?rt_pr=pl274

The Leo Lionni Cafe in Ginza Extended Its Running Period and Refreshed Its Menu

The Leo Lionni cafe located at Sunday Brunch, MARRONNIER GATE GINZA 1 is remaining open for a longer period due to popular demand. The limited-time cafe will now be open until September 29. This cafe is themed around the world of Leo Lionni; a famous children's picture book author whose illustrated stories include Swimmy and Frederick. Some of his works have even featured in school textbooks. After much anticipation, the cafe has released a brand new menu.

The renewed menu includes three new items which are based on Frederick; the story which has been praised as Lionni's best and most popular by both children and adults. A new Frederick-themed meal, cake and drink will be made available from July 20. When you order the Frederick-themed meal, the world of Frederick will unfold before you as if it has been cut straight out of the book and served up on a plate. There is no doubt that you will find these dishes so cute that you will not want to eat them.

Frederick's Sunny Soup and Rice: ¥1,480

This is a corn, pumpkin and minced chicken dish served with a cold soup and brown rice. This depicts the image of Frederick collecting the sun as he does in the story. The rice is served hot.

"I know it" Cheesecake: ¥1,250 (price with drink set)

This is a baked cheesecake made using rhubarb and summer berries sourced from Hotaru Noen Tatsuno Farm, Nagano. This delicious cheesecake depicts the scene right at the end of the story where the mice praise Frederick saying: "but Frederick! You are a poet," to which Frederick replies: "I know it".

Frederick Cheese Tea: ¥900 

This is a pineapple iced tea with cream cheese and a Frederick biscuit perched on the top. The pineapple flavour is sweet yet slightly sour. This is bound to leave you feeling refreshed, making it the perfect summer drink. 

From July 13 to September 29, 2019, there will be a special discount campaign running at the Minna no Leo Lionni Ten; an exhibition dedicated to Lio Lionni which is currently running at the Seiji Togo Memorial Sompo Japan Nipponkoa Museum of Art. Please consider stopping by. 

Copyright © 2019 by Blueandyellow, LLC Licensed by Cosmo Merchandising

Information

Leo Lionni Cafe

Running: April 3 ー September 29, 2019 

Opening Hours: 11:00 ー 21:00 

Last orders: Food: 20:00, cakes/drinks: 20:30

Reservations can be made for until 5 pm. Customers without reservations will be served on a first-come-first-served basis after 5 pm.

Running at: Sunday Brunch  MARRONNIER GATE GINZA 1 (4th floor)

Address: 2 Chome-2-14 Ginza, Chuo City, Tokyo

* New menu will be released on July 20

Official Website: http://leolionnicafe.com/

Minna no Leo Lionni Ten Exhibition (Tokyo)

Location: Seiji Togo Memorial Sompo Japan Nipponkoa Museum of Art

Running: July 13 ー September 29, 2019 

Opening Hours: 10:00 ー 18:00 (Last entries accepted until: 17:30)

Closed: Mondays (Exceptions: July 15, Aug 12, September 16, 23)

Website: https://www.asahi.com/event/leolionni/

Minna no Leo Lionni Ten Exhibition X Leo Lionni Cafe Reciprocal Discount Scheme

If you attend the Minna no Leo Lionni Ten Exhibition held in Shinjuku and retain your ticket or ticket stub, you can exchange it at the Leo Lionni Cafe for a ¥100 discount off your meal. Likewise, if you attend the Leo Lionni Cafe, you will be presented with a ¥100 discount for entry to the Minna no Leo Lionni Ten Exhibition. 

※ ¥100 will be taken off your meal price at the Leo Lionni cafe for every exhibition ticket presented.

※ Please be aware that ¥100 discounts for the Leo Lionni Exhibition will no longer be available once stocks have been fully depleted. 

Japanese Souvenirs to Take Home With You This Summer at GINZA SIX

GINZA SIX hails as the largest shopping facility in Tokyo's upmarket district Ginza. This summer, the centre has a prepared a lineup of must-buy souvenirs and gifts, particularly in the food department, that will delight the family back home. Many of these items are available at GINZA SIX only giving you even more incentive to pay a visit while in the capital.

Listed by price range, we have selected some of these summer treats that we know you'll absolutely want to get your hands on.。

¥999 and under summer gifts made for showing a little thanks

Namacha Tea Jelly @ Nakamura Tokichi Honten – ¥417 (GINZA SIX only)

Tokichi is serving up a special GINZA SIX-only flavour of its matcha namacha jelly with added matcha bean paste. This bean paste is specially prepared matcha wrapped in white bean paste. It has a smooth texture and slight sweetness that marry together deliciously and heighten the richness of the flavour of the matcha.

Summer Limited Kohaku Tani Goldfish Yukata Ver. @ GINZA KYOUKASUIGETSU – ¥550 (GINZA SIX only)

These snacks comes in summery yukata design packaging with goldfish on them. Perfect for reminding one of Japanese summer.

¥1,000-¥2,999 summer gifts for adults

KOHAKU Fruit Bar @ PALETA – ¥1,482

This traditional wagashi (Japanese confection) is made from melted agar agar, sugar and starch syrup which is hardened to create a lollipop-like treat. Each one is handmade and crated with love and care by the confection artisans at PALETA who make them transparent like refreshing Japanese ice candy.

Basket of 5 Mio @ KASHISHOU SUEHIROAN – ¥1,759

This set comes with 5 different seasonal flavours which makes for the ultimate taste-testing gift.

¥3,000-¥4,999 delicious summers gift to share

Semi-Dried Fruits Box @ AYAfarm – ¥3,519

The perfect sharing gift to pick up, this box contains 9 different semi-dried fruits sourced from high quality fruits in Japan. The circular shape of the box make it great as a gift, and since each fruit is packaged individually, they can be enjoyed over time.

¥5,000+ premium Ginza-quality summer gifts for someone special

Parfum du Miel Series @ ハL'ABEILLE – ¥6,000 (GINZA SIX only)

Treat yourself or someone special to this premium lineup of original honeys which include bergamot, cognac and rose flavours. A sweet and tasty accompaniment to tea or ice cream.

This is just a small selection of the items on offer over at GINZA SIX right now this summer. To see more, be sure to plan a shopping trip there while in Tokyo.

Information

GINZA SIX

Address: 6-10-1 Ginza, Chuo Ward, Tokyo

Opening Hours: Shops/Cafes (B2F-5F) 10:30-20:30 / Restaurants (6F, 13F) 11:00-23:00

*Business hours differ from shop to shop.

No Fixed Holidays (But shops and restaurants will be closed on August 26, 2019)

Access: Directly connected to Ginza Station via the Tokyo Metro Ginza Line, Marunouchi Line and Hibiya Line.

TEL: 03-6891-3390
Website: http://ginza6.tokyo/

Three Perfectly Peachy Parfaits This Summer In Nagoya

Summer is the perfect time to enjoy Japanese peaches, which are particularly juicy and sweet around this time. Peaches go well with red bean paste, cream and a variety of other flavours, which is why you will be seeing a lot of peachy desserts this summer. You just have to try them!

Today, Instagrammer meme, who is a big fan of cute and stylish cafés, will be introducing you to peach parfaits that you absolutely must try in Aichi prefecture.

BLUE STAR CAFE(ブルースターカフェ)/Nagakute

BLUE STAR CAFE has started selling a peach parfait. The peaches are so sweet and juicy that I was moved to tears. The parfait is made up of fresh cream, vanilla ice cream, peach sherbet and frozen peach. It is simple, delicious and very satisfying. 

▼BLUE STAR CAFE

Address: 504 Tsukada, Nagakute, Aichi

TEL:0561 42 6878

Official Website: https://bluestar-cafe.com/

Halleloo Garden(ハレルゥ ガーデン)

I was just waiting and waiting for Halleloo Garden to release their peach parfait and I was far from disappointed. Just looking at the pretty pink peaches is enough to get your mouth watering. When you cut into the peach, it will explode with colourful popping boba. What a fun parfait.♡

The parfait is made up of a variety of fruits including melon, blueberries, grapefruit and apple. It also contains vanilla ice cream, custard, fresh cream, and dried fruit too. Be aware that the contents of this parfait will change according to the season. 

This peach parfait also comes with peach-flavoured black tea with boba. Add this to your parfait and notice the change in flavour as your parfait becomes a milk bubble tea! This was my first experience of popping boba. It was such a fun experience to bite into the boba and feel them explode, flooding my tastebuds with a delicious juicy flavour. Whether Halleloo Garden can serve this parfait seems to be dependent on whether they can receive peaches from their supplier, so I recommend phoning up the café before you turn up to if you want to try this. 

▼Halleloo Garden

Address: Kami-222-1 Miyoshicho, Miyoshi, Aichi

TEL: 0561 56 1080

Official Website: http://www.halleloo.jp/

merry café(メリーカフェ)/Toyoake

merry café serves a beautiful peach parfait that looks just like a bouquet of flowers.

The simple peach compote allows you to enjoy the natural deliciousness of the peaches. During this season, finding peaches that are highly sweet can be a bit of a hit or miss, however there is no doubt that they will be sweet when made into a compote. It was a delicious peach parfait. ♡

▼merry café

Address: 7-18 Komochimatsu Shindencho, Toyoake,

TEL:0562-91-3230

Opening Hours: 11:00 ー 15:00, 17:30 ー 22:00

Official Facebook Page: https://ja-jp.facebook.com/merrycafe1218/

All these pink peach treats look so beautiful. This peachy season is the perfect time to wrap yourself in the wonderful fragrance of sweet peach. Please check out meme's Instagram which is full of information on cute cafés you can visit for delicious desserts. 

Author/ Photographer: meme

Ginza's Hidden Tokyo Ghoul Restaurant Receives Extended Opening Period

To celebrate the upcoming July 19 release of Tokyo Ghoul S, Japanese movie studio and production company Shochiku opened its 'immersive' blood-themed Tokyo Ghoul restaurant on July 5. The location of the restaurant has been kept a secret, but it is somewhere in Ginza, wrapped in 40,000 beautiful roses.

The restaurant was originally set to stay open until August 4, but due to all tickets for its 31-day run selling out in just three days, it has been extended until August 18. Tickets for these extra two weeks will go on sale on the restaurant's official website on July 12 at noon (JST).

Tokyo Ghoul Restaurant Details: The Location of This Bloody Rose Tokyo Ghoul Restaurant in Ginza is a Secret

Die-hand fans of Tokyo Ghoul aren't going to want to miss out on this exclusive ghoulish gourmet experience.

Information

Ghoul Restaurant

Running: July 5, 2019 – August 18, 2019 (*extended by two weeks)

Opening Hours: Two Slots – Slot ① Meeting 17:00 / Dining 17:30-19:30, Slot ② Meeting 20:00 / Dining 20:30-22:30

Location: Somewhere in Ginza (*Those who purchase a ticket will be told the exact location)

Official Website: http://afroand.co/ghoulrestaurant/

The Entire World Is Curious About PAPABUBBLE's Candy Art Museum To Open In Ginza

Described as the "most interesting sweets shop in the world", PAPABUBBLE sells a range of cute and fun confections. On July 1, PAPABUBBLE will open a Candy Art Museum on basement floor 2 of GINZA SIX.

PAPABUBBLE has set up shop in over 30 cities worldwide. The main shop will contain art pieces made from candy. Considering all the candy shops that are currently out there in the world, nobody has ever seen anything quite like this before. 

The museum contains around 20 different ornaments that are edible sweets. Visitors who wish to purchase the ornaments can do so. Besides the standard sweets, the display items and range of sweets for sale will be changed every day. 

When the museum opens in July, visitors will be able to enjoy the wonderful texture and flavour of candy lampshades, enjoy the artistic and charming glow of candy mushrooms, and gaze in bewilderment at an antique vase baumkuchen cake. 

To commemorate its grand opening, customers who spend more than ¥5,000 (after tax) on display items or on the sweets shop range will receive either a soft gummy brain or soft gummy dentures. This campaign will be running throughout July. 

Along with the grand opening of the art museum, there will also be Ginza-limited products on sale that are completely unique to the Ginza branch. The lineup includes sweets made from ingredients that are rarely seen in Japan. This includes colourful and fruity chocolate such as rocky roads and soft candy sweets made from snow sugar. PAPABUBBLE will also sell souvenirs that represent Ginza such as Kirihako boxes which are beautiful boxes made from wood. 

If you are in Tokyo, you just cannot miss this museum that is overflowing with originality.

Information

Candy Art Museum by PAPABUBBLE (Gallery of Sweets Art by PAPABUBBLE)

Address: B2F, 6-10-1, Ginza, Chuo Ward, Tokyo 

Opens: July 1, 2019 

Opening Hours: Mondays ー Sundays (10:30 ー 20:30)

TEL: 03-6228-5535

PAPABUBBLE JAPAN Official Website: http://www.papabubble.jp

Gion Tsujiri, Kyoto Releases Mouthwatering Summer-Limited Peach X Matcha Milkshake

For a limited period, popular Ujicha and Matcha (green tea) sweets shop Gion Tsujiri will release the Summer-Coloured Matcha Milkshake.

Summer-Coloured Matcha Milkshake: ¥700 (after tax)

Specially-selected, rich-flavoured matcha and mild milk is deliciously blended to make a matcha milkshake. This is topped with fresh fruity peach whipped cream and a generous serving of juicy yellow peach pieces. This summer-limited drink is the perfect balance of sweet and sour.

Gion Tsujiri stays true to its traditional sweet-making values whilst developing new ways to enjoy them. Make sure you pop by!