Yuri!!! on ICE Event in Shibuya to Take Place in June
An event will take place at GALLERY X BY PARCO in Shibuya from June 15 to 24 for the international hit anime Yuri!!! on ICE with displays and merchandise focused around the cover illustrations of the series' CD releases.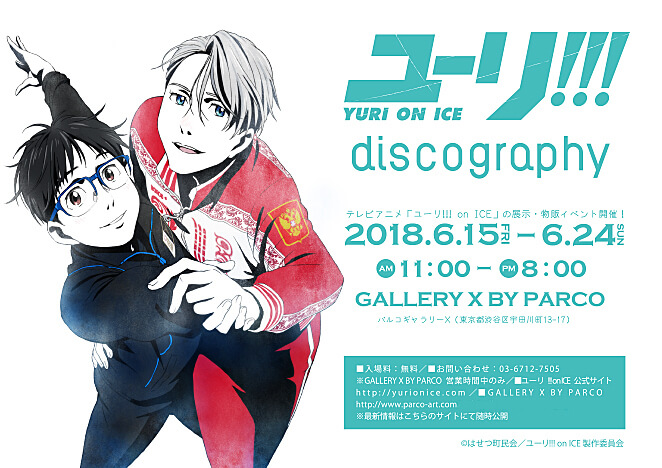 Yuri!!! on ICE 
(2016) is an anime series centred about figure skating. The series went on to be a hit across the world. It was
streamed
by Crunchyroll, and Funimation streamed a dubbed version. The series also gained a lot of fans within the figure skating community, leading to some to perform to music from the show.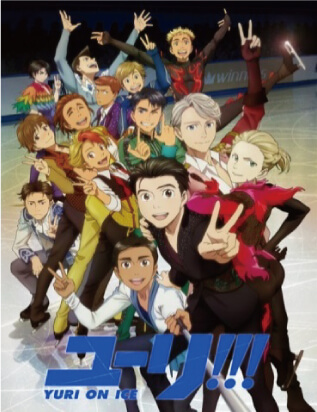 Giant panels will be displayed at the event of past packaging of the anime, as well as event packages and soundtrack cover illustrations. There will be a huge range of merchandise, including merchandise using the CD jacket illustrations for the first time, as well as new products with illustrations of Makkachin.
Skate into the world of Yuri!!! on ICE and get your hands on some new goodies and relive the series through the myriad of displays.
■Information
Yuri!!! on ICE Discography
Location: GALLERY X BY PARCO
Running: June 15, 2018―June 24, 2018
Entry: Free
Address: 13-17 Udagawacho, Shibuya
Opening Hours: 11:00-20:00
TEL: 03-6712-7505
Yuri!!! on ICE Official Website
RELATED ENTRIES
Disney Princesses Help You to Answer the Question 'What is Love?' at This Tokyo Event

As part of Disney's Ultimate Princess Celebration, a worldwide festival themed on courage and kindness that began in April, an event titled "What is Love? ~The Secret to Shining Bright Lies in the Princess World~" will take place at Shibuya Marui in Tokyo from June 23 to July 29 this year. It will subsequently move to JR Nagoya Takashimaya from August 4 to 23 and finally conclude next year in Shizuoka where it will run from January to March.

This event tries to answer the question "What is Love?" through a range of content that encourages the use of all five senses: visually, digitally, musically, through scent, and more.

 

What is Love? ~The Secret to Shining Bright Lies in the Princess World~

Visitors are guided by 12 Disney princesses who will take them on a journey of their 'love' in six different areas.

 

A Look at the Event

1. Introduction: 12 Shining Princesses

At the event, you will meet the 12 princesses and learn their story, what their personality is like, and more.

2. Opening Theater: Discover the Secrets to Shining Bright

Attend the theatre and watch the stories of the princesses with your own eyes.

3. 7 Keywords Unravelled From Their Stories

Seven keywords that appear in the princesses' stories will be explored, each of which are tied back to love. This will include exhibits of scenes from the Disney animated movies, an AR experience using smartphones, and more.

From Beauty and the Beast

Using their smartphones, visitors can hold up their phones and utilise AR technology to see various scenes from Beauty and the Beast in an area inspired by the library that Beast bestowed upon Belle.

From Tangled

In Tangled, the King and Queen release lots of sky lanterns on Rapunzel's birthday each year in hopes that she will see them and return. Let your own lanterns fly like in the movie and witness a beautiful spectacle.

4. Music and Fragrance: Clad in Radiance Unseen to the Eye

A unique experience combining music and fragrances inspired by the princesses, who radiate from love, will let visitors feel closer to them.

5. Glowing Lines: Words That Make the World Shine

At the Closing Theater, words and lines said by the princesses will be displayed, offering another way of enjoying their world that radiates from love.

6. Prologue: Your Own Unique Story Begins

Pick up a range of merchandise featuring designs of the exhibition's main visual, the seven key words, and more.

 

Services and Content Offered by Disney at the Exhibition

Disney+

Disney+ is a streaming service that brings together all Disney, Pixar, Marvel, Star Wars, and National Geographic content in one place, as well as exclusives. Those at the exhibition can watch the content offered by Disney+ at the Opening Theater.

 

Disney DX App

The Disney DX is an app exclusive to Japan that comes as a set with Disney+. It offers the chance to see cut scenes from movies, behind-the-scenes content, and more. The exhibition utilises this app through AR experiences, so if downloaded, you're sure to have an even more fun time.

A curated list of Disney Princess music is played at the exhibition. If you head to the shop, you can pick up movie soundtracks and other albums. Disney even created a playlist themed on the princesses that's now available on music streaming services.

Information

What is Love? ~The Secret to Shining Bright Lies in the Princess World~

Japanese Event Title: WHAT IS LOVE? ~輝くヒミツは、プリンセスの世界に。~

Running: June 23, 2021 – July 29, 2021

Where: Shibuya Marui (Floors 7F & 8F) *Reception is on floor 7F

Address: Shibuya Marui, 1-22-6 Jinnan, Shibuya-ku, Tokyo

Opening Hours: 11:00-20:00

Official Website: https://PrincessExhibition.jp

*Exhibition will subsequently move to JR Nagoya Takashimaya (August 4, 2021 – August 23, 2021) and Shizuoka (January 2022 – March 2022)w

Blue Lock Manga Series Announces Exhibition in Shibuya to Promote 14th Volume

In promotion of the 14th volume of Muneyuki Kaneshiro's manga series Blue Lock, an exhibition will take place at SpaceHACHIKAI inside Tower Records Shibuya in Tokyo from May 15 to June 6.

Buy merch and receive these items free

Character illustrated cards


Vinyl-style panels

This will be Blue Lock's first-ever exhibition since it began serialisation in 2018. It will feature displays of manga drafts, uncoloured illustrations, and more. There will also be a special spot for taking photos. A collection of exclusive merchandise will be available for fans to buy, as well as free bonus items when a purchase it made.

© 金城宗幸・ノ村優介/講談社

BEAMS JAPAN Shinjuku Launches Event to Promote Japan's Sento Bath Houses

The Sento no Susume 2021 event being held by BEAMS JAPAN and Cow Brand Soap has now headed to BEAMS JAPAN Shinjuku. As part of the event, Mizuno has held designed a 'running course' is collaboration with sento bath house owners who have listed their recommended spots for running.

From Left: Hiroshi Fukui (Managing Director at Cow Brand Soap), Aya Terakawa (Sports Caster), Mari Yamazaki (Manga Author), Ryozo Naganuma (Kotobukiyu's 3rd Generation Owner), Hikaru Ikeuchi (Chairman of Board of Directors)

BEAMS JAPAN Shinjuku Floor 1F – Sento no Susume 2021 Pop-Up

BEAMS JAPAN Shinjuku Floor 1F – Sento no Susume 2021 Pop-Up

BEAMS JAPAN Sento no Susume 2021 Virtual Venue

For many years, sento public bath houses have been big part of Japanese culture and are located up and down the country. They are places people go to unwind, relax, and destress. However, with times changing, they are because less part of people's lives, and the facilities themselves are seeing significant wear and tear as well as not having successors to take over the businesses. Sento no Susume aims to revitalise sento and raise their cultural value once again by showing how they can be enjoyed. The first event was held in January and February in 2019.

The event arrived at BEAMS JAPAN Shinjuku on April 26 and  invites manga artist Mari Yamazaki on board who has given the store a makeover with her iconic artwork themed on exercise and bathing. This event combines sento bath houses with sports, and so as well as discovering bath houses to visit, you can learn find out about great running courses at the Sento Run no Susume corner. There's also a virtual venue accessible on the official website that creates the store in 4K 3D so everyone around the world can get involved regardless of their location.

Information

Sento no Susume 2021
Srart Date: April 26, 2021

Special Areas

BEAMS JAPAN Shinjuku




Running: April 26, 2021 – May 31, 2021

MIZUNO OSAKA CHAYAMACHI




MIZUNO TOKYO

Sento no Susume 2021 Merchandise

Available at BEAMS in-store and online

Participating Branches: BEAMS JAPAN (Shinjuku)

Dates: April 26, 2021 – June 30, 2021

Future participating branches depending on Japan's state of emergency: BEAMS JAPAN SHIBUYA/BEAMS JAPAN KYOTO/BEAMS STREET UMEDA/HEP FIVE 



Event Details: https://www.beams.co.jp/special/teamjapan/sentou/
Virtual Venue: https://my.matterport.com/show/?m=pMV2FmHUg4M

BEAMS Official Website: https://www.beams.co.jp/

Peter Luger Steak House Opens First Japanese Branch at Ebisu Garden Place

Hailing originally from Brooklyn, the 130-year-old Peter Luger Steak House has announced the opening of its first-ever Japanese branch which will welcome customers at Ebisu Garden Place in Tokyo this September with its 3-storeys of red brick.

Peter Luger is credited with spreading the mouth-watering wonder of dry-aged beef steak to the world which has made the restaurant's name globally famous. The restaurant of course wields a Michelin Star and has been featured high on the Zagat Survey for over 30 years.

The secret behind Peter Luger's signature ingredient

The restaurant's beef fillet and New York strip are signature items on the menu, both of which are made from porterhouse steak. Their steak is also made from USDA Prime beef which is dry-aged by hand to intensify the flavour and aroma.

The porterhouse is placed directly onto the broiler and seasoned solely with salt. The steak is flipped only once during the broiling process. A knob of melted butter is added to a serving platter and the steak is sliced atop it. It's then placed back into the broiler for a few minutes depending on the doneness requested by the customer. It's this process that gives Peter Luger's steaks their deliciousness. 

 

Brooklyn red brick building and theatre decor

The Japanese branch takes inspiration from the Brooklyn restaurant with its red brick exterior.

The first floor is home to the bar where customers can enjoy food and cocktails. There's also a takeout shop with gifts and other items.

The second floor is the spacious dining space which is home to Peter Ruger's first-ever open kitchen. The third floor is another seating area with balcony-like seats so you can look out over the city.

There are seven private dining rooms of varying sizes for those looking a little more intimacy and privacy. The restaurant's lighting was also designed by a New York designer.

Information

Peter Luger Steak House Tokyo

Grand Opening: September 9, 2021

Address: 4-19-19 Ebisu, Shibuya, Tokyo

Bookings: From August 2021

Peter Luger Steak House Japan Official Website: https://peterluger.co.jp/

Coji-Coji's Jiro Becomes Legendary Japanese Mermaid Amabie at Harajuku Event

Nippon Animation began holding the Amabie Jiro Fair at KIDDYLAND Harajuku's Maruko & Coji-Coji Store on April 29, selling merchandise of the character Jiro from Momoko Sakura's manga series Coji-Coji.

Pre-sale merchandise

Free hand towel


Jiro has turned into Amabie once again this year, a legendary Japanese mermaid who is said to emerges from the sea and prophesise either an abundant harvest or an epidemic. People are instructed people to make copies of its likeness to defend against illness.

Fans who spend over ¥8,000 at the Maruko & Coji-Coji store will receive a free original hand towel as pictured above.

Hibiya Festival 2021: Musicals, Performances, and More

This year's Hibiya Festival will take place around Tokyo Midtown Hibiya from April 29 to May 16. Visitors can enjoy free musicals, Japanese dance, opera, and more, all in an open space.

Hibiya Festival main visual

Peter Pan Broadway Musical – Mini Concert & Talk | Thursday April 29, 2021

Everybody's Talking About Jamie – Japan's First Rendition | Sunday May 9, 2021

Hibiya Festival x Hibiya Music Festival Collaboration Stage | Saturday May 8, 2021

Hibiya Outdoor Noh Performance | Thursday April 29, 2021

NBA Ballet | Saturday May 1, 2021

CAT-A-TAC SHOW (CAT-A-TAC) | Sunday May 2, 2021

"Hibiya Ongaku Daigaku" – Shibuya Ongaku Daigaku Open Campas

Hibiya Festival Program

This year marks 40 years since the Peter Pan Broadway musical first hit Japan, and so it will be performed at Hibiya Festival 2021. The hit British musical Everybody's Talking About Jamie will also be performed in Japan for the first time with a full Japanese cast. On the music side of things, music producer Seiji Kameda is spearheading the Hibiya Musical Festival. There are around 20 different slots to enjoy at the festival, all of which are free to watch and many which don't need to be booked in advance. The festival is also producing video content this year for those unable to attend so they can still be part of the fun online.

Laforet Harajuku Announces LAFORET GOLDEN WEEK

Golden Week is almost here in Japan, and so Laforet Harajuku is readying itself for its special LAFORET GOLDEN WEEK event which will run from April 24 to May 9.

Around 60 stores inside the Harajuku-based shopping centre are participating in this event where shoppers can get their hands on a new wardrobe full of outfits, a stock of items and accessories, and more. There is also a special item available at Charles Chaton on Floor 4F of Laforet that is made as part of a triple collaboration between the store, DJ and music producer Night Tempo, and Rie Kanou, the author of the manga series Slow Motion wo Mou Ichido. At FRAPBOIS on Floor 1.5F, there's a selection of t-shirts, shirts, one pieces and other must-grabs created in collaboration with Osamu Goods. And that's just a taste of the many exclusives to be sold and doesn't take into account all the other events that will take place at this year's LAFORET GOLDEN WEEK. Let's dive deeper.

The Little Cat Shop by MILKBOY | April 30 – May 9 | Floor 1F Entrance Space

The Little Cat Shop by MILKBOY is a cat-themed shop by three brands: MILK, MILKBOY, and LAND. It will incorporate hit motifs from the brands' past line-ups as well as introduce all-new trends. As well as clothes, there are accessories, sofvi toys, and other items, each woven with each of the brand's touch. There will also be a raffle to win exclusive sofvi toys made by notable sofvi artists like IZUMONSTER and Konatsuya. Plus, all customers who spend over ¥10,000 will get an original sticker.

Cat eyes dress ¥32,450 / CAT EYES SHIRTS ¥19,250 / CAT TOWER TEE ¥8,800 / MISCHIEF cat Frill TEE ¥13,200 / Ribbon CAT TEE ¥7,920 (Tax Included)

Kuttsuketemiyou Picture Book Pop-Up Shop | May 1 – May 16 | Floor 2F POP UP SHOP SPACE

Kuttsuketemiyou is a picture book by contemporary artist Ken Kagami and it's getting its first pop-up shop at Lofret Harajuku. The humorous book sees Kagami seeing what would happen if he tried attaching certain things to animals. It's a work of artistic nonsense enjoyed by children and adults alike, and fans of the quirky story can get their hands on a range of merchandise featuring the cute creatures. Kagami will also be doing signings.

Kuttsuketemiyou Book ¥1,650 / Mug ¥2,750 / Tote Bag ¥4,180 / T-Shirt ¥4,950 (Tax Included)

ABEMA 5th Anniversary Laforet Harajuku Campaign

In celebration of ABEMA's 5th anniversary, it is holding a limited-time campaign in collaboration with several popular Japanese TV shows such as Koi to Ookami ni wa Damasarenai and Black Cinerella. ABEMA is a Japanese video streaming website. During the campaign, customers who spend over ¥2,000 at select stores will receive a limited-edition Black Cinderella sticker and a ticket to an online event centred on Koi to Ookami ni wa Damasarenai. They can also enter a raffle to win signed merchandise from the shows if they show their receipt and have spend over ¥2,000.

Harajuku Shopping Week 2021 | April 28 – May 7

Shoppers who spend over ¥1,000 at select stores will receive a scratch card that may net them a ¥1,000 coupon.

UNDER GROUND SNAP Photoshoot | April 29 – May 8 @ 12:00-16:00

A photoshoot will take place down on Floor B1.5F. Those who sign up can have their photo taken professionally by Gothic and Lolita Market which will be featured in the early June 2021 edition of Laforet Harajuku's tabloid as well as on HARAJUKU POP WEB. Info on how to apply can be found on LAFORET GOLDEN WEEK's official website.

Tennozu Canal Fes 2021 Spring: A Line-Up Of Asian Music Artists

Tennozu Canal Fes 2021 Spring ~WORLD TRAVEL – ASIA~ is set to take place online via CANAL's official YouTube channel on April 24. The event comes in response to the cancellation of the in-person event due to fears of COVID-19 transmission.

"World Travel" is the theme of Tennozu Canal Fes 2021 with a different region to be chosen each season, allowing for music lovers and concertgoers to enjoy a little bit of something from abroad. The theme for spring is Asian music which focuses on music from around Asia – except Japan. Viewers can tune in to see everything from Indian dancing to classical Chinese opera, Chinese erhu performance, and more. Performances will still take place at Tennozu Canal in Tokyo but will be live streamed.

Schedule

14:00~14:30 coco ayumi & Ethno-Exotica Vaudeville (Indian dance)

15:00~15:30 Kanae Nozawa (Erhu)

16:00~16:30 Shinchou Gekiin (Classical Chinese opera)

17:00~17:30 HamojiN (Acapella)

18:00~18:30 Tsukiko Nakamura (Piano and hand mic)

18:40~19:10 Tsuzu King (Solo singing)

Information

Tennozu Canal Fes 2021 Spring ~WORLD TRAVEL – ASIA~

Date: April 24, 2021

Time: 14:00-19:30

Venue: KIWA TENNOZ

Streaming: CANAL Channel on YouTube

Official Website: http://canalside.or.jp/

Enjoy a Healthy Junk Food Menu at Shibuya LOFT's New Cafe 2foods

Shibuya LOFT opened its new '2foods' cafe on April 15 which serves junk food healthily.

2foods uses absolutely no eggs or milk in their menu – everything is plant based and healthy, making it a haven for vegan foodies, especially in Japan where there aren't as many vegan places as other countries. What's better is that everything's reasonably priced too. There are around 60 menu items to choose from, like curry and soba as well as desserts, organic coffees and lattes, cold pressed juice, and more.

Artist's rendition of the cafe

Curry | ¥1,023 (Tax Included)

A hearty and spicy curry served with brown rice which is better for digestion.

Tantanmen Ramen | ¥968 (Tax Included) | Shibuya LOFT exclusive

A ramen soup with 100% gluten free rice flour noodles, soy milk, sesame seeds, peanuts, soy meat, and other healthy and natural ingredients.

Egg Doughnut Sandwich | ¥528 (Tax Included)

A vegan egg sandwich that doesn't use eggs but tastes just like them.

Gateau Chocolate | ¥528 (Tax Included)

A rich chocolate gateau made with brown rice powder and soy cream.

Information

2foods Shibuya LOFT

Opened: April 15, 2021

Address: Shibuya LOFT (Floor 2F), 21-1 Udagawacho, Shibuya, Tokyo
Opening Hours: 11:00-20:00 
TEL: 03-6416-4025 

Official Website: https://www.loft.co.jp/

Music-Eating Space Hamsters BLUE HAMHAM Get Pop-Up Store in Tokyo and Osaka

CHOCOLATE Inc. is set to open the BLUE HAMHAM POP UP STORE at Shibuya PARCO in Tokyo on May 14 and Shinsaibashi PARCO in Osaka on June 4. The pop-up shops are centred on Arimura Taishi's characters BLUE HAMHAM.

BLUE HAMHAM are four music-eating space hamster brothers from a planet called 'Proxima b.' Their animations on Twitter, TikTok, and other social media platforms have garnered over 300 million views worldwide. In 2020, they began collaborating with overseas artists. Their musical animations have garnered popularity across the globe.

At the pop-up shop, fans can get their hands on over 30 new BLUE HAMHAM items. This also marks the brothers' first pop-up shop in Osaka. From exclusives to free novelties, there's plenty to enjoy.

At the store, fans will also be greeted by four 1-meter tall BLUE HAMHAM statues, the only ones in the world. There will be a display showing their animations, a chance to learn about the characters, and more.

©CHOCOLATE Inc.

Information

BLUE HAMHAM POP UP STORE

Tokyo Store: Shibuya PARCO B1F GALLERY X

Address: 15-1 Udagawacho, Shibuya, Tokyo

Running: May 14, 2021 – May 30, 2021

Osaka Shinsaibashi PARCO 10F EVENT SPACE

Address: 1-8-3 Shinsaibashisuji, Chuo-ku, Osaka-shi, Osaka

Running: June 4, 2021 – June 21, 2021

Special Page: https://art.parco.jp/shinsaibashi/detail/?id=656

Sustainable Fashion Week Event to Take Place at Earth Day Tokyo 2021

Earth Day Tokyo 2021 is set to run from April 17 to April 25 both online and offline. Messages of eco-friendliness, organic products, sustainability, ethics, and inclusiveness will be at the core of various events held as part of the festival and it will bring together environmental NPOs, charities, and locals.

As part of this year's Earth Day Tokyo, sustainability and fashion are set to interweave with the SUSTAINABLE FASHION WEEK 2020+1 event which is running on April 24 and 25.

With less than nine years to go until the world must achieve the 17 Sustainable Development Goals (SDGs), Earth Day Tokyo believes individuals need to be doing more to change their lifestyles and the way they do certain things. Fashion is an area that enrichens people's lives—but it's also one that can call for environmental action by changing our consumption habits.


SUSTAINABLE FASHION WEEK 2020+1 will bring together various teams and organisations to hold booths and talk sessions online and offline where people can learn about these issues. It's a collaboration between Fashion Revolution Japan, the Japanese branch of the global Fashion Revolution campaign to reform the fashion industry by enabling a greater transparency in the fashion supply chain amongst other problems. Fashion Revolution Week takes place every year on April 24, the same date as the 2013 Dhaka garment factory collapse where 1,134 people died and more than 2,500 people were injured.

The main visual for SUSTAINABLE FASHION WEEK 2020+1 features Japanese singer and artist KOM_I who is best known as a member of the Japanese music group WEDNESDAY CAMPANELA. It was created by HYPE FREE WATER, an artist collective headed by KOM_I and art director Minori Murata. KOM_I will participate in a planned talk program at MIYASHITA PARK on April 24 and 25.


A Message From KOM_I

"HYPE FREE WATER will be taking part in Sustainable Fashion Week at Earth Day this year. Our organisation focuses on the future of water. We want to be able to wear something beautiful without having to make sacrifices like selling out the future or destroying the environment. I'm looking forward to new people getting involved with us as this discussion takes off."

Information

Earth Day Tokyo 2021

Running: April 17, 2021 – April 18, 2021

Earth Day Tokyo Official Website: https://www.earthday-tokyo.org

SUSTAINABLE FASHION WEEK 2020+1

Running: April 17, 2021 to April 25, 2021

Time: 11:30-18:00
Where: Shibuya Miyashita Park / RAYARD MIYASHITA PARK

Address: 1-26-5 Shibuya, Shibuya-ku, Tokyo

Fashion Revolution Japan: https://www.fashionrevolution.org/asia/japan/

Earth Day Tokyo 2021 to Promote Sustainability, Eco-Friendliness, and an Organic Lifestyle at Yoyogi Park

This year's Earth Day Tokyo will take place at Yoyogi Park from April 17-18 where messages of eco-friendliness, organic products, sustainability, ethics, and inclusiveness will be at the core of various events held as part of the festival.

This year marks Earth Day Tokyo's 20th run as part of the global Earth Day initiative and brings together environmental NPOs, charities, and locals. Due to COVID-19, in-person events will only take place on April 17 and 18 but the festival will run online from April 17 to 25.

Earth Day Tokyo 2021 Concert

Concerts will take place across the two-day Yoyogi Park festival. Many musicians and guests have committed themselves to the future of the planet at the Earth Day Tokyo's concerts, with past line-ups including Japan's King of Rock Kiyoshiro Imawano, UA, BONNIE PINK, and more.

This year will see performances from Itou Seikou ITP, Kenichi Nagira, yae, scoobie do, Taiji Sato, Nozomi Nobody, hachi_Aigoz, tico moon, Rokuta Yanagiya, and Ichido Ryutei.

Market area

Every single product at the market booths has a story, and visitors will be able to hear about them from the makers in-person as they shop. And the items sold at the market will be different each day, stocking something to add a little environmental consideration into our lives.

C. W. Nicol's "Nicol's Forest Kitchen" sausages help plant forests

The late Welsh-born Japanese writer, actor, and singer-songwriter C. W. Nicol was the Executive Committee Chairman for Earth Day Tokyo from 2000 until his passing last year. He also launched Nicol's Forest Kitchen in 2011 which has been a regular at Earth Day Tokyo to help protect Japan's forests. The food stall will make an appearance this year too.

C. W. Nicol began to wonder how he could help raise people's interest in forests as well as help revitalise forests that had been destroyed. Nicol's Forest Kitchen project was his answer: to spread awareness through food, and in doing so, the project could help build up forests.

Visitors separate garbage themselves with the help of volunteers

At the Eco Station, volunteer staff will help direct visitors in separating garbage properly, raising awareness on the proper procedures which they can take away home with them.

Information

Earth Day Tokyo 2021 @ Yoyogi Park

Running: April 17, 2021 – April 18, 2021

Time: 10:00-17:30

Where: Yoyogi Park

Entry: Free

Earth Day Tokyo Official Website: https://www.earthday-tokyo.org