Jump Shop 2018 & Other Summer Events Arriving to Aqua City Odaiba
Aqua City Odaiba is set to welcome the summer with a host of exciting events, including Jump Shop 2018, Banana Fish Summer Exhibition, and Aqua City: The Beer Terrace.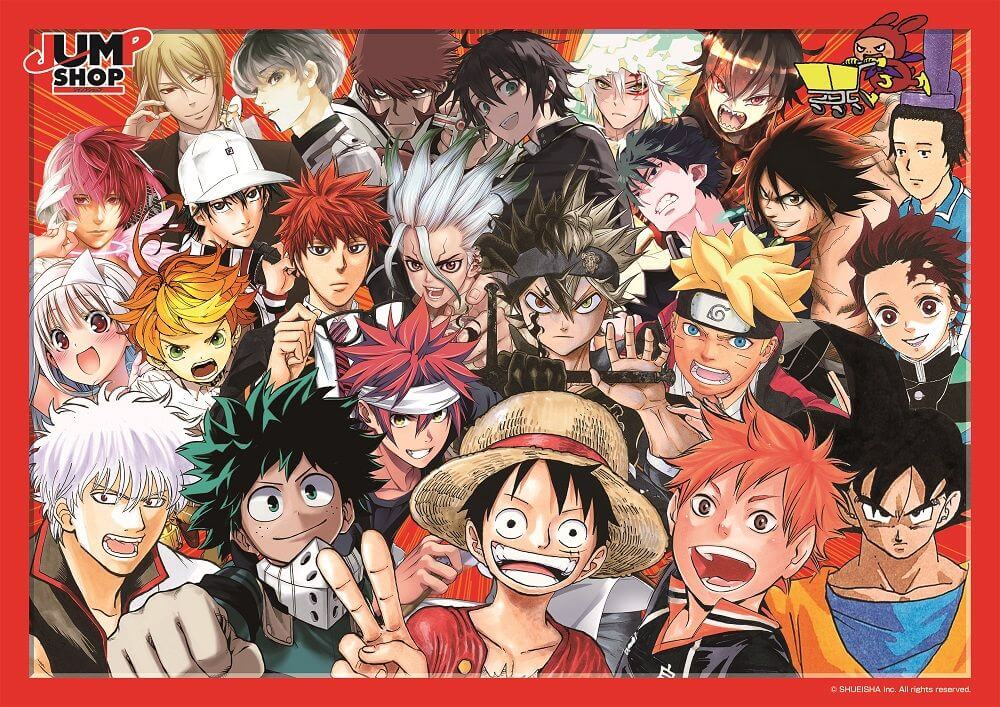 Jump Shop 2018 will stock a heap of merchandise from some of the most popular manga series out there from Shonen Jump's arsenal, including One Piece, My Hero Academia, Haikyu!!, Gintama, and more. This event is held every summer and brought in around 20,000 attendees in 2017.
A collaborative event with the anime series Banana Fish―slated to air in July―will also take place in Aqua City Odaiba's Cinema Atrium and the Noitamina Shop & Cafe Theatre from July 13 to September 2. Look forward to seeing a myriad of displays that celebrate the anime and original work, as well as a Banana Fish themed menu and merchandise.
As well as all of this, fifteen restaurants are set to serve at the largest terrace in the Odaiba area for Aqua City: The Beer Terrace between June 1 and early October. Expect to tuck into some delicious drinks and a tasty original menu while enjoying the nightscape of the bay side.
Mark your calendars for the upcoming events happening in Aqua City Odaiba this summer, from anime to food.
■Information
Jump Shop 2018
Location: Aqua Arena, Azone 3F, Aqua City Odaiba
Running: July 13, 2018―September 2, 2018
Entry: Free (*Cost of merchandise is the actual price)
TEL: 03-6436-3061 (Weekdays 10:00-18:00)
Banana Fish Summer Exhibition
Location: Noitamina Shop & Cafe Theatre, Azone 4F, Aqua City Odaiba / Cinema Atrium, Bzone 1F
Running: July 13, 2018―September 2, 2018
Aqua City: The Beer Terrace
Location: 15 restaurants in Aqua City Odaiba
Running: June 1, 2018―early October (*Running dates, opening hours and menus differ at each restaurant)
Participating Restaurants: LONGBOARD  CAFE / Eggs 'n  Things / TACO BELL  / Italian Restaurant La Pausa / Mangiare / H.B. GRILL / KING OF THE PIRATES / TO THE HERBS / TGI Fridays / Foodiun  Bar Issa / Thai Cuisine  Prince ∞ PrinCess / Pesce Doro / Hibiki Dynamic Kitchen & Bar / Kobe Motomachi Doria / Weber Park
RELATED ENTRIES
Love Live! Nijigasaki High School Idol Club x Oedo Onsen Monogatari Event Announced

The Tokyo-based bathhouse Oedo Onsen Monogatari is set to collaborate with the anime series Love Live! Nijigasaki High School Idol Club with a special event titled 'Tokimeki Onsen Monogatari' from July 30 to September 5. This will mark the site's final collaboration with an anime series as the bathhouse is closing on September 5.


For the collaboration, panels and decorations featuring original artwork of the Nijigaku members is featured around the bathhouse. There's also a special photospot featuring a backdrop of a scene taken the anime's second episode.

A lottery draw will take place where you can pay ¥550 for a chance to win a cushion, illustrated print, or bromide. There are also 10 collab drinks as well as three pasta dishes to pick from. Fans can also get their hands on exclusive merch such as keyrings, tees, tapestries, and more.

teamLab Borderless Tokyo Celebrates 3rd Anniversary With Two New Installations

June 21 will mark three years since MORI Building DIGITAL ART MUSEUM: EPSON teamLab Borderless first opened. Located in Odaiba, Tokyo, the digital art museum is commemorating its anniversary with two new installations: Sketch Aquarium: Connected World and Sharing Rock Mass, Transcending Space. Experience digital art, which blurs the lines between reality and fantasy, change in real time as people come into contact with it.

MORI Building DIGITAL ART MUSEUM: EPSON teamLab

Sketch Aquarium: Connected World

teamLab describes this exhibit:

The fish drawn by everyone swim around in this aquarium.

Color in a fish on the paper provided. See the picture you have drawn come to life in the massive aquarium in front of you, swimming together with the fish drawn by other people. If you touch the swimming fish, they will swim away. If you touch the food bags, you can also feed the fish.

The tuna you draw will transcend the boundaries of the artwork and swim out into the Sketch Aquariums and Sketch Oceans of exhibitions around the world. And the tuna drawn in other parts of the world may appear and swim in the Sketch Aquarium right in front of you.

Sharing Rock Mass, Transcending Space

teamLab describes this exhibit:

A rock mass floats in the world of the teamLab Borderless museum in Shanghai. The rock mass floats through the hallway of teamLab Borderless Shanghai and sinks into the wall. The rock mass transcends the physical space of the museum itself, the part that sinks into the wall appears in the world of the teamLab Borderless museum in Tokyo.

When people touch the part of the rock mass emerging in Tokyo, it shines with blue light. This light flows to the rock mass sunken into the wall in Shanghai. When people touch the part of the rock mass sunken into the wall in Shanghai, it shines with a red light which flows to the rock mass here in Tokyo. When red light flows into the rock mass, it indicates that someone in Shanghai is touching the rock mass.

teamLab is represented by Pace Gallery, Martin Browne Contemporary and Ikkan Art International.

Information

MORI Building DIGITAL ART MUSEUM: EPSON teamLab Borderless

Address: Odaiba Palette Town, 1-3-8 AOmi, Koto-ku, Tokyo

teamLab Borderless Official Website: https://borderless.teamlab.art/
teamLab Official Website: https://www.teamlab.art/

*teamLab Borderless introduced a booking system on June 1, 2021 to restrict admissions in an effort to combat COVID-19

Illumination Island Odaiba 2020: Tokyo's Artificial Island Begins Winter Illuminations Up to Christmas

23 facilities including shopping centres, hotels, parks, and more in Odaiba are participating in Illumination Island Odaiba 2020, a large-scale illumination event that opened on Friday and is set to run up to Christmas Day.

This year's event is bigger than the last, with only 10 facilities having taken part in 2019. The main park in Odaiba will also be lit up for the first time this year. The event is taking place to express gratitude towards those facing hardship during the pandemic – to connect everyone via gorgeous lights for a brighter tomorrow.

*Please note that illumination dates and times differ for each facility

Participating Facilities (Excerpt)

DECKS Tokyo Beach

The third-floor seaside deck faces Odaiba Marine Park and offers a gorgeous view of Tokyo Bay. Winter illuminations will serve cosy vibes around the rest area and plants, and serves as the perfect site to gaze at the lit-up Rainbow Bridge against the backdrop of Tokyo's nightscape.

Running: November 14, 2020 – February 14, 2021

DiverCity Tokyo Plaza

The Festival Hiroba's staircase will be colourfully lit up from 16:00 every day until January 31, 2021. After that, it will be lit up from 17:00.

VenusFort


teamLab – "The Tree of Resonating Colors of Life" ©チームラボ

teamLab's towering digital art installation The Tree of Resonating Colors of Life is running at Odaiba until February 7, 2021. The 8-meter tall three-dimensional tree is created from an accumulation of light spheres.

Palette Town Daikanransha


The Daikanransha Ferris wheel is a symbol of Odaiba and offers a panoramic view of famous sights around Tokyo up 115-meters in the sky.

Winter Illuminations: December 1, 2020 – December 25, 2020

Statue of Liberty


Odaiba's Statue of Liberty will be lit up with rainbow colours, changing the atmosphere in the area completely.

Running: December 11, 2020 – December 25, 2020

ARTBAY HOUSE


Japanese artist Takahiro Matsuo is also getting in the the action with the prism art at his PRISM/GLOW exhibition.

Running: November 27, 2020 – December 25, 2020

Tokyo International Cruise Terminal Station


A 5-meter tall Christmas tree is decorating Tokyo International Cruise Terminal Station.

Running: November 27, 2020 – December 25, 2020 (Not running select days)

An Otaku's Dream: The EJ Anime Hotel in Saitama Where You Can Stay in Rooms Themed On Anime Series

Manga publisher KADOKAWA opened the new anime concept hotel EJ Anime Hotel at Tokorozawa Sakura Town in Tokorozawa, Saitama, on October 1, 2020.

Tokorozawa Sakura Town is a new shopping complex set to open on November 6, 2020, where it will serve as a hub for the latest in Japanese pop culture with events, shops, restaurants, a museum, and more. EJ Anime Hotel opened on early Thursday in the run up to the complex's grand opening to welcome guests.

The 'EJ' of EJ Anime Hotel stands for 'Entertainment Japan.' The hotel aims to have guests living inside the stories they love from a wide range of Japanese media from anime to manga, movies, tokusatsu SFX movies, idol culture, and more.

As well as room decorations and the exclusive merch that will be on sale, the hotel is also offering a new kind of accommodation experience by incorporating videos, sounds, lighting, and more. Its restaurant will also offer a selection of food and drink in collaboration with various series including all-out full course dinners.

When using the hotel elevator, you will hear announcements from none other than popular Japanese voice actor Yuki Kaji who has played many big roles in anime including Eren Jaeger in Attack on Titan. "As an anime fan first and foremost, having such a fun concept hotel like this open, not to mention getting to be involved as an announcer, makes me really happy," explains Kaji. "I want guests to make some great memories staying at EJ Anime Hotel."

"Bofuri: I Don't Want to Get Hurt, so I'll Max Out My Defense." Collab Room ©2020 夕蜜柑・狐印/KADOKAWA/防振り製作委員会

"Uzaki-chan Wants to Hang Out!" Collab Room © 2020 丈/KADOKAWA/宇崎ちゃん製作委員会

"KonoSuba: God's Blessing on this Wonderful World!" Collab Room ©2019 暁なつめ・三嶋くろね/KADOKAWA/映画このすば製作委員会

"A Certain Scientific Railgun T" Collab Room ©2018 鎌池和馬/冬川基/KADOKAWA/PROJECT-RAILGUN T




"Yuki Yuna Is a Hero" Collab Room ©2017 Project 2H

Right now, EJ Anime Hotel is collaborating with five different anime series: Bofuri: I Don't Want to Get Hurt, so I'll Max Out My Defense., Uzaki-chan Wants to Hang Out!, KonoSuba: God's Blessing on this Wonderful World!, A Certain Scientific Railgun T, and Yuki Yuna Is a Hero. The hotel is taking bookings on its official website.

If you're thinking of travelling to Japan as an anime fanatic, then look no further and book with EJ Anime Hotel.

Information

EJ Anime Hotel
Grand Opening: October 1, 2020
Location: Tokorozawa Sakura Town Floor 6F
Address: 3-31-3 Higashitokorozawawada, Tokorozawa-shi, Saitama Prefecture
Opening Hours: 24 hours a day
Check In: 4pm / Check Out: 10am
No Fixed Holidays
Official Website: https://tokorozawa-sakuratown.jp/hotel/

teamLab's Borderless Autumn Themed Digital Art Exhibition Arrives in Tokyo

teamLab Borderless is a world of artwork without boundaries, a museum without a map created by art collective teamLab. Over at their museum in Tokyo, MORI Building DIGITAL ART MUSEUM: EPSON teamLab Borderless, they are exhibiting a range of autumn themed digital art in time for the changing seasons. Let's take a closer look at what's on show.


September Flowers

October Flowers

Proliferating Immense Life – A Whole Year per Year | teamLab, 2020, Interactive Digital Installation, Sound: Hideaki Takahashi

Proliferating Immense Life – A Whole Year per Year looks at the life cycle of flowers. Throughout the year, with the passing of time, flowers bloom and change. They bud, grow, and blossom before their petals begin to wither and eventually fade away. The cycle of growth and decay repeats itself in perpetuity as the flowers propagate. When too many flowers grow, they scatter and fade all at once. When people touch them, the flower petals scatter and fall away

A variety of autumn flowers will be recreated in digital art, such as Blackberry Lily (September) and Red Spider Lily (October). Visitors who touch these digital flowers will see them wither and decay, and subsequently bloom new flowers in their place.

Rice Fields

Autumn Colours
Memory of Topography | teamLab, 2018, Interactive Digital Installation, Sound: Hideaki Takahashi

This artwork installation depicts a rural mountain landscape of varying elevations. The scenery instills in the viewer a feeling of eternal permanence, however with the flow of real time the scenery is continuously changing. In the spring, the rice fields are still small and lush. In summer, they begin to mature, and in fall, they turn a golden color.

The colours of autumn will be depicted in its glorious combination of golds and reds for the exhibit.


Forest of Resonating Lamps – One Stroke, Autumn Mountain | teamLab, 2016, Interactive Installation, Murano Glass, LED, Endless, Sound: Hideaki Takahashi

When a person stands still close to a lamp at Forest of Resonating Lamps – One Stroke, Autumn Mountain, it shines brightly and emits a colour that resonates out. The light becomes the starting point, and it spreads to the two nearest lamps. The light from the two nearest lamps transmits the same colour to other lamps, spreading out continuously. The light transmitted always resonates out as a bright light once, passing to close lamps, until all lamps have shone brightly once, and then returns to the first lamp.

For October, this exhibit will turn into Forest of Resonating Lamps – One Stroke, Autumn Mountain.


Flowers Bloom in an Infinite Universe inside a Teacup | teamLab, 2016, Interactive Digital Installation, Endless, Sound: Hideaki Takahashi

Make tea, and flowers bloom inside the teacup. If you pick up the teacup, the flowers scatter and spread outside of the cup. Flowers bloom infinitely as long as there is tea. The tea in the teacup becomes an infinite world in which the flowers continue to bloom. Drink in the infinitely expanding world.

The exhibition hall's tea house "EN TEA HOUSE" will see a variety of autumnal flowers used including safflower, dianthus, and Chinese aster for September and cosmos, osmanthus, and chrysanthemum for October.

Information

MORI Building DIGITAL ART MUSEUM: EPSON teamLab Borderless

Address: Odaiba Palette Town, 1-3-8 Aomi, Koto-ku, Tokyo

Official Website: http://borderless.teamlab.art/jp

Doraemon Future Department Store: Secret Gadget Lab, Exclusive Merchandise & More

Doraemon Future Department Store is the world's first official Doraemon shop, and it's set to open tomorrow on December 1, 2019. Before its grand opening, however, the store has given customers a sneak peek into what to expect.

The shop's concept is from the perspective of Doraemon, who says, "I'll help make your future a good one." It's split into three areas: the Secret Gadget Lab, the Customise Zone, and the Shop Zone, each of which offers a unique Doraemon experience you won't find anywhere else.

Secret Gadget Lab

The Anywhere Door

Just like in the manga and anime series, the Dokodemo Door, or Anywhere Door, lets you travel anywhere.

Discover secret gadgets, like the air gun!

Have a go at trying to shoot and hit the 10 targets within the time limit.

*Requires one Doraemon Future Department Store coin to play

Dorayaki Baybayin Game

Touch the dorayaki to increase your score. Touch too many, and something crazy might just happen…

*Requires one Doraemon Future Department Store coin to play

Fly as far as you can with the Bamboo Copter

Reach the goal with the Take-copter, or Bamboo Copter.

*Requires one Doraemon Future Department Store coin to play

Customise Zone

Embroidered items

Embroider Doraemon characters and the logo onto towels, bags, clothes and more.

Characters (18 Designs): ¥700 Each (Before Tax)

Text  (45 Designs): ¥400 Each (Before Tax)

*The place where a design is embroidered is chosen for you

*There may be a waiting time during busy hours

 

Carved Seal Items

Have character designs, text and more carved onto various items like key rings.

Plate Key Ring (10 Designs) – ¥1,000 Each (Before Tax)

Room Key Holder (6 Designs) – ¥1,200 Each (Before Tax)

¥500 per carving (Before Tax)

*There may be a waiting time during busy hours

Shop Zone (Exclusive Merchandise)

These cute mugs have illustrations of Doraemon's secret gadgets on one side, and the first letter of those gadgets written in Katakana on the other side. It makes you want to collect them all!

Product Name (Pictured): Doraemon Dora-moji Mug Cup A

Price: ¥1,200 (Before Tax)

This cute figure of Doraemon is actually a piggy bank, a perfect gift to yourself or someone else!

Product Name: Doraemon Piggy Bank

Product: ¥4,000 (Before Tax)

Book Corner

There's even a book shop where you can pick up the latest issues of the Doraemon comic.

Bonus Items

To celebrate its grand opening, the store will give out the following items to customers.

Those who purchase any piece of merchandise will receive a free postcard with an original design with every transaction.

For every ¥4,000 (tax included) spent on a transaction on merch, you'll get an original handkerchief.

And for every book bought, you'll get a holographic postcard featuring a design of volume 0 of the manga.

*Bonus items available while supplies last

Information

Doraemon Future Department Store

Address: DiverCity Tokyo Plaza 2F, 1-1-10 Aomi, Koto Ward, Tokyo

Grand Opening: December 1, 2019

No fixed holidays except when DiverCity Tokyo Plaza is closed.

teamLab to Take Their Interactive Installation 'The Tree of Resonating Colors of Life' to Odaiba in Tokyo

Christmas is about to fall upon VenusFort in Odaiba, Tokyo, with a snow-pile of Christmas content set to take place at the mall from November 30 onward. This will include the exhibiting of teamLab's hugely popular "The Trees of Resonating Colors of Life" installation.

teamLab, The Tree of Resonating Colors of Life, 2018, Interactive Installation, Endless, H: 8000 mm W: 6000 mm D: 6000 mm Sound: Hideaki Takahashi© teamLab

Located in the Olive Plaza, this interactive art piece is a three-dimensional tree made up of many light spheres which change colour as people touch them.

The popular annual "SNOW WISH" event will also take place again this year, where delicate snow falls gracefully from the ceiling. This year the event is collaborating with "VenusFort Illumination 2019-2020 -Grateful Harmony-" to create a heart-warming and enchanting Christmas display that's sure to put you in the Christmas mood.

There will also be a Christmas raffle where you can win prizes, a special VenusFort Christmas party menu, as well as a Black Friday Market where you can grab some serious bargains.

Be sure to add Odaiba on your list of places to visit if you're celebrating Christmas and the holiday season in Tokyo this year.

Information

teamLab: The Tree of Resonating Colors of Life

Running: November 30, 2019 – March 1, 2020

Location: Odaiba VenusFort Floor 2F Olive Plaza (1-3-15 Aomi, Koto Ward, Tokyo)

teamLab Official Website: https://www.teamlab.art/

VenusFort Christmas 2019 Events:  http://55vf.jp

Kis-My-Ft2's Toshiya Miyata Appears in &CAST!!! App Commercial For Anime & Voice Actress Lovers

Toshiya Miyata, a member of the seven-member Japanese boy band Kis-My-Ft2, appeared in a new commercial for &CAST!!! on Wedneday. The video application is catered towards fans of anime and voice actors/actresses.

Miyata is the self-proclaimed (and proclaimed by others) number one Japanese anime fan. In the commercial, Miyata showcases the fun you can have with the app. This is his first commercial to appear by himself, and features a song written by Miyata for the commercial entitled Boku Dake no Princess with lyrics by MEGUMI.

The commercial begins with Miyata with a serious expression, explaining the hearts of anime fans in detail with difficult words, but in the second half his expression changes when he takes the phone in his hand and starts using the app.

&CAST!!! lets you message and use items on various "cast" members and they will reply to you.

In line with the new commercial, a log-in bonus campaign is being held right now until October 15 where you can receive the above-pictured clothing item when you log in.

Gamers! Rally Your Teammates For A New Quest: TOKYO GAME SHOW

The TOKYO GAME SHOW is in a league of its own. It is a mecca for gamers who cannot get enough of Japanese games and entertainment. This is where Japan's major game publishers from all kinds of platforms unite to put on an enormous exhibition. 

This includes the opportunity to explore games that are yet to be released as well as hear new announcements about the direction developers are steering the future of gaming. There's no lagging behind. This is a major event for the gaming industry, raking in leagues of heroes every year. 

On August 28, a total of 2,417 game booths were announced, which is the largest number the event has ever seen in its history. This event is home to games on a range of platforms including for console, smartphone and PC. The enormous variety of genres includes the most cutting-edge and latest trends including Esports, VR and much more.

For those of you who love cosplay, this event is your chance to finally meet your fantasy. The outside area of Hall 9 will have a Cosplaying Area Stage where two events will take place: a cosplay fashion show and a gathering. 

On Saturday 14th, Hall 1 event stage will hold the Cosplay Collection Night@2019 event where participants and event staff will take over the stage in game character cosplay. Spectating is free, so feel free to watch as each cosplayer dominates the entire stage, showing off their excellent craftsmanship and skills as they walk the runway and strike a pose definitely worth saving in your highlights! 

On Sunday 15th at 2:30 pm, cosplayers will take to the stage in units of two or more to put on a dance or combat show that you just cannot critically miss out on. 

Schedule:

September 14 (Sat)  From 12:00 ー Cosplay Runway  From 15:30 ー Cosplay Runway

September 15 (Sun) From 13:30 ー Cosplay Runway From 14:30 ー Cosplay Dance and Combat Shows From 15:30 ー Cosplay Runway

The Gathering is where cosplayers can interact with one another and have photos taken ー the perfect opportunity to send those friend requests. On September 14, a gathering dedicated to the Final Fantasy Tales Series will take place on the Cosplay Area Stage. On September 15, there will be gatherings for the Dynasty Warriors and Samurai Warriors series.

Schedule:

September 14  13:00-13:30 Final Fantasy Series Gathering  14:00-15:00 Final Fantasy Tales Series Gathering 

September 15 12:30-13:00 Dynasty Warriors and Samurai Warriors Series Gathering

More information on the exhibitions, booths and events will be announced on the morning of September 12 so please check it out. 

There is no better way to multi kill your time than to spend the entire day at TOKYO GAME SHOW 2019 ー get your tickets and GLHF!

Information

TOKYO GAME SHOW 2019

Event Information

Business Days*: September 12 & 13, 2019 (10:00~17:00)

*Business Days are open to industry and press only.

Public Entry*: September 14 & 15, 2019  (10:00~17:00)

*Doors may open at 9:30 am according to conditions on the day.  

Venue: Makuhari Messe (Mihama Ward, Chiba)

Exhibition Halls 1-11/ Event Hall/ International Conference Hall

Entry Fee: Advanced tickets: ¥1,500 (after tax)

On The Door: ¥2,000 (after tax)

Those under Elementary School age can enter for free (public entry days only)

Official Website: https://expo.nikkeibp.co.jp/tgs/2019/en/

Detective Conan Film Director Joins Judge Panel For Toho & Alphaboat's 4th Gemstone Animation Contest

GEMSTONE is an audition project created by TOHO CO., LTD. and ALPHABOAT which seeks to find the best creators. The 4th GEMSTONE project was announced last month and is seeking submissions of short animations themed on Shinjuku.

The judges for the contest have been unveiled. The line-up will include anime film and television director Kobun Shizuno, who worked on the Detective Conan film series from 2011-17 as well as the Godzilla CG kaiju film series from 2017-18. It will also include animator Yasuhiro Kimura who worked on Three Leaves, Three Colors and the Golden Wind arc of JoJo's Bizarre Adventure.

"GEMSTONE" refers to the talent selected by TOHO and ALPHABOAT for the audition project, which ranges from animators to illustrators, composers, singers, actors, and so on. The two companies will help open doors to winners' career paths.

TOHO are known for putting our a plethora of internationally-beloved anime films and series, including Your Name, My Hero Academia, Yowamushi Pedal, and Haikyu!!. They are also joined by MARUI GROUP Co., Ltd. for the project who manage three shopping facilities in Shinjuku, including Godzilla Store Tokyo, where they promote their anime franchises.

The conditions for submitting a video are that the video must be a short animation about Shinjuku no more than 5-minutes long. It is up to the creator to decide what aspect of Shinjuku they wish to talk about, whether it be the locals, culture, sights and so on. The first wave of chosen animations will be posted onto the official GEMSTONE YouTube channel after which they will be judges by veterans of Japan's anime industry.

Speaking about his involvement with the audition project, Kobun Shizuno commented: "I was born and raised in Shinjuku, and live here to this day. That's why this is a theme I can take something from and wish to judge."

Yasuhiro Kimura also commented: "I am very honoured to be judging for this important chance to find talented individuals. I'm really looking forward to seeing how each of you interpret a topic as broad as Shinjuku. I'll be waiting for your submissions!"

Information

GEMSTONE Creators Audition Summary

・Theme: "Shinjuku Anime Creators Audution" (Create a short animation themed on Shinjuku)

・Application Period: August 21, 2019 – October 31, 2019 at 23:59 (JST)

・Winner Announcement: Early December 2019

・Submissions will begin rolling out on GEMSTONE's official YouTube channel in November

Application Conditions

・A short animation themed on Shinjuku no less more 5-minutes in length

・This is a video submission-only audition

・There are no restrictions to animation type – you are free to use your imagination

*Please note that if your animation is chosen for judging it will be posted onto GEMSTONE's official YouTube channel

Winner Prize

・2 million yen

・Be featured on the Shinjuku Marui electronic billboard and elsewhere

・Work with a TOHO producer to plan a new work

・An offer to sign up for ALPHABOAT management

Judging Panel

・Kobun Shizuno, Yasuhiro Kimura, and TOHO anime producers

Submission Hashtags

・#GEMSTONE #原石募集

Attack on Titan, Seven Deadly Sins, Fairy Tail & Other Anime T-Shirts Releasing at UNIQLO

UNIQLO's graphic t-shirt brand UT are celebrating the 60th anniversary of manga magazine Weekly Shonen Jump with a new t-shirt collection via their sub brand MANGA UT. The t-shirts will go on sale from August 12.

The collection covers six anime series serialised in the popular magazine including Hajime no Ippo, Fairy Tail, The Seven Deadly Sins, Attack on Titan, Negima! Magister Negi Magi, and Shōta no Sushi. Each t-shirt pays homage to its respective series, featuring iconic scenes that have stayed with fans, sound effects, and original designs that capture their worlds.

Hajime no Ippo

Hajime no Ippo is a boxing manga written and illustrated by George Morikawa. It follows Ippo Makunouchi, a shy high school student who suffers at the hands of bullies. He begins a career in boxing in search of the answer to the question "What is strength?" and battles his rivals and those around him to grow as an individual. The t-shirt design captures the lively energy seen in the characters and is surrounded by eye-catching SFX.

©George Morikawa/Kodansha

Fairy Tail

Fairy Tail is a fantasy adventure manga written and illustrated by Hiro Mashima. It follows the dragon slaying wizard Natsu and his tale of growth as part of the Fairy Tail guild. One of the t-shirts features four characters from the guild and the other is a large illustration of Acnologia, the main characters' strongest enemy.

©Hiro Mashima/Kodansha

The Seven Deadly Sins

The Seven Deadly Sins is a fantasy battle adventure series written and illustrated by Nakaba Suzuki. It follows the titular characters each of whom represent the seven deadly sins. There are several t-shirt designs including one featuring Meliodas looking up to the sky and another of him and his comrades out on a peaceful trip. There is even a hand drawn illustration of Hawk, a talking pig and Meliodas's pet, which was illustrated by Suzuki himself and UT's editors.

©Nakaba Suzuki/Kodansha

Attack on Titan

Attack on Titan is an dark fantasy adventure series written and illustrated by Hajime Isayama. The story is set in a world where humanity lives within giant walls which help protect them from towering man-eating Titans. The terrifying t-shirt design features one of the Titans that live inside the walls.

©Hajime Isayama/Kodansha

Negima! Magister Negi Magi

Negima! Magister Negi Magi is an fantasy adventure and harem series written and illustrated by Ken Akamatsu. It follows the story of Negi, a wizard who becomes an English teacher at Mahora Academy, where he helps his class of students overcome their problems. He is also in search of his father who is known as a hero in the world of wizardry. There are two t-shirts, one featuring the main heroine Asuna Kagurazaka, and another of some of the other students in the class.

©Ken Akamatsu/Kodansha

Shōta no Sushi

Shōta no Sushi is a food manga series written and illustrated by Daisuke Terasawa which follows the story of Sekiguchi Shota who works as an apprentice and aims to become a sushi chef. There are two t-shirt designs, one which features the manga's logo and a slice of sushi and the other with the logo and a whole sushi platter.

©Daisuke Terasawa/Kodansha

Show your support for your favourite Weekly Shonen Jump series by picking up one of these awesome t-shirts!

MOTOR CITY by Kenichi Asai To Be The Opening Theme Song For Upcoming Anime No Guns Life

No Guns Life is a manga series created by Tasuku Karasuma which has been serialized in Shueisha's Seinen magazine Ultra Jump. An anime version of this manga has been created and will premiere in October 2019. We have now discovered that the opening theme song for the anime is MOTOR CITY and was written by Kenichi Asai.

The second anime trailer for No Guns Life, in which you can hear a snippet of MOTO CITY, has also been released. The anime adaptation of No Guns Life was created by Madhouse, who are popular for their anime adaptations of Overlord and BLACK LAGOON. 

© Tasuku Karasuma/Shueisha, NGL PROJECT