Experience Japanese Culture #4 – Searching for a Film Camera in Shinjuku's Used Camera Shops
This is Yuri 'Yurippa' Suganuma's featured article series in which she takes us on her adventures to cultivate new hobbies.
Yurippa has been interested in photography for some time now, but she's been unsure which camera she should buy. So, she decided to head to some used camera stores,  Lucky Camera Shop andChuko Camera Box in Shinjuku to find the perfect camera that best suits her. Was she able to find the right one…? Let's find out!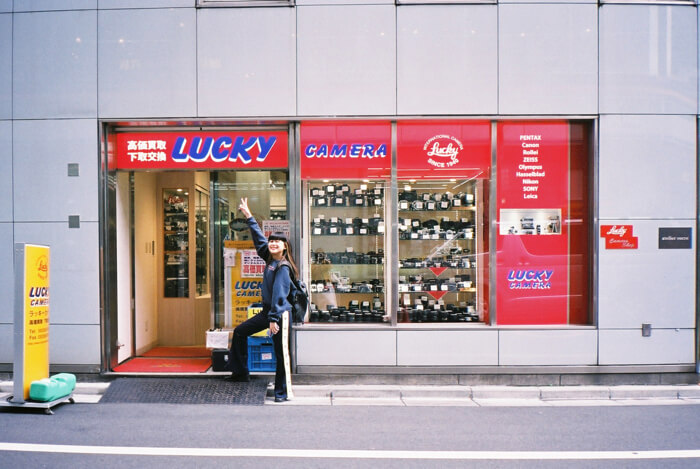 The first place Yurippa stopped by was Lucky Camera Shop. It's located next to Isetan Shinjuku and has a kind of foreign, non-Japanese air to it. When Yurippa saw the eye-catching red exterior of the shop, it was loved at first sight. In any case, time to head in!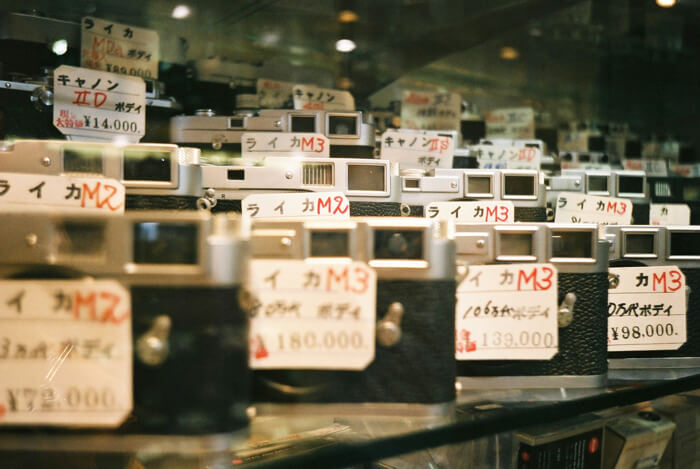 The store is lined with cameras made in lots of different countries including Japan, Germany and the US. Lucky Camera Shop puts a lot of effort into stocking foreign-made cameras and mechanical cameras with everything built in. They have a varied line-up, including famous Leica cameras.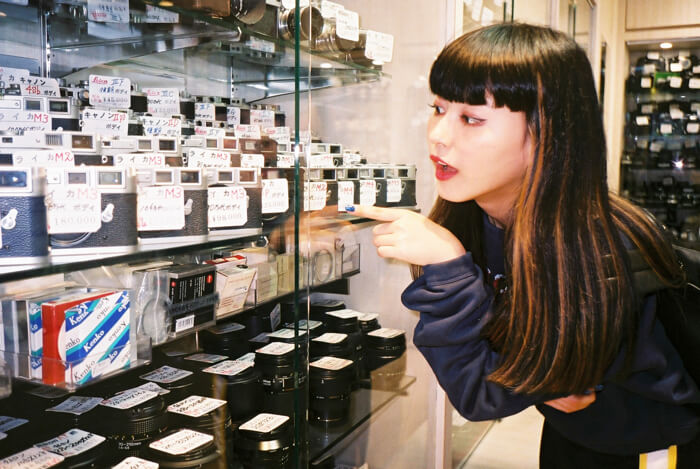 The Leica parts were all expensive – the bodies and lenses were both over ¥100,000 ($915)!
Yurippa was shown a camera she was interested in from inside the showcase. The left was a single-lens reflex Olympus OM-1 and the right was a Barnack Leica. 35mm films are all the rage right now, and these were some of the first models to use them. Both are at a nice, compact size.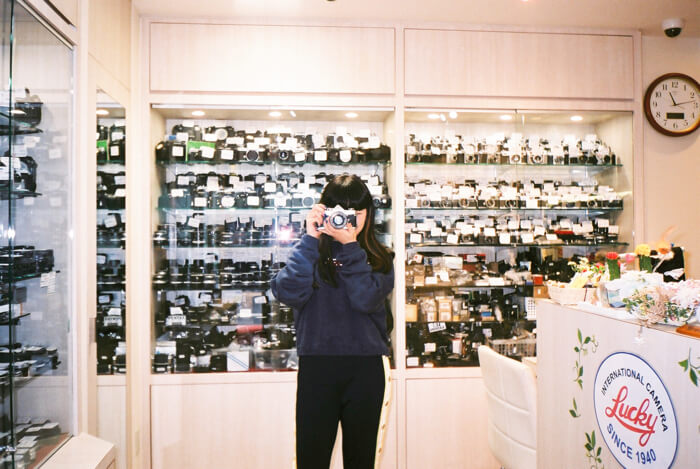 Yurippa was blown away looking through the viewfinder of the Olympus OM-1. 'You can see things easily, so much so that everything looks even more beautiful through the viewfinder!' she said.
Next, Yurippa also tried the Barnack Leica. It's a valuable camera that has you feeling a little nervous touching it. She said surprised at how quiet the shutter was, to which the shop assistant explained, "This is a different single-lens reflex to that of the OM-1. There's no mirror inside so the shutter is quiet." Yurippa learned much about how cameras are put together differently, as well as the diverse number of types available.
■Information
Lucky Camera Shop
Address: Gomeikan Bldg. 1F, 3-3-9 Shinjuku, Shinjuku-ku, Tokyo
TEL: 03-3354-7898
Opening Hours: 10:00-20:00
Access: 5-minutes on foot from JR Shinjuku Station / 1-minute on foot from Shinjuku Sanchome Station
Website: http://lucky-camera.com/
The next shop Yurippa headed to was Chuko Camera Box. It's a used camera store located along Shinjuku Electric Street (Shinjuku Denki-gai). The showcase is crowded with cameras, and the shop has an atmosphere to it like a secret hideout.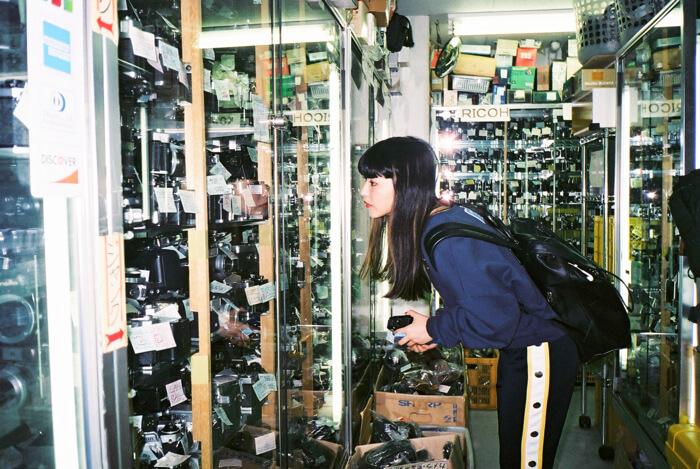 "It'd be great to have a camera that's small and easy to use. One that I can take out and snap a photo with straight away. That'd definitely be fun!" said Yurippa while looking in earnest for a camera.
She continued to search with these keywords in mind, focusing on auto-focus film compact cameras. And then, she found it. In her hands was the Genba Kantoku from Konica. You can snap a photo just by pressing the shutter. It has auto-focus, flash and auto-load. "It's a little big, but it's affordable and seems easy to use!"
Chuko Camera Box is famous for its friendly store clerk and regular customers. Yurippa learned that the Genba Kantoku was formerly used for recording at construction sites. It's durable and can get wet or be dropped and has an excellent lens. She's finally made her purchase!
■Information
Chuko Camera Box
Address: 1-13-7 Nishi-Shinjuku, Shinjuku, Tokyo
Tel: 03-5339-2701
Opening Hours: 10:00-20:30
Access: 2-minutes on foot from Shinjuku Station
Website: http://camerabox.web.fc2.com
Yurippa loaded her Genba Kantoku right away with 35mm film. Simply take out the film tip and close it on its back. Film cameras can seem tricky, but there are easy-to-use ones like this too!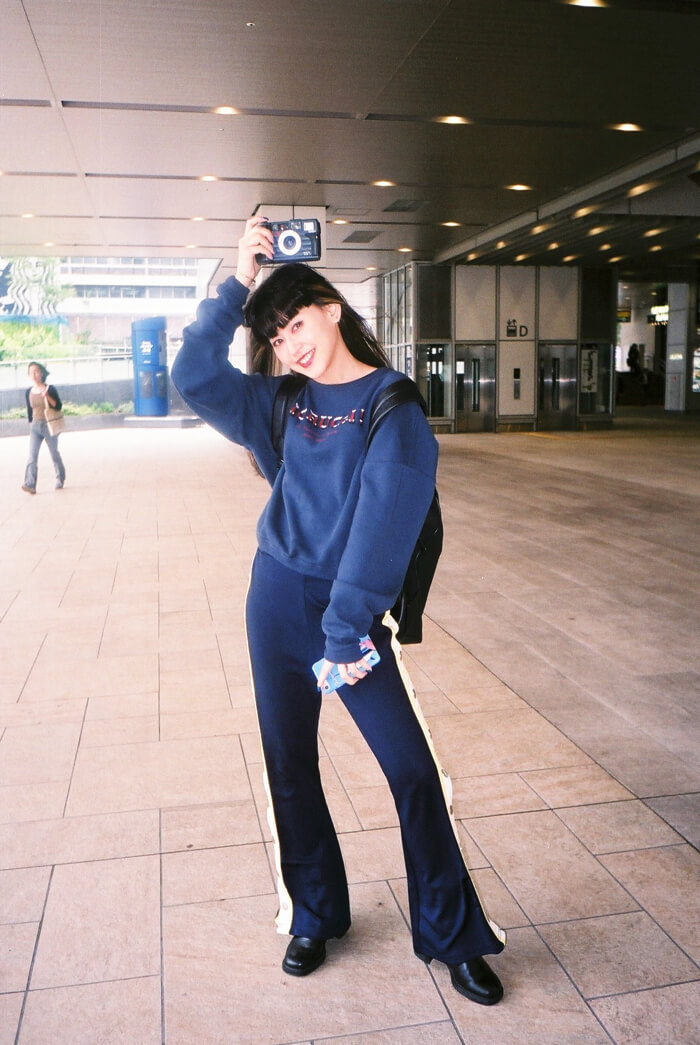 Yurippa was hugely satisfied finally getting her hands on her long-sought film camera. In the second part of this article, she will develop and print the photos that she has taken with her Genba Kantoku at a photo shop.
How about getting yourself your own film camera and to start up photography yourself?
<Profile>
Model: Yuri Suganuma @yurippa93
Yuri Suganuma is a model with a high fashion sense that has been picked up by various magazines. She receives much love and support from girls of the same generation as her to whom she is known by her nickname "Yurippa." She has a huge influence across her social media. Recently, she has stepped into other fields outside of modelling, such as appearing in TV shoots and in music videos. She is skilled in make-up and involved in the development of cosmetics.
Photographer & Writer: Haruka Yamamoto
Translator: Joshua Kitosi-Isanga
RECOMMENDED ENTRIES
Experience Japanese Culture #3: Temari Sushi Lesson in a Japanese Food Class at Dikanyama

Japanese model Yuri Sugunama, a.k.a "Yurippa," is taking us on the third trip in her series series where she goes to personally experience Japanese culture and cultivate new hobbies. This time, she gets involved in a cooking lesson to make springtime temari sushi! Yurippa has always had an interest in homemade cooking but never really had the opportunity to challenge herself to it. So, how did she do…?


uki-uki cafe is located in Daikanyama which is just one stop from Shibuya on the Tōkyū Tōyoko Line. It's an easy place to get to just 5-minutes from the station tucked away in a quiet residential area. Upon opening the door to the café, you are greeted with a fresh space full of green plant life. You'll totally forget about the hustle and bustle of the city.


Teaching the lesson is uki-uki cafe's representative, Ayumi Kashiwabara. She's a food co-ordinator who promotes happy cooking that you'll unintentionally want to take a photo of. Not only does she serve food that makes your everyday dining table evermore buoyant, she also holds cooking lessons every now and then. "Call me Ayu-chan-sensei, okay?" she says with a pose. She's extremely friendly!


Today's challenge is making two items: 'temari sushi' and 'spring mizore soup.' First off, the temari sushi! You begin by mixing together 250g of rice with 25ml of vinegar, 15g of sugar, and 1/2 teaspoon of salt. This is then divided into 8 portions. Spread out some clingfilm and place ham in the middle. Then put one portion of rice on top and roll. Do this for all 8 portions. Roll the ham and rice into one and when taking the clingfilm off make sure that they stay together and don't separate.


Next is making plum lotus roots. Fill the holes of the lotus roots with bainiku plum. Use your finger to delicately press it all together. It's easy if you use a tube for this part. An excited Yurippa exclaimed, "This is the first time in my life I'm making food using bainiku plum!"


At this point, Ayu-chan-sensei added a small touch: "It'll look gorgeous if you do it like this." With just a little twist, she made it look even more fantastic by putting on thinly sliced lemon and sprinkling over some pepper. The two of them looked like they were having fun cooking next to each other.



Before dishing up the temari sushi, it's time to make the mizore soup. Add two teaspoons of Japanese dashi to 120ml of water and mix in one teaspoon of soy sauce, one teaspoon of sake, one teaspoon of mirin, and a little salt. Bring to the boil and just add some grated daikon. Daikon skin has nutritional value, so wash it thoroughly and rub dry.


Finally, add green beans into the mizore soup, put in wheat gluten, and… "All done!"


Yurippa's colourful temari sushi and mizore soup is complete and perfect for spring. Going out and adding seasonal a lunch mat, pair of chopsticks and tableware is fun too.


Yurippa was happy, commenting: "I can feel that food made by hand really is more delicious! It was easy and didn't take long, plus I like how exciting it looks. I want to invite my friends over to my house for a meal."

Cooking lessons are held once in a while at uki-uki cafe where you can learn how to make food that'll make your ordinary days more fun. If you think a cooking lesson is a little too much to handle, then just pop in to the café for a kawaii meal. Coming face to face with the food at uki-uki cafe will surely make your day that much happier.

■Information
uki-uki cafe
Address: 88.DAIKANYAMA 3F, Daikanyamacho, Shibuya, Tokyo
Opening Hours: 11:00-18:00 (Lunch Last Orders 16:00 / Last Orders 17:30)
Access: 5-minutes on foot from Daikanyama Station via the Tōkyū Tōyoko Line
Website: http://ayupichi.com/index.html
*Cooking classes are held at irregular periods. Please enquire beforehand if you are a visitor from overseas.

Model: Yuri Suganuma @yurippa93


Yuri Sugunuma is a model with a high fashion sense that has been picked up by various magazines. She receives much love and support from girls of the same generation as her to whom she is known by her nickname "Yurippa." She has a huge influence across her social media. Recently, she has stepped into other fields outside of modelling, such as appearing in TV shoots and in music videos. She is skilled in make-up and involved in the development of cosmetics.

Writer & Photographer: Haruka Yamamoto

Translator: Joshua Kitosi-Isanga

Experience Japanese Culture #2: Comparing Tastes of Unique Japanese Chocolates – From Matcha to Sake

Japanese model Yuri Sugunama, a.k.a "Yurippa," is taking us on her next trip in this series where she goes to personally experience Japanese culture and cultivate new hobbies. Yurippa loves chocolate – she eats one tablet of the stuff day. In this Valentine's-special second entry, Yurippa sampled different chocolates that are popular right now.

For Valentine's Day in Japan, it's custom for girls give guys chocolate and convey their feelings towards them. Guys return the favour on a day called White Day, which falls on March 14. So, since there's one month to go before the big day, that means the most delicious chocolate in the world is about to hit shelves in Japan – popular both in Japan and overseas.

The first pick was the classic "KitKat," a very well-known brand in over 100 countries. The Japanese brand of KitKat is actually made in Japan. It's received much attention around the world for its original flavours. It's also known for being associated with exam season for students – the word KitKat in Japanese (kitto katto) almost sounds like the phrase "Kitto Katsu!" which means "You will surely win!"

Yurippa tried out the new "KitKat Chocolatory" series, created by the chef and owner of "La Patissier Takagi," Yasumasa Takagi. The "Sublime Valentine's Assortment" costs ¥2,400 (tax excl.) and includes 7 KitKat bars with 6 different flavours. There's dark chocolate, milk chocolate, white chocolate, matcha, raw, and a pink coloured ruby flavour. It's a great selection to share and eat together with people.

The centerpiece of the collection is new Ruby KitKat, developed by the Swiss chocolate makers Barry Callebaut over a period of more than 10 years. The chocolate uses no colouring agents – the pink colour is made naturally to create an entirely new chocolate. Yurippa gave it her stamp of approval, saying it'll be popular with girls for its vivid pink colour. She couldn't contain her surprise for this newfound chocolate, saying "The berry flavour has a sour taste, but it's different from strawberry chocolate. It's something I've never tasted before."

Next on the list is "Tea Chocolate Premium Matcha 7". Costing just ¥1,000 (tax excl.), these chocolates are made by Shizuoka Matcha Sweet Factory "Nanaya," who are known for producing the world's most rich flavoured matcha gelato. These matcha chocolates don't hold back on the milk so as to bring out the fragrance and taste of the tea leaves to the max. The set comes with 7 different matcha chocolates of varying intensity and 1 houjicha flavoured chocolate.

Yurippa expressed her excitement for the delicious chocolate before opening it. "When you open the packaging, the fresh smell of the tea whets your appetite so much you can't wait to tuck in!"

The chocolate and tea leaves have a good combined balance of 3.1%, and the smell and taste of the leaves kicks in with a strong flavour combination of 21%. "The tea leaf combination is different but my impression of the chocolate changed dramatically!"

"If you eat the chocolates in order as written on the packaging, you can understand each flavour's intensity much better! This chocolate would go better with hot milk or soy milk than coffee. The richer chocolate flavours are fairly moderate when it comes to sweetness, so if you're on a diet then you can eat them without feeling guilty."

The last pick is from the long-standing chocolate maker Mary Chocolate. The KANADE Japanese Sake Truffles (¥1,000) come in 3 flavours – milk, sweet and white – and are topped with carefully selected Japanese sake. Only the finest sake from Japan is used, such as Gokyo Junmai Sake from Yamaguchi Prefecture. Since the truffles contain alcohol, be wary not to hand them out to minors or people that are driving.

"There's a good balance between the chocolate and sake, and depending on which brand of sake is used, you can enjoy a different flavour on your taste buds from each!"

Yurippa's favourite was the milk truffle topped with Koyama Shuzo. She was very satisfied having recently acquired a taste for sake. "It brings out the enduring qualities of refreshing Japanese sake and a fruitiness. I really want people who like Japanese sake to try these! If you're not too good with sake from Japan, then I recommend the white chocolate truffle with Ichiro from Dewazakura. The subtle fragrance of sake that you can feel inside the smooth texture of the white chocolate makes it really sophisticated."

Yurippa gives friend chocolate to everyone on Valentine's Day, guys and girls. Why don't you try tasting this unique Japanese collection of chocolates recommended by Yurippa with everyone?

Model:Yuri Suganuma @yurippa93

Yuri Sugunuma is a model with a high fashion sense that has been picked up by various magazines. She receives much love and support from girls of the same generation as her to whom she is known by her nickname "Yurippa." She has a huge influence across her social media. Recently, she has stepped into other fields outside of modelling, such as appearing in TV shoots and in music videos. She is skilled in make-up and involved in the development of cosmetics.

Writer:Ryoichi Komaba

Photographer:Haruka Yamamoto

Translator: Joshua Kitosi-Isanga

Experience Japanese Culture #1: Japanese Kickboxing at "FIGHT CLUB 428" in Shibuya

Japanese model Yuri Suganuma, a.k.a. 'Yurippa,' is beginning a new serialized project in which she goes to personally experience different areas of Japanese culture. In this first entry, Yurippa headed to FIGHT CLUB 428 in Shibuya to learn kickboxing, a form of martial art known to be very effective when it comes to dieting and getting rid of stress.

FIGHT CLUB 428 sits in the heart of Dogenzaka, a 7-minute walk from Shibuya Station. Serving up a convenient fitness menu and equipped with a bar, 428's kick-back and welcoming atmosphere is its charm point.

It's actually not that well known, but kickboxing is a sport that originated in Japan. Traditionally, it's a martial art and combat sport that is fought without weapons and uses the game rules of Muay Thai.

The gym itself is clean, and women can also enjoy using the facility without worry. Female members of the gym are generally around the age of 25, and everyone there is extremely friendly, so it's also a great place to make friends. You can also rent gym clothing if you want, meaning you can drop in empty-handed even if you're on a trip.

Yurippa took a 1-day course (¥3,000) where she was taught by kickboxing teacher Ohno Umihiko. Just wow, being taught by a former kickboxer… not to mention how handsome he is!

Before starting training, you just stretch your body. Your muscles are quite stuff during the winter season making it easier to hurt yourself, so do it slowly and carefully.

One stretching is over, Yurippa moved onto the training basics – how to skip-rope. She was taught the proper way to jump like you see in movies and dramas: by using your ankles. But she was still a bit stiff somewhere, maybe because she wasn't used to the jump roping yet, or maybe because she was still nervous from the gym atmosphere.

Moving on, Yurippa finally transitioned to the next phase: how to punch. The teacher wrapped bandage around her fists so she couldn't injure them.

Once her bandages were on, her fighting spirit came through suddenly and she put on her war face. She settled on her fighting pose and was brimming with motivation!

She focused on jabs for the punching basics, learning to punch straight and how to hook.

The teacher praised Yurippa for having an aptitude for punching which raised her ferociousness even more. She went all out when practicing a finishing punch combination!

Her smug face and pose makes her look like she's saying "How do I look? Am I cool?"

Don't forget to rehydrate during training intervals. By the way, you can buy this bottle at the gym.

Next is punching the focus mitts while wearing gloves. Before punching the mitts, it's customary to set your gloves on them first.

Kickboxing its more effective for dieting than it looks because it uses your whole body. You also have to twist around a lot, so you can really tone up your waist line.

The mid-kicks were a particularly good stress-reliever for Yurippa. If you aim at the mitts and kick with everything you have it makes a really great sound, so can be very exhilarating.

The teacher is very skilled in his way of teaching. Girl-Fighter-Yurippa has been born magnificently! Originally, Yurippa did slow activities such as yoga and was bad at them. She said that the movements in kickboxing are cool and it's something she wanted to challenge herself to at least once. "Having finally experienced it, it was even more fun than I expected. I want to try continuing it!"

The gym also has a popular bar. The owner Ohno loves alcohol. He wanted more people to know about the gym so he built a bar than anyone can visit easily. The bar also comes with a special bonus: when the gym is full, people can order drinks for just ¥300! FIGHT CLUB 428 – the place where you can kickbox and enjoy a drink on the side. If you're in Shibuya, then be sure to stop by.

■Information

FIGHT CLUB 428

Address: 2-27-2 Dogenzaka, Shibuya, Tokyo

Opening Hours: Monday to Thursdays 7am-12am / Fridays to Saturdays 7am-7am next day / Sundays 7am-6pm

Access: 7-minutes' by foot from Shibuya Station via the Keio Inokashira Line, Tokyu Toyoko Line, Tokyo Metro Lines, JR Lines

Price: 1-Day Course ¥3,000 (tax incl.) / Personal Training ¥7,000 (tax incl.)

Website: http://fightclub.co.jp

Model:Yuri Suganuma @yurippa93

Yuri Sugunuma is a model with a high fashion sense that has been picked up by various magazines. She receives much love and support from girls of the same generation as her to whom she is known by her nickname "Yurippa." She has a huge influence across her social media. Recently, she has stepped into other fields outside of modelling, such as appearing in TV shoots and in music videos. She is skilled in make-up and involved in the development of cosmetics.

Writer:Ryoichi Komaba

Photographer:Haruka Yamamoto

Translator:Joshua Kitosi-Isanga
RELATED ENTRIES
BEAMS fennica to Release Gorgeous Collection in Collaboration With Ainu Crafts

fennica is a fashion label associated with BEAMS that combines traditional Japanese handicraft with new and old designs collected from Northern Europe. The label has announced that it will collaborate with the Akan Tourism Association (法人阿寒観光協会まちづくり推進機構) non-profit organisation to release an all-new collection that incorporates traditional Ainu crafts.

Terry Ellisーthe London-based director of fennicaーand Keiko Kitamura observed Ainu culture in the Lake Akan area in Kushiro, Hokkaido, and have used the creative beauty of young craftsmen and craftswomen who are in charge of next-generation Ainu culture. Overtime they have worked together with the artisans to create an original collection entitled "Ainu Crafts from Lake Akan: Tradition and Innovation" which will be sold on the fifth floor of the Shinjuku branch of BEAMS Japan in the fennica studio and B Gallery from October 12.

The collection incorporates silver jewellery with Ainu patterns, wood-carved cutlery, hamper bags made with traditional materials, and many other lifestyle items familiar to Ainu culture. During the showcasing, there will be other exhibitions related to Ainu in the gallery, as well as talks, live performances, and more.

A special webpage went live on October 1 talking about this collaboration.

The collection's director Terry Ellis commented: "When I was walking around Takiguchi's store Ichigen No Mise, my attention focused on this cutlery. I felt the folklore in its simplicity. Though it's an item to be used, the craftsmanship is incredible. You can't just stop at one, you want to collect more and decorate with them." *Translated from Japanese

Keiko Kitamura, also a director for the collection, commented: "Akan is a rare kind of place, with mountains, rivers, lakes and forests. It has its own shapes and colours because of the light, colours and sounds which change intensely with time and soak into your body. And Ainu art is distinct from the traditional craftsmanship of other countries and regions because in almost all categories you can still produce it even today. There are [Ainu] people who are still continuing to make art for their family to this day. Their still being here is something valuable."

She continues: "Japan's handiwork is in danger of vanishing across all areas of the country. Even if there are no successors, there are people who have been beside them watching, and people who were once involved in the past. So we may barely just make it. Because if this handiwork comes to a stop, it will be no more. We feel a sense of duty to protect this wonderful work."

Information

Ainu Crafts from Lake Akan: Tradition and Innovation

Location: BEAMS Japan – Floor 5F (3-32-6 Shinjuku, Shinjuku Ward, Tokyo)

Running:

<fennica Studio> Product Sales: October 12, 2019 – October 20, 2019 (*AINU CRAFTS products, specially-made fennica select Lake Akan items, and more)

<B Gallery> Lake Akan Exhibitions: October 12, 2019 – October 27, 2019

①Live Event: October 13, 2019 @ 18:00-18:30

Guests: Sister music unit "kapiw & apappo" (Fukuko Gōukon/Emi Shimokura)

②Talk Show: October 20, 2019 @ 18:00-19:30

Guests: Kengo Takiguchi, Hiroyuki Shimokura, Erika Katsuya, Keiko Kitamura, Terry Ellis

*The live event and talk shows are booking-only. Please check the B Gallery website for more details and how to book.

Visit the following website for more details on the participating artisans: https://www.akanainu.jp/karpekuru

New York-Style Cafe & Restaurant Sarabeth's Celebrates 7 Years in Japan With Special Event in Shinjuku

It has been seven years since Sarabeth Levine took her New York-based cafe and restaurant Sarabeth's to Japan back in 2012. To celebrate, the establishment will hold a special one-night event with a commemorative menu.

"Fermented Foods" is the theme of the event, which will see an incredible line-up of premium dishes. There will also be a talk by Sarabeth Levine herself who will be in attendance.

The menu line-up features a range of healthy fermented foods, like pancakes and Eggs Benedict, while drinks options include lemonade with fermented syrup, goishicha tea from Aichi Prefecture, and more. There will also be Sarabeth cookies which you can take home with you.

Information

Sarabeth's Japan 7th Anniversary Special Event

Date: November 5, 2019

Time: Reception 18:30 / Open 19:30-20:45 (subject to change)

Price: ¥3,800 (Tax Included)

Capacity: 50 (Reservation-Only)

Location: Sarabeth's Lumine Shinjuku (Lumine 2 Floor 2F, 3-38-2 Shinjuku, Shinjuku Ward, Tokyo)

TEL:03-5357-7535

Reservations:  https://sarabeths7th.peatix.com

New Food Truck Taiyaki Tainoya to Open in Shinjuku Serving Fish-Shaped Cakes

Taiyaki Tainoya is a food truck set to open in front of the first floor entrance of Flags on September 20 which is connected directly to Shinjuku Station's south-east exit.

  

Taiyaki – ¥200 (Tax Included)

The truck will sell taiyaki, a classic Japanese confection which comes in the form of a crispy fish-shaped cake filled with bean paste. The cakes sold here will be made using Tokachi beans from Hokkaido which have a distinct luxurious sweetness to them.

The taiyaki here are made with takeout and gift-giving in mind, so they have been made nice and crunchy so they don't fall apart or become mushy.

The bean paste isn't overly sweet so is easy to enjoy. The beans, which have a strong aroma, are cooked in sugar beet from Hokkaido, and contain a hint of moshio, which is salt you get from burning seaweed.

The sweet bean paste has such a smooth texture that you wouldn't believe that's what it is. If you're a lover of adzuki bean paste or aren't good with sweet things, then this is a bean paste you're going to love.

For an extra ¥30, you can have the taiyaki packed in a cute gift box if you're thinking of giving it to someone. There are six colours to choose from for all occasions, be it a home party or for clients. They are also wrapped with noshi paper and contain message cards. There are seven of these to pick, so you can write your own words to the person.

If a simple taiyaki isn't enough for you, you can also top it with a rich soft-serve ice cream. Pick between Hokkaido Vanilla or Uji Matcha flavours.

If you're getting off at Shinjuku Station, be sure to head out the south-east exit of the JR Line section to find Taiyaku Tainoya.

Information

Taiyaku Tainoya

Address: 3-37-1 Shinjuku, Shinjuku Ward, Tokyo (1st floor entrance of Flags at Shinjuku Station's south-east exit)

Grand Opening: September 20, 2019

TEL: 080-4179-2365

Opening Hours: 11:00-3:00

No Fixed Holidays

Escape From Godzilla at TOKYO MYSTERY CIRCUS Escape Game Theme Park

TOKYO MYSTERY CIRCUS's catalogue of games just keeps on growing. The puzzle and escape game theme park has just announced the return of its escape game Escape From Shin Godzilla which is being held in collaboration with the 2016 film Shin Godzilla.

The event was previously held last April where it ran until October, enjoying huge popularity with over 40,000 escape game-goers. Players took the role of a member of the Kyosaitai―the anti-Godzilla task force―based in Kabukicho, Shinjuku where you will be tasked with solving puzzles to defeat the colossal giant.

The thrilling event returns once more with original visuals created to make it look like Godzilla has really invaded Kabukicho. Tickets are now on sale, and you can pick up exclusive merchandise and themed food at the venue too. Can you defeat Godzilla?

TM&©TOHO CO., LTD. ©SCRAP

Information

Escape From Shin Godzilla

Location: Himitsu Kichi Lab, TOKYO MYSTERY CIRCUS (Floor B1F)

Running: October 4, 2019 – November 10, 2019

Times

Weekdays: 13:20 / 16:20 / 19:20
Weekends & Holidays: 10:10 / 12:40 / 15:10 / 17:40 / 20:10
*The event will end 100 minutes after each starting time

Price
Advance: Single ¥3,300 / Group ¥12,000 / Repeater Group Ticket ¥12,000
Same-Day: Single ¥3,800 / Group ¥14,000 / Repeater Group Ticket ¥14,000
*Same-day tickets will not be available if all advance tickets sell out

 

TOKYO MYSTERY CIRCUS

Address: APM Bldg., 1-27-5 Kabukicho, Shinjuku, Tokyo, 160-0021

Opening Hours: Weekdays 11:30-23:00 / Weekends & Holidays 09:30-23:00

No Fixed Holidays.

Price: Free Entry (*Separate tickets required for games)

Official Homepage (English): https://mysterycircus.jp/en/

Event Page (Japanese): https://mysterycircus.jp/shin-godzilla/

Help Me Choose! Japan's Trending Makeup #3: Autumn & Winter Cosmetics

"Help Me Choose!" is the first ever featured article series where I, Yuri "Yurippa" Suganuma, feature as the writer, model and director.

I've been conservative with my eyeliner when doing my makeup recently, instead wanting to go for a more effortless style to convey my eyes. I've also been having more fun with eyeshadow, and I've wanted to make my lips the centerpiece of my makeup, so I've been making additions and subtractions which has slowly led to a more grown-up look.

So, for my recommended autumn/winter cosmetics this time around I'll be focusing on eyeshadow, lips, and cheeks. These are items I've been interested in and am buying. Here's my review.

▶︎THREE

THREE Dimensional Vision Eye Palette 03 – ¥7,020 (Tax Included)

This palette features four colours, none of which you will ignore. The colours also have different textures including pearl, matte powder, and cream.

Today's Makeup:

①For the whole eyelid

②For the undereye

③Adds gradation to the double eyelid

④Adds accent to the inner corner

I tried playing around a bit! Although I added colour and glitter to the inner corners of my eyes I'm all about it.

According to THREE, this is the order you should put these items on:

1. Add the ② cream eyeshadow to your whole eyelid

2.Add the ③ colour as a base around the edge of your ueye

3.Layer ① on your whole eyelid

4.Finish with ④ as a highlighter

Using the cream eyeshadow as a base brings out the orange to make it look even better!

Part of the fun of this eye palette is how easily arranged it all is. The colours in this palette in particular are extremely popular.

▶︎RMK

RMK Stone Blossom Brush 03 – ¥3,456 (Tax Included)

The thin powder blends softly into your cheeks. It gives gentle colouring while still bringing your whole face to life, making it an indispensable item. And terracotta looks good on anyone.

And how about combining it with this?

RMK Stone Blossom Lips 05 – ¥3,780 (Tax Included)

This lipstick is a smooth cream type. The orange hype is just beginning. It has a slightly deep colour and gives off a casual grown-up vibe. It also has moisturizing ingredients in it making it great for winter when your lips dry up.

By the way, this collection was inspired by the stony beaches of Málaga in Spain. The items are limited-edition so get your hands on them ASAP.

▶︎CHANEL

(New Colour) Rouge Allure Velvet Extreme 130 – ¥4,536 (Tax Included)

From my always-favourite Rouge Allure Velvet series comes a new colour and a limited-edition colour from CHANEL! At first glance, No. 130 looks like a deep red, but when you put it on it also has a slight purple tinge to it, serving up a wine colour.

The deep burgundy makes you look like a lady and is sure to captivate. If you're a girl who loves autumn/winter collections then you won't be able to resist the colour of this one!

(Limited Edition Colour) Rouge Allure Velvet Extreme 128 – ¥4,536 (Tax Included)

Orange beige. Beige lipstick has yet to become a thing around the world, but this colour isn't overly plain and even works on myself! The beige has a subtle, healthy orange in it. Another stylish colour from CHANEL.

Another thing I like is how the case is matte (normally in the Velvet series it's glossy). Autumn/winter vibes, I'm all about it!

▶︎GUERLAIN

GUERLAIN Glitter Eyeliner 02 KAKI & 03 BURGUNDY – ¥5,508 Each (Tax Included)

This glittery liquid eyeliner gleams and looks just as it does when applied to yourself. It gives your eyes a beautiful impact, and both of this colours are good taste.

▶︎SHIRO

SHIRO Ginger Lipstick 9I08 Vintage Brown – ¥4,320 (Tax Included)

SHIRO have released their very first lipstick collection. The vintage brown has a deep, elegant look to it. SHIRO really are amazing. They've become a brand I just can't let go. Everyone who sees this colour says it's cute. I especially want to recommend this one to those of you who are beginners to orange and browns. It's a really stylish one.

Incidentally, the brand actually changed its logo to commemorate its 10th anniversary, from "shiro" to "SHIRO."

"Do you have anything a little more natural?"

▶︎THE PUBLIC ORGANIC

THE PUBLIC ORGANIC Essential Oil Colour Lipstick Noble Orange – ¥700 (Tax Included)

This organic cosmetic item is 100% natural. It's made with the skin in mind to ensure it's good to it. It also has a nice roughness to it like when taking your makeup off with soap. This terracotta orange adds just a touch of colour so as to make full use of the lips' natural colour.

This lipstick was originally released as a limited-edition item last year and blew up on social media, but they are set to bring it back as a regular item this year on September 25.

ーYurippa's Closing Commentsー

In the end, I end up going for deep coloured lips and burgundy eyes every autumn and winter, but with these items they're not just simply deep reds or browns. When you apply them they have a faint orange or purple in them. I think that was the original intention of those brands. I love little devilish things like that, and so I recognize to the fun of cosmetics year by year.

I'm actually really into the new eyeshadow from TOMFORD, but I wasn't able to get ahold of it by the photoshoot so I had to leave it out this time, TOMFORD's eyeshadow is amazing  too!

I'm a girl who loves autumn and winter, so I'm looking forward to the coming seasons. I want to use lots of different coloured items and become an even more beautiful woman―more than in summer and more than I am now!

Writer / Model  Yuri Suganuma
Photographer  / Haruka Yamamoto

TALENT PROFILE

Yuri Suganuma

Yuri Suganuma is a model with a high fashion sense that has been picked up by various magazines. She receives much love and support from girls of the same generation as her to whom she is known by her nickname "Yurippa." She has a huge influence across her social media. Recently, she has stepped into other fields outside of modelling, such as appearing in TV shoots and in music videos. She is skilled in make-up and involved in the development of cosmetics.

Scorch your Senses at the Spicy as Hell and Tasty as Well 2019 Food Festival Round 2 in Shinjuku

Spicy as Hell and Tasty as Well 2019 will be holding round 2 on August 16, 2019 at Okubo Park, Kabukicho in Shinjuku. This will be the event's biggest gekikara gourmet saiten (super spicy festival) Japan has ever seen. 

Food services that represent the spicy foods of the world have all joined forces at Kabukicho in Shinjuku; Asia's largest entertainment district to tinge it with a luminescent spicy red colour. So far, around 0.7 million people with a burning passion for spice have made their way to the spice central to test their tolerance to the range of gourmet spicy dishes. From beginner to mania, the event caters to all levels of spice-lovers. From a tiny touch of spice to spicy as hell, there is a wide range of spice levels to choose from. The dishes served and participating shops are changed each week, so you can enjoy a new spicy experience each week. 

At the 1st Round, spice fans had their fill of Ciao em Cafe's Bún bò Huế. This café, which originates from the outskirts of Tokyo in Hana-Koganei, took part in the event for the first time. One of their signature dishes is the Vietnamese soup, which captured the hearts of many women for its perfectly balanced sweet yet spicy flavour.  Despite being Menya Mazeharu's first time serving at the event, their queues stretched out into the sunset from morning to evening each day .

Round 2 will see Cheese to Gibier Curry Naru Ichizoku and Tokyo spice curry Aka to Kuro spicing up the event for the first time. This is the perfect opportunity to experience Awajishima Curry made with the world's most sense-scorching spices including ghost pepper, trinidad scorpion pepper, and the carolina reaper. Tokyo spice curry serves up red curry dishes made with ingredients traditionally used in natural Chinese food therapy. Their black curries are Kashmiri curries that will leave you feeling satisfied. 

These are just a selection of the vast number of noteworthy spicy dishes. You are bound to find the perfect curry to spice up your life at this event, so please check it out.

Information

Spicy as Hell and Tasty as Well 2019 (激辛グルメ祭り2019)

Venue: Okubo Park, Kabukicho, Shinjuku 

Address: 2-43, Kabukicho, Shinjuku, Tokyo

Access: 3-min walk from Seibu-Shinjuku Station or an 8-min walk from Shinjuku station (JR/ Odakyu/ Keio lines)

Entry: Free to enter, pay for your food and drinks. 

Schedule:

2nd round: Aug 16 ー 21

3rd round:  Aug 23 ー 28

4th round: Aug 30 ー Sept 4 

5th round: Sept 6 ー 11

6th round: Sept 13 ー 18 

* Closed on Aug 15, 22, 29 and Sept 5, 12 to change the shops.

* Open on rainy days (closed during stormy weather).

* Spicy as Hell and Tasty as Well is open for a total of 38 days this year, the longest it has ever run in history.  

Website: https://www.gekikara-gourmet.com/

Pop Team Epic Pop-Up Shop Makes its Way to Shinjuku This Month

The Pop Team Epic pop-up shop is set to take to make a return this month. It will open on the sixth floor of Shinjuku Marui Annex and run from August 23 to September 16.

Themed on the the popular manga and anime series, the pop-up shop first appeared in December 2016 and has since popped up many times around Japan over the years. Having been held in various places around Tokyo as well as Nagoya, Fukuoka, Sapporo and Osaka, it is finally making its way to Shinjuku for the first time.

The shop's main visual was drawn by series creator Bkub Okawa. Its design will feature on many exclusive pieces of merchandise at the shop.

Fans of the series have lots to look forward to at the shop, with plenty of cute and hilarious decorations of Popuko and Pipimi and plenty of photo opportunities. Those who spend over ¥3,000 (tax included) at the shop will even receive an original sticker. Only one will be given per person.

More details about the event can be found over at the official Twitter page.

Information

Pop Team Epic Pop-Up Shop

Running: August 23, 2019 – September 16, 2019

Time: 11:00-21:00 (Until 19:00 on September 16, 2019 *Free entry, no planned holidays

Location: Shinjuku Marui Annex 6F (3-1-26 Shinjuku, Shinjuku Ward, Tokyo)

Event Official Twitter: https://twitter.com/pteppopup

Keio Plaza Hotel Tokyo Offers Luxurious Accommodation Plan & Tea Ceremony Experience For Families

Keio Plaza Hotel Tokyo, a highly prestigious and magnificent 4-star hotel located in Shinjuku, is now serving an all-new "luxurious" family package which includes a tea ceremony experience and much more. It is currently running from July 20 to September 1.

The rooms offered in the accommodation plan are the hotel's popular Wide Twin Rooms located on the Premier Grand club floor. Use of the Club Lounge is included in the package. The Wide Twin Rooms include two roomy queen-size beds which span 1.53 meters wide which allow parents to sleep comfortably with their children. Rooms also feature their own bathroom facilities.

The package also includes a check-in simulation for children aged 6-12 years where they can get a feel for what it's like to check-in. They will fill in their own check-in cards with parents and receive a ticket for the tea ceremony experience. They will be able to take their card home with them and take a commemorative photo.

The tea ceremony experience will be held on the hotel's 10th floor in the "Shofuan," an authentic tearoom that has been in the hotel since it opened in 1971. Parents and children will receive proper instruction from the tea ceremony teacher before pouring their own tea, allowing them to learn about traditional Japanese culture and etiquette. They will receive a special certificate of completion at the end.

If you're travelling to Japan as a family this summer then enjoy it in luxury at Hotel Keio Plaza Tokyo.

Information

Tea Ceremony Experience and Luxurious Accommodations for Families

Running: July 20, 2019 – September 1, 2019
Price: ¥18,450 per person for the Wide Twin Rooms on the Premiere Grand Club Floor *Usage for 2-4 people (Includes use of the Club Lounge, breakfast, and includes service charge and tax)

Package Includes:

①Tea Ceremony experience for overnight guests (1.5 hours required, children of preschool age or younger cannot participate but are welcome to watch)

②Simulated Club Lounge check-in experience for children and special commemorative photographs available between 2:00p.m. to 5:00p.m.

③Amenity items for mother use (skin care products etc.)

④Commemorative certificates of stays and tea ceremony completion, and photographs presented to guests

⑤Complimentary late check-out at 12:00p.m. (Normal check-out time is 11:00a.m.)

⑥Complimentary use of Sky Pool facilities

Enquiries & Reservations: +81-35322-8000

Keio Plaza Official Website: https://www.keioplaza.com/

Osamu Watanabe's Mouthwatering Museum of Sweets Showcases Giant Candy Unicorn & More

Have you heard of Osamu Watanabe? You won't forget his name by the end of this article. He is an installation and contemporary artist that draws his inspiration from the world of sweets and confections. He has drawn much attention not just in Japan but overseas too in countries like the US, Italy, Turkey, Indonesia and China with his various exhibitions.

Watanabe is set to take his "Museum of Sweets" exhibition to Shinjuku where it will open at the Odakyu Department Store on July 31.

The candy creations will be split throughout 9 different areas such as the titular room Museum of Sweets as well as the Forest of Sweets, Banquet of Sweets, Sweets Aquarium and more, all of which are sure to tickle the taste buds of sweet tooth visitors.

What's more is that you are permitted to take photos, opening the door for countless photo opportunities for Instagram.

Osamu Watanabe will also be present to host a workshop on 4 separate days so you can craft your own cookie charm using materials Watanabe actually uses in his creations.

Enter a fantastic candy land cooked up by the one and only Osamu Watanabe.

Information

Museum of Sweets

Running: July 31, 2019 – August 14, 2019

Time: 10:00-20:00 (Until 20:30 from August 7-13 / Until 17:00 on August 14)

*Last entries 30 minutes before closing times

Location: Odakyu Department Store Shinjuku Floor 11F

Entry: General ¥600 / High School & Junior High School Students ¥400 / Elementary School Students & Younger – Free

*If you are disabled you and a guardian can get in for free if you take a physical disability certificate

*Those who hold an Odakyu Points Card or Odakyu Ladies Club Card can get ¥100 off entry (applicable only to those who have a card)

Odakyu Department Store Official Website: http://www.odakyu-dept.co.jp/

Workshop: Make a Cookie Charm With Osamu Watanabe!

Running: August 3, 2019 / August 4, 2019 / August 11, 2019 / August 12, 2019

Slots: 13:00 / 13:30 / 14:00 / 14:30 / 15:00 / 15:30 (Each Day)

Participants: 10 per slot

Price: ¥500

Applying: Please apply at the department store from 10:00 on the day

Osamu Watanabe Official Website:  http://watanabeosamu.tokyo/profile_en.html

Sanrio Announces Character Themed Cafe at EGG & SPUMA in Shinjuku

Sanrio has announced that it will open its third-ever limited-time cafe themed on their magazine Ichigo Shimbun at EGG & SPUMA located on the 8th floor of Shinjuku Lumine EST from July 11 to September 30.

Ichigo Shimbun is a monthly magazine published by Sanrio which includes information about the latest character merchandise, the Sanrio Character Awards, and more. Many of Sanrio's characters appear in the magazine and are set to appear at the cafe in the form of food. The theme of the cafe will be "Vacation."

The menu special is the special party combo box for two. Served in an original box, it contains Pochacco and Cinnamoroll burgers, fries, cute Kiki & Lala desserts, two drinks, and more.

EGG & SPUMA are known for their pancakes, so for the Sanrio collaboration, they will serve a special plate of pancakes themed on a beach with Pompompurin sunbathing on top. You can also order refreshing summery soda drinks too.

There will be two different menus served at different periods for the duration of the collaboration, meaning a repeat visit is a must. We hope you get to try everything!

Information

Ichigo Shimbun Diner
Location: EGG & SPUMA, Shinjuku Lumine EST Floor 8F, 3-38-1 Shinjuku, Shinjuku Ward, Tokyo
Running: July 11, 2019 – September 30, 2019
Business Hours: Weekdays 11:00-23:00 (Last Orders 22:00) / Weekends & Holidays 11:00-22:30 (Last Orders 21:30)
TEL: 03-6273-0255
Website: http://salt-group.jp/shop/egg-spuma/

Top 5 Tokyo Beer Gardens to Cool You Down This Summer

Hi, readers! It's Midori, from MMN's editorial team.

When thinking about summer, one of the first things that springs to mind are beer gardens! Drinking a cold beer outdoors on a hot summer's day is a special kind of delicious. More and more beer garden events appear in Japan every year, the vibe and atmosphere is different for each depending on where you are.

Today, I've compiled for you 5 must-visit beer gardens in Tokyo for summer 2019.

Heineken Kirin Beer Garden: Enjoy a lamb BBQ at Kichijoji Daiichi Hotel

This beer garden is being hosted in a BBQ style. Enjoy a two-hour all-you-can-drink course with either a Jingisukan BBQ or oil ponzu fondue as well as a selection of à la carte that go perfectly with the beer on offer. Look out for the lamb BBQ as well, a hugely popular choice every year at the hotel.

▼Kichijoji Daiichi Hotel – "Heineken Kirin Beer Garden"

Location: Kichijoji Daiichi Hotel Floor 8F Garden Terrace (Entrance at floor 7F)

Address: 2-4-14 Honcho, Kichijoji, Musashino, Tokyo
Running: May 24, 2019 – September 1, 2019 (*Closed on Mondays between May 24 – June 30)
Time: 17:00-21:30 (Last Orders 21:00)

Website: https://www.hankyu-hotel.com/hotel/dh/kichijojidh/

Honoo Bulgogi vs. Tamashii Hot Pot: Ikebukuro Tobu Beer Garden

The Tobu Department Store in Ikebukuro is set to serve up its popular bulgogi nabe on the building rooftop. This year also sees the introducing of a new hot pot. Women can also enjoy a discount price on the bulgogi nabe even cheaper than previous years. There is also an happy hour service where all customers can enjoy reduced prices. If you're looking for affordable prices then look no further!

▼Honoo Bulgogi vs. Tamashii Hot Pot: Ikebukuro Tobu Beer Garden

Location: Tobu Department Store Ikebukuro Floor 16F Rooftop

Address: 1-1-25 Nishi-Ikebukuro, Toshima Ward, Tokyo
Running: April 24, 2019 – September 1, 2019
Time: 17:00-23:00 (Last orders for à la carte and drinks at 22:00)
Reservations: Via telephone or online. Reservations must be for 2+ people.

Website: http://www.tobu-dept.jp/ikebukuro/

Beer Garden With an Unbroken View Of the Sea at InterContinental Yokohama Grand

InterContinental Yokohama Grand is bringing its hugely popular beer garden Hama Beer back to Yokohama Minato Mirai again this year. Look forward to tucking into some authentic delights at the hotel terrace with a panoramic view of the Yokohama sea. They also serve a variety of non-alcoholic cocktails too. I recommend this one if you're looking for a romantic, slightly more adult beer garden experience.

▼InterContinental Yokohama Grand Beer Garden

Location: InterContinental Yokohama Grand Floor 1F Outdoor Terrace (*Location will change if it rains)

Address: 1-1-1 Minato Mirai, Nishi Ward, Yokohama, Kanagawa Prefecture
Running: June 14, 2019 – September 16, 2019 (*Except on days when there are scheduled events)

Time: [Mon-Thur] 18:00-21:00 / [Fri-Sun & Hols] 17:00-21:30

Website: https://www.interconti.co.jp/yokohama/

Machida MODI at Renewed "Sky Beer Garden" With Projection Show

The Sky Beer Garden atop Machida MODI has reopened after renovations. A projection show is taking place on the building wall as part of the beer garden. On the official homepage, people can also sign up to have a message projected onto the wall. 7 people will be randomly selected per day. This would be perfect as a surprise to that special someone! You can also enjoy the beer garden at a discounted price if you follow them on Instagram.

▼Sky Beer Garden

Location: LUGAR HA AMOR
Address: Machida MODI Rooftop, 6-2-6 Haramachida, Machida, Tokyo
Running: April 27, 2019 – September 29, 2019

TEL: 042-812-2580

Website: https://www.0101.co.jp/723/

SKY PARADISE BEER GARDEN: Delicious steak and more at Isetan Shinjuku

At Isetan Shinjuku's stylish SKY PARADISE BEER GARDEN visitors can enjoy steak from Steak NO.1 STEAK THE FIRST. The drinks menu also includes beverages other than beer, so if you're not a beer person then I definitely recommend this one. It is being held on the rooftop too so you can enjoy dining in the warm late afternoon and evening outdoors in Tokyo.

▼SKY PARADISE BEER GARDEN

Location: Isetan Shinjuku Rooftop

Address: 4-14-1 Shinjuku, Shinjuku Ward, Tokyo
Running: June 12, 2019 – September 16, 2019
Time: [Mon-Thur] 16:00-22:00 / [Fri-Sun & Hols] 11:30-22:00 (Last Orders – Food 21:00/Drink 21:30)
TEL: 03-6890-0199 (11:30-20:00)

Website: https://www.isetan.mistore.jp/shinjuku.html

There are many different unique beer gardens being held this year, so pick the one that suits you most and cool yourself off this summer in Tokyo♡

Help Me Choose! Japan's Trending Makeup #2: Yurippa's Repeat Cosmetic Pickups♡

This is my first ever series I've ever been put in charge of as a writer and model.

As long as you're stocked up on these items, you're good to go. In this special edition, I will showcase cosmetics that I'm a repeat buyer of and would definitely buy again.

▽Skincare

The first thing I should mention is my skin type.

・I have tough skin and so it doesn't blemish easily

・It becomes dull when I have lack of sleep

・With my combination skin, it's easy to spot oily areas (T Zone) and dry areas (around the eyes, U Zone)

Like this.

Using my knowledge of various cosmetics and methods I have tried I would like to showcase my recommendations. (Don't worry if you don't have the same skin type as me as some of the items I have picked can be used with other types too, so be sure to take a look.)

Finally, you'll be happy to know that these can be used during all seasons.

So, ready to give it a go?

▶︎Dior Capture Youth Series

Quickly and actively delays the appearance of signs of ageing. This series was created to retain youthful looking skin. There are six serums to choose from which cater to different skin conditions. Each can be used on their own or in combination with your own serum products. I've made a custom serum for myself by combining two different types.

1. Intense Rescue Oil (30ml) – ¥12,420 *Photo is my own. Price shown is as was on the day of purchase.

(Effective against dry skin and helps maintain moisture. Supplements lipids.)

2. Glow Booster (30ml) – ¥12,420 *Photo is my own. Price shown is as was on the day of purchase.

(Rich in Vitamin C. Leaves skin glowing and feeling invigorated.)

For face lotion, I use 3.Enzyme Solution. It has a refreshing water-like texture and leaves skin moist. Good to use on skin that favours serums in this series.

Enzyme Solution (150ml) – ¥7,452 *Photo is my own. Price shown is as was on the day of purchase.

For cream, I use 9.Capture Youth Creme. It doesn't remove the face lotion or the serum and doesn't feel sticky.

Capture Youth Age-Delay Advanced Creme (50ml) – ¥12,420 *Photo is my own. Price shown is as was on the day of purchase.

It's safe to say that after using this series, I don't even know what dry skin is anymore. It really is that effective!

▶︎FEMMUE

5. Lumière Vital C  (30ml) – ¥8,000 (Before Tax) *Photo is my own. Price shown is as was on the day of purchase.

6. Ideal Oil (30ml) – ¥6,000 (Before Tax) *Photo is my own. Price shown is as was on the day of purchase.

FEMMUE is a really popular brand right now from the hub of beauty, South Korea. Firstly, it's steeped in fragrance. It's rich in floral scents like perfume. Simply holding the bottles fills you with a feeling of satisfaction. It leaves your skin feeling clear, smooth and glowing. And though it's a thick oil, the skin absorbs it extremely well. 10/10 from me!

I might recommend it to girls who've just stepped into adulthood, girls who want to look sexy, and those who want to be popular! It's perfect for skin that blemishes easily.

▶︎dear mayuko

7. Innocent Skin Serum (20ml) – ¥8,424 *Photo is my own. Price shown is as was on the day of purchase.

This serum contains sericin which comes from silkworm cocoons. Sericin ensures your skin is moist and is gentle on the skin. Despite being a beauty product the texture of this serum is really silky (like water!) and will leave your skin soft and healthy.

Personally, I recommend using it as a booster serum! It's an easy way to nourish the skin before putting on any makeup. It will also help things like face lotions and milky lotions soak in better. The serum itself soaks into your skin nice and quickly so it won't ruin your makeup. Its warm matte texture and colour will leave you looking soft♡

▶︎Kiehls

4. Kiehl's Ultra Face Cream (49g) – ¥4,000 (Before Tax) *Photo is my own. Price shown is as was on the day of purchase.

This cream spreads lightly on the skin. It's also very clear to see that it lets no moisture escape…! That's how dense this cream is, it's like it adds a cover to your face. It also doesn't clear away face lotion or any beauty essences. It reaaally moisturises your skin. This is my 5th or 6th time buying it.

8. Kiehl's Ultra Face Cleanser – ¥2,800 (Before Tax) *Photo is my own. Price shown is as was on the day of purchase.

This can be used on any skin time. (It's also good for people with eyelash extensions!)

It's a gel-type cleanser. What's good about it being gel-type is that cleans off better than oil and yet doesn't take in unnecessary moisture from the skin. You also don't get that stretched feeling after you wash your face. This can really be used all season and by anyone. I haven't used any other cleansers the past three or four times. It's one I can trust.

▽Cosmetics

Be sure to check out my recommended lipsticks from last time too!

https://www.moshimoshi-nippon.jp/183569

▶︎CANMAKE

8. Quick Lash Curler (Transparent Type) – ¥680 (Before Tax) *Photo is my own. Price shown is as was on the day of purchase.

I often use this as a top coat. It makes it harder for your eyelashes to sag and can be used with any kind of mascara. You get a great product for a cheap price, so there's no need to feel guilty about picking up something cheap. You'll end up picking it up multiple times a day, and the cosmetic pouch one stick comes with is sure to come in handy too!

▶︎BIODERMA

2. Sensibio H2O – ¥1,200 (Before Tax) *Photo is my own. Price shown is as was on the day of purchase.

This is a cleansing water to be used with sensitive skin. Pour some onto a cotton pad and simply wipe to remove your makeup without any unwanted excess being left on. It's a super convenient product to have during those times when your makeup need a quick fix up. It's often used in makeup shoots too! They have both small and large bottles, so try starting from the handy mini size first ☺

▶︎M.A.C

1. Strobe Cream Peachlite – ¥4,500 (Before Tax) *Photo is my own. Price shown is as was on the day of purchase.

A glittery pink cream that feels comfortable on the skin. When used as a base for your makeup it will brighten your skin, or when used as a highlight it will glimmer in the light on your shiny skin. It might be nice to add to the décolleté or when you are exposing skin too to add a little something. This item has many different uses!

▶︎Primavista

3. Long Keep Base UV – ¥2,800 (Before Tax) *Photo is my own. Price shown is as was on the day of purchase.

This product can won't blemish skin at all even if it's been working all throughout the day. It goes on gently and soaks up quickly. This means it can be used when you don't have much time, such as when you're in a hurry in the morning. It feels so light it makes you wonder whether you've even put any on! It also holds up well against sweat and oil so I highly recommend it for the coming season! (It's been a No. 1 best seller for 9 years in a row.)

As a footnote, I'll just add that I'm actually a model for Primavista's products and I'm really glad I discovered them.

▶︎YSL

5. TOUCHE ÉCLAT BLUR PRIMER 1 – ¥6,300 (Before Tax) *Photo is my own. Price shown is as was on the day of purchase.

This is a makeup base that has gold pearls in it. It fixes the uneven parts of the skin to make it uniform making it perfect for foundation. It has a semi-matte consistency and the goal pearls give your skin a gorgeous gloss.

10. LE CUSHION ENCRE DE PEAU B30 – ¥7,500 (Before Tax) *Photo is my own. Price shown is as was on the day of purchase.

This is the covering power, moisturisation and texture I wanted! It feels very light on the face, so much so that it feels like you have none on, but it's the opposite of useless―it covers the face completely. As expected of them. It's easy to put on too, just pat it onto your face with a sponge. It's very durable too!

▶︎MIMURA

4. Smooth Skin Cover – ¥4,200 (Before Tax) *Photo is my own. Price shown is as was on the day of purchase.

This too is a makeup base and evens out the odds of your face. It's silky and makes you look extremely beautiful so it's the perfect accompaniment to makeup. It also thankfully contains SPF20 and PA++ and is free from ethanol, colouring agents and synthetic fragrances, making it kind to skin. I would also recommend it to people with weak skin. This is my second pot ♡

▶︎LANCOME

6. Grandiôse Mascara (Volume Type) BK – ¥4,200 (Before Tax)

The rose design of the cap is so cute! This is the No. 1 easiest product to coat. The shape of brush has been carefully calculated to curve with your eyelashes. It does nothing short of bolstering the volume of them. It has also received high praise for how easy it comes off with hot water. But it doesn't blot either. This one's for those who want to emphasise their gaze♡

▶︎CLINIQUE

7. Lash Power Mascara Long-Wearing Formula BK – ¥3,780

We can all relate to mascara becoming clumpy. This formula entwines with each eyelash hair to give big, beautiful eyes. It makes you feel good when applied. Though this is my third time buying it it never fails to make me say out loud to myself, "Wow, how beautiful." You don't have to worry about sweat or oil either, plus it comes off easily with hot water♡

▶︎MAYBELLINE

9. Hyper Sharp Liner BK – ¥1,200 (Before Tax) *Photo is my own. Price shown is as was on the day of purchase.

I have loved and used MAYBELLINE since I was a high school student. I've used many different eyeliners but always end up returning to the same place. The Hyper Sharp Liner is easy to draw with, doesn't smear, and the tip of the brush is thin and soft, so drawing on cat eyes is so much easier now. It's perfect! Get it ASAP!

What do you think of my list? The categories are a bit jumbled, but I have listed all the items I highly recommend.

A lot of the items I've presented are expensive, but even if they are pricey, the quality is good and the effects they have really work! I wonder if the reason for people in their teens and 20s focus so much on skin care is because they have seen the speed at which you can revitalise your skin, or have the power to 'rebirth' oneself.

My skin is changing entirely now compared to back when I thought it was okay to not take care of it. I want to make more recommendations to people at my age and invest in my future self.

Be sure to reference this last, and thank you for reading! Until next time ☺

Writer / Model  Yuri Suganuma
Photographer  / Hikari Shibata

Translator / Joshua Kitosi-Isanga

TALENT PROFILE

Yuri Suganuma

Yuri Suganuma is a model with a high fashion sense that has been picked up by various magazines. She receives much love and support from girls of the same generation as her to whom she is known by her nickname "Yurippa." She has a huge influence across her social media. Recently, she has stepped into other fields outside of modelling, such as appearing in TV shoots and in music videos. She is skilled in make-up and involved in the development of cosmetics.