Experience Japanese Culture #4 – Searching for a Film Camera in Shinjuku's Used Camera Shops
This is Yuri 'Yurippa' Suganuma's featured article series in which she takes us on her adventures to cultivate new hobbies.
Yurippa has been interested in photography for some time now, but she's been unsure which camera she should buy. So, she decided to head to some used camera stores,  Lucky Camera Shop andChuko Camera Box in Shinjuku to find the perfect camera that best suits her. Was she able to find the right one…? Let's find out!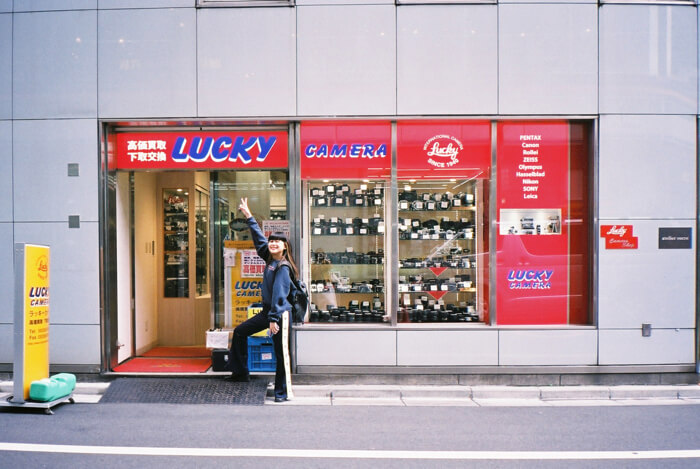 The first place Yurippa stopped by was Lucky Camera Shop. It's located next to Isetan Shinjuku and has a kind of foreign, non-Japanese air to it. When Yurippa saw the eye-catching red exterior of the shop, it was loved at first sight. In any case, time to head in!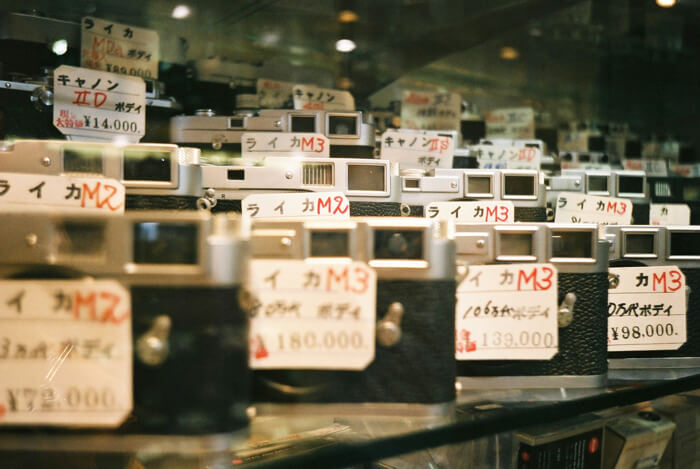 The store is lined with cameras made in lots of different countries including Japan, Germany and the US. Lucky Camera Shop puts a lot of effort into stocking foreign-made cameras and mechanical cameras with everything built in. They have a varied line-up, including famous Leica cameras.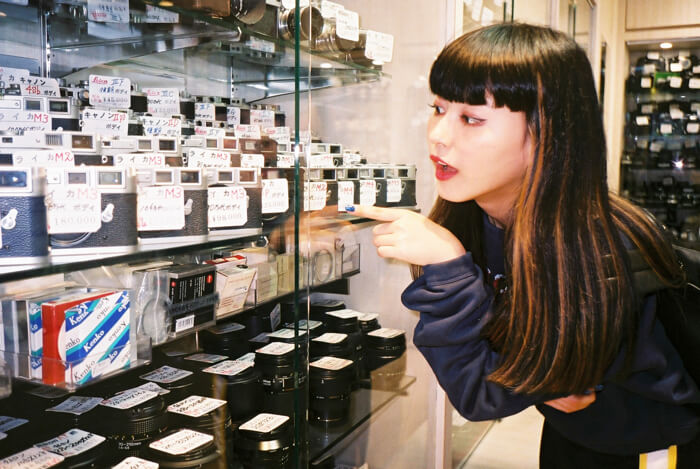 The Leica parts were all expensive – the bodies and lenses were both over ¥100,000 ($915)!
Yurippa was shown a camera she was interested in from inside the showcase. The left was a single-lens reflex Olympus OM-1 and the right was a Barnack Leica. 35mm films are all the rage right now, and these were some of the first models to use them. Both are at a nice, compact size.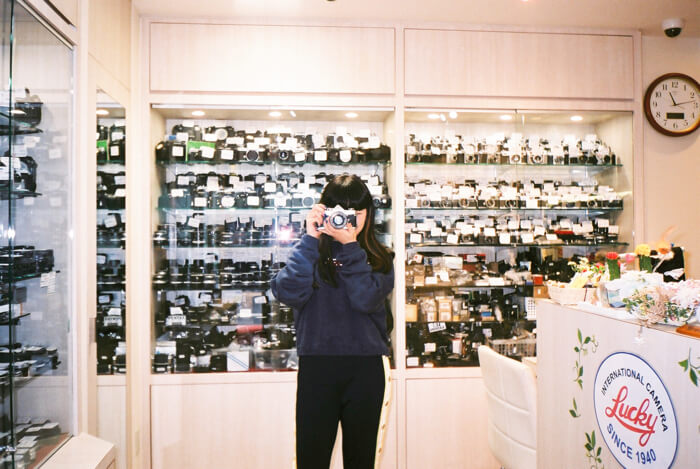 Yurippa was blown away looking through the viewfinder of the Olympus OM-1. 'You can see things easily, so much so that everything looks even more beautiful through the viewfinder!' she said.
Next, Yurippa also tried the Barnack Leica. It's a valuable camera that has you feeling a little nervous touching it. She said surprised at how quiet the shutter was, to which the shop assistant explained, "This is a different single-lens reflex to that of the OM-1. There's no mirror inside so the shutter is quiet." Yurippa learned much about how cameras are put together differently, as well as the diverse number of types available.
■Information
Lucky Camera Shop
Address: Gomeikan Bldg. 1F, 3-3-9 Shinjuku, Shinjuku-ku, Tokyo
TEL: 03-3354-7898
Opening Hours: 10:00-20:00
Access: 5-minutes on foot from JR Shinjuku Station / 1-minute on foot from Shinjuku Sanchome Station
Website: http://lucky-camera.com/
The next shop Yurippa headed to was Chuko Camera Box. It's a used camera store located along Shinjuku Electric Street (Shinjuku Denki-gai). The showcase is crowded with cameras, and the shop has an atmosphere to it like a secret hideout.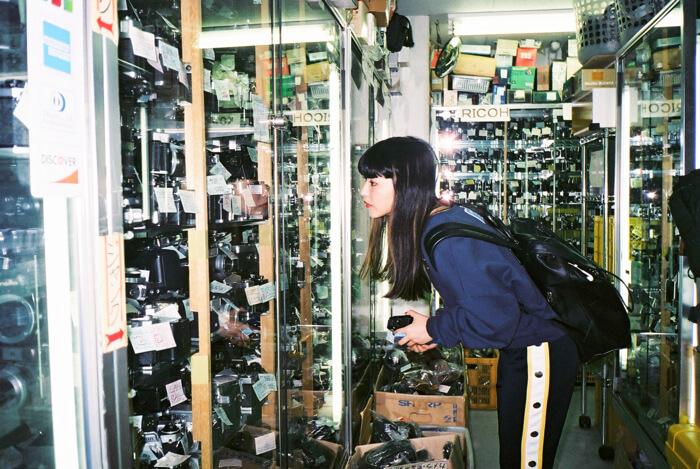 "It'd be great to have a camera that's small and easy to use. One that I can take out and snap a photo with straight away. That'd definitely be fun!" said Yurippa while looking in earnest for a camera.
She continued to search with these keywords in mind, focusing on auto-focus film compact cameras. And then, she found it. In her hands was the Genba Kantoku from Konica. You can snap a photo just by pressing the shutter. It has auto-focus, flash and auto-load. "It's a little big, but it's affordable and seems easy to use!"
Chuko Camera Box is famous for its friendly store clerk and regular customers. Yurippa learned that the Genba Kantoku was formerly used for recording at construction sites. It's durable and can get wet or be dropped and has an excellent lens. She's finally made her purchase!
■Information
Chuko Camera Box
Address: 1-13-7 Nishi-Shinjuku, Shinjuku, Tokyo
Tel: 03-5339-2701
Opening Hours: 10:00-20:30
Access: 2-minutes on foot from Shinjuku Station
Website: http://camerabox.web.fc2.com
Yurippa loaded her Genba Kantoku right away with 35mm film. Simply take out the film tip and close it on its back. Film cameras can seem tricky, but there are easy-to-use ones like this too!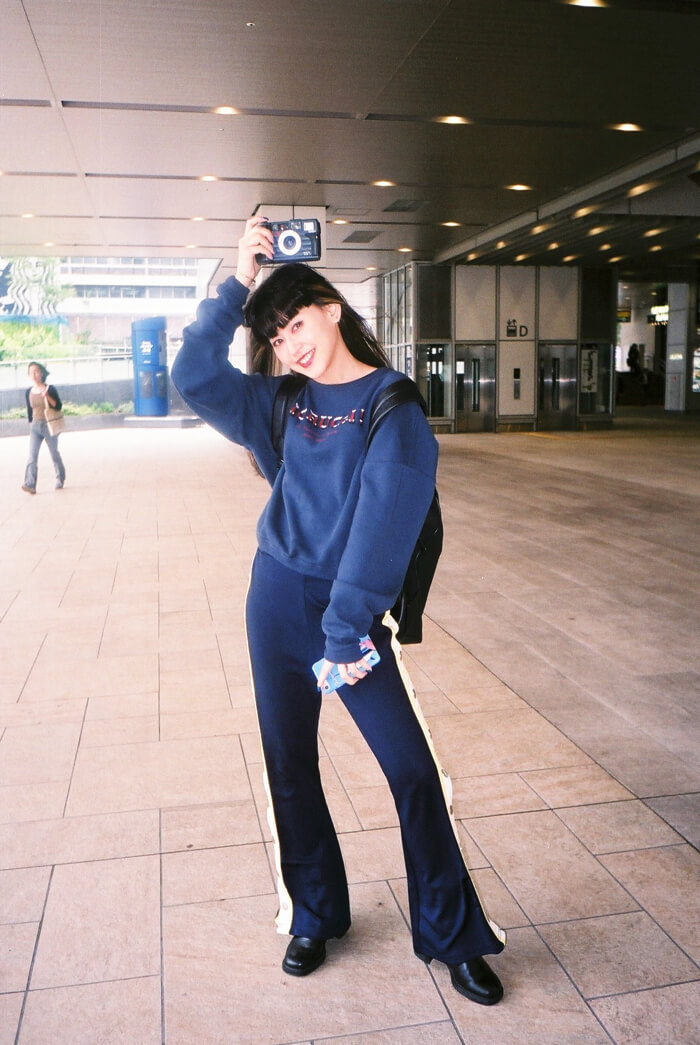 Yurippa was hugely satisfied finally getting her hands on her long-sought film camera. In the second part of this article, she will develop and print the photos that she has taken with her Genba Kantoku at a photo shop.
How about getting yourself your own film camera and to start up photography yourself?
<Profile>
Model: Yuri Suganuma @yurippa93
Yuri Suganuma is a model with a high fashion sense that has been picked up by various magazines. She receives much love and support from girls of the same generation as her to whom she is known by her nickname "Yurippa." She has a huge influence across her social media. Recently, she has stepped into other fields outside of modelling, such as appearing in TV shoots and in music videos. She is skilled in make-up and involved in the development of cosmetics.
Photographer & Writer: Haruka Yamamoto
Translator: Joshua Kitosi-Isanga
RECOMMENDED ENTRIES
Experience Japanese Culture #3: Temari Sushi Lesson in a Japanese Food Class at Dikanyama

Japanese model Yuri Sugunama, a.k.a "Yurippa," is taking us on the third trip in her series series where she goes to personally experience Japanese culture and cultivate new hobbies. This time, she gets involved in a cooking lesson to make springtime temari sushi! Yurippa has always had an interest in homemade cooking but never really had the opportunity to challenge herself to it. So, how did she do…?


uki-uki cafe is located in Daikanyama which is just one stop from Shibuya on the Tōkyū Tōyoko Line. It's an easy place to get to just 5-minutes from the station tucked away in a quiet residential area. Upon opening the door to the café, you are greeted with a fresh space full of green plant life. You'll totally forget about the hustle and bustle of the city.


Teaching the lesson is uki-uki cafe's representative, Ayumi Kashiwabara. She's a food co-ordinator who promotes happy cooking that you'll unintentionally want to take a photo of. Not only does she serve food that makes your everyday dining table evermore buoyant, she also holds cooking lessons every now and then. "Call me Ayu-chan-sensei, okay?" she says with a pose. She's extremely friendly!


Today's challenge is making two items: 'temari sushi' and 'spring mizore soup.' First off, the temari sushi! You begin by mixing together 250g of rice with 25ml of vinegar, 15g of sugar, and 1/2 teaspoon of salt. This is then divided into 8 portions. Spread out some clingfilm and place ham in the middle. Then put one portion of rice on top and roll. Do this for all 8 portions. Roll the ham and rice into one and when taking the clingfilm off make sure that they stay together and don't separate.


Next is making plum lotus roots. Fill the holes of the lotus roots with bainiku plum. Use your finger to delicately press it all together. It's easy if you use a tube for this part. An excited Yurippa exclaimed, "This is the first time in my life I'm making food using bainiku plum!"


At this point, Ayu-chan-sensei added a small touch: "It'll look gorgeous if you do it like this." With just a little twist, she made it look even more fantastic by putting on thinly sliced lemon and sprinkling over some pepper. The two of them looked like they were having fun cooking next to each other.



Before dishing up the temari sushi, it's time to make the mizore soup. Add two teaspoons of Japanese dashi to 120ml of water and mix in one teaspoon of soy sauce, one teaspoon of sake, one teaspoon of mirin, and a little salt. Bring to the boil and just add some grated daikon. Daikon skin has nutritional value, so wash it thoroughly and rub dry.


Finally, add green beans into the mizore soup, put in wheat gluten, and… "All done!"


Yurippa's colourful temari sushi and mizore soup is complete and perfect for spring. Going out and adding seasonal a lunch mat, pair of chopsticks and tableware is fun too.


Yurippa was happy, commenting: "I can feel that food made by hand really is more delicious! It was easy and didn't take long, plus I like how exciting it looks. I want to invite my friends over to my house for a meal."

Cooking lessons are held once in a while at uki-uki cafe where you can learn how to make food that'll make your ordinary days more fun. If you think a cooking lesson is a little too much to handle, then just pop in to the café for a kawaii meal. Coming face to face with the food at uki-uki cafe will surely make your day that much happier.

■Information
uki-uki cafe
Address: 88.DAIKANYAMA 3F, Daikanyamacho, Shibuya, Tokyo
Opening Hours: 11:00-18:00 (Lunch Last Orders 16:00 / Last Orders 17:30)
Access: 5-minutes on foot from Daikanyama Station via the Tōkyū Tōyoko Line
Website: http://ayupichi.com/index.html
*Cooking classes are held at irregular periods. Please enquire beforehand if you are a visitor from overseas.

Model: Yuri Suganuma @yurippa93


Yuri Sugunuma is a model with a high fashion sense that has been picked up by various magazines. She receives much love and support from girls of the same generation as her to whom she is known by her nickname "Yurippa." She has a huge influence across her social media. Recently, she has stepped into other fields outside of modelling, such as appearing in TV shoots and in music videos. She is skilled in make-up and involved in the development of cosmetics.

Writer & Photographer: Haruka Yamamoto

Translator: Joshua Kitosi-Isanga

Experience Japanese Culture #2: Comparing Tastes of Unique Japanese Chocolates – From Matcha to Sake

Japanese model Yuri Sugunama, a.k.a "Yurippa," is taking us on her next trip in this series where she goes to personally experience Japanese culture and cultivate new hobbies. Yurippa loves chocolate – she eats one tablet of the stuff day. In this Valentine's-special second entry, Yurippa sampled different chocolates that are popular right now.

For Valentine's Day in Japan, it's custom for girls give guys chocolate and convey their feelings towards them. Guys return the favour on a day called White Day, which falls on March 14. So, since there's one month to go before the big day, that means the most delicious chocolate in the world is about to hit shelves in Japan – popular both in Japan and overseas.

The first pick was the classic "KitKat," a very well-known brand in over 100 countries. The Japanese brand of KitKat is actually made in Japan. It's received much attention around the world for its original flavours. It's also known for being associated with exam season for students – the word KitKat in Japanese (kitto katto) almost sounds like the phrase "Kitto Katsu!" which means "You will surely win!"

Yurippa tried out the new "KitKat Chocolatory" series, created by the chef and owner of "La Patissier Takagi," Yasumasa Takagi. The "Sublime Valentine's Assortment" costs ¥2,400 (tax excl.) and includes 7 KitKat bars with 6 different flavours. There's dark chocolate, milk chocolate, white chocolate, matcha, raw, and a pink coloured ruby flavour. It's a great selection to share and eat together with people.

The centerpiece of the collection is new Ruby KitKat, developed by the Swiss chocolate makers Barry Callebaut over a period of more than 10 years. The chocolate uses no colouring agents – the pink colour is made naturally to create an entirely new chocolate. Yurippa gave it her stamp of approval, saying it'll be popular with girls for its vivid pink colour. She couldn't contain her surprise for this newfound chocolate, saying "The berry flavour has a sour taste, but it's different from strawberry chocolate. It's something I've never tasted before."

Next on the list is "Tea Chocolate Premium Matcha 7". Costing just ¥1,000 (tax excl.), these chocolates are made by Shizuoka Matcha Sweet Factory "Nanaya," who are known for producing the world's most rich flavoured matcha gelato. These matcha chocolates don't hold back on the milk so as to bring out the fragrance and taste of the tea leaves to the max. The set comes with 7 different matcha chocolates of varying intensity and 1 houjicha flavoured chocolate.

Yurippa expressed her excitement for the delicious chocolate before opening it. "When you open the packaging, the fresh smell of the tea whets your appetite so much you can't wait to tuck in!"

The chocolate and tea leaves have a good combined balance of 3.1%, and the smell and taste of the leaves kicks in with a strong flavour combination of 21%. "The tea leaf combination is different but my impression of the chocolate changed dramatically!"

"If you eat the chocolates in order as written on the packaging, you can understand each flavour's intensity much better! This chocolate would go better with hot milk or soy milk than coffee. The richer chocolate flavours are fairly moderate when it comes to sweetness, so if you're on a diet then you can eat them without feeling guilty."

The last pick is from the long-standing chocolate maker Mary Chocolate. The KANADE Japanese Sake Truffles (¥1,000) come in 3 flavours – milk, sweet and white – and are topped with carefully selected Japanese sake. Only the finest sake from Japan is used, such as Gokyo Junmai Sake from Yamaguchi Prefecture. Since the truffles contain alcohol, be wary not to hand them out to minors or people that are driving.

"There's a good balance between the chocolate and sake, and depending on which brand of sake is used, you can enjoy a different flavour on your taste buds from each!"

Yurippa's favourite was the milk truffle topped with Koyama Shuzo. She was very satisfied having recently acquired a taste for sake. "It brings out the enduring qualities of refreshing Japanese sake and a fruitiness. I really want people who like Japanese sake to try these! If you're not too good with sake from Japan, then I recommend the white chocolate truffle with Ichiro from Dewazakura. The subtle fragrance of sake that you can feel inside the smooth texture of the white chocolate makes it really sophisticated."

Yurippa gives friend chocolate to everyone on Valentine's Day, guys and girls. Why don't you try tasting this unique Japanese collection of chocolates recommended by Yurippa with everyone?

Model:Yuri Suganuma @yurippa93

Yuri Sugunuma is a model with a high fashion sense that has been picked up by various magazines. She receives much love and support from girls of the same generation as her to whom she is known by her nickname "Yurippa." She has a huge influence across her social media. Recently, she has stepped into other fields outside of modelling, such as appearing in TV shoots and in music videos. She is skilled in make-up and involved in the development of cosmetics.

Writer:Ryoichi Komaba

Photographer:Haruka Yamamoto

Translator: Joshua Kitosi-Isanga

Experience Japanese Culture #1: Japanese Kickboxing at "FIGHT CLUB 428" in Shibuya

Japanese model Yuri Suganuma, a.k.a. 'Yurippa,' is beginning a new serialized project in which she goes to personally experience different areas of Japanese culture. In this first entry, Yurippa headed to FIGHT CLUB 428 in Shibuya to learn kickboxing, a form of martial art known to be very effective when it comes to dieting and getting rid of stress.

FIGHT CLUB 428 sits in the heart of Dogenzaka, a 7-minute walk from Shibuya Station. Serving up a convenient fitness menu and equipped with a bar, 428's kick-back and welcoming atmosphere is its charm point.

It's actually not that well known, but kickboxing is a sport that originated in Japan. Traditionally, it's a martial art and combat sport that is fought without weapons and uses the game rules of Muay Thai.

The gym itself is clean, and women can also enjoy using the facility without worry. Female members of the gym are generally around the age of 25, and everyone there is extremely friendly, so it's also a great place to make friends. You can also rent gym clothing if you want, meaning you can drop in empty-handed even if you're on a trip.

Yurippa took a 1-day course (¥3,000) where she was taught by kickboxing teacher Ohno Umihiko. Just wow, being taught by a former kickboxer… not to mention how handsome he is!

Before starting training, you just stretch your body. Your muscles are quite stuff during the winter season making it easier to hurt yourself, so do it slowly and carefully.

One stretching is over, Yurippa moved onto the training basics – how to skip-rope. She was taught the proper way to jump like you see in movies and dramas: by using your ankles. But she was still a bit stiff somewhere, maybe because she wasn't used to the jump roping yet, or maybe because she was still nervous from the gym atmosphere.

Moving on, Yurippa finally transitioned to the next phase: how to punch. The teacher wrapped bandage around her fists so she couldn't injure them.

Once her bandages were on, her fighting spirit came through suddenly and she put on her war face. She settled on her fighting pose and was brimming with motivation!

She focused on jabs for the punching basics, learning to punch straight and how to hook.

The teacher praised Yurippa for having an aptitude for punching which raised her ferociousness even more. She went all out when practicing a finishing punch combination!

Her smug face and pose makes her look like she's saying "How do I look? Am I cool?"

Don't forget to rehydrate during training intervals. By the way, you can buy this bottle at the gym.

Next is punching the focus mitts while wearing gloves. Before punching the mitts, it's customary to set your gloves on them first.

Kickboxing its more effective for dieting than it looks because it uses your whole body. You also have to twist around a lot, so you can really tone up your waist line.

The mid-kicks were a particularly good stress-reliever for Yurippa. If you aim at the mitts and kick with everything you have it makes a really great sound, so can be very exhilarating.

The teacher is very skilled in his way of teaching. Girl-Fighter-Yurippa has been born magnificently! Originally, Yurippa did slow activities such as yoga and was bad at them. She said that the movements in kickboxing are cool and it's something she wanted to challenge herself to at least once. "Having finally experienced it, it was even more fun than I expected. I want to try continuing it!"

The gym also has a popular bar. The owner Ohno loves alcohol. He wanted more people to know about the gym so he built a bar than anyone can visit easily. The bar also comes with a special bonus: when the gym is full, people can order drinks for just ¥300! FIGHT CLUB 428 – the place where you can kickbox and enjoy a drink on the side. If you're in Shibuya, then be sure to stop by.

■Information

FIGHT CLUB 428

Address: 2-27-2 Dogenzaka, Shibuya, Tokyo

Opening Hours: Monday to Thursdays 7am-12am / Fridays to Saturdays 7am-7am next day / Sundays 7am-6pm

Access: 7-minutes' by foot from Shibuya Station via the Keio Inokashira Line, Tokyu Toyoko Line, Tokyo Metro Lines, JR Lines

Price: 1-Day Course ¥3,000 (tax incl.) / Personal Training ¥7,000 (tax incl.)

Website: http://fightclub.co.jp

Model:Yuri Suganuma @yurippa93

Yuri Sugunuma is a model with a high fashion sense that has been picked up by various magazines. She receives much love and support from girls of the same generation as her to whom she is known by her nickname "Yurippa." She has a huge influence across her social media. Recently, she has stepped into other fields outside of modelling, such as appearing in TV shoots and in music videos. She is skilled in make-up and involved in the development of cosmetics.

Writer:Ryoichi Komaba

Photographer:Haruka Yamamoto

Translator:Joshua Kitosi-Isanga
RELATED ENTRIES
Japanese Michelin Star Chef to Open New Restaurant Kimura Don in Shinjuku

A new restaurant by the name of Kimura Don is set to open inside Shinjuku Takashimaya's Restaurant Square on July 20, 2021.

Kimura Don is a new donburi restaurant produced by Koji Kimura, a chef whose popular sushi bar Sushi Kimura, located in Futakotamagawa, has held two Michelin stars since 2013. His new eatery continues the traditions and techniques honed at Sushi Kimura while spinning innovation into new donburi rice bowl dishes conceived from the many ideas Kimura has conceived over the years.

The donburi to be served recreates that perfect balance between vinegared rice and toppings which Kimura mastered at his sushi bar. Customers can enjoy a range of additions including donburi classics such as meat and fish as well as seasonal ingredients. The restaurant also uses locally grown and reared produce and ingredients that's also environmentally-friendly from Tokyo such as Kinuhari rice from Hachiojo and Akigawagyu beef. This will help to foster a relationship between local farmers and consumers. 

Lunchtime Dishes | ¥3,500 Each | Serving Times: 11:00-17:00 (Last Orders 16:00)

Pick from five different donburi bowls such as tuna, pilchard, and roast beef. Each season will also has its own exclusive dish made with seasonal ingredients. There's also a special option to order a set of two smaller versions of the dishes too for ¥3,800. 

Evening Courses | From ¥12,000 | Serving Times: 17:00-23:00 (Last Orders 22:00)

The evening course line-up is also made up of five different bowls as well as seven seasonal snacks.

Koji Kimura | Comment

"I've been set up in Futakotamagawa for 16 years. I studied how to prepare sushi rice for many years, since it serves as the foundation, so that I could create unique sushi. I have made sushi rice that's unique and draws a line under other restaurants, rice which when combined with toppings explodes with umami flavour. I use this same sushi rice as the basis for lots of innovative donburi dishes, and I'd love for people to enjoy a taste at the first place in Japan to do this."

Life Lessons with Uramichi Oniisan Anime Series Collaborates With Rascal the Raccoon

In promotion of the anime adaptation of Gaku Kuze's manga series Life Lessons with Uramichi Oniisan, a merchandise collection was released in collaboration with Nippon Animation's series Rascal the Raccoon on July 9 at Shinjuku Marui Annex. The items will also be released at Nanba Marui and Hakata Marui on July 24 and August 7 respectively.

A little look at some of the items

Name Badges | 5 Designs | ¥660 Each (Tax Included)

Pins | 8 Designs | ¥440 (Tax Included)

Keyrings | 8 Designs | ¥770 (Tax Included)

Keyrings | 6 Designs | ¥1,100 Each (Tax Included)

Keyrings | 8 Designs | ¥880 (Tax Included)

Acrylic Stands | 8 Designs | ¥880 (Tax Included)

Wooden Reversible Keyrings | ¥660 (Tax Included)

Hand Towel | ¥1,100 (Tax Included)

Onigiri Case | ¥1,320 (Tax Included)

Pass Case | ¥2,970 (Tax Included)

Tote Bag | ¥1,650 (Tax Included)

T-Shirts | Sizes: M, L, XL | ¥3,850 Each (Tax Included)

Exclusive artwork was illustrated for the collection featuring the characters Uramichi Omota, Tobikichi Usahara, Iketeru Daga, Utano Tadano, Kotori-san, and Rascal. The designs are featured on the merchandise sold at the pop-up shops.

©久世岳・一迅社/「うらみちお兄さん」製作委員会 © NIPPON ANIMATION CO., LTD.

Hokusai and Hiroshige Japan Blue Ukiyo-e Exhibition Opens in Shinjuku

The Adachi Foundation for the Preservation of Woodcut Printing is currently holding an exhibition centred on the Japanese ukiyo-e artists Hokusai and Hiroshige at their permanent exhibition in Shinjuku.

Shibusawa Eiichi (1840-1931) was a Japanese industrialist who is often known as the 'father of Japanese capitalism.' In Japan, people have a strong image of him as being a great man of modern history, but in actual fact one third of his life was lived during the same era as when esteemed ukiyo-e artists Hokusai and Hiroshige were alive. The Adachi Foundation's exhibition focuses on the colour blue, one which has roots during that era and has gone on to become a prominent colour in present day Japanese companies.

The immense popularity of bright blue ukiyo-e

Aizuri-e is a type of woodblock print that is printed predominanetly in blue. They were extremely popular in Edo and used Prussian blue, also nicknamed 'Japan blue.' Hokusai used this same colour when creating his famous Thirty-six Views of Mount Fuji, as did Hiroshige, bringing life to the backgrounds and environment.

Japan Blue: Ukiyo-e From Japan to Paris

Hiroshige showcased his work at the second Exposition Universelle in 1867, making it the first time for ukiyo-e to be properly shown to the world, allowing for the spread of Japonisme. Taken aback by how he used the Prussian blue, the people of Europe praised Hiroshige's work and named the colour 'Hiroshige Blue.' It was a turning point for Japan as the country began opening up to the world, enabling them to witness the skills of Japanese craft.

The Adachi Foundation is also hosting the exhibition online in VR for free which is available in both English and Japanese. Visitors can enjoy Hokusai and Hiroshige's work up close.

Information

Japan Blue in Hokusai & Hiroshige's Ukiyo-e: The Period in Which Shibusawa Eiichi Lived

Japanese Exhibition Title:「北斎・広重の浮世絵に見るジャパンブルー _~渋沢栄一の生きた時代~」

Running: June 22, 2021 — August 21, 2021

Address: 3-13-17 Shimoochiai, Shinjuku, Tokyo 161-0033, Japan

Opening Hours: [Tue-Fri] 10:00-18:00 / [Sat] 10:00-17:00

Closed: Sundays / Mondays / Public Holidays

Entry: Free

Exhibition Online: https://my.matterport.com/show/?m=WJVeiudxTHg

Promare x Little Twin Stars Merchandise Releases in Collaboration With THE CHARA SHOP

The anime film Promare, Sanrio's Little Twin Stars, and THE CHARA SHOP teamed up to release a collaborative merchandise collection at Shinjuku Marui on July 1.

Wire Keyring Illustrated by Shigeto Koyama | 2 Designs | ¥880 Each (Tax Included)

Mirror Illustrated by Shigeto Koyama |  ¥880 Each (Tax Included)

Mini Towels Illustrated by Shigeto Koyama | 2 Designs | ¥990 Each (Tax Included)

Pin Set Illustrated by Shigeto Koyama | ¥1,320 (Tax Included)

Acrylic Stand Illustrated by Shigeto Koyama | 2 Designs | ¥1,430 Each (Tax Included)

Mug Illustrated by Shigeto Koyama | ¥1,650 (Tax Included)

Tote Bag | ¥2,200 (Tax Included)

Freebies for every ¥3,000 spent on merchandsie

The merchandise collection features adorable designs illustrated by Shigeto Koyama in the style of Sanrio's Little Twin Stars.

©TRIGGER・中島かずき/XFLAG © '21 SANRIO CO., LTD. APPR. NO. S620339

Information

Promare x Little Twin Stars x THE CHARA SHOP
Running: July 1, 2021 – July 13, 2021

Location: Shinjuku Marui Annex (Floor 6F)

Address: 3-1-26 Shinjuku, Shinjuku-ku, Tokyo, 160-0022, Japan
*Opening hours subject to change depending on COVID-19

Cute Little Bird Themed Event Opens at Odakyu Department Store in Shinjuku

The Shinjuku Bird Festival opened on the 11th floor of Odakyu Department Store in Shinjuku, Tokyo on June 30 where it's running until July 6.

Some of the cute bird products to get your beaks on

Piyo Piyo Gao Poncho-chan: ¥8,250 / Piyo Piyo Gao Goggle-chan: ¥5,500

Ikimono Cookie kurimaro collection Cookies: ¥432 Each

Kisuke Paper: Large ¥3,850 / Small ¥2,750 (Available July 3-4 only)

Hoholala Kobo Oven Glove | ¥2,200

m-pool Glass Necklace | ¥4,950

Wild Bird Paintings | ¥1,980 Each

Hoholala Kobo x Oiue-dou Pouches: ¥2,200
 

Free fan for buyers

Free postcard for buyers

Bird lovers will be able to get their talons on everything from accessories to desserts and more. Many of the items are exclusive to the event, and there's also some freebies: the first 100 people to spend over ¥3,000 each day will receive an original fan, and the first 300 people to arrive at the festival each day will get a postcard.

Information

Shinjuku Bird Festival
Running: June 30, 2021 – July 6, 2021

Opening Hours: 10:00-20:00
Location: Odakyu Department Store Shinjuku (Floor 11F)

Address: 1-1-1 Nishi-Shinjuku, Shinjuku-ku, Tokyo

Access: Outside Shinjuku Station's west exit
TEL: 0570-025-888
Official Website: http://www.odakyu-dept.co.jp/


Sanrio Character Themed Afternoon Tea and Cafe Items Arrive at EGG & SPUMA

The Shinjuku branch of EGG & SPUMA is now hosting "Sanrio Characters CAFE," a menu of food and drink themed on Sanrio's beloved characters. Running until August 31, the cafe has also been decorated in colourful and cute Sanrio designs.

Receive a free coaster with your order

The menu line-up features lots of fruits, including the Cinnamoroll crème brûlée which is served on weekdays only, fruit sandwiches which will include My Melody themed ones this month and June, Hello Kitty and Keroppi ones in July, and Little Twin Stars in August. There's also fruity jelly and more.

If you're a Sanrio fan look to indulge a little more, then there is also a two-tiered afternoon tea set. The upper plate includes Kiki & Lala sandwiches, a Keroppi tart, the Cinnamoroll crème brûlée, and more. On the bottom plate there is Hello Kitty apple jelly, My Melody strawberry caprese salad, Kuromi canapé, and so on. There will also be special pancakes and a jelly dessert arriving in June which must be booked in advance.

Which of these Instagram-worthy delights do you want to tuck into?

Information

Sanrio Characters CAFE
Address: EGG & SPUMA Shinjuku Lumine EST (Floor 8F), 3-38-1 Shinjuku, Shinjuku-ku, Tokyo,  160-0022
Running: May 15, 2021 – August 31, 2021

Opening Hours: 11:00-20:00 (Last Orders 19:00)
TEL: 03-6273-0255
Official Website: http://www.salt-inc.co.jp/egg-and-spuma/

Idol Group Tsubaki Factory Features on Tower Records Shinjuku's NO MUSIC, NO IDOL? Poster

In promotion of their upcoming album 2nd STEP, which will hit shelves on May 26, Japanese idol group Tsubaki Factory was featured in Vol.242 of Tower Record Shinjuku's idol project NO MUSIC, NO IDOL?.

Tsubaki Factory in NO MUSIC, NO IDOL Vol.242

Tsubaki Factory formed in 2015 as members of Hello Project, an all-female idol group project managed by UP-FRONT AGENCY. The eight-member group made their debut with the release of their first single Hatsukoi Sunrise/Just Try!/Uruwashi no Camellia in 2017. In the same year, they receive the Newcomer Award from the 50th Japan Cable Awards.

Their forthcoming 15-track album 2nd STEP will include six singles from their fifth to their current as well as three additional tracks and six brand new ones. Tower Records is handing out posters and postcards to fans who pre-order or buy the record at select stores.

Receive a free NO MUSIC, NO IDOL? poster and postcard

Posters and postcards will be given to fans who purchase any of the three editions of 2nd STEP at the select Tower Records branches below. Available in limited stock on a first-come, first-served basis, those who pre-order the album will be given priority of posters and postcards over those who purchase it after its release.

Participating Branches: Sapporo PIVOT/Sendai PARCO/Shinjuku/Yokohama Vivre/Niigata/Shizuoka/Nagoya PARCO/Umeda NU Chayamachi/Hiroshima/Takamatsu Marugamemachi/Fukuoka PARCO/Naha

2nd STEP will be released in 3 editions

First Press Limited-Edition A (CD+Blu-ray+48 Page Booklet) | ¥8,800 (Tax Included)

First Press Limited-Edition A includes the album, all versions of the music videos from the group's 5th single to their current release, a Blu-ray featuring a behind-the-scenes shoot of the album cover photos, and an 48-page A4-size photo book.

First Press Limited-Edition B (CD+DVD) | ¥5,500 (Tax Included)

First Press Limited-Edition B  includes a DVD featuring the footage taken from a drama event hosted by the group.

Regular Edition (CD) | ¥3,300 (Tax Included)

Get a freebie with your purchase at Tower Records 

Purchasing the new album at Tower Records, TOWERmini, or the Tower Records online store will earn fans the below-pictured A4 folder. Available in limited stock on a first-come, first-served basis, those who pre-order the album will be given priority of folders over those who purchase it after its release.

Information

Tsubaki Factory – "2nd STEP"

Release Date: May 26, 2021

Tower Records Official Website: https://tower.jp

Häagen-Dazs Dessert Buffet Whipped Up at Keio Plaza Hotel

Keio Plaza Hotel in Shinjuku, Tokyo, is welcoming Häagen-Dazs through its doors who have prepared a very special dessert buffet for the hotel's "Summer Trip with Häagen-Dazs" service. The sweet treat line-up will be served from June 1 to September 30 along with a range of savoury foods from around the world – an inviting prospect to those unable to travel during the pandemic.

Sweets Collection with Häagen-Dazs ~Ice Cream Holic~ | General ¥4,800, Children (Aged 4-12)

The first entry to the Summer Trip with Häagen-Dazs is the "Sweets Collection with Häagen-Dazs ~Ice Cream Holic~" dessert buffet. To protect customers, all desserts are ordered and served like a course rather than going to pick up the food yourself. This marks the third year of the dessert buffet, and this time it's inspired by ice cream shops in New York, the home of Häagen-Dazs. Ice cream will be served in a cool and refreshing variety of ways.

Experience that feeling of picking out a flavour from the ice cream store with a line-up of eight flavours including classics such as vanilla and strawberry as well as the new rich royal milk tea. Each serving is customisable with numerous toppings.

Other menu items include mini ice cream croissants, ice cream sodas, ice cream cake, and more. There's also a line-up of savoury food too if you want to line your belly before dessert: fried chicken, burgers, hot dogs, fries, and so on.

While the buffet is on, the hotel restaurant itself will be transformed into an ice cream theme park with summery tropical fruit colouring as well as designs and decor inspired by ice creams and cones.

Information

Sweets Collection with Häagen-Dazs ~Ice Cream Holic~

Running: June 1, 2021 – September 30, 2021

Bookings; Now Open

Location: Jurin (Keio Plaza Hotel Floor 2F)

Address: 2-2-1 Nishi-Shinjuku, Shinjuku-ku, Tokyo

Slots: 15:00-17:00 (Last Orders 16:30) / 15:30-17:30 (Last Orders 17:00)

Jurin Official Page: https://www.keioplaza.com/restaurants/coffee.html

Deliciously Luxurious Matcha Shaved Ice to be Served in Shinjuku This Summer

This summer, Southern Tower Dining and Lounge South Court—both of which are located inside Odakyu Hotel Century Southern Tower—are serving up a fluffy matcha shaved ice dessert called Wa -Nagomi- from June 1 to September 30.

Southern Tower's Famous Fluffy Light Snowfall Wa -Nagomi- Shaved Ice | Eat In ¥1,470, Takeout ¥700

The matcha-flavoured shaved ice has a texture as light and fluffy as snow. As you spoon through the dessert your taste buds are met with a range of delicious tastes and textures like the Japanese rice flour confection known as gyuhi, winter melon syrup, black soybean flour ice cream, and cream.

The dessert can also be ordered for takeout. The black soy bean flour ice cream adds a crunchy cereal-like texture to the soft shaved ice, and with the takeout option, there's also chocolate-coated wheat bran and brown sugar syrup.

Information

Wa -Nagomi-

Japanese Name: 和 -なごみ-

Serving: June 1, 2021 – September 30, 2021

Where: Southern Tower Dining / Lounge South Court (Odakyu Hotel Century Southern Tower Floor 20F)

Address: 2-2-1 Yoyogi, Shibuya, Tokyo

Opening Hours:

[Southern Tower Dining] 11:30-16:00 (Last Orders 15:00) / 17:30-22:00 (Last Orders 21:00)

[Lounge South Court] 10:00-23:30 (Last Orders 22:30)

Southern Dining Official Website: https://www.southerntower.co.jp/restaurant_lounge/st_dining/bar_lunch/

Tokyo's New Museum Cafe is a Haven For Fans of Architecture

Japanese company Banc, which specialises in setting up hotels and other sites, held the grand opening of the new Architecture Cafe Sumika, a new museum/cafe in Shinjuku, Tokyo, on April 28.

A peek inside

A recreation of Fallingwater, a house designed by the architect Frank Lloyd Wright 

Painting by chalk artist Misuzu Wakai

Architectural designs recreated at the new museum cafe

Villa Savoye (Le Corbusier)
Fallingwater (Frank Lloyd Wright)
Casa Ligornetto (Mario Botta)
Sky House (Kiyonori Kikutake)
Maison a Bordeaux (Rem Koolhaas)
Malin Residence "chemosphere" (John Lautner)
Eames House (Charles and Ray Eames)
Silver Hat (Toyo Ito)
Fisher House (Louis Kahn)
Mailam House (Paul Rudolph)
The Glass House (Lina Bo Bardi)
Steel House (Kengo Kuma)

A little look at the menu

<Miho Chef Chocolatier> Premium Gateau Chocolate: ¥1,200 / Raw Marble Chocolate: ¥1,000 / Raw Dami Chocolate ¥450

<Ten no Ya> Egg Sandwich: ¥750

Architecture Cafe Sumika aim sto be a cosy space for architecture lovers who can enjoy thinking about their ideal home, talking about their favourite architect, and thinking about how architecture changes with the times. The cafe has recreated 12 architectural marvels from 12 different renowned architects, each at which sits at a different table.

 

The cafe, which is located in Shinjuku Sanchome, employs a spacious cafe area with high ceilings that can be enjoyed by both lovers of architects and cafe enthusiasts where they can relax with a cup of tea, coffee, a soft drink, or even alcohol, the latter of which is served at bar hours from 18:00, completely changing the atmosphere into a night museum. There's also a tasty food menu to tuck into.

If you're looking to speak to someone about architecture and real estate, Architecture Cafe Sumika also houses its own resident experts. Customers can also enjoy a range of other works by architects and interior designers.

In celebration of the cafe's opening, a competition is being held to create a jungle gym for children where entrees can win cash prizes, the top being ¥300,000. More details below.

Information

Architecture Cafe Sumika

Address: 6th Sanwa Bldg Floor 4F, 3-6-7 Shinjuku, Shinjuku-ku, Tokyo
Opening Hours: Cafe 10:00-18:00 / Bar 18:00-04:00 (Last Orders 03:00)
No Fixed Holidays
TEL: 03-5315-0396
Official Website: https://sumika-shinjuku.com/

1st Architect Contest

Submission Period: June 20, 2021 – June 27, 2021
Winner Announcement: June 28, 2021
Winning Work Display Period: July 1, 2021 – August 30 2021

Submission Entry: Children's Jungle Gym

Size: Max 60cm x 60cm x 40cm

Colouring: Any

Cash Prizes: Winner ¥300,000 (1 Person) / Runner-Ups ¥100,000 (7 People)
Submissions: Must be made by June 19, 2021

How Winners Are Selected: Entrants will be posted on the cafe's official Instagram – the most popular from the votes will be selected

BEAMS JAPAN Shinjuku Launches Event to Promote Japan's Sento Bath Houses

The Sento no Susume 2021 event being held by BEAMS JAPAN and Cow Brand Soap has now headed to BEAMS JAPAN Shinjuku. As part of the event, Mizuno has held designed a 'running course' is collaboration with sento bath house owners who have listed their recommended spots for running.

From Left: Hiroshi Fukui (Managing Director at Cow Brand Soap), Aya Terakawa (Sports Caster), Mari Yamazaki (Manga Author), Ryozo Naganuma (Kotobukiyu's 3rd Generation Owner), Hikaru Ikeuchi (Chairman of Board of Directors)

BEAMS JAPAN Shinjuku Floor 1F – Sento no Susume 2021 Pop-Up

BEAMS JAPAN Shinjuku Floor 1F – Sento no Susume 2021 Pop-Up

BEAMS JAPAN Sento no Susume 2021 Virtual Venue

For many years, sento public bath houses have been big part of Japanese culture and are located up and down the country. They are places people go to unwind, relax, and destress. However, with times changing, they are because less part of people's lives, and the facilities themselves are seeing significant wear and tear as well as not having successors to take over the businesses. Sento no Susume aims to revitalise sento and raise their cultural value once again by showing how they can be enjoyed. The first event was held in January and February in 2019.

The event arrived at BEAMS JAPAN Shinjuku on April 26 and  invites manga artist Mari Yamazaki on board who has given the store a makeover with her iconic artwork themed on exercise and bathing. This event combines sento bath houses with sports, and so as well as discovering bath houses to visit, you can learn find out about great running courses at the Sento Run no Susume corner. There's also a virtual venue accessible on the official website that creates the store in 4K 3D so everyone around the world can get involved regardless of their location.

Information

Sento no Susume 2021
Srart Date: April 26, 2021

Special Areas

BEAMS JAPAN Shinjuku




Running: April 26, 2021 – May 31, 2021

MIZUNO OSAKA CHAYAMACHI




MIZUNO TOKYO

Sento no Susume 2021 Merchandise

Available at BEAMS in-store and online

Participating Branches: BEAMS JAPAN (Shinjuku)

Dates: April 26, 2021 – June 30, 2021

Future participating branches depending on Japan's state of emergency: BEAMS JAPAN SHIBUYA/BEAMS JAPAN KYOTO/BEAMS STREET UMEDA/HEP FIVE 



Event Details: https://www.beams.co.jp/special/teamjapan/sentou/
Virtual Venue: https://my.matterport.com/show/?m=pMV2FmHUg4M

BEAMS Official Website: https://www.beams.co.jp/

Laforet Harajuku Welcomes New Stores For Spring 2021

Starting this month, Laforet Harajuku is readying itself for Spring 2021 with the rollout of items by high-end brands and shops, all with an audience in mind who simply love culture regardless of their age or gender.

4.23 | New Store Opening
《Floor 3.5F》circle in circle

circle in circle welcomes a diverse selection of brands such as l'atelier du savon, CHILD WOMAN, and more. The new store's concept is to act as the perfect place for an appointment with your wardrobe. Every month, the store will collaborate with various different people, and line the shop floor with outfits that will have customers feeling like a kind in a candy store. For its initial opening, circle in circle is collaborating with photographer Kensuke Hosoya.

4.9 | New Store Opening

《Floor 1.5F》LIBERTY TOKYO

"Freedom" is the keyword at LIBERTY TOKYO, where customers are encouraged that it's great to get your hands on the things you want, and great to wear the things you want to wear. The shop stocks a range of apparel and items that combine accessories and fashion. They even sell stickers, merchandise, and more. This custom select shop offers made-to-order products, making each and every one unique and the only one in the world. It also collaborates with artists and other brands.

3.12 | New Store Opening

《Floor 5F》OSEWAYA TOKYO

OSEWAYA TOKYO is an accessory shop offering everything from basics to trends. Their motto is "bring your happiness" which is melded into their range, spanning the latest trends to must-have dailies. They have everything you hope a store specialising in accessories would have.

4.9~6.6 | New Store Opening

《Floor B0.5F》GLAZE KOHL x NUTTY VINTAGE

GLAZE KOHL x NUTTY VINTAGE is a limited-time collaboration shop between chic apparel brand GLAZE KOHL and NUTTY, a vintage shop that first opened in 1995. They line-up features new Spring 2021 items as well as the "GLAZE KOHL add VINTAGE" corner which features a selection of vintage items picked out by designers who themselves are vintage buyers. NUTTY VINTAGE is also offering a huge selection of the best authentic vintage items. Customers can enjoy some little limited-edition gifts when shopping there which are being given out to commemorate the shop's opening.

5.22~6.4 | New Store Opening

《Floor 4F》Mansion Mikura

Mansion Mikura's main store is located at Harajuku Cat Street. This limited-time rendition is a 'mansion' with four tenants – a collection of four second-hand shops including SAUCE which stocks miscellaneous items and second-hand clothes, top ranking vintage name STEP A HEAD, side car charlie which specialises in 'maniac items,' and the long-selling brand vintagesheets.

6.5~7.25 | New Store Opening

《Floor 4F》SAUCE

SAUCE is another vintage store located behind Cat Street. For its limited-time opening, it's selling hats in collaboration with Antage which previously sold out, as well as its own upcycled vintage clothing, as well as vintage clothes, rugs, and more from overseas.

5.22~5.30 | New Store Opening

《Floor 0.5F》vanilla(B0.5F)

vanilla will provide a diverse line-up of unique fashion as well as brands such as att production, room boy pony, phemesaccessories, and more.

5.31~6.6 | New Store Opening

《Floor 0.5F》Ochame Department

At Ochame Department, they believe simply being cute is being, and being the same as others is boring. Their fashion stock and handmade bits and bobs are imbued with the magic to make customers smile.

CLEAN KEEPERS Regular Member Uniforms

CLEAN KEEPERS is a cleaning project that takes place every Saturday at Laforet Harajuku in the hopes of creating a clean town and in turn clean hearts for all. Their uniform worn by regular members has changed into a blouson and one piece produced by ehka sopo on Floor B1F of Laforet. The blouson has a retro feel to it while the one piece has long sleeves and is inspired by 19th century British maids.

CLEAN KEEPERS

Running: Saturdays @ 10:30-12:30 (Booking Required/Cancellation if it rains)毎