Experience Japanese Culture #3: Temari Sushi Lesson in a Japanese Food Class at Dikanyama
Japanese model Yuri Sugunama, a.k.a "Yurippa," is taking us on the third trip in her series series where she goes to personally experience Japanese culture and cultivate new hobbies. This time, she gets involved in a cooking lesson to make springtime temari sushi! Yurippa has always had an interest in homemade cooking but never really had the opportunity to challenge herself to it. So, how did she do…?

uki-uki cafe is located in Daikanyama which is just one stop from Shibuya on the Tōkyū Tōyoko Line. It's an easy place to get to just 5-minutes from the station tucked away in a quiet residential area. Upon opening the door to the café, you are greeted with a fresh space full of green plant life. You'll totally forget about the hustle and bustle of the city.

Teaching the lesson is uki-uki cafe's representative, Ayumi Kashiwabara. She's a food co-ordinator who promotes happy cooking that you'll unintentionally want to take a photo of. Not only does she serve food that makes your everyday dining table evermore buoyant, she also holds cooking lessons every now and then. "Call me Ayu-chan-sensei, okay?" she says with a pose. She's extremely friendly!

Today's challenge is making two items: 'temari sushi' and 'spring mizore soup.' First off, the temari sushi! You begin by mixing together 250g of rice with 25ml of vinegar, 15g of sugar, and 1/2 teaspoon of salt. This is then divided into 8 portions. Spread out some clingfilm and place ham in the middle. Then put one portion of rice on top and roll. Do this for all 8 portions. Roll the ham and rice into one and when taking the clingfilm off make sure that they stay together and don't separate.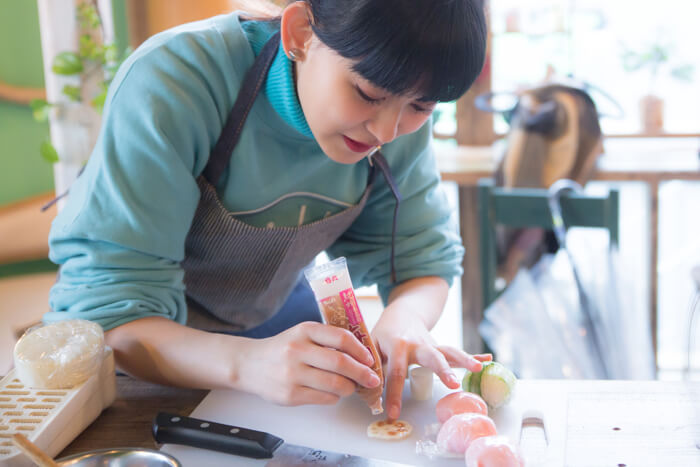 Next is making plum lotus roots. Fill the holes of the lotus roots with bainiku plum. Use your finger to delicately press it all together. It's easy if you use a tube for this part. An excited Yurippa exclaimed, "This is the first time in my life I'm making food using bainiku plum!"

At this point, Ayu-chan-sensei added a small touch: "It'll look gorgeous if you do it like this." With just a little twist, she made it look even more fantastic by putting on thinly sliced lemon and sprinkling over some pepper. The two of them looked like they were having fun cooking next to each other.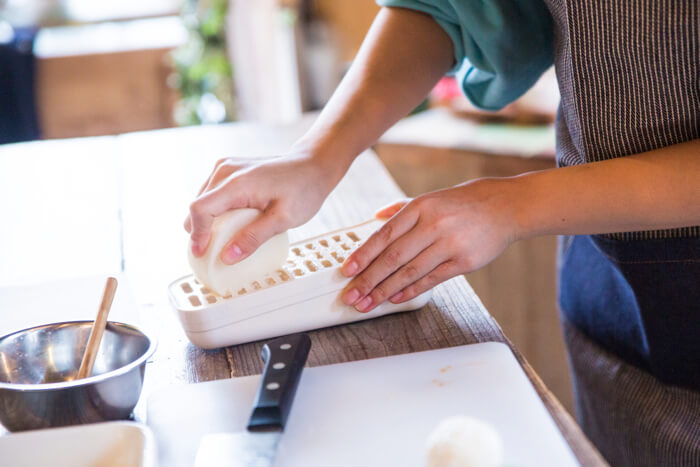 Before dishing up the temari sushi, it's time to make the mizore soup. Add two teaspoons of Japanese dashi to 120ml of water and mix in one teaspoon of soy sauce, one teaspoon of sake, one teaspoon of mirin, and a little salt. Bring to the boil and just add some grated daikon. Daikon skin has nutritional value, so wash it thoroughly and rub dry.

Finally, add green beans into the mizore soup, put in wheat gluten, and… "All done!"

Yurippa's colourful temari sushi and mizore soup is complete and perfect for spring. Going out and adding seasonal a lunch mat, pair of chopsticks and tableware is fun too.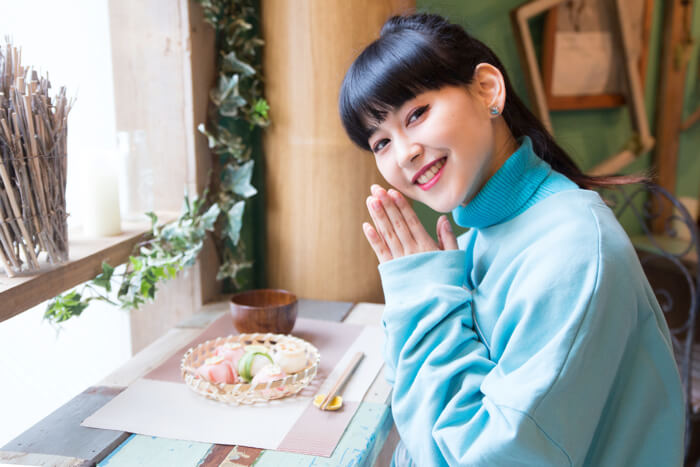 Yurippa was happy, commenting: "I can feel that food made by hand really is more delicious! It was easy and didn't take long, plus I like how exciting it looks. I want to invite my friends over to my house for a meal."
Cooking lessons are held once in a while at uki-uki cafe where you can learn how to make food that'll make your ordinary days more fun. If you think a cooking lesson is a little too much to handle, then just pop in to the café for a kawaii meal. Coming face to face with the food at uki-uki cafe will surely make your day that much happier.
■Information
uki-uki cafe
Address: 88.DAIKANYAMA 3F, Daikanyamacho, Shibuya, Tokyo
Opening Hours: 11:00-18:00 (Lunch Last Orders 16:00 / Last Orders 17:30)
Access: 5-minutes on foot from Daikanyama Station via the Tōkyū Tōyoko Line
Website: http://ayupichi.com/index.html
*Cooking classes are held at irregular periods. Please enquire beforehand if you are a visitor from overseas.
Model: Yuri Suganuma @yurippa93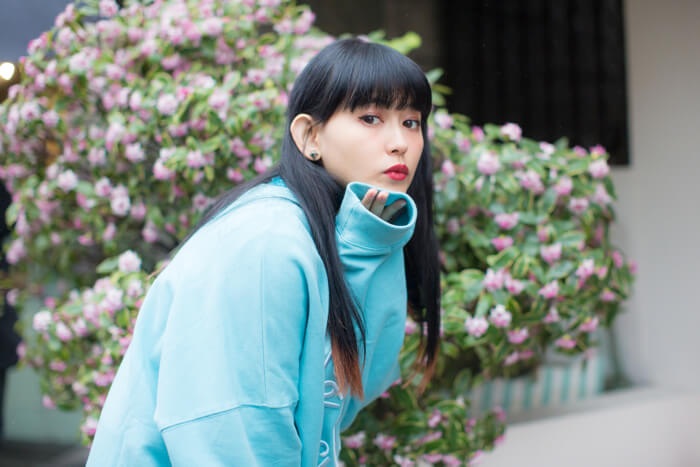 Yuri Sugunuma is a model with a high fashion sense that has been picked up by various magazines. She receives much love and support from girls of the same generation as her to whom she is known by her nickname "Yurippa." She has a huge influence across her social media. Recently, she has stepped into other fields outside of modelling, such as appearing in TV shoots and in music videos. She is skilled in make-up and involved in the development of cosmetics.
Writer & Photographer: Haruka Yamamoto
Translator: Joshua Kitosi-Isanga
RECOMMENDED ENTRIES
Experience Japanese Culture #1: Japanese Kickboxing at "FIGHT CLUB 428" in Shibuya

Japanese model Yuri Suganuma, a.k.a. 'Yurippa,' is beginning a new serialized project in which she goes to personally experience different areas of Japanese culture. In this first entry, Yurippa headed to FIGHT CLUB 428 in Shibuya to learn kickboxing, a form of martial art known to be very effective when it comes to dieting and getting rid of stress.

FIGHT CLUB 428 sits in the heart of Dogenzaka, a 7-minute walk from Shibuya Station. Serving up a convenient fitness menu and equipped with a bar, 428's kick-back and welcoming atmosphere is its charm point.

It's actually not that well known, but kickboxing is a sport that originated in Japan. Traditionally, it's a martial art and combat sport that is fought without weapons and uses the game rules of Muay Thai.

The gym itself is clean, and women can also enjoy using the facility without worry. Female members of the gym are generally around the age of 25, and everyone there is extremely friendly, so it's also a great place to make friends. You can also rent gym clothing if you want, meaning you can drop in empty-handed even if you're on a trip.

Yurippa took a 1-day course (¥3,000) where she was taught by kickboxing teacher Ohno Umihiko. Just wow, being taught by a former kickboxer… not to mention how handsome he is!

Before starting training, you just stretch your body. Your muscles are quite stuff during the winter season making it easier to hurt yourself, so do it slowly and carefully.

One stretching is over, Yurippa moved onto the training basics – how to skip-rope. She was taught the proper way to jump like you see in movies and dramas: by using your ankles. But she was still a bit stiff somewhere, maybe because she wasn't used to the jump roping yet, or maybe because she was still nervous from the gym atmosphere.

Moving on, Yurippa finally transitioned to the next phase: how to punch. The teacher wrapped bandage around her fists so she couldn't injure them.

Once her bandages were on, her fighting spirit came through suddenly and she put on her war face. She settled on her fighting pose and was brimming with motivation!

She focused on jabs for the punching basics, learning to punch straight and how to hook.

The teacher praised Yurippa for having an aptitude for punching which raised her ferociousness even more. She went all out when practicing a finishing punch combination!

Her smug face and pose makes her look like she's saying "How do I look? Am I cool?"

Don't forget to rehydrate during training intervals. By the way, you can buy this bottle at the gym.

Next is punching the focus mitts while wearing gloves. Before punching the mitts, it's customary to set your gloves on them first.

Kickboxing its more effective for dieting than it looks because it uses your whole body. You also have to twist around a lot, so you can really tone up your waist line.

The mid-kicks were a particularly good stress-reliever for Yurippa. If you aim at the mitts and kick with everything you have it makes a really great sound, so can be very exhilarating.

The teacher is very skilled in his way of teaching. Girl-Fighter-Yurippa has been born magnificently! Originally, Yurippa did slow activities such as yoga and was bad at them. She said that the movements in kickboxing are cool and it's something she wanted to challenge herself to at least once. "Having finally experienced it, it was even more fun than I expected. I want to try continuing it!"

The gym also has a popular bar. The owner Ohno loves alcohol. He wanted more people to know about the gym so he built a bar than anyone can visit easily. The bar also comes with a special bonus: when the gym is full, people can order drinks for just ¥300! FIGHT CLUB 428 – the place where you can kickbox and enjoy a drink on the side. If you're in Shibuya, then be sure to stop by.

■Information

FIGHT CLUB 428

Address: 2-27-2 Dogenzaka, Shibuya, Tokyo

Opening Hours: Monday to Thursdays 7am-12am / Fridays to Saturdays 7am-7am next day / Sundays 7am-6pm

Access: 7-minutes' by foot from Shibuya Station via the Keio Inokashira Line, Tokyu Toyoko Line, Tokyo Metro Lines, JR Lines

Price: 1-Day Course ¥3,000 (tax incl.) / Personal Training ¥7,000 (tax incl.)

Website: http://fightclub.co.jp

Model:Yuri Suganuma @yurippa93

Yuri Sugunuma is a model with a high fashion sense that has been picked up by various magazines. She receives much love and support from girls of the same generation as her to whom she is known by her nickname "Yurippa." She has a huge influence across her social media. Recently, she has stepped into other fields outside of modelling, such as appearing in TV shoots and in music videos. She is skilled in make-up and involved in the development of cosmetics.

Writer:Ryoichi Komaba

Photographer:Haruka Yamamoto

Translator:Joshua Kitosi-Isanga

Experience Japanese Culture #2: Comparing Tastes of Unique Japanese Chocolates – From Matcha to Sake

Japanese model Yuri Sugunama, a.k.a "Yurippa," is taking us on her next trip in this series where she goes to personally experience Japanese culture and cultivate new hobbies. Yurippa loves chocolate – she eats one tablet of the stuff day. In this Valentine's-special second entry, Yurippa sampled different chocolates that are popular right now.

For Valentine's Day in Japan, it's custom for girls give guys chocolate and convey their feelings towards them. Guys return the favour on a day called White Day, which falls on March 14. So, since there's one month to go before the big day, that means the most delicious chocolate in the world is about to hit shelves in Japan – popular both in Japan and overseas.

The first pick was the classic "KitKat," a very well-known brand in over 100 countries. The Japanese brand of KitKat is actually made in Japan. It's received much attention around the world for its original flavours. It's also known for being associated with exam season for students – the word KitKat in Japanese (kitto katto) almost sounds like the phrase "Kitto Katsu!" which means "You will surely win!"

Yurippa tried out the new "KitKat Chocolatory" series, created by the chef and owner of "La Patissier Takagi," Yasumasa Takagi. The "Sublime Valentine's Assortment" costs ¥2,400 (tax excl.) and includes 7 KitKat bars with 6 different flavours. There's dark chocolate, milk chocolate, white chocolate, matcha, raw, and a pink coloured ruby flavour. It's a great selection to share and eat together with people.

The centerpiece of the collection is new Ruby KitKat, developed by the Swiss chocolate makers Barry Callebaut over a period of more than 10 years. The chocolate uses no colouring agents – the pink colour is made naturally to create an entirely new chocolate. Yurippa gave it her stamp of approval, saying it'll be popular with girls for its vivid pink colour. She couldn't contain her surprise for this newfound chocolate, saying "The berry flavour has a sour taste, but it's different from strawberry chocolate. It's something I've never tasted before."

Next on the list is "Tea Chocolate Premium Matcha 7". Costing just ¥1,000 (tax excl.), these chocolates are made by Shizuoka Matcha Sweet Factory "Nanaya," who are known for producing the world's most rich flavoured matcha gelato. These matcha chocolates don't hold back on the milk so as to bring out the fragrance and taste of the tea leaves to the max. The set comes with 7 different matcha chocolates of varying intensity and 1 houjicha flavoured chocolate.

Yurippa expressed her excitement for the delicious chocolate before opening it. "When you open the packaging, the fresh smell of the tea whets your appetite so much you can't wait to tuck in!"

The chocolate and tea leaves have a good combined balance of 3.1%, and the smell and taste of the leaves kicks in with a strong flavour combination of 21%. "The tea leaf combination is different but my impression of the chocolate changed dramatically!"

"If you eat the chocolates in order as written on the packaging, you can understand each flavour's intensity much better! This chocolate would go better with hot milk or soy milk than coffee. The richer chocolate flavours are fairly moderate when it comes to sweetness, so if you're on a diet then you can eat them without feeling guilty."

The last pick is from the long-standing chocolate maker Mary Chocolate. The KANADE Japanese Sake Truffles (¥1,000) come in 3 flavours – milk, sweet and white – and are topped with carefully selected Japanese sake. Only the finest sake from Japan is used, such as Gokyo Junmai Sake from Yamaguchi Prefecture. Since the truffles contain alcohol, be wary not to hand them out to minors or people that are driving.

"There's a good balance between the chocolate and sake, and depending on which brand of sake is used, you can enjoy a different flavour on your taste buds from each!"

Yurippa's favourite was the milk truffle topped with Koyama Shuzo. She was very satisfied having recently acquired a taste for sake. "It brings out the enduring qualities of refreshing Japanese sake and a fruitiness. I really want people who like Japanese sake to try these! If you're not too good with sake from Japan, then I recommend the white chocolate truffle with Ichiro from Dewazakura. The subtle fragrance of sake that you can feel inside the smooth texture of the white chocolate makes it really sophisticated."

Yurippa gives friend chocolate to everyone on Valentine's Day, guys and girls. Why don't you try tasting this unique Japanese collection of chocolates recommended by Yurippa with everyone?

Model:Yuri Suganuma @yurippa93

Yuri Sugunuma is a model with a high fashion sense that has been picked up by various magazines. She receives much love and support from girls of the same generation as her to whom she is known by her nickname "Yurippa." She has a huge influence across her social media. Recently, she has stepped into other fields outside of modelling, such as appearing in TV shoots and in music videos. She is skilled in make-up and involved in the development of cosmetics.

Writer:Ryoichi Komaba

Photographer:Haruka Yamamoto

Translator: Joshua Kitosi-Isanga

【Kyoto Stroll】 Two travellers, one day of tourist spots, gourmet food and activities in Kyoto!

Welcome back to MOSHI MOSHI NIPPON's "Tokyo Stroll" series that recommends you travel destinations! Today, Hikari Shibata and Yuri Suganuma are leaving Tokyo and heading to the old capital Kyoto.

Together, Hikari and Yuri took the 07:00AM shinkansen train to Kyoto, arriving at 10:00AM. The first thing on their list was to fill up on some Kyoto gourmet! Sifting through Instagram and other SNS sites for the most popular spots, they decided to try some rare Kyoto confectionary at "Otabe Honkan".

 

Having set their hearts on eating before sightseeing, they visited "Otabe Honkan", a place they researched prior to their trip. After taking the subway to Jujo Station then walking for about nine minutes, they arrived.

They ordered according to what was popular online – "Kuchidoke Aisu" ( melt-in-the-mouth ice cream, ¥500 including tax), and the "Soufflé Sandwich" (¥162), which is new on the menu.

The melt-in-the-mouth "Kuchidoke Aisu" is an adzuki bean and milk shaved ice dessert which is topped with fluffy fresh cream and matcha. The Japanese word "ookini" (meaning "thank you" Kansai dialect) was written in matcha on the dessert – how cute! ♡

Hikari: The fresh cream wasn't too sweet. Yummy!! Every now and then, I got a mouthful of adzuki beans. I really liked the variety of flavours ◎.

The new soufflé sandwich was made by adding velvety cream cheese to the bread dough.

Yuri: The soufflé was soooo fluffy! The cream cheese flavour and the sandwich is a match made in heaven!

Otabe Honkan works with a factory as a joint establishment. The factory produces a variety of popular brand confectionaries from different parts of Kyoto. Fresh Yatsuhashi is one of the famous products made by Otabe.

The factory also holds handmade sweet-making classes and allows visitors to the view the factory, so if you're interested, check the link to the website below.

■Information

Otabe Honkan

Adress:35,2, Nishikujo Takahatacho, Minami Ward, Kyoto,

Opening hours: 09:00 〜 18:00

Off to Kyoto Tower – the symbol of Kyoto!

Stomachs full, the girls return to Kyoto Station and make their way to Kyoto Tower, which is the tallest building in Kyoto. The observation room is elevated 100 metres above the ground, and offers a stunning view of the streets. The many souvenir shops make it all the more popular with tourists.

On the 3rd floor of Kyoto Tower, there is a Makizushi sample-making event! (Makizushi: sushi rolled in seaweed with a filling). There are many classes running here that allow visitors to experience Japan to the full. Yuri and Hikari decided to try out something very unique to Kyoto. They headed to the Otabe dojo to learn how to make fresh Yatsuhashi sweets by hand.

Before preparation, they got changed into specialist clothing and then took a commemorative photo…but what is this photo really for?

To make these fresh Yatsuhashi by hand, the girls made a steamed flour dough, stuffed it with anko red bean paste et voila! The thick and chewy texture of the mochi made the kneading process hard work! Yuri and Hikari were silently working all the way through, kneading and kneading and kneading until their work was approved by their sensei.

Here's a picture of their highly praised Yatsuhashi. Our confectionary chefs made plain Yatsuhashi, matcha Yatsuhashi and Murasaki Imo (purple sweet potato) Yatsuhashi! Now it's time to enjoy the snacks with a tea ceremony!

Yuri: We made these ourselves and to no surprise, they're delicious!

Hikari: The dough is chewy and has a gentle flavour!

At the end, the girls received a souvenir gift and a certificate, and with that, class had ended. Inside the souvenir package, there was the photo taken at the start of the class! This put a smile on their faces.

■Information

Kyoto Tower Sando Otabe Taiken Dojo (京都タワーサンド おたべ体験道場)

Address:Kyoto Tower Building floor 2, 721-1, Higashishiokojicho, Shimogyo Ward, Kyoto

Reservations: https://otabe-ktt.dt-r.com/

*Reservation possible for up to the previous day at 15:00

 

>>next page Go to Kiyomizu-dera

MMN Festival: Saki Shibata, Ayumi Seto & Yuri Suganuma to Hold Official Tours as Tour Guides

MOSHI MOSHI NIPPON FESTIVAL 2018 in SHIBUYA will be held on March 24 and 25. At the event, three popular models – Saki Shibata, Ayumi Seto and Yuri Suganuma  – will work as tour guides at the festival to hold official tours for attendees!

Let's take a close look at each of their tours and what you can look forward to.

Yuri Suganuma

After watching the stage performances where Yuri Suganuma will appear you will participate in a workshop with her. You'll be making a swag, which is a popular stylish wall decoration. A range of flowers will be provided, so pick your favourite and get hands-on in designing your own original swag. After it's complete, the tour will conclude with a commemorative photo together.

■Date: March 25th

■Duration: 1 Hour 30 Minutes

■No. of People: 11

■Price: ¥3,500 (Includes workshop charge. Workshop scheduled to last 30 mins.)

13:00 Stage performances (w/ Yuri Suganuma)

14:30 Workshop

14:50 Commemorative photo

15 : 00     Viewing the stage

Register here: https://www.airbnb.jp/experiences/198915

Ayumi Seto

You will participate in a workshop organized by "Aymmy in the batty girls," an apparel brand for which Ayumi Seto works as the Director. After the workshop, you will join Ayumi Seto and go to the "Aymmy in the batty girls" store where she will showcase recommended spring items and outfit coordinates.

■Date: March 24th

■Duration: 1 Hour

■No. of People: 5

■Price: ¥2,000 (Includes workshop charge.)

11:00 Workshop: Design a mug

11:30 Spring recommendations at Aymmy store

12:00 Finish

■Date: March 25th

■Duration: 1 Hour

■No. of People: 5

■Price: ¥2,000 (Includes workshop charge.)

16:00 Workshop: Design a mug

16:30 Spring recommendations at Aymmy store

17:00 Finish

Register here: https://www.airbnb.jp/experiences/198906

Saki Shibata

Saki Shibata will take on the role of a tour guide and show you around the Shibuya and Harajuku area! This special one-off tour will take you to spots in Shibuya and Harajuku that Saki visits often. You'll also dress up in a kimono and pray at a shrine and more. The tour will take place on the 24th and 25th. The prices and schedules differ for each day so be sure read the details carefully.

■Date: March 24th

■Duration: 4 Hours

■No. of People: 9

■Price: ¥3,500 (Includes dining and workshop charges.)

■Schedule:

12:00 Create an accessory at the CHACO workshop in Laforet Museum Harajuku

13:00 Stage performances (w/ Saki Shibata)

14:30 Light meal

15:15 Walk along Cat Street

16:00 Finish at SHIBUYA CAST.

Register here: https://www.airbnb.jp/experiences/198879

■Date: March 25th

■Duration: 3 Hours

■No. of People: 9

■Price: ¥7,000 (Includes dining and workshop charges.))

■Schedule:

12:00 Meet at SHIBUYA CAST. for kimono fitting

12:45 Walk to Onden Shrine in kimono

13:55 Pray at Onden Shrine & receive goshuin

13:15 Stroll along Cat Street towards SHANTi

14:00 Late lunch at SHANTi

Register here: https://www.airbnb.jp/experiences/198895

Tours – How to Apply

To sign up for the tours, head to the Airbnb website and select the time and date. Please note that once all spaces have been filled the application window will close.

The application pages for each tour are different. Links and information will be posted on the MOSHI MOSHI NIPPON Twitter page, so be sure to follow us.

*Please note that payments can be made by card only.

■Information

MOSHI MOSHI NIPPON FESTIVAL 2018 in SHIBUYA

Locations: SHIBUYA CAST. / Tower Records Shibuya / Laforet Museum Harajuku / Onden Shrine

Dates: Saturday 24 March – Sunday 25 March

Time: 11:00-21:00 *Times differ at each area

From Kiki's Delivery Service to Your Name – check out our model's halloween costume!

Halloween has already dawned upon the streets of Tokyo. You should make the most out of Halloween this year by adding some spirit into your costume! That's why today our popular models are going to show you their Halloween costumes from previous years!

Transform into a cute cat with Ren Koseki & Ema Tanioku

Er Tanioku (top) and Ren Koseki (bottom) are both dressed up as cats! ♪

The big ribbon is so cute. ♡ This is a costume that even beginners can put together easily. We recommend this for those who are looking for something easy!

Saki Shibata uses a scoop of sorcery to become Kiki from Kiki's Delivery Service! 


Saki Shibata transformed into Kiki from the Ghibli film Kiki's Delivery Service. The broomstick and cat companion Jiji are important to complete this look! You can pull off this look if you have a navy blue dress. This is also an easy costume for first-timers!

The dangerous devil YuRippa and a Horror-themed Misa Kimura


Yuri Suganuma (top) and Misa Kimura (bottom) decided to go along with the horror theme. All you need is horror makeup and your look will be perfect! You can get costumes, accessories, fake wounds, tattoo stickers and anything else you need from a ¥100 shop or a ¥300 shop, so don't forget to check them out!

Culumi Nakada as Mitsuha from "Your Name"

Culumi Nakada transformed into the main character Mitsuha from "Your Name". This film is still selling strong and is still a popular theme in the news, so there might be a lot of people dressing up as her this year too!

Whatever you're dressing up as for Halloween this year, please check out the costumes of our stylish models from previous years!

Source:HARAJUKU KAWAII!! STYLE

http://asbs.jp/feature_detail/1176/

—

Related article: Sebastian Masuda teams up with Lotte to release Halloween-Kawaii fusion treats!

Related article: Kyary Pamyu Pamyu Announces Halloween Solo Concert Live on Twitter from Her House!

Did you know about the art exhibition currently going on down in Kayabachō? This fun and exciting happening in Nihonbashi is the talk of the town, combining the latest digital technology with a theme of springtime flowers. Add into the equation gourmet restaurants and cafés and you have yourself a jam-packed, exciting day!

yurippa and Ema & Eri headed on over to Kayabachō in Nihonbashi to experience this 1-day plan!

But before setting to work, they went and had a good meal.

SPOT① WA CAFÉ AIM

WA CAFÉ AIM is a short 2-minute walk from Kayabachō Station. The café is stylish, comfortable and a feeling of maturity to it – a place for adults to mingle – with the colourful sound of a piano chiming through. They have an all-day lunch menu, so if it's night-time and you fancy yourself a bit of lunch, then do not worry, they have you sorted.

Their pork curry is special in that it is sweet, sour and spicy all at once. The nicely cooked meat and spicy roux are exquisite together. Legend has it that there are some dedicated fans out there who go there every day to eat it for lunch!

There's also a superb selected of desserts to choose from – ranging from puddings to cakes – perfect for a girls' day out where everyone can share♡

<Shop Information>

Address: 1 Chome-6-17 Kayabachō, Nihonbashi, Chūō-ku

Open: 11:00-23:00 (Last orders for food at 22:00)

Closed: Weekends and National Holidays

SPOT② "Super Ukiyo-e: The Edo Code"

– Japan's traditional art of ukiyo-e fuses with cutting edge technology

"Super Ukiyo-e: The Edo Code" transforms ukiyo-e into something you've never seen before. See traditional ukiyo-e paintings created by famous painters enlarged into a high-definition digital format. Each piece is blown up and animated to create a 3D effect. This is something that could never have been experienced before; thanks to today's technology, you can experience the true appeal of ukiyo-e in an all new way!

A collaborative piece between legendary ukiyo-e artists Hokusai and Hiroshige is also on display over in the fish market of Edo Bay. Of course, you can expect to see their artwork in motion too. I bet you never even dreamed you'd see this day!

You'll also be spooked by the ghost ukiyo-e paintings in the "Obake Area" (Ghost Area). Try and catch the ghosts!

Super Ukiyo-e: The Edo Code

Official Website: https://superukiyoe.com/

SPOT③"The Mysterious Restaurant of the Food God"

– Dive deep into the world of traditional Japanese food

We headed into a mysterious and fantastical world of "washoku" (traditional Japanese cuisine) which combines food with state of the art digital technology. Washoku is indispensable for the Japanese people. And now you can experience the food in an entirely new way.

It's a place filled with interactive technology. We touched the screens and instantly became one with the seasons. The essence of spring, summer, autumn and winter can all be found in them.

As we continued through the exhibition, we came to a restaurant where we found cooks holding the god's hand. The food was especially delicious ♡

The Mysterious Restaurant of the Food God

Official Website: https://tabegamisama.com/

There are a number of campaigns currently running for the two art exhibitions we mentioned today. Full details regarding the campaigns can be found on the official homepages.

We got our fill of food and cafés at both exhibitions! Seeing, touching and tasting – the day out in Nihonbashi was even more fun than I had imagined.

Because it is old-time Edo, the combination of both the traditional and modern was wonderful. Be sure you don't miss your only chance to see this exhibition ♡

Writer:Miiki Sugita

Photo:Takuya Ikawa

Model:Yuri Suganuma @yurippa93

               Ema Tanioku @ematanioku

               Eri Tanioku @eritanitani
RELATED ENTRIES
Eat All the Sushi You Can in the VR Game No Sushi, No Life Available On Steam

DMM VR lab released a new 3D VR game last week on Steam and DMM.com titled No Sushi, No Life.

The game is set in the year 20XX in a sushi bar in Neo Tokyo City. The aim of the virtual reality game is simple: to eat as much sushi as you can. Players must grab all the sushi coming their way and wolf it down. Their reflexes are tested as more sushi plates speed toward them on the conveyor belt. If a plate of sushi falls to the floor, it's game over. As players eat more sushi the conveyor belt will run faster and faster. Can you survive the culinary onslaught?

Eat With Warsman's Bear Claws From the Kinnikuman Manga

Japanese precision parts maker Castem has harnessed its detailed and dexterous hands to create the Bear Claws Fork, a fork based on the Bear Claws of the character Warsman from Yudetamago's popular manga series Kinnikuman.

Bear Claws Fork |  ¥3,200 (Before Tax

Warsman possesses retractable iron claws known as the Bear Claws with which he uses to fight. One of his most well-known techniques is Screwdriver where he leaps up into the air and comes down spinning like a screwdriver, driving his Bear Claws into his opponent.

Fans of Warsman can now feel like the character as they twirl their pasta or pierce their meat with the Bear Claws Fork, a must-grab for the collection.

Information

Bear Claws Fork
Released: December 22, 2020

Available: meta mate Nihonbashi / Kyoto LiQ Shop / IRON FACTORY

Inari Sushi Restaurant Tsurigitsune to Open in Osaka International Airport's North Terminal

Japanese food and confectionery company Bijuu is opening a new restaurant called Tsurigitsune inside Osaka International Airport's North Terminal on August 5, 2020. The restaurant will specialise in inari sushi, a type of sushi packed into pouches of deep-fried tofu.

Bijuu is known for producing and selling such products as Kyoto's famous coarse sweet red bean paste-filled yatsuhashi otabe crackers.

Tsurigitsune will serve "Kyo Dashi Oinari," a type of inari sushi made with fried tofu Saga Tofu Morioka—a long-standing tofu shop in Sagano, Kyoto—soaked in lots of sumptuous Kyoto-style dashi. The restaurant will also serve a special type of sweet otabe cracker which cannot be eaten anywhere else.


Kyo Dashi Oinari (Includes 15) | ¥3,240 (Tax Included)

The dashi that the Kyo Dashi Oinari are soaked in take up all the delicious flavour of kombu, sababushi smoked mackerel, iwashibushi pilchard, and katsuobushi dried bonito, all of which serve to add that authentic Kyoto flavour.


Tanto Otabeyasu | ¥930 (Tax Included) *Served 6:30-10:00

As well as Kyo Dashi Oinari, Tsurigitsune's menu includes a line-up of dishes that celebrate the flavour of dashi, including soba, dashimaki tamago omelette, and more.

If you're travelling to Osaka, why not get an authentic Kyoto experience too by dining at Tsurigitsune?

Information

Tsurigitsune
Grand Opening: August 5, 2020
Address: Osaka International Airport North Terminal 2F Boarding Area, 3-555 Hotarugaike NishimachiToyonaka, Osaka
Opening Hours: 6:30-20:20 (Last Orders 19:50)
TEL: 06-6836-9217

Official Website: http://www.bijuu.co.jp/tsurigitsune/

Japan's New Eel Burger is Made in Collaboration With the Theatrical Entertainment Sushi Bar Teruzushi

Matsuya Foods, Gastroduce Japan, and Teruzushi have all joined hands to cook up the new "Eel Burger" which will be sold exclusively in Japan via Matsuya Food Court on Rakuten and Matsuya PayPay Mall starting from 8:00pm (JST) on July 4, 2020.

Like all countries around the world, Japan's food industry is suffering at the hands of the COVID-19 pandemic, with less customers dining in restaurants and eateries. That's where Matsuya Foods comes in, which has launched an effort to collaborate with fellow restaurants to release exquisite dishes online. That begins with the "Eel Burger," the first of many foods to come.

Teruzushi is a sushi bar famous for its "theatrical entertainment" style of sushi serving which has earned it the spotlight in the news and on social media in Japan. They serve high-grade sushi which can have the average person easily spending over ¥30,000 during their visit.

The restaurant, located in Fukuoka, is also famous for its "Unagi Burger," which uses 220g of eel that is prepared in the kabayaki-style and wrapped around sushi rice. That itself is then wrapped in high quality domestic seaweed, resulting in a unique burger-style of sushi. The Eel Burger is an amalgamation of flavours and textures, with the crunchy seaweed complementing the soft eel.

Stock Your Kitchen With Japanese Kitchenware Tools by SALON adam et rope'

SALON adam et rope' has launched its new "Nihon no Daidokoro Dougu" (Japanese Kitchen Tools) collection which features a curated selection of Made In Japan kitchenware and cookware items from high quality Japanese brands.

Kasane

Top: ¥12,000 / Middle: ¥12,000 / Bottom: ¥9,000 (Before Tax)

Traditionally, Japanese knives were made by men with men in mind, but these Kasane knives are made by women to fit with the modern age. They are made in such a way to feel comfortable in smaller hands. The handles are made from rare natural wood from the cerasus jamasakura trees of Gifu Prefecture which give them a texture that changes as you continue to use the knives. The blades themselves are made from high-carbon stainless steel which gives them superior sharpness and durability. The blade edge is the result of a new technology developed by Sumikama called "Zero Edge" which makes them thin and sharp.

Kaji Donya

 
Left: ¥1,300 / Middle: ¥2,000 / Right: ¥2,800 (Before Tax)

Left: ¥1,000 / Middle: ¥1,200 / Right: ¥2,000 (Before Tax)

These handy stackable containers are made by Kaji Donya, a company based in Tsubame, Niigata. The height of each one is the same which makes them super convenient when stacking inside fridges.

Ceramic Grill: ¥1,400 (Before Tax)

The ceramic grill is a longtime seller at SALON. If you're grilling bread on it, it leaves the outside crispy and the inside nice and soft. It uses far-infrared rays which means the water content of the ingredients grilled on it is not lost, allowing for the full tasty flavour to stay locked in and the food plump and juicy.

Kaori's Easy Recipe: Learn to Make Hello Kitty Sushi Cakes For Hinamatsuri

With just a small bit of ingenuity, turn everyday food into something cute using Kaori's easy recipe! With a few simple ideas, an ordinary recipe magically transforms into a cute dish.

Hinamatsuri is almost here, and I've got the perfect treat for this year's festival: Hello Kitty Sushi Cakes. These Hello Kitty decorations can be made with basic Japanese ingredients, so follow along and try making them yourself.

1: Equipment/Ingredients

15cm cake tin

1 cup vinegared sushi rice

200g tuna

200g salmon

3 Japanese rolled omelettes (dashi-maki tamago)

20 beefsteak plant

Ikura salted salmon roe

Hanpen pounded fish cake

2:

Line a cake tin with baking sheet paper like in the photo. Use a cake tin with a detachable bottom spanning 15cm. In the case that you don't have a cake tin with a detachable bottom, cover the bottom of your tin with cling film which will make it easy to remove everything afterwards.

3:

Cut Hello Kitty, flowers and other shapes into some hanpen pounded fish cake.

4:


Slice the tuna, salmon, and Japanese egg into cubes about 1.2cm each.

Pile the ingredients in this order: rice→tuna, salmon, and egg→rice. Refer to the photo below.

5:


Leave the ingredients exposed around the outside like so✨

6:

Top with the rest of the ingredients as you like.

7:

Finish by adding your Hello Kitties and flowers which you can decorate with leftovers, like the noses and middle of the flowers. I also used cucumber and crab sticks for the head decorations.

Kaori invites you into her world of character-themed food dishes in her recipe series. Be sure to check out her Instagram where she has uploaded many pictures of her character dishes!

Kaori Kubota (@kaopan27)
I live in Hokkaido and I love to make character themed foods, desserts and pastries♡

I want to see my family smile, so I enjoy putting in a bit of effort to make character foods and changing food into something cute♡

You can see more of my character foods and character bento boxes on my Instagram page→@kaopan27

Hanami in Japan 2020: Bite-Size Sushi Hanami Bento Lunch Box Releasing in Ginza

SHARI and SHARI THE TOKYO SUSHI BAR in Ginza, as well as CRAFT in Ariake, are releasing the perfect accompaniment to your hanami flower-viewing experience in Japan this spring: the "Hanami Roll Sushi Bento" lunch box, which consists of 36 bite-size sushi pieces made up of 12 different kinds of sushi. It will be available February 18 to April 30.

Hanami Roll Sushi Bento (36 Pieces/Serves 3-4): ¥4,500 (Tax Included)

As soon as your take the lid off this colourful assortment of rolled sushi, you'll find yourself reaching for your camera to snap a photo for Instagram. Each piece is 3cm in diameter and so is deliciously bite-sized. The line-up includes four new kinds of sushi rolls conceived for this release which use seasonal spring ingredients, like sakuradai cherry blossom sea bream, sakura ebi, rape blossoms, fuki giant butterbur, green beans, and moreーas well as eight other types of sushi that are popular classics at each of the three restaurants.

Shrimp Roll

From the four new rolls, we have the sakura ebi shrimp roll, which is served with a gorgeous cherry blossom colour. It's made with shibazuke pickles and vinegared rice, which gives it its colour, and contains, rape blossoms, okra, Chinese yam, and egg. The rape blossoms add a springtime bitterness to the sweetness of the sakura ebi, creating a wonderful combination of flavours.

Beef Butterbur Miso Roll

Then there's the sakuradai roll is wrapped with vinegared tobiko flying fish roe, okra, and cucumber, which is topped with sashimi-style sakuradai cherry blossom seam bream and salty cherry blossom leaves. The spring vegetable and tempura roll has shrimp and green bean tempura mixed with yuzu kosho paste; and finally, the beef butterbur miso roll, which contains beef rib seasoned in a sukiyaki style, finished with sesame seeds, and seasoned with butterbur miso.

The eight popular classics include the wagyu roll sushi seasoned with luxurious truffle oil, Italian roll, duck roll, salmon roll, spider roll (soft shell crab), and more. All of these varied picks go great with wine or champagne.

Hanami Roll Sushi Bento (9 Pieces): ¥1,200 (Tax Included)

The "Hanami Roll Sushi Bento" comes in various sizes. As well as the 36 pieces of 12 sushi types, there's also 18 pieces of 9 types (serves 1-2), and the 9 pieces of 9 types (serves 1).

Reservations are available until 15:00 the previous day. Order yours for your Hanami cherry blossom flower-viewing this year in Japan.

Information

Hanami Roll Sushi Bento

Available:

SHARI (TEL: 050-5357-5354) (Address: Mitsui Garden Hotel Ginza Gochome Floor 2F, 5-13-15 Ginza, Chuo Ward, Tokyo)

SHARI THE TOKYO SUSHI BAR (TEL: 050-5212-7574) (Address: ALBORE GINZA Floor 8F, 2-4-18 Ginza, Chuo Ward, Tokyo)

CRAFT (TEL: 050-5357-5353) (Address: CRAFT Floor 2F, 3-7-2 Ariake, Koto Ward, Kyoto)

Prices:

36 Pieces/12 Types (Serves 3-4 People): ¥4,500

18 Pieces/9 Types (Serves 1-2 People): ¥2,400

9 Pieces/9 Types (Serves 1 Person): ¥1,200

Reservations

Reservations can be made via telephone or in-store until 15:00 the previous day.

*Reservation Window: Telephone 10:00-20:00 / In-Store 12:00-22:30

*Depending on the ingredient stock, reservations may be made on the same day

*The Hanami Roll Sushi Bento is for takeaway only and cannot be eaten in the restaurant

Asakusa's New Conveyor Belt Sushi Chain Kura Sushi Offers a Traditional Japanese Space

Muten Kura Sushi opened the first of its its all-new chain of "global flagship" sushi restaurants in Asakusa BOX on January 22.

This kaitenzushi restaurant, or "conveyor belt sushi," aims to promote Japanese culture. It wants people, both Japanese and foreign, to rediscover the wonders of kaitezsushi, and what better place to open its first branch than Asakusaーone of the biggest tourist hot spots in Tokyo?

The restaurant's design and decor takes on a more traditional approach, drawing inspiration of Japan's Edo period with classic ukiyo-e paintings and paper lanterns adorning the walls, amongst many other things. This classic image of Japan has found its way to the dining space itself too, with flat tables made from plain wood and chairs topped with tatami. This gives it that air of grace and beauty which is typically associated with traditional Japanese culture, as well as a relaxed atmosphere.

The logo used on the restaurant's paper lanterns, crockery, staff uniform and elsewhere was designed by Japanese art director and creative director Kashiwa Sato. It was created for the brand to be used on all future branches, including all Japanese restaurants and those planned for the US and Taiwan.

The restaurant even has several Japanese festival games for customers to play, like target practice and ring toss. They can win coupons that can be used in the restaurant, and kids can win toys too.

Some of the staff can speak foreign languages too, and tablets that you order food from are available in 4 languages.

Staff also carry a "Langogo Genesis," a speech translation machine, to allow for smooth customer service. It's connected to an AI language server which can speak and translate quickly in 104 languages.

This global flagship restaurant also has a self check-in and payment system. Using touch screen, customers will be shown their seats automatically. The AI also adds up how many plates you have used by scanning their QR codes, and this is used to determine how much you need to pay. This means you needn't wait for someone to bring the bill, you just head straight to the till.

There's also a smartphone app (called スマホでくら) which you can use to book a table and makes for easy checking in when you arrive at the restaurant.

Head to Kura in Asakusa, Tokyo to enjoy Japan's longtime affordable and delicious fast food: sushi.

Information

Kura Sushi Asakusa ROX

Address: Asakusa ROX Floor 4F, 1-25-15, Asakusa, Taito Ward, Tokyo)

Opening Hours:

January 22-26 @ 12:00-21:00 (Last Orders 20:30)

From January 27 @ 11:00-23:00 (Last Orders 22:30)

Official Website (English): http://www.kura-corpo.co.jp/en/

Tokyo Sushi Restaurant Tsukiji Tamasushi Sasashigure Opens New Branch in Shibuya

Edomae sushi restaurant Tsukiji Tamasushi Sasashigure, which is known for its strict use of organic ingredients, just opened its second branch in Tokyo Plaza Shibuya following its first branch in Omotesando Hills.

Sasashigure is a type of sasanishiki rice grown completely organically without the use of any chemicals or fertilisers. It is grown by Akinori Kimura who is known for its "Miracle Apples," the world's first apples grown without pesticides.

Sasashigure rice yields 40% less rice quantity in one-tenth hectare than regular rice, but it has a natural sweetness and elevate flavour, with each and every grain savoured in a mouthful.

If you're all for healthy eating and protecting the environment, and happen to be in Tokyo looking for some sushi, be sure to visit the new branch of Tsukiji Tamasushi Sasashigure in Shibuya.

Information

Tsukiji Tamasushi Sasashigure

Address: Shibuya FUKURAS 6F, Tokyu Plaza Shibuya, 1-2-3 Dogenzaka, Shibuya, Tokyo

Opening Hours: 11:00-23:00 (Last Orders 22:30)

No Fixed Holidays (Except when Tokyu Plaza Shibuya is closed)

Official Website: http://www.tamasushi.co.jp/

WASHOKU: Asakusa's Newest Restaurant For Experiencing Japanese-Style Cuisine

Asakusaーone of the hottest spots in Tokyo for sightseeing, ever-bustling with Japanese and foreign tourists and travellers alike. This ancient district is famous not only for its sights, like Sensō-ji (the oldest temple in Tokyo) and the Nakamise-dōri shopping street leading up to it, but for its bountiful offering of gourmet restaurants.

Today, we're taking a look at Taikenkei Dining -WASHOKU-, a restaurant which opened in Asakusa on November 19 this year. If you're looking for the full package when it comes to experiencing Japanese food culture, WASHOKU has customers covered. Not only do they serve food, like traditional Kyoto obanzai, but they offer cultural experience plans too where you can learn to make sushi or dress up in a kimono and walk the old streets of Asakusa.

WASHOKU's concept when it comes to both lunch and dinner centres around enjoying Japanese-style food that is colourful. And that rings tantalisingly true with their kaleidoscopic obanzai, which is formed of 12 vivid bite-sized delights. Obanzai is a traditional style of Japanese cuisine that comes from Kyoto, made up of mostly seafood and vegetables. The obanzai served at WASHOKU was conceived under the guidance of nutritionists, and so is packed full of healthy nutrients for the body. Not only that, the ingredients selected are all domestic to Japan, and are of a very high quality.


The obanzai I ate included fried beni haruka sweet potato which is sourced from Ishida Farmsーa sweet potato growerーin Katori, Chiba. It had a moist texture and rich sweetness. When I sank my teeth into it, I was flushed with feelings of the fall season.

Other foods in the assortment included sashimi, scallop and yuzu, saikyo-yaki Kyoto-style grilled fish, and more. Each mouthful of the selection offered its own distinct and unique flavours.

The obanzai is served with miso soup too with which you get to choose a miso ball from a variety of flavours to put into your bowl. I went for the sesame seed miso ball.

The miso ball is made from miso paste and various ingredients. Once placed into the hot water, it melts and turns into miso soup. The sweet light-brown miso was perfect for warming up my chilly self.

Dinner also features a dessert menu, as well as courses with an all-you-can-drink option, so I recommend these options for people who want to relax and take their time with their dining experience.

As I mentioned earlier, WASHOKU also offers a variety of experience-based plans. This includes a sushi class where you can learn to make your own hand-rolled sushi.

There are two types of "temari" hand rolled sushi you can make: the regular type, which makes use of tuna, salmon and other classic sushi toppings, and the high quality type, which uses more high-end ingredients like uni sea urchin eggs, caviar, gold leaf, and more. And for foreign customers, the restaurant has prepared a handout detailing the history of Asakusa and recipes, as well as souvenirs for them to take home.

The MMN team of course had to have a go at making our own sushi, but it proved quite difficult. You have to get the right amount of sushi rice to roll, then actually roll it perfectly into a ball before topping with your ingredients. But the sushi I made was actually really delicious! To attend this class you have to book in advance, so if you've never tried making your own sushi before or have an need some guidance, then we can't recommend it enough.

As well as food-related experiences, WASHOKU provides customers with three different plans to experience Japanese culture. The first of these is the rickshaw ride, where you board a rickshaw pulled by a runner and are taken around the various sites of Asakusa. The 'Excursion Around Asakusa Course' takes you to the most popular spots around Kaminarimon, while the 'Sky Tree Course' takes you all the way to the Sumida River, and you also get to see Tokyo Skytree and various other attractions in Asakusa.

The Edo Kiriko plan gives you the opportunity to cut your own Japanese glass to drink from. You can drink from your glass if you reserve the plan with lunch or dinner.

Finally, you can rent a kimono. Select your favourite from the shop and have a professional dresser get you readyーwith both your kimono and your hair. After you're dolled up, you can take a stroll around Asakusa to get a real feel for Japanese culture.

All three of these plans are just ¥3,500 per person, and all require reservations which you can book online.

So, if you're looking for a taste of Japanese food and culture, why not take a trip to WASHOKU when visiting Asakusa for an all-in-one experience?

Information

Taikenkei Dining -WASHOKU-

Address: 2113 Kaminarimon Bldg. Floors 5F-6F, 2 Kaminarimon, Taito Ward, Tokyo

Opening Hours: Lunch 11:00-15:00 / Dinner 15:00-17:00

No Fixed Holidays

Access: 1-minute on foot from Exit 4 of Asakusa Station via the Tokyo Metro Ginza Line / 2-minutes on foot from Exit A3 of Asakusa Station via the Toei Asakusa Line

Official Website (English): https://washoku.site/en/

Help Me Choose! Japan's Trending Makeup #3: Autumn & Winter Cosmetics

"Help Me Choose!" is the first ever featured article series where I, Yuri "Yurippa" Suganuma, feature as the writer, model and director.

I've been conservative with my eyeliner when doing my makeup recently, instead wanting to go for a more effortless style to convey my eyes. I've also been having more fun with eyeshadow, and I've wanted to make my lips the centerpiece of my makeup, so I've been making additions and subtractions which has slowly led to a more grown-up look.

So, for my recommended autumn/winter cosmetics this time around I'll be focusing on eyeshadow, lips, and cheeks. These are items I've been interested in and am buying. Here's my review.

▶︎THREE

THREE Dimensional Vision Eye Palette 03 – ¥7,020 (Tax Included)

This palette features four colours, none of which you will ignore. The colours also have different textures including pearl, matte powder, and cream.

Today's Makeup:

①For the whole eyelid

②For the undereye

③Adds gradation to the double eyelid

④Adds accent to the inner corner

I tried playing around a bit! Although I added colour and glitter to the inner corners of my eyes I'm all about it.

According to THREE, this is the order you should put these items on:

1. Add the ② cream eyeshadow to your whole eyelid

2.Add the ③ colour as a base around the edge of your ueye

3.Layer ① on your whole eyelid

4.Finish with ④ as a highlighter

Using the cream eyeshadow as a base brings out the orange to make it look even better!

Part of the fun of this eye palette is how easily arranged it all is. The colours in this palette in particular are extremely popular.

▶︎RMK

RMK Stone Blossom Brush 03 – ¥3,456 (Tax Included)

The thin powder blends softly into your cheeks. It gives gentle colouring while still bringing your whole face to life, making it an indispensable item. And terracotta looks good on anyone.

And how about combining it with this?

RMK Stone Blossom Lips 05 – ¥3,780 (Tax Included)

This lipstick is a smooth cream type. The orange hype is just beginning. It has a slightly deep colour and gives off a casual grown-up vibe. It also has moisturizing ingredients in it making it great for winter when your lips dry up.

By the way, this collection was inspired by the stony beaches of Málaga in Spain. The items are limited-edition so get your hands on them ASAP.

▶︎CHANEL

(New Colour) Rouge Allure Velvet Extreme 130 – ¥4,536 (Tax Included)

From my always-favourite Rouge Allure Velvet series comes a new colour and a limited-edition colour from CHANEL! At first glance, No. 130 looks like a deep red, but when you put it on it also has a slight purple tinge to it, serving up a wine colour.

The deep burgundy makes you look like a lady and is sure to captivate. If you're a girl who loves autumn/winter collections then you won't be able to resist the colour of this one!

(Limited Edition Colour) Rouge Allure Velvet Extreme 128 – ¥4,536 (Tax Included)

Orange beige. Beige lipstick has yet to become a thing around the world, but this colour isn't overly plain and even works on myself! The beige has a subtle, healthy orange in it. Another stylish colour from CHANEL.

Another thing I like is how the case is matte (normally in the Velvet series it's glossy). Autumn/winter vibes, I'm all about it!

▶︎GUERLAIN

GUERLAIN Glitter Eyeliner 02 KAKI & 03 BURGUNDY – ¥5,508 Each (Tax Included)

This glittery liquid eyeliner gleams and looks just as it does when applied to yourself. It gives your eyes a beautiful impact, and both of this colours are good taste.

▶︎SHIRO

SHIRO Ginger Lipstick 9I08 Vintage Brown – ¥4,320 (Tax Included)

SHIRO have released their very first lipstick collection. The vintage brown has a deep, elegant look to it. SHIRO really are amazing. They've become a brand I just can't let go. Everyone who sees this colour says it's cute. I especially want to recommend this one to those of you who are beginners to orange and browns. It's a really stylish one.

Incidentally, the brand actually changed its logo to commemorate its 10th anniversary, from "shiro" to "SHIRO."

"Do you have anything a little more natural?"

▶︎THE PUBLIC ORGANIC

THE PUBLIC ORGANIC Essential Oil Colour Lipstick Noble Orange – ¥700 (Tax Included)

This organic cosmetic item is 100% natural. It's made with the skin in mind to ensure it's good to it. It also has a nice roughness to it like when taking your makeup off with soap. This terracotta orange adds just a touch of colour so as to make full use of the lips' natural colour.

This lipstick was originally released as a limited-edition item last year and blew up on social media, but they are set to bring it back as a regular item this year on September 25.

ーYurippa's Closing Commentsー

In the end, I end up going for deep coloured lips and burgundy eyes every autumn and winter, but with these items they're not just simply deep reds or browns. When you apply them they have a faint orange or purple in them. I think that was the original intention of those brands. I love little devilish things like that, and so I recognize to the fun of cosmetics year by year.

I'm actually really into the new eyeshadow from TOMFORD, but I wasn't able to get ahold of it by the photoshoot so I had to leave it out this time, TOMFORD's eyeshadow is amazing  too!

I'm a girl who loves autumn and winter, so I'm looking forward to the coming seasons. I want to use lots of different coloured items and become an even more beautiful woman―more than in summer and more than I am now!

Writer / Model  Yuri Suganuma
Photographer  / Haruka Yamamoto

TALENT PROFILE

Yuri Suganuma

Yuri Suganuma is a model with a high fashion sense that has been picked up by various magazines. She receives much love and support from girls of the same generation as her to whom she is known by her nickname "Yurippa." She has a huge influence across her social media. Recently, she has stepped into other fields outside of modelling, such as appearing in TV shoots and in music videos. She is skilled in make-up and involved in the development of cosmetics.

Roppongi Hills Renovates Food Court Revealing Mouthwatering Michelin Guide Restaurants

Looking for a delicious Michelin-approved food experience? You surely cannot go wrong with heading to Roppongi Hills; a large-scale development project located in Tokyo, which is known for its nightlife and and shopping. Roppongi Hills is also home to the shopping mall Metro Hat, which is currently renovating its food court on basement floor 2. The foodcourt will have its grand opening on October 29th. 

The renovation will introduce seven new restaurants to the food court. Some of these include ramen shops and Yakitori restaurants which are bringing brand new rare dishes and flavours to the table.

Let's look at our recommendations:

Ginza Kagari (銀座 篝)

Chicken Soba: ¥900 (before tax)

Ginza Kagari is known for their notorious never-ending queues. In 2016 and 2017, it earned a place in the Michelin Guide Tokyo and even became popular overseas. One of their specilaties is their chicken soba. The broth is packed with the goodness and flavour of the entire chicken and even the bones. The flavour of the broth is exquisite and rich. The salt kaeshi sauce which is made from a mix of soy sauce, mirin and sugar goes perfectly with the soup. The salt mixture in the sauce consists of a range of natural salts which contain the natural goodness of the sea and perfectly enhance the flavours of the soup.

Location: Metro Hat Hollywood Plaza Floor B2

Opening Hours: 11:00 ー 23:00 (L.O: 22:00)
Website: https://www.roppongihills.com/en/  (The website is scheduled to open during mid October)

Yakitori Kokorikoan (焼鳥 ここりこ庵)

Yakitori (chicken skewer): ¥200 (before tax)

You must not miss out on Kokorikoan's Chicken Skin Hotpot ー a dish that is rare even to Tokyo. This dish is the perfect opportunity to discover a new kind of flavour and a new way to enjoy food. This restaurant prepares their dishes using special and rare cuts of chicken and chicken that is freshly ground in the morning. The chicken is flavored using traditional flavorings such as tare sauce and salt as well as flavorings that are not so conventional in Japan such as balsamic vinegar, herb vinegar, madeira wine, brandy and much more. Each cut of meat is prepared with the most careful methods and best seasonings to fully bring out the flavours. 

Location: Metro Hat/ Hollywood Plaza Floor B2
Opening Hours: Lunch: 11:00 ー 15:30 (L.O.15:00)  Dinner: 17:00 ー 23:00 (L.O.22:00)

Website: https://www.roppongihills.com/en/ (The website is scheduled to open during mid October) 

 Pintokona (ぴんとこな)

As a cheap place to enjoy authentic sushi, Pintokona has become a very popular restaurant. Now, it is having a fresh renewal. This sushi is made by using seasonal ingredients from around Japan. From November 1 to 30, there will be an exciting new menu that includes fresh fish from Miyazaki and authentic shochu (Japanese spirit). There will also be a fair that you also should not miss out on. 

Location: Metro Hat/ Hollywood Plaza Floor B2
Opening Hours: Lunch: 11:00 ー 15:30 (L.O: 15:00) Dinner: 17:00 ー 23:00 (L.O: 22:00)

Website: https://www.roppongihills.com/en/ (The website is scheduled to open during mid October) 

AFURI(アフリ)

Yuzu Orange and Salt Ramen: ¥1000 (before tax) 

Popular ramen shop AFURI sells a ramen with a translucent gold-coloured soup made using the natural spring water that gushes from the foot of Mount Afuri (Mount Oyama) located in the Tanzawa Mountain Range of the Kanto Region. Carefully selected chicken bones, pot herbs, kombu (kelp) and katsuobushi (fermented and smoked fish) is boiled in the water to add to the flavour. The whole wheat flour used to make the noodles creates a wonderfully fresh, chewy texture. The chashu roast pork pieces are freshly barbecued upon each order, creating a fresh and delicious flavour. AFURI also sells vegan ramen which is particularly popular among foreigners.

We have a full report on our heavenly trip to AFURI so if you are curious to find out more, please check out our this article: Introducing AFURI—Harajuku's Michelin-Starred Ramen Restaurant

Location: Metro Hat/ Hollywood Plaza Floor B2
Opening Hours: 11:00 ー 23:00 (L.O:22:00)
Website: https://www.roppongihills.com/shops_restaurants/restaurants/00100.html

There are just so many popular shops and restaurants at Metro Hat that you will be spoilt for choice. We hope you enjoy exploring the rich culture of Roppongi.