Glamping Site 'Kannabe 5 Sense' Opens in Hyogo Prefecture on June 23
Kannabe 5 Sense is a new glamping site opening Hyogo Prefecture's city of Toyooka on June 23.
The site is designed with beginners to camping in mind as a place where you can enjoy yourself outdoors using all 5 of your senses. There are five glamping tents in total each with their own colour and each with wooden flooring surrounded in a peaceful environment. It offers a very special kind of accommodation experience. Though it's positioned in the middle of a forest enveloped in nature it's located right next to Michi-no-Eki Kannabe. Whether you're with your family or having a girl's-only outing, guests are assured a safe and comfortable stay.
Based on enjoying yourself with each of your senses, the tents have their own theme and colour: Green, Sky, Flower, Soil, and Bug. All are fitted to their appropriate concepts, from the textiles to the books and items. For example, the green tent is themed on grass, the blue tent on sky and so on.
All the tents are fitted with two double beds, air circulators, bean bags and more for guests to enjoy a luxurious stay.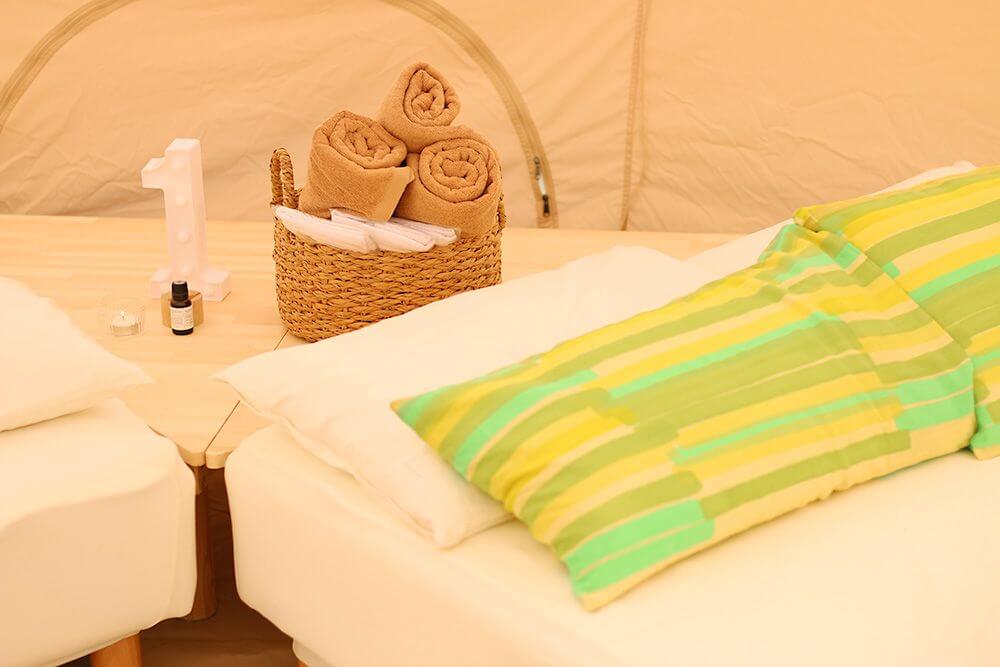 They even have pillow covers and garlands with designs themed on nature, all of which is sewn individually. Everything is prepared to give people of all ages the glamorous camping experience they expect.
For dinner, there are grills by Weber for people to enjoy BBQs with plenty of authentic outdoor-style food like spare ribs.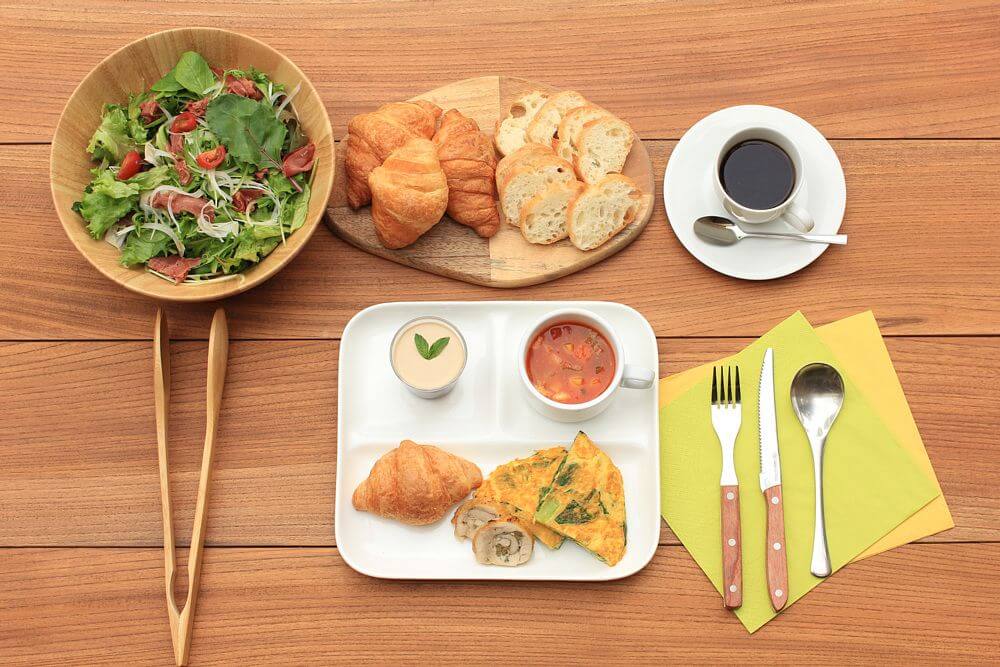 For breakfast you can look forward to some freshly-made croissants seasonal salad and more in the specially prepare restaurant. Just a 2-minute walk from there will be a bath area, so if you're worried about getting a little dirty from camping then head there.
The site is scheduled to be open until the beginning of November. During its run there are plans for a firefly viewing session in June and July, hot-air balloons, paragliding and other activities.
Enjoy the outdoors camping in style at Kannabe 5 Sense!
■Information
Kannabe 5 Sense
Addres: 60-1 Hidakacho Kurisuno, Toyooka, Hyogo Prefecture
Tents: 5
Check-In: 3pm-7:30pm / Check-Out: 10am next day
TEL: 0796-45-1545 / FAX: 0796-45-1546
Official Website: http://5sense.site
RELATED ENTRIES
Nijigen no Mori's Naruto & Boruto Ninja Village Sakura Birthday Event Stickers Now Available

The Naruto and Boruto Ninja Village located at the Nijigen no Mori anime theme park in Hyogo is celebrating its third anniversary! A new event has begun celebrating Sakura's birthday, and fans of the characters will be able to grab some neat merch.


Those who purchase tickets to this special event will receive a Mission Accomplished Sticker featuring an original, newly-drawn design. The celebration is running until June 30!

The escape game will have park guests running around the park looking for panels with hints on how to progress. For this event, the panels contain keywords and illustrations related to Sakura. Visitors will really have to use their brains to figure out the solution!

Guests will also be able to write congratulatory messages on cherry blossom petal stickers associated with Sakura and stick them to life-size character panels. Original goods featuring characters in original event costumes will be on sale.

© 岸本斉史 スコット/集英社・テレビ東京・ぴえろ

Nordisk Village Goto Islands Glamping Facility to Offer Tent Saunas

The Nordisk Village Goto Islands glamping facility has started offering tent saunas to further heighten the guest experience. 

This is the first time a tent sauna has been offered in a lodging facility in the Goto Islands. The main body of the sauna tent is made by MORZH, and sauna enthusiasts will appreciate the well-researched specifications and execution.


A wood-burning stove is used in the sauna, and guests can adjust the temperature while enjoying the view of the dancing flames. The facility also offers an original aroma oil scented with Camellia and herbs, perfect for relaxation.

Zero gravity chairs are also available for outdoor air bathing, and visitors can enjoy lounging under the starry sky and swaying trees. Why not travel to these islands in Nagasaki Prefecture for your next getaway?

Luxury Inn ICHIJO with only Six Rooms Opens In Kami, Hyogo Prefecture

Accommodation and restaurant company Saika opened ICHIJO, a luxury inn with six rooms, on September 22 2021.

Restaurant Monomi Yuyama

ICHIJO Jigokumushi

ICHIJO Jigokumushi Matsuba Crab

Guest Room 'Miyabi (elegant)'

Guest Room 'Soso (graceful)'

Private Bath 'SANKEI (mountain view)'

Private Bath 'KAI (sea)'

Open Lounge 'ISARIBI'

Meditation Room 'MU'

Smoothie & Soup Shop 'mellow'

A buffet is available offering wonderfully fresh and seasonal seafood, Tajima beef, Yaka pork, and a selection of local vegetables. Saika have made the most of the inn's location in a town known for its fish, offering a delicious all-you-can-eat menu. In addition, local brand crabs such as Kasumi and Matsuba will be added to the butter throughout the autumn and winter seasons. You can also enjoy a bowl of Takikomi rice with seasonal soup stock, fresh sashimi, and even charcoal-grilled dried fish.

The ICHIJO Jigokumushi is a fascinating area where a large amount of steam can be seen rising from the ground. The area can be used as a lounge, workspace, and reading area outside of meal times. The hall is all-inclusive, meaning you can make the most of the variety of local sake, draft beer, soft drinks, and snacks at no additional charge. 

 

You can relax in the two private baths, which both boast water from the Kasumi hot springs. The 'KAI' bath has an infrared sauna installed, while the SANKEI features a mist sauna, allowing you to chill out while enjoying the fresh hot springs. 

The inn also provides a large communal bath with open air facilities through the Sadasuke sister inn, which is adjacent to ICHIJO.

If you're looking to heal both body and heart, why not try the meditation room?

Smoothie and soup shop 'mellow' will be opening at the same time as ICHIJO. Guests staying at the inn will be able to purchase food and drink from inside the store, while general customers can use the takeout window. The delicious fruit and vegetables used in the food were grown in the San'in region by Saika, who are experienced in agriculture production.

 

Relax your body and soul with the new ICHIJO inn!

Information

ICHIJO

Address: 636 Shimohama, Kami-ku, Kami-cho, Mikata, Hyogo, 669-6564

TEL: 0796-36-1010

Details & Reservations: https://ichi-jo.com/ 

Glamping Restaurant Malibu Farm to Open at Riviera Zushi Marina for Limited Time

Prepare for the ultimate comfy camping and dining experience! The Riviera Zushi Marina in Zushi City, Kanagawa, is opening a glamping-themed restaurant, Malibu Farm Kamakura Terrace, for a limited time only. Returning from a popular run last year, the comfy spot will be open from October 1 until February 28, 2022, with reservations now open. 

In addition to Malibu Farm's commitment to fresh, organic, and local ingredients, this year's menu will feature sustainable ingredients, with plenty of seafood and vegetables. Guests can relax in the luxurious comfort of their own private tent, enjoying a meal and the crisp sea air. 

Malibu Farm, incredibly popular with celebrities from L.A., opened its Japan location last March at the Riviera Zushi Marina Resort. Looking over the ocean, the locale offers breathtaking scenery with over 900 palm trees and a collection of luxury cruisers and yachts. 

Introduced last winter, the Kamakura Terrace is perfect for winter, with each private tent heated while not obstructing the view and giving guests a safe place to enjoy time with family and friends. This is the ideal location for birthdays and anniversaries, and watching the sunset will offer an unforgettable way to celebrate. 

Noseden Artline Festival 2021 Bringing Light, Sound, and Food to the Kawanishi Area

A celebration of light, sound, and food, the biennial Noseden Artline 2021 Festival will take place from October 30 until November 23, 2021. Set in one city and three towns along the Nose Electric Railway, the regional art event began in 2013 to celebrate the 100th anniversary of the rail line, and brings local artists and residents together. 

The festival will be in Kawanishi and Inagawa in Hyogo Prefecture, as well as in Toyono and Nose in Osaka Prefecture, with Mt. Myoken marking the center point. Each part of the event will connect the history, industry, and tradition of the area with new and engaging creations. 

The theme of the 2021 Noseden Artline Festival is 'Enlarged Mentality.' By taking things that are subjective, like an artist's thoughts and senses, and applying them to the objective world that can be shared, it creates a one-of-a-kind way to connect fully with others. The event will feature local cuisine and music, as well as art focused on light, inspired by the North Star. After a year of solitude due to the pandemic, the festival hopes to remind people to cultivate, nourish, and preserve local relationships. 

Art can make life more enjoyable, so why not come and see what the area has to offer?

 (C)Kousei Ikeda(SPEKTRA)

Information

Noseden Artline Festival

Running: October 30 – November 23, 2021

Location: Nose Electric Railway Line ~ Near Summit of Mt. Myoken

Official Site: http://noseden-artline.com/2021/

Anime Theme Park Nijigen no Mori to Hold Second Kakashi & Obito-themed Escape Game

A special event is coming to the Naruto-themed area of Nijigen no Mori, an anime theme park located on Awaji Island in Hyogo prefecture! The Naruto Shippuden x Escape Game: #009 Kakashi & Obito event is taking place from August 21 to October 10!

A look at NARUTO & BORUTO Shinobizato

A look at the game

Participation bonus: 4 special wooden phone straps with new illustrations

The first escape game in the series was held in 2020 to positive feedback. It was first held to celebrate Kakashi's birthday, which is September 15, and all visuals of both him and Obito are completely new and made for the event. 

Guests can also write their celebratory messages on special 'petal stickers' and place them on the character panel of their choice!

Would you like to come celebrate Kakashi's birthday? 

©Masashi Kishimoto /Shueisha・TV Tokyo・Pierrot

Information

Naruto Shippuden x Escape Game: #009 Kakashi & Obito

Running: August 21-October 10, 2021

Opening Hours: 10:00-20:00

Estimated Play Time: 30 minutes

Nijigen no Mori

Address: 2425-2 Kusumoto, Awaji, Hyogo

Official Website: https://nijigennomori.com/

Japan's Poké Lid Project Lays Down New Manhole Covers in Hyogo Prefecture

Three new Pokémon manhole covers were unveiled in Awaji, Hyogo Prefecture on August 11, as part of the Poké Lid project. The new designs depict the legendary Pokémon Lugia, Bayleef, Aromatisse, and Cloyster. These are the first Poké Lids to be placed in Hyogo. 

Including these new additions, the total number of Pokémon-themed manhole covers across Japan is now 201. The project began with the installation of a Eevee manhole cover in Ibusuki City, Kagoshima Prefecture in December 2018. 

Each one features completely original Pokémon art, and going on a pilgrimage to visit each of them has become a popular new fad. The project aims to promote local tourism by using these internationally-loved characters. 

There are also plans to turn each cover into Pokéstops, used in the popular location-based Pokemon GO smartphone game. 

Which Poké Lid would you like to find first? 

©2021 Pokémon. ©1995-2021 Nintendo/Creatures Inc./GAME FREAK inc.

Pokemon, Pokémon and Pokémon are registered trademarks of Nintendo, Creatures and Game Freak.

Go Glamping Under the Stars Indoors with New Sega Toys x RIHGA Royal Hotel Kyoto Collab

​It may seem like a strange collaboration, but RIHGA Royal Hotel Kyoto is teaming up with Sega Toys to offer a limited-time hotel stay guests will never forget. From August 12, 2021 to March 31, 2022, visitors can stay in a tropical jungle-themed room beneath the stars. Sega Toys is well-known for their 'Homestar' series of home-use planetariums, and the new 'twinkling stars' functionality will make its debut in this magical room. 

Starry Sky Glamping Room

Sega Toys 'Homestar,' On Sale August 12, 2021: Guest Room




'Galaxy Ttungcaron,' created by RIHGA Royal Hotel Kyoto's Chef Pâtissier

Red Ring Solar Eclipse Ttungcaron

This unique 'Starry Sky Glamping at the Hotel' plan will commemorate the launch of a new 'Homestar' home-use planetarium, set to go on sale August 12, 2021. These popular items have sold over 1.7 million units, and those who book this jungle-themed room will be able to go stargazing while in the comfort of their hotel room. Originally, this plan was concocted by female staff at the hotel as a way to provide comfort and happiness to those who have been unable to travel easily, or who have experienced lifestyle changes due to the current situation around the world.

A reservation won't have guests walking into just any hotel room: one room has been completely stripped of furniture, and is completely decorated with imitation greenery to create an immersive jungle atmosphere. Tents, rugs, and lanterns are all provided, making it feel like you're really in the great outdoors. When it's time to sleep, feel free to use the Dream Switch, which projects moving picture-books onto the ceiling–perfect for children! If you have a sweet tooth, try the scrumptious ttungcarons developed by the hotel's Chef Pâtissier and currently hugely popular on social media. The outer space theme continues with the limited 'Homestar' ttungcaron set, featuring a Red Ring Solar Eclipse sweet, and the Sega Toys collaboration ttungcaron, with images of the Earth, the Moon, and Jupiter!

This hotel glamping experience is the perfect way to refresh and recharge. Would you give it a try?

Information

Sega Toys x RIHGA Royal Hotel Kyoto 'Starry Sky Glamping at the Hotel' 

Running: August 12, 2021-March 31, 2022 (Limited to 1 couple per day)
(Sales period is subject to change.) 

Reservations/Details: https://www.rihga.co.jp/kyoto/stay/

Naruto and Boruto Summer Event Begins at Nijigen no Mori

Nijigen no Mori, an amusement park located on Awaji Island in Hyogo, began a summer event at its Naruto and Boruto-themed zone on July 22 which is set to run until September 30.

Event-exclusive stickers

The event includes a huge water gun event where 25 litres of water will be sprayed to cool down guests during the hot summer event. With themed character panels displayed around the park, join Naruto and the gang, including Zabuza and Haku, for some summer fun. All guests receive a free original sticker too.

© 岸本斉史 スコット/集英社・テレビ東京・ぴえろ

Information

NARUTO&BORUTO SHINOBI-ZATO
Running: July 22, 2021 – September 30, 2021

Location: Nijigen no Mori

Opening Hours: 10:00-18:00
Price: Free (But park entry payment required)
Official Website: https://nijigennomori.com/naruto_shinobizato/

Milkshake Shaved Ice and Milk Frozen Desserts Served Up at Motosue in Hyogo

The new Motosue Hanare has opened next to Motosue Kurakuen in Hyogo where they are selling a range of desserts including the Milkshake Shaved Ice and Milk Frozen.

Milkshake Shaved Ice Pudding | ¥1,290 (Tax Included)

Milkshake Shaved Ice Sweet Potato | ¥1,350 (Tax Included)

Milkshake Shaved Ice Matcha Adzuki | ¥1,200 (Tax Included)

Milk Frozen Chocolate Banana | ¥650 (Tax Included)

Milk Frozen Strawberry | ¥720 (Tax Included)

Eggy Bread | ¥750 (Tax Included)

Using milkshake as the base ingredients, the shave ice line-up gets its super fluffy texture from free range eggs. There are three flavours to enjoy, such as the pudding one which is topped with a whole Japanese pudding, adding a smooth and velvety texture to the fluffy shaved ice. Each is a perfect pick for cooling down during the summer season.

The 'Milk Frozen' desserts use frozen milk for the base and are topped with fruit. Each is made carefully handmade one by one, and they are even more refreshing than the shave ices. The eggy breads also come in a range of flavours including plain and custard.

Information

Motosue Hanare

Japanese Shop Name: 本巣ヱ 離れ

Address: 1-28 Kikutanichō, Nishinomiya, Hyogo 662-0078, Japan

Access: 3-minutes from Kurakuenguchi Station

Opening Hours: 10:00-19:00 (Last Orders 18:30)

Closed: Every 2nd and 4th Tuesdays of the month

Official Website: https://supertamago.com/

Hello Kitty Summer Event Themed On the Undersea Palace Princess Oto-hime Kicks Off in Hyogo

The Hello Kitty media art facility and restaurant HELLO KITTY SMILE on Awaji Island kicked off a summer event on July 1. Titled "HELLO KITTY SMILE Oto-hime Ryugu-jo Beach Summer Festival," the event is set to run until the end of August.

Digital fireworks set the summer vibe

Catch your own Sanrio figure

Decorate your own Sanrio character ceramic

Children's meal at the Party Terrace


Hello Kitty afternoon tea at the Party Balcony

Spicy tortilla at the Garden Terrace

The event is themed on Oto-hime, the princess of the underwater palace Ryugu-jo which features in the Japanese folktake of Urashima Taro. It focuses on Hello Kitty and is a celebration of Bon odori, a type of dance that takes place during the Japanese summertime Bon Festival. Hello Kitty performs the dance on stage, and the audience can join in with handclapping, dancing, and waving the free fan they receive upon entering the venue. Visitors can also buy a ticket to meet Hello Kitty, and those who do receive a free plush toy along with a photo with the Sanrio queen herself.

At the event, visitors can enjoy Sanrio versions of all the fun things Japanese summer festivals, or natsumarui, have to offer like catching a Sanrio figure instead of a goldfish, painting ceramics, making vinyl prints, squirting water pistols, jumping on a giant trampoline, and so much more.

Other things to look out for include special screenings at the HELLO KITTY SMILE theatre and the firework projection mapping show. The event also has four different restaurants which are serving limited-time, seasonal summer treats: the Party Terrace, Party Balcony, Restaurant Tamatebako, and Garden Terrace.

Ⓒ2021 SANRIO CO., LTD. APPROVAL NO. L627610

Information

HELLO KITTY SMILE Oto-hime Ryugu-jo Beach Summer Festival

Japanese Event Title: HELLO KITTY SMILE 乙姫竜宮城 海辺の夏祭り

Running: July 1, 2021 – August 31, 2021
Opening Hours:10:00-19:00 (Last Entries 18:00)
*Brunch served exclusively on weekends and public holidays at the Party Terrace at 9:00-10:00 (last orders 10:30)

Closed: Tuesdays

Address: 985-1 Nojimahikinoura, Awaji, Hyogo 656-1721, Japan

Official Website: https://awaji-resort.com/hellokittysmile/

Enjoy Breakfast Fruits While Gazing at Mount Fuji at this Glamping Experience

HOSHINOYA Fuji, a hotel which opened as Japan's first glamping resort, has announced the Glamping Fruits Breakfast summer plan which is set to run from June 20 to August 31.

HOSHINOYA Fuji is located in Japan's prefecture of Yamanashi, a place that enjoys a bounty of fruit cultivation. Yamanashi has been called the "Fruit Country," offering a variety of different fruits. In fact, it has been the biggest producer of peaches, grapes, and plums in Japan for over 10 year. The glamping masters of HOSHINOYA Fuji have had knowledge bestowed on them from the growers of these sweet gems who have advised on the safety and best ways to prepare land for fruit growing, characteristics of fruits grown throughout the year, and other means of support. Now, guests at HOSHINOYA Fuji are set to serve these fruits to guests at breakfast this summer.

Dine outdoors from a terrace with a breathtaking view

Guests will enjoy their breakfast out on a sofa on a private terrace that overlooks Mount Fuji and Lake Kawaguchi. With the support of the hotel's Glamping Master, food will be prepared outdoors using a skillet and burner. The main dish is roasted peaches made with bacon and fresh herbs. The salty bacon and sweet peach make for a delightful combination. Best of all, ingredients and condiments are all prepared for guests in advance so they can enjoy a hands-free outdoor experience.

Indulge in high quality fruits

Eight varieties of fruit are available during the breakfast experience including peaches, Shine Muscat, pione, and more. And only the tastiest fruit is served to customers.

An optional tour is available with the plan which offers guests a chance to depart HOSHINOYA Fuji early in the morning to visit a peach farm in the city of Fuefuki. Guests are given exclusive access to the farm where they can learn all about how the peaches are grown from the farmers. At the end, they can tuck into some freshly-picked peaches with a glass of sparkling wine in hand.

Information

Glamping Fruits Breakfast
Running: June 20, 2021 – August 31, 2021
Location: HOSHINOYA Fuji / Fuefuki Peach Farm
Time: 7:30-10:00
Capacity: One group of up to 3 people per day
Bookings/Details: https://hoshinoya.com/fuji/ (Bookings must be made 2 weeks in advance)
Note: Ingredients and menu subject to change