Glamping Site 'Kannabe 5 Sense' Opens in Hyogo Prefecture on June 23
Kannabe 5 Sense is a new glamping site opening Hyogo Prefecture's city of Toyooka on June 23.
The site is designed with beginners to camping in mind as a place where you can enjoy yourself outdoors using all 5 of your senses. There are five glamping tents in total each with their own colour and each with wooden flooring surrounded in a peaceful environment. It offers a very special kind of accommodation experience. Though it's positioned in the middle of a forest enveloped in nature it's located right next to Michi-no-Eki Kannabe. Whether you're with your family or having a girl's-only outing, guests are assured a safe and comfortable stay.
Based on enjoying yourself with each of your senses, the tents have their own theme and colour: Green, Sky, Flower, Soil, and Bug. All are fitted to their appropriate concepts, from the textiles to the books and items. For example, the green tent is themed on grass, the blue tent on sky and so on.
All the tents are fitted with two double beds, air circulators, bean bags and more for guests to enjoy a luxurious stay.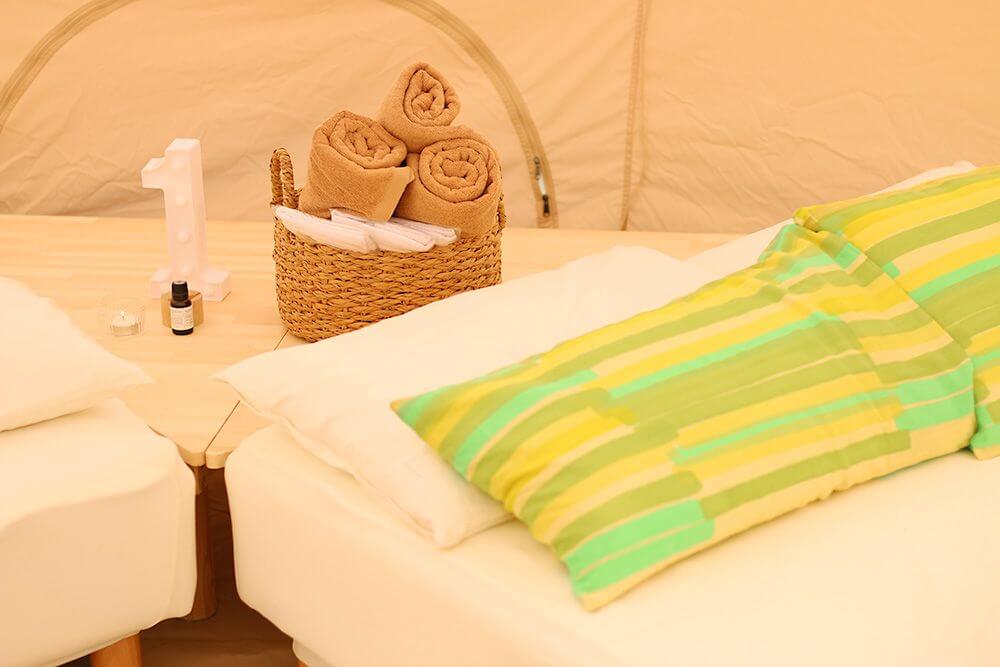 They even have pillow covers and garlands with designs themed on nature, all of which is sewn individually. Everything is prepared to give people of all ages the glamorous camping experience they expect.
For dinner, there are grills by Weber for people to enjoy BBQs with plenty of authentic outdoor-style food like spare ribs.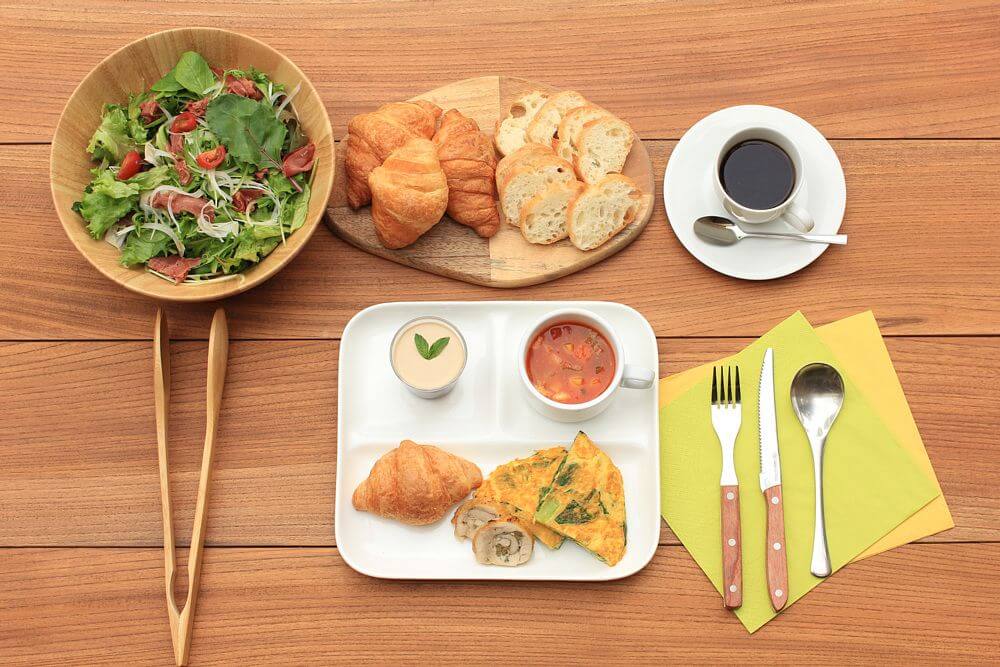 For breakfast you can look forward to some freshly-made croissants seasonal salad and more in the specially prepare restaurant. Just a 2-minute walk from there will be a bath area, so if you're worried about getting a little dirty from camping then head there.
The site is scheduled to be open until the beginning of November. During its run there are plans for a firefly viewing session in June and July, hot-air balloons, paragliding and other activities.
Enjoy the outdoors camping in style at Kannabe 5 Sense!
■Information
Kannabe 5 Sense
Addres: 60-1 Hidakacho Kurisuno, Toyooka, Hyogo Prefecture
Tents: 5
Check-In: 3pm-7:30pm / Check-Out: 10am next day
TEL: 0796-45-1545 / FAX: 0796-45-1546
Official Website: http://5sense.site
RELATED ENTRIES
Hello Kitty Theatre Restaurant HELLO KITTY SHOW BOX Opens its Kawaii Doors to the Public

The official Hello Kitty theatre and restaurant HELLO KITTY SHOW BOX on Awaji Island had its grand opening on August 12.

Related Article: Stunning Hello Kitty Theatre Restaurant HELLO KITTY SHOW BOX to Open On Awaji Island

New photos have emerged giving us a peek inside the restaurant and at the menu.

The restaurant itself is situated in the farmlands of Awaji Island. Hiding on top of the building is an adorable hidden face of Hello Kitty which can't be seen from the ground.

At the back of the restaurant is a giant screen spanning 6 meters wide and 16 meters tall. The stage in front will give rise to a whole new kind of Hello Kitty entertainment with song, dance and performances.

The menu was conceived by Japanese chef Hal Yamashita and uses healthy, organic ingredients to make incredible dishes that both taste amazing and are fun to look at. As well as vegan dishes, there will be a dessert buffet which also uses healthier alternatives. Everything look delicious!

The interior is both cute and high class, offering the ultimate Hello Kitty restaurant. With its doors now open to the public, fans of Hello Kitty are set to flock to Awaji Island.

Ⓒ1976, 2019 SANRIO CO., LTD. 

Information

HELLO KITTY SHOW BOX

Grand Opening: August 12, 2019

Address: 177-5 Nojimahirabayashi, Awaji, Hyogo Prefecture
Business Hours: 11:00-20:00
Closed: Wednesdays
Weekday Hours: Lunch 11:00 / Cafe 15:00 / Dinner 18:00
Weekend Hours: Lunch 11:00 / Cafe 14:15 & 16:15 / Dinner 18:15

Reservations
①Reservations can be made via the homepage here (*Discount applied to all reservations)
②Reservations can also be made at the restaurant on the day depending on the number of available tables
Allotted Time: 2 hours max.

Official Website: https://awajiresort.com/hellokittyshowbox/

Witness the 'Queen of Lilies' the Golden-rayed Lily Blooming at Rokko Alpine Botanical Garden

The golden-rayed lilies (Lilium auratum) are now in bloom at Rokko Alpine Botanical Garden in Hyogo.

Known as yamayuri in Japan, the golden-rayed lily is the most ornate lily in the world. It is native to Japan and has a white form with golden streaks which it gets its nickname from. It has a potent fragrance which fill your nose if you visit the Rokko Alpine Botanical right now where you can witness close to 200 of these magnificent flowers.

The flowers are in bloom until early August so if you're in Japan, don't miss this chance to see this queen of lilies.

Information

Rokkō Alpine Botanical Garden

Location: Rokkō Alpine Botanical Garden (Kitarokkō-4512-150 Rokkōsanchō, Nada Ward, Kobe, Hyogo Prefecture)

Price: General (12+ Years) ¥620 / Children (4-11 Years) ¥310

Opening Period: March 16, 2019 – November 24, 2019 (Closed September 5 and September 12)

Opening Hours: 10:00-17:00 (Reception desk closes at 16:30)

Official Website: http://www.rokkosan.com

Witness The Refreshing False Anemone In Full Bloom At Rokko Alpine Botanical Garden, Hyogo

The beautiful false anemone flowers of Rokko Alpine Botanical Garden are currently in full bloom. 

False anemone can be found scattered from the south to the central part of the Tohoku region. In the Kansai region, it can only be found growing wildly among the limestone rocks of Mount Omine. Each flower blooms facing downwards and has a diameter of up to 3cm. The petals are a translucent light purple colour. This is a very popular species, especially amongst photographers.

This is the perfect opportunity to take beautiful photos of the refreshing flowers as they are shaken by the gentle breeze, swaying under the pure light that filters through the trees towering above them. The false anemone are predicted to be in full bloom until mid August, so please come see them.

Information

Rokko Alpine Botanical Garden

Address: Kitarokko-4512-150 Rokkosancho, Nada Ward, Kobe, Hyogo 

Open Period: March 16 ー November 24

Closed: September 5, 12

Opening Hours: 10:00 ー 17:00 (Reception closing time: 16:30)

Entry Prices

Adults (Middle School +):¥620/Children: (4 y/o ー Elementary School): ¥310

Rokkosan Web Portal: https://www.rokkosan.com/

Witness the Vibrant Yellow Nikkōkisuge Flower at Rokko Alpine Botanical Garden

The high season to catch a glimpse of the beautiful nikkōkisuge (Hemerocallis esculenta) flower at Rokko Alpine Botanical Garden is happening right now.

The nikkōkisuge blooms in the high plains and is recognised as a sign of summer. The full bloom period for the flower in the subalpine zone is June, but the best time to see them in high plains is July where 2,000 clusters of the bright yellow beauties sprout their vibrant leaves. The yellow beds make for some seriously summery Instagram posts.

They live a fleeting life as they only bloom for a single day, opening in the morning and closing in the evening. A single stem is home to abundant flower buds, and they are long so they can bloom from one to the next. If you are in Hyogo this July we highly recommend witnessing this ephemeral sight.

Information

Rokkō Alpine Botanical Garden

Location: Rokkō Alpine Botanical Garden (Kitarokkō-4512-150 Rokkōsanchō, Nada Ward, Kobe, Hyogo Prefecture)

Price: General (12+ Years) ¥620 / Children (4-11 Years) ¥310

Opening Period: March 16, 2019 – November 24, 2019 (Closed September 5 and September 12)

Opening Hours: 10:00-17:00 (Reception desk closes at 16:30)

Official Website: http://www.rokkosan.com

Witness the Phantasmal Hydrangea Shichidanka at Rokkō Alpine Botanical Garden

The season has arrived at Rokkō Alpine Botanical Garden in Hyogo Prefecture when you can see the "phantasmal" hydrangea known as the shichidanka.

The shichidanka is a type of hydrangea serrata, also known as "mountain hydrangea." It is known for its distinct double-flowering. Its ten or so sepals give it a beautiful star shape. Its delicate form has earned the plant much popularity in the gardens where it blooms in two locations.

As well as this flower, several other hydrangeas are now in bloom or soon to be in bloom a the garden too which are making their way to Japanese social media. Let's take a look at some of the various hydrangeas you can see there.

Shichdanka (Hortensia serrate var.serrata f.prolifera)

This flower stands at 1 to 1.5 meters tall. The flower appears in Philipp Franz von Siebold's studies of Japanese flora and fauna during the Edo Period, but its existence subsequently became unnoticed until 1959 where it was discovered by chance at Mount Rokkō. The flowers were then cut and planted and seedlings spread across various places. The flower, which was given the name "mountain hydrangea," took on a beautiful blue colour as a result of acid soil from caused by granite. It can be enjoyed in full bloom right now until mid-July.

Himeajisai (Hortensia cuspidata f.cuspidata) [Blooming: June – July 2019]

Also known as the "garden hydrangea," the himeajisai is recognisable for its shape which is like a temari – a type of toy ball from Japanese folk art. It was given its name by Japanese botanist Tomitaro Makino in 1929. It is strong and durable against hot and dry weather and takes on a gorgeous blue colour when grown in soil with a high level of acidity.

Amagiamacha (Hortensia serrata var.angustata) [Blooming: June – July 2019]

This delicate, sweet-smelling flower has thin leaves that grow no longer than 10cm. Since long ago this flower has not been used as a sweetener in hydrangea tea but instead during the manufacturing process of soy sauce for its embalming effect. It has also been used to prevent mould and mildew from building up. Not only that, the flower has also been combined in home remedies such as mouth fresheners and toothpaste for its sweet flavour. Locals also use it for balancing sweetness and acidity with daikon pickled vegetables.

Tamaajisai (Platycrater involucrata) [Blooming: August 2019]

The tamaajisai grows natively across the Kanto region to Gifu Prefecture. It blooms in mountainous regions that have a high level of humidity. Its leaves' surface have thick and hard hairs on them. They get the tama ("Ball" in Japanese) in their name for their ping pong ball-like buds. During wartime the flower was also used as a substitute for tobacco and so it also gets the name "mountain tobacco." The flower is popular for its appearance just before its full bloom too.

Visit Rokkō Alpine Botanical Garden this summer to see all of the different hydrangeas on show.

Information

Rokkō Alpine Botanical Garden

Location: Rokkō Alpine Botanical Garden (Kitarokkō-4512-150 Rokkōsanchō, Nada Ward, Kobe, Hyogo Prefecture)

Price: General (12+ Years) ¥620 / Children (4-11 Years) ¥310

Opening Period: March 16, 2019 – November 24, 2019 (Closed September 5 and September 12)

Opening Hours: 10:00-17:00 (Reception desk closes at 16:30)

Official Website: http://www.rokkosan.com

Visit the Abandoned Hotel, Tenjō-ji Temple & More at Mount Maya in Kobe

A new category added to the Cool Japan Award―which is run by the Cool Japan Association―is "National Park," which was claimed by Mount Maya in Kobe in May this year for its nighttime scenery.

Mount Maya is one of the major peaks of the Rokkō Mountains in Nada, Kobe and stands at a towering 702m high. Located close to the main city of Kobe, those who reach its apex will be able to see many different sights such as Kobe, Osaka, the Kii Peninsula, and Akashi-Kaikyo Bridge. Maya is popular not just with tourists and sightseers, but Kobe locals too who visit it with families to eat bento, or those who take their special somebodies to observe the nightscape.

Located on Mount Maya is Tenjō-ji, a temple which the mountain's name has its origins in. This year marks the run of a special event which is held at the temple once every 33 years. Visitors can also go on a guide walk to an abandoned hotel which is normally off limits to the public.

Let's take an in-depth look at all the exciting things one can do at Mount Maya.

Tenjō-ji Temple, Mount Maya

The originator of Mount Maya's name

Tenjō-ji can be found wrapped in nature at the peak of Mount Maya in its National Park. Visitors can enjoy all weathers atop the mountain as the seasons change, but if you go on a clear day, you'll be able to observe as far as Awaji Island, Akashi-Kaikyo Bridge, and Shōdoshima. The history of this temple―the only one in Japan to have been built by Maya-bunin―dates back to the year 646 when the high priest of India accepted Emperor Kōtoku's request to build it. Maya-bunin, the mother of Buddha, is prayed to as a guardian of safe childbirth and child rearing. This is where Mount Maya gets its name.

The door to three hidden Buddhist statues opened once every 33 years

Once every 33 years, a door is opened at the palace to reveal three hidden Buddhist idols: the Eleven-Faced Avalokitesvara, Acala, and Vaiśravaṇa. For the duration of its opening this August, Buddhist sermons will be given three times a day (10:30/12:00/14:00), and visitors will be able to obtain an exclusive goshuin stamp.

Running: August 1, 2019 – August 15, 2019

Time: 10:00-16:00 (Until 17:00 for this event)

Tour guide walk to Mount Maya's historic ruins

~Stroll around and trace the history of Mount Yama~

As well as the temple, Mount Yama formerly bustled with people looking to dine and as well as stay in the accommodation there. After the war and earthquake disasters, a campaign began to restore life to Mount Maya, one part of which is a tour guide walk to the historic ruins.

This includes a trip to the former Tenjō-ji temple site as well as the abandoned hotel which is off limits to the general public.

Mount Maya's Nightscape

~An internationally recognised landscape~

Mount Maya has been awarded the Cool Japan Award 2019 in the new National Park category for its gorgeous evening view from which one can see Kobe's streets, the port and more.

If you're planning a trip to Kobe be sure to use this article as reference!

Information

Tenjō-ji Temple – Mount Maya
Address: 2-12 Mayasanchō, Nada, Kobe, Hyogo

Opening Hours: 9:00-17:00
No Fixed Holidays.
TEL: 078-861-2684

Official Website: http://www.mayasan-tenjoji.jp/

Anime Theme Park 'Nijigen no Mori' Announces New Naruto & Boruto Attraction for Spring 2019

Nijigen no Mori is an anime themed theme park that opened on Awaji Island in Hyogo Prefecture last summer.

The park has just announced a new attraction called Naruto & Boruto Shinobi-Zato based on the internationally beloved anime series Naruto and its spin-off and sequel series Boruto: Naruto Next Generations which follows the story of Naruto Uzumaki's son Boruto. The attraction is scheduled to open next spring.

Additionally, a booth in promotion of the attraction will be set up at Jump Festa 2019 which is running on December 22 and 23. The booth will provide details on the new attraction and early-bird tickets to experience it will be sold. Free flyers will also be handed out showcasing new and original merchandise.

At Shinobi-Zato you can expect to see a whole range of Naruto and Boruto themed references. This includes Hokage Rock which overlooks the Hidden Leaf Village in the series and has the faces of all the Hokage carved into it. There will even be full-size statues of characters from the series. Those who roll up to the attraction can look forward to enjoying a range of athletic activities as well as a maze and more while experiencing the recreated worlds of Naruto and Boruto surrounded amongst Awaji Island's lush greenery. There will of course be a shop selling exclusive merchandise too. After all that, you can enjoy a bowl of ramen at series' iconic ramen bar Ramen Ichiraku.

Naruto Athletic "Chi no Maki": This attraction will let you experience the world of Naruto. Participants will have to overcome a string or trials and clear a range of activities in order to collect the missing seals – those seen in the series that are used for Sealing Jutsu.

Boruto Maze: "Ten no Maki": This attraction will let you experience the world of Boruto: Naruto Next Generations. Participants will get involved with courses at the Ninja Academy that Boruto graduated from. They must use their mind and body to escape the maze.

Official Snoopy Shop 'Peanuts LIFE & TIMES' to Open at Nishinomiya Hankyu

Hankyu Hanshin Department Store are opening a new Snoopy shop called Peanuts LIFE & TIMES that can be enjoyed by kids and adults alike. The store will open on the fourth floor of Nishinomiya Hankyu on November 7.

Peanuts is a popular comic strip written and illustrated by Charles M. Schulz that was serialised in American newspapers from 1950 to 2000. It follows the story of the instantly-recognisable characters Charlie Brown and Snoopy and their pals. This year marks 50 years since the comic arrived to Japan where it has many fans including adults. A variety of celebrations are being held to commemorate the anniversary., including the new Peanuts LIFE & TIMES shop.

The shop will house a whole range of products including a household items and daily necessities to make every day more fun, sweets, outdoor products for family bonding, DIY goods, clothes, apparel accessories, bags and more.

There will be close to 450 items to choose from based on one of four keywords selected from the Peanuts comics: Happy Dance, Security Blanket, Pal and Typewriter. 70 of these items are originals developed for sale at Nishinomiya Hankyu.

HAAG T-shirts:  Adult Size ¥9,504 / Kids Size ¥7,344

The HAAG T-shirts are made in collaboration with Smile Cotton in Mie Prefecture who produce super soft material. The design is simple so you can enjoy being nonchalantly fashionable with the family.

Tote Bags: From ¥8,532

Another nonchalant but stylish Peanuts tribute – tote bags with character art on the inside only.

'Mlesna Tea House' Tea: From ¥950

This black tea product is made in collaboration with Nishinomiya Hankyu's popular tea shop.

There's plenty more where that came from too. Head to the cute new Peanuts store to get your hands on the perfect gifts and souvenirs!

Information

Peanuts LIFE & TIMES

Address: Nishinomiya Hankyu Floor 4F (14-1 14-1 Takamatsucho, Nishinomiya, Hyogo Prefecture)

Opening Hours: 10:00-20:00

TEL: 0798-62-1381

Website: http://www.hankyu-dept.co.jp/nishinomiya/

©2018 Peanuts Worldwide LLC

Awaji Island Whirlpool Cruise Free for Children for a Limited Time

The Uzushio Cruise, or whirlpool cruise, is managed by Joy Port who are holding a campaign for children aged 12 and under inviting them to board for free. The campaign runs from July 14 to August 31 this year.

Whirlpools are natural phenomenon that cause water to swirl violently. The Naruto Strait which you can witness on the cruise is one of the world's three biggest whirlpools. Hopping on the Uzushio Cruise means you get to witness this captivating scene.

The World Heritage Registration Council, which is formed of affiliate groups in the Hyogo and Tokushima Prefectures, is looking to register whirlpools as either a natural heritage or cultural heritage site.

Hyogo Prefecture is in charge of natural aspect while Tokushima Prefecture is in charge of cultural aspect. In Hyogo, they have been carrying out scientific studies since last year on whirlpools and will continue to do so until 2019. Studies have also begun on the Naruto Strait. By analyzing it from a scientific perspective, it brings them one stop closer to listing whirlpools as a world heritage.

See the treasured whirlpools for yourself, and remember, kids can go for free from July 14 to August 31.

■InformationUzushio Cruise – Kids Get in For Free Campaign

Target: 12-year-olds and below

Running: July 14, 2018 – August 31, 2018

Time: Sailing times differ from day to day so please check the homepage.

How to Apply: When a parent or guardian is buying a ticket please select the number of children aged 12 and below that are accompanying you.

Enquiries: Joy Port (0799-52-2113 / kurume@uzu-shio.com)

Uzushio Cruise Website: http://www.uzu-shio.com/

Hello Kitty Themed Restaurant HELLO KITTY SMILE Opens on Awaji Island

Enter the world of Hello Kitty at HELLO KITTY SMILE, an oriental restaurant that's opening on Awaji Island―Japan's ingredient gold mine―on April 27, 2018.

Organic and eco-friendly are the keywards at this restaurant, where they serve luxury fusion food made using traditional Chinese cooking techniques that incorporates Japanese elements. You can also enjoy dozens of varieties of High Tea from inside and outside Japan, pinchos, and more.

Projecting mapping will be used to bring to life the world of Hello Kitty on orbs in the restaurant spanning a diameter of close to 14m. The restaurant will also be home to a theatre where you will be immersed in the wonderland of Hello Kitty's dreams.

The spherical LED lights that float overhead change with Hello Kitty's mood and feelings with projection mapping that tells the story of Hello Kitty's dream world.

The walls of the theatre will be decorated with things like apples and teacups that make up Kitty's world.

There will also be a giant kaleidoscope standing 2m tall and 3m wide where you can see admire her world with moving images of Hello Kitty and her friends.

A shop selling limited edition merchandise will also be open, so if you're a Hello Kitty fan you've definitely got to visit!

■Information

HELLO KITTY SMILE

Address: 985-1 Nojimahikinoura, Awaji, Hyogo Prefecture

Opening: April 27, 2018

Access:
Car: 10-minutes from Awaji Interchange or Hokudan Interchange via Kobe-Awaji-Naruto Expressway

Bus: Free shuttle bus from Iwaya Port Terminal

TEL: 0799-70-9037

Admire the Sea of Clouds at Hyogo Prefecture's Scenic Hotel 'Terrace Resort Asago'

At Terrace Resort Asago, the hotel where you can witness the spellbinding scene of a sea of clouds and the starry sky, they are holding a campaign from May 1 to July 31 for guests who visit to see the vast expanse clouds to receive a hotel original kuromoji tea.

Asago is a resort hotel situated atop a mountain. It's a tranquil place, with no convenience stores, restaurants or local residents in sight. It's isolated—in the sky—and hidden from the tumult of the world below.

Up there, you can also enjoy delicious food gathered from the mountain, as well as drinks like local sake and wine. The establishment was changed from an enterprise training facility into a resort hotel, so it's full of big and small conference facilities, as well as packed with activities and programs that take advantage of the surrounding nature.

Looking to get away from the noise and clatter of the city? Then immerse yourself in nature!

■Information

Campaign: Admire the Sublime Sea of Clouds from the Hotel Terrace

Address: 100-1 Yashiro, Asago-shi, Hyogo Prefecture

Running: May 1, 2018―July 31, 2018

Average Price: ¥11,000 for one person (incl. 1 night w/ 2 meals)

Aimed at guests of Terrace Resort Asago who have seen the sea of clouds from the hotel.

Present: Hotel Original Kuromoji Tea

How to Apply: Please show a photo you have taken on your smartphone, tablet or other device of the sea of clouds.

Access: 10-minutes' by cat from Arai Station via the JR Line.

TEL: 079-678-9050

Website: https://www.tra-hotel.jp

Kurobe Dam Curry Festival 2018 to Take Place in Nagano, Kyoto, Osaka & Hyogo

In line with the opening of the Tateyama Kurobe Alpen Route, the Kurobe Dam Curry Festival 2018 will be held at on the doorstep of the Kurobe Dam front April 15 to May 31. The event will see the local speciality meal 'Kurobe Dam Curry' of Omachi in Nagano Prefecture served at each of Kanden Amenix's restaurants in Nagano, Kyoto, Osaka and Hyogo.

Kurobe Dam Curry has its roots in the Showa Period in 1957 when workers, during harsh working conditions at the Kurobe Dam through the Omachi Tunnel (now Kanden Tunnel), had to battle against the strenuous cold weather upon returning. They looked forward to nothing more than a plate of Kurobe Dam Curry.

The curry was something the workers could rely on at the construction site of Kurobe Dam. After the building of the dam was complete, the Omachi Club House (now Kuroyon Royal Hotel), the curry was served under the name 'Arch Curry,' and the start of 1965, proper sales began at Ogizawa Station Daishokudo (now Ogizawa Rest House). In July 2009, seven restaurants began sales of the curry under the name 'Kurobe Dam Curry' to promote tourism and interest in Omachi. It's now a well-known regional speciality.

Now, five restaurants will sell original Kurobe Dam Curry created by head chefs for a limited period. There are five unique versions of the curry to enjoy, including one served in a French restaurant with calf fillet katsu, fruit and vegetables, as well as another to celebrate 30 years of the Kuroyon Royal Hotel made with Shinshu brand cutlet.

A campaign will also be held at Kurobe Dam Curry Festival 2018 to win a pair of tickets to stay at the Kuroyon Royal Hotel.

Experience the construction of the Kurobe Dam, its tourism and its historical curry.

■Information

Kurobe Dam Curry Festival 2018

Running: April 15, 2018―May 31, 2018

Locations/Prices:

・Rindou Restaurant, Kuroyon Royal Hotel (Omachi, Nagano) – ¥3,000 (tax incl.)

・Mai Restaurant, EL INN Kyoto (Minami, Kyoto) – ¥1,000 (tax incl.)

・Lumiere Restaurant, Nakanoshima Plaza (Kita, Osaka) – ¥1,300

・Mukonodai Cardinal, Mukonodai Golf Course (Kita, Kobe) – ¥1,404 (tax incl.)

・Compass Restaurant, Amagasaki Technoland (Amagasaki, Hyogo) – ¥1,000 (tax incl.)

Serving Time: Served at each restaurant's corresponding lunch time.