'The Game of Life' Board Game Convention to be Held in Japan to Find the Country's Best
A competition is scheduled to be held on September 22 for the board game 'The Game of Life.' The convention will take place as part of a celebration of 50 years since the game first came out in Japan back on September 16, 1968. This is the first time the event will take place which seeks to find the best players in Japan.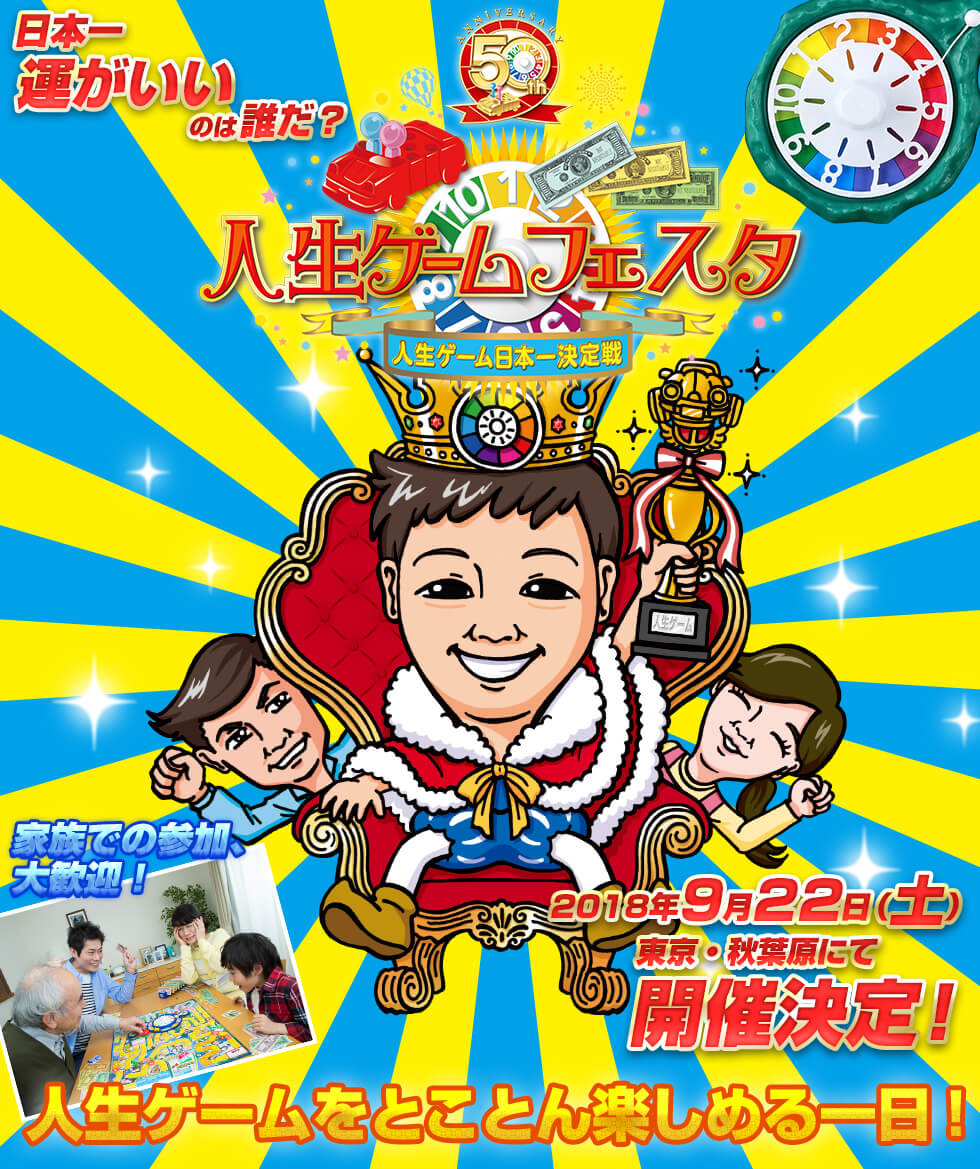 People up and down the country are being recruited through lottery systems and judging. One person out of 128 will be crowned Japan's number one player. Anybody can join regardless of their age or sex, meaning anybody can take the title.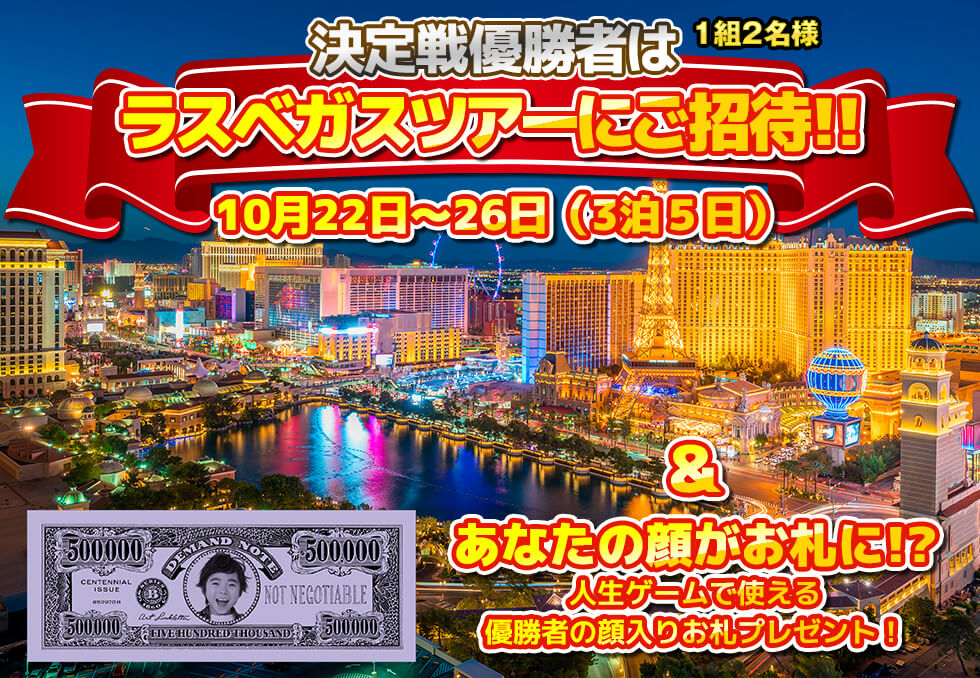 The winner will be rewarded a 3-night stay in Las Vegas as well as a set of paper money for the game with their own face on it.
The convention will be the main event of the 1st Game of Life Festa. There'll be an exhibition of all the different variations of the game as well as a replica of the original. You can look forward to enjoying The Game of Life in a number of different ways.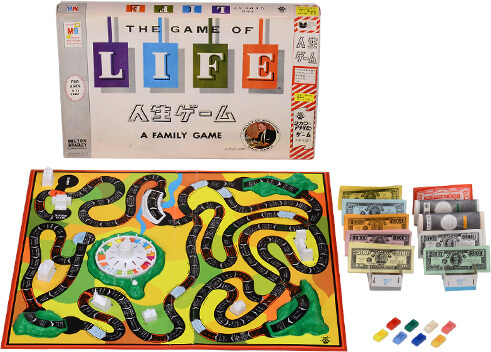 Anybody can attend the convention whether they're battling or not, and anybody is free to play, kids and adults alike.
Whether you want to witness Japan's best or are simply a fan of the game, you can expect an exciting experience of The Game of Life.
RELATED ENTRIES
Hatsune Miku Music Cafe Opening in Tokyo & Fukuoka

The Hatsune Miku Music Cafe is set to return for the third time this month. It will open in Akihabara, Tokyo on August 23 and in Hakata, Fukuoka on August 28.

The music cafe will be supported by VOCALOID music label KARENT. VOCALOID fans can look forward to dining while listening to music from their favourite characters―Miku, Luka, Rin, Len, MEIKO and KAITO―on high quality speakers and giant monitors.

Customers are able to request songs be played by picking from the record shelf. The huge discography will include the cafe's official theme song and music video Jazz Chorus no Natsu Takenawa which is written and composed by buzzG.

Fans can look forward to character-inspired food and drinks and can get their hands on a range of exclusive merchandise with designs illustrated by Kisaragi Yuu.

And if you gather enough stamps on your stamp card―one per visit―you'll be able to get priority access to a DJ event on October 6.

Merch

Leek Bag – ¥1,500 (Tax Included)

Multi Pouch (6 Designs) – ¥2,800 (Tax Included)

Food Menu

Miku's Leek Record Curry – ¥1,200 (Tax Included)

"Jazz Chorus no Natsu Takenawa" Summer Sky Jelly From the Starry Heavens – ¥600 (Tax Included)

When ordering something from the food menu you can receive one of 18 possible mini acrylic stands, chosen randomly.

Drinks Menu

Rin & Len's Yellow Mango Milk – ¥750 (Tax Included)

Luka's Pink Peach Soda – ¥750 (Tax Included)

There's lots more merchandise, food and drinks as well as this too. You can see the full line-up on the official website.

© Crypton Future Media, INC. www.piapro.net

*The rate of consumption tax is set to increase from 8% to 10% in Japan from October 1, 2019 and so the prices listed here will increase
*Photos are for illustrative purposes only

Information

Hatsune Miku Music Cafe – 3rd Run

・Ani ON STATION AKIHABARA
Address: Daidoh Limited Bldg. 1F, 3-1-16 Sotokanda, Chiyoda Ward, Tokyo

Running: August 23, 2019 – October 6, 2019
*Closed on September 1, 2019
*Regular hours will not run on October 6, 2019 due to the DJ event

・Ani ON STATION Hakata Bus Terminal
Address: Hakata Bus Terminal 7F, 2-1 Hakataekichuogai, Hakata Ward, Fukuoka, Fukuoka Prefecture
Running: August 28, 2019 – September 29, 2019

Entry Price: ¥500 (Tax Included)

Cafe Website: https://bandainamco-am.co.jp/cafe_and_bar/anionstation/special/miku_cafe3/
Ani ON STATION Official Website: https://bandainamco-am.co.jp/cafe_and_bar/anionstation/

Akihabara's New Samurai Rock Restaurant Offers Exciting Shows and First-Class Entertainment

SAMURAI ROCK ORCHESTRA opened its all-new Samurai Rock Restaurant at Pasela Resorts Akiba Multi Entertainment in July and went into full throttle on August 5. This 'show restaurant' offers a dining experience like no other, serving not only food but thrilling entertainment from world class artists from a wide range of backgrounds including samurai, ninja, acrobats, and many more, all of whom are rallied and ready to put on a show you will never forget.

Children and adults from around the world can look forward to experiencing what Samurai Rock Restaurant has to offer as their performances transcend language barriers, needing only to be seen to be appreciated. The restaurant has also cooked up one delicious menu with many options to pick from, including some meals inspired by something specific such as samurai.

Expect to see acrobatics from the vaulting box to baton performance, rhythmic gymnastics, ropes and more, all sure to make you go "wow!"

You can even meet and speak to the performers, and maybe ask them how on earth they were able to do what they did!

Experience a new form of nightlife in Akihabara at the Samurai Rock Restaurant.

Information

Samurai Rock Restaurant

Open: Every Wednesday (Dates in August: 7th, 14th, 21st & 28th)

Time: Open 18:30 / Start 20:00 (Performance time is 50 minutes)

Location: Pasela Resorts Akiba Multi Entertainment Floor 7F (1-1-10 Sotokanda, Chiyoda Ward, Tokyo)

Capacity: 200 people

Price: ¥6,500 (Tax Included) *2 order ticket of food and drink (5 order for ¥8,000)

Official Website & Reservations: http://www.samurai-rock-restaurant.com/

Join Sword Art Online's Characters in Akihabara to Help Dominate the Goblins

To celebrate the 10th anniversary of the Sword Art Online light novel series, an event titled "SAO Ex-Chronicle" will take place at Akihavara UDX this August. The event will feature the interactive game Sword Skill Challenge which uses the latest motion capture technology by Sony. You can sign-up to attend via the event's homepage right now until July 28.

a

Sword Skill Challenge will be located at the event's entrance and will open on August 12 for one week only. Using cutting-edge motion capture technology, players will take up the role of familiar faces such as Kirito and Eugeo, and use their entire body to take down and subjugate goblins in real time with their sword skills. The CG models from Bandai Entertainment's SWORD ART ONLINE Alicization Lycoris will be used.

This is only one of the many exciting experiences to be had at the SAO Ex-Chronicle event. For more details, check the official website, and if you're planning a trip to Akihabara this August, don't forget to sign up in advance for the Sword Skill Challenge.

©2017 Reki Kawahara / KADOKAWA / ASCII Media Works / SAO-A Project
©BANDAI NAMCO Entertainment Inc.

Information

Sword Skill Challenge

Running: August 12, 2019 – August 18, 2019

Location: Sword Art Online Ex-Chronicle Entrance

Sign-Up Period: July 24, 2019 at 10:00 (JST) – July 28, 2019 at 23:59 (JST)

Chosen Applicant Announcement: July 30, 2019 from 13:00 (JST)

Sign-Up Form: https://sao-ex-chronicle.com/form/

*Chosen applicants can participate in this game without buying a ticket to the main event

Signing Up

*Please note that people will be randomly selected to participate in the Sword Skill Challenge from those that sign up

①Read through the information on the sign-up page and apply.

②Winners will be sent an e-mail with information on what day and time to arrive at the event. Please ensure you are on time if you are chosen.

③The Sword Skill Challenge is located at the event's entrance. Please show your confirmation e-mail to the staff.

Sword Art Online Ex-Chronicle

Location: AkihabaraUDX 2F AKIBA_SQUARE (4-14-1 Sotokanda, Chiyoda Ward, Tokyo)

Running: August 4, 2019 – August 18, 2019

Event Website: https://sao-ex-chronicle.com/

Tickets now on sale until August 3, 2019 at 23:59 (JST).

General Ticket: ¥1,500 (Tax Included)

Merchandise Ticket: ¥3,000 (Tax Included) *Comes with special booklet and pass case

Tickets can be purchased at the following ticket vendors:

SAO Ex-Chronicle: https://sao-ex-chronicle.com/?p-ticket

Ticket Tickebo: https://ticket.tickebo.jp/sao2019-jb04

Ticket Pia: http://w.pia.jp/t/swordart-online/

7 Ticket: http://7ticket.jp/sp/sao

Cells at Work! Anime Themed Cafe to Open in Akihabara

Entertainment facility Ani ON STATION in Akihabara is opening a cafe themed on the popular anime series Cells at Work!. It will run from June 7 to July 7 this year.

Platelet's Blood Clot Waffle: ¥980 (Tax Included)

B Cell's Juwawawawa Drink: ¥700 (Tax Included)

The Cells at Work!several times themed cafe has appeared but this will be the first time that it collaborates with Ani ON STATION.

Omataseshimashita! Nutritional Bento: ¥1,000 (Tax Included)

White Blood Cell's After-Work Cheesecake: ¥1,050 (Tax Included)

The inside of the body is constantly on the go, so this cafe is based on the place that the Cells in the anime series go for to a brief respite. The menu includes a line-up of original food and drinks inspired by the characters.

Cells at Work! Key Rings (14 Designs): ¥1,000 Each (Tax Included)

Exclusive merchandise will also be sold such as key rings featuring the names of each Cell on them, amongst other items.

There will also be an event customers can participate in centred around Helper T Cell who helps strategize against foreign invaders to the body.

Those visiting the cafe for the first time will receive a stamp card. Each time you visit the cafe you will receive one stamp which will gain you free entry the next time you go. Collect three and get a special tea and dessert set.

Help the Cells with their work by heading to Akihabara this summer.

©Akane Shimizu / Kodansha・Aniplex・davidproduction

Kuroko's Basketbell Pop-Up Shop to Open in Akihabara

A Kuroko's Basketball themed pop-up shop will be open from March 15 to 31 on the second floor of Atre Akihabara 1, a shopping centre connected directly to the JR side of Akihabara Station.

The shop's theme is "Canvas With Their Paint" and will feature original merchandise and mini games based on the nine main characters of the series all of who are dressed as painters.

Kuroko's Basketbell pictures and wall art will decorate the inside of Atre and a special recording of the character Taiga Kagami, voiced by Yūki Ono, will also play in store.

A4 Folder (9 Designs): ¥500

Pin Badge (9 Designs): ¥500

Acrylic Stand (9 Designs): ¥1,500

T-Shirt (9 Designs): ¥3,500 Sizes: Medium/Large (*Available late March)

Fans can look forward to dunking plenty of exclusive merchandise too.

And for every ¥500 spent inside Atre (excluding the pop-up shop) you can get your hands on one of fourteen possible mini notebooks selected randomly.

Information

Kuroko's Basketball Pop-Up Store  ~canvas with their paint~ Atre Akihabara
Location: Atre Akihabara 1 Floor 2F, 1-17-6 Sotokanda, Chiyoda Ward, Tokyo
Running: March 15, 2019 – March 31, 2019
Opening Hours: 10:00-21:00

Access: Directly connected to JR Akihabara Station. Also accessible from the Electric Town Exit.

Pop-Up Store Website: https://bandainamco-am.co.jp/chara_shop/kurobas/

Kuroko's Basketball Website: http://www.kurobas.com/

©Tadatoshi Fujimaki / Shueisha・Kuroko's Basketball Production Committee

Sword Art Online: Alicization Themed Cafe Opening in Akihabara

Sword Art Online: Alicization is getting its own themed cafe which will open on March 23 on the fifth floor of SEGA Akihabara 4th.

Food Menu #1: ¥1,200 Each (March 23, 2019 – April 5, 2019)

The cafe will introduce three different food menus, with the first arriving on March 23, the second on April 6 and the last on April 20.

The first menu will include the above-pictured Alicization Aincrad Stew Rice and Alicization Alice Synthesis Thirty Golden Carbonara. A selection of drinks and desserts will also be served. Fans can also get their hands on an original coaster when ordering from the menus.

Drink Menu: ¥600 Each (Tax Included) *Will be served across all menus

Dessert Menu: ¥600 Each (Tax Included) *Will be served across all menus
Kirito's Milk Coffee Parfait / Eugeo's Fruit Parfait / Alice's Mango Milk Tea Parfait

A selection of merchandise, including limited edition SEGA collaborative items, will also be sold at the cafe. For every ¥2,000 spent at the item shop with tax included, you will receive a limited edition bromide photo.

The cafe is a must-visit for SAO fans coming to Akihabara this spring.

Information

SEGA x Sword Art Online: Alicization Collaborative Cafe
Running: March 23, 2019 – May 6, 2019
Location: SEGA Akihabara 4th (Floor 5F)

Menu #1: March 23, 2019 – April 5, 2019
Menu #2: April 6, 2019 – April 19, 2019
Menu #3: April 20, 2019 – May 6, 2019

Cafe Website: http://sega-collabocafe.com/akihabara4th/sao-alicization.html

©2017 Reki Kawahara / KADOKAWA / ASCII Media Works / SAO-A Project ©SEGA

Detective Conan Skateboard Game Announced for Nintendo Switch™ Release

Detective Conan Skateboard Run: Kaito Kid and the Mysterious Treasure is the first ever Detective Conan game for the Nintendo Switch™ set to arrive on the Nintendo eShop sometime in April 2019.

A 3D skating action game, the title will coincide with the release of the newest Detective Conan film The Fist of Blue Sapphire hitting Japanese cinemas on April 12, 2019.

Play as Conan and jump on an engine-equipped skateboard to high jump, do tricks and shoot soccer.

The game is set in an enormous theme park built by Sonoko Suzuki's grandfather Jirokichi Suzuki. There are three areas and 30 stages to enjoy.

During the gameplay Kaito Kid will make a sudden appearance and try to knock Conan off his skateboard with giant balls, cards and other gimmicks.

Conan's comrades will make an appearance to give him support through 10 different skills.

Minami Takayama and Kappei Yamaguchi will lend their voices for Conan and Kaito Kid respectively.

Jump on your board and stop Kaito Kid from his antics!

Information

Detective Conan Skateboard Run: Kaito Kid and the Mysterious Treasure

Release Date: April 2019 (Subject to change without notice)

Price: ¥3,500 (Tax Included) <Download Edition>

Official Website: https://conanrun.tms-game.com

Detective Conan: The Fist of Blue Sapphire

Release Date: April 12, 2019

Official Website: https://www.conan-movie.jp/

©Gosho Aoyama / Shogakukan・Yomiuri Telecasting Corporation・TMS 1996 ©TMS

© 2017 Nintendo

The Nintendo Switch logo and Nintendo Switch are registered trademarks of Nintendo Co., Ltd.

Magical Girl Spec-Ops Asuka Character Themed Shooting Bar & Cafe

The ongoing TV anime series Magical Girl Spec-Ops Asuka is teaming up with AKIBA BASE, a shooting bar and cafe in Akihabara, to serve up a concoction of character themed drinks. The collaboration will run from March 1 to 10.

Menu

Rapture☆Asuka: ¥1,000 (Before Tax)

War Nurse☆Kurumi: ¥1,000 (Before Tax)

Just Cause☆Mia: ¥1,000 (Before Tax)

Phoenix☆Tamara: ¥1,000 (Before Tax)

Shantoulon☆Pei: ¥1,000 (Before Tax)

Ordering any of these drinks will get you a free random novelty.

The shooting base will also be decked out with the above enemies designed specially for this collaboration.

Information

TV Anime Magical Girl Spec-Ops Asuka x AKIBA Base Shooting Cafe & Bar

Location: AKIBA Base Shooting Cafe & Bar (Akihabara SIL Bldg. Floor 3F, Soto-Kanda, Chiyoda Ward, Tokyo)

Running: March 1, 2019 – March 10, 2019

Magical Girl Spec-Ops Asuka Official Website: http://magical-five.jp/

Dine On Resident Evil 2 Themed Food & Drinks at Bar Rhythm in Akihabara

To celebrate the release of the 2019 remake of Resident Evil 2, Bar Rhythm in Akihabara is serving a special menu inspired by the video game from January 17 to February 28.

Licker Brain Cake: ¥930 (Tax Included)

The menu includes a fun line-up of eye-catching food and drinks themed on the Resident Evil 2, the characters in the game and other motifs.

Two different menus will in fact be served: the first from January 17 to 31 and the second from February 1 to 28. Details surrounding the second menu will be announced in the near future.

At the bar you can receive one point for every ¥1,000 spent. When you collect 3 points you can receive one of six possible original calendars. You can pick which you like but keep in mind that stock is limited.

This collaboration is a must-try for fans of the highly anticipated remake!

Information

Resident Evil 2 x Bar Rhythm Collaboration Bar

Running: January 17, 2019 – February 28, 2019

Location: Bar Rhythm, PASELA RESORTS Akihabara Denkigai, 1-13-2 Soto-Kanda, Chiyoda Ward, Tokyo

Business Hours:

[Sunday-Thursday & National Holidays] 11:00-00:30

[Friday-Saturday & Day Before National Holiday] 11:30-05:00

TEL (Reservations): 0120-759-626

Website: https://www.pasela.co.jp/shoplist/bar-rhythm/akihabara/

©CAPCOM CO., LTD. 1998, 2019 ALL RIGHTS RESERVED.

Eevee Pokémon Tamagotchi to be Released by Bandai

Bandai have announced they will release two Tamagotchi centred on Eevee from the Pokémon franchise on January 26, 2019. They will be available at major toy shops, department stores and electronic stores in Japan.

Sized at an adorable 4cm in diameter, owners can look forward to raising their very own Eevee. This Pokémon is known by fans for its many elemental evolutions obtainable through various methods throughout the games. For example, when given a Thunder Stone it will evolve into Jolteon, or when levelled up near an Ice Rock it will evolve into Glaceon.

The same goes for your Tamagotchi Eevee. By feeding it, brushing it and through other activities after hatching from its egg you can transform Eevee into one of 8 possible evolutions. Eevee will also show different expressions and behaviours depending on how you treat it. Look after it lots and it will be happy, but ignore it and it will grow timid.

Catch your own Eevee-inspired Tamagotchi and raise it into your favourite evolution!

Information

Eevee x Tamagotchi

Release Date: January 26, 2019

Available: At toy shops, department stores, electronic stores and online in Japan

Price: ¥2,484 (Tax Included)

Tamagotchi Official Website: http://tamatv.com/

©BANDAI,WiZ ©2018 Pokémon. ©1995-2018 Nintendo/Creatures Inc./GAME FREAK inc.

New Tamagotchi Will Add New Marriage and Child-Rearing Functions

The newest entry to the Tamagotchi handheld pet series will be released in Japan on November 23, 2018 at toy shops, electronic shops and elsewhere across Japan including online.

Tamagotchi are a defining aspect of the 1990s and 2000s in Japan. They were first released in Japan in 1996 and the rest of the world in 1997 where they also became a huge hit. To date, more than 82 million devices have been sold worldwide.

Now, it has been announced that the new "Tamagotchi Meets" will be released for people to play whenever and wherever they want.

The Tamagotchi Meets adds much more to the fun of the original Tamagotchi whereby users must raise their own digital pets. The functions which allow for communication with users has been expanded greatly. If you have your pet marry they can have a child with the same gene as their parents which you can raise.

The Tamagotchi will go through three stages: infancy, a rebellious age and puberty before eventually growing into an adult where they reach the friend stage. If two Tamagotchi marry they will have a baby together. During the baby's infancy they will take on their parent's colour. In the rebellious age they will take on other physical elements of their parents including their heads, tails, wings and so on. When they reach the friend stage their face and bodies will grow to look exactly like their parents.

The Tamagotchi may inherit lots of traits from their fathers from infancy to puberty, but when they reach adulthood they may look like their mothers. Characteristics will also be passed down the family line and the Tamagotchi children may take on elements of their ancestors or look like their grandparents. Also, even though they may be born from their parents, some Tamagotchi's appearances will differ depending on how you raise them. There are many combinations and influences that will affect what kind of Tamagotchi you will get, so you can look forward to raising and communicating with all different kinds.

Tamagotchi Meets also introduces Bluetooth® to the series for the very first time so you link it with the Tamagotchi communication app releasing in November.

Information

Tamagotchi Meets App

Launching: November 2018

Price: Free

Compatible OS: iOS10.0 and above / Android 6.0

Tamagotchi Meets

Release Date: November 23, 2018

Price: TBC

Types: 2 (3 colours each)

"Fairy Tale Meets" Version – Pink, Blue, Yellow

"Magical Meets" Version – Purple, Pink, Green

Available: At toy shops, electronic stores, online and elsewhere in Japan

Capcom Officially Announces Mega Man Live-Action Movie

Japanese video game developer and publisher Capcom have officially announced the first-ever Hollywood live-action adaptation of the internationally acclaimed game franchise Mega Man.

Mega Man, known as Rockman in Japan, first arrived on the gaming scene in 1987 for the NES. Since then the game has spawned countless sequels and spin-offs with the entire series selling over 32 million copies (as of June 2018).

Even 30 years on, the franchise continues to be lauded and enjoy popularity with everyone from the younger generation and hardcore gamers for the character's iconic looks the tight gameplay.

As well as games, the series has given rise to merchandise, comics, an anime series and movie and more. The latest game in the main series Mega Man 11 was just released worldwide on October 2 and in Japan on October 4.

The live-action adaptation will be produced by Chernin Entertainment (Planet of the Apes series) along with Japanese-American actor Masi Oka (Heroes), directed and written by Ariel Schulman and Henry Joost (Paranormal Activity 3 and 4) and distributed by 20th Century Fox.

Information

Mega Man (Tentative Title)

Release Date: TBA

Mega Man 11

Platforms: PlayStation®4, Nintendo Switch, Xbox One, Microsoft Windows

Release Date:

Worldwide – October 2, 2018

Asia – October 3, 2018

Japan – October 4, 2018

※"PlayStation" is a registered trademark of Sony Interactive Entertainment Inc.

※"Microsoft" and "Xbox One" are registered trademarks of Microsoft Corporation and affiliated companies.

※"Nintendo Switch" is a trademark of Nintendo Co., Ltd.