Ryokan-Style Japanese Hostel to Open in Kyoto's Gion District on July 14
Ryokan HOSTEL Gion will open in Higashiyama, Kyoto on Saturday July 14. The hostel will take on the style of a Japanese inn, known as a ryokan.
The hostel is like a dormitory and offers specially made wooden 'capsule' beds. The beds are spacious, have curtains and are much more private than regular bunk bed dormitories you will find in Japan. All of the mattresses are placed on top of tatami flooring to give that traditional Japanese feeling and functionality.
The décor and appearance of the hostel as well as shared areas are all designed with the Japanese style ryokan in mind. The first floor lounge space in particular makes uses of tatami flooring. You can really feel that relaxing at-home feeling you get in a ryokan.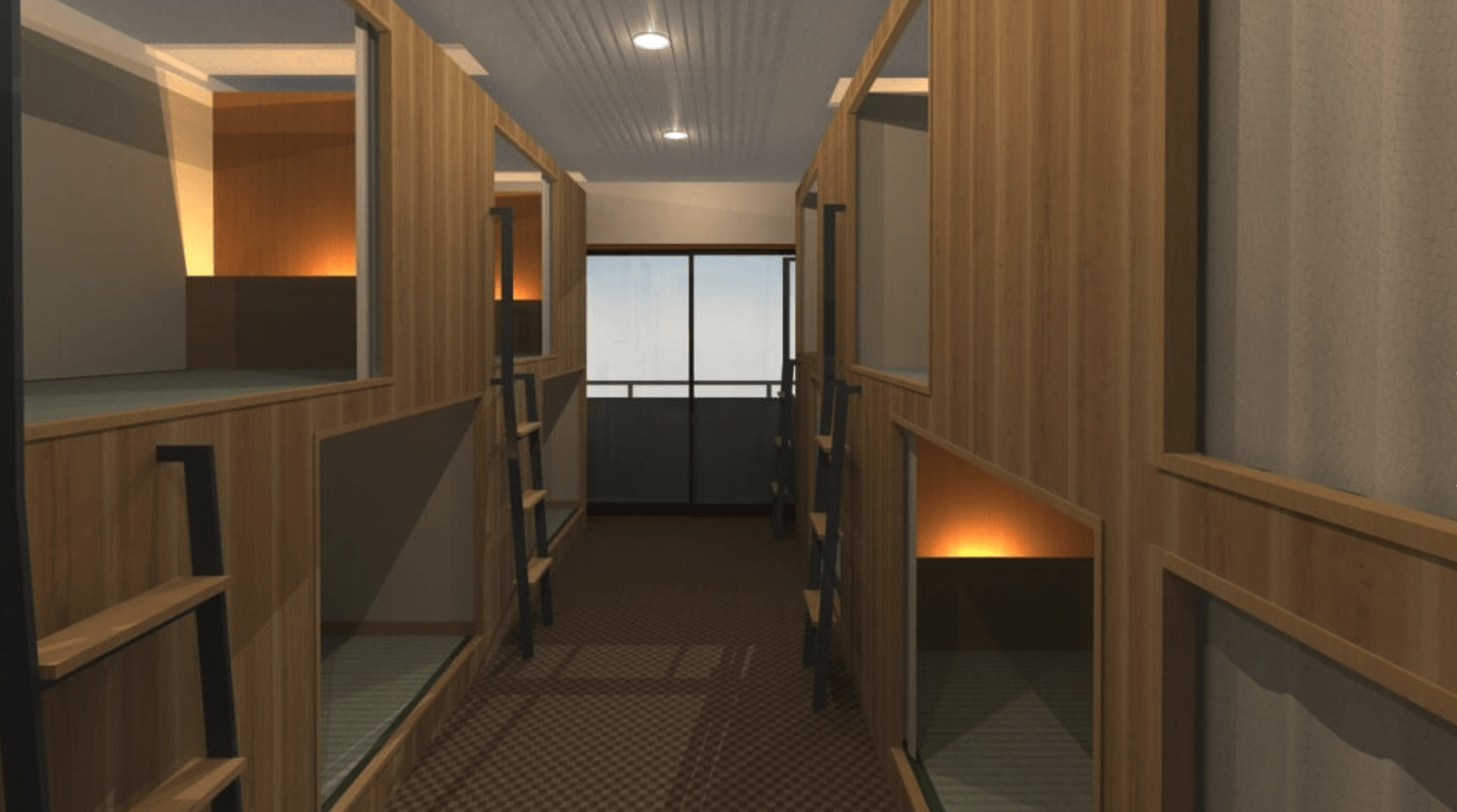 They aren't as strict with privacy as in capsule hotels where it's possible not to see anyone at all while you're there. Most of the staff are travel-lovers themselves and will hold regular events to encourage communication between guests.
Several different rooms are on offer. There are private dormitories that can hold up to four people with two rooms each, as well as single rooms that can accommodate two people who are looking for privacy. These rooms have bathrooms or shower booths as well as toilets (private dormitories). Private double rooms have unit baths and toilets.
Consider staying in this Japanese-style dormitory while on your trip to Kyoto!
■Information
Ryokan HOSTEL Gion
Address: 391-2 Motomachi, Higashiyama-ku, Kyoto
1st Floor: Genkan, Front, Lounge (Tatami), Communal Mini Kitchen, Suitcase Storage, Vending Machines, Single Rooms (3 Rooms)
2nd Floor: Dormitory Rooms (Males = 24 People), Dormitory Rooms (Shared Male & Female = 12 People), Male Toilets, 3 Shower Booths, 1 Bathroom
3rd Floor: Dormitory Rooms (Females = 24 People), Dormitory Rooms (Shared Male & Female = 12 People), Female Toilets, Female Powder Room (5 Shower Booths)
4th Floor: Laundry (Fee Charged), Rooftop, Smoking Booth
RELATED ENTRIES
Italian Pop Trio Il Volo to Perform for Charity at Kiyomizu-dera in Kyoto, Film to be Released

Il Volo, an Italian operatic pop trio known for its incredible tenors, will be the first foreign artist to be filmed at Kiyomizu-dera in Kyoto. The concert will be held without an audience and will be filmed, with proceeds going to charity.



The musical trio is known around the world for its mesmerizing harmonies. Their music manages to sound modern while still channeling tradition, making them an excellent choice to perform at the center of Japanese cultural traditions in Kyoto. The group will also perform in Tokyo, Osaka, and Nagoya.

The music video for the group's song Grande Amore, released in 2015, has racked up over 200 million views on YouTube. Loved by fans around the world, Il Volo's music transcends language barriers, and the group is sure to impress on their Japan tour.

Information

Il Volo Japan Tour 2022 Live in Concert

Planning/Invite/Organization: Tate Corporation

In Cooperation with Sony Music Labels Inc., M.T. Studio

Toshio Suzuki Studio Ghibli Exhibition Inspires Limited-Time Hotel Suite

The Grand Prince Hotel Takanawa in Tokyo will offer a special suite inspired by the upcoming Toshio Suzuki Studio Ghibli Exhibition from July 1 until August 31, 2022. This will include tickets to the exhibition, which will take place at Warehouse Terrada in Shinagawa from July 1 until September 7. 

Toshio Suzuki, a producer at Studio Ghibli, has worked with both Hayao Miyazaki and Isao Takahata on a number of beloved masterpieces. The exhibition will feature a large bookshelf housing 8,800 of Suzuki's publications and favorite tomes. Many of these were published before Suzuki joined Studio Ghibli, and guests are invited to see how the producer was inspired to join the legendary studio after working as an editor at a manga magazine. To commemorate the exhibition's opening, this special suite is filled with books written by Suzuki along with other books that visitors may enjoy during their relaxing stay. 

In the suite, guests will find a list of 106 books that influenced Suzuki the most. This list will be available to take home. Visitors will also find reproductions of Suzuki's calligraphy. 

©TS ©Studio Ghibli

Banyan Tree Group Opens Garrya Nijo Castle Kyoto Hotel

Banyan Tree Group, one of the world's leading independent hospitality groups, held the grand opening of Galleria Nijo Castle Kyoto, on Friday, June 17, 2022. This is the first of the group's hotels to open in Japan.

Hotel Exterior

Located south of Nijo Castle, a World Heritage Site, and named after the beautiful winter flower, Galleria Nijo Castle Kyoto is a small, modern, and minimalist luxury hotel that offers simple guests a chance to recharge themselves.

Wellbeing Room


For the grand opening, a new Wellbeing Room has been opened where visitors can experience quiet meditation.

Visitors can stroll through nearby gardens, temples, and shrines, take a tour of Kyoto's many historical sites, or spend time in the Wellbeing Room meditating or practicing yoga to recharge their batteries away from the hustle and bustle of everyday life.

The French Restaurant Singular will also offer up healthy and tasty meals with a focus on local ingredients and producers.


Enjoy a visit to Kyoto in this peaceful space perfect for resting both body and soul.

Next-Generation Town-Walking Project NAKED GARDEN -ONE KYOTO- to Begin this Fall

The creative team at NAKED is teaming up with Kyoto City, Uji City, and Otsu City in Shiga Prefecture for a one-of-a-kind project. This fall, guests will be able to experience NAKED GARDEN -ONE KYOTO, a next-generation town-walking project blending the real world and the Metaverse together. Visitors will be able to experience Kyoto's shrines, temples, and history in a whole new way.

NAKED has been working with the city of Kyoto since 2017, creating new cultural outreach and tourism programs. A number of nighttime events have taken place at Nijo Castle, including 'virtual flower viewing' in the midst of the pandemic. Last year, the DANDELION PROJECT began at Kamigamo Shrine, a World Heritage Site. The project brings guests around the world together virtually to pray for peace. Events have also taken place at Kiyomizu-dera, Heian Shrine, and Ninna-ji.

In 2022, NAKED will collaborate with Kyoto City, Uji City, Otsu City, and their respective tourism associations to create a Metaverse where visitors can enjoy Kyoto not only in the real world but also virtually. Art being experienced by visitors in real life can be reflected in the Metaverse, and experiences in the Metaverse can be enjoyed in a way that is unique to real events. As hard to describe as it may be, more details will be available on the NAKED GARDEN website when it opens this summer. 

Information

NAKED GARDEN -ONE KYOTO-

Coming Fall 2022

NAKED, INC. Official Site: https://naked.co.jp

Buffet Inspired by 'Moominvalley Turns Jungle' to be Held for the First Time at Keio Plaza Hotel Hachioji

From June 1 until August 31, Keio Plaza Hotel Hachioji is inviting guests to travel to the adorable world of Moomin by partaking in two tasty buffet events at the Le Clair Restaurant on the second floor. In Moomin's home country of Finland, people start enjoying the summer following the solstice in June. The theme of this project is 'Moominvalley Turns Jungle,' inspiring the hotel's chefs to create a spectacular original menu. A tasty lunch buffet will be held Tuesday through Friday during the event period, while a sweets buffet will take place on weekends and holidays. The restaurant's interior will be decorated with artwork from Tove Jansson's 1956 comic Moominville Turns Jungle.

The Moomin Lunch Buffet is titled 'Jungle Party in Moominville,' and will depict a fun summer lunch get-together in the titular character's home village. The lineup of foods includes smoked salmon canapes, marinated herring, and sardine sandwiches, all typical of Scandinavian cuisine. Plenty of spiced dishes and veggies will be available, the latter looking like they came from Moominmamma's garden. August 9 is Moomin Day, and the chefs will be preparing some extra goodies for each guest on that day only.

The Moomin Sweets Buffet will feature adorable desserts created by expert pâtissiers and will be inspired by Moomin and his friends enjoying the summer. From red velvet cake made to look like Little My's dress to chocolate mousse in the style of Moominpappa's Silk Hat, fans of the series will want to snap plenty of pictures before they dig in! Tons of sweets will include popular Scandinavian ingredients like red currants, raspberries, and blueberries. The welcome plate, limited to one per person, will change monthly, with a Tropical Parfait coming in July and an Edible Jungle coming in August. Light meals will also be available to compliment the sweets.

The Sweets Buffet will also include a special table plan limited to three per day, using plates and mugs included in the Moomin by Arabia 2022 Summer collection. Guests participating in this plan can order a special non-alcoholic cocktail created by the restaurant's bartender and made with rose-colored ice inspired by Moominmamma's love for flowers.

Information

Moomin x Keio Plaza Hotel Hachioji

 

Moomin Lunch Buffet ~Jungle Party in Moominvalley~

Running: June 1 – August 31, 2022 [Tuesday-Friday only]
Location: Le Clair Restaurant, 2F
Hours: 11:30-15:30 (2-hour seating) *Last order 30 minutes before reservation ends.

Moomin Sweets Buffet ~Moominvalley Turns Jungle Fun Summer Time~
Running: June 4 – August 28, 2022 [Weekends and Holidays only]
Location: Le Clair Restaurant, 2F
Hours: [1] 11:30-13:00 [2] 12:00-13:30 [3] 14:30-16:00 [4] 15:00-16:30

Buffet Bonuses: https://www.fujibi.or.jp

Advanced Reservations begin on May 17, 14:00 for hotel email subscribers, LINE Friends only
Standard reservations begin May 19 at 10:00
Details/Reservations: https://www.keioplaza.co.jp/hachioji/event/moomin/

Moomin by Arabia Product Information:
https://www.arabiajapan.jp/products/list.php?category_id=61
Sekiguchi Product Information: https://www.sekiguchi.co.jp/collection/

Conrad Tokyo Hotel to Offer Peach Afternoon Tea in Collaboration with Luxury Brand Wedgwood

Starting July 1, guests visiting the five-star Conrad Tokyo hotel can enjoy a new peach-filled afternoon tea menu for a limited time. Designed in collaboration with the British luxury brand Wedgwood, the lineup includes both savory and sweet items perfect for summer. The afternoon tea will be available on the 28th floor at the aptly named Twenty Eight Bar and Lounge.

In collaboration with Wedgwood, a 260-year-old porcelain and fine china brand used by the British royal family, this special service will feature an afternoon tea plate with a tempting array of sweets. The plate itself is from Wedgwood's world-renowned Gio collection and features a honeycomb pattern embossed on fine bone china. The contrast between the modern setting, the classic and refined shape of the white tableware, and the beautiful pink treats will come together to create the most memorable summer moment imaginable.

Coconut & Earl Grey Panna Cotta / Rose Jelly / Peach Compote

Wine and Peach Gelatin / Vanilla Mousse

White Peach Mousse / Raspberry Gelatin

White Peach and Soy Milk Sandwich

Apricot Tart / Peach Cream

Peach Soup / Lobster Consomme Jelly

White Peach and Chicken Mousse Tart

Pork Rillettes and Peach Slider

Highlights from the sweets menu include coconut & Earl Grey Panna cotta served with rose jelly and peach compote, peach gelatin infused with red wine and vanilla mousse, and a delectable white peach and soy milk sandwich. For those with less of a sweet tooth, the afternoon tea service also offers delectable dishes like a white peach and chicken mousse tart, a pork rillettes and peach slider, and more. Guests can also enjoy a selection of scones in either plain or coconut, each served with clotted cream and either peach or guava jam. Over 20 beverages will be on offer, including Wedgwood teas.

Rhythm Game BlackStar ~Theater Starless~ Gets Collaborative Event at Toei Kyoto Studio Park

Toei Kyoto Studio Park will be holding a special collaboration with the rhythm game BlackStar ~Theater Starless~ for a limited time, from June 4 until July 10, 2022.

Goods Lineup

Newly-drawn Illustrations

Mini Characters

The Theater Starless Uzumaki Branch will be open inside the park during the event period. 26 themed cast members will even be greeting guests! 


A stamp rally will be taking place along the Keifuku Randen Tram Line and during the event, a special train featuring a newly-drawn illustration of the five main characters and 26 mini-characters will be running through the streets of Kyoto!

Limited tickets will be sold for a number of collaborative events being held in the park, so be sure to grab yours while you can!

©DOUNUTS

Information

BlackStar ~Theater Starless~ in Uzumaki

Running: June 4 – July 10, 2022

Venues: Toei Kyoto Studio Park, Arashiyama Station, etc.
Official Site: https://blackstar-uzumasa.jp/
Official Twitter: @Blackstar_uzms

Kyoto Sweets Shop Otabe Rereleases Demon Slayer: Kimetsu no Yaiba Snacks with New Designs

Otabe, one of the most popular sweets souvenir shops in Kyoto, Otabe, is known for its delicious matcha and mini-desserts. Starting May 12, the company has released nine uniquely packaged sweets inspired by Demon Slayer: Kimetsu no Yaiba. The limited-edition packaging will feature popular characters from the series. Previously, the company released matcha cakes for the crossover–this time, fans can enjoy choco-an flavor!

Demon Slayer: Kimetsu no Yaiba Choco-an

Demon Slayer: Kimetsu no Yaiba Matcha

Demon Slayer: Kimetsu no Yaiba Otabe (with Original Sticker)

Original Sticker: 15 varieties, 1 given at random

Focusing on the hashira from the series, fans will want to be on the lookout for their favorite character. These sweets can be bought at select stations in the Kyoto and Osaka area, major Kyoto tourist attractions, and online. In addition, matcha flavored treats will also be on sale featuring Tanjiro Kamado, Nezuko Kamado, Zenitsu Agatsuma, Hashibira Inosuke, Kagaya Ubuyashiki, and Muzan Kibutsuji.



©吾峠呼世晴/集英社・アニプレックス・ufotable

Information

Demon Slayer: Kimetsu no Yaiba Choco-an
Release Date: May 12, 2022
Price: ¥432 (Tax Included)
Where to Buy: Train station in Kyoto & Osaka area, Major Kyoto tourist attractions, online.
Details: http://www.otabe.kyoto.jp/kimetsunoyaiba/

Hydrangea Parfait Featuring Local Matcha Available at Itohkyuemon in Kyoto

Located in Uji, Kyoto, matcha shop Itohkyuemon was founded in the late Edo period. Three cozy locations have just launched a Hydrangea Parfait, perfect for spring.

Hydrangea Parfait

Hydrangea Coaster

The shop's main location is headquartered in Uji, which is also home to Mimuroto Temple, known for its hydrangeas. The flowery location attracts thousands of tourists during the rainy season. 

The Hydrangea Parfait has been offered since 2013, now celebrating its 10th year. The popular seasonal treat features matcha hydrangea mashed sweet potatoes, hydrangea-colored jelly, leaf-shaped matcha cookies, and blueberries. Those ordering a parfait will also receive a hydrangea coaster as a gift, so why not enjoy the rainy season with something sweet to lift your spirits?

Yunohana Onsen Resort Reveals Contemporary Art-Inspired Guest Rooms

Sumiya Kihoan, a cozy inn at Yunohana Onsen in Kameoka City in Kyoto, opened a unique new guest room on April 28, 2022. The room's concept is "where guests can stay in the middle of contemporary art," and was inspired by the works of internationally-acclaimed contemporary artist Yukinori Yanagi. The new room, created as part of the Art Room Project, has been named 'Kofuu.'

The Icarus Corridor Connecting Heaven and Earth

Heavenly Bath Welcoming a Rainbow at Dusk

In-Ground Bath Featuring Oribe Glazed Ceramic

Concept Drawing of the Art Room Project by Yukinori Yanagi


The new room includes an open-air bath where guests can be transported into the world of Yanagi's contemporary art while gazing at the gorgeous Kyoto landscape. Upon entering the inn, guests are greeted by a long corridor leading to the bedrooms, dining room, and two creative open-air baths. The space was created in collaboration with Yanagi and local artists and craftsmen, such as potter Ishii Naoto, obi craftsman Yamaguchi Genbei X, plasterer Kusumi Akira, and Japanese paper craftsman Hatano Wakaru. A delicious menu is prepared by chef Hosoi Kunihiko.

Kyoto's Garden Museum Hiei Opens Limited-Time Collaboration Event with Violet Evergarden Anime Series

Kyoto's Garden Museum Hiei has announced that it will host a collaboration event with Kyoto Animation's Violet Evergarden anime franchise, entitled 'A Story of Flowers and Letters,' from May 3 to July 10, 2022.

The Garden Museum Hiei, an outdoor facility inspired by French Impressionism, sits near Mt. Hiei and is known for its incredible floral displays which change colors each season. "This scenery matches the image of the landscape depicted in the Violet Evergarden anime series, which led to the decision to hold this collaborative event," the press release reads.

Visitors can enjoy collaboration visuals and standees that will only be available to see at the gardens. The event will also feature original merchandise, collaboration drinks, and a voice-recorded introduction to the facilities by Violet herself, voiced by Yui Ishikawa.

Violet Evergarden

Violet Evergarden premiered in 2018. The main character, Violet, was trained to be a soldier and therefore has trouble expressing her emotions. In order to learn the meaning behind her commander's final words, "I love you," she embarks on a new path in life, writing letters on others' behalf. A spin-off film was released in Japan in 2019, and a second film premiered in September 2020.

Information

Violet Evergarden x Garden Museum Hiei ~A Story of Flowers and Letters~

Venue: Garden Museum Hiei

Running: May 3 – July 10, 2022

Kanahei's Small Animals Inspires Hotel Room at Hotel New Otani Tokyo

Hotel New Otani Tokyo will offer special collaboration rooms inspired by illustrator Kanahei's characters Piske & Usagi from May 1, 2022 to April 30, 2023.

Original Cushion / Acrylic Stand

The room is completely decorated with brand new illustrations of Piske and Usagi made exclusively for the collaboration. A total of five original amenities will be included with each room plan, including an original cushion and acrylic stand. Come surround yourself with complete cuteness!