Interview: Yuna Yabe discusses why people attend music festivals
In our previous article, we considered the appeal of FUJI ROCK FESTIVAL in the run up to this year's event and looked over our past coverage of it. In this article we interviewed Yuna Yabe, a model and DJ who made her real festival debut last year and who is a festival fanatic. We asked her what attracts young girls to festivals, her personal experiences attending them, and her advice to those who have never been to a festival but are thinking about going.
■Yuna Yabe – Profile
Born: October 30, 1997
Origin: Shizuoka Prefecture
Hobby: Shopping
Speciality: Dancing
Yuna Yabe has appeared in magazines, events and even music videos as a model, making full use of her unique fashion sense. Her love for music has taken her on the path of being a DJ. The moment she began her DJ career, she performed at EDJ JAPAN 2018.
==
—You love music and are often perceived as someone who has been attending festivals for a long time, but I heard you actually started going only last year.
Yes, last year's ITADAKI Festival was my first proper experience at a festival. Up to then I never had much interest in them and had never thought about going, but ITADAKI is in my hometown of Shizuoka and there were a lot of artists playing that I like. I thought wow, Shizuoka is going for it, so I decided to attend. EBIS BEATS and Tavito Nanao were the best!
—So, how was it actually going and experiencing one?
I was able to see so many of my favourite artists in one day, it was amazing! There was one on every hour, so I felt it was one of the fullest days of my life! I was guaranteed a front row spot for my favourite artists. I went all out, had the best time ever and came to be completely crazy about festivals.
One of the reasons I had never gone to one before was because I perceived them as being like a continuous riotous party, but I was glad to find out it was chill and open.
—Are there any memories or incidents from the festival that have stuck with you?
It wasn't an incident per se, but I met a lot of acquaintances by chance. That's one of the most fun things about a festival! Although it was a local festival I bumped into people I know from Tokyo. That moment when you see them and say "Huh!? Why are you here!?" is so much fun.
—If you were to choose the best act or performance you've seen so far which would it be?
I can't pick just one! But Tavito Nanao of GREEN ROOM this year and Sakanaction at ROCK IN JAPAN FES last year are unforgettable.
—You've already been to several festivals this year, correct? And you also performed at EDC. What festivals do you plan to go to or want to go to next, and which artists do you want to see?
I've been to JAPAN JAM BEACH, GREEN ROOM and KAMIKANE3000 this year.
The ones I'm planning to go to are FUJI ROCK and Summer Sonic. I want to go to RINGO FES at the start of summer too. I definitely want to see Kendrick Lamar at FUJI ROCK and Jorja Smith at Summer Sonic!
—You performed at EDC JAPAN very early in your DJ career. That's an incredible achievement, congratulations! How was it performing there?
I thought to myself all I can do is practice. There's a studio in front of EDC so I practiced there! The set was going to be a continuous hour with no changeovers, so I wondered to myself whether the real performance would turn out alright. My hands were sweating and I was very anxious, but the moment it started everybody put their hands up and danced. It was so much fun! In my set I moved from track to track while DJing, and I saw a lot of foreigners on board the entire time, so that made me extremely happy. Before I knew it I was having a lot of fun too, and the hour went by in an instant. It was my first time as a DJ experiencing the thrill of so many people listening to your favourite songs. I felt that if I get even better and play more boldly it'll be the best thing ever!
—How's your enthusiasm for this year's festivals?
I'm having fun knocking them down one by one!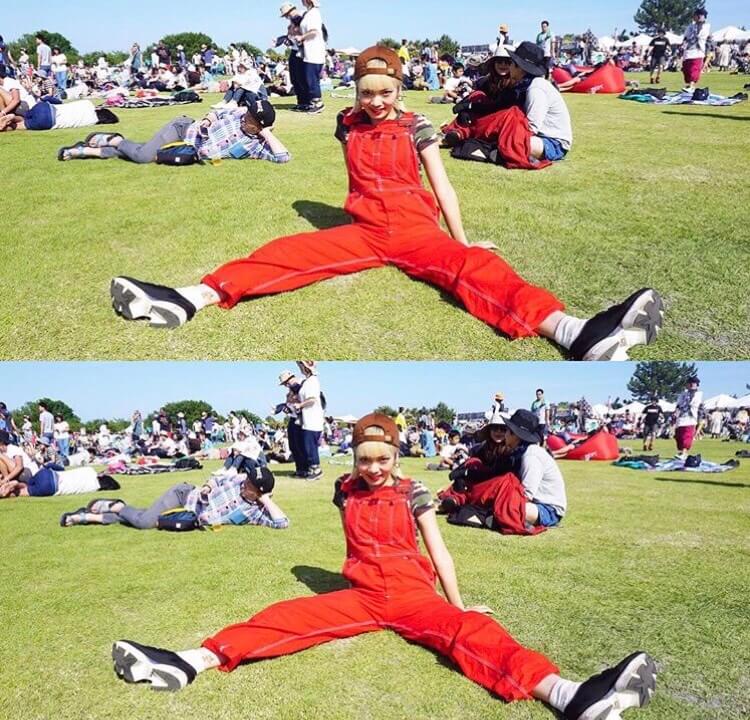 —I'd now like to ask if you have any advice for people your age who are interested in attending a festival but have never gone before, or who want to try it out. What kind of preparation do you need in terms of fashion or things to take?
For fashion, I see a lot of people coordinating flashy colours, like reds and yellows. A lot of people wear baggy clothing too because it's easier to move around.
I take a cap and sunglasses to protect myself from the sun. Sunglasses make you look pretty in photos too (laughs). Most people wear their hair up. Also, a towel is a must!
I'm short, so I recommend sandals with thick soles if you're short too, since you want to be able to see the stage properly! You'll also be walking around a lot and spend long hours there, so it's important to wear something that your feet are used to and won't  get tired in!
Only wear small bags on your back that aren't going to be a nuisance to other people, and only take the absolute essentials. But I never fail to take my phone charger! (laughs)
—Are there any mistakes you've made at festivals?
I came down with heatstroke by only drinking alcohol despite it being so hot! It's very important to drink water so you don't get heatstroke.
—Is there any other advice you have for festival beginners or tips on how they can have fun?
Be weary of going to the toilet when travelling! Make an effort to know where the toilets are. You'll be in very long lines, so don't go the second you need it. Go well in advance and find windows of opportunity to go. Going in advance is very important!
Also, it's good not to meet up with a lot of friends or move around in big groups. I recommend moving around on your own or with just a few people. Seeing artists I didn't know or unexpected artists is great. Encounters like that are fun.
—Finally, what's the appeal of festivals for you?
There are many, but if I was to sum it up in a word, it would be the sense of openness! It's like taking off your shell. Everybody there is a lover of music and you can feel their excitement, so there's a sense of unity too which can be enjoyed!
==
Be sure to reference Yuna Yabe's advice and go and enjoy Japanese pop culture at a festival!
==
==
FUJI ROCK FESTIVAL '18
Running: July 27, 2018 – July 29, 2018
Venue: Naeba Ski Resort, Yuzawa, Niigata Prefecture
Time: Doors 9:00am / Start 11:00am / Finish 11:00pm
Official Website: http://www.fujirockfestival.com/
RELATED ENTRIES
Outdoor Music and Craft Festival Creema YAMABIKO FES 2021 Announces Second Round of Artists

Creema YAMABIKO FES 2021 has announced the second round of participating musical acts! The event features live performances on an impressive outdoor stage with Mt. Fuji in the background, along with a number of craft markets, workshops, and a two-day 'sauna village,' where guests can enjoy outdoor saunas while sampling some fantastic local fare. 

Twelve live performances are scheduled during the event, with the full timetable scheduled to release in late October. The second announcement lists Hanaregumi, DENIMS, YONA YONA WEEKENDERS, Strange Reitaro, island echo, and Super VHS as participating acts. 


DAY 1 (November 6, 2021)


Clammbon, never young beach, Humbert Humbert, DENIMS, YONA YONA WEEKENDERS, island echo

DAY 2: (November 7, 2021)
SPECIAL OTHERS, TENDRE, D.W. Nicols, Hanaregumi, Strange Reitaro, Super VHS

This year's event will have a new kid's area, along with a new outdoor area featuring 15 stores selling a wide variety of camping gear. There will also be a place to custom order items and a hammock area. The kid's area will offer workshops for children led by expert staff, a stamp rally, and other content to keep the little ones busy. 

The popular coffee roaster LEAVES COFFEE ROASTERS from Kuramae, Tokyo, will be participating in the event, serving up some delicious beverages. Japan's champion barista Taka Ishitani will be participating in the coffee drinking competition, so don't miss it!

Are any of your favorite bands playing at this year's event? 

Information

Creema YAMABIKO FES 2021

Dates: November 6 and 7, 2021

Venue Hours: 10:00-17:30 (Concerts from 10:30-17:00)

Address: Gotemba Kogen Toki no Sumika OUTDOOR HILL VILLAGE
(719 Koyama, Gotemba, Shizuoka)

Official Site: htttp://www.yamabikofes.jp/

Changes Made to November's OMNIBUS Music Festival in Tokyo

As part of the Tokyo Art & Live City project, the OMNIBUS music festival will take place on November 6 and 7 in Japan's capital. Rather than being held at Shinjuku Central Park, the November 7 concert will now take place at Hulic Hall Tokyo. Originally, this concert was named The Park #Assembly, though this has now been changed to The Hall #Space. For those holding tickets with the original name, don't worry–your ticket will still be valid at the new venue. 

Those who want a refund due to the venue change should head to the official website by October 9. The November 6 concert titled The Circuit #Excursion will be held as scheduled. 

Additional tickets for the festival went on sale on October 2, 2021. Schedules for the events will be released soon, so stay tuned for more details!

Information

OMNIBUS

The Circuit #Excursion 

When: November 6, 2021 / Venue Opens at 12:00, Show Starts at 12:30

Locations: Shinjuku ACB HALL / Shinjuku Marz / Shinjuku Marble / Shinjuku Motion / Shinjuku Zirco / Shinjuku Red Cross / Shinjuku ReNY

Performers: asobi, Wez Atlas, ODD Foot Works, Campanella, kiki vivi lily, Kvibaba, Kai Kubota, Kuro, (sic)boy, SUKISHA, Suzuki Mamiko, Sleepless Sheep, Saboten, sooogood!, dongurizu, PEAVIS, VivaOla, YOSA&TARR, YonYon, and more

The Hall #Space

When: November 7, 2021 / Venue Opens at 15:30, Show Starts at 16:30

Location: Hulic Hall Tokyo 11F (2-5-1 Yurakucho Center Building, Yurakucho, Chiyoda-ku, Tokyo)

Performers: Sohei Oyamada, GLIM SPANKY (Acoustic ver.), Koji Shimotsu, and more

Tickets: 

Lawson Ticket: https://l-tike.com/omnibus/ (L Code: 74447)

Ticket Pia: https://w.pia.jp/t/omnibus/ (P Code: 203-026)

Official Site: https://omnibus-tokyo.com/

Matsue Excel Hotel Tokyu in Shimane to Hold 2021 Matsue Water Lantern Festival

A number of beautifully decorated paper lanterns are currently on display in the lobby of the Matsue Excel Hotel Tokyu in Shimane prefecture until October 31. 

Normally, the event is held around Matsue Castle, with lanterns lighting up the streets and stalls set up to allow guests to design their own lanterns. Due to the current pandemic, the popular yearly event was abruptly canceled, and the Matsue Excel Hotel Tokyu stepped up, with the support of the Matsue Tourism Association, hosting the event in its first-floor lobby. 

For the past three years, the hotel has continuously hosted events and activities to help guests learn more about Matsue, including hosting trips to the area around Matsue Castle and cruises on the Horikawa River. For this year's event, hotel staff created their own lanterns based on these attractions, for a total of 17. If you could attend, how would you decorate your lantern? 

Noseden Artline Festival 2021 Bringing Light, Sound, and Food to the Kawanishi Area

A celebration of light, sound, and food, the biennial Noseden Artline 2021 Festival will take place from October 30 until November 23, 2021. Set in one city and three towns along the Nose Electric Railway, the regional art event began in 2013 to celebrate the 100th anniversary of the rail line, and brings local artists and residents together. 

The festival will be in Kawanishi and Inagawa in Hyogo Prefecture, as well as in Toyono and Nose in Osaka Prefecture, with Mt. Myoken marking the center point. Each part of the event will connect the history, industry, and tradition of the area with new and engaging creations. 

The theme of the 2021 Noseden Artline Festival is 'Enlarged Mentality.' By taking things that are subjective, like an artist's thoughts and senses, and applying them to the objective world that can be shared, it creates a one-of-a-kind way to connect fully with others. The event will feature local cuisine and music, as well as art focused on light, inspired by the North Star. After a year of solitude due to the pandemic, the festival hopes to remind people to cultivate, nourish, and preserve local relationships. 

Art can make life more enjoyable, so why not come and see what the area has to offer?

 (C)Kousei Ikeda(SPEKTRA)

Information

Noseden Artline Festival

Running: October 30 – November 23, 2021

Location: Nose Electric Railway Line ~ Near Summit of Mt. Myoken

Official Site: http://noseden-artline.com/2021/

Namco and Sanrio Team Up for Collaborative Halloween Campaign

BANDAI NAMCO AMUSEMENT has announced Namco de Halloween 2021 -Skulls Festival!- coming September 10. The campaign will take place at over 200 Namco amusement centers nationwide, and at the online crane game site Torumo. Those participating can snag some spooky and super adorable Sanrio goodies!

Namco Limited Edition Prizes

Sanrio Characters Big Plushies

Cinnamoroll / My Melody / Kuromi (In stock second week of September)

Sanrio Characters Skull Festival! Plushies

Pom Pom Pudding / Cinnamoroll / Pochacco / My Melody / Kuromi (In stock second week of September)

Sanrio Characters Skull Festival! Cushions

All characters (Back side: Blue) / My Melody & Kuromi (Back side: Pink) / Cinnamoroll, Pom Pom Pudding & Pochacco (Back side: Orange) (In stock second week of September)

Sanrio Characters Jiangshi Night Plushies 2021

Pom Pom Pudding / Cinnamoroll / Pochacco / My Melody / Kuromi (In stock second week of September)

Sanrio Characters Spooky Night 2021 Plushies

Pom Pom Pudding / Cinnamoroll / Pochacco / Hello Kitty / My Melody / Kuromi (In stock third week of September)

Sanrio Characters Dreamy Dark Halloween 2021 Plushies

Pom Pom Pudding / Cinnamoroll / My Melody / Kuromi (In stock fourth week of September)

Sanrio Characters Exciting Halloween 2021 Plushies

Pom Pom Pudding / Cinnamoroll / Hello Kitty / My Melody / Kuromi (In stock first week of October) 

Use the Namco Point App to get one limited-edition shopping bag each day. 

Exclusive Presents

Clear cards

Colorful bag

During the Torumo gift campaign, 100 winners will be randomly selected to win a special Halloween blanket. 

The prizes available during the campaign were designed for the event. Also, limited-edition plushies to appear in the past have returned in brand new colors! Those who use the Namco Point App and place ¥500 into one of the crane machines will receive one of five clear cards and a colorful bag. (Not available using Torumo.)

© 2021 SANRIO CO., LTD. APPROVAL NO. S620926

Hello Kitty Summer Event Themed On the Undersea Palace Princess Oto-hime Kicks Off in Hyogo

The Hello Kitty media art facility and restaurant HELLO KITTY SMILE on Awaji Island kicked off a summer event on July 1. Titled "HELLO KITTY SMILE Oto-hime Ryugu-jo Beach Summer Festival," the event is set to run until the end of August.

Digital fireworks set the summer vibe

Catch your own Sanrio figure

Decorate your own Sanrio character ceramic

Children's meal at the Party Terrace


Hello Kitty afternoon tea at the Party Balcony

Spicy tortilla at the Garden Terrace

The event is themed on Oto-hime, the princess of the underwater palace Ryugu-jo which features in the Japanese folktake of Urashima Taro. It focuses on Hello Kitty and is a celebration of Bon odori, a type of dance that takes place during the Japanese summertime Bon Festival. Hello Kitty performs the dance on stage, and the audience can join in with handclapping, dancing, and waving the free fan they receive upon entering the venue. Visitors can also buy a ticket to meet Hello Kitty, and those who do receive a free plush toy along with a photo with the Sanrio queen herself.

At the event, visitors can enjoy Sanrio versions of all the fun things Japanese summer festivals, or natsumarui, have to offer like catching a Sanrio figure instead of a goldfish, painting ceramics, making vinyl prints, squirting water pistols, jumping on a giant trampoline, and so much more.

Other things to look out for include special screenings at the HELLO KITTY SMILE theatre and the firework projection mapping show. The event also has four different restaurants which are serving limited-time, seasonal summer treats: the Party Terrace, Party Balcony, Restaurant Tamatebako, and Garden Terrace.

Ⓒ2021 SANRIO CO., LTD. APPROVAL NO. L627610

Information

HELLO KITTY SMILE Oto-hime Ryugu-jo Beach Summer Festival

Japanese Event Title: HELLO KITTY SMILE 乙姫竜宮城 海辺の夏祭り

Running: July 1, 2021 – August 31, 2021
Opening Hours:10:00-19:00 (Last Entries 18:00)
*Brunch served exclusively on weekends and public holidays at the Party Terrace at 9:00-10:00 (last orders 10:30)

Closed: Tuesdays

Address: 985-1 Nojimahikinoura, Awaji, Hyogo 656-1721, Japan

Official Website: https://awaji-resort.com/hellokittysmile/

Rilakkuma & Sumikko Gurashi Festival Announced For Fall in Sapporo

Rilakkuma and Sumikko Gurashi are set to collaborate at a special festival centred entirely around the characters which will run at Sapporo Factory from September 17 to November 28.

Rilakkuma, Sumikko Gurashi, and you are invited to the festival which will be split into two areas: the Rilakkuma Pavilion and Sumikko Gurashi Pavilion where the characters will be present to greet guests. The event is taking on a magical theme which imagines the spirits of San-X, the company who created Rilakkuma and Sumikko Gurashi, casting a mysterious magic on the festival to bring happiness to all.

There's plenty for fans of the characters to enjoy including fun photo spots, exclusive merchandise, and much more.

If you're in Sapporo this autumn, don't miss the Rilakkuma & Sumikko Gurashi Festival.

Information

Rilakkuma & Sumikko Gurashi Festival

Running: September 17, 2021 – November 38, 2021

Venue: Sapporo Factory 3 (Floor 3F)

Address: 4 Chome-1-2 Kita 2 Johigashi, Chuo Ward, Sapporo, Hokkaido 060-0032, Japan

Opening Hours: [Weekdays] 13:00-17:00 (From 10:00 on September 17) / [Weekends] 10:00-17:00 (Last Entries 16:30)

Closed: Thursdays (Except September 23, 2021)

TEL: 011-272-9302 (10:00-17:00 except weekends and holidays)

Official Website: https://ntv.co.jp/rilakkuma-and-sumikko-fest/

Sakura Miku Blossoms On Merchandise at Hirosaki Sakura Matsuri 2021 in Aomori

Japanese anime, game, and hobby merch site CharaAni released a new collection of Sakura Miku merchandise on Monday in collaboration with the Hirosaki Sakura Matsuri 2021 festival.

Hirosaki Sakura Matsuri 2021 x Sakura Miku Line-Up

Folders | ¥450 Each (Tax Included)

Tapestries | ¥3,500 Each (Tax Included)

Acrylic Stands | ¥1,500 Each (Tax Included)

Holographic Pins | ¥550 Each (Tax Included) *Blind box, designs are random

Reversible Blankets | ¥5,500 Each (Tax Included)

Scarf Towel (Art by iXima) | ¥2,000 (Tax Included)

Happi (Art by iXima) | ¥6,000 (Tax Included)

Hand Towel (Art by Mamo) | ¥1,000 (Tax Included)

Motel Key Ring (Art by iXima) | ¥1,500 (Tax Included)

Teacups | ¥1,700 Each (Tax Included)

Flat Pouch (Art by iXima & Mamo) | ¥2,500 (Tax Included)

Drum Bag (Art by iXima) | ¥6,500 (Tax Included)

Full Graphic T-Shirt (Art by Morichika) | ¥5,500 (Tax Included)

Full Graphic Zipper Hoodie (Art by Hechima) | ¥9,900 (Tax Included)

Fashion Mask (Art by iXima) | ¥2,200 (Tax Included)

Desk Mat (Art by iXima) | ¥3,300 (Tax Included)

Shitakawa Rayaki Dove Whistle | ¥2,200 (Tax Included)

Music Box: "Haru o Matsu Hito" – PolyphonicBranch feat. Hatsune Miku

The Sakura Miku x Hirosaki Sakura Matsuri 2021 collection invites on board four artists: iXima, Mamo, Hechima, and Morichika who have created original artwork for the line-up. The items can be bought both at the festival and online.

The collection also includes Sakura Miku-inspired dove whistles made by Shitakawa Rayaki Tsuchi Ningyo, a clay doll company that has been around for over 200 years. The company began in the latter half of the Edo Period when Takaya Kanegura, who had learned how to make ceramics in the town of Chikuzen in Fukuoka, was employed by the Hirosaki Domain to build a furnace.

Miku fans can also get their hands on a music box which features an original song created for the festival called Haru o Matsu Hito ("Person Waiting For Spring"). It features artwork by iXima.

Art by iXima / Mamo / へちま / もりちか © Crypton Future Media, INC. www.piapro.net

Earth Day Tokyo 2021 to Promote Sustainability, Eco-Friendliness, and an Organic Lifestyle at Yoyogi Park

This year's Earth Day Tokyo will take place at Yoyogi Park from April 17-18 where messages of eco-friendliness, organic products, sustainability, ethics, and inclusiveness will be at the core of various events held as part of the festival.

This year marks Earth Day Tokyo's 20th run as part of the global Earth Day initiative and brings together environmental NPOs, charities, and locals. Due to COVID-19, in-person events will only take place on April 17 and 18 but the festival will run online from April 17 to 25.

Earth Day Tokyo 2021 Concert

Concerts will take place across the two-day Yoyogi Park festival. Many musicians and guests have committed themselves to the future of the planet at the Earth Day Tokyo's concerts, with past line-ups including Japan's King of Rock Kiyoshiro Imawano, UA, BONNIE PINK, and more.

This year will see performances from Itou Seikou ITP, Kenichi Nagira, yae, scoobie do, Taiji Sato, Nozomi Nobody, hachi_Aigoz, tico moon, Rokuta Yanagiya, and Ichido Ryutei.

Market area

Every single product at the market booths has a story, and visitors will be able to hear about them from the makers in-person as they shop. And the items sold at the market will be different each day, stocking something to add a little environmental consideration into our lives.

C. W. Nicol's "Nicol's Forest Kitchen" sausages help plant forests

The late Welsh-born Japanese writer, actor, and singer-songwriter C. W. Nicol was the Executive Committee Chairman for Earth Day Tokyo from 2000 until his passing last year. He also launched Nicol's Forest Kitchen in 2011 which has been a regular at Earth Day Tokyo to help protect Japan's forests. The food stall will make an appearance this year too.

C. W. Nicol began to wonder how he could help raise people's interest in forests as well as help revitalise forests that had been destroyed. Nicol's Forest Kitchen project was his answer: to spread awareness through food, and in doing so, the project could help build up forests.

Visitors separate garbage themselves with the help of volunteers

At the Eco Station, volunteer staff will help direct visitors in separating garbage properly, raising awareness on the proper procedures which they can take away home with them.

Information

Earth Day Tokyo 2021 @ Yoyogi Park

Running: April 17, 2021 – April 18, 2021

Time: 10:00-17:30

Where: Yoyogi Park

Entry: Free

Earth Day Tokyo Official Website: https://www.earthday-tokyo.org

Little Glee Monster and Other Japanese Artists Announced For Tokyu Musix Challenge

Tokyu Musix Challenge is set to take place at Bunkamura Orchard Hall this year on March 7 at 18:00.

2020 saw the cancellation of music events across the world, with Japan being no exception. Shibuya, Tokyo's hub of countless live music venues and halls, was particularly affected by the effects of the pandemic. But the energy and power that music artists hold is one they can offer to brighten up peoples' time during today's times. That's where Tokyu Musix Challenge comes in, a new kind of music festival that will bring together a multitude of genres, and where better for it to be held than the cultural melting pot that is Shibuya.

This year will be the first run of the festival, where a collaboration between classical music and contemporary pop music will clash at Bunkamura Orchard Hall. The Tokyo Philharmonic Orchestra, which is recognised as Japan's oldest symphony orchestra, will play alongside acts such as Little Glee Monster, Ai Higuchi, Win Morisaki, Meimi Tamura, Kayoko Yoshizawa, ROTH BART BARON, and more. And the line-up is set to grow as more performers will be announced in the lead up to the event.

Comments from the Artists

Little Glee Monster

"We are really looking forward to feeling the fresh breeze of our music colliding with the grand scale of an orchestra. We'll be sure to play our part so that we don't lose to the overwhelming performance of everyone in the Tokyo Philharmonic Orchestra, but also so that our music complements theirs. We hope that everyone can have a good time and feel good from the strength that music has."

Ai Higuchi

"In 2020, we may have all lived kind of complicit with so many options in front of us leading down different paths. A certain friend might have gone to a drinking party, another might not have seen their lover for a long time. What choices do we make? We become darker depending on our choices. In Shibuya, a city that continues to change, I will sing my unchanged songs."

Win Morisaki

"Over this past year, the respect I have for the position I'm in where I can express myself has really sunk in. I'm so happy I've been able to get involved with this challenge. And getting to sing with an orchestra, it's magnificent. I'm so excited about what's to come."

Meimi Tamura

"I can't contain my excitement at a genre collaboration between classic, which is the foundation of music, and pop which is strongly tied to Shibuya. I think I'm going to start feeling tense at getting to perform alongside everyone in the Tokyo Philharmonic Orchestra and singers of all different kinds of music. We don't have a lot of freedom today during the pandemic, but I will work my hardest so that I can deliver love through music from the city of Shibuya."

Kayoko Yoshizawa

"My chest roars and having the opportunity to perform along side Japan's oldest and longest-running Tokyo Philharmonic Orchestra at the legendary Orchard Hall. It's my first time experiencing singing with an orchestra, so I'm looking forward to seeing how the songs will be structured, and how my voice will sound, when we do it."

Hoshino Resorts BANTA CAFE Announces Art Festival by the Beachside

The incredible Hoshino Resorts BANTA CAFE, a beachside cafe which offers guests a breathtaking ocean view along the Okinawan coast, has announced the upcoming Beachside Art Festival which will take place from April 10 to May 9. The festival will bring together artwork from a range of artists born and raised in Okinawa and leading the island's youth culture. There will be a range of events from live painting to workshops, exhibits, and more.

The participating artists have all taken part in personal art exhibits, art events, showcased their work at concerts, and more both inside and outside Japan, but due to COVID-19, many events have of course been cancelled. Beachside Art Festival will serve as a way to display their wonderful works while supporting them at the same time.

The Artist Line-Up

DENPA

nami

HAYATO MACHIDA

Chibana Yukinaga

MACHIDA visiting BANTA CAFE to check the feel of the ocean and their artwork

Vibrant artwork with the ocean as the backdrop

Visitors will be greeted by artwork dotted across various locations around BANTA CAFE. If they follow the top of the cliff down to the beach they will find sofas to sit on which have also been decorated with the artists' artwork. Then there's the Goro Goro Lounge with its enormous window that stretches an entire wall and offers a panoramic view of the sea. Here, visitors can look out at the artwork which will look like it's floating above the horizon. All drinks ordered also come with a free sticker featuring artwork by the four participating artists.

Experience art-in-the-making with live painting

DENPA and MACHIDA will host their own live painting sessions where they will take inspiration from the surrounding environment.


HAYATO MACHIDA @ April 10, 2021 / April 11, 2021

DENPA @ April 18, 2021

Times: 11:00-13:00 / 14:00-17:00

Where: In front of BANTA CAFE on the beach

Price: Free

Have a go at traditional Okinawan bingata dyeing

Visitors can have a go at making their very own coasters from nine different colours using a traditional Okinawan stencilled dyeing technique known as bingata.


Running: April 24, 2021 / May 1, 2021 / May 2, 2021 / May 5, 2021

Times: 10:00 / 12:00 / 14:00 / 16:00 (Each slot lasts approx. one hour)

Capacity: 4

Where: Iwaba Terrace

Price: ¥2,000 (Tax Included)

Note: Online booking required

Take home a souvenir at the beachside museum shop

A museum shop will be open for the event on weekends and holidays where you can pick up art prints, stickers, postcards, and other mementos.


Opening Days: Weekends & Public Holidays

Opening Hours: 10:00-18:00

Where: Beachside Terrace

Information

Hoshino Resorts BANTA CAFE – Beachside Art Festival

Running: April 10, 2021 – May 9, 2021

Where: Hoshino Resorts BANTA CAFE, Okinawa

Official Website: https://banta-cafe.com/en/

elrow Launches Worldwide Up & Coming Talent DJ Contest

International club event organiser elrow opened global applications for its "Up & Coming Talent" DJ contest on Thursday which is set to run until March 14. Anyone around the world who is aged 18+ can submit their applications via elrow's official website.

Up&Coming Talent | elrow


Application Period: March 18, 2021 – April 14, 2021

Conditions: Aged 18+

Apply Here: https://www.elrowupncoming.com/

The contest's mission is to find and co-create up and coming talent and help them build their careers so that they can find independent success in the music industry. They are looking to "discover and promote the new headliners of tomorrow."

Several panels of judges will take part in selecting applicants. elrow is looking for two artists from around the world who have both DJ and production knowledge. Successful applicants will be added to elrow's roster of artists for a minimum for one year. It's a must for bedroom artists and dance music-lovers looking to make it in the industry.