Starbucks Releases Stylish Glass Mugs in Collaboration with Fragment Design
Starbucks Coffee Japan has teamed up with design project Fragment Design led by designer and musician Hiroshi Fujiwara to release two glass mugs under the 'Fire-King' brand. The product will go on sale from August 21, 2018 at select Starbucks branches across Japan as well as the Japanese Starbucks online store.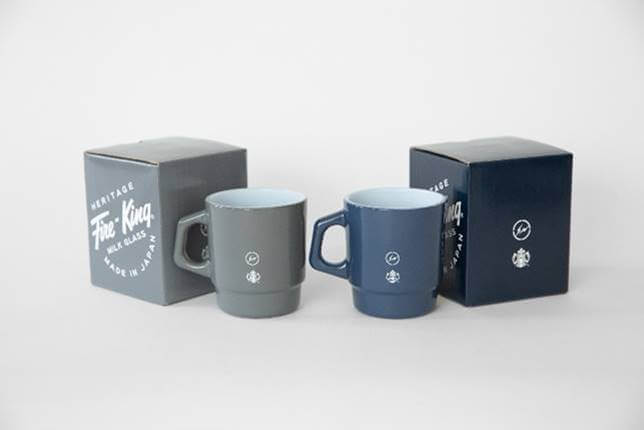 This is Starbucks' first collaboration with glass tableware brand Fire-King. The company was established in the US in 1942. They create thick, long-lasting glass products. Their milky white coloured 'milk glass' range are noted for their gentle colour and round form and are described as very much being old-fashioned American items. They are collected by fans of traditional American fashion and culture, many of which are also in Japan.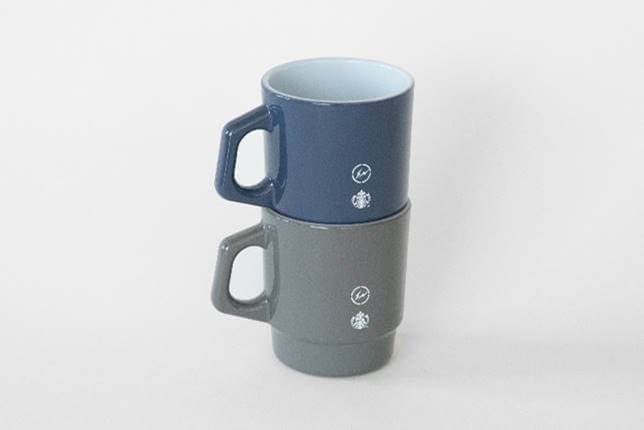 The mugs come in grey and navy, typical colours of Fragment Design, offering a retro and modern look.
Both mugs also stack on top of each other meaning you can buy them as a pair.
Be on the lookout for these mugs at Starbucks Japan later this month.
■Information
Glass Mug Fragment x FIREKING Grey (207ml)
Glass Mug Fragment x FIREKING Navy (207ml)
Price: ¥5,000 Each (Pre-Tax)
On Sale: From August 21, 2018
Available: Starbucks branches across Japan (select stores not stocking), Starbucks online store
*Will discontinue once all have sold.
*One of each colour purchasable per customer.
Website: http://www.starbucks.co.jp/
RELATED ENTRIES
5 Best Cherry Blossom Spots in Hokkaido | 2020 Edition – MOSHI MOSHI NIPPON

Sapporo, Asahikawa, Abashiriーthe list goes on when it comes to incredible places to see the cherry blossoms in Hokkaido. And the best time to see them in Japan's northernmost main island is May.

Today, we are joined by Mirina, an Instagrammer who posts photos of tourist and sightseeing spots in Hokkaido that are rich in nature. She has shared her photos with us along with details of 5 must-visit famous cherry blossom sites in Hokkaido. Let's take a look.

Tokiwa Park


Tokiwa Park is located in the city of Asahikawa, and is home to around 200 individual cherry trees of various kinds including the Yoshino cherry and ezo yamazakura. Weeping cherries also dangle their graceful branches around the lake, which you can sail through on a boat for an even more memorable cherry blossom experience. Tokiwa Park is also listed as one of Japan's "100 City Parks," so it's one that needs to go on your list of sightseeing spots if you're travelling to Hokkaido.

Tokiwa Park


Address: Tokiwakoen, Asahikawa, Hokkaido

Access: 25-minutes on foot from Asahikawa Station (via JR Line). Alternatively, board the Tohoku Bus and get off at Tokiwa Park (常磐公園).

Official Website: http://www.asahikawa-park.or.jp/

Twin Harp Bridge

This spot is also located in Asahikawa. It gets its name from how the bridge looks like two harps lined up next to each other. Twin Harp Bridge is also a popular place with the locals for celebrating Hanami in the spring season as cherry blossoms bloom in the vicinity of the bridge.

Twin Harp Bridge

Address: 4 Chome Toko 18 Jo, Asahikawa, Hokkaido to 5 Chome Kyokushin 1 Jo, Asahikawa, Hokkaido

Access: 20-minutes by car from Asahikawa Airport / 15-minutes by car from Asahikawa Station

Official Website: http://www.city.asahikawa.hokkaido.jp/files/tosi_kei/index.htm

Kitoushi Forest Park – Family Village

Located southeast of Asahikawa, Kitoushi Forest Park – Family Village offers views of ezo yamazakura as well as shibazakura moss phlox. Visitors can also have barbeques at the facility for an even better outdoor experience combining great food with cherry blossom viewing.

Kitoushi Forest Park – Family Village (Kitoushi Shinrin Koen Kazokuryokomura)

Address: 5 Gokita-44 Nishi, Higashikawa, Kamikawa-gun, Hokkaido

Access: 40-minutes by car from Asahikawa Station

Official Website: http://www.kazokuryokoumura.jp/

More Information (English): http://www.asahikawa-tourism.com/asahikawa/asahikawa_sites/higashikawa/higashikawa_en.html

Maruyama Park


Maruyama Park is another famous cherry blossom site where Yoshino cherry trees and ezo yamazakura bloom. Compared to Asahikawa, the cherry blossoms here bloom a little earlier during spring. You'll catch them from late April to early May. During the cherry blossom season, there is a place where fires can be lit, so you'll catch people cooking up jingisukan, a type of Japanese mutton dish.

Maruyama Park

Address: Miyagaoka, Chuo Ward, Sapporo, Hokkaido

Access: 5-minutes on foot from Maruyama-Kōen Station

Official Website: http://www.sapporo.travel/find/nature-and-parks/maruyama_park/

Higashimokoto Shibazakura Park


Higashimokoto Shibazakura Park's rolling hills offer a breathtaking view of shibazakura moss phlox cherry blossoms. The hills themselves aren't steep, so the spectacle can be enjoyed from both the top and bottom of them. The Shibazakura Festival is also held between May and June.

Higashimokoto Shibazakura Park

Address: 393 Higashimokotosuehiro, Ozora, Abashiri-gun, Hokkaido

Access: 30-minutes by cat from Abashiri Station. Alternatively, board the transit bus from Abashiri Station, get off at Higashimokotocho (東藻琴町). The park is a 5-mintue drive from here.

Official Website: http://www.shibazakura.net/

 

Photo:Mirina has visited many sightseeing spots in Hokkaido, so if you're looking for more places to visit be sure to follow her on Instagram.

Photos: Mirina Nishio

Tadanori Yokoo Releases Art Book Collection of His Late Beloved Cat Tama

Since his cat Tama passed away in 2014, Japanese graphic designer and illustrator Tadanori Yokoo has drawn 91 pieces of his beloved feline companion. Those pieces have been compiled into a new art book entitled Tama, Kaetteoide ("Come Home, Tama").

Tama was a famous cat amongst fans of Tadanori Yokoo, who would feature him on his Twitter page and blog from time to time. Yokoo's love for Tama was also well-known amongst his followers. Tama was a stray cat and appeared in Yokoo's garden. In the 15 years Yokoo took care of him, Tama's affection warmed the hearts of both the artist and his family of fans.

The 91 pieces that Yokoo created of Tama since his passing were originally never going to be seen by anyone. But this year, on the seventh anniversary of Tama's death, Yokoo has decided to publish them.

Tama, Kaetteoide – ¥2,200 (Before Tax)

The collection features not only art pieces, but diary and written entries too that Yokoo occasionally wrote about Tama. Yokoo's Twitter page become a diary for the artist, where he expressed his sadness and loneliness after losing his cat, which has received much attention with his followers. The book includes the diary entries from when Tama was alive to his death and up to 2018.

Editor's Comment

When Yokoo met with Yoko Ono, he said of his work, "I didn't draw this as artーI drew it as a love letter to my cat," to which she responded, "And that's exactly why it's art." I too believe that if a piece of art moves a person's heart, then that in itself makes it art. Featured in this book are many of Yokoo's diary and written entries about his beloved Tama. But it also begs the question to people what is love, what is life, and what is death? It's a treasured illustrated collection for people, and above all one you can't help adoring. I believe this book will add something to the lives of every art fan, of every cat lover, and every person who kindly buys themselves a copy."


An exhibition showcasing all of the illustrations in the book is set to take place at Nishimura Gallery in the near future. The exhibition has been postponed as a result of the coronavirus outbreak, but you can check the gallery's official website for when the event will next be rescheduled.

Kiko Mizuhara Clads Herself in H&M's Spring 2020 Fashion Collection

Fashion model and designer Kiko Mizuhara has teamed up with H&M once more to promote their Spring Fashion Collection which went on sale on April 2, 2020.

Mizuhara hails as the first "Sustainability Ambassador" of H&M Japan. She is helping to promote three sustainable collections from H&M through spring and summer whose theme is centred around changing fashion. The campaign aims towards a sustainable future, with the clothing collection line-up being made from 100% recycled material. This is H&M's the first step towards all clothing being made from recycled and sustainable fabrics by 2030.

Puff Shoulder Maxi One Piece – ¥5,999 (65% Tencel™ Lyocell, 35% Polyamide)

The 2020 Spring Fashion Collection centres on mini and maxi one piece dresses ranging from items with volume and tight silhouettes to ruffles, power sleeves, puffed shoulders, and other 1980's inspired designs.

Flower Print Mini One Piece – ¥3,990 (100% Organic Cotton)

Dot Print Long One Piece – ¥2,499 (100% Tencel™ Lyocell)

In her photo shoot for the promotion, Kiko Mizuhara donned the mini one piece which has a floral print and is made from 100% organic cotton, as well as the polka dot print long one piece which uses 100% Tencel™ Lyocell, an environmentally-friendly natural material.

The flowery mini one piece has volume in the shoulders and sleeves, and the body is smocked to create a perfect fit.

The polka dot one piece has airy sleeves as well as a flared hem to give it a gorgeous appearance.

Maxi One Piece – ¥7,999 (50% Recycled Polyester, 50% Polyester)

Puff Sleeve Mini One Piece – ¥3,999 (100% Organic Cotton)

The fine details, from the crisp cotton to the British-style embroidery, crease effects, organdy lace and so on create a modern, relaxed aesthetic.

The collection is now being promoted on Japanese TV and H&M Japan's official YouTube page.

Kaori's Easy Recipe: Learn to Make a Toy Story's Little Green Men Japanese Parfait

With just a small bit of ingenuity, turn everyday food into something cute using Kaori's easy recipe! With a few simple ideas, an ordinary recipe magically transforms into a cute dish.

We're all locked up at home right now as a result of the coronavirus pandemic, and so I want to show you a fun character ice cream recipe that can be made with things you have at home! In this recipe, we'll learn how to make a Japanese parfait made in the image of the Little Green Men from Toy Story. This recipe is taken from the recipe book Disney Tsum Tsum Sweets Recipes.

Ingredients

Matcha Ice Cream

Chocolate Pens

Fruit

Toppings of your choice, such as red bean paste or soy flour

1.

Draw the eyes, ears, and antennae of your little green men onto a baking sheet using a chocolate pen. Place into the freezer to chill.

2.

Let the ice cream come to room temperature so it's easier to scoop, then scoop out with a round ice cream scoop.

You can get an ice cream scoop from a dollar store. If you don't have one, place the softened ice cream into something round, and then let it harden again in the freezer. Afterwards, remove and place it into some cling film to shape it roundーthe same method you use for making onigiri rice balls in Japan. Then let it solidify in the freezer once more.

3.

Before letting your ice cream from Step ② fully solidify, first place on the face parts from Step ①. If your ice cream is completely solidified and not soft enough, the parts will break when you try to fix them on, so make sure to take note. Once the parts are on, place into the freezer to harden. By doing this, the eyes, ears, and antennae will affix to the head.

4.

In the recipe book, they top their parfait with rice flour dumplings, but I'm using the outer part of a large daifuku for my toppings. It's something I saw on the TV recently.

Add a tablespoon of granulated sugar and two tablespoons of potato starch into a bowl and slowly add hot water until it becomes transparent. This is a super easy way to make gyuhi, a type of soft Japanese confectionery like mochi and daifuku.

5.

Add the gyuhi on top of the red bean paste and top with soy flour.

6.

Add your Little Green Man and fruit of your choice, then tuck int!

Kaori invites you into her world of character-themed food dishes in her recipe series. Be sure to check out her Instagram where she has uploaded many pictures of her character dishes!

©Disney

Kaori Kubota (@kaopan27)
I live in Hokkaido and I love to make character themed foods, desserts and pastries♡

I want to see my family smile, so I enjoy putting in a bit of effort to make character foods and changing food into something cute♡

You can see more of my character foods and character bento boxes on my Instagram page→@kaopan27

Information

ディズニーツムツムのスイーツレシピ

価格:¥1,000(税込)

販売先:amazon、楽天サイト他

Rina Sawayama's 'Chosen Family' is a Love Letter to the LGBTQ+ Community

Rina Sawayama has graced us with yet another track from her forthcoming debut album Sawayama which is set to hit shelves on April 17, 2020.

Chosen Family is the name of the new song from the singer-songwriter and it dropped on April 3. The penultimate track of her album and the last one she wrote for it, the song comes after Rina asked fans to interpret the meaning behind the song before its official release. She posted the chords and lyrics for it and asked fans to get creative while self-isolating. Rina followed up the track's release with a video on her YouTube channel showing fans how to play it.

Chosen Family is produced by PC Music's Danny L Harle who has worked with artists such as Carly Rae Jepsen and Charli XCX. It also has Jonny Latimer on board, who has co-written tracks with Ellie Goulding and done studio work with Sam Smith.

The song is an ode to the LGBTQ+ community who Rina considers her chosen family. Speaking about her inspiration for the track, Rina says: "Chosen Family' is a very special song for me. The concept of a chosen family is, to me, a queer one – people are often kicked out of their homes or ostracized by their family, friends, and community after coming out. This can be an incredibly painful experience that can be remedied by finding a new 'chosen' family."

She continues: "The chorus lyrics 'We don't need to be related to relate, we don't need to share genes or a surname' is an invitation for anyone that feels that sense of otherness to find their chosen family, where they can truly be themselves and feel loved. I dedicate this song to my queer friends who I now consider family – it's essentially a big thank you to them, as I love them so much and I genuinely don't think I would be alive right now if it weren't for them."

Rina's popularity continues to grow worldwide, including in Japan. She performed on the MBS television show Jonetsu Tairiku last year. She was also chosen as one of Vogue Japan's "Women of the Year" for 2019. Her song XS was also included in Spotify Japan's "Early Noise 2020" list. Her debut album is now available for pre-order.

Speaking about Sawayama, Rina says: "The album ultimately is about family and identity," she explains. "It's about understanding yourself in the context of two opposing cultures (for me British and Japanese), what 'belonging' means when home is an evolving concept, figuring out where you sit comfortably within and awkwardly outside of stereotypes, and ultimately trying to be ok with just being you, warts and all."

Rina Sawayama as born in Japan. She and her parents moved to the UK when she was 5-years-old. She discovered her love for music and studying in her teens, and went on to study at the University of Cambridge. She began to notice the differences in culture between people of different races, and what exclusion was. Rina carved her own identity from these experiences, tying her Japanese and Western roots together, and evolved into an artist that defines her unique pop style.

Sawayama will be released on April 17, 2020 via Dirty Hit.

ACCAMER's Listeners Anime Opening Theme 'Into the blue's' Released Digitally

A new music artist by the name of ACCAMER has launched their official website and posted their first visual. The singer is in charge of the opening theme for the new TV anime series Listeners which began debuted on MBS, TBS, and BS-TBS on April 3, 2020. The series is produced by MAPPA, created by Jin, and directed by Hiroaki Ando.

The opening theme is titled Into the blue's and it was released on Friday on streaming and download services. The lyrics, composition, and sound production were all carried out by Jin. The track is an experimental rock song that incorporate various musical elements.

Those who purchase the song on either LINE MUSIC or mora have the change to win a special sticker as pictured above. More details can be found on ACCAMER's official website.

Stay Home With Etsuna: Tips On Having Fun With Kids While Self-Isolating Doing Crafts and Cooking

Here at MOSHI MOSHI NIPPON, we post news and information about Japan in six languages. Our aim is to deliver a variety of content related Japan for those who love and enjoy Japanese culture.

Right now, people across the globe are in self-isolation as a result of the coronavirus pandemic. The same goes for Japan too, so we've taken this opportunity to create a new series on the website to show how we're spending time at home here in Japan.

The future is yet uncertain, and we hope for normality to return for all of us soon. We hope that this article takes your mind off the situation, even for just a little bit, to help you feel calmer, and just maybe it might give you some tips on what you can do while spending time at home.

Etsuna (悦奈)

Etsune is a model and talent from China who currently lives in Japan. She owns her own fashion brand where she designs clothes, and she posts news about Japan on her social media pages including Instagram and weibo. She's also a mother of two.

She kindly took some photos for us to share with you to show how she is spending time with her family at home right now.

Making Pikachu with pipe cleaners!

Here she's prepared some colourful pipe cleaners! She's combined them to create various different things, like Pikachu and a jellyfish. The colour of the jellyfish is just like Etsuna's usual fashion aesthetic♡

Simple banana art that kids can do too

All you need for this are bananas and a toothpick. By using a toothpick you can ensure you don't actually pierce the banana, just the surface of the skin. Stick at it and within 30 minutes to an hour you'll have created your own piece of banana art like Etsuna.

Her banana art is the real deal, as expected from an art college graduate!

Create mini figures using rocks and art tools

Here, Etsuna's prepared various rocks of different sizes. Add your own paint touches to a rock of your choice to create your very own mini figures. Possibilities are endlessーEstsuna's tried everything from a Japanese daruma doll to Luigi's hat.

Enjoy your own Japanese festival at home

You can make chocolate bananas like they sell at Japanese festivals using the same bananas you made the banana art with. Etsuna decorated hers with various Japanese candies like Pastel Sugar and Poifull. To make them, simply skewer the banana with a chopstick, lather the banana in chocolate, and add toppings of your choice!

Simply & kawaii 3:00 P.M. snacks

With a little planning, you can make some super cute snacks. Here, Etsuna has made a tasty parfait with yogurt which she topped with heart-shaped kiwi and banana, granola, raisins, and other surprise delights. Try making a cafe-quality dessert like this yourself at home.

Poké Ball onigiri set

Estuna's kids love Pokémon, so she made some onigiri rice balls that look like Poké Balls for them. They're filled with salmon flakes and umeboshi dried plum. They're then topped with seaweed and cheese to make the Poké Ball details. If you have some Japanese ingredients at home, like Japanese rice and seaweed, try it yourself too.

Etsuna also answered some of our questions below.

What's the secret to spending time at home?

"Kids can get pretty tired of staying at home all day, so to make it more fun and so it doesn't feel like self-isolation for us, we do pretend play like having indoor picnics and playing shopkeeper. You can create situations that make it feel different from being inside, and my kids seem to be enjoying that."

Please give a message to those reading this article

"The world is in a tough spot right now from the coronavirus. There are many people having to self-isolate in lots of different countries, from Europe and America to China. Make time to have fun at home so you can protect the lives of yourself and those you love."

Hatsune Miku and EGOIST Tickets Now On Sale For Niconico Chokaigi 2020

Niconico Chokaigi 2020 is set to run from April 12 to 19, and online tickets have now gone live for the opening acts: Hatsune Miku and EGOIST.

Niconico Chokaigi is an annual festival held by Japan's largest video streaming site "Niconico" which aims to recreate Niconico's virtual world in real life. The event is a melting pot of Japan's internet culture and the biggest internet festival in the country. It teams up with various media platforms and businesses to further promote Japan's internet culture to the people.

Hatsune Miku are set to perform as the opening acts on the first day of the festival, April 12, at 17:00 (JST) and 19:00 (JST) respectively.

Information

Niconico Chokaigi 2020 Supported by NTT

Running: April 12, 2020 – April 19, 2020開催日時:2020年4月12日(日)〜19日(日)

Official Website: https://chokaigi.jp/

Opening Act 1 | April 12, 2020 @ 17:00

Niconico Chokaigi 2020 x HATSUNE MIKU LIVE – UNTITLED 0 –

Watch Here: https://live.nicovideo.jp/watch/lv325003070
Buy Tickets: https://secure.live.nicovideo.jp/event/lv325003070
Ticket Price: 4,800 Niconico points (¥4,800 including tax)
Ticket Window: April 1, 2020 – April 30, 2020 at 23:59 (JST)

Opening Act 2 | April 12, 2020 @ 19:00

Niconico Chokaigi 2020 x EGOIST LIVE TOUR 2020 side-A「chrysalizion code 404」

Watch Here: https://live.nicovideo.jp/watch/lv324988333
Buy Tickets: https://secure.live.nicovideo.jp/event/lv324988333
Ticket Price: 3,000 Niconico points (¥3,000 including tax)

Ticket Window: April 1, 2020 – April 30, 2020 at 23:59 (JST)

McDonald's Japan Reveals New Samurai Mac Burgers Covered in Charred Soy Sauce

McDonald's Japan is set to release two hearty new thick-cut beef burgers under the name "Samurai Mac" at all branches in Japan on April 8, 2020.


The two new Samurai Mac burgers are crafted so the bellies of both kids and adults alike will be satisfied after they chow it down. The burgers mix together Japanese flavours, like charred soy sauce, which is lathered over thick-cut beef burgers.

The "Charred Soy Sauce Thick-Cut Double Beef Burger" is piled with two fat juicy patties made from 100% beef, the taste of which is elevated by the addictive charred soy sauce.

The "Charred Soy Sauce Bacon & Tomato Thick-Cut Beef Burger" is made with a single 100% beef burger and a generous and balanced serving of veggies. The soy sauce once again brings all the flavours together.

McDonald's Japan has appointed award-winning Japanese actor Masato Sakai as the campaign ambassador to promote the Samurai Macs on social media and the McDonald's website to help cheer on those working hard every day.

Cute and Chic Leather Wallets & Purses Released at Tiffany @ Cat Street in Harajuku

Tiffany & Co. released a new collection of small leather products at its Harajuku concept store Tiffany @ Cat Street on Wednesday.

What is Tiffany @ Cat Street?

 Tiffany @ Cat Street is a concept store that opened in April 2019 which is set to remain open for just 3 years. It is the company's first concept store to open in Japan. The shop showcases the wit, creativity, and timeless charm that Tiffany & Co. is known for, as well as a shopping experience in an interactive environment. It stocks everything from Tiffany's iconic collection from jewellery to home goods, accessories, and more. The line-up and designs also change themes on occasion. Tiffany @ Cat Street also has a cafe on the top floor.

Continental Flap Wallet – ¥72,000 (Before Tax)

Coin Pouch – ¥36,500 (Before Tax)

The small leather product line-up is made from high-quality Italian leather coloured in that eye-catching Tiffany blue. Each item is also stamped with the store's signature cat motif.

Card Case – ¥24,500 (Before Tax)

Compact Wallet – ¥55,000 (Before Tax)

The four variations are the perfect gift to yourself or someone you hold dear to you.

Be sure to stop by Tiffany @ Cat Street the next time you're in Harajuku.

Information

Tiffany @ Cat Street

Address: 6-14-5 Jingumae, Shibuya, Tokyo

Opening Hours: 11:00-19:00

Cafe Opening Hours: 11:30-18:30 (Last Orders 18:00)

Access: 5-minutes on foot from A4 exit of Meiji-Jingumae Station (Tokyo Metro Chiyoda Line/Fukutoshin Line) / 10-minutes on foot from Omotesando Exit of Harajuku Station

Official Website: https://www.tiffany.co.jp/jewelry-stores/cat-street/

Travel Virtually to Japan's City of Komoro in Nagano to See Cherry Blossoms, Soak in the Onsen & More

Komoro Tourism Bureau has developed the new "Komoro Tourism Channel" using Voicy, a news and media site which reports spoken information online. The channel focuses on the latest information with regards to tourism in Komoro, and focuses on the city's many different hot springs.

About Komoro

Komoro is a city in Nagano Prefecture. Komoro Castle is home to Kaikoen Park, which was chosen as the 100 best cherry blossom spots in Japan. The city also boasts a wide variety of onsen (hot springs) which offer amazing views and numerous different bathing experiences. Komoro Tourism Channel covers all of this and more.

Komoro is about 2-hours by car via the Nerima Interchange on Kan-etsu Expressway. It's also accessible from Tokyo via car. You can also reach it in around 24 minutes from Karuizawa Station via Shinano Railway.

Delivering the sounds of the relaxing onsen from Komoro

Komoro has eight water sources which provide water to its hot springs. The city sits 1,400 meters above sea level, from which each of its hot springs offer breathtaking views. The podcast on the hot springs, which is in Japanese, lets you feel like you're experiencing them from your very own home. More podcasts on Komoro are planned to be released in the future, and QR codes will be implemented are various hotels and tourist facilities in Komoro which when scanned will offer voice guides to those places.

Komoro Tourism Channel: https://voicy.jp/channel/1074

The Komoro Tourism Bureau is coming up with measures to continue promoting the city during the ongoing coronavirus pandemic. As well as Komoro Tourism Channel, it is also releasing information on its website, Twitter page, and elsewhere.

Kaikoen Park at Komoro Castle

Kaikoen Park at Komoro Castle is a tourist hot spot in Komoro. The castle itself was chosen as one of Japan's 100 most famous castle sites. It is also famous for the castle itself being situated lower than the town around the castle. Kaikoen Park was selected as one of Japan's 100 best cherry blossom spots, where around 500 trees bloom Yoshino cherries, shidare-zakura, higan-zakura, and more through April every year. The "Komoro-yae-beni-share" tree is an endemic species of cherry tree to Komoro and has a deep pink colour. The park also has towering stone walls and is home to the the front castle gate.

Komoro Castle Official Website (Japanese): https://www.komoro-tour.jp/castle/

Komoro Castle Official Website (English): https://www.komoro-tour.jp/lg_en/

Sanrio's Adorable Pompompurin and Cinnamoroll Characters Turn Into Tasty Desserts at Convenience Stores in Japan

Confectionery company Domremy has baked Sanrio's popular characters Pompompurin and Cinnamoroll into delicious desserts which released at supermarkets and select convenience stores in Japan on April 1. The desserts include "Pompompurin Tart," "Pompompurin Crepe," and "Cinnamoroll Parfait."

The desserts are also wrapped in cute packaging with designs of the characters, making it look like Pompompurin and Cinnamoroll really have been turned into tasty treats!

Pompompurin Tart

This homemade tart has an eggy flavour to it, with Purin's cute face and butt plastered on both the front and back. There are four possible facial expressions you can get your hands on.

Cinnamoroll Parfait

The custard mousse in this parfait is laced with strawberry whipped cream, and our little snug Cinnamoroll is made from milk pudding and more whipped cream. There are three possible facial expressions to find.

Pompompurin Crepe

The Pompompurin crepes are filled with whipped cream, Japanese custard pudding, and caramel sauce. There are four different packaging prints to find, all showcasing just how kawaii Pompompurin can be.

Information

Pompompurin Tart / Pompompurin Crepe / Cinnamoroll Parfait

Released: April 1, 2020

Available: Supermarkets and select convenience stores in Japan

Domremy Official Website: http://www.domremy.com/