Every year in Japan, the popularity of mint chocolate flavoured sweets, desserts and beverages increases, but this summer has seen the biggest boom so far. Here's our Top 5 list of popular mint chocolate goodies you can get your hands on in Japan right now.
Starbucks Chilled Cup – "Iced Mint Mocha"
Starbucks are introducing an iced mint mocha to their popular chilled cup series for a limited time starting on August 14. This mocha is made with flavoursome coffee, rich chocolate and refreshing mint. The combination of the chocolate and fresh fragrance of the mint makes for a satisfying taste. Even the packaging looks refreshing.
Cookie Time x Mint Chocolate
Cookie Time in Harajuku are now selling a range of mint chocolate items for a limited time. Check out the list below.
Half & Half (Cookie Dough x Mint Chocolate Ice Cream)
Price: ¥850
Enjoy everybody's favourite cookie dough combined with pleasant mint chocolate ice cream. This fusion of soft cookie dough and cool mint chocolate is Cookie Time's recommended menu item for summer 2018.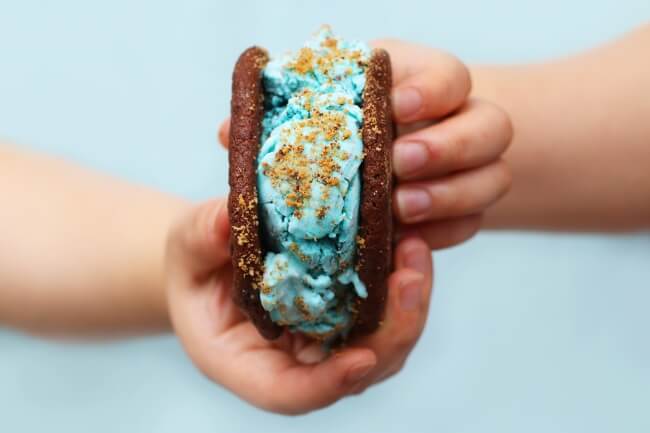 Giant Mint Chocolate Ice Cream Sandwich
Price: ¥950
Treat your taste buds to mint chocolate ice cream sandwiched between two giant freshly-cooked cookies. Cookie lovers and mint chocolate lovers won't be able to resist this one!
BARBARA a table – "Fuwatoro Mint Chocolate"
Bakery and beer restaurant BARBARA a table, located on the seventh floor of Lumine Yokohama, have created a summer-only shaved ice menu. Their mint chocolate shaved ice is drizzled in cool mint syrup and topped with fluffy espuma cream and sweet chocolate sauce. Its refreshing taste makes it a perfect after-dinner desert!
KAWAII MONSTER CAFE – "Mint Chocolate Space Cake"
The KAWAII MONSTER CAFE in Harajuku is celebrating its 3rd anniversary by holding a space-themed fair in the popular Mushroom Disco area of the café which is running until September 2. The theme of the fair is 'a giant forest where colourful and toxic mushrooms and plants from space fly overhead.' The mint chocolate cake takes on the form of a monster. It's a mint chocolate roll cake topped with mint chocolate ice cream and fresh mint chocolate cream. Enjoy it together with the cotton candy cloud the monster is sitting on.
Mario Gelateria – "Shaved Mint Chocolate"
Mario Gelateria are selling mint chocolate shaved ice desserts at three of their branches. At their Shibuya Hikarie branch they are selling their fluffy textured 'Kezuri Mint Chocolate' and at their Yokohama Bayside and Minato Mirai branches they're selling their 'Mint Chocolate' which changes colour to pink, all for a limited period. The one to really try is the Kezuri Mint Chocolate which is topped with shaved frozen mint milk and a chocolate sauce that hardens when it gets cold. On top of the fluffy shaved ice is a mint chocolate gelato made with salt from the Uyuni Salt Lake.
Which of these mint chocolate goodies do you want to try the most? Each one is available the summer season only, so don't miss out!