Eggs 'n Things Harajuku's Exclusive Chocolate Mint Pancakes Ship Nationwide in Japan
Eggs 'n Things Japan has announced that it is releasing its "Harajuku Chocolate Mint Pancakes" and "Mango Salsa Chicken & Eggs" to all branches throughout Japan (excluding temporarily closed branches).
Harajuku Chocolate Mint Pancakes: Eat In ¥1,480 (Before Tax), Takeout ¥880 (Before Tax) | Serving: May 15, 2020 – June 11, 2020
The Harajuku Chocolate Mint Pancakes speak for themselves. Enjoy a serving of mint flavoured pancakes drizzled in smooth mint cream which is sure to send a refreshing tinge through your nose. It's topped with an Oreo cookie, chocolate mint ice cream, and served with a side of chocolate sauce.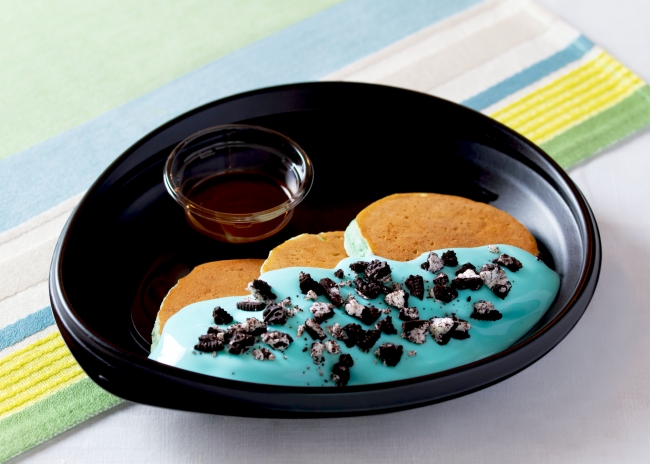 *The takeout option doesn't come with whipped cream or chocolate mint ice cream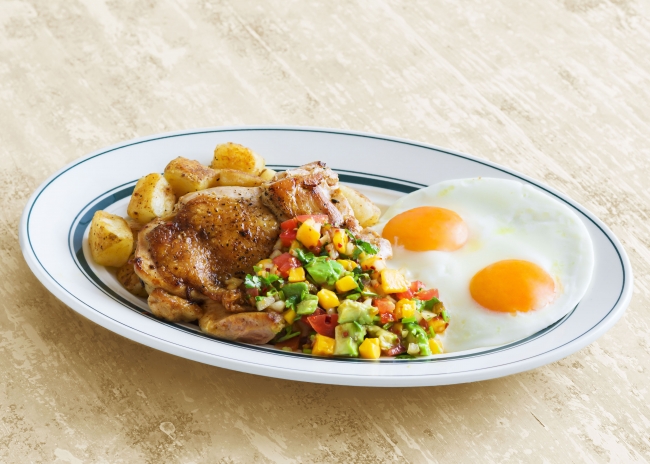 Mango Salsa Chicken & Eggs: ¥1,280 (Before Tax) *Takeout option available | Serving: May 15, 2020 – June 11, 2020
A plate of juicy fried chicken and a punchy mango salsa with a flavourful coriander taste and spicy kick.
Two perfect dishes to enjoy an early summer this year, coming to Eggs 'n Things in Japan this Friday.
RELATED ENTRIES
Make Your Own Original KitKat at Tokyo's KitKat Chocolatory Miyashita Park Shibuya

Nestlé Japan is opening a new branch of KitKat Chocolatory inside Shibuya's new shopping mall Miyashita Park on August 4, 2020.


KitKat Chocolatory is a direct-to-consumer chain, serving premium, handcrafted KitKats made with top quality ingredients and production methods under full direction by Takagi Yasumasa―the owner and chef of LE PATISSIER TAKAGI. Its product line-up features a range perfect as gifts to friends, family and co-workers, or as a treat to yourself.

Japan is home to eight KitKat Chocolatory branches. The new Miyashita Park Shibuya branch will open as the fourth in Tokyo, as well as the first where you can create your own KitKat products.

My KITKAT: ¥2,000 (Before Tax)

"My KITKAT" comes as the world's first KitKat service where consumers can create their own original chocolate bars.

KitKat Waffle: ¥1,000 (Before Tax)

KitKat Chocolatory Sublime Soft Cream: ¥630 (Before Tax)

KitKat Chocolatory Miyashita Park Shibuya will also sell a variety of unique and exclusive KitKat desserts, like luxurious soft serve ice cream topped with couverture chocolate. It will also offer a cafe menu created by Nespresso, where customers can pair Chocolatory desserts with seasonal coffee menus, and more.

Shibuya-esque wall art will decorate the interior of the shop, making for plenty of photo opportunities.

Information

KitKat Chocolatory Miyashita Park Shibuya

Grand Opening: August 4, 2020

Address: Miyashita Park South 2F, 6-20-10 Jingumae, Shibuya, Tokyo

Opening Hours: 11:00-21:00 (Last Orders 20:00)

TEL: 03-6427-6811

Official Website: https://nestle.jp/brand/kit/chocolatory/

Laforet Harajuku's Midsummer Takeaway Desserts Include Cinnamoroll Goodies

Eight shops inside Laforet Harajuku are participating in the shopping mall's midsummer takeout dessert event which is taking place from August 1 to 31. This includes the new milk dessert shop "MILK MILK MILK" which opened as the first branch in Japan on July 17 this year. Desserts and merchandise of Sanrio's popular character Cinnamoroll, who won this year's 2020 Sanrio Character Ranking, will also be sold.

café de paris | Floor B1F


Many Many Fruits Sandwich: Mango ¥626 / Green Grape ¥561 (Tax Included) *Takeout only

Fresh fruit is packed onto these adorable looking sweet sandwiches.

CAFE CREPE | Floor 1F


Honey Summer Orange: ¥730 (Tax Included) *Takeout only

Another cute summer dessert finished with swirls of fresh cream, fresh orange, and a round dollop of ginger ice cream.

MILK MILK MILK! | Floor 2F


Milk Bottle Smoothie: ¥880 (Tax Included) *Takeout and have-in

Served in a cute milk bottle, what better way to cool down than with a cool strawberry smoothie?

Cinnamoroll Milk Pudding: ¥1,078 (Tax Included) *Takeout and have-in


Cinnamoroll Sky Beaker Parfait: ¥1,048 (Tax Included) *Have-in only

There are two tasty Cinnamoroll desserts to choose from, including the milk pudding made with Hokkaido milk and a parfait with a gradient or jelly and chocolate mint ice cream, topped with mint, and served in a beaker.

© 2001,2020 SANRIO.,CO.LTD. APPROVAL NO.S610695

Information

Laforet Harajuku Summer Takeout Menu
Running: August 1, 2020 – August 31, 2020
Official Website: https://www.laforet.ne.jp/

Harajuku's New Chocolate Dessert Shop SÔ CÔ La Now Open For Business

The first Tokyo branch of the chocolate dessert shop SÔ CÔ La opened in Harajuku on July 15, 2020. Together with Harajuku Milk & Mot Tram—a shop which opened in collaboration with bubble tea shop Mot Tram and fresh cream shop Milk—SÔ CÔ La serves to further cement Harajuku as the number one place to go for desserts.

SÔ CÔ La Soft Serve Ice Cream: ¥550


SÔ CÔ La Soft Serve Ice Cream Sundae: ¥550

SÔ CÔ La will serve a range of desserts using ruby chocolate—the officially-recognised fourth type of chocolate alongside milk, dark, and white—the cocoa beans of which have a natural pink colour. It has a sweet, sour, and fruity taste. Customers can look forward to trying a range of rich desserts made with this rare type of chocolate and blended with dark chocolate.

The crunchiness of the shop's handmade "Aragosta Cones" goes perfectly with the rich chocolate blend ice cream.

Information

SÔ CÔ La Harajuku

Address: THE SHARE 1F, 3-25-18 Jingumae, Shibuya, Tokyo

Opening Hours: 11:00-20:00

TEL: 03-5772-8858

Instagram: @socola_of

Cute Bear Pancakes Whipped Up at IMADA KITCHEN in Tokyo's SHIBUYA109

IMADA KITCHEN in SHIBUYA109 has teamed up with Hattendo Cafe to co-create the new "Torokeru Kuma-san Pancakes" (Melty Mr. Beat Pancakes) which will be served from July 1, 2020 to August 30, 2020.

IMADA KITCHEN is a food project that aims to create original food in Shibuya. Together with Hattendo, a Hiroshima brand known for its incredible cream pastries, they have created a super cute bear design pancake. Bear designs are popular with young girls in Japan.

Torokeru Kuma-san Pancake: ¥450 (Before Tax)

The fluffy pancakes are filled with melt-in-the-mouth, handmade custard cream, meaning a single bite lets you enjoy both the moist texture of the pancake and the melty drizzle of the custard cream. Your mouth is instantly filled with flavours of maple syrup and egg, which when combined with the accompanying berries makes for a sweet amalgamation of deliciousness.

Torokeru Koro Tama Kuma Sandwich: ¥450 (Before Tax)

Normally, you would have to go to Hiroshima to try Hattendo Cafe's "Torokeru Koro Tama Kuma Sandwich," but now it will be available to try at IMADA KITCHEN. Made with the cafe's "cream bread," this moist sandwich is filled with egg salad, korokke, and cabbage for a hearty meal.

Tokyo's New Cat Shaped Cheesecake Shop 'Neko Neko Cheesecake' Opening in May 2020

ALL HEARTS COMPANY, a Japanese company that develops bakeries and patisseries across Japan, is launching an all-new cheesecake shop called Neko Neko Cheesecake which will open in Jiyugaoka, Tokyo on May 20, 2020. Serving cat-shaped cheesecakes, the shop will also take online orders.

Neko Neko Cheesecake is a sister brand of Neko Neko Kuu Pan from the same company which serves cat-shaped bread. Online deliveries will make for the perfect opportunity to bring that cafe experience to your own home.

Neko Neko Cheesecake – ¥1,800 (Before Tax) / Size: 11cm, 475g

The cake is made from the luxurious French brie cheese Brie de Meaux which is mixed with a homemade apricot jam to create rich, deep flavour. This means the cheesecake not only looks cute, but is the real deal too.

Their secret to bringing about amazing flavour and not just adorable looks can be broken down into four simple steps.

①They use the king of cheeses, Brie de Meaux.
②Although baked, the cheesecake is so soft it has a similar texture to a no-bake cheesecake.
③The sweet and sour homemade apricot jam elevates the overall flavour.
④The combination of mature cheese and the apricot jam changes the flavour to create a completely new kind of cheesecake.

The cheesecakes are boxed in box that has a simple yet chic design with two cats sat side by side.

The store will open on May 20, and online orders will launch on ALL HEARTS MALL on the same day.

Information

Neko Neko Cheesecake
Address: 1-16-14 Jiyugaoka, Meguro Ward, Tokyo 〒152-0035 (Connected to baguette rabbit's Jiyugaoka branch)
Opening Hours: 9:00-20:00
No Fixed Holidays (Except New Year's)
TEL: 03-6421-1208 (Line to baguette rabbit Jiyugaoka)
*Opening hours reduced due to COVID-19. Check the shop's official Twitter page below for updates.

Neko Neko Cheesecake Twitter: https://twitter.com/neko_cheese_
ALL HEARTS MALL Online Store: https://hbantique.official.ec/

Mister Donut Japan Launches Another New Matcha Doughnut Series

Mister Donut Japan is set to release yet another new limited line of matcha doughnuts in collaboration with Gion Tsujiri and Toshi Yoroizuka at all branches in Japan from May 15, 2020.

Last month, Mister Donut collaborated with Gion Tsujiri and Toshi Yoroizuka to release the "Matcha Itadaki Series." This time around, they're joining their sticky baking hands to bring the "Matcha Odoroki Series." The triple team's matcha creations are the fitting way to celebrate Mister Donut's 50th anniversary as Gion Tsujiri brings the best Uji matcha from Kyoto and Uji-born pastry chef Toshihiko Yoroizuka brings his creative ideas.

There are four treats in the line-up: the "Crisp Double Uji Matcha" and "Crisp Uji Match Chocolate" feature cookie and bagel dough bases, creating a crunchy and chewy mix, while the "Pon de Pie Uji Matcha" and "Pon de Pie Chocolate" feature Mister Donut's classic chewy Pon de Rings combined with a crunchy pie texture.

Crisp Double Uji Matcha – ¥230 (Before Tax)

A chewy and crunchy base laced with Uji matcha and topped with Uji matcha whipped cream and chocolate.

Crisp Uji Match Chocolate – ¥230 (Before Tax)

A chewy and crunchy base laced with Uji matcha and topped with Uji matcha chocolate and chocolate chips.

Pon de Pie Uji Matcha – ¥200 (Before Tax)

Enjoy both a chewy base and crunchy pie mix at the same time, topped with Uji matcha whipped cream.

Pon de Pie Chocolate – ¥200 (Before Tax)

Enjoy both a chewy base and crunchy pie mix at the same time, decorated with chocolate whipped cream.

The Matcha Odoroki Series sees the chefs' ideas shine through to create desserts that not only taste amazing but look gorgeous too, as well as taking into the account texture.

Information

Matcha Odoroki Series
Serving: May 15, 2020 until Early July 2020
Available: Most Mister Donut branches in Japan
Official Website: https://www.misterdonut.jp

Giant Gateau Pudding A La Mode Released at LeTAO's Online Shop

Confectionery crafters LeTAO have re-released their hugely popular "Gateau Pudding A La Mode" on their online store for a limited time only.

Cafe pudding a la mode is a nostalgic flavour to Japanese childrenーsomething which was kept in mind in the creation of this enormous version. The pudding is made with milk from Jersey cattle and a caramel sauce that's made with maple sugar for richness.

The pudding also has a touch of acidity from the peach and orange which when mixed together with the mascarpone cheese makes for a truly exquisite dessert.

LeTAO's "Jersey Milk Pudding" is a popular dessert also served at in-store branches. This pudding was used as a base to create the a la mode pudding.

The custard pudding is like a cake filled with the fruity flavours of peach, orange and strawberry coupled with refreshing mousse and mascarpone cheese.

*Please note that LeTAO branches are temporarily closed or have had their business hours changed as a result of the COVID-19 pandemic. Replies to enquiries about the online shop may take some time. Check the official website for more details.

Information

Gateau Pudding A La Mode
Price: ¥2,700 (Tax Included) (+¥890 for shipping)
Serving: Now until June 7, 2020

Official Website: https://www.letao.jp

Kaori's Easy Recipe: Learn to Make a Gudetama Parfait

With just a small bit of ingenuity, turn everyday food into something cute using Kaori's easy recipe! With a few simple ideas, an ordinary recipe magically transforms into a cute dish.

Today, I'll be showing you how to make a Gudetama parfait made with a yogurt mousse and topped with orange and peach jelly.

Ingredients
Yogurt Mousse Ingredients:
100g sugar free yogurt
50ml fresh cream
20g sugar
3g gelatin
*With the gelatin, mix well with 1 tbsp water

Mikan & Yellow Peach Jelly Ingredients:
100ml mikan juice (or any orange juice)
150g tinned peaches (with syrup)
5g gelatin
*With the gelatin, mix well with 1 tbsp water

1


①Mix the sugar into the yogurt well. Add in 7/10 of the fresh cream and mix well again.

②Microwave the gelatin for 10-20 seconds at 500w. Add into the mixture from ① and mix well.

2

Once the mixture has set in about ⅓ of a glass, add sliced chocolate on the inside for the eyes and mouth. I cut mine into shape using a toothpick.


Make sure the chocolate is properly fixed to the glass at this point.

3


Put your yellow peach and mikan orange into a blender (but not the gelatin part). The syrup of the peaches is already sweet so there's no need to add sugar.

②Microwave the gelatin for 10-20 seconds at 500w. Add into the blended mixture and mix well.

Pour on top of the mix inside the glass. If there are any peach pieces left, cut them up and use them as toppings.


Top with fresh cream and chopped fruit, and you're done! I stuck Gudetama's face on well and good so it looks like his chocolate face is on the outside. Be sure to try doing the same.

Kaori invites you into her world of character-themed food dishes in her recipe series. Be sure to check out her Instagram where she has uploaded many pictures of her character dishes!

Kaori Kubota (@kaopan27)

I live in Hokkaido and I love to make character themed foods, desserts and pastries♡
I want to see my family smile, so I enjoy putting in a bit of effort to make character foods and changing food into something cute♡
You can see more of my character foods and character bento boxes on my Instagram page → @kaopan72

Top 10 Instagrammable Drinks and Desserts to Try Making While You #StayHome

Japan's biggest social media photo aggregator Snaplace has curated a Top 10 menu list of the most popular drinks and desserts people have been posting on Instagram Japan with the hashtag #おうちカフェ ("Cafe at Home") with which people are making their own tasty treats to bring the cafe experience indoors during the lockdown.

The line-up features coffee, ice cream, cream soda and lots of other delights which have ranked due to how little preparation is needed and how easy the recipes are to follow. Let's take a look.

1sr Place: Dalgona Coffee

Dalgona coffee has taken the internet by storm for its beautiful two-layered appearance. Popular in South Korea, the drink has also garnered much attention in Japan. And you can substitute the coffee part to create a completely different beverage like a matcha, strawberry latte, chocolate, and so on.

How to make Dalgona Coffee: https://www.moshimoshi-nippon.jp/312230

2nd Place: Candy Strawberries

Candy strawberries have taken over candy apples in terms of popularity this year. And you can have fun trying it out with other fruits too while at home during the lockdown like grapes, fruitsーwhichever fruit is your favouriteーand skewer them.

3rd Place: Toast Arrangements

Top your toast with ingredients like fresh cream, Greek yoghurt, cream cheese, sliced cheese, fruits, vegetables, and so on to change up your morning breakfast. There are so many different recipe inspirations for toast arrangements to find on social media.

Related Article: Stay Home: 6 Toast Arrangements to Bring the Cafe Experience to Your Home During the Lockdown

Related Article: Stay Home: 6 More Toast Arrangements to Bring the Cafe Experience to Your Home During the Lockdown

4th Place: Marshmallow Cookies
5th Place: Fruit Sandwiches (Check out recipes here)
6th Place: Cream Soda
7th Place: Eggs Benedict
8th Place: Snoopy Gyoza
9th Place: Candy Marshmallows
10th Place: Deko ("Giant") Ice Cream

Try making your own Instagram-worthy menu at home.

Rilakkuma & Kiiroitori Confections by Tabemas Coming to Lawson Convenience Stores

Character-inspired Japanese confectionery series Tabemas has revealed that its next batch of sweet treats will see Rilakkuma and Kiiroitori arrive at Lawson convenience stores in Japan (excluding Lawson Store 100 branches) on April 28, 2020.

Tabemas Rilakkuma 2020 Strawberry Rilakkuma/Strawberry Kiiroitori – ¥285 Each (Tax Included)

The adorable confections feature Rilakkuma donning a sweet strawberry hat while Kiiroitori has gone the full fruity mile by dressing snug in a strawberry onesie. As you'd imagine, both of these sweet treats are strawberry flavoured.

'Tabemas' is an abbreviation of the Japanese words taberareru masukotto, meaning 'mascots that you can eat.' It is a Japanese confectionery series that combines well-known characters and Japanese sweets made from ingredients like red bean paste, sugar and rice flour. The sweets are also made with a dough called "nerikiri" which is used in making traditional Japanese wagashi sweets.

What better way to spend your time indoors right now than with a cute Rilakkuma or Kiiroitori sweet?

© 2020 San-X Co., Ltd. All Rights Reserved.

Information

Tabemas Rilakkuma 2020 Strawberry Rilakkuma

Tabemas Rilakkuma 2020 Strawberry Kiiroitori 

Price: ¥285 Each (Tax Included)

Release Date: April 28, 2020

Available: At the chilled desserts section of Lawson convenience stores in Japan

*Not available at Lawson Store 100

*Available while supplies last

*Stock date may differ from branch to branch

*Select stores not participating

nana's green tea Releases Luxurious Gyokuro Tea Drink and Parfait You Can Take Out

Modern tea hosue nana's green tea has 81 branches across Japan. Alongside café-style food, their specialty is traditional desserts and drinks made from traditional teas such as matcha and hojicha. They are now selling a new parfait and chilled drink made from fresh gyokuro green tea for a limited time.

As the days grow gradually closer to summer, the menu blooms to life with the season's fresh green colours. The desserts at nana's green tea never fail to boast their own unique and unbeatable flavours. The new parfait and drink are made with a generous serving of  gyokuro, which is a fine and luxurious type of green tea recognised by its signature bright green appearance. The rich green tea is sourced from the long-established Kyoto tea-producer YAMAMASA KOYAMAEN.

YAMAMASA KOYAMAEN: Kyoto's Long-Established Uji Matcha Tea Producers

YAMAMASA KOYAMAEN are the owners of a tea plantation in Kyoto's renowned matcha region called Uji. With their passion for selling only the best flavour of tea above all else, they have contributed to the growth of Uji-grown tea since the end of the Edo period.

Gyokuro tea is produced with the same careful attention and care as matcha but with a different procedure. nana's green tea grind the leaves to a fine powder to fully extract its refined essence. From the flavour to the aroma, gyokuro tea provides a completely different experience to matcha. If you love Japanese tea, this is the perfect opportunity for you to explore the wonderful flavours of Uji tea.

Gyokuro Warabimochi Parfait

Gyokuro jelly made from 100% gyokuro Uji tea and white bean paste dusted in gyokuro powder dress this parfait in rich flavours. The warabimochi is also dusted in gyokuro powder to balance its sweetness. The sweetness of the warabimochi and the gentle and refined flavour of gyokuro tea will spread through your mouth. Finally, the parfait is laced in black sugar syrup for a refined accent. 

Gyokuro Jelly Frozen

Gyokuro tea and milk are mixed together to create an aromatic and vivid drink mixture. Chunks of soft gyokuro jelly can be seen at the bottom of the drink. Suck them up through your straw for a refreshing and fun texture. As the process of roasting gyokuro leaves is very difficult, it is a flavour that can be difficult to come across. This is the perfect way to enjoy a refined flavour in a casual way.

You can also order the parfait and drink to take out, making it the perfect luxurious treat to enjoy at home. If you love exploring tea, this is an unmissable opportunity.

Information

nana's green tea

Shop Locator: http://www.nanasgreentea.com/shop/

*Takeout availability varies from shop to shop and may be unavailable in certain regions. Please confirm this with the shop staff.

Stay Home: 6 Toast Arrangements to Bring the Cafe Experience to Your Home During the Lockdown

Here at MOSHI MOSHI NIPPON, we post news and information about Japan in six languages. Our aim is to deliver a variety of content related to Japan for those who love and enjoy Japanese culture.

Right now, people across the globe are in self-isolation as a result of the coronavirus pandemic. The same goes for Japan too, so we've taken this opportunity to create a new series on the website to show how we're spending time at home here in Japan. The future is yet uncertain, and we hope for normality to return for all of us soon. We created a new articles series called Stay Home with which we hope to take your mind off the situation, even for just a little bit, to help you feel calmer. It might give you some tips on what you can do while spending time at home.

In this edition of Stay Home, we're taking a look at some cute, easy-to-make toast recipes that were featured with the trending Japanese hashtag #おうちカフェ ("Cafe at Home"). Try making them yourself at home for breakfast, lunch, or as a snack.

Hinako Satou's lemon toast recipe combines sweet sugar with sour lemon for an addictive flavour. The lemon-topped looks cute too♡

Ingredients

・Toast・Sugar Margarine ・Powdered Sugar・Sliced Lemons

Methods

1: Layer the toast with the sugar margarine.

2: Dust with the powdered sugar and then top with sliced lemons.

3: Add another dusting of powdered sugar on top of the lemons to balance the flavours and enjoy!

Sumomolife's strawberry toast uses a thick slice of bread which is topped with a dollop of cream and piled with sliced strawberries. Layer on the fresh cream while the chewy toast is still piping hot and indulge!

Ingredients

・Toast・Fresh Cream・Brandy・Strawberries

Method

1: Cut a thick slice of bread and toast until the outside is nice and crispy and the bread has heated through. The trick is to make sure that the centre is still soft.

2: Put the cream into a bowl or keep in the container and then set this aside in ice water to make smooth, velvety cream. The cream in the photo was set aside for 7 minutes.

3: Add a small amount of brandy to the fresh cream to create a rich flavour.

4: Top your hot toast with the cream and strawberries to finish.

3: Banana Cream Cheese Toast | @yuuki.sweets_1

Yuu's home cafe toast is a mix of banana, cream cheese and walnuts. The banana is fried in coconut oil for added texture and taste.

Ingredients

・Toast・Bananas・Coconut Oil・Walnuts・Cream Cheese・Maple Syrup

Method

1: Chop the banana into slices and lightly fry in coconut oil.

2: Fry both sides of the bread in the frying pan at a heat that can char the surface.

3: Lather the fried bread with cream cheese then top with the sliced bananas and walnuts. Finish with a drizzle of maple syrup.

Kirara's toast arrangement is kimcheeseーthat's a combination of kimchi and cheese! The spiciness of the kimchi and the smoothness of the cheese is a match made in heaven.

Ingredients

・Toast・Kimchi・Egg・Cheese (that you can melt)・Spring Onion・Mayonnaise

Method

1: Layer your toast with kimchi and spread mayonnaise around the edges.

2: Add a fried egg on top.

3: Top with melted cheese and spring onion and you're done!

This curry toast is made using leftover curry from the day before. The flavours from yesterday are transformed by topping with egg and cheese. Add a touch of paprika to taste.

Ingredients

・Toast・Curry・Paprika・Cheese (that you can melt)・Soft Boiled Egg・Parsley

Method

1: Add your toppings to the toast in this order: curry, paprika, and melted cheese.

2: Dollop on your soft boiled egg.

3: Garnish with parsley.

Turn your toast into a pizza with Unagi's recipe. The fun aspect of this arrangement is you can add any toppings of your choice to make your own original filling and nutritious pizza toast.

Ingredients

・Toast・Pizza Sauce・Sausage・Assorted Vegetables (Unagi used spring onion, bell pepper, and mini tomatoes)・Shimeji Mushroom・Black Olives・Cheese (that you can melt)・Dried Parsley・Black Pepper

Method

1: Lather your bread with pizza sauce, then arrange the sausage and vegetables. 

2: Next, add the shimeji mushroom, black olives, and cheese. Toast.

3: Finally, finish with a sprinkle of dried parsley and black pepper.

Bring the cafe experience into your own home by making your own fun toast arrangements.