Hatsune Miku Beauty Range Released in Collaboration with Fairy Tale Cosmetics
Fairy-tale themed cosmetic brand Fairy Tale Cosmetics has joined hands with virtual idol Hatsune Miku to release a range of original beauty products. Village Vanguard are now taking orders for the cosmetic line via their online store.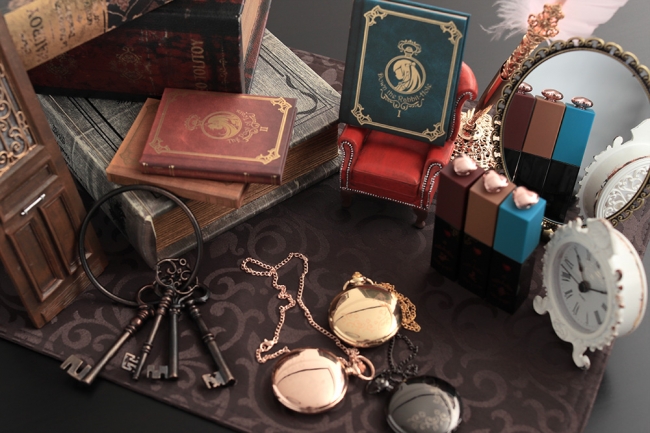 The lineup is inspired by Hatsune Miku falling into Wonderland. It includes three different eyeshadows packaged in gorgeous antique-looking books, three varieties of blush that comes stored in pocket watches, three types of lip gloss, and three sets that include one of each item plus bonus items.
Antique Book Eyeshadow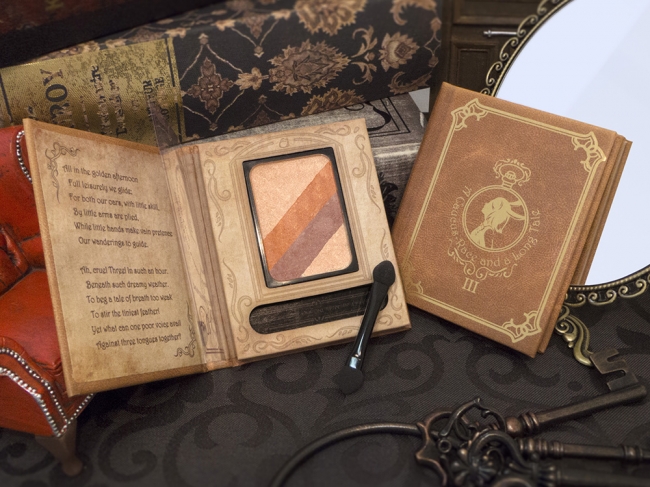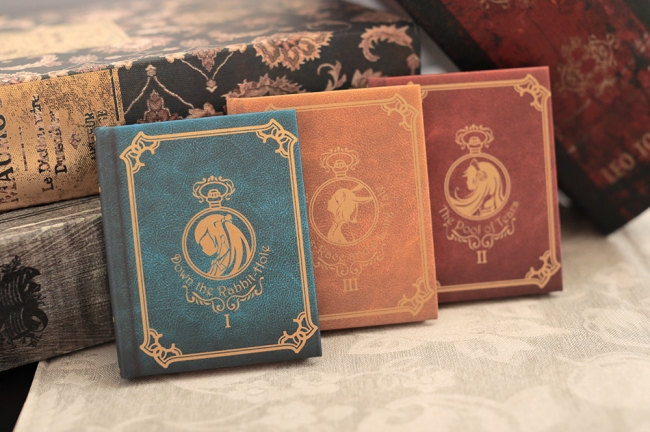 The eyeshadow range comes stored in high quality antique-looking books, the kind you would imagine in an old library. Each palette offers an alluring gaze that can cater to whichever situation you need it to.
Pocket Watch Blush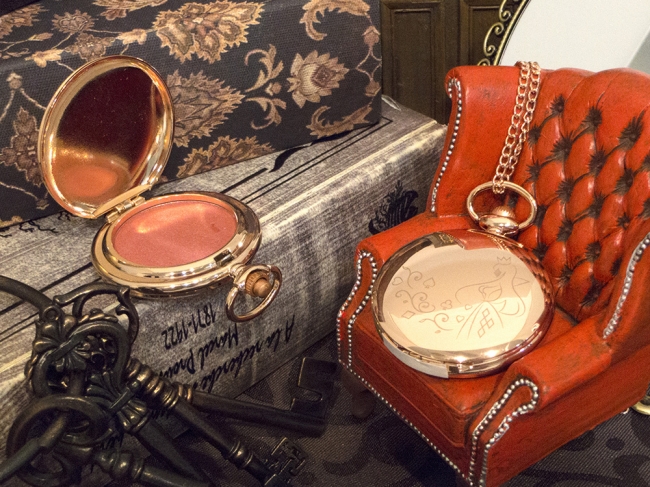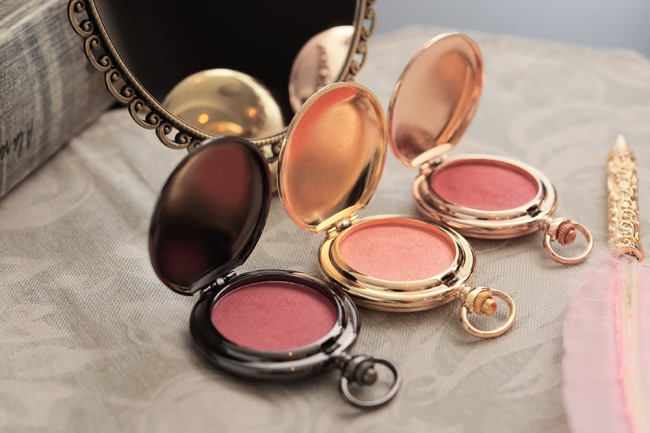 The pocket watch blush is a handy item that can be carried around as a charm. Pick from your favourite colour of either red, rose or pink.
Small Bottle Lip Gloss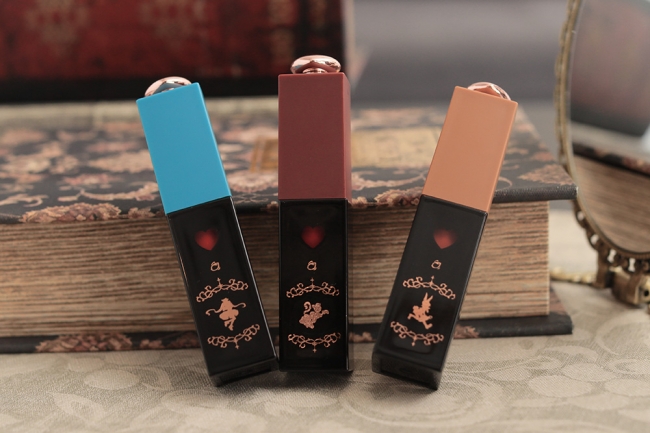 This bottle type lip gloss is high quality in both application and colour and is easy to use. The colouring gives subtle tint that your lips will easily become familiar with. The colour selection also allows for use in a variety of situations.
Cosmetic Set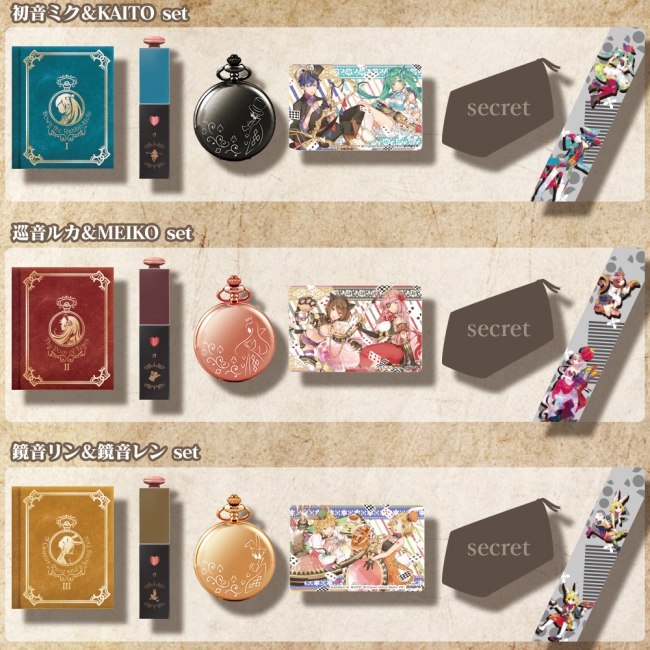 Each set comes with one of each eyeshadow, blush and lip gloss as well as a reversable pouch, card mirror, and masking tape. The pouch has double pockets so you can store numerous small accessories or makeup bits, and since it's reversable you can pick from two different designs depending on how you're feeling.
Have fun with this antique collection of cosmetic items.
RELATED ENTRIES
HATSUNE MIKU Digital Stars 2021 Online Event Announced For August

Crypton Future Media has announced that the 'HATSUNE MIKU Digital Stars 2021' online music event will take place on August 29, 2021 as part of their Digital Stars project. The club event sees fans come together to party online.

Merchandise for the event is available to buy on HOBBY STOCK between May 20 and June 10.

The HATSUNE MIKU Digital Stars 2021 Compilation, a CD which is part of the annual Digital Stars series, was also released at music stores in Japan on May 18.

For more information on the event, check the official website below.

Sakura Miku Blossoms On Merchandise at Hirosaki Sakura Matsuri 2021 in Aomori

Japanese anime, game, and hobby merch site CharaAni released a new collection of Sakura Miku merchandise on Monday in collaboration with the Hirosaki Sakura Matsuri 2021 festival.

Hirosaki Sakura Matsuri 2021 x Sakura Miku Line-Up

Folders | ¥450 Each (Tax Included)

Tapestries | ¥3,500 Each (Tax Included)

Acrylic Stands | ¥1,500 Each (Tax Included)

Holographic Pins | ¥550 Each (Tax Included) *Blind box, designs are random

Reversible Blankets | ¥5,500 Each (Tax Included)

Scarf Towel (Art by iXima) | ¥2,000 (Tax Included)

Happi (Art by iXima) | ¥6,000 (Tax Included)

Hand Towel (Art by Mamo) | ¥1,000 (Tax Included)

Motel Key Ring (Art by iXima) | ¥1,500 (Tax Included)

Teacups | ¥1,700 Each (Tax Included)

Flat Pouch (Art by iXima & Mamo) | ¥2,500 (Tax Included)

Drum Bag (Art by iXima) | ¥6,500 (Tax Included)

Full Graphic T-Shirt (Art by Morichika) | ¥5,500 (Tax Included)

Full Graphic Zipper Hoodie (Art by Hechima) | ¥9,900 (Tax Included)

Fashion Mask (Art by iXima) | ¥2,200 (Tax Included)

Desk Mat (Art by iXima) | ¥3,300 (Tax Included)

Shitakawa Rayaki Dove Whistle | ¥2,200 (Tax Included)

Music Box: "Haru o Matsu Hito" – PolyphonicBranch feat. Hatsune Miku

The Sakura Miku x Hirosaki Sakura Matsuri 2021 collection invites on board four artists: iXima, Mamo, Hechima, and Morichika who have created original artwork for the line-up. The items can be bought both at the festival and online.

The collection also includes Sakura Miku-inspired dove whistles made by Shitakawa Rayaki Tsuchi Ningyo, a clay doll company that has been around for over 200 years. The company began in the latter half of the Edo Period when Takaya Kanegura, who had learned how to make ceramics in the town of Chikuzen in Fukuoka, was employed by the Hirosaki Domain to build a furnace.

Miku fans can also get their hands on a music box which features an original song created for the festival called Haru o Matsu Hito ("Person Waiting For Spring"). It features artwork by iXima.

Art by iXima / Mamo / へちま / もりちか © Crypton Future Media, INC. www.piapro.net

Hatsune Miku Features in Pocari Sweat Promotion as Official Ambassador

Otsuka Pharmaceutical released a 30-second video titled "Netsunarero" on their official YouTube channel on May 6 announcing Hatsune Miku and members of Leo/need from the Project Sekai Colorful Stage ft. Hatsune Miku mobile game as the official ambassadors for the Japanese sports drink Pocari Sweat.

The importance of "Netsunare"

The video stresses the importance of netsunare – sweating in order to get used to the heat during summer. Leading the promoting of this message is Hatsune Miku who is followed by Leo/need, MEIKO, Mirai Akari, Fuji Aoi, and YuNi. The video features the original song Waiting for Clear Weather created by Orangestar for the Project Sekai Colorful Stage ft. Hatsune Miku mobile game. The popular track has been streamed over 1.9 million times as of April 2021.

The Character Line-Up

Since December 2019, Otsuka Pharmaceutical has appointed Hatsune Miku, MEIKO, Leo/need, MEIKO, Mirai Akari, Fuji Aoi, YuNi, and other familiar faces as official ambassadors for Pocari Sweat to spread information on how to overcome Japan's hot summer weather to the world. It is part of the beyond2020 project which Otsuka describes: "With an eye to 2020 and beyond, this cultural program will contribute to the creation of a legacy befitting a maturing society that will make the next generation proud, through Japan's strength which consists of its local and diverse culture."

Leo/need from Project Sekai Colorful Stage ft. Hatsune Miku

Project Sekai Colorful Stage ft. Hatsune Miku is a mobile game for iOS/Android. The members of Leo/need include guitarist and vocalist Ichika Hoshino, keyboardist Saki Tenma, drummer Honami Mochizuki, and bassist Shino Hinomori. They will release their first single on June 9, 2021.

Twitter Campaign

Otsuka Pharmaceutical is also holding a Twitter campaign in Japan as part of the promotion where 200 random people can win a box of seven 500ml Pocari Sweat bottles for cooling down in the summer heat.

How to Sign Up

Step 1: Follow Pocari Sweat on Twitter @pocarisweat_jp

Step 2: Retweet or quote any of Pocari Sweat's posts featuring the hashtag #ネツナレろ ("Netsunarero")

Running: May 6, 2021 – May 19, 2021 (Japan Only)

Campaign Site: https://pocarisweat.jp/action/pocarimiku/netsunarero/

© SEGA / © CP / © CPM / © Mirai Akari Project / © YuNi / © Fuji Aoi

Vocaloid's Sakura Miku and Virtual Singing Friends Collaborate With Illustrator Shirabi

A new collection of Sakura Miku merchandise has been released for the Spring 2021 season. The collection features original artwork by Japanese illustrator Shirabi and is available to purchase on ARMA BIANCA.

 

Sakura Miku is joined by her Vocaloid friends Kagamine Rin, Kagamnine Len, Megurine Luka, MEIKO, and KAITO in this collection which uses the main visual drawn by Shirabi for the Sakura Miku Pop-Up Shop that ran from March 19 to April 4 at the AMNIBUS STORE in Shinjuku Marui Annex in Tokyo.

Here's a select look at some of the items up for grabs, all of which is sure to be a cute feast for the eyes of Vocaloid fans.

Acrylic Key Rings: ¥650 Each (Before Tax) / Whole Collection ¥5,850 (Before Tax)

Affix your favourite Vocaloid to your bag or decorate your room with these key rings featuring the most popular Vocaloid characters individually and in pairs.

Bonus Item

If you buy the whole box of key rings, you'll also get this bonus limited-edition key ring featuring the entire cast.

Zipper Hoodies | ¥5,980 Each (Before Tax)

The hoodie collection is a simple pullover type perfect for wearing at home, outdoors, at anime events and concerts – pretty much anywhere!

Mobile Batteries | ¥4,500 Each (Before Tax)

A lightweight and compact battery that's handy for when your device is running out of juice.

Changing Mug | ¥2,980 (Before Tax)

A mug which changes its design when you pour a hot drink inside. Enjoy twice the amount of Miku when making your morning coffee.

Check out the mug in action in this video below.

Wappa Bento Box | ¥5,480 (Before Tax)

Take your lunch to work out enjoy a meal outdoors with this bento box that's made from wood. It has that distinct natural wood feel and smell to it.

Coin Purse | ¥1,800 (Before Tax)

Keep your coins or other little bits and bobs safe in this cute and compact purse.

Check out the link below for the full list of merch.

Art by しらび © Crypton Future Media, INC. www.piapro.net

Cute Hatsune Miku Artwork by Esther Kim Releases for MikuWorldCollab

As part of MikuWorldCollab, a project launched to have the internationally-beloved virtual singer collaborated with famous overseas IP's, popular Korean-American illustrator Esther Kim has teamed up with Crypton Future Media to release a super cute piece of artwork of Miku.

Miku is joined by Esther Bunny, an adorable bunny created by Esther Kim. Kim was born in Los Angeles and spent her teenage years in Tokyo. Her multicultural background has influenced her art which has led to collaborations with popular fashion and cosmetic brands in South Korea, Japan, and elsewhere.

Kim has cute and stylish touches to Miku and Esther Bunny. The illustration will be released on merchandise sometime this year. Another illustration by a designer at Crypton will also be released in the near future.

Nintendo Releases Hatsune Miku Logic Paint S for the Switch

Hatsune Miku Logic Paint S was released for the Nintendo Switch on March 18. The game was published by Crypton Future Media, who are known for creating VOCALOID, and comes as their first-ever puzzle game. The game is available for 25% off until March 31.

The main visual for the game was created by illustrator NEGI

The game is the expanded and complete version of Hatsune Miku Logic Paint -MIKULOGI- which was released for smartphones in March 2020. Players use the numbers in the top and left-hand sides of the screen to fill in a grid of square in order to create an image. They can also use the X marks to prevent mistakes. The images include illustrations of Piapro characters including Hatsune Miku and her familiar line-up of friends.

Players can also set their favourite songs to play in the home and puzzle screens and can unlock more songs by collecting Stars.

Hatsune Miku Logic Paint S builds on the MIKULOGI version by introducing even more puzzles – over 350, including the addition of new 20 x 20 puzzles alongside the original 5 x 5, 10 x 10, and 15 x 15. Players can now choose favourite Piapro character to solze puzzles together with, including Miku, Luka, Rin, Len, Kaito, and Meiko. There are also Missions for players to complete which will unlock artwork and 18 different songs.

Hatsune Miku Artwork to Feature On Vinyl Release Of Isao Tomita's Symphony Ihatov

Nippon Columbia is set to release a vinyl record of what is widely considered to be Isao Tomita's greatest work, Symphony Ihatov, on March 31, 2021. The symphony is composed of various sections including one featuring virtual singer Hatsune Miku. Tomita was inspired to create the piece after reading the works of the acclaimed Japanese author Kenji Miyazawa.

The vinyl will feature artwork from the popular Vocaloid illustrator Rella. A collection of Hatsune Miku acrylic stands will also release alongside the LP. Everything will be available to purchase worldwide via Tokyo Otaku Mode.

Art for Symphony IHATOV by Rella

Ribbon Knight Art by Rella ©CFM/©Tezuka Productions

All Other Art by Rella ©CFM

Vinyl Release Info

Embroidered Art Cover LP Edition

Price: ¥39,000 (Before Tax)

Limited to 390 sets via Columbia Music's shop

Regular Edition

Price: ¥6,000 (Before Tax)

Available: All record stores in Japan

Acrylic Stands

All acrylic stands cost ¥2,000 before tax and are available to purchase overseas via Tokyo Otaku Mode.

Project Sekai: Colorful Stage feat. Hatsune Miku Welcomes New Creators

Colorful Palette's popular music rhythm and adventure mobile game Project Sekai: Colorful Stage feat. Hatsune Miku has welcomed two new creators, YASUHIRO and DIVELA, as well as added four new songs.

YASUHIRO will perform the songs for Wonderlands x Showtime while DIVELA will perform the songs forMORE MORE JUMP!, both being in-game musical show units.

New Songs Added

Event

Wonderlands x Showtime Smile of Dreamer

Kohane Azusawa & Momoi Airi's Birthday Live Event

White Day Live Event

© SEGA / © Colorful Palette Inc. / © Crypton Future Media, INC.

Hatsune Miku Collaborates With Pusheen as Part of MikuWorldCollab

Crypton Future Media unveiled an illustration on Friday (February 19) announcing Hatsune Miku's collaboration with Pusheen as part of MikuWorldCollab, a project that launched to have the internationally-beloved virtual singer collaborated with famous overseas IP's.


Pusheen is the instantly-recognisable cat character created in the U.S. by Claire Belton and Andrew Duff back in 2010. Originally featured as a comic strip, Pusheen went on to become a series of stamps on Facebook in 2013, and has seen countless collaborations, original merchandise, and more ever since.

The cute illustration of Miku and Pusheen was created by Japanese illustrator Choke. More illustrations by the Pusheen team are set to roll out this year along with a merchandise collection and other digital content, so stay tuned!

Hatsune Miku Symphony to be Released On Amazon Music HD Using Dolby Atmos®

To celebrate the 5th anniversary of Hatsune Miku Symphony, three concerts are being held in Japan. The first took place at Suntory Hall for the first time on September 21, the second in Yokohama on October 17, and the third is scheduled to take place tomorrow (November 27) at Festival Hall in Osaka.

Fans unable to attend the final show will be pleased to know that part of the set list from Hatsune Miku Symphony 2019 is also being released tomorrow on Amazon Music HD in Dolby Atmos® format.

Dolby Atmos is a surround sound format that breaks the wall on the limits of mono and stereo sound and allows sounds to be interpreted in 3D, creating an entirely new immersive experience. This will make listening to a show like Hatsune Miku Symphony a true delight to Vocaloid lovers.

Those attending the Osaka concert will be able to listen to Miku Symphony in one of the Amazon Echo Studio booths that will be available at the venue. These booths will also be equipped with Dolby Atmos through Amazon Music HD.

The Yokohama performance that took place on October 17, 2020 is scheduled to be released on Blu-ray on February 3, 2021. It will be available to pre-order at the Osaka show.

Embroidery Art – ¥16,500 (Tax Included) | Acrylic Key Rings (7 Designs) – ¥800 (Tax Included)

A selection of merchandise will be available to buy at the Osaka show including an all-new piece of embroidery art, acrylic key rings, and more. These items will also be available to pick up at Magical Mirai 2020 in OSAKA taking place this weekend (November 28 and 29).

© Crypton Future Media, INC. www.piapro.net

Hatsune Miku and Rascal the Raccoon to Collaborate at Magical Mirai 2020 in Osaka

Nippon Animation and Crypton Future Media are set to collaborated for the 4th time by bringing together the popular character Rascal from the Japanese animated series Rascal the Raccoon and VOCALOID. The two companies will release pre-sales of collaborative merch at Magical Mirai 2020 in Osaka from November 27 to 29.

Rascal celebrate hits 40th anniversary back in 2017, the same year his collaboration with VOCALOID began. "Japanese Festival" is the theme for the merchandise line-up which sees the adorable raccoon come together with familiar faces from the VOCALOID roster including Miku, Rin, Len, Luka, KAITO, and MEIKO, all of whom are donning their appropriate festive garbs. There's also a "Firework Festival" collection of merchandise too which was designed in collaboration with Japanese illustrator Omutatsu.

The merchandise will also be released at the official Nippon Animation shop ANi★CUTE in Ikebukuro, Tokyo on December 18, 2020.

Artwork sample

Merchandise sample

Information

Magical Mirai 2020 in OSAKA
Running: November 27, 2020 – November 29, 2020
Venue: INTEX Osaka Buildings 3 and 4
Address: 1 Chome-5-102 Nankokita, Suminoe Ward, Osaka
Official Website: https://magicalmirai.com/2020/
COCOLLABO Official Website: https://www.cocollabo.net/sp/Magicalmirai2020/

Nippon Animation Official Shop ANi★CUTE
Release Date: December 18, 2020
Location: Sunshine City Alpa 2F
Address: 3-1-2 Higashi-Ikebukuro, Toshima-ku, Tokyo
Opening Hours: 10:00-20:00
TEL: 03-6914-2668

Hatsune Miku Yeolume Doll Enters as the First Doll in a New Collection Series

GROOVE Co.,Ltd. is releasing a new collaboration line of dolls using the Yeolume doll as a base. The first collaboration to the line welcomes none other than the iconic Vocaloid character Hatsune Miku.

Collection Doll | Hatsune Miku: ¥13,200 (Tax Included)

For Hatsune Miku, or the number one princess in the world, her cheeks have been made puffy and her lips cute and pouting. Her eyes can move left and right for changing her facial expression, and her neck, arms, waist, and legs are all movable. Her knees can bend too, so you can place her in all kinds of different poses.

Her iconic outfit has all the little details too, plus her recognisable twin tails touch the floor which is super cute.

This is definitely one to add to your doll collection.

©Cheonsang cheonha.All Rights Reserved.
©Crypton Future Media,INC.www.piapro.net