Lindt to Release Exclusive Lindor Matcha Flavour in Japan
Premium chocolate brand Lindt was first established in 1845 and since then they have gone on to be one of the most enjoyed chocolatier and confectionery companies around the world, loved in over 120 countries.
The company have announced that they will release their first ever Japanese flavour Lindor Matcha at Lindt stores across Japan and on their website on September 3, 2018.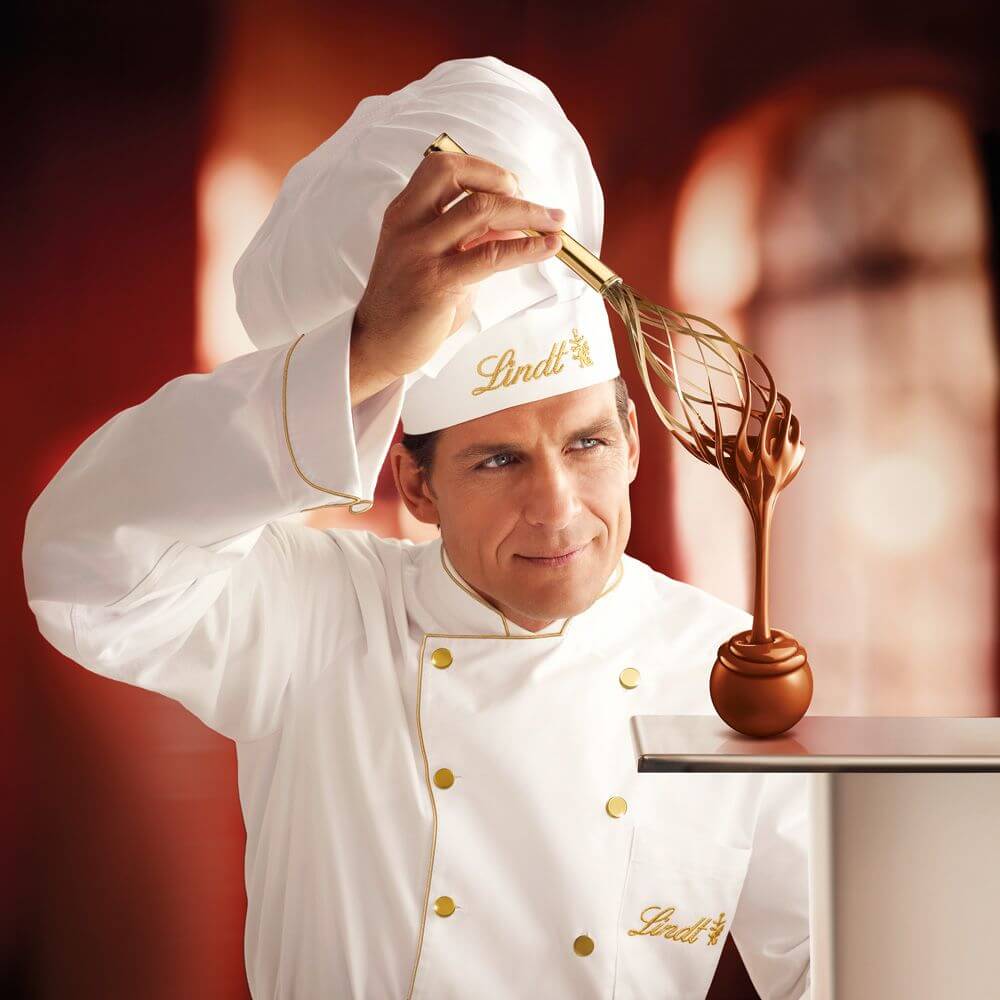 Amongst Lindt's chocolates no other is as popular as Lindor. The chocolate was first introduced in 1949. This luxurious confection instantly recognisable for its spherical shape that has a hard outer layer of chocolate and a velvety, melt-in-the-mouth filling. 60 years since its release, Lindor continues to be enjoyed worldwide.
The new Lindor Matcha is the latest addition to the chocolate line which boasts over 20 flavours. When developing the Japan-exclusive flavour, they carried out taste tests with consumers of Lindor. Efforts were made to fuse together Lindt's classic chocolate flavour with the traditional Japanese matcha flavour. Results were successful with both foreign first-timers trying matcha and Japanese people well accustomed to matcha.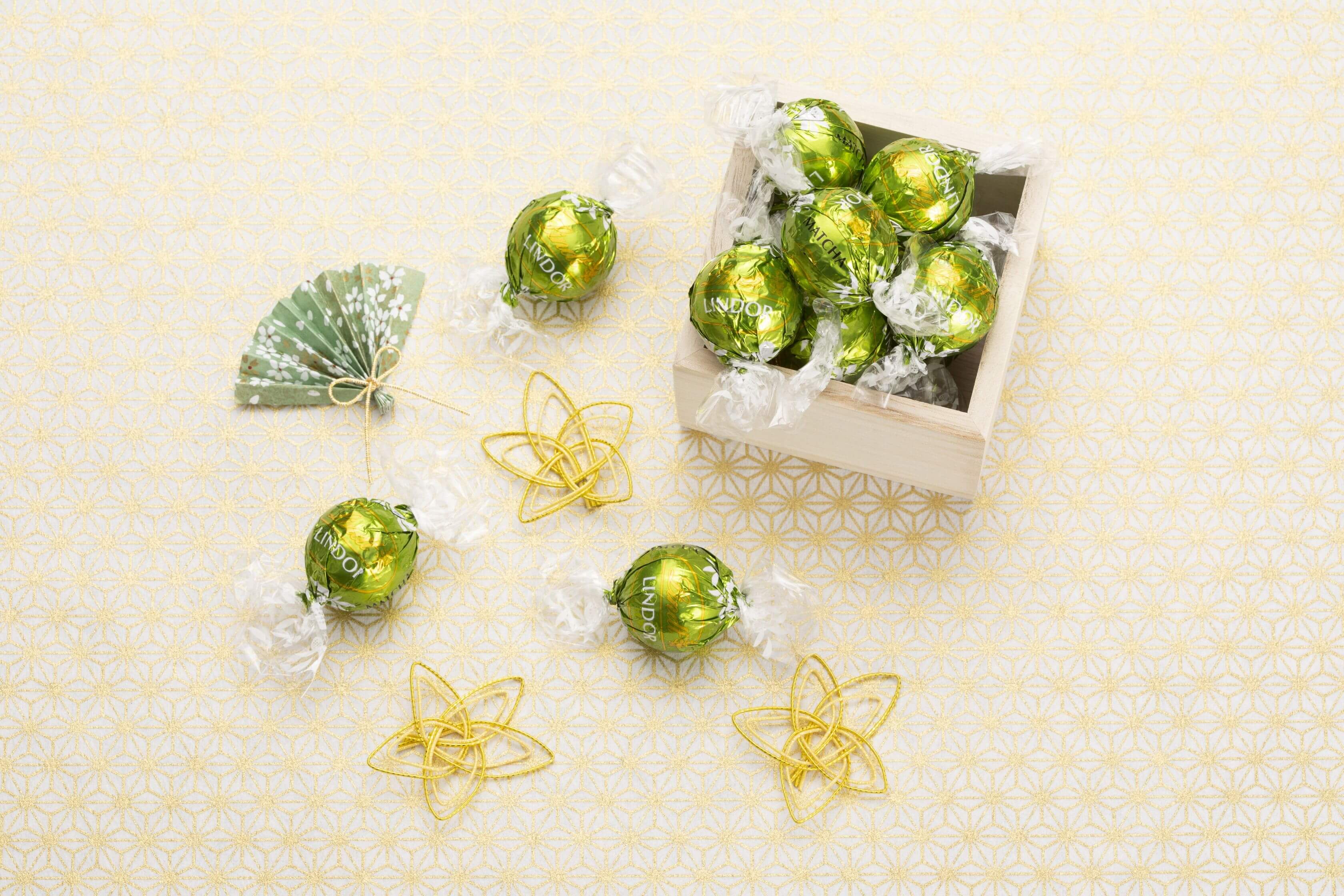 The outer coating is the classic and popular Lindt white chocolate and the center is a creamy matcha filling. When you make your way through the sweet and milky white chocolate shell your taste buds are hit with the pleasant bitterness of the matcha.
Lindor Matcha will be available in Japan, seven Asian countries including Hong Kong, Taiwan and Thailand, and Australia for a limited time only.
■Information
Lindor Matcha
Release Date: September 3, 2018 at Lindt stores' (excluding outlets) pick & mix sections
(Available at outlets from October 2018)
Price: ¥781 (Tax Included) / 100g
Lindt Chocolate Online Shop (Japanese): http://lindt.jp/
RELATED ENTRIES
KitKat Japan Releases New Mini Maple Chocolate Bars For Earth Day

In accordance with Earth Day, which is set for April 22, Nestlé released its limited-time KitKat Mini Maple on Monday to raise awareness of environmental issues and the future of the planet.

KitKat Mini Maple (3 Included)

KitKat Mini Maple (12 Included)

9 packaging designs with different messages related to the environment

'KitKat Always For Earth Day' online talk event to take place on April 30

In September 2019, Nestlé began packaging five of its major large-sized KitKat bags in paper bags rather than plastic, and since autumn 2020, most of their large sized bags are now made from paper. This has helped reduce 450 tonnes of plastic per year.

Now, Nestlé is releasing a new collection of packages for Earth Day featuring original designs by up-an-coming young artist SUGI. Each features messages from members of MIMO, a group managed by Japanese model Mila Aina, stating messages about helping to protect the environment and the future of planet earth.

Mister Donut Japan Releases 2nd limited- edition Gion Tsujiri Matcha Doughnuts

Mister Donut Japan released its new tasty collection of limited-edition doughnuts in collaboration with Gion Tsujiri, the famous tea shop in Kyoto from April 9. 

The Line Up

Fluffy Uji Matcha Mochi with Black Honey 

Fluffy Uji Matcha Mochi with Soybean Whipped Cream 

Fluffy Uji Matcha with Azuki Red Beans Mochi 

Pon de Double Uji Matcha

Pon de Double Uji Matcha with Black Honey Mochi

Pon de Double Uji Matcha with Soybean Whipped Cream and Azuki Red Beans 

Uji Matcha Chocolate, Azuki Red Beans and Rice Cake Balls Pie

Special Edition: Mister Donut Voucher Card with Masaki Sudaミ

The 1st edition of collection released on March 12 with the theme of colouration 

that enhances the colour of matcha. The new edition launching this time was developed with the theme of Japanese ingredients such as black honey that brings harmony with matcha.  "Fluffy Uji Matcha" series consist of 3 flavours made of luxurious Kyoto Uji Matcha with fluffy donut which marks its first appearance of this year. "Fluffy Uji Matcha with Black Honey" is a glossy doughnut coated with matcha chocolate with black honey filling. A wide variety of doughnut featuring 7 combinations of matcha and Japanese ingredients are unbearably delicious and unmissable. 

Mister Donut holds a promotional campaign in collaboration with the Japanese movie God of Kinema starring Masaki Suda, current image model of the brand. 

During the campaign, follow Mister Donut's official Twitter account and upload pictures of the collection with hashtag  "#ミスドでつや抹茶" and 428 lucky customers can win a voucher worth ¥500 with exclusive design features Masaki Suda.  Additionally, 67 lucky customers who have also participated in the 1st edition of Mister Donut ×Gion Tsujiri collection campaign previously can receive a voucher worth ¥2,000. 

Enjoy popular limited-edition doughnuts with Gion Tsujiri until your heart's content. 

Rich and Divine Matcha Roll Cake Gets Baked by 170 Year Old Japanese Tea Shop

Japanese tea shop and cafe Tsuboichi Seicha Honpo has baked up a brand new matcha roll cake made with high quality matcha leaves specially selected by their own tea experts. If indulgence is your calling, then this cake is the perfect accompaniment with a cup of tea whether it be matcha, Japanese tea, black tea – or any other of your favourite kind of tea.




The cake is a striking black colour, one that is featured in traditional Japan. The soft matcha filling provides an eye-catching contrast to the sponge. It's baked on a high temperature over charcoal and bamboo which serves to deepen the colours even more and elevate the vividness of the green matcha.

Cafe time can now be enjoyed at home with this very special treat.

Tokyo's New Vegan Dessert Shop the vegan marshmallooow Opens in Ginza

Ginza Mitsukoshi is welcoming a limited-time vegan dessert shop by the name of 'the vegan marshmallooow' which is open from April 1 to June 30. This shop is known amongst the vegan community in Japan for its vegan cakes, and due to that positive response, is now opening its first long-term promotional pop-up shop in collaboration with Mitsukoshi Isetan Group.

Online orders opened at Mitsukoshi Isetan on March 27 with a delicious line-up that includes their signature vegan chocolate cake.

A look at just some of the mouth-watering line-up

Chocolate Cake

Their number one most popular order: a gorgeously gluten-free mirror cake made with rich chocolate.

 

<NEW> Whole Fruit Cake

For those who like something a little more fruity and refreshing, this juicy cake is topped with assorted fruits like setoka orange, peach, kiwi, blueberry, strawberry, and more. The gluten-free sponge and soy cream give it a light texture that's also rich.

 

<NEW> Special Chocolate Cake Slice

An exquisite three-layered version of the shop's iconic chocolate make made with plant-based ingredients. Its triple tier is formed harmoniously of sponge, chocolate mousse, and cream. A single serving for a single sweet tooth.

Strawberry Shortcake

Two moist layers of gluten-free strawberry sponge with a soy milk base. Smooth, creamy, light, and delicious.

 

Mont Blanc

This mont blanc is specially made with Japanese chestnuts. The addition of soy cream elevates the nutty flavour throughout. A crunchy tart and fluffy sponge also makes for a textural sensation.

the vegan marshmallooow's vegan cake now available online at Mitsukoshi Isetan

Vegan Chocolate Cake Set (3 Pieces)

Matcha and Latte Cookies and Drinks Released by Yojiya

Kyoto makeup brand Yojiya is now selling its own collection of snacks and drinks which it released via its website last week.

Yojiya Matcha Sandwich Cookies | ¥1,400 (Tax Included)

Yojiya Cafe Latte Chocolate Cookies | ¥1,350 (Tax Included)

Yojiya Matcha Milk | ¥950 (Tax Included)

Yojiya's snack line-up is made with the idea of being able to enjoy high-quality food products at home. Their collection includes crunchy matcha and cafe latte cookies along with matcha milk, the latter of which is made with famous Uji matcha from Uji, Kyoto. Perfect for a tea/coffee break or as a souvenir.


Cherry Blossom Chocolate and Soda Releases From MAISON CACAO

Japanese aromatic raw chocolate brand MAISON CACAO is launching a new Kamakura-based brand called Shiki to Maison ("Four Seasons & Maison") which will feature chocolates that capture the events and culture found throughout the four seasons in Japan.

The first entries to the series are cherry blossom chocolates which are available from March 26 to April 4, as well as cherry blossom drink which can be enjoyed on March 27 and 28.

 

Aroma Raw Chocolate SAKURA ¥2,200 / Cacao Vinegar Soda SAKURA ¥550 (Before Tax)

Aroma Raw Chocolate SAKURA

Indulge in a box of these luxury cherry blossom chocolates which are made with 100% cacao powder which have a refreshing white chocolate aftertaste. The chocolates are made with cherry blossom as well as a fresh cream laced with salt-pickled cherry blossom. They also include a paste made from liquid drawn from cherry blossom petals. It's a taste of Japanese spring with every bite.

Cacao Vinegar Soda SAKURA

This springtime beverage includes a cacao vinegar made from cacao pulp and is coupled with fragrant cherry blossom. This one is available at the Komachi and Cacao Hanare branches as well as at CHOCOLATE BANK.

Information

Shiki to Maison Sakura Sweets

Japanese Product Name: 四季とメゾン 桜スイーツ

Serving: March 26, 2021 – April 4, 2021

MAISON CACAO Official Website: https://onlineshop.maisoncacao.com/

Häagen-Dazs Releases Matcha Chocolate Cookie and Almond Caramel Cookie Ice Cream

Häagen-Dazs Japan released two new ice cream flavours as part of its Decorations mini cup series on March 23: the Matcha Chocolate Cookie and Almond Caramel Cookie.

The visually-striking Häagen-Dazs Decorations series is a smooth, rich-flavoured ice cream with delicious toppings to compliment the ice cream.

For the third entry to Decorations, Häagen-Dazs welcomes back the Almond Caramel Cookie from 2019 and adds the all-new matcha and chocolate combo Matcha Chocolate Cookie.

Matcha Chocolate Cookie / Almond Caramel Cookie – ¥295 Each (Before Tax)

Even more delicious after stirring

The best way to enjoy Decorations is to first spoon the ice cream as it is to taste the flavours. After that, you'll want to stir it all together to all the flavours and textures fuse, creating a delightful contrast between the soft ice cream and crunchy toppings.

Almond Caramel Cookie

Almond Caramel Cookie takes inspiration from the Florentine biscuit which is a sweet pastry topped with nuts and fruits. The cup contains delicious caramel butterscotch ice cream laced with caramel sauce, all of which is topped off with crumbly sliced almonds and crunchy butter cookie pieces.

Matcha Chocolate Cookie

The Matcha Chocolate Cookie is exactly what it says on the cup: a fragrant matcha ice cream infused with chocolate sauce and topped with sweet chocolate and matcha cookies.

Information

Decorations: Almond Caramel Cookie & Matcha Chocolate Cookie

Released: March 23, 2021

Where: Japan (Supermarkets, convenience stores, department stores, and elsewhere)

Product Page: https://www.haagen-dazs.co.jp/decorations_2021/

Mister Donut Japan Releases Limited-Edition Cherry Blossom and Matcha Doughnuts

Mister Donut Japan released a tasty collection of limited-edition doughnuts in collaboration with Japan's famous tea shop Gion Tsujiri on Friday (March 12).

Sakura Mochi Doughnut With Cherry Blossom Bean Paste

Sakura Mochi Doughnut With Uji Matcha Chocolate

Sakura Mochi Doughnut With Uji Matcha Whipped Cream

Warabimochi With Cherry Blossom Bean Paste & Uji Matcha Whipped Cream

Warabimochi With Uji Matcha Whipped Cream

The doughnuts are a springtime mix and match of cherry blossom and matcha, the latter of which comes from Gion Tsujiri who have chosen the first picks of Uji matcha leaves for the collaboration. Pick between classic doughnuts as well as warabimochi-style ones glazed with lots of sweet treats.

Information

misdo meets Gion Tsujiri – 1st Doughnut Collection: Blossoming Matcha

Serving: March 12, 2021 – Mid April 2021

Official Website: https://www.misterdonut.jp

Ayataka, a brand of iced green tea produced by Coca-Cola, has announced the release of its new Ayataka Cafe Matcha Latte which will hit stores across Japan on March 22. Ayataka Cafe is a new beverage series made in collaboration with the Uji-based cafe Kanbayashi Shunsho Honten and speciality coffee shop Sarutahiko Coffee.

The matcha latte is the first entry to the Ayataka Cafe series and is made using specially-selected matcha from Japan. Ayataka is using larger tea leaves than it usually does with its matcha products for this series to create a delicious latte that's combined with Japanese milk. The drink is produced using the same methods that Coca-Cola uses to create a truly luxurious and authentic matcha drink.

Ayataka Cafe Matcha Latte is bottled in a 440ml PET bottle, which is about in the middle of a small and regular drink, and features a refined design.

The Ultimate Chocolate and Confectionery Indulgence is Here With LIFE IS PÂTISSIER's White Day Gifts

Japanese chocolate and baked goods bakery LIFE IS PÂTISSIER is now selling a collection of luxurious treats for White Day, the sequel to Valentine's Day in Japan, via their online store until March 14.

 

 LIFE IS PÂTISSIER is a takeout chocolate bakery that specialises in chocolate and baked confections. Some of their signature items include their pound cake and chocolate bonbons. They also serve sable biscuits, madeleines, and much more. They are based in Jiyugaoka, a neighbourhood in Meguro, Tokyo, where they enjoy plenty of customers both local and tourists. Due to the pandemic, they are currently operating entirely online.

 

LIFE IS PÂTISSIER White Day Gifts 2021

Leaf Caramel | ¥1,800 (Before Tax)

Crunchy chocolate caramel bites drizzled in even more sweet, melty caramel.

Macarons | ¥2,300 (Before Tax)

A rainbow-coloured collection of raspberry, pistachio, caramel, lemon, and chocolate macarons.

 

Madeleines (Contains 6) | ¥2,800 (Before Tax)

Refreshing madeleines made with a mix of Japanese and Italian lemons. Refrigerating them gives the outer icing a delicious crunchy texture.

Strawberry Milk Crunch | ¥900

Smashed cookies and caramel combined with strawberry chocolate and milk chocolate.

Special Box | ¥4,500 (Before Tax)

A very special collection of raspberry chocolate treats coated in dark chocolate.

Flower Swag | ¥3,200

A fragrant flower swag composed of an assortment of fresh flowers. Perfect for decorating walls and doors and overtime become dried flowers.

White Day Cards

LIFE IS PÂTISSIER is also offering White Day cards which people can couple with their gifts.

Meiji Chocolate Announces the Results of its 2020 National Confectionery Elections

In 2018 and 2019, Japanese snack and confectionery brand Meiji held its own National Elections for its long-selling chocolate brands Kinoko no Yama and Takenoko no Sato. In 2019, Jun Matsumoto and Akihiro Miwa represented each of these chocolate snacks respectively by helming the Kinoko Party and Takenoko Party. People across Japan would listen to each side's case and vote for which party, and therefore which chocolate, they liked the most.

The 2020 elections however took a different approach, instead spreading a message of love across Japan rather than a heated debate on which snack is better. The votes opened on September 15 last year and ran for four months where data was collected for each of Japan's 47 prefectures to see where each snack was more popular in each part of the country.

The 2018 and 2019 elections saw an accumulative total of 26,518,982 votes submitted. People passionately made their cases for which snack they liked the most. For 2020, Meiji wanted to bring people together and cheer them up by holding a survey that was catered most towards understanding people's love for their snacks.

Chiba hails as the place in Japan where Kinoko and Takenoko are most popular

46 of Japan's prefectures saw more love poured for Takenoko in 2020. The remaining prefecture, Fukuoka, saw more love given to Kinoko.

The 2020 elections saw participation by 300,161 more people than previous years.

Illustrations drawn of Team Kinoko and Team Takenoko supporters

The survey ranked each prefecture by popularity, and special illustrations were drawn for four prefectures each where Kinoko and Takenoko were the most popular.

Survey Database

Meiji published the data breakdown which can be downloaded for free.

It contains a wealth of information related to what people voted for.

Have you tried either of these popular snacks? If you travel to Japan, be sure to pick them up at any convenience store near you.

Aromatic Kamakura Raw Chocolate Brand to Open New Branch in Nagoya

MAISON CACAO, the company behind the aromatic raw chocolate brand of the same name, will open a store on floor B1F of JR Nagoya Takashimaya on March 3, 2021. It will be the brand's first permanent shop in Japan's Tokai region.

The company held a special Valentine's event from late January to Valentine's Day where MAISON CACAO made the second most sales. They also enjoyed other sold out products, and showcased some exclusive indulgences like the gold leaf-adorned "Aroma Raw Chocolate ARMOUR" and "Aroma Raw Chocolate STRAWBERRY" as well as the all-new "Cacao Butterland."

The Nagoya Line-Up

Aroma Raw Chocolate AMOUR | ¥6,000 (Before Tax)

Exclusive to this new Nagoya branch of MAISON CACAO, these "AMOUR" chocolates are all handmade using techniques that have been passed down through the company. The dark chocolates are wrapped in luxurious gold leaf and have a fruity, sweet, and bitter combination. One box contains a generous serving of 16.

Cacao Butterland | ¥2,000 (Before Tax)

MAISON CACAO uses cacao beans from Columbia to bake its menu. These gooey treats are made with cacao butter and chocolate caramel with a double layering of dark and white chocolate. A rich and filling serving of six comes in a box.

 

Aroma Raw Chocolate STRAWBERRY | ¥2,200 (Before Tax)

Also a Nagoya-exclusive, these strawberry variants are made with intensely sweet JApanese amaou strawberries white combine with the fragrance cacao butter and white chocolate for a refreshing taste. You get 16 in a single box.

But Wait, There's More…

Raw Chocolate Butter Cake | ¥3,500

A cake made with velvety chocolate butter cream packed with roasted nuts, raisins, and caramel chips.

Rich Raw Chocolate Tart STRAWBERRY | ¥2,000

Yet another exclusive to Nagoya, these crunchy tarts are lathered in amaou strawberry chocolate and filled with runny and fruity amaou strawberry cream. A box comes with three included.

Other Popular Goodies Available While Supplies Last

Aroma Raw Chocolate MAISON (Grape) | ¥2,400 (Before Tax)

Babka | ¥2100

Raw Gateau Chocolate | ¥2500 (Before Tax) 

Information

MAISON CACAO

Grand Opening: March 3, 2021

Location: JR Nagoya Takashimaya Floor B1F

Address: 1-1-4 Meieki, Nakamura-ku, Nagoya-shi, Aichi

Opening Hours: 10:00-20:00

MAISON CACAO Official Website: https://maisoncacao.com/