Pompompurin x Bonobono Pop-Up Shop to Open in Tokyo Station
Star of the ongoing hit anime series Bonobono and popular Sanrio character Pompompurin are joining hands in a new themed pop-up shop that will open in Tokyo Station from September 5 to November 26.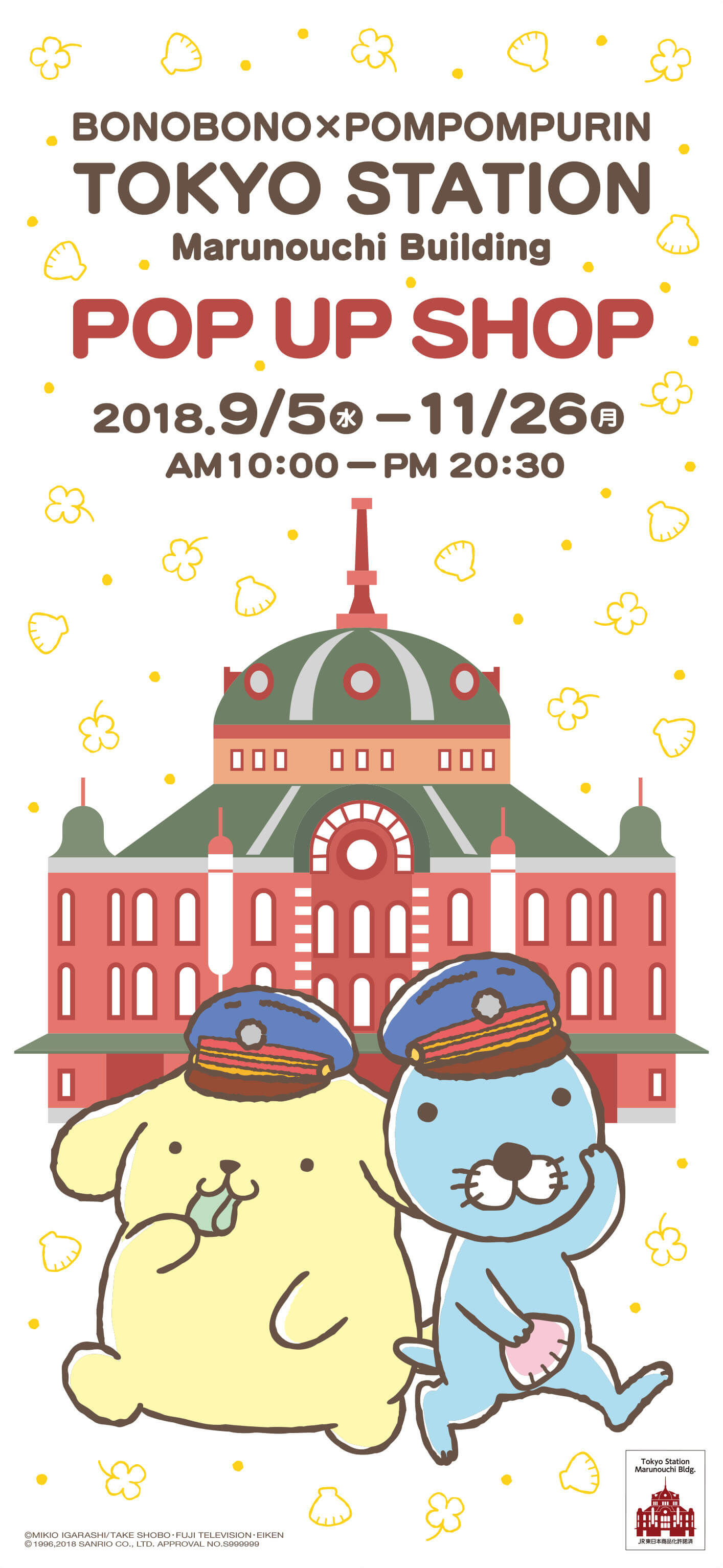 Both characters are dressed up as stationmasters for the main visual. You can get your hands on exclusive merchandise at the pop-up shop with this image on them!
Pompompurin
Pompompurin is a male golden retriever pup whose trademark is his brown hat. He's an easy-going dog who hates staying indoors.
Bonobono
Bonobono is a hugely popular manga series in Japan by Mikio Igarashimi which was first serialized in 1986 and has gone on to sell over 9 million copies. An anime adaptation began airing in April 2016. It follows Bono Bono, a baby sea otter who shows an interest in strange and mysterious things. The characters in the series are cute, laid-back and show the real way to enjoy life.
Don't miss this special shop if you're passing through Tokyo Station from next month!
■Information
Pompompurin x Bono Bono Pop-Up Shop
Running: September 5, 2018 – November 26, 2018
Opening Hours: 10:00am-11:00pm
Location: B1F Tokyo Station Ichibangai, North Area
Website: http://www.tokyoeki-1bangai.co.jp
©CMIKIO IGARASHI/TAKE SHOBO・FUJI TELEVISION・EIKEN
©1996, 2018 SANRIO CO., LTD.TOKYO, JAPAN
RELATED ENTRIES
Cute and Chewy Pompompurin Confection Now Being Sold at Lawson Convenience Stores in Japan

Lawson, one of the main convenience store chains in Japan, has released the all-new Mochi Mochi Pompompurin Yaki, a cute and chewy confection filled with custard pudding flavoured cream.

The kawaii sweet recreates Pompompurin's adorable sleeping form. Inside of him is a squirt of purin, or Japanese custard pudding, flavoured cream, which happens to be Sanrio Golden Retriever's favourite treat. You'll find yourself reaching for your phone to snap a photo of him to post online before tucking in.

The confection will be discontinued once all have been sold, so if you're in Japan, head to your closest Lawson.

©1996, 2020 SANRIO CO., LTD. APPROVAL NO.S604266

We Interviewed The Creators Behind Sanrio's Popular Enjoy Idol Series

Are you aware of Sanrio's "Enjoy Idol Series"? For idol fans, it's an essential part of your concert trip for the ultimate experience.

Uchiwa Fan Case (10 Varieties): ¥880 (After Tax)

A cute case to protect your precious uchiwa fan from damage. You can even stick it on your wall!

Concert Confetti Storage Keyring (10 Varieties): ¥550 Each (After Tax)

Want to keep living the memory of confetti bursting out from the sky at that concert? Store one in this keyring!

Idol uchiwa fans. If you're in Japan, you'll have definitely seen these around – a round fan bearing a large picture of an artist or idol in the centre. From cute Sanrio-themed items to decorate your idol concert merchandise to even a keyring that preserves concert confetti, Sanrio's Enjoy Idol Series is full of must-have items for concert-going idol fans. However, there seems to be no other secondary use of these items that cater to the non-concert-goer. What a niche market.

Fan Memory Notebook: ¥550 Each (After Tax)

This is an easy way to keep your notes on activities you do to support your idols.

Just how much do idol fans love these items? After conducting research among friends with over 10-years of experience as an obsessive idol fan, it seems that these are more popular than one may think. A quick visit to Sanrio's official website revealed that the series is so popular that many items sell out quickly.

Despite trying to reach out to what might seem a small, niche market, these items seem to be in high demand among idol fans. Just what kind of person came up with such an idea? Curious to find out, we met up with the Enjoy Idol Series project planners for an interview.

Q1: It's a pleasure to have this interview. We at MOSHI MOSHI NIPPON love Sanrio so much that it's not often we go long without releasing some kind of news about you. One of the most fascinating Sanrio merchandise series has to be the Enjoy Idol Series for its high demand in such a niche area. Our first question is: From what idea or initial thought was this series born?

Project Planner: The Enjoy Idol Series is managed by me and one other person. Both of us are avid idol fans. We noticed not only lots of fans at concerts using Sanrio merchandise, but also many idol fans on social media using Sanrio characters as profile pictures and as stickers on their photos online. For quite a few years now there's been a connection forming between idol fans and Sanrio characters in several ways.

We also noticed that although merchandise aimed at idol fans is steadily increasing, there still wasn't anything cute for them out there. That's why we started designing this series. The other project leader and I often go to concerts and watch DVDs together. That's when the ideas started flowing. Eventually, we were packing our project full of ideas and it was really fun. We thought of how we could combine Sanrio characters and idol fans to create something incredibly cute

Q2: It's wonderful to hear that you are both idol fans yourselves. When you first had these initial ideas running through your head, were you confident that your series would become popular among other idol fans?

Planner: We were very excited to have created this cute Enjoy Idol series and we were certain that other fans would feel the same. And the reaction to it exceeded my expectations. Even people who don't usually go to Sanrio shops buy something from the series because of their love of Sanrio which made us really happy to see.

Q3: Having seen all the sold out products on your website, it's clear that many people appreciate what you've done. How does it feel to see idol fans using merchandise that you designed?

Project Planner: We're just so grateful to see people using items from the Enjoy Idol Series to make the most of their concert experience. A lot of people buying products from the series buy specific items based on strongly associating their idol with a certain Sanrio character. We've now learned the reasons behind the choices fans make when purchasing from the series which has been a real eye-opener.

Silver Decoration Case (7 Varieties): ¥660 (After Tax)

A box to save your concert confetti


Q4: After some research among a number of friends who are idol fans, it seems that your series is a big hit. Many are excited to see what you are going to knock up next. Do you have any new ideas you're warming up to?

Project Planner: I cannot reveal any specific details just yet. We are still in the process of creating our next items. You can expect them to maintain Sanrio's cute style. As an idol fan myself, I am committed to making sure these items are of high functionality for our users.

Q5: I'm sure that many people will be over the moon to hear that you are developing yet more cute items. Do you have any final words you would like to say to idol fans and Sanrio fans?

Project Planner: I would like to thank you all for your continuous support for the Enjoy Idol Series. We are delighted to improve your lifestyle and we hope that these items help you make the most of your experience as an idol fan.

When you have something to adore, you lead a fulfilling life. I've heard the stories of friends who are idol fans and can feel their excitement towards the release of our new products. I'm so happy to think that these products are improving the quality of life for many idol fans.

Diary Stickers (7 Varieties): ¥275 (After Tax)

 These stickers are full of words perfect for idol fans but of no use to those who are not idol fans!

Just seeing some of the specific words and phrases written on the idol stickers shows just how much the project planners understand and feel close to other idol fans. It is enough to warm your heart.

The two project planners put their love of idol fans at the centre of their design proposal, creating a merchandise series just for them. Each item connects idol fans through their mutual love. This eye-opening interview showed the true strength of shared passion when catering to a niche market.

Despite not being an idol fan themselves, our interviewer could feel the love poured into each item in the series. What item will be released next? We'll be just as excited as the idol fans are, waiting eagerly for its release.

ⓒ'76, '88, '89, '96, '01, '05, '19 SANRIO. 著作(株)サンリオ

Hello Kitty, Cinnamoroll & Pompompurin Japanese Wagashi Confections Releasing at Lawson Convenience Stores.

Hello Kitty, Cinnamoroll and Pompompurin are the latest to be picked up by character-inspired Japanese confectionery series Tabemas. These wagashi sweets will go on sale at Lawson convenience stores across Japan (excluding Lawson Store 100 branches) on January 21, 2020.

The character line-up is based on the top three winners of the 2019 Sanrio Character Awards which we covered last summer. Hello Kitty came first place at the awards, and so she has gotten a special limited edition design for the sweets series. Cinnamoroll was second on the award list, and this is his first time joining Tabemas. Third place was Pompompurin who appears once again with Tabemas due to his popularity.

The 'Tabemas' brand name is an abbreviation of the Japanese words taberareru masukotto, meaning 'mascots that you can eat.' It is a Japanese confectionery series that combines well-known characters and Japanese sweets made from ingredients like red bean paste, sugar and rice flour. The sweets are also made with a dough called "nerikiri" which is used in making traditional Japanese wagashi sweets.

In line with the Year of the Rat in the Chinese zodiac, Hello Kitty is donning a kawaii rat outfit. Cinnamoroll's charm point is his big ears and pink cheeks.

Each confection is filled with a different flavour bean paste: Hello Kitty is cheese, Cinamoroll is milk, and Pompompurin is of course Japanese custard pudding, or 'purin,' flavoured. They maintain that delicate flavour of traditional Japanese wagashi while having cute contemporary designs. You'll be happy to know that all of the colouring is natural tooーno synthetic colours were added.

Perfect as a delicious treat, but don't forget to snap a photo for Instagram first! Each of them is also limited in stock, so don't miss your chance to grab one at the nearest Lawson store to you while in Japan.

© '76,'96,'01,'20 SANRIO APPR.NO.S604062

Information

Tabemas Hello Kitty 2020 / Tabemas Cinnamoroll / Tabemas Pompompurin 2020

Price: ¥280 Each (Tax Included)

Release Date: January 21, 2020

Available: At chilled desserts section of Lawson convenience stores across Japan

*Not available at Natural Lawson or Lawson Store 100

*Available while supplies last

Product Page: https://www.bandai.co.jp/candy/tabemas/sanrio3/

7 Lucky Foods and Items From Tokyo Station To Push You Towards Success

You've studied as much as you can for your exams and prepared as much as you can for that mid-term presentation but the nerves are still getting to you. How about some lucky items to help you succeed? As the exam season is approaching, Tokyo Station's shopping centre GRANSTA is holding a fair from January 13 to February 14, selling a variety of lucky items and foods to fill you with the courage and strength you need to calm your nerves and boost your confidence.

 Katsu Sandwiches

As "katsu" also means "win", a crunchy and juicy "winning" sandwich is the perfect way to boost your confidence and energy levels.

Kinokuniya Katsu Sandwiches (3 Sandwiches): ¥430 (After Tax)/KINOKUNIYA Entrée GRANSTA Marunouchi Floor B1 (Outside ticket barriers)


A crunchy katsu sandwich with a thick slice of juicy Japanese pork – This popular katsu sandwich will provide you with the stamina you need to do that presentation.

Katsu Fillet Sandwich (4 Sandwiches): ¥880 (After Tax) / Nagoya Meibutsu Misokatsu Yabaton: GRANSTA Floor B1 (Inside ticket barriers)


A soft southern Kyushu katsu meat fillet drizzled with Yabaton's special sauce. Enjoy the juicy flavour with every bite. 

Egg and Shrimp Katsu Sandwich (1 Full Sandwich): ¥388 (After Tax) /Kyo no Gohan Wasai no Kuni: GRANSTA Marunouchi Floor B1 (Outside ticket barriers)


This pack includes a tender shrimp sandwich and a rich-flavoured egg sandwich. (Limited number sold per day)

Sangenton Katsu Sandwich Eat-In: ¥396, Take Away: ¥388 (After Tax)/ BOULANGERIE ASANOYA, GRANSTA Floor 1 (Inside Ticket Barriers)


The Sangenton Katsu Sandwich is a hearty meal that consists of pork of three origins. This is perfect to fuel up on energy before your big moment. (Limit of 40 sold per day)

Chestnut-Flavoured Talisman of Victory

Silver Bell Pancake Sandwich: ¥378 Each (After Tax)/ Colombin GRANSTA Floor B1 (Inside ticket barriers)

Chestnut-based foods as a victory treat date back to the end of the 15th century during the Warring States period of Japanese history. In this pancake sandwich, two fluffy pancakes hug a filling of delicious cream and chestnuts, creating the perfect victory snack. *Sold from January 13 – February 14, 2020

Lucky Iyokan Mikan Vinegar

Lucky Iyokan Mikan Vinegar (1:5 Dilution, 150ml): ¥1,296/ Drinking Vinegar expre・su Tokyo GRANSTA Floor B1 (Inside ticket barriers)

This mikan orange-flavored drinking vinegar is made from Iyokan mikan oranges, which is said to bring luck. "Iyokan" also means "good premonition", which is sure to provide both an energy and confidence boost. *Limited sales: From January 13, 2020 while stocks last.

Lucky Pentagonal Chopsticks Set

Lucky Pentagonal Chopsticks Set: ¥3,300/ Nihonbo GRANSTA Floor B1 (Inside Ticket Barriers)


These lucky pentagonal (gokaku) chopsticks are a play on words with the word "gokaku", which also means success. They are pentagonal right to the tip, making it easy to grip your food. This is the perfect present for your friend who is going to take an exam. Limited Selling Period: Until the beginning of March.

Tokyo Station GRANSTA is full of lucky items and foods to help you and your friends prepare for success.

Information

GRANSTA

Location: JR Tokyo Station Floor B1/1 (Inside Ticket Barriers)

Address: 1-9-1, Marunouchi, Chiyoda-ku, Tokyo

Opening Hours: 08:00 – 22:00 (Open until 21:00 on Sundays and the last days of consecutive holidays)

GRANSTAMARUNOUCHI

Location: JR Tokyo Station Floor B1/1 (Outside Ticket Barriers)

Address: 1-9-1, Marunouchi, Chiyoda-ku, Tokyo

Opening Hours: 10:00 – 22:00 (Open until 21:00 on Sundays and the last days of consecutive holidays)

*Opening hours of some shops may vary

Official Website: https://www.tokyoinfo.com/shop/mall/gransta/

Sanrio Puroland to Run "Sweets Puro very berry sweets Party" Next Year

Sanrio Puroland (Puroland) will be running its popular dessert-themed event "Sweets Puro very berry sweets Party" from January 10 to March 10, 2020. 

Puroland's restaurants will be selling Sweets Puro-limited desserts full of a variety of berries. Restaurant Yakata on floor 4 will be serving a berry and chocolate-themed dessert buffet on select days.

As the first dessert buffet to be held since Puroland's renovation, there will be a photo session allowing customers to take photos of the food and characters too. 

The event will also see the return of the evening main show "Miracle Illusion☆Happiness", which was last performed in September 2019 and ended with guests longing for more. Hello Kitty and her beloved boyfriend Dear Daniel will also appear in adorable angel costumes. This is a wonderful chance to enjoy delicious desserts, fantastic illumination and beautiful projection mapping.

The "My Melody Strawberry Illuminations Ichigo Ichie" is another Sweets Puro-limited event to be returning this year following its popularity. This event will run from January 10 to February 14, 2020. From February 15 to March 10, 2020, Hello Kitty's cute singing voice will echo throughout Puroland as she performs at the illumination show "SPARKLE!! Sweet Lights".

After the illumination show, Puro Village will be illuminated entirely in sweet pink illumination. 

Meet the characters dressed in berry-themed costumes at the "Very Berry Character Hug Time" event and enjoy the Valentine's Day and White Day-themed event "Special Sweets Greeting" (fee applies). 

You also can't miss the dessert house photo spot and dessert-themed character merchandise, which will be available for a limited time only. 

Puroland will be bursting with sweet goodness that you just can't miss next year.

©1976, 2009 SANRIO CO., LTD.©1976, 1990, 1993, 1996, 1999, 2001, 2004, 2010, 2019 SANRIO CO., LTD.

Doraemon and Hello Kitty Collaborate in New Kawaii Merchandise Line

Sanrio has announced a new Doraemon and Hello Kitty design series which is set to be released on December 26 at Sanrio stores across Japan, as well as department stores stocking Sanrio goods and the Sanrio online shop.

The Doraemon x Hello Kitty collaboration project began in 2015. Both characters have come to be symbols of Japan adored by all generations, with the Doraemon manga series set to celebrate its 50th anniversary next year, and Hello Kitty having celebrated hers this year. The project is now expanding its range for all the grown-ups that were raised on both franchises.

Hello Kitty Mascot Holder – ¥1,980

Doraemon Mascot Holder – ¥1,980

This marks the 4th Doraemon and Hello Kitty collaborative design series developed by the Sanrio shop. All the merchandise incorporates fun and instantly-recognisable motifs from the characters, like Doraemon's secret gadgets and Hello Kitty's ribbon.

Reversible Cushion – ¥3,080

Handbag – ¥2,200

A5 Notebook – ¥605

The cute mascot holders see Hello Kitty borrowing Doraemon's bell and takecopter and Doraemon with Kitty's ribbon. This adorable feature follows into the designs of the other items too, like the reversible cushion which turns inside out into either the Doraemon or Hello Kitty design. There's lots of items in the line-up besides that shown here too, including pens and more.

Don't miss out on this sweet collection.

*All prices include tax

©️Fujiko-Pro ©️'76, '19 SANRIO

Souvenirs at Tokyo Station's GRANSTA Shopping Complex Abundant For the New Year

Tokyo Station's GRANSTA and GRANSTA Marunouchi shopping complexes are holding a New Year's from December 26, 2019 to January 5, 2019 where sweets and souvenirs will be sold to beckon the new year. The items are based on the Year of the Rat in the Chinese zodiac for 2020.

Sweets and Souvenirs

Baked New Year 2020 (Contains 5) – ¥1,600 @ Fairycake Fair (Available from December 26)

Tuck into these adorable baked cookies with various celebratory designs including rats, flowers and the year 2020. They are egg flavoured and are made with caramel to create a taste similar to Japanese purin (a type of custard pudding).

 

High Grade Fresh Japanese Confection Assortment (Contains 6) – ¥1,848 @ Ginza Kanra (Available Mid-December to Mid-January)

Ginza Kanra's assortment of fancy confections are so pretty they almost seem a waste to eat, each with a variety of motifs such as a rat as well as "Gin no Suzu"ーa silver bell inside Tokyo Station that's famous as a meeting spot.

Ginza Kikunoya Fukiyose Kaiune Shikan (200g) – ¥1,998 @ Jimbocho Ichi no Ichi (Now on sale until all sell out)

This tin of assorted small sweets includes around 30 types of baked wheat bran treats and more. There's plenty to keep you going through the New Year celebrations.

Left: Eto Kokeshi Rat – ¥2,090 / Right: Mame Kokeshi Rat – ¥880 @ SHARED TOKYO (Now on sale)

Available in limited quantities only, these cute rat kokeshi dolls would look good even as decorations in small spaces. Their red and white colours add to the festive vibe as these are celebratory colours in Japan.

New Year's Card Shrimp Senbei Rice Crackers (Contains 11) – ¥1,080 @ Keishindo (Now on sale until all sell out)

Forget regular Christmas cards, hand someone one of these rice crackers instead which feature messages like "Here's to another great year" in Japanese as well as other New Year motifs.

Osechi and New Year's Bento

Houjou – ¥8,000 @ Asakusa Imahan (Available January 1 only)

Osechi is food prepared for the New Year in Japan, and this bountiful harvest includes Asakusa Imahan's famous wagyu black beef, red rice, rice with minced sea bream, and more. These are limited to 10 sets only.

Osechi Shoufuku Suzen – ¥1,800 @Sasahachi (Available January 1-3)

Another delicious mix of osechi like fish wrapped in kombu seaweed, hand-rolled sushi, and more—all of which goes down best with a cup of sake. Limited to 20 servings per day.

This is just a peek into what's available this New Year at Tokyo Station, so if you're using the station this year, be sure to stop by.

*All listed prices include tax

Information

New Year's Fair

Running: December 26, 2019 – January 5, 2020

TOKYO STATION GUIDE Official Website: https://www.tokyoinfo.com/

Celebrate My Melody's 45th Anniversary at Sanrio Puroland & Sanrio Harmonyland

My Melody is one of Sanrio's most popular characters who made her big debut back in 1975. Next year, Sanrio Puroland and Sanrio Harmonyland are set to host events to commemorate her 45th anniversary. A range of anniversary merchandise will also be release.

My Melody 45th Anniversary Fair at Sanrio Puroland

The "My Melody 45th Anniversary Fair" will take place at Sanrio Puroland from January 17 all the way to December 13 in 2020. The theme will be "My Melody Pink Therapy" and will see Puroland dyed in all things pink and sweet.

For the first time in five years, the My Melody Area on the 4th floor of Sanrio Puroland will undergo a revamp to feature more pink than ever before. There will be a new photo spot at the entrance of the overhauled My Melody Shop where you can see all of the best must-buy merchandise. The store will have anniversary goods, Puroland-exclusive items, a variety of My Melody merch, and more.

The new My Melody Garden will open just through the My Melody Shop, featuring a cherry blossom tree despite the winter season, as well as pinked-out walls and flooring. Adorning the garden will be giant flowers that look like My Melody and more. Sit on one of the sofas and snap a romantic picture in this cute world of pink.

To celebrate her 45th anniversary, a droopy-eared My Melody will don two new Puroland-original anniversary dresses.

You can't forget to check out the anniversary menu either, featuring a line-up of celebratory food, drink and dessert. Tuck into a lovely curry with My Melody's face in it made from ebi katsu, or indulge in the special 45th anniversary cake.

And don't miss this line-up of 8 limited-edition pieces of merchandise, including a birthday doll wearing My Melody's anniversary dress, mascot, headband with My Melody ears, and more.

My Melody 45th Anniversary Fair

Running: January 17, 2020 – December 31, 2020

Event Page: https://www.puroland.jp/mm45th/

My Melody 45th Anniversary Event in Harmonyland

Another event taking place is "My Melody 45th Anniversary Event in Harmonyland" which begins at Harmonyland, located in Hiji, Oita, from January 17 next year.

A greeting show will be held on January 18ーMy Melody's birthdayーwhere My Melody herself will make an appearance dressed in her anniversary costume. There might even be a surprise visit from her rival, Kuromi!

There will also be a My Melody anniversary photo spot at Harmonyland too, decorated with pink roses, as well as celebratory food, merchandise, and more.

My Melody 45th Anniversary Event in Harmonyland

Running: January 17, 2020 – December 31, 2020

Event Page: https://www.harmonyland.jp/sp/mm45th/

*More information to be posted on the website

45th Anniversary Merchandise – 3 Designs

A line of anniversary merchandise with three different designs will also be released at Takashimaya Shinjuku and elsewhere. The designs include the "Strawberry Cake Design" featuring My Melody eating cake with her friends, the "Message Design" with My Melody's name written on the items, and the "Laundry Design."

There's lots more planned for My Melody's 45th anniversary too, so be sure to pay a visit to Sanrio Puroland and Sanrio Harmonyland in 2020!

©'76, '19 SANRIO

Top 10 Most Popular Souvenirs to Pick Up at Tokyo Station's HANAGATAYA Store | 2019 Edition

HANAGATAYA is a souvenir variety shop that opened in Tokyo Station's central passage back in July. After over 5 months of sales, the store has revealed its Top 10 most popular products based on sales.

The line-up features a selection of HANAGATAYA exclusives, as well as products from elsewhere which have received pre-sales at HANAGATAYA. You will be spoilt for choice with this selection, all of which are perfect for ringing in the New Year when travelling back home. Let's take a look.

1st Place

Banana Custard Cream – Tokyo 2020 Olympic Emblem Design (Tokyo 2020 Official Licensed Product) – Contains 8 – ¥1,134 (Tax Included)

Officially licensed by the Tokyo 2020 Olympics, these chewy cakes are made from domestic Japanese rice, and are filled with deliciously creamy banana custard.

2nd Place

Tokyo Banana Butter Madeleine (Tokyo Banana World) – Contains 4 – ¥560 Tax Included)

Exclusive to HANAGATAYA come these all-new butter madeleine's created by famous confectionery company Tokyo Banana. These baked treats feature a buttery fragrance and taste, and are made with a banana confiture and finished with fresh lemon.

*Exclusive to HANAGATAYA GRANSTA Tokyo Central Street

3rd Place

Toro One Press Chocolate Chick (Tokyo Hiyoko) – Contains 3 – ¥648 (Tax Included)

This year marks 107 since the company Hiyoko was established. The "Toro One Press Chocolate Chick" is a new confection from them: an adorable skyward-looking chick made up of three chocolate layersーeach with their own distinct flavour. At the heart of the chick is a moist chocolate paste.

*Exclusive to Tokyo Station

4th Place

Cheese Wich – Contains 5 – ¥594 (Tax Included)

These light and refreshing cheese cookies, called Cheese Wiches, are filled with a chocolate-coated melted cheese sauce. Three layers means an enjoyable amalgamation of flavours and textures.

*Exclusive to Tokyo Station

5th Place

Chocolate Chestnut Eggs (Ginza Tamaya) – Contains 4 – ¥800 (Tax Included)

"Goma Tamago" is a popular bite-sized egg-shaped confection. This chestnut flavour was created for HANAGATAYA, a mix of dark chocolate and vanilla flavoured chestnut paste.

*Exclusive to Tokyo Station

6th Place

Strawberry Cookie Sandwich (Berry UP!) – Contains 8 – ¥1,296 (Tax Included)

Berry UP! is a cute confectionery brand which creates baked strawberry sweets. Keeping with that theme, they have created a crunchy quintuple-layered cookie sandwich filled with sweet and sour strawberry chocolate.

7th Place

Shinjuku Curry Ebi (Shinjuku Nakamuraya) – Contains 6 – ¥600 (Tax Included)

If you're looking for something more savoury, then this one's for you: Shinjuku Nakamuraya's light, fluffy and melt-in-the-mouth ebi, coated in curry spices. One nibble is enough to get you instantly hooked.

8th Place

Strawberry Polvorón (Berry UP!) – Contains 6 – ¥1,296 (Tax Included)

Another entry from Berry UP!, these polvorón shortbreads are made from lots of fresh strawberries mixed with condensed milk and mascarpone, creating a subtle sweetness that's enough to have your mouth watering.

9th Place

BLUE MELTIN SAND (Tokyo Campanella) – Contains 8 – ¥1,200 (Tax Included)

What if herbal tea and cookies became its own snack? That's what Tokyo Campanella asked too, and so make it a reality. Their BLUE MELTIN SANDs are cat's tongue cookies stuffed with a herbal tea sauce that has a natural blue colour.

10th Place

Premium Cacao Full Sablé (Mary Chocolate) – Contains 18 – ¥1,350 (Tax Included)

Finally, we have a premium edition of chocolate company Mary Chocolate's Cacao Full Sablés. This one's for the adults, a sophisticated combination of bittersweet chocolate and berries.

*Exclusive to HANAGATAYA GRANSTA Tokyo Central Street

Did you enjoy this list? Which one takes your fancy the most? Whether as a souvenir for the folks back home, or as a treat to yourself to celebrate 2020, if you're in Tokyo this year then be sure to give HANAGATAYA a visit.

Pompompurin Cafe Reveals Christmas Menu For Harajuku, Yokohama & Umeda Branches

The Harajuku, Yokohama and Umeda branches of the Pompompurin Cafeーthe cafe chain centred on Sanrio's popular character Pompompurinーis serving up two cute Christmas menu items this year from December 1 to 25.

*Food names below are translated from Japanese

Hurry Up Santa – Pompompurin Cheese Keema Curry – ¥1,290 (Before Tax)

This rich and spicy keema curry is made with Parmesan cheese, cheddar cheese, and natural cheese. The colourful stars are made from carrot and paprika, while the spiralled Christmas cheese is a combination of spinach and mashed potato. Purin is made of rice and is waiting in anticipation for Santa to deliver his present. You'll see he's holding a stocking which is a made from bread and walleye pollack mayo. A hearty dish that is both delicious and adorable

Snowman Pompompurin – Snow Covered Chocolate Tart ¥1,190 (Before Tax)

Pompompurin has turned into a vanilla ice cream snowman and is standing next to a pistachio cream Christmas tree. They are both atop a rich chocolate tart. This cute dessert is like a Christmas garden straight out of a children's picture book.

If you decide you want to spend your Christmas with Pompompurin this year, then you'll receive a free lunch mat when you order food and a free coaster when you get a drink. These are both limited in quantity, so don't miss out!

©1996, 2019 SANRIO CO., LTD. APPROVAL NO.S603310

Information

■Pompompurin Cafe Harajuku

Address: CUTE CUBE HARAJUKU 3F, 1-7-1 Jingumae, Shibuya, Tokyo

Opening Hours: 11:00-21:00 (Food Last Orders 20:00 / Drinks Last Orders 20:30)

Access: 3-minutes on foot from the Takeshita Exit at Harajuku Station

TEL: 03-5786-0770

■Pompompurin Cafe Yokohama

Address: Yokohama Sotetsu Square, 2-1-5 Minamisaiwai, Nishi-ku, Yokohama-shi

Opening Hours: 10:00-21:00 (Last Orders 20:30)

Access: 5-minutes on foot from West Exit at Yokohama Station via JR

TEL: 045-311-6750

■Pompompurin Cafe Umeda
Address: Hankyu Sanbangai South Wing B2F, 1-1-3 Shibata, Kita-ku, Osaka-shi
Opening Hours: Weekdays 11:00-22:00 (Last Orders 21:30) / Weekends & Holidays 10:00-22:00 (Last Orders 21:30)
Access: 3-minutes from Osaka Station via JR
TEL: 06-6292-7140

Pompompurin Cafe

Official Website: http://pompom.createrestaurants.com

TV Anime Series 'Show by Rock!! Mashumairesh!!' New PV & Key Visual Released

Show by Rock!! is a rhythm video game developed and produced by Sanrio and Geechs. A new promotional video and key visual have been unveiled for Show by Rock!! Mashumairesh!!, a TV anime series sequel to the two short anime seasons which aired in 2016. It has also been announced that a new mobile rhythm game entitled SHOW BY ROCK!! Fes A Live will be released by Square Enix.

Show by Rock!! Mashumairesh!! was announced at the event "SHOW BY ROCK!! 3969 GRATEFUL ROCK FESTIVAL" which took place on Sunday. It will begin airing on January 9, 2020.

The key visual reveals the four main characters who make up the band Mashumairesh!!: Howan (voiced by Hikaru Tono), Mashimahimeko (Yuuko Natsuyoshi), Delmin (Misaki Watada), and Ruhuyu (Aya Yamane). They stand holding their respective instruments in Under North Zawa, where the series takes place.

The promotional video also showcases the four characters in action to the tune of Yell and Response, an insert song from the show.

The series is being animated by Kinema Citrus. Seung-hui Son is the director with Masayuki Kojima, who directed Made in Abyss, as the advisor. The CG parts will be animated by Polygon Pictures (Human Lost).

©2012,2019 SANRIO CO.,LTD. SHOWBYROCK!! Production Committee

Information

Show by Rock!! Mashumairesh!!

Initial Broadcast: January 9, 2020 (TOKYO MX/BS Fuji)

Official Website: http://showbyrock.com/

Tokyo Station's Top 10 Edible Winter Souvenirs as Chosen by Station Staff

There is just a month and a half left of 2019, with Christmas, the winter holidays and New Year celebrations right around the corner.

Tokyo Station City has compiled a list of must-grab food-related souvenirs and gifts at Tokyo Station. If you've ever visited Tokyo Station, you'll know that you can be spoilt for choice from the amount of goodies you can get your hands on. The list is based on the votes of 305 station staff members working at Tokyo Station who have voted on their Top 10 most recommend souvenirs to pick up this winter.

The staff members went around the shopping area and taste-tested different edible souvenirs across an 8-day period. Their early thoughts as they went down the list were how delicious or unique things were, but they soon began to take it more seriously to consider things like price, how easy an item was to carry and transport, and what certain people might like in particular.

If you're travelling to or from Tokyo Station during the holiday season, be sure to bookmark this list so you know what to buy for on the flight back home!

1st Place

Rakumadoka @ Terra Saison (GRANSTA) – 5 Set ¥1,080 (Tax Included) / 8 Set ¥1,728 (Tax Included)

This cheesecake is like a cream cheese-stuffed souffle-like sandwich. Branded with the words "Gin no Suzu" (a place in Tokyo Station) and "Tokyo," this seasonal product is exclusive to Tokyo Station. In December last year, they sold over 1,500 in a day.

2nd Place


Mount Baum Kuchen @ Nenrinya (Meihinkan) – ¥1,080 (Tax Included)

With its French bread texture, this delightful treat has a fragrant scent, is moist, and is simply delicious. It has a rich buttery taste and is baked slowly to perfection.

3rd Place

Shinjuku Curry Arare Ebi @ HANAGATAYA (GRANSTA) – 6 Set ¥600 (Tax Included)

This rich curry snack is made by Shinjuku Nakamuraya, and has a light melt-in-the-mouth texture with spicy curry seasoning and shrimp flavour. The shrimp flavour comes from a mix of shrimp powder and shrimp oil. The mix of curry powder and spices gives it a really authentic curry taste.

4th Place

Tokyo Vegetable Rice Crackers @ nomono (GRANSTA Marunouchi) – 12 Set ¥950 (Tax Included) / 18 Set ¥1,598 (Tax Included)

An assortment of rice crackers with three different flavours: great burdock, onion, and pumpkin. They have a set of 18 too which is perfect for handing out to lots of people.

5th Place

Maple Pie Sandwich @ The Maple Mania (GRANSTA) – 8 Set ¥1,944 (Tax Included)

Coated in caramel, this crunchy pie is made with a cream laced with maple sugar. Exclusive to Tokyo Station, the packaging design for this dessert is made with souvenirs in mind as it's made so it's easy to carry and take around with you.

6th Place

Kuzumochi @ Funabashiya Koyomi (ecute Tokyo) – 24 Cut (Serves 1-1.5) ¥790 (tax Included) / 36 Cut (Serves 2-3) ¥895 (Tax Included) / 48 Cut (Serves 4-5) ¥1,200 (Tax Included)

Funabashiya's kuzumochi is made with wheat starch that is fermented over a 450 day period before being cooked. It claims to be "the only fermented Japanese wagashi confection." Since it is fermented over such a long period of time, it takes on a unique flavour and elasticity.

7th Place

Cheddar Cheese Pie Sandwich @ Tokyo Milk Cheese Factory (ecute Keiyo Street) – 6 Pack ¥1,620 (Tax Included)

A crunchy pie filled with an addictive cheddar cheese cream. Exclusive to ecute Keiyo Street.

8th Place (Joint)

Premium Cacao Full Shortbread @ HANAGATAYA (GRANSTA) 8 Set ¥648 (Tax Included) / 18 Set ¥1,350 (Tax Included) / 27 Set ¥2,052 (Tax Included)

This is a premium edition of the store's Cacao Full Shortbread, made using the methods used to make the chocolate brand Merry Chocolate. The crunchy texture and full-bodied flavour of the cacao has been left as it is, while a few things have been added to make it a little more luxurious: French sour cream butter, strawberries, and raspberries.

8th Place (Joint)

Yaoki Senbei @ Mankaso (Meihinkan) – 16 Set ¥1,080 (Tax Included)

These plump senbei rice crackers are made with 100% domestic rice and come in six different delicious flavours: agodashi soy sauce, salted, shrimp, seaweed, plum and coarse sugar, and chirimen pepper.

10th Place

Tartlette Neuf @ le billet (ecute Tokyo) – 6 Pack ¥1,728 (Tax Included) / 9 Pack ¥2,592 (Tax Included)

la billet make their own tarts, and this assortment comes in a variety of flavours. Exclusive to Tokyo Station. A great option as a gift for meeting a business in Japan.

Which of these looks most tempting to you? Let us know on Twitter or Facebook!