Celebrate Your Birthday With Snoopy & Friends at PEANUTS DINER Yokohama
PEANUTS DINER Yokohama has announced a new birthday plan for guests dining at the restaurant. They will begin taking birthday orders on the official website from September 3.
Yokohama is home to the PEANUTS DINER, a spacious restaurant where you can enjoy your meal with an ocean view. It's inspired by the world of Peanuts where Snoopy is from. It offers a range of American west coast style comfort food as well as authentic main dishes like American diner steak and even desserts.
The new special birthday plan includes a Charlie Brown birthday cake, a birthday photo with a stand and an original PEANUTS DINER Yokohama badge.
Wear your birthday badge proud as you have your commemorative photo taken.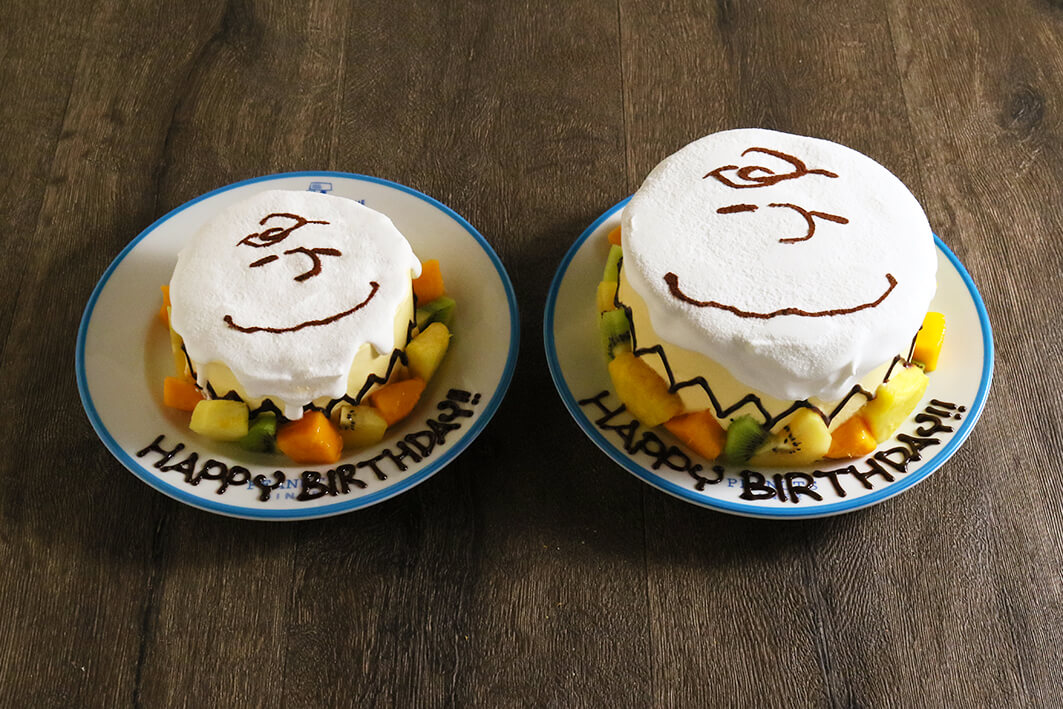 There are two cakes to choose from – a smaller cake that sizes 2-4 people and a larger one that serves 5-8 people.
Invite friends and family to celebrate your special day alongside Snoopy and tuck into some delicious cake!
■Information
SNOOPY DINER Yokohama
Address: 2F Marine & Walk Yokohama, 1-3-1 Shinko, Naka Ward, Yokohama, Kanagawa Prefecture
Now taking birthday reservations. Birthday service begins from September 3.
Opening Hours: 11:00am-11:00pm (Last Orders 10:00pm)
TEL: 045-323-9555
Official Website: http://www.peanutsdiner.jp
HAPPY BIRTHDAY!!! Plan
2-4 People: ¥5,000 (Pre-Tax)
・Birthday cake (2-4 people, comes with candles)
・Birthday photo with stand
・PEANUTS DINER original badge
5-8 People: ¥7,000 (Pre-Tax)
・Birthday cake (5-8 people, comes with candles)
・Birthday photo with stand
・PEANUTS DINER original badge
*Please reserve seats when booking your birthday online.
*Birthday bookings must be made at least 2 days in advance.
*8 groups maximum per day. First-come, first-served.
*Reservations up to 8 people can be booked online. Please enquire by e-mail when booking for 6+ people.
Mail Enquiries: reserve@peanutsdiner.jp
© 2018 Peanuts Worldwide LLC
RECOMMENDED ENTRIES
The Snoopy Museum will be hosted at Minami Machida Grandberry Park which is set to open in fall 2019.

The original Snoopy Museum first opened in April 2016 in Roppongi and it has proven a huge success amongst fans of Charles M. Schulz's internationally beloved Peanuts comic strip. It comes as no surprise then that fans are lamenting its impending closure on September 24.

But not all is lost, as the museum is relocating to Minami Machida Grandberry Park this fall. It promises to be twice as big as the Roppongi branch with more content and outdoor programs that make use of the surrounding green environment.

It is opening at the Park Life Site arena of Grandberry Park where there will also be workshops, a children's club, cafes and more.

Fans of Peanuts can look forward to seeing valuable original prints and much more as well as getting their hands on exclusive merchandise.

■Information

Snoopy Museum

Opening: Fall 2019

Snoopy Merchandise From the Peanuts Hotel in Kobe to be Sold in Tokyo & Yokohama

Original merchandise from the Peanuts Hotel in Kobe will be sold at the Peanuts Cafe in Nakameguro and Peanuts Diner in Yokohama from August 22 to September 2.

The Peanuts Cafe in Nakameguro is themed on the American comic strip series Peanuts by Charles M. Schulz that features the popular character Snoopy. It's based on the American style cafes of the west coast and has a fun, witty atmosphere to it.

The first floor has a neon sign and the walls are decorated in strips from the comic. When you climb the stairs it's as if you're entering the secret lair of a Peanuts collector as you are greeted by antique toys lined up together.

They serve a variety of comfort foods and desserts inspired by the characters from the series including Snoopy and Woodstock.

Yokohama is home to the Peanuts Diner, a spacious restaurant where you can enjoy your meal with an ocean view.

They sell a range of exclusive Peanuts Diner merchandise. You can even purchase the crockery and mugs they use at the restaurant, as well as t-shirts. It's a comfortable seaside diner where you can enjoy immersing yourself in the world of Peanuts whenever and whoever you visit with.

Both the cafe and diner are now selling merchandise from the newly-opened Peanuts Hotel including items to celebrate its opening, stationery, cute t-shirts and more.

Peanuts Hotel Open Commemoration Bag – ¥1,500 (Pre-Tax)

The simple design of the Peanuts Hotel bag is modern and stylish. The size is not too big and not too small.

Peanuts Hotel: Patisserie Tooth Tooth – Kobe Pound Cake – ¥1,500 (Pre-Tax)

Peanuts Hotel has teamed up with Patisserie Tooth Tooth, a confectionery shop in Kobe, to release this Kobe pound cake. It has a light flavour and is baked with lots of rich butter. There are 4 flavours to choose from each inspired by the unique characters in the world of Peanuts. They make for a delicious souvenir and gift.

Get your hands on these exclusive Snoopy hotel items and enjoy the world of Peanuts at home♡

■Information

PEANUTS Cafe – Nakameguro

Address: 2-16-7 Aobadai, Meguro-ku, Tokyo

Opening Hours: 10:00am-10:00pm

Sales Period: August 22, 2018 – September 2, 2018 (*Select items subject to change)

TEL: 03-6455-1541

Official Website: http://www.peanutscafe.jp/

PEANUTS DINER – Yokohama

Address: 2F Marine & Walk Yokohama, 1-3-1 Shinko, Naka-ku, Yokohama-shi, Kanagawa Prefecture

Opening Hours: 10:00am-11:00pm (Last Orders 10:00pm)

Sales Period: August 22, 2018 – September 2, 2018 (*Select items subject to change)

TEL: 045-323-9555

Official Website: http://www.peanutsdiner.jp

PEANUTS HOTEL

Address: 1-22-26 Nakayamatedori, Chuo-ku, Kobe-shi, Hyogo Prefecture

Official Website: https://www.peanutshotel.jp/

*The Peanuts Hotel bath towel, face towel and "Lila" aroma series are limited to the hotel and are not included in this commemoration sale at the cafe or diner.

A concept hotel of Snoopy, PEANUTS HOTEL will open in Kobe

A concept hotel called PEANUTS HOTEL which incorporates the designs of the unique characters of Snoopy and other Peanuts characters will open in Kobe in the summer of 2018.

Kobe is one of Japan's most popular tourist destinations boasting its magnificent views of the mountains and the sea. The city has a "retro" feel to it due to its unique history opening its port to the world during the Meiji Era. Accordingly, through the blending of Western and Eastern cultures, Kobe formed its exotic atmosphere. Today, more than 1 million foreign tourists visit Kobe every year.

Charles M. Schulz, the writer of Peanuts, had his studio in Santa Rosa, California. It could be said that there are many similarities between Santa Rosa and Kobe, that is the beautiful scenery and the retro yet modern atmoshphere.

The loveable Peanuts characters will be there to greet you at PEANUTS HOTEL. The mid-century furniture and Japan's high-quality design make for a very comfortable atmosphere. In addition, the Peanuts characters add a touch of humor and fun to the scene. On the first floor of the hotel you will find "PEANUTS Café" which is a very popular café in the Nakameguro, Tokyo. Here, you can enjoy a coffee time or a meal and they also sell Peanuts related goods.

Here is a hotel where all generations can enjoy by together feeling the "roots" of the "Peanuts world." A place where all kinds of people can connect and build community – this is what PEANUTS HOTEL is all about. They hope that heart-warming relationships can be nurtured by the casual and friendly atmosphere of this concept hotel.

Why not enjoy this "retro" and Kobe-like hotel. Come experience this "Peanuts world" in Kobe.

■Information

PEANUTS HOTEL

Open date: summer of 2018

Number of rooms: 18

Official website: To be opened later

<1st floor facility>

Name: PEANUTS Café

Open date: summer of 2018

Seat number: approx. 40 seats

Official website: http://www.peanutscafe.jp/
RELATED ENTRIES
Snoopy's PEANUTS Cafe in Japan Collaborates With Pake On Leopard Print Zipper Bags

Four branches of the Snoopy-themed PEANUTS Cafe, as well as its online shop, launched a collaboration with the Japanese zipper bag brand Pake® on Friday (November 27) to release a collection of leopard print zipper bags.

PEANUTS Cafe Nagoya Gets New Interior Design Artwork

As part of the collaboration, PEANUTS Cafe Nagoya has put up a colourful piece of framed artwork on the first floor. At first glance, it looks like simple leopard print, but if you look closely, you can see Snoopy floating around in that colourful world.

PEANUTS Cafe x Pake Zipper Bag "The Clandestine" | ¥1,100 (Before Tax)

PEANUTS Cafe and Pake's collaborative zipper bags come in blue and pink, both with leopard print backgrounds visible thanks to the clear bag allowing you to also see the items you put inside.

Snoopy art from an old-time Peanuts comic

The artwork used on the zipper bag is taken from a Peppermint Patty story published in January 1975 over several days. It's the scene when Patty's dad is late arriving home and can't sleep so is invited to Snoopy's room. She jumps onto his waterbed and he goes flying up and down.

© 2020 Peanuts Worldwide LLC

Information

PEANUTS Cafe x Pake
Participating Branches: PEANUTS Cafe Nakameguro / PEANUTS DINER Yokohama / PEANUTS Cafe Kobe / PEANUTS Cafe Snoopy Museum / PEANUTS Cafe Nagoya
PEANUTS Cafe Online Shop: https://www.peanutscafe.jp/online/

SOAK: Tokyo's New Entertainment Restaurant & Bar Opens Bookings

Japanese creative company BAKERU has opened bookings for the new entertainment restaurant and bar SOAK which is set to open on November 13, 2020 on the top floor of MIYASHITA PARK's new brand hotel "sequence MIYASHITA PARK" in Shibuya, Tokyo. The restaurant will served up a 'Japanese innovative' menu made by Takeshi Nagashima of Nishiazabu 81 and Hideaki Nagaya of L'Effervescence.

An otherworldly restaurant and bar serving Japanese innovative cuisine

"BUILD NEO TOKYO" is the theme of SOAK. SOAK welcomes by Takeshi Nagashima of Nishiazabu 81 which delivers performance style-entertainment to customes, and Hideaki Nagaya of L'Effervescence, who was chosen for "JAPANESE CUSINE TOP 5 CHEF IN HONG KONG." Bartending will be Takashi Goto who has worked as the main bartender at Sake Bar DECIBEL in New York and Shampoo in Shinjuku Golden Gai.

An event and party space which can hold up to 100 people

Located just a 3-minute walk from Shibuya Station, SOAK can be used as a party and event space with a maximum capacity of 100 people whether it be a wedding reception or a gathering of friends, family, or business, as well as for events, catering to any and every need. The space was designed by Noiz, a leading interior designer in Japan. The monuments were designed by contemporary artist Akira Yoshida, while the audio design is by Acoustic Engineering and the music is selected by Hirokazu Yamasaki from the post-rock and instrumental band Toe.

OYU: The rooftop terrace offering a panoramic view of Shibuya

Take in a panoramic view of Shibuya atop the rooftop terrace, and enjoy the pool either in the sunlight or shrouded luxuriously in the night with gorgeous illuminations and a glass in hand.

The pre-opening is set for November 13, 2020, but this is subject to change depending on the state of the pandemic.

Information

SOAK

Pre-Opening: November 13, 2020

Address: MIYASHITA PARK North Floor 18F, 6-20-10 Jingumae, Shibuya, Tokyo

Opening Hours: 17:00-24:00 (Last Orders 23:30)

Closed: Mondays

TEL: 03-6427-9989 (17:00-22:00)

Official Website: https://soaks.tokyo/

Japan's PEANUTS Cafe Reveals Snoopy Birthday Cake Orders For Online Shop

The PEANUTS CAFE Online Shop is opening orders for a cute Snoopy birthday cake on November 12, 2020.


Snoopy Birthday Cake: ¥5,000 (Before Tax) *Comes with 2 cake ornaments and 5 candles


These PEANUTS Cafe-original cakes are handmade individually a layer of raspberry compote and a layer of white chocolate mousse. They're topped with a cute Snoopy and Charlie Brown decoration and a speech bubble that reads "Happy Birthday!"

The cake is packed in a box with prints from the Peanuts comics on it. It's delivered in a cooler bag so it stays fresh.

Who better to celebrate your birthday with that the Peanuts gang?

© 2020 Peanuts Worldwide LLC

Information

Snoopy Birthday Cake

Release Date: November 12, 2020

PEANUTS Cafe Online Shop: https://www.peanutscafe.jp/online/

*Delivered within 7-10 days of ordering

*Arrives in a cooler bag and so cannot be delivered together with other items so please order separately

Cute and Cosy Snoopy Loungewear Made in Collaboration With Gelato Pique

Luxury loungewear and sleepwear brand Gelato Pique is teaming up with Snoopy to release a cosy new collection via their website and at Gelato Pique stores in Japan on November 12, 2020.

Gelato Pique is inviting people to spend the winter with Snoopy this year with their warm and fluffy 'SNOOPY meets GELATO PIQUE' collection which comes in a variety of comfy sizes for men, women, children, and babies.

SNOOPY meets GELATO PIQUE

Jacquard Series

Baby Moco Headband ¥2,200 | Jacquard Pullover ¥5,800 | Jacquard Long Pants ¥5,800 | Baby Moco Room Shoes ¥3,400 | Big Plush ¥8,800 | Jacquard Blanket ¥5,200

Jacquard Hoodie | ¥6,800

A fluffy series made with jacquard fabric and cute Snoopy prints all over. The hoodie even comes with Snoopy ears on top.

Border Series


Baby Moco Shawl Cardigan ¥7,200 | Baby Moco Long Pants ¥6,600

The shawl cardigan is perfect for the winter season, and the stripes have give the loungewear a casual and comfy look.

Snoopy Pattern Series


Shirt ¥6,300 | Pants ¥6,300

The Snoopy Pattern Series is the kind of thing you want to be wearing with some warm socks while sipping on something hot. Its simple design makes it perfect as a gift to someone under the Christmas tree.

Fleece Series


Fleece Pullover ¥5,600 | Fleece Long Pants ¥5,600

The Fleece Series is perfect for both relaxing and active days. The designs feature Snoopy and Charlie Brown chilling at home. The casual colours also mean you can wear either items together with something else, such as just donning the bottoms with something different on top.

© 2020 Peanuts Worldwide LLC

*All listed prices are pre-tax

Sip Sparkling Wine and Other Drinks Among Tokyo's Nightscape With Sarabeth's HIGH TEA TERRACE NIGHT

The Tokyo branch of New York-based restaurant chain Sarabeth's has announced a special autumn event that goes by the name 'HIGH TEA TERRACE NIGHT.' Set to run from September 23 to October 31, customers will be able to sit on a rooftop terrace in the evening with Tokyo's towering cityscape surrounding them while drinking sparkling wine and other all-you-can-drink free-flow alcoholic beverages—high tea style.


High tea refers to post-dinner evening tea time. At Sarabeth's, customers can look forward to dining on a special set menu for grown-ups with alcohol and other treats.


High Tea Style Set Menu With Free Drink | ¥5,000 (Before Tax)

Served on an afternoon tea stand, tuck into six different appetisers, meatball sliders, and truffle flavoured French fries. For the main dish, there's steak made in a red wine sauce and boletus mushrooms. Free drinks include sparkling wine, red and white wine, beer, high balls, cocktails, soft drinks, and more.

Feel the evening breeze of autumn while indulging in a special high tea experience in Tokyo.

Information

Sarabeth's Tokyo – HIGH TEA TERRACE NIGHT

Running: September 23, 2020 – October 31, 2020

Location: Sarabeth's Tokyo

Address: 1-8-2 Marunouchi, Chiyoda-ku, Tokyo

Serving Hours: 17:00-20:30
TEL: 03-6206-3551
*Free -flow drinks are all-you-can-drink for 90 minutes

*Reservations required by 16:00

Official Website: http://www.sarabethsrestaurants.jp/

Harajuku's New Carbonara Restaurant Serves Pasta Japanese Style

A new spaghetti carbonara restaurant by the name of Nama Carbonara opened in Harajuku, Tokyo on September 17, 2020.

The restaurant opened in the same building as Harajuku's popular fresh cream shop MILK and bubble tea shop Mot Tram. The restaurant makes its own fresh flat pasta everyday and uses fresh, rich cream sourced from Hokkaido.

The current menu lineup consists of six dishes, from classic carbonara to Japanese twists. Let's take a look at some of them.

Classic Carbonara | ¥790

Walleye Pollack Roe Japanese Carbonara | ¥1,090

Freshly Grated Cheese & Bacon Carbonara | ¥1,090

Seafood, Avocado & Basil Carbonara | ¥1,190

Discover a brand new world of carbonara like never before at Nama Carbonara in Harajuku.

Information

Nama Carbonara (生カルボナーラ専門店 原宿店)

Grand Opening: September 17, 2020

Address: THE SHARE 1F, 3-25-18 Jingumae, Shibuya, Tokyo

Opening Hours: 11:00-19:00 (Last Orders 18:30)

TEL: 03-5772-8858

Official Website: http://www.opefac.com/

Giant Pink Snoopy Placed Inside Rooms at Kobe's PEANUTS HOTEL Now Available as Plush Toys

Last year, the PEANUTS HOTEL celebrated its 1st anniversary by selling giant Snoopy plush toys, all of which sold out. The hotel is doing the same again this year, releasing two different sizes on September 4.

ROOM64: "Happiness is a warm puppy"

Lucy squirms when Snoopy kisses her, but she sure loves hugging him, because of his warmth. ROOM64 is inspired by this lovable comic, and uses millennial pink for the walls, chairs and even the fireplace. There's also a big pink Snoopy that you can hug any time you want. Lucy's iconic Lemonade stand stands next to a signboard that says, "1 cent for hugging a cute puppy". It is a room filled with humor and warmth.

PEANUTS HOTEL -ROOM64-


Guests will be able to buy plush toys of the giant puppy from ROOM64, because happiness is a warm puppy.

Small: ¥2,400 | Large ¥6,400 (Before Tax)

The small size Snoopy comes with a key chain so it can go on your bag, while the large Snoopy is perfect for sitting on your sofa or bed and for hugs. Both are super fluffy so you won't be able to resist.

© 2020 Peanuts Worldwide LLC

Snoopy in Ginza 2020 Heads to Mitsukoshi Ginza in Tokyo This Autumn

Snoopy in Ginza 2020 is set to take place at Mitsukoshi Ginza in Tokyo from October 14 to November 3.

This year marks the 22th run of Snoopy in Ginza, a popular annual event held at Mitsukoshi Ginza. It will incorporate a numbered ticket system to ensure the event is never overcrowded as a precaution against COVID-19. The event will also take all necessary social distancing and related measures. The full breakdown of measures will be available once tickets are available to buy in the coming weeks.

It's a a double celebration this year as the Peanuts comics celebrate their 70th anniversary and Mitsukoshi Ginza commemorates its 90th. The theme of this year's Snoopy in Ginza is "World Photo Journey" which will see Snoopy and the Peanuts gang travelling to iconic places around the world in 13 original pieces of art illustrated for the event.

Let's take a look at some of the merchandise up for grabs this year.

Mitsukoshi Ginza exclusives

Pin Badges: A-Design ¥715, B-Design ¥1,100 (Only 700 available of each)​

The B-Design will be released in-store on October 14 and subsequently online on October 17 from 10:00am (JST).

Pouches with cookies in them: ¥1,100 (Only 400 available)

Mascots: ¥1,518 (2 Designs)

KUTANI SEAL Plates: ¥3,300 (Only 150 available)

A4 Folders: ¥330 Each (7 Designs)

Tea Tins With Coasters: ¥1,320 Each (3 Designs) (Only 500 available of each)

As well as this exclusive merchandise, there will also be original items made in collaboration with Mitsukoshi Ginza's many shops. Take a look at some of them below.

<ARTISAN&ARTIST> Pouch: ¥8,580

<Lights Style> Pin Badges: ¥500 Each

The pin badges are available in-store only. New designs will be sold from October 21.

<Ace> Suitcase: ¥39,600 (Available online only)

<OCEAN & TERRE> Mini Bottle & Honey & Belgium Chocolate Baumkuchen Set: ¥2,750

<Patisserie Etienne> Snoopy Cookie Tin: ¥2,506 (2 Designs)

<La Boutique de Joel Robuchon> Macaron Set: ¥3,240

Travel the world with Snoopy and the Peanuts gang at Mitsukoshi Ginza for Snoopy in Ginza 2020.

© 2020 Peanuts Worldwide LLC

PEANUTS Cafe's New Nagoya Branch to Open at RAYARD Hisaya-odori Park

The opening date for PEANUTS Cafe Nagoya has been confirmed as September 18, 2020. It will be opened at RAYARD Hisaya-odori Park by Potomak, the company that develops the Snoopy-themed "PEANUTS Cafe" chain of cafes.

PEANUTS Cafe Nagoya – RAYARD Hisaya-odori Park

The menu lineup for PEANUTS Cafe Nagoya includes food inspired by the baseball team members in the Peanuts comics, food exclusive to the Nagoya branch, and more.

The cafe is also introducing a new version of the signature "The Goose Egg Slider" from the PEANUTS Cafe in Nakameguro. It will be inspired by the Pelicans—the baseball team spearheaded by Peppermint Patty.

PEANUTS Cafe Nagoya will also serve takeout food that reflects the green verdure of RAYARD Hisaya-odori Park, such as the two-tone lemonade, so you and other members of the Peanuts gang can enjoy some refreshing delights while sat in the park.

The cafe will even have its own merchandise, including Nagoya exclusives. "Functional" and "Relax" and the themes of the item lineup, which you will be able to check out on the online shop once the cafe officially opens.

Skateboard Decks | ¥15,000 Each (Before Tax) *Limited edition

Fans can also get their hands on some pennant design skateboards as part of the PEANUTS Vintage Collection, which can be used as a board or for displaying indoors.

PEANUTS Cafe x A4 "tumi-isi | ¥"13,500 (Before Tax) *Only 100 available

There's also an exclusive tumi ishi balancing block set which tests your balance and creative ability. Each block has an illustration of the familiar faces from Peanuts.

Don't miss the chance to visit the new PEANUTS Cafe in RAYARD Hisaya-odori Park when travelling to Nagoya.

© 2020 Peanuts Worldwide LLC

'Snoopy Fantaration' Exhibition to be Held at Abeno Harukas Kintetsu Department Store

Abeno Harukas Kintetsu Department Store has announced an exhibition themed around Snoopy, the popular character from Charles M. Schulz's comic strip Peanuts, which will take place from September 16 to October 6. The theme for the event is 'Science Art' which will see Snoopy and science come together.


The line-up for the exhibition is diverse, ranging from showcasing the dancing snoopy robot from the 1970s made using the latest in technology to around 5,000 four-panel comic strips, exclusive merchandise you can't get anywhere else, and much, much more.

Snopy x Aichi Institute of Technology

The students of Aichi Institute of Technology developed a Snoopy robot over a period of around three years, as well as an interactive 'Mysterious Drawing Zone' for people to get hands-on with. The Snoopy Robot Zone will welcome two different robots: the disco 'Dancing Snoopy' and 'Funny Snoopy,' the latter of which pulls cute poses. In the Mysterious Drawing Zone, visitors can draw their own illustrations on a sheet and it will appear on the screen in front of them.

Mosaic Art & Art Pieces

A breathtaking mosaic of approximately 5,000 Peanuts comic strips has been put together for the exhibition. This mechanical artwork was created by the exhibition's producer Yoshiteru Otani 27 years ago in Japan and was donated to the US. It runs for one hour. Snoopy from different eras will be showcased, starting from the very first design which appeared in 1950 to the bipedal Snoopy, astronaut Snoopy, and so on.

Exclusive Merchandise (Excerpt)

Chokkori-san – ¥1,100 Each


Flat Bag (Small) – ¥1,650 Each



Key Ring – ¥1,320

Don't miss this Snoopy x Science collaboration.

© 2020 Peanuts Worldwide LLC

Information

Snoopy Fantaration
Running: September 16, 2020 – October 6, 2020
Location: Abeno Harukas Kintetsu Department Store (Wing 4F)
Price: ¥500 (Tax Included)

Snoopy Japan Official Website: http://www.snoopy.co.jp/

Dine at Harajuku's New Tarako Spaghetti Restaurant Tokyo Tarako Spaghetti

Tokyo Tarako Spaghetti opened its all-new, second branch in Harajuku Omotesando on July 31, 2020. The restaurant opened its first branch back in January this year.

To commemorate the opening of the new restaurant, it is serving up two brand new tarako (cod roe) spaghetti dishes made with Japanese dashi.

Tarako & Kombu Umami With Dashi Spaghetti | ¥990 (Before Tax)

The first new dish is a combination of tarako, kombu, and dashi spaghetti. This dish adds a Japanese flair to it by combining tarako spaghetti with tarako boiled in soy. The full flavour of the kombu is extracted when the dashi is poured over, creating an irresistible flavour.

Three Fish Egg Tarako Spaghetti | ¥1,390 (Before Tax)

The second new dish on the menu is the "Three Fish Egg Tarako Spaghetti" which combines lots of tarako with toppings of salted salmon roe and flying fish roe. There's a whopping 100g of fish eggs on there, so you won't be going hungry with this filling, colourful serving of spaghetti.

Discover new kinds of tarako spaghetti dishes at Tokyo Tarako Spaghetti Harajuku Omotesando.

Information

Tokyo Tarako Spaghetti Harajuku Omotesando

Address: MS Bldg. 2F, 6-7-16 Jingumae, Shibuya, Tokyo

Opening Hours: 11:00-23:00 (Last Orders 22:00)
TEL 03-6803-8688

Official Website: https://www.tokyotarako.com

Tokyo's Famous Blue Note Tokyo Jazz Club Creators Launch Online Dinner Service

BLUE NOTE JAPAN Co., Ltd. launched an online store called "STAR TABLE" on August 5 which gives lets customers enjoy the same dinner experience as the company's restaurants from the comfort of their own home. BLUE NOTE JAPAN operates the entertainment business, restaurant business and bridal business of live restaurants such as the famous Blue Note Tokyo, a jazz cafe in Aoyama.

The first menu line-up on the website is "Home Dinner Course vol.1."

Weekend Dinner Course vol.1 | Serving: August 2020 – October 2020
Dishes: 5 | Price: ¥8,400 (Tax Included/Shipping Fee Separate) | Serves: 1

Home Dinner Course vol.1 is a full dinner course with a French taste which customers can warm up and arrange at their home, resulting in a meal so tasty they will feel like pro chefs themselves. This is the perfect way for busy people working remotely or people who aren't good at cooking to treat themselves from the comfort of their own home. The meal can also be cooked for get-together dinners with family.

The "Weekend Dinner Course" is the umbrella name for this service which will introduce a new course every three months. The next course, "vol.2," will be served in November. BLUE NOTE JAPAN is planning to introduce desserts and other items to the line-up.

Blue Note Tokyo is also live streaming music performances from the restaurant from fantastic artists so that customers can enjoy the full Blue Note experience.

With social distancing measures and other restrictions in place, this is a great service for people to enjoy a dining experience while staying safe.