Akita the Dog is Taking Over Shibuya to Promote Akita Prefecture
Akita is the name of a dog (who is also of the dog breed Akita) who has been used to promote tourist information about Akita Prefecture in northern Honshu since 2016. The 4th promotional campaign will be run from September 3 to October 31.
The campaign is being taken to Shibuya in Tokyo. This is an ideal location because not only are there many tourists in Shibuya, but it's also affiliated with the famous dog Hachiko, who was also an Akita dog born in Akita Prefecture
The campaign's catchphrase "GO! AKITA" has been changed to "Yeah! AKITA" to express Akita the dog's joyful voice for his hometown as well as to capture traveller's reactions to visiting the prefecture.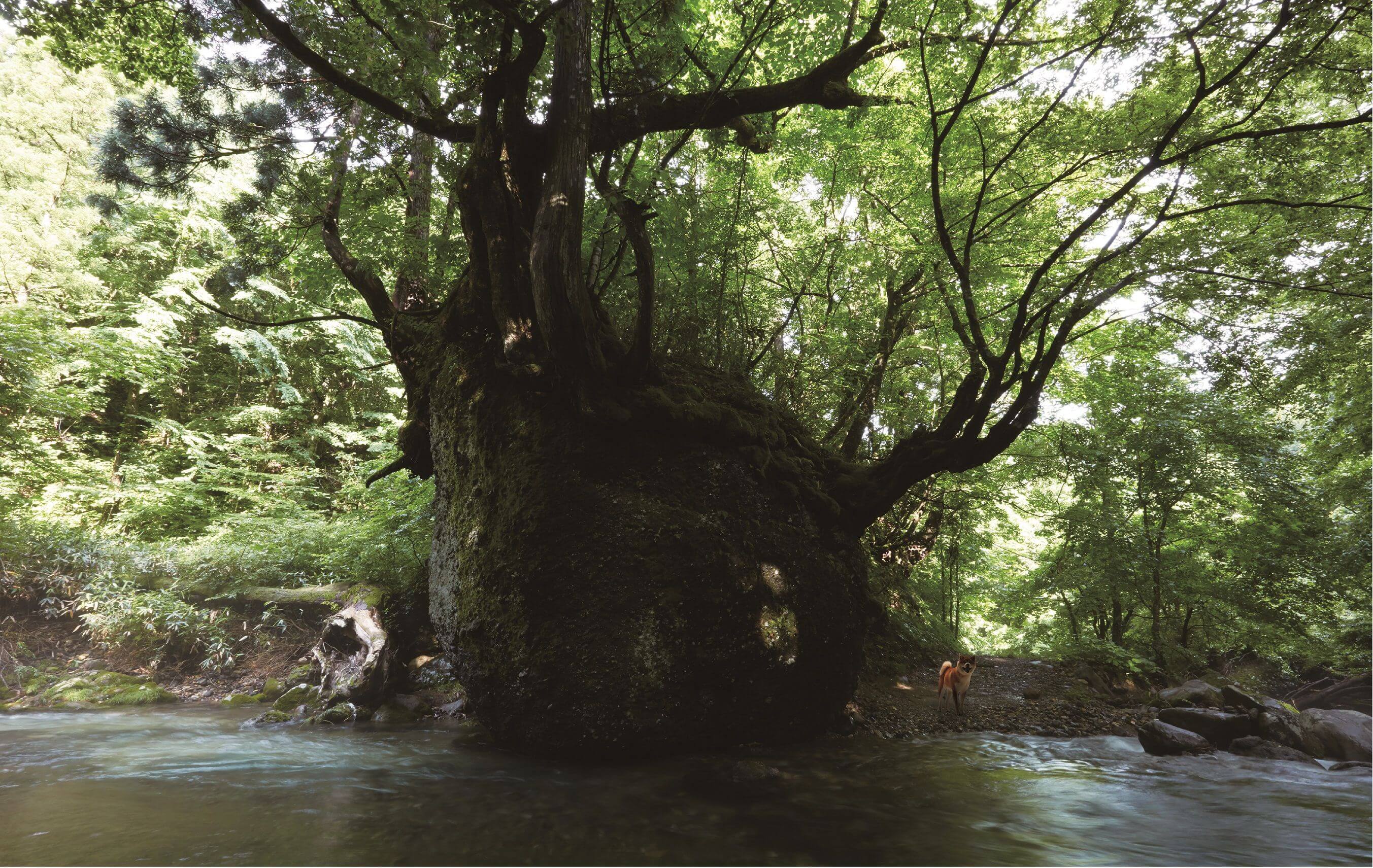 Look out for the big advertising posters of Akita the dog featuring photos posted on his social media that show the beauty of Akita Prefecture such as at Nekobari Iwa and next to a Kashima (above).
10,000 free rubbish bags will also be handed out featuring an Akita the dog "Happy HalloWan!" design – with wan being the Japanese equivalent of 'woof.' The streets of Shibuya become very messy during Halloween, so Akita will be there to lend a paw!
Akita will be dotted all around Shibuya promoting Akita Prefecture, so be sure to find him everywhere!
■Information
Advertising Locations
( 1 ) Keio Inokashira Line trains (body of train and posters hanging inside)
Running: September 3, 2018 – September 30, 2018
( 2 ) JR Shibuya Station – Shibuya Hachiko Cross
Details: A 1.75m x 3.7m sized board will be placed in the northern passageway inside the Hachiko Entrance ticket gates.
Running: September 16, 2018 – September 29, 2018
( 3 ) Shibuya Station, Tokyo Metro (Hanzomon) pillars
Running: September 17, 2018 – September 23, 2018
( 4 ) Omotesando Station, Tokyo Metro pillars
Details: 11 pillars will be used inside the ticket gates of Omotesando Station
Running: September 24, 2018 – September 30, 2018
( 5 ) Happy HalloWan! Rubbish Bags Sampling
Details: To help clean up the streets of Shibuya during Halloween, 10,000 free rubbish bags will be handed out in front of Shibuya Mark City and in two places in front of the Moyai statue.
Available: October 27, October 28 and October 31
RELATED ENTRIES
Enter Virtual Shibuya: The New Ghost in the Shell Digital Platform

Shibuya 5G Entertainment Project launched its new digital platform "Virtual Shibuya" with an opening event on May 19. The event Virtual Shibuya helped promote release of Ghost in the Shell: SAC_2045 with talks and performances from SEKAI NO OWARI's DJ LOVE, virtual YouTuber and member of Nijisanji Ange Katrina, Chinatsu Wakatsuki of Future Design Shibuya, and Naohiro Ukawa of S/U/P/E/R DOMMUNE—all of whom are fans of Ghost in the Shell.

Officially recognised by Shibuya City, Virtual Shibuya comes in response to the effects of the novel coronavirus (COVID-19) which has brought tight restrictions to the economy and people's way of life. It will enable people to continue enjoying entertainment from the comfort of their homes by participating in a whole host of virtual events and activities. The project aims to deliver content from Shibuya with live performances from artists, art exhibitions, talks, and more. The use of 5G and the latest cutting edge technology will connect the real Shibuya to a virtual space, combining the realms of the digital and real world.

The guests joined over 50,000 users for the first event which went down a storm. Chinatsu Wakatsuki said: "I was amazed how much it looked like Shibuya! I can't go to Shibuya right now, so it felt like I got to visit home again after so long."

Shibuya was fully recreated a virtual space for people to visit

Lots of Ghost in the Shell fans gathered in the city

Everybody in this virtual world jumped into their avatar skins, including the diverse range of guests who probably would never have come together had it not been for the Ghost in the Shell theme, as well as DJ LOVE, Katrina, Chinatsu Wakatsuki, and Naohiro Ukawa.

The real world and the world of Ghost in the Shell collide

The four performers, who were coming face to face with each other for the first time, talked to guests about what they love about Ghost in the Shell while strolling around Virtual Shibuya and having fun with fans on equal terms.

Comments from the performers

・Chinatsu Wakatsuki (Future Design Shibuya)
"I was amazed how much it looked like Shibuya! Shibuya is a place I hold near and dear to my heart. There were a lot of 'firsts' for me, like my first time using an avatar, and meeting new people for the first time, so I thought it was going to be difficult at first, but I found myself not nervous at all and had fun with everyone in there using this futuristic entertainment. Looking forward, au 5G will grow and the number of things we can do will as well. I hope to challenge myself as a tarento and a mum in many different things and have fun with this Virtual Shibuya!"

・"DJ LOVE" (SEKAI NO OWARI)
"It felt like I had dived right into the world of Ghost in the Shell, my favourite series. It was a wonderfully fun event which expanded on my dreams. I'm looking forward to seeing it evolve and I hope to perform live there at some point. I want to make stuff that people who haven't been physically able to go to venues up to now can enjoy. I think it would be fun to communicate with people who participated."

・Ange Katrina
"The streets of Shibuya I know were completely transformed into the world of Ghost in the Shell, and my favourite Tachikoma made an appearance too. For a Ghost in the Shell fan like myself it was a whale of a time! Right now we have to battle with staying indoors. Me having disappeared has caused a bit of trouble, but the thrill of this virtual event has lifted my nerves. I had a lot of fun."

You can check out footage from the event in the video below which was posted on Shibuya 5G Entertainment Project's official YouTube channel.

The world of Ghost in the ShellVirtual Shibuya in can be experienced until May 31, 2020, so sign up while you still can.

Shibuya 5G Entertainment Project to Launch Virtual Shibuya Platform

Shibuya 5G Entertainment Project is set to launch its new digital platform "Virtual Shibuya" on May 19, 2020. The platform is officially recognised by Shibuya City.

Virtual Shibuya comes in response to the effects of the novel coronavirus (COVID-19) which has brought tight restrictions to the economy and people's way of life. It will enable people to continue enjoying entertainment from the comfort of their homes by participating in a whole host of virtual events and activities.

The project aims to deliver content from Shibuya with live performances from artists, art exhibitions, talks, and more. The use of 5G and the latest cutting edge technology will connect the real Shibuya to a virtual space, combining the realms of the digital and real world.

1: Online Events

A variety of online events will be held inside the virtual event space. People tune into Virtual Shibuya while at home by connecting with their smartphones, PCs or VR devices. They will have their own avatar and be able to traverse the area together with other people who are connected while participating in different interactive online events. The events will also be streamed on video streaming services.

2: XR Art

Experience XR (cross reality) content which will connect both Virtual Shibuya to the real Shibuya. Those in either Shibuya will be able to experience the same content and entertainment.

The opening event for the grand opening of Virtual Shibuya will promote the release of Ghost in the Shell: SAC_2045 with talks and performances from SEKAI NO OWARI's DJ LOVE, who is a fan of Ghost in the Shell, as well as virtual YouTuber and member of Nijisanji Ange Katrina, Chinatsu Wakatsuki of Future Design Shibuya, and Naohiro Ukawa of S/U/P/E/R DOMMUNE.

Information

Ghost in the Shell Night by au 5G

Date: May 19, 2020

Time: 19:00-19:45

How to Participate

Virtual Shibuya can be accessed using a VR device, smartphone, or PC/Mac. To participate, you must create a (free) Cluster account and install the Cluster app on your device. This event will also be streamed live on YouTube Live and the official Twitter page of Shibuya 5G Entertainment Project.

Join Here: https://cluster.mu/e/bee95acc-5c7f-4ebb-b08a-606348747487

Shibuya 5G Entertainment Project Official Twitter: https://twitter.com/shibuya5g

Gluten-Free Vietnamese Bánh Mi Baguettes Sold at the New Bánh mi Tokyo

In Vietnamese cuisine, a Bánh mi is a baguette stuffed with various ingredients and served as a sandwich. It's a popular meal in Vietnam, and in recent years has seen an appearance in Japan.

Bánh mi Tokyo opened in Gaiemmae, Tokyo on March 16, 2020. They serve bánh mi with a Japanese taste, and their bread is made from 100% rice flour with no artificial flavourings or purified sugar.

Bánh mi are generally made with lard or margarine, but at Bánh mi Tokyo, they are made with with ingredients with good-quality oil content like rice koji sweet sake and nuts, which give them a richness and creaminess and remove things like trans-fats that are a burden on the body. This also greatly cuts calories and other fats too.

Mackerel Curry Bánh Mi

All bánh mi overflow with original flavours, from the chicken-filled "Standard Bánh Mi" to the "Mackerel Curry Bánh Mi" which is made with curry flavoured grilled mackerel, "Five Spice Char Siu Bánh Mi" stuffed with juicy pork belly, and more.

Bánh mi Tokyo also serves high-quality original coffees which are a must-try together with your bánh mi

Information

Bánh mi Tokyo

Address: 1F, 3-1-25 Jingumae, Shibuya, Tokyo)

Opening Hours

[Weekdays] Morning 8:30-9:30 / Lunch 11:00-15:00 (Last Orders 14:30) / Cafe 15:00-17:30 (Last Orders 17:00)

[Weekends & Holidays] Lunch 11:00-15:00 (Last Orders 14:30) / Cafe 15:00-18:30 (Last Orders 18:00)

*Please note that opening hours are subject to change as a result of the coronavirus. Check the cafe's official website for the latest information.

TEL: 070-4142-0868

Official Website: https://banhmi-tokyo.com/

Japan's First Muslim Eyelash Extension Salon 'Crazy Beauty' Opens in Shibuya

Japanese eyelash extension salon Crazy Beauty has announced its efforts to strengthen its services to cater towards its increasing number of Muslim customers. The salon released a new list of policies in English including using no pork-derived ingredients in its glue, a comment about the alcohol level of its glue, and more.

"Muslim Welcome" is the name of this new initiative launched by Crazy Beauty with support from the Made in Japan Halal Support Committee.

Prayer Space

Crazy Beauty provides prayer mats and has a space for its Muslim clients to pray.

Consideration For Muslim Customers

Since Muslims are not able to use products with alcohol in them, Crazy Beauty provides Halal-certified Clean Shu! Shu! Neo, which has alkali ions in it that kills bacteria, and it also cleans and smells since. Crazy Beauty also uses MOMA Water, officially recognised by JAKIM in Malaysia. Customers can also enjoy Halal-certified tea after their session.

Muslim Welcome Eyelash Policies

・Our salon uses medical grade glue that does not contain pork-derived ingredients.

・The medical-grade glue used in our salon contains a small amount of alcohol.

・A spare space can be used for prayer purposes.

・Prayer mats are available upon request.

Source: https://crazybeauty.jp/en

If you're a Muslim and looking to experience Japan's beauty scene, then be sure to check out Crazy Beauty to see everything they have to offer.

Information

Crazy Beauty

Address: 906 Dogenzaka Square, 5-18 Maruyamacho, Shibuya, Tokyo

Reception Times: Last Phone Booking 21:00 (Until 19:00 on Sundays and Public Holidays)

No Fixed Holidays (Open during festival seasons)

TEL: 03-6416-1726

Official Website: https://crazybeauty.jp/en

Tokyo Otaku Mode TOKYO Collaborates With Hatsune Miku at Shibuya PARCO

Tokyo Otaku Mode Inc. is opening a pop-up shop in collaboration with Hatsune Miku at Tokyo Otaku Mode TOKYO which is located on the 6th floor of Shibuya PARCO in Tokyo.

The shop will be open from December 27 until January 19 next year. Japanese illustrator hakusai is on board to illustrate the designs for the shop itself as well as the shop-exclusive merchandise. The design features Hatsune Miku, Megurine Luka, Kagamine Rin and Len, KAITO and MEIKO wearing traditional Japanese dress.

Acrylic Stands – ¥1,200 Each (Before Tax)

Mini Towels – ¥700 Each (Before Tax)

There are 10 original and exclusive pieces of merchandise with various designs to choose from. Plus, customers who purchase over ¥3,000 (tax included) worth of items will receive a special Vocaloid sticker.

The Snow Miku Sky Town store at New Chitose Airport in Hokkaido is also collaborating with the pop-up shop where they will sell select merchandise from Snow Miku Sky Town.

Those of you looking to get your hands on some limited-edition Vocaloid goodies will want to roll on up to Tokyo Otaku Mode TOKYO before the pop-up shop closes.

*The items shown in the photos above are of products in development. Actual products are subject to change.

Art by hakusai  © Crypton Future Media, INC. www.piapro.net  

Information

Tokyo Otaku Mode TOKYO

Address: Shibuya PARCO (floor 6), 15-1 Udagawacho, Shibuya Ward, Tokyo

Opening Hours: 10:00-21:00

Sales Period: December 27, 2019 – January 19, 2020

Corporate Website: https://corporate.otakumode.com/

Peanuts x The Marc Jacobs Pop-Up Shop Opens at Shibuya PARCO

A pop-up shop in collaboration with the Peanuts comic strip series starring Snoopy and The Marc Jacobs opened at GATE on the first floor of Shibuya PARCO today and will run until January 13, 2020.

[Pre-Release Item] THE PEANUTS T-SHIRT: ¥21,000 (Before Tax)

This special collaboration sees a line of apparel and items from The Marc Jacobs with gorgeous designs taken from the internationally comic strip series Peanuts by American cartoonist Charles M. Schulz.

The pop-up shop is inspired by Snoopy's dog house which when you step inside transports you into the wonderful world of Peanuts.

The shop is also collaborating with the PEANUTS CAFÉ for three days between December 20-22. Attendees can get themselves a hot chocolate at the wagon located in front of Shibuya PARCO Koen-dori Street. The delicious drink is topped with chocolate chip cookies—a favourite of the Peanuts gang—and marshmallows.

If you walk around the Center Gai, Dogenzaka and Koen-dori areas of Shibuya, you'll spot posters plastered up to promote the pop-up shop. There are five designs featuring Snoopy, Charlie Brown, Lucy van Pelt, Linus van Pelt, and Peppermint Patty. If you scan the QR codes on each of the posters you can download respective wallpapers for each character for your smartphone.

If you manage to scan all five of the QR codes, you'll receive a special present when you show your phone at the pop-up store. This is running right now until December 30, 2019, so don't miss out!

Information

PEANUTS x THE MARC JACOBS Pop-Up Store

Running: December 17, 2019 – January 13, 2020

Opening Hours: 10:00-21:00

No Fixed Holidays (Except when Shibuya PARCO is closed)

Location: Shibuya PARCO (GATE, Floor 1F)

*Please note that depending on how busy the shop is you may be given a numbered ticket upon arrival to determine when you can enter. More details can be found on the Shibuya PARCO website.

Shibuya PARCO Official Website: https://shibuya.parco.jp

Hot Chocolate Wagon

Running: December 20, 2019 – December 22, 2019

Opening Hours: 10:00-21:00

Location: In front of Shibuya PARCO Koen-dori Street

Tokyo Sushi Restaurant Tsukiji Tamasushi Sasashigure Opens New Branch in Shibuya

Edomae sushi restaurant Tsukiji Tamasushi Sasashigure, which is known for its strict use of organic ingredients, just opened its second branch in Tokyo Plaza Shibuya following its first branch in Omotesando Hills.

Sasashigure is a type of sasanishiki rice grown completely organically without the use of any chemicals or fertilisers. It is grown by Akinori Kimura who is known for its "Miracle Apples," the world's first apples grown without pesticides.

Sasashigure rice yields 40% less rice quantity in one-tenth hectare than regular rice, but it has a natural sweetness and elevate flavour, with each and every grain savoured in a mouthful.

If you're all for healthy eating and protecting the environment, and happen to be in Tokyo looking for some sushi, be sure to visit the new branch of Tsukiji Tamasushi Sasashigure in Shibuya.

Information

Tsukiji Tamasushi Sasashigure

Address: Shibuya FUKURAS 6F, Tokyu Plaza Shibuya, 1-2-3 Dogenzaka, Shibuya, Tokyo

Opening Hours: 11:00-23:00 (Last Orders 22:30)

No Fixed Holidays (Except when Tokyu Plaza Shibuya is closed)

Official Website: http://www.tamasushi.co.jp/

Shibuya PARCOーWhere You Can Enjoy Everything: Anime, Games, Food, Fashion & More

Shibuya PARCO finally opened its doors on November 22. The shopping complex is already receiving overwhelming love and attention as Shibuya's newest tourist spot as it strives to offer itself as "a unique, next-generation facility" for the world.

Boasting a gargantuan 193 shops, spanning fashion, food, art and more, Shibuya PARCO is a place where you can enjoy just about anything. MOSHI MOSHI NIPPON has compiled a list of our own recommended places from there for you, the readers, if you ever visit Shibuya.

Mirai Sake/KUBOTA SAKE BAR (Floor B1F)

Sake is a big part of Japanese culture, and is enjoyed by people worldwide. Mirai Sake/KUBOTA SAKE BAR are serving the ultimate sake experience, where you can select the drinks that best suit  your palate. The bar will serve original drinks, rare sake from ¥500 a cup, as well as food pairings from ¥400.

There will also be 12 original cocktails judged by YUMMY SAKE. If you've found you're not too good with sake, then you're sure to find one you like when pulling up a stool here.

Mirai Sake Official Website: https://miraisake.com/

ONITSUKA (Floor 3F)

Japanese fashion brand Onitsuka Tiger has announced a new luxury line entitled THE ONITSUKA. They have created a hybrid design combining formal shoes with sneakers that goes with a variety of styles, from suits to casual.

The shoes are made from high quality leather from the brand Kobegyu Leather. The heal of the souls are equipped with αGEL Foam to offer comfort and shock resistance for dynamic movement. This line will also be available to purchase at a concept store opening in New York in March 2020.

Onitsuka Tiger Official Website:  www.onitsukatiger.com

AKIRA ART OF WALL (Floors 4F & B1F)

The new PARCO MUSEUM TOKYO and GALLERY X housed inside Shibuya PARCO both aim to promote art and culture to the people of Tokyo. Decorating them as the opening exhibition is the "AKIRA ART OF WALL Katsuhiro Otomo × Kosuke Kawamura AKIRA ART EXHIBITION." This art wall is in fact a relocation of the AKIRA art wall that had existed at the infrastructure building site in Shibuya for almost two years. Parts of it had been damaged over time, and so has resurfaced at the new museum.

You can also get your hands on a range of merchandise, from classic manga prints to posters, clothing made in collaboration with apparel brands, and more. This is a limited-time exhibition, so if you're in Tokyo this December, don't miss out.

©MASH・ROOM/KODANSHA ©Kosuke Kawamura ©︎AKIRA ART OF WALL EXHIBITION

AKIRA ART OF WALL Otomo Katsuhiro × Kosuke Kawamura AKIRA ART EXHIBITION

Locations/Times

PARCO MUSEUM TOKYO (Shibuya PARCO 4F): November 22, 2019 – December 16, 2019 @ 10:00-21:00

GALLERY X (Shibuya PARCO B1F) November 22, 2019 – December 18, 2019 @ 10:00-21:00

*Exhibitions at both sites will end at 18:00 on their final dates. Last entries to PARCO MUSEUM TOKYO are 30-minutes before closing times.

Entry Price: General ¥1,000 / High School Students and Below ¥800 / Preschoolers – Free

Nintendo TOKYO/6F

At Nintendo TOKYO, the first long-awaited official Nintendo shop, fans can look forward to purchasing games, consoles, character merchandise, and more. There is also an area where you can play games, and events are scheduled to be held at the store.

The store stocks lots of exclusive goods you won't find anywhere else. If you love games, and you love Nintendo, then this place is a must-visit if in Tokyo.

Nintendo TOKYO Official Website: https://www.nintendo.co.jp/officialstore/index.html

Pokémon Center Shibuya (Floor 6F)

Pokémon fans won't be able to resist stepping into the Pokémon Center, where they can pick up countless Pokémon merch. Upon entry they'll walk past a 2-meter tall Mewtwo.

From plush toys to bags, kitchenware, stationary, Shibuya-exclusives and moreーstock up on all the Pokémon gear you could ever want. There's even some items made in collaboration with Nintendo TOKYO which is just next door!

Pokémon Center Official Website: https://www.pokemon.co.jp/gp/pokecen/

いかがでしたか?いろいろなジャンルのお店が大集結している渋谷PARCOにぜひ足を運んでみてくださいね。

Information

Shibuya PARCO

Address: 15-1 Udagawacho, Shibuya, Tokyo

Opening Hours: Shops & Services 10:00-21:00 / Restaurants 11:00-23:30 (*Times differ between shops)

No Fixed Holidays

Official Website: https://shibuya.parco.jp/teaser/

BEAMS JAPAN Unveils Clothing Line-Up For New Shibuya Store

Following the opening of their Shinjuku branch back in 2016, BEAMS JAPAN has announced that it will open a second branch in Shibuya on December 5, 2019. It will be found inside the new Shibuya FUKURAS which is also set to open beside Shibuya Station to this December.

The store is set to be the second hub for BEAMS "TEAM JAPAN," a project which aims to build a community around the brand and promotes products made in Japan.

In the run up to the grand opening, the store has unveiled select products that buyers can look forward to grabbing this winter.

BEAMS JAPAN SHIBUYA x TOWER RECORDS T-Shirts (Hiroshi Nagai) – ¥6,600 Each (Tax Included)

MIZUNO WAVE CREATION WAVEKNIT (Made to Order Model) – ¥23,100 (Tax Included)

BEAMS Shibuya has collaborated with Japanese illustrator Hiroshi Nagai to release various items featuring his designs, including t-shirts featuring Tower Records Shibuya, as well as souvenirs with other Shibuya motifs like Hachiko and Scramble Crossing. There is also a pair of limited-time MIZUNO x HIGHSNOBIETY x BEAMS sneakers to get your hands on.

The store will make use of Japanese-style decor with wooden beams and pillars. There will be ceiling art from Japanese artist Kads MIIDA, as well as a classic hiyoke noren entryway curtain to the store, something which has been used since ancient times.

Gold Adzuki Bar – ¥220 (Tax Included)

BEAMS JAPAN prides itself on promoting local business and culture. For the Shibuya store's opening, they have teamed up with Imuraya Confectionery so that customers can buy Gold Adzuki Bars, an ice cream bar that was created in Mie Prefecture and is considered "the nation's ice cream."

Akafuku Mochi (Includes 8) – ¥760 (Tax Included) / Akafuku Mochi Single Pack (Includes 2) – ¥240 (Tax Included)

And for the first three days of the store's opening, it will offer a rare opportunity to buy akafuku mochi, a Japanese confection consisting of a pounded rice cake topped with red sweet bean paste.

And to further promote Japanese fashion to the world, BEAMS JAPAN will simultaneously launch a new collection at both the Shibuya and Shinjuku branches.

BEAMS Shibuya will also launch its second collaboration with the upcoming Japanese film Tora-san, Welcome Back and will also hand out copies of BEAMS EYE ON SHIBUYA which includes essential information written by the BEAMS staff about what's great about Shibuya. Don't miss out.

Information

BEAMS JAPAN SHIBUYA

Grand Opening: December 5, 2019

Address: Tokyu Plaza Shibuya 2F, 1-2-3 Dogenzaka, Shibuya, Tokyo
Opening Hours: 10:00-21:00
Stocked Labels: Men's <BEAMS> / Women's <Ray BEAMS> <BEAMS BOY> / Other <BEAMS JAPAN> <TOKYO CULTUART by BEAMS>

BEAMS JAPAN Official Website: https://www.beams.co.jp/beams_japan/

Giant 1/6 Scale Tokyo Ghoul Figure to be Sold at Tokyo Otaku Mode TOKYO in Shibuya PARCO

Tokyo Otaku Mode Inc. is set to display and start taking orders for a new 1/6 scale figure by Figurama from Sui Ishida's hit manga and anime series Tokyo Ghoul. Available in Japan only, it will be sold at the new Tokyo Otaku Mode TOKYO store from November 22 at 10:00am at the new Shibuya PARCO shopping complex.

Figurama is a Hong Kong-based figurine maker which has crafted many figures from popular titles such as Attack on Titan, Hellsing, Devilman, and Trigun, to name a few. The standout characteristic of their work is the size of their figures, the composition, and how detailed the figures are despite being so large.

The Tokyo Ghoul figure set to appear at Tokyo Otaku Mode TOKYO stands 63cm high, 44cm wide, and 35cm deep. It features series protagonist Ken Kaneki versus Yamori, who made Kaneki's hair turn white.

Only 800 of these figures have been made, of which Tokyo Otaku Mode TOKYO will sell 40, making them an extremely rare and limited edition collectors items. Perfect for any fan of the hit series!

©Sui Ishida/Shueisha・Tokyo Ghoul Production Committee

Information

TOKYO GHOUL: KANEKI VS YAMORI 

Maker: Figurama
Series: Elite Fandom
Scale: 1/6 

Materials: Ecofriendly Polystone, Translucent Resin, PU, LED 

Size: 63cm x 44cm x 35cm
Price: ¥100,000 (Tax excluded, shipping charge included)

Figurama Official Website: https://figurama-collectors.com/ 

Brightburn Horror Film Japan Release Promoted With Supervillain March in Shibuya

In May this year, US-based film production and distribution company The H Collective partnered with Japanese e-commerce company Rakuten to establish Rakuten H Collective Studio and the distribution company Rakuten Distribution. It has been announced that the first film they will release, together with Toho-Towa Distribution, will be Brightburn on November 15, 2019.

Brightburn is an American supervillain horror film directed by David Yarovesky and produced by James Gunn and Kenneth Huang. The movie is an amalgamation of genres including horror, sci-fi, suspense and drama. The global hit song bad guy by Billie Eilish serves as the movie's credit roll theme.

The film tells the story of Tori Breyer (Elizabeth Banks) whose struggles with fertility are lifted and her dreams for motherhood come true when a mysterious baby boy appears to her. Things take a turn for the worse however as darkness begins to manifest itself in the child, Brandon Breyer (Jackson A. Dunn), and he begins to act out his deviant urges.

In promotion of the film, an army of 48 people dressed as Brightburn marched through the streets on Shibuya on Wednesday. They called themselves BBK48, a pun on the Japanese idol group AKB48, with "BBK" standing for Brightburn Kyoufu no Kakusancha ("Fear Spreading Collective"). They began on Koen Dori Street and made their way to Shibuya's famous Scramble Crossing, weaving in and out of the crowd who reacted in fear and surprise at the red-cloaked band of baddies. Many photos were taken by passersby and posted onto social media.

They continued along Basketball Street (Center-gai Shopping Street), catching everyone off guard as they marched in unison.

Have you seen Brightburn yet? Let us know what you thought on Twitter or Facebook.

©The H Collective

Information

Brightburn

Release Date: November 15, 2019 (Japan)

Producers: James Gunn/Kenneth Huang

Director: David Yarovesky

Starring: Elizabeth Banks, David Denman, Jackson A. Dunn, and more

Publishers: Rakuten Distribution/Toho-Towa Distribution

Official Website (Japanese): https://www.rakuten-movie.co.jp/brightburn/

BABYMETAL Collaborates On Fashion Designer Yohji Yamamoto's Ground Y Collection

2019 is the year of BABYMETAL, with their latest album METAL GALAXY having dropped in October and making them the highest Japanese group/artist to place on the Billboard Top 200 in the US in 56 years. As they continue knee-deep in their ongoing world tour, you might be wondering what else they have in the pipeline.

Well, we can confirm that for you right here and now: they have teamed up with internationally-lauded Japanese fashion designer Yohji Yamamoto on his revolutionary Ground Y collection which boasts a genderless and ageless style.

Pre-sales of the collection will take place at the new Shibuya PARCO which is set to open on November 22. This will be followed by sales at GINZA SIX, Laforet Harajuku, and the online store THE SHOP YOHJI YAMAMOTO.

The collection will bring together the unique world of BABYMETALーa band which has won love the world over and has featured as guest acts on many tours of international artistsーand Yohji Yamamoto, a rebel and innovator in the fashion industry whose DNA is woven into the Ground Y line. The inspiration for this jet black collaborative collection is "galaxy," an homage to BABYMETAL's latest record METAL GALAXY.

There are numerous items in the collection, including a jumbo cut and sewn embroidered with both the BMD FOX APPAREL logoーBABYMETAL's official apparel brandーand the Ground Y logo. There's also a big hoodie featuring a 360° print and BABYMETAL's logo, a draped silk satin long shirt, and more.

MASATOSHI YAMASHIRO snapped the photos in this photoshoot, a Tokyo-based photographer who started his career in LA and New York and works with fashion magazines, advertisements, and more.

Information

Ground Y feat.BABYMETAL "GALAXY" Collection

Items: Long Shirt / Shirt Dress / Jumbo Cut & Sewn / Big Cut & Sewn / Big Hoodie / Big Sweater

Prices: Cut & Sewn ¥25,000-¥28,000 / Hoodie ¥35,000 / Sweater ¥38,000 / Shirt Dress ¥110,000-¥120,000 (All prices tax-excluded)

Release Date: November 28, 2019 (Pre-sales bein at Ground T Shibuya PARCO on November 22, 2019)

▼SHOP INFO:

Ground Y GINZA SIX (Floor 4F, 6-10-1 Ginza, Chuo Ward, Tokyo)
Ground Y LAFORET HARAJUKU (Floor 1F, 1-11-6 Jingumae, Shibuya, Tokyo
Ground Y FaSoLa STARS (Narita International Airport 1, Passenger Terminal Central Building Floor 3F, Narita, Chiba)
Ground Y SHIBUYA PARCO (Floor 2F, 15-1 Udagawacho, Tokyo) *Opens November 22, 2019
THE SHOP YOHJI YAMAMOTO: http://theshopyohjiyamamoto.jp/JP/shop/c/c20