Muscle training at Tokyo Disney Resort®!? Introducing new ways of enjoying the park
Disney Resort® is a park where groups comprised of men and women, families and couples visit. However, did you know that many groups of only men are visiting the park recently? They are enjoying the park in various ways such as by wearing the same T-shirt or fun cap, competing with each other by playing games and eating one-handed menu items together.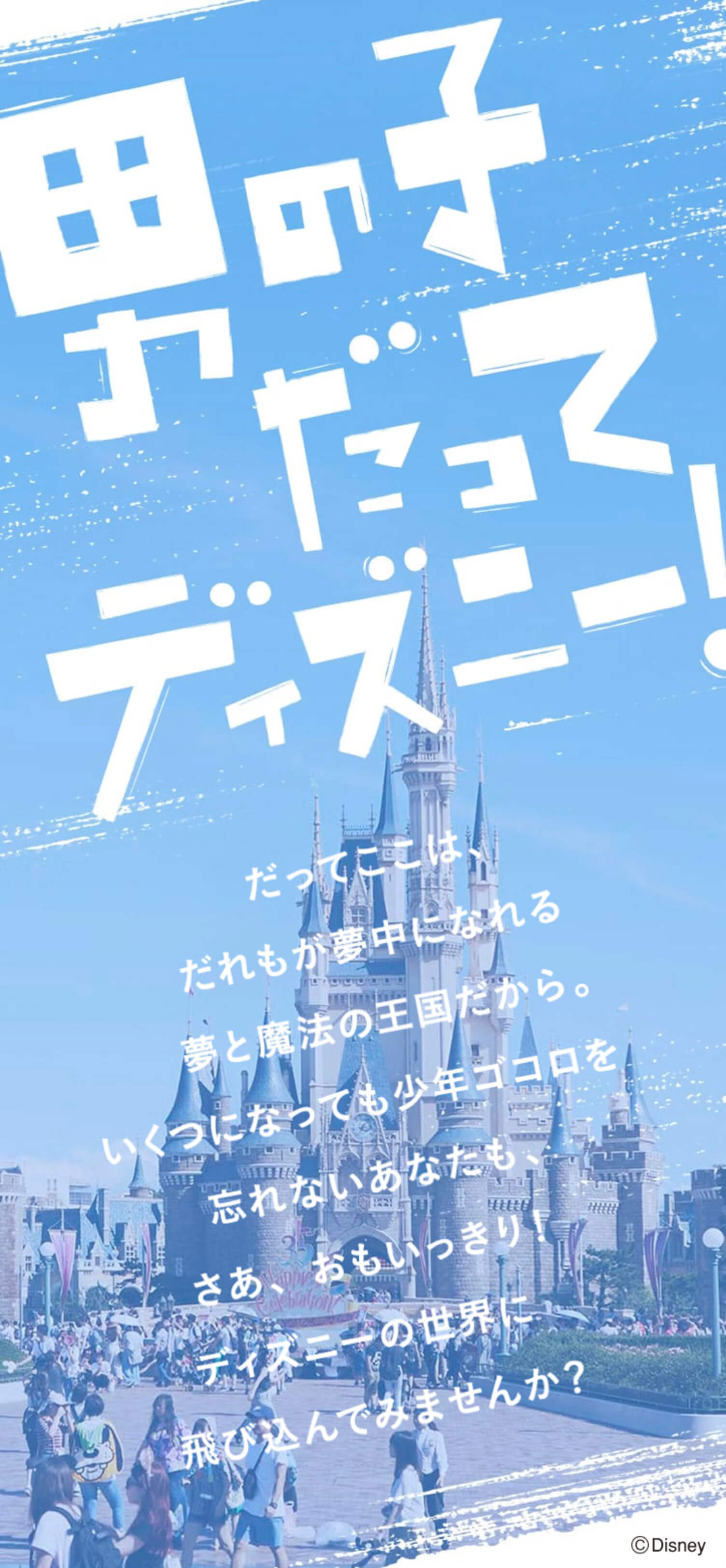 To entertain such groups, the park has opened its official website named, Otokonoko Datte Disney (even boys can enjoy Disney) – so as to suggest various ways of how men can enjoy the park.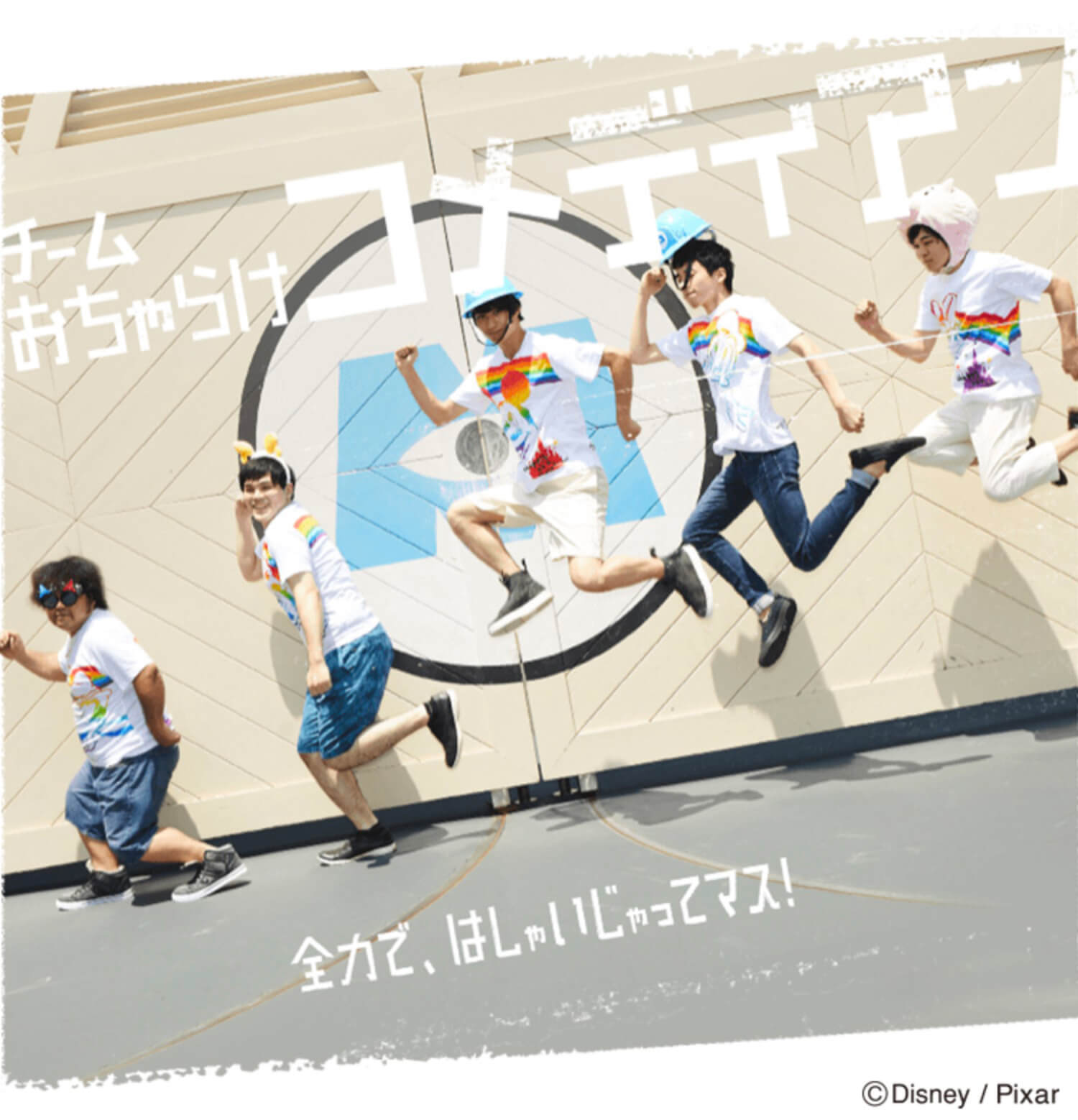 The website introduces various ways of enjoying the park in accordance of each type of group such as "Team Machoism!" and "Team Ocharake-goofying- Comedian." "Team Machoism" which is suitable for a group that loves muscle competitions, recommends a muscle training program held at "Beaver Brothers no Canoe Tainken" and a muscle photo-taking program at Toontown. Other than that, "Team Ocharake Comedian" introduces ways of eating churros in a funny way and how to take funny-looking photos in the park.
Also, Otokonoko datte Disney! started a website content named, "Park de Tanoshi Mission" which has participants carry out various missions which are designated in roulette fashion.
After you select the park that you are planning to visit, the screen asks, When? and Who? will visit this park. After that, the roulette will rotate and the participants will be required to carry out various kinds of missions.  Such missions include "Announce what kind of date you want to enjoy in the park." and "Take a photo with big smile inside the Tower of Terror."
The number of missions in both Disney Land and Disney Sea exceeds 100!
Why not trying out some new ways of enjoying the Disney parks and challenging some unpredictable missions so as to make some awesome memories?
RECOMMENDED ENTRIES
Tokyo Disney Resort® Introduces Teatime Products Produced by 'Afternoon Tea'

Tokyo Disney Resort® has announced that it will sell a line of products produced by Afternoon Tea for the first time. The merchandise will arrive at the park on May 1.

This product line will have three separate releases through the year featuring Disney items. The first release to come out includes a line-up of 33 Snow White themed teatime products.

The Snow White items include tableware and lunchtime goods with iconic images from the story including the apple. There's a glass pot which reveals an image once tea is poured into it, drinking glasses with apple designs on them, and more. Turn your home into a scene from the film!

Some of the items, like the cake stand and drinking bottle, have Snow White and the Seven Dwarfs with the Tokyo Disneyland® background on them. The plates, spoons and forks each have their own intricate details on them too. They have a cuteness that will make you want to use them as ornaments.

Turn your teatime into a fairy tale with the Afternoon Tea Products from Tokyo Disney Resort®.

■Information

Afternoon Tea Products – 1st Release

Available: Tokyo Disneyland® Home Store and Tokyo DisneySea® Bella Minni Collections

On Sale: May 18, 2018

Website: http://www.tokyodisneyresort.jp/fantasy/afternoontea/

*Select items (Apple Tea, Assorted Cookies) will be available from April 27.

Tokyo DisneySea $2.3 Billion Expansion Announced – Frozen, Peter Pan & More

Tokyo DisneySea® is expanding to introduce a new area that will include a Disney hotel.

This will be the park's 8th themed area and will bring to life the worlds of Frozen, Rapunzel and Peter Pan. Four new attractions will be introduced across three areas in the new location. There are plans to build a Disney hotel with luxurious rooms too.

Costing 250 billion yen ($2.3 billion), this will be the park's most expensive project in its 35-year history. Completion of the expansion is scheduled for 2022.

The new area will be split into 3 of its own individual areas. Guests will be transported into the Kingdom of Arendelle with Elsa and Anna, Rapunzel's Tower deep in the forest, and Neverland with Peter Pan, Tinkerbell and the Lost Boys.

This will be the first area in all Disney theme parks across the world to be themed around tales and legends of the ocean.

Look forward to updates in the years to come as we wait patiently for 2022 to hit at Tokyo DisneySea®.

Disney Halloween 2018: Ghosts to Haunt Tokyo Disneyland & Tokyo DisneySea

Tokyo Disneyland and Tokyo DisneySea are currently celebrating the 35th anniversary of Tokyo Disney Resort with their Happiest Celebration event which is running until March 25, 2019.

The spooky season will soon arrive at the parks again this year as they get ready for the Disney Halloween event which will begin on September 11 and last until October 31.

The theme of this year's Halloween celebration at Tokyo Disneyland is 'ghosts,' and the scary bunch are getting ready to spook the pants off guests arriving to the park.

This year marks the arrival of a new parade titled Spooky "Boo!" Parade where the creepers will be looking for new recruits amongst the Disney cast and guests. Everyone can look forward to joining the ghosts in a spine-chilling party.

The park will be fitted out with appropriate spooky decorations, and Celebration Street, the main area of Tokyo Disneyland's World Bazaar, will get in on the Halloween action at night.

Over at Tokyo DisneySea, the park will once again bewitch all, with familiar Disney villains joining the cast to unroll the Halloween Vibe.

Mediterranean Harbor, one of the themed lands at Tokyo DisneySea, will transform into The Villains' World where bad guys from the Disney films will put on a Halloween Party. Mickey & Minnie will also join them by dressing as villains, inviting the guests to get in on the fun.

The park will be filled with mysterious decorations to fit the villain theme, so if you're a fan of the bad guys, you're going to have a blast at Tokyo DisneySea.

Guests can also enjoy dressing up* Disney characters again this year at both Tokyo Disneyland and Tokyo DisneySea.

Halloween will hit the Disney Hotel and Disney Resort Line too.

Enjoy the spooky season this year at Tokyo Disneyland & Tokyo DisneySea!

*There are certain restrictions for dressing up as Disney characters at both parks. Click here for full details (Japanese).

■Information
Disney Halloween

Locations: Tokyo Disneyland® / Tokyo DisneySea®

Running: September 11, 2018 – October 31, 2018

Tokyo Disney Resort Official Website: https://www.tokyodisneyresort.jp/
RELATED ENTRIES
Disney Store: Find the Perfect New Year's Souvenirs From Japan

Walt Disney Japan is celebrating the New Year by rolling out a new batch of celebratory character merchandise at Disney Stores across Japan as well as the online website on December 3.

From the quintessential Japanese daruma to pine decorations and more, take home some of Japan with you for friends and family in the form of classic Japanese New Year items made into Disney souvenirs.

Plush Toys: Mickey/Minnie Mouse ¥2,000 Each, Winnie the Pooh ¥2,800, Piglet/Roo ¥1,500, Eeyore ¥1,600, Chip/Dale ¥1,200 Each Mascots: All ¥1,000 Each Memo Pad: ¥650 Pine Decoration: ¥1,500

The line-up includes a selection of daruma-dressed Disney character plush toys, plush toys of Winnie the Pooh, Piglet, Eeyore and Roo in rat costumes for the 2020 Year of the Rat, and more. Perfect as gifts, souvenirs, and for decorating your room and desk.

Celebrate the New Year with your favourite Disney characters.

©Disney ©Disney. Based on the "Winnie the Pooh" works by A.A. Milne and E.H. Shepard. ©Disney/Pixar 

Information

Product Page: https://store.disney.co.jp/c/c5680/ 

*Select branches not stocking these products (*and not available at outlets)

*Available while supplies last

*Product designs, price, release date, branches, and so on are subject to change 

Tokyo Disneyland's Very Very Minnie! 2020 Event: Merchandise & Food Releasing Early

The all-new Minnie's Style Studio is set to open in Tokyo Disneyland on April 15, 2020 as a character greeting location where you can meet the Disney cast. In the run up to its opening, Minnie Mouse is hosting a 70-day kawaii-packed event entitled "Very Very Minnie!" which will run at the park from January 10 to March 19 next year.

A special selection of merchandise and food themed on Minnie Mouse, from her polka dots to her ribbon, will be made available from January 9ーthe day before the event starts. Let's take a look at what we can expect for the opening of the New Year!

Special Merchandise (Available: From January 9, 2020)

 

Parkers – Medium ¥4,900, Large ¥5,200 / Cap – ¥3,000 / Scarf Towel – ¥1,500

Wide Bath Towel – ¥3,400

Dress up like Minnie Mouse with one of the two parkers, one featuring white and black polka dots of different sizes, and the other with red and white ones. There's also a cute cap, a scarf towel, and more.

Cushion – ¥2,300

Hand Cream Set – ¥1,600

Wall Pocket – ¥2,900 (*Items in pockets sold separately)

There's also the wide bath towel featuring the Disney characters dressed in their new costumes which you'll see them wearing for the Very Very Minnie! entertainment shows, a cushion which you can put your hands in to keep warm this winter, a useful wall pocket which you can store various items inーand many more items, up to 70 of them!

Special Merchandise Split Across 3 Months

Get one of 8 possible costumes for your Minnie Mouse posy plushy, as well as three different postcard sets. All of these items will roll out across a three month period: on January 9, February 3, and March 2 respectively.

Posy Plushie Costumes – ¥2,200 Each / Postcard Set – ¥1,300 (*Posy Plushies sold separately)

For the first month, January 9 will bring three costumes, including Minnie's new Very Very Minnie! outfit, as well as one called "Super Dancing Mania" and another called "Resident of Mishika." The first postcard set will also come with 7 designs all themed around Minnie.

And on March 2, 2020, which is known as "Minnie's Day" at Tokyo Disney Resort®, guests can get their hands on a plush toy wearing Minnie's "Hippity Hoppity Springtime" outfit at Grand Emporium which was voted as her No. 1 outfit based on a user poll held on the Tokyo Disney Resort® website.

Special Menu Items (Available: From January 9, 2020)

Of course, there'll be plenty of delicious treats to munch on too, all so cute they seem a waste to eat.

Special Dessert Plate (Waffle & Doughnuts) – ¥1,500 / Served at: Center Street Coffeehouse

At Center Street Coffeehouse, this special dessert plate will be served from 1pm-6pm, which will include a set of cream-filled doughnuts and waffles drizzled in a sweet and sour strawberry sauce.

Strawberry Cheese Brownie Crepe – ¥700 / Sold at: Cafe Orleans

Cafe Orleans will serve a crepe topped with a strawberry cheese brownie and drizzled in raspberry sauce and a strawberry compote.

Cranberry Vanilla Mouse Cake with Souvenir Plate – ¥800 / Yoghurt & Raspberry Mouse with Souvenir Cup – ¥800 / Served at: Sweetheart Cafe

Also at the Sweetheart Cafe, you can get your hands on one of two of these desserts which come with souvenir merchandise you can take home with you. Both items feature Minnie in her cute new outfit.

Special Set – ¥1,980 / Served at: The Plaza Inn

The Plaza Inn has a very special set prepared: a hearty meal featuring two hamburgers, ice cream for dessert with a white chocolate mousse adorned with Minnie's ribbon, and more.

Don't miss this Minnie-exclusive event when it begins in the New Year!

*All photos are for illustrative purposes only

©Disney

Frozen 2: Make Your Makeup as Beautiful as Elsa With This Tutorial

Frozen 2 dropped its icy embrace on the world today and Disney fans are more thrilled than ever.

All of the characters in the film have their own charm, but it's Elsa whose beauty has captivated the world over. With the release of the new film and the cold approach of winter, why not try doing your makeup like the queen of Arendelle?

Step ①: Cheeks

Fallen pink snowflakes on those sweet cheeks

Use a blueish-pink blush and apply lower than your cheekbone and on the tip of your nose. Blend in a circular motion to make the blush round. This will create a white, almost transparent glow and will uplift your cheeks.

Step ②: Eyeshadow

Bewitching purple to stand out in a snowy world

Apply a reddish-purple eyeshadow over your eyelidd. A tip is to connect the outline the inner and outer corners of your eyes with a straight line. Then add a bold and shiny purple shadow on top of that across your eyelids. Apply to your lower eyelid too beneath the pupil. If the outline of your eyeshadow has an oblong shape when you open your eye, that's good.

Step ③: Eyeliner

Eyeliner to look like a sophisticated queen

Using a black liquid eyeliner, follow your eyeline from the inner corner to the outer corner of your eye. Extend the outer line a little and make it parallel. For your lower eyelid, use a black pencil to fill between your eyelashes.

Step ④: Lipstick

Pink lips ready to sing

Use a blueish-pink lipstick on your lips, and make sure it's layered on nice and thick to serve that sweet aesthetic.

An elegant queen that can harness the ice and the snow

Elsa has the power to turn anything she touches into ice. If you catch a gaze of her enchanting purple eyeshadowed eyes, your heart is sure to skip a beat. If you follow these four makeup points, you too can easily look like the ice queen herself. A perfect look for dates, parties and get-togethers this winter season.

The long-awaited sequel to Disney's blockbuster animated is finally upon us. The first Frozen film touched the entire world with its frosty beauty with both its story and music. Let It Go in particular was a worldwide phenomenon, and was an immense hit in Japan too.

Frozen 2 sees Elsa embark on a dangerous journey with Anna, Kristoff, Olaf and Sven as she discovers why she was born with magical powers, the answer to which is threatening her kingdom.

The new film's main theme, Into The Unknown, captures the complex feelings and emotions Elsa holds as she steps forth, with all her anxieties and hopes, into a new world.

Frozen 2 Trailer Japanese Version

The first Frozen film was a widespread global hit and there's no denying that Frozen 2 will follow in its footsteps. Get together with your family, friends or lover to watch it for the best experience.

*All cosmetics used are personal items owned by the stylist

Model: Aiko

Writer: Ai Watanabe

Photographer: Haruka Yamamoto

Makeup: 橋本 裕介

Translator: Joshua Kitosi-Isanga

Information

Frozen 2

Release Date: November 22, 2019

Distributed by: Walt Disney Studios/Motion Pictures

Directors: Chris Buck/Jeniffer Lee

Starring: Idina Menzel (as Elsa), Kristen Bell (as Anna)

Official Website: https://disney.co.uk/movies/frozen-2

Kaori's Easy Recipe: Learn to Make Frozen 2 Milk Tea Muffins

With just a small bit of ingenuity, turn everyday food into something cute using Kaori's easy recipe! With a few simple ideas, an ordinary recipe magically transforms into a cute dish.

In this recipe, you'll learn to make cupcakes based on the upcoming Disney film Frozen 2 which is set to hit theatres worldwide on November 22, 2019. These cupcakes are inspired by the Anna and Elsa poster design for the movie. This recipe has parts that are a little more tricky compared to my usual recipes, but put yourself to the test and you'll end up with something delicious!

Milk Tea Muffin Ingredients (Makes 5)

100g weak flour

70g unsalted butter

50g granulated sugar

1 egg

1 tsp bottled chestnut syrup

5-6 chestnuts preserved in syrup

50ml milk tea

*To make the milk tea, add one black tea bag into 70ml of milk and draw 50ml from that

Bean Paste Ingredients

500g white bean paste (shiro-an in Japanese)

25g unsalted butter (room temperature)

20ml milk

A bit of of vanilla extract

A bit of Wilton White icing colour

1. First, we'll make the milk tea muffins. Bring the unsalted butter to room temperature and whisk with a hand mixer. Add the granulated sugar and continue to whisk. Whisk the egg fully, and then add slowly to the mixture. Make sure to add the egg slowly so as to not split the butter.

2. Sieve the wheat flour and baking powder and add to the mix. Slowly add the milk tea and continue to whisk to bring the mixture together.


3. Add a teaspoon of the chestnut syrup. Chop the chestnuts and add those too, then mix once again.

4. Add 70-80% of the mixture equally between five cupcake cups. Bake at 170° for approximately 25 minutes.

5. Next, we'll make the bean paste cream. Do this by mixing together the white bean paste, unsalted butter, milk, vanilla extract, and Wilton White all at once. The Wilton White makes the cream turn a pure white colour.

6: Allow the muffins to cool, lather over the bean paste to taste, and finally decorate. All done!


I added colouring to chocolate plastic for the chest part of the dress. Then I cut it up and added it to the cupcakes. I hope you enjoyed the recipe, be sure to try making your own movie-inspired handmade desserts at home too!

The long-awaited sequel to Disney's blockbuster animated is right around the corner. The first Frozen film touched the entire world with its frosty beauty with both its story and music. Let It Go in particular was a worldwide phenomenon, and was an immense hit in Japan too.

Frozen 2 will see Elsa embark on a dangerous journey with Anna, Kristoff, Olaf and Sven as she discovers why she was born with magical powers, the answer to which is threatening her kingdom.

The new film's main theme, Into The Unknown, captures the complex feelings and emotions Elsa holds as she steps forth, with all her anxieties and hopes, into a new world.

Frozen 2 Trailer Japanese Version

The first Frozen film was a widespread global hit and there's no denying that Frozen 2 will follow in its footsteps. Get together with your family, friends or lover to watch it for the best experience.

Kaori invites you into her world of character-themed food dishes in her recipe series. Be sure to check out her Instagram where she has uploaded many pictures of her character dishes!

Kaori Kubota (@kaopan27)

I live in Hokkaido and I love to make character themed foods, desserts and pastries♡

I want to see my family smile, so I enjoy putting in a bit of effort to make character foods and changing food into something cute♡

You can see more of my character foods and character bento boxes on my Instagram page→@kaopan27

©2019 Disney. All Rights Reserved.

Information

Frozen 2

Release Date: November 22, 2019

Distributed by: Walt Disney Studios/Motion Pictures

Directors: Chris Buck/Jeniffer Lee

Starring: Idina Menzel (as Elsa), Kristen Bell (as Anna)

Official Website: https://disney.co.uk/movies/frozen-2

Tokyo DisneySea® Celebrates Jolly Christmas With Duffy & Friends

From holiday season merchandise to hot drinks, clothing and more, there's plenty to look forward to this Christmas at Tokyo Disney Resort. But the fun is only just beginning, as Tokyo DisneySea® announces yet another program for Disney Christmas.

Jolly Winter Holiday will see the park promote Christmas-themed Duffy & Friends merchandiseーaround 50 winter-exclusives to be exactーas well as a seasonal menu and merchandise. Let's take a look!

Special Merchandise

Plush Toy Costumes – ¥4,900 Each (*Small plush toys sold separately)

Now your soft Duffy plushies can stay toasty in the cold winter weather too with their winter coats. They can keep their ears nice and warm too with the hoods. The skirts and trousers are also reversible too, so you can change up their looks.

Plush Toy Straps – ¥1,800 Each

Keychain Set (Includes 4) – ¥3,200

Duffy and his friends are thoroughly enjoying winter too with their cute snowmen, featured in this adorable plush straps and keychain set, which they built to give everyone strength and courage this Christmas.

Sweaters (Small/Medium/Large) – ¥6,200 Each

You can stay warm this year too with this new Duffy sweater featuring a big print of the huggable bear. Wear it at Tokyo DisneySea®, to a Christmas get-together, at homeーanywhere. It would be cute to wear matching ones with friends or your special-someone too!

Special Menu

There will also be five themed dishes too inspired by Duffy & Friends playing in the snow. Pay a bit extra to receive a little souvenir gift.

Cape Cod Cook-Off First Price Set – ¥1,080 (+¥1,200 for souvenir lunch case) @ Cape Cod Cook-Off

Munch on a delicious sandwich filled with rich teriyaki sauce and branded with Duffy's cute paw print. The set comes with a soft drink of your choice and French fries. For an extra ¥1,200, you can get the cute lunch case too.

Caramel Milk Tea – ¥400 (+¥600 for souvenir sleeve/+¥1,600 for souvenir tumbler) @ Cape Cod Confections

This milk tea has a sweet and fragrant caramel scent and comes with a cute Duffy sleeve or tumbler featuring Duffy & Friends if you so wish. A perfect accompaniment for warming your body and soul this winter.

Special Christmas Themed Merchandise

Christmas Tree – ¥5,000

Plush Toys – ¥13,500

Decorate your house this Christmas with an official Duffy & Friends Christmas tree, large plush toys of Duffy and StellaLou.

Plush Toy – ¥4,900

This year also welcomes the first ever ShellieMay plush toy which comes packaged in a gift boxーperfect to put under the tree this year as a Christmas present.

Make some wonderful memories this Christmas with Duffy & Friends at Tokyo DisneySea®.

*Special merchandise and menu subject to change without notice. Items available while supplies last.

*Photos are for illustrative purposes only.

©Disney

Information

"Jolly Winter Holiday" Special Merchandise & Menu

Release Date: November 6, 2019

Special merchandise sold at McDuck's Department Store in Tokyo DisneySea.

Tokyo DisneySea Official Website: https://www.tokyodisneyresort.jp/en/index.html

Dress Up For Disney Christmas at Tokyo Disneyland & Tokyo DisneySea With These Official Items

This year heralds another heart-warming Christmas celebration at Tokyo Disney Resort®. Disney Christmas kicks off at Tokyo Disneyland and Tokyo DisneySea on November 8 where it will run up to Christmas Day.

If you'll be at either of the parks for the event, and have been wondering what to wear for the celebrations this holiday season, then don't worry: Tokyo Disney Resort® has you covered in that department.

Sweaters – ¥5,900 Each / Left: Reindeer Eat Hat – ¥2,100 / Right: Headband – ¥1,800

The parks' first ever Christmas sweaters will be available to buy this year, decorated with Christmas trees, wreaths, and other holiday season motifs. There are two designs: one with Mickey Mouse and the other with Pluto, so you can dress up in different ones together with family and friends. They are perfect for Christmas parties and Disney get-togethers too.

Fun Cap – ¥3,000

Fun Cap – ¥2,500 / Scarf – ¥2,900

Keep your head and ears warm with the adorable Pluto fun cap which has his cute floppy ears.

Illumination Lights – ¥1,900

Other items include a candy cane scarf, a headband made to look like Christmas wrapping paper, illuminating lights to wear around your neck, and more. There's plenty to pick from to put you in that Christmas spirit.

Plush Toy Wristbands – ¥1,700 Each (Tokyo Disneyland only)

Plush Toys – ¥2,200 (Tokyo DisneySea only)

We recommend waving the plush toys and wristbands during one of the shows at the parks, or to just carry around with you and be merry!

If you're stuck on what to wear this Christmas, and love Disney, then be sure to take a look at what Tokyo Disney Resort has in stock.

*Photos are for illustrative purposes only

©Disney

Disney Launches Merchandise Collaboration with Fashion Brand SHIPS

The new "DISNEY DESIGN COLLECTION by SHIPS" collaboration launched on Tuesday (October 15) featuring all-new exclusive merchandise sold at Disney Store branches across Japan.

The collection, made in collaboration with fashion brand SHIPS, features simple and chic designs. Many of the items incorporate motifs from the classic Steamboat Willie, the animated short film which marked Mickey Mouse's debut. SHIPS has even created its own original logo with their company name written in a rope-like font. The items are exclusive to Disney Store Japan. 

From clothing like hoodies and caps to everyday items like a mug and notebook, this unisex collection is packed full of fun goodies for everyone to enjoy. The long-sleeved navy hoodie has a simple design with the SHIPS logo displayed proudly on the hood. The bag is made from a light material and can hold a high capacity of things. It also comes with an additional pouch for more lightweight and convenient use.

But the collaboration doesn't stop there. It in fact goes both ways. SHIPS themselves are also selling their own exclusive items as part of the collection with Mickey Mouse motifs. Their merchandise is different from that at the Disney Store. The designs feature a retro-style Mickey, with fashion items covering all bases including men, women and kids. There's also a tote bag, bandanas, and more.

Be sure to visit both the Disney Store and SHIPS to see what else they have in stock.

©Disney

Information

DISNEY DESIGN COLLECTION by SHIPS

Release Date: October 15, 2019

Hat: ¥2,900 (Before Tax)

Face Towel: ¥1,400 (Before Tax)

Long-Sleeved Hoodie: ¥7,000 (Before Tax)

Long-Sleeved T-Shirt: ¥4,500 (Before Tax)

Bag: ¥6,500 (Before Tax)

Mini Bag: ¥3,000 (Before Tax)

Product Page: http://disneystore.jp/ships

Tokyo Disney Resort to Release Frozen 2 Goods that Will Melt Your Heart

Disney's Frozen is thawing back to life with the release of Frozen 2 which will premiere on November 22, 2019. To celebrate, Tokyo Disneyland and DisneySea are gearing up with the release of approximately 30 kinds of exclusive merchandise which will be released on October 18. These are definitely worth melting for. 

Plush Toy Hand Warmer: ¥2,900

Kid's Cape: ¥3,900

The cold bothering you? Now you can let it go. Your kids will be prepared to embark on any winter adventure while staying stylish and warm with this magnificent Elsa and Anna-themed cape. Your sidekick Olaf has also come to life in the form of a Plush Toy Hand Warmer and is the perfect companion to keep your hands warm this season.

Drink Bottle: ¥2,700

Lip Balm: ¥900

There is also a big lineup of goods aimed at adults. The lineup consists of drink bottles, lip balms and much more. These items are perfect for everyday use no matter what season it is.  

Pancake Sandwich (Potato Salad and Corned Beef) with a souvenir pouch: ¥1,300 

Disneyland will also be serving up a delicious pancake fit for a princess which comes with a souvenir pouch. This Olaf Pancake Sandwich will be sold from October 18, 2019 to January 8, 2020. Two fluffy and sweet pancakes sandwich a potato salad and corned beef filling. The sweet and salty flavour will leave you and your friends finishing each other's sandwiches!

There will also be a photo spot located on the wall of the Cinderella Castle (Tomorrowland) where you can get a photo with your favourite Frozen characters. Make sure you plunge into the world of the film and join Elsa, Anna, Olaf, Kristoff and Sven for a special photo.

*Please check the special edition website to find out more about the availability dates of the photo spot. 

Special Cake Set: ¥2,000 

The Disney Ambassador Hotel's Hyperion Lounge will be selling a Special Cake Set and Special Drink from November 1 to December 19. The Special Cake Set consists of a lemon and cherry cheese tart. Can you spot the sugar paper Anna and Elsa on the plate? Eat the tart together with the lemon meringue for a refreshing flavour. 

Special Drink: ¥1,300

The Special Drink is an autumn-themed Maple Syrup Iced Tea which perfectly depicts the autumn scenes of the film.

Tokyo Disney Resort® is giving you a first-time-in-forever-opportunity to experience the world of the film and is definitely worth checking out.

©Disney

Minnie Mouse Takes Over Tokyo Disneyland for 'Very Very Minnie!' Event in 2020

The all-new Minnie's Style Studio is set to open in Tokyo Disneyland on April 15, 2020 as a character greeting location where you can meet the Disney cast. In the run up to its opening, Minnie Mouse is hosting a 70-day kawaii-packed event entitled "Very Very Minnie!" which will run at the park from January 10 to March 19 next year.

There's so much to look forward to at the event. The "It's Very Minnie!" show will take place at the Showbase amphitheatre where Minnie and her fellow Disney comrades will look back at past events and dress up in various costumes they've worn up to now, along with music, serving lots of different styles such as Latin, romance and club. For the finale, the Disney characters will step out in all-new costumes inspired by Minnie. They will also dance along to a new theme song.

There will be a mini parade titled "Very Minnie Remix" packed full of Minnie references. The parade will make a stop in 6 areas around the park, with the characters and cast dressed in new costumes, inviting guests into the world of Minnie Mouse. Depending on the day you see the parade and what location from, you can expect to see something different every time, meaning you can enjoy the parade multiple times.

There will of course be plenty of cute Minnie-themed food and merchandise to enjoy too. Merch will feature Minnie's iconic polka dot design.

Special Set – ¥990 @ Huey, Dewey and Louie's Good Time Cafe

Sparkling Tapioca Drink (Strawberry Yogurt) – ¥450 @ Huey, Dewey and Louie's Good Time Cafe

Minnie has a cute line-up for food and drink across various cafes and restaurants in the park. The "Mickey Mouse Pizza" now on sale at the Huey, Dewey and Louie's Good Time Cafe will be transformed into a Minnie Mouse Pizza for a limited time. There's also the tapioca drinks, filled with tapioca pearls so it looks like Minnie's polka dots.

Special Set – ¥2,800 @ Eastside Cafe

Blue Bayou Course – ¥5,200 @ Blue Bayou Restaurant

Eastside Cafe is also getting in on the action, serving up a cute pasta dish with pink sauce and a ribbon, as is the Blue Bayou Restaurant where you can dine on a Minnie Mouse-inspired course.

The park will be decorated in all things "Very Very Minnie!" and they will change throughout the duration of the event. Be sure to find all the photo spots too for Minnie, Mickey, Donald and Goofy too.。

Enter the dreamy world of Minnie Mouse next year with "Very Very Minnie!"

New & Exclusive Frozen 2 Merchandise Releasing in Japan This Year

In preparation for the release of Frozen 2ーthe highly-anticipated sequel to Disney's 2013 internationally-acclaimed animated feature film FrozenーWalt Disney Japan has unveiled a whole brand new batch of merchandise which will roll out at Disney Store branches across Japan. From Elsa and Anna dolls clad in their new outfits to other collectables, this line-up is a must-grab for any fan of the globally beloved film.

Tote Bag – ¥3,000 / Doll Set – ¥4,500 / Mug – ¥1,800 / Tissue Box Cover – ¥2,800 / Pouch – ¥1,500 / iPhone X & XS Case – ¥2,300 / Notebook – ¥800 / Ball pointPen Set – ¥1,500 / Key Chain – ¥1,600

Disney Store branches across Japan have a beautiful line-up of Frozen 2-themed original items lined up, all released today (October 4). The merch focuses on Elsa, Anna and Olaf and features designs based on the new film.テ

Items include the snowy Olaf tissue box cover, which while simple adds a kawaii touch to your room, and a set of ballpoint pens with sparkly stones in them which would be perfect to share with a friend. There's also various collectables, like dolls and figures.

Hairi – ¥9,000 / Koushu – ¥2,500 / Snow – ¥9,000

This teddy bear line-up features Japan-original characters from UniBEARsity wearing Elsa, Anna and Olaf costumes. All three will be released at Disney Stores and the online store in japan on November 21.

Hairi and Snow are wearing ribbons, one pieces and shoes, both dressed as Anna and Elsa respectively. All the bears are packaged in a special box. Online pre-orders opened today.

Disney Store Japan is also holding a campaign where if you spend over ¥3,000 (including tax) on all Frozen merchandise, you will receive the above-pictured original acrylic tray.

Frozen 2 will be released worldwide on November 22, 2019.

©Disney

*Select Disney Store branches are not stocking these products. Outlet branches also not participating
*While supplies last
*Product designs, prices, release dates and participating branches subject to change

*All listed prices do not include tax

Jump Into the World Of Pixar with Tokyo DisneySea's Pixar Playtime Event Coming Winter 2020

Tokyo DisneySea has announced that it will hold a special event next year titled "Pixar Playtime" from January 10 to March 19. The event will plunge guests into the world of Disney•Pixar animated films.

The exciting "Pixar Playtime Pals" stage show is returning again for Pixar Playtime 2020. Guests will be invited to join in with familiar faces from the Pixar character cast for the show, which will take place at Mediterranean Harbor. Bo Peep from Toy Story 4 will make her first-ever appearance. At the end of the show, an entire band of characters will take to the stage for a grand finale with colourful balloons and decorations.

Head over to American Waterfront to catch the one and only Lightning McQueen from the Cars film series who will be rolling his way to greet the crowd. Guests are encouraged to join in with the Lightning McQueen Victory Lap where they will parade around the New York area along to jubilant music.

There will also be a Ratatouille stall where you can have fun cooking together with Remy.

Special Set – ¥1,980 @ Horizon Bay Restaurant

Horizon Bay Restaurant is serving up around 20 exciting dishes based on the Pixar cast, including an ocean-themed hamburger inspired by Finding Nemo and a roll cake based on the lovable Dory.

Special Set – ¥1,980 @ Vulcania Restaurant

If you love Monsters Inc., then you'll want to dine at Vulcania Restaurant where you can get your teeth into a custard-filled Mike Wazowski steamed bun.

Lots-o'-Cookie Sandwiches – ¥400 Each @ Liberty Landing Diner

There are countless Pixar-inspired foods, drinks and desserts to look forward to at this year's Pixar Playtime, and that includes plenty of never before seen options.

Scattered around all areas of the park you will find instantly-recognisable Disney•Pixar decorations, including the iconic Pixar Ball, as well as photo spots based on the Finding Nemo, The Incredibles and Coco film series'.

Decorations Forky from Toy Story 4 will also be making an appearance around the park.

If it's merchandise you want, you have over 100 items to choose from, such as the Pixar ball-themed smartphone case, headband and jumper; the Lightning McQueen Victory Lap series including the plush toy, flag, sun visor and more; and plenty of other exciting goodies.

Disney Hotels will will be offering special Tokyo Disney Resort® Vacation Packages which includes accommodation and access to the Pixar Playtime shows and food menus. There will also be lots of special events taking place as part of the festival, including at Tokyo DisneySea Hotel MiraCosta and up and down the Disney Resort Line.

Tokyo Disney Resort to Unlock A Whole New World in 2020: New Area, New Attractions, New Adventures

Tokyo Disney Resort will be telling the guards to open up the gates to an enormous number of brand new attractions, events and much more all at once on April 15, 2020. Over the course of the year, there will be so many exciting events and programs all over the resort that you will be wanting to waltz into Disney Resort® every day. This is the perfect chance to experience your perfect Happily Ever After. 

In short, Alongside the numerous seasonal programs and events, Tokyo Disneyland will be expanding Fantasyland. A new area will be built inside it called New Fantasyland, which is dedicated to the Disney film Beauty and the Beast. There will even be a new attraction called 'Enchanted Tale of Beauty and the Beast', an indoor theatre called 'Fantasyland Forest Theatre', and much more. Along with the new Fantasyland developments, Tomorrowland will be home to the new ride 'The Happy Ride with Baymax' and Toontown is getting an attraction called Minnie's Style Studio. 

New Disneyland Attractions to Open on April 15, 2020

New Attraction: Enchanted Tale of Beauty and the Beast

There will be a brand new large-scale attraction dedicated to the Disney classic Beauty and the Beast. Enter the picturesque village of medieval France where Belle resides. Embark on a journey through the film in a dancing teacup and become part of famous scenes as the nostalgic movie music embraces you. You will want this beautiful moment to last forever.

 New Indoor Theatre: Fantasyland Forest Theatre

This is the first ever full-scale indoor theatre to ever be built at Disneyland and it will reside in Fantasyland. The theme of the theatre is travelling the wonderful world of music with your favourite Disney characters. The live performances to take place on the stage will be undoubtedly dynamic and intense. 

Minnie Mouse Meet and Greet Facility: Minnie's Style Studio

For the first time in forever, Tokyo Disneyland is setting up a greeting facility for Minnie Mouse to greet guests. Head to Toontown to meet fashion designer Minnie Mouse in her beautiful costumes. Make sure to get a picture with her! 

*Toontown, where Minnie's Style Studio is located, will be presented by Kodansha Ltd.

The Happy Ride with Baymax

If you're a fan of Big Hero 6 then this ride is for you. Your favourite personal medical healthcare companion Baymax will pull you along on a thrilling and rather unpredictable journey. 

* The Happy Ride with Baymax is presented by Daihatsu Motor Co., Ltd.

Seasonal Events

Tokyo DisneySea 'Disney Easter' Special Event

March 27- June 12, 2020

Tokyo DisneySea has some incredibly exciting news: The Usapiyo chicks are due to hatch in time for Easter! These mysterious chicks with bunny ears are sure to have your heart hopping with happiness. They will be taking part in a show held at the Mediterranean Harbor. The Usapiyo will be joining Mickey Mouse and the gang to celebrate spring and fill your heart with excitement and fun. 

 

Tokyo Disneyland Special Program: 'Happy Fair with Baymax'

June 4 – November 1, 2020

This program will take place in Tomorrowland and will see the park filled with decorations, photo spots, merchandise and menu items themed on Big Hero 6. Your excitement levels are bound to inflate dramatically!

These are just a few exciting events that 2020 holds in store. Be Prepared for some fun!

*All images in this article are illustrations. 

©Disney