Autumn Arrives at teamLab's Art Exhibition at Mifuneyama Rakuen in Saga Prefecture
Digitized Nature is a project organized by the creative group teamLab under the slogan 'Nature Becomes Art' that makes use of extraordinary digital art. teamLab notes how nature has formed over a very long period of time, and that we can gain a sense of the continuity of nature by turning it into art through forms like rocks, caves and forests.
teamLab are currently showcasing their 'earth music & ecology' exhibition titled 'A Forest Where Gods Live' at Mifuneyama Rakuen. One of the pieces there is called 'Forest and Spiral of Resonating Lamps in the Forest,' which has just been updated to incorporate the autumnal colours known as kasane no irome.
Before the modern era of Japan, kasane no irome, or 'layered colours,' were autumn colours created in silk. They were a complex combination of front and back colours (silk during this time was so thin that the material was transparent, creating complicated colors), overlapping colour gradations, and combinations of warp and weft.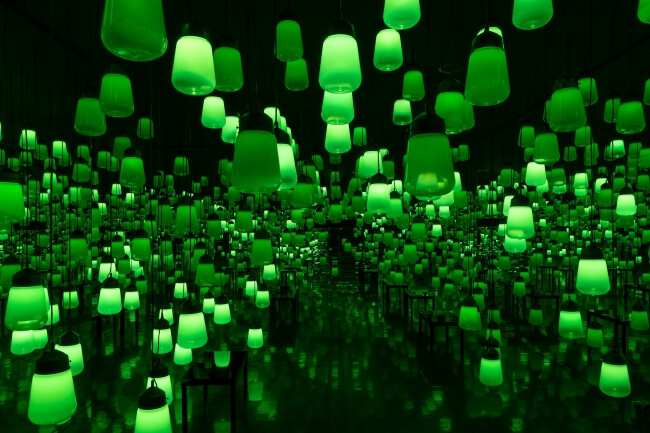 The updated exhibition, entitled Forest and Spiral of Resonating Lamps in the Forest – One Stroke, Autumn Mountain, makes use of these colours with lamps which fade in and out 8 autumn-time colours including reds and greens.

The group's 'earth music & ecology: A Forest Where Gods Live' was packed up by news platforms around the world including CNN and even came top designboom's Top 10 Art Installations of 2017. This year marks the 4th run of the exhibition which takes the form of a huge garden spanning 500,000 square meters. It features new digital art installations as well as the old ones which change and manipulate as people walk by them. Mifuneyama Rakuen first opened in 1845 and is a nationally registered place of scenic beauty.
Witness the worlds of technology and nature collide with your own eyes.
■Information
#かみさまがすまう森, #teamLab, #earthmusicandecology
Venue: Mifuneyama Rakuen (4100 Takeocho Oaza Takeo, Takeo, Saga Prefecture)
Running: July 19, 2018 – October 28, 2018
Cooperation: earth music&ecology
Entry Price: Adults – ¥1,200 / High School & Middle School Students – ¥800 / Elementary School Students & Infants – Free
Tickets: Available via Lawson Tickets (L-Code: 82825) and at the venue.
Lawson Ticket Link: http://l-tike.com/order/?gLcode=82825
Times
・July 19 – August 14
1st Entry: 20:00-22:30 / 2nd Entry: 19:00-22:30
・August 15 – September 9
1st Entry: 19:30-22:30 / 2nd Entry: 18:30-22:30
・September 10 – September 30
1st Entry: 19:00-22:30/ 2nd Entry: 18:00-22:30
・October 1 – October 28
1st Entry: 18:30-22:30 / 2nd Entry: 17:30-22:30
*2nd entries open one hour earlier than 1st entries.
*"Drawing on the Water Surface with Lotus Flowers" installation open until 1st entries start.
Access:
・5 minutes by taxi from JR Takeo-Onsen Station
・8 minutes by bus from JR buses bound for Ureno Onsen (嬉野温泉) from Takeo-Onsen Station
・1 hour 20 minutes by train from Hakata Station
・40 minutes by car from Nagasaki Airport
・50 minutes by car from Saga Airport
・1 hour 10 minutes from Fukuoka Airport
earth music&ecology A Forest Where Gods Live Website: http://mifuneyamarakuen.teamlab.art
teamLab Website (English): https://www.teamlab.art/
teamLab Website (Japanese): http://teamlab.art/jp/
RECOMMENDED ENTRIES
teamLab Bring Digital Art to Kyoto World Heritage Site Shimogamo Shrine

teamLab is an 'artist collaborative, interdisciplinary creative group' made up of specialists including programmers, engineers, CG animators, mathematicians, architects – the list goes on. They work to blur together the art, science, technology and creative industries.

The team are bringing their Light Festival in Tadasu no Mori digital art exhibition to Shimogamo Shrine, which stands as one of seventeen Historic Monuments of Ancient Kyoto designated by UNESCO as a World Heritage Site. The event will run from August 17 to September 2.

Resisting and Resonating Ovoids and Forest – Forest of Tadasu at Shimogamo Shrine
teamLab, 2018, Interactive Digital Installation, Endless, Sound: Hideaki Takahashi

Shimogamo Shrine sits between Kamo River and Takano River. It is one of Kyoto's oldest shrines, having been a place of worship to countless people since old times. 'Tadasu no Mori' (Forest of Correction) is a sacred grove at the shrine and reminder of times gone, stretching 124,000 square meters. It was designated a World Heritage Site in 1994.

Resonating Spheres – Forest of Tadasu at Shimogamo Shrine
teamLab, 2016, Interactive Installation, Endless, Sound: Hideaki Takahashi

teamLab will showcase the above two art displays. Light, sound and digital technology will surround the trees leading up to the shrine and gate. The exhibits will transform with the presence of people.

Head to one of Japan's oldest Shinto shrines to see a fusion of tradition and modern technology.

■Information
Light Festival in Tadasu no Mori at the World Heritage Site of Shimogamo Shrine, Kyoto

Location: Shimogamo Shrine / Tadasu no Mori, 59 59 Shimogamo Izumigawacho, Sakyo, Kyoto

*Please enter the southern part of Tadasu no Mori via Mikage Dori.Running: August 17, 2018 – September 2, 2018Tickets: Lawson and MiniStop convenience stores ticket terminals.

*Loppi L-Code: 57291 / Lawson Tickets:  

http://l-tike.com/tl-sg/

Time: 18:30-22:00 (Last Entries 21:30)

*Subject to change during busy times.

Price: Weekdays ¥1,000 / Weekends ¥1,200 *Free for those in elementary school and below.

*Pre-sale pair tickets available August 17-19 at ¥1,200

*Pre-sale pair tickets are limited in quantity.

*Pre-sale pair tickets will also be sold at the shrine when the event is running.*Restricted entry during busy times.

*No smoking anywhere on the shrine grounds.

*For this event, you will required a ticket to enter Tadasu no Mori area.

*No car park.

*Please arrive using public transportation.

*Please note that the event content is subject to sudden change.teamLabo Official Website:

http://teamlab.art/jp/

teamLab and MORI Building Digital Art Museum Opens on June 21

MORI Building DIGITAL ART MUSEUM: EPSON teamLab Borderless will open on June 21 and is co-managed by Mori Building Co., Ltd. and teamLab.

teamLab Borderless is a collection of artworks that 'form one borderless world.' The art encompasses the entire room from the ceiling to the floor, and each piece connects seamlessly to the other, creating an immersive world where time blurs.

You'll be able to create new experiences with other people by submerging yourself into world of this borderless art and exploring it with your body.

This never-before-seen new world is created in an expansive and complex three-dimensional 10,000 square meter space by 520 computers and 470 projectors.

EPSON teamLab Borderless have created 5 worlds each with their own distinct artwork. Early bird tickets are now on sale at a discounted price. Sales end on July 31. Additionally, the opening hours will be extended by one hour from June 21 to August 31.

Dive into a mesmerising 3D world and get lost amongst the borderless art.

■Information

MORI Building DIGITAL ART MUSEUM: EPSON teamLab Borderless

Address: 1-3-8 Aomi, Koto, Tokyo

Opening: June 21, 2018

Opening Hours

Monday-Thursday 11:00-19:00 (20:00)

Friday 11:00-21:00 (22:00)

Saturday 10:00-21:00 (22:00)

Sunday & National Holidays 10:00-19:00 (20:00)

*Last entries are 1 hour before closing time.

*Times listed in brackets refer to extended opening times running from June 21 to August 31.

*Business hours will defer from season to season. Check the official website for full details.

Closed: 2nd and 4th Tuesday of every month.

Early Bird Tickets (Discounted)

Sales Period: June 7, 2018-July 31, 2018

Price:

Adults, High School & College Student – ¥2,400 (*Normal price ¥3,200)

Children up to Middle School Student – ¥1,000 (*Same as normal price)

*Prices listed include tax.

*Early bird tickets admitted during the period June 21 to July 31 only.

Ticket Purchasing: https://borderless.teamlab.art/jp/

teamLab Borderless: https://www.baitoru.com/cp/teamlab-borderless/

Official Website: http://borderless.teamlab.art/jp

Teaser Trailer: https://youtu.be/y3quanO4bKw

teamLab to Bring Digital Art Exhibition to GINZA SIX Rooftop

Ultratechnologists teamLab are taking their Resonating Trees digital art masterpiece to the rooftop garden of GINZA SIX, the biggest shopping complex in Ginza. It will run from August 1 to September 2.

The theme of the work is "Digitized Nature." Taking place in a 56-meter roof garden, this digital art space combines sound and lights which change and transform as people walk by. This is the first time for this piece to be held in the city and offers people a dreamy experience with the nightscape of Ginza's streets and buildings as the backdrop.

The trees lining the garden will be individually lit up with bright and colourful lights. It will seem as if the trees are resonating with each other as they fade in and out of different colour tones. As watchers walk by, the colour tone of a tree will change and transmit to the trees next to them. The changing of colours signifies the presence of people, and in turn teamLab hopes people will become aware of the existence of other living things in the same space.

Experience the latest in cutting-edge digital art technology at GINZA SIX.

■Information
teamLab: Resonating Trees in GINZA SIX GARDEN

Location: GINZA SIX GARDEN, GINZA SIX roof

Running: August 1, 2018 – September 2, 2018 (*Shops and restaurants closed on August 27)

Time: Sunset-11:00pm

Entry: Free

Event Page: https://www.teamlab.art/jp/e/ginzasixgarden

Resonating Trees: https://www.teamlab.art/w/resonatingtrees

GINZA SIX
Address: 6-10-1 Ginza, Chuo-ku, Tokyo

Opening Hours: Shops & Cafes (B2F-5F) 10:30am-8:30pm / Restaurants (6F, 13F) 11:00am-11:00pm

*Business hours different for select shops.

No Fixed Holidays.

*Shops and restaurants closed on August 27.

TEL: 03-6891-3390 (GINZA SIX Information Desk / 10:30am-8:30pm)

Website: http://ginza6.tokyo/
RELATED ENTRIES
POKÉMON COLORS Exhibition Opens at Matsuya Ginza

Matsuya Ginza opened its POKÉMON COLORS exhibition on July 22 which is set to run until August 11. The event is a kaleidoscope of bright colours and shapes of Pokémon and Pokémon motifs, with four activities and one installation to enjoy, as well as 160 original pieces of merchandise for fans to buy.

Logo mark

Art Deli Key Visual | ¥4,400

Pikachu Design Pouches – Assorted Pokémon Design Pouches | Small: ¥1,650 Each, Large ¥3,300 Each

Get your hands on a range of vivid and stylish Pokémon items, take photos at the many different photo spots dotted around the event, and learn the latest news about the Pokémon franchise.

Indigo dye art piece

Dangling from the first floor atrium is a 20-meter Pokémon art piece made by the dye group BUAISOU who used the traditional Japanese art of indigo dyeing to create it.

©2021 Pokémon. ©1995-2021 Nintendo/Creatures Inc./GAME FREAK inc.
ポケットモンスター・ポケモン・Pokémonは任天堂・クリーチャーズ・ゲームフリークの登録商標です。

Information

POKÉMON COLORS

Running: July 22, 2021 – August 11, 2021

Location: Matsuya Ginza – Floor 8F

Opening Hours: 10:00-20:00

Official Website: https://pokemon-colors.com/

Bunkamura Bon Bon: MAPP_ x Atsushi Ito Create Paris Themed Artwork

The Shinjuku-based cultural facility Bunkamura is currently promoting French culture and art as part of its monthly event which focus on different countries each month. Titled Bunkamura Bon Bon – Bunkamura France Monthly 2021 –, the event features artwork and commentary by Japanese graphic designer Atsuhi Ito as well as a Paris-themed menu.

Artwork on the walls at Bunkamura

Artwork on the columns at Bunkamura

Wagon Shop | Running: July 10, 2021 – July 18, 2021

Performance by Jester | Running: July 17, 2021 – July 18, 2021

The title of the artwork decorating the inside of Bunkamura is PLAYTIME and is a collaboration with MAPP_, an art project group known for their diverse artwork including the use of project mapping. The designs were created by graphic designer Atsuhi Ito who has captured the essence of Paris. The facility's cafe is also serving up a special French inspired menu with bistro classics to seasonal fish, summer vegetables, and more.

Atsuhi Ito | Comment

"The inside of Bunkamura is decorated with fictitious Paris artwork with life-size illustrations on the walls, columns, elevator and elsewhere. We're living in a time right now where we can't just freely go abroad, so I hope with this people can find something nostalgic about Paris, snap some photos, and feel like they're on a fun trip."
パリの街並みを感じることができるアートワークやイベントをチェックしてみては?


UNIQLO's Global Design Competition UT GRAND PRIX 2022 is Themed on the Peanuts Comics

The UT GRAND PRIX (UTGP) is a design competition that started in 2005. The contest uses the T-shirt as a creative medium and invites everyone to freely express their creativity. This year, the competition is themed on the Peanuts comic strips by Charles M. Schulz which first hit the scene in the US back in 1950, over a hundred years ago.


Create your own Peanuts tee design


Artists are invited to unleash their imagination and bring their own Peanuts creations to life using UNIQLO's UT brand as their canvas. Designs will be judged by the Charles M. Schulz Museum and a team of Charles M. Schulz creative associates.

An internship at the Peanuts studio


The Grand Prize is $20,000 and all winning designs will become products sold in UNIQLO stores worldwide in the summer of 2022. The winners of the top two prizes will be invited to the USA. There will also be an internship opportunity to be a member of the Charles M. Schulz creative associates team.

Sign up to the competition and submit your entry for the chance of your artwork being featured worldwide.

MIDTOWN ART PALETTE Brings Dreamy Digital Artwork to Tokyo Midtown For Summer

Tokyo Midtown's annual MIDTOWN ART PALETTE has returned again for the summer, opening on July 16 and running until September 5. This year, the event delivers a Digital Art Garden with gorgeous dream-like digital artwork.

Digital Art Garden

Last year's event

Experience a distinctively Japanese way to stay cool and refreshed on a wooden veranda with light and mist dancing through the outdoor space inspired by traditional Japanese rock gardens. Find yourself bewitched by an enchanting summer evening as the digital art transforms throughout the day.

This year's event is being held with all proper social distancing measures in place.

Take digital art home with you with AR fireworks

Locate five QR codes dotted around Tokyo Midtown which when accessed via your smartphone will award you with artistic AR fireworks, allowing you to enjoy fireworks with you wherever you point the camera on your screen, including at home.

Event Report: Sanrio's Little Twin Stars and Their Dreamy World at Tokyo Tower

Sanrio's popular character duo Kiki & Lala, also known as the Little Twin Stars, are have brought their dreamy, pastel-coloured world to Tokyo Tower with a special summer event titled "Little Twin Stars Summer Night Fantasy Meets Kiki & Lala Exhibition produced by LIDDELL" which began on July 10.

At the event entrance, guests are given a special 'passport' notebook which is stamped before entering, allowing access to Kiki & Lala's world in the clouds above.

Guests are guided by Kiki & Lala's voice through the rose-coloured "Star & Rose-Coloured Cloud Fantasy Gate" were they are met with five different booths.

At Kiki's Star Catching booth, visitors can experience one of Kiki's favourite past times by 'catching' stars. The stars that are caught can be taken home as a fun memory.





There's also the Starry Sky Light Shower booth which is decorated with mirror balls that reflect the light as well as a wall featuring words and phrases said by the twins, the pink and light blue-coloured Kiki & Lala's Playroom where you can snap cute photos, the Glittering Moviegenic booth which uses your smartphone to watch an animation of Kiki & Lala, and more.

Fans of the twins can enjoy an exhibit of various artworks too, including the 8-meter tall Fantasy Wall which depicts the world above the clouds.

The day before the exhibition began, on July 9, Tokyo Tower was lit up in blue and pink Kiki & Lala colours from 19:30 to midnight. It was a special one-night experience.

If you're in Tokyo this summer, soar up high into Kiki & Lala's world at Tokyo Tower.

©'21 SANRIO 著作(株)サンリオ

Information

LittleTwinStars Summer Night Fantasy Meets Kiki & Lala Exhibition produced by LIDDELL

Running: July 10, 2021 – July 25, 2021

Event Site: https://sanrio.site/qY0AN

Newly Renovated Chubu Electric Power MIRAI TOWER Begins Projection Mapping Performance

Japanese creative company NAKED opened its 'NAKED SKY CRUISING' projection mapping performance at Chubu Electric Power MIRAI TOWER's observation deck on July 1.

NAKED has used its projection mapping technology at towers and observation decks up and down Japan such as Tokyo Tower, Abeno Harukas, and Sapporo TV Tower, combining it with each location's nightscape and catering each performance to the seasons at various themes. Chubu Electric Power MIRAI TOWER has hosted seven night-themed experiences at its observation deck to date, but NIGHT SKY CRUISING is the first one to be held after the tower underwent refurbishment in September 2020.


Visitors can enjoy a magical projection mapping show on the tower windows with Nagoya's incredible evening city view in the background.

Information

NAKED SKY CRUISING
Loctation: Chubu Electric Power MIRAI TOWER's Sky Deck

Run Dates

July 1, 2021 – August 23, 2021 @ 19:00

August 24, 2021 – September 14, 2021 @ 18:30

September 15 onwards @ 18:00

Finishing Times
Weekdays & Sunday @ 21:00 (Last Entries 20:30)

Saturdays & Public Holidays @ 21:40 (Last Entries 21:10)


Prices
General (High School Students and older) = ¥1,600 per person

Children (Elementary & Junior High School Students) = ¥1,000 per person

Infants = Free


Official Website: https://www.nagoya-tv-tower.co.jp/nakedskycruising/

teamLab Planets Blooms Original Blue Orchids That Are the First of Their Kind in the World

teamLab Planets TOKYO revealed two brand new, original blue-coloured phalaenopsis aphrodite orchids on July 8 as part of its new Floating Flower Garden exhibit. The flowers are the first of its kind in the world and there are no plans for it to be sold, meaning the only way to see them is by visiting the Tokyo-based digital art museum.

Unique, never-before-seen orchids

teamLab has named the flowers Phal.'teamLab Sunshine Star' and Phal.'teamLab Moonlight Star' in cooperation with Haruhiko Kato of the Lama Orchids Center.

The flower enjoys a full bloom for around a month. The reason why this orchid is so special is because until recently only four types of phalaenopsis had been found to be blue. The fifth, Phal.lueddemanniana coerulea, was discovered in recent years, and this brand new version was born from it.

The teamLab: FIRE smartphone app lets you take flames home

The new app 'teamLab: FIRE' has been created for teamLab Planets TOKYO's Universe of Fire Particles – Continuity exhibit which lets you enjoy the piece on the go. When you launch the app and approach a specific artwork or a fire held by another person, your smartphone will light up with flames. When you bring the flame close to another person's teamLab: FIRE, the flame will connect. As you connect the flame you received with another person, and they connect that flame with someone else, the flame will spread all over the world.

Drawing on the Water Surface Created by the Dance of Koi and People – Infinity

The museum's Drawing on the Water Surface Created by the Dance of Koi and People – Infinity exhibit will transform into bright colours for the summer season from July 21 to August 6. The digital artwork sees koi swim on the surface of water that stretches out into infinity. Visitors can walk into the water. The movement of the koi is influenced by the presence of people in the water and also other koi. When the fish collide with people they turn into flowers and scatter.

Information

teamLab Planets TOKYO
Address: 6-1-16 Toyosu, Koto-ku, Tokyo

July 2021: [Weekdays] 10:00-20:00 / [Weekends] 9:00-20:00

*Open 9:00-20:00 from July 22-31

*Last entries one hour before closing time

Closed: July 20, 2021

Official Website: https://planets.teamlab.art/tokyo/

teamLab Forest Fukuoka's Interactive Digital Art Installations Get Summer Makeover

teamLab Forest Fukuoka is getting a makeover for the summer season from July 17. Look out for seasonal digital installations including a bed of bright yellow sunflowers, animals made of summer flowers walking around, and more.

Summer Digital Artworks

Shifting Valley, Living Creatures of Flowers, Symbiotic Lives

Animals of Flowers, Symbiotic Lives II

Soft Terrain and Granular Topography, 2020

Flutter of Butterflies, Ephemeral Life

For summertime only, teamLab's Athletics Forest presents Shifting Valley, Living Creatures of Flowers, Symbiotic Lives – A Whole Year per Year where various animals made from seasonal flowers, such as sunflowers, roam the area. There's also A Whole Year per Year / Soft Terrain and Granular Topography – A Whole Year per Year where visitors can see varying levels of three-dimensional soft terrain, and Flutter of Butterflies, Ephemeral Life – A Whole Year per Year, where butterflies flutter in summer colours.

The teamLab Athletics Forest and Catching and Collecting Forest are new museums by teamLab. In the Athletics Forest, visitors use three-dimensional thinking using the body, while in the Catching and Collecting Forest, they capture the wonder of catching and collecting things as children.

 
teamLab's artworks are not pre-recorded images that are played back; they are created by a computer program that continuously renders the artwork in real time. As a whole, they are continuously changing, and previous visual states are never replicated. The picture at this moment can never be seen again.

Information

teamLab Forest Fukuoka – Summer 2021

Start Date: July 17, 2021

Venue: BOSS E・ZO FUKUOKA (Floor 5F)

Address: 2 Chome-2-6 Jigyohama, Chuo Ward, Fukuoka

Official Website: https://www.teamlab.art/e/forest/

Gas Mask Plant Pots Showcased as Part of TENEO's Exhibition Tour

Japanese men's brand TENEO and Shibakusa Pottery, which was founded in 1841 in Hida-Takayama, are set to begin their first exhibition tour on July 9 which aims to make traditional Japanese craftsmanship part of our modern lives as contemporary art.

FULL HAND MADE with HAMAMOTO 

TENEO is rooted in the concept of combining and evolving the differing cultures and backgrounds of Japan and France. Shibakusa Pottery has been producing pottery in Gifu's city of Takayama since the Edo Period and operates on the motto of "Handing down tradition is on the decline; tradition is the continuation of innovation." Both TENO and SHibakusa have come together to launch a project that aims to develop and advance traditional craftsmanship, and so they are opening a series of exhibition pop-up shops beginning at DiEGO Omotesando in Tokyo on July 9 before heading to Discover Japan Lab. in Shibuya PARCO, g GIFT AND LIFESTYLE in Roppoingi Hills, and elsewhere.


Pre-orders for the products to be showcased at the pop-up shop are now available to pre-order online in Japan at TENEO and will be shipped in October. Exhibits include works by the young bonsai master Yusuke Hamamoto, flower arrangements Ayayoshi Ozono who maintains long-time traditional Japanese styles and techniques, and more.


The project will  collaborate with the international tattoo artist Hiro in October as well as many other traditional artists and craftsmen from inside and outside Japan. The pop-up shop also sees the release of the 'GAS MASK POT/VASE.' The purpose of these works is to show people new forms and ways of expressing tradition.

Information

TENEO POP UP  

Location: DiEGO Omotesando
Running: July 9, 2021 – July 24, 2021

Address: Oriental Harajuku 205, 4-17-8 Jingumae, Shibuya, Tokyo

Opening Hours: 13:00-18:00 (Wednesday to Saturday only)
Official Website:  https://www.di-ego.net

Location: Discover Japan Lab.
Running: July 30, 2021 – August 5, 2021

Address: 15-1 Udagawacho, Shibuya, Tokyo

Opening Hours 11:00-20:00
Official Website: https://shibuya.parco.jp/shop/detail/?cd=025804

Location: g GIFT AND LIFESTYLE
Running: August 6, 2021 – End of August 2021

Address: Roppongi Hills HILLSIDE B1F, 6-10-2 Roppongi, Minato-ku, Tokyo
Opening Hours: 11:00-21:00
Official Website: https://g-roppongi.jp



Project Details: https://prtimes.jp/main/html/rd/p/000000003.000068928.html

TENEO Official Website: https://teneo.work

Shiraraso Grand Hotel Announces Traditional Japanese Candle-Making Experience For Guests

As part of the global Sustainable Development Goals (SDGs) project, Shiraraso Grand Hotel is offering a new experience for guests to create shades for warosoku traditional Japanese candles from July 7 to August 31.

Warosoku aren't made with ordinary wax, they're produced from plant-derived Japanese wax. Wakayama was once the biggest producer of this wax. Guests at the hotel will ghet to make their own shade decorations for these candles using decorations like the sea, food, hot springs, and panda.

The hotel is also offering free panda bookmarks to those who post a photo of their shade on Instagram, Twitter, or Instagram with the Japanese hashtag #白良荘グランドホテル.

Enjoy Japanese Lantern Decorations Outdoors at the Limited-Time MIDPARK ART LOUNGE in Tokyo

This summer, Tokyo Midtown has announced an outdoor lantern art event titled MIDTOWN ART PALETTE which will run from July 16 to September 17.

Lanterns

The outdoor event is taking place at MIDPARK ART LOUNGE which will be open at Midtown Garden for a limited time from July 16 to September 5. At the lounge, visitors can enjoy gazing at lantern art while enjoy a meal.

Summer Colours (3 Fruit Rollss) | ¥1,200

MIDPARK Goldfish (Alcoholic or Non-Alcoholic) | ¥1,000

Mascarpone Cream Shaved Ice | ¥1,250

Visitors can enjoy tucking into some fruit rolls, a refreshing cocktail, shaved ice, and other tasty treats perfect for cooling down in the hot Japanese summer while sitting on one of the grass-like sofas that are like sitting on grass or wooden tables as they gaze at the enchanting lanterns.

Information

MIDPARK ART LOUNGE

Running: July 16, 2021 – September 5, 2021

[Weekdays] 16:00-21:00 (Last Orders 20:30)

[Weekends & Holidays] 12:00-21:00 (Last Orders 20:30)

*Open from 12:00 during Obon (August 13-16)

*Event times subject to change

Location: Midtown Garden

Tokyo Midtown Official Website: https://www.tokyo-midtown.com/jp/

Art and Illuminations Fuse at Chiba Park For Nighttime Entertainment

YohaS is set to collide the real and digital worlds at Chiba Park with an event titled YohaS 2021 Night Park Gallery which will run from July 6 to 10.

Lightning artwork (*For illustrative purposes only, art will be different for the event)

The event held back in 2019

YohaS is a collaborative project between Chiba City and Tsubakimori Komuna. It was launched to boost and develop the nighttime economy of Chiba, with its first event having taken place as the evening portion of the Ooga Hasu Flower Festival held in Chiba back in 2018. YohaS was unable to be held last year due to the pandemic and so an event was held online. This year sees its return with an event taking on the theme of "Silent Lips" which refers to the current situation with COVID-19 and how we cannot see peoples' smiles or lips due to them wearing face masks.

The title of the YohaS 2021 event is "Night Park Gallery" which will turn Chiba Park into an art gallery and fuse it with breathtaking lighting and illuminations by Sun Effects. There will be six stages produced by Hiroaki Kumagai, a former member of Cirque du Soleil, each of which will offer equally incredible performances with their own stories from July 6-9. Visitors can also purchase YohaS wristbands, t-shirts, anti-bacterial sprays, and more.

For those still unable to attend in person, YohaS will also open an online version of the event called Virtual YohaS in Chiba Park which can be accessed via a PC or smart device.

Information

YohaS 2021 Night Park Gallery

Running: July 6, 2021 – July 10, 2021
Opening Hours: 17:00-21:00
Location: Chiba Park

Address: 3 Chome-1-1 Benten, Chuo Ward, Chiba, 260-0045, Japan

Entry: Free
YohaS Official Website: https://www.yohas.fun/