Natsume's Book of Friends Character Café to Open in Tokyo, Kyoto & Saitama for Movie Release
Natsume's Book of Friends The Movie: Tied to the Temporal World will be released on September 29, 2018. It was recently revealed that Japanese singer Uru would sing the movie's main theme.
To celebrate the release of the movie, two themed cafes will open in Tokyo and Saitama as well as a character café booth at the Kyoto International Manga & Anime Fair 2018 (Kyomaf).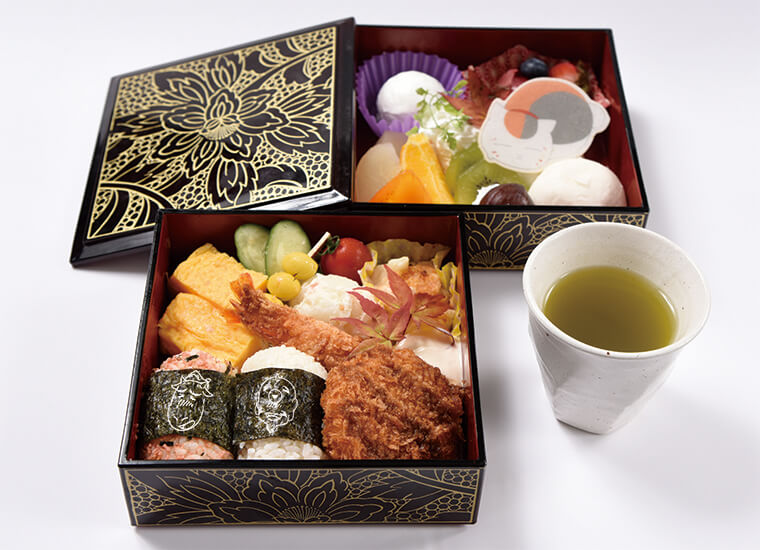 Tokyo: Autumn Picnic Set – ¥1,690 (Pre-Tax)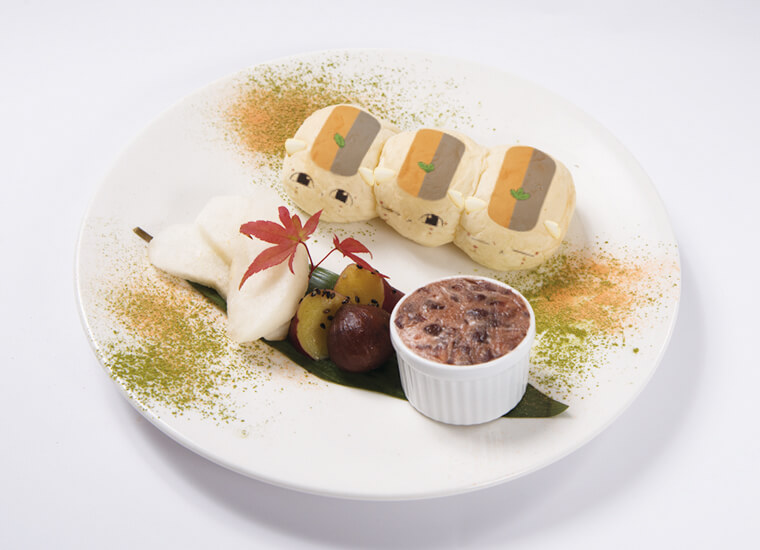 Tokyo: Triple Nyanko-Sensei's Odango Style Tear & Share Bread – ¥1,390 (Pre-Tax)
To get fans in the mood for the upcoming movie the cafés will serve a variety of themed dishes tied to autumn as well as merchandise with an autumn-time theme.
Merchandise: Postcard Set – ¥600 (Pre-Tax)
Tokyo: Original Stickers (Booking Gift)
Those who book at the Tokyo café in advance will receive one of four randomly selected original stickers pictured above. There will also be five different coasters selected randomly and given to those who order from the menu.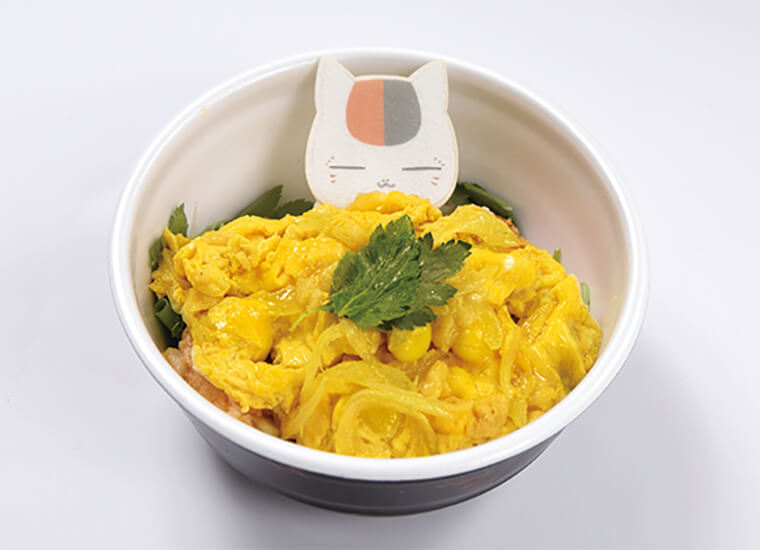 Kyomaf: Nyanko-sensei Hot Egg Don – Price TBA
The menu items will differ at all three cafés, so enjoy a Natsume Book of Friends themed meal before seeing the movie.
■Information
Café Dates
Tokyo: September 14, 2018 – October 14, 2018
Saitama: October 4, 2018 – October 28, 2018
Kyomaf: September 15, 2018 – September 16, 2018
Café Opening Hours
Tokyo: 11:00am-9:40pm
Saitama: 11:00am-8:00pm (Last Orders 7:00pm)
Kyomaf: 9:00am-5:00pm (until 4:00pm on September 16
Café Locations
Tokyo: Omotesando Box Cafe&Space
Saitama: BOX CAFE&SPACE
Kyomaf: Kyoto International Manga & Anime Fair (Kyomaf) 2018 Character Café Booth
*For access details check each café's official website.
Entry
Tokyo: Booking costs ¥500 online. 80 minutes stay max.
Saitama/Kyomaf: No booking necessary.
Café Official Website: https://natsume-movie-cafe.jp
Natsume's Book of Friends Movie Website: http://natsume-movie.com/
©Yuki Midorikawa・Hakusensha / Natsume's Book of Friends Project
RECOMMENDED ENTRIES
Natsume's Book of Friends The Movie: Tied to the Temporal World Music Video Released with Main Theme Song 'remember' by Uru

Uru will release her new single remember on September 26. The song will serve as the main theme song for the upcoming anime movie Natsume's Book of Friends The Movie: Tied to the Temporal World. A collaborative music video was uploaded to Uru's official YouTube channel on August 27.

This marks the J-pop singer's first release since her first album Monochrome dropped in December last year and her first single since Kiseki which was used as the main theme song for the Japanese drama series Konodori.

Watch the music video below.

The music video captures the beautiful world of Natsume's Book of Friends and its characters and links up perfectly with the song. Its a recipe that's sure to warm the hearts of those who watch it.

Uru's Comments

"I have read the story of both the original manga and the movie. It's a story about humans and spirits, but it's rooted in the encounters and separations we experience in life and includes themes of isolation and loneliness, people's gentleness and love. It's a masterpiece that moves the heart. I want not just kids to watch it but adults too. And for that reason, I wanted the song to reflect that. I wrote the song for people to build on their experiences and feel warm inside after listening to it as it talks about how the heart moves during our encounters and separations in life, things which everyone has experienced at least once. I would be overjoyed if people can feel that when watching the movie."

The music video is a special YouTube version and has different parts from the music video included in the limited pressing edition of the single which drops on September 26. Be sure to check out both videos.

■Information

New Single – "remember"
On Sale: September 26, 2018
Limited Pressing Edition (Anime Edition): CD+Blu-ray – ¥1,800 (Tax Included) [AICL-3560~1]
Regular Edition: CD – ¥1,200 (Tax Included)

Tour Information
March 10, 2019 @ Tokyo Dome City Hall
*Details TBA

Uru Official Website: http://uru-official.com
'Natsume's Book of Friends The Movie' Official Website: http://natsume-movie.com/

©Yuki Midorikawa・Hakusensha / Natsume's Book of Friends Project

Uru Unveils Cover Art for Her New Single 'remember' – Opening Theme to the Upcoming Natsume's Book of Friends Movie

Uru will release her new single remember on September 26. The artwork for the single has now been unveiled.

This marks the J-pop singer's first release since her first album Monochrome dropped in December last year. It is also her 6th single to date will serve to decorate the set-list of her second concert.

The single will be used as the main theme song for the upcoming anime film Natsume's Book of Friends The Movie: Tied to the Temporal World which is based on the manga and anime Natsume's Book of Friends by Yuki Midorikawa.

remember will be released in two versions: a limited pressing anime edition and regular edition. The anime edition features original artwork of the popular characters of Natsume's Book of Friends, including the cute Nyanko-sensei from the movie who can divide himself into three cats.

Shiori Iwakura, a photographer gaining attention on Instagram, was in charge of the single's regular edition artwork. The photo evokes the feeling of the end of summer with a beautiful moment caught of the stretching horizon on an ordinary day. It reinforces the images brought to mind by the song even more.

Iwakura also took the most recent artist photo of Uru which was released the other day. It's a nostalgic portrait that was taken during a photo session in Kagawa Prefecture.

Since her debut, Uru has sung about the workings of the heart like its gentleness and the joy felt in everyday life, as well as the transience of existence. remember covers a variety of feelings including encounters with special people―something that anyone must have experienced―and the sadness and loneliness when separated from them, and the memories of them that continue in your mind when parting from them, which is mixed with emotions like love and warmth, knowing that it isn't goodbye.

The song shows that Uru has taken a big step forward as both a singer and songwriter.

The single also includes the songs Gomen ne., an upbeat song by Uru, as well as a new recording of her famous cover of Masayoshi Yamazaki's One more time, One more chance which she uploaded to YouTube before her debut, and a cover of Freesia, the ending theme for Mobile Suit Gundam: Iron-Blooded Orphans.

The future is looking exciting for Uru as she goes on to grow and expand her musicianship.

■Information
New Single – "remember"
On Sale: September 26, 2018
Limited Pressing Edition (Anime Edition): CD+Blu-ray – ¥1,800 (Tax Included) [AICL-3560~1]
Regular Edition: CD – ¥1,200 (Tax Included)

Tour Information
March 10, 2019 @ Tokyo Dome City Hall
*Details TBA

Uru Official Website: http://uru-official.com

©Yuki Midorikawa・Hakusensha / Natsume's Book of Friends Project
RELATED ENTRIES
Natsume's Book of Friends Merchandise Featuring New Illustrations Available From AMNIBUS

AMNIBUS, an online e-commerce site featuring original goods, has opened preorders for a new collection of products inspired by the Natsume's Book of Friends anime series.

Lineup

Roasted Sweet Potato Big Wooden Keychain 

Takashi Natsume with Roasted Sweet Potato Big Acrylic Stand 

Nyanko-sensei with Roasted Sweet Potato Big Acrylic Stand 

Cast with Roasted Sweet Potato Big Acrylic Stand 

Nyanko-sensei with Roasted Sweet Potato T-Shirt

Nyanko-sensei with Roasted Sweet Potato Hoodie

Nyanko-sensei with Roasted Sweet Potato Neon Sand iPhone Case

Nyanko-sensei with Roasted Sweet Potato Mug

Nyanko-sensei with Roasted Sweet Potato Hand Towel

Nyanko-sensei with Roasted Sweet Potato Blanket

Roasted Sweet Potato Clear Folder

Roasted Sweet Potato Card Case

Don't miss these items before they're gone!

©緑川ゆき・白泉社/「夏目友人帳」製作委員会

Capcom Cafe Ikebukuro Unveils Special Gintama Menu

Originally announced earlier this month, a Gintama collaboration cafe is coming to Capcom Cafe Ikebukuro from November 19 until December 23, 2021. The menu has finally been unveiled, and fans of the series won't want to miss out!

Food & Dessert Menu

Kagura's Chinese-Style Fried Chicken Burger Set / Eggs Benedict & Spicy Salad Shinsengumi Plate / Takasugi's Kiheitai Curry / Strawberry Milk Mille Crepes Made by Gin-san / Shinpachi's Fruit Sandwich Plate / Katsura's Soba-Style Mont Blanc Parfait

Drink Menu

Gintoki's Uji Gintoki Bowl Drink / Shinpachi's Crackling Blue Soda / Kagura's Cherry Cocktail / Hijikata's Special Iced Coffee / Okita's Cocktail-style Blackcurrant Ginger / Katsura's Three Tea Set with Dumplings / Takasugi's Grape Jelly Soda

Special Luncheon Mat with Purchase of Collaboration Food / Dessert

Original Drink Coaster (10 varieties, random) with Purchase of Drink

For every ¥3,000 spent on cafe items (including tax), guests will receive a bromide-style postcard (8 varieties, random)

©空知英秋/集英社・テレビ東京・電通・BNP・アニプレックス
©CAPCOM CO., LTD. ALL RIGHTS RESERVED.

Code Geass Celebrates 15 Years With Themed Cafe in Shinjuku, Tokyo

Anime series Code Geass is celebrating its 15th anniversary in 2021. To celebrate, a winter-themed Code Geass Cafe will open in Shinjuku for a limited time, from December 2, 2021, until January 23, 2022. The cafe will feature a lineup of luxurious and stylish food and drink items to celebrate Lelouch's birthday. 

Bonuses

Menu

Food

[Lelouch] Chicken Steak

[Suzaku] Demi-glace Steak

Cream Pasta with Shrimp and Mushrooms

Dessert

Happy Birthday Plate

Student Council's Afternoon Tea Set

[Nunnally] Black Tea Whipped Cream Millefeuille

Christmas Glass Parfait

New Year Glass Parfait

Drink

Lelouch, Suzaku, Nunnally

Student Council's Tea Party (Black Tea, Coffee)

Original Goods

Pin (9 varieties, random)

Acrylic Keychain (9 varieties, random) 

Acrylic Stand (9 varieties, random) 

Clear Folder Set (2 included) 

Acrylic Stand (Lelouch, Suzaku, Nunnally) 

Acrylic Board

Muddler Spoon Set

Satin Pouch

Code Geass debuted in October 2006, and the series was recently re-aired in Japan with a new opening and ending theme. A new series, Code Geass: Z of the Recapture, is coming in the future. 

Lelouch's birthday is on December 5, so there will be plenty of treats to celebrate. Be sure to come give your well wishes!

©SUNRISE/PROJECT L-GEASS Character Design ©2006-2017 CLAMP・ST

Information

Code Geass Cafe -Winter Celebration-

Shinjuku, Tokyo

Address: BOX cafe&space Shinjuku Mylord Building 1 7F (1-1-3 Nishi-Shinjuku, Shinjuku-ku, Tokyo)

Running: December 2, 2021 – January 23, 2022

Reservations: https://cafe-cg.jp/

Online Shop Open: December 2, 2021 at 11:00 – January 23, 2022 at 23:59

Cafe Official Online Shop: https://cafe-cg.jp/online_store

Banana Fish Collaboration Cafe and Bar Coming to Tokyo and Osaka

While the Banana Fish anime series will make you cry, this new collaboration cafe will have guests smiling from ear to ear. This stylish New York-inspired cafe and bar will be open from November 25, 2021, until January 16, 2022, in Tokyo, and from December 2, 2021, until January 30, 2022 in Osaka. Guests can enjoy dishes and drinks inspired by the show's characters and can grab some limited merchandise too. 

Banana Fish began as a manga series in 1985 and was created by Akio Yoshida. Set in New York City, the series follows the teenage gang leader Ash Lynx as he tries to overcome his painful past and solve the mystery of 'banana fish,' a strange drug that drove his brother mad during the war in Vietnam. He is joined by Eiji Okumura, a Japanese college student and photographer's assistant who arrives in America to help with a story about gang violence. 

Menu

Tofu and Salmon Salad Bowl

His Main Dish for the Night

N.Y. Style Tacos

Grilled Banana Waffle

Chinese Sweets Plate

Chocolate Fondue

N.Y. Style Cheesecake with Caramel Nuts

Ash, Eiji, Shorter

Hot Cocoa, Hot Cafe Latte

Original Merchandise

Acrylic Pin (7 varieties, random)

Aurora Sticker (7 varieties, random)

Acrylic Stand (7 varieties, random) 

Acrylic Keychain (6 varieties, random)

Clear Folder Set (Includes two folders)

Acrylic Stand (Ash, Eiji, Shorter)

Acrylic Board

Cork Coaster (Ash, Eiji) / Cup Sleeve

Glass (Ash, Eiji) / Plate

Bonus for Advanced Reservation Holders: Paper Ornament (8 varieties, random)





How would you like to spend some time with these characters in a swanky New York-style cafe?

© 吉田秋生・小学館/Project BANANA FISH

Information

Banana Fish Cafe and Bar -New York Night-

Tokyo 

BOX cafe&space Omotesando Hills B3F (4-12-10 Jingumae, Shibuya, Tokyo)

Running: November 25, 2021 – January 16, 2022

Osaka

BOX cafe&space Umeda LOFT 1F (16-7 Chayamachi, Kita-ku, Osaka)

Running: December 2, 2021 – January 30, 2022

Reservations now open

Reservation Fee: ¥715 (Tax Included) *Includes reservation bonus

Official Site: https://bananafish-cafebar.jp/

Online Shop

Open: November 25, 2021 at 11:00 – January 30, 2022 at 23:59

Yashahime: Princess Half-Demon Collaboration Cafe Coming to Shinsaibashi and Nagoya

Originally held within Shibuya PARCO, the Yashahime: Princess Half-Demon cafe is hitting the road! Starting November 11 at Shinsaibashi PARCO and November 27 at Nagoya PARCO, guests can enjoy a variety of Yashahime-themed food and merchandise for a limited time. The Shibuya location finished its run on November 9, and the new visual shows the show's characters in front of a traditional tea house. 

Food at a Glance

Drinks at a Glance

Novelty Coasters

Kirara's Manga Pancakes

(Returning Dishes) Inuyasha's Beef Sandwich / Sesshomaru's Cold Pasta

Stickers

Four-Color Pen with Charm

Rainbow Pearl Candy Tin

Random Washi Pins (10 varieties)

Due to fan demand, certain dishes from the previous Inuyasha cafe will be returning for the Yashahime: Princess Half-Demon cafe. Exclusive merchandise will be sold at the cafe and online at the PARCO online store, so be sure to check it out!

SEGA and Love Live! Superstar!! to Open Limited-Time Collaboration Cafe

The newest series in the Love Live universe, Love Live! Superstar!! wrapped in October, and to celebrate, a new collaboration cafe with SEGA will be opening at a number of locations in Japan from November 13 until December 19, 2021. Guests can enjoy themed food, drinks, and desserts inspired by the members of Liella! For every order placed, visitors will also get an original coaster. Original goods will be on sale and can only be obtained at the SEGA collaboration cafe. For every ¥2,000 spent, guests will receive one limited-edition clear bromide. 

Sega Collaboration Cafe Original Menu

Drink Menu

November 13 – December 19, 2021

Kanon Shibuya / Keke Tang / Chisato Arashi / Sumire Heanna / Ren Hazuki / Hot Coffee/ Hot Cocoa / Iced Oolong Tea: ¥660 each (Tax Included) 

Food Menu

1st Run (November 13 – December 3, 2021) 

Wish Song Clam Chowder Udon / START!! True dreams Roast Chicken Plate: ¥1,320 each (Tax Included) 

2nd Run (December 4 – December 19, 2021) 

Nonfiction!! Purple Cabbage Peperoncino / Starlight Prologue Meat Pilaf Plate: ¥1,320 each (Tax Included) 

Parfait Menu

Available from November 13 – December 19, 2021

Liella! Members' Favorite Parfait / Future Like the Wind Pudding Parfait / Wish Song Lassi Parfait: ¥1,100 each (Tax Included) 

Menu Bonuses

1st Run (November 13 – December 3, 2021) 

1st Run Drink Coasters (10 varieties, random) / 1st Run Food Coaster (1 variety) 

2nd Run (December 4 – December 19, 2021)

2nd Run Drink Coasters (10 varieties, random) / 2nd Run Food Coaster (1 variety) 

Available from November 13 – December 19, 2021

Dessert Coaster (3 varieties) 

Birthday Cards

Rina Tennoji  (Available November 13, 2021 while supplies last) 

Ren Hazuki (Available November 24, 2021 while supplies last) 

Mia Taylor (Available December 6, 2021 while supplies last) 

Leah Kazuno (Available December 12, 2021 while supplies last)

Kanata Konoe (Available December 16, 2021 while supplies last) 

Souvenirs

SEGA Collaboration Cafe Original Goods

To be Released November 13, 2021

Acrylic Stand (Wish Song, 5 varieties): ¥1,320 (Tax Included) 

Art Panel (Nijigasaki High School Winter Uniforms, 14 varieties, random): ¥660 (Tax Included)

Chibi Acrylic Keychains with Stand (Wish Song, 5 varieties, random): ¥770 (Tax Included) 

Acrylic Keychain (Chibi Liella! Members, 5 varieties, random): ¥550 (Tax Included) 

To be Released December 4, 2021

Art Panel (Wish Song, 5 varieties, random): ¥660 (Tax Included) 

Purchase Bonuses

1st Run – Limited Clear Bromide (2 varieties) November 13 – December 3, 2021

2nd Run – Limited Clear Bromide (2 varieties) December 4 – December 19, 2021

©2017 プロジェクトラブライブ!サンシャイン!!
©2020 プロジェクトラブライブ!虹ヶ咲学園スクールアイドル同好会 
©2021 プロジェクトラブライブ!スーパースター!!
©GENDA SEGA Entertainment Inc.

Information

SEGA Collaboration Cafe with Love Live! Superstar!!

Running: November 13 – December 19, 2021

Locations: 

SEGA Collaboration Cafe Akihabara (SEGA Akihabara Building 3 7F) 

SEGA Collaboration Cafe Stand/Sega Akihabara Building 4/Nanba Sennichimae/Sendai/Okayama/Fukuoka Tenjin/Sasashima/Kumamoto

1st Run: November 13 – December 3, 2021

2nd Run: December 4 – December 19, 2021

Cafe Details: https://sega-collabocafe.com/top/superstar02.html

Official Site: https://www.lovelive-anime.jp/yuigaoka/

Gintama Taking Over Capcom Cafe Ikebukuro, Main Visual Unveiled

Gintama is one of the best-selling manga series of all time in Japan, with over 55 copies in print. Beginning in Weekly Shonen Jump in 2003, the sci-fi comedy was filled with jokes pulled from current pop culture and news before it came to an end in 2019. Despite the story being over, Gintama is popular enough to deserve another collaboration cafe! From November 19 until December 23, the series will take over the Capcom Cafe at Q Plaza Ikebukuro! This will be the second collab with the Capcom Cafe, the first being held in February 2021 to celebrate the final Gintama film. Details on the menu and original merchandise will be released soon, so be sure to check back!

The main visual for the upcoming event features chibi sketches of popular characters from the series alongside tasty dishes, including Gintoki Sakata, Shinpachi, Kagura, Hijikata, Okita, Katsura, and Takasugi. 

©空知英秋/集英社・テレビ東京・電通・BNP・アニプレックス
©CAPCOM CO., LTD. ALL RIGHTS RESERVED.

Sengoku Basara Takes Over Capcom Cafe in Saitama for a Limited Time

From November 19 until December 23, 2021, the AEON Lake Town Capcom Cafe in Saitama will be taken over by the Sengoku Basara series!

The main visual for the collaboration shows life-size characters from the series rather than the chibi versions that have appeared at previous Capcom Cafe events. Six famous generals from the Sengoku period are featured: Date Masamune, Sanada Yukimura, Tokugawa Ieyasu, Ishida Mitsunari, Chosokabe Motochika, and Mori Motonari. More details about the menu and merchandise will be released soon, so stay tuned!

© CAPCOM CO., LTD. ALL RIGHTS RESERVED.

Sylvanian Families and Tower Records Open Collaboration Cafe in Omotesando

Tower Records Cafe is known for collaborating with a number of unique properties at their Omotesando location. Starting November 3, the 'Pop-Up Cafe: Exciting Autumn Concert' will be serving guests some adorable dishes in conjunction with the Sylvanian Families line of animal toys! The event will take place in two stages, and will continue until November 23, 2021. 

Collaboration Menu

Persian Kitten's Sparkling Star Stew: ¥1,490 (Tax Included) 




Walnut Squirrel Style Honey Nut Chicken: ¥1,490 (Tax Included) 




Forest Fruit Salad: ¥1,320 (Tax Included) 




Baby Rabbit Chocolate Pancakes: ¥1,320 (Tax Included) 




Baby Deer's Heart French Toast: ¥1,490 (Tax Included)




Panda-cotta with Fruit: ¥1,320 (Tax Included) 





Choose a Hot Drink (Latte/Cocoa/Milk): ¥890 (Tax Included) 

Exciting Autumn Concert Original Takeout Bottle: ¥980 (Tax Included)




Souvenir: Baby Animal Set

Table Mats

Merchandise

Sylvanian Melodies 1

Sylvanian Melodies 2

Baby Animal Camping Series (9 varieties)

Those purchasing goods will receive an original sticker. 

Those reserving a spot at the cafe will receive an original sticker. 

Sylvanian Families is a line of collectible animals made of flocked plastic, originally released in Japan in 1977. Made to place inside dollhouses, these little creatures have remained popular worldwide since release. This cafe will feature original goods and dishes, including five dishes inspired by the members of the marching band shown in the event's main visual. Inside the store, there will be large dolls and an original diorama that can only be seen during the Omotesando event. 

Information

Pop-Up Cafe – Exciting Autumn Concert

Tower Records Cafe

1st Stage: November 3 – November 12, 2021

2nd Stage: November 13 – November 23, 2021

Address: Imon Harajuku Building 2F (6-3-9 Jingumae, Shibuya-ku, Tokyo) 

Details: https://tower.jp/article/news/2021/10/14/c101

Official Site: https://tower.jp/

New Anime Series Visual Prison Inspires Limited-Time Cafes in Tokyo and Osaka

One of the most highly-anticipated anime series this season is Visual Prison, and to celebrate the show's premiere, a collaboration cafe will open in Tokyo and Osaka for a limited time! Fans won't want to miss out on the delicious visual-kei inspired menu, perfect for sharing on Instagram. The cafe will also feature limited-edition merchandise with original designs of the show's characters. 

Menu

[O★Z]  Azure Hamburger Plate: ¥1,650 (Tax Included) 

[LOS†EDEN] Jet Black Fruit Sandwich: ¥1,650 (Tax Included) 

[ECLIPSE] Moon White Risotto: ¥1,650 (Tax Included) 

Ham & Egg German Pancake: ¥1,650 (Tax Included)

Crimson Moon Pancakes: ¥1,320 (Tax Included) 

Pannya Parfait: ¥1,430 (Tax Included) 

Guil's Affogato: ¥990 (Tax Included) 

Drinks

Robin/Ange/Guiltia/Eve: ¥990 each (Tax Included)

Jack/Mist/Saga/Elizabeth: ¥990 each (Tax Included)

Dimitri/Hyde: ¥990 each (Tax Included)

Original Merchandise

Pin (Random, 10 varieties): ¥550 (Tax Included) 

Acrylic Stand (Random, 10 varieties): ¥990 (Tax Included) 

Acrylic Keychain (Random, 10 varieties): ¥715 (Tax Included) 

Mini Character Acrylic Stand (Random, 10 varieties): ¥990 (Tax Included) / Sticker Set (Includes 10): ¥1,089 (Tax Included) 

Clear Poster (O★Z): ¥1,089 (Tax Included) 

Clear Poster (LOS†EDEN): ¥1,089 (Tax Included) 

Clear Poster (ECLIPSE): ¥450 (Tax Included) 

Swizzle Stick (O★Z/(LOS†EDEN/ECLIPSE): ¥990 each (Tax Included)

Those who make a reservation in advance will receive a random invitation (3 varieties) to enjoy the cafe and one random original coaster (10 varieties) per drink order. 

Visual Prison tells the story of vampires masquerading as visual-kei musicians. The series began airing on October 8 in Japan and is currently available to watch on Funimation in the west. Will you be watching?


(※)TVアニメーション『ヴィジュアルプリズン』

©Noriyasu Agematsu,Afredes/Project VP

Information

Café de VISUAL PRISON

Location/Running: 

Omotesando, Tokyo: BOX cafe&space Omotesando

October 21, 2021 – November 21, 2021

B1F Pine Under Flat, 5-13-2 Jingumae, Shibuya-ku, Tokyo

Shinsaibashi, Osaka: Shinsaibashi contact

October 29, 2021 – November 21, 2021

1-6-24 Kitahorie, Nishi-ku, Osaka

Reservations begin October 11 at 18:00 (First come, first served) 

Reservation Fee: ¥715 (Tax Included) *Up to 4 seats per reservation. 

*Those who reserve in advance will receive special bonuses!

Online Shop Open: October 21, 2021 at 10:00 – November 21, 2021 at 23:59

Online Shop: https://cafe-de-visualprison.jp/online_store

Official Site: https://cafe-de-visualprison.jp/

Tokyo Revengers Featured in 10th Installment of Anime-Inspired Cooking Project Anicook

AniCook, a project by CookpadTV using anime to make cooking more fun, is holding its 10th collaboration with the extremely popular anime series Tokyo Revengers! The event will be held from October 29 until November 23, and will feature characters from the show dressed in original cafe staff costumes serving up themed foods. Reservations are now open, and those coming to the cafe on Halloween might just get a surprise gift!

Menu

Food

Desserts

Drinks

Stickers gifted for each food and dessert order (8 varieties) / Postcards gifted for drink orders (8 varieties) 

Exclusive Merchandise

CookpadTV continues to lead the way in quality collaboration cafes across Japan and has arranged each dish with specific characters in mind. The concept this time around is 'one-bite knockout,' with each menu item made to be so tasty guests will be KO'ed instantly, as if they've just been kicked by Mikey himself. 

Tons of xclusive merchandise will also be on sale, so don't miss out! These will also be available on the CookpadTV website. 

*Please note that the design and color of the exclusive merchandise are subject to change. 

©和久井健・講談社/アニメ「東京リベンジャーズ」製作委員会

Information

cookpadLive Tokyo Revengers

Address: Shinsaibashi PARCO 5F (1-8-3 Shinsaibashisuji, Chuo-ku, Osaka) 

Running: October 29 – November 23, 2021

Hours: 11:00-21:00

Please make reservations on the official website. 

E-commerce site: https://cookpadtv.stores.jp/

Official Site: https://cookpadlive.cafe/collabo11

Snow White with the Red Hair Celebrates 15th Anniversary with Akihabara Cafe

The popular manga series Snow White with the Red Hair is celebrating 15 years with its first-ever collaboration cafe, opening October 22, 2021. The series began serialization in 2006 and has sold over 5.4 million copies to date, also inspiring a two-season anime series released in 2015 and 2016. 

Reservations will be open on October 8 at 19:00, and visitors can expect a fully-themed menu and a number of original items only available at the cafe during the event period!

Cafe Bonuses

For each food or dessert order, guests will receive a random original postcard (3 varieties) 

15th Anniversary Snow White with the Red Hair Collaboration Cafe Original Postcard

15th Anniversary Snow White with the Red Hair Collaboration Cafe Original Postcard

15th Anniversary Snow White with the Red Hair Collaboration Cafe Original Postcard

For each drink order, guests will receive a random original coaster (5 varieties) 

15th Anniversary Snow White with the Red Hair Collaboration Cafe Original Coasters

*All bonuses will be given at random. 

*Available while supplies last. 

Menu at a Glance

Fancy Briouat: ¥650 (Tax Included) 

Meat Dumplings and Mochi Soup from Lilias: ¥1,000 (Tax Included) 

Shirayuki's Special Quiche: ¥1,000 (Tax Included) 

Lilias-style Grilled Tomatoes on Bread: ¥1,100 (Tax Included) 

Crepes from Lilias: ¥1,000 (Tax Included) 

Apple Parfait:  ¥1,000 (Tax Included) 

Delicious-looking Sweets from Lata: ¥850 (Tax Included) 

Snow White's Apple Pie: ¥1,000 (Tax Included) 

Original Merchandise

Clear Folders, Set of 2: ¥880 (Tax Included) 

Framed Magnets (5 varieties): ¥880 (Tax Included) 

Character Board: ¥6,600 (Tax Included) 

Acrylic Diorama: ¥4,400 (Tax Included) 

Postcard Set: ¥2,640 (Tax Included) 

Tapestry: ¥3,300 (Tax Included) 

Premium Art Reproductions (10 varieties): 24,200 each (Tax Included) 

©あきづき空太/白泉社

Information

15th Anniversary Snow White with the Red Hair Collaboration Cafe

Running: October 22 – December 28, 2021

First Run: October 22 – November 24, 2021

Second Run: November 25 – December 28, 2021

Address: Hakusensha Cafe, B1F (1-4-1, Kanda Awaji-cho, Chiyoda-ku, Tokyo)

Reservations for First Run Open on October 8, 2021, at 19:00. 

Where to Reserve: https://app.collabocafe.tokyo/tabs/cafe/detail/63d9d007-08d2-4311-a016-61048dd8d14f

*If open seats are available, guests without a reservation will be seated on a first-come, first-served basis.

Official Twitter: https://twitter.com/hakusensha_cafe

Official Site: https://clarines-kingdom.hakusensha-cafe.com/