Natsume's Book of Friends The Movie: Tied to the Temporal World Music Video Released with Main Theme Song 'remember' by Uru
Uru will release her new single remember on September 26. The song will serve as the main theme song for the upcoming anime movie Natsume's Book of Friends The Movie: Tied to the Temporal World. A collaborative music video was uploaded to Uru's official YouTube channel on August 27.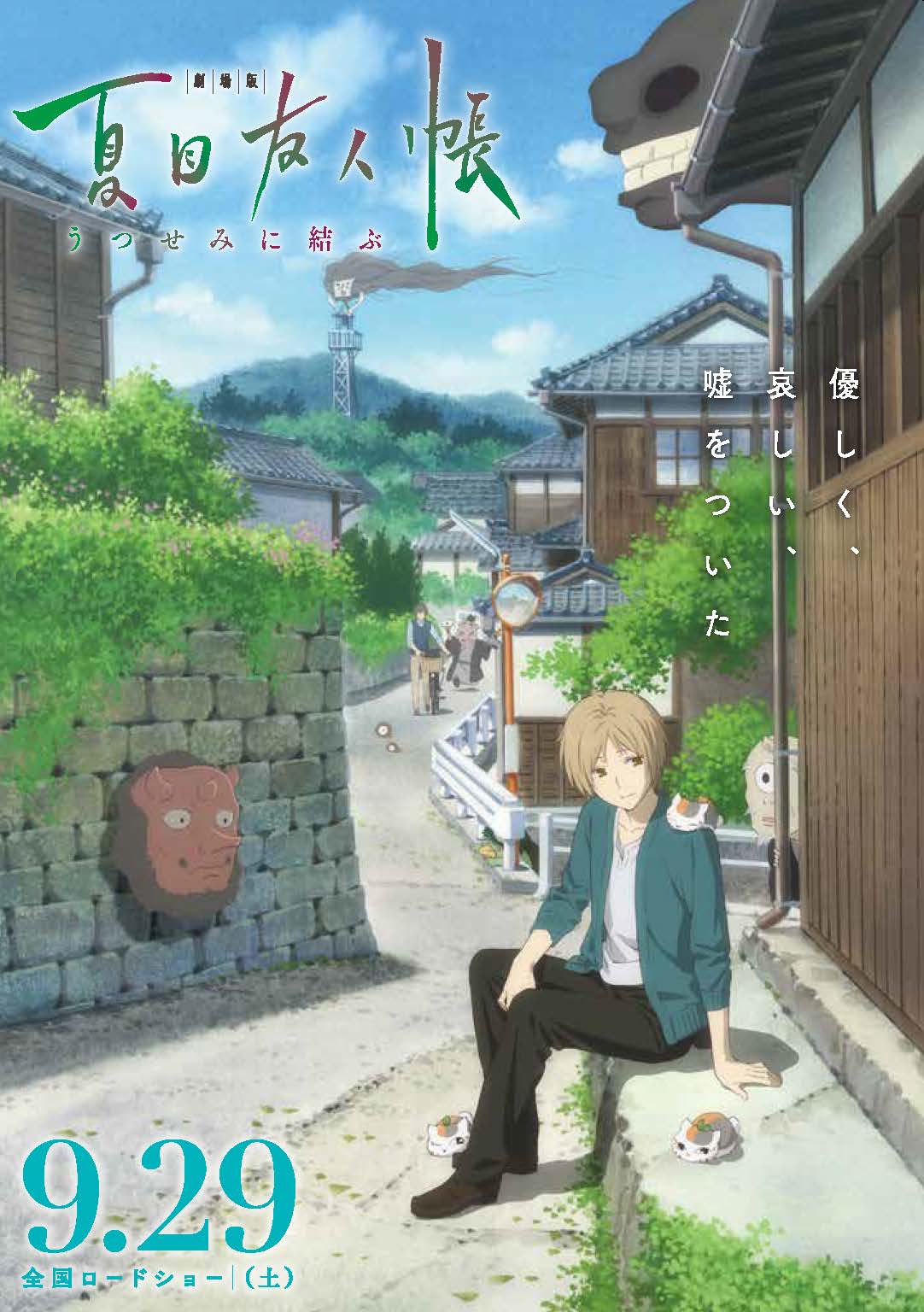 This marks the J-pop singer's first release since her first album Monochrome dropped in December last year and her first single since Kiseki which was used as the main theme song for the Japanese drama series Konodori.
Watch the music video below.
The music video captures the beautiful world of Natsume's Book of Friends and its characters and links up perfectly with the song. Its a recipe that's sure to warm the hearts of those who watch it.
Uru's Comments
"I have read the story of both the original manga and the movie. It's a story about humans and spirits, but it's rooted in the encounters and separations we experience in life and includes themes of isolation and loneliness, people's gentleness and love. It's a masterpiece that moves the heart. I want not just kids to watch it but adults too. And for that reason, I wanted the song to reflect that. I wrote the song for people to build on their experiences and feel warm inside after listening to it as it talks about how the heart moves during our encounters and separations in life, things which everyone has experienced at least once. I would be overjoyed if people can feel that when watching the movie."
The music video is a special YouTube version and has different parts from the music video included in the limited pressing edition of the single which drops on September 26. Be sure to check out both videos.
■Information
New Single – "remember"
On Sale: September 26, 2018
Limited Pressing Edition (Anime Edition): CD+Blu-ray – ¥1,800 (Tax Included) [AICL-3560~1]
Regular Edition: CD – ¥1,200 (Tax Included)
Tour Information
March 10, 2019 @ Tokyo Dome City Hall
*Details TBA
Uru Official Website: http://uru-official.com
'Natsume's Book of Friends The Movie' Official Website: http://natsume-movie.com/
©Yuki Midorikawa・Hakusensha / Natsume's Book of Friends Project
RELATED ENTRIES
Japan's Oldest Amusement Park to Host Natsume's Book of Friends x ATFES Collaboration Event

From February 11 until February 28, 2022, Asakusa Hanayashiki, Japan's oldest amusement park, will host a special Natsume's Book of Friends event in collaboration with ATFES! The anime and game project has been held 18 times since 2017, and this is the second time in a row that it has been held at this historic location. 

Goods

Menu Bonus

The title of this year's event is 'Natsume's Book of Friends Collaboration Event: Setsubun Festival.' Popular characters from the best-selling manga series will make their first appearance as part of an ATFES event. Natsume's Book of Friends is serialized in LaLa Magazine and has sold over 16 million copies in Japan.

The event will welcome guests with limited-edition goods, a puzzle-solving rally, and a character-inspired food and drink menu. Ticket information and other details will be announced at a later date. The main visual for the event is now on display above the entrance to the park.

©緑川ゆき・白泉社/「夏目友人帳」製作委員会

Natsume's Book of Friends Merchandise Featuring New Illustrations Available From AMNIBUS

AMNIBUS, an online e-commerce site featuring original goods, has opened preorders for a new collection of products inspired by the Natsume's Book of Friends anime series.

Lineup

Roasted Sweet Potato Big Wooden Keychain 

Takashi Natsume with Roasted Sweet Potato Big Acrylic Stand 

Nyanko-sensei with Roasted Sweet Potato Big Acrylic Stand 

Cast with Roasted Sweet Potato Big Acrylic Stand 

Nyanko-sensei with Roasted Sweet Potato T-Shirt

Nyanko-sensei with Roasted Sweet Potato Hoodie

Nyanko-sensei with Roasted Sweet Potato Neon Sand iPhone Case

Nyanko-sensei with Roasted Sweet Potato Mug

Nyanko-sensei with Roasted Sweet Potato Hand Towel

Nyanko-sensei with Roasted Sweet Potato Blanket

Roasted Sweet Potato Clear Folder

Roasted Sweet Potato Card Case

Don't miss these items before they're gone!

©緑川ゆき・白泉社/「夏目友人帳」製作委員会

Natsume's Book of Friends Glittery iPhone Case Features Nyanko-sensei

Japanese anime, manga, game, and seiyu merchandise brand armabianca opened orders for a new iPhone case inspired by the popular TV anime series Natsume's Book of Friends on the online hobby store AMNIBUS on Monday (February 15)






Nyanko-sensei Glitter iPhone Case (2 Designs) | ¥3,500 Each (Before Tax)


The glittery case is a must-grab for fans of the series, featuring everyone's favourite Nyanko-sensei surrounded by tasty illustrations of assorted fruits.

Compatible With: iPhone X/XS, iPhone 6/6s/7/8 Plus, iPhone XR, iPhone 11, iPhone 11 Pro, iPhone 11 Pro Max, iPhone 6/6s/7/8/SE


Enjoy the world of Natsume's Book of Friends wherever you go with this exclusive new release.

©緑川ゆき・白泉社/「夏目友人帳」製作委員会

New Natsume's Book of Friends Anime Film to Released in Spring 2021

An official new website opened last week confirming the release of the new anime film Natsume's Book of Friends: The Waking Rock and the Strange Visitor. It has now been revealed that the film will be released in Japan next spring.

Natsume's Book of Friends is a manga series by Yuki Midorikawa. It has sold over 14 million copies. The new film will come two and a half years after the release of the first film, Natsume's Book of Friends the Movie, which dropped in 2018.

A special live stream on the new will air on Aniplex's official YouTube page here on September 26 at 12:00 (JST).

Natsume's Book of Friends: The Waking Rock and the Strange Visitor teaser visual

Price: ¥1,500 (Ticket ¥1,000 + Bag ¥500)

Theatergoers who buy a ticket to the film in Japan will receive the following Nyanko-sensei eco bag. They can be bought as a set online here.

©Yuki Midorikawa・Hakusensha / Natsume's Book of Friends Production Committee

Uru's New Song 'Furiko' to Feature as Main Theme For Japanese Film 'Tsumi no Koe'

Uru's new single Furiko (Pendulum) is set to drop on October 28, 2020, and it's been announced that the song will be used as the main theme for the upcoming Japanese film Tsumi no Koe (The Voice of Sin) which will hit theatres in Japan on October 30, 2020.

The film is adapted from Takeshi Shiota's novel of the same name. The story is inspired by the Glico Morinaga case, an extortion case in Japan which took place from 1984-5. The novel has over 620,000 copies in circulation.

The film stars Shun Oguri and Gen Hoshino who will play the two main characters Eiji Akutsu and Toshiya Sone respectively. Shun Oguri is known for the variety of characters he has played, from comical roles to more delicate ones. He will make his Hollywood debut in the upcoming American film Godzilla vs. Kong. Gen Hoshino is an actor, singer-songwriter, and writer who won the Japan Academy Prize for his roles in Blindly in Love and Why Don't You Play in Hell? in 2014. Tsumi no Koe is the first time the two actors have worked together.

Nobuhiro Doi (Be With You; Flying Colors) is directing the movie while screenwriter Akiko Nogi (Nigeru wa Haji da ga Yaku ni Tatsu; Library War) is working on the script.

Uru wrote and composed the song Furiko as the main theme for the film which will be released as her 9th single. Below are her comments on the collaboration.

Uru | Comment

"When I got the call and went to see the movie, I thought long and hard about what kind of song would be fitting as the main theme. I watched the movie over and over so I could really get familiar with it, and bit by bit the song started to take shape, but when I went to write about hope, the only words and thoughts that came to mind were shallow, superficial ones, so I re-watched it again. That time, I rewrote the song several times from the perspective of the characters. We truly go through a lot in life, but say right now someone's feeling sadness and pain and is in a state of hopelessness, and can't even cry, then this is a song that I pray will give people hope: the pendulum has swung towards the bad side, but will absolutely swing to the side of light next time."

Natsume's Book of Friends Exhibition to Take Place at Animate Ikebukuro in Tokyo

The Animate Ikeubkuro Temporary Store has announced a special exhibition for Natsume's Book of Friends which will open on July 10, 2020 and be free to enter.

Natsume's Book of Friends

Natsume's Book of Friends is a manga series by Yuki Midorikawa. It was first published in the shojo manga magazine LaLa DX in 2003 and began serialisation in 2005. It subsequently switched to LaLa in 2008 where it continues to be published. A 74-episode anime adaptation spread across six seasons aired between 2008 and 2017.

There are five illustrations of Nyanko-sensei and keywords scattered around the 2nd floor of Animate Ikebukuro Temporary Store. If you can find them all, you'll receive a free folder as pictured above in the bottom right. The exhibition will also showcase illustrations drawn by Yuki Midorikawa, drafts, sined pictures, and more.

©Yuki Midorikawa/Hakusensha

Information

Natsume's Book of Friends Exhibition (Japanese Name: 「夏目友人帳」緑川ゆき先生複製原画展 & 復刻・ニャンコ先生を探せ!)
Running: July 10, 2020 – July 26, 2020

Location: Animate Ikebukuro Temporary Store (Floor 2F)

Find Nyanko-sensei
*Folders are limited in stock

*Free entry

*Restricted entry during busy times

*A face mask must be worn at all times in the store

*Event subject to change, postponement, or cancellation

Exhibition Website: https://www.animate-onlineshop.jp/contents/fair_event/detail.php?id=104117

Animate Ikebukuro Temporary Store Official Website: https://www.animate.co.jp/special/301734/

Uru's New Song 'Scenery' Features as Insert Song in TV Anime Series Granbelm

Uru's new song Scenery, which features on her upcoming single Negai―set for release on September 11―was used as an insert song in the ongoing TV anime series Granbelm.

The surprise reveal happened during episode 7 during a major plot point during which the song began playing, tying together with the scene beautifully.

Scenery is a ballad song about the strong bonds between people and was written specifically for the anime series. Uru herself wrote the lyrics and composed the music while rionos was in charge of the song's arrangement. In the run up to the single's full release, Scenery is now available to purchase as a standalone track.

A YouTube edit version of Scenery's music video was released on Uru's official channel.

If you've yet to start watching Granbelm then you're missing out.

Information

Negai

Now Streaming / CD Release: September 11, 2019

First Press Limited Edition (CD+DVD): ¥1,900 (Tax Included) [AICL-3753~4] *Includes slipcase and first press colour tray packaging

Regular Edition (CD): ¥1,200 (Tax Included) [AICL-3755] *Includes first press colour tray packaging

Limited Pressing Anime Edition (CD+Blu-ray): ¥2,000 (Tax Included) [AICL-3756~7] *Includes Granbelm design cover and digipak

Negai Digital Download: https://lnk.to/Ccv6KWN

Negai Official Website: https://uru-official.com/feature/negai

Scenery Digital Download: https://lnk.to/Ccv6KWN

Uru Official Website: http://uru-official.com

Granbelm

Official Website: http://granbelm.com

Uru Releases New Single & Music Video For Granbelm Ending Theme 'Negai'

Full details for Uru's upcoming new single Negai have been revealed. The song will receive an early digital release tonight at midnight (JST) before its CD release on September 11.

Uru's 8th single to date, the title track is used as the ending theme for the TV anime series Granbelm. The single will also include the grand ballad Scenery which has been arranged by rionos, a cover of her own song remember which was used as the main theme for Natsume's Book of Friends the Movie: Tied to the Temporal World, and a cover of Hakujitsu by music group King Gnu who are a standout in Japan's music scene right now.

The CD's First Press Limited Edition will include three extra songs―Kiseki taken from her performance at Showa Women's University Hitomi Memorial Hall in March last year, Nibiiro no Hi which despite being lumped in with other tracks on an album is a fan favourite, and a cover of  Spitz's Robinson―as well as a DVD featuring the music video for Prologue which Uru performed as the main theme for the Japanese live-action drama Meet Me After School (2018).

The Limited Pressing Anime Edition will include the TV size version of Negai and a Blu-ray featuring the creditless video for Granbelm's ending.

Negai's full music video is now available to watch on her website. A short version was previously released on YouTube, so now fans get to see the conclusion to the video.

Granbelm's fourth episode airs in Japan tonight. If you've yet to check it out then you're missing out. Catch it on Crunchyroll and be sure to listen out for Uru's new song.

Information

Negai

Streaming Release: July 26, 2019 / CD Release: September 11, 2019

・First Press Limited Edition (CD+DVD): ¥1,900 (Tax Included) [AICL-3753~4] *Includes slipcase and first press colour tray packaging

・Regular Edition (CD): ¥1,200 (Tax Included) [AICL-3755] *Includes first press colour tray packaging

・Limited Pressing Anime Edition (CD+Blu-ray): ¥2,000 (Tax Included) [AICL-3756~7] *Includes Granbelm design cover and digipak

Digital Download: https://lnk.to/Ccv6KWN

Negai Official Website: https://uru-official.com/feature/negai

Uru Official Website: http://uru-official.com

Granbelm

Official Website: http://granbelm.com

Check Out The CD Artwork For New Anime Granbelm Ending Theme Song Negai By Uru

Uru's new single Negai will be released on September 11 but for now, we get a sneak peek at the stunning single art. Negai is currently being used as the ending theme song for the brand new anime Granbelm, which just went on air this month. 

 

The artwork for Negai was created by Yuichi Miyashi, who also took Uru's artist photos. The photo for the single jacket is of a neverending horizon upon which the gentle light of the moon is reflected. This pure image perfectly links to Uru's artist photos and to her song Negai (Wish).

First-Press Edition

Regular Edition

The First-Press and Regular Editions of the single come with a special edition colourful CD tray. The First-Press edition comes in the same jewell case as the regular edition as well as a limited edition three-sided box case decorated with Uru's logo pressed into the casing in silver foil. 

Anime Edition

The Anime Edition comes in the form of a Digipak. The illustration features the main characters Mangetsu and Shingetsu, who are gazing into each other's eyes on the night of a full moon.

Before the CD is released, Negai will be available for downloading and streaming from July 26. We have only ever witnessed the short ending version of the song from the anime. The short version music video was released on YouTube recently, too. Fans are eagerly waiting for the release of the full version of the song. 

Uru's New Song Negai Becomes Ending Song For New Anime Granbelm And Gets Music Video

 Uru's new single Negai will be released on September 11 and will be available for downloading and streaming from July 26. The official music video has just been uploaded on YouTube. 

Negai is a down-to-earth song which paints a world of a happy place that is filled with the people most important to you. It contains strong feelings of not wanting to let go. 

Uru Negai YouTube ver.

Atsunari Toushi, who was previously involved in the making of the music videos for Uru's songs Freesia and Shiawase no Uta, was in charge of making the music video for Negai. The music video contains scenes of a utopia where two young sisters are living a beautiful life together as well as an empty dystopian scene where one of the girls can be seen stood in a plain white dress.

A statement by Atsunari Toushi

Uru's lyrics perfectly depict the story of two young girls who are forever close. We hope that you will be struck by many emotions when you watch this video. This entire creation is but a beautiful story and music. We hope that viewers who watch and listen will want to hold those precious to them even closer as they enter the world we have created in the new music video. Please take a look and enjoy both the beautiful scenes and the music. 

 Along with the release of the music video, the lyrics for the full song have been released on song lyric website UTA-NET (Japanese only).

Negai has also been chosen to become the ending theme song for the new original anime Granbelm. You can enjoy the new song on air from today. Granbelm is directed by Masaharu Watanabe, who is also known for directing Re:Zero − Starting Life in Another World. Original character designs were created by Shinichiro Otsuka and the series was structured by Jukki Hanada, who is famous for many works including directing multimedia project Love Live! There was an advanced screening of the anime a few days ago, which received a great response. This is one of the most sensational topics in the media and is snatching up the attention of many anime fans. 

Information

Negai

Release: September 9, 2019 

First Press Limited Edition: (CD+DVD) AICL-3753~4 ¥1,900 (after tax)

Regular Edition: (CD) AICL-3755 ¥1,200  (after tax)

Limited Pressing Edition – anime version (CD+BD) AICL-3756~7 ¥2,000  (after tax) 

Special Edition Website: https://uru-official.com/feature/negai

 

Uru Official Website: http://uru-official.com

Granbelm 

Premiere: July 5th (Broadcast by: MBS/TBS/BS-TBS Animeism)

Official Website: http://granbelm.com

New Trailer for TV Anime 'Granbelm' Plays Ending Theme 'Negai' by Uru

The first promotional video for the upcoming anime series Granbelm has been released and features a snippet of the ending theme song Negai by Uru.

Granbelm is being directed by Masaharu Watanabe with character designs by illustrator Shinichirou Otsuka―both of whom worked on Re:Zero − Starting Life in Another World―and with series composition by Jukki Hanada (Steins;Gate, No Game No Life).

The new promotional video was first shown at the DMM Pictures booth at Anime Japan 2019 on March 24. It showcases the main characters Mangetsu and Shingetsu as well as a fighting scene with the magical doll Almanox.

Uru also unveiled a new artist photo alongside the release of the trailer. The moonlit photo was shot by Mari Amita who was also in charge of the photo taken for Uru's previous release Prologue.

Series director Masaharu Watanabe expressed his gratitude to Uru for the song, commenting: "Thank you so much for this ending theme, it pierces the heart!! Granbelm is made even better by Uru's voice, and I'm personally moved by it myself!! I believe you can bask in the afterglow of the story after the episodes finish as you hear her singing. Please look forward to it!!"

Uru also released her own statement: "I am overjoyed to have been given the opportunity to sing the ending theme for Granbelm. There are many lines in the story that pierce your heart and leave an impression on you so I referenced them when I was writing the lyrics. There are also lyrics in there about things that take you aback in everyday life. I also thought to substitute something in our ordinary daily lives with the magical in Granbelm. I look forward to seeing how the story and song come together."

Natsume's Book of Friends Character Café to Open in Tokyo, Kyoto & Saitama for Movie Release

Natsume's Book of Friends The Movie: Tied to the Temporal World will be released on September 29, 2018. It was recently revealed that Japanese singer Uru would sing the movie's main theme.

To celebrate the release of the movie, two themed cafes will open in Tokyo and Saitama as well as a character café booth at the Kyoto International Manga & Anime Fair 2018 (Kyomaf).

Tokyo: Autumn Picnic Set – ¥1,690 (Pre-Tax)

Tokyo: Triple Nyanko-Sensei's Odango Style Tear & Share Bread – ¥1,390 (Pre-Tax)

To get fans in the mood for the upcoming movie the cafés will serve a variety of themed dishes tied to autumn as well as merchandise with an autumn-time theme.

Merchandise: Postcard Set – ¥600 (Pre-Tax)

Tokyo: Original Stickers (Booking Gift)

Those who book at the Tokyo café in advance will receive one of four randomly selected original stickers pictured above. There will also be five different coasters selected randomly and given to those who order from the menu.

Kyomaf: Nyanko-sensei Hot Egg Don – Price TBA

The menu items will differ at all three cafés, so enjoy a Natsume Book of Friends themed meal before seeing the movie.

■Information

Café Dates

Tokyo: September 14, 2018 – October 14, 2018

Saitama: October 4, 2018 – October 28, 2018

Kyomaf: September 15, 2018 – September 16, 2018

Café Opening Hours

Tokyo: 11:00am-9:40pm

Saitama: 11:00am-8:00pm (Last Orders 7:00pm)

Kyomaf: 9:00am-5:00pm (until 4:00pm on September 16

Café Locations

Tokyo: Omotesando Box Cafe&Space

Saitama: BOX CAFE&SPACE

Kyomaf: Kyoto International Manga & Anime Fair (Kyomaf) 2018 Character Café Booth

*For access details check each café's official website.

Entry

Tokyo: Booking costs ¥500 online. 80 minutes stay max.

Saitama/Kyomaf: No booking necessary.

Café Official Website: https://natsume-movie-cafe.jp

Natsume's Book of Friends Movie Website: http://natsume-movie.com/

©Yuki Midorikawa・Hakusensha / Natsume's Book of Friends Project