McDonald's Japan to Release 4 Limited Edition Matcha Beverages Including Matcha Latte
McDonald's Japan has unveiled four new beverages that will go on sale from the company's McCafé by Barista chain from September 12 for a limited period. The drinks include Brown Sugar Syrup & Soybean Flour Matcha Frappe, Matcha Latte Frappe, Iced Matcha Latte and Matcha Latte.
Mcdonald's Japan's seasonal autumn-time matcha series of drinks is a huge hit every year. This year they are putting in even more matcha powder from Uji in each of the drinks to make the matcha flavour even more full-bodied.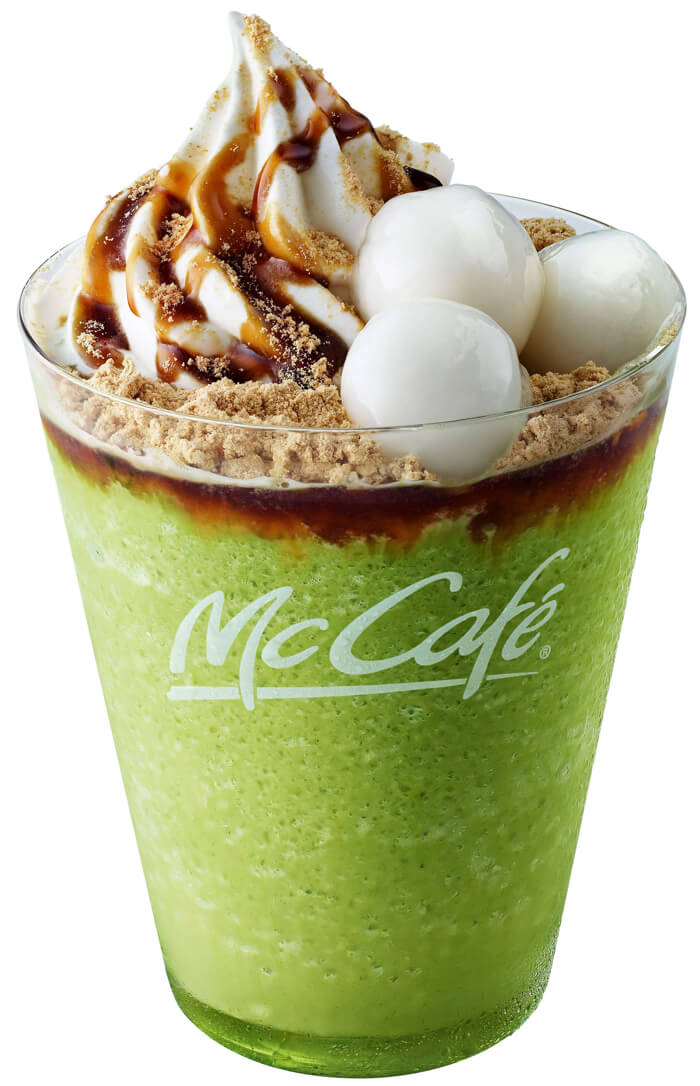 Brown Sugar Syrup & Soybean Flour Matcha Frappe: M ¥490 / L ¥530
The popular Brown Sugar Syrup & Soybean Flour Matcha Frappe was first brought to McDonald's in Japan last year. It takes the classic matcha latte frappe made with delicious milk farmed in Japan and combines it with rich and flavoursome soybean flour as well as brown sugar syrup from Okinawa Prefecture. It's topped with chewy white rice flour dumplings and whipped cream. It's creamy and irresistible.

Matcha Latte Frappe: M ¥450 / L ¥490
By adding more Uji matcha to the Matcha Latte Frappe they have added an extra layer of richness of the drink. The whipped cream is sprinkled with matcha powder giving it a Japanese-style taste and appearance.

Iced Matcha Latte: M ¥390 / L ¥430
The characteristic of the Iced Matcha Latte is the full-bodied flavour created by the bitter Uji matcha and milk. Like the Matcha Latte Frappe, the whipped cream is complemented by powdered matcha which gives a Japanese flavour to this dessert drink.

Matcha Latte: S ¥350 / M ¥390
The Matcha Latte is decaffinated and combines the flavourful taste of Uji matcha and subtly sweet milk.
Try McDonald's new matcha drinks while in Japan this autumn.
■Information
McCafé by Barista Matcha Series
Location: All Mcdonald's chains with a McCafé by Barista (89 branches as of September 2018)
Available: September 12, 2018 – End of November 2018 (subject to change)
McDonald's Japan Official Website: http://www.mcdonalds.co.jp/menu/barista/
RECOMMENDED ENTRIES
Starbucks Coffee in Japan are introducing their new beverage Matcha S'more Frappuccino® on August 8. The drink is made with American summertime smores and rich matcha.

S'mores are a popular campfire and BBQ treat in the US and Canada that consists of fire-roasted marshmallows and chocolate sandwiched between two graham crackers. Starbucks Japan first introduced a S'more Frappuccino® to branches last year and they were a huge success.

This year, they're combining s'mores which maintain their great flavour and texture with full-bodied matcha and nonfat milk. This refreshing combination is the perfect summer beverage. It contains 1.5 times more matcha than the Matcha Cream Frappuccino® and is served with whipped cream. Together with the crunchy biscuit, crispy freeze-dried marshmallows and baked chocolate, you can enjoy layers upon layers of texture.

Be sure to pick up this Frapp this summer while in Japan to enjoy at the summer and firework festivals.

Matcha Café Yanagi Chaya to Open Near Sensoji Temple in Asakusa

Shin Nakamise Shopping Street in Asakusa runs perpendicular to Nakamise Shopping Street, and it's there that the new Japanese tea café Yanagi Chaya will open on July 6, 2018.

Asakusa is one of Japan's most famous tourist destinations and is packed with tourists from both inside and outside of Japan every single day. Yanagi Chaya will open nearby Sensoji Temple which is a significant sightseeing spot for tourists, hailing as the oldest temple in Tokyo. The café's ideal location means that those strolling around Asakusa can pop in for drinks and desserts.

The shop is positioned so it takes in a lot of light, so it's nice and bright. It's also spacious, giving it a welcoming vibe. Its simple wooden décor lets one feel at one with the warmth of nature while also being surrounded by that Japanese omotenashi, or 'hospitable' atmosphere.

Uji Matcha Tiramisu – ¥600

Uji Matcha Rice Flour Dumplings – ¥790

The menu is packed full of matcha items. You could tuck into a boxed Uji matcha tiramisu which MACCHA HOUSE, another shop, is famous for and was even featured on news media. Or you could chew on some Uji matcha rice flour dumplings which are all individually handmade instore and made white syrup and a matcha paste created on site that mixes together strained bean paste and matcha. There's plenty more on the menu too where that came from.

Both the tiramisu and dumplings are something you'll want a photo of. There's also an original takeout matcha drink you can sip on which is made from a matcha called Tomo no Mori by Mori no Han who've been around since 1836. It's served in Yanagi Chaya's own bottles so you can take it around Asakusa with you as you explore the sites.

Yanagi Chaya should be put on your list of places to visit in Asakusa. Enjoy yourself some delicious matcha sweets.

■Information

Yanagi Chaya

Address: Hashimoto Bldg. 1F, 1-30-6 Asakusa, Taito, Tokyo

Opening: July 6, 2018

Opening Hours: 10am-6pm (Last Orders 5pm)

No Fixed Holidays.

TEL: 03-5830-8317

FAX: 03-5830-8318

*All prices listed are pre-tax.

New McFlurry Made With 'Shiroi Black Thunder' Chocolate Bar to Debut at McDonald's Japan

'Shiroi Black Thunder' (White Black Thunder) is a chocolate bar available only in Hokkaido. McDonald's is releasing their new McFlurry Shiroi Black Thunder in collaboration with the product which will be available at McDonald's branches across Japan from August 29.

McFlurry is a popular dessert at McDonald's made with rich milky soft serve ice cream which is topped with various toppings and sauces. McDonald's Japan has collaborated with numerous other brands for their McFlurrys. Shiroi Black Thunder is a white chocolate version of the popular chocolate bar Black Thunder and can only be bought in Hokkaido.

This is the first time McDonald's has collaborated with Black Thunder.

The McFlurry Shiroi Black Thunder is made with rich and milky soft serve and contains the cocoa cookies and biscuit found in the chocolate bar. It's also drizzled with a hardened white chocolate sauce. It has the same crunchiness as the Shiroi Black Thunder and sweetness of its white chocolate. It also comes in original packaging with the Shiroi Black Thunder logo on it. These are available in limited quantities.

Don't miss out on this super rare collaboration!

■Information
McFlurry White Black Thunder
Running: August 29, 2018 to mid-September 2018 (subject to change)
Available: Most McDonald's branches in Japan
Price: ¥320 (Tax Included)
Website: http://www.mcdonalds.co.jp
RELATED ENTRIES
Harajuku Whips Up Oita Prefecture's Jazz Youkan Sweet Adzuki Bean Block

The Jazz Youkan is a cute confection made from sweet adzuki red bean paste and made to look like a little piano. It's made in Japan's Oita Prefecture, but Tokyo residents can now enjoy this sweet treat at HARAJU Cross JAPAN MASTERY COLLECTION_est which is located on Floor B1F of WITH HARAJUKU, a shopping complex in front of Harajuku Station. It is being sold until February 14 in three flavours: Chocolat, Matcha Chocolat, and Classic.

The Jazz Youkan

The Jazz Youkan is a confectionery made by Jazz to Youkan Yufuin CREEKS, a shop in Yufu, Oita. It's part of their concert series of sweets and pairs well with a cup of coffee or glass of wine.

Line-Up (Prices Include Tax)

Chocolat | ¥2,646

The seasonal winter Chocolat is made with sweet white bean paste, couverture chocolate, dried cherries, fig, and raisins. All the chocolates in this series are individually handmade by the shop's chocolatiers, and this time, the classic Chocolat variant has been made even more delicious. It's smooth, moist, and rich without being too sweet. Best enjoyed with coffee or wine.

Matcha Chocolat | ¥2,646

If you love matcha then this is the treat for you. It's different from the normal Chocolat version of this sweet as it's made without dried fruits. Instead, it contains large-grained adzuki beans for an irresistible texture.

Classic | ¥2,160

The Classic version is made with brown sugar from Okinawa and adzuki beans and contains dried figs soaked in wine. Another perfect pairing with coffee or wine, and the piano face shows the work of true Japanese artistry.

©冬季限定 ジャズ羊羹 chocolat

Information

Jazz Youkan
Order Window: January 16, 2021 – February 14, 2021
Orders: TEL: 03- 6384-5815 / E-mail: shop_est@japanmasterycollection.jp
Sales Window: February 7, 2021 – February 14, 2021
Where: HARAJU Cross JAPAN MASTERY COLLECTION_est
Address: 1-14-30 Jingumae, Shibuya, Tokyo
Opening Hours: 12:00-18:00
Jazz to Youkan Yufuin CREEKS Official Website: http://www.jazz-youkan.com/

McDonald's KitKat McFlurry to be Whipped Up in Japan

McDonald's Japan is teaming up with Nestlé next week to bring back last years' customer-favourite McFluffy® KitKat® for a limited time starting on January 27.

McFlurry KitKat | ¥290

The delicious dessert combines McDonald's tasty soft service ice cream with crushed KitKat and finishes it with a drizzle of special sauce made with couverture chocolate. Mix everything together for pure chocolatey heaven goodness.

McFlurry Oreo | ¥290

McDonald's Japan also serves the McFlurry Oreo, a regular item on the menu, and right now is the only time you can enjoy comparing the tastes and textures between both the Oreo and KitKat McFlurries.

Which one has you drooling more?

Information

McFlurry® KitKat®
Running: January 27, 2021 – Late March 2021

Available: McDonald's Japan (Select branches not participating)
Serving Times: 10:30 until closure
Official Website: http://www.mcdonalds.co.jp/

*KitKat is a registered trademark of Nestlé Group.

Japanese Star Actor Kimutaku Features in McDonald's TV Commercial For New Cafe Latte & Choi Mac Burger

McDonald's Japan is teaming up with iconic Japanese actor and singer Takuya Kimura, also known as Kimutaku, once again following their collaboration with him in 2020. The star is featuring in a new commercial and campaign by McDonald's that centres on rediscovering the value and taste of the fast food chain.


The first in a series of commercials hit Japanese televisions on Tuesday (January 12) for McDonald's Japan's revamped hot and iced Cafe Lattes. The second commercial will be released next Tuesday (January 19) for the Yakkii grilled ginger burger. The ¥200 burger is arriving on the menu at McDonald's Japan the following day on Wednesday.

McDonald's Japan Adds Crème Brûlée and Belgian Chocolate Pies to the Menu

McDonald's Japan is bringing back its popular Belgian Chocolate Pie from last year and is also introducing a new Crème Brûlée Pie, both of which will hit the menu at all McDonald's branches from January 13 for a limited time.

Crème Brûlée Pie | ¥150 (Before Tax)

Belgian Chocolate Pie | ¥150 (Before Tax)

The hot pies are filled with deliciously sweet cream and are a perfect, cosy treat during the cold weather.

Information

Crème Brûlée Pie / Belgian Chocolate Pie
Serving: January 13, 2021 – Mid February 2021
Available: McDonald's Japan
Price: ¥150 Each (Before Tax)
Official Website: https://www.mcdonalds.co.jp/

Nana's Green Tea x Häagen-Dazs Release Chocolate Matcha Glass Dessert

Nana's Green Tea is serving up a brand-new dessert in collaboration with Häagen-Dazs for Valentine's Day at 77 branches in Japan. The dessert was released on January 6 and will be available up to February 14.

Matcha Chocolate Glass with Häagen-Dazs | ¥880 (Before Tax)

The dessert is a tempting sight to behold – not only is it delicious but visually appealing to the eye too, and layered with various textures so that every bite is a surprise.

The dessert is made with Häagen-Dazs' "Sweet Chocolate" ice cream coupled with Nana's Green Tea's own original matcha ice cream, soft and crunchy meringue sticks, crumbled cookies, white chocolate whipped cream, and matcha chiffon cake. Sat at the bottom waiting to be discovered is a sweet strawberry sauce for a tangy kick.

Information

Nana's Green Tea – Matcha Chocolate Glass With Häagen-Dazs
Serving: January 6, 2021 – February 14, 2021
Price: ¥880 (Before Tax)
Available: 77 Nana's Green Tea branches in Japan (Excluding DiverCity Tokyo Plaza, Tokyo Dome, and Iias Okinawa Toyosaki)
Official Website: http://www.nanasgreentea.com/

Matcha and Strawberry Parfaits Whipped Up at Saryo FUKUCHA in Kyoto

Saryo FUKUCHA in Kyoto is now serving up a very special selection of succulent strawberry and matcha parfaits until May 30, 2021. These exquisite delights will see only 10 made of each per day.

Saryo FUKUCHA is a cafe that was opened by FUKUJUEN in Kyoto Station in April 2019. This year, they have brought back their extremely popular strawberry and matcha parfaits : the Konome, Konoha, and Konoka. They have also introduced a new addition to the line-up: the Strawberry & Matcha Milk Parfait. Also on the menu is a strawberry matcha latte.

Matcha & Strawberry Parfaits


Konome | ¥1,350


Konoha | ¥1,450


Konoka | ¥1,550


Strawberry Matcha Milk Parfait | ¥800


Strawberry Matcha Latte | ¥650

Discover the taste of Japanese tea in a new way with Saryo FUKUCHA's matcha and strawberry parfaits and latte.

Information

Saryo FUKUCHA
Address: 901 Higashi Shiokojicho, Karasumadori Shiokoji Sagaru,, Shimogyo-Ku Kyoto Station Bldg. 2F, Kyoto 600-8216 Kyoto Prefecture
Opening Hours: 8:30-21:00 (Last Orders 20:30)
*The cafe is currently running on reduced opening hours as of December 25, 2020 due to COVID-19. Hours are now 08:30-19:00 (Last Orders 18:30) on weekdays and 08:30-20:00 (Last Orders 19:30) on weekends. Times are subject to change.
TEL: 075-744-0552

Official Website: https://fukucha-fukujuen.com/

McDonald's Japan Welcomes 2021 With White Chocolate Strawberry Lattes and Frappe

McDonald's Japan is set to celebrate the New Year with a series of 3 white chocolate strawberry beverages at McCafé by Barista up and down Japan starting on January 6, 2021.

White Chocolate Strawberry Frappe | Regular Size ¥490

The White Chocolate Strawberry Frappe is made with a milk base laced with a strawberry sauce made from fresh strawberries and is topped with fresh cream, a drizzle of that sweet sauce, and white chocolate shavings. Enjoy a silky combination of sweetness and refreshing flavour.

White Chocolate Strawberry Latte | Regular Size ¥390

Similar to the frappe, the latte variant is a hot strawberry milk made from strawberry sauce, strawberry syrup, and refreshing milk. It's topped with whipped cream, more sauce, and white chocolate shavings. And don't worry if you're not a coffee drinker as this drink contains no coffee – it's just pure strawberry heaven.

Iced White Chocolate Strawberry Latte | Regular Size ¥490

A refreshing twist on the hot latte. It contains the same ingredients but is served iced instead.

Information

White Chocolate Strawberry Series
Serving: January 6, 2021 – Early March 2021 (Subject to change)
Available: McCafé by Barista branches of McDonald's in Japan

Official Website: http://www.mcdonalds.co.jp/

McDonald's Japan Reveals 2021 New Year's Fukubukuro Lucky Bags

McDonald's Japan is collaborating with the camping and outdoor brand Coleman to release fukubukuro lucky bags for the New Year in limited quantities.

McDonald's Fukubukuro 2021 | ¥3,000 (Tax Included)

Those in Japan can sign up to enter a lottery to win one of the bags up until December 22, 2020 at 23:59 (JST).

Tote Bag / Square Pouch / Mug

 


Fries Clock / McDonald's Voucher

The lucky bags include a variety of merchandise combining McDonald's and Coleman designs as well as an alarm clock, a McDonald's voucher priced at ¥3,160, and more.

Gold McCard | ¥500

One in every ten lucky bags also contains a Gold McCard voucher worth ¥500 too.

Information

McDonald's Fukubukuro 2021
Web Applications: Until December 22, 2020 at 23:59 (JST)

Winners Contacted: December 24, 2020

Fukubukuro Delivered: January 1, 2021 – January 3, 2021
Campaign Site: https://www.mcdonalds.co.jp/campaign/fukubukuro/

Brown Sugar Syrup Matcha Latte Arrives at Tully's Coffee in Japan On Christmas Eve

Tully's Coffee Japan is adding a new seasonal drink to its menu on December 26: the "Brown Sugar Syrup & Soy Flour Matcha Latte."

Brown Sugar Syrup & Soy Flour Matcha Latte (Hot/Iced) | Tall ¥520 (Before Tax)

Matcha beverages at Tully's Coffee are all made with Uji matcha from Kyoto. The powder is prepared in-house at Tully's Coffee, ensuring that the original taste and fragrance of the matcha is fresh. Their new seasonal beverage takes their classic Uji Matcha Latte and sweetens it with brown sugar syrup and Hokkaido soy flour.

Brown Sugar Syrup & Soy Flour Matcha Suwakuru® (Frozen) | Tall ¥540, with tapioca +¥100 (Before Tax)

Adding tapioca pearls creates a perfect combination with the syrup and soy flour, creating a taste and texture that's like the traditional Japanese confection warabimochi.

Uji Matcha Kouign-amann | ¥290 (Before Tax)

Tully's Coffee is also baking up some seasonal treats, like a Japanese-style Kouign-amann and red bean paste-filled doughnuts.

Milk Red Bean Paste Doughnuts | ¥300 (Before Tax)

The doughnuts are also made with milk from Hokkaido.

2021 Year of the Ox Mug | ¥1,500 (Before Tax)

And to celebrate the upcoming Year of the Ox, the coffee chain is also rolling out a cute ox-themed mug.

Information

Brown Sugar Syrup & Soy Flour Matcha Latte
Release Date: December 26, 2020
Official Website: https://www.tullys.co.jp

McDonald's Japan's Gurakoro Burger Gets New Beef Stew Flavour

The Gurakoro Burger is a seasonal item added to McDonald's Japan's winter menu every year. This year, they are releasing a new rich beef stew flavour on December 2 for a limited period.

"Gurakoro" is a portmanteau of the Japanese words for "gratin" and "korokke," the latter being the Japanese version of a French croquette. The Gurakoro burgers are crunchy on the outside and melty on the inside. They first appeared at McDonald's Japan in 1993 and have returned every winter since, popular for its combination of the Gurakoro patty which is filled with creamy ebi, cabbage, a special korokke sauce, and an egg sauce, all squished between a toasted bun.

Gurakoro Burger | ¥340

The burger was created with a new recipe in 2019 that makes the flavour richer. The number of egg yolks used for the egg sauce was also increased, as was the spiciness of the korokke sauce.

Beef Stew Gurakoro | ¥390

This year, McDonald's Japan is adding a beef stew sauce made with a combination of red wine and demiglace sauce. Added to this is mustard, creating a delicious flavour that goes hand in hand with the creamy gratin korokke.

McDonald's Luxurious Chocolate Frappes in Collaboration With GODIVA Are Mouth-Watering

McDonald's Japan has revealed two new beverages which will be sold at McCafé by Barista branches of McDonald's from November 25: the "GODIVA Chocolate Espresso Frappe & Macaron" and the "GODIVA Chocolate Espresso Frappe."

This is McCafé by Barista's first collaboration with the Turkish chocolate company GODIVA. The drinks were made under the supervision of Yannick Chevolleau, an executive chef and chocolatier pâtissier at GODIVA, bringing together a match made in heaven of rich chocolate and espresso.

GODIVA Chocolate Espresso Frappe – Regular Size (¥540)

The beverage contains a dark chocolate sauce which combines cacao powder and roasted cacao beans which is mixed together with fragrant espresso and milk before being topped with whipped cream drizzled in a couverture chocolate sauce made from 54% Belgian chocolate.

GODIVA Chocolate Espresso Frappe & Macaron – Regular Size (¥540)

You can also get it topped with a vanilla-flavoured macaron which adds sweetness to the rich beverage and looks even more Instagram-worthy.

Information

GODIVA Chocolate Espresso Frappe & Macaron
GODIVA Chocolate Espresso Frappe
Serving: November 25, 2020 – Mid January 2021 (subject to change)
Available: At McCafé by Barista branches of McDonald's in Japan

Starbucks Japan Reveals Matcha x Matcha White Chocolate Frappuccino®

Starbucks Coffee Japan has revealed that its second instalment of its limited-edition holiday season 2020 beverages will be the "Matcha x Matcha White Chocolate" and "Matcha x Matcha White Chocolate Frappuccino®" which customers can order from November 24. A new batch of festive Starbucks merch will also hit Japanese branches on November 30.

A harmonious fusion of matcha and sweet white chocolate

Matcha x Matcha White Chocolate Frappuccino® Tall ¥590 (Tall-size only)

Matcha x Matcha White Chocolate: Short ¥450 / Tall ¥490 / Grande ¥530 / Venti® ¥570 (Hot option only)

Matcha is one of Starbucks Japan's signature flavours and just to happens to have been in the spotlight in last year's holiday season drinks. This year sees marbling mixture of of rich matcha sauce and sweet white chocolate syrup with the Frappuccino®, finished with a squirt of whipped cream, brownie bits, and snowy powdered sugar. The hot version comes as a marriage of matcha and white mocha mixed together with steamed milk to warm the cockles of hearts during the cold months.

New holiday season merchandise

The theme of the second batch of merchandise is "Brilliant Season" which capture the bright and sparkly vibe of winter like with the snowflake-covered stainless steel bottle, a glass mug with beads in it that move around when shaken, a snow globe, and more. The perfect line-up for capturing the holiday season mood during your coffee break.

Starbucks Japan is currently serving the Berry x Berry No-Bake Cheesecake Frappuccino® and Berry x Berry White Mocha holiday season drinks for the holiday season until November 24 when they will be replaced by the Matcha x Matcha White Chocolate and Matcha x Matcha White Chocolate Frappuccino®. It is also serving the Starbucks® Christmas Blend, Gingerbread Latte, and Macadamia Toffee Latte until Christmas Day.

Information

Matcha x Matcha White Chocolate and Matcha

Matcha White Chocolate Frappuccino®

Running: November 1, 2020 – December 25, 2020

Available: Starbucks in Japan
Starbucks Japan Official Website: https://www.starbucks.co.jp/