Anime Series Okoshiyasu, Chitose-chan Ending Theme Song to be Performed by Nyanzonu Deshi
 Okoshiyasu, Chitose-chan is an anime short set to begin on October 5.
The singer-songwriter's name translates to "Nyanzonu's Pupil" which comes from the respect she has for her cat, Nyanzou. She sees herself as his disciple.
Okoshiyasu, Chitose-chan follows the adventures of the cute emperor penguin Chitose-chan who strolls curiously around famous places in Kyoto such as Arashiyama Bamboo Grove and Fushimi Inari-taisha. Nyanzonu Deshi wrote the song to express the same gentle world as in the series.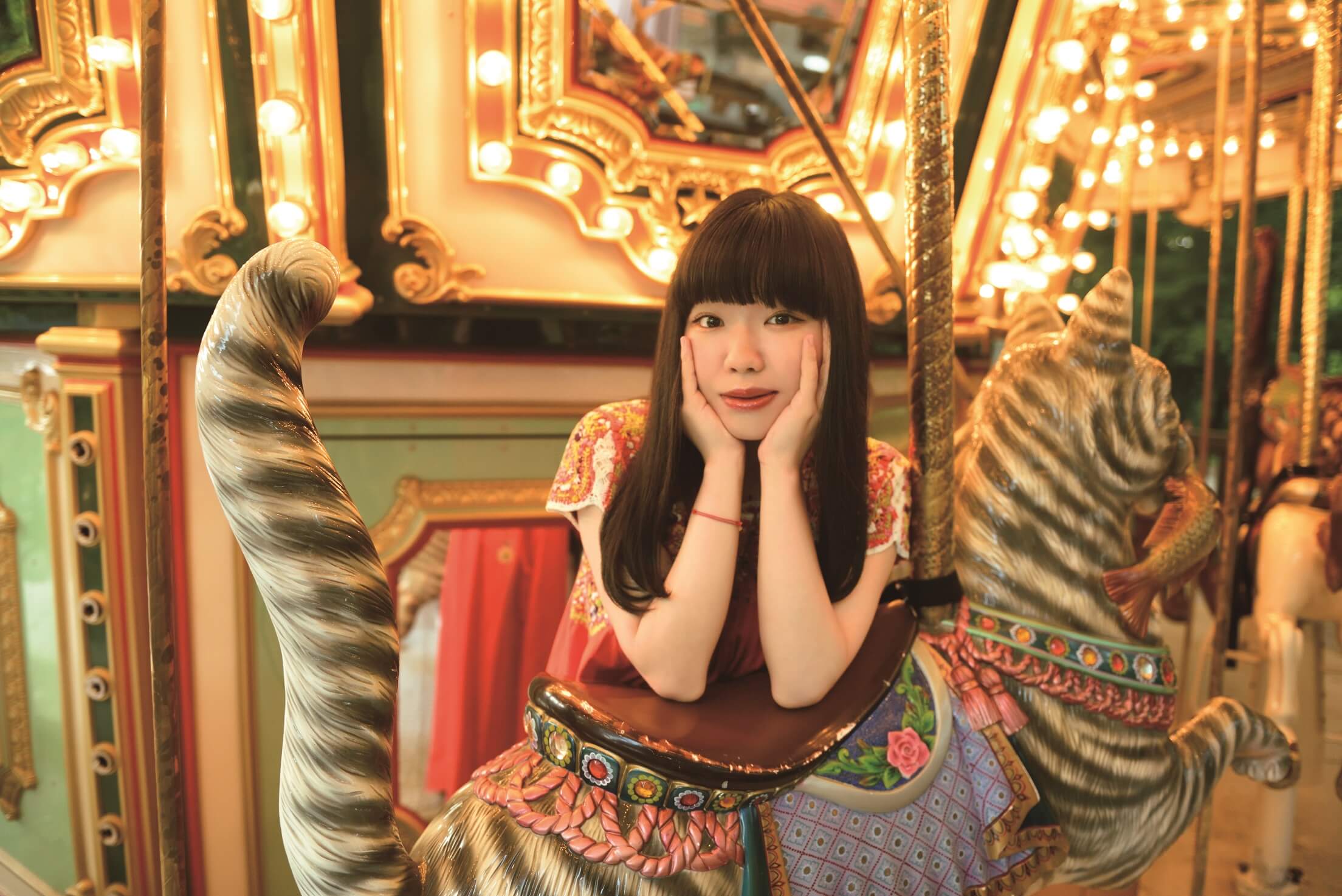 Nyanzonu Deshi's Comments
"This is the first theme song I have done for an anime. I'm so happy to have been able to meet Chitose-chan who is so sweet. The moment I read the manga, it felt like me and Chitose-chan were old friends. She's my best friend in my hear right now. I felt earnestly gentle and warm when I thought about the world that Chitose-chan sees and experiences, so I wrote this song.
■Information
Mini Album – "Mahou ga Tsukaeta Mitai Datta"
Released: July 25 ,2018
Price: ¥1,900 (Tax Included)
iTunes Link: https://itunes.apple.com/jp/album/1411402980?app=itunes&at=10l6Y8
Tour Information
"Nyanzonu Deshi Nari ni Nyan Shiki One Man Live ~Kaijou wa Nyanzonu Land Desu~"
Venue: Shibuya Eggman, Tokyo
Date: January 14, 2019
Time: Open 18:00 / Start 18:30
Ticket Price: Advance – ¥2,800 / Students – ¥1,300 (+separate drink fee)
Lawson Tickets [L-Code: 74292]: Now On Sale
E Plus: Now On Sale
Nyanzonu Deshi Official Website:http://nyanzonudeshi.com/
Okoshiyasu, Chitose-chan
Initial Broadcast: October 5, 2018
Official Website: http://vap.co.jp/chitosechan
RELATED ENTRIES
Kis-My-Ft2's Toshiya Miyata Appears in &CAST!!! App Commercial For Anime & Voice Actress Lovers

Toshiya Miyata, a member of the seven-member Japanese boy band Kis-My-Ft2, appeared in a new commercial for &CAST!!! on Wedneday. The video application is catered towards fans of anime and voice actors/actresses.

Miyata is the self-proclaimed (and proclaimed by others) number one Japanese anime fan. In the commercial, Miyata showcases the fun you can have with the app. This is his first commercial to appear by himself, and features a song written by Miyata for the commercial entitled Boku Dake no Princess with lyrics by MEGUMI.

The commercial begins with Miyata with a serious expression, explaining the hearts of anime fans in detail with difficult words, but in the second half his expression changes when he takes the phone in his hand and starts using the app.

&CAST!!! lets you message and use items on various "cast" members and they will reply to you.

In line with the new commercial, a log-in bonus campaign is being held right now until October 15 where you can receive the above-pictured clothing item when you log in.

Gamers! Rally Your Teammates For A New Quest: TOKYO GAME SHOW

The TOKYO GAME SHOW is in a league of its own. It is a mecca for gamers who cannot get enough of Japanese games and entertainment. This is where Japan's major game publishers from all kinds of platforms unite to put on an enormous exhibition. 

This includes the opportunity to explore games that are yet to be released as well as hear new announcements about the direction developers are steering the future of gaming. There's no lagging behind. This is a major event for the gaming industry, raking in leagues of heroes every year. 

On August 28, a total of 2,417 game booths were announced, which is the largest number the event has ever seen in its history. This event is home to games on a range of platforms including for console, smartphone and PC. The enormous variety of genres includes the most cutting-edge and latest trends including Esports, VR and much more.

For those of you who love cosplay, this event is your chance to finally meet your fantasy. The outside area of Hall 9 will have a Cosplaying Area Stage where two events will take place: a cosplay fashion show and a gathering. 

On Saturday 14th, Hall 1 event stage will hold the Cosplay Collection Night@2019 event where participants and event staff will take over the stage in game character cosplay. Spectating is free, so feel free to watch as each cosplayer dominates the entire stage, showing off their excellent craftsmanship and skills as they walk the runway and strike a pose definitely worth saving in your highlights! 

On Sunday 15th at 2:30 pm, cosplayers will take to the stage in units of two or more to put on a dance or combat show that you just cannot critically miss out on. 

Schedule:

September 14 (Sat)  From 12:00 ー Cosplay Runway  From 15:30 ー Cosplay Runway

September 15 (Sun) From 13:30 ー Cosplay Runway From 14:30 ー Cosplay Dance and Combat Shows From 15:30 ー Cosplay Runway

The Gathering is where cosplayers can interact with one another and have photos taken ー the perfect opportunity to send those friend requests. On September 14, a gathering dedicated to the Final Fantasy Tales Series will take place on the Cosplay Area Stage. On September 15, there will be gatherings for the Dynasty Warriors and Samurai Warriors series.

Schedule:

September 14  13:00-13:30 Final Fantasy Series Gathering  14:00-15:00 Final Fantasy Tales Series Gathering 

September 15 12:30-13:00 Dynasty Warriors and Samurai Warriors Series Gathering

More information on the exhibitions, booths and events will be announced on the morning of September 12 so please check it out. 

There is no better way to multi kill your time than to spend the entire day at TOKYO GAME SHOW 2019 ー get your tickets and GLHF!

Information

TOKYO GAME SHOW 2019

Event Information

Business Days*: September 12 & 13, 2019 (10:00~17:00)

*Business Days are open to industry and press only.

Public Entry*: September 14 & 15, 2019  (10:00~17:00)

*Doors may open at 9:30 am according to conditions on the day.  

Venue: Makuhari Messe (Mihama Ward, Chiba)

Exhibition Halls 1-11/ Event Hall/ International Conference Hall

Entry Fee: Advanced tickets: ¥1,500 (after tax)

On The Door: ¥2,000 (after tax)

Those under Elementary School age can enter for free (public entry days only)

Official Website: https://expo.nikkeibp.co.jp/tgs/2019/en/

Detective Conan Film Director Joins Judge Panel For Toho & Alphaboat's 4th Gemstone Animation Contest

GEMSTONE is an audition project created by TOHO CO., LTD. and ALPHABOAT which seeks to find the best creators. The 4th GEMSTONE project was announced last month and is seeking submissions of short animations themed on Shinjuku.

The judges for the contest have been unveiled. The line-up will include anime film and television director Kobun Shizuno, who worked on the Detective Conan film series from 2011-17 as well as the Godzilla CG kaiju film series from 2017-18. It will also include animator Yasuhiro Kimura who worked on Three Leaves, Three Colors and the Golden Wind arc of JoJo's Bizarre Adventure.

"GEMSTONE" refers to the talent selected by TOHO and ALPHABOAT for the audition project, which ranges from animators to illustrators, composers, singers, actors, and so on. The two companies will help open doors to winners' career paths.

TOHO are known for putting our a plethora of internationally-beloved anime films and series, including Your Name, My Hero Academia, Yowamushi Pedal, and Haikyu!!. They are also joined by MARUI GROUP Co., Ltd. for the project who manage three shopping facilities in Shinjuku, including Godzilla Store Tokyo, where they promote their anime franchises.

The conditions for submitting a video are that the video must be a short animation about Shinjuku no more than 5-minutes long. It is up to the creator to decide what aspect of Shinjuku they wish to talk about, whether it be the locals, culture, sights and so on. The first wave of chosen animations will be posted onto the official GEMSTONE YouTube channel after which they will be judges by veterans of Japan's anime industry.

Speaking about his involvement with the audition project, Kobun Shizuno commented: "I was born and raised in Shinjuku, and live here to this day. That's why this is a theme I can take something from and wish to judge."

Yasuhiro Kimura also commented: "I am very honoured to be judging for this important chance to find talented individuals. I'm really looking forward to seeing how each of you interpret a topic as broad as Shinjuku. I'll be waiting for your submissions!"

Information

GEMSTONE Creators Audition Summary

・Theme: "Shinjuku Anime Creators Audution" (Create a short animation themed on Shinjuku)

・Application Period: August 21, 2019 – October 31, 2019 at 23:59 (JST)

・Winner Announcement: Early December 2019

・Submissions will begin rolling out on GEMSTONE's official YouTube channel in November

Application Conditions

・A short animation themed on Shinjuku no less more 5-minutes in length

・This is a video submission-only audition

・There are no restrictions to animation type – you are free to use your imagination

*Please note that if your animation is chosen for judging it will be posted onto GEMSTONE's official YouTube channel

Winner Prize

・2 million yen

・Be featured on the Shinjuku Marui electronic billboard and elsewhere

・Work with a TOHO producer to plan a new work

・An offer to sign up for ALPHABOAT management

Judging Panel

・Kobun Shizuno, Yasuhiro Kimura, and TOHO anime producers

Submission Hashtags

・#GEMSTONE #原石募集

Attack on Titan, Seven Deadly Sins, Fairy Tail & Other Anime T-Shirts Releasing at UNIQLO

UNIQLO's graphic t-shirt brand UT are celebrating the 60th anniversary of manga magazine Weekly Shonen Jump with a new t-shirt collection via their sub brand MANGA UT. The t-shirts will go on sale from August 12.

The collection covers six anime series serialised in the popular magazine including Hajime no Ippo, Fairy Tail, The Seven Deadly Sins, Attack on Titan, Negima! Magister Negi Magi, and Shōta no Sushi. Each t-shirt pays homage to its respective series, featuring iconic scenes that have stayed with fans, sound effects, and original designs that capture their worlds.

Hajime no Ippo

Hajime no Ippo is a boxing manga written and illustrated by George Morikawa. It follows Ippo Makunouchi, a shy high school student who suffers at the hands of bullies. He begins a career in boxing in search of the answer to the question "What is strength?" and battles his rivals and those around him to grow as an individual. The t-shirt design captures the lively energy seen in the characters and is surrounded by eye-catching SFX.

©George Morikawa/Kodansha

Fairy Tail

Fairy Tail is a fantasy adventure manga written and illustrated by Hiro Mashima. It follows the dragon slaying wizard Natsu and his tale of growth as part of the Fairy Tail guild. One of the t-shirts features four characters from the guild and the other is a large illustration of Acnologia, the main characters' strongest enemy.

©Hiro Mashima/Kodansha

The Seven Deadly Sins

The Seven Deadly Sins is a fantasy battle adventure series written and illustrated by Nakaba Suzuki. It follows the titular characters each of whom represent the seven deadly sins. There are several t-shirt designs including one featuring Meliodas looking up to the sky and another of him and his comrades out on a peaceful trip. There is even a hand drawn illustration of Hawk, a talking pig and Meliodas's pet, which was illustrated by Suzuki himself and UT's editors.

©Nakaba Suzuki/Kodansha

Attack on Titan

Attack on Titan is an dark fantasy adventure series written and illustrated by Hajime Isayama. The story is set in a world where humanity lives within giant walls which help protect them from towering man-eating Titans. The terrifying t-shirt design features one of the Titans that live inside the walls.

©Hajime Isayama/Kodansha

Negima! Magister Negi Magi

Negima! Magister Negi Magi is an fantasy adventure and harem series written and illustrated by Ken Akamatsu. It follows the story of Negi, a wizard who becomes an English teacher at Mahora Academy, where he helps his class of students overcome their problems. He is also in search of his father who is known as a hero in the world of wizardry. There are two t-shirts, one featuring the main heroine Asuna Kagurazaka, and another of some of the other students in the class.

©Ken Akamatsu/Kodansha

Shōta no Sushi

Shōta no Sushi is a food manga series written and illustrated by Daisuke Terasawa which follows the story of Sekiguchi Shota who works as an apprentice and aims to become a sushi chef. There are two t-shirt designs, one which features the manga's logo and a slice of sushi and the other with the logo and a whole sushi platter.

©Daisuke Terasawa/Kodansha

Show your support for your favourite Weekly Shonen Jump series by picking up one of these awesome t-shirts!

MOTOR CITY by Kenichi Asai To Be The Opening Theme Song For Upcoming Anime No Guns Life

No Guns Life is a manga series created by Tasuku Karasuma which has been serialized in Shueisha's Seinen magazine Ultra Jump. An anime version of this manga has been created and will premiere in October 2019. We have now discovered that the opening theme song for the anime is MOTOR CITY and was written by Kenichi Asai.

The second anime trailer for No Guns Life, in which you can hear a snippet of MOTO CITY, has also been released. The anime adaptation of No Guns Life was created by Madhouse, who are popular for their anime adaptations of Overlord and BLACK LAGOON. 

© Tasuku Karasuma/Shueisha, NGL PROJECT

Dororo Anime Soundtrack Album Illustration By Original Illustrator Hiroyuki Asada Revealed

Manga Dororo by Osamu Tezuka was made into an anime 50 years ago. This continual sensation is getting an official soundtrack which will be released on August 14. The CD will be titled TV Anime Dororo Music Collection Tamashi no Kodou. Hiroyuki Asada, who creates the original character design drafts, designed the illustration for the CD jacket, which has just been unveiled to the public. 

First-Press Limited Edition Version

The whimsical illustration shows Dororo and Hyakkimaru snuggling together, alone in a vast barren desert. The first-press limited edition soundtrack version comes in a luxurious tall-size DigiPak sleeve and consists of three CDs. The regular edition contains a two-disk dual case. 

Regular Version

The booklet will contain statements by illustrator Hiroyuki Asada and Yoshihiro Ike, who was in charge of the music. As a bonus, the CD jacket illustration has been adopted for use on an A2 poster, which will be sold at Animate stores countrywide. The design will also feature on clear files which will be sold on Amazon. Please check them out.

You can also view this illustration in advance at the TV Anime Dororo Original Art Exhibition Tamashi no Kodou, which is currently taking place. Please stop by to admire the illustration with your very own eyes. 

 

Dororo © Tezuka Productions Co., Ltd./TWIN ENGINE Inc.

Information

TV Anime Dororo Music Collection Tamashi no Kodou 

(TVアニメ「どろろ」音楽集-魂の鼓動-)

Release: August 14, 2019

First-Press Limited Edition 2 CDs + Blu-ray: ¥3,800 (before tax)  AICL-3745~7

Regular Edition: 2CDs: ¥2,800 (before tax) AICL-3748~10

TV Anime Dororo Original Art Exhibition Tamashi no Kodou

Running: May 31, July 15, 2019 (July 15th is a national holiday)

Opening Hours: 12:00 ー 20:00 (※Last entries accepted: 19:45) 

Closed: Tuesdays, Wednesdays, Thursdays 

Venue: space caiman (Kadokura building B1, 4-5-15, Nihonbashihongokucho, Chuo Ward, Tokyo)

Official Website: https://www.wani.com/special/dororo

Dororo

RNB (Nankai Broadcasting) : June 28, 2019 (Friday)  2:00 am (subject to change)

MBC (Minaminihon Broadcasting): August 2, 2019 (Friday) 1:45 am 

Jidaigeki Senmon Channel: November 2, 2019 (Saturday) 2:00 am

Amazon Prime Video (Available in Japan and overseas) 

Official Website: https://dororo-anime.com

Attack on Titan The Final Season To Be Released in Autumn 2020

On June 30, NHK General TV finished broadcasting season 3 of popular anime Attack on Titan. Following the end of the broadcast, a 15-second trailer was released where we hear Mikasa pleading for Eren to come back. The short video also advertised the release of "The Final Season" which will be broadcasted in the autumn of 2020.

15-second trailer video

Fans are eagerly waiting to snatch up more information to fuel their excitement for the new season. 

©Hajime Isayama, Kodansha Ltd./Attack on Titan Production Committee

Information

Attack on Titan The Final Season

Autumn 2020 release on NHK General TV (subject to change).

Official Website: http://shingeki.tv/season3/

Toho, AlphaBoat & Tokyo Otaku Mode Announce International Contest For Original Character

Toho and AlphaBoat have announced the second run of their video audition project "GEMSTONE" which is open to creators around the world, from animators to illustrators, composers, singers, actors and actresses, and beyond.

The first round was held in Japan only and asked for illustrations and videos themed on "Godzilla." Of the 1,000 people who participated, 11 were chosen as winners, all of whom are now undertaking work alongside the production team at Toho. The key visual for the new second round was illustrated by YELLOW JUNKIE/kyo→ko, one of the winners of the first audition.

For the second round, Toho and Alphaboat are collaborating with Japanese pop culture news website Tokyo Otaku Mode to bring the contest to international creators. The new theme is "With Japan!" and participants are asked to create an original character based on this.

Participants must create a 3-minute explanation video of their character. There are no boundaries to how videos can be created―it can be in the form of a presentation by the creators themselves, a short animation, and so on. All submissions that successfully pass the first round will be posted onto the official GEMSTONE YouTube channel. Finalists will have the opportunity to participate in the official ceremony held at Anime NYC. They will receive a cash prize of 1 million yen and get to develop a project alongside Toho, AlphaBoat and Tokyo Otaku Mode.

Applications open on July 1 and will run until September 2 on the official website.

A third and fourth round are in the works for the near future. Get involved!

Information

GEMSTONE Creators Audition Vol. 2

Vol. 2 Theme: "With Japan!"

Application Period: July 1, 2019 – September 2, 2019 at 18:00 (JST)

*Winning submissions to roll out on GEMSTONE's YouTube channel in September

Prize: 1 million yen and chance to develop a project with Toho, AlphaBoat and Tokyo Otaku Mode

Official Website: https://gemstoneaudition.com/

Toei Animation Launches 100-Year Anime Pitch Project

Toei Animation has announced its "100-Year Anime Project" contest for people to pitch their ideas for original anime. As the name of the project suggests, Toei are seeking out anime series that will continue for the next 100 years. This marks the first time the company, who are celebrating their 60th anniversary this year, have set out such a project.

The project encompasses four different courses (ranging from A-D) for people to sign up to. Course A is for those who have no experience working in the anime industry while Course B is for those who do. Course C is seeking out proposals for a remake of the Ikkyū-san anime series while Course D is for professionals including animators, background artists, producers and so on.

Each course offers a grand prize, runner-up and honourable mention with the following respective cash prizes: 1 million yen, 500,000 yen and 300,000 yen.

If you've got an idea for an original anime series then get applying!

Information

A-C Course Summary

Each course offers a grand prize of 1 million yen, runner-up prize of 500,000 yen and honourable mention prize of 300,000 yen.

Running until September 30, 2019 at 15:00 (JST)

April 23, 2020 (subject to change)

[Course A: For Everyone]

Anyone and everyone are free to sign up for the course, from amateurs to students to professionals regardless of age, sex and background. Those under the age of 20 must receive permission from parents or guardians.

[Course B: For Experienced People & Professionals)

This course is aimed at those who have experience in animation, screenwriting and so on. However, if you have confidence in a completed idea or project, then you are free to apply, regardless of age, sex or background. Those under the age of 20 must receive permission from parents or guardians.

 

[Course C: Ikkyū-san Remake, For Everyone]

Anyone and everyone are free to sign up for the course, from amateurs to students to professionals regardless of age, sex and background. Those under the age of 20 must receive permission from parents or guardians.

[Course D: For Professional Creators & Producers]

・Application Positions

①Producer ②Director ③Animator ④Background Artist

・Regarding Contract

Outsourcing agreement for a single project

・Specifications

Must be over 20-years-old and be experienced in the field you apply for

・No. of Positions

A few people for each position

・Application Window

July 1, 2019 – August 31, 20192019

Full details on the courses can be found in Japanese on the official website: https://toeianim-100p.jp/

Ren Koseki's Top 5 Recommended 2019 Spring Anime

Hello, readers! I'm Ren Koseki. Spring is here, and we're about to enter the Reiwa era.

When talking about spring, we've got to talk about spring anime! I've picked up some series from the season and compiled them into a list for you all with my own comments and opinions. Let's go!

本日より「世話やきキツネの仙狐さん」放送開始です!
リムコロ先生( @rimukoro )のイラストコメントです!
皆さん、しっぽのご用意を! #仙狐さん pic.twitter.com/HUUwZZGYDN

— 「世話やきキツネの仙狐さん」公式 (@sewayakisenko) 2019年4月10日

The Helpful Fox Senko-san

For those of you who need a relaxing break from the demands of day-to-day life, I recommend this moe-packed, heart-healing series!

The story follows Kuroto Nakano, a salary man completely exhausted from his mundane routine of simply going back and forth to and from work. One day, an 800-year-old fox girl by the name of Senko appears to him to take care of him. There are flashback scenes every now and then that hint at Kuroto having met Senko when he was a child. Watching their relationship unfold is interesting to watch. At any rate, this is one that people who are also fatigued should watch so they can feel cared for too.

©イクニラッパー/シリコマンダーズ

You can never predict what's coming next or how the story will develop in this anime series!

Three middle school boys are transformed into kappa by Keppi who steals their shirokodama. In order for them to return to their human forms, they must fight kappa zombies by removing their shirokodama from them and retrieving their wish-granting dishes. The atmosphere of the series is ever-changing. At one point it suddenly turns into a musical with the kappa singing and dancing. It's an anime where you won't get the full scope by just watching two or three episodes, and while it's still ongoing that fact even now holds true.

第4話「Video Killed the Radio Star」あらすじ更新☆https://t.co/Okx8LKH8rU#キャロチュー #CandT pic.twitter.com/B21QdkBKGA

— TVアニメ「キャロル&チューズデイ」(公式) (@carole_tuesday) April 25, 2019

This series is set in a world 50 years after humans have migrated to Mars. It's an age where most of the culture is created by AI.

The story follows Carole, who was raised in a facility, and Tuesday, who was born into a wealthy family. These two musicians are drawn together by the same solitude they feel and dreams they hold. In an age where AI creates hit songs, these two characters' voices will change the world.

You will of course be invested in this story but it's the music that these two create that you will end up becoming a fan of. I'm interested to see how their voices will change this lonely, AI-developed world.

📺好評放送中!!📺
TOKYO MX 毎週(日)24:30~
(再放送)毎週(日)21:30~
サンテレビ 毎週(日)24:30~
BS11 毎週(日)24:30~
KBS京都 毎週(日)24:45~
テレビ愛知 毎週(月)26:05~
AT-X 毎週(金)22:00~
📺配信📺
ひかりTV 毎週(日)24:30~
#オカルト公務員 pic.twitter.com/1Ud0xC3wbz

— TVアニメ「真夜中のオカルト公務員」公式アカウント (@occultkoumuin) April 29, 2019

Midnight Occult Civil Servants

Miyako Arata joins the "Nighttime Regional Relations" department of Shinjuku Ward Office. Each of Tokyo's 23 wards in this story is home to one such department. Their work sees them coming into contact with occult-like beings such as gods, spirits and angels. These beings appear in order to patch things up where an ordinary human encounters some kind of problem.

Miyako is supposed to be just a newbie, but he has an ability that none of the others have: he is able to communicate with these beings. His roots, and the events surrounding theme, are another interesting part of this interesting anime!

©吾峠呼世晴/集英社・アニプレックス・ufotable

Demon Slayer: Kimetsu no Yaiba

This is an anime adaptation of Demon Slayer: Kimetsu no Yaiba which is currently serialised in Weekly Shonen Jump.

The protagonist Tanjiro lived a happy live together with his family in the mountains where they sold charcoal. One day a demon comes and slaughters his family. The sole survivor, Tanjiro's sister, is turned into a demon, though not completely. Tanjiro sets off to find a way to turn his sister back into a human. The story is harsh and the battle scenes are exhilarating. Will Tanjiro be able to save his sister? We will find out as we carry on watching the story unfold.

These are the five anime series I am checking out this season! Asakusa in Sarazanmai and Shinjuku in Midnight Occult Civil Servants are actual places so it's fun to watch! It might be fun to visit the locations they visit too.

It's looking to be a great spring this year with so many great looking anime series this season.

TALENT PROFILE

Ren Koseki

Earns charismatic support as a model from young girls. She appears in a variety of media with her cute appearance which says things you cannot imagine and speaks the opinions of a generation. She also films, edits and posts videos on her YouTube channel, 'Ren Channel.'

Get the ending theme song collection album for anime Strike Witches!

An ending theme song collection album for anime Strike Witches: 501 Butai Hasshin Shimasu! will be released for sale on Wednesday 26th June. The album includes the ending theme song Treasure of life.

This anime is a spin-off series that was launched on Tuesday 9th April at midnight by TOKYO MX. The comedic series focuses on the daily life of a group of witches in a heartwarming yet surreal way.

Each of the episode endings has a solo performed by each of the members of the 501st Joint Fighter Wing, so by the time you reach the last ending theme song on the list, you'll have listened to every single version of the song! Which character sings which song? You'll just have to watch the series to find out!

But that's not all! Yoko Ishida, who is famous for singing Strike Witches theme songs, is launching the anime opening Sora Ga Yobu Hou He for sale on Wednesday 24th April! The CD jacket photo design, event information plus extras for fans have been announced! Ishida will also be holding a mini live performance and autograph signing event in her hometown located in Niigata Prefecture to commemorate the event.

Sora Ga Yobu Hou He Music Video short version

The Sora Ga Yobu Hou He CD includes a form to apply for advanced tickets to the music event World Witches Music Festival to be held on Sunday 4th August. (Festival name subject to change). The event will feature Yoko Ishida, who has been singing theme songs for the anime throughout the anime's history! The cast of the anime series will also be part of the main event. This is the first time in Strike Witches history that the cast gets together with Ishida! For more information on the event, please check out PIA tickets.  

Keep an eye on the anime, music and events!

(C)2019 Fumikane Shimada・藤林真・KADOKAWA/501部隊発進しますっ!

Information

Strike Witches: 501 Butai Hasshin Shimasu! Ending theme song collection

Release: Wednesday 26th June

Price: ¥2,778

 

Sora ga Tobu Hou He

Release date: 24th April

Prices:

with limited edition DVD ¥1,800 + tax

Standard edition: ¥1,200 + tax

Nihon Columbia special music info website:

 

Strike Witches: 501 Butai Hasshin Shimasu! official website:

Anime Songs Debuting in January 2019: Part 2

Japanese anime is popular worldwide, and one part of the watching-experience that makes a series so memorable is its opening and ending themes.

This is part two of our list of bands and artists providing music for ongoing series and soon-to-air series. Click here for part one.

Q-MHz & SKY-HI x Run with the Wind

Japanese music group Q-MHz which is composed of Aki Hata, Tomokazu Tashiro, Katsuhiko Kurosu and Tomoya Tabuchi (UNISON SQUARE GARDEN) are teaming up with AAA member Mitsuhiro Hidaka―who is also active as a solo rapper under the bane SKY-HI―to release a new digital single called Kaze Tsuyoku, Kimi Atsuku on January 23. The song will be used as the second opening song for the ongoing anime series Run with the Wind. It features a running-like melody coupled with SKY-HI's vocals and rapping.

Full Details: https://www.moshimoshi-nippon.jp/155436

Taichi Mukai x Run with the Wind

Japanese singer-songwriter Taichi Mukai released his second album PURE last month. The song Reset on his new album is used as the current ending theme for the ongoing anime series Run with the Wind and it has been announced that he is set to perform the second ending theme with his new song Michi. The series, currently on its 11th episode, is set to begin airing again on January 8, 2019.

Full Details: https://www.moshimoshi-nippon.jp/155274

Miku Itō x Ueno-san wa Bukiyou

Singer and voice actress Miku Itō's 5th single Hirameki Heartbeat will be used as the opening theme for the TV anime series Ueno-san wa Bukiyou which is set to begin airing in January 2019. The music video was shot in Kyoto where we get to see the city's beautiful streets. The theme of the video is "manufacturing" which we see as Itō challenges herself to a range of different activities.

Full Details: https://www.moshimoshi-nippon.jp/154889

Maneki Kecak x Okoshiyasu, Chitose-chan

Japanese idol group Maneki Kecak will release their long-awaited new single Itsuka Dokoka de / One Chance on March 20, 2019. The track Itsuka Dokoka de will be used as the new ending theme for the anime series Okoshiyasu, Chitose-chan which follows the adventures of the cute penguin Chitose-chan in Kyoto. It is described as a cute song that talks about the sights Chitose-chan sees while in Kyoto.

Full Details: https://www.moshimoshi-nippon.jp/153841