#dearMoon: The Ambitious Art Project by Yusaku Maezawa to Fly With Artists to the Moon
Yusaku Maezawa, CEO of Start Today Co., Ltd, is a Japanese entrepreneur who founded the online fashion retail website ZOZOTOWN. The billionaire has made news recently with his announcement of #dearMoon, an art project which will see him take 6 to 8 artists to the moon in 2023.
Yusaku Maezawa is an avid art collector having founded the Contemporary Art Foundation and spearheading it as the company president. The Foundation promotes contemporary art by supporting artists and holding contemporary art exhibitions to popularise and improve people's knowledge of contemporary art.
Elon Musk, founder and CEO of SpaceX, has named Maezawa the first passenger to fly the company's new Big Falcon Rocket (BFR)―a new spacecraft that's being developed as part of the plan to colonise Mars. This is the rocket ship that Maezawa will be taking his art crew in. They will fly around the earth and moon for one week and draw inspiration from the sights they see for their art projects.
Throughout human history countless artists and musicians have drawn heavy inspiration from the moon, like Beethoven's Moonlight Sonata or Vincent van Gogh's The Starry Night. The #dearMoon project was named out of the same loving respect for the moon which has been a source of creativity for so many people over the years.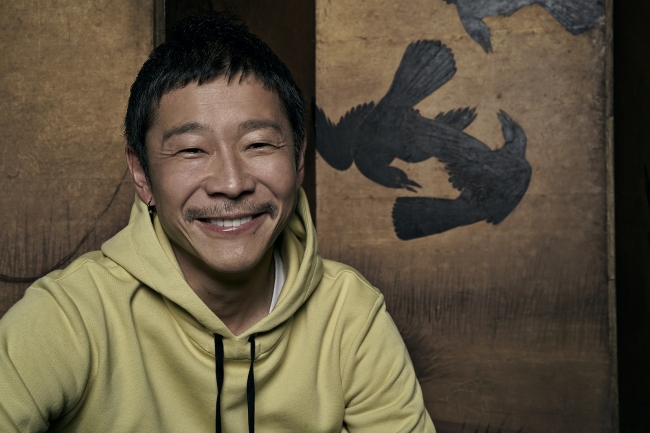 Below is a profound statement made by Maezawa on his Instagram page.
If Pablo Picasso had been able to see the moon up-close, what kind of paintings would he have drawn?
If John Lennon could have seen the curvature of the Earth, what kind of songs would he have written?
If they had gone to space, how would the world have looked today?
People are creative and have a great imagination.
We all have the ability to dream dreams that have never been dreamt, to sing songs that have never been sung, to paint that which has never been seen before. 
I hope that this project will inspire the dreamer within all of us. 
Together with Earth's top artists, I will be heading to the moon… just a little earlier than everyone else.
I am truly blessed by this opportunity to become Host Curator of "#dearMoon".
I would like to thank Elon Musk and SpaceX for creating the opportunity to go around the moon in their BFR. I would also like to thank all those who have continuously supported me.
I vouch to make this project a success. Stay tuned!
Full details surrounding the project can be found on the official #dearMoon website. Be sure to follow this historical project in the lead up to 2023.
RELATED ENTRIES
Van Gogh & Monet Inspired Tarts to be Released by Qu'il Fait Bon in Japan

Japanese fruit tart masters Qu'il Fait Bon is promoting the upcoming London National Gallery Exhibition, which is set to arrive at Tokyo's National Museum of Western Art on March 3, 2020, with the release of two new art-inspired tarts, which will be available at Qu'il Fait Bon from the same day.

The National Gallery in London is a world famous art museum that houses countless artworks from across the generations. The museum is well-known for its collection of high quality European paintings, and the first time ever, it's taking 61 these works for large scale exhibitions in Tokyo and Osaka this year.

Orange & Mango Tart – "Sunflowers"

One Piece – ¥736

Whole Tart (25cm) – ¥7,365

This first tart is inspired by Vincent van Gogh's famous Sunflowers series. The beautifully layered floral dessert contains matcha and honey flavoured almond cream, mango pudding, fresh orange and mango pieces, and meringue. The honey used is Bulgarian sunflower honey. Together with the beautiful, swirling meringue and the cross-section of the sliced cake, the tart strongly depicts Gogh's gorgeous Sunflowers work.

Available:

Qu'il Fait Bon (Grand Maison Ginza) / Serving: March 3, 2020 – Mid April 2020

Qu'il Fait Bon (Grand Front Osaka) / August 11, 2020 – Mid September 2020

Green Fruit & Peach Mousse Tart – "The Water Lily Pond"

One Piece – ¥732

Whole Tart (25cm) – ¥7,322

The second tart is themed on Claude Monet's The Water Lily Pond. A lily bed of fresh fruits sip atop a peach mousse, which has a gentle fragrance.

Available:

Qu'il Fait Bon (Grand Maison Ginza) / Serving: April 8, 2020 – Mid May 2020

Qu'il Fait Bon (Grand Front Osaka) / July 7, 2020 – Mid August 2020

Make a day of art by heading to the London National Gallery Exhibition and finishing it off with a delicious artistic tart at Qu'il Fait Bon.

Information

London National Gallery Exhibition

Tokyo Exhibition

Running: March 3, 2020 – June 14, 2020

Location: National Museum of Western Art (Ueno Park, Tokyo)

Osaka Exhibition

Running: July 7, 2020 – October 18, 2020

Location: The National Museum of Art, Osaka (Nakanoshima, Osaka)

Official Website: https://artexhibition.jp/london2020/

Taro Okamoto's Prints Exhibition to Run at Taro Okamoto Memorial Museum in Tokyo

The Taro Okamoto Memorial Museum has announced a new exhibition entitled "Taro Okamoto's Prints" which will run at the Tokyo-based museum from February 26 to June 28 this year.

Taro Okamoto employed many channels to try and bring art into the lives of the people. His range of expression was diverse, made up of countless genres, including the Tower of the Sun.

One form of media that Taro poured his talents and energy into was prints, ranging from lithography to etching, silkscreen, woodblock, and so on.

For Taro, art was synonymous with life and living, which he expressed over his lifetime, and which will be shown in the first ever print exhibition of his work.

Information

Taro Okamoto's Prints

Running: February 26, 2020 – June 28, 2020

Opening Hours: 10:00-18:00

LOcation: Taro Okamoto Memorial Museum (6-1-19 Minamiaoyama, Minato City, Tokyo)

Access: 8-minutes on foot from Omotesando Station (via the Ginza Line, Chiyoda Line, or Hanzomon Line)

Price: General ¥650 / Elementary School Children ¥300

Official Website: http://www.taro-okamoto.or.jp/en/

Exhibition Page: http://www.taro-okamoto.or.jp/en/exhibition/next.html

ART LAB KYOTO: The New Shop Opening at Kyoto City Kyocera Museum of Art

ART LAB KYOTO is the new museum shop set to open at Kyocera Museum of Art on March 21, 2020 in line with the revamp currently undergoing at the museum, with design work being co-created by Japanese architects Jun Aoki and Tezzo Nishizawa.

Kyoto is known as a hub of Japanese culture, managing to maintain traditions while constantly evolving. ART LAB KYOTO will embody everything about this idea when it opens after the museum's revamp. The spacious shop will not only sell merchandise related to the exhibitions, but books and goods related to art from Kyoto both traditional and contemporary, items in collaboration with external artists, original and exclusive sweets, and more. ART LAB KYOTO will also host events promoting the diversity of art and culture in Kyoto.

Information

ART LAB KYOTO

Address: Kyoto City Kyocera Museum of Art Floor B1F (124 Okazaki Enshojicho, Sakyo Ward, Kyoto)

Grand Opening: March 21, 2020

Closures: Open every day until April 30, 2020 except March 23. The schedule commencing May will be posted at a later date on the official website.
Opening  Hours: 10:00-19:00

Official Website (English): https://kyotocity-kyocera.museum/en/

Interview: Internationally Popular Japanese Artist Chocomoo Talks About Upcoming Harajuku Exhibition

A huge exhibition of Chocomoo's artwork is set to adorn WITH HARAJUKU HALL from August 20 to September 28 this year for "Chocomoo EXHIBITION -OUR SECRET PARTY- Supported by WITH HARAJUKU."

Chocomoo is a Japanese artist born and bred in Kyoto. Her work is known for its originality and pop style which she draws in black and white. Her work has been used for clothing and apparel brands, for music artists, and for many other special collaborations with other companies. She is active internationally and draws huge popularity with Japanese women between the ages of 10-20. We have translated an interview with her which was just released.

Chocomoo Interview

"I've loved drawing ever since I was a kid. I'd draw in notebooks, sketchbooks. When I went to New York for the first time, too, I kept a sketch diary and would draw in the park. I was later asked by a guy who managed a gallery if I'd put my work on at his site."

It was there at that gallery exhibiting several of her works that the first buyer came by.

"I sold my first piece of art. A piece of art drawn by an 'ordinary person,' not someone who was an active artist. It was about 30 dollars, if I recall, but I was super happy."

 

New York helped pave the way for Chocomoo to begin her first steps towards becoming an illustrator.

She would post her art on her blog and social media, which was seen by singers and songwriters who got in touch with her. She penned artwork for their tour merchandise, album covers, and more. Recently, she collaborated with Italian car brand FIAT. They released 100 limited edition cars with her art on it. Japanese convenience store FamilyMart even sold umbrellas with Chocomoo's illustrations on them. The reach of her work has no limits.

"When I create a piece, I incorporate a lot of positive words into it in the hopes that it lifts people up."

One distinct aspect of Chocomoo's art is the black and white monotone colouring. When asked why she draws in this way, she said: "I did calligraphy from elementary school to high school and was captivated by how we would write in black. When using black ink, it has a matte look to it, and when using black paint, it's got a glossiness. I think that's part of the reason why I do it."

This will be Chocomoo's biggest exhibition. She is currently working on new material and looking into the details of the exhibition. Speaking about it, she said: "I want to try evolving in a way that's me. I'm aiming to stimulate the people who come to see my work in a different kind of way."

She also commented on the 'OUR SECRET PARTY' part of the exhibition title. "It's an exhibition of my work, but I want everyone to enjoy it like they would a party. There's also new things to be discovered which you won't no about unless you visit, so I put 'secret' in there."

 

Chocomoo was asked to give a comment on her future plans and goals. She said, with a smile: "I want to steadily keep doing what I'm best at without changing what I already have, but I also want my work to reach lots of children too. I'd be happy for them to colour in my work, and I want to challenge myself to making some kind of video format aimed at kids. After that, since I've already painted a car, I want to go bigger and paint an aeroplane!"

Interview/Original Text: Naho Sotome (五月女菜穂)

Photos: 大黒屋 Ryan 尚保

English Translation: Joshua Kitosi-Isanga

As Chocomoo looks to expand her portfolio and reach, we look forward to seeing what she has in store for her exhibition in Harajuku.

©2020 Chocomoo

Information

Chocomoo EXHIBITION -OUR SECRET PARTY- Supported by WITH HARAJUKU
Running: August 20, 2020 – September 28, 2020
Location: WITH HARAJUKU HALL (1-14-30, Jingumae, Shibuya, Tokyo) *Building under construction at the time of posting this article
Exhibition Website: http://chocomoo-exihibition.com/

Ginza Sony Park's Milan Design Week 2019 Exhibition to be Shown in Tokyo

Ginza Sony Park is set to display their #012 Affinity in Autonomy exhibition at the Ginza Sony Park buildingーwhich is a project for the renovation of the Sony Buildingーfrom December 14, 2019.

Affinity in Autonomy was first shown by Sony at Milan Design Week 2019 which was held back in April. It received huge praise from attendees, and so Ginza Sony Park are bringing it back home to showcase at the building, which has enjoyed over 5 million visitors since it opened, for more people to experience it. The exhibit looks at elevating the affinity between humans and robots so that they may co-exist.

Also as part of the exhibition, Sony will showcase five individual pieces entitled Awakening, Accordance, Autonomous, Affiliation, and Association, which make use of image sensors. As visitors experience each one in order, their affinity towards robots will grow. Sound and visuals will play in response to people's movements.

The exhibition combines sound, colour and interaction, offering new insight into robots. What's more is that the robots recognise humans and response in real time, further enhancing the realism offered by the experience.

If you're in Tokyo this holiday season, and are looking for the robots, then be sure to pay a visit to Ginza Sony Park.

Information

#012 Affinity in Autonomy

Running: December 14, 2019 – January 13, 2020 (Closed December 31, 2019 and January 1, 2020)

Time: 10:00-20:00

Location: Ginza Sony Park PARK B2 / PARK B3 (5-3-1 Ginza, Chuo Ward, Tokyo)
Entry: ree

Event Page: https://www.ginzasonypark.jp/program/020/

Witness Beautiful Japanese Art at Hotel Gajoen Tokyo's 100 Step Staircase

Those interested in Japanese art should most definitely visit the hotel and museum Hotel Gajoen Tokyo which is now holding the 5th Wa no Akari x Hyakudan Kaidan art exhibition until September 1.

It is taking place at its Hyakudan Kaidan, or '100 Steps Staircase'―which was registered by Tokyo Prefecture as a Tangible Cultural Property in 2009 for its exceptional architecture and artistic beauty. This year's event has been made bigger and better with brand new exhibits.

Visitors will ride the exquisitely decorated elevator and first come to an Aomori Nebuta Festival-style float as pictured above with its bright colours and angry gaze. This piece was created specially for the event. It also gives off an original summery smell too.

As you follow the path deeper into the exhibition―having first taken off your shoes―you will come a line of cloth crafts. You can switch on the lights inside to light up each piece which radiate the natural colours of the material. There are many cloth work pieces on display to enjoy.

This is what it looks like when looking up the 100 Step Staircase from the bottom. You will come to several rooms when ascending the stairs with light displays in them.

This is the first room inside which is a display created by bamboo lighting artist NITTAKE from Nichinan, Miyazaki. The bamboo is beautiful on its own but even more so when the lights are turned on in a dark room as the entire room is turned into artwork itself.

Continuing on you come to the "Nagasaki Lantern Festival." You can see the lights before you even enter the room and they plunge you into that Japanese festival atmosphere. It's truly spectacular inside. It's different from the previous room which was dark with lights hanging from it. It's even more bright and colourful. It made me want to visit the real Nagasaki Lantern Festival which boasts 1 million visitors every year.

This room contains umbrella art using Japanese umbrellas from Yamaga, Kumamoto. The colours of the umbrellas turn the room into something magical. The room has a relaxing, soothing vibe to it that makes you want to gaze in silence.

Dangling further up the stairs are wind chimes which continue the summer vibes.

There are many unique art pieces too such as these goldfish from Yanai, Yamaguchi. There is artwork from around 40 individuals and groups so there is lots to be discovered. Take your time to admire each and every thing in there.

The stairs actually go up to 99. Once you have seen the final exhibition on the top floor it's time to return to the bottom where you take your shoes off.

Whether you're interested in art or Japanese culture, this exciting event is one not to be missed this summer.

Information

Wa no Akari x Hyakudan Kaidan 2019 ~Kokoro no Shikisai~

Location: Hotel Gajoen Tokyo (1-8-1 Shitameguro, Meguro Ward, Tokyo)

Running: July 6, 2019 – September 1, 2019

Opening Hours: [Mon-Thurs] 10:00-17:00 (Last Entries 16:30) / [Fri-Sat & August 11-18] 10:00-20:00 (Last Entries 19:30)

*Photography allowed (Tripods, flash and photography for business purposes forbidden)

Price: Same-Day ¥1,600 / Advanced ¥1,300 (Special Advanced Price of ¥1,100 Until July 5) / University & High School Students ¥1,200 / Elementary & Junior High School Students ¥600

*Student ID required. Preschoolers permitted free entry.

TEL: 03-5434-3140

Online Tickets: https://www.e-tix.jp/100event/#akari

Official Website: https://www.hotelgajoen-tokyo.com/100event/wanoakari2019

Sebastian Masuda And Other Phenomenal Artists Create Outstanding Doraemon Exhibition

28 artist groups and individuals have created artistic pieces to represent Japan's favourite animated character Doraemon. From July 12 to September 23, 2019, you can see these magnificent creations at the Doraemon Exhibition Osaka 2019 which will take place at Osaka Culturarium at Tempozan.

The Doraemon Exhibition Osaka 2019 features a range of artists who exhibit their works in Japan and even in foreign countries. This is a fantastic chance to meet a range of new Doraemon that the world has never seen. This event covers a range of genres through modern art that is overflowing with creativity and dedication for the anime character that has grasped the nation. 

On July 11, the day before the opening of the exhibition, there was a special opening ceremony and private viewing event held exclusively for staff and the press, which was a massive success. 

Press releases of the event reveal that artists Yasumasa Morimura and Sebastian Masuda were present at the ceremony for photos and greetings. 

Yasumasa Morimura commented with deep emotion: "I am so happy to have finally taken part in the Doraemon Exhibition. For this creation, I used lots of paper to make the costumes. I collaborated with Junko Koike, collecting lots of Doraemon manga as raw materials for the dress. As Doraemon has the power to manipulate time and space, and has the ability to create a door that leads to anywhere he desires, I thought a grey dress would be appropriate. In fact, the entire exhibition venue is just like the inside of Doraemon's pocket ー it is packed with the work of 28 solo artists and groups. What a fun experience it is. I hope that many people in the Kansai region come see this," he explained.

Sebastian Masuda commented: "I'm actually the same age as Doraemon and I share the same birthday as Noby; the main character from the series. I was born with a love for Doraemon."

He then commented on his art piece: "I actually wanted to make it as big as the Budha statue at Todaiji Temple in Nara, but we wouldn't be able to fit it in the venue so I made it two metres tall instead", he laughed. "I collected materials from markets from all around the world, so the final piece is literally made up of the colours of the world," he continued. 

His message to the people of Osaka is: "I would love it if lots of children came to see this. It would really make my day to hear reactions from them like "whoa, it's huge" or "that's so cool!""

Please come stop by to visit your favourite Doraemon!

Information

The Doraemon Exhibition Osaka 2019

Running: July 12, 2019  ー September 23, 2019 (74 days) 

※ No closed days.

Venue:  Osaka Culturarium at Tempozan (next to the Osaka Aquarium Kaiyukan) 

Address: 1-5-10, Kaigandori, Minato Ward, Osaka

Open: 10:00 ー 17:00 ※ Last entries: 30 mins before closing time 

Entry prices

General:¥1,500

Middle/High School: ¥1,200

4 y/o ー Elementary School: ¥800

Enquiries: (Hello Dial)  TEL: 050-5542-8600 (8:00 ー 22:00, no holidays)

Teasing Master Takagi-san Season 2 Celebrated With Exhibition at Shibuya PARCO

An exhibition will be held at the Shibuya branch of shopping complex PARCO to celebrate the forthcoming second season of the popular anime adaptation of Teasing Master Takagi-san which will begin airing on July 7.

Teasing Master Takagi-san is an ongoing romantic comedy and slice of life manga series by Sōichirō Yamamoto serialised in Monthly Shōnen Sunday. The manga has sold over 7 million copies. The first season of the anime series aired from January to March last with an OVA in July.

The exhibition will plunge fans of the series into its world with original illustrations for the anime and manga and more on display. Fans can also get their hands on exclusive merchandise including capsule toys and canvas art.

A3 Poster – ¥1,000 (Tax Included)

Acrylic Key Rings (7 Designs) – ¥500 (Tax Included) *Capsule toy; design given is random

Folder Set: ¥1,200 (Tax Included)

Canvas Art: ¥2,500 (Tax Included)

Fans of Takagi and her antics with Nishikata won't want to miss out on this special limited-run exhibition.

©2019 Sōichirō Yamamoto・Shogakukan/Teasing Master Takagi-san Season 2 Production Committee

Information

Teasing Master Takagi-san Exhibition

Location: GALLERY X BY PARCO (13-17 Udagawacho, Shibuya, Tokyo)

Running: July 11 – 22, 2019

Opening Hours: 11:00-20:00

Entry: Free

Event Page: https://art.parco.jp/galleryx/detail/?id=254

The Entire World Is Curious About PAPABUBBLE's Candy Art Museum To Open In Ginza

Described as the "most interesting sweets shop in the world", PAPABUBBLE sells a range of cute and fun confections. On July 1, PAPABUBBLE will open a Candy Art Museum on basement floor 2 of GINZA SIX.

PAPABUBBLE has set up shop in over 30 cities worldwide. The main shop will contain art pieces made from candy. Considering all the candy shops that are currently out there in the world, nobody has ever seen anything quite like this before. 

The museum contains around 20 different ornaments that are edible sweets. Visitors who wish to purchase the ornaments can do so. Besides the standard sweets, the display items and range of sweets for sale will be changed every day. 

When the museum opens in July, visitors will be able to enjoy the wonderful texture and flavour of candy lampshades, enjoy the artistic and charming glow of candy mushrooms, and gaze in bewilderment at an antique vase baumkuchen cake. 

To commemorate its grand opening, customers who spend more than ¥5,000 (after tax) on display items or on the sweets shop range will receive either a soft gummy brain or soft gummy dentures. This campaign will be running throughout July. 

Along with the grand opening of the art museum, there will also be Ginza-limited products on sale that are completely unique to the Ginza branch. The lineup includes sweets made from ingredients that are rarely seen in Japan. This includes colourful and fruity chocolate such as rocky roads and soft candy sweets made from snow sugar. PAPABUBBLE will also sell souvenirs that represent Ginza such as Kirihako boxes which are beautiful boxes made from wood. 

If you are in Tokyo, you just cannot miss this museum that is overflowing with originality.

Information

Candy Art Museum by PAPABUBBLE (Gallery of Sweets Art by PAPABUBBLE)

Address: B2F, 6-10-1, Ginza, Chuo Ward, Tokyo 

Opens: July 1, 2019 

Opening Hours: Mondays ー Sundays (10:30 ー 20:30)

TEL: 03-6228-5535

PAPABUBBLE JAPAN Official Website: http://www.papabubble.jp

KAWS' HOLIDAY Scultupure Makes its Way to Mount Fuji With Merchandise Collection

The next stop for New York-based contemporary artist KAWS' HOLIDAY sculpture known as COMPANION is Mount Fuji. The 40-meter long art piece will arrive near the mountain on July 18 as teased in a sketch drawn by KAWS.

The HOLIDAY project is a collaboration between KAWS and Hong Kong-based creative studio AllRightsReserved. The COMPANION has made his way around Seoul, Taipei and Hong Kong, with his fourth stop set for the land of the rising sun's World Heritage Site and symbol Mount Fuji.

KAWS:HOLIDAY JAPAN is a camping experience sponsored by Herschel Supply where visitors can admire the sculpture with Mount Fuji in the background at the Fumotoppara campsite in Shizuoka Prefecture. It will take place from July 19 to 24.

KAWS will travel to Japan to kick off the experience with the "Ceremonial Camp Day" event on July 18. Tickets will go on sale worldwide for just 24 hours via the official website from June 28 at 10:00am (JST). The tickets will roll through a lottery system with 400 randomly selected winners.

Exclusive merchandise will also be available to purchase worldwide over on DING DON Takuhaibin's online store from July 18.

Items include various plush toys, 9.5″ vinyl figures, a set of three kokeshi dolls, a set of four ceramic plates, t-shirts, cushions and more. They are all limited in stock so be sure to get your hands on them quick. There will also be Japan-exclusive colours for the t-shirts and plush toys too.

Information

KAWS: HOLIDAY JAPAN
Running: July 18, 2019 – July 24, 2019
Location: Fumotoppara Campsite
Address: 156 Fumoto, Fujinomiya, Shizuoka Prefecture

KAWS: HOLIDAY JAPAN Ceremonial Camp Day
Date: July 18, 201
Ticket Window: June 28, 2019 at 10:00 (JST) – June 29, 2019 at 10:00 (JST)
Event Details: https://kawsholidayjp.dingdongtakuhaibin.com/en

KAWS:HOLIDAY Merchandise Collection

On Sale: July 18, 2019 at 10:00 (JST)

DING DONG Takuhaibin: http://www.dingdongtakuhaibin.com/

Payment Methods: PayPal, Visa, MasterCard, American Express and Discover

*Limited supplies

Hotel Gajoen Tokyo to Hold Japanese Art Exhibition at Hyakudan Kaidan

Hotel Gajoen Tokyo is both a museum and a hotel which celebrated its 90th anniversary in December 2018. The establishment is set to hold its 5th Wa no Akari x Hyakudan Kaidan art exhibition at its Hyakudan Kaidan, or '100 Steps Staircase'―which was registered by Tokyo Prefecture as a Tangible Cultural Property in 2009 for its exceptional architecture and artistic beauty.

The event will run from July 6 to September 1 and will feature all-new exhibits from 40 independent artists and groups from around Japan: from Aomori in the north to Kagoshima in the south.

Bamboo Artwork by NIITAKE

Participating in the exhibition for the first time is bamboo artist NIITAKE from Nichinan, Miyazaki. His pieces will include entrancing room installations as well as a colourful collaboration with the Nagasaki Lantern Festival which enjoys an incredible one million visitors.

emullenuett: The Sand Art Duo

emullenuet are an up-and-coming duo who create artwork out of sand. The two of them have created some pieces just for this exhibition such as Japanese ranma transoms.

Edo Furin Wind Chimes

This dramatic exhibit will include lacquer work, glass work, metal carving and more by Tokyo Teshigoto―a group backed by the city of Tokyo which is a collaboration between contemporary designers and traditional Edo techniques which aims to pass down theses kills to the next generation. Summertime furin which chimes will also line the showcase with their delicate designs and sounds. Other contemporary artists will also display their work with Japanese-style paper, allowing for visitors to see cultural assets established during the early Showa period.

Aomori Nebuta

This year's exhibition will also see the return of some legends who have enjoyed popularity at previous runs of the event. As you descend the huge mother-of-pearl raden elevator you will be welcomed by an overwhelming assortment of standout pieces.

Ishimaki Kokeshi

Other popular names include Tadaharu Kawamura, a sculptor who works with natural materials such as leaves, shells and Japanese lantern cherries, and Takatoshi Hayashi who is known for their kokeshi dolls.

Information

Wa no Akari x Hyakudan Kaidan 2019 ~Kokoro no Shikisai~

Location: Hotel Gajoen Tokyo (1-8-1 Shitameguro, Meguro Ward, Tokyo)

Running: July 6, 2019 – September 1, 2019

Opening Hours: [Sun-Thurs] 10:00-17:00 (Last Entries 16:30) / [Fri-Sat & August 11-18] 10:00-20:00 (Last Entries 19:30)

*Photography allowed (Tripods, flash and photography for business purposes forbidden)

Price: Same-Day ¥1,600 / Advanced ¥1,300 (Special Advanced Price of ¥1,100 Until July 5) / University & High School Students ¥1,200 / Elementary & Junior High School Students ¥600

*Student ID required. Preschoolers permitted free entry.

TEL: 03-5434-3140

Online Tickets: https://www.e-tix.jp/100event/#akari

Get a Night Pass to the teamLab Borderless Digital Art Museum in Odaiba

MORI Building DIGITAL ART MUSEUM: EPSON teamLab Borderless is an art museum co-managed by MORI Building and teamLab which is home to a borderless world without any maps in sight. The museum is currently displaying its spring display until the end of May.

It has been announced that this summer, from July 13 to September 1, the museum will extend its weekday hours to weekend hours where it will stay open until 21:00. They will also begin selling a limited number of Night Passes which enables guests to enter the museum from 18:00 for a closer, more intimate interaction with the exhibitions.

If you'll be in Japan this summer then take advantage of this opportunity to enter teamLab's immersive borderless world of digital art.

Information

MORI Building DIGITAL ART MUSEUM: EPSON teamLab Borderless

Address: 1-3-8 Aomi, Koto Ward, Tokyo

Price: Adults – ¥3,200 / Children – ¥1,000 / Disability Discount – ¥1,600

Night Pass: Price: Adults – ¥2,900 / Children – ¥1,000 / Disability Discount – ¥1,500

*Night Pass available from July 13 to September 1 only. Entry from 18:00 permitted.

Opening Hours: Weekdays 10:00-19:00 / Weekends 10:00-21:00

*Opening hours to run from 10:00-21:00 all week from July 13 to September 1.

*Last entries are one hour before closing time.

Closed: Every 2nd and 4th Tuesday

*Also closed Saturday June 22 and Saturday August 10. Open on Tuesday August 13.

Official Website: https://borderless.teamlab.art/