livetune+ first EP "Sweet Clapper" jacket unveiled & original bonus items announced!
livetune+, a new live unit formed of unique songwriter kz (livetune) and global model Yano Anna, have released the artwork to their upcoming 1st EP "Sweet Clapper" which is due to go on sale on Wednesday May 11th. The artwork which is ready for release with their first ever EP features photography of Yano Anna (Vo.) and electro-pop illustrated visuals.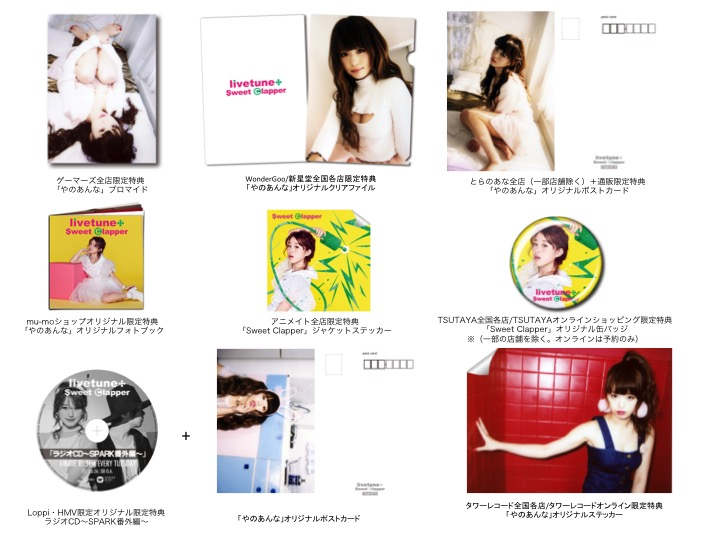 The EP features the track "Milky Rally" which serves as the opening theme to the doll animation "MILPOM★", currently available on YouTube; "Soft Touch", a song used as the opening theme to the online flash anime featuring popular character Omochi Alien, "Don Don Shiiterebi vol.0 Saito-san wo Shinryaku Shita yo" (どんどんしーてれび vol.0 さいとーさんをしんりゃくしたよ。); the well-known "Jump Up"; the lead track "Sweet Clapper", and more, for a total of 7 pop gems made possible by kz. The First Press Edition of the EP includes the unforgettable dance track "Dance Beat Step" which will have you itching to move your body.
Moreover, every CD shop selling the EP will be including their own special original bonus gifts together with your purchase! This includes item extracts from Yano Anna's to-be-released cute and sexy topical photobook "Yano Anna MADE in HARAJUKU VOL.1", original photobooks, radio CDs and more, showcasing a diverse range of unique and special bonuses currently being prepared by the shops!
You must not miss out on any of these rare goods, so make you check them out!
■Information
livetune+/1st EP「Sweet Clapper」
On Sale: Wednesday May 11th, 2016
Prices:
First Press Limited Edition ¥1,800
Regular Edition ¥1,800
※the above listed prices do not include tax pricing
<Tracklist>
1. Restart
2. Sweet Clapper
3. Milky Rally
4. Soft Touch
5. Slow Pace
6. Jump Up
7. Darling Darling
8. Dance Beat Step (track only available on the First Press Limited Edition)
<Shop Bonuses>
Animate Original Limited Bonus Item (all stores):「Sweet Clapper」CD Jacket Sticker
Gamers Original Limited Bonus Item (all stores): 「Yano Anna」 Bromide
HMV Original Limited Bonus Item: Radio CD ~SPARK Bangaihen~ + 「Yano Anna」 Original Postcard
Tower Records (all stores nationwide)/Tower Records Online Original Limited Bonus Item: 「Yano Anna」 Original Stickers
TSUTAYA (most stores nationwide)/TSUTAYA Online Shopping Original Limited Bonus Item: 「Sweet Clapper」Original Button Badges ※Some TSUTAYA stores do not offer this item. If purchasing online, the item is only available via pre-order.
Toranoana (most stores) + Regular Edition Original Limited Bonus Item: 「Yano Anna」 Original Postcard
Wonder Goo/Shinseido (all stores nationwide) Original Limited Bonus Item: 「Yano Anna」 Original Clear File
mu-mo Original Limited Bonus Item: 「Yano Anna」Original Photobook
WARNER MUSIC DIRECT Original Bonus Item: 「Sweet Clapper」 Original B2 Poster
livetune+ Official Website:http://livetuneplus.com
RELATED ENTRIES
Tokyo Stroll: Anna Yano Visits Real-Life Locations of 'Durarara!!' Anime Series

Anna Yano is a full-blown anime freak, and this feature lets her feed that passion as she visit real life locations of her favourite anime series.

The location for this second entry was Ikebukuro. When people think of Ikebukuro, there's no other series that springs to mind quite like Durarara!! The opening video of the anime is immensely popular amongst fans for how cool it is, so Anna challenged herself to recreating it with help from people on the street who love Ikebukuro!

We begin in front of Tokyu Hands. What kind of pose is this all of a sudden, lifting your phone up in the air like that?!

"I'm gathering people to recreate an Anna Yano version of various scenes in the opening!"

 

This is actually the place where the Dollars first met in the show. It's when Mikado Ryugamine called his pals on his mobile and found out most of the people he knew were members.

"This one scene I thought was pretty relevant to today – using your mobile phone as a tool to move people."

First up, this place! The music note monument along Sunshine Street. Anna called over two cute ladies who were in the middle of shopping in Ikebukuro. This is the best photo ever with everyone lined up in the same order – from the right Mikado Ryugamine, then Anri Sonohara, and finally Anna as Masaomi Kida!

Anna gave a gleaming smile as she said, "I wanted to try coming here!" Everything's going great from the get go. Thank you, ladies!

Moving on to the next scene, we have Russia Sushi which appears in the anime. Anna caught a nice guy who had come from Russia to visit Japan. "What a miracle to meet someone Russian in front of Russia Sushi!" The anime gods must be smiling at Anna right now.

Anna was thankful for such a nice encounter! Have a nice trip~♪

Next, the scene where the The Headless Rider rides her bike in front of Cinema Sunshine. Anna too ran with all her might!

KFC too.

Getting drenched in front of Aoyama. Anna is stretching her body.

The sky faded into twilight at Mutsumata Bridge with the the orange coloured setting sun.

Be sure to check Anna's version of the Durarara!! opening video on Kawaii JAPAN-da!! on MBS.

Next on the list is the food portion of the scenes. Anna was able to ask the staff to recreate the sushi they eat in the anime at Russia Sushi, a type of Edomae Sushi.

"Tada! I actually like sushi toppings that don't usually go with rice on normal sushi. I actually just ate hamburger sushi yesterday!"

From the left: sour cream, borscht, and mapo!

Cheese, then karaage!

After filling her stomach, Anna left Ikebukuro to go to another certain place.

Smile Cafe Roots was used as a model for a place that appears in the anime. It's a bar in Higashi-Nakano.

She was also able to get a cocktail like the one from the show. Anna was in a world of her own as she drank the cocktail of her beloved Shizuo. After her getting a little intoxicated, we asked Anna about the appeal of Durarara!! once more.

I love Durarara!! It's had an influence on me, so much so that I used to live in Ikebukuro. It's been fun to go around all the places and recreate the opening. When I imagine replacing the place I live with Ikebukuro and living life keeping that a secret even from people close to me, I think they'll gradually come to be able to like it!"

■Information

MBS (Kansai Local) – "Kawaii JAPAN-da!!"

Broadcasting: May 15, 2018 at 1:59am

*The show will be rebroadcast a week later (https://dizm.mbs.jp/title/?program=kawaiijapanda)

Durarara!! and Durarara!!×2

Aired between January 2010―March 2016

Author: Ryogo Narita (Dengeki Bunko / ASCII Media Works)

©Ryogo Narita / ASCII Media Works / Ikebukuro Dollars・MBS

Durarara!!×2 Blu-ray & DVD Series Now On Sale

Tokyo Stroll: Anna Yano Visits Famous Sites From "Penguindrum" Anime Series

Anna loves anime, and so she is bringing a new series to our "Tokyo Stroll" feature where she takes us on a pilgrimage to visit real life anime locations! The theme chosen by Anna for this first entry is a solo trip to Okigubo which appears in the anime series Penguindrum (which she is a huge fan of!) Just what kind of encounters will be waiting for her there?

Anna puts on the same hat as the anime's protagonist Himari Takakura (from her own collection) and meets at the station. You can tell she is in high-spirits from behind. The train station too is exactly the same as in the anime!

The first location on the list was Ogikubo Second Children's Park. Anna did get a little lost on the way there, but she managed to find the giraffe and pig park installations. In the anime, the Takakura brothers live in the house right next to this park.

Anna said solemnly "I think the colourful house is a symbol of happiness for the brothers" while confirming that this was the location the house should be if it was the anime. Upon basking in the afterglow, one of the staff members that was with Anna cried out as if to cling onto something!

"Survival strategy! I'll tell it to you lowlifes who will never amount to anything.* Time to go to the shopping district and get my hands on the Penguin Drum!"

[*Translator's Note: This is a quote from the anime series Penguindrum.]

Anna was taken aback by this remark.

"I wanted to go there because that appears in the anime too!"

And with that, off they went. But just what is the Penguin Drum…?

Here's the shopping street archway that you see in the anime! It's pretty exciting. Ogikubo is a kidn and friendly place. While strolling the streets, Anna was asking people "Where's the Penguin Drum?!" to passers-by. Along the way, there was a shop that caught her eye! It was a kebab shop that had a deliciously inviting smell.

"I'm glad because I was reaaally hungry."

The man's Japanese was very good. Anna went in for the kill, asking, "Please show me your artefact that's associated with your fate!" He kindly showed her his charm from Turkey that's preciously decorated in the shop. Does fate relate to the Penguin Drum?! Maybe the Penguin Drum something that each person possesses… Our trip isn't over yet!

The next location can be found on the roof of Town Seven, a shopping center at the north entrance of Ogikubo Station. It's a wide and open space where a lot of children were playing.

This is the scene when the older of the Takakura siblings, Kanba, is talking to his ex-girlfriend, when a memory-erasing red ball comes flying and hits her on the forehead.

The playground equipment that appears in the background was very impressive to look at.

The children became interested in Anna's hat. She was completely surrounded!

The next place Anna headed to was the shrine where the heated fight between the brothers unfolds. The younger brother, Shoma, becomes aware of the events surrounding his older brother, so presses him with questions. Kanba declares that he was playing parent. Anna prayed by herself in the grounds.

And don't forget to take a commemorative photo.

Next is the scene with the pedestrian bridge where Kanba blows up a car. We took the photo at the same angle as in the anime.

Anna told a story with a serious expression.

"He [Kanba] wasn't always a bad guy. The fact that he did something like that. That scene shocked me."

Anna also passed under the arch to Hakusan Towns shopping district. It seems like it has changed a little since the anime aired, but you can tell it's the place immediately!

Anna tottered over and shouted, "Survival strategy!" again to a lady passing through. She then made her way to a ramen shop as the lady had also mentioned which is famous among fans.

"Sanchan Ramen" is a restaurant with a 60-year history that has continued to be loved by locals in Ogikubo.

This is the place used as a location for handing over money between Kanba and the evil organisation. There's a lot of fans that imitate the anime and slide envelopes with money inside on the tabe.

Of course, Anna had a bowl of ramen too.

And gyoza!

And beer!!

By the way, why do you like this anime, Anna?

"Penguindrum is a very deep series, it makes you think about things like love and fate. The art is cute and the music and presentation are gorgeous. I really want everyone else to watch it."

Today's article will be broadcast on "Kawaii JAPAN-da!!" on MBS (Kansai Local). It will go on air on March 13th! Don't miss out on Anna's solo travel!

■Information

MBS (Kansai Local) – "Kawaii JAPAN-da!!"
Broadcast Date: March 13th at 1:59am
*There will also be a repeat streamed on MBS Dizm (https://dizm.mbs.jp/title/?program=kawaiijapanda)

Blu-ray BOX edition of "Penguindrum" now on sale in Japan!

Artist / Model:Anna Yano

Photographer:LOVEGRAPH

Live Club & Party Event "YYY"—Hosted by Yasutaka Nakata, kz, tofubeats, banvox—to be held throughout night for the first time

"YYY"—the live concert and party event hosted by Japanese music and pop culture leaders WARNER MUSIC JAPAN and ASOBISYSTEM—is getting its first late night installment on August 25th.

YYY is spearheaded by 4 of Japan's cutting-edge music veterans: Nakata Yasutaka, kz, tofubeats, and banvox, all of whom have gained immense attention around the globe. In many ways, it can be said that hosting YYY late into the night has been something long yearned for by fans.

It has also been announced that MATZ will be joining the line-up, a well-established music artist active in Hokkaido who has gained much attention from DJs all around Japan for his original tracks that he posts to SoundCloud.

YYY is always hosted at Studio Coast in Shinkiba. The venue is known for its multitude of different stages and areas. The popular "Ray-Van" party is set to be held in the WATER area which will no doubt be hugely well-received for summertime. With artists including Shogo Soezima (T.U.S), TJO, Fumihiko Chiba and YASUKI leading the pack, each floor will be filled with DJs ready to dazzle and exite.

You can expect to see the popular traditional Japanese music-only club party Japangu♪, which started back in 2003 in Shinjuku Ni-Chome, in the BOX area, while the ISLAND area will be hosted by numbersixxx, a regular artist at the popular party xxx.

Studio Coast was absolutely packed and spilling with fans partying late into the night for last year's "YYY." The next installment is about to hit, so why not get yourself a ticket and experience the madness yourself?

■Information

YYY Vol.3 -CLUB EDITION-

Presented by DJ Nobunaga

Friday August 25, 2017 @ 23:00

Price: DOOR: ¥3,500 / AgeHa Member: ¥3,000 / International Coupon: ¥3,000 (All Foreign I.D Holders)

Advance Tickets (Priority Entry):

EARLY BIRD TICKET Tier 1 (First Batch) : ¥2,000(Limited)

EARLY BIRD TICKET Tier 2 (Second Batch) : ¥2,500(Limited)

SOLD OUT

General Tickets: 

¥3,000 (4th August 12:00~24th August 23:59)

Ticket Purchasing:

・iFlyer

・eplus

http://eplus.jp *Search for "YYY"

※Purchasing Page URL:

http://sort.eplus.jp/sys/T1U14P0010843P006001P002234392P0030001

・YYY Official Website:

Related Article:Yasutaka Nakata to Provide Official Worldwide Anthem for Ultra Music Festival—and Perform at Ultra Japan

Related Article:Second Wave of Artists Announced for Yasutaka Nakata Produced Festival "OTONOKO"

Yasutaka Nakata, kz, tofubeats and banvox to present YYY vol.2 on 28th Jan ー the ultimate party featuring TeddyLoid. The schedule has now been released!

Get ready for the new "LIVE&PARTY YYY" hosted by WARNER MUSIC JAPAN and ASOBISYSTEM, aiming to spread music and pop culture. The timetable for the vol.2 party that will be kicking off on 28th January has been announced. With Yasutaka Nakata, kz, tofubeats and banvox charging up the party as the four main DJs/artists, they will be joined by more music sensations including TeddyLoid as a featuring DJ.

Programme (in order)

Doors open:15.00

Start time:15.45(※Please note that the schedule has been changed)

Approximate finish time: 20.00

Order of performance

①banvox

②TeddyLoid

③tofubeats

④kz(livetune+)

⑤ Yasutaka Nakata

※Please note that the order of the performers is subject to change without prior notice.

※You will not receive a full refund for your ticket for this reason.

YYY vol.2 goods include collaboration goods from second hand fashion store Santo Nibu No Ichi (San'nibu). San'nibu is famous for its large-sized hoodies and thanks to this collaboration, Yasutaka Nakata became the editorial supervisor in the making of originally designed hoodies for this event. There are a limited number of these collaboration hoodies selling.

You can win YYY goods, drink tickets, posters signed by all the performers and other amazing presents in the lottery, or get your hands on a badge from a capsule machine! Test your luck this new year ー there's plenty up for grabs!

■Information

YYY Vol.2

Date:Saturday 28th January 2017 Opening time: 15:00/ Start time:15:45

Venue:Shinkiba STUDIO COAST

Performers:Yasutaka Nakata / kz(livetune+)/ tofubeats / banvox

featuring DJ : TeddyLoid

Supported by:Spotify

YYY official website:http://yyy-official.com

■ Related article:Yasutaka Nakata teams up with London artist Charli XCX and Kyary Pamyu Pamyu for new single to be spread throughout 110 countries & regions.

■ Related article:Official music playlist released for the next instalment of the party extravaganza "YYY" led by Nakata Yasutaka, kz, tofubeats, and banvox

Official music playlist released for the next instalment of the party extravaganza "YYY" led by Nakata Yasutaka, kz, tofubeats, and banvox

"YYY" is a live event for music fans of all generations spearheaded by Nakata Yasutaka, kz, tofubeats and banvox. In the run up to the next instalment of the party night, dubbed "Vol.2", live footage of Vol.1 featuring one song from each of the artists has been made available for viewing. As well as that, the official YYY playlist for Vol.2 has been put on the online music streaming service "Spotify".

YYY is handled by WARNER MUSIC JAPAN and ASOBISYSTEM who are leaders of Japanese music and pop culture. Vol.2 of YYY will continue the crazy partying where Vol.1 left off and will be held on Saturday January 28th, 2017 at Shinkiba STUDIO COAST. Be sure to check out the madness of Vol.1 from the link below. This is the first time official footage of YYY has been uploaded.

YYY Vol.1 Live Footage


Make sure you're ready for YYY Vol.2 with the official Spotify playlist below!

YYY Vol.2 By yyy_official
https://open.spotify.com/user/yyy_official/playlist/2eomeo6Y8HeLvVlcleJbmj

"YYY Vol.2" boasts an unprecedented line-up of Japanese dance music. There's less than a month to go before the big event, it's going to be huge.

■Information
YYY Vol.2
Date: Saturday  January 28th, 2017 15:00 OPEN/START
Location: Shinkiba STUDIO COAST
Line-up: Yasutaka Nakata / kz (livetune+) / tofubeats / banvox
Ticket Prices (tax-inclusive)
・General Ticket: ¥3,800-
・General Group Ticket C: ¥7,000 ※2 tickets
・General Group Ticket D: ¥13,000 ※4 tickets
Playguides
・ePlus(http://eplus.jp/sys/T1U14P0010163P0108P002176553P0050001P006001P0030003)
・Lawson Ticket(L-Code: 71027 http://l-tike.com/order/?gLcode=71027)
・Ticket Pia(P-Code: 313-536 http://t.pia.jp/pia/event/event.do?eventCd=1649116)
*You must pay a ¥500 drink fee for 1 beverage upon entering the venue.
*Children under the age of 6 are not permitted entry into the venue, whether or not accompanied by a parent or guardian.
YYY Official Website: yyy-official.com

ーーー
■Related Article: Yasutaka Nakata teams up with London artist Charli XCX and Kyary Pamyu Pamyu for new single to be spread throughout 110 countries & regions.

■Related Article: Kyary Pamyu Pamyu×Nakata Yasutaka unveil the CD cover art for their new single together!

Nakata Yasutaka, kz, tofubeats & banvox – 4 music veterans announce the second instalment of their LIVE & PARTY "YYY″ concert

"YYY" is a live concert performance and party spearheaded by music veterans Nakata Yasutaka, kz, tofubeats, and banvox. The first holding of the concert, titled "Vol.1", ended to great success back in summer this year. It's been announced that the next instalment of the show, "Vol.2", will be held in January next year. Both ticket & t-shirt as well as group ticket bundles are now available for advance booking until October 19th. WARNER MUSIC JAPAN and ASOBISYSTEM, both leads in the Japanese music and pop culture scene are in charge of "YYY". The new concert will follow up to Vol.1's success and will be held at Shinkiba Studio Coast on Saturday January 28th, 2017. A video teasing YYY Vol.2 has been made public showcasing the excitement at Vol.1.

YYY Vol.2 Teaser Trailer: https://youtu.be/l1izdfIdOk8

On stage will at "YYY" will be "Nakata Yasutaka", "kz (livetune+)", "tofubeats", and "banvox". It seems there are a lot of surprises in store for "YYY Vol.2" on top of this historical line-up of artists. Don't miss out on the next "YYY"!

ーーー
■Information
YYY Vol.2
Date: Saturday January 28th, 2017 – 15:00 OPEN/16:00 START
Location: Shinkiba STUDIO COAST
Line-up: Nakata Yasutaka / kz (livetune+) / tofubeats / banvox
YYY Official Website: yyy-official.com

Ticket Prices (tax included)
・Advance Ticket:¥3,500-
・Advance Ticket w/t-shirt(S/M/L):¥3,800-
・Advance Ticket Group Discount A: ¥6,600 ※For 2 people
・Advance Ticket Group Discount B: ¥12,000 ※For 4 people
◎Ticket Window URL:http://w.pia.jp/t/yyy/ ◎Ticket Window: Thursday October 13th 18:00〜Wednesday October 19th 23:59
・General Ticket: ¥3,800-
・General Ticket Group Discount C: ¥7,000 ※For 2 people
・General Ticket Group Discount D: ¥13,000 ※For 4 people
※You must pay a separate drink fee (¥500) for one drink upon entering the event.
※Those who purchase advance tickets online will be entered into a lottery and drawn for admittance.
※Those under the age of 6 are not permitted entry to the event, even with a parent or carer.

ーーー
■Related Article: Yasutaka Nakata, kz, tofubeats and banvox Slay Ultimate Sold-out Show "YYY" Vol.0.5: After Report

http://www.moshimoshi-nippon.jp/9619

■Related Article: New EP! Yasutaka Nakata X Kenshi Yonezu — "NANIMONO (feat. Kenshi Yonezu)" full version music video out now!

livetune+ strikes again with the success of their first Asia tour in Taiwan and Thailand! Bring on Indonesia!

News update: 22/08 (Mon) 18:00

"kz" was the creator of the record-breaking widespread obsession with Hatsune Miku. As well as being the creator of Hatsune Miku's song "Tell Your World", which was used as the commercial song to promote the Hatsune Miku Google Chrome Theme, kz makes a major contribution to the well known and loved Vocaloid music industry with many more songs. Having teamed up with the increasingly popular Anna Yano, the new dream team has been formed to create "livetune+". Livetune+ flew to Taiwan to take part in the recent Manga Exhibition 2016 from 15th — 16th August, immediately followed by a trip to Thailand for their first Asia tour, performing on stage at "Anime Festival Asia Thailand 2016".

livetune+ performed at the "Manga Exhibition 2016" event in Taiwan and "AFA(Anime Festival Asia)", which is known as the largest anime festival in Asia. Over 600,000 fans gathered together at these venues over the 6 day period. Witnessing just one of the performances by livetune+ unfold grandly from start to finish makes it hard to believe that this was the unit's first ever public performance in a foreign country.

This time, kz(livetune) started both gigs with DJ play, performing the openings of "SEVENTH HAVEN", "Hand in Hand", "Tell Your World" and many more hits songs whilst keeping a carefree attitude which holds no regrets. Suddenly, he dropped the beat and the whole venue raved as one. Next,  "Restart", which is the introduction to livetune+'s EP "Sweet Clapper" was played and Anna Yano made her appearance on stage. The audience screamed wildly as if to say "We were waiting for you!!". With that, the duo continued their set list which consisted of "Milky Rally", "Sweet Clapper" and "Slow Pace". The fans were absorbed in the performance and became especially excited with the first ever live performance of "Cheers". However, livetune+ had more surprises for their audience — they sung the main hook of the song "Jump Up" in Thai, which energised the fans on a whole new level.

Having finished up in Taiwan and Thailand, the next stop for livetune+ is Indonesia on 16th September for Anime Festival Asia Indonesia 2016. This will be followed by the largest live showcase festival in Japan called FM802 MINAMI WHEEL 2016, which will be held in Osaka courtesy of FM802. The uplifting feeling carried in the beat of the sweet tunes by kz(livetune) combined with the cute and very sexy Anna Yano is the charm point of livetune+. They got power, good looks,  fine vocal skills and great music to offer to you! Don't take your eyes off the activity of livetune+ as they continue their activity in Japan and overseas!

▼Live performance information

Friday 26th August 30 VILLAGE VANGURD presents V.V Rosks~MIX JUICE~

Friday 16th September Anime Festival Indonesia 2016

Sunday 9th October FM802 MINAMI WHEEL 2016

▼Release information

livetune+「Sweet Clapper」

Now On Sale

Price:¥1,800 (base price)+tax

Limited edition:WPCL-12334

Regular eddition:WPCL-12335

▼「Cheers!」(Popular sale)

>>iTunes

https://itunes.apple.com/jp/album/cheers!-single/id1136780784?app=itunes&at=10l6Y8

>>Apple Music

https://itunes.apple.com/jp/album/cheers!-single/id1136780784?app=music&at=10l6Y8

Let's take a look at the sweeping success of music producer & model duo unit livetune+!

livetune+, the two-member music unit, released their first album "Sweet Clapper" in May this year. They have been garnering a lot of attention, even having written the song "Cheers!" specially for a limited time web-only animated commercial for "Kirin Hyoketsu®" which was seen worldwide. Now, some of you might be confused thinking "Huh? Isn't livetune a one-member solo unit?" In this article, we'll be talking about the members of "livetune+", the two-member unit which consists of kz and Yano Anna, and what they have done up to now and plan to do in the future!

"kz", a name in the world of VOCALOID
kz is a DJ, remixer and music producer who has been in charge of a lot of music production for artists, including anime and game music for artists such as ClariS and May'n, as well as offering his services to those artists he is close to. livetune is originally the name of his music unit and refers to the time of his musical activities.

And he wouldn't have been able to make it without his history of music with Hatsune Miku.

His song "Packaged" which used the Hatsune Miku voice bank was released in the early period of Hatsune Miku herself being released. The lyrics, which ride on top of a sparkly and electronic sound, stole the hearts of many viewers on Nico Nico Douga and the video steadily raked in the views.

His album "Re:package" was subsequently released in August 2008 under the name "livetune feat. Hatsune Miku". This was the first time an album had been released from a major label under Miku's name.

Another indispensable track is "Tell your world". Yes, that song which was released in 2011 – the one which featured as the theme song for Google Chrome's commercial in which Miku circles the globe. The song, which connects and brings together people in the world through the internet, is something only the songstress and diva Hatsune Miku can do. Her voice echoed throughout 217 countries in the world, making history on a huge scale. That record has still not been beaten to this day.

Yano Anna, a model who goes beyond the border of the Aomoji-kei style

On the other hand, Yano Anna who provides vocals for the unit, is popular as a model for natural style magazines such as mer, SEDA and Soup., as well as a more individual style in KERA. She is active in a lot of fields and has even done work in men's fashion magazines. She released her photobook last year titled "Yano Anna MADE in HARAJUKU VOL.1" where she was snapped by photographer Yasumasa Yonehara. She did not want to have the usual "kawaii" style and instead sought a more "cute and sexy" one. That's a rare thing to see from an Aomoji-kei model, but you could say that it's one part of her diverse charm.

³It might not be rare for a magazine model to engage in music along the side, but what makes Yano Anna unique is that from the day one in the entertainment industry she expressed her desire to go into music. When she was scouted during her short-term university enrollment and started her career as a model she continuously expressed how she wanted to have a job relating to music. Then in August 2013, she successfully made her debut as a singer with her song "Shape My Story" which was the theme song for the anime "Stella Women's Academy, High School Division Class C³". Perhaps this was a chance she was able to seize due to her extensive knowledge of anime.

Those who were once drinking buddies all of a sudden became music partners!

The person who helped produced "Shape My Story" was kz, who seemed like he was hiding something. The two of them gradually opened up to each other, and in 2014 they appeared together for the album "To", which was written and produced by livetune.

kz had already said previously that he wanted to perform a live show where he can directly come in contact with the audience, and that in order to do that he wanted to invite on a vocalist. He invited Yano after he had finished work on the album to which she accepted. In October 2015, they began their activity together as livetune+. They are more of a team who are close to each other than simply a producer and singer. From the get-go, Yano was part of the recording of the first album. They were already drinking buddies when they formed the unit, and because of that kz said of the first lyrics he wrote "There's no girl who tends to dream like this". The songs on the album are written with kz's distinct style, with melody lines that make your heart pound and of course a robotic vocal arrangement. But it's also sweet thanks to Yano's voice and the girl's vision who appears in the lyrics becomes that much more powerful. It is somewhat of a different world to that of kz's previous work as livetune.

livetune+'s activities don't stop at Japan
It's been announced that livetune+ will appear at Asia's biggest anime event "Anime Festival Asia (AFA)" where they will continue on from their previous performance in Thailand. This time, they will perform at "Anime Festival Asia Indonesia" which is being held from Friday September 16th~Sunday September 18th. Many famous voice actresses, anime song artists and cosplayers attend AFA. This is the perfect place for both kz and Yano Anna, who have lived and breathed in Japanese culture and its anime, fashion and music.

Of course, that doesn't mean you can miss their shows in Japan. They are to perform at "FM802 MINAMI WHEEL 2016" which is to be held across 20 locations around Osaka from Saturday October 8th~Sunday October 10th. kz, who has a lot of experience in the field of club music as a DJ, knows that this will push them forward.

With livetune+ going ahead with new forms they haven't experienced before, will they be able to make the music scene even more fun? As they continue to move forward with their strong mindset, there is no doubt they are going to let us have even more fun! Be sure to check both of them out as they charge ahead full speed.

Original Text: Kakoi (SHUTTER)

livetune+Official Website: http://livetuneplus.com/

Anime Festival Asia 2016: http://animefestival.asia/

New song "Cheers!" by livetune+ released for Kirin Hyoketsu's animated advert will be purchasable from 10th August!!

Starting with the song used in the "Google Chrome — Hatsune Miku theme" commercial video  called "Tell Your World", the one and only "kz" created many Hatsune Miku songs, causing an unprecedented craze over the Vocaloid singer. Music-maker kz has teamed up with model and music artist Anna Yano, forming the new live unit "livetune+". Together, they have recorded a new song "Cheers!" which has been used in the web limited animation commercial video for the alcoholic drink "Kirin Hyoketsu" 「キリン 氷結®」

"Kirin Hyoketsu®" used the theme "atarashiku ikou" to create the commercial, which refers to walking a brand new path. The commercial allows the audience to feel the excitement of experiencing a variety of "new" figures and unexpected sides to people. The animation of the commercial was made by collaborating with "TRIGGER Inc", who are always setting new challenges for themselves, presenting the concept of "Showing a new side to myself which is different to the me up until now!". This is shown through the animation.

In this original animated commercial, the moment of excitement and the lively atmosphere during the live performance of animation and social game idol voice actors has been depicted. Voice actor Shintarō Asanuma and voice actress Ai Kayano were appointed these roles. The commercial was aired on YouTube and shared through Kirin Beer's official SNS websites from 2nd August 2016.

The song "Cheers!" coloured the commercial in a very livetune+ style, turning it into a completely new shining masterpiece of the duo. "Cheers!" will be released for sale on iTunes and through other companies on Wednesday 10th August, and through music subscription, this new catchy song will be available all over the world!

Now all we have to do is wait in anticipation!

■ Commercial animation video https://youtu.be/Ltvnad3tmn8

■Kirin Hyoketsu × TRIGGER special site: http://www.animatetimes.com/hyoketsu/

Don't miss out on the new EP and music video release of "Sweet Clapper", which was created by the century's most sensational track-maker kz(livetune) and model Anna Yano!

New live unit kz(livetune) and Anna Yano will release their new EP showcasing their new title song "Sweet Clapper", but that's not all ー the long-awaited music video for "Sweet Clapper" has also now been released!

A sports gym in the metropolitan area was reserved for the shooting of this music video. The sense of unity, which is brought about from a live concert, sparked the inspiration for the choreography of the music video. The final product is a mix of real life filming and illustrations, making for a well-balanced pop song video which perfectly represents the much loved and adored Anna Yano (Vocalist).

■livetune+ / Sweet Clapper
https://www.youtube.com/watch?v=DkVrvVG4i7I

■Information

livetune+
1st EP『Sweet Clapper』
On sale from: 2016.05.11

First press limited edition CD:WPCL-12334 (¥1800 + tax) 
Regular edition CD:WPCL-12335 (¥1800+tax)

Join in on a chat with DJs Anna Yano and kz (livetune+) while listening to their playlists!

Join the community through the "Listen with regular programme" (Listen with レギュラープログラム), where a DJ will make their appearance once a month! For a limited period from April to June, don't miss out on the special appearance of livetune+ as the regular DJ duo for this 3-month period!

livetune+ will set a new theme for each monthly show and create a playlist of specially selected songs to fit this theme to play on air. Additionally, check out the chat feature on "Listen with", where livetune+ and participating users can listen to the monthly special playlist created by livetune+ and enjoy a live chat!

Catch the first "Listen with regular programme" featuring livetune+ on 15th April, where the chosen theme will be the start of the school season! To make song requests and send messages, please apply by using the twitter hash tags "#livetuneplusLw" or "#Listenwith"

■Comments from Anna Yano and kz from livetune+

【Anna Yano】
I'm Anna Yano, the vocalist of livetune+!
"Listen with" is a great tool, through which I can become close to my fans and share my music taste! Being able to listen to my favourite music whilst having a live chat is a really unique and rare opportunity, so I am really looking forward to it! I can't wait to meet everyone and enjoy the feeling of being part of a fun community like this! Please join in to meet your DJ Anna Yano!!

【kz】
This is kz of livetune+!
I'm incredibly pleased to be given the opportunity to be the regular DJ for "Listen with". Listening to music whilst having a chat is something that I used to do during my old school days and it was super fun! This is the best way of opening up a new and exciting world for everyone to take part in and enjoy. I know that the chat will be really hot and bursting with liveliness, so let's set our chat on fire!!

■Information
livetune+ Listen with regular programme
(Listen withレギュラープログラム)
1st show:Friday 15th April (20:00~21:30)
2nd show : May (Specific date to be announced in the future)
3rd show:June (Specific date to be announced in the future)
 ※ Twitter hashtags: 「#livetuneplusLw #Listenwith」

Nakata Yasutaka, kz, tofubeats & banvox – 4 music veterans to give a brand new LIVE & PARTY "YYY Vol.1" concert this summer!

"YYY" is a live music and party event hosted by Japanese music and pop culture leaders WARNER MUSIC JAPAN and ASOBISYSTEM. Vol.1 of the all-new summer event will be held on July 17th, 2016 at Shinkiba STUDIO COAST.


The tickets for the Vol.0.5 launch party, which was held at Shibuya SOUND MUSEUM VISION in January, sold out completely. There were so many people that fans intending to purchase same-day tickets, which were few in number, formed a gigantic line hoping to get first grabs.

The line-up for "YYY" includes Nakata Yasutaka (CAPSULE), kz (livetune), tofubeats and banvox. These 4 cutting-edge DJs, artists and producers, who are residents of the event and continue to be recognised worldwide for their work, have a huge arsenal of music ready to perform for people.

Advanced tickets for "YYY Vol.1" go on sale starting today. The availability window for you to get your tickets lasts until Sunday April 17th at 23:59, so be sure to get yours right now from here: http://w.pia.jp/t/yyy/

Don't miss out on the opportunity to attend "YYY" and witness dance music history in the making from this battle formation of immense artists!

■Information
YYY Vol.1
Date: Sunday July 17th, 2016 – 16:00 OPEN/17:00 START
Venue: Shinkiba STUDIO COAST
Line-up: Nakata Yasutaka(CAPSULE)/kz(livetune)/ tofubeats / banvox

Ticket prices (tax included)
① YYY Advanced Pre-Order Tickets ¥3,500 – Ticket Window: Friday April 8th 22:00~Sunday April 17th 23:59 http://w.pia.jp/t/yyy/
② Official Homepage Pre-Order Tickets ¥3,800 – Ticket Window: Saturday April 23rd 10:00~Sunday May 8th 23:59
③ General Tickets ¥3,800 – Ticket Window: Saturday June 4th 10:00~

※Drink charge for 1 beverage to be paid upon entry.
※Pre-Order tickets are available on a first-come-first-served basis. It will be notified once tickets are sold out, after which no more will be available.
※All children (under the age of 6) are not permitted entry to the venue even if with a parent/carer.

■ YYY Vol.1 Teaser Trailer: https://www.youtube.com/watch?v=NHvGEL3ljKw
■ YYY Official Website: yyy-official.com