Tokyo Stroll: Anna Yano Visits Real-Life Locations of 'Durarara!!' Anime Series
Anna Yano is a full-blown anime freak, and this feature lets her feed that passion as she visit real life locations of her favourite anime series.
The location for this second entry was Ikebukuro. When people think of Ikebukuro, there's no other series that springs to mind quite like Durarara!! The opening video of the anime is immensely popular amongst fans for how cool it is, so Anna challenged herself to recreating it with help from people on the street who love Ikebukuro!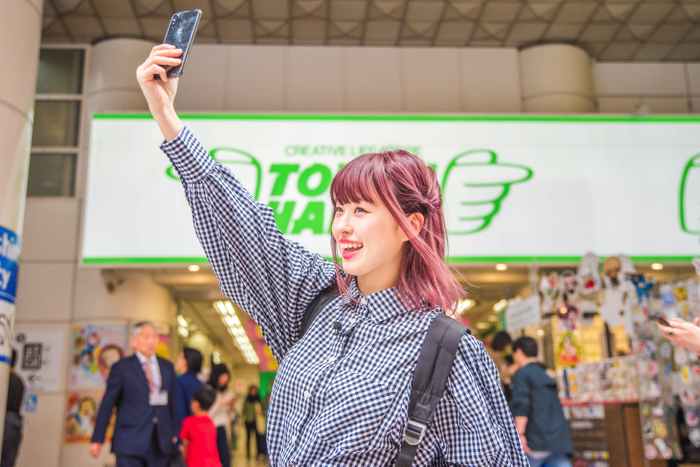 We begin in front of Tokyu Hands. What kind of pose is this all of a sudden, lifting your phone up in the air like that?!
"I'm gathering people to recreate an Anna Yano version of various scenes in the opening!"
This is actually the place where the Dollars first met in the show. It's when Mikado Ryugamine called his pals on his mobile and found out most of the people he knew were members.
"This one scene I thought was pretty relevant to today – using your mobile phone as a tool to move people."
First up, this place! The music note monument along Sunshine Street. Anna called over two cute ladies who were in the middle of shopping in Ikebukuro. This is the best photo ever with everyone lined up in the same order – from the right Mikado Ryugamine, then Anri Sonohara, and finally Anna as Masaomi Kida!
Anna gave a gleaming smile as she said, "I wanted to try coming here!" Everything's going great from the get go. Thank you, ladies!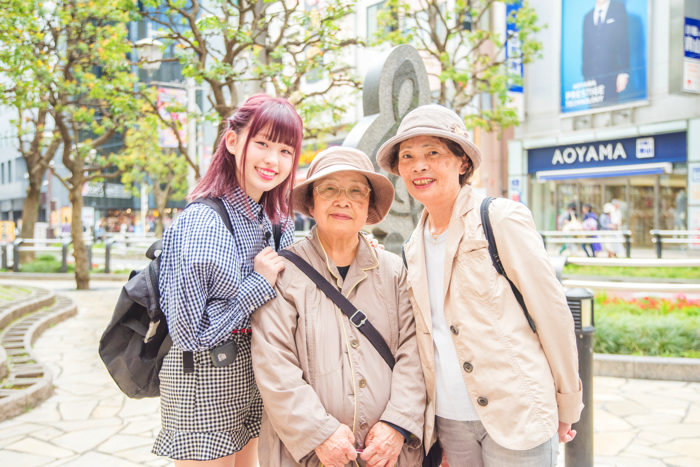 Moving on to the next scene, we have Russia Sushi which appears in the anime. Anna caught a nice guy who had come from Russia to visit Japan. "What a miracle to meet someone Russian in front of Russia Sushi!" The anime gods must be smiling at Anna right now.
Anna was thankful for such a nice encounter! Have a nice trip~♪
Next, the scene where the The Headless Rider rides her bike in front of Cinema Sunshine. Anna too ran with all her might!
KFC too.
Getting drenched in front of Aoyama. Anna is stretching her body.
The sky faded into twilight at Mutsumata Bridge with the the orange coloured setting sun.
Be sure to check Anna's version of the Durarara!! opening video on Kawaii JAPAN-da!! on MBS.
Next on the list is the food portion of the scenes. Anna was able to ask the staff to recreate the sushi they eat in the anime at Russia Sushi, a type of Edomae Sushi.
"Tada! I actually like sushi toppings that don't usually go with rice on normal sushi. I actually just ate hamburger sushi yesterday!"
From the left: sour cream, borscht, and mapo!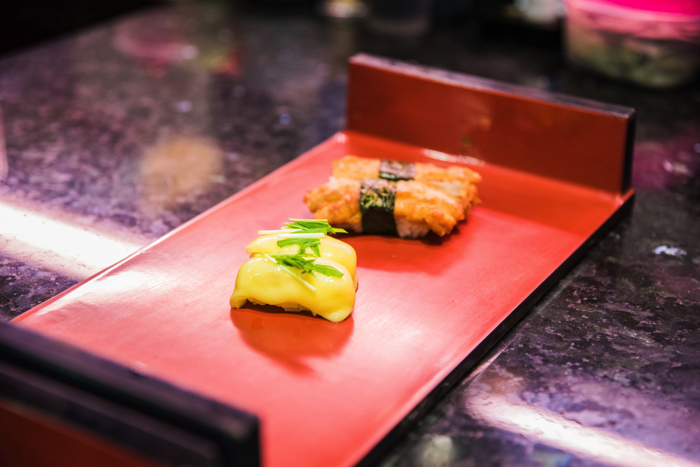 Cheese, then karaage!
After filling her stomach, Anna left Ikebukuro to go to another certain place.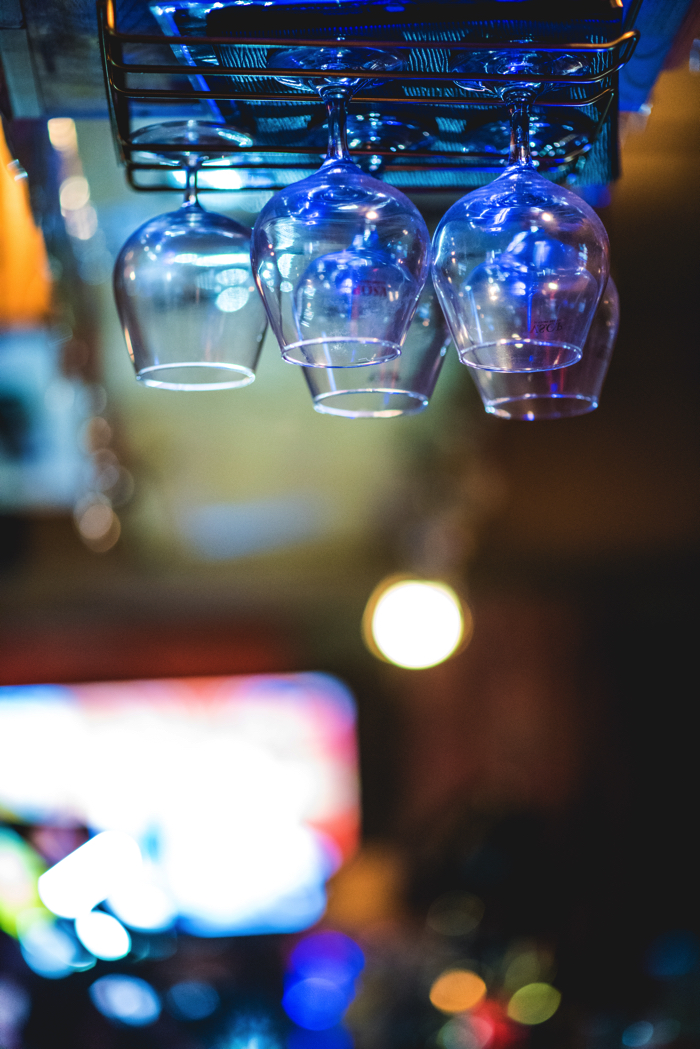 Smile Cafe Roots was used as a model for a place that appears in the anime. It's a bar in Higashi-Nakano.
She was also able to get a cocktail like the one from the show. Anna was in a world of her own as she drank the cocktail of her beloved Shizuo. After her getting a little intoxicated, we asked Anna about the appeal of Durarara!! once more.
I love Durarara!! It's had an influence on me, so much so that I used to live in Ikebukuro. It's been fun to go around all the places and recreate the opening. When I imagine replacing the place I live with Ikebukuro and living life keeping that a secret even from people close to me, I think they'll gradually come to be able to like it!"
■Information
MBS (Kansai Local) – "Kawaii JAPAN-da!!"
Broadcasting: May 15, 2018 at 1:59am
*The show will be rebroadcast a week later (https://dizm.mbs.jp/title/?program=kawaiijapanda)
Durarara!! and Durarara!!×2
Aired between January 2010―March 2016
Author: Ryogo Narita (Dengeki Bunko / ASCII Media Works)
©Ryogo Narita / ASCII Media Works / Ikebukuro Dollars・MBS
Durarara!!×2 Blu-ray & DVD Series Now On Sale
RECOMMENDED ENTRIES
Tokyo Stroll: Anna Yano Visits Famous Sites From "Penguindrum" Anime Series

Anna loves anime, and so she is bringing a new series to our "Tokyo Stroll" feature where she takes us on a pilgrimage to visit real life anime locations! The theme chosen by Anna for this first entry is a solo trip to Okigubo which appears in the anime series Penguindrum (which she is a huge fan of!) Just what kind of encounters will be waiting for her there?

Anna puts on the same hat as the anime's protagonist Himari Takakura (from her own collection) and meets at the station. You can tell she is in high-spirits from behind. The train station too is exactly the same as in the anime!

The first location on the list was Ogikubo Second Children's Park. Anna did get a little lost on the way there, but she managed to find the giraffe and pig park installations. In the anime, the Takakura brothers live in the house right next to this park.

Anna said solemnly "I think the colourful house is a symbol of happiness for the brothers" while confirming that this was the location the house should be if it was the anime. Upon basking in the afterglow, one of the staff members that was with Anna cried out as if to cling onto something!

"Survival strategy! I'll tell it to you lowlifes who will never amount to anything.* Time to go to the shopping district and get my hands on the Penguin Drum!"

[*Translator's Note: This is a quote from the anime series Penguindrum.]

Anna was taken aback by this remark.

"I wanted to go there because that appears in the anime too!"

And with that, off they went. But just what is the Penguin Drum…?

Here's the shopping street archway that you see in the anime! It's pretty exciting. Ogikubo is a kidn and friendly place. While strolling the streets, Anna was asking people "Where's the Penguin Drum?!" to passers-by. Along the way, there was a shop that caught her eye! It was a kebab shop that had a deliciously inviting smell.

"I'm glad because I was reaaally hungry."

The man's Japanese was very good. Anna went in for the kill, asking, "Please show me your artefact that's associated with your fate!" He kindly showed her his charm from Turkey that's preciously decorated in the shop. Does fate relate to the Penguin Drum?! Maybe the Penguin Drum something that each person possesses… Our trip isn't over yet!

The next location can be found on the roof of Town Seven, a shopping center at the north entrance of Ogikubo Station. It's a wide and open space where a lot of children were playing.

This is the scene when the older of the Takakura siblings, Kanba, is talking to his ex-girlfriend, when a memory-erasing red ball comes flying and hits her on the forehead.

The playground equipment that appears in the background was very impressive to look at.

The children became interested in Anna's hat. She was completely surrounded!

The next place Anna headed to was the shrine where the heated fight between the brothers unfolds. The younger brother, Shoma, becomes aware of the events surrounding his older brother, so presses him with questions. Kanba declares that he was playing parent. Anna prayed by herself in the grounds.

And don't forget to take a commemorative photo.

Next is the scene with the pedestrian bridge where Kanba blows up a car. We took the photo at the same angle as in the anime.

Anna told a story with a serious expression.

"He [Kanba] wasn't always a bad guy. The fact that he did something like that. That scene shocked me."

Anna also passed under the arch to Hakusan Towns shopping district. It seems like it has changed a little since the anime aired, but you can tell it's the place immediately!

Anna tottered over and shouted, "Survival strategy!" again to a lady passing through. She then made her way to a ramen shop as the lady had also mentioned which is famous among fans.

"Sanchan Ramen" is a restaurant with a 60-year history that has continued to be loved by locals in Ogikubo.

This is the place used as a location for handing over money between Kanba and the evil organisation. There's a lot of fans that imitate the anime and slide envelopes with money inside on the tabe.

Of course, Anna had a bowl of ramen too.

And gyoza!

And beer!!

By the way, why do you like this anime, Anna?

"Penguindrum is a very deep series, it makes you think about things like love and fate. The art is cute and the music and presentation are gorgeous. I really want everyone else to watch it."

Today's article will be broadcast on "Kawaii JAPAN-da!!" on MBS (Kansai Local). It will go on air on March 13th! Don't miss out on Anna's solo travel!

■Information

MBS (Kansai Local) – "Kawaii JAPAN-da!!"
Broadcast Date: March 13th at 1:59am
*There will also be a repeat streamed on MBS Dizm (https://dizm.mbs.jp/title/?program=kawaiijapanda)

Blu-ray BOX edition of "Penguindrum" now on sale in Japan!

Artist / Model:Anna Yano

Photographer:LOVEGRAPH

Tokyo Stroll: Learn the Manners & Etiquette of Worshipping at Onden Shrine – The Site of Marriage & Beauty Blessings

In this featured series, we introduce you to 'power spots' and goshuin at shrines on the outskirts of Tokyo. Today, we'll take a look at Onden Shrine, one of the locations where "MOSHI MOSHI NIPPON FESTIVAL 2018 in SHIBUYA" will take place, Japan's biggest inbound event set to hit Shibuya and Harajuku on March 24th and 25th. Ellie visited the shrine to learn about the manners and etiquette behind praying at shrines in Japan.

The Waterwheel at Onden (Katsushika Hokusai, Thirty-Six Views of Mount Fuji, Reproduction)

Onden Shrine is located just a 10-minute walk from both Shibuya Station and Harajuku Station via the JR Yamanote Line or 7-minutes from Meiji-Jingumae Station via the Tokyo Metro Chiyoda Line. It has been enshrined in Harajuku for more than 400 years where it has watched over the area. The area around Onden has a long history. In the Edo Period, the flowing Onden River was used for rice cultivation. This historical background is depicted together with Mount Fuji in Katsushika Hokusai's Thirty-Six Views of Mount Fuji.

Deities enshrined at Onden Shrine include Omodaru no Kami and Ayakashikone no Kami. These deities give blessings for marriage ties between husband and wife, as well as in blessing and improved skill in art. The picture above is of Mutsuko Funada who lectured Ellie on the manners and etiquette of worship. You too can use this opportunity to learn together with Ellie.

Shrines are sacred places. Upon visiting one, be sure to bow once at the torii gate. Keep in mind that the center of the path up to a shrine is where the gods walk, so it's  best to walk at the edge of the path rather than directly down the middle.

Next, you must cleanse yourself at the temizuya, or "water purification basin." Take the ladle with your right hand, scoop up some water, and rinse your left hand.

Do the same again but this time switch hands – hold the ladle with your left and rinse your right hand.

Take the ladle again in your right hand, pour some water in your left hand and rinse your mouth. It's best not to show your mouth as you do this.

Lastly, tip the ladle to drain the water. Don't scoop water from the basin multiple times – use just one scoop of water for the entire cleansing.

手水舎で身を清めたら、いよいよ参拝です。社殿の前で軽く一礼しましょう。お賽銭を入れて鈴を鳴らして、神様にお参りに来たことをご奉告します。そして、社殿に向かって二礼、二拍手、一礼をします。

Red and white plum blossoms dotted the surroundings of the shrine. We recommend taking photos in a photogenic area like this for your social media.

It's common at shrines to see komainu. They take on the form of an imaginary lion-dog-like animal, and it's said that the shape of their mouth makes express the sacred 'om' sound. The one with its mouth opened is called Agyou and the one with its mouth closed is called Ungyou. Be sure to check them out when you visit a shrine.

There is also an Inari shrine at the grounds which is home to the deity of agriculture, industrial manufacturing and commerce, so be sure to pray to them all collectively.

Today's main mission was also a success – Ellie managed to collect her 'goshuin' shrine stamps! She received one for each shrine – the Inari shrine stamp is on the left and the Onden Shrine stamp is on the right. Both cost \300.

Onden Shrine is a site for blessings in things like marriage and beauty. It offers a lot of keywords particularly favoured by girls, so it's definitely one to visit. There's a range of good-luck charms for sale at the shrine, including one for marriage that's inspired by the blooming plum blossoms in the shrine grounds, one for beauty and more, so if you're interested you should definitely check them out. We will be holding an event called "MOSHI MOSHI ENNICHI" at "MOSHI MOSHI NIPPON FESTIVAL 2018 in SHIBUYA." You can look forward all sorts of stalls like you'd see at a Japanese festival lined with lots of food, activities like yo-yo fishing and more! There will also be a stage where you can witness a Japanese 'taiko' drum performance, and there will also be a character DJ festival where DJs will dress up and perform. The bustling atmosphere of a Japanese festival is perfect to enjoy on dates, please be sure to drop by.

■Information

Onden Shrine

Address: 5-26-6 Jingumae, Shibuya, Tokyo

TEL: 03-3407-7036

Access: 10-minutes on foot from "Shibuya Station" or "Harajuku Station" via the JR Yamanote Line / 7-minutes on foot from "Meiji-Jingumae Station" via the Tokyo Metro Chiyoda Line

Outfit: Aymmy in the batty girls

Tokyo Stroll: A Kimono Date With Yutaro to Climb Mount Fuji in Tokyo at Hatonomori Hachiman Shrine

The first date of 2018 with Yutaro was to visit a 'power spot' so we can have a wonderful year this year too. That being said, we went to "Hatonomori Hachiman Shrine" in Sendagaya which is next to Harajuku. This was our hatsumou, the first shrine visit of the New Year, and we went wearing kimono.

Hatonomori Hachiman Shrine is a 5-minute walk from Kita-Sando Station via the Tokyo Metro Fukukoshin Line, just one stop from Meiji-Jingumae Station in Harajuku. It's super easy to get there from Harajuku or Shibuya. You can also walk there in 5-minutes from Sendagaya Station if you take the JR Sobu Line.

Hatonomori Hachiman Shrine has a long history, even going as far as to be recorded in the Edo meisho zue, an illustrated guide to famous Edo places that was published at the end of the Edo period. The shrine grounds features the shogidou, where a huge Shogi (like chess) piece is enshrined; the Koga Inarisha shrine where the Koga-Gumi, a group of ninja serving the Tokugawa Shogunate, would pay reverence; a Noh stage; the main building that was completed in 1993, and more.

According to the Shinto chief priest Hirano, the oldest things in the shrine grounds are the 3 ginkgo trees planted there. If you visit the shrine, be on the lookout.

We finally arrived. After bowing, we headed through the torii gate and onward towards the shrine. We cleanse our hands and mouth before praying. I wonder what could he be praying for? He has an unusually serious expression.

After praying, we climbed the fuji-zuka, a manmade mound made to imitate Mount Fuji. It has received much attention as a 'power spot,' a place believed to heal visitors through special energy. The Edo period was a time when it was difficult for people to climb Mount Fuji, so common folk would look to fuji-zuka as Mount Fuji for their worshipping.

It is said that Hatonomori Hachiman Shrine was constructed in 1789, and the fuji-zuka, the oldest still standing in the city, was designated a Tangible Folk Cultural Property.

Yutaro-kun hasn't climbed Mount Fuji before, so this will be his first!

Mount Fuji has 5 stations you can stop off at leading up. Climbing fuji-zuka was tougher than we thought, so we agreed to wear sneakers next time. While being cautious we continued our climb without falling.

Writing from the Kansei era is written on the komitake sekison daigogen at the 5th station. You can't help but feel the length of the fuki-zuka's history at Hatonomori Hachiman Shrine!

The view from the top is amazing! When you see the tree-wrapped shrine grounds, your heart feels gentle and calm.

"It's a dream come true that we can climb Mount Fuji in Tokyo."

We took a different route going down. This route is steep too!

After we safely reached the bottom, we receive a goshuin shrine stamp to commemorate today's Mount Fuji worship. The ceremony fee is ¥300. Be sure you get one too after reaching the top!

Finally, we drew one of Hatonomori Hachiman Shrine's unique "Hato Mikuji." The omikuji blessing was "small blessing" (sho-kichi). After reading the omikuji carefully, we tied it to tie a link with the gods. Before we knew it, the date had come to an end.

How was this first kimono date? If you're thinking you want to walk around Harajuku in a kimono like Yutaro, then we recommend checking out a rental kimono store. The kimono worn today was rented at the Moshi Moshi Kimono Salon in Harajuku. Please enjoy yourself by going out in a kimono with your friends or on a kimono date with that special someone.

Model:Yutaro

Yutaro was born in Hiroshima on June 3rd 1998. His modeling career has earned him lots of attention as a fashion icon of the new generation. The famous model also works as a "charisma" shop assistant. Yutaro has gained his reputation as a "mysterious and handsome guy" from his appearance on Japanese variety shows. His debut was made on the show "Gyoretsu no Dekiru Horitsu Sodanjo" and has since then appeared on numerous different TV shows. He challenged himself to appear on stage for the very first time in March this year and is gaining popularity by the day for his diverse work.

Photographer: Kayo Sekiguchi

Writer: Sayuri Mizuno(ASOBISYSTEM)

Translator: Joshua Kitosi-Isanga

Sushi represents Japanese food! 5 recommended sushi restaurants in Tokyo

Sushi is the probably the most famous Japanese food! Below are 5 sushi restaurants we highly recommend.

Roppongi "atelier Morimoto XEX"

"atelier Morimoto XEZ" is a combined restaurant produced by Masaharu Morimoto who works in foreign countries centering around the U.S. You can make an order until 3:00 AM and enjoy many kinds of dishes which are a mixture of Japanese style and Western style. "Edomaezushi" is the recommended dish. Why don't you enjoy the dishes created by this top chef who is loved by people all over the world?

Detailed information:http://www.moshimoshi-nippon.jp/58797

■Information

atelier Morimoto XEX

Address: Roppongi Building, 7-21-19, Roppongi, Minatoku, Tokyo

Holiday: New Year's Day

TEL:03-3479-0065

URL:http://www.xexgroup.jp/morimoto

※The counter with cast iron-pan can be used until 24:00 and the isolated room can be used by paying 20,000 yen.

Shinjuku "Sushizanmai"

"Sushizanmai" is a sushi chain restaurant. The price of one of the lunch menus "Maguroduke Donburi" is only 477 yen (tax not included)! Moreover, you can drink as much coffee as you like. The lunch menu noted previously is offered from 11:00 to 17:00 at Shinjuku Higashiguchi Store (only on weekdays.) The helping of rice can be chosen at will and the menu comes with miso soup. The menu is recommended for those of you who want to enjoy seafood at a low price!

Detailed information:http://www.moshimoshi-nippon.jp/34111

■Information

Sushizanmai Shinjuku Higashiguchi Store

Address: 3F Seno Building, 3rd street, 18-4, Shinjuku, Shinjukuku, Tokyo

Business hours: 24 hours, lunch time – 11:00 to 17:00

Holiday: no holiday

TEL:03-5357-7737

Shinjuku "Hokkaido Sushi Unimaru"

The branch store of "Hokkaido Unimaru" where you can enjoy sushi and dishes of sea urchin opened inside of "Odakyu Ace" at Shinjuku Station's West Exit. The set "Uni Tabekurabe" (1,800 yen) offers three kinds of sea urchins; Murasaki Uni, Bafun Uni and Ensui Uni. Accordingly, you can compare the taste of these different sea urchins. This set menu is highly recommended. You can choose either "Shiro Shari (white rice)" using rice vinegar or "Aka Shari (red rice) using red vinegar.

Detailed information:http://www.moshimoshi-nippon.jp/40869

■Information

 "Hokkaido Sushi Unimaru"

Address: 〒160-0023, West Exit Basement #1, Nishishinjuku, Shinjuku, Tokyo (Odakyu Ace North Department)

Business hours: 8:00 to 23:00

Holiday: no holiday

TEL:0362790148

>>next page

Experience Japanese Culture #3: Temari Sushi Lesson in a Japanese Food Class at Dikanyama

Japanese model Yuri Sugunama, a.k.a "Yurippa," is taking us on the third trip in her series series where she goes to personally experience Japanese culture and cultivate new hobbies. This time, she gets involved in a cooking lesson to make springtime temari sushi! Yurippa has always had an interest in homemade cooking but never really had the opportunity to challenge herself to it. So, how did she do…?


uki-uki cafe is located in Daikanyama which is just one stop from Shibuya on the Tōkyū Tōyoko Line. It's an easy place to get to just 5-minutes from the station tucked away in a quiet residential area. Upon opening the door to the café, you are greeted with a fresh space full of green plant life. You'll totally forget about the hustle and bustle of the city.


Teaching the lesson is uki-uki cafe's representative, Ayumi Kashiwabara. She's a food co-ordinator who promotes happy cooking that you'll unintentionally want to take a photo of. Not only does she serve food that makes your everyday dining table evermore buoyant, she also holds cooking lessons every now and then. "Call me Ayu-chan-sensei, okay?" she says with a pose. She's extremely friendly!


Today's challenge is making two items: 'temari sushi' and 'spring mizore soup.' First off, the temari sushi! You begin by mixing together 250g of rice with 25ml of vinegar, 15g of sugar, and 1/2 teaspoon of salt. This is then divided into 8 portions. Spread out some clingfilm and place ham in the middle. Then put one portion of rice on top and roll. Do this for all 8 portions. Roll the ham and rice into one and when taking the clingfilm off make sure that they stay together and don't separate.


Next is making plum lotus roots. Fill the holes of the lotus roots with bainiku plum. Use your finger to delicately press it all together. It's easy if you use a tube for this part. An excited Yurippa exclaimed, "This is the first time in my life I'm making food using bainiku plum!"


At this point, Ayu-chan-sensei added a small touch: "It'll look gorgeous if you do it like this." With just a little twist, she made it look even more fantastic by putting on thinly sliced lemon and sprinkling over some pepper. The two of them looked like they were having fun cooking next to each other.



Before dishing up the temari sushi, it's time to make the mizore soup. Add two teaspoons of Japanese dashi to 120ml of water and mix in one teaspoon of soy sauce, one teaspoon of sake, one teaspoon of mirin, and a little salt. Bring to the boil and just add some grated daikon. Daikon skin has nutritional value, so wash it thoroughly and rub dry.


Finally, add green beans into the mizore soup, put in wheat gluten, and… "All done!"


Yurippa's colourful temari sushi and mizore soup is complete and perfect for spring. Going out and adding seasonal a lunch mat, pair of chopsticks and tableware is fun too.


Yurippa was happy, commenting: "I can feel that food made by hand really is more delicious! It was easy and didn't take long, plus I like how exciting it looks. I want to invite my friends over to my house for a meal."

Cooking lessons are held once in a while at uki-uki cafe where you can learn how to make food that'll make your ordinary days more fun. If you think a cooking lesson is a little too much to handle, then just pop in to the café for a kawaii meal. Coming face to face with the food at uki-uki cafe will surely make your day that much happier.

■Information
uki-uki cafe
Address: 88.DAIKANYAMA 3F, Daikanyamacho, Shibuya, Tokyo
Opening Hours: 11:00-18:00 (Lunch Last Orders 16:00 / Last Orders 17:30)
Access: 5-minutes on foot from Daikanyama Station via the Tōkyū Tōyoko Line
Website: http://ayupichi.com/index.html
*Cooking classes are held at irregular periods. Please enquire beforehand if you are a visitor from overseas.

Model: Yuri Suganuma @yurippa93


Yuri Sugunuma is a model with a high fashion sense that has been picked up by various magazines. She receives much love and support from girls of the same generation as her to whom she is known by her nickname "Yurippa." She has a huge influence across her social media. Recently, she has stepped into other fields outside of modelling, such as appearing in TV shoots and in music videos. She is skilled in make-up and involved in the development of cosmetics.

Writer & Photographer: Haruka Yamamoto

Translator: Joshua Kitosi-Isanga

【LA Dinner】Even if you don't like a raw fish, don't worry – you can still enjoy SUSHI at "CASA ARIGATO" in LA!

This article is based on the blog, 和ごころLA (Wagokoro LA) which is about sightseeing in LA and the American way of living.

This is report about a popular Sushi restaurant near Redondo Beach.

The name of the sushi restaurant is "CASA ARIGATO" which means "thank you for the umbrella". It was originally located near the Torrance inland area in the past but it has since moved to along PHC. There is a sign saying SUSHI & BAR CAFÉ with a lantern saying "coffee".

If  you go in, you'll see a sushi counter and poppy wall art.It's not a traditional Japanese style atmosphere in there. It has a more casual style and there are many young workers so that you can go there easier.

When I was hesitant about what to buy, I found "steamed sushi". One of the popular menus for workers was "Ocean Gaudium" so I ordered it.

Salmon, bass, eel, shellfish, shrimp, ikura and sushi rice were steamed softly. Because the ingredients were steamed,  it didn't have that fishy smell and the taste was very soft.

I pretty much like all kinds of raw food, so I can eat Sushi as usual. Sushi is getting popular  all over the world but some people still don't like to eat raw fish. It's good idea to eat "steamed sushi" to begin your Sushi adventure!

Of course, there is also normal Sushi made by Japanese professional chefs. Ikura and sea urchin are highly recommended!

This area is famous for crab so I ordered crab shu-mai too.  The texture was very soft and I really liked it. Plus, the iced coffee costs only 3$.

You can go there by yourself and spend time using Wi-Fi. It opens at 11:00 to 15:00 in the morning and 17:00 to 22:00 in the evening.

You can go there with your boyfriend/girlfriend,  do your work using a computer, or you can just go there to eat wonderful sushi!

There are a lot of other Japanese food such as curry rice, tendon and tekkadon as lunch menu.

You can experience real Japanese food even in America!

The Wagokoro LA site has been checking out "how close is this food to real Japanese food?". You should check it out from the link below:

http://la-life.info/casaarigato/

■Information

Casa Arigato

Address:629 S Pacific Coast Hwy Redondo Beach, CA 90277

Website:http://www.casaarigato.com/

Parking:Behind the shop

Food:Sushi, Coffee, and other Japanese food

Service:Wi-Fi

Source:Wagokoro LA

Lives in Los Angeles. Studied abroad in LA→Worked as a publisher→Married internationally. I live in America, but I love Japanese flavours, so I rate restaurants based on their level of authentic Japanese flavour. This is my blog: a Japanese person and my life living abroad in Los Angeles.

−−−

Related article:Kit Kat Chocolatory to celebrate opening of Ginza store with sushi Kit Kats!

Related article:The entertaining sushi restaurant that you can feel like being in Edo.
RELATED ENTRIES
An Otaku's Dream: The EJ Anime Hotel in Saitama Where You Can Stay in Rooms Themed On Anime Series

Manga publisher KADOKAWA opened the new anime concept hotel EJ Anime Hotel at Tokorozawa Sakura Town in Tokorozawa, Saitama, on October 1, 2020.

Tokorozawa Sakura Town is a new shopping complex set to open on November 6, 2020, where it will serve as a hub for the latest in Japanese pop culture with events, shops, restaurants, a museum, and more. EJ Anime Hotel opened on early Thursday in the run up to the complex's grand opening to welcome guests.

The 'EJ' of EJ Anime Hotel stands for 'Entertainment Japan.' The hotel aims to have guests living inside the stories they love from a wide range of Japanese media from anime to manga, movies, tokusatsu SFX movies, idol culture, and more.

As well as room decorations and the exclusive merch that will be on sale, the hotel is also offering a new kind of accommodation experience by incorporating videos, sounds, lighting, and more. Its restaurant will also offer a selection of food and drink in collaboration with various series including all-out full course dinners.

When using the hotel elevator, you will hear announcements from none other than popular Japanese voice actor Yuki Kaji who has played many big roles in anime including Eren Jaeger in Attack on Titan. "As an anime fan first and foremost, having such a fun concept hotel like this open, not to mention getting to be involved as an announcer, makes me really happy," explains Kaji. "I want guests to make some great memories staying at EJ Anime Hotel."

"Bofuri: I Don't Want to Get Hurt, so I'll Max Out My Defense." Collab Room ©2020 夕蜜柑・狐印/KADOKAWA/防振り製作委員会

"Uzaki-chan Wants to Hang Out!" Collab Room © 2020 丈/KADOKAWA/宇崎ちゃん製作委員会

"KonoSuba: God's Blessing on this Wonderful World!" Collab Room ©2019 暁なつめ・三嶋くろね/KADOKAWA/映画このすば製作委員会

"A Certain Scientific Railgun T" Collab Room ©2018 鎌池和馬/冬川基/KADOKAWA/PROJECT-RAILGUN T




"Yuki Yuna Is a Hero" Collab Room ©2017 Project 2H

Right now, EJ Anime Hotel is collaborating with five different anime series: Bofuri: I Don't Want to Get Hurt, so I'll Max Out My Defense., Uzaki-chan Wants to Hang Out!, KonoSuba: God's Blessing on this Wonderful World!, A Certain Scientific Railgun T, and Yuki Yuna Is a Hero. The hotel is taking bookings on its official website.

If you're thinking of travelling to Japan as an anime fanatic, then look no further and book with EJ Anime Hotel.

Information

EJ Anime Hotel
Grand Opening: October 1, 2020
Location: Tokorozawa Sakura Town Floor 6F
Address: 3-31-3 Higashitokorozawawada, Tokorozawa-shi, Saitama Prefecture
Opening Hours: 24 hours a day
Check In: 4pm / Check Out: 10am
No Fixed Holidays
Official Website: https://tokorozawa-sakuratown.jp/hotel/

Tokyo Stroll: The Café That You Want to Visit to See Someone #14 – 'Kayaba Coffee' in Yanaka

In this edition of The Café That You Want to Visit to See Someone, I visited Kayaba Coffee, a coffee shop in Yanaka, Tokyo, which is a perfect example of the old and traditional shitamachi neighbourhoods.

Kayaba Coffee is just a 10-minute walk from both Nezu Station and Nippori Station.


This is a place I've visited in my private time out of work and I'm always excited to go. Kayaba Coffee was established in 1938, and actually closed in 2006. But due to public demand, the cafe reopened just two years later in 2008. It's a popular coffee shop loved by people of all generations.

Time to head on in.

The first floor houses the counter and table seats, while the seating on the second floor is traditional zashiki style on tatami flooring. Although it's a cafe, you I feel so relaxed in there that it's like I'm visiting my grandma's house. The sun shines through the big windows, making you all warm and want to take a nap.

I ordered their super popular egg sandwich! The menu was changed in May this year, and a new and improved version of their egg sandwich was put on there. It's made using sourdough bread from VANER, a local bakery in Uenosakuragi not far from the cafe.


Breakfast Menu – Egg Sandwich | ¥1,000

The chewy, sour bread is the perfect combination with the fluffy eggs.

Lemon Squash | ¥600

The lemon squash has a cinnamon aftertaste. Everything on the menu is made with love and perfection; before I realised it, I was hooked on going there.

Strawberry Shaved Ice | ¥800

This was my first shaved ice of the year! I went with the classic strawberry flavour. The syrup is super juicy and nearly collapsed the fluffy shaved ice the moment I put it on. It has a syrupy texture and the strawberry juice has a sweet and sour kick that's just simply delightful♡

And you can make it even sweeter by pouring over your desired amount of condensed milk. It was really tasty.


Kayaba Coffee is the same as it was back in the day, and continues to be loved dearly. I think even people who visit it for the first time will feel a sense of nostalgia. If you have a place you can go to relax on bad days or when you're feeling down, it's sure to give you the strength to work hard again. This cafe is a wonderful place that's close to people's hearts.

I want to visit there again already.

Writer/Model: Ema Tanioku
Photographer: Haruka Yamamoto
Design: Yuko Takayama (ASOBISYSTEM)

Translator: Joshua Kitosi-Isanga

Information

Kabaya Coffee
Address: 6-1-29 Yanaka, Taito-ku, Tokyo

Opening Hours: [Tue-Fri] 8:00-18:00 (Last Orders 17:30) / [Weekends] 8:00-19:00 (Last Orders 18:30)

Closed: Mondays

Tokyo Stroll: The Café That You Want to Visit to See Someone #13 – 'Sepia' in Shibamata

In this edition of The Café That You Want to Visit to See Someone, I visited Sepia in Shibamata, a Showa-retro style cafe which I've always wanted to visit.

The cafe is just a 2-minute stroll from Shibamata Station which appears in the Japanese film Otoko wa Tsurai yo. The walk along the road that leads to Sepia, which is nearby the Buddhist temple Shibamata Taishakuten, is a pleasant one. Tokyo is a city consistently perceived as one that is cutting-edge in every aspect, but what I felt from each and every building surrounding Shibamata Station was a kind of warmth that you feel when something has history to it.

It's been seven years since I came to Tokyo. Visiting Shibamata made me me realised how many places there are which I still don't know about. It invigorated me. As my mind wandered with these pondering thoughts, I finally spotted the sign outside the cafe, and it sure is a cute one!

The moment I stepped inside, I stood, my mouth agape, and looked at my surroundings. It's the first time I've entered such a bright, shining cafe. It was littered with characters I've never seen before, manga, magazines, and more.

When you hear the word kira kira ("glitter," "sparkle"), the first thing that comes to mind for a lot of people is probably Harajuku and the Harajuku style, but Sepia's version of kira kira is a nostalgic one betwixt 1965 and 1975 during the Showa Period. The cafe is incredibly delicate in every spot and corner, like I'm looking inside some grand treasure chest.

The owner of Sepia is Kiyoko Hasezawa. The cafe gets its name from the manga Milky Sepia Monogatari by Ako Mutsu. Ms. Hasezawa said that she wanted to bring to life the world of the manga she loved. The cafe is full of her dreams and is enjoyed by everyone, both children and adults alike.

The cafe menu is even inspired by the food that appears in the Milky Sepia Monogatari manga. The hard pudding I had, which combined caramel sauce and cream, was an absolute delight.

Homemade Showa Pudding & Cream Soda Set: ¥1,200

If we're talking cafes, then you can't go wrong with cream soda. The cream soda served at Sepia comes in seven different flavours and colours: melon, Blue Hawaii, strawberry, lemon, peach, grape, and orange. I was spoilt for choice on which to go for, but in the end I went with the pink-coloured strawberry. It had a sweet flavour and was really delicious.

Strawberry Cream Soda: ¥750

I devoured the hotcakes too. The pastry was so fluffy and tasty – I could have eaten a hundred of them. The second one I ate with honey.

Hotcakes: ¥600


At the back of the cafe, they also have the "Candy Candy Museum." There's a personal collection of items from Candy H Milky, a female fashion enthusiastic who used to be a customer at Sepia. There's a photo spot for snapping a photo in the cafe too.

It's a great time getting to go and look at the displays after eating. I recommend going to see the collection yourself with your own eyes. Entry to the museum is ¥300.

There's a tearoom up on the second floor which has a nostalgic vibe to it. I felt warm and relaxed, like I'd been transported to my grandma's house.

Humans can't travel back in time, but if we look after mementos properly, we can go back there in our minds and memories. Sepia, a place that continues to be cherished and loved, is everybody's treasure trove.

My oh my, I really want to go back there again.

Writer/Model:Ema Tanioku
Photographer:Haruka Yamamoto
Design:Yuko Takayama(ASOBISYSTEM)

Information

Sepia
Address: 7-4-11 Shibamata, Katsushika-ku, Tokyo
Days Open: Fridays, Saturdays, Mondays
Business Hours: 12:00-17:00 (Last Orders 16:30)
For the latest information, visit Sepia's official Twitter page @sepia_mama

Tokyo Stroll: The Café That You Want to Visit to See Someone #12 – 'J-COOK' in Gaiemmae

In this edition of The Café That You Want to Visit to See Someone, I visited J-COOK in Gaiemmae, a place I visited one time while off work which ended up in me wanting to absolutely feature it in the series!

It's just a 5-minute stroll from Gaiemmae Station.

The cafe enjoys lots of sunlight, which is brightened further by all the plants scattered through the shop. The cafes I have visited to date are often a little darker with only a little light seeping through the windows to create a certain atmosphere, and they are wonderful, but this was the first I have ever visited with so might light and so many plants. The air felt clear, adding to the level of comfort in the cafe, perhaps because there are so many plants adorning the interior.

The cafe also has a space with a slightly more darker light and atmosphere on the left side. I haven't sat in that area yet, so I think I'll try it out on my next visit.

When I come to J-COOK, my eyes always wander over to the marzipan creations (¥450).

These ones here were actually all individually handmade by the owner's husband from the early morning.

If you look really closely, you'll notice all the dog designs are different. When ordering, get to pick out which one you want, so try finding your perfect pup!

I had mine together with an iced coffee (¥450). The sweet marzipan is a delicious combination with the bitterness of the coffee.

I also got some potted cream (¥450). It's kind of like a Japanese custard pudding with just a moderate amount of sweetness.

I had mine with a bit of brandy which had fragrant vanilla notes. They've had this brandy for 33 years since the store first opened.

The cream was sensational, and the gentle notes linger afterwards.

They have a lot of different homemade soups too which are perfect for the coming cold weather. I got the New Orleans-style gumbo soup. It's spicy with clam and okra in it.

Relaxing jazz music plays in the cafe while you sit and enjoy your drink and meal.

J-COOK is a wonderful little cafe run by a husband and wife. When I first came, the wife came and talked to me. She's super friendly, and although it was our first meeting, she made me feel really comfortable and welcome. She must be full of happiness, which in turn naturally gives people who visit the strength to be positive and work hard.

I reckon their smiles have saved a lot of people.

I can't wait to visit again!

Writer/Model: Ema Tanioku

Photographer: Haruka Yamamoto

Design: Yuko Abe (ASOBISYSTEM)

Translator: Joshua Kitosi-Isanga

Information

J-COOK

Address: 3-36-26 Jingumae, Shibuya, Tokyo

Opening Hours: [Tue-Sat] 8:00-22:00 (Last Orders) / [Sun] 11:00-18:00 (Last Orders 17:30)

Closed: Mondays

Official Twitter: @jcookjp

Kis-My-Ft2's Toshiya Miyata Appears in &CAST!!! App Commercial For Anime & Voice Actress Lovers

Toshiya Miyata, a member of the seven-member Japanese boy band Kis-My-Ft2, appeared in a new commercial for &CAST!!! on Wedneday. The video application is catered towards fans of anime and voice actors/actresses.

Miyata is the self-proclaimed (and proclaimed by others) number one Japanese anime fan. In the commercial, Miyata showcases the fun you can have with the app. This is his first commercial to appear by himself, and features a song written by Miyata for the commercial entitled Boku Dake no Princess with lyrics by MEGUMI.

The commercial begins with Miyata with a serious expression, explaining the hearts of anime fans in detail with difficult words, but in the second half his expression changes when he takes the phone in his hand and starts using the app.

&CAST!!! lets you message and use items on various "cast" members and they will reply to you.

In line with the new commercial, a log-in bonus campaign is being held right now until October 15 where you can receive the above-pictured clothing item when you log in.

Gamers! Rally Your Teammates For A New Quest: TOKYO GAME SHOW

The TOKYO GAME SHOW is in a league of its own. It is a mecca for gamers who cannot get enough of Japanese games and entertainment. This is where Japan's major game publishers from all kinds of platforms unite to put on an enormous exhibition. 

This includes the opportunity to explore games that are yet to be released as well as hear new announcements about the direction developers are steering the future of gaming. There's no lagging behind. This is a major event for the gaming industry, raking in leagues of heroes every year. 

On August 28, a total of 2,417 game booths were announced, which is the largest number the event has ever seen in its history. This event is home to games on a range of platforms including for console, smartphone and PC. The enormous variety of genres includes the most cutting-edge and latest trends including Esports, VR and much more.

For those of you who love cosplay, this event is your chance to finally meet your fantasy. The outside area of Hall 9 will have a Cosplaying Area Stage where two events will take place: a cosplay fashion show and a gathering. 

On Saturday 14th, Hall 1 event stage will hold the Cosplay Collection Night@2019 event where participants and event staff will take over the stage in game character cosplay. Spectating is free, so feel free to watch as each cosplayer dominates the entire stage, showing off their excellent craftsmanship and skills as they walk the runway and strike a pose definitely worth saving in your highlights! 

On Sunday 15th at 2:30 pm, cosplayers will take to the stage in units of two or more to put on a dance or combat show that you just cannot critically miss out on. 

Schedule:

September 14 (Sat)  From 12:00 ー Cosplay Runway  From 15:30 ー Cosplay Runway

September 15 (Sun) From 13:30 ー Cosplay Runway From 14:30 ー Cosplay Dance and Combat Shows From 15:30 ー Cosplay Runway

The Gathering is where cosplayers can interact with one another and have photos taken ー the perfect opportunity to send those friend requests. On September 14, a gathering dedicated to the Final Fantasy Tales Series will take place on the Cosplay Area Stage. On September 15, there will be gatherings for the Dynasty Warriors and Samurai Warriors series.

Schedule:

September 14  13:00-13:30 Final Fantasy Series Gathering  14:00-15:00 Final Fantasy Tales Series Gathering 

September 15 12:30-13:00 Dynasty Warriors and Samurai Warriors Series Gathering

More information on the exhibitions, booths and events will be announced on the morning of September 12 so please check it out. 

There is no better way to multi kill your time than to spend the entire day at TOKYO GAME SHOW 2019 ー get your tickets and GLHF!

Information

TOKYO GAME SHOW 2019

Event Information

Business Days*: September 12 & 13, 2019 (10:00~17:00)

*Business Days are open to industry and press only.

Public Entry*: September 14 & 15, 2019  (10:00~17:00)

*Doors may open at 9:30 am according to conditions on the day.  

Venue: Makuhari Messe (Mihama Ward, Chiba)

Exhibition Halls 1-11/ Event Hall/ International Conference Hall

Entry Fee: Advanced tickets: ¥1,500 (after tax)

On The Door: ¥2,000 (after tax)

Those under Elementary School age can enter for free (public entry days only)

Official Website: https://expo.nikkeibp.co.jp/tgs/2019/en/

Detective Conan Film Director Joins Judge Panel For Toho & Alphaboat's 4th Gemstone Animation Contest

GEMSTONE is an audition project created by TOHO CO., LTD. and ALPHABOAT which seeks to find the best creators. The 4th GEMSTONE project was announced last month and is seeking submissions of short animations themed on Shinjuku.

The judges for the contest have been unveiled. The line-up will include anime film and television director Kobun Shizuno, who worked on the Detective Conan film series from 2011-17 as well as the Godzilla CG kaiju film series from 2017-18. It will also include animator Yasuhiro Kimura who worked on Three Leaves, Three Colors and the Golden Wind arc of JoJo's Bizarre Adventure.

"GEMSTONE" refers to the talent selected by TOHO and ALPHABOAT for the audition project, which ranges from animators to illustrators, composers, singers, actors, and so on. The two companies will help open doors to winners' career paths.

TOHO are known for putting our a plethora of internationally-beloved anime films and series, including Your Name, My Hero Academia, Yowamushi Pedal, and Haikyu!!. They are also joined by MARUI GROUP Co., Ltd. for the project who manage three shopping facilities in Shinjuku, including Godzilla Store Tokyo, where they promote their anime franchises.

The conditions for submitting a video are that the video must be a short animation about Shinjuku no more than 5-minutes long. It is up to the creator to decide what aspect of Shinjuku they wish to talk about, whether it be the locals, culture, sights and so on. The first wave of chosen animations will be posted onto the official GEMSTONE YouTube channel after which they will be judges by veterans of Japan's anime industry.

Speaking about his involvement with the audition project, Kobun Shizuno commented: "I was born and raised in Shinjuku, and live here to this day. That's why this is a theme I can take something from and wish to judge."

Yasuhiro Kimura also commented: "I am very honoured to be judging for this important chance to find talented individuals. I'm really looking forward to seeing how each of you interpret a topic as broad as Shinjuku. I'll be waiting for your submissions!"

Information

GEMSTONE Creators Audition Summary

・Theme: "Shinjuku Anime Creators Audution" (Create a short animation themed on Shinjuku)

・Application Period: August 21, 2019 – October 31, 2019 at 23:59 (JST)

・Winner Announcement: Early December 2019

・Submissions will begin rolling out on GEMSTONE's official YouTube channel in November

Application Conditions

・A short animation themed on Shinjuku no less more 5-minutes in length

・This is a video submission-only audition

・There are no restrictions to animation type – you are free to use your imagination

*Please note that if your animation is chosen for judging it will be posted onto GEMSTONE's official YouTube channel

Winner Prize

・2 million yen

・Be featured on the Shinjuku Marui electronic billboard and elsewhere

・Work with a TOHO producer to plan a new work

・An offer to sign up for ALPHABOAT management

Judging Panel

・Kobun Shizuno, Yasuhiro Kimura, and TOHO anime producers

Submission Hashtags

・#GEMSTONE #原石募集

A Date With Yutaro: Soaking Up the Japanese Summer Sun & Visiting the Art Aquarium | Tokyo Stroll

It's been a while since our last date with Yutaro. He's been very busy with film shoots. He had some spare time today so we paid a visit to Nihonbashi for our next date. "ECO EDO Nihonbashi: Enjoy Cool Edo With All Five Senses" is an event held every year in the Nihonbashi area which takes the Edo period cultural idea of "coolness"―an in, to enjoy being cool during the summer-and puts a modern spin on it. There are many exciting things to look forward to, including the art aquarium which proves massively popular every year.

We gave ourselves more time to arrive at the meeting place to be in the safe side, but it seems Yutaro-kun was already there waiting for us!

Nihonbashi Information Center | IPPIN CAFÉ "Sparkling Herb Tea" – ¥518 (Tax Included)

"Here, you must be boiling." Yutaro-kun kindly offers a cup of IPPIN CAFE's limited-edition sparkling herb tea. It's a delicious mix of fizzy soda and lemon, a perfect refreshment for the summer. Since he ordered takeout the drink came with a goldfish straw. Goldfish are a staple sight during Japanese summer festivals so it's very fitting for the occasion! 

With our drinks in hand, it's time to head to Nihonbashi for our Edo summer date!

Wind-Chime Forest Path

Lining the path between Fukutoku Shrine and Fukutoku Garden is the Wind-Chime Forest Path where around 200 Edo-style wind chimes dangled. This year, during the evenings, the path is illuminated with beautiful lighting. 

When the breeze rolls past the wind chimes ring one by one-a cool and refreshing sound.

"I hear each one of these Edo wind chimes are individually handmade by craftsmen."

When you hear the sound of the wind chimes it makes you feel cool like a gentle breeze of the wind.

After strolling along the Wind-Chime Forest Path we make our way towards this year's ECO EDO Art Aquarium event.

The moment we step instead Yutaro is already dazzled by all the goldfish: "Wow! I knew about this place from what I'd seen online, but this my first time here! This art aquarium really is something!"

The full title of the event is "ECO EDO Nihonbashi ART AQUARIUM 2019 ~Edo, Coolness of Kingyo~ & Night Aquarium."  Goldfish were a huge part of the common culture in Nihonbashi during the Edo period. This event recreates that and brings that "coolness" aspect while combining it with contemporary art by having people observe the fish in lots of different artistic environments.

Super Oiran

"This is the biggest fish tank, apparently it has 3,000 fish swimming inside!"

"Seeing the light reflect on the water from the illuminations lets you see the fish in a different light, doesn't it?"

Looks like Yutaro-kun is having a lot of fun taking photos.

He's equally interested in just about every fish tank!

These other fish tanks have a different aesthetic to them. Their Japanese-style designs make for great photos.

Kaleidorium 3D

"This one's beautiful, it's like a kaleidoscope."

It really does look like one. When you take a peek instead you can glimpse all kinds of colourful fish gently swimming around.

Ceiling Kingyo

"There're goldfish swimming on the ceiling too. So cool! This aquarium is incredible. It brings together the great culture of Edo and contemporary art."

The Art Aquarium bustles every single year with visitors, but this year will mark its last run. It's being held at Nihonbashi Mitsui Hall, so if you have the chance to go then please do.

We of course checked out some local Nihonbashi treats too! We stopped by morozoff for some cheesecake after the aquarium.

morozoff Kamadashi Cheesecake (Goldfish) – ¥270 Each (Tax Included)

These cute cheesecakes with their goldfish designs are available for a limited time only. They're filled with sweet red bean paste. They perfect with iced tea.

"Got some! Let's eat them while we head back."

Goldfish Lantern Walkway

Our first date in Nihonbashi was so much fun. While on the date Yutaro-kun spoke about the new live-action film he's in, Kaguya-sama: Love Is War.

"It's a romance film with mind games to try and make the other person confess their love. I play the character Tsubasa. His number one highlight scene is the kabedon scene. That was my first day shooting, so I was super nervous, but I got along well with the other actors, and the atmosphere on set was harmonious, so I was able to relax for the shoots. Tsubasa is a genuine guy who will believe things that have been said to him in earnest. You've definitely gotta check out all his scenes throughout the film!"

"A lot of the cast are the same age as me, so we were all energetic together in the waiting room. There's a scene at the end where all the cast get together. It took 3 days to shoot so we ended up getting along really well."

"This film has made me realise that love comes in many shapes, and that mind games happen in a variety of ways between guys and girls. There's cute scenes that express that small bit of pride that teenagers have, the embarassment they feel, when they get butterflies, scenes that will warm your heart. The film has various elements to it so I thoroughly enjoyed watching it myself. I hope that couples in love in their teens and twenties watch it, and I also hope that married couples watch it and crack up laughing too."

"In the film it's summer break, and they go and see fireworks and stuff. It's definitely one to watch durnig the summer. You're gonna come watch it too, right? Shall we go?"

An offer we cannot refuse! We'll definitely go and see it with you, Yutaro-kun! 

Model: Yutaro

Writer: Yuki Yokoo

Photographer: Kayo Sekiguchi

Information

ECO EDO Nihonbashi 2019 ~Enjoy Cool Edo With All Five Senses~

Running: July 5, 2019 – September 23, 2019

Location: Nihonbashi Area

TEL: 03-3242-0010 (Nihonbashi Information Center)

Event Page: https://www.nihonbashi-tokyo.jp/en/ecoedo2019/

ECO EDO Nihonbashi ART AQUARIUM 2019 ~Edo, Coolness of Kingyo~ & Night Aquarium

Running: July 5, 2019 – September 23, 2019

Location: Nihonbashi Mitsui Hall Floor 5F (Entrance at 4F),  COREDO Muromachi 1, 2-2-1 Nihonbashimuromachi, Chuo Ward, Tokyo

Opening Hours: Art Aquarium 11:00-19:00 / Night Aquarium From 19:00

[Sun-Fri] 11:00-22:00 (Last Entries 22:00) [Sat & days prior to public hoiday] 11:00-23:30 (Last Entries 23:00)

Access: Directly connected to Exit A6 of Mitsukoshimae Station, accessible on the Tokyo Metro Ginza Line and Hanzomon Line / Directly connected to Shin-Nihombashi Station / 8-minutes on foot from East Exit of Kanda Station JR 8-minutes on foot from Nihonbashi Exit of Tokyo Station

TEL: 03-3270-2590

Event Page: https://www.nihonbashi-tokyo.jp/en/ecoedo2019/contents/005.html

Kaguya-sama: Love Is War Film

Release Date: September 6, 2019

Adapted from the manga of the same name by Aka Akasaka (Shueisha/Weekly Young Jump)

Cast: Sho Hirano (King & Prince), Kanna Hashimoto, Hayato Sano, Natsumi Ikema, Nana Asakawa, Mayu Hotta, YUTARO, Takashima Masahiro, Jiro Sato

Official Website: https://kaguyasama-movie.com/

TALENT PROFILE

Yutaro

Yutaro was born in Hiroshima on June 3rd 1998. His modeling career has earned him lots of attention as a fashion icon of the new generation. The famous model also works as a "charisma" shop assistant. Yutaro has gained his reputation as a "mysterious and handsome guy" from his appearance on Japanese variety shows. His debut was made on the show "Gyoretsu no Dekiru Horitsu Sodanjo" and has since then appeared on numerous different TV shows. He challenged himself to appear on stage for the very first time in March this year and is gaining popularity by the day for his diverse work.

Tokyo Stroll: The Café That You Want to Visit to See Someone #11 – 'Hatoya' in Asakusa

In this edition of The Café That You Want to Visit to See Someone, I visited Hatoya which is located in Asakusa Shin-Nakamise Arcade.

The streets of Tokyo's historical district of Asakusa are packed to end with cafés. You can be spoiled for choice, but Hatoya stood out to me in particular as it's an especially old café. Business there began back in 1927 but the actual building was built back in the Taisho period, meaning its history spans more than 90 years ago!

The outside appearance of the shop is smart and chic so it's very easy to spot. I couldn't tell by looking from the outside, but the inside is full of old decorations and odds and ends which make you feel the history of the café.

One reason why I wanted to visit this place so much is because I was drawn to their logo. It's really retro-kawaii so I just couldn't resist!

You should take some photos too if you visit.

It was time to head inside. It's really comfy and cozy in there; the atmosphere was nice and relaxed.

Framed on the wall is a map of the Asakusa area during the Taisho era. Hatoya became famous back then because people could buy coffee for a mere 5 sen (a single sen is one-hundredth of a yen).

When business first began at Hatoya, because the café was opposite the stage door of a theatre, all of the famous actors and actresses would pop in. Some include famous Japanese comedian Roppa Furukawa and film actor Kiyoshi Atsumi who played Tora-san in the film series Otoko wa Tsurai yo.

I ordered the café's popular hotcakes which cost ¥600. They have been making these same hotcakes since before the war.

They were nice and fluffy and had a deliciously gorgeous brown colour. The flavour was out of this world when the butter melted from the heat of the hotcakes and mixed together with the syrup.

The portion might look like a lot but they are fluffy and have a light flavour so can be finished with no problem.

And is the café's signature milkshake (¥500).

It's so refreshing that you can knock it back all in one go. It has a simple flavour but it tasted so good!

I also ordered the ¥600 cream soda, my favourite beverage.

I've been to many cafés, and have covered many in this series, but this is the first I have dined at with such a deep history. I found myself enthralled by the stories of the owner who has continued to treasure the café and maintained it all the same since it opened. I feel like I have learned about a world I never knew about. The next time I go to Hatoya with a friend I'll be sure to let them in on its history. I encourage you to visit too!

Writer/Model: Ema Tanioku
Photographer: Haruka Yamamoto
Design: Yuko Abe (ASOBISYSTEM)

TALENT PROFILE

Ema Tanioku

"Emaeri" is the nickname for models Ema and Eri Tanioku, who are Aomoji fashion model twins. Ema and Eri Tanioku specialise in twin fashion coordination. Over the years their fanbase has increased due to their cute looks. Ema Tanioku spreads Harajuku culture within Japan as well as overseas and works as a Harajuku Tourism Ambassador. Starting off as a model, Ema has broadened her talent range from fashion magazines to TV, and from playing the lead role in dramas to movies.

Attack on Titan, Seven Deadly Sins, Fairy Tail & Other Anime T-Shirts Releasing at UNIQLO

UNIQLO's graphic t-shirt brand UT are celebrating the 60th anniversary of manga magazine Weekly Shonen Jump with a new t-shirt collection via their sub brand MANGA UT. The t-shirts will go on sale from August 12.

The collection covers six anime series serialised in the popular magazine including Hajime no Ippo, Fairy Tail, The Seven Deadly Sins, Attack on Titan, Negima! Magister Negi Magi, and Shōta no Sushi. Each t-shirt pays homage to its respective series, featuring iconic scenes that have stayed with fans, sound effects, and original designs that capture their worlds.

Hajime no Ippo

Hajime no Ippo is a boxing manga written and illustrated by George Morikawa. It follows Ippo Makunouchi, a shy high school student who suffers at the hands of bullies. He begins a career in boxing in search of the answer to the question "What is strength?" and battles his rivals and those around him to grow as an individual. The t-shirt design captures the lively energy seen in the characters and is surrounded by eye-catching SFX.

©George Morikawa/Kodansha

Fairy Tail

Fairy Tail is a fantasy adventure manga written and illustrated by Hiro Mashima. It follows the dragon slaying wizard Natsu and his tale of growth as part of the Fairy Tail guild. One of the t-shirts features four characters from the guild and the other is a large illustration of Acnologia, the main characters' strongest enemy.

©Hiro Mashima/Kodansha

The Seven Deadly Sins

The Seven Deadly Sins is a fantasy battle adventure series written and illustrated by Nakaba Suzuki. It follows the titular characters each of whom represent the seven deadly sins. There are several t-shirt designs including one featuring Meliodas looking up to the sky and another of him and his comrades out on a peaceful trip. There is even a hand drawn illustration of Hawk, a talking pig and Meliodas's pet, which was illustrated by Suzuki himself and UT's editors.

©Nakaba Suzuki/Kodansha

Attack on Titan

Attack on Titan is an dark fantasy adventure series written and illustrated by Hajime Isayama. The story is set in a world where humanity lives within giant walls which help protect them from towering man-eating Titans. The terrifying t-shirt design features one of the Titans that live inside the walls.

©Hajime Isayama/Kodansha

Negima! Magister Negi Magi

Negima! Magister Negi Magi is an fantasy adventure and harem series written and illustrated by Ken Akamatsu. It follows the story of Negi, a wizard who becomes an English teacher at Mahora Academy, where he helps his class of students overcome their problems. He is also in search of his father who is known as a hero in the world of wizardry. There are two t-shirts, one featuring the main heroine Asuna Kagurazaka, and another of some of the other students in the class.

©Ken Akamatsu/Kodansha

Shōta no Sushi

Shōta no Sushi is a food manga series written and illustrated by Daisuke Terasawa which follows the story of Sekiguchi Shota who works as an apprentice and aims to become a sushi chef. There are two t-shirt designs, one which features the manga's logo and a slice of sushi and the other with the logo and a whole sushi platter.

©Daisuke Terasawa/Kodansha

Show your support for your favourite Weekly Shonen Jump series by picking up one of these awesome t-shirts!

MOTOR CITY by Kenichi Asai To Be The Opening Theme Song For Upcoming Anime No Guns Life

No Guns Life is a manga series created by Tasuku Karasuma which has been serialized in Shueisha's Seinen magazine Ultra Jump. An anime version of this manga has been created and will premiere in October 2019. We have now discovered that the opening theme song for the anime is MOTOR CITY and was written by Kenichi Asai.

The second anime trailer for No Guns Life, in which you can hear a snippet of MOTO CITY, has also been released. The anime adaptation of No Guns Life was created by Madhouse, who are popular for their anime adaptations of Overlord and BLACK LAGOON. 

© Tasuku Karasuma/Shueisha, NGL PROJECT

Tokyo Stroll: Shopping & Sightseeing with Mozuku-kun the Dog #5 – Uzumako Ceramic Art School

It's been a minute since we last ventured out with Japanese model Yuna Yabe and her beloved pet pup Mozuku. If you're new to this feature, Yuna Yabe takes her trusty partner Mozuku to various hot spots in Japan that you can enjoy with your pet dog. Their relationship continues to deepen in this priceless experience.

Today, Yuna and Mozuku head to Uzumako Ceramic Art School which is close to Shiba Park. You can get a good view of TokyoTower from this famous park.

What's unique about this art school is that visitors are allowed to take their pets with them. So this means you can take your dog with you to do some ceramics!

Yuna has always had an interest in ceramics. And what better way to experience creating something than with her partner in crime Mozuku! With him tottering beside her, she headed through the entrance curtain with a spring in her step.

When you enter the classroom, there are lots of examples of pottery ware lining the shelves. The room has that smell of craftsmanship which lingers as you begin the class with a demonstration by the teacher. Once you have your apron on and are fired up to begin, it's time to start.

The work begins with kneading the clay to make its firmness uniform. This step helps prevent air bubbles from forming.

Yuna asked the teacher many different questions as she enjoyed kneading her clay. "Where does ceramic work originate from?" "What kind of things to other dog owners make when they come here?"

"What's Yuna up to?" Mozuku's puzzled face seemed to imply as he listened to Yuna and the teacher talk.

Yuna turned to Mozuku and said to him, "I'm going to make you a food bowl!" It seemed like the message got through as his face read, "Looks like my owner is making something just for me."

Yuna wet her hands with some water and began forming a hole in the centre of her clay bundle. The hole forms and gets bigger as the pottery wheel spins.

Next, she used both of her hands to ensure the thickness of the bowl was even all the way around.

"Amazing! The shape of the clay changes in an instant!"

By adding a little bit of pressure the pile of clay can change shape rapidly. It's like a living thing.

"It's like the clay is my own child. I wanna wrap it up!"

Once the shape is formed, Yuna cut around the edges. She is a skilled individual, she got the hang of it straight away.

Mozuku sat right beside Yuna, quiet and curious.

"Is it my turn yet?"

He seemed itching to have a go at making something himself too.

He watched over Yuna's work from atop the table.

"I wanna try spinning the wheel too!"

Mozuku in fact had the most important job of all. Yuna popped a wooden mould onto his paw and stamped a paw print into thebottom of the bowl.

"There we go!" said Yuna

Mozuku mustered all of his strength to make his mark, his facial expression unusually serious as he carried out his big task.

Time to check if the print was done properly!

Here's the final product―Mozuku did a great job!

Their teamwork paid off as they were able to create a really cute dog bowl. The tiny footprint is packed with pet love. The art school actually sells a lot of different cute and stylish pet items but the owner making their own makes it unique―the only one in the world.

If that love is able to get through to your pup, the food they eat from the bowl is sure to be even more delicious.

Thanks for your help, Mozuku.

"I can't wait to fire it!" Yuna's excitement was peak from start to finish. She was very satisfied after the class finished.

After two weeks of waiting, the bowl was completely finished.

Why not try creating something unique special for your own pet―together with them?

Model: Yuna Yabe/Mozuku @yunaaay1030

Text: Ai Watanabe

Photographer: Kayo Sekiguchi

Translator: Joshua Kitosi-Isanga

Information

Uzumako Ceramic Art School
Address: Sekisui House Floor 1F, 3-29-11 Shiba, Minato Ward, Tokyo

Business Hours: 10:00-19:00

Access: https://www.uzumakotougei.com/en/access.html

TEL: 03-6809-6363

Official Website: https://www.uzumakotougei.com/en/index.html

*The course Yuna took with Mozuku was the "Pet Ceramics Plan" where you can make 2-4 ceramic items and fire them. For your first try the staff will carve and glaze the final product to completion. This can be picked up one to one-and-a-half months after your course for ¥4,500. Please check the website for more details.

*Obedient dogs permitted. Please note that there are other participants so dogs who bark a lot or cannot relax are not permitted.

TALENT PROFILE

Yuna Yabe

Yuna Yabe won the grand prix prize at the "Zipper×ASOBISYSTEM Model Auditions" at the age of 15. She is an expert not only in fashion but make-up and video editing too. She's an influential figure to the people in her generation. Recently, her work has expanded greatly, such as appearing in music videos. Her activity continues to grow and looks to be very promising indeed.