Roppongi Hills Christmas 2018: Keyakizaka Illuminations, 10m Tall Christmas Tree & More!
Christmas at Roppongi Hills is a bustling time having brought together 7 million people last year. There will be lots happening this year, starting with Keyakizaka street being lit up from early November up to Christmas Day. Illuminations will be held in 3 places and there will be numerous events including a Christmas market and concerts.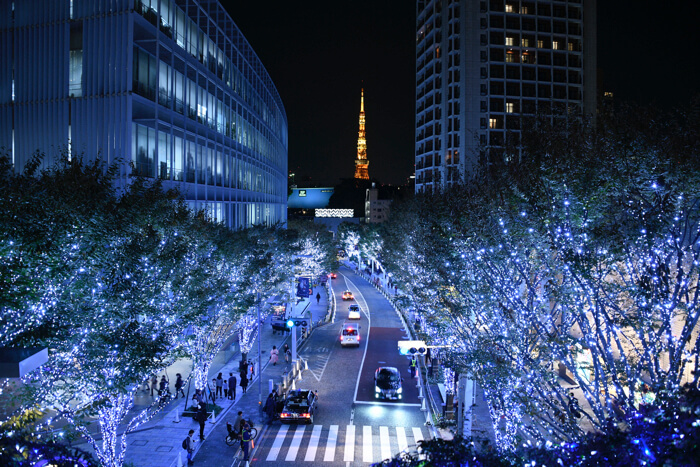 Around 700,000 LED lights will decorate the trees of Keyakizaka street, bringing to light that charming feeling of Tokyo wintertime. This marks the 15th year of the street's illuminations, and this year's theme is "LIVE veil." Passersby will be greeted with the glow of crisp blue and snow white LED lights. The bridge located in the centre of Keyakizaka street will make for a great photo with Tokyo Tower in the background.
Date: Early November 2018 – December 25, 2018
Time: 17:00-23:00
Location: Roppongi Keyakizaka-dori
A Christmas market will take place at 66 Plaza which will be overlooked by a towering 10m tall Christmas tree. The tree will light up during the event making for a must-visit spot with that special someone.
Date: Early November 2018 – December 25, 2018
Time: 17:00-24:00
Location: 66 Plaza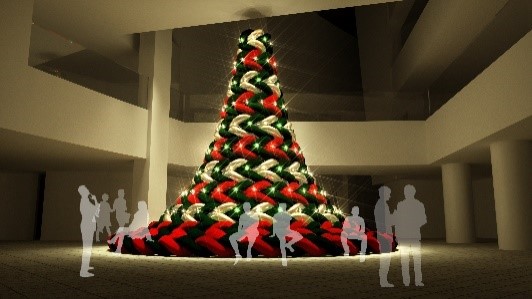 If you take a stroll along West Walk you'll also see a very unique looking "knitted" Christmas tree. This specially made tree is made of a knitted material that will feel soft to touch. You'll even be able to lie down at the base of it. The material the tree is made of will also run through the corridor of West Walk, embracing the area with warmth.
Running: November 16, 2018 – December 25, 2018 (subject to change)
Location: 2F West Walk South Side and Corridor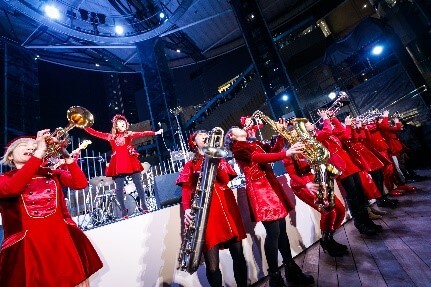 As well as the Christmas market and concert, the restaurants and cafes will also sell Christmas cakes, and there will be plenty of opportunities for Christmas shopping.
Take your family, friends or special someone to Roppongi Hills for Christmas this year!
■Information
Roppongi Hills Christmas 2018
Location: Roppongi Hills (Roppongi Keyakizaka-dori, 66 Plaza, West Walk, Roppongi Hills Arena, Oyane Plaza, and elsewhere)
Christmas Market 2018
Date: November 23, 2018 – December 15, 2018
Time: 11:00-21:00
*On the first day (November 23) the market will open in the evening.
*Opening times extended to 22:00 on Fridays, the weekend and December 24.
Location: Oyane Plaza
RECOMMENDED ENTRIES
teamLab and MORI Building Digital Art Museum Opens on June 21

MORI Building DIGITAL ART MUSEUM: EPSON teamLab Borderless will open on June 21 and is co-managed by Mori Building Co., Ltd. and teamLab.

teamLab Borderless is a collection of artworks that 'form one borderless world.' The art encompasses the entire room from the ceiling to the floor, and each piece connects seamlessly to the other, creating an immersive world where time blurs.

You'll be able to create new experiences with other people by submerging yourself into world of this borderless art and exploring it with your body.

This never-before-seen new world is created in an expansive and complex three-dimensional 10,000 square meter space by 520 computers and 470 projectors.

EPSON teamLab Borderless have created 5 worlds each with their own distinct artwork. Early bird tickets are now on sale at a discounted price. Sales end on July 31. Additionally, the opening hours will be extended by one hour from June 21 to August 31.

Dive into a mesmerising 3D world and get lost amongst the borderless art.

■Information

MORI Building DIGITAL ART MUSEUM: EPSON teamLab Borderless

Address: 1-3-8 Aomi, Koto, Tokyo

Opening: June 21, 2018

Opening Hours

Monday-Thursday 11:00-19:00 (20:00)

Friday 11:00-21:00 (22:00)

Saturday 10:00-21:00 (22:00)

Sunday & National Holidays 10:00-19:00 (20:00)

*Last entries are 1 hour before closing time.

*Times listed in brackets refer to extended opening times running from June 21 to August 31.

*Business hours will defer from season to season. Check the official website for full details.

Closed: 2nd and 4th Tuesday of every month.

Early Bird Tickets (Discounted)

Sales Period: June 7, 2018-July 31, 2018

Price:

Adults, High School & College Student – ¥2,400 (*Normal price ¥3,200)

Children up to Middle School Student – ¥1,000 (*Same as normal price)

*Prices listed include tax.

*Early bird tickets admitted during the period June 21 to July 31 only.

Ticket Purchasing: https://borderless.teamlab.art/jp/

teamLab Borderless: https://www.baitoru.com/cp/teamlab-borderless/

Official Website: http://borderless.teamlab.art/jp

Teaser Trailer: https://youtu.be/y3quanO4bKw

teamLab to Bring Digital Art Exhibition to GINZA SIX Rooftop

Ultratechnologists teamLab are taking their Resonating Trees digital art masterpiece to the rooftop garden of GINZA SIX, the biggest shopping complex in Ginza. It will run from August 1 to September 2.

The theme of the work is "Digitized Nature." Taking place in a 56-meter roof garden, this digital art space combines sound and lights which change and transform as people walk by. This is the first time for this piece to be held in the city and offers people a dreamy experience with the nightscape of Ginza's streets and buildings as the backdrop.

The trees lining the garden will be individually lit up with bright and colourful lights. It will seem as if the trees are resonating with each other as they fade in and out of different colour tones. As watchers walk by, the colour tone of a tree will change and transmit to the trees next to them. The changing of colours signifies the presence of people, and in turn teamLab hopes people will become aware of the existence of other living things in the same space.

Experience the latest in cutting-edge digital art technology at GINZA SIX.

■Information
teamLab: Resonating Trees in GINZA SIX GARDEN

Location: GINZA SIX GARDEN, GINZA SIX roof

Running: August 1, 2018 – September 2, 2018 (*Shops and restaurants closed on August 27)

Time: Sunset-11:00pm

Entry: Free

Event Page: https://www.teamlab.art/jp/e/ginzasixgarden

Resonating Trees: https://www.teamlab.art/w/resonatingtrees

GINZA SIX
Address: 6-10-1 Ginza, Chuo-ku, Tokyo

Opening Hours: Shops & Cafes (B2F-5F) 10:30am-8:30pm / Restaurants (6F, 13F) 11:00am-11:00pm

*Business hours different for select shops.

No Fixed Holidays.

*Shops and restaurants closed on August 27.

TEL: 03-6891-3390 (GINZA SIX Information Desk / 10:30am-8:30pm)

Website: http://ginza6.tokyo/

Tokyo Winter Illuminations 2018 – Shinjuku Minamilumi Illuminations to Return to Shinjuku Station South Exit

The Shinjuku Minamilumi illuminations are making their sixth return to the south exit of Shinjuku Station again this year from November 14.

"Minamilumi" is a portmanteau of minami no illumination ('south illuminations') and minna de miru illumination ('illuminations to watch with everyone').

Each pedestrian area around the south exit will be decorated with different illuminations. Full details for each illumination exhibition will be available from October.

Each location is within walking distance from the other, so you can spend a nice relaxing time strolling and seeing the different lights that will welcome the winter. Mark it in your diary and be sure to see them all.

■Information

Shinjuku Minamilumi Illuminations

Areas: Shinjuku Southern Terrace / Takashiyama Times Square / Shinjuku Maynds Tower / JR South Shinjuku Bldg. / JR Shinjuku Miraina Tower / Suica's Penguin Park

Closest Stations: Shinjuku Station (JR Line, Odakyu Line, Keio Line, Toei Shinjuku Line, Oedo Line) / Shinjuku-Sanchome Station (Fukutoshin Line)

Running: November 14, 2018 – January 14, 2019

Illumination Times: 5:00pm-12:00am

*4:30pm-12:00am in December.

*Illumination areas, content and details subject to change.
RELATED ENTRIES
Hoshino Resorts BANTA CAFE Releases Video of Magical Beachside Illuminations

The incredible beachside Hoshino Resorts BANTA CAFE, which offers guests a breathtaking ocean view along the Okinawan coast, released a video on the official Hoshino Resorts YouTube page showcasing the cafe's ongoing illumination event, "Illumi Banta," which is running until February 28, 2021. Guests can enjoy some limited-time menu options and then take a romantic stroll along the beach with a warm lantern in hand.

Okinawa is known for its warm climate, rarely dipping below 15°C in the chilly season of winter. There are many celebratory days enjoyed every year around Christmas and New Years, and so BANTA CAFE decided to get in on the action with Illumi Banta, which has been running since December 1 last year—while following the necessary precautions against COVID-19 to ensure everyone stays safe. The spacious cafe is mostly outdoors so visitors can enjoy their time without worry.

A seat at the cafe in on a clear evening guarantees a front row seat to a beautiful orange sunset that sinks into the horizon. Normally, the cafe closes as sunset arrives, but for this event, opening hour have been extended into the night.

BANTA CAFE is located in the village of Yomitan where the beautiful ocean is surrounded by coral reef, enormous rocks, and a rich natural environment. It's a must-visit if travelling to Okinawa.

Information

Illumi Banta
Running: December 1, 2020 – February 28, 2021 (Except February 1st-5th)
Time: 18:00-22:00 (Last Orders 21:00)

BANTA CAFE
Address: 560 Gima, Yomitan, Nakagami District, Okinawa
TEL: 098-921-6810
Opening Hours: 10:00 to one hour after sunset (from 08:00 on weekends and holidays)
Official Website: https://banta-cafe.com/en/

Kyoto's Shinto Shrine Iwashimizu Hachimangu Announces Light-Up Event

Iwashimizu Hachimangu, a Shinto Shrine in Yawata, Kyoto, has announced that a 5-day light-up event will take place from February 10 to 14 at the site's main shrine which is listed as a national treasure of Japan.

Following government guidelines in response to COVID-19, the event will feature LED illuminations, glowing exhibits from craftsmen, lights made by locals from materials such as bamboo, and more, all in the hopes of creating a bit of evening-time sightseeing in the area. The event will also be streamed live online for those unable to attend where viewers can also enjoy watching ceremonial dance by shrine maidens.

Information

Iwashimizu Hachimangu Inori no Tomoshibi ~Wa no Kokoro~

Event Name in Japanese: 国宝・石清水八幡宮 祈りのともしび~和の心~
Running: February 10, 2021 – February 14, 2021
Light-Up Times: 17:00-20:00
Location: Iwashimizu Hachimangu (30 Takabo, Yawata, Kyoto)
Note: Face masks and COVID-19 Contact Confirming Applications required
Event Page: https://ochanokyoto.jp/event/detail.php?eid=569
Official Website: https://newnormaltourism.jp/

Roppongi Readies For 2021 New Year Celebrations at Tokyo Midtown

Tokyo Midtown in Roppongi is set to celebrate the New Year with a festival that will run from January 2 to 11 in 2021.

New Year's Feast


From Left: Miyagawacho Suiren / SILIN Fuan Long Yuen / UNION SQUARE TOKYO/Kisentei

Restaurants in Tokyo Midtown will be serving up a feast for the New Year from Japanese wagyu beef to seafood and more, all to prepare everyone for a luck-filled and positive 2021.

Running: January 2, 2021 – January 11, 2021
Participating Restaurants: Miyagawacho Suiren / SILIN Fuan Long Yuen / UNION SQUARE TOKYO/Kisentei SILIN / Philippe Mille Tokyo / Le Pain Quotidien / RIO BREWING & CO. BISTRO AND GARDEN / Pizzeria-Trattoria Napule / HAL YAMASHITA Tokyo / NIRVANA New York / Maruya / THE COUNTER Roppongi

New Year's Greeting Souvenirs

SAKE SHOP Fukumitsuya / Toraya

There will be no shortage of New Year's greetings souvenirs at Tokyo Midtown, whether it be a set of sake with a special 2021 Year of the Ox label from SAKE SHOP Fukumitsuya or a fruity and colourful confection from Toraya. The pictured confection is made up of colourful layers to represent building up the fruits of one's labour to achieve your dreams.

Shishimai Lion Dance

The traditional shishimai lion dance is an annual New Year's-must in Japan. This year's performance will see the return of taiko drumming and the fue flute, all carried out with proper social distancing measures.

Running: January 2, 2021 – January 3, 2021

Time: 4 times per day

Location: Tokyo Midtown Galleria

Information

Tokyo Midtown New Year 2021
Address: 9-7-1 Akasaka, Minato-ku, Tokyo

Running: January 2, 2021 – January 11, 2021

Official Website: https://www.tokyo-midtown.com/jp/index.html
*Opening hours different on January 2 and 3

*Opening hours subject to change or full closure – check the official website for the latest information

2021 New Year's in Japan: 5 Must-Visit Illumination Spots

Illumination and light-up events are a huge part of winter and the holiday season in Japan, but when Christmas ends, many of them are turned off until next year. But there are still some that run through the New Year holidays and into early spring, so we've compiled a list of 5 must-visit illumination and light-up spots to visit over the next couple of months.

Please note that the times and dates of these events are subject to change depending on the COVID-19 situation.

Tochigi: The Garden of Illuminated Flowers ~Flower Fantasy 2020~


Ashikaga Flower Park in Ashikaga, Tochigi, is holding an illumination event for winter called "The Garden of Illuminated Flowers ~Flower Fantasy 2020~" until February 7, 2021. Held for the 19th time this year, the event was ranked among the Top 3 biggest light-up events in Japan in 2017 alongside Sapporo White Illuminations and Huis Ten Bosch Illuminations. It was also ranked top by night view critics in Japan as the best illumination event for four consecutive years.

Full Details: https://www.moshimoshi-nippon.jp/366535 

▼The Garden of Illuminated Flowers ~Flower Fantasy 2020~

Address: 607 Hasamacho, Ashikaga, Tochigi
Running: October 17, 2020 – February 7, 2021
Official Website: https://www.ashikaga.co.jp/flowerfantasy_special2020/en/index.html

▼MIDTOWN WINTER MOMENTS

Tokyo Midtown's winter season event 'MIDTOWN WINTER MOMENTS' is running until February 28, 2021. "ANOTHER WORLD" is the concept for this year's rendition of the annual event, which is enjoying new winter illuminations, Christmas decorations, an ice rink, and plenty of other fun experiences for people to enjoy throughout the entire day, right into the evening. A highlight of the event is the "MIDTOWN WINTER LIGHTS," warm illuminations to light fires in hearts during the cold winter season that will create a dazzling spectacle the likes of which cannot be missed.

Full Details: https://www.moshimoshi-nippon.jp/366420

▼MIDTOWN WINTER MOMENTS
Running: November 19, 2020 – February 28, 2021
Official Website: https://www.tokyo-midtown.com


Kanagawa: SAGAMIKO ILLUMILLION's 'Pokémon Illuminations'

Lake Sagami Pleasure Forest's annual SAGAMIKO ILLUMILLION winter event is taking place until April 4, 2021, and this year, it has brought that a new Pokémon with Pokémon illuminations. Wild Pokémon illuminations roam everywhere and there are plenty of Pokémon photo spots to take your picture with including Pikachu sleeping in the forest, Charmander taking a nap by an open-air, and more.

Full Details: https://www.moshimoshi-nippon.jp/375427

▼SAGAMIKO ILLUMILLION
Address: 1634 Wakayanagi, Midori-ku, Sagamihara, Kanagawa
Running: November 14, 2020 – April 4, 2021
Illumination Times: 16:00-21:00 (Last Entries 20:30)
*Illumination times to begin from 17:00 starting in February
Official Website: https://www.sagamiko-resort.jp/illumillion/


Nagano: Karuizawa Shiraito Falls Midwinter Light Up

Shiraito Highland Way is holding this year's Karuizawa Shiraito Falls Midwinter Light Up until February 14, 2021. Karuizawa Shiraito Falls is a 3-meter tall waterfall that spans 70-meters in length. The lights add a warmth to the cool evening and glow under a starry night sky. The event creates a different atmosphere from the summer light-up, allowing visitors to enjoy the enveloping nature in a way that they normally can't and see beauty they may not have noticed in the area before.

Full Details: https://www.moshimoshi-nippon.jp/379120

▼Karuizawa Shiraito Falls Midwinter Light Up
Location: Karuizawa Shiraito Falls
Running: December 19, 2020 – February 14, 2021
・Christmas Session: December 19th-20th, 24th-27th (17:00-19:00)
・New Year Session: January 2nd-3rd, 8th-11th (17:00-19:00)
・St.Valentine Session: February 11th-14th (17:30-19:30)

Access: https://karuizawa-shw.com/access/

*Please see the website for the latest information
*Entry restrictions may be made depending on the number of visitors

Official Website: https://karuizawa-shw.com/

Shizuoka: Hikari no Sumika Winter Illuminations

Toki no Sumika is hosting its 19th annual winter illumination event "Hikari no Sumika" until March 21, 2021. There are many different illumination areas to enjoy at the event, like the Forest of Trees Illuminations, the 370m-long Tunnel of Lights, and more.

Full Details: https://www.moshimoshi-nippon.jp/359381

▼Hikari no Sumika 2020-2021
Running: September 18, 2020 – March 21, 2021
Address: Gotemba Kogen Toki no Sumika, 719 KōyamaGotemba, Shizuoka
Illumination Times: 17:30-22:00
Car Park Spaces: 2,000
Enquiries: 0550-87-3700 (9:00-20:00)

Official Website: http://www.tokinosumika.com/illuminations2017/renewal/

Illumination Island Odaiba 2020: Tokyo's Artificial Island Begins Winter Illuminations Up to Christmas

23 facilities including shopping centres, hotels, parks, and more in Odaiba are participating in Illumination Island Odaiba 2020, a large-scale illumination event that opened on Friday and is set to run up to Christmas Day.

This year's event is bigger than the last, with only 10 facilities having taken part in 2019. The main park in Odaiba will also be lit up for the first time this year. The event is taking place to express gratitude towards those facing hardship during the pandemic – to connect everyone via gorgeous lights for a brighter tomorrow.

*Please note that illumination dates and times differ for each facility

Participating Facilities (Excerpt)

DECKS Tokyo Beach

The third-floor seaside deck faces Odaiba Marine Park and offers a gorgeous view of Tokyo Bay. Winter illuminations will serve cosy vibes around the rest area and plants, and serves as the perfect site to gaze at the lit-up Rainbow Bridge against the backdrop of Tokyo's nightscape.

Running: November 14, 2020 – February 14, 2021

DiverCity Tokyo Plaza

The Festival Hiroba's staircase will be colourfully lit up from 16:00 every day until January 31, 2021. After that, it will be lit up from 17:00.

VenusFort


teamLab – "The Tree of Resonating Colors of Life" ©チームラボ

teamLab's towering digital art installation The Tree of Resonating Colors of Life is running at Odaiba until February 7, 2021. The 8-meter tall three-dimensional tree is created from an accumulation of light spheres.

Palette Town Daikanransha


The Daikanransha Ferris wheel is a symbol of Odaiba and offers a panoramic view of famous sights around Tokyo up 115-meters in the sky.

Winter Illuminations: December 1, 2020 – December 25, 2020

Statue of Liberty


Odaiba's Statue of Liberty will be lit up with rainbow colours, changing the atmosphere in the area completely.

Running: December 11, 2020 – December 25, 2020

ARTBAY HOUSE


Japanese artist Takahiro Matsuo is also getting in the the action with the prism art at his PRISM/GLOW exhibition.

Running: November 27, 2020 – December 25, 2020

Tokyo International Cruise Terminal Station


A 5-meter tall Christmas tree is decorating Tokyo International Cruise Terminal Station.

Running: November 27, 2020 – December 25, 2020 (Not running select days)

Shizuoka's Strawberry Cafe Ichigo BonBonBERRY ATAMIHOUSE. Releases Winter Menu

Ichigo BonBonBERRY ATAMIHOUSE. is the first cafe to open in Atami specialising exclusively in strawberry desserts. This Christmas, the cafe is serving up a new Christmas cake, winter afternoon tea set, and strawberry milk beverage, all of which hit the menu on Friday (December 4).

Hitorijime Christmas Cake | ¥1,000 (Before Tax) *Comes with drink

A dreamy Christmas cake for one loaded with cream and sweet strawberries. There's a strawberry on top and more in the middle squished between soft sponge.

Winter Afternoon Set | ¥1,200 (Before Tax)

The cafe has turned its popular afternoon tea into a wintertime version for Christmas, served with a mini bavarois in the shape of a strawberry, strawberry ice cream, melty fondant chocolate, and a rum raisin chocolate tiramisu. A delightful combination of sweet, tangy, and rich flavours.

Hot Strawberry Milk | ¥400 (Before Tax)

A hot strawberry milk to feel cosy in the cold winter weather, topped with plenty of cream and a sprinkling of strawberry powder. Enjoy it as it is or mix together for a creamier beverage.

The winter menu is seasonal and so will only be available this wintertime.

Information

Ichigo BonBonBERRY ATAMIHOUSE.
Address: 3-16 Tawarahonchō, Atami, Shizuoka
Opening Hours: 10:00-18:00
Access: 2-minutes from Atami Station (JR Line side)
Official Website: http://www.atami-bonbonberry.com

Sarutahiko Coffee Releases Pistachio and Mixed Berry Coffee Beverage For Christmas

Sarutahiko Coffee released a Christmas-exclusive seasonal flavour of its popular Jellatte dessert drink on Tuesday (December 1) which it's calling the "Maroron Merry Pudding Jellatte."

Maroron Merry Pudding Jellatte | ¥750 (Before Tax)

The beverage is the second in this year's Christmas themed drinks to be released by Sarutahiko Coffee. It uses a coffee jelly base made from Ethiopian coffee beans and contains layers of mascarpone cheese from Italy, a chocolate sauce made from Cacao Hunters chocolate, milk pudding, four kinds of mixed berry jellies, pistachio milk pudding, milk foam, and to top it all off, chocolate pieces and pistachios.

The pistachio and mascarpone bring a richness to the dessert drink which blends deliciously with the freshness of the berries and full-bodied coffee for a combination that's like a warm and cosy Christmas hug.

Information

Maroron Merry Pudding Jellatte
Serving: December 1, 2020 – December 25, 2020
Available: Sarutahiko Coffee in Japan
Official Website: https://sarutahiko.co

Golden Island Zipang 2020 Illumination Event Lights Up Matsue in Shimane

The splendid Yuushien Garden in Matsue, Shimane, is now hosting a dazzling winter illumination event titled Kogane no Shima Zipang 2020 (Golden Island Zipang 2020) until January 11, 2021.

Golden Island Zipang 2020

Yuushien Garden is located on the eastern side of Matsue on Daikon Island, a volcanic island in Nakaumi. The garden has been called the most beautiful Japanese-style garden in all of Japan, which makes it the perfect setting for the illumination event. 50 projectors at the garden are using projection mapping to create a flurry of flashy illuminations.

It's a full pixel illumination display coupled with music that's sure to dazzle all who visit. this winter.

Information

Golden Island Zipang 2020 (Japanese: 黄金の島 ジパング 2020)
Event Schedule
Autumn Illuminations: November 14, 2020 – November 30, 2020

Christmas Illuminations: December 1, 2020 – December 27, 2020

New Year Illuminations: January 2, 2021 – January 11, 2021
Event Page: https://www.kankou-matsue.jp/rehappy/feature/illumination

Yuushien Garden
Address: 1260-2 Yatsukachō Hanyū, Matsue, Shimane
Opening Hours:9:00-17:00
Closed: December 30-31
TEL: 0852-76-2255
Official Website: https://www.yuushien.com

Sanrio's Little Twin Stars Kiki & Lala Light Up Shinjuku With TWINKLE COLOR CHRISTMAS Illumination Event

Sanrio's beloved character pair Kiki & Lala, also known as the Little Twin Stars, are hosting a special winter event titled "TWINKLE COLOR CHRISTMAS" at Shinjuku Southern Terrace from December 1 to 25, illuminating the area with beautiful Christmas lights, as part of their 45th anniversary.

Kiki & Lala's twinkling Christmas tree magical in the daytime and night time

The towering 4-meter tall Christmas Tree is decorated in countless mirror balls which reflect beautifully both during the day from the sun and at night with Kiki & Lala's illuminations. A special light show is also taking place from 16:30 each day with Christmas songs.


Decorated around the tree are Kiki & Lala neon signs and pastel-coloured adornments.

Those unable to visit Shinjuku this Christmas can access the "TWINKLE COLOR CHRISTMAS AR TREE" digitally This will have Kiki & Lala's Christmas tree appear on your phone when taking photos. You can access it here.

Kiki & Lala treats at the Sanrio Cafe Wagon

Limited time menu

45th Anniversary Items

On weekends, as well as from December 19 up to Christmas Day, a food wagon will make an appearance at the event serving Kiki & Lala food and drink like the pink and fruity Ruby Chocolate Latte and fruit-filled Twinkle Crepe.

©'76,'20 SANRIO 著作(株)サンリオ

Information

Little Twin Stars x Shinjuku Southern Terrace TWINKLE COLOR CHRISTMAS
Running: December 1, 2020 – December 25, 2020
Tree Light-Up Schedule: December 1 = 17:00-24:00 / December 2-24 = 16:30~24:00 / December 25 = 16:30-21:00
Address: 2-2-1 Yoyogi, Shinjuku, Tokyo
Entry: Free
Official Website: https://www.sanrio.co.jp/news/ts-odakyu-twinkle-color-christmas-20201119/

Japan's Moomin Cafe Releases Christmas Takeout Food For the 2020 Holiday Season

Moomin Cafe branches around Japan, which are themed on the Swedish fairy-tale Moomin books, released their Christmas menu on November 20.


Moomin Cafe Winter Season Menu | ¥4,800 (Before Tax) *Photo is a portion for 2


The seasonal menu is a very special set containing a burger, chicken, salmon milk soup, raspberry juice (which is adored by the Moomin family), and more, so you can eat heartily like the Moomins this winter.

Souvenir Cup (2 Designs)

Visitors can also order a dessert and choose from two different mugs. Takeout is available at each of the cafes so you enjoy a Moomin Christmas at home.

Table reservations are available via the Moomin Cafe website so customers can ensure they can get booked in during the busy holiday season.

If you're in Japan for Christmas then don't miss out on a visit to the Moomin cafe.

©Moomin Characters TM

Cheese Tea Shop machi machi Showcases Christmas 2020 Beverage

Taiwanese cheese tea shop machi machi is releasing a new drink in Japan this holiday season on December 1: the 'Flurry Strawberry Milk With Crème Brûlée.'

machi machi is an extremely popular cheese tea chain in Taiwan that has been called the 'king of cheese tea' by Taiwanese news outlets. Each and every cup poured is made fresh with tea from Taiwan to which rich cream cheese is added for a salty kick, creating a new kind of dessert drink.

Flurry Strawberry Milk With Crème Brûlée | ¥750 (Before Tax)


The new Christmas beverage being served in Japan uses fresh strawberries which adds a delightful sweetness to the milk. It's topped with crushed Oreos and combined with crème brûlée for a variety of layered flavours. The Oreos add crunch to the dessert drink so that it's a delicious experience down to the last sip.

If you've never had Taiwanese cheese tea, and are in Japan this Christmas, don't miss out on this seasonal drink, available for the whole month of December.

Information

Flurry Strawberry Milk With Crème Brûlée
Serving: December 1, 2020 – December 31, 2020
Available: machi machi stores in Japan
Official Website: https://machimachi.baycrews.co.jp

Karuizawa Shiraito Falls Midwinter Light Up Arrives For 2020-2021

Shiraito Highland Way has announced that this year's Karuizawa Shiraito Falls Midwinter Light Up will run from December 19, 2020 to February 14, 2021.

The illumination event will take place at Karuizawa Shiraito Falls, a 3-meter tall waterfall that spans 70-meters in length. The lights will add a warmth to the cool evening and glow under a starry night sky.

The event creates a different atmosphere from the summer light-up, allowing visitors to enjoy the enveloping nature in a way that they normally can't and see beauty they may not have noticed in the area before. The waterfall is located in Jōshin'etsu-kōgen National Park, a protected area which means the lights will be set up in a way that's considerate to the park.

If you're in Japan this winter then don't miss out on this year's Karuizawa Shiraito Falls Midwinter Light Up which will be split into three sessions: the Christmas Session, New Year Session, and St. Valentine Session. More details below.

Information

Karuizawa Shiraito Falls Midwinter Light Up
Location: Karuizawa Shiraito Falls
Running: December 19, 2020 – February 14, 2021
・Christmas Session: December 19th-20th, 24th-27th (17:00-19:00)
・New Year Session: January 2nd-3rd,  8th-11th (17:00-19:00)
・St.Valentine Session: February 11th-14th (17:30-19:30)

Access: https://karuizawa-shw.com/access/
*Please see the website for the latest information

*Entry restrictions may be made depending on the number of visitors

Official Website: https://karuizawa-shw.com/