J.S. PANCAKE CAFE x The Very Hungry Caterpillar Collaborative Café Unveils Menu
Japanese pancake shop J.S. PANCAKE CAFE is set to collaborate with the internationally beloved picture book The Very Hungry Caterpillar by Eric Carle at 12 of its J.S.PANCAKE CAFE branches and 1 of its J.S. FOODIES branches from October 3, 2018.
The Very Hungry Caterpillar is a children's picture book designed, written and illustrated by American author Eric Carle. It was first published in 1969 and has gone on to be translated in over 60 languages worldwide with over 44 million copies sold. Carle is lauded for his skill with colour, and his vivid imagination will be faithfully brought to life in the pancakes served at the cafés.
The cafés will run for four months from October to January next year during which they will serve sweet pancakes that will depict the growth and tale of the caterpillar. During the first month, October, they will serve French toast style pancakes that represents the sun on the morning that the caterpillar was born. Under the gleaming smile of the sun sits a bed of colourful fruits, all of which serves as the beginning scene to the caterpillars growth.
In November, customers can look forward to fried apple pancakes which represent the caterpillar growing as he eats more fruits. It recreates the scene of him crawling out of the apple. The dish is also mixed with autumn-time ingredients like nuts and figs.
There's also a dish called "Harapeko Aomushi Plate" you can order that features the impressive food seen in the story, all served on one plate with spinach pancakes.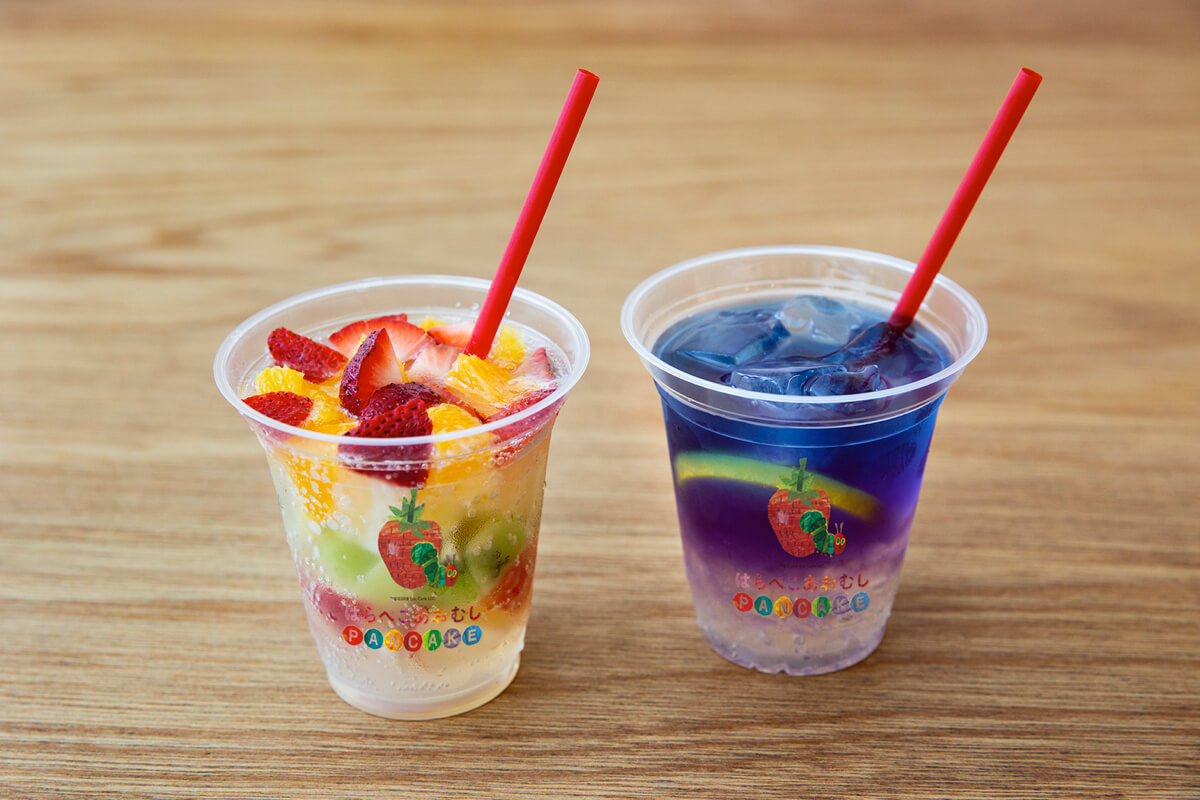 As well as all of this there's also a selection of parfaits and drinks that represent the colourful world of the story.
Also, at the flagship shop in Nakano Central Park, the café will completely take on the world of The Very Hungry Caterpillar with designs and decorations. And to celebrate this collaboration, the first 10 people to post #はらぺこあおむしパンケーキ on Instagram on each day from October 3 to 5 will get half price off the "Harapeko Aomushi Plate"  at each café.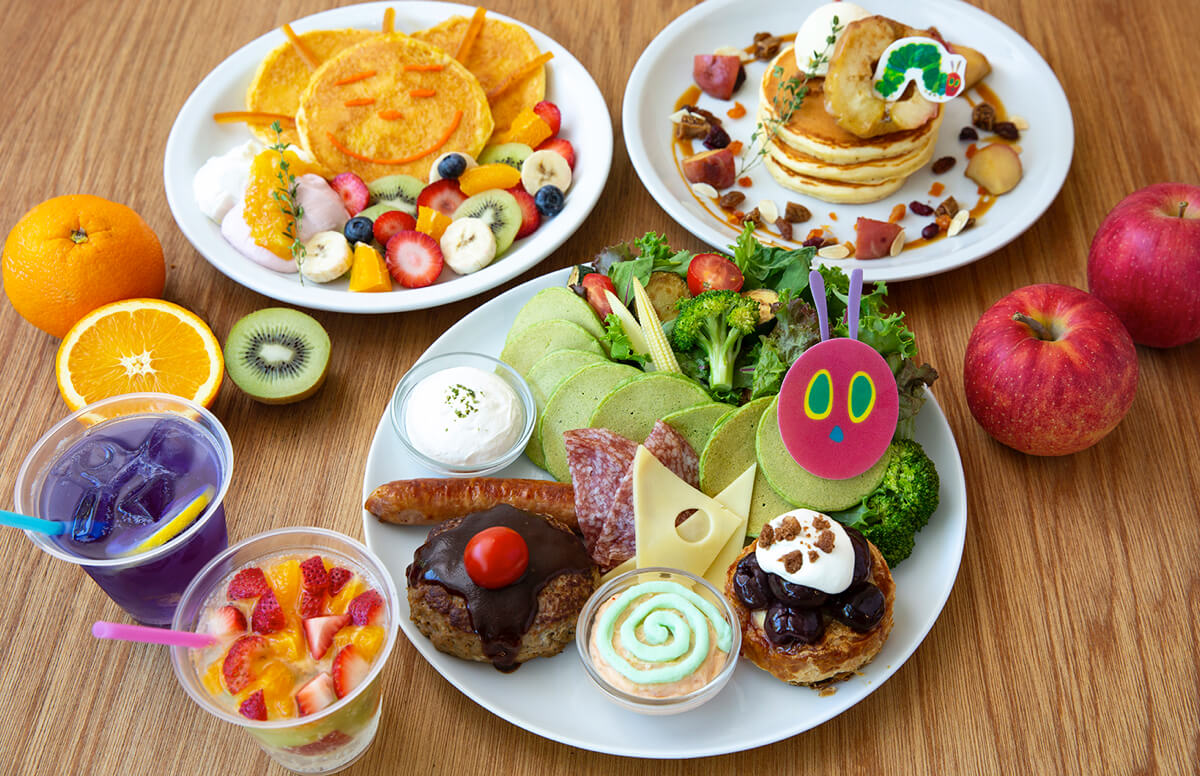 Finally, 10 people who eat any of the pancakes will also be selected randomly to receive a limited edition box with merchandise included. This is happening every month for the duration of the event.
Explore the wonderful and vivid world of The Very Hungry Caterpillar!
RECOMMENDED ENTRIES
"THE VERY HUNGRY CATERPILLAR CAFE" will be opened at MARRONNIER GATE GINZA

The world of "Harapeko Aomushi (The Very Hungry Caterpillar), one of the most loved picture books in the world, will become a café. The café will open from the 18th of January 2018 (Thurs.) in Ginza for a limited time offer!

The items on the menu of the café will include French toast, omelet rice, Hamburger and pasta which everybody likes.

The healthy menu items will use lots of fresh and colorful vegetables which is for sure to make customers happy.

Each menu item is colorful and cute, so you might hesitate to eat it but you will surely be satisfied when you eat it!

Some surprise menus items using the motif of the nursery rhyme called "Harapeko Aomushi no Uta" which are not announced yet, but rumors about these items are gathering much attention.

Other than the collaborative menu items, they will also offer original foods, desserts and free baby foods.

A mug cup which depicts the key design will be sold as a limited original goods.

The world's first café of "Harapeko Aomushi" will for sure be a place which makes everybody happy. Why not experience this world of Harapeko Aomushi?

◼︎Information

Harapeko Aomushi Café

Date: 2018,01,18 (Thurs.) to 08,31 (Fri.)

※the café will be closed on 02,19 (Mon.)

Address: MARRONNIER GATE GINZA 1 (4F), Sunday Brunch, 2-14, 2nd Street, Ginza, Chuo-ku, Tokyo

Business hours: 11:00 to 21:00

※a reservation must be made before visiting the café (until 17:30).

You can sit at any seat after 17:30

TM & © 2018 Eric Carle LLC.

THE VERY HUNGRY CATERPILLAR CAFE in Ginza to release new menu items

The café named, HARAPEKO AOMUSHI (THE VERY HUNGRY CATERPILLAR) CAFE representing the world of THE VERY HUNGRY CATERPILLAR announced that they will release new menu items. The items will be available from the 21st of May (Mon.).

The café is opened in Ginza for a limited time offer. The size of the café is small (only 40 seats). However, the café is gathering much attention with 1,000 customers visited, within a week since opening. TV programs have reported about the café's high-quality menu items and its growing popularity.

The well-made interior of the café representing the world of the picture book and the menu items created under the theme of "offering exciting and fun foods" are gaining huge popularity.

Ringo wo Hitotsu Tabemashita (I ate an apple)

Price: 1,580 yen

Futoccho Aomushi no Cheese Cake (Fat caterpillar's Cheese Cake)

Price: 1,200 yen

Otsukisama no Jelly Tea (Moon jelly tea)

Price: 800 yen

Ohisama no Jelly Tea (Sun jelly tea)

Price: 800 yen

Mizutama to Choucho no Lemon Cheese (Polka-dot and butterfly lemon cheese)

Price: 1,180 yen

The new menu items have a fresh look, matching the start of summer. I am sure that you will break out in a smile after seeing these precisely-made, cute new menu items.

Why not visit the renewed HARAPEKO AOMUSHI CAFÉ!

■Information

HARAPEKO AOMUSHI CAFÉ

Address: Sunday Branch Maronie Gate Ginza 1 (4F) (2-14, 2nd Avenue, Ginza, Chuoku, Tokyo)

Period: 2018/1/18 (Thurs.) to 8/31 (Fri.)

Business hours: 11:00 to 21:00

*Reservations must be made for those of you who want to visit the cafe before 17:30. Making reservation is unnecessary for those of you who are planning to visit the café after 17:30.

TEL:03-3567-3366

Website:http://www.harapecocafe.com

Miffy Sakura Kitchen & Bakery to Open in Arashiyama, Kyoto

The new takeout bakery Miffy Sakura Kitchen will open in Arashiyama, Kyoto on October 3, fusing traditional Japan with Dick Bruna's cute bunny character.

The bakery faces the main street that runs from Togetsu-kyo Bridge through the Arashiyama Bamboo Grove, the most iconic tourist spots of Arashiyama.

Vintage Mugs – ¥1,200 (Pre-Tax)

Lunch Bowls – ¥2,000 (Pre-Tax)

At the bakery you can get your hands on a range of Miffy licensed merchandise as well as a string of exclusive Miffy Sakura Kitchen made in the style of traditional Kyoto pottery and more.

Of course, there's plenty of delicious goodies to get your fingers on too like anpan sweet bread, danish pastries, ice cream, drinks and more, all inspired by Miffy.

Miffy Anpan – ¥260 (Pre-Tax)

The Miffy anpan is shaped like Miffy's face which is filled with sweet adzuki bean paste.

Miffy Fuku Daruma Bread – ¥350 (Pre-Tax)

This cute and round Miffy bread is made in the image of a daruma doll and is filled with rich matcha cream. Limited quantity available.

Carrot Bread – ¥310 (Pre-Tax)

Miffy loves carrots, so this one's dedicated to her. It's made with carrot puree and contains an egg salad.

Miffy Danish Pastry – ¥500 (Pre-Tax)

When you sink your teeth into this crunchy toasted pastry your mouth is filled with the sweet taste of butter. You can order it as French toast or enjoy it as a sandwich.

Miffy Cube (Matcha & White Chocolate) – ¥230 (Pre-Tax)

This cubed shaped bread bears the shop's logo and Miffy on the front. You'll get addicted to the sweet white chocolate and bitter matcha inside!

The bakery itself will also be decorated with all things Miffy, so if you're a fan of the cute bunny yourself you'll definitely want to go and visit.

■Information

Arashiyama Miffy Sakura Kitchen
Address: 20 Sagatenryuji Tsukurimichicho, Ukyo Ward, Kyoto, Kyoto Prefecture

Grand Opening: October 3, 2018

Opening Hours
Miffy Kitchen: 10:00am-6:00pm
Miffy Bakery: 10:00am-6:00pm

Contact
Miffy Kitchen: 075-863-2022
Miffy Bakery: 075-496-4244

Miffy Sakura Kitchen Offiみっふぃー桜きっちん公式サイト:http://www.miffy-sakurakitchen.jp
RELATED ENTRIES
TOKYO BOX cafe&space to Hit Tokyo's Hottest Tourist Spot with Sailor Moon Cafe

On October 25, 2019 LEGS COMPANY, LTD. and TRANSIT GENERAL OFFICE INC. will open a brand new collaboration cafe space called TOKYO BOX cafe&space in one of Tokyo's hottest tourist spots: Tokyo Solamachi®. 

LEGS COMPANY, LTD. is the driving force for multiple collaboration cafes across the country. Each collaboration cafes sees a fusion of an aspect of Japanese popular culture, such as a game franchise or anime, with a delicious dining experience. Customers can enjoy meals, decor, merchandise and entertainment themed on their favourite characters. Collaboration cafes produced by LEGS COMPANY, LTD. are full of a variety of contents which stay true to the work they are based on while providing the opportunity for fans to fully embrace it. 

The brand new cafe will be located in Tokyo Solamachi: a commercial complex located in a tourist hotspot at the foot of Tokyo's famous tower Tokyo Skytree. The cafe is fitted with the latest projectors which will project videos a grand size of 200 inches across the walls to transform the space into a dynamic atmosphere. Once customers step foot into the cafe, they will immediately be immersed in the world of their favourite characters.  Being located in a tourist hotspot, this cafe is sure to draw even more people to the area. 

The first franchise to have its name glorified within the walls of the brand new cafe will be one of the world's favourite anime: Sailor Moon. The Sailor Moon Cafe 2019 will be running from October 10, 2019 to January 13, 2010. Some merchandise and menu items from the Sailor Moon 25th anniversary exhibition held in 2017 will be making a comeback. The cafe's interior will be decorated in the same style as the Sailor Moon Cafe 2017.  

More details on this special cafe will be posted on the official website in a few days. 

Information

TOKYO BOX cafe&space Tokyo Solamachi 

Open: October 25, 2019 (Subject to change)

Address: East Yard 1F, Tokyo Solamachi, Tokyo Skytree Town, 1 Chome-1-2 Oshiage, Sumida City

Opening Hours: 11:00-22:00 (Last Orders: 21:00)

*  Advanced reservations not accepted.

* It is possible to obtain seats on the day without reservation. Waiting time is longer on busier days.

Sailor Moon Cafe 2019 Official Website: https://sailor-moon-cafe2019.jp 

Visiting the Weathering With You Cafe Now Open in Tokyo and Osaka

LEGS COMPANY opened two cafes themed on the hit anime film Weathering with You in Tokyo and Osaka on October 8 and October 10 respectively. The cafes will run for a limited time only.

We paid a visit to the Tokyo branch which opened inside OMOTESANDO BOX CAFE & SPACE which is only a 7-minute walk from Omotesando Station.

The new blockbuster hit from internationally-acclaimed animator and film director Makoto Shinkai Weathering with You dropped back on July 19 and has since amassed over 13 billion yen (approximately US$131 million) in the box office. It was seen by 7.5 million people in the first 34 days of its release, and over 10 million after 75 days. Its huge success has cemented itself in the Japanese animated film industry as another monumental masterpieces from Shinkai. The film has also been nominated for Best International Feature Film for the upcoming 92nd Academy Awards set to take place on February 9, 2020.

While sat in the cafe you can watch scenes from the film on the giant screens while the main songs performed by RADWIMPS play.

The cafe menu features a line-up of drinks, dishes and desserts inspired by the characters and moments in the series, including the chahan set prepared by Hina for Hodaka, the Hodaka Welcome Party Set, and more.

Teru Teru Omurice – ¥1,490

This is the dish I ordered to eat. I couldn't resist how cute it was. It's inspired by the teru teru bōzu that Nagi makes, a traditional Japanese doll used to prevent rain and bring good weather. The doll's head is made of mashed potato. He's sat on a bed of ketchup rice filled with vegetables and bathed in a delicious sauce. This one's too cute it almost seems a waste to eat♡

Nagi's Teru Teru Bōzu À La Mode – ¥1,490

For dessert I ordered another teru teru bōzu treat. This one is made from gyūhi, a type of Japanese confection made from rice flour. Its head is filled with vanilla ice cream, and if you turn it over, you'll find Japanese pudding underneath, and under that granola. It's finished with a lining of bright blue lychee jelly around the outside for a hint of freshness.

The cafe offers plenty of other dishes that will leave any Weathering with You fans spoiled for choice.

Hina's Handmade Sesame Oil Infused Pea Sprout Potato Chahan Set – ¥1,490

A chahan set lovingly prepared by Hina for Hodaka. Chop up the spring onions that come on the side and add them to the soup just like Hina does in the film! This is a hearty set sure to fill you up.

Hodaka's Welcome Party Set – ¥1,590

This one-person set was made lovingly by Natsume when Hodaka comes to work at the same company as her, K&A. If you're looking for a healthy green meal packed with veggies then you'll love this one.

Clearing Up Weather Tiramisu – ¥1,490

This refreshing matcha tiramisu is inspired by the scene when Hina and Hodaka reunite, with the sauce representing the sunlight and the cotton candy the rainy clouds. Pour the sauce over the cotton candy and watch the clouds clear up.

Acai Bowl of the World's Secrets – ¥1,390

Enjoy the main key visual of the film right on top of your plate. The mild flavour of the yogurt coupled with the refreshing kiwi is a mouth-watering combination. The colours are really beautiful, too.

Swirling Snow Whipped Latte – ¥990

Inspired by the immense snow that spirals around Tokyo in the film, a cup of this whipped cream latte is perfect as a post-meal wind-down.

Left: The Fine Weather That Day (Grapefruit) – ¥1,690 / Right: The Sunset That Day (Cranberry) – ¥1,690

These two drinks are for takeout, and are based on iconic scenes in the film, specifically when the turns fine and the sunset. They are served in exclusive cafe-original bottles. Both flavours are sweet, sour and refreshing. Plus, you can reuse the bottles.

If you order one of the many drinks from the menu you'll receive one of six possible coasters chosen randomly.

The cafe has plenty of exclusive merchandise on their shelves too.

Sparkly Rain Smartphone Case (7/8 Ver. & X Ver.) – ¥3,900 Each

When you shake these iPhone cases, it looks like the rain is falling.

Raindrop Stickers (10 Designs) – ¥400

Don't you just want to collect all of these cute raindrop stickers?

If you book a seat in advance (¥650 before tax per person) you will receive one of six possible bromide pictures chosen randomly, so don't forget to reserve in advance.

Plunge yourself into the world of Weathering with You at either one of these cafes, now running until November 17.

*Photos are for illustrative purposes only. All listed prices are pre-tax prices.

©️2019 "Weathering with You" Production Committee

Information

Weathering with You Cafes

Locations/Dates:
①OMOTESANDO BOX CAFE&SPACE (Pine Under Flat B1F, 5-13-2 Jingumae, Shibuya, Tokyo) @ October 8, 2019 – November 17, 2019

②Osaka Shinsaibashi contact (1-6-24 Kitahorie, Nishi Ward, Osaka, Osaka Prefecture) @ October 10, 2019 – November 17, 2019

Table Reservations:

Price: ¥650 (Before Tax) *Includes bonus item

*Advance table reservations opened on September 24, 2019

Weathering with You Cafe Website: https://tenkinoko-cafe.jp/

6 Must-Visit Character Themed Cafés Running in October & November 2019

Character cafés are an exciting experience in Japan which sees a café collaborate with well-known anime series, game series or other franchise by decorating the café interior with designs and illustrations based on them and meals and drinks inspired by them.

Before continuing this article be sure to check out our September 2019 list of character cafés as some of them are still running.

Ariel Heads to Tokyo, Osaka, Nagoya & Hokkaido for The Little Mermaid Cafe

Ariel is swimming to Japan this September as four branches of OH MY CAFE turn into cafes inspired by The Little Mermaid. The Tokyo and Osaka branches will open on September 21, the Hokkaido branch on September 22, and the Nagoya branch on September 27. The collaboration is being carried out by LEGS COMPANY, LTD.

Disney's The Little Mermaid was released back in 1989 as the 28th Disney animated feature film. It tells the story of the internationally-beloved Disney mermaid princess Ariel and her curiosity about the world above the sea.

The cafes celebrate 30 years since the film's release. The cafe's concept is "independent girl." Each cafe will take on a stylish look and be inspired by Ariel's unwavering heart and her strength to make her dreams come true.

<Ariel> Veggie-Packed Pesto Pasta – ¥1,990

If you're vegetarian, you won't be disappointed with this healthy, vegetable-packed pasta dish. The plate it is served on features an illustration of Ariel swimming elegantly in the ocean.

Seaside Cream Risotto – ¥1,990

Based on sandy beaches is this creamy risotto. If you look closely you'll see one of Ariel's priceless treasures from her endless collection of whose-its, whats-its, and thingamabobs. Sebastian is hiding on the plate too, can you spot him?

<Flounder> Stripey Yogurt Drink – ¥1,090 / With Coaster – ¥1,890

Flounder is Ariel's closest friend, so he had to be included on the menu. This cute yogurt-flavoured smoothie takes on the same colours as our stripey fish companion.

<Sebastian> Strawberry Smoothie – ¥890 / With Coaster – ¥1,790

There are lots of other character-themed food and drinks to be enjoyed at the cafes besides these ones too. For more information, check our full article here.

▼The Little Mermaid OH MY CAFE

Locations/Dates
・Tokyo: OH MY CAFE TOKYO (Tokyu Plaza Omotesando Harajuku) / September 21, 2019 – November 9, 2019

・Osaka: kawara CAFE&DINING Shinsaibashi / September 21, 2019 – November 10, 2019

・Nagoya: kawara CAFE&KITCHEN Nagoya PARCO / September 27, 2019 – November 10, 2019

・Hokkaido: Cafe Interlude / September 22, 2019 – October 14, 2019

Official Website: https://mermaid.ohmycafe.jp/

Sarazanmai Cafe Designed & Produced by Sanrio Opens in Ikebukuro and Osaka

Two cafés based on the popular anime series Sarazanmai have arrived in Tokyo and Osaka. The café designs were produced by Sanrio.

Football Curry of Youth: ¥1,380 (Before Tax)

Football is what connects the three main characters Kazuki, Kuji and Enta. Come taste the delicious flavour of budding friendship in the form of a delicious curry at the café.

Pudding a la Mode of Friendship: ¥1,280 (Before Tax)

The three middle schoolers are represented in the form of colourful fruit. This is a delicious dish easily enjoyed by anybody.

Sparkling Jelly Juice (Kazuki/Kuji/Enta): ¥650 Each (Before Tax)

These jelly drinks are also themed around Kazuki, Kuji and Enta. The jelly lurking at the bottom of the cup adds a wonderful accent to the flavour.

This café is the perfect place to relax at your own pace this autumn. For more information, check out our full article here.

▼Sarazanmai Café (Designs Produced by Sanrio)

Open:

・Ikebukuro, Tokyo: September 19 ー October 27, 2019

・Nipponnbashi, Osaka: September 26 ー November 5, 2019

Advanced reservations accepted from 7pm on September 6, 2019

Reservation Fee: ¥500 (comes with a bonus for reserving)

Official Website: https://sarazanmai-sanrio-cafe.jp/

My Hero Academia Themed Cafe Opening at SEGA Ikebukuro GiGO in Tokyo

A cafe based on the hit TV anime series My Hero Academia will open at SEGA Ikebukuro GiGO on October 12.

Drinks Menu

Drinks – ¥600 Each (Before Tax)

Original Latte Art (11 Designs) – ¥700 Each (Before Tax)

Food Menu

Menu ①: October 12, 2019 – November 1, 2019

Katsu-Lover Midoriya's Pork Rib Noodles / Eijiro Kirishima's Crunchy Kakiage Don – ¥1,200 Each (Before Tax)

Menu ②: November 2, 2019 – November 24, 2019

Katsuki Bakugo's Spicy Mapo Doufu / Shoto Todoroki's Fire & Ice Tomato Cheese Pasta – ¥1,200 Each (Before Tax)

Dessert Menu

Menu ①: October 12, 2019 – November 1, 2019

Ochaco Uraraka's Japanese-Style Dessert Set with Matcha Milk – ¥1,200 (Before Tax) / Tenya Iida's Source of Strength Orange Parfait – ¥900 (Before Tax)

Menu ②: November 2, 2019 – November 24, 2019

U.A. Dessert Plate – ¥1,200 (Before Tax) / Tsuyu Asui's Kero Kero Parfait – ¥900 (Before Tax)

Enjoy a fun selection of food, drinks and desserts inspired by the My Hero Academia character cast. There's a whole bunch of merchandise to get your hands on too. For more information, check our full article here.

▼SEGA Collabo Cafe My Hero Academia

Running: October 12, 2019 – November 24, 2019

Location: SEGA Collabo Cafe Ikebukuro GiGO (SEGA Ikebukuro GiGO Floor B2F, 1-21-1 Higashi-Ikebukuro, Toshima Ward, Tokyo

Schedule

Menu ①: October 12, 2019 – November 1, 2019

Menu ②: November 2, 2019 – November 24, 2019

*Menu items and coaster designs will change for each menu

*More details can be found on the SEGA Collabo Cafe official website

Cafe Website: https://sega-collabocafe.com/ikebukuro/heroaca02.html

My Hero Academia Official Website: https://heroaca.com/

Weathering with You Anime Film Themed Cafes Opening in Tokyo & Osaka

Two cafes filmed based on the hit blockbuster anime film Weathering with You will open in Tokyo and Osaka on October 8 and 10 respectively for a limited time. The cafes are being opened by LEGS COMPANY.

The cafes have a beautiful menu lined up inspired by the world of Weathering with You. In addition to the themed decorations set to line the cafes, fans can also get their hands on a range of exclusive cafe merchandise and bonus items.

The Most Delicious Dinner in Your Life – ¥1,590

This dish is a complete recreation of the dinner Hodaka eats in the film which he describes as the most delicious he has ever eaten in his 16 years of living. Enjoy a hearty burger together with clam chowder soup and fries.

Hodaka's Welcome Party Set – ¥1,590

This one-person set was made lovingly by Natsume when Hodaka comes to work at the same company as her, K&A. Complete the set together with one of the "Dreamy" beverages from the drinks menu.

Nagi's Teru Teru Bōzu À La Mode – ¥1,490

The teru teru bōzu is a traditional Japanese doll used to prevent rain and bring good weather. This assortment includes candy, fruits, and the doll itself holding a cute umbrella.

There are lots of other gorgeous-looking menu items and merchandise available too. For more information, check our full article

here

.

▼Weathering with You Cafes

Locations/Dates:
①OMOTESANDO BOX CAFE&SPACE (Pine Under Flat B1F, 5-13-2 Jingumae, Shibuya, Tokyo) @ October 8, 2019 – November 17, 2019

②Osaka Shinsaibashi contact (1-6-24 Kitahorie, Nishi Ward, Osaka, Osaka Prefecture) @ October 10, 2019 – November 17, 2019

Table Reservations:

Price: ¥650 (Before Tax) *Includes bonus item

*Advance table reservations opened on September 24, 2019

Weathering with You Cafe Website: https://tenkinoko-cafe.jp/

'LISA LARSON Fika TOKYO' Cafe Opens in Collaboration With Swedish Ceramicist Lisa Larson

Sunday Branch Marronnier Gate Ginza is a cafe in Ginza that has collaborated with a number of different characters and artists, including Shawn the Sheep since 2017, The Very Hungry Catterpillar in 2018, and Leo Lionni since 2019.

Mikey Plate

​Inspired by Larson's popular cat character Mikey, this healthy dish includes almond milk rice with a side of greens.

Lion Plate

The adorable round Lion looks like he has been taken right out of Larson's works and put onto a plate.

Baby Mikey Gateau Chocolate

These baby Mikey chocolates take on a ceramic appearance like Larson's work and are filled with sesame and cocoa powder.

Enjoy food and art come together at LISA LARSON Fika TOKYO. Keep in mind that reservations get priority, so be sure to book a table in advance. For more information, check our full article here.

▼LISA LARSON Fika TOKYO

Running: October 4, 2019 – January 27, 2020 (Closed January 1, 2020)

Location: Sunday Branch Marronnier Gate Ginza 1 Floor 4F (2-2-14, Ginza, Chuo Ward, Tokyo)

Opening Hours: 11:00-21:00 (Last Orders 20:00)

Website/Reservations: https://www.marronniergate.com/topic/detail/115

6 Sailor Moon Cafes Opening Across Japan Including Tokyo and Osaka

LEGS COMPANY, LTD. held the Sailor Moon Cafe 2017 event back in September 2017 to celebrate the 25th anniversary of Sailor Moon. The event's theme focused around adulthood imbued with a hint of cuteness. The cafes were so popular that they had a second "encore" run in December of the same year.

This year, LEGS has created an entirely new concept. The theme this year is "Girls Night Out," and the menu line-up stays true to it, featuring food and drinks all ladies are sure to enjoy on a night out.

5 Sailor Tortilla Wrap Sandwiches – ¥1,590 (Not available at the Saitama cafe)

Pretty Girl's Brunch Pancakes – ¥1,590 (Available at lunchtime only)

Cosmic Heart Berry Sandwich – ¥1,690

Moon Night Parfait – ¥1,490 (Available at dinnertime only)

Enter the kawaii world of the Sailor Moon Cafe again in 2019. For more information, check our full article here.

▼Sailor Moon Cafe 2019

Dates/Locations

▶︎Tokyo・Shibuya: SHIBUYA BOX CAFE&SPACE SHIBUYA 109

Running: October 3, 2019 – November 17, 2019

▶︎Osaka・Abeno: Abeno contact

Running: October 3, 2019 – November 17, 2019

▶︎Aichi・Nagoya: NAGOYA BOX CAFE&SPACE

Running: October 10, 2019 – November 24, 2019

▶︎Hokkaido・Sapporo: Coach & Four Shinkawa-Dori (Hokkaido Branch)

Running: October 18, 2019 – November 17, 2019

▶︎Kyushu・Fukuoka: kawara CAFE & DINNING KITTE (Hakata Branch)

Running: October 26, 2019 – December 1, 2019

▶︎Saitama・Koshigaya: BOX CAFE&SPACE

Running: November 14, 2019 – January 13, 2019

Reservations: Opened September 26, 2019

*¥650 per reservation. Up to 4 people per reservation. Includes bonus item.

Sailor Moon Cafe 2019 Official Website: https://sailor-moon-cafe2019.jp/

How did you like this list? Be sure to enjoy all of the café collaboration cafes this October and November!

6 Sailor Moon Cafes Opening Across Japan Including Tokyo and Osaka

LEGS COMPANY, LTD. has announced that it will open six Sailor Moon cafes for its Sailor Moon Cafe 2019 event across Japan this year. The opening dates differ from branch to branch, but the first two will open in Tokyo and Osaka on October 3. See all the opening dates in the Information section below.

LEGS held the Sailor Moon Cafe 2017 event back in September 2017 to celebrate the 25th anniversary of Sailor Moon. The event's theme focused around adulthood imbued with a hint of cuteness. The cafes were so popular that they had a second "encore" run in December of the same year.

This year, LEGS has created an entirely new concept.

The theme this year is "Girls Night Out," and the menu line-up stays true to it, featuring food and drinks all ladies are sure to enjoy on a night out.

5 Sailor Tortilla Wrap Sandwiches – ¥1,590 (Not available at the Saitama cafe)

Pretty Girl's Brunch Pancakes – ¥1,590 (Available at lunchtime only)

Girls Night Out (Chicken Steak Plate) – ¥1,990 (Available at dinnertime only)

Cosmic Heart Berry Sandwich – ¥1,690

Moon Night Parfait – ¥1,490 (Available at dinnertime only)

Girls Night Out Drinks (10 Flavours) – ¥890 Each (Usagi Tsukino/Ami Mizuno/Rei Hono/Makoto Kino/Minako Aino/Chibiusa/Haruka Tennou/Michiru Kaiou/Setsuna Meiou/Hotaru Tomoe)

This is just a select look at what's on the menu―there are many other themed foods and desserts too!

Acrylic Key Ring (12 Designs Chosen Randomly) – ¥650

Clear Bag (1 Design) – ¥1,800

Plate (1 Design) – ¥2,200

The artwork for select cafe-exclusive merchandise was done by popular creator Etoile et Griotte who makes items for girls who love cute things, and Japanese illustrator Jenny Kaori, who creates cute, fashionable and alternative works.

Every person who books a seat in advance (¥650 before tax) at the cafe will receive one of the 5 above-pictured ticket holders chosen randomly.

If you dine at the cafe, you'll get one of the 4 above-pictured lunch mats chosen randomly.

And if you order a drink, you'll get one of the 10 above-pictured coasters chosen randomly.

*All prices are pre-tax prices. Photos are for illustrative purposes only.

©Naoko Takeuchi・PNP・Toei Animation

Information

Sailor Moon Cafe 2019

Dates/Locations

▶︎Tokyo・Shibuya: SHIBUYA BOX CAFE&SPACE SHIBUYA 109

Running: October 3, 2019 – November 17, 2019

▶︎Osaka・Abeno: Abeno contact

Running: October 3, 2019 – November 17, 2019

▶︎Aichi・Nagoya: NAGOYA BOX CAFE&SPACE

Running: October 10, 2019 – November 24, 2019

▶︎Hokkaido・Sapporo: Coach & Four Shinkawa-Dori (Hokkaido Branch)

Running: October 18, 2019 – November 17, 2019

▶︎Kyushu・Fukuoka: kawara CAFE & DINNING KITTE (Hakata Branch)

Running: October 26, 2019 – December 1, 2019

▶︎Saitama・Koshigaya: BOX CAFE&SPACE

Running: November 14, 2019 – January 13, 2019

Reservations: Opened September 26, 2019

*¥650 per reservation. Up to 4 people per reservation. Includes bonus item.

Sailor Moon Cafe 2019 Official Website: https://sailor-moon-cafe2019.jp/

Japanese Cafe Collaborates With Swedish Ceramicist Lisa Larson

Sunday Branch Marronnier Gate Ginza is a cafe in Ginza that has collaborated with a number of different characters and artists, including Shawn the Sheep since 2017, The Very Hungry Catterpillar in 2018, and Leo Lionni since 2019.

The cafe is now collaborating with Swedish ceramicist and designer Lisa Larson to open LISA LARSON Fika TOKYO. The menu will feature dishes inspired by her cute works.

Mikey Plate

​Inspired by Larson's popular cat character Mikey, this healthy dish includes almond milk rice with a side of greens.

Lion Plate

The adorable round Lion looks like he has been taken right out of Larson's works and put onto a plate.

Baby Mikey Gateau Chocolate

These baby Mikey chocolates take on a ceramic appearance like Larson's work and are filled with sesame and cocoa powder.

Bob Plate

Liten Katt Plate

These's even a meatball meal, which is a staple of the Swedish household, as well as semla, a type of sweet roll made in the country.

Enjoy food and art come together at LISA LARSON Fika TOKYO. Keep in mind that reservations get priority, so be sure to book a table in advance.

Information

LISA LARSON Fika TOKYO

Running: October 4, 2019 – January 27, 2020 (Closed January 1, 2020)

Location: Sunday Branch Marronnier Gate Ginza 1 Floor 4F (2-2-14, Ginza, Chuo Ward, Tokyo)

Opening Hours: 11:00-21:00 (Last Orders 20:00)

Website/Reservations: https://www.marronniergate.com/topic/detail/115

Weathering with You Anime Film Themed Cafe to Open in Tokyo & Osaka

Two cafes filmed based on the hit anime film Weathering with You will open in Tokyo and Osaka on October 8 and 10 respectively for a limited time. The cafes are being opened by LEGS COMPANY.

The new blockbuster hit from internationally-acclaimed animator and film director Makoto Shinkai Weathering with You dropped back on July 19 and has since amassed over 10 billion yen (approximately US$101 million) in the box office. It was seen by 7.5 million people in the first 34 days of its release. Its huge success has cemented itself in the Japanese animated film industry as another monumental masterpieces from Shinkai. The film has been nominated for Best International Feature Film for the upcoming 92nd Academy Awards set to take place on February 9, 2020.

The cafes have a beautiful menu lined up inspired by the world of Weathering with You. In addition to the themed decorations set to line the cafes, fans can also get their hands on a range of exclusive cafe merchandise and bonus items.

Menu

The Most Delicious Dinner in Your Life – ¥1,590

This dish is a complete recreation of the dinner Hodaka eats in the film which he describes as the most delicious he has ever eaten in his 16 years of living. Enjoy a hearty burger together with clam chowder soup and fries.

Hodaka's Welcome Party Set – ¥1,590

This one-person set was made lovingly by Natsume when Hodaka comes to work at the same company as her, K&A. Complete the set together with one of the "Dreamy" beverages from the drinks menu.

Hina's Handmade Sesame Oil Infused Pea Sprout Potato Chahan Set – ¥1,490

A chahan set lovingly prepared by Hina for Hodaka. The soup becomes even more delicious with the spring onions.

Nagi's Teru Teru Bōzu À La Mode – ¥1,490

The teru teru bōzu is a traditional Japanese doll used to prevent rain and bring good weather. This assortment includes candy, fruits, and the doll itself holding a cute umbrella.

Clearing Up Weather Tiramisu – ¥1,490

This refreshing matcha tiramisu is inspired by the scene when Hina and Hodaka reunite, with the sauce representing the sunlight and the cotton candy the rainy clouds.

Dreamy Peach Soda – ¥790

The Dreamy drink is an original beverage based on the drink that appears at Hodaka's welcoming. The one in the film is alcoholic, but this is a non-alcoholic peach soda. Enjoy together with the Hodaka's Welcome Party Set.

Sweet Growth Drink – ¥1,090

A fruity soda based on the small cat that Hodaka meets in an alleyway and names "Ame" (Rain).

Original Merchandise

Raindrop Stickers (1o Designs/Chosen Randomly) – ¥400

Tote Bag – ¥2,400

Bonus Items

If you book a seat in advance you will receive one of six possible bromide pictures chosen randomly.

And you'll also get one of six possible coasters if you order from the drinks menu.

There are lots of other gorgeous-looking menu items and merchandise available in addition to the ones we have shown. If you loved Weathering with You, then be sure to visit one of the cafes!

*Photos are for illustrative purposes only. All listed prices are pre-tax prices.

©️2019 "Weathering with You" Production Committee

Information

Weathering with You Cafes

Locations/Dates:
①OMOTESANDO BOX CAFE&SPACE (Pine Under Flat B1F, 5-13-2 Jingumae, Shibuya, Tokyo) @ October 8, 2019 – November 17, 2019

②Osaka Shinsaibashi contact (1-6-24 Kitahorie, Nishi Ward, Osaka, Osaka Prefecture) @ October 10, 2019 – November 17, 2019

Table Reservations:

Price: ¥650 (Before Tax) *Includes bonus item

*Advance table reservations opened on September 24, 2019

Weathering with You Cafe Website: https://tenkinoko-cafe.jp/

Revue Starlight 1st Anniversary Celebrated With Themed Cafes in Akihabara & Osaka

To celebrate the 1st anniversary of media franchise Revue Starlight, two themed cafes are set to open in Toyko and Osaka on October 11 and November 8 respectively.

Revue Starlight is a multimedia project that currently consists of stage plays, an anime series which aired last year, several ongoing manga series, and a smartphone game.

Beautiful Sky Invincible Set – Yakisoba & Hot Dug Bun: ¥980

Nana's Handmade Banana Muffins: ¥1,180

Rinmeikan All-Girl's School Matcha au Lait: ¥750

Everything on the menu is inspired by the characters and world of Revue Starlight, from light meals to desserts and drinks.

Pin Badge Set (Set of 5): ¥2,100

Canvas Art (5 Designs): ¥3,500 Each (Karen Aijō/Hikari Kagura/Tamao Tomoe/Aruru Otsuki/Akira Yukishir0)

Exclusive merchandise will be sold at the cafes too, including designs of the characters dressed at cafe staff.

Reservation-Only Bonus Item: Original A4 Stickers (2 Chosen Randomly)

Bonus Item For Diners: Original Lunch Mat 92 Designs (2 Chosen Randomly)

Bonus Item For Drink Orders: Original Coaster (1 Chosen Randomly)

The cafes also have a line-up of bonus items for if you book a table in advance, dine at the cafe, and order a drink at the cafe.

Information

Revue Starlight -Re LIVE- Cafe 2019

Locations
①Akihabara, Tokyo (Ogiso Bldg. Floors 3F-4F, Sotokanda, Chiyoda Ward, Tokyo) / Running October 11, 2019 – November 24, 2019
②Nipponbashi, Osaka (KUS Nipponbashi Bldg. Floors 2F-3F, 4-8-18 Nipponbashi, Naniwa Ward, Osaka) / Running: November 8, 2019 – December 8, 2019

Reservations: Open September 19, 2019 at 18:00 (JST)
Reservation Price: ¥650 (Includes Bonus Item) *4 seats max

Cafe Website (Japanese): https://revuestarlight-relive-cafe.jp/

My Hero Academia Themed Cafe to Open at SEGA Ikebukuro GiGO in Tokyo

A cafe based on the hit TV anime series My Hero Academia will open at SEGA Ikebukuro GiGO on October 12.

Drinks Menu

 

Drinks – ¥600 Each (Before Tax)

Original Latte Art (11 Designs) – ¥700 Each (Before Tax) *Choose your own

Food Menu

Menu ①: October 12, 2019 – November 1, 2019

Katsu-Lover Midoriya's Pork Rib Noodles / Eijiro Kirishima's Crunchy Kakiage Don – ¥1,200 Each (Before Tax)

Menu ②: November 2, 2019 – November 24, 2019

Katsuki Bakugo's Spicy Mapo Doufu / Shoto Todoroki's Fire & Ice Tomato Cheese Pasta – ¥1,200 Each (Before Tax)

Dessert Menu

Menu ①: October 12, 2019 – November 1, 2019

Ochaco Uraraka's Japanese-Style Dessert Set with Matcha Milk – ¥1,200 (Before Tax) / Tenya Iida's Source of Strength Orange Parfait – ¥900 (Before Tax)

Menu ②: November 2, 2019 – November 24, 2019

U.A. Dessert Plate – ¥1,200 (Before Tax) / Tsuyu Asui's Kero Kero Parfait – ¥900 (Before Tax)

Enjoy a fun selection of food, drinks and desserts inspired by the My Hero Academia character cast. You can only pick between one meal and/or dessert when ordering.

 

Bonus Merch

When ordering from the drinks menu or one of the latte art coffees, you will receive one drinks coaster selected randomly from the following designs during the following dates.

Coaster Line-Up ①: October 12, 2019 – November 1, 2019

Coaster Line-Up ②: November 2, 2019 – November 24, 2019

And when ordering from the food or dessert menu, you will receive one of the below-pictured original bromide pictures chosen randomly. All of these bonus items are first-come, first-served.

Merchandise Shop

The cafe will also have its own merchandise corner selling exclusive items in collaboration with SEGA.

Available From October 12

Holographic Pin Badge (7 Designs) – ¥500 Each (Before Tax) *Chosen randomly, up to 10 allowed per person in one transaction 

Acrylic Key Ring with Stand – ¥1,200 Each (Before Tax) *Chosen randomly, up to 10 allowed per person in one transaction

Available From November 2

Mini Card (7 Designs) – ¥600 Each (Before Tax)

There are lots of other pieces of merchandise to get your hands on too. The cafe-exclusives are available only to those who use the cafe.

You must book a table in advanced if you want to visit, so be sure to get yours in quick.

©Kohei Horikoshi / Shueisha・My Hero Academia Production Committee ©SEGA

*Photos are for illustrative purposes only. Actual product may differ.

Information

SEGA Collabo Cafe My Hero Academia

Running: October 12, 2019 – November 24, 2019

Location: SEGA Collabo Cafe Ikebukuro GiGO (SEGA Ikebukuro GiGO Floor B2F, 1-21-1 Higashi-Ikebukuro, Toshima Ward, Tokyo

Schedule

Menu ①: October 12, 2019 – November 1, 2019

Menu ②: November 2, 2019 – November 24, 2019

*Menu items and coaster designs will change for each menu

*More details can be found on the SEGA Collabo Cafe official website

Cafe Website: https://sega-collabocafe.com/ikebukuro/heroaca02.html

My Hero Academia Official Website: https://heroaca.com/

Sanrio-Style Sarazanmai Café to Steal the Scene at Tokyo and Osaka

A café based on the popular anime Sarazanmai is coming to Tokyo on September 19 and Osaka on September 26 and will run for a limited time only. The café designs were produced by Sanrio. 

Sarazanmai is a TV anime which was produced by animation studios MAPPA and  Lapin Track. The anime became incredibly popular when it aired between April and June 2019 on the Fuji TV programming block Noitamina. The last episode was met by an undying stream of grateful messages from fans and even those involved in the creation of the series. 

Sanrio produced Sarazanmai designs which are perfect for the traditional coffee shop theme and the retro Asakusa atmosphere of the series. The collaboration cafés will open in Ikebukuro in Tokyo and Nipponnbashi in Osaka.

Menu

Football Curry of Youth: ¥1,380 (before tax)

Football is what connects the three main characters Kazuki, Kuji and Enta. Come taste the delicious flavour of budding friendship in the form of a delicious curry at the café.   

Pudding a la Mode of Friendship: ¥1,280 (before tax)

The three middle schoolers are represented in the form of colourful fruit. This is a delicious dish easily enjoyed by anybody. 

Sparkling Jelly Juice (Kazuki/Kuji/Enta): ¥650 each (before tax)

These jelly drinks are also themed around Kazuki, Kuji and Enta. The jelly lurking at the bottom of the cup adds a wonderful accent to the flavour.  

Original Goods

Badge (10 random designs): ¥450 (before tax)

Mug (one design only): ¥1,500 (before tax) 

Special Bonus Goods

Those who book seats in advance (¥500 + tax) and order from the menu will receive an original design sticker. You will be presented with one of four designs at random. 

For each item ordered from the menu, you will receive an original design drink coaster. One of six designs will be given to you at random. 

This café is the perfect place to relax at your own pace this autumn. 

© イクニラッパー/シリコマンダーズ

Information

Sarazanmai Café (Designs Produced by Sanrio)

Open:

・Ikebukuro, Tokyo: September 19 ー October 27, 2019

・Nipponnbashi, Osaka: September 26 ー November 5, 2019 

Advanced reservations accepted from 7pm on September 6, 2019 

Reservation Fee: ¥500 (comes with a bonus for reserving)

Official Website: https://sarazanmai-sanrio-cafe.jp/

The Little Mermaid Themed Cafes Set Sail to Tokyo, Osaka, Nagoya & Hokkaido

Ariel is swimming to Japan this September as four branches of OH MY CAFE turn into cafes inspired by The Little Mermaid. The Tokyo and Osaka branches will open on September 21, the Hokkaido branch on September 22, and the Nagoya branch on September 27. The collaboration is being carried out by LEGS COMPANY, LTD.

Disney's The Little Mermaid was released back in 1989 as the 28th Disney animated feature film. It tells the story of the internationally-beloved Disney mermaid princess Ariel and her curiosity about the world above the sea.

The cafe's concept is "independent girl." Each cafe will take on a stylish look and be inspired by Ariel's unwavering heart and her strength to make her dreams come true.

Menu Line-Up

<Ariel> Veggie-Packed Pesto Pasta – ¥1,990

If you're vegetarian, you won't be disappointed with this healthy, vegetable-packed pasta dish. The plate it is served on features an illustration of Ariel swimming elegantly in the ocean.

Seaside Cream Risotto – ¥1,990

Based on sandy beaches is this creamy risotto. If you look closely you'll see one of Ariel's priceless treasures from her endless collection of whose-its, whats-its, and thingamabobs. Sebastian is hiding on the plate too, can you spot him?

<Kiss The Girl> Romantic Fruit Bowl – ¥2,190<Kiss the girll>

This romantic dish speaks for itself. Inspired by the breathtaking boat date between Ariel and Eric, the bowl includes assorted fruit, a cookie with the two lovers on it, and a side of jelly with Flounder cheering them on.

Drinks Line-Up

<Flounder> Stripey Yogurt Drink – ¥1,090 / With Coaster – ¥1,890

Flounder is Ariel's closest friend, so he had to be included on the menu. This cute yogurt-flavoured smoothie takes on the same colours as our stripey fish companion.

<Sebastian> Strawberry Smoothie – ¥890 / With Coaster – ¥1,790

Servant of King Triton and music composer, everybody's favourite Jamaican crab Sebastian gets his very own yogurt smoothie too. Mix the strawberry sauce in well for the best flavour.

Exclusive Original  Merchandise

Acrylic Badge (5 Designs) – ¥800

Lunch Mat (Set of 2) – ¥800

Bag – ¥1,500

Bonus Items

Every person that books a table in advance (¥500) and orders something from the food menu will receive one of 30 possible A5 folders.

Additionally, if they spend over ¥1,000 at the merchandise corner of a cafe, they'll receive the above-pictured The Little Mermaid 30th shopper bag. These are limited in stock and are available on a first-come, first-served basis.

There are lots of other character-themed food and drinks to be enjoyed at the cafes besides these ones too. To see everything, you'll need to visit yourself! Immerse yourself in the magical world of The Little Mermaid with cafe decorations featuring Instagrammable illustrations drawn exclusively for this collaboration.

*All listed prices are pre-tax.

*Photos are for illustrative purposes only. Actual products may differ.

©Disney

Information

"The Little Mermaid" OH MY CAFE

Locations/Dates
・Tokyo: OH MY CAFE TOKYO (Tokyu Plaza Omotesando Harajuku) / September 21, 2019 – November 9, 2019

・Osaka: kawara CAFE&DINING Shinsaibashi / September 21, 2019 – November 10, 2019

・Nagoya: kawara CAFE&KITCHEN Nagoya PARCO / September 27, 2019 – November 10, 2019

・Hokkaido: Cafe Interlude / September 22, 2019 – October 14, 2019

Official Website: https://mermaid.ohmycafe.jp/

6 Must-Visit Character Themed Cafés Running in September 2019

Character cafés are an exciting experience in Japan which sees a café collaborate with well-known anime series, game series or other franchise by decorating the café interior with designs and illustrations based on them and meals and drinks inspired by them.

Before continuing this article be sure to check out our August 2019 list of character cafés as some of them are still running.

Fate/Grand Order Cafe in Omotesando

The third run of the Fate/Grand Order themed cafe, with designs produced by Sanrio, is taking place at OMOTESANDO BOX CAFE&SPACE from September 5 to 29.

When you book a table in advance (¥650 before tax per person) and order from the menu you'll receive one of the above possible 16 lunch mats. And if you order a drink you'll get one of the 16 coasters. You'll get one of either piece of these exclusive items per item you order from the menu.

Master & Mash Snow Field Meatballs – ¥1,490

This dish is piled with filling sauteed meatballs and mushrooms. The cream sauce is made to look like a snowy field. It's served with a side of jam for a succulent sweet and sour kick.

Brynhildr & Sigurd Croquembouche Parfait – ¥1,390

Croquembouche is often served at weddings in Italy at France. Here, it has been turned into an easy-to-eat parfait. It's topped with salt ice cream, yogurt mousse and more, all in refreshing colours.

To find out more details and what else they have on the menu, click here.

© TYPE-MOON / FGO PROJECT

▼Fate/Grand Order Design produced by Sanrio – 3rd Collaborative Cafe

Running: September 5, 2019 – September 29, 2019

Location: OMOTESANDO BOX CAFE&SPACE (Pine Under Flat Floor B1F, 5-13-2 Jingumae, Shibuya, Tokyo)

Official Website: https://fgo-sanrio-cafe.jp/

*Reservations now open via the official website

Love Live! & Sanrio Open Collaborative Cafes in Tokyo and Osaka

Multimedia project Love Live!―which has spawned an anime series, manga, game, movie and more―has teamed up with Sanrio to open themed cafes in Tokyo and Osaka on August 16 and September 27 respectively.

The menu features a bounty of flavourful food and drink which incorporates popular flavours, luscious taste, and hearty servings. You get a special illustration with every meal.

An Unlikely Combination Food Plate – ¥1,390 (Before Tax)

An interesting assortment of a mini omurice, soy sauce ramen, and a fresh tomato caprese salad. It also comes with the pictured postcard which features a blackboard design.

Deliciousness Ensemble! Invigorating Dessert Plate – ¥1,390 (Before Tax)

This dessert set is one fit for the gods, adorned with an apple topped castella, mini pancake laced with salted caramel ice cream, an tea-flavoured jelly. This also comes with the pictured postcard featuring different characters.

Fans of both franchises can pick up plenty of exclusive merchandise too, featuring the characters from Love Live! dressed like the Sanrio cast. There are bonus items for customers who book a table in advance too. Don't miss this first ever collaboration between Love Live! and Sanrio♡

To find out more details and what else they have on the menu, click here.

▼Love Live! Series x Sanrio Characters Cafe

Tokyo Cafe
Running: August 16, 2019 – October 14, 2019
Location: HARAJUKU BOX CAFE&SPACE (Lucessimo Bldg. Floor 2F, 4-28-28 Jingumae, Shibuya, Tokyo)

Osaka Cafe

Running: September 27, 2019 – October 27, 2019
Location: UMEDA BOX CAFE&SPACE( (Umeda LOFT Floor 1F, 16-7 Chayamachi, Kita Ward, Osaka, Osaka Prefecture)

Reservations: ¥500 (Before Tax)
Official Website: https://lovelive-sanrio-cafe.jp/

TV Anime Given Themed Cafe – Listen To The Characters' Voices As You Dine

Six branches of CAFFÈ & BAR PRONTO in Japan are set to collaborate with the ongoing yaoi anime series Given from September 13 to 23.

The theme of the collaboration is "After Band Practice." The cafes will serve up food inspired by the series as well as sell exclusive merchandise. The voice actors for the four main characters also recorded lines for the cafes which will play during your time there.

Bright Red Tomato Pasta – ¥1,296 (Tax Included)

Pancake Of The Day – ¥1,296 (Tax Included)

To find out more details and what else they have on the menu, click here.

©︎Natsuki Kizu・Shinshokan / Given Production Committee

▼TV Anime Given x Enter Bell at PRONT

Running: September 13, 2019 – September 23, 2019

Locations: PRONTO Sapporo Pole Town / PRONTO IL BAR Ochanomizu Sola City / PRONTO Ikebukuro Sunshine-dori / PRONTO Nagoya Marunouchi / PRONTO Meitetsu Gifu Station / BEERTERIA PRONTO Osaka Dojima

General Reservations

・Running: August 21, 2019 at midnight (JST) to September 23, 2019 at 23:59 (JST)

・Price: ¥1,188 (Tax Included) for one person. Includes one seat and drink.

*To make a reservation and receive the voice reminder you must have a Bandai Namco ID (free to register)

Official Website: https://bpnavi.jp/enterbell/given/

Chibi Maruko-chan Themed Menu & Merch Arrives at Tower Records Cafe Omotesando

To celebrate the 30th anniversary of the Chibi Maruko-chan anime series, Tower Records Cafe in Omotesando is collaborating with the franchise to turn its establishment into all things Maruko-chan for a limited time from September 5 to 29. Also, 22 branches of Tower Records as well as the Tower Records online store will sell collaborative merchandise.

Maruko-chan's Hamburger Plate – ¥1,500

The collaboration will be split into two different periods with different food and merchandise line-ups. The Maruko-chan Hamburger Plate, however, will be available for the cafe's entire duration. Hamburgers are Maruko-chan's favourite meal, and this one is served with vegetables and a rice ball with her adorable face on it.

Collaboration Period ①

Nagasawa-kun's Onion Soup Pasta – ¥1,500

Served with a whole onion, this soup seeped vongole pasta is inspired by the onion-head himself Nagasawa-kun.

Noguchi-san's Birthday Cake – ¥1,200

Celebrate Noguchi-san's birthday (September 9) with this very special blueberry and milk crepe birthday cake.

The exclusive merchandise takes on a music theme with original designs. Pick from 7 different items including a towel, tote bag, phone case and more.

To find out more details and what else they have on the menu, click here.

*All prices are tax-inclusive. Photos are for illustrative purposes only.

*Please enquire with shop staff about any food allergies.

ⒸSakura Production/Nippon Animation

▼Chibi Maruko-chan x TOWER RECORDS CAFE

Running: September 5, 2019 – September 29, 2019

Period ①: September 5, 2019 – September 17, 201

Period ②: September 18, 2019 – September 29, 2019

*The menu line-up and free gifts will be different for each period

TOWER RECORDS CAFE Omotesando
Address: Imon Harajuku Bldg. 2F, 6-3-9  Jingumae, Shibuya, Tokyo

Opening Hours: 11:00-21:30 (Last Orders 20:30)
Official Website: http://tower.jp/restaurants/cafe/omotesando

*No reservations, however during busy times numbered tickets will be handed out. Details on numbered tickets will be announced on the cafe's official Twitter page: @TRC_Omotesando

Chibi Maruko-chan x TOWER RECORDS Collaboration Merchandise
Release Date: September 5, 2019 (*Pre-orders now open)
Available: At 22 Tower Records branches and the online store
Tower Records Online: https://tower.jp
Collaboration Page: https://tower.jp/chibimaru

Hatsune Miku Music Cafe Opening in Tokyo & Fukuoka

The Hatsune Miku Music Cafe has returned for the third run and is now open in Akihabara, Tokyo and Hakata, Fukuoka.

The music cafe will be supported by VOCALOID music label KARENT. VOCALOID fans can look forward to dining while listening to music from their favourite characters―Miku, Luka, Rin, Len, MEIKO and KAITO―on high quality speakers and giant monitors.

Miku's Leek Record Curry – ¥1,200 (Tax Included)

Luka's Pink Peach Soda – ¥750 (Tax Included)

There's lots more merchandise, food and drinks as well as this too. You can see the full line-up on the official website. And for more details, click here.

© Crypton Future Media, INC. www.piapro.net

*The rate of consumption tax is set to increase from 8% to 10% in Japan from October 1, 2019 and so the prices listed here will increase
*Photos are for illustrative purposes only

▼Hatsune Miku Music Cafe – 3rd Run

・Ani ON STATION AKIHABARA
Address: Daidoh Limited Bldg. 1F, 3-1-16 Sotokanda, Chiyoda Ward, Tokyo

Running: August 23, 2019 – October 6, 2019
*Closed on September 1, 2019
*Regular hours will not run on October 6, 2019 due to the DJ event

・Ani ON STATION Hakata Bus Terminal
Address: Hakata Bus Terminal 7F, 2-1 Hakataekichuogai, Hakata Ward, Fukuoka, Fukuoka Prefecture
Running: August 28, 2019 – September 29, 2019

Entry Price: ¥500 (Tax Included)

Cafe Website: https://bandainamco-am.co.jp/cafe_and_bar/anionstation/special/miku_cafe3/
Ani ON STATION Official Website: https://bandainamco-am.co.jp/cafe_and_bar/anionstation/

BT21 Cafe Serves World Food in Shibuya, Umeda, Nagoya and Sapporo

LEGS COMPANY has opened four BT21 themed cafe called "BT21 CAFE 2019 WORLD" in Tokyo, Osaka, Nagoya and Sapporo. BT21 are the LINE messenger app characters created by K-pop group BTS. The cafe will serve up many different dishes of food from around the world, all with motifs from the BT21 character line-up.

Japanese Food Plate: Temari Sushi (Salmon, Duck, Minced Tuna, Fried Tofu, Shrimp Avocado) & Meat Udon – ¥1,490

Brazilian Food Plate: Churrasco, Mashed Potato & Feijoada – ¥1,490

Enter the cute world of BT21 and their world food line-up. Click here for more details.

*All listed prices are pre-tax. Photos are for illustrative purposes only.

©BT21

BT21 Cafe 2019 WORLD

Locations/Dates:

SHIBUYA BOX CAFE&SPACE SHIBUYA 109 (August 22, 2019 – September 29, 2019)
UMEDA BOX CAFE&SPACE (August 22, 2019 – September 23, 2019)
NAGOYA BOX CAFE&SPACE (September 4, 2019 – October 6, 2019)
TOWER RECORDS CAFE at Sapporo PIVOT (September 5, 2019 – October 20, 2019)

*Cafes closed on September 30, 2019

Reservations

・Price: ¥650 (Before Tax)

Official Website: http://box-cafe.jp/

The BT21 Cafe is reservation-only

Did you enjoy this list? Be sure to visit all the character cafés you can while in Japan this month! Stay tuned for next month's entry.

BT21 Cafe Serves World Food in Shibuya, Umeda, Nagoya and Sapporo

LEGS COMPANY is opening four BT21 themed cafe called "BT21 CAFE 2019 WORLD"over the next couple of weeks. The Tokyo and Osaka branches opened on August 22. The Nagoya branch will open on September 4 and the Sapporo branch will open on September 5.

BT21 are the LINE messenger app characters created by K-pop group BTS. The cafe will serve up many different dishes of food from around the world, all with motifs of the various BT21 character line-up. Pictured below is just a select portion of the menu and merchandise you can look forward to.

Cafe Menu

 

Japanese Food Plate: Temari Sushi (Salmon, Duck, Minced Tuna, Fried Tofu, Shrimp Avocado) & Meat Udon – ¥1,490

American Food Plate: Slider Burgers (Macaroni Cheese, Egg Salad, Grilled Chicken), Potatoes & Carrot Salad – ¥1,490

South Korean Food Plate: Tteok-bokki, Japchae, Yangnyeom Chicken & South Korean-Style Rice Ball  – ¥1,490

Brazilian Food Plate: Churrasco, Mashed Potato & Feijoada – ¥1,490

Japanese Dessert (Left): Custard Taiyaki, Strawberry Daifuku, Berry Bean Paste Dango, Matcha Ice Cream – ¥1,290 / American Dessert (Right): American Waffles – ¥1,290

RJ (Left): Peach Calpis – ¥990 / CHIMMY (Right): Pineapple Soda – ¥990

COOKY (Left): Guava Soda – ¥990 / TATA (Right): Pineapple Soda – ¥990

Exclusive Merchandise

Japan Acrylic Key Rings (Left) – ¥750 / South Korea Acrylic Key Rings (Right) – ¥750

Folders (Left) – ¥400 Each / Hologram Stickers (Right) – ¥500 Each

Bonus Items

 

Every person who books a table in advance (¥650) will receive one of 7 possible mini fans pictured above on the left. Those who order a drink will receive one of 12 possible coasters pictured on the right.

There are lots of other cute pieces of merchandise and menu items to look forward to too. Full details can be found on the cafe's official website below.

*All listed prices are pre-tax. Photos are for illustrative purposes only.

©BT21

Information

BT21 Cafe 2019 WORLD

Locations/Dates:

SHIBUYA BOX CAFE&SPACE SHIBUYA 109 (August 22, 2019 – September 29, 2019)
UMEDA BOX CAFE&SPACE (August 22, 2019 – September 23, 2019)
NAGOYA BOX CAFE&SPACE (September 4, 2019 – October 6, 2019)
TOWER RECORDS CAFE at Sapporo PIVOT (September 5, 2019 – October 20, 2019)

*Cafes closed on September 30, 2019

Reservations

・Price: ¥650 (Before Tax)

Official Website: http://box-cafe.jp/

The BT21 Cafe is reservation-only