Giant Sleeping Pompompurin to Appear at Shibuya Stream & Nakano Central Park
A gigantic 4m wide Pompompurin is set to land at Shibuya Stream from October 4 to 11 and at Nakano Central Park from October 13 to 14.
There are cries for reforms on the way people work in Japan. Sanrio have heard those calls and have come up with a plan for those unable to get sufficient rest and sleep. Sanrio's character Pompompurin is an expert at afternoon naps, so they are inviting people to a new park they have produced where they can relax and enjoy a siesta.
There's a lot more to enjoy at Pompompurin's park too. A crane camera is placed above Purin, who is sleeping soundly, so you can have your photo taken next to him. They will also be selling crepes themed on the Sanrio cast. Also, the first 500 people to post a photo of themselves at the event onto social media will receive some Pompompurin chocolate with an omikuji fortune slip. Not only that – My Melody, Hello Kitty and Kero Kero Keroppi will also come to lpay at the park from October 6 to 8.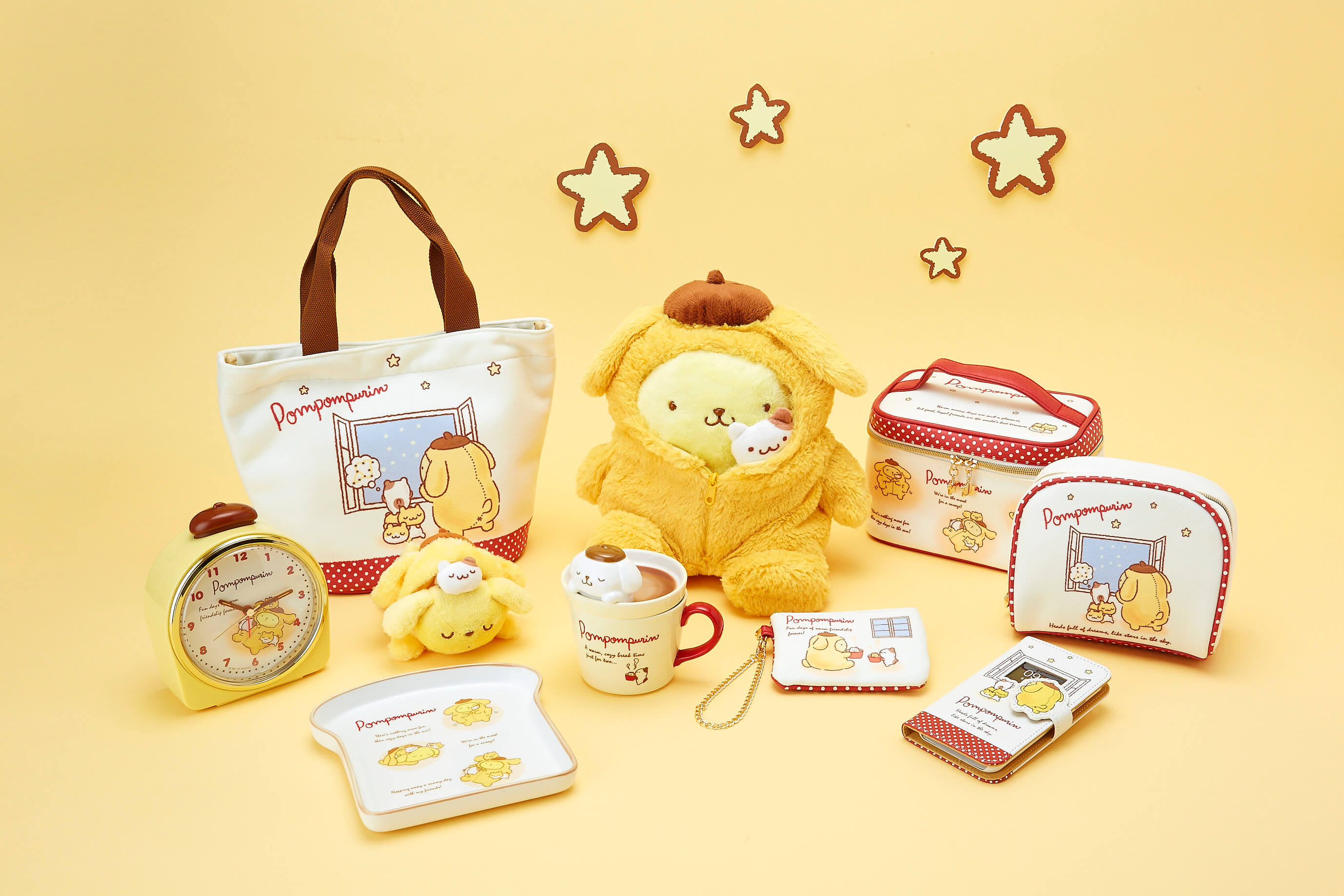 Those who attend will also have access to pre-sales of some new Pompompurin merchandise including products with afternoon nap designs and staying up late designs. If you spend over ¥1,500 including tax on these products you will receive a set of two postcards as a present. The merchandise shop will be at Shibuya Stream only from October 4 to 8.
The afternoon nap design series of merchandise will also get pre-sales at 18 branches of KIDDY LAND. Those who purchase any Pompompurin products including this series and spend over ¥1,500 will receive a different set of two postcards from those at the park. These postcards will discontinue after the event has finished.
KIDDY LAND Branches: Harajuku, Osaka Umeda, Kishijoji, Hello Kitty Shop Tokyo Station, Shin-Koshigaya, Musashimurayama, Hanyu (Saitama), Kohoku New Town, VenusFort, Futakotamagawa, LaLa Port Hiratsuka, Kuzuha, Shijonawate, Piole Himeiji, Takamatsu, Fukuoka PARCO, Kagoshima, Toyooka.
The staying-up-late product series will go on general sale at most Sanrio shops across Japan from October 11. There will be 16 items to choose from. Designs include Purin wearing character costume PJs for the current season when nights are long, drinking hot cocoa with his friend Muffin, gazing up at the night sky in thought, and more.
Enjoy the start of autumn while lazing around with the giant Pompompurin!
Information
Pompompurin's Afternoon Nap Park
Location 1: Shibuya Stream Inaribashi Square (1F Outdoors) (3-21-3 Shibuya, Shibuya Ward, Tokyo)
Access: Exit 16b of Shibuya Station via the Tokyu Toyoko Line, Tokyu Den-en-toshi Line, Tokyo Metro Hanzomon Line, and Tokyo Metro Fukutoshin Line
Location 2: Nakano Central Park (Park Avenue) (4-10-2 Nakano, Nakano Ward, Tokyo)
Access: 5-minutes on foot from Nakano Station via the JR Chuo Line, JR Sobu Line and Tokyo Metro Tozai Line
Times/Dates
Shibuya: October 4, 2018 – October 11, 2018 @ 11:00-18:00
Nakano: October 13, 2018 – October 14, 2018 @ 11:00-18:00
Price: Free Entry
Live Character Greeting
Datte: October 6, 2018 – October 8, 2018
Time: ①11:30〜 ②13:00〜 ③15:00〜
Character Line-Up: October 6 – My Melody, October 7 – Hello Kitty, October 8 – Kero Kero Keroppi
Event Website: https://www.sanrio.co.jp/special/pompompurin/ohirune2018/
RELATED ENTRIES
Super Cute Pompompurin Doughnuts Baked Up at Floresta Nature Doughnuts This Summer

Healthy doughnut chain Floresta Nature Doughnuts is cooking up two adorable Pompompurin summer doughnuts this month which will be available to buy at select Floresta shops in Japan and their official website between August 8 and 23.

Pompompurin Summer Doughnuts | ¥450 Each (Before Tax)

Floresta Nature Doughnuts is a doughnut cafe chain that hand-makes doughnuts using organic ingredients, such as wheat flour and soybeans from Hokkaido. This time they are whipping up two doughnuts of Sanrio's popular character Pompompurin and his friend Macaroon. Both of these cute Golden Retrievers are made from organic chocolate, so you can indulge while being on the healthier side.

The doughnuts will first release at Floresta cafes in Japan on August 8 before heading to their online store on August 10 where you can buy a box that comes with two of each doughnut.

Information

Pompompurin Summer Doughnuts
Running: August 8, 2020 – August 23, 2020

*Select stores not participating

*The doughnuts are made individually by hand so stock may be limited

Floresta Organic Store: https://floresta-ec.jp

Floresta Official Website: http://www.nature-doughnuts.jp

Shibuya's New Cafe Bread, Espresso & Machiawase Whisks Up An Egg Themed Menu

Tokyo's newest cafe Bread, Espresso & Machiawase opened inside Shibuya MIYASHITA PARK on August 4, 2020.

The cafe is the first from cafe chain Bread, Espresso to have a menu centred around eggs. Customers can enjoy a cup of coffee with toast and eggs cooked fresh in a variety of ways. The cafe hopes to be a meeting spot for people to visit Miyashita Park and Shibuya where people go to kill some time while waiting for someone or something.

Freshly-made eggs


Menu examples

The luxurious dishes cooked up at Bread, Espresso & Machiawase are inspired by the omelettes and scrambled eggs you wait in anticipation for when you wake up early at a hotel for breakfast. The cafe's omelettes, which are cooked up a teppan iron plate, are soft, delicious, and are the perfect complement to the accompanying toast. The hot sandwich is made using Bread, Espresso &'s popular muu bread which is loaded with butter.

Whether it be for a feel-good morning, a spot of lunch, or a day's treat, Bread, Espresso & Machiawase promises freshness at its fullest.

A place to meet up

Shibuya is known as the place of meetups. Bread, Espresso & Machiawase has plenty of different seating spots that cater to meetups or for customers who need to kill some time, whether it be the egg-shaped "Torinosu" counter seats or the standing area.

French toast made before your eyes 

Order French toast and watch it made fresh in front of you using a flame. Their delicious-smelling "Brûlée French Toast" is a recommended dish too.

Parfaits in the evening

In the evenings, the owner of the cafe serves two different kinds of parfaits which originated in Sapporo where they were born. The parfaits are actually made using bread rather than cornflakes, making it more fitting for a place like Bread, Espresso &.

Pair bread with Japanese sake


Bread, Espresso & Machiawase has discovered a new way to enjoy eating bread: by pairing it with nihonshu, or Japanese sake. Enjoy a special selection curated by specialists, such as with the Sake Tasting Set which lets you taste and compare three different kinds of Japanese alcohol.

Bread, Espresso & Machiawase caters to a variety of situations, so if you ever travel to Shibuya be sure to pop in whether for breakfast, lunch, or an evening treat.

Information

Bread, Espresso & Machiawase
Address: RAYARD MIYASHITA PARK South 2F, 6-20-10 Jingumae, Shibuya, Tokyo
TEL: 03-6805-0830

Official Website: https://www.jisoku1jikan.jp/

THE TOKYO TOILET: Shibuya's Creative New Gender-Neutral Toilets Open to Anyone and Everyone

Japanese construction company Daiwa House took part in the planning and construction of Nippon Foundation's new "THE TOKYO TOILET" project which has set up new public toilets in 17 locations around Shibuya, Tokyo.

THE TOKYO TOILET

The toilets bring together two things that Japan is known for around the world: hospitality, and the best toilets around. A lot of people don't like the idea of public toilets due to their image of being dark, dirty, stinky, and all-around unpleasant experiences. Toilets in THE TOKYO TOILET project remove all of these worries from peoples' minds. Open to people of all ages, genders, and disabilities, the toilets were designed using the creative power of 16 international creators.

Hygiene is a big focus of these new toilets which will bring a whole new level of cleanliness to public toilets, making them a pleasant experience for users and making people considerate of the next person who will use the toilet after them.

Toilet Locations and Participating Creators

If you visit Shibuya, and are in need of a toilet, be sure to experience THE TOKYO TOILET and discover the best public toilet experience around.

Shibuya's New Hotel sequence MIYASHITA PARK Connects the People to the City

sequence MIYASHITA PARK is a new mixed-use hotel set to open inside MIYASHITA PARK on August 1, 2020.

sequence's concept is to connect the people with the city. It offers a space for everyone whether they want a quiet time alone, whether they are sightseeing, having a work-do, celebrating a party or festival, and more. This is centred around the hotel's three notions: "SMART," "OPEN," and "CULTURE."

The hotel is inspired by the local concept of "PARK MIND" which offers guests a place to relax after a long, busy day, like in a park. It has collaborated with Tokyo-based designers and creators to bring this to life in room designs. Furniture and fittings are simple while still being of high quality.

The fourth floor entrance connects seamlessly to Miyashita Park and is home to a lobby lounge as well as the new VALLEY PARK STAND cafe and bar. Up on the fifth floor is the breakfast dining restaurant Dōngxī Restaurant & Sakaba. Up on the 18th floor, guests can enjoy a panoramic view of Shibuya, as well as dine at the entertainment restaurant SOAK whose design and concept mixes together history and the future, the West and the East. There is also art from artists coordinated by The Chain Museum.

Make Your Own Original KitKat at Tokyo's KitKat Chocolatory Miyashita Park Shibuya

Nestlé Japan is opening a new branch of KitKat Chocolatory inside Shibuya's new shopping mall Miyashita Park on August 4, 2020.


KitKat Chocolatory is a direct-to-consumer chain, serving premium, handcrafted KitKats made with top quality ingredients and production methods under full direction by Takagi Yasumasa―the owner and chef of LE PATISSIER TAKAGI. Its product line-up features a range perfect as gifts to friends, family and co-workers, or as a treat to yourself.

Japan is home to eight KitKat Chocolatory branches. The new Miyashita Park Shibuya branch will open as the fourth in Tokyo, as well as the first where you can create your own KitKat products.

My KITKAT: ¥2,000 (Before Tax)

"My KITKAT" comes as the world's first KitKat service where consumers can create their own original chocolate bars.

KitKat Waffle: ¥1,000 (Before Tax)

KitKat Chocolatory Sublime Soft Cream: ¥630 (Before Tax)

KitKat Chocolatory Miyashita Park Shibuya will also sell a variety of unique and exclusive KitKat desserts, like luxurious soft serve ice cream topped with couverture chocolate. It will also offer a cafe menu created by Nespresso, where customers can pair Chocolatory desserts with seasonal coffee menus, and more.

Shibuya-esque wall art will decorate the interior of the shop, making for plenty of photo opportunities.

Information

KitKat Chocolatory Miyashita Park Shibuya

Grand Opening: August 4, 2020

Address: Miyashita Park South 2F, 6-20-10 Jingumae, Shibuya, Tokyo

Opening Hours: 11:00-21:00 (Last Orders 20:00)

TEL: 03-6427-6811

Official Website: https://nestle.jp/brand/kit/chocolatory/

Starbucks Japan to Open New Branch Produced by Hiroshi Fujiwara in Miyashita Park

Starbucks Japan is opening a new branch in MIYASHITA PARK on August 4, 2020. Set to be Starbucks Japan's fifth "park" branch—opening inside a park—the new coffee shop is being produced by Hiroshi Fujiwara's Fragment brand.

MIYASHITA PARK is a shopping complex filled with shops stocking high quality products, and stands as a new landmark of Shibuya. On the rooftop is the newly-arranged park area which has its own skate park, bouldering wall, and more. It's home to all-new facilities, and there's also the actual park where events can take place.

Starbucks Coffee Miyashita Park offers a new style of Starbucks conceived from the mind of Hiroshi Fujiwara. Glass doors are fitted on both the front and back sides of the cafe, allowing for a full-open design. The flooring is coloured green, making it feel as if it has become one with the green outdoors of the park, and the same mesh used inside Miyashita Park is used for the ceiling.

The cafe's design was conceived to be a unique standout in the park, specifically with the image in mind of countries outside Japan where you walk along a lone road and eventually come to a gas station.

Starbucks Coffee Miyashita Park will also sell a range of merchandise at the back of the shop, as well as Starbucks coffee beans. There's also a glass table in the middle of the cafe which slots in nicely with the overall aesthetic. The fun design together with the expanse of the park outside adds for an enjoyable combination that makes it a pleasant stay as you sip your beverage.

The regular line-up of merchandise sold at the Miyashita Park branch, such as the tumblers, are all produced by Hiroshi Fujiwara's Fragment brand. Items are branded with the word "MYST" which lets you know it's from this particular branch, as well as Fragment's logo.

Discover a new Starbucks experience at Miyashita Park.

Information

Starbucks Coffee Miyashita Park
Address: 6-20-10 Jingumae, Shibuya, Tokyo

Grand Opening: August 4, 2020

Opening Hours: 8:00-22:00

Shibuya PARCO: Food, Shopping & Events in July and August 2020

Shibuya PARCO has a packed showcase for summertime this July and August, with pop-up shops, events, exhibitions, new products, and much more. The YUI ARAGAKI NYLON JAPAN ARCHIVE BOOK 2010-2019 photo exhibition, which sold out tickets, was posted as an online exhibition. The popular curry house Good Luck Curry, originally located in Ebisu, has moved to Shibuya PARCO. Let's take a deeper look at the line-up.

4F PARCO MUSEUM TOKYO Relics of Kanto Through Time


Running: August 1, 2020 – August 16, 2020 | Entry Price: ¥700

New York City-based American artist Daniel Arsham is teaming up with Pokémon for a special exhibition centred around Arsham's concept of "Fictional Archeology." Visitors can enter for a chance to win a "Crystalized Pikachu" as well as get their hands on a variety of exhibition products. A two-meter tall Pikachu made from bronze will also be put on display on the first floor of Shibuya PARCO.

Details: https://art.parco.jp/museumtokyo/detail/?id=425

B1F GALLERY X YUI ARAGAKI NYLON JAPAN ARCHIVE BOOK 2010-2019 PHOTO EXHIBITION


Running: July 16, 2020 – July 27, 2020 (Online Exhibition) | Price: ¥300

This exhibition is centred around Yui Aragaki's photo book YUI ARAGAKI NYLON JAPAN ARCHIVE BOOK 2010-2019 which compiles her work features in the fashion magazine NYLON JAPAN between 2010 to 2019. The book celebrates Aragaki at the age of 31, and was so popular at the time of its release that it sold out.

Details: https://art.parco.jp/galleryx/detail/?id=424

B1F Good Luck Curry

Good Luck Curry is a curry house managed by the chefs of Ata, a bistro in Daikanyama. Originally situated in Ebisu, the restaurant has been revamped and moved to Shibuya PARCO where they are serving a range of delicious spicy curries topped with a colourful array of vegetables.

B1F GAN-BAN FUJI ROCK COLLECTION "CREW NECK T-SHIRT" Limited Edition Sale

The "FUJI ROCK COLLECTION" of T-shirts are always so popular that their stock never fails to sell out. The new crew neck version is now available at the official FUJI ROCK shop and are being sold at Shibuya PARCO.

B1F Mirai Nihonshu-ten & SAKE BAR "Summer Sake Cocktails"

For this summer only, Mirai Nihonshu-ten and SAKE BAR are serving up two refreshing cocktails.


Left: Hakuju Salty Lemon | Right: Suzu Sweet Green

The Hakuju Salty Lemon is like a Salty Dog cocktail. It has notes of citrus and a salty sea salt bite. The Suzu Sweet Green is made with a sake known as "Kubota Suijyu" which is mixed with cocoa vinegar. It has a subtle sweetness.

Given Boys-Love Anime Film Promotion to Take Place at Tower Records Shibuya

To promote the upcoming release of the Given anime film adaptation, Tower Records Shibuya is opening an official "Given Gallery" which will take place on the store's 8th floor from August 8 to 23.

Given is a popular boys-love (BL) manga by Natsuki Kizu that is serialised in Shinshokan's Cheri+ magazine. An anime adaptation aired Fuji Television's noitaminA programming block from July to September last year.

At the exhibition, fans will find a collection of coloured illustrations by the manga's author Natsuki Kizu, display panels from the anime series, raw images taken from the upcoming film, and more.

Given x Tower Records Merchandise


Natsuki Kizu Illustrated Merchandise

Fans of the series can get their hands on a collection of exclusive merchandise at the Given Gallery.

Backstage Pass Design Postcard


Standing Panel A / Standing Panel B

Available on a first-come, first-served basis, visitors will receive one of nine possible postcards for free, each of which is designed in the style of a backstage pass. And for every ¥4,000 spent on the merchandise sold there, they will get a lottery ticket for a chance to win one of the life-sized standing panels of one the characters from the series which will be displayed at the event. Details will be announced at the event and on Tower Records Shibuya's official website.

Quiz Postcard

Original Postcard

All visitors will be handed the "Given Gallery Quiz" when attending the event. If they answer all the questions correctly, they'll receive a free postcard. Participants must be following Tower Records Shibuya (@TOWER_Shibuya). If you download the official Tower Records app and sign up as a member, you can get another original Given x Tower Records postcard too.

Though the Given Gallery is only taking place at Tower Records Shibuya, other branches of Tower Records will still be selling Given x Tower Records merchandise. You can find the branch list below.

Information

Given x Tower Records Merchandise

Release Date: August 22, 2020
Branches: Sapporo PIVOT / Ikebukuro / Shinjuku / Machida / Kawasaki / Urawa / Nagoya Kintetsu Passe / Umeda NU Chayamachi / Kyoto / Tower Records Online

Given Gallery
Running: August 8, 2020 – August 23, 2020
Location: SpaceHACHIKAI – Tower Records Shibuya 8F (1-22-14 Jinnan, Shibuya, Tokyo)
Time: 11:00-21:00 (Last Entries 20:30)
Entry Price: ¥800 (Tax Included) *1 hour slot

How to Attend: You must purchase a ticket in advance with a select time and date at the official website link below.

Official Website: http://towershibuya.jp/news/2020/07/27/147089

Given Movie

Release Date: Spring 2020

Official Website: given-anime.com

Japanese Tea Flavoured Shaved Ice For Takeout at Susumu Chaya in Tokyo and Kagoshima

Japanese tea shop Susumu Chaya started up a takeout service for shaved ice on Tuesday (July 7) at all of its branches including in Kagoshima as well as Jiyugaoka and Shibuya's DESCENTE TOKYO in Tokyo.

The shaved iced takeout service was originally only available at the two Tokyo branches, but now customers in Kagoshima can enjoy the tea-flavoured desserts.

Matcha Shaved Ice: ¥750 (Before Tax)

Made using Susumu Chaya's "koicha," a rich and full-bodied matcha variety.

Houjicha Shaved Ice: ¥750 (Before Tax)

The houjicha shaved ice is made using only first-grade tea leaves picked by Susumu Chaya. It has a refreshing taste.

The shaved ice can be ordered for takeout or eaten inside the cafes. Enjoy the full flavour of Japanese tea coupled with a refreshing portion of shaved ice.

Information

Susumu Chaya Kagoshima
Address: 27-13 Uenosonochō, Kagoshima-shi, Kagoshima Prefecture
Opening Hours: 10:00-18:00
Closed: Wednesdays
TEL: 099-251-4141
Access: 8-minutes on foot from Kagoshima-Chūō Station

Susumu Chaya Tokyo Jiyugaoka
Address: 1-25-5 Jiyugaoka, Meguro-ku, Tokyo
Opening Hours: 10:00-19:00
Closed: Every 1st and 3rd Wednesday of the month
TEL: 03-6421-4142
Access: 3-minutes on foot from Jiyugaoka Station's front entrance via the Ōimachi Line

Susumu Chaya DESCENTE TOKYO Shibuya Meiji Dori
Address: 6-19-21 Jingumae, Shibuya, Shibuya-ku, Tokyo
Opening Hours: 10:00-20:00
No Fixed Holidays
TEL: 03-6804-6332
Access: 4-minutes on foot from Exit 16 of Shibuya Station

Official Website: https://susumuya.com/

Kiki's Delivery Service, Princess Mononoke & Other Studio Ghibli T-Shirts to be Sold at GBL MIYASHITA PARK in Tokyo

GBL, an online clothing company whose stock features designs from Studio Ghibli's animated feature films, is set to open its first store at MIYASHITA PARK in Shibuya, Tokyo on July 28, 2020 inside RAYARD MIYASHITA PARK.

MIYASHITA PARK is a shopping complex filled with shops stocking high quality products. GBL MIYASHITA PARK will sell a range of fun, exclusive Studio Ghibli t-shirts with designs taken from popular films from the studio.

The theme of this year's line-up is t-shirts that have a "second-hand" design to them. There are 28 t-shirts to choose from including colour variations. Six of these are exclusive to GBL MIYASHITA PARK.

Nausicaä of the Valley of the Wind T-Shirt (Pure White): ¥4,880 (Before Tax)


Princess Mononoke T-Shirt (Grey): ¥4,880 (Before Tax)


Kiki's Delivery Service T-Shirt (Red): ¥4,880 (Before Tax)

The range is made from soft cotton and is inspired by American style t-shirts. To reduce the collar from stretching over time, twill tape is wrapped around the neck part of the t-shirt. The t-shirts are also stone washed during the manufacturing process to ensure they are both soft and have that 'used' quality to them.

Laputa: Castle in the Sky T-Shirt (Grey): ¥4,880 (Before Tax)


Porco Rosso T-Shirt (Black): ¥4,880 (Before Tax)


Whisper of the Heart T-Shirt (Navy Blue): ¥4,880 (Before Tax)

Sizes come in Small, Medium, Large, XL, and XXL. The collection is a must-have for any fan of Studio Ghibli.

Information

GBL MIYASHITA PARK
Address: MIYASHITA PARK South (Floor 3F), 6-20-10 Jingumae, Shibuya, Tokyo

Opening Hours: 11:0021:00

No Fixed Holidays
TEL: 03-6434-1140

*You must book in advance to visit RAYARD MIYASHITA PARK

GBL Brand Website: http://www.gbl.tokyo

Experience Shibuya Online With Airbnb and PLAY! DIVERSITY SHIBUYA's Special Website

PLAY! DIVERSITY SHIBUYA and Airbnb launched a new website on July 2 which lets people experience Shibuya tourism and all things Shibuya online.

The online project comes in response to the economic slump that Shibuya has faced as a result of COVID-19 which has meant less tourism. The website will feature a host of unique content that captures the essence of the Shibuya experience.

The first entry to the website will see KABA taking users on a virtual walk through the city of Shibuya. KABA, an activist for the LGBTQ community in Japan, was appointed as an official Tourism Ambassador of Shibuya this year. As well as this, the energetic Akkun, another Shibuya Tourist Ambassador and influencer amongst Shibuya's youth, will also be hosting a "Shibuya Sake School." There is much more content to enjoy right now too, and the website is set to expand even more.

Other features include the "WANDER COMPASS" which lets users learn about Shibuya's history and visit local spots through a virtual tour, and Shibuya TSUTAYA O-EAST's own DJ Bar "AZUMAYA" is showcasing how to make Japanese cocktails using various Japanese ingredients and spices.

Visit Shibuya from the comfort of your own home using Airbnb and PLAY! DIVERSITY SHIBUYA's special new website.

New York Ramen Bar Kuro-Obi to Open First Japanese Branch in Shibuya

New York-based ramen bar Kuro-Obi has announced that it's opening it first Japanese branch in the food hall of Shibuya's new shopping centre RAYARD MIYASHITA PARK on August 4, 2020.

Kuro-Obi was established in New York back in 2014. To date, it has opened 6 branches across the US as well as one branch in Singapore. It specialises in "tori paitan", a silky chicken-base broth. The new Japanese ramen bar will serve many different tori paitan ramen dishes takeout style, which is common in the US. All ramen served here is served in paper cups rather than bowls, so it can be eaten both in the food hall or taken away.


Added to the rich soup broth and noodles is moist chicken char siu, soft-boiled egg, negi spring onion, and fried onion chips. The black pepper used adds a kick to the overall flavour. Thick noodles are also used.

"Ramen is Freedom" is the theme of Kuro-Obi's brand in Japan, with which they aim to challenge the new possibilities of ramen.

Information

Kuro-Obi MIYASHITA PARK
Grand Opening: August 4, 2020
Address: MIYASHITA PARK South 3F FOOD HALL, 6-20-10 Jingumae, Shibuya, Tokyo

Opening Hours: 11:00-23:00 (Last Orders 22:30)

Official Website: https://kuroobi-ramen.com/