LINE Stamp Character Usamaru Merchandise to be Sold at LINE CREATORS SHOP in Tokyo
The LINE CREATORS SHOP is a new permanent store for that will open along Tokyo Character Street in Tokyo Station Ichibangai on October 25.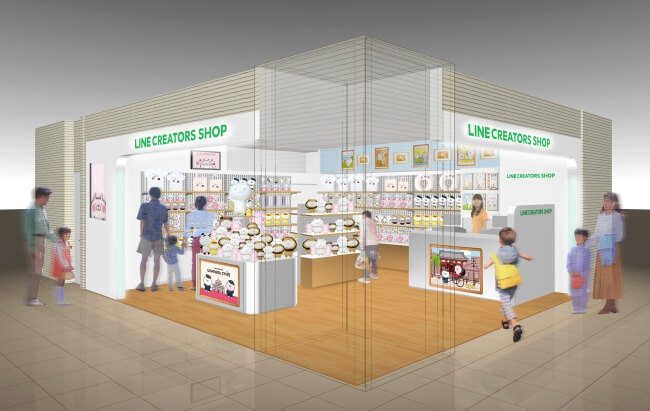 LINE Creators are those who create their own stamps which are sold on the LINE Creators Market to be used on LINE, a messenger app in Japan similar to WhatsApp. Many characters have become popular through this service  including Butata, Plump Dog & Plump Cat, Penguin and Cat Days, Love Mode, not to mention Usamaru. More recently, these popular characters have even gotten their own stuffed toys and stationary and have partnered up with certain projectors.
Usamaru is particularly loved having won the top prize at the LINE Creators Stamp Awards. He drew much attention recently for collaborating with the Yukimi Daifuku ice cream brand.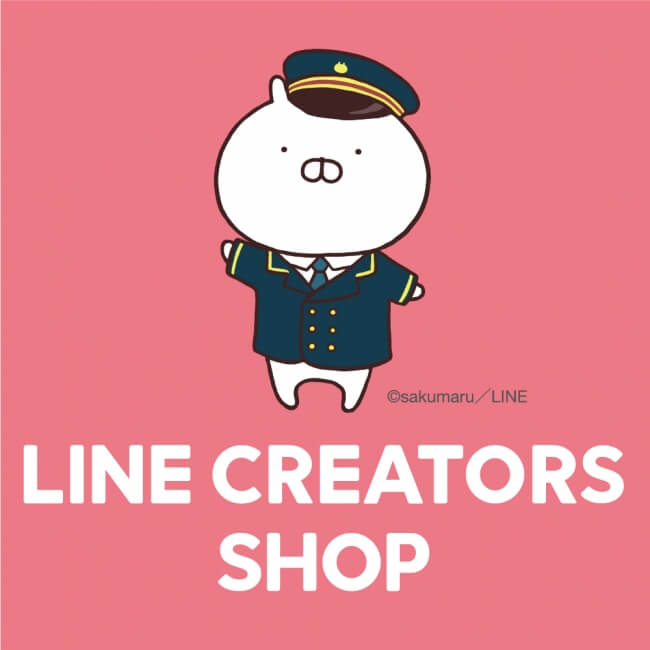 The LINE CREATORS SHOP will be home to merchandise from the most popular LINE Creators. It will open along Tokyo Character Street in Tokyo Station's shopping complex Ichibangai. It's been a year since Tokyo Character Street expanded in summer 2017. In addition to the regular Usamaru merchandise, limited edition goods will also be sold at the LINE CREATORS SHOP.
Merchandise from even more LINE Creators will arrive at the store in near future. Be to sure to check it out if you're in Tokyo Station!
Information
LINE CREATORS SHOP
Location: Tokyo Character Street (Tokyo Station Ichibangai B1F, 1-9-1 Marunouchi, Chiyoda, Tokyo
Grand Opening: October 25, 2018
Opening Hours: 10:00-20:30 (All Week)
RECOMMENDED ENTRIES
LINE Sticker Character Usamaru Collaborates With 'Yukimi Daifuku Cookies & Cream' Ice Cream

Lotte will release the popular cookies and cream flavour in its Yukimi Daifuku ice cream line on September 17. The company is teaming up with the LINE sticker character Usamaru for the product this year.

Usamaru is a very popular rabbit character on the Japanese messaging app LINE who was created by illustrator sakumaru. The cute and surreal bunny is especially with teenagers up to people in their 30s in Japan.

Yukimi Daifuku Cookies & Cream are soft mochi-wrapped dollops of vanilla ice cream containing chocolate cookies. The flavour of the cookies have been made even richer this time around.

There are 5 very cute Usamaru packaging designs to look out for each with small differences. Lotte are also holding a Yukimi Daifuku x Usamaru campaign where you can get your hands on an original clear file. Full details can be found on their website.

Enjoy this cute and delicious collaboration with Usamaru.

■Information

Yukimi Daifuku Cookies & Cream
Available: Everywhere in Japan

On Sale: September 17, 2018

RRP: ¥130 (Pre-Tax)

Lotte Official Website: https://www.lotte.co.jp/

Yukimi Daifuku x Usamaru Original Clear File Present Campaign
Running: From September 17, 2018 (*Select shops not stocking)
Conditions: Purchase two Yukimi Daifuku Personal (47ml x 2) or one Yukimi Daifuku Multi (30ml x 9) to receive a free clear file
Product: Obtainable with all Yukimi Daifuku products
Present: A4 Original Clear File (Yukimi Daifuku x Usamaru)

LINE FRIENDS Store Re-Opens at Harajuku Zero Gate

LINE is a communication app popular in Japan and other countries, similar to WhatsApp.

The flagship LINE FRIENDS character merchandise stores has just re-opened in Harajuku Zero Gate.

There are currently 100 LINE FRIENDS stores open worldwide, stocking merchandise from popular LINE stamp characters such as Brown, Choco and Cony.

There's a huge selection of items available in-store from stationery to plush toys, tableware made in collaboration with world famous brands, snacks and candy only available at the stores, and much more.

Upon arriving at LINE FRIENDS, you'll also be greeted by a giant plush of Brown the bear.

Head to LINE FRIENDS and get your hands on some super cute merch!

■Information

LINE FRIENDS Flagship Store in Harajuku

Address: 4-31-12 Shibuya, Tokyo

Opening Hours: 11:00-21:00

No Fixed Holidays.

TEL: 03-4360-9069

Website: https://www.linefriends.com/?lang=en

Pompompurin x Bonobono Pop-Up Shop to Open in Tokyo Station

Star of the ongoing hit anime series Bonobono and popular Sanrio character Pompompurin are joining hands in a new themed pop-up shop that will open in Tokyo Station from September 5 to November 26.

Both characters are dressed up as stationmasters for the main visual. You can get your hands on exclusive merchandise at the pop-up shop with this image on them!

Pompompurin
Pompompurin is a male golden retriever pup whose trademark is his brown hat. He's an easy-going dog who hates staying indoors.

Bonobono
Bonobono is a hugely popular manga series in Japan by Mikio Igarashimi which was first serialized in 1986 and has gone on to sell over 9 million copies. An anime adaptation began airing in April 2016. It follows Bono Bono, a baby sea otter who shows an interest in strange and mysterious things. The characters in the series are cute, laid-back and show the real way to enjoy life.

Don't miss this special shop if you're passing through Tokyo Station from next month!

■Information
Pompompurin x Bono Bono Pop-Up Shop
Running: September 5, 2018 – November 26, 2018
Opening Hours: 10:00am-11:00pm
Location: B1F Tokyo Station Ichibangai, North Area
Website: http://www.tokyoeki-1bangai.co.jp

©CMIKIO IGARASHI/TAKE SHOBO・FUJI TELEVISION・EIKEN
©1996, 2018 SANRIO CO., LTD.TOKYO, JAPAN
RELATED ENTRIES
Tokyo Station's White Day Fair Loaded With Loving Gifts and Souvenirs

Tokyo Station's two shopping centresーGRANSTA, which is inside the ticket gates, and GRANSTA Marunouchi, which is outside themーare holding a White Day Fair which started the day after Valentine's Day and will run until March 14, 2020.

In Japan, Valentine's Day usually sees girls and women giving chocolate to guys and men, which can be for both friendship or love. On White Day, the opposite happens, where guys and men are expected to repay the favour. GRANSTA and GRANSTA Marunouchi have the perfect assortment of gifts and accessories that are sure to please any girls this White Day.

Tasty treats to return the favour

These visually-appealing picks are perfect for expressing your thanks to friends and coworkers.

Tokyo Station Exclusive: Mini Pigeon & Heart Biscuits – ¥880 @ Fairycake Fair (GRANSTA Floor B1F) / Available: From February 15, 2020

These cute tiny tins from Fairycake Fair are packed with crunchy and milky pigeon and heart biscuits and mini lemon yoghurt-flavoured meringues. They're a brand new product from the confectionery shop.

Tokyo Station Exclusive: Strawberry Pie Burger – ¥864 @ Kyobashi Senbikiya (GRANSTA Floor B1F) / Available: February 20, 2020 – March 14, 2020 (*30 served per day)

Adorably cut into love hearts, these pies are lovingly filled with cream, which has a subtle eggy flavour, and cream cheese

White Day Selection – ¥3,672 (Contains 9) @ Pierre Marcolini (GRANSTA Floor B1F) / Available: From March 1, 2020 while supplies last

An assortment of chocolates from popular chocolate brand Pierre Marcolini, named after the famous Belgian chocolatier, which is sure to make anyone happy. It includes a new chocolate called the "Gradation Cool."

Impress with these little gems

Here's a selection of gifts other than sweets that are great for those seeking something unique that no one else will buy.

Truffle Salt – ¥1,296 – @ DEAN & DELUCA (GRANSTA Floor B1F) / Available: Now on sale

This blended salt is a mix of summer truffle and natural sea salt. The absolute perfect gift for someone who loves cooking.

Dashi Stock – ¥1,080 @ Kayanoya (GRANSTA Marunouchi Floor B1F) / Available: Now on sale

An assortment of Kayanoya's popular "Kayanoya Dashi" and their flavour-packed "Kiwami Dashi." A great pick for those who want to return the favour with something out of the ordinary.

uka nail oil 13:00 – ¥3,300 @ FruitGATHERING (GRANSTA Floor B1F) / Available: Now on sale

Scented with refreshing mint and lemon and keeps your nails and skin nice and moist.

ecoffee cup-WILLIAM MORRIS – ¥2,310 Each @ Neue (GRANSTA Marunouchi Floor B1F) / Available: Now on sale

These beautifully stylish, textile-design cups are reusable, so you can take your coffee with you wherever and whenever.

Information

GRANSTA

Address: 1-9-1 Marunouchi, Chiyoda Ward, Tokyo (JR Tokyo Station Floor B1F-1F / Inside Ticket Gates)

Opening Hours: 8:00-22:00 (Until 21:00 on Sundays and the final day of consecutive public holidays)

*Opening hours differ from store to store

*GRANSTA's new area is open 9:00-22:00 (Until 21:00 on Sundays and the final day of consecutive public holidays)

GRANSTA Marunouchi

Address: 1-9-1 Marunouchi, Chiyoda Ward, Tokyo (JR Tokyo Station Floor B1F / Outside Ticket Gates)

Opening Hours: 10:00-22:00 (Until 21:00 on Sundays and the final day of consecutive public holidays)

*Opening hours differ from store to store

Japanese Travel Website Jalan Set To Launch Tokyo Station Fair As Cat Stalks Closer

Japanese travel website Jalan, which has been running for 30 years, is collaborating with Tokyo station's shopping centre GRANSTA for their third collaboration fair, which will run from February 15 – March 1, 2020. Travelling in Japan will be even more fun as the travel website's adorable mascot Nyalan takes to the scene in a variety of delicious foods – just what every cat person kneads!

Even more shops are participating for the third fair, which is now stretching to cover shops at Ecute Tokyo and Ecute Keiyo Street. Everything at the fair cannot be purchased from anywhere else or at any other time. From bento lunches and sweet treats to merchandise, everything is based on Jalan's adorable cat mascot Nyalan. The fair is full of the essentials to enhance the fun factor in your spring travels around Japan – fur real.

Nyalan Caramel Cream: ¥490 (Fairy Cake Fair) *Only at GRANSTA

A fluffy whipped cream Nyalan sits on top of a delicious fairy cake. Grinning from cheek to cheek, the expressions on these hand-decorated mini cake are packed with detail. The adorable Nyalan cupcake is filled with velvety homemade caramel sauce for a rich sweetness. 

Nyalan Paw-Shaped Bento: ¥880 *Only at GRANSTA

Dried katsuobushi and salmon are mixed with rice to create two different coloured paw-shaped sushi rolls. Enjoy the adorable round rolls and sides of simmered bamboo shoots and sakura mochi – pawfect for a spring outing!  

Amaou Strawberry Macaron and Nyalan Print Macaron: ¥648 (Pack of 2) *Only at DALLOYAU, GRANSTA

Nyalan print macarons were a big hit last year and now the adorable macarons are making a comeback for a limited time. The set of two macarons includes the popular amaou strawberry macaron and a vanilla macaron. This is great as a souvenir, however there are only 400 sets available so be quick if you want one!

Nyalan Doughnuts: ¥420 Each, Shiretoko Doughnut, available at Ecute Keiyo Street only

You won't be able to stop yourself from gasping at how adorable these doughnuts are. The moment you feast your eyes on the doughnuts, you won't be able to stop smiling. These sweet doughnuts are bursting with the delicious flavours of Hokkaido and would make the puurrfect quick munch when on a shopping break or a wonderful souvenir. 

Nyalan no Otetechirashi (1 pack: Approx. 12cm diameter)

【Uoriki Kaisen Sushi】 *Available only at Ecute Keiyo Street

On top of this cake-shaped sushi lies a paw made from negitoro (minced tuna). The sushi cake is made of up layers of the finest seafoods including crab and salmon. Only 20 are sold per day.

Nyalan Hand Towel: ¥880 Each, Handkerchief: ¥550 Each 【Hamamonyo】 *Available at Ecute Tokyo only

 This cute Nyalan hand towel and handkerchief are just what you need for your hot spring trip and are bound to add a sprinkle of fun to your everyday life. Enjoy spotting the different facial expressions of Nyalan in this Yokohama print design. Once you make a habit of using it every day, you won't be able to stop because it feels so nice. 

If you love cats, spice up your life with Nyalan!

Valentine's Day 2020 Gift Recommendations: Chocolates and Treats at Tokyo Station

If you're in Tokyo in the run up to Valentine's Day, and are in in need of some ideas to bestow your loved one, then you'll want to head to Tokyo Station City where they are never short of great ideas when the season of love rolls around.

From little gifts under ¥500 to more indulgent delights over ¥1,000, Tokyo Station has it all. We've picked out some recommendations ranging from chocolates to sweets and other great ideas for those without a sweet tooth.

【Under ¥500】Little gifts to hand out

Heart de Katsu Burger – ¥237 @ Tonkatsu Maisen (GRANSTA) *Available until February 14, 2020

For a limited time only, Tonkatsu Maisen's popular katsu burgers are being served in the shape of a heart up right now until Valentine's Day. If you're with your loved one in Tokyo until then, then how about enjoying one of these together?

Heart Senbei (3 Included) @ Fujimido (GRANSTA) *Available until February 14, 2020

Senbei are Japanese rick crackers, and these heart-shaped ones come as a set in black pepper, tuna mayo, and ume katsu (plum pulp and bonito flakes) flavours. Perfect for those who don't like sweet things, and great with a cup of Japanese sake.

Shizuko Chocolate (1 Included) – ¥378 @ Naruto Kintoki Honpo Kurio (GRANSTA) *Available until February 14, 2020

Kurio's potato sweet bean jelly is made from the store's sweet potato bean paste which is set and thus has the original flavour maintained. It's mixed with dark chocolate for that luxury feel as well as sweet potato skin.

Coffee Bean Chocolates (50g) – ¥432 @ Marche du Chocolat (GRANSTA)

For those with more of an adult flavour palate, these coffee beans are coated in milk chocolate. A must-have for all coffee lovers out there!

[¥500-¥1,000] Show your love with prices too good to overlook

Jelly in Puree Chocolatey in Sachinoka Strawberry & Dark Chocolate (24g) – ¥500 @ Hitotsubu Kanro (GRANSTA) *Available until March 14, 2020

Part of Hitotsubu Kanro's popular "Jelly in Puree Chocolatey" series, this limited edition flavour is made with sachinoka strawberries. Pick from four different designs.

Orangette (1 Box) – ¥680 @ Fairycake Fair (GRANSTA) *Available until February 14, 2020

Those who love a mix of chocolate and fruit will want a box of these orangettes, which exquisitely combine the bitterness of orange peel with chocolate. Exclusive to GRANSTA.

Hazelnuts & Puffs (1 Box) – ¥680 @ Fairycake Fair (GRANSTA) *Available until February 14, 2020

Two types of chocolate, hazelnut and puff, fill up a box of these treats, each with their own crunchy textures. Also exclusive to GRANSTA.

USHIO CHOCOLATL (1 Included) – ¥810-¥864 @ SHARED TOKYO (GRANSTA)

These chocolates are made simply from cocoa beans and salt. The packaging is super stylish too making them a great gift. They are limited in stock, so if you like the look of them, you'd best get in there quick.

[Over ¥1,000] High quality and luxurious indulgence

Cher Milieu – ¥1,404 @ le billet (Ecute Tokyo)

Made with rich Belgian sweet chocolate, sharp and bitter dark chocolate, and orange-flavoured sake, these raw chocolates are a welcome melt-in-the-mouth experience for Valentine's Day.

Raw Chocolate (9 Included) – ¥1,500 @ Quatre (Ecute Keiyo Street)

Each and every one of these raw chocolates is handmade with the chef's specially-selected chocolate and lots of fresh cream from Hokkaido. Every bite is a trip to chocolate paradise.

Dassai Matcha Truffles (4 Included) – ¥1,620 @ Waraku Beniya (Ecute Tokyo)

Waraku Beniya's Dassai Matcha Truffles are made with high quality Uji matcha from Kyoto, an original blend of white chocolate, and a special brand of Japanese sake.

Tokyo Station is the place to go this Valentine's Day, and there's plenty more to see in addition to what's on this list. Now is the time to give back to your loved one with a Valentine's treat.

*All listed prices include tax

7 Lucky Foods and Items From Tokyo Station To Push You Towards Success

You've studied as much as you can for your exams and prepared as much as you can for that mid-term presentation but the nerves are still getting to you. How about some lucky items to help you succeed? As the exam season is approaching, Tokyo Station's shopping centre GRANSTA is holding a fair from January 13 to February 14, selling a variety of lucky items and foods to fill you with the courage and strength you need to calm your nerves and boost your confidence.

 Katsu Sandwiches

As "katsu" also means "win", a crunchy and juicy "winning" sandwich is the perfect way to boost your confidence and energy levels.

Kinokuniya Katsu Sandwiches (3 Sandwiches): ¥430 (After Tax)/KINOKUNIYA Entrée GRANSTA Marunouchi Floor B1 (Outside ticket barriers)


A crunchy katsu sandwich with a thick slice of juicy Japanese pork – This popular katsu sandwich will provide you with the stamina you need to do that presentation.

Katsu Fillet Sandwich (4 Sandwiches): ¥880 (After Tax) / Nagoya Meibutsu Misokatsu Yabaton: GRANSTA Floor B1 (Inside ticket barriers)


A soft southern Kyushu katsu meat fillet drizzled with Yabaton's special sauce. Enjoy the juicy flavour with every bite. 

Egg and Shrimp Katsu Sandwich (1 Full Sandwich): ¥388 (After Tax) /Kyo no Gohan Wasai no Kuni: GRANSTA Marunouchi Floor B1 (Outside ticket barriers)


This pack includes a tender shrimp sandwich and a rich-flavoured egg sandwich. (Limited number sold per day)

Sangenton Katsu Sandwich Eat-In: ¥396, Take Away: ¥388 (After Tax)/ BOULANGERIE ASANOYA, GRANSTA Floor 1 (Inside Ticket Barriers)


The Sangenton Katsu Sandwich is a hearty meal that consists of pork of three origins. This is perfect to fuel up on energy before your big moment. (Limit of 40 sold per day)

Chestnut-Flavoured Talisman of Victory

Silver Bell Pancake Sandwich: ¥378 Each (After Tax)/ Colombin GRANSTA Floor B1 (Inside ticket barriers)

Chestnut-based foods as a victory treat date back to the end of the 15th century during the Warring States period of Japanese history. In this pancake sandwich, two fluffy pancakes hug a filling of delicious cream and chestnuts, creating the perfect victory snack. *Sold from January 13 – February 14, 2020

Lucky Iyokan Mikan Vinegar

Lucky Iyokan Mikan Vinegar (1:5 Dilution, 150ml): ¥1,296/ Drinking Vinegar expre・su Tokyo GRANSTA Floor B1 (Inside ticket barriers)

This mikan orange-flavored drinking vinegar is made from Iyokan mikan oranges, which is said to bring luck. "Iyokan" also means "good premonition", which is sure to provide both an energy and confidence boost. *Limited sales: From January 13, 2020 while stocks last.

Lucky Pentagonal Chopsticks Set

Lucky Pentagonal Chopsticks Set: ¥3,300/ Nihonbo GRANSTA Floor B1 (Inside Ticket Barriers)


These lucky pentagonal (gokaku) chopsticks are a play on words with the word "gokaku", which also means success. They are pentagonal right to the tip, making it easy to grip your food. This is the perfect present for your friend who is going to take an exam. Limited Selling Period: Until the beginning of March.

Tokyo Station GRANSTA is full of lucky items and foods to help you and your friends prepare for success.

Information

GRANSTA

Location: JR Tokyo Station Floor B1/1 (Inside Ticket Barriers)

Address: 1-9-1, Marunouchi, Chiyoda-ku, Tokyo

Opening Hours: 08:00 – 22:00 (Open until 21:00 on Sundays and the last days of consecutive holidays)

GRANSTAMARUNOUCHI

Location: JR Tokyo Station Floor B1/1 (Outside Ticket Barriers)

Address: 1-9-1, Marunouchi, Chiyoda-ku, Tokyo

Opening Hours: 10:00 – 22:00 (Open until 21:00 on Sundays and the last days of consecutive holidays)

*Opening hours of some shops may vary

Official Website: https://www.tokyoinfo.com/shop/mall/gransta/

Souvenirs at Tokyo Station's GRANSTA Shopping Complex Abundant For the New Year

Tokyo Station's GRANSTA and GRANSTA Marunouchi shopping complexes are holding a New Year's from December 26, 2019 to January 5, 2019 where sweets and souvenirs will be sold to beckon the new year. The items are based on the Year of the Rat in the Chinese zodiac for 2020.

Sweets and Souvenirs

Baked New Year 2020 (Contains 5) – ¥1,600 @ Fairycake Fair (Available from December 26)

Tuck into these adorable baked cookies with various celebratory designs including rats, flowers and the year 2020. They are egg flavoured and are made with caramel to create a taste similar to Japanese purin (a type of custard pudding).

 

High Grade Fresh Japanese Confection Assortment (Contains 6) – ¥1,848 @ Ginza Kanra (Available Mid-December to Mid-January)

Ginza Kanra's assortment of fancy confections are so pretty they almost seem a waste to eat, each with a variety of motifs such as a rat as well as "Gin no Suzu"ーa silver bell inside Tokyo Station that's famous as a meeting spot.

Ginza Kikunoya Fukiyose Kaiune Shikan (200g) – ¥1,998 @ Jimbocho Ichi no Ichi (Now on sale until all sell out)

This tin of assorted small sweets includes around 30 types of baked wheat bran treats and more. There's plenty to keep you going through the New Year celebrations.

Left: Eto Kokeshi Rat – ¥2,090 / Right: Mame Kokeshi Rat – ¥880 @ SHARED TOKYO (Now on sale)

Available in limited quantities only, these cute rat kokeshi dolls would look good even as decorations in small spaces. Their red and white colours add to the festive vibe as these are celebratory colours in Japan.

New Year's Card Shrimp Senbei Rice Crackers (Contains 11) – ¥1,080 @ Keishindo (Now on sale until all sell out)

Forget regular Christmas cards, hand someone one of these rice crackers instead which feature messages like "Here's to another great year" in Japanese as well as other New Year motifs.

Osechi and New Year's Bento

Houjou – ¥8,000 @ Asakusa Imahan (Available January 1 only)

Osechi is food prepared for the New Year in Japan, and this bountiful harvest includes Asakusa Imahan's famous wagyu black beef, red rice, rice with minced sea bream, and more. These are limited to 10 sets only.

Osechi Shoufuku Suzen – ¥1,800 @Sasahachi (Available January 1-3)

Another delicious mix of osechi like fish wrapped in kombu seaweed, hand-rolled sushi, and more—all of which goes down best with a cup of sake. Limited to 20 servings per day.

This is just a peek into what's available this New Year at Tokyo Station, so if you're using the station this year, be sure to stop by.

*All listed prices include tax

Information

New Year's Fair

Running: December 26, 2019 – January 5, 2020

TOKYO STATION GUIDE Official Website: https://www.tokyoinfo.com/

Top 10 Most Popular Souvenirs to Pick Up at Tokyo Station's HANAGATAYA Store | 2019 Edition

HANAGATAYA is a souvenir variety shop that opened in Tokyo Station's central passage back in July. After over 5 months of sales, the store has revealed its Top 10 most popular products based on sales.

The line-up features a selection of HANAGATAYA exclusives, as well as products from elsewhere which have received pre-sales at HANAGATAYA. You will be spoilt for choice with this selection, all of which are perfect for ringing in the New Year when travelling back home. Let's take a look.

1st Place

Banana Custard Cream – Tokyo 2020 Olympic Emblem Design (Tokyo 2020 Official Licensed Product) – Contains 8 – ¥1,134 (Tax Included)

Officially licensed by the Tokyo 2020 Olympics, these chewy cakes are made from domestic Japanese rice, and are filled with deliciously creamy banana custard.

2nd Place

Tokyo Banana Butter Madeleine (Tokyo Banana World) – Contains 4 – ¥560 Tax Included)

Exclusive to HANAGATAYA come these all-new butter madeleine's created by famous confectionery company Tokyo Banana. These baked treats feature a buttery fragrance and taste, and are made with a banana confiture and finished with fresh lemon.

*Exclusive to HANAGATAYA GRANSTA Tokyo Central Street

3rd Place

Toro One Press Chocolate Chick (Tokyo Hiyoko) – Contains 3 – ¥648 (Tax Included)

This year marks 107 since the company Hiyoko was established. The "Toro One Press Chocolate Chick" is a new confection from them: an adorable skyward-looking chick made up of three chocolate layersーeach with their own distinct flavour. At the heart of the chick is a moist chocolate paste.

*Exclusive to Tokyo Station

4th Place

Cheese Wich – Contains 5 – ¥594 (Tax Included)

These light and refreshing cheese cookies, called Cheese Wiches, are filled with a chocolate-coated melted cheese sauce. Three layers means an enjoyable amalgamation of flavours and textures.

*Exclusive to Tokyo Station

5th Place

Chocolate Chestnut Eggs (Ginza Tamaya) – Contains 4 – ¥800 (Tax Included)

"Goma Tamago" is a popular bite-sized egg-shaped confection. This chestnut flavour was created for HANAGATAYA, a mix of dark chocolate and vanilla flavoured chestnut paste.

*Exclusive to Tokyo Station

6th Place

Strawberry Cookie Sandwich (Berry UP!) – Contains 8 – ¥1,296 (Tax Included)

Berry UP! is a cute confectionery brand which creates baked strawberry sweets. Keeping with that theme, they have created a crunchy quintuple-layered cookie sandwich filled with sweet and sour strawberry chocolate.

7th Place

Shinjuku Curry Ebi (Shinjuku Nakamuraya) – Contains 6 – ¥600 (Tax Included)

If you're looking for something more savoury, then this one's for you: Shinjuku Nakamuraya's light, fluffy and melt-in-the-mouth ebi, coated in curry spices. One nibble is enough to get you instantly hooked.

8th Place

Strawberry Polvorón (Berry UP!) – Contains 6 – ¥1,296 (Tax Included)

Another entry from Berry UP!, these polvorón shortbreads are made from lots of fresh strawberries mixed with condensed milk and mascarpone, creating a subtle sweetness that's enough to have your mouth watering.

9th Place

BLUE MELTIN SAND (Tokyo Campanella) – Contains 8 – ¥1,200 (Tax Included)

What if herbal tea and cookies became its own snack? That's what Tokyo Campanella asked too, and so make it a reality. Their BLUE MELTIN SANDs are cat's tongue cookies stuffed with a herbal tea sauce that has a natural blue colour.

10th Place

Premium Cacao Full Sablé (Mary Chocolate) – Contains 18 – ¥1,350 (Tax Included)

Finally, we have a premium edition of chocolate company Mary Chocolate's Cacao Full Sablés. This one's for the adults, a sophisticated combination of bittersweet chocolate and berries.

*Exclusive to HANAGATAYA GRANSTA Tokyo Central Street

Did you enjoy this list? Which one takes your fancy the most? Whether as a souvenir for the folks back home, or as a treat to yourself to celebrate 2020, if you're in Tokyo this year then be sure to give HANAGATAYA a visit.

Tokyo Station's Top 10 Edible Winter Souvenirs as Chosen by Station Staff

There is just a month and a half left of 2019, with Christmas, the winter holidays and New Year celebrations right around the corner.

Tokyo Station City has compiled a list of must-grab food-related souvenirs and gifts at Tokyo Station. If you've ever visited Tokyo Station, you'll know that you can be spoilt for choice from the amount of goodies you can get your hands on. The list is based on the votes of 305 station staff members working at Tokyo Station who have voted on their Top 10 most recommend souvenirs to pick up this winter.

The staff members went around the shopping area and taste-tested different edible souvenirs across an 8-day period. Their early thoughts as they went down the list were how delicious or unique things were, but they soon began to take it more seriously to consider things like price, how easy an item was to carry and transport, and what certain people might like in particular.

If you're travelling to or from Tokyo Station during the holiday season, be sure to bookmark this list so you know what to buy for on the flight back home!

1st Place

Rakumadoka @ Terra Saison (GRANSTA) – 5 Set ¥1,080 (Tax Included) / 8 Set ¥1,728 (Tax Included)

This cheesecake is like a cream cheese-stuffed souffle-like sandwich. Branded with the words "Gin no Suzu" (a place in Tokyo Station) and "Tokyo," this seasonal product is exclusive to Tokyo Station. In December last year, they sold over 1,500 in a day.

2nd Place


Mount Baum Kuchen @ Nenrinya (Meihinkan) – ¥1,080 (Tax Included)

With its French bread texture, this delightful treat has a fragrant scent, is moist, and is simply delicious. It has a rich buttery taste and is baked slowly to perfection.

3rd Place

Shinjuku Curry Arare Ebi @ HANAGATAYA (GRANSTA) – 6 Set ¥600 (Tax Included)

This rich curry snack is made by Shinjuku Nakamuraya, and has a light melt-in-the-mouth texture with spicy curry seasoning and shrimp flavour. The shrimp flavour comes from a mix of shrimp powder and shrimp oil. The mix of curry powder and spices gives it a really authentic curry taste.

4th Place

Tokyo Vegetable Rice Crackers @ nomono (GRANSTA Marunouchi) – 12 Set ¥950 (Tax Included) / 18 Set ¥1,598 (Tax Included)

An assortment of rice crackers with three different flavours: great burdock, onion, and pumpkin. They have a set of 18 too which is perfect for handing out to lots of people.

5th Place

Maple Pie Sandwich @ The Maple Mania (GRANSTA) – 8 Set ¥1,944 (Tax Included)

Coated in caramel, this crunchy pie is made with a cream laced with maple sugar. Exclusive to Tokyo Station, the packaging design for this dessert is made with souvenirs in mind as it's made so it's easy to carry and take around with you.

6th Place

Kuzumochi @ Funabashiya Koyomi (ecute Tokyo) – 24 Cut (Serves 1-1.5) ¥790 (tax Included) / 36 Cut (Serves 2-3) ¥895 (Tax Included) / 48 Cut (Serves 4-5) ¥1,200 (Tax Included)

Funabashiya's kuzumochi is made with wheat starch that is fermented over a 450 day period before being cooked. It claims to be "the only fermented Japanese wagashi confection." Since it is fermented over such a long period of time, it takes on a unique flavour and elasticity.

7th Place

Cheddar Cheese Pie Sandwich @ Tokyo Milk Cheese Factory (ecute Keiyo Street) – 6 Pack ¥1,620 (Tax Included)

A crunchy pie filled with an addictive cheddar cheese cream. Exclusive to ecute Keiyo Street.

8th Place (Joint)

Premium Cacao Full Shortbread @ HANAGATAYA (GRANSTA) 8 Set ¥648 (Tax Included) / 18 Set ¥1,350 (Tax Included) / 27 Set ¥2,052 (Tax Included)

This is a premium edition of the store's Cacao Full Shortbread, made using the methods used to make the chocolate brand Merry Chocolate. The crunchy texture and full-bodied flavour of the cacao has been left as it is, while a few things have been added to make it a little more luxurious: French sour cream butter, strawberries, and raspberries.

8th Place (Joint)

Yaoki Senbei @ Mankaso (Meihinkan) – 16 Set ¥1,080 (Tax Included)

These plump senbei rice crackers are made with 100% domestic rice and come in six different delicious flavours: agodashi soy sauce, salted, shrimp, seaweed, plum and coarse sugar, and chirimen pepper.

10th Place

Tartlette Neuf @ le billet (ecute Tokyo) – 6 Pack ¥1,728 (Tax Included) / 9 Pack ¥2,592 (Tax Included)

la billet make their own tarts, and this assortment comes in a variety of flavours. Exclusive to Tokyo Station. A great option as a gift for meeting a business in Japan.

Which of these looks most tempting to you? Let us know on Twitter or Facebook!

Butter Sandwich Shop PRESS BUTTER SAND Releases Uji Matcha Flavour at Tokyo Station

The butter sandwich specialists over at PRESS BUTTER SAND are bringing their famous Uji matcha flavour butter sandwiches to their Tokyo Station branch on November 13.

Known as the Uji Matcha Butter Sand, this tasty snack was developed to celebrate the grand opening of the Kyoto Station branch of PRESS BUTTER SAND. Due to high demand, they've decided to take the product to Tokyo for a limited time.

The exterior is made with butter cream and carefully selected Uji matcha. You get the full rich flavour of the matcha and delicious taste of the butter at once. The sandwich itself is filled with bitter matcha butter cream and sweet caramel butter for a sumptuously smooth combination that marries temptingly with the crunchy cookie exterior.

The sandwich biscuits come in packaging that features navy Kyoto-esque artwork inspired by the characteristic cultivation method for Uji matcha which blocks out sunlight. The sandwiches themselves are individually packaged in matcha green packets to contrast with the box.

Don't miss out on a chance to enjoy the flavours of Kyoto while in Tokyo. Available at Tokyo Station only.

Information

Uji Matcha Butter Sand

Price: Box of 5 – ¥1,150 (Tax Included) / Box of 9 – ¥2,070 (Tax Included)

Shop: PRESS BUTTER SAND Tokyo Station

Available: November 13, 2019 – November 30, 2019

Official Website: https://buttersand.com

Tokyo Station's Best Rice Bowl & Noodle Dishes as Voted by Commuters

Tokyo Station and surrounding facilities are currently holding the "Tokyo Station Rice Bowl vs. Noodles Grand Prix 2019" tournament from October 7 to November 24 to find out people's favourite rice bowl and noodle dishes at the station.

The past three tournaments have focused only on rice bowls, but this year sees the introduction of noodles too, with past restaurants in Kitchen Street and GRANSTA competing once again as well as new ones in ecute Tokyo and KITTE for a total of 13 participating station areas. 92 dishes are in the line-up, the biggest list to date.

The current rankings for the rice bowl and noodle categories have finally been unveiled, so let's take a look at the Top 3 of each to see which is leading the race.

Category Is: Rice Bowl

1st Place

Ultimate Japanese Spiny Lobster Bowl – ¥2,200 (Tax Included) @ Tsukiji Sushiko (GRANSTA Marunouchi)

Tsukiji Sushiko was the victory of last year's grand prix. This year, they've whipped up a hearty seafood bowl made with a whole Japanese spiny lobster and 11 other delicious critters from the ocean.

2nd Place

Premium Wagyu & Uni Otsukimi Date – ¥2,530 (Tax Included) @ Uniya no Amagokoro (Kitchen Street)

Served with sliced premium brand wagyu, this bowl is topped with uni sea urchin eggs and ikura salted salmon roeーa luxurious combination you won't find anywhere else.

3rd Place

Ura Ooedo Tempura Bowl – ¥1,800 (Tax Included) @ Tenkiyo (Grand Roof)

This is an alternate version of the restaurant's famous Ooedo Tempura Bowl, served with delicious tempura.

Category Is: Noodles

1st Place

MISO JIRO – ¥1,000 (Tax Included) @ Tokyo Style Miso Ramen Do Miso (KITTE GRANCHE)

A super-filling bowl piled with pork char siu and a mountain of vegetables.

2nd Place

Lanzhou Wagyu Noodles – ¥950 (Tax Included) @ Mazilu Lanzhou Beef Noodles

Authentic Lanzhou ramen served by the Halal-certified Mazilu Lanzhou Beef Noodles, customers can choose between nine different thicknesses for their noodles to satisfy their palate.

3rd Place

Dehydrated Hamburger Bolognese – ¥1,190 (Tax Included) @ HAMBURG WORKS

Enjoy the full flavour of the hamburger meat made from Japanese black wagyu beef and served with pasta.

Be sure to use this list as reference if you're looking to eat while travelling through Tokyo Station!

Information

Tokyo Station Rice Bowl vs. Noodles Grand Prix 2019

Running: October 7, 2019 – November 24, 2019

Locations: Kitchen Street, Kurobei Yokocho, Kitamachi Dining, Grand Roof, Grand Roof Front, GranAge, GRANSTA, GRANSTA Marunouchi, KITTE, ecute Tokyo, ecute Keiyo Street

Participating Restaurants: 91

Menu Items: 92 (79 of which are exclusive to Tokyo Station)

5 Christmas Desserts to Buy at Tokyo Station | Christmas 2019

Shops in and around Tokyo Station are starting to roll out their Christmas products this month. We've select our Top 5 must-buy Christmas cakes and desserts if you're travelling in Tokyo or passing through Tokyo Station this year.

Christmas Koisuru☆Kumagoron – ¥980 (Tax Included) @ Siretoco Donuts (ecute Keiyo Street)

The perfect, most adorable doughnut treats to pick up this Christmas to share with friends and familyーor to enjoy yourself!

*Exclusive to the ecute Keiyo Street branch. Online orders available.

Suica Penguin Waffle Cake – ¥540 (Tax Included) @ RL waffle cake (GRANSTA)

Inspired by the adorable Suica penguinーthe mascot for Suica travel cardsーthis mini cake is a fluffy waffle rolled into whipped cream and yellow peach and is coated in chocolate.

*Only 100 to be sold. Sales begin from November 5 and is are first-come, first served. Reservation-only. Online reservations available.

*Delivery Window: December 20-25, 2019.

*Exclusive to GRANSTA.

©︎Chiharu Sakazaki/East Japan Railway Company/DENTSU by East Japan Railway Company

Suica is a registered trademark of East Japan Railway Company

Christmas Box (4 Included) – ¥1,940 (Tax Included) @ Fairycake Fair

Cute cupcakes decorated for Christmas. Also available in boxes of 6 and 9.

*Reservation Window: November 5 – December 20, 2019

*Delivery Window: November 30 – December 25, 2019

*Available for direct purchase in-store between November 30 – December 25, 2019

*Online reservations available. Exclusive to GRANSTA.

Chestnut Yule Log – ¥3,780 (Tax Included) @ le billet (ecute TOKYO)

This Christmas yule log is a mix of chestnuts and hazelnuts and contains a rich tiramisu-style chestnut cream.

*Online reservations available.

Noel – ¥6,200 (Tax Included) @ Tokyo Station Hotel

This chestnut cake is inspired by the pine pillars that supported the Tokyo Station Marunouchi station building until it was restored. It has a chestnut and sweet potato base and is layered with chestnut mousse and coffee mousse to recreate the rings of a tree which are used to tell a tree's age.

*10 served per day

*Reservation Window: November 5 – December 17, 2019

*Delivery Window: December 22-25, 2019

*Online reservations available. Exclusive to GRANSTA.

Eat all of the cute treats you can this Christmas and holiday season.

Tokyo's Newest Bubble Tea Shop PEARL LADY CHA BAR Opens at Tokyo Station

Bubble tea chain PEARL LADY opened a new tea and tapioca beverage cafe called PEARL LADY CHA BAR at GRANSTA Marunouchi in Tokyo Station on October 17.

This year marks the 10th anniversary of CHA BAR, a Japanese tapioca drink chain that serves different types of tea from around the world. The chewy tapioca pearls added to the drinks are made in the company's own factory and delivered fresh everyday to stores.

They boast a large drink line-up for tea-lovers, such as their specially-made rich milk tea latte, rock salt cream cheese made with mascarpone, seasonal fruit beverages, and more. The menu offers new and original ways of enjoying tea.

If you're passing through Tokyo Station during your travels to the capital, be sure to pick up a drink from PEARL LADY CHA BAR.

Information

PEARL LADY CHA BAR GRANSTA Marunouchi

Address: JR East Tokyo Station Floor B1F (Outside Ticket Gates), 1-9-1 Marunouchi, Chiyoda Ward, Tokyo

Opening Hours: 10:00-22:00

Access: 1-minute on foot from the Marunouchi F central ticket gates at Tokyo Station

Official Website: http://www.pearllady.jp/chabar/

Tokyo Station's Christmas Cakes Are a Must-Buy Present This Holiday Season

Two of Tokyo Station's shopping areas, GRANSTA and GRANSTA MARUNOUCHI―which are accessible inside the ticket gates and outside the ticket gates respectively―are set to hold the GRANSTA Christmas Fair from November 5 to December 25.

GRANSTA x Tokyo Staion Hotel

The main GRANSTA shopping area is joining hands with Tokyo Station Hotel for the very first time to release a line of hotel-original Christmas cakes.

Noel – ¥6,200 (Tax Included) @ Tokyo Station Hotel (*10 servings per day)

This pine tree stump chestnut cake was originally sold to support the reconstruction work of the Tokyo Station Marunouchi Building which was held until 2012. Topping the chestnut sweet potato base is a mix of chestnut mousse and coffee cream. This is topped with two types of chestnut pastes in a spiral shape to create the tree rings.

Bûche Chocolat Vanille – ¥5,500 (Tax Included) @ Tokyo Station Hotel (*10 servings per day)

The Bûche Chocolat Vanille is an exquisite yule log made with melt-in-the-mouth chocolate mousse and vanilla cream inside which hides sweet and sour, kirsch-soaked cherries and sauteed pears. The top of the log is temptingly lined with even more cherries to give it both that rich look and even richer taste.

Tokyo Station Marunouchi Building Cake Designs

GRANSTA will also sell cakes inspired by Tokyo Station. As well as the ones shown here, there are ones based on the bullet trains and more.

Station Building Fruit Cake – ¥4,320 (Tax Included) @ Colombin (*only 100 available)

Exclusive to GRANSTA comes this special Christmas fruit cake based on the station building. It would make great gift to bring to the Christmas party.

Cupola de Tokyo – ¥3,780 (Tax Included) @ Caffarel (*only 50 available / *design still a WIP so may differ from the photo)

This colourful Christmas cake draws inspiration from the gorgeous interior designs of the north and south domes of the Tokyo Station Marunouchi Building.

Suica Penguin Cakes

The adorable Suica Penguin is the mascot of Suica contactless smart cards used at train stations.

Suica Penguin Cake – ¥5,400 (Tax Included) @ Dalloyau (*only 100 available)

The main Suica Penguin cake is a combination of chocolate mousse and a cream made from tonka beans. This cute cake is sure to bring joy to any child this Christmas♡

Suica Penguin Chocolate Raspberry – ¥490 (Tax Included) @ Fairycake Fair (*30 servings per day)

Fairycake Fair has whipped up a chocolate cream-topped cupcake filled with raspberry jam. This one is for those who want something a bit smaller than a ginormous cake!

There are lots more cakes to look forward to, including ones in very limited quantities. If you're in Japan this Christmas season, be sure to pay a visit to GRANSTA and GRANSTA MARUNOUCHI in Tokyo Station.

©Chiharu Sakazaki / JR East / DENTSU Suica by JR East Suica

Information

GRANSTA

Address: JR East Tokyo Station Building Floors B1F & 1F (Inside Ticket Gates), 1-9-1 Marunouchi, Chiyoda Ward, Tokyo

Opening Hours: 8:00-22:00 (Until 21:00 on Sundays)

*Opening hours differ for select shops in GRANSTA

*The GRANSTA New Area opening hours are from 9:00-22:00(Until 21:00 on Sundays)

GRANSTA MARUNOUCHI

Address: JR East Tokyo Station Building Floors B1F (Inside Ticket Gates), 1-9-1 Marunouchi, Chiyoda Ward, Tokyo

Opening Hours: 10:00-22:00 (Until 21:00 on Sundays)

*Opening hours differ for select shops in GRANSTA MARUNOUCHI

GRANSTA Official Website (Japanese): https://www.tokyoinfo.com/shop/mall/gransta/