Dress in a kimono and discover the secret locations of Gojo on a walking tour in Kyoto
There is a walking tour of Gojo in Kyoto you can take to see little-know historical and famous spots around the area. The tour is led by staff who have acquired the top level in the Kyoto Kentei Test, a "sightseeing and culture test" to gauge "applicants' knowledge of Kyoto's history and culture." Staff give a truly in-depth tour taking you to places not shown in guidebooks and places even the people of Kyoto are unaware of.
The tour was conceived by Akane Kifune who works at Kyoto Kimono Rental Yumeyakata. Gojo is a place that despite being located in the heart of Kyoto, once you take one step into it you are brought to a retro town filled with lush greenery that even the locals don't know about.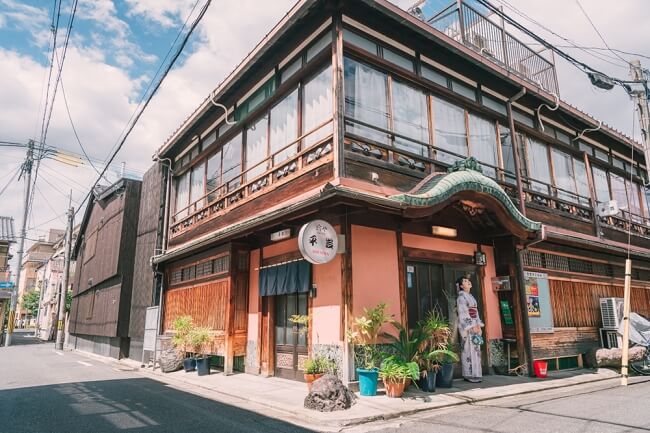 The theme of the tour is "Look/Taste/Take Photos." You are taken to photo spots perfect for kimono as recommended by Yumeyakata's pro cameraman. Participants will also receive exclusive items from cafes and shops in the Gojo area not available to anyone else!
The tour begins on October 20. Rent out a kimono and tour the hidden shops and cafes of Gojo.
Information
Kimono Off the Beaten Path Gojo Walking Tour
Meeting Place: Kyoto Kimono Rental Yumeyakata – Gojo
Time: 9:00am Arrival – 10:30am Departure / 1:00pm Arrival – 2:30pm Depature
Participation Fee: ¥1,800 (Pre-Tax)
*Or ¥1,500 to participate for those who rent their kimono at Yumeyakata. A separate fee is charged however for kimono rentals starting at ¥2,800.
No. of People: 2-10
Ages: 12+
Duration: Approx. 90 minutes
Kyoto Kimono Rental Yumeyakata
Address: 128, Manjujicho, Shimogyo Ward, Kyoto, Kyoto Prefecture, 〒600-8104
Access: 3-minutes on foot from Gojo Station via the Karasuma Line.
TEL: 075-354-8515
Website: https://www.kyoto.yumeyakata.com/
RECOMMENDED ENTRIES
Ride a Bicycle in a Kimono With New "Kimono-Bike" Rental Service in Kyoto!

The Kyoto Concierge Salon is opening a kimono and bicycle rental service from March 24th, 2018 where you can ride a walking bicycle while dressed up in traditional Japanese clothing.

The walking bicycle is developed, manufactured and sold by Katayama Kogyo Co.,Ltd in Okayama Prefecture. They sell and rent out bikes in places like Okayama and Tokyo, but this is the first time they are setting up a rental service in Kyoto.

The Kyoto Concierge Salon are also currently handing out guides and holding walking tours. They plan to hold walking tours with their new kimono-bicycle service as well as kimono photoshoots.

The service is extremely convenient if you're heading around Kyoto in a kimono. Enjoy this new kind of biking yourself!

■Information

Walking Bicycle
Rentals: From March 24th, 2018
Rental Price: Half-Day \1,000 (4-Hours) / Full-Day \2,000 (Until 6pm on the day of rental)
Website: http://wbc-network.com

Kyoto Concierge Salon

Address: 384 Mongakucho, Shimogyo, Kyoto, Kyoto Prefecture
Access: 50m North of Higashi Nakasuji Dori from Shichi-jo Dori
TEL: 075-354-5261

Let's wear a kimono and enjoy Harajuku! 7 recommended photo spots in Ura-Harajuku

Princess One Spoon Tokyo

This is a store that sells 500 kinds of accessories, girly sundries and sweets items. It is recommended to take a photo in front of the store since the exterior of the store is Western-style.

Tonchan Street

You can find many stylish adds on "Tonchan Street" behind MOSHI MOSHI BOX.

Let's find your favorite location!





How did you like our recommended photo spots? In this article, I introduced to you some standard/new photos spots of Ura-Harajuku.

Feel free to contact MOSHI MOSHI BOX if you ever get lost!

Why not check out this article as well.

https://www.moshimoshi-nippon.jp/34595

【Kyoto Stroll】 Two travellers, one day of tourist spots, gourmet food and activities in Kyoto!

Welcome back to MOSHI MOSHI NIPPON's "Tokyo Stroll" series that recommends you travel destinations! Today, Hikari Shibata and Yuri Suganuma are leaving Tokyo and heading to the old capital Kyoto.

Together, Hikari and Yuri took the 07:00AM shinkansen train to Kyoto, arriving at 10:00AM. The first thing on their list was to fill up on some Kyoto gourmet! Sifting through Instagram and other SNS sites for the most popular spots, they decided to try some rare Kyoto confectionary at "Otabe Honkan".

 

Having set their hearts on eating before sightseeing, they visited "Otabe Honkan", a place they researched prior to their trip. After taking the subway to Jujo Station then walking for about nine minutes, they arrived.

They ordered according to what was popular online – "Kuchidoke Aisu" ( melt-in-the-mouth ice cream, ¥500 including tax), and the "Soufflé Sandwich" (¥162), which is new on the menu.

The melt-in-the-mouth "Kuchidoke Aisu" is an adzuki bean and milk shaved ice dessert which is topped with fluffy fresh cream and matcha. The Japanese word "ookini" (meaning "thank you" Kansai dialect) was written in matcha on the dessert – how cute! ♡

Hikari: The fresh cream wasn't too sweet. Yummy!! Every now and then, I got a mouthful of adzuki beans. I really liked the variety of flavours ◎.

The new soufflé sandwich was made by adding velvety cream cheese to the bread dough.

Yuri: The soufflé was soooo fluffy! The cream cheese flavour and the sandwich is a match made in heaven!

Otabe Honkan works with a factory as a joint establishment. The factory produces a variety of popular brand confectionaries from different parts of Kyoto. Fresh Yatsuhashi is one of the famous products made by Otabe.

The factory also holds handmade sweet-making classes and allows visitors to the view the factory, so if you're interested, check the link to the website below.

■Information

Otabe Honkan

Adress:35,2, Nishikujo Takahatacho, Minami Ward, Kyoto,

Opening hours: 09:00 〜 18:00

Off to Kyoto Tower – the symbol of Kyoto!

Stomachs full, the girls return to Kyoto Station and make their way to Kyoto Tower, which is the tallest building in Kyoto. The observation room is elevated 100 metres above the ground, and offers a stunning view of the streets. The many souvenir shops make it all the more popular with tourists.

On the 3rd floor of Kyoto Tower, there is a Makizushi sample-making event! (Makizushi: sushi rolled in seaweed with a filling). There are many classes running here that allow visitors to experience Japan to the full. Yuri and Hikari decided to try out something very unique to Kyoto. They headed to the Otabe dojo to learn how to make fresh Yatsuhashi sweets by hand.

Before preparation, they got changed into specialist clothing and then took a commemorative photo…but what is this photo really for?

To make these fresh Yatsuhashi by hand, the girls made a steamed flour dough, stuffed it with anko red bean paste et voila! The thick and chewy texture of the mochi made the kneading process hard work! Yuri and Hikari were silently working all the way through, kneading and kneading and kneading until their work was approved by their sensei.

Here's a picture of their highly praised Yatsuhashi. Our confectionary chefs made plain Yatsuhashi, matcha Yatsuhashi and Murasaki Imo (purple sweet potato) Yatsuhashi! Now it's time to enjoy the snacks with a tea ceremony!

Yuri: We made these ourselves and to no surprise, they're delicious!

Hikari: The dough is chewy and has a gentle flavour!

At the end, the girls received a souvenir gift and a certificate, and with that, class had ended. Inside the souvenir package, there was the photo taken at the start of the class! This put a smile on their faces.

■Information

Kyoto Tower Sando Otabe Taiken Dojo (京都タワーサンド おたべ体験道場)

Address:Kyoto Tower Building floor 2, 721-1, Higashishiokojicho, Shimogyo Ward, Kyoto

Reservations: https://otabe-ktt.dt-r.com/

*Reservation possible for up to the previous day at 15:00

 

>>next page Go to Kiyomizu-dera
RELATED ENTRIES
Kyoto City Kyocera Museum of Art Opens New ART LAB KYOTO Shop

Kyoto City Kyocera Museum of Art opened its new museum shop ART LAB KYOTO on May 26 where it is set to promote the centre of Japanese culture—Kyoto, a place which reveals in tradition and history while constantly evolving and innovating.

The museum shop opens in line with the recent revamp the museum underwent, with design work co-created by Japanese architects Jun Aoki and Tezzo Nishizawa.

ART LAB KYOTO is a spacious shop were guests can get their hands on goods related to exhibitions held at the museum as well as books and items on everything from traditional Kyoto culture to the city's contemporary art, items made in collaboration with artists, exclusive sweets, and more.

Let's take a select look at just some of the items you can pick up at ART LAB KYOTO.

Kyoto City Kyocera Museum of Art x BEAMS

Kyoto City Kyocera Museum of Art has teamed up with BEAMS to release a line of original merchandise bearing the museum's logo—a new logo which represents both the design of the revamped museum carried conceived by the museum's newly-appointed museum director Jun Aoki, and contemporary art. The merchandise's design is minimal, combining white and grey.

The line-up aims to function not just as souvenirs, but as items that can be used in everyday life, from bags to notebooks and more.

Kyoto City Kyocera Museum of Art Collection x Miyawaki Baisen-an

Miyawaki Baisen-an is a preserver of traditional Japanese folding fans which has been around since 1923. The company has joined hands with Kyocera to release an exclusive line of fans that represents the art museum.

Kyoto City Kyocera Museum of Art Collection x Juko Confections

"Juko" is a confectionery from Kyoto which changes flavours with the season. Twice a month, they will be sold in limited quantities at the shop.

Experience Kyoto Culture in Arashiyama With HOSHINOYA Kyoto's New Hotel Plan

HOSHINOYA Kyoto has introduced a new hotel plan in an attempt to bring a little luxury into people's lives and lift their spirit during this stressful time. The plan will have people going to Arashiyama to experience a bit of Kyoto culture and hospitality to lift their mood.

You will board a small boat located at the port near the hotel entrance and be taken to your private room. During your sail, you will be able to soak in the gorgeous sights of nature all around. Check-in is being carried out in guest rooms, meaning you won't have to come into contact with other guests.

You have arrived at your room. HOSHINOYA Kyoto is located in Arashiyama which was formerly a holiday home destination for the Heian aristocrats. There are 25 rooms inside the garden, all of which look out onto the Ōi River. When you slide the window open, you can feel the gentle wind sweep through the valleys. Guest room walls are plastered with beautiful traditional kyokarakami wallpaper and fitted with HOSHINOYA Kyoto-original tatami sofas. Each and every part of the rooms are imbued with Kyoto culture. The rooms are not only comfortable and provide you with everything you need, but also offer a luxurious stay.

Inside your room, there are sutras which can be used for sutra copying, known as sakyou in Japanese, as well as equipment for making matcha to enjoy your own private tea ceremony without having to worry about the tradition's strict rooms. It's your very own private Kyoto cultural experience without having to worry about other people.

Dinner can be enjoyed in the main dining hall or in your room. The dining hall is fitted with semi-private booths where you can enjoy a seasonal Arashiyama 9 course kaiseki-ryori dinner with rice, vegetables, a special bento assortment, and more. For breakfast you can enjoy a morning hot pot which uses a special dashi stock packed full of seasonal veggies.

There are also activities to enjoy Kyoto's breathtaking green outdoors. Mosquito nets made from Japanese red cedar are provided under which you can take part in a stretch routine which uses breathing techniques and meditation.

Outdoor activities are severely restricted right now as a result of COVID-19, but HOSHINOYA Kyoto has made it so you don't have to do much moving around at all while still enjoying the fruits of nature.

Information

Kyoto Culture in Arashiyama (Japanese Hotel Plan Name: 奥嵐山で京文化に触れる久しぶりの優雅な一日)

Prices

From ¥50,100 per night (Includes dinner/2 people 1 room/service charge and tax not included)
From ¥50,100 per night (Includes dinner and breakfast in dining hall/2 people 1 room/service charge and tax not included)

Booking: https://hoshinoya.com/kyoto/

HOSHINOYA Kyoto Introduces New Rainy Season Themed Kaiseki Dinner Course

HOSHINOYA Kyotoーthe Arashiyama-based hotel where every room offers a river viewーis launching a new kaiseki multi-course dinner this summer which offers the chance to enjoy the early summer breeze together with the spectacular views of the rainy season. Served with nine dishes, the kaiseki meal will be available between June 1 to July 31 this year.

The days of June in Japan are hot that the month itself also goes by the name minazuki which translates to "the month without water." However, the evenings are enjoyed for their cool and refreshing air, and so June is also known as suzukurezuki, or "the month of cool dusk." Not only will guests be able to enjoy the refreshing feeling of the season, but their kaiseki meal will be inspired by the sights of the rainy season, as well as the verdant smells of early summer, too, adding an extra level of freshness.

HOSHINOYA Kyoto's dining concept goes by the name Gomi Jizai, which has people enjoying all five different tastes: sweet, salty, spicy, sour, and bitter. Ichiro Kubota, the Executive Chef at HOSHINOYA Kyoto, has truly honed his cooking abilities over the course of his career. His father was the head chef at one of the most famous restaurants in Kyoto's Gion district. It was there that Kubota really began to learn his craft, and he went on to work at first-class and Michelin star restaurants in both Japan and abroad. He has set the standard for Japanese cuisine for the next generation.

Suzukurezuki Appetisers: See and taste early summer with a Hassun dish

A hassun is a kind of dish or tray often used in kaiseki course meals to serve numerous different foods. This hassun is inspired by Nagoshi no Harae, an ancient and traditional summer purification ritual that takes place at temples and shrines in Kyoto in June. It includes goma-dofu, a food similar to tofu made with crushed sesame seeds that's eaten as a confection during Nagoshi no Harae to cool yourself down during the hot month of June.

It also comes with sweetfish dashi and watershield for that added feeling of coolness, as well as hotarukan which looks like fireflies gathered in the bamboo grass, and a texture-laden bamboo shoot and smoked salmon wrap.

Cool Kamo-nasu Eggplant Assortment: Sweet early summer vegetable appetisers

For appetisers, guests can look forward to some refreshing early summer vegetables, including kamo-nasu eggplant that's been mixed in lots of dashi, fried, and seasoned with eggplant to elevate the sweetness and combined with ice cream. There's also red sea urchin which is rich in sweetness, ginger foam, and new lotus root for bite. The bowl it's all served is made by Nobuyoshi Sasaki and features a lace design. The use of glass serves to enhance that level of freshness from the food.

Conger Eel Hanami: Recreating a hydrangea Hanami in a bowl

The bowl includes fatty conger eel which is topped with more conger eel that has been minced as well as arrowroot daffodils to make it look like blossoming hydrangeas. It is said that conger eels that drink the water at the end of the rainy season become more delicious. Gion Matsuri, a festival held in Kyoto in July, is also called Hamo (conger eel) Matsuri. The dish also includes bonito, tuna, and kombu.

Young Fried & Salted Sweetfish: Smell the verdant fragrances with fried food

Sweetfish is a popular ingredients during early summer in Japan, and this one has been salted and fried. Sweetfish (ayu in Japanese) is also known as kougyo in Japan which means "fragrant fish." It's known for its fresh smell which is likened to that of greenery. It's fried on a charcoal fire for some time which makes the head and tail smell incredible.焼

Cherry Mille-Feuille: A dessert gift from the early summertime

The crowning cherry of this dessert is smothered in acacia honey and then roasted, locking in all of that sweetness. The dessert is made with fresh cream, almond biscuit, and custard cream, all of which is layered to create a multi-textured pie. It's served with a tonka bean ice cream. Tonka beans come from the same rose family as cherries, meaning they work wonders together.

Information

Gomi Jizai Kaiseki
Running: June 1, 2020 – July 31, 2020
Serving: 17:30-20:30
Price: ¥20,000 per person (does not include tax or service charge – hotel fee charged separately)
Available: To both guests and non-guests
Reservations: https://hoshinoya.com/kyoto/en/

Japanese attire brand Relier81 began selling its "OBI Square Sandals" on the official UNITED TOKYO online store on Thursday. The sandals are made using dead stock obi which are the sashes used to tie kimono.

Who are Relier81?

Relier81 is a Kyoto-based upcycling brand which aims to maintain Japanese tradition, culture, and the original craftsmanship of its creations.

In today's era, there are less opportunities for people to wear kimono in Japan. Beautiful and breathtaking kimono, obi, and other kimono related items are gathering dust in people's wardrobes. So Relier81 began to think of a way that would enable them to still make use of kimono and kimono accessories that would fit the modern lady. That's where their upcycling skills come into play.

OBI Square Sandals – ¥29,700 (Before Tax) | Size 1: 23cm-23.5cm, Size 2: 24cm-24.5cm

Relier81 have collaborated with UNITED TOKYO for these new OBI Square Sandals, a brand which prides themselves on products that are "Made in Japan." The sandals use Relier81's "OBI Sandals" as the base which have been wrapped in carefully selected dead stock obi by UNITED TOKYO's designers. There are 12 sandal designs in total with two different kinds of elastic insoles used. The sandals lighten the burden of the feet and are super comfortable to ensure that your feet don't get tired easily.

The sandals are shipped in a special "kiribako" box with both company's logos branded on it to keep with the traditional theme.

All of these sandals are manufactured in Japan, but the ageing of artisans and lack of successors is of real concern. UNITED TOKYO's official online store has posted photos of the manufacturing process of one shoes to show people how it's done.

Kyo no Ondokoro Marutamachi: Rent An Entire Kyoto Townhouse to Yourself

Kyo no Ondokoro Marutamachi is set to open in the Goshominami area of Kyoto on April 25, 2020. The single-accommodation hotel is a complete renovation of a traditional Kyoto-style townhouse.

Kyo no Ondokoro Marutamachi comes as the 7th branch of hotels from Kyo no Ondokoro. It's a single building to rent for up to 4 people, who can enjoy taking a soak in the man-made carbonated spring bath which is kind to the skin and hair, using the soft water shower, and getting ready in the spacious makeup corner. It's the perfect getaway for girl groups travelling together.

The hotel is in a convenient location for sightseeing in the ancient capital of Kyoto. The building has been completely renovated to adapt to modern lifestyle while still retaining those traditional elements of a Kyoto townhouse that was built during the Meiji Periodーand in an area that's rich in traditional scenery.

The lounge space sofa seats are inspired by Japanese rock gardens

The lounge space, which connects the second-floor bedrooms and the washitsu Japanese-style room, are furnished with unique round sofas. All the rooms open up to each other so guests can enjoy the company of each other during their travel stay.

Hinoki cypress artificial carbonated spring bath

Amenities

The round bath is made from hinoki cypress, and the carbonated water lets you stay glowing and nice and warm after you step out of it. The bathroom is also stocked full of amenities like shampoo courtesy of popular brand THREE.

Up to four people can apply their makeup together in the makeup corner

The makeup corner is big enough to sit four people so they can get ready for their day or night out together while chatting.

Colourful art pieces also adorn the walls of the makeup room, Japanese-style room and elsewhere to add a touch of beauty to them.

If you're planning a trip to Kyoto with the girls then why not book at Kyo no Ondokoro Marutamachi when it opens on April 25?

Information

Kyo no Ondokoro Marutamachi

Address: 341-2 Shōshōiotabichō, Nakagyō-ku, Kyoto, 604-0873

Grand Opening: April 25, 2020

Price: ¥30,000 per night

Bookings: Opened on March 27, 2020

Offcial Website: https://www.kyo-ondokoro.kyoto/en/

Experience Hanami and Cherry Blossoms With Digital Art at FLOWERS BY NAKED 2020 – Sakura –

FLOWERS BY NAKED is an annual flower-themed digital art event held by NAKED Inc. As part of this year's event, FLOWERS BY NAKED 2020 – Sakura –, a special addendum event entitled "Nijo Castle Sakura Matsuri" will take place during the evenings at the World Heritage Site Nijo Castle From March 20 to April 12 this year.

FLOWERS BY NAKED is an interactive digital art experience. It has been held at Nijo Castle during the autumns of 2018 and 2019, but this will be the event's first time being held in Kyoto during the spring season. 2020's theme is cherry blossoms, and this will be showcased in a number of wonderful ways.

Prologue | NAKED BIG BOOK

"NAKED BIG BOOK, a monument of the beginning of this exhibition, will show collaboration works by an artist Ryotaro Muramatsu and a photographer LESLIE KEE. LESLIE KEE contained energy into photographs as the quiet expression, and Ryotaro Muramatsu reinterprets his works to dynamic photography art.​"

Arrival of Spring | Kara-mon Gate (Important Cultural Property)

"Projection mapping expresses the coming of Spring on Karamon-Gate as an important cultural property."

Flowers Wall ~ SAKURA ~ | Inner Moat

"Projection mapping of impressive sakura on the moats in Nijo-jo Castle. The landscape will transition following sakura."

Sakura Droplets | Seiryu-en Garden

"A mystical space surrounded by real sakura where bubbles confined spring fragrance float as the sakura droplet.​ ​"

The event is working on countermeasures against the coronavirus, such as installing disinfectants and having staff wear masks. It requests that visitors take normal measures against the infection such as cough etiquette and washing your hands. Click here for more information.

Information

FLOWERS BY NAKED 2020 −Sakura− World Heritage Nijo-jo Castle

Running: March 20, 2020 – April 12, 2020
Opening Hours: 18:00-21:00 (Closed at 22:00)
Location: Nijo-jo Castle
Admission Fees:

Early Bird Tickets (Available until March 19, 2020) / Junior High School and Older ¥1,000, Elementary School Students ¥800
General Tickets (March 20, 2020 – April 12, 2020) / Junior High School and Older ¥1,400, Elementary School Students ¥800
*All prices above include tax. Free for preschoolers. Disability discount available.

Official Website: https://flowers.naked.works/2020nijojo-sakura/

Popular Yakiniku Restaurant Futago to Open New Branch at THE JUNEI HOTEL in Kyoto

FTG Company, which operates 74 restaurants inside and outside Japan, is set to open its new restaurant Nikukappou Futago at THE JUNEI HOTEL Kyoto in Higashiyama, Kyoto on March 27, 2020 where it will serve authentic Japanese wagyu beef and full courses.

THE JUNEI HOTEL Kyoto is a small luxury tourist hotel housing eleven rooms in total, including its Bamboo Suite. Bamboo can be found throughout all the rooms as part of the hotel's concept: "A sojourn embraced by bamboo in a moonlit space." The rooms, as well as the hotel interior overall, showcases beautiful traditional handiwork using bamboo.

Inside Nikukappou Futago

Nikukappou Futago fuses traditional Japanese elements with modern ones. It features half-size eating areas as well as private areas. Customers can expect their private dining experience to include freshly-cooked full courses with high quality Japanese wagyu and seasonal ingredients.

Menu in Japanese *Menu will change monthly

Nikukappou Futago's concept is "A relaxed adult's Iki." The word iki here refers to a range of different meanings in Japanese, like "sophistication," "breath," "spirit," and "life." The restaurant will work to serve a hospitable service that enables each and every person to enjoy that iki that lives inside them.

Foie Gras & Wagyu Filet Mouthful Bowl

Wagyu Loin & Kyoto Vegetable Shabu-shabu

The course is made with seasonal ingredients and vegetables. Plus, in using a range of cooking methods, the original flavour meat of the meat is intensified.

Wagyu Sirloin Sumiyaki

Enjoy a selection of high-quality rare wagyu cuts like sirloin, filet, loin, and more. You can also enjoy a selection of classic Japanese dishes like yakiniku, shabu-shabu, and sukiyaki, all in one course.

Like the changing seasons in Kyoto, the menu will be altered every month to bring something new. Discover your iki and enjoy a great meal at Nikukappou Futago.

Information

Nikukappou Futago THE JUNEI HOTEL KYOTO

Address: THE JUNEI HOTEL KYOTO Floor 1F, 4-139 Honmachi, Higashiyama Ward, Kyoto
Grand Opening: March 27, 2020
Opening Hours: 17:00-23:00  (Last Orders 22:00)
No Fixed Holidays

Seats: 32 (6 Half-Size Rooms / 2 Private Rooms
TEL: 075-525-0052

Course Price: ¥11,000 (Tax and service charge not included) *Course menu to change each month

Official Website: https://nikutei25.com/

Only Kyoto's Locals Know About This Beautiful Hidden Firefly Spot

Last year, The GrandWest Arashiyamaーa hotel in Arashiyama, Kyotoーhosted a special firefly tour to huge success. It was so well received that the hotel is bringing the tour back again this year. It will be held for three days, from May 29 to 31, with bookings available starting this month.

The tour was particularly well-received with foreign guests who were staying at the hotel, and who had never seen a firefly before. It takes place after sunset, where hotel staff take guests on a mini tour to a little-known-good-spot that only the locals know about where you can see fireflies in Kyoto.

The idea behind the tour was conceived by a hotel staff member who lives in Kyoto and spotted the fireflies at a nearby temple. That staff member had never seen fireflies before, and it was the first time since moving to Kyoto that they'd seen them in the wild like that. The number of wild fireflies is actually decreasing each year in Japan, and converselyーdespite them being a symbol of summertime in Japanーthe number of people who have never actually seen them is on the rise. The tour was created to tackle this fact by having hotel guests experiencing a part of Japanese summer.

The target audience for the 2019 tour was parents with small children, which was to be held for three days, but the number of bookings shot up for the entire duration, with 80% of them being from hotel guests from foreign countries. Numerous guests from China said that they had seen fireflies in anime and games before, and that kids and adults knew about them, but that there aren't many places in China where you can see them for real so many of them had never seen them.

Fireflies can only inhabit places where the water is clean. Because of this, it's becoming harder to see them not just in Japan, but around the world. This includes Kyoto, where the number decreases year by year. If you're travelling to Kyoto at the end of May, then don't miss out on this rare and exciting opportunity.

Information

Mini Firefly Tour

Running: May 29, 2020 – May 31, 2020

Time: Departing from the hotel at sunset (after 17:00)

No. of People: 5 per day (first-come, first-served bookings)

Price: Free

*In the case of rain, the tour will not go ahead
雨天:中止

The GrandWest Arashiyama Official Website: https://www.grandwest.kyoto/en/

7 Must-Visit Cherry Blossom Spots in Kyoto For Hanami | 2020 Edition – MOSHI MOSHI NIPPON

The warmer weather is growing ever closer as we start to approach spring, and in Japan, that means the cherry blossom season is right around the corner. Today, we are joined by Instagram user Macchan-san who has provided us with some picturesque photos of places Kyoto for this Top 7 list of must-visit locations in the ancient capital to see the cherry blossoms this year.

Gion Shirakawa


Gion Shirakawa is a place that delivers on expectations when visiting Kyoto, with its rows of traditional houses, stone pavements, and maiko whom you're sure to meet. This area is also lit up with illuminations during the cherry blossom season, which is perfect when you're listening to the sound of the flowing Shirakawa River while gazing to your heart's content at the cherry blossoms.

▶ Gion Shirakawa

Address: Shirakawa River, Higashiyama Ward, Kyoto (Between Kawabata Shopping Arcade and Gion Tatsumi Bridge)

Closest Stations: 5-minutes on foot from Gion-Shijō Station (via Keihan Electric Railway) / 10-minutes on foot from Sanjō Station (via Keihan Electric Railway) / 10-minutes on foot from Kyoto-Kawaramachi Station (via Hankyu Railway)

Official Website: http://gion-yoisakura.com/

Former Main Building of the Kyoto Prefectural Office


The Former Main Building of the Kyoto Prefectural Office is listed under Japan's list of Important Cultural Properties. It is the oldest building among existing government buildings in Japan. The courtyard is home to towering shidare-zakura cherry blossom trees, which captivate those who visit the building. The view of the buildingーwhose exterior is like that of a western mansionーtogether with the cherry blossoms is a sight to behold.

▶ Former Main Building of the Kyoto Prefectural Office

Address: Yabunouchicho, Kamigyo Ward, Kyoto

Open: Tuesdays-Fridays (and every 1st, 3rd, and 5th Saturday)

Closed: Public Holidays and New Year Holidays

Opening Hours: 10:00-17:00

Closest Station: 10-minutes on foot from Marutamachi Station

Official Website (Japanese): https://www.pref.kyoto.jp/qhonkan/

Shojuin


Shojuin is famous for its beautiful heart-shaped window located in the reception hall. During the cherry blossom season, the window is dyed a pink colour. It is also lit up in the evenings, but you need to book a place in advance to see it. Places are allocated randomly. You can book on the official website.

▶ Shojuin

Address: Kawakami-149 Okuyamada, Ujitawara, Tsuzuk District, Kyoto

Opening Hours:  9:00-16:30 (April-September)

Price: ¥500 (Includes tea and confection)

Official Website: http://shoujuin.boo.jp/

 

Access:

①Reachable by Keihan Uji Bus (Numbers 180, 182 or 184) from Uji Station and Shin-Tanabe Station. Get off at Ichumae Bus Stop (維中前)

②10 minutes by the Okayamada Community Bus or taxi

Sewaritei


Sewaritei is a very popular spot for celebrating Hanami in Japan with its rows of cherry trees that span 1.4km along the park. From the Sakura Deai Kan observation building, you can soak up the breathtaking view of 220 individual cherry blossom trees. When they are in full bloom, it's like walking through a tunnel of them, providing a romantic atmosphere.

▶ Sewaritei

Address: Yawata Zaioji, Yawata 614-8307, Kyoto Prefecture

Closest Station: 10-minutes on foot from Iwashimizu-Hachimangu Station (via Keihan Main Line)

Official Website: https://www.city.yawata.kyoto.jp/0000000479.html

Fushimi Jikkokubune Boats


Fushimi Jikkokubune is an opportunity to board an Edo Period-style boat. It departs from Bentenbashi, and takes passengers on a relaxing journey to observe Kyoto's nature as well as the cherry blossoms. The departing times are fixed and limited, so be sure to check the official website in advance.

▶ Fushimi Jikkokubune Boats

Address: 247 Minamihamacho, Fushimi Ward, Kyoto

Times: Check the official website

Closest Station: 5-minutes on foot from Chushojima Station (via the Keihan Main Line)

 

Official Website: https://kyoto-fushimi.or.jp/ship/

Fushimi Port Park


There is a walking course offered at Fushimi Port Park which lets you take in all of its sights. I recommend going for a Hanami walk when the cherry blossoms are in full bloom.

▶ Fushimi Port Park

Address: Yoshijima Kanaidocho, Fushimi Ward, Kyoto

Closest Station: 3-minutes on foot from Chushojima Station (via the Keihan Main Line)

Official Website: http://kyoto-park.or.jp/fushimi/

Fushimi Deai Bridge


This bridge appeared in the anime film I Want to Eat Your Pancreas. It's a very beautiful spot where the cherry trees reflect off the surface of the water below the bridge. The location's sights are the same as they were in the past too.

▶ Fushimi Deai Bridge (in Japanese: 伏見出会い橋)

Address: 911 Kitahamacho, Fushimi Ward, Kyoto

Closest Station: 9-minutes on foot from Chushojima Station (via the Keihan Main Line)


Did you enjoy this list? If you're planning a trip to Kyoto this spring, be sure to use these picks as reference for your Hanami and cherry blossom destinations. And if you're looking for more places to visit in Kyoto, then follow Macchan on Instagram

Photos: Macchan

THE HIRAMATSU Kyoto is a New Luxury Hotel On Muromachi Street Renovated From a Traditional Townhouse

The new luxury hotel THE HIRAMATSU Kyoto is set to open along Muromachi Street in Kyoto on March 18, 2020.

"Explore and indulge your curiosity" is the hotel's concept

The hotel aims to create a place that encourages guests to explore and indulge their curiosities, and one that welcomes and treasures its guests in a way that only THE HIRAMATSU Kyoto can.

Built from a traditional Edo Period Kyoto-style townhouse

THE HIRAMATSU Kyoto sits pretty much in the heart of Kyoto, and is just a three-minute stroll from Karasuma Oike Station. It faces Muromachi Streetーa street that has long thrived when it comes to trade. The hotel is renovated from an old townhouse that has been around since the Edo Period, and it has been made sure that it hasn't lost that traditional design.

Nakamura Sotoni Komu: A contemporary craftsman

To progress with the renovation work, THE HIRAMATSU KYOTO called on board the executive building director of Kyoto's famous craftsman company Nakamura Sotoni Komu, who lent their skill to effect the effort.

Information

THE HIRAMATSU Kyoto

Grand Opening: March 18, 2020

Address: 361 Sanjo Agaru Ennogyojacho, Muromachi-dori, Nakagyo Ward, Kyoto
Access: 15-minutes by taxi from Kyoto Station / 3-minutes on foot from Karasuma Oike Station (via Kyoto Municipal Subway)

Official Website: https://www.hiramatsuhotels.com/eng/kyoto/

Cherry Blossom Themed Sumikko Gurashi Store to Open at Ginkaku-ji Temple in Kyoto

The all-new Sumikko Gurashi Dou store is set to open permanently at Ginkaku-ji Temple in Kyoto on March 19, 2020.

Ginkaku-ji is a famous temple in Kyoto that was first built in 1490. It lives as a representation of the Higashiyama culture which flourished towards the end of the Muromachi Period. In 1994, it was designated as a World Heritage Site. The temple stands as a famous tourist spot of Kyoto.

Glasses Case – ¥1,500 / Contact Lenses – ¥1,100 / Mini Towels – ¥600 / Hanging Plush Toys – ¥1,100 / Cookies – ¥1,000 (All prices are pre-tax)

The new Sumikko Gurashi Dou store will be based entirely on the Sumikko Gurashi characters created by San-X. "Sumikko Gurashi" translates roughly to "life in the corner." The shop will take on a cherry blossom theme, where you can get your hands on exclusive and licensed products.

Sumikko Gurashi Yaki Takeout Cup (Contains 6) – ¥300 / Sumikko Gurashi Yaki Omiyage Bag (Contains 12) – ¥700 / Tapioca Drinks (3 Flavours) – ¥500 / Ice Cream (3 Flavours) – ¥500 (All prices are pre-tax)

There's also takeout food and drinks, like sweet and fluffy baby castella sponge cake, tapioca drinks, soft serve ice cream, and more.

And of course, the entire store will be adorably decorated in all things Sumikko Gurashi to ease your soul. If you're travelling to Kyoto and Ginkaku-ji Temple, then make sure you pop into Sumikko Gurashi Dou.

©2020 SAN-X CO., LTD. ALL RIGHTS RESERVED.

Kyoto Aquarium to House 20 Types of Jellyfish With New 'Jellyfish Wonder' Area

Kyoto Aquarium is currently undergoing a large-scale renovation and is set to reopen on April 29, 2020.

When it reopens, visitors will be able to visit the new jellyfish area, called "Kurage Wonder" (Jellyfish Wonder), which will span 350㎡ in width and 40 meters in length. It will house the largest number of different species in western Japanーup to 20ーwith around 5,000 individual jellyfish to see, like the northern sea nettle and pacific sea nettle.

The area begins at 10 individual water tanks where you can see how moon jellyfish change and grow. It then moves onto the 6.5 meter circumference "GURURI" panorama tank which offers a 360° view of 1,500 moon jellyfish.

This tank is entered through an arch, which once you pass through leads you under the tank where your vision is filled with the sight of countless moon jellyfish.

The new "Kyoto Jellyfish Research Lab" has also been built where guests can observe the staff breeding and researching jellyfish on a day-to-day basis. Enjoy hearing how the jellyfish are cared for behind the scenes while chatting together with the staff. Various other activities you can participate in will be introduced in the future too.

Discover the wonderful world of jellyfish at the newly-renovated Kyoto Aquarium.

Information

Kyoto Aquarium

Address: 35-1 Kankijicho, Shimogyo Ward, Kyoto

Reopening: April 29, 2020

Access: 15-minutes on foot west from Kyoto Station's Central Exit / 7-minutes on foot from Umekōji-Kyōtonishi Station via the JR San'in Main Line

Official Website: https://www.kyoto-aquarium.com/en/