French Artist Nicolas Buffe's Art to Appear at GINZA SIX Christmas Event
Christmastime is coming to Ginza's biggest shopping complex GINZA SIX this year with an event that translates to GINZA SIX CHRISTMAS 2018 "Fantastic Gift": The Tale of the Kingdom of Winter and the Kingdom of Summer. It will run from November 12 to December 25.
Photo by Imagen Subliminal (Miguel de Guzman + Rocio Romero)
Christmas art by French artist Nicolas Buffe will be used for the event, with a huge piece being displayed in GINZA SIX's symbolic open space that runs down the center of the building as well as at the front entrance facing Ginza Chuo-dori Street, the show window on floor B2F and elsewhere. There will also be an immersive piece that makes use of the latest cutting-edge AR technology.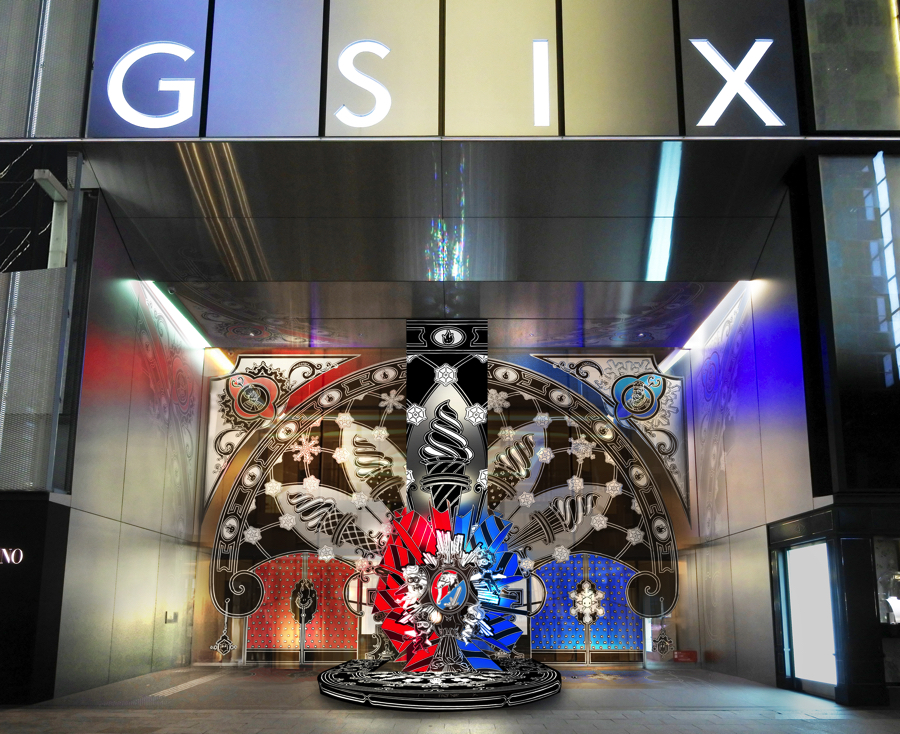 A "tale" is always at the core of Buffe's work, the charming visuals of which pull both kids and adults alike into their unique worlds.
The theme of this year's tale is "gift." The Kingdom of Summer and the Kingdom of Winter are both at their wits' end trying to solve problems caused by both of their children. To resolve the quandary the two countries, they both send gifts to each child. To open up the cold heart of the princess of the Kingdom of Winter, she is sent the Kingdom of Summer's elephant of light. To calm the hot-tempered prince of the Kingdom of Summer, he is sent some refreshing ice cream. Both countries are met with peace as a result.
The radiating elephant that appears in the story will also appear in the middle of GINZA SIX as a huge 4 meter plus art piece. Drones will be used to create a flying scene.
At various locations including the front entrance an app can be downloaded and used which when put up to different art pieces will make use of AR tech.
A range of items made in collaboration with Buffe will also be sold including tote bags featuring characters from the tale, four different ice candies based on the countries and more. There will be plenty of things perfect to pick as a present for someone.
・Ginza Tsutaya Books (Floor 6F): From December 1, 2018 – TBA
・SIXIÈME GINZA (Floor 2F): From November 28, 2018 – February 28, 2019
・PALETAS (Floor B2F): From November 12, 2018 – February 24, 2019
・PHILIPPE CONTICINI (Floor B2F): Date TBA
Spend a fantastical Christmas at GINZA SIX where the season for giving will be played out in the form of Nicolas Buffe's newest creation.
Information
GINZA SIX CHRISTMAS 2018 "Fantastic Gift": The Tale of the Kingdom of Winter and the Kingdom of Summer
Running: November 12, 2018 – December 25, 2018
*Art installation in the middle of GINZA SIX scheduled to stay until late February 2019.
Bonuses
①Those who spend ¥3,000 or more including tax can receive a free cube ice cream from PALETAS on floor B2F of GINZA SIX. Available on a first-come, first-served basis. One per person.
②Those who arrive at GINZA SIZ will receive a balloon of the radiating elephant. Available on a first-come, first-served basis.
Running: December 15, 16, 22, 23 and 24 from 12:00-17:00
GINZA SIX
Address: 6-10-1 Ginza, Chuo Ward, Tokyo
Opening Hours: Shops/Cafes (B2F-5F) 10:30-20:30 / Restaurants (6F, 13F) 11:00-23:00
*Business hours differ from shop to shop.
No Fixed Holidays.
Access: Directly connected to Ginza Station via the Tokyo Metro Ginza Line, Marunouchi Line and Hibiya Line.
TEL: 03-6891-3390
Website: http://ginza6.tokyo/
RECOMMENDED ENTRIES
PLUSTOKYO™️: A New Way for Adults to Have Fun in Ginza Through Music

PLUSTOKYO™️ is a new facility opening in Ginza on November 27, 2018. It will be home to two floors: the 990m² lounge floor themed to look like a hotel lobby, and the 595m² rooftop that lets has you feeling like you're at a resort despite being in the middle of Tokyo.

PLUSTOKYO™️ will be one of the city's biggest rooftop music lounges, located on the twelfth floor of the Kirarito Ginza shopping complex. It will fuse music with art, food, workshops and parties.

The sound system uses 'Pioneer Professional Audio.' The floor will have 48 speakers for live performances by DJs and recognised artists from both in Japan and overseas.

Art by up-and-coming artists and painters will decorate the room, and there will even be the popular 'Mixology Salon' bar where you can enjoy the latest trends in cocktail culture. Food and drink made in collaboration with famous restaurants will also be served.

There's something for everyone at PLUSTOKYO™️. Whether it's the club area, cafe/bar or gallery, if you're a music lover you're sure to enjoy this new way of having fun.

Information

PLUSTOKYO™️

Address: Kirarito Ginza 12F/Rooftop

Website: plustyo.com/comingsoon

*Minors are not permitted during club opening hours. ID checks will be carried out so please be ready to present a form of ID (driver's license, passport, juki card, alien registration card)

GINZA SIX: Must-Try Christmas Sweets & Winter Goodies This Year

GINZA SIX, the biggest shopping complex in the Ginza Area, is getting ready for Christmas with a range of special seasonal foods and desserts. The line-up retains the sophistication GINZA SIX is known for as it prepares for the final Christmas of the Heisei Era of Japan.

Let's take a look at the gourmet selection on offer by splitting them into five separate themes.

Christmas Cakes: From Regulars to One of a Kinds – Gems That Glow the Skills of Patissiers

Monde argenté (ISHIYA GINZA): ¥4,000

Noel Framboisier (Ginza Sembikiya): ¥5,000

 

Classic Sweets: Promoting New Trends for the Last Heisei Period Christmas

Stollen Pistachio (PALETAS): ¥2,593

Sweet Potato Almond Noel Box (Minamikaze Noukasha Dessert House): ¥1,852

Limited Edition Christmas Sweets Gifts: Classics in Glamorous Christmas Packaging

Stardust Cookies (JOTARO SAITO): From ¥540

Limited Edition Christmas Wheat Gluten Cookie Gift (Fu Fu Fu and): ¥3,000

Party Food & Sake: A High Grade Selection to Decorate the Table

Limited Edition Christmas Charcuterie & Salad (meat&green shunjyukusei): ¥2,560

Okawa Sparkling Vinegar (Shoubunsu Vinegar Brewery): ¥2,000

Cafes & Restaurants' Christmas Menus: Bringing a Moment of Bliss on the Holy Night

 

Fantastic Christmas Course (Bistro Ozami): ¥8,000 / ¥12,000

Christmas Afternoon Tea Set (THE GRAND GINZA): ¥3,800

A range of pop up shops will also appear for a limited time. This includes pop up shops for fashion brands making their way to Japan for the first time as well as fashion x art collaborative brands, brands that will hold events where you can experience craftsmanship and more.

Additionally, Ginza Sembikiya on floor B1F, which opened the first fruit parlour in Japan in 1894, will open a cafe for a limited period serving a range of fruit products that are good for health and beauty. Open from November 3, 2018 to January 31, 2019.

<GINZA SIX Limited Edition> Ginza Sembikiya Parfaits: ¥1,500 Each (Pre-Tax)

These parfaits are made with an abundance of fruit that  has been carefully selected by Ginza Sembikiya. The fruits are cut into large slices so you can enjoy their full original flavour. The parfaits are also made with a rich homemade fruit sauce. Choose from three parfait flavours: Muskmelon, Strawberry or Fruits Mille-Feuille.

Bulgari will also open a pop up store called Bvlgari Pop (Up) Corn in the second floor SIXIÈME GINZA. The store is a reinterpretation of a 1960s movie set where they will sell a range of items including a limited edition model bag. Open from December 12, 2018 to January 15, 2019.

<GINZA SIX Limited Edition> Product Name: Serpenti Forever / Price: ¥295,000 (w/tax ¥318,600)

There's plenty of other exciting Christmas and seasonal winter food and content to look forward to at GINZA SIX as well, so be sure to check their official website for more details.

Information

GINZA SIX

Address: 6-10-1 Ginza, Chuo Ward, Tokyo

Opening Hours: Shops/Cafes (B2F-5F) 10:30-20:30 / Restaurants (6F, 13F) 11:00-23:00

*Business hours differ from shop to shop.

No Fixed Holidays.

Access: Directly connected to Ginza Station via the Tokyo Metro Ginza Line, Marunouchi Line and Hibiya Line.

TEL: 03-6891-3390
Website: http://ginza6.tokyo/

teamLab to Bring Digital Art Exhibition to GINZA SIX Rooftop

Ultratechnologists teamLab are taking their Resonating Trees digital art masterpiece to the rooftop garden of GINZA SIX, the biggest shopping complex in Ginza. It will run from August 1 to September 2.

The theme of the work is "Digitized Nature." Taking place in a 56-meter roof garden, this digital art space combines sound and lights which change and transform as people walk by. This is the first time for this piece to be held in the city and offers people a dreamy experience with the nightscape of Ginza's streets and buildings as the backdrop.

The trees lining the garden will be individually lit up with bright and colourful lights. It will seem as if the trees are resonating with each other as they fade in and out of different colour tones. As watchers walk by, the colour tone of a tree will change and transmit to the trees next to them. The changing of colours signifies the presence of people, and in turn teamLab hopes people will become aware of the existence of other living things in the same space.

Experience the latest in cutting-edge digital art technology at GINZA SIX.

■Information
teamLab: Resonating Trees in GINZA SIX GARDEN

Location: GINZA SIX GARDEN, GINZA SIX roof

Running: August 1, 2018 – September 2, 2018 (*Shops and restaurants closed on August 27)

Time: Sunset-11:00pm

Entry: Free

Event Page: https://www.teamlab.art/jp/e/ginzasixgarden

Resonating Trees: https://www.teamlab.art/w/resonatingtrees

GINZA SIX
Address: 6-10-1 Ginza, Chuo-ku, Tokyo

Opening Hours: Shops & Cafes (B2F-5F) 10:30am-8:30pm / Restaurants (6F, 13F) 11:00am-11:00pm

*Business hours different for select shops.

No Fixed Holidays.

*Shops and restaurants closed on August 27.

TEL: 03-6891-3390 (GINZA SIX Information Desk / 10:30am-8:30pm)

Website: http://ginza6.tokyo/
RELATED ENTRIES
Akiyoshido Cave in Yamaguchi to be Illuminated for Christmas & Valentine Theater Event

The Mine City Tourism Association has announced a Christmas & Valentine's Day event at Akiyoshido Cave, one of the largest limestone caves in Japan. The event will see the natural wonder illuminated by a number of colorful lights. The Christmas event will run from December 21 to 25, 2022, while the Valentine's Day event will run from February 10 to 14, 2023.

Akiyoshido Cave is one of Yamaguchi Prefecture's most popular tourist attractions. The interior will be decorated with colorful lights and unique soundscapes, creating a once-in-a-lifetime setting for visitors. These illuminations and sounds were directed by world-renowned lighting designer Motoko Ishii, known for her work on Tokyo Tower and the Akashi-Kaikyo Bridge.

Information

Christmas & Valentine Theater ~ Akiyoshido Cave 'Fantasy of Light and Echoes'

Dates:
Christmas Theater: December 21 – December 25, 2022
Valentine Theater: February 10 – February 14, 2023
Times: (1) 10:00-11:00 (2) 12:00-13:00 (3) 14:00-15:00
3 events per day

Venue:
Akiyoshido Cave, Shuhocho Akiyoshi, Mine, Yamaguchi

Tickets/Details:  https://karusuto.com/event/christmas-valentine-theater-2022/

Eve to Hold YouTube LIVE on Christmas Eve with Afterparty for Premium Members

Eve has announced a special YouTube LIVE scheduled to take place on December 24 at 19:00. The stream will take place on the artist's official YouTube channel and those with YouTube Premium memberships will be able to take place in an Afterparty starting at 19:30. 

Starting at 19:00 on Christmas Eve, fans can enjoy a rare live studio performance complete with a full band. The Afterparty will include a special chat with Eve in which the artist reflects on the past year and gives hints on what's to come. Fans won't want to miss this exclusive opportunity!

TeamLab Unveils Three New Works at Singapore's Permanent 'Future World' Exhibition

Art collective TeamLab has redesigned two exhibitions at Marina Bay Sands Singapore. The world's first permanent exhibition from the creators, Future World: Where Art Meets Science, was opened in 2016 at the Museum of Art and Science. Guests can now enjoy three new works along with the Digital Light Canvas, a huge, interactive space inviting guests to share their own pieces of art.

Drawing Flight

Visitors can immerse themselves in these impressive new works while experiencing a complex, three-dimensional world. They can also create new worlds with others!


Future World


The Drawing Flight, part of the Amusement Park of the Future series, is based on the concept of co-creation, allowing visitors to not only draw an airplane that will fly but also allowing them to operate it from a pilot's point of view using a tablet. Whether visitors draw a butterfly or a hawk, they'll see the world from the perspective of each creature and enter a world constructed by the creature's unique perceptions.

Aerial Climbing through a Flock of Colored Birds

In Aerial Climbing through a Flock of Colored Birds, guests are asked to perceive the world with their entire bodies. Visitors cross a space with sticks floating three-dimensionally in the air.

Autonomous Abstraction, Continuous Phenomena from the Universe to the Self

Autonomous Abstraction, Continuous Phenomena from the Universe to the Self offers a new and abstract concept. As people touch the dots, the rhythm of the dots flickers and their hue changes and disintegrates. The picture will then change dramatically, and despite these changes, the beauty remains.

Digital Light Canvas

Graffiti Nature – Red List Digital Light Canvas

 

Digital Light Canvas is a space consisting of a 15-meter-diameter circular link of light and a 20-meter-high cylinder of light made up of a collection of light dots.  Team Lab's interactive artwork, which changes depending on how many people are around, is on permanent display.

Drawing Factory

By visiting the Digital Light Canvas area, guests can also enjoy the Drawing Factory, where they can turn their own drawings into pins, T-shirts, and other items!

Come fully experience this curious art exhibition!

© チームラボ

Information

Future World: Where Art Meets Science

Final Fantasy Artist Yoshitaka Amano Holds Art Exhibition at Myoshin-ji in Kyoto

Yoshitaka Amano, known by international fans as the artist behind the legendary Final Fantasy video game series, is celebrating his 70th birthday with a unique art project from November 23 until December 8 at Myoshin-ji in Kyoto. 

On the first day of the event, the venue, decorated with autumn leaves, was crowded with visitors including foreign tourists, who marveled at the fantastic space filled harmoniously with gold and blue. The exhibition will be held at Myoshin-ji, the head temple of the associated branch of Rinzai Zen Buddhism. This collection of works was designed to question visitors' sensibilities and provide a new kind of art exhibition for fans to enjoy.

After the exhibition, the main art piece by Yoshitaka himself will be converted to 3DCG, and a Virtual Golden World will be developed in collaboration with the Yoshitaka Amano VR Museum. By integrating traditional and modern art methods, guests will be able to engage more deeply in the art by enjoying digital works, the metaverse, and NFTs.

Don't miss this curious exhibition!

Information

Golden World: Infinite Light by Yoshitaka Amano 

~GOLDEN VIEW OF THE WORLD~

Running: November 23 – December 8, 2022

Venue: Myoshin-ji

Hours: 9:00-12:00 / 13:00-16:00

Tickets on sale until 15:30 each day.

Official Site: https://www.myoshinji.or.jp/


British Beauty Brand Elemis Sponsors Christmas Afternoon Tea Bus Tour Through Tokyo

There are plenty of events going on in Tokyo to celebrate the holiday season, but this one might be the most peculiar. Elemis, a skincare brand from England, has teamed up with bus operator Upstar for Japan's first bus tour featuring afternoon tea! This extremely limited event will drive guests around the city to see some of the most impressive Christmas lights in Shibuya, Roppongi, Omotesando, and other spots. Only 60 seats are available each day and the bus will run from December 1 until December 25, 2022.

 

5 Unique Features of the Elemis Special Christmas Afternoon Tea Bus Tour

① Enjoy a Special Christmas Afternoon Tea Menu by Elemis

A special Christmas menu will be available on board, including a Santa Claus shortcake and a party popper-inspired sandwich. 

② Travel on a Bus Filled with Elemis Christmas Decorations

Inside the bus, guests can enjoy fir trees and original decorations inspired by the Elemis holiday collection!

③ Best-Selling Elemis Goods will be Gifted to Guests!

Guests will receive a trial size of Elemis' best-selling Pro-Collagen Cleansing Balm as a Christmas present!

④ A Special Gift Campaign will run from November 15 until December 25

Prior to the start of the bus tour, a campaign will be held on Instagram and Twitter. Winners will snag tickets for the bus tour and an Elemis makeup set worth over $12,000!

⑤ Travel on a Special Route to Enjoy Tokyo's Christmas Lights!

The bus tour will take visitors to some of Tokyo's best Christmas locales, from Shibuya and Omotesando to Keyakizaka and Roppongi. The 90-minute journey starts and ends in Omotesando.

How would you like to enjoy Tokyo's Christmas lights on a British bus enjoying some of the best beauty products on Earth? Get into the holiday spirit with this unusual and unique tour!

Information

Elemis Christmas Afternoon Tea

Running: December 1 – December 25, 2022 *Not running December 12, 13

Times:
1st Service / 15:00~16:30
2nd Service / 17:00-18:30
3rd Service / 19:00-20:30

Length: 90 minutes

Departure Point: In front of the Shioda Building (5-10 Minamiaoyama, Minato-ku, Tokyo)

Price: ¥6,800 (Adults, Tax Included) / ¥3,000 (Children, Tax Included)

Reservations: https://www.upstar-londonbus-travellingnewtokyo.com/booking

Hyatt Centric Ginza to Display Christmas Tree Made by Social Advocacy Group HERALBONY

From December 1 until December 25, guests at Hyatt Centric Ginza will be able to see the first-ever Christmas tree designed by the social advocacy group HERALBONY. The Light-Hearted ART TREE will welcome guests to the 4F library and lounge area, and the tree lighting ceremony will be streamed on Instagram live.

It's no surprise that the hotel is collaborating with HERALBONY again–from May to November of this year, the HERALBONY ART ROOM was open for guests to enjoy. This is the first time that the unit is designing a Christmas tree, and the piece is inspired by one of their most iconic pieces of art–Yukihito Okabe's Hoo! Hey! Visitors of all ages can enjoy this beautiful piece, filled with color and sure to bring joy.

Along with the tree, the showcase and lounge will also be decorated in a number of HERALBONY pieces. Come enjoy the Christmas season in this one-of-a-kind space!

Information

Hyatt Centric Ginza x HERALBONY

On Display: December 1 – December 25, 2022

Venue: 4F Library / Lounge

Official Site: http://hyattcentricginza.jp

Eve to Sing Theme Song for Christmas Comedy Film 'Black Night Parade'

Popular singer Eve will sing the theme song for the film Black Night Parade, coming to theaters nationwide on December 23, 2022. A new trailer featuring the track has also been released alongside the announcement.

Eve's YouTube channel has over 4.2 million subscribers with video views of over 1.9 billion. The new song, Shirayuki, was written by the singer himself, who has become incredibly popular with overseas music fans as well. The track manages to be both gentle and powerful in equal measure, combining an orchestra with Eve's unique vocals. In conjunction with the release of the trailer, an exclusive pre-release version of the song has been posted to TikTok.

Black Night Parade Trailer: https://youtu.be/57CkdVMky4o

Black Night Parade was originally manga series by Hikaru Nakamura, the creator of Arakawa Under the Bridge and Saint Young Men. The live-action film will be directed by Yuichi Fukuda, who has worked on a number of live-action film adaptations of manga series including Gintama and Kyo Kara Ore Wa! Fukuda also wrote the screenplay along with Tetsuo Kamata. The protagonist Miharu Hino will be played by Ryo Yoshizawa, while Shino Hojo will be played by Kanna Hashimoto. Taishi Nakagawa will play Kaizer Tanaka and Keisuke Watanabe will play Teppei Kohira.  

The story follows Miharu Hino, a man who is completely hopeless at everything he does. He failed his entrance exam, failed at job hunting, and has no love life to speak of. After working at a convenience store for three years, he meets a man in a black Santa suit who kidnaps him, offering him a job. Miharu then begins working at Santa Claus House, a mysterious company at the North Pole that delivers gifts to children around the world.

Comment from Eve

"I'm incredibly honored because I loved both the original manga and Fukuda's past works. I wrote this song Shirayuki with the hope that Christmas could be an important day for everyone. I would be so glad if this song makes you nostalgic for winter, making you imagine the cold air that stings your nose and the stars in the clear night sky. I love Kunehito, so I am looking forward to seeing him in the film."

©︎2022「ブラックナイトパレード」製作委員会 ©︎中村光/集英社

Sailor Moon Museum Releases New Christmas Menu

The Sailor Moon franchise's 30th-anniversary museum is open from July 1 to December 30 at Tokyo's Roppongi Museum. The series became a global phenomenon in the 1990s and remains incredibly popular with audiences around the world to this day. The museum itself is located near Azabu-Juban, where Sailor Moon took place.


 
Volume 3 of the museum, the final installment, will take place from November 12 until the museum closes on December 30. During this period, fans can see over 100 pieces of rare Sailor Moon goods from its run in Nakayoshi magazine.

 

All of the original color drawings currently on display will be replaced, with over 60 new pieces being added including previously unreleased works. Fans will also get a glimpse of the original drawing that appeared on the cover of Nakayoshi when the final chapter of Sailor Moon was published!

Christmas Menu

Sailor Moon Museum Christmas Pancake

Sailor Moon Museum Cheese Melt Muffin

Latte Art featuring Famous Quotes

THE ALLEY Collaboration Drinks

Christmas Tapioca Banana Pumpkin

Princess Serenity Cream Cheese Yogurt

New Christmas menu items will also be available during Vol.3. Guests can enjoy the cafe's original Christmas tree-inspired pancakes and collaboration drinks with THE ALLEY. The main menu has also been overhauled and now includes plenty of dishes perfect for the cold winter months. The drink menu will also feature original coasters and straw tags only available at the museum.




Will you be visiting the museum during its last few weeks?

(c) Naoko Takeuchi

Information

Sailor Moon Museum

Running: July 1 – December 30, 2022

Vol. 3: November 12 – December 30, 2022

Hours: 

Weekdays: 10:00-18:00 (Last entry at 17:30)
Weekends/Holidays: 10:00-20:00 (Last entry at 19:30)
*Open from 10:00-20:00 from December 26 – December 30
Venue: Roppongi Museum (5-6-20 Roppongi, Minato-ku, Tokyo)
Official Site: www.sailormoon-museum.com


Nagoya Castle to Hold Special Autumn Night Art Viewing for a Limited Time

The historic Nagoya Castle will hold a special nighttime viewing event for 14 days only, from November 25 until December 8, 2022. During this period, Honmaru Palace will be open to the public at night, and the Chrysanthemum Corridor inside will be open to visitors for the first time. 


The Ninomaru Garden will also be illuminated and will transport guests to a different place and time by showing a space only possible during dark hours.

Inspired by the relationship between light and shadow, this event focuses on changes that occur over time and the creation and emergence of new ideas and things.

Honmaru Palace, Typically Closed to the Public, to be Open at Night

Nagoya Castle's Honmaru Palace was completed in 1615 and served as the primary residence of the Lord of the Owari Domain and as the Domain's government office. The interior of the palace was lavishly decorated with paintings and other art pieces and was praised as a masterpiece. Sadly, it was destroyed by an air raid in 1945. Restoration work began in 2009 and was completed in 2018 with unparalleled accuracy. The Honmaru Palace gives off a completely different aura at night. 

First Public Viewing of the Jodan-no-ma in the Joraku-den

The Joraku-den was added to Nagoya Castle to accommodate the third Shogun, Iemitsu, on his way to Kyoto. It is the most luxurious of all the Honmaru Palace buildings, and this event marks the first time that the Chrysanthemum Corridor on the north side will be open to the public. Visitors are welcome to admire the golden-blue paintings as they stroll through the historic site.

See Spectacular Paintings when Entering the Tsugi-no-ma Room

During this period, visitors can enter the Tsugi-no-ma room to view classical period paintings, giving a more clear idea of how people acted and dressed during this time in history.

[Ninomaru Garden Special Viewing] 


~Witness a Never-Before-Seen Feudal Lord's Garden through a Spacial Presentation~

Scenography for this unique show was provided by the creative label PERIMETRON. In order to show another side of the Ninomaru Garden at night, the company focused on light's characteristics, from reflection and transmission to refraction and absorption. Light and shadow intertwine in various ways, and guests will be transfixed by this curious showing.

Information

Nagoya Castle: Autumn Night Special Viewing ~KEI~

Running: November 25 – December 8, 2022

Viewing Hours: 9:00-19:30 (Gates close at 20:00)

Official Site: https://www.nagoyajo-kei.jp/

Naruto Anime Series Celebrates 20th Anniversary With New Gallery Featuring Collaborations With Five Animators

To celebrate the 20th anniversary of the globally popular Naruto anime series, NARUTO THE GALLERY will be held at AKIBA_SQUARE inside Akihabara UDX from December 10, 2022 until January 31, 2023. The gallery will feature collaborations with five animators. 

This will be the first Naruto exhibition held since 2015. The event will focus on the growth of the characters, the bonds they share with their friends, and the many fights that have taken place over the past two decades. 

 

Iconic scenes from the Naruto anime series will be on display in collaboration with five up-and-coming animators: Ai Niina, Kohei Kadowaki, que, Kosuke Sugimoto, and Kohta Morie. This will give fans the chance to see an unprecedented and unique view of the world of Naruto which can only be seen at the event. 

Admission Bonus: Gemaki-style Card

Goods

An original Gemaki-style Card featuring a newly-drawn visual will be handed out to those visiting the exhibition. 

 

The first lineup of exclusive event-only merchandise has been revealed and longtime fans of the series won't want to miss adding some of these goods to their collection. 

Participating Artists / Episode

Ai Niina / Sasuke's Ninja Way

Kohei Kadowaki / Naruto's Path

que / The Land of Waves

Kosuke Sugimoto / Sasuke's Vessel

Kohta Morie / Naruto and Kurama

©NARUTO THE GALLERY実行委員会

Information

NARUTO THE GALLERY (Naruto 20th Anniversary Project)

Running: December 10, 2022 – January 31, 2023
Hours: 10:00-20:00 (Last entry at 19:30)
Venue: AKIBA_SQUARE (Inside Akihabara UDX)
Official Site: https://naruto-20th.jp

Final Fantasy Artist Yoshitaka Amano Holds Art Exhibition at Myoshin-ji in Kyoto

Yoshitaka Amano, known by international fans as the artist behind the legendary Final Fantasy video game series, is celebrating his 70th birthday with a unique art project in Kyoto. 

The exhibition will be held at Myoshin-ji, the head temple of the associated branch of Rinzai Zen Buddhism. Stepping into the temple, guests will be met with colorful autumn leaves and a sea of gold and blue art pieces.


"I want people to enter this world of light and experience being part of it," Amano said. "Rather than art being something flat on a wall, I want to present something new and unique." This collection of works was designed to question visitors' sensibilities and provide a new kind of art exhibition for fans to enjoy.

The main art piece, newly painted by Amano himself, will be on display in the Dharma Hall, which was decorated by one of Kano Tan'yu's masterpieces. Tan'yu was an Edo-period painter. 

The three meter tall column features Amano's own interpretation of Hiten, part of Mount Meru, a part of Buddhism cosmology considered to be the centre of all the physical, metaphysical and spiritual universes. Four smaller pieces will be displayed on all four sides to create a three-dimensional mandala. 

Information

Golden World: Infinite Light by Yoshitaka Amano 

~GOLDEN VIEW OF THE WORLD~

Running: November 23 – December 8, 2022

Venue: Myoshin-ji (1 Hanazonomyoshinjicho, Ukyo-ku, Kyoto)

Hours: 9:00-12:00 / 13:00-16:00 *Tickets sold until 15:30

Admission: Adults ¥700 / Children ¥400

Details: https://goldenworld.jp/

Official Site: https://www.myoshinji.or.jp/

Mister Donut Reveals Limited-Time Pokemon Christmas Collection

Mister Donut has revealed its annual Pokemon Christmas collaboration. This marks the 5th year that the popular sweets chain is teaming up with the legendary franchise, and starting on November 9, fans can find themed sweets and merchandise for a limited time. 

Pikachu Snowman Donut

Christmas Collection Donut Set

New to the lineup in 2022 is the Pikachu Snowman Donut. This will be sold alongside the always-popular standard Pikachu Donut which will be sold in a cute Christmas sleeve. Customers can also look forward to the sleepy Pikachu Donut and the fluffy Jigglypuff Donut this holiday season.

Mister Donut Blanket (White)

Mister Donut Glasses (Set of 2)

The Christmas Set will include the Mister Donut Pokemon Blanket, which is available in two patterns, as well as a pair of Pokemon glasses. Fans are sure to enjoy these new illustrations of Pikachu and Jigglypuff made exclusively for the collaboration. 

Pikachu Donut

 

The popular Pikachu Donut is back! The fluffy yeast pastry is filled with whipped cream with a pudding flavor and chocolate coating. 

Pikachu Snowman Donut

 

Also filled with whipped cream, the Pikachu Snowman Donut is coated with white chocolate.

Be sure to check out this exclusive collection of sweets and goods before they're gone!

©2022 Pokémon. ©1995-2022 Nintendo/Creatures Inc. /GAME FREAK inc.

ポケットモンスター・ポケモン・Pokémonは任天堂・クリーチャーズ・ゲームフリークの登録商標です。
Nintendo Switchのロゴ・Nintendo Switchは任天堂の商標です。

Information

Mister Donut Pokemon Christmas Collection

On Sale:

Donuts: November 9 – late December 2022 (While supplies last)

Goods: November 9 (While supplies last)


Official Site: https://www.misterdonut.jp