PLUSTOKYO™️: A New Way for Adults to Have Fun in Ginza Through Music
PLUSTOKYO™️ is a new facility opening in Ginza on November 27, 2018. It will be home to two floors: the 990m² lounge floor themed to look like a hotel lobby, and the 595m² rooftop that lets has you feeling like you're at a resort despite being in the middle of Tokyo.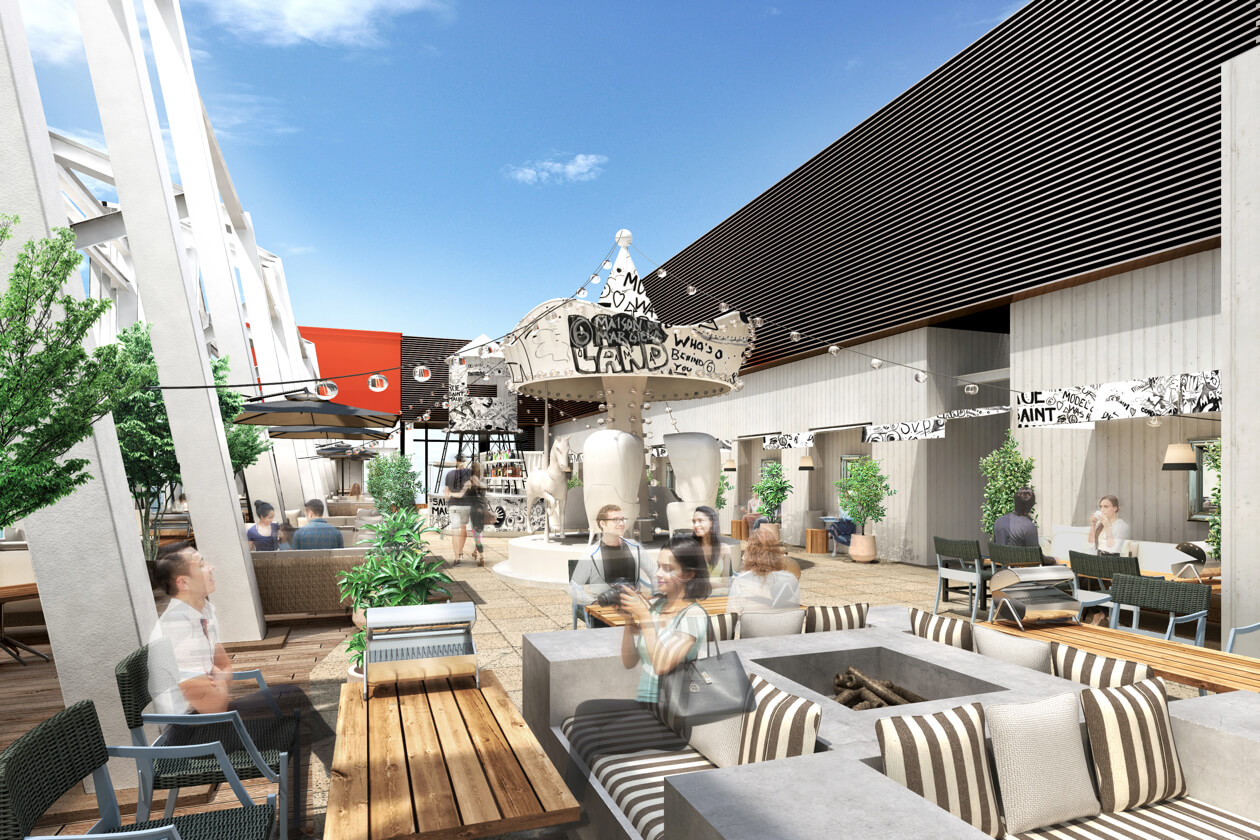 PLUSTOKYO™️ will be one of the city's biggest rooftop music lounges, located on the twelfth floor of the Kirarito Ginza shopping complex. It will fuse music with art, food, workshops and parties.
The sound system uses 'Pioneer Professional Audio.' The floor will have 48 speakers for live performances by DJs and recognised artists from both in Japan and overseas.
Art by up-and-coming artists and painters will decorate the room, and there will even be the popular 'Mixology Salon' bar where you can enjoy the latest trends in cocktail culture. Food and drink made in collaboration with famous restaurants will also be served.
There's something for everyone at PLUSTOKYO™️. Whether it's the club area, cafe/bar or gallery, if you're a music lover you're sure to enjoy this new way of having fun.
Information
PLUSTOKYO™️
Address: Kirarito Ginza 12F/Rooftop
Website: plustyo.com/comingsoon
*Minors are not permitted during club opening hours. ID checks will be carried out so please be ready to present a form of ID (driver's license, passport, juki card, alien registration card)
RECOMMENDED ENTRIES
The previously closed Sakura no Chaya has undergone renovation and reopened on August 17 at Kiriko Terrace -Green Side- on the rooftop of Tokyu Plaza Ginza.

Sakura no Chaya is what's called an 'antenna shop' in Japan which introduces new products to test on the market. They sell a unique selection of food, drinks and miscellaneous goods from companies around Japan. The theme of their lineup is 'new but nostalgic' and 'candy store.' Products include ice candy by Kabashima Hyouka in Fukuoka, rice cookies by Samurai Senbei in Hokkaido, dried fruits by Noukakawakasu in Wakayama, lemonade by Seto Kyum in Hiroshima, and more. You can eat what you buy straight away or you can save it as a gift or souvenir. The product lineup will change at irregular intervals, so you can look forward to checking out what's new in stock whenever you go.

As part of the stall's reopening they have teamed up with popular shop Kuzefuku (located on floor B1 of the same building) to release salted popcorn. They offer the same three original salt flavours available in Kuzefuku as well as a Sakura no Chaya only salt flavour. You can get yourself a serving of popcorn and eat it while relaxing in Kiriko Terrace -Green Side-.

Be sure to stop by the new Sakura no Chaya if you're in Ginza to see what they have on offer.

■Information

Tokyu Plaza Ginza

Address: 5-2-1 Ginza, Chuo Ward, Tokyo

Opening Hours: 11:00am-9:00pm (Shops, Services, Cafes) / 11:00am-11:00pm (Restaurants, Food)

*Times differ for select stores.

Website: https://ginza.tokyu-plaza.com/

GINZA SIX: Must-Try Christmas Sweets & Winter Goodies This Year

GINZA SIX, the biggest shopping complex in the Ginza Area, is getting ready for Christmas with a range of special seasonal foods and desserts. The line-up retains the sophistication GINZA SIX is known for as it prepares for the final Christmas of the Heisei Era of Japan.

Let's take a look at the gourmet selection on offer by splitting them into five separate themes.

Christmas Cakes: From Regulars to One of a Kinds – Gems That Glow the Skills of Patissiers

Monde argenté (ISHIYA GINZA): ¥4,000

Noel Framboisier (Ginza Sembikiya): ¥5,000

 

Classic Sweets: Promoting New Trends for the Last Heisei Period Christmas

Stollen Pistachio (PALETAS): ¥2,593

Sweet Potato Almond Noel Box (Minamikaze Noukasha Dessert House): ¥1,852

Limited Edition Christmas Sweets Gifts: Classics in Glamorous Christmas Packaging

Stardust Cookies (JOTARO SAITO): From ¥540

Limited Edition Christmas Wheat Gluten Cookie Gift (Fu Fu Fu and): ¥3,000

Party Food & Sake: A High Grade Selection to Decorate the Table

Limited Edition Christmas Charcuterie & Salad (meat&green shunjyukusei): ¥2,560

Okawa Sparkling Vinegar (Shoubunsu Vinegar Brewery): ¥2,000

Cafes & Restaurants' Christmas Menus: Bringing a Moment of Bliss on the Holy Night

 

Fantastic Christmas Course (Bistro Ozami): ¥8,000 / ¥12,000

Christmas Afternoon Tea Set (THE GRAND GINZA): ¥3,800

A range of pop up shops will also appear for a limited time. This includes pop up shops for fashion brands making their way to Japan for the first time as well as fashion x art collaborative brands, brands that will hold events where you can experience craftsmanship and more.

Additionally, Ginza Sembikiya on floor B1F, which opened the first fruit parlour in Japan in 1894, will open a cafe for a limited period serving a range of fruit products that are good for health and beauty. Open from November 3, 2018 to January 31, 2019.

<GINZA SIX Limited Edition> Ginza Sembikiya Parfaits: ¥1,500 Each (Pre-Tax)

These parfaits are made with an abundance of fruit that  has been carefully selected by Ginza Sembikiya. The fruits are cut into large slices so you can enjoy their full original flavour. The parfaits are also made with a rich homemade fruit sauce. Choose from three parfait flavours: Muskmelon, Strawberry or Fruits Mille-Feuille.

Bulgari will also open a pop up store called Bvlgari Pop (Up) Corn in the second floor SIXIÈME GINZA. The store is a reinterpretation of a 1960s movie set where they will sell a range of items including a limited edition model bag. Open from December 12, 2018 to January 15, 2019.

<GINZA SIX Limited Edition> Product Name: Serpenti Forever / Price: ¥295,000 (w/tax ¥318,600)

There's plenty of other exciting Christmas and seasonal winter food and content to look forward to at GINZA SIX as well, so be sure to check their official website for more details.

Information

GINZA SIX

Address: 6-10-1 Ginza, Chuo Ward, Tokyo

Opening Hours: Shops/Cafes (B2F-5F) 10:30-20:30 / Restaurants (6F, 13F) 11:00-23:00

*Business hours differ from shop to shop.

No Fixed Holidays.

Access: Directly connected to Ginza Station via the Tokyo Metro Ginza Line, Marunouchi Line and Hibiya Line.

TEL: 03-6891-3390
Website: http://ginza6.tokyo/

8 Best Breakfast Restaurants & Cafés You Must Eat at in Ginza

Ginza is Tokyo's famous upmarket shopping district, lined with countless shops and restaurants. It's famous not only as a hub for western culture including cuisine and fashion but also for continuing to inherit traditional Japanese elements including Kabuki-za, the chief theater in Tokyo for traditional kabuki plays, and Tsukiji fish market, the largest wholesale fish and seafood market in the world.

Have you ever wanted to arrive at Ginza in the early morning and enjoy a spot of breakfast before shopping? Whether you've considered it or not, we've compiled a list of places where you can enjoy a delicious early meal.

View this post on Instagram

Furutoshi (Solaria Nishitetsu Hotel)

Furutoshi is a popular restaurant located on the second floor of Solaria Nishitetsu Hotel. There, you can look forward to tucking into a delicious breakfast while sat in a spacious and comfortable environment that has modern wooden decor. They also serve super fresh vegetables in the morning. We recommend this one to people who want to spend their morning in luxury with a selection of terrines, carpaccio and more!

View this post on Instagram

Cafe Paulista

It's said that John Lenon and his wife Yoko Ono often frequented this cafe. The cafe has a direct contract with Brazilian farms so serve delicious, authentic Brazilian coffee. Get it with a slice of light and crunchy toast which goes perfectly with butter and blueberry jam.

View this post on Instagram

Eggs'n Things – Ginza Branch

If we're talking breakfast then we have to include Eggs'n Things on the list. They serve all-day breakfast in generous portions. You can of course choose pancakes but combining the Eggs Benedict with crunchy bacon is the best way to start the morning.

View this post on Instagram

Coffee Ban

Ginza can be a pretty expensive place, but you can enjoy an absolute bargain breakfast at Coffee Ban, a cafe with a retro atmosphere. For just ¥550 you can get a breakfast set with round bread, raisin bread, lettuce, a boiled egg, potato salad and an apple!

View this post on Instagram

The Kitchen Salvatore Cuomo GINZA

This restaurant located on the second floor of Daiwa Roynet Hotel Ginza was opened by world renowned celebrity chef and restaurateur Salvatore Cuomo. It offers a buffet style service with a range of tasty looking foods. They have convenient individual rooms and cater for time, place and occasion. Be sure to try their luxurious morning-time buffet.

View this post on Instagram

France-ya

This spacious cafe has English-style decor where they serve a certain affordable breakfast set has has been loved by Japanese people since the Showa Period. Enjoy toast, fried egg, sausage and salad for just ¥550. The cafe has a relaxing atmosphere so you can enjoy your morning tucking into the set or delicious coffee and a sandwich.

View this post on Instagram

Cafe 634

Cafe 634 is a popular cafe with a simple yet stylish interior. They also serve food at the kind of low price you never see in Ginza. Their vegetables are sourced from trusted farms they are contracted to, and they also serve cereal and desserts. Everything is gentle on both your body and your wallet. Their toasted black bread piled with sweet adzuki bean paste and simple adzuki bean toast served with butter are perfect for the morning as they aren't heavy on the stomach.

View this post on Instagram

Renoir Coffee (Ginza INZ)

Renoir Coffee opened with their main target being Japanese women. It has a simple wooden decor and has a relaxing atmosphere. It's also no-smoking. Their hot breakfast sandwiches are made with wholewheat flour and contain ingredients like tuna and melted cheese. The cafe attracts a lot of female customers.

Did you enjoy this list? If you're planning a trip to Ginza then make a day out of it and start your morning with a great affordable breakfast in Tokyo's elegant district.
RELATED ENTRIES
GINZA SIX Christmas 2019: Christmas Cake, New Art by Klaus Haapaniemi & More

Ginza's biggest shopping complex GINZA SIX is celebrating Christmas this year with an upcoming event entitled "Celebration of Life: Hoshi no Umi no Shukusai" (A Festival Under a Sea of Stars) which will take place from November 5, 2019 to December 25, 2019.

Celebration of Life: Hoshi no Umi no Shukusai

The visuals for "Celebration of Life: Hoshi no Umi no Shukusai" were created by Finnish artist Klaus Haapaniemi. The work is titled "Astral Sea" and Haapaniemi arranged the art specifically for the event. It features animals and living beings floating through space amongst the stars, each moving to the rhythm of the stars' revolution. With this grand work, Haapaniemi has created a new myth that makes one think of space and how it connections to the lives of humans.

The space and time-transcending "Lightning Whales" which appear in the Astral Sea will be suspended from the shopping centre's atrium, and tapestries of Haapaniemi will also be draped down the centre, turning GINZA SIX itself into its own Astral Sea. The 10-meter long Lightning Whales floats have been designed in such a way that it looks like they are flying through space. Additional artwork can also be found in the front entrance, show window on floor B2F, and elsewhere.

Klaus Haapaniemi x GINZA SIX Christmas Collaboration Items

Several stores inside GINZA SIX are also releasing items in collaboration with Haapaniemi.

Mimuro Sugi Junmai Daiginjo Imadeya Ginza Limited Edition Model – ¥3,000 @ Imadeya Ginza

This Junmai Daiginjo is part of the Mimuro Sugi Roman Series developed by a sake brewery in Nara. This transparent drink retains the delicate flavour of the rice and leaves a beautiful lingering aftertaste. It's best enjoyed with some tasty food.

Available: November 5, 2019 – February 29, 2020 (While supplies last)

Lightning Whales Frozen Fruit Bar – ¥600 @ PALETAS

These new frozen fruit bars from PALETAS are inspired by Haapaniemi's Lightning Whales. The bar's fantastic colouring is taken from the Astral Sea, while its flavour is blueberry gelato with salt. It's decorated with gold leaf and silver leaf.

Available: November 5, 2019 – January 31, 2020

Gloves – Whale Embroidery ¥9,000 / Swan Embroidery ¥10,000 @ Ginza Tsutaya Book Store

Gloves are a must-have during winter, and these ones come with whale and swan embroidery. You're sure to grab people's attention with these gorgeous fits.

Available: November 8, 2019 – December 25, 2019

*Listed prices don't include tax. Items subject to change without notice.

Christmas Cake & Party Food

Ginza is known for its long list of gourmet restaurants, serving food from around the world. This holiday season, GINZA SIX has plenty of Christmas delights lined up.

Noel Neige – ¥4,630 @ Pavlov Pâtisserie

This gorgeous, light cake uses cream for its snowy landscape, topped with bright-red strawberries.

Panettone Babbo Natale – ¥7,407 @ Café Cova Milano

Cova's panettone is made with a secret recipe that has been handed down since the beginning of the 19th century.

Assorted Mini Sandwiches – ¥3,704

This assortment of mini sandwiches are the perfect choice for Christmas parties, filled with a variety of delicious ingredients like smoked salmon, caviar, pastrami, and more.

*Listed prices don't include tax.

This is just a small look at what GINZA SIX has in store for this Christmas. If you're spending the holiday season in Tokyo, be sure to stop by.

Information

GINZA SIX

Address: 6-10-1 Ginza, Chuo Ward, Tokyo

Opening Hours: Shops/Cafes (B2F-5F) 10:30-20:30 / Restaurants (6F, 13F) 11:00-23:00

*Business hours differ from shop to shop.

No Fixed Holidays (But shops and restaurants will be closed on August 26, 2019)

Access: Directly connected to Ginza Station via the Tokyo Metro Ginza Line, Marunouchi Line and Hibiya Line.

TEL: 03-6891-3390
Website: http://ginza6.tokyo/

Ginza's Gorgeous Ice Cream Shop coisof Releases Halloween Parfait

Ginza's luxury ice cream shop has released a new parfait flavour for the Halloween and autumn season.

They have called it the "Akiiro Murasaki coi Parfait" (Autumn Colour Purple coi Parfait). Coloured like the vivid sumire plant―a species of violet―this mouth-watering parfait contains a jam made in-house with whole natsuhaze, a wild type of blueberry that has been used in Japan since ancient times. It's topped with a dollop of rich and milky ice cream, a puree made from in-season purple sweet potatoes, and assorted nuts for added crunch.

Natsuhaze blueberries contain a lot of polyphenols, giving them an elegant sour flavour which goes unbelievably well with the taste of the milky ice cream and sweet potato. The parfait is served with a liqueur made from sumire extract.

For the Halloween period between October 16 to 31, the parfait can also be topped with various spooky decorations at no extra cost, like chocolate ghosts, spiders and cobwebs.

If you're celebrating Halloween in Japan this year, or want to treat your date to a Halloween treat, then take them to Tokyo's high-class shopping district Ginza for a luxurious parfait.

Information

Akiiro Murasaki coi Parfait

Price: With Liqueur ¥1,200 (Before Tax) / Without Liqueur ¥1,000 (Before Tax)

Running: October 16, 2019 – November 30, 2019

*Free Halloween parfait toppings available October 16, 2019 – October 31, 2019

Coisof

Grand Opening: January 17, 2019

Address: re:Dine GINZA Floor 9F, 4-3-1 Ginza, Chuo Ward, Tokyo

Opening Hours: 11:00-22:00

TEL: 050-3628-5009

Website: coisof.favy.jp/

Japanese Sweets Brand Minamoto Kitchoan to Open Cafe Restaurant K. MINAMOTO in Ginza

Japanese confectionery brand Minamoto Kitchoan will open a new cafe and restaurant called "K. MINAMOTO" on October 19.

K. MINAMOTO will be located on floors 2-5 at THE HOUSE, Minamoto Kitchoan's new company building which it just moved to on October 3. The cafe-restaurant's menu concept is dubbed "Ginza Sunny Fruits." It takes into consideration how daily fruit consumption has greatly decreased today by serving up a luxurious fresh fruit-packed line-up.

Minamoto Kitchoan is a company that has made full use of fruits since its establishment, including the suikanshuku, a Japanese wagashi confection made of whole dried domestic persimmons. We can trust then that K. MINAMOTO will provide us with our 5-a-day.

Roast Beef Sandwich w/ Fruit Soup – ¥2,420 (Tax Included)

Seafood Lemon Cream Fedelini w/ Fruit Soup – ¥1,650 (Tax Included)

Each and every dish on the menu has fruit, all grown in Japan to ensure the a high level of quality. Since the dishes have fruity flavours, prepping them is simple, and they enjoy the colours and textures of each fruit.

Drinks haven't been left out either. They are made with fruit purees and syrup, or are tossed in as they are, allowing for maximum fruity goodness.

Smoked Salmon, Fruit Salad & Potato Galette w/ Fruit Soup – ¥1,980 (Tax Included)

Autumn Fruit Almond Pudding – ¥1,760 (Tax Included)

All the staff at K. MINAMOTO have a wealth of knowledge about the menu and the fruits used in each dish. Their service creates a comfortable atmosphere, and though they are polite they are incredibly friendly, so you can call out to them without worry.

Get your fill of fruit from the all-new K. MINAMOTO, opening October 19.

Information

K. MINAMOTO

Grand Opening: October 19, 2019
Address: Minamoto Kitchoan Shinhonsha Bldg. "THE HOUSE" (Floors 2F-5F), 6-9-8 Ginza, Chuo Ward, Tokyo

Opening Hours: [Mon-Sat] 11:30-20:30 / [Sun & Holidays] 11:30-19:00

No Fixed Closures

Minamoto Kitchoan official website: https://www.kitchoan.co.jp

Dine On Fancy Authentic Japanese Food Casually at SHARI in Ginza

SHARI is a restaurant located on the second floor of Mitsui Garden Hotel Ginza-gochome, a new hotel that opened on September 26 located within walking distance from Ginza Station and Higashi-Ginza Station. This restaurant serves authentic and fancy Japanese-style food as well as luxurious Kobe beef, gozen set meals, and much more.

Ginza is known as the expensive, upmarket part of Tokyo, and when talking about small local restaurants there the pricing threshold tends to be rather high, but at SHARI customers can enjoy proper Japanese cuisine in a more casual manner and at a much more affordable price, with the typical set lunches starting at just ¥1,200.

Sophisticated is the word that springs to mind upon entering this restaurant, as your eyes meet the gorgeous mix of wood on black. As well as table seats, they also have counter seats too, allowing for you to enjoy a little luxury on your own if you so wish.

There is an additional restaurant inside the main restaurant itself that goes by the name Teppanyaki Mitaki, a tiny six-seater restaurant that serves Kobe beef, a type of wagyu beef and one of the top three beefs in Japan.

SHARI Gozen – ¥3,000 (Before Tax)

I ordered the SHARI Gozen which is served during lunchtime. This set comes with six small bowls, each filled with different colourful foods. It's a cute-looking set♡

There's lots of meat and fish included in the set. For meat, they have steak made with domestic beef. It's succulent and drizzled in a rich sauce that fills your mouth deliciously with a single bite. With the sashimi, the restaurant makes sure to serve fish that's in reason. There were 3 types of fish so it was a very satisfying meal.

The set can also be served with a variety of deep-fried foods, stewed foods, and cold fishes, as well as rice, miso soup, desserts and more. No matter what you order you can rest assured you'll be full afterwards.

SHARI is a chic and stylish restaurant with great food, plus it's located in Ginza. And you can enjoy all of this at a super low price!

Lady's Gozen – ¥2,600 (Before Tax)

I have to recommend the Lady's Gozen if you're looking to enjoy fish and vegetables. It comes with two varieties of sashimi and one fried fish, all in season, as well as an assortment of fried food, savoury egg custard, and four side dishes.

It also comes with rice and sushi rolls as well as a dessert like the SHARI Gozen.

The whole dinner menu is lined with Japanese food, including sashimi, tempura, fried food and more. There's also various courses, including the Teppanyaki Mitaki course which is priced from ¥12,000. It comes with Kobe beef of course in addition to various other high quality ingredients.

Shu – ¥1,000 (Before Tax)

I also recommend this Japanese-style cocktail for those thinking of staying late. It's inspired by the colours used in kabuki theatre―a Bloody Mary combining shichimi, nihonshu, and tomato juice. The rim of the glass is lined with more shichmi for a spicy and refreshing kick when you sip.

Check out the cute glass it comes in too.

From affordable lunches to dinner courses made with top quality ingredients, SHARI can be enjoyed throughout the entire day with its diverse menu line-up. Be sure to pay a visit to tuck into authentic Japanese cuisine in the luxury district of Ginza.

Writer: Sayuri Mizuno (MOSHI MOSHI NIPPON)

Translator: Joshua Kitosi-Isanga

Information

SHARI

Address: Mitsui Garden Hotel Ginza-gochome (Floor 2F), 5-13-15 Ginza, Chuo Ward, Tokyo

Opening Hours: Morning 6:30-10:30 (Last Entries 10:00) / Lunch 11:30-15:00 (Last Orders 14:00) / Evening 17:30-23:00 (Last Orders 22:00)

Closures: Morning – None / Lunch & Evening – Mondays (If Monday falls on a Public Holiday, closed the following day)

Access: 4-minutes on foot from Ginza Station's A5 Exit / 1-minute on foot from Higashi-Ginza's A1 and 4 Exits

*¥500 service charge during dinnertime. 10% service charge instead for Teppanyaki Mitaki. Smart-casual dress code. Preschoolers not permitted entry.

Official Website: http://shari-the-tokyo.jp/shari/

Roof Star Gardens Illumination Event to Take Place On GINZA SIX's Rooftop Garden

Ginza's biggest shopping centre GINZA SIX has announced that it's set to light up its rooftop garden with an enchanting illumination event titled Rooftop Star Garden which will begin on November 26 and run until February 24 next year.

Standing at 56 meters high, the rooftop garden is the "closest place to the stars" in Ginza. This will be GINZA SIX's first ever illumination event and it will shine a bright spotlight against the nightscape of Ginza's streets.

Rooftop Star Garden will take place in two areas in the garden: the Water Fountain Area and the Forest Area, both of which will welcome star-themed light shows.

The theme of the Water Fountain Area is "Shooting Star," whose LED lights will elicit a sense of profoundness in its observers. 147 LED lights will form the main monument of this area, with bright, sparkling illuminations that will remind one of shooting and twinkling stars.

The Forest Area is made up of two separate areas between the Water Fountain Area. Lasers will shoot through crystals, creating an ocean of countless specks of light that look like little stars that make it feel like you're in space.

This limited-time event is the perfect way to spend this year's Christmas, so don't miss out.

*Photos are for illustrative purposes only

Information

Rooftop Star Garden

Location: GINZA SIX Garden (Building Rooftop)

Address: 6-10-1 Ginza, Chuo Ward, Tokyo

Running: November 26, 2019 – February 24, 2019

*Will close during bad weather or during invitation-only events

Time: Sunset to 23:00

Entry: Free

GINZA SIX Official Website: https://ginza6.tokyo/

Japanese Cafe Collaborates With Swedish Ceramicist Lisa Larson

Sunday Branch Marronnier Gate Ginza is a cafe in Ginza that has collaborated with a number of different characters and artists, including Shawn the Sheep since 2017, The Very Hungry Catterpillar in 2018, and Leo Lionni since 2019.

The cafe is now collaborating with Swedish ceramicist and designer Lisa Larson to open LISA LARSON Fika TOKYO. The menu will feature dishes inspired by her cute works.

Mikey Plate

​Inspired by Larson's popular cat character Mikey, this healthy dish includes almond milk rice with a side of greens.

Lion Plate

The adorable round Lion looks like he has been taken right out of Larson's works and put onto a plate.

Baby Mikey Gateau Chocolate

These baby Mikey chocolates take on a ceramic appearance like Larson's work and are filled with sesame and cocoa powder.

Bob Plate

Liten Katt Plate

These's even a meatball meal, which is a staple of the Swedish household, as well as semla, a type of sweet roll made in the country.

Enjoy food and art come together at LISA LARSON Fika TOKYO. Keep in mind that reservations get priority, so be sure to book a table in advance.

Information

LISA LARSON Fika TOKYO

Running: October 4, 2019 – January 27, 2020 (Closed January 1, 2020)

Location: Sunday Branch Marronnier Gate Ginza 1 Floor 4F (2-2-14, Ginza, Chuo Ward, Tokyo)

Opening Hours: 11:00-21:00 (Last Orders 20:00)

Website/Reservations: https://www.marronniergate.com/topic/detail/115

Experience the Heart of the Japanese Tea Ceremony This Autumn in Ginza

In line with the annual autumn event Ginchakai―which is held in Ginza and brings together multiple schools of tea in Japan for an open-air tea ceremony―Tokyu Plaza Ginza is hosting an event themed on the heart of the Japanese tea ceremony.

This special event will serve Japanese omotenashi, or "hospitality," thorough various exhibits including a co-project with Tokyo University of the Arts, an exhibition by one of Japan's leading confectionery companies Toraya Confectionery, and more.

The co-project with Tokyo University of the Arts will feature installations produced by the university that is centred on calligraphy drawn by Japanese calligrapher Shoko Kanazawa, who performs both in Japan and overseas, and the tea ceremony. There will also be several tokonoma alcoves around the event which will be like miniature gardens where one can enjoy the beauties of nature. There will even be covers of famous songs about autumn on October 27 at the KIRIKO TERRANCE on the roof.

Up in the KIRIKO LOUNGE on the 6th floor, Toraya will serve up a selection of traditional Japanese confections, including those that had already been created by the end of the Edo period. You can order a set of two confections and a drink. Sweets include the Kiren Kaki, which is made to look like a Japanese permission, and the Kuri Goyomi, which is made with chestnuts, sugar, and agar-agar.

Soak up the enchanting nostalgia of autumn while enjoying the Japanese tea ceremony at Tokyu Plaza Ginza.

Information

The Heart of the Tea Ceremony in Ginza (Japanese Title: 銀座で触れる、茶の湯の心)

Running: September 26, 2019 – October 27, 2019

Location: Various places around Tokyu Plaza Ginza

GINZA Tokonoma Alcoves: Admire the Season With Tokonoma Art

Running: September 26, 2019 – October 27, 2019

Time: 11:00-21:00
Locations: Floors 3, 4, and 6

Autumn Music Performances

Date: October 27, 2019

Time: 12:00-15:30

Location: KIRIKO TERRACE on the Tokyu Plaza Ginza rooftop

TOKYU PLAZA GINZA x Bunkamura SPECIAL PROGRAM ~ Toraya Confectionery~

Running: October 11, 2019 – October 27, 2019

Time: 11:00-23:00 (Until 21:00 on Sundays and public holidays)

Location: KIRIKO LOUNGE (Tokyu Plaza Ginza Floor 6F)

Tokyu Plaza Ginza

Address: 5-2-1 Ginza, Chuo Ward, Tokyo

Official Website: https://ginza.tokyu-plaza.com/

Sensuously Scrumptious Mont Blanc Parfait Arrives at GINZA SIX Tsujiri

The Ginza branch of long-standing Uji tea shop Tsujiri has unveiled a seasonal treat that will be available this autumn only. It was released on September 18 and will be served until October 31.

Tsujiri Ginza is the only branch of Tsujiri in the Kanto region of Japan, aiming to offer a "new kind of matcha experience" to the people of Tokyo. This autumnal mont blanc parfait dessert is made from an aromatic chestnut cream made in France, matcha soft serve ice cream made by the Uji matcha experts at Tsujiri, and fluffy fresh cream, creating a seasonal mix of flavours.

Once you're done shopping around the extravagant town of Ginza, why not treat yourself to a tasty matcha-packed delight?

Information

Tsujiri Ginza

Address: GINZA SIX Floor B2F, 6-10-1 Ginza, Chuo Ward, Tokyo

Opening Hours: 10:30-20:30

TEL: 03-6263-9988

Tsujiri Official Website: http://www.tsujiri.jp

This Irresistible Tart is Made From Rare and Delicious Heart-Shaped Grapes

 Fruit tart specialist shop Qu'il fait bon will be selling a brand new kind of lovable tart which is made using a rare species of grape sourced from Yamanashi prefecture. The tart is currently selling at Grand Maison, Ginza and Hamamatsu. These will be available for a limited period only. 


The tart is covered with incredibly rare "My Heart" grapes, which were developed by the grape research institute Shimura Budou Kenkyusho. Growing and cultivating these grapes was no easy task and took an incredible amount of time. There was only a short window of time available to harvest the produce and even then the harvest was small, so stocking up was very difficult. Despite the challenges, these tongue-tantalizing tarts are being sold this year, however, they are in limited supply. 

Shine muscat grapes and loubell muscat grapes were crossbred to create this new kind of grape. The marvellous flavour of both parent grapes can be tasted. The new grapes have a high sugar content, a wonderful scent and the skin is wonderfully crunchy.  

Take a bite into the special Yamanashi Grape My Heart Tart and you will be filled with a sophisticated fruity flavour. The adorable heart-shaped grapes are layered perfectly on top of a bed of white wine custard. You just have to try this delicious and beautiful tart!

Halloween Treats, Wagashi, Drinkable Potato Desserts & More at GINZA SIX This Autumn

This autumn, Ginza's biggest shopping complex GINZA SIX is serving up a sumptuous selection of seasonal sweets and desserts. Their main components this year are apples and potatoes. Expect to enjoy potato in an entirely new way, and get ready for the spooky season with a line-up of Halloween treats that everyone can enjoy.

Let's take a look at just some of the gourmet delights arriving for the autumn season, some of which are already on sale.

Potato Desserts

Drinkable Potatoes (Purple Sweet Potato/Ripe Potato/Potato Leaf) – ¥600 Each @ Minamikaze Noukasha Dessert House (Available: October 1 – October 31)

We're at a point in time now where not only can we eat potatoes―we can drink them too! These potato dessert drinks come in three flavours: fruity Purple Sweet Potato, rich Ripe Potato, and Potato Leaf. The potatoes used to make all of the drinks were farmed from Minamikaze Noukasha's 160 potato farms.

Set of 5 Native Potato Pies (Oiran Potato/Genji Potato/White Potato/Hayato Potato/Tanegashima Purple Sweet Potato) – ¥2,500 @ Minamikaze Noukasha Dessert House (Available: October 1 until all sold)

Methods to make potato cultivation even easier were introduced almost 400 years ago in Japan. Cultivating original varieties of potatoes is difficult―it's mostly not done today. These pies are proudly made with those rare native potato varieties.

Potato Parfait – ¥2,000 @ JOTARO SAITO (Quantity: Only 10 served per day)

This gorgeous parfait is made with a purple sweet potato and sweet potato cream and is layered with agar-agar, rice flour dumplings, and ice cream. Inspired by the form of an affogato, it's topped with potato ice cream drizzled in a warm rice sauce.

Halloween Goodies For Grown-Ups

Halloween Party Pumpkin Purin – ¥4,800 @ Marlowe (Available: October 1 – October 31) *Must order within 3 days

This party-sized Halloween-exclusive rich pumpkin custard pudding contains cinnamon and nutmeg. It's even topped up with a jack-o-lantern face.

Glowing Lollipop Candy – ¥833-¥1,111 @ Candy Art Museum by PAPABUBBLE (Available: September 21 – October 31)

These lollipops come on sticks with LED lights that make the candy glow a ghoulish light, making them a great Halloween treat.

Halloween Afternoon Tea Set – ¥4,200 @ THE GRAND GINZA (Available September 1 – October 31)

Feast on an exquisite Halloween afternoon tea set made up of an exquisite selection of drinks and desserts.

Apple Desserts

Apple Gummy – ¥2,777 / Apple Gummy Candy – ¥1,666 @ Candy Art Museum by PAPABUBBLE (Available: August 27 – November 4)

The apple gummy is about the size of a Jonathan apple. If you're wondering what flavour it is, you'll have to wait until you bite into it to find out! The apple gummy candy set takes on flavours of different apple varieties.

Pom Caramel – ¥800 Each @ PHILIPPE CONTICINI (Available: August 27 – November 4)

These cute and round vanilla flavoured apple mousses are filled with an apple compote, which has a hint of star anise, and cream caramel. They're packed full of apple-y goodness and maintain PHILIPPE CONTICINI's refined flavours.

This Year's Must-Try Autumn Treats

Bessei Maruto Parfait "Shubo" – ¥2,300 @ Nakamura Tokichi Honten (Available: October 1 – November 30)

Exclusive to the Ginza branch of Nakamura Tokichi is this specially made parfait, layered with autumn-time ingredients including Japanese chestnut matcha cream, fig, chestnut sherbet, and bean paste. You can really taste the rich matcha notes in this beautiful dessert.

Kyoto Koicha Terrine Inori no Kajitsu – ¥2,000 @ Tsujiru (Available from September 1)

A great little gift is this terrine chocolat, made with chestnut, black soybeans, fig, and cranberries.

Did you enjoy this list? All of these items are autumn-exclusives and some are very limited in stock. Be sure to enjoy all the flavours of autumn this year in Japan.

*All listed prices include tax

Information

GINZA SIX

Address: 6-10-1 Ginza, Chuo Ward, Tokyo

Opening Hours: Shops/Cafes (B2F-5F) 10:30-20:30 / Restaurants (6F, 13F) 11:00-23:00

*Business hours differ from shop to shop.

No Fixed Holidays (But shops and restaurants will be closed on August 26, 2019)

Access: Directly connected to Ginza Station via the Tokyo Metro Ginza Line, Marunouchi Line and Hibiya Line.

TEL: 03-6891-3390
Website: http://ginza6.tokyo/

Irresistible Midsummer Parfait Fair Tantalises at Shiseido Parlour in Ginza

Get ready to dine on desserts in style as Shiseido Parlour announces its second-ever Midsummer Parfait Fair at its Salon de Cafe in Ginza which will be held from August 1 to 25.

Four incredible summery parfaits make the fair's lineup, each centred around local and seasonal fruits. This year sees the return of the popular mango, fig and strawberry flavours, and for the first time ever, a melon flavour made with melons from the city of Furano in Hokkaido.

Hokkaido Prefecture Furano Melon Parfait – ¥1,980 (Tax Included)

Made with sweet and fragrant Furano melons grown in Hokkaido's city of Furano, this angelic delight of a parfait is made with classic silky vanilla ice cream, refreshing hibiscus jelly, and for added accent, a squeeze of cranberry sauce. The fresh melon piece toppings are packed full of mouth-watering melon juice. The melon is served in several different ways for textural enjoyment including skinless slices, a slice with the skin on, and melon balls.

Wakayama Prefecture Kinokawa Fig Parfait – ¥2,160 (Tax Included)

The seasonal figs in this parfait have been grown and nurtured laboriously. The figs are plucked in Wakayama prefecture and are served fresh on your dessert. Tucked under the hearty serving of figs is a red wine-laced compote, sauce and sherbet while placed gracefully on top is a baked tuile. There is also a fig and apple jelly for that cheek-sucking sweet kick.

Okinawa Prefecture Apple Mango Parfait – ¥2,580 (Tax Included)

If you love mangoes, then you're in for a treat with this parfait which is prepared with mangoes from Okinawa which have been cut up into different shapes and sizes. The dessert contains a midsummer medley of ingredients including a tropical homemade mango sherbet, an exotic sauce, milk flavoured ice cream, and cranberry sauce. Savour the succulent taste, smooth texture and sweet aroma of the elusive Keats mango, the richest and most delicious of all mangoes, and one which has only a limited production in Okinawa from mid-August onward.

Nagano Prefecture Hatake Kobo Koihime Strawberry Parfait – ¥1,890 (Tax Included)

Finally, this tempting parfait is made with strawberries from Hatake Kobo in Nagano. Because of the regional climate of Nagano, these gorgeous strawberries are delicious from summer through fall. They are served with classic vanilla ice cream for the absolute perfect pairing.

Which of these do you want to try the most?♡

Information

Salon de Cafe – Shiseido Parlour

Address: Tokyo Ginza Shiseido Building 3F, 8-8-3 Ginza, Chuo, Tokyo
Opening Hours: [Tuesday-Saturday] 11:30-21:00 (Last Orders 20:30) / [Sunday & Holidays] 11:30-20:00 (Last Orders 19:30)

Closed: Mondays (Unless it falls on a national holiday)

*Closed August 26, 2019 – October 31, 2019 for renovations

Official Website: https://parlour.shiseido.co.jp/?rt_pr=pl274

The Leo Lionni Cafe in Ginza Extended Its Running Period and Refreshed Its Menu

The Leo Lionni cafe located at Sunday Brunch, MARRONNIER GATE GINZA 1 is remaining open for a longer period due to popular demand. The limited-time cafe will now be open until September 29. This cafe is themed around the world of Leo Lionni; a famous children's picture book author whose illustrated stories include Swimmy and Frederick. Some of his works have even featured in school textbooks. After much anticipation, the cafe has released a brand new menu.

The renewed menu includes three new items which are based on Frederick; the story which has been praised as Lionni's best and most popular by both children and adults. A new Frederick-themed meal, cake and drink will be made available from July 20. When you order the Frederick-themed meal, the world of Frederick will unfold before you as if it has been cut straight out of the book and served up on a plate. There is no doubt that you will find these dishes so cute that you will not want to eat them.

Frederick's Sunny Soup and Rice: ¥1,480

This is a corn, pumpkin and minced chicken dish served with a cold soup and brown rice. This depicts the image of Frederick collecting the sun as he does in the story. The rice is served hot.

"I know it" Cheesecake: ¥1,250 (price with drink set)

This is a baked cheesecake made using rhubarb and summer berries sourced from Hotaru Noen Tatsuno Farm, Nagano. This delicious cheesecake depicts the scene right at the end of the story where the mice praise Frederick saying: "but Frederick! You are a poet," to which Frederick replies: "I know it".

Frederick Cheese Tea: ¥900 

This is a pineapple iced tea with cream cheese and a Frederick biscuit perched on the top. The pineapple flavour is sweet yet slightly sour. This is bound to leave you feeling refreshed, making it the perfect summer drink. 

From July 13 to September 29, 2019, there will be a special discount campaign running at the Minna no Leo Lionni Ten; an exhibition dedicated to Lio Lionni which is currently running at the Seiji Togo Memorial Sompo Japan Nipponkoa Museum of Art. Please consider stopping by. 

Copyright © 2019 by Blueandyellow, LLC Licensed by Cosmo Merchandising

Information

Leo Lionni Cafe

Running: April 3 ー September 29, 2019 

Opening Hours: 11:00 ー 21:00 

Last orders: Food: 20:00, cakes/drinks: 20:30

Reservations can be made for until 5 pm. Customers without reservations will be served on a first-come-first-served basis after 5 pm.

Running at: Sunday Brunch  MARRONNIER GATE GINZA 1 (4th floor)

Address: 2 Chome-2-14 Ginza, Chuo City, Tokyo

* New menu will be released on July 20

Official Website: http://leolionnicafe.com/

Minna no Leo Lionni Ten Exhibition (Tokyo)

Location: Seiji Togo Memorial Sompo Japan Nipponkoa Museum of Art

Running: July 13 ー September 29, 2019 

Opening Hours: 10:00 ー 18:00 (Last entries accepted until: 17:30)

Closed: Mondays (Exceptions: July 15, Aug 12, September 16, 23)

Website: https://www.asahi.com/event/leolionni/

Minna no Leo Lionni Ten Exhibition X Leo Lionni Cafe Reciprocal Discount Scheme

If you attend the Minna no Leo Lionni Ten Exhibition held in Shinjuku and retain your ticket or ticket stub, you can exchange it at the Leo Lionni Cafe for a ¥100 discount off your meal. Likewise, if you attend the Leo Lionni Cafe, you will be presented with a ¥100 discount for entry to the Minna no Leo Lionni Ten Exhibition. 

※ ¥100 will be taken off your meal price at the Leo Lionni cafe for every exhibition ticket presented.

※ Please be aware that ¥100 discounts for the Leo Lionni Exhibition will no longer be available once stocks have been fully depleted.